Koeman confident Lookman can step up soon

22 Comments [Jump to last]
Tuesday 10 January 2017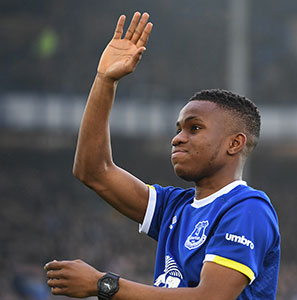 Ross Kinnaird/Getty Images
Ronald Koeman says that he has been impressed with new signing Ademola Lookman and hopes the 19-year-old will be able to make the transition from League One to first-team Premier League football as soon as possible.
The England U20 forward was signed last week from Charlton Athletic in a £7.5m deal, with his acquisition in the current window without a loan-back option for the South London club suggesting that Koeman wants him to see action in the senior side sooner rather than later.
The manager indicated that Lookman won't be involved in Sunday's clash with Manchester City because he needs time to fully assess his new signing's readiness but he likes what he has seen so far.
"Mentally, he likes to improve and watch clips of his performances," Koeman explained to evertontv. "I think they are all good signals from a young player who knows he is just starting. We will support and will help him improve. That's really important. "He wants to train and he wants to play. Ademola has good experience and everybody knows that at that level the football is more physical than the Premier League. Now he will get more experience at a higher level, which will be good for the boy.
"I spoke to the boy and he knows what we want, how he needs to train and play and his behaviour. He's only 19 and we know it's difficult for young players to come into the first team at the level of the Premier League, but he's the type who we believe can make the step as soon as possible."
---
Reader Comments (22)
Note: the following content is not moderated or vetted by the site owners at the time of submission. Comments are the responsibility of the poster. Disclaimer
Ian Hollingworth
1
Posted 10/01/2017 at 17:12:55
Where are the signings we really need? Players who will go straight in the first team and improve it.
For once Everton, stop being Everton and act like a club with real ambition.
I am getting to the stage where the only thing that will convince me we mean business is a statement saying Kenwright is no longer Chairman, part of the board etc etc.
Bobby Mallon
2
Posted 10/01/2017 at 17:32:39
Ian @1,
I totally agree. We have a billionaire owner who needs to spend like the big boys. We need a defender, a midfielder, and another striker... now.
Graham Coldron
3
Posted 10/01/2017 at 18:04:59
Am I the only Evertonian who is thinking that we will not sign anyone?
I also hope that we do not become a comedy show for Jim White where we miss out on a target (probably to Spurs) in last minute of transfer deadline day.
Mike Doyle
5
Posted 10/01/2017 at 18:10:44
Graham. Rest assured you are not alone.
Chris Watts
6
Posted 10/01/2017 at 18:28:36
This window, like all the others is going to be a pile of shite. Drawn out painfully over the next 3 weeks during which time we'll 'just miss out' on a number of marquee signings. We desperately need our Robinho to kick this all off, to let the world know we're back in business.
Unfortunately it seems we're haggling over ٟm for our apparent 1st choice signing. Then again I'm sure Man Utd would have pulled out of signing pogba if he'd been 䀍m instead of 䀌m.
There are numerous exciting options being proposed on the echo site – I don't want 8 signings just 3 absolute top quality ones. We need to rebuild the team with 22-27-year-olds.
No hope, no enthusiasm – this season is another pile of shite. After the optimism of the summer, it seems even worse than usual.
Mark Boulle
7
Posted 10/01/2017 at 18:31:38
It's extraordinary... the case for new players is abundantly clear, our manager has said so, we've wanted and known Schneiderlin is available for weeks before the window, we have money available for once... yet all the rumour and conjecture concerns players out not in.
I'm not having this wait to see where we are at the end of January thing. Surely the Board can see that immediate action is required, not waiting another three weeks and for 3 or 4 more league games to have slipped by.
If no player who can immediately enhance the first team (Lookman doesn't count) is signed by the Man City game, which falls exactly halfway through a critical month for Moshiri and Walsh to prove themselves, then as far as I'm concerned, that will be all the evidence I need that our new hierarchy remains cripplingly hamstrung by the old.
Mark Gardiner
8
Posted 10/01/2017 at 18:53:06
Just reading that West Brom seem to have moved ahead in signing Schneiderlin as we seem to be haggling and not getting this done.
Wouldn't be a surprise would it. Just get it done Everton and just for once show us that somebody who deals with transfers at this club is not completely incompetent.
Conor Skelly
9
Posted 10/01/2017 at 18:57:55
This sounds promising and I too have high hopes for Lookman.
Perhaps this is the wrong thread for board-bashing, but I too am becoming suspicious about the new set-up.
First, we had the disappointment of the summer window. Selling Stones and spending a negative three million on Gueye, Williams and Bolasie is not investment.
Then there was the most underwhelming Deadline Day I can remember, with the loan signing of a striker who couldn't get in West Ham side. And I don't buy for a second, that Walsh and Koeman didn't have time to get targets in. They did. They just didn't have the backing.
Now we come to the January window and the only signing so far is a £7 million prospect from League One. Nothing new there. This gives us a net spend under Mosh of about three mill.
Then we have Ron's rant. This has been followed not by a swift capture of Sneiderlan but by news that Lookman looks the business, the returning Pennington is a Rolls Royce, and Macca is going nowhere.
There has been little or no tangible evidence that Moshiri has changed anything other than the superficial face-lift of Goodison Park and for me the jury is well and truly still out on the whole thing. Talk is cheap. And with Everton, it's quickly becoming pointless ad nausea.

Paul Smith
10
Posted 10/01/2017 at 19:03:39
Definitely Emperors new clobber with Moshiri. Just like mushrooms we're fed shit and kept in the dark.
Eat humble pie all day and enjoy every minute of it - gladly!
Brian Williams
11
Posted 10/01/2017 at 19:12:36
What's worrying me, and making it look more likely to be another poor window for us, is the fact that we "appear" not to be pursuing other deals apart from Schneiderlin.
If I was looking at several players and one deal was moving slowly I'd be getting "one of the others" moving along. Surely they (the deals) don't have to be done in any specific order????
I've pissed myself off now making that point ...
Chris Watts
12
Posted 10/01/2017 at 19:56:42
The only silver lining from this is that Koeman, unlike the last 2 incumbents, seems unwilling to tolerate it. If we end up with nothing he'll probably call the board out and we'll know the truth
John Graham
13
Posted 10/01/2017 at 20:32:47
I thought this thread was to talk about Lookman not to carry on moaning about signings.

Hopefully we will see him in the first team squad soon. Seems a level headed lad and has already filled in as captain at his previous club. With Davies, Calvert-Lewin and Holgate pressing for first team places it looks like things are starting to happen.

Don't expect too many other signings (maybe Schniderlin and hopefully a goalie). Let's hope one or two go the other way too. COYB
Michael Farrelly
14
Posted 10/01/2017 at 20:50:42
This will be the first 'Steve Walsh Gem' uncovered. Just checked some footage of him out playing for Charlton on YouTube bags of skill, speed, can crack a ball and knows how to finish. I'm sure we will be happy with Lookman!

Si Turner
15
Posted 10/01/2017 at 21:02:14
I bet some of you feel a bit daft now that we have agreed a fee for Schneiderlin? No signings, West Brom moved ahead of us All just pure speculation.
Its only the 10th January for God's sake and we have 2 new signings and I wouldn't be surprised if we get more in before the window closes.
Lets keep some faith and patience for a change.
Mark Gardiner
16
Posted 10/01/2017 at 21:18:08
Si Turner (#15)
I hope that you are right. It appears that we have agreed a fee, I'll be delighted if we sign but I've been a fan of this club for too long to celebrate before he has actually signed. Agreeing a fee still gives our people massive scope to cock it up. I'll be happy to be proved wrong.
Chris Watts
18
Posted 10/01/2017 at 22:07:17
Yes, might have been a little premature. But it's still not done, it's taken 2 weeks and doesn't address the other deficiencies. I hope we sign 2 more including one marquee.
Len Hawkins
19
Posted 10/01/2017 at 22:15:30
As I see it, no-one is happy on here as Everton won't tell who they are going for and it just isn't good enough – a full list should be published now so the clubs involved can raise their prices accordingly.
Did John Moores give a toss about the supporters knowing who he was going after? Did Phillip Carter spill the beans to keep the faithful up to speed?
Kenwright well he never had any intention of signing anyone before 22:59 on deadline day then he'd just miss out. Now you expect Mr Mosh to quote chapter and verse of the transfer targets. It's like Christmas Eve – just wait and see what you get not too long to go.

Denis Richardson
20
Posted 10/01/2017 at 22:20:09
Not true, Lee. I'm well happy we're about to sign Schneiderlin. He will be quality in our midfield, especially when Gana comes back in 2 weeks time.
I expect at least one more face in before Feb, can't imagine Lookman and Schneiderlin will be the only ones.
Also hope we shift at least 2 out. Niasse and Cleverley look to be on the cards.
Tony Hill
21
Posted 10/01/2017 at 23:12:54
When he was introduced on Saturday, he looked about 12 but you could see him absorbing the moment and he looks to me very happy to be with us. That's a good start and I have high hopes of this player, something about him is convincing.
Drew Shortis
22
Posted 10/01/2017 at 23:47:29
Dele Alli made a similar jump and took almost no time to get up to speed. We may need to temper our expectations a little, but Koeman has been pretty bullish about his hopes for Lookman and fingers crossed he will be the first of Walsh's gems.
Alan Freese
23
Posted 11/01/2017 at 07:29:48
Yes we've all been here before! But we have two players in already and we have 20 days remaining! Yes 20! Chill out blues
John G Davies
24
Posted 11/01/2017 at 07:41:03
What give him a start soon?
Nah that can't be true.Koeman doesn't play kids does he.
---
Add Your Comments
In order to post a comment, you need to be logged in as a registered user of the site.
Or Sign up as a ToffeeWeb Member — it's free, takes just a few minutes and will allow you to post your comments on articles and Talking Points submissions across the site.