Koeman revels in 'big day' at Goodison

43 Comments [Jump to last]
Monday 16 January 2017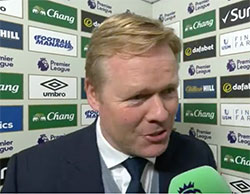 Ronald Koeman was beaming after his Everton side romped to their biggest Premier League victory under his stewardship to date — a 4-0 hammering of his former team-mate's team, Manchester City.
The Blues defended superbly to prevent the visitors from turning their 71% of possession into too many genuine chances while, at the other end they ruthlessly exploited title-chasing City's mistakes in midfield and defence for three of the goals.
Romelu Lukaku and Kevin Mirallas had Everton in the driving seat before five minutes of the second had elapsed with well-taken goals and Ademola Lookman came off the bench to turn a routine stoppage time run-out into a debut to remember as he fired the fourth goal through goalkeeper Claudio Bravo's legs.
The pick of the goals came from Davies, however, who started and finished a counter-attack 11 minutes from time that included a brilliant flick near the touchline that took out two opposition players and magnificently composed clip over the keeper once he had received a return ball in the box.
"I am really pleased with the team performance," Koeman said. "It is a big day, a big win and a well deserved one. In the second half we were perfect in every aspect.
"We played well offensively and defensively, and had good organisation in the team. We were aggressive, and when we won the ball we played forwards and scored four goals.
Koeman was asked in his interview with BBC Sport whether he felt the game had gone completely to plan.
"You cannot plan a game like this. Everybody knows it's always difficult against City; they play some great football.
"But, I think the second half was perfect in every aspect of football. The first half we controlled it but they had some good chances.
"I think the difference was we scored at the right time in the first half and then also in the second half, to score straight after half-time, that made it very difficult for them.
"I think it is a big compliment to Everton today, how the organisation defensively was. That aspect was perfect in the second half.
The manager was asked about how pleased he was that two teenagers scored to put the game to bed late in the second half. It was the first time that two Everton players in their teens had scored in the same game since James Vaughan and Victor Anichebe managed the feat 10 years ago.
"Yes, that makes the final result and the way we played [in terms of] the team performance perfect," Koeman continued. "Davies was outstanding in the midfield.
"He's not that kind of player who will score a lot goals but playing at home, scoring a goal…
"And also for the young boy (Lookman), to give him three or four minutes to make his debut and even scoring a goal, it's very special."
---
Reader Comments (43)
Note: the following content is not moderated or vetted by the site owners at the time of submission. Comments are the responsibility of the poster. Disclaimer
Carl Taylor
1
Posted 16/01/2017 at 08:56:06
So Everton did play yesterday, right? I just thought Utd played Liverpool, and City didn't turn up. Well that's what Sky told me!
We've set a standard now and Leicester won the league with about 29% possession in every game they played. Let's get some momentum going and maybe then the media will give us the credit yesterday's performance deserved.
Jim Bennings
3
Posted 16/01/2017 at 09:20:46
Yesterday was the Everton that Ronald Koeman wants and the Everton that we expect from Ronald Koeman!
It was energetic, aggressive and clinical, it was similar to the performance his Southampton team put in last season beating Arsenal 4-0..
It will take Koeman time to mould this team and fans do sometimes forget the state this club was in last Spring before he took over, we were a club in crisis and turmoil both on and off the pitch.
I think next season we will see a team capable of making a serious top four challenge once Koeman has a full pre-season under his belt with better players at his disposal and the young lads with more experience.
Chris Gould
4
Posted 16/01/2017 at 09:33:06
Absolutely agree, Jim. I'm looking forward to seeing if we can continue this form and maybe put a run of wins together. A couple more players in, growing confidence, and who knows, maybe we can claw back the top 6?
At the very least, we should be looking to pull away from the chasing pack and take a few more top 6 scalps along the way.
Robert Leigh
5
Posted 16/01/2017 at 09:36:24
Agreed Carl. Tuned in to hear the Gary Neville podcast to hear more about how good we were yesterday and we got 15 seconds of his 15 minute slot. What a joke!
Anyway – just watched the 3 minute highlights on the official website and noticed Lookman's hunger to get in behind for his goal – a gamble that paid off for the young man.
Buzzing at work this morning COYB!
Anthony Dwyer
6
Posted 16/01/2017 at 09:41:35
Agreed Jim, but we all said the same thing, if Keoman wants us to play a high tempo game, then he needs younger players with pace and energy.
Stekelenburg in goal, with Jagielka and Williams at centre-half and Barry in front of them doesn't give us a platform to play aggressively and with a high tempo.
Robles is a keeper I didn't fancy one single bit, but the lad deserves credit, he's quick and instinctive, he can use his whole area space as he's mobile enough to trust himself coming to the edges to claim the ball.
Holgate and Funes Mori both provide pace which allow Baines to push on, and Williams to be commanding coming out of the back line, knowing he has the personnel to cover him pace wise.
Davies simply brings the dimension we've all been shouting out for, a mobile midfielder who has more in his locker than passing side ways and backwards.
It's not fair of us to demand he bosses our midfield, but he will have Gana back soon; also McCarthy is back in contention, Schneiderlin has signed and Barry has a new deal, hopefully that's to be used sparingly.
Lookman may be one who can link the gap between the midfield and Rom, as Rom is often left isolated. The lad looks small, quick and tricky, something we have waited for Deulofeu to stamp into our make up, but hopefully Lookman can do it for more than 30 minutes.
Barkley and Rom are also young lads, we forget that, they are both still improving, and with the new lads around they will start to feel the need to step up as leaders in the team; were already starting to see that.
I'd like to see Mirallas given more time centrally, in and around Rom and Ross as he looks more comfortable when he's allowed to move freely across the front line.
For me I'd make Seamus captain, he's just a natural leader, he's first into everything and he leads by example.
Anyways, let's not get too excited just yet as we seem to win a game then lose one, let's just allow Koeman to keep building away, and see were it leads to.
Finishing 7th would represent an improvement on last season's league position, even if we have been poor in cup competition.
Matthew Williams
7
Posted 16/01/2017 at 09:43:26
Another clean sheet with Robles in goal & Holgate played his part too.
Let's build on this & win away at Palace (time to end their hoodoo over us).
So... how many of us Blues don't want the Europa League now?
Onwards... COYB
Alasdair Mackay
8
Posted 16/01/2017 at 10:06:52
As a very vocal critic of Koeman to this point, I will be the first to hold my hands up if he gets us doing that consistently.
It wasn't about the possession – it was the aggression and speed of ball movement. 2nd half was great to watch.
Please Ronald - more of that!!!
Andrew Clare
9
Posted 16/01/2017 at 10:27:37
Very happy after Sunday's performance. Delighted for Evertonians everywhere.
Now let's do it against the Allardyce, Pullis and Hughes teams. The highly organised, physical, good-in-the-air, tough-tackling, "nick a goal and park the bus" teams.
James Watts
11
Posted 16/01/2017 at 10:46:30
I'm with you Alasdair (#8). By-and-large, I have been totally underwhelmed with Koeman and what he had done with us to date.
Everything went right yesterday and long may it continue, but the jury is still out for me on Koeman. But IF he can keep us playing like that, then I'll be happy to admit I was wrong. Time will tell, but today is a bloody good day to be an Evertonian for once!!! Get in there! :):):):)
Danny Broderick
12
Posted 16/01/2017 at 11:21:05
I can't see us challenging the top 4 next season, if I'm honest, but having that attitude and work rate will serve us well. With a couple of additions, we could be top 6.
I loved Koeman's reaction to the 3rd goal yesterday (I think). He punched the air like all of us did. More of the same please!
Brian Furey
14
Posted 16/01/2017 at 11:38:44
Very happy with the win and it shows that at home we fear nobody as we've only lost to the RS to a lucky winner right at the end.
We were very clinical yesterday as we scored every single shot we had on target. I was delighted for Mirallas as he played well and looked sharp and I thought his pass to Rom was excellent as he barely even looked up before he hit it. Great finish for his own goal under pressure.
We seem to play better when teams have all the possession and we sit back and play on the break. It seems much harder when we play the likes of Palace, Hull etc as they let us have the ball and we often get caught for pace at the back. If we had beaten Hull in December that would be 4 wins on the trot.
Crystal Palace and Stoke away next so hopefully we can keep up that intensity.
Jim Bennings
15
Posted 16/01/2017 at 11:39:16
It's about creating a winning mentality – not just on the pitch but amongst the supporters too.
Too long we have been happy to accept the fact that, if we had a decent season finishing 5th, that we punched above our weight, it was always little old Everton fighting the big boys and it rubbed off on the majority of fans this underdog attitude.
Now with proper financial clout and a manager that as a player has won everything and been there and done that twice over we can finally shed the underdog mentality and start raising the bar for the better of this club's future.
Koeman strikes me as someone who won't tolerate slackers, he comes across as someone who will continue to demand high standards, he may not have always had them this season and he's not blameless himself, even Alex Ferguson made mistakes, but it's worth remembering that some of the players out there are even from the Moyes era let alone Martinez.
Victor Jones
16
Posted 16/01/2017 at 11:45:15
Just a few last comments. Just watched everything again on Sky. Everyone is correct in mentioning the Sky biased reporting.
Liverpool and Utd. Klopp and Maureen. And of course the woes and tribulations of Pep.
And we were the stand out team yesterday.
Anyhow fine margins in this Premier League. We are sitting a good seventh. But had we not faltered against Burnley...Bournemouth...Watford. Then we would have been right in the mix. That's Everton for you.
But I'm already looking forward to next season ...Why not? Let the "project" continue.
I'm starting to believe NSNO.
Brian Harrison
17
Posted 16/01/2017 at 11:49:44
I said yesterday that 3 at the back is definitely the way this team should be set up, I know some will say well it never worked against Chelsea earlier in the season. But I think it takes players time to understand the system. This also means we are very solid in midfield and it also allows us to play someone close to Lukaku.
I think the fact that Seamus doesn't have to worry so much about getting back to defend after a lung-busting run really helps him. He has always been better going forward than defending so this system suits him perfectly.
At last there is competition for places with Davies and Holgate showing they are both ready to slot in. I think if it had been Pogba or Courtinho that had scored the goal that Tom scored the pundits would be praising them as the best ever. But maybe not building it up will help Tom, and stop fans expecting that to happen every week.
Brent Stephens
18
Posted 16/01/2017 at 11:52:56
The thing is we did that yesterday without any great financial clout. Our most expensive signing is out injured; Gana, cheap as chips anyway, is away at AFCON; the keeper and Williams were the only recent signings and hardly budget-busting; until Schneiderlin and Lookman entered the arena with us already 2-up.
From pessimism to optimism in a week.
Victor Jones
19
Posted 16/01/2017 at 11:56:23
Is young Davies really a defensive midfielder (as I've noticed he has been labeled on here and other sites)? After yesterday he's more in the Alan Ball mould. That's of course very high praise but surely this guy can only get better.
And he does look like his uncle, a player whose impact I remember well.
Just wondering also how long before Utd or Chelsea come a-sniffing? NO SALE!
Gary Radley
20
Posted 16/01/2017 at 12:03:06
Made up for all the Everton team... just wondering with Schneiderlin and Gueye to come in and Tom Davies, do we have too many midfield students in the same sort of position?
Dave Richman
21
Posted 16/01/2017 at 12:06:24
I'm glad to see Ashley Williams getting some plaudits for yesterday.
As written in football folklore, Brian Clough's philosophy to his central defenders was "Just head it and kick it – anything else is a bonus".
That's what you get from Williams.
Jim Bennings
23
Posted 16/01/2017 at 13:04:54
Dave,
Having defenders now that just simply defend has coincided with a far more stable home record.
Last season, we were shipping goals at Goodison at an unbelievable rate, I think we'd conceded 26 goals at home by New Year so it makes for far more comfortable reading seeing this place become a hard venue for opponents to visit.
Williams is a old fashioned defender: what you see is what you get. I've said all along a defenders job is to defend and we've missed that over recent season's.
It would be good to see a younger athletic body partnering Williams next season... Van Dijk? Maybe eventually Mason Holgate?.
Mike Allen
25
Posted 16/01/2017 at 13:29:40
That's another step forward. Now let's keep going in the same direction. No slip-up against Crystal Palace, stay on the front foot, and let's enjoy the rest of the season
Geoff Williams
26
Posted 16/01/2017 at 13:33:28
I may be in the minority but I really don't rate Williams. His heading ability is poor. Watch him at corners where here opts for positions where there is less chance of him making clearances. Funes Mori has fewer fans on this site but he does attack the ball.
Geoff Evans
27
Posted 16/01/2017 at 13:49:05
Rather have Funes Mori or Williams over their 㿛½ million wonder kid. Best bit of business this club has done.
The next Bobby Moore! My arse.

Ed Fitzgerald
28
Posted 16/01/2017 at 15:01:32
A fantastic result and performance from the team and tactics that worked perfectly. As an arch critic of Koeman I have to concede he got everything right yesterday, so well done to him and his back room staff.
It was great to see Davis and Barkley playing midfield and complementing each other perfectly. Like others have said on this thread It is just one game however the challenge for this tactical approach is when the opposition also sit deep and play a counter attacking style themselves or are just plain negative (particularly at Goodison) .
What we did yesterday (when done well) will work against footballing sides who like to have the ball but I'm not convinced it will work against teams who have a more pragmatic approach.
Raymond Fox
29
Posted 16/01/2017 at 15:31:20
It was a great result yesterday and I was as pleased as Punch.
This is Everton though, so what's the chance that they screw it up at Palace! We have been here before and its happened too many times. Big Sam who I rate highly, will have a cunning plan waiting for us no doubt. They can't beat the blind school at the moment so guess what!
Not trying to be a misery, it just feels like a déjà vu situation.
John Pierce
30
Posted 16/01/2017 at 15:33:43
I was never convinced by the appointment of Koeman; my reaction was a flattening of the the pulse.
But I'm not shy from criticizing the fellow but neither will I shy away from the improvements made in the recent weeks.
I credit him more for balance he's gone for, it is reflected in the comfort shown in players' performances. None more than Baines. For whatever reason – form, injury, age – our penalty taking left back is on the wane physically.
Playing him as a wing back gets him 20yards further up the field. No longer committed to significant lung bursting runs, his passing quality is beginning to reassert itself.
3-5-2 is the way to go with the squad we have at the moment.
I wonder how Koeman will handle The midfield three when Gana comes back.
I hope, he is clever. Personally I believe Gana and Morgan will nearly always play. The question is how he handles Barry n Davies at opposite ends of the careers?
I still think this means McCarthy is on the outside looking in.
Same too for Barkley, albeit very good yesterday, in a game I thought would pass him by, he was shorn of the defensive side of his game, he got the ball high up the field.
I think though a better established Number 10 will be bought. Can he stand up to the competition?
Apart from the visit of Chelsea we should be aiming for an unbeaten record at Goodison for the remainder of the season.
Well done, Ron lad.
Martin Nicholls
31
Posted 16/01/2017 at 15:35:27
Senegal have started well in AFCON so it looks like Gana will be away for a while yet.
Ian Jones
32
Posted 16/01/2017 at 16:04:07
Hi John @ 30.
Appreciate your touch of realism re the visit of Chelsea but, as was said yesterday on the live forum by a fellow Toffee Webber before the game: 'Let's beat the crap out of them'...
Worked yesterday. We can turn Chelsea over... not sure we can do the same against the rest of the league's teams.
Steve Harris
33
Posted 16/01/2017 at 16:17:16
Great to come out of Goodison on a high for a change but it still bugs me to hear Koeman say "It is a big compliment to Everton today" rather than "we" or "us", but after yesterday's performance, I'll let him off this time!
Stan Schofield
34
Posted 16/01/2017 at 16:19:03
John@30:
I think we should be aiming to win every game, including Chelsea. The FA Cup exit didn't end our season, and there are 51 points up for grabs. We've done okay against the top sides ironically, barring 5-0 at Chelsea, which we need to avenge.
Maybe Koeman reads TW, judging by the fact that he's eventually played the youngsters, a la repeated calls on here.
Steavey Buckley
35
Posted 16/01/2017 at 16:22:15
I hope Koeman keeps the same team and formula for the next game against Palace away. Possibly, McCarthy in place of Barry to get around the pitch more.
In a 3-5-2 formation, Coleman and Baines have more freedom to get forward, while Mirallas links up well with Lukaku, by not being restricted by playing wide on the left. Yet, Koeman does have a habit of changing winning formulas and teams.
Paul Burns
36
Posted 16/01/2017 at 17:20:44
Koeman, strangely enough, speaks the worst English of any Dutchman I've ever heard. Still, its better than my Dutch.
Not a complaint, just an observation and I wonder if this is why he keeps referring to 'Everton' instead of 'us'?
Peter Gorman
37
Posted 16/01/2017 at 17:23:07
He does both, Paul, sometimes 'we', 'us' or just plain old 'Everton'. I wouldn't read too much into it.
John Pierce
38
Posted 16/01/2017 at 17:34:36
Stan,
It's true that on my home from chilly Albany in Upstate NY, fuck only 2/7 losses from the teams above us.
Is it a more open game that allows us to counter, yesterday case in point? Or do we raise it against the big boys, Rom totally does!
Record v Chelsea in recent years is okay. I think they play the system much better than us. What Koeman must do, for me anyhow, is introduce a more attacking angle to midfield when Burnley or West Brom come to Goodison Park.
I would prefer to see a triangle. But it must be high up the field. Gana at the base, Tom and Morgan central but high up. As Holgate gets regular game time in a three, I think Lennon, despite the paucity of performance, would do well at right wing-back versus a stubborn side at home.
We must play three at the back v Palace; Williams can take Benteke, and they have no Zaha. Playing a back four would be a mistake in my view, Coleman and Baines look poor now in that set up.
Our fixture list becomes more benign in the next few weeks. I would hope we see much bigger improvements as we only play once a week, and he has plenty of time with the players.
Goose bumps on the Davies goal. Any one else think he looks too much like his uncle, Alan? 👀
Brian Williams
39
Posted 16/01/2017 at 17:40:30
While we're riding on the crest of yesterday's wave, we should use our high profile coverage to our advantage by moving quickly for another two of our transfer targets. Players want to sign for teams either at or near the top or teams that appear to be going places.
I know full well it's just ONE game but, in these days of instant this and instant that, and the fact that a lot of today's players have the attention span of a goldfish suffering from the early onset of dementia, we should get in there before we have a chance to fuck it up, or the goldfish players visit the Twattersphere, Sky, Facebook, Instagram...
Stan Schofield
40
Posted 16/01/2017 at 18:00:13
John, yes, and he's obviously got Alan's skill genes as well. Good ball player, balance, awareness, and an eye for the goal.
Mark Morrissey
41
Posted 16/01/2017 at 18:04:23
Carl @ 1 is so spot on. The build-up was Merseyside v Manchester, which Footballing giants will win the Northwest Battle? Given that Liverpool let the side down once again it all ended in a whimper and it all fell flat but instead of Sky leading with a headline like "teenage kicks" or "Lookman and Davies, Everton give youth a chance"... No, Sky went with "Ibrahimovic is so good, wow what a header, to get so much power blah blah blah." What a pile of shit.
It should have given the plaudits to Tom Davies for destroying Guardiolas party and highlighting how poor Bravo and Stones were and how Pep (the world's greatest coach) has got it wrong at the back.
I saw an interview with Kevin Ratcliffe the other day talking about Stones and he was right. He's not convinced Stones is even a centre-back and I'd have to agree with him.
Gordon Roberts
42
Posted 16/01/2017 at 22:12:02
Rumours that Depay will move this week; Lyon are still in the hunt for him according to some reports... interesting times ahead.
Anthony Dwyer
43
Posted 16/01/2017 at 23:33:51
Davies and Lookman become the 16th and 17th teenage goalscorers for the blues in the Premier League... No other club has more. 👌⚽👏👏
Geoff Evans
44
Posted 17/01/2017 at 00:13:57
Mark 41: Shearer thinks the same as Rats, Neville disagrees. Neville's wrong.
Mark Andersson
46
Posted 17/01/2017 at 02:00:27
Great to be a blue today. We will never get any credit from the biased media you only have to look at how they treat the champions.
Let's hope Koeman knows how to set up his team against the likes of Palace.
Alan Shearer was gushing over Tom Davies and lambasted John Stones but the Daily Mail only reported what he said about Stones.
Anthony Dwyer
47
Posted 17/01/2017 at 09:25:55
Evertons other 15 teen scorers.
Wayne Rooney
Framcis Jeffers
Apostollos Vellios
James Vaughan
Victor Anichebe
Jack Rodwell
Gerard Deulofeu
Romelu Lukaku
Billy Kenny
Danny Cadamateri
Michael Branch
Nick Chadwick
Dan Gosling
John Oster
Michael Ball
Add the above 15 to Tom Davies and Ademola Lookman, and no other team has more teen scorers than the Blues.
I thought Jose Baxter was one too, but he made 7 appearances with no goals.
Dan Egerton
48
Posted 17/01/2017 at 09:28:57
FYI Barkley vs Alli so far this year.
I got this from an article from the red echo:
Another occasional Squawka Stats update and comparison (14 key aspects) between Dele Alli, said to be having a blinding season (no arguments), and Ross Barkley who has endured endless grief for generally and apparently having a stinker.
Mins: RB 1476; DA 1534
Pass Completion: RB 83pc; DA 81pc (Barkley)
Key Passes: RB 43; DA 27 (Barkley convincingly)
Assists: RB 4; DA 2 (Barkley)
Goals: RB 3; DA 10 (Alli more than convincingly)
Shots: RB 44; DA 51 (Alli)
Shot Accuracy: RB 52pc; DA 56pc (Alli)
Tackles Won: RB 12; DA 21 (Alli convincingly)
Tackles Lost: RB 35; DA 49 (Barkley convincingly)
Aerial Duels: RB 24; DA 4 (Barkley by a mile)
Aerial Duels Won: RB 53pc; DA 25pc (Barkley convincingly)
Take-Ons: RB 24; DA 27 (Alli)
Interceptions: RB 5; DA 7 (Alli)
Blocks: RB 2; DA 1 (Barkley)
Clearances: RB 16; DA 10 (Barkley)

Will Mabon
49
Posted 17/01/2017 at 18:49:45
Thanks for posting that, Dan. Shows a couple of things. How much perception is changed when the player is actually viewed optimistically rather than looking for faults. Also, how much perception and ''reality" can be influenced by being one of the media's darlings from The Smoke.
One or two excellent recent goals aside, what stands out about Alli versus Barkley to me, is his presence. He's a strutting, upright, aggressive character that gets involved, and moves quicker around the pitch off the ball (which is important and not captured by stats). I don't see the same level of easy natural talent and movement with the ball that Barkley has.
If Ross can firm up his self belief and relax, he could leave Alli trailing IMO. Not so easy to get the media love when you play for Everton of course. Those of us with the eye know how special Barkley is, though.
---
Add Your Comments
In order to post a comment, you need to be logged in as a registered user of the site.
Or Sign up as a ToffeeWeb Member — it's free, takes just a few minutes and will allow you to post your comments on articles and Talking Points submissions across the site.