Blues agree loan deal for Donkor
Wednesday 25 January 2017

40 Comments [Jump to last]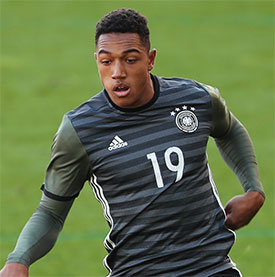 Mark Robinson/Getty Images
David Unsworth's U23 squad has been bolstered by the arrival of Anton Donkor on loan from Wolfsburg.
The forward is one of what is believed to have been two players targeted by Unsworth as he seeks to bolster his squad for the remainder of the season.
Donkor appeared set to join Aston Villa's development squad until a Wolfsburg source in Germany suggested that he had flown to Merseyside to hold talks with Everton.
The Blues have a reported option to make the move permanent in the summer for £1.5m if his loan spell is successful.
A Germany U20 international, he can play across the front line and he spoke to Evertonfc.com after the paperwork was signed:
"I'm very happy and grateful to be here, I know this is a great club and I like the way they play. I'm looking forward to challenging myself in English football.
"USM Finch Farm is an impressive place. The facilities are great and I'm looking forward to getting started here.
"I think I can learn from the good young players that are already here and hopefully we can be successful together."
As Unsworth explained to the Liverpool Echo earlier this week, players targeted for the U23s are done so with Ronald Koeman's senior side in mind as well and he was grateful to the club's major shareholder, Farhad Moshiri, for his backing.
"We'd love to bring quality, young players into our group," he said prior to Donkor's arrival, "but they have to be the right players, players we think are good enough to play in our first-team or we wouldn't entertain the idea.
"And I couldn't go to the board and the owner and ask to bring in any player — we wouldn't do that. They have to have the potential to play in our first-team.
"And I have to say, that every time I've gone to the board and to our first-team they have been brilliant and they have backed our judgement."
---
Reader Comments (40)
Note: the following content is not moderated or vetted by the site owners at the time of submission. Comments are the responsibility of the poster. Disclaimer
David Milner
1
Posted 25/01/2017 at 09:49:37
One for the U23s on loan, which will give us time to evaluate his potential for the future. Will keep us in with the FFP regulations & possibly a full signing next year.
Jim Potter
2
Posted 25/01/2017 at 09:54:10
Danke, Donkor.
Gary Hart
3
Posted 25/01/2017 at 10:04:29
I'll have a bangin' Donkor on it!
(For 6 Music fans!)
Derek Knox
4
Posted 25/01/2017 at 10:13:43
Let's hope he's Donkor the Stonker, and not Donkor the Plonker!
Welcome aboard for the time being.
Does anyone know if we have any option on him, should he prove to be good?
James Morgan
5
Posted 25/01/2017 at 11:00:07
Welcome lad. This could be his tune https://youtu.be/ckMvj1piK58
Dan Egerton
6
Posted 25/01/2017 at 11:13:35
Welcome Lad. Hope he smash some goals and stay.
Andrew Presly
7
Posted 25/01/2017 at 13:23:01
Interesting that Unsworth & Royle seemingly have a remit and budget to bring their own players in to the U23 set up now. They mentioned making a few signings of this type a couple of weeks back.
Both have shown they know how to get these kids ready for eventual first team football and nice to see them rewarded with more responsibility to continue doing that.
Presumably we have an option to buy this lad if he proves up to it? Strange to loan him without one.
Patrick Murphy
8
Posted 25/01/2017 at 13:33:43
A little more information on the player himself.
Kristian Boyce
9
Posted 25/01/2017 at 14:02:23
When I saw his name, I thought we had brought the donkey Niasse back from Hull.
Dermot Byrne
10
Posted 25/01/2017 at 14:09:22
Some will be stars for us, some, if we sign them, will make us money, others will be useless. The balance between the 3 possibilities is the key.
But I am more trusting in the research by our club these days than sceptics on TW.
This is great to see but don't expect all contracts to produce stars. Sometimes, sadly, we will take players with a view for profit.
There lies the purity of our game.
John Pierce
11
Posted 25/01/2017 at 14:18:56
The lad is quick, and strong. His eye for goal is okay too.
Based on the limited information about the deal this feels like an extended trial.
Definitely has attributes Koeman favours. Like Lookman clearly not a winger but and inside forward, a player who can genuinely play in a three up top.
I guess if they see decent progress they might buy him. Maybe if they see outrageous progress he may get first experience.
Have to say he has been a name floating around for some time, since he was 16. Good to see Everton looking at a German market often untapped or seen as out of reach.
He may not be a success but the key take away is Everton are fishing in a bigger pond. Encouraging.
Dermot Byrne
12
Posted 25/01/2017 at 14:27:19
Agree with last para, John.
David Milner
13
Posted 25/01/2017 at 15:38:13
Obviously a Steve Walsh input. Just need to add George Hirst & Tosin Adarabioyo now.
Trevor Lynes
15
Posted 25/01/2017 at 15:52:02
That Maguire at Hull looks fantastic at centre back. He is too good to play for a side at the foot of the table. I would definitely go for him. He would come much cheaper than Van Dijk or any other big name.
It's good to be shopping in Germany as they concentrate of fitness and technique over there. We slipped up with Dier and Mustafi plus we let both Baines and Jags slip through our fingers in the past too. We ended up buying Baines and Jagielka who have both been worth every penny and then some.
At least we are bringing young players to the club that are wanted by our peers. It certainly beats waiting until the end of transfer windows then shelling out for what is left. Every manager has targets and they are the priorities but I cannot believe that many of the recent buys have been target choices. It is good to see some business completed early but I hope that we still have others in the pipeline. A second striker and top schemer are required to get us into the top six.
Mike Berry
16
Posted 25/01/2017 at 16:31:26
The stars of tomorrow are out there now kicking a ball, we just have to find them. Our set up with Unsworth and Royle puts us right in the picture, I am impressed with the set up.
Colin Glassar
17
Posted 25/01/2017 at 16:46:07
How long before someone calls him Donkey or something to that effect?
Eugene Ruane
18
Posted 25/01/2017 at 17:05:27
We'll need another forward if Bolasie does this
Link
each time Congo score (his leg'll be like a fucking boomerang if they win it).
Hope he's joking about going out there (and if he's not, the club put the block on it).
Paul Doyle
20
Posted 25/01/2017 at 18:23:23
So he can't wait to come to USM Finch Farm.

Sounds like a military torture place.
Derek Knox
21
Posted 25/01/2017 at 18:36:23
I have just seen an article stating that should Everton wish to take the lad on a permanent basis, the fee would be circa £1.5M.
So they obviously rate him highly.
Who knows, he may be a late developer!
Roger Helm
22
Posted 25/01/2017 at 19:44:17
Welcome to our great club, Donkor. At this age and price it is a gamble but let's hope it works out for both parties. It would be great if Unsie and Walsh between them can create some more stars. Footballers cost such ridiculous amounts these days that this sort of deal becomes more and more attractive.
Gavin Johnson
23
Posted 25/01/2017 at 20:12:56
I'm sure he'd have played more games in Wolfsburg 2nd team if he was any good. Also would they let him go for ٟ.5m?! I shouldn't think so.
I'll keep an open mind but it seems a bit like the kind of pre-Moshiri signing to make up numbers and keep fans quiet.
I see Koeman is still involved in transfer negotiations which is why most of our big deals move at a glacial pace. I'll be a lot more excited if we sign the lad from Man City, no one can pronounce, or Hirst Jr from Sheffield Wednesday.
Minik Hansen
24
Posted 25/01/2017 at 20:20:35
Roger (#22) good point with the deal. I'd be happy to see this guy make it, staying at Everton and move up the ranks of the Germany international team set up.
Gavin, I'm sure there are different aspects at this deal, he wants to go to the Premier League, wants a bigger salary and the club can't keep him, whilst he wants to play at the Premier League's U23s top team.
Dave Queen
25
Posted 25/01/2017 at 21:32:12
Anyone remember the German youth player Odonkor from early Pro Evo soccer master leagues??
If he turns out anything like him then we're laughing!
Lev Vellene
26
Posted 25/01/2017 at 21:55:15
I'd usually be asking myself "Why is this news?" But this season I've actually kept some track with the U23s, so just previously I was asking myself "So, do we have many left now after all the loan deals?"
I guess it's a nice luxury problem to have!
Phil Sammon
27
Posted 25/01/2017 at 23:02:01
Dave Queen 25
That's exactly who I thought of when I first read his name. Man, that guy was fast.
Anto Byrne
28
Posted 25/01/2017 at 23:47:18
What happened to the Swiss wonder kid we signed then loaned out?
Anthony Dwyer
29
Posted 25/01/2017 at 00:02:40
Can't be unhappy with this deal, its a complete no-brainer.
Bringing this lad in will allow some of our main players from the U23s to go out on loan, also allow Calvert-Lewin to get back fit and continue with the first team.
We also get the option to view the kid first hand, seeing if he's worth a punt on a full time deal.
Win win win all the way.
Phil Sammon
30
Posted 26/01/2017 at 02:29:36
Is it though, Ant?
Will this lad take the place of the likes of Calvert-Lewin and Brewster? Is he all that much better?
I don't know the answers. Got to trust Unsy when he says they're not going to bring in players unless they really have potential.
Dan Egerton
31
Posted 26/01/2017 at 03:08:29
Agreed, Anthony (#29). It's a no-brainer alright. On loan, we only pay £100k for the next 4-5 months. If we like him, we sign him.
In the meantime, with Lookman and Calvert-Lewin as part of the senior setup now, the mighty table-topping U23 team lack a good striker. Rodriguez and David Henen look poor.
Another one apparently on our radar is Nicolas Pepe. A winger, he has played 25 games for Angers, scoring one goal. One for the first team though not the U23s. £8-10million. Newcastle and Liverpool also want him according to the Red Echo.

Dan Egerton
32
Posted 26/01/2017 at 03:09:14
And I agree with the others that want Macguire. Solid young centre-back in the Van Dijk mould.
Michael Kenrick
33
Posted 26/01/2017 at 03:27:03
Anto (#28),
A little off-topic but the Echo carried this story on Shani Tarashaj earlier in January:
A year on he's working his way back to full fitness having been sent out on a season-long loan to Eintracht Frankfurt.

Tarashaj, 22 next month, has made just six appearances for the German outfit after joining on deadline day at the end of August.

His has been a tale of woe since he signed with the Bundesliga club having to wait until the middle of September to even start training with them after suffering with benign angina.

Tarashaj's debut in October was followed by his first goal later that month in the 3-0 win over Hamburg but he has played only three times since.

A bout of tonsillitis was so severe that his tonsils had to be removed and saw him miss five games.

Tarashaj returned to the Frankfurt side as a sub against Wolfsburg and Mainz last month and will now be looking for an injury free run in 2017 in the hope of impressing his parent club.

Ronald Koeman, as he did with fellow January arrival Oumar Niasse, made a quick decision on Tarashaj in pre-season, immediately plunging his long-term Everton future into doubt.

It is believed the Blues boss had concerns about Tarashaj's ability to cope with the rigours of the Premier League and so packed him off to Germany for the campaign.

Martinez had also been keeping a close eye on the playmaker's physical state, as he played out the remainder of the season with Grasshoppers, and brought him over to Finch Farm in April for tests.

Koeman, ruthlessly, decided he would play no part in the first-team this term even though Tarashaj was given a squad number.

The Swiss international must now hope his is not a case of being 'out of sight, out of mind' to ensure he doesn't go the same way as Niasse.
Daniel Lim
34
Posted 26/01/2017 at 03:31:25
Colin @17
I think you have started the ball rolling. LOL
Dermot Byrne
35
Posted 26/01/2017 at 14:10:57
Did RS lose? Sorry, late, inappropriate and on wrong thread. Still recovering after surgery so filling days!
Stan Schofield
36
Posted 26/01/2017 at 14:15:48
Dermot, it's better than that, apparently some RS supporters are calling for Klopp's head.
Lee Preston
37
Posted 26/01/2017 at 14:31:29
Phil #30 – Brewster is on loan at Southport, initially short-term, but they've given him the number 9 shirt and it is expected to be until the end of the season.
Calvert-Lewin is out injured for 2 months, plus is part of the first team picture, rendering him unavailable for Unsy's U23s.
This deal, from what has been written in various sources, is to add depth to the U23 squad after being depleted by players leaving on loan. Not to be a detriment to players currently in the squad.
We get to see him at close quarters and determine if he is at the required level, whilst also offering competition for places at U23 level. I can't see any negatives with this one.
Bill Gienapp
38
Posted 26/01/2017 at 19:20:37
The Donkor need food!
Sixteen Candles? Anyone? Anyone?
Dan Egerton
39
Posted 27/01/2017 at 08:09:52
Bueller? Bueller?
Mark Andrews
40
Posted 27/01/2017 at 11:58:18
@Gary #3 This? https://www.youtube.com/watch?v=ckMvj1piK58
Steavey Buckley
41
Posted 27/01/2017 at 20:20:02
Curious decision on bringing in a forward for the Under-23s when Everton are so dependent on Lukaku remaining injury free and scoring goals for the first team.
Everton's next opponents, Stoke City, 8 points behind Everton will be reinforced by two more strikers, Berahino from WBA and Bony, who has just returned from the African Cup of Nations. Mark Hughes does appear to take the striking role more seriously.
Stan Schofield
42
Posted 27/01/2017 at 22:12:32
It does say that he was brought in with the 1st team in mind, which suggests possibly supporting Rom or being available if Rom gets injured.
---
Add Your Comments
In order to post a comment, you need to be logged in as a registered user of the site.
Or Sign up as a ToffeeWeb Member — it's free, takes just a few minutes and will allow you to post your comments on articles and Talking Points submissions across the site.