Everton left frustrated by draw at Stoke
Wednesday 1 February 2017

175 Comments [Jump to last]
Stoke City 1 - 1 Everton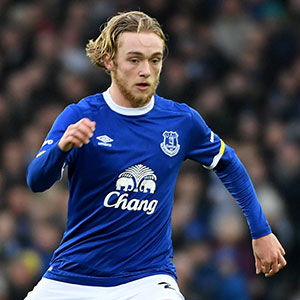 Tom Davies came close to winning it late on when he connected with Seamus Coleman's cross but was denied by Lee Grant
Everton recovered from another shambolic start to force an own goal by Ryan Shawcross but couldn't find a winner in the second half
Peter Crouch put Stoke ahead after just six minutes when a ball over the top caught the away defence flat-footed but when a cross from the right bounced in off Shawcross, it set Ronald Koeman's men up for a better second-half display.
Everton came close to winning it late on but were denied by goalkeeper Lee Grant after Joel Robles had saved his team at the other end in the first half.
Morgan Schneiderlin made his first Everton start in the only change to the side that started against Crystal Palace last time out but Ronald Koeman's hitherto successful back three looked all at sea in the early going.
Stoke had all of the early going and scored when a long ball forward found Marco Arnautovic in acres of space and he teed up Crouch to slide in and convert past the stranded Joel Robles.
Everton belatedly woke up and started making inroads into the Stoke defence, winning three corners in quick succession but they found the home side difficult to break down.
Stoke meanwhile almost doubled their lead when Crouch volleyed inches wide from Arnautovic's knock-on and Coleman missed with the Blues' best chance thus far when slipped in by Mirallas. The Irishman popped up in the box at the end of a well-worked move but knocked his shot over the bar.
Back at the other end, Everton's defence left Arnautovic wide open in the box but Robles rushed off his line smartly to deny the Austrian an almost certain second with a block.
Everton equalised, however, thanks to another incisive move through Stoke's midfield. Coleman was played in on the overlap and when he checked back into his left foot and swept in a cross, the ball went in off Ryan Shawcross.
Referee Craig Pawson initially chalked the goal off for offside but after consulting with his assistant, he ruled an own goal.
Robles had to come to Everton's rescue again on the stroke of half time when Arnoutovic found himself in the clear again but the Spaniard closed the space expertly to deny him.
Koeman withdrew Mason Holgate and introduced James McCarthy in his place but the match degenerated into a midfield slog until Ademola Lookman came on for Kevin Mirallas with 20 minutes to go.
The teenager almost scored with his first touch but Grant got down well at his near post to save.
Then, after Ramiro Funes Mori had headed out of his own goalmouth following Sadio Berahino's looping header, Coleman dug out a cross from the byline that Davies met with a placed header but Grant pulled off another excellent save. Lookman smashed the loose ball right across goal and inches past the far post.
The result was a frustrating one, particularly given Everton's overall superiority on the ball and that Manchester United in sixth place dropped points at home to Hull.
Full details: ToffeeWeb match page
---
Reader Comments (175)
Note: the following content is not moderated or vetted by the site owners at the time of submission. Comments are the responsibility of the poster. Disclaimer
Phil Greenough
1
Posted 01/02/2017 at 19:08:09
Did anyone else notice that there was no reference on Northwest Tonight? I've emailed the program, but I won't hold my breath. It just reinforces the BBC's attitude to all the other teams in the Premier League.
Clive Rogers
2
Posted 01/02/2017 at 19:09:47
Our strongest team, with Barry and Lookman to come on depending how things go. COYB
Bobby Mallon
3
Posted 01/02/2017 at 19:09:50
That's a strong line-up.
Jimmy Salt
5
Posted 01/02/2017 at 19:18:24
I like the look of that team... let's smash the mutants.
Peter Morris
6
Posted 01/02/2017 at 19:18:28
This is the line up I would have gone for, injuries permitting, so come on lads, go out there a do the job. COYB.
Frank Crewe
7
Posted 01/02/2017 at 19:32:01
Clive (#2),
Don't forget Gueye will be available for the Bournemouth game. Many would say the team with him in it is our strongest side. Will be interesting to see what Koeman decides when they are all ready to go.
Eddie Dunn
8
Posted 01/02/2017 at 19:41:16
This is the side I would have picked. Stoke are a decent outfit, so a point there would be respectable, and a win would be above par.
Mark Fraser
9
Posted 01/02/2017 at 19:48:40
Gueye will come in for Davies Frank (7) ...much as we would all like to see young Davies as a regular starter I think this is inevitable.

Colin Hughes
10
Posted 01/02/2017 at 20:05:05
I would have gone with McCarthy instead of Davies tonight as these are a physical side, Davies is still inexperienced so could struggle to impose himself and may have been better kept fresh for the less physical Bournemouth on Saturday at home.
Ciarán McGlone
11
Posted 01/02/2017 at 20:25:31
Poor start.
Williams continues to get caught out. Too many mistakes in this guy.
Colin Hughes
12
Posted 01/02/2017 at 20:34:53
Get McCarthy on at half time for either Davies or Schneiderlin, these are bullying us, no room for flair players tonight. Right now, I can only see these scoring again the way we are making easy for them.
Joe O'Brien
13
Posted 01/02/2017 at 20:40:02
Get INNNNNNNNNN!!!!!!!!!!!!
Dean Cooper
14
Posted 01/02/2017 at 20:45:16
The result doesn't concern me so much tonight, I am very happy with the way we are trying to play. Sure, it's not all coming off but give this team (most probably Gueye for Davies and a new CB) 6 months to gel and we will be producing some top performances.
You can already see the difference Schneiderlin makes to this team and the guy hasn't played for 6 months. Cool, classy, composed and the way he tagged Allen out of frustration brought a tear to my eye. Not to mention he was the first in the ref's face for our goal. This is our future captain.
Jay Wood
15
Posted 01/02/2017 at 20:51:49
I've got to ask ...
Have we found a goalkeeper?
Well played again, Joel Robles.
John G Davies
17
Posted 01/02/2017 at 20:52:17
Inexperience of young Mason there for the goal. A learning curve for the boy.
Robles kept us in it twice.
Schneiderlin will be a good signing.
Christy Ring
18
Posted 01/02/2017 at 21:14:40
Hope we up it in the 2nd half, tighter at the back, and close down the long ball from midfield; Crouch given too much space.
Matthew Ulm
19
Posted 01/02/2017 at 21:15:00
At work, can't watch the match. Can someone tell me why Holgate came off? Injured or just poor performance?
Nicholas Ryan
20
Posted 01/02/2017 at 21:15:56
A point away at Stoke [if that's what happens] is a good point.
Ciarán McGlone
21
Posted 01/02/2017 at 21:19:15
The quality of passing is abysmal.
Chris Williams
22
Posted 01/02/2017 at 21:19:30
The weather conditions sound rank there.
Geoffrey Hall
23
Posted 01/02/2017 at 21:31:49
Glad I have my phone.... Sky don't like talking about Everton.
John G Davies
24
Posted 01/02/2017 at 21:58:16
Good point gained.
Game of two halves really. They had the better of the first half then an intelligent change in formation from the manager at half time and we were by far the better team in the second half.
Should have won it but a great save from Tom's header.
Jeff Armstrong
25
Posted 01/02/2017 at 21:59:05
Barkley's and Williams's passing was shocking, Schneiderlin was my MotM... apart from that, a pretty average performance against the usual Stoke roughhouse tactics.
Tony Hill
26
Posted 01/02/2017 at 22:04:44
Fair enough, no shock that this was a tough game. We improved and were the better team in the end but Robles saved us.
It is tiring to repeat that we are glaringly short of creative guile and that we need another striker Tim Chillingham but until we address those shortcomings then we will continue to be telling ourselves that a point away at the likes of Stoke is a good result (which it is) rather than celebrating breakthrough wins.
Colin Malone
27
Posted 01/02/2017 at 22:07:32
We need a centre-forward. Barkley was my MotM. Just wish we had a centre-forward who is willing to put a shift in.
Ciarán McGlone
28
Posted 01/02/2017 at 22:08:01
Just when you think we have a semblance of direction.. a game like this comes along.
In terms of unforced errors and quality, this was as bad as anything this season.
A truly awful and painful game to watch.
Jay Wood
29
Posted 01/02/2017 at 22:08:55
Not quite at it all game. The draw probably a fair result.
Sloppy passing at key moments, but positives to be taken from the game. With each passing game, Robles is growing as a keeper and looks increasingly more solid and reliable.
Davies and Lookman inevitably make the wrong choice or pass at times, but there is a brightness and alertness about them – all the more so, given their age – that is hugely encouraging.
Would have been nice to get the 3 points, given the other mid-week results, but the unbeaten run extends. Bournemouth at home on Saturday represents a good chance to add points and goals to our tally.
Onwards and ... upwards?
Andy Walker
30
Posted 01/02/2017 at 22:09:45
Good result. Unfortunately it's just not realistic that we win EVERY game, just in case some didn't realise this.
Craig Fletcher
31
Posted 01/02/2017 at 22:11:03
In the context of winning at Crystal Palace last week, a draw away at Stoke is an ok result.
The acid test though will be the visits to Anfield and Old Trafford. If we're going to seriously challenge sixth, by my reckoning we'll have to win one of those two.
Jason Saggers
32
Posted 01/02/2017 at 22:13:16
So-called top sides all dropping points of late and we have missed an opportunity in another disappointing transfer window. I really feel that we could have gone on a run and worried the top four.
Colin Glassar
33
Posted 01/02/2017 at 22:18:06
Andy, when I played subbuteo as a kid, Everton won every single game.
Dominic Tonge
34
Posted 01/02/2017 at 22:19:31
Not an awful result given Man Utd drew.
Colin Glassar
35
Posted 01/02/2017 at 22:22:52
We barely get a mention on the BBC website. It's all about Crouchy.
George Cumiskey
36
Posted 01/02/2017 at 22:24:47
Another poor performance from Barkley, who kept giving the Ball away. We would have won tonight if our players could kill a ball first time or pass the ball better. Davis was MotM again, in my opinion.
Mohamad Haryan
37
Posted 01/02/2017 at 22:26:23
As usual, Everton passing is terrible. They can't even do a simple pass. I wonder what they are doing in training. I lost count how many mispasses done by Barkley alone.
Another thing is, please do not pass the ball to Lukaku if he is not facing the opponent's goal. He is just going to give the ball away.
All-in-all a good draw nevertheless.
Ray Smith
39
Posted 01/02/2017 at 22:29:53
Currently the best of the rest.
Robles is coming good. He has put up with being rated second best.
Now he has taken his chance (again) and should remain in situ for the rest of the season.
Several of you have stated that Koeman turned down Joe Hart, but on current form Hart is the only keeper I would put in front of Robles.
Not the end of the world if Robles carries on his current form.
Mike Berry
40
Posted 01/02/2017 at 22:29:57
We were away at Stoke, and many teams come unstuck there, with their long balls into the box approach.
A point is more than many will get, so I am satisfied we did not slip up on this banana.
I expect us to be on fire against Bournemouth...
Dave Williams
41
Posted 01/02/2017 at 22:30:57
It's not just us) RS and Chelsea were both poor in the second half last night, bad passing, poor ball control.
A good point!!
Eddie Dunn
42
Posted 01/02/2017 at 22:31:50
A good result but lots of mistakes all over the park. Ross ran around a lot but his timing and touch were off, Seamus was being bullied by Pieters, but his incredible persistence still helped him to influence the game. Mirallas and Lukaku perhaps lacked some service but were poor.
Schneiderlin had a solid game but his lack of match sharpness led to a couple of poor passes that could have cost us. Williams didn't put a foot wrong, and Davies is so impressive. Joel did well again, keeping us in it with those one-on-ones.
Baines failed to get down his line – he really is lacking pace now, and although he was solid defensively, we need more penetration on his wing.
Might have nicked it late on, but it was a fair resut.
Paul Hewitt
43
Posted 01/02/2017 at 22:32:53
1-1 at Stoke. I will take that.
Andy Walker
44
Posted 01/02/2017 at 22:34:49
Nice one, Colin, me too. ;)
I used to play against my dad every night when he got back from work, we had a league table. We had about 6 teams each, those were the days...
Damian Wilde
45
Posted 01/02/2017 at 22:39:45
Poor game. Barkley dreadful. Okay result. Bring on Saturday. Lookman looks great. Davies too. Unlucky not to score!
Ray Smith
46
Posted 01/02/2017 at 22:45:46
Who has had who over? Billy bullshit, Jim White, claims Moshiri is a friend and he is a closet Evertonian.
I wish he would listen to himself. He asks multiple questions, but interrupts the response before the respondent can answer his catalogue of questions.
Methinks 1-0 to Moshiri.
Eugene Ruane
47
Posted 01/02/2017 at 22:46:14
Jesus, is there a more lumpy, gristley, grocky, muscle-bound, horrible, dog's-arsey (?), awkward side than Stoke in the Premier League?
I can't think of one – push, pull, grab, nudge, whine, press, moan... fucking horrible to play (and watch).
Not moaning (much) like, but I'm pleased we won't have to play them there again until next season.
Shudders!
Sam Hoare
48
Posted 01/02/2017 at 22:46:56
I'm encouraged. We were far from our best and yet still a level above some of the performances we saw before Xmas. The team looks to have a better balance, hunger and clarity and we looked the more likely winners in the second half.
Still think we are missing a bit of spark up front especially when Barkley is not quite on it as was the case tonight.
A point at Stoke is pretty reasonable and the performance while not polished at least showed to me that we are still on the right track.
Patrick Murphy
49
Posted 01/02/2017 at 22:53:20
Sam (#48),
I agree and the bonus is that we have 2 or 3 players who are getting used to their team-mates and or not quite 100% match fit and a couple of youngsters who now know how hard it is to perform away from Goodison.
Stoke are a very hard working side and have some dangerous players if you allow them time and space, which is what happened in the first half. We kept them at arm's length for most of the second period but we didn't look too fluent too often in their half. A draw was a fair result in the end.
Ray Smith
50
Posted 01/02/2017 at 22:53:34
Eugene 47
Well said.
However, Hughes (who I rate) is getting the best out of his team.
Hard place to go too, a lot of teams will leave with nil points.
Good point tonight.
Dave Abrahams
51
Posted 01/02/2017 at 22:53:47
Ciaran (#21), the passing has been abysmal for the last three seasons, continually giving the ball away when under no pressure.
Never improves... a basic requirement of a professional footballer.
Chris Gould
52
Posted 01/02/2017 at 22:56:02
Mark Hughes having a moan about the goal. Having watched multiple replays, there's nothing controversial about it. Shawcross put it in his own net.
Lukaku didn't touch it and didn't interfere with play. He also didn't obstruct the keeper or even distract him as he was stood beyond Grant. Not that it matters what Hughes thinks, but he's whining on SSN and it's annoying.
I thought Lookman looked lively and fearless. Want to see him with ball at feet in the final third more, he seems to be able to glide past players.
Jim Bennings
53
Posted 01/02/2017 at 22:56:12
I wouldn't say I was frustrated by that result maybe the performance to an extent but a 1-1 draw at Stoke which is s notoriously hard fixture is a fairly good result especially after wins against Southampton, Man City, Palace and Leicester.
We are on a pretty decent run at the minute and a win on Saturday could really put Man Utd under pressure.
James Lauwervine
54
Posted 01/02/2017 at 22:59:01
Agree Eugene (47) I cannot stand them. I actually looked up their trophy record after the game to prove to my kids they are no-marks. Laughable history to go with their display tonight.
Crouch – fuck off; Shawcross – fuck off. We should have beaten them but just glad to get the thugs out the way for this season.
Colin Glassar
55
Posted 01/02/2017 at 23:01:56
I had all the teams, Andy, including a few foreign ones like the two Milan teams (only cos I liked their kit) and Peru. When I played on my own, Everton always won; when I played against my older brother... not so much.
Tim O'Connell
56
Posted 01/02/2017 at 23:04:40
Very encouraging that Joel had another good game. He seems to have gained in confidence and is looking a top keeper – I know he needs to prove this over a long consistent run but he seems a good guy and it would be great if he did prove himself!
Not a bad result; onwards and upwards. COYB
Mike Dolan
57
Posted 01/02/2017 at 23:05:48
It's always good to get a point at Stoke. It must have been very difficult to control the ball in that wind tonight.
Davis is a brilliant player and he's still learning. Passes it long and short, tackles, shoots, fly's through the air for headers and above all he has that swagger.
If I had the choice of any defender to buy, it would just have to be Shawcross – what an animal.
Conor Skelly
58
Posted 01/02/2017 at 23:10:41
A good result if not a slightly deflating performance.
We can perhaps put the lack of fluidity down to a cold Wednesday night at Stoke married with the fact it has followed an extended break since our last game.
Hopefully we will find our flow for the visit of Bournemouth on Saturday. I'm making the trip from Dublin, so I hope so.
Trevor Lynes
59
Posted 01/02/2017 at 23:12:02
I looked at the Stoke defensive line up and was worried how we would cope. Davies coped quite well but I for one was disappointed that we did not spend some dosh and get a proper creative ball player plus a second striker who knows where the goals are.
It is getting to the ridiculous stage where if Lukaku does not score then it will be a defender. Why are Barkley and Mirallas not scoring? If they cannot score then what is the point of them being on the pitch ? They each have 3 goals this season and Coleman has four whilst Baines has three.
Stoke had a huge physical defence set up to overwhelm Lukaku. Obviously Hughes reckoned that stopping Lukaku would defuse our attack and he was right. Lookman came on for a cameo and had more attempts than our senior players.
We have enough midfielders but we need a big commanding centre back to deal with the Crouch's and Benteke's of the division. We cope very well with the small footballing sides but we definitely struggle against physical sides who tend to bully us. Until we find a second striker and a proper play maker we will remain where we are.
Hugh Jenkins
60
Posted 01/02/2017 at 23:18:18
Hopefully, we are establishing a pattern. The guiding philosophy for League Champions has always been' "Win at home, draw away".
In this league of 38 league matches, that would mean a total point haul of 76 points in any given season.
Not being a "stato" , nor a historian, I am sure there will be many of that ilk who will soon let me know where that points tally will or could have placed us in any given season.
However, my point here is not about what has happened in the past, nor what might happen in the future.
Rather, it is about consistency, which now seems to be almost in our grasp.
We are winning at home (is "Fortress Goodison" being resurrected?).
We are drawing away (this is certainly top four form, albeit, perhaps too late for this season).
Great teams, of course, convert many away draws into wins agains the weaker sides and this must be the aim for the next stage of our development.
However, suffice to say, on the basis of the transfer business done thus far under Koeman and Walsh (and I include those leaving as well as those arriving) and the results we have achieved, home and away, over the last few weeks, I genuinely believe that we are finally beginning to look like, act like and become, at the very least, a top four club.

Peter Mills
61
Posted 01/02/2017 at 23:22:06
Given that Mason Holgate had an absolute nightmare (it happens Lad, you got subbed at half-time, you are going to be a good player, learn from it) and we could easily have been 3-1 down at half-time, this was a very acceptable result.
Andrew Keatley
62
Posted 01/02/2017 at 23:25:47
Can we do it on a wet and windy February night at Stoke? Not exactly. But we managed to get a point despite not playing well, so that's a pretty decent result all things considered. And it keeps the unbeaten run going.
Mike Green
63
Posted 01/02/2017 at 23:31:07
Three points would've been great but coming away with a point from there is more than most teams will get, they all count and were getting into the habit of picking up points too which is really good.
Next up Bournemouth at home. Would be nice to give them a good beating to really get us back motoring.
Anthony Dwyer
64
Posted 01/02/2017 at 23:31:26
I don't think we were at our best, but an away point to Stoke isn't too bad.
Davies looked a little lightweight first half, I thought he might struggle against such a strong aggressive team, but he was excellent after the break.
Rom looks off the pace the last few weeks, I'd have liked us to have got Valencia up top with him to help him against such physically strong defenders.
If Ronny didn't fancy 2 up top late on, he should have considered giving Rom 10 minutes break and giving Valencia ago.
Good to see McCarthy back, both him and Schneiderlin needed run outs, they won't get many tougher run outs that they had tonight.
I'm looking forward to seeing us at home to Bournemouth as they are quite an expansive side who like to play football, it will be an interesting specticle.
A last note, before Crouch scored we were the only Premier League side yet to concede in 2017 league football.
Onwards and upwards.
James Lauwervine
65
Posted 01/02/2017 at 23:39:24
Just read the report after the match on the massively ant-Everton BBC. Fuck me, that is too much. No mention of the fact that our goal was an actual FUCKING GOAL! All about lanky ex-RS's 100th goal in (not mentioned) 419 premier leagues games. Shite ROI on an ultimately shite player. Oh but wait... he's played for the RS therefore fawn fawn fawn etc. He'll be a TV pundit before long I'm sure. FUCK ME!!!!!
Alexander Murphy
66
Posted 01/02/2017 at 23:39:34
Thank heavens that is over. But thank heavens even more so that our unbeaten run continues.
The Pots play just like the has-been Hughes did by the time he blighted us with his squabbling, grappling and total avoidance of all things football.
Eugene says it so well in post 47.
Paul Thompson
67
Posted 01/02/2017 at 23:40:44
The way we were set up in the first half just didn't work - Stoke had too much space, particularly running thorugh the midfield and on the flanks.
Not for the first time Koeman was decisive, changed the shape and we were a much better side in the second half. Davies stepped up and Schneiderlin added bite as defensive mid.
Unfortunately the front three were largely ineffective. Lookman, though he didn't see a lot of the ball, was much livelier around the box in his short time on. He'll knock in a few more before the season is out.
Andrew Presly
68
Posted 01/02/2017 at 23:54:22
Acceptable point if we beat the Cherries on Saturday. It feels contingent on that.
Darryl Ritchie
69
Posted 01/02/2017 at 23:56:52
A draw was a fair result, although I have to admit that they had much better chances. Thank you, Joel!
Arnautovich took Holgate to school in the first half; sure hope he learned a thing or two.
Lukaku looked very lonely up front. Koeman has to figure out something to get him more involved.
McCarthy doesn't have a lot going forward, but if the your in a different coloured shirt with the ball, and he's anywhere near you; your going to get clattered. Nice to see him back.
Happy with a point.
Laurie Hartley
70
Posted 01/02/2017 at 00:05:44
A good "come from behind" point. Last year it would have been us conceding just before half time.
Colin and James you are both quite right about the BBC's match report and your frustration is understandable. Nothing new there though – it's been the same since I can remember. THEY, meaning the football establishment, just don't like us.
My dad (God rest his soul) told me that in the 60's. At the time I thought he was being a bit paranoid but have come to realise over the years that he was correct.
So tonight we have come away with, what THEY are saying, is a fortunate point. Great – I hope It is driving them to distraction.
I would like to see us make them even quieter by grinding out more results like this.
We have got THEM rattled. They expected us to be 3 points further adrift of United after tonight's two games – we have maintained our position.
We are going to catch United. That will send them barmey.

Oliver Molloy
71
Posted 01/02/2017 at 00:06:24
Yep, a point is better than none but these really are the sides that we have to be winning against.
Next game 3 points is a must.
Joe O'Brien
72
Posted 01/02/2017 at 00:09:26
Wanted 3pts but happy enough with 1. Can't stand that horrible team team or their manager, the moaning fucker. They'll never go down but they'll do fuck all else. The run keeps going, bring on Bournemouth.
Steavey Buckley
73
Posted 02/02/2017 at 00:17:45
I do believe Gueye has to play on Saturday against Bournemouth to close down the opposition quicker. Everton against Stoke allowed the likes of Charlie Adam too much room and time to get crosses in. I believe Gueye and McCarthy are Everton best midfield defenders, as proved against Arsenal and Liverpool (first half.)
Chris Leyland
74
Posted 02/02/2017 at 00:27:23
That was a good point but Stoke are one shitty club with shitty fans and a twat of a manager. Every foul they conceded was greeted with over-the-top booing or incredulity from their mutant fans or manager. I know that all fans are biased but they are almost as bad as Kopites in their blind and blinkered view of football.
Jamie Sweet
75
Posted 02/02/2017 at 01:01:46
Not a bad result given that only one team in the top 6 gained more points than us this round (despite Chelsea, Spurs, Arsenal and Man Utd all playing crappy teams).
Don Alexander
76
Posted 02/02/2017 at 01:28:06
At #51, Dave Abrahams makes a point I totally agree with, and I bet Koeman is of exactly the same mind. Our squad need to learn the value of possession pdq if we're to move up into the Champions League criteria. By that I don't mean possession for it's own sake, which can send statues to sleep, but possession to frighten the opposition.
A point at Stoke is acceptable, that's all, this season. Next season with a more active summer window behind us I hope we'll take all three. That's what successful teams do at places like Stoke. I was under the impression that wins at the likes of Stoke was endemic to Moshiri's stated ambition.
The "key to three" is possession in places that make the opposition bleed, right there and then. That's why we needed, and still obviously need, two or three more players at the top of midfield as well as in attack.
Rob Halligan
77
Posted 02/02/2017 at 01:48:02
Fecking Stoke retards haven't got clue about football. From where we were, you couldn't really tell what happened with our goal, but they are right behind it and must surely have seen it came off Shawcross for an OG. They gave the ref dogs abuse after that.
Overall quite happy with the draw. We could have won; we could have lost. I thought Davies had scored the winner at the end, but that's what goalies are paid for. For his first half saves, I'd give Robles MotM.
Ernie Baywood
78
Posted 02/02/2017 at 02:31:17
Stoke is just a shocking place to go. We played alright but the end to end wind didn't encourage a good game.
Thrilled to see Seamus back doing what he does best. He's limited in some ways but gives everything he's got. Bargain really doesn't do him justice.
A draw isn't bad there. We move on.
Darren Hind
79
Posted 02/02/2017 at 02:36:53
We played too deep – again. Keep Crouch on the half-way line and he looks like a performing seal. Ashley Williams must be the only centre-half in the world who's scared of the beanpole's pace. I mean, what's with this defending on the edge of your own box?
Suck it up. this is the way its going to be under Korpral Koeman. Pug ugly football. How can it possibly be anything else when you've got a 60-yard gap between your centre-forward and your centre-half? Too many aimless hoofs (inevitable); too many badly weighted passes, dumb-arsed formation which played straight into the hands of tactically challenged Mark Hughes.
Once again, the result (a decent point) will serve as an ample mask for another damned unpretty performance. This manager has now been here seven months now and I defy anybody to describe the style of football he is asking these players play. This is meant to be entertainment... it's an eyesore. The Man City game was wonderful, but by taking all four chances which came our way, we have merely encouraged the happy clappers to ring the bells for a bright new dawn.
"Press, press, press..." We couldn't press a drop from a recently picked Valencia.
Maybe Koeman will one day realise the abject stupidity of trying to "press" the opposition while your defenders are still on the edge of their own box. I'm not holding my breath though. The guy thinks with the fucking handbrake on.

William Cartwright
80
Posted 02/02/2017 at 02:39:41
Lauire @ 70; My dad used to say the same in the '50s and '60s. The Merseyside Mmillionaires were guilty of being vulgar and buying success. For some reason we never really recovered.
I have been banging the drum regarding the fucking BBC's bias for years now, even finding Evertonians a lot of the time don't see it ... (Take a bow Ste Traverse).
The report on the BBC was a sheer one-sided diatribe. Never in the history of reporting have the redshite or manure ever, EVER been dismissed like that. And it happens to Everton quite regularly. The thing is, the BBC make such a high principle of being 'objective' and 'impartial'. That is why it pisses me off so much.
For sheer proof of the BBC's unmitigated bias, read the report and imagine you are not an Evertonian. It is shocking.
Derek Thomas
81
Posted 02/02/2017 at 03:00:21
Not his biggest fan then, Dazza @79?
As Dave Abrahams says, proper possession where it counts, which leads to proper pressing when required. Then proper players to see and play the proper pass to proper strikers-plural, strikers of the 'smash & grab' type, like Jones and Clarke and, dare I say it , Toshack & Keegan, Lineker & Beardsley etc... even Shearer & Owen ffs. Lukaku & Lookman... hmm, not too sure on that, can't see Lukaku being 'smashie', he's too nicey.
Short version; Proper Football... football shorn of all the trendy buzz words.
Hugh @60; 76 pts would get you anywhere between 2nd and 5th depending how the others went.
Craig Fletcher
82
Posted 02/02/2017 at 03:51:23
Darren, (79) don't agree with much of what you just said, but you're bloody entertaining. First-class rant.
I especially liked the Peter Crouch / performing seal comparison.
Daniel Lim
83
Posted 02/02/2017 at 04:14:39
I agree with Craig, it's hilarious, Darren, the seal... LOL
Jay Harris
84
Posted 02/02/2017 at 04:59:21
Darren, can you please stop the anti-Koeman rants?
Koeman had nothing to do with the weather nor an anti-football Stoke team that we did well to get a point out of.
Will Mabon
85
Posted 02/02/2017 at 07:12:59
Trying weather? Apparently (not yet viewed it myself).
Stoke a tough team at their place? Fairly, yes.
So, reasonable result to not lose? Probably.
Acceptable continuation of our improved run of two months? I guess.

All mostly positive. I've kind of softened my stance on Koeman since his earlier product, which got close to going pear shaped. He's been at the helm after all, and turned it a ways - so we'll see.
Doesn't change what Darren said though: whilst flexibility is very necessary to suit varied oppositions, there is still no definable starting or basic style to our play. Hard to fathom the intent. It's working for now but is far from an established basis. Will be interesting to see where it goes.

William, Post 80:
I'm completely with you on the bias issue. I've never thought to conduct a poll but I assumed all Evertonians were aware. The BBC and most of them have always used a minimal acknowledgement approach when reporting Everton - mention the other team's failings as an alternative to Everton's positives, and other "Techniques".
Even during those days in the '80s when we were a sizeable cut above everyone else, praise was often almost reluctant.
Kim Vivian
86
Posted 02/02/2017 at 07:16:16
The LEAST eagerly anticipated game of anybody's year has to be at Stoke, midweek on a damp, dark midwinter night. And that was demonstrated last night by a pretty damning entertainment rating. 3 or 4/10 at best I'd say. Shored up by Davies' and Lookman's tenacity.
On the night, and on the balance of chances Is think Sparky will be the more disappointed with the draw so I wa pleased we came away with our point. Robles, Schneiderlin, Davies all looked good.
The one time I recall Rom winning an aerial dual we pressed well from it. I wish he would do it more. Ross seemed unable to tell the difference between red and white, and blue, much of the time but he does often go for the ambitious pass which is harder to complete so credit to him there.
MotM a difficult call but I think Joel won us the point last night. So it's our GK for me.
Hugh Jenkins
87
Posted 02/02/2017 at 07:39:07
Derek (81). Thanks.
So, as I said, win at home, draw away is effectively a formula that would take us into the top 4 on a pretty regular basis. Then, to start winning a few more of the away games, will ultimately elevate the side (any side) into the "Champions" position.
On the basis of last nights result and depending on how the next few games go, it does seem we are starting to "get there".
Colin Glassar
88
Posted 02/02/2017 at 07:56:39
Classic Darren that. Along with fellow Chuckle Brother, Phil Walling, Darren is always like a ray of sunshine on here.
Ray Roche
89
Posted 02/02/2017 at 08:08:57
Will Mabon (#85)
Will, regarding the BBC bias, anyone remember Lineker saying that when he first went to MotD they had to persuade the Producer NOT to put the RS on first every week. As a RS supporter he'd try to make a case for putting Liverpool on first, and we can see the RS bias at every step.
I've just watched the BBC News and City and United were shown, including soft arse Maureen having a PMT strop and walking out of his interview, and they orgasmed over Crouch and his goal... but didn't show our goal and only mentioned us as an after thought. The whole corrupt BBC organisation needs clearing out.
#kenwrightforDG
John G Davies
90
Posted 02/02/2017 at 08:14:05
"The tactically challenged Mark Highes"
"The guy thinks with the handbrake on"
Just out of interest,do you reckon any of the current managers in the Premier League could match your standard of coaching knowledge?
We get the picture. You don't like Koeman.
It was a difficult night to play football, wind and rain and the same in-your-face aggression we always see from Stoke. Could you not just be reasonably pleased with a point?
James Hughes
91
Posted 02/02/2017 at 08:56:22
Ray (#89), I noticed that too and the 7:30 sports slot didn't mention our game at all.
BT are just as bad with their bias, did you see the Wolves FA Cup game? Creasehead and Ince pitch side and McManaman in the commentary box. I went out just after kick-off so can't say if there was any balance at half-time or if it was Whelan, Rush, Doglish and Shankly, via a seance, summing up the action.
Rob Dolby
92
Posted 02/02/2017 at 09:09:33
Very pleased with the point. Robles was our MotM.
We are so inconsistent, one week we knock the ball around for fun the next we can't string 2 passes together. Koeman will bring Gana back on Saturday but who for?
Lookman can't be far off starting for Mirallas. Baines hasn't been able to link up play down the left for 2 seasons now, it's getting embarrassing that we are wasting a players quality, restricting him to sideways and backwards passing.
Another transfer window passes without us having a natural left mid.
Keith Conchie
93
Posted 02/02/2017 at 09:11:03
To get a draw away to Stoke isn't a bad result.
Battling against the weather, and a horrible team to play against, due to there style of play (dragging, pushing and fouling our players constantly). I'm more relieved we came out the game with no injuries.
Davies looked good again, as did Schneiderlin. Robles could do nothing about the goal we conceded, and made a few good stops to keep it at 1. He's looking like our number one keeper.
Lookman looked sharp when he came on, and I would start him with Lukaku at the weekend in place of Mirallas. And start Gueye in place of Barkley, who looked good in spells but is still inconsistent (yet improving lately).
Dave Pritchard
94
Posted 02/02/2017 at 09:11:31
BT, and to a lesser extent Sky and BBC, are obsessed with Liverpool but that has been quite good recently as everyone has been able to watch them lose.
Sam Hoare
95
Posted 02/02/2017 at 09:14:19
I was very encouraged by Schneiderlin last night. We seem to have gone from looking very pedestrian in the middle to having dare I say an embarassment of riches given Davies emergence, McCarthy's improved form and Gueye surely being our player of the season so far. It will be very interesting to see who gets the nod over coming weeks.
Much will depend on formation and though the 3-5-2 has been the rock of our success in the last month we looked better last night when moving to 4-3-3 allowing for 3 ball winners in the middle and I wonder if that will be the way Koeman choose to go for moving forwards.
If so then I think the 3 for my money have to be Gueye, Schneiderlin and Davies with McCarthy coming on for whoever tires or is not quite on it.
The question then may be who plays in the middle allowing the other two to press forward a little more. Probably Schneiderlin is the sitting one as both Gueye and Davies seem to be a little quicker and capable of good movement up front. Davies already has a goal and assist or two and should have scored last night, Gueye would probably have a handful if only he could remember his shooting boots.
So, assuming we go 4-3-3 I'd go for:
Robles
Coleman, Williams, Funes Mori, Baines
Davies, Schneiderlin, Gueye
Barkley, Lukaku, Mirallas (or Lookman)
In that team, both Barkley and Mirallas have the option of dropping back centrally leaving two 'strikers' up front comfortable in the knowledge that we have in Schneiderlin and Gueye two of the most statistically effective ball winners in the Premier League over the last few years.
Matthew Williams
96
Posted 02/02/2017 at 09:40:32
We need to bring in Garbutt or Galloway to play the left wingback role, Baines could then play were Barry plays in some tough away games.
With Funes Mori's heading ability from Garbutt's crosses, we could be a real threat from out left or set plays.
At least our football is slowly improving & Man Utd drew also.
Onwards...

Eddie Dunn
97
Posted 02/02/2017 at 09:42:39
On the TV coverage of our neighbours, not only do the various broadcasters employ hordes of them, but the camera men are forever looking for cozy little shots of former players in the crowd. The only other place they do that is Old Trafford, where we often see old whisky nose or Sir Bob.
At Goodison or Spurs they only show Kenwright and Levy, after all the public wouldn't recognise anyone else, as they're not all on the bleedin' telly!
Last night it was a good result and we had good performances from Williams, Davies, Schneiderlin and Robles, but let's not kid ourselves, we could have been dead and buried by halftime.
The formation was wrong, Holgate was targeted from the off, and just like at Chelsea, Koeman took too long to change it. Credit to him that he did at halftime, but we were lucky to be still in the game.
For me Funes Mori was, for all of his enthusiasm, always a disaster waiting to happen. His passing is woeful and his positioning got him in to trouble on more than one occasion. Still he won't be up against a giant every week.
It will be interesting to see what formation Koeman plums for against the Cherries.
Dermot Byrne
98
Posted 02/02/2017 at 09:43:46
Darren (#79). Oh god, not the happy clappers label again. Does it help anyone to try and create differing camps within our fanbase? I suppose it helps you think you are that lone source of all wisdom but in the end you're just one voice on a little website.
As for Koeman's style of play. Seems to me that our red neighbours showed a very clear style and after early success, other clubs now know it and hence their recent poor form. I think Koeman aims to have a style that can best beat the opponent that day. To have that flexibility is not easy and needs a squad that know and trust each other very well. I think we are moving that way.
I guess that makes me a happy clapper!
Will Mabon
99
Posted 02/02/2017 at 09:47:45
Glad to hear that Schneiderlin had a good game, looked a bit stiff in his first outing.
Ray, don't remember that Lineker thing but not surprised.
Anytime Everton were ahead in a televised big game at half time, or won, there would be an almost shocked/uncomfortable air when back in the studio for comment. Not just my Everton bias either, many I know that support other teams have said that we don't get much recognition. It was very noticeable in those halcyon days of The Martinez Effect, when we were tearing it up for a while – almost resented us, the only attention we really got was discussion of which of our players the "Big" teams were going to pluck.
Kenwright for DG? Sure... anything that compromises that Marxist, elbow pad paradise is fine by me!
Ron Sear
100
Posted 02/02/2017 at 10:10:16
It is beyond my worst dreams to think what it must be like to be a Stoke supporter and have to watch that bunch of thugs week in and week out surrounded by people who are utterly clueless about the game called football.
But, saying that, what will it take for Koeman to get Everton to be wide awake from the kick off? It always seems to be an age before they stop gifting passes to any player other than their own team members.
For those who keep criticising the BBC for bias they should be forced to listen for an hour to the two rambling idiots on TalkSport. Trapped on the supporters bus with a Chelsea and Man Utd fan screaming illogical rubbish at one another and the radio bellowing out at full volume would give anybody a full understanding of the experience of being waterboarded.
Stan Schofield
101
Posted 02/02/2017 at 10:11:43
Dermot, yes, spot on. I believe we've got a better squad than the RS, and can adapt more readily according to the opponent.
Regarding the BBC's bias against Everton, it's been going on as far back as the early 70s I believe. Prior to that, MotD seemed okay. But to be honest, when I see the BBC, and some of their excruciating programmes, whether radio or TV, programmes that are sycophant towards certain 'celebrities' and political correctness (code for 'full of shit'), I wouldn't want the BBC being biased towards us. But it would be nice if they were neutral.
Clive Rogers
102
Posted 02/02/2017 at 10:19:27
Didn't see the game, but apparently Mirallas was poor, then annoyed at being subbed. Think he'll be moved on in the summer.
Brian Hennessy
103
Posted 02/02/2017 at 10:22:28
It will be interesting to see what team Koeman picks against Bournemouth. If he continues to pick on form, Holgate could be dropped. Mirallas had a poor game after his good recent run so Lookman could get the nod ahead of him.
I would be tempted to start with the team that finished last night with the exception of Gana for McCarthy.
Brent Stephens
104
Posted 02/02/2017 at 10:29:08
"I defy anybody to describe the style of football he is asking these players play".
"The style" implies a single, fixed style. If the opposition can anticipate a fixed style, you've been found out.
As Dermot 98 says "I think Koeman aims to have a style that can best beat the opponent that day."
Brian Furey
105
Posted 02/02/2017 at 10:32:49
I didn't see the game but just saw the goals but I am surprised more people aren't giving out about Funes Mori or even Williams part in it. Yes Holgate let the player get in behind him for the long ball over the top but I thought both Williams and Funes Mori were very poor at covering Crouch's run into the box.
Williams seem to be marking him but was watching the ball whereas Funes Mori didn't seem to sprint at full speed to cover Williams. Funes Mori seems to do that quite often were he switches off or doesn't bust his ass getting back to cover a dangerous run.
Laurie Hartley
106
Posted 02/02/2017 at 10:54:15
Ray # 89 – I'm not normally vindictive but as far as the BBC (and the rest of THEM) are concerned I would rather they weren't cleared out. As the saying goes "revenge is a dish best served cold".
We are on our own – expect no recognition from THEM – it won't be forthcoming. It's up to us to serve it up to THEM and in Koeman, I am coming to believe that we have the manager who will help us to do just that.
He is only interested in winning, and if you can't win don't loose. That is what we need at this stage of our progress.
Martin Nicholls
107
Posted 02/02/2017 at 11:08:31
Ciarà n (#11, 21 &28). When I read your posts I thought you must be the miserably negative guy stood behind me moaning throughout the game; then I realised that you weren't (I assume) at the game. Do you by any chance have a twin?
As others have alluded to, many would measure the mettle of a player/team by the old maxim "Ah, but what would he/they be like on a wet and windy night at Stoke"? Our players/team were so measured last night and stood up to the challenge.
For me, Robles and Schneiderlin were the pick of our team last night but I'd give an honourable mention to the often criticised Jimmy Mac. It seemed to me that he (possibly prompted by Koeman) saw from the sidelines what was needed and came on to produce it – in a word, aggression, to match what we were up against.
A good point lads – well done and thanks for making the trip home a decent one.
Footnote for Lyndon and Michael – we sometimes have polls on various topics on TW. How about two at the end of the season for most positive and most negative poster of the year? Light-hearted of course and I'm sure any of us would be honoured to be recognised by nomination for either! I'd bet it would be difficult to come up with a shortlist for the latter although there are clearly a number of outstanding candidates!!
Robert Workman
108
Posted 02/02/2017 at 11:13:05
The BBC described the game as "entertaining". Must have been watching a different game to me! As if any game at Stoke on a windy winter evening could be entertaining.
I had to turn off commentary as Danny Higginbotham was the summariser. He didn't summarise, just commented on the game as a Stoke supporter. Seem to remember him being a typical Stoke neanderthal when he played for them!
George Cumiskey
110
Posted 02/02/2017 at 11:30:40
Last night's game showed perfectly why we are desperate for a play maker a commanding CB and cover at LB . It should of been sorted in the last window, and please don't come on with the old chestnut about we're waiting for the summer one.
Andrew Ellams
112
Posted 02/02/2017 at 11:34:07
Brian @ 103, I think you'll see Gana come in for Holgate on Saturday and a return to 4-3-3.
Andrew Clare
113
Posted 02/02/2017 at 12:07:26
George (#110),
Agreed. A commanding central defender with good distribution is a must. Williams is just too traditional. Also I think Mirallas needs replacing with a high quality goal scoring creative midfielder.
Then we will be there ready to challenge. Stoke is always going to be a tough game so a draw is okay.
Gradually Koeman is getting things right.
Martin Nicholls
114
Posted 02/02/2017 at 12:08:58
George (#110) – love it mate! You've essentially said "this is my opinion and please don't come on here and disagree with me" – so I won't!
I would however love to hear your views as to which "playmaker, commanding CB and LB cover" you believe were good enough and most importantly available in January.
Paul Conway
115
Posted 02/02/2017 at 12:11:04
Pity Davies didn't slam his free header into the soil and let the bounce do the rest. At that distance, it would have surely gone in.
Matthew Williams
116
Posted 02/02/2017 at 12:14:16
We always should have more than one style of play, mix & match according to the opposition we're playing.
We're a work in progress, but there are plenty of points still up for grabs. We have to start games quickly, be on the front foot against all the teams left to play. Don't let any of the fuckers do the League double against us.
As for the Beeb bias, can we not ban them from all home games at least... even if it means we turn into Millwall of the Premier League... fuck 'em, we're still WAY to nice all-round.
Nice guys finish last!
Joe Clitherow
117
Posted 02/02/2017 at 12:20:12
14 from the last 18 is not to be sniffed at, especially with 2 of the next 3 games at home against Bournemouth, Middlesbrough and Sunderland.
Passing 40 points before end of February (only 3 to go!) would be very welcome given the nagging worries of the last two abysmal seasons and should psychologically free the team (and the fans) to play with a bit more adventure to get three points.
Fingers crossed.
Steavey Buckley
118
Posted 02/02/2017 at 12:23:48
Everton are still a project in progress, and may take another transfer window to strengthen the team in certain places, because I am not convinced by last night's team's performance, because Everton made Stoke look good, when they only had a couple of players who could walk into the Everton's team.
Up-front Everton look distinctively off the pace, and there was no real width to put a smile on Lukaku's face. At the back, there is a worry the defence will crumble if there are not midfielders to help them out. The goal-keeping position though is looking better, with Robles making important saves in matches he has played in.
George Cumiskey
119
Posted 02/02/2017 at 12:29:44
Martin (#114) I never said don't disagree with me, if you don't think we need these players, fair enough. What I said was don't come with the old chestnut about we are waiting for the summer window.
We've had from September to February to get these players in and what makes you think they'll all be available in the summer?
Andrew Clare
120
Posted 02/02/2017 at 12:30:46
Martin (#114),
There weren't the right type of players available in January.
Joe Clitherow
121
Posted 02/02/2017 at 12:41:28
George,
Koeman has said he will only bring in the players he really wants, and not the nearest "type" available in that particular window.
Given that we are getting points on the board, we are improving in my opinion and that this was always going to be a transition season rather than an instant fix after the mess we were in. I agree with this approach rather than just "getting the bodies in". (I know you didn't say this).
So I will give you your old chestnut back with a slight modification: which is that the individual that he wants, rather than the type, obviously wasn't available yet.
I really do like the look of Lookman so far by the way, as an aside.
Sean Randles
122
Posted 02/02/2017 at 12:41:49
Barkley keeps giving the ball away- which you cannot do at this level – and Koeman mentioned it post match, mentioning Ross by name.
He's got a decision to make about Ross. We all want him to succeed but its getting to the point where we cant afford so many unforced errors – better teams than Stoke will punish us.
Patrick Murphy
123
Posted 02/02/2017 at 12:51:58
Arsenal lost at home to Watford, Man Utd could only garner a goalless draw at home to Hull and there are a few more examples of the better teams dropping points unexpectedly, however, a few Blues seem to think that Everton only have to turn up in order to gain maximum points against the lower lights of the division.
Of course, given that Everton perform to their full potential, they should win a few games in the next month or so, but football doesn't always work that way.
When we have a team on a par with Chelsea et al we can then dismiss our opponents most weeks, but we are very far from that situation at the moment and should just try and take each game as it comes.
There's nothing wrong with having ambition but there is a danger that we tend to set ourselves up for a fall on too many occasions and we often see the outcome on here and other sites.
As long as this Everton team is working hard and playing to its full potential, the results will hopefully follow, but remember the teams we play also have a stake in the game and it's their job to try and beat us. Every match is winnable against every opponent, but conversely every game can be lost, the trick is to try and win more than you lose or draw.
Tony Hill
125
Posted 02/02/2017 at 13:06:49
Robles's ability in one-on-one situations is as good as I can remember for a long while and is a massive asset if he can keep it going. It was always one of Nev's strengths.
Martin Nicholls
126
Posted 02/02/2017 at 13:07:32
Andrew (#120) and Joe (#121). I agree with both of you – George obviously doesn't as he feels that "we've had from September to February to get these players in".
George (#114) – the reality is that neither you nor I know when players of the right type and quality will become available so as Joe implies we must bide our time.
John G Davies
127
Posted 02/02/2017 at 13:48:10
Joe (#117),
14 out of 18 will do me. And still we have moaning.
Patrick (#123)
Correct. No easy games now. Tottenham, Man Utd and Arsenal all fail to beat teams at the bottom.
Pocchetino, Jose and Wenger all obviously haven't got a clue tactically. According to the logic used by some.
Ciarán McGlone
128
Posted 02/02/2017 at 14:06:52
Thanks Martin,
Dreary and poorly executed football from highly paid professionals tends to make me slightly negative (although i'm always at a loss to the significance of 'positivity' or 'negativity' on these matters - they seem like rather pointless and meaningless phrases to throw around)
But then again, if its the weather's fault (or Stokes style of play, or the BBC) then I stand corrected.
Even still, I reckon the accolade of 'negative twat of the year' is beyond even me. But thanks for considering me.
By the way, did you actually disagree with anything I wrote?
Craig Walker
129
Posted 02/02/2017 at 14:19:25
I don't think a 1-1 at Stoke is the end of the world. Wish we could learn to start games better though. We are certainly better under Koeman as the game progresses. Under Martinez we'd run out of steam after 50 minutes.
I don't want to get on Ross's back but he frustrates the hell out of me. He always picks the wrong option. There's encouraging signs though that Koeman is getting rid of the deadwood and I think we'll be a different team after the summer window. Schneiderlin looked great last night and his partnership with Gueye could be the best we've had since Reid and Bracewell.
We've got a decent set of fixtures coming up so hopefully we can maintain this unbeaten run.
Brian Furey
130
Posted 02/02/2017 at 14:29:09
If you look at the league table and the goals conceded and scored we are doing very well at home. Only conceded 7 goals which is the third best after Spurs and Chelsea. We've only scored 19 though at home which is 9th best. Man Utd have only scored 17 at home. Koeman as I expected from the start of the season has made us a lot harder to beat.
There are a lot of disgruntled Arsenal, Liverpool and Man Utd fans out there who realised this week that their league title hopes are more or less over. At the start of December I was worried that Koeman was the wrong man for us as he was saying the wrong things, pissing off a lot of players and they seemed to be not working hard for him. He was playing a lot of the older guys and didn't seem interested in Davies, Holgate or any younger lads. There was no apparent style of football and we looked lost in our direction.
Now, it seems he's pushed out a lot of the players he and we deemed not up to the task. He's giving young players their chance and has even brought in a new one in Lookman. He seems to have made the brave decision to leave out Jags and Barry the odd time which would never have happened back in September / October.
How often under Moyes and Martinez would the fans be baying out for changes but the stubborn managers didn't seem to listen or think the same yet Koeman who seems very much his own man seems to have made nearly all the changes we wanted.
This time last year we were in 12th place with 29 points, 40 for and 34 against. Now we're on 27 points with 34 for and only 24 against. Koeman has certainly made good progress, at least he has changed most of our midfield and central defence which could explain why we are conceding so much less.
Dave Abrahams
131
Posted 02/02/2017 at 15:07:17
Ciaran (#128),
In your three posts you mentioned the poor start, they did start poorly (again) didn't they?
You mentioned the very poor passing, it was very poor wasn't it?
You finally mentioned the unforced errors of which there were many according to many who went to the game, and the poor quality of Everton's football, which might have been caused by the weather, but not all the time.
All-in-all, Ciaran, you got most things correct, so not really negative but truthful and realistic.
John Pierce
132
Posted 02/02/2017 at 15:24:40
Overall a very decent point against a very hard Stoke side. The ball spent so much time in the air, being contested for that very little football was played.
The back 5 didn't work out last night. The goal and two other very good chances came from poor defending. Not really sure where it went wrong, but will say Crouch stayed out the middle and Austrian lad had Holgate on toast.
Credit to Koeman for changing it. Barely got a grip in the second half but we did have our usual last 10-minute power drive. We came on strong and created the best chance via Davies and Lookman.
In a game we're little football was played the obvious players won and lost. Rom, Kev and Ross were anonymous. Morgan, Davies and surprisingly McCarthy clearly our best players.
Special mention to Robles, not spectacular by any means but competent and safe.
If we follow that up with a win a Saturday then that okay with me, a draw or defeat will have me thinking why did Koeman get outfoxed against Hughes using a back 5?
Ciarán McGlone
133
Posted 02/02/2017 at 15:24:43
Thank you, Dave... Thought my posts were fairly accurate.
Maybe I could win "nail on the head geezer of the year". [shakes fists in the general direction of broadcasting house].
Martin Nicholls
135
Posted 02/02/2017 at 16:10:19
Ciaràn – like Dave I didn't disagree with most of what you wrote but in my opinion that was far from being on a par with our worst performances of the season.
I was unfortunate enough to be at Vicarage Road on 10th Dec - that really was abysmal! Conversely I was lucky enough to be far away in Niagara for the Bournemouth game and in Madrid for the Chelsea debacle – in my view last night's performance was vastly superior to either of those but of course it's every one to his own on here!
There were however a number of positives in last night's game; for example, the performances of Joel, Schneiderlin, Davies (in parts), McCarthy (for 45 minutes) etc and I suppose it is the fact that you seemed to focus on the poor aspects of our play rather than the encouraging ones that drew my attention to your posts.
Anyway, no offence was meant, mate, and whilst you could get a nomination, you'd never win TW's most negative man award!!
Andy Crooks
136
Posted 02/02/2017 at 19:04:43
Ciaran, I think you are getting bogged down in detail here. We can scrutinize every game to death and find fault. However, it seems to me that we are moving forward and that is good.
I would imagine that Man Utd fans have more to analyse than we have.
Darren Hind
137
Posted 02/02/2017 at 19:12:15
This non-stop griping about supposed negativity merely highlights the fact that the "positive" people have no counter argument for what went on last night.
"It was soooooo windy" ... was it? Those who were there will tell you it was no more than a stiff breeze, the sort of whether you are almost guaranteed for a large percentage of the EPL season.
Ciaran McGlone's comments are attacked for being negative, but they are the most positive on the thread; he saw shite and called it for what it was. He found it unacceptable. WTF is negative about that? ... and how come its "positive" to deny/ excuse/ apologise a truly lamentable performance? Since when was it "positive" to brush a shite performance under the carpet?
The self proclaimed "positive" need to adjust their outlook, Stoke have always been agricultural, but blaming them for OUR horrible performance is like blaming an unattractive girlfriend for being an ugly twat yourself.
John Wilson
138
Posted 02/02/2017 at 19:27:27
Even Stevie Wonder – with the chances Everton had of scoring – would have scored. All that effort and yet the same: mis-timing, mis-touches, mis-finishes, and the result for all that effort: a bloody own goal. It would be nice if we had a professional striker in Everton's team of pampered millionaires who could actually score a goal instead of depending on the likes of Coleman.
Everton hardly play the most glamourous of football, they never won, so why would the BBC glorify them? Put Chelsea's strikers in Lukaku's position and a goal is very likely each and every time. The only time Everton win 3-1, 3-0, or more is if the other team don't play well, or call in sick. It's just not good enough. Stop all this "Everton have improved", and Koeman(Comical Ali) embellishing Everton's performance.
David Booth
139
Posted 02/02/2017 at 19:28:45
Good game. Two teams eager to battle it out and a draw a very fair result.
You can take the Stoke out of Pulis... but you sure as hell can't take the Pulis out of Stoke on this evidence though.
Add the famed Mark Hughes 'happy to give it, but whinge like a baby when you get it back...' attitude and you have Stoke in a nutshell.
They leave something in on every tackle, but just cannot tolerate a taste of their own medicine. Hughes is a narky-faced manager and was a spiteful player – and his team epitomise that image in every respect.
Shame, as they can play good football. But they still have to live up to their 'macho team' image it seems. Most of them look like Neanderthals and it is abundantly clear they are all drilled to rough the opposition up at every opportunity.
Happily, Everton wouldn't be bullied though and the referee was spot on from start to finish.
The other things that struck me from the game were:
i) Robles is developing into a confident keeper, but is still a bit timid when it comes to putting himself in front of a 50/50 ball when a forward is flying in. I know he saved two admirably from Arnautovic, but they were not as physically threatening and he had time to spread himself for the block without fear of injury. I thought he duffed out a bit in front of the more 'loose' ball Crouch got his feet to and should have been more imposing? Not the first time this season either...
ii) We are becoming very prone to a ball over the top down the left wing. Noticeably. For numerous games now. Urgently need to get that 'tactic' negated.
iii) Davies really is one hell of a prospect. Box to box, gets stuck in, confident, inspirational, makes himself available, courageous and a goal threat too. Am I going to be castigated for suggesting he could be our very own Gerrard?
iv) Good to see Koeman having the nous to change the balance of play by switching from a back three to a back four. Finally, he is starting to show signs of being capable of becoming the manager we need/expect .
v) How much longer are we going to leave Lukaku ploughing a lone furrow up front? One step backwards for Koeman on this one, as EVERYONE can see it is costing us possession, rendering promising breaks and attacks redundant and generally meaning that, if he doesn't score, we need an inspirational performance from someone, or a flukey bit of luck (a la last night), to grab goals. It is a self-imposed (stubborn?), short-sighted glass ceiling and will stymie any hopes we have of challenging the front runners.
Predictable and so easily nullified by any opposition manager with half a clue. But equally easily rectifiable with two up front and a matching game plan to get them both involved. Just chucking Mirallas up there and then leaving him stranded to seemingly play it by ear, is not the answer. Show us what you're made of Koeman and get it sorted.
Phil Sammon
140
Posted 02/02/2017 at 19:30:34
Darren,
The trouble is that you are at the other end of the spectrum. You are devoid of any positive thoughts altogether. We played distinctly average – 'a truly lamentable performance' it was not.
I've not read through the comments, I'm sure there's the odd happy clapper, but you really do your best to see the worst in everything, Darren. You're a deeply depressing person.
Patrick Murphy
141
Posted 02/02/2017 at 19:34:36
Look at those clubs who have scored more league goals than Everton this season, most apart from one rely on a single goalscorer in the main, apart from our neighbours who do have what it is you wish to see at Everton a number of single figure goalscorers.
Man Utd can't be said to be short of players who can pass and move, but apparently suffer the same malaise as Everton's players, when it comes to finding the onion bag.
Did you miss 2014-15 and 2015-16, John? Because whilst we may have scored more than most teams our defence was utter crap, it's not much better now but at least for the most part it's organised. When did some Evertonians start to believe that they should be watching Barca or Bayern every week?
Darren Hind
142
Posted 02/02/2017 at 19:35:58
Phil,
I had a great time with mates last night before and after the game... You probably had a great time too brushing up on your Ken Dodd routine.
Andy Crooks
143
Posted 02/02/2017 at 19:36:37
Darren, I have not seen "non stop" griping about negativity on this thread. It seems to me that you and Ciaran are ready to scrutinize every kick (and you are both skillful at it) to find every fault. We all know the problems but there were positives last night, quite a few.
Jim Jennings
144
Posted 02/02/2017 at 19:40:18
The Hind has spoken. Close the thread before the "happy clappers" persecute the man who speaks the truth.
John G Davies
145
Posted 02/02/2017 at 19:42:35
Weather you blame the conditions or not, it was a good point.
Brent Stephens
146
Posted 02/02/2017 at 19:43:41
Jim "The Hind has spoken. Close the thread before the "happy clappers" persecute the man who speaks the truth."
What, and miss all those positive comments?!
John G Davies
147
Posted 02/02/2017 at 19:51:11
Oh,oh.
Prepare for melt down :-)
Darren Hind
148
Posted 02/02/2017 at 20:47:21
Fair enough, Andy. I'm happy to hear what you think was positive about last night's game.
It would be interesting to hear a counter argument from somebody who actually has one.
So many of these threads are hijacked by people who repeatedly post without actually saying anything.
Martin Nicholls
149
Posted 02/02/2017 at 20:53:23
Darren – I think you need to read other people's posts before shooting from the hip and claiming nobody has a counter argument.
I too had a great time with mates before and after going to the game... As going to the game is such a chore to you, why interrupt your great time by doing so?
Darren Hind
150
Posted 02/02/2017 at 21:05:49
Martin
I was here a long time before Koeman was and I will be here long after he leaves. I support my team – no matter who is in charge
You say there is a counter argument to my points. Let's hear yours.
Did we pass badly last night?
Did we play into Stoke and Crouch's hands by defending far too deep instead of pushing up towards the half-way line?
Did our centre-backs hoof it far too often?
Was our football ugly, disjointed and directionless?
Did Lukaku constantly isolate himself by getting too far ahead of the midfield ?
If the answer to any of these questions is a No, then I was at a different ground than you.
Paul Tran
151
Posted 02/02/2017 at 21:12:47
I'd describe last night as frustrating with a few green shoots.
We committed the cardinal sin of starting badly against Stoke. We were slow, they got the early goal, their tails were up, we didn't know what to do, so we went deep. Too deep.
Second half was better. They didn't do much, but our passing was awful. Not the ones where various players tried something incisive that didn't work, it was just generally awful. That was the reason we didn't win.
I liked the fact we harangued the officials to get the right decision. I liked the way we stuck at it. I loved the authority, presence and control Schneiderlin had, plus the energy and nous of Davies and Lookman. And Robles looked good, again.
Darren's comments about our lack of style got me thinking of many conversations I had with non-Blues in 1985. The gist of these conversations were that we had no style, we just pushed the other team back in their own half and let our creative players make use of the space, or just bludgeon the opposition into submission.
These days it's called pressing to make it sound scientific, but it was what most of the successful English clubs did. So I can see what Koeman's trying to do. I think he's got to get these, or other players, to do it when the other side presses back or parks the bus.
I hope he plays Holgate on Saturday. I hope he brings Gueye back, keeps Davies and drops Barkley. And I hope he plays Lookman from the start. These kids are raw, they commit howlers, but boy they've got something about them that makes things happen.
For me, we're getting close. I'm not prepared to get excited till we get consistently closer and we have players that are prepared to grab the game and push the other side back regardless of what it does.
Hope that's not too happy clappy.
John G Davies
152
Posted 02/02/2017 at 21:18:49
http://www.soccerstats.com/formtable.asp?league=england
Joint top of the form table for last six league games.
Who knows where we will be when we stop passing badly.
Stop defending far too deep.
Stop our centre backs hoofing it.
Stop playing disjointed and directionless football.

Andy Crooks
153
Posted 02/02/2017 at 21:25:49
Darren, your points are fair. In fact, I am reminded of the days when the ball flew like missiles over the head of the admirable John Collins who was left bewildered over why the fuck he had been signed.
However, there were, in my view, positives. Robles was excellent, I believe he will solve the goal keeping problem.
Holgate will have learned one hell of a lot from that, and with good coaching he will get better and better. Tom Davies was tested and came through.
Our coach showed flexibility and decisiveness (you may disagree with that one). We ground out a draw and could have nicked a win. I detected a togetherness about the players that, to me, bodes well.
I saw the gaps between our back line and our forwards. There is much work to be done but there is progress. I find it as frustrating as you that Koeman seems to pick up late on things that seem obvious to us.
For the moment, though, I can only accept that he is a highly paid coach who has the trust of the board, he MUST know what he is doing and I believe he does. Onward and upward, Darren, but continue to be sceptical, that's fair enough.
Patrick Murphy
154
Posted 02/02/2017 at 21:30:19
The table below doesn't address Darren's legitimate points, however, those who are expecting Everton to run before they can walk should see that Koeman, regardless of our opinion on his methods has got the team back on an even keel. Whether he can take the team on from this point to win a greater number of matches in a more pleasing on the eye style only time will tell, but I am hopeful that he can.
SSN PLY W D L GF GA PTS GD PPG POS
2006-07 23 8 8 7 29 23 32 6 1.39 7th
2007-08 23 13 3 7 40 23 42 17 1.83 4th
2008-09 23 10 7 6 31 27 37 4 1.61 6th
2009-10 23 8 8 7 33 34 32 -1 1.39 9th
2010-11 23 5 12 6 27 29 27 -2 1.17 13th
2011-12 23 8 5 10 23 26 29 -3 1.26 10th
2012-13 23 9 11 3 35 26 38 9 1.65 5th
2013-14 23 11 9 3 35 24 42 11 1.83 6th
2014-15 23 6 8 9 31 34 26 -3 1.13 12th
2015-16 23 6 11 6 40 34 29 6 1.26 12th
2016-17 23 10 7 6 34 24 37 10 1.61 7th
Dave Abrahams
155
Posted 02/02/2017 at 21:30:32
John G Davies (#152) good points – that is why Darren and Ciaran are pointing out the negatives in Everton's game; the positives don't need improving.
I've never met Darren or Ciaran but it is obvious they love Everton as much as anyone on ToffeeWeb and only want the best for the club, like all of us on here.
Darren Hind
156
Posted 02/02/2017 at 21:30:41
Good point Paul T and Andy C
It's amazing how you can be made to reconsider by people who actually have something to say.
It's good to get an alternative point of view about last night's match... on a thread that is meant to be about last night's match.
Ciarán McGlone
157
Posted 02/02/2017 at 21:34:39
There's always positives, Andy... however ,I rarely bother with them when the game was overwhelmingly bad. And this game was a terrible spectacle.
The positives are not the things that need to be addressed and fixed.
If people want to blow smoke up people's arses after that performance then fair enough... that's their prerogative... but there seems to be a prevailing mob on here obsessed with berating posters if they're not balanced, positive, wearing a grass skirt and flying a fucking kite.
That was a miserable display and it made me miserable. I make absolutely no apologies for that.
Darren Hind
158
Posted 02/02/2017 at 21:36:49
Can't top that.
I'm off to work.
Paul Tran
159
Posted 02/02/2017 at 21:48:58
I'm fine with thoughtful, evidenced scepticism. Don't like clichéd confirmation bias dressed up as something else.
If you look at the bulk of research around feedback, the results will tell you that you get a greater increase in performance when you talk about what people have done well and get them thinking about where else they can do it and how they can improve it further, rather than making them try to improve their weaknesses. I can tell you that's a hard sell in workplaces, but that's what the evidence tells you.
Some may call it happy clappy, I call it evidenced research.
Grant Rorrison
160
Posted 02/02/2017 at 22:10:54
Darren (#148). Have you ever considered the fact that Koeman doesn't control them from the touchline with a joypad and cant just press a direction key plus an additional button to make them sprint or slide tackle? :P
He has mentioned once or two hundred times already that he wants them to press. That some of them are having difficulty understanding and implementing this 'skill'. That they need to do it as a team. That different sections of the team are too deep or too advanced, etc to do so successfully. That players need to 'run more'.
Why don't they? Maybe they're idiots and are completely clueless? Maybe they think that 'dirty work' like actually moving about a bit is beneath them? Maybe the years of not doing a particular thing and instead doing something else has made more of an impression on them than the few months of trying to get them to do something new has?
Old habits die hard, etc. Maybe events in a game influence their judgement and they find themselves doing something instinctually. Like dropping deeper and deeper.
I expect the usual responses. 'He's the manager'. 'That's what he gets paid £6 million a year for', etc. What is he supposed to do to make them play a particular way consistently?
Incidentally, you did say it was a 'decent point' in your first post. That's a positive surely? ;)
John G Davies
161
Posted 02/02/2017 at 22:32:56
Dave (#155).
I agree. It's clear we need to improve; I don't blindly back the manager regardless. My point is he must be doing something right recently if we are top of the form table for last 6 games.
Hard to deny he is making good progress, but you would think we were fighting to avoid dropping into the relegation fight looking at some of the posts.
I don't doubt Darren and Ciaran love the Blues. But hopefully they don't doubt that the "happy clappers" and the "grass skirted kite flyers" love the Blues as much.
Your Tony posted the other week about a poster being like Koeman in his blunt manner of posting. Nothing wrong with that; I prefer that to be honest. As long as the blunt poster doesn't see his khasi when the bluntness is returned. Like for like and all that...
John Daley
162
Posted 02/02/2017 at 22:54:44
"If you look at the bulk of research around feedback, the results will tell you that you get a greater increase in performance when you talk about what people have done well and get them thinking about where else they can do it and how they can improve it further, rather than making them try to improve their weaknesses"
Worked fucking wonders for Roberto that didn't it, Paul?
Seeng as though you cited 'confirmation bias'; perhaps your own statement borders on post-hoc ergo propter hoc?
Mick Davies
163
Posted 03/02/2017 at 01:46:16
There's only one player at the club who is naturally suited to Ronnie K's pressing game, and he hardly plays, so the others will have to adapt or be replaced.
For me, there HAS been a tangible improvement, though the jury's still out... I'd like to see our keeper less exposed by roaming defenders, our forward players keeping hold of the hot potato, and possibly supplying it to the only guy who seems to know where the net is: we rely too much on defenders to add to Rom's tally.
Also, some help for Baines if Barry isn't playing – we seem all right-sided. Apart from that, I'm behind the team and manager 100%, as every blue needs to be, and am expecting a good result against the Cherries, and a late rally when the pitches imporove, and our class players are at their best. COYB
Albert Perkins
164
Posted 03/02/2017 at 02:36:02
I find myself reacting to a lot of negativity, even when the points made are good, ones that I haven't thought of, like today.
I watched the game in the US online with someone who was constantly pointing out the mistakes, being really critical and creating a negative atmosphere. It wasn't fun. I can see the problems and some of the solutions, but at that moment I want to support my team.
I spent many years on the terraces and know how important it is to vocally support the boys. I don't want to watch the games with someone who only sees the problems.
I punch the couch and wake up the family screaming like anyone else, but I can let it go and get back to enjoying the game as much as possible. I'm a "glass half-full" kinda guy, tea of course.
Paul Burns
165
Posted 03/02/2017 at 03:58:01
The club will never move on if people think a point at Stoke is good. They are garbage, always have been and always will be.
So what if they are aggressive and nasty, part of the game at the top level. Teams with proper ambition should be blowing this rubbish away.
Two points dropped and a poor performance, not good enough for a club of Everton's standards.
Darren Hind
166
Posted 03/02/2017 at 05:13:50
Grant,
There is a reason why we are a mishmash of a team and that, in at least 20 of our games this season, we have been disjointed and an eyesore.
To play the "pressing game" you need to move up as a unit, a proper unit. If only one or two do it, they are made to look twats. They are passed around with ease.
Ashley Williams is a model pro and he has proved he can play at this level, but he is painfully slow. He knows it, his opponents know it. He's not comfortable leaving space behind him. So he stays at home.
I've become more and more sympathetic to Lukaku's situation. The guy is being asked to hunt and he is crap at it. Opposition players will play it around him as if he isn't there. He's then blamed for walking back from offside positions.
The rest of the team will see a 60-yard gap between Williams and Lukaku and don't know whether to shit or bust. we often find ourselves strung out like a washing line. That's why we are often forced to hoof it and look so disjointed.
THAT, my friend, is Koeman's fault. You don't buy Ashley Williams if you want to play a primitive (but effective) pressing game.
A football pitch is like a theatre. You'll only entertain the audience if you have the right people in the right roles. If you ask a woman to play lead male and a man to play lead female, you end up with a fucking pantomime.
Darren Hind
167
Posted 03/02/2017 at 05:29:43
Paul T
You have submitted some fantastic stuff in recent debates, but I'm afraid JD gave your last effort the treatment it deserved.
When we beat Man City, the praise for Koeman as universal. Proof positive that his critics can be brought on board.
Unfortunately we have people who cant/wont see the flaws. They are not difficult to spot. They'll start a sentence with something like "I don't blindly back the manager regardless" then, without any real counter argument to the criticism, they will come on here and back the manager... regardless
That's not supporting the team, it's blind devotion. I don't see how that can be healthy for our club.
Accept/excuse shite and they will serve it to you by the bucket.
Paul Tran
168
Posted 03/02/2017 at 08:04:26
John D & Darren, it didn't do Martinez any good because he was calling shite 'phenomenal' and we all knew it. That's actually my point, Martinez was going against the evidence, like Koeman was with Holgate earlier in the season.
I was actually responding to a post which stated that when we play badly we should just focus on the negatives. I disagree with that, just like I disagree with the idea that because Martinez was ultimately a baseless optimist, all other optimists are equally baseless.
People improve by utilising and improving their strengths. Southall told the tale of how he hated Kendall at one point because he had told him what he liked about his goalkeeping and made him practice it continuously. He realised later that it gave him the confidence to be braver in other aspects of his game and he became one of the best keepers I've seen.
There's a huge difference between saying Koeman's team plays pug ugly football and they'd improve if the back four had the confidence to press more and the midfield passed the ball better. Darren made both good points in the same post. One statement you can't learn from, one statement you can. That's my point.
And you're right, John, I have loads of confirmation bias, like everyone on this planet. I also like to see both sides of an argument.
John G Davies
169
Posted 03/02/2017 at 08:37:39
Here we go again with the "blind devotion". It's your stock answer to anyone who disagrees with your opinion. Did you not see the first line of my post where I said it's clear we need to improve? You take it personally when someone disagrees with you.
Bit rich for you to claim people don't answer questions: you never answer a question. But let's give you the opportunity to keep your record up.
Do you think Koeman has improved the team? Yes/No? If No, can you explain why we are top of the form league for the last 6 games?
As I said earlier, you talk bluntly to people on TW (which you do with the exception of one who you don't go anywhere near). Reminds me of my football days. We played a team in our derby game who had a kicker in the midfield, he used to kick fuck out of all the other teams in the league. All except our own kicker who he was wary of.
After he jibbed it in our game his manager made a cunt out of him: "Hey, if you want to kick, you've got to kick them all."
Martin Nicholls
172
Posted 03/02/2017 at 08:47:05
Darren (#150) – as I said at #149, you need to read other people's posts before shooting from the hip. Had you read mine at #135 then you could have saved yourself the trouble of writing the diatribe at #150!
There are many negative points to our play however there are some positives. In my view, to focus solely on the negatives to the complete exclusion of the positives is overall a negative approach. It seems that we disagree.
Dermot Byrne
174
Posted 03/02/2017 at 08:48:18
In the interest of balance, Darren, what do you see as positives at present?
Dave Abrahams
175
Posted 03/02/2017 at 09:14:09
John G Davies (#161),
Yes, I agree Koeman is improving the progress of the team but it will not happen overnight.
After the two previous games, it looked as though we were on the up (I still think we are), but then to see them start the game with the same weakness, not really getting into the game until 20 minutes had passed, the same basic very poor passing, which has been there for the last three seasons with no improvement, the lack of movement, especially up front, gets people's backs up and so they point these faults out, maybe out of frustration, but they are still valid points.
At the end of the day, we are all supporting the same team, show it in different ways, but all want the same outcome: Success for Everton FC.
My own pet dislike is Lukaku; I want him to score every game. The more he scores, the quicker he will get his wish to move away from Everton; the less he scores means clubs might start looking at the rest of his game... it won't take long, and then he will never get the move he wants and he will be stuck at a club where he doesn't want to be and we will be stuck with him, which will make more Evertonians happy than unhappy. The other side of that situation could be that Lukaku has a good go at improving his all-round game, then everyone will be happy.
John G Davies
176
Posted 03/02/2017 at 09:54:24
Dave.
I agree with your point. And more importantly the way you make it.

Easy to give it the 'happy clapper' bollocks, just gets people's backs up.
Martin Nicholls
177
Posted 03/02/2017 at 10:10:17
Not sure what a "happy clapper" is supposed to be in the context of the debate – assume it is regarded as someone who can only see positives and is blind to negatives. If I'm right then I struggle to identify any "happy clappers" on here.
I can however readily identify those who focus entirely on the negatives and are unwilling to acknowledge any positives. In a way, they and and so-called "happy clappers" are cut from the same cloth albeit (at the risk of mixing metaphors!) at different ends of the spectrum.
Ciaran O'Brien
178
Posted 03/02/2017 at 10:45:38
I saw on Sky Sports that Tom Davies's goal against City wasn't even on their Goal of the Month picks. If that was one of the Sky 6's players who scored it, they would have showed it all day, every day till the end of the season.
It's further proof that the media only pander to the top clubs.
Bill Gienapp
179
Posted 03/02/2017 at 10:48:40
Not exactly keen to wade into this hornet's nest of a debate, but I will say that a statement such as --
"Teams with proper ambition should be blowing this rubbish away."
-- carries slightly less weight in a week where United couldn't beat Hull, Spurs couldn't beat Sunderland and Arsenal flat-out lost to Watford at home.
Darren Hind
180
Posted 03/02/2017 at 18:13:26
Martin,
The 'happy clapper' tag is not aimed at people who simply support Koeman. Most on here are knowledgeable balanced people who are prepared to accept his shortcoming because they believe his strengths will outweigh his weaknesses. I get that.
I don't believe we will ever be successful under Koeman. To the point that I would bet a large sum of money on it. I believe he does dither, he is boring, and he misses the obvious... does that make me right? Of course not, I've lost numerous bets before. But I say what I see and I say what's in my heart.
I don't care if I'm in a minority. It would be pretty pointless for me to come on here and give somebody else's view. I like when people speak to me in plain good old-fashioned scouse rhetoric. I understand their language even if I disagree with their point. The 'happy clapper' tag is aimed at a small minority; if you don't see them on these pages, I will help you out.
Look at anything from John G Davies, I mean anything... on any thread. The guy will deny all criticism of the Koeman, no matter how true, how fair, or how reasonably put. If you think I'm wrong, look for yourself. He hates anybody saying this, but when challenged to point to a single case where he has been "balanced", the best he can come up with is, "we" need to change.
Now there's nothing wrong in blind devotion if you are prepared to admit it, or you didn't get aggressive with posters who criticise the guy you adore.
The 'blind devotion' label is not my stock answer to those who disagree with me. It's reserved solely for those who practice it. Koeman's been here seven months and we have experienced some dark days during that time. But I bet nobody can find a single Koeman-related thread where John G Davies comes even close to apportioning any blame to the Dutchman. You wouldn't have thought that was even possible.
I will always reply to your posts, as I do to Andy and Paul T and others... but I've come to realise, you can't debate with blind devotion.
Anyway, onwards and upwards. Bournemouth next...
John G Davies
181
Posted 03/02/2017 at 18:43:27
And the answer to my question is...
Dermot Byrne
182
Posted 03/02/2017 at 18:58:29
Darren, you edict that we are allowed blind devotion but must admit it must be one of the most pompous comments I've seen on this. As a man who claims to deal with fact, your categorisation of other fans who do not share your view is tiresome and it seems to me you are just looking for a scrap when you post. But we must accept that coz it's in your heart.
Martin Mason
183
Posted 03/02/2017 at 19:22:37
It's difficult for me to see how any reasonable supporter of a club of Everton's status could find anything significantly negative in what is happening at the club. I'd say that any reasonable fan would be positive about how the club is now being financed and developed to see us with a new ground and hopefully a successful team.
Is the fact that we didn't beat Stoke and can't be guaranteed to beat teams like Stoke a negative? Not a bit – the game has changed dramatically in recent years... yet some seem to have missed it? This week, Watford won at Arsenal and Hull got a point at Man Utd. Liverpool lowered their standards a very small amount and lost three home games to much lesser sides
Is the lack of marquee signings a negative? Not a bit – development has to be slow and, from now on, developing home key players will be the crucial issue everywhere. Are we negative in developing our own young players? Not a bit – we are very good.
Is being 7th a negative point? Not a bit – that is just about where we should be now in terms of development and resources.
Is the future looking negative at the moment, given that we were effectively broke a few years back? Not a bit – I see only positive aspects when I look at what is happening at the club. We are also in a run of very good results and have played well. Was the Stoke game ugly? Yes... but a lot of modern matches are ugly because the difference between teams form the Premier League and even the Championship is small. Is that a negative? Not a bit – the whole world watches the English Premier League.
There are no "happy clappers" in the Everton fan base. That is a childish and stupid epithet to classify any of our fans with. In the main, our fans are knowledgeable and reasonable people. There is a tiny minority who won't see anything positive and only look for negativity. I'm sure that there's a word for it... but not for me, as a reasonable fan, to use. Other fan groups use "bitter" but I'd never say that.
John G Davies
184
Posted 03/02/2017 at 19:46:02
That's me off for a Don Revie, me old China plates. Have a good evening.
Darren. Your reply to my post re the kicker who would kick every opponent except one, the one who he gave a miss, shows me you know who I am referring to.
Never mind... it is probably a wise decision you made.
Darren Hind
185
Posted 03/02/2017 at 19:51:42
There was a question?
---
Add Your Comments
In order to post a comment, you need to be logged in as a registered user of the site.
Or Sign up as a ToffeeWeb Member — it's free, takes just a few minutes and will allow you to post your comments on articles and Talking Points submissions across the site.