Everton vs AFC Bournemouth

124 Comments [Jump to last]
Friday 3 February 2017
Premier League Preview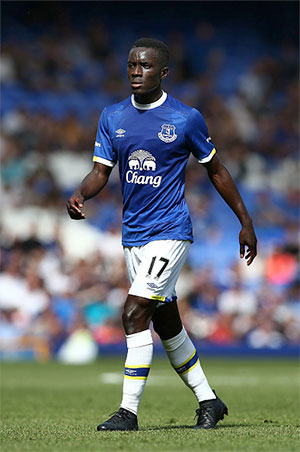 Idrissa Gueye is available again after returning from international duty but will he start?
Everton are back in Premier League action this weekend looking to put pressure back on the top six as Bournemouth come to town.
On a six-match unbeaten run and having ground out a draw at Stoke on Wednesday, the onus is now on the Blues to capitalise on their improved form by securing what would be a third successive win at Goodison Park.
This weekend's meeting with Bournemouth offers as good an opportunity to do so as any. The Cherries come to Merseyside on a poor run form that has seen them win just one of their last eight in all competitions, that solitary win coming against manager-less Swansea back in December.
That run included a heavy 3-0 defeat at Millwall in the FA Cup and a 2-0 home reverse to Crystal Palace last weekend and with Eddie Howe's men conceding at a rate of two goals a game, Ronald Koeman will fancy his team's chances of picking up another three points, particularly if he can get Romelu Lukaku firing again.
The Belgian failed to score in the two away games at Palace and Stoke but picked up a goal in each of the previous three at Goodison so he will be looking forward to getting back to the comforts of home.
Who will be playing around him is hard to predict. Koeman has shown his willingness to alter his line-up when he has faced two games in quick succession and he hinted at changes after the Stoke game. And despite the squad having been pared down during the January transfer window, there is plenty of competition for places, particularly in midfield where Idrissa Gueye is back from Africa Cup of Nations duty.
Morgan Schneiderlin made an impressive full debut at bet365 Stadium and Tom Davies came close to winning the game but both the Senegalese Gareth Barry will be champing at the bit to play.
Ultimately, it could come down to performances for the manager which might mean some of those who struggled more than most in midweek dropping back to the bench. That could mean Mason Holgate making way and Koeman reverting to a flat back four, Phil Jagielka perhaps coming in for Ramiro Funes Mori, both Ross Barkley and Kevin Mirallas taking a breather, Davies or Schneiderlin being pushed further forward, and Ademola Lookman making his first start.
Providing there aren't too many changes though Everton should have too much for a Bournemouth side that has been rocked by the loss of their most dangerous striker, Callum Wilson, to another anterior cruciate ligament injury.
Kick-off: 3pm, Saturday 4th February, 2017
Referee Mike Jones
Last Time: Everton 2-1 Bournemouth
Predicted Line-up: Robles, Coleman, Jagielka, Williams, Baines, Schneiderlin, Gueye, Davies, Barkley, Lookman, Lukaku
Full details: ToffeeWeb match page
---
Reader Comments (124)
Note: the following content is not moderated or vetted by the site owners at the time of submission. Comments are the responsibility of the poster. Disclaimer
Kunal Desai
1
Posted 03/02/2017 at 06:51:42
I'd go with the same starting line up which started against Stoke.
Jagielka should only be brought on for cover otherwise Williams and Funes Mori have to start. Jagielka is always liable to give away a penalty or give the opposition a goal from a mistake.
David Ellis
2
Posted 03/02/2017 at 06:52:00
Lyndon – I've no idea what our formation will be let alone the starting XI. 3 at the back is now our default line up away from home and against stronger sides at Goodison.
But a weaker team at home... Koeman might revert to back 4 which allows him to drop (or rest) Holgate, and play Schneiderlin, Davies and Gueye from the start in a 4-3-3 formation. There are also strong hints Koeman wants Lookman to start a game and this is the type of fixture that may suit him.
So my guess would be:
Robles
Coleman, Williams, Funes Mori, Baines
Gueye, Schneiderlin, Davies
Lookman, Barkley
Lukaku
Subs:- Mirallas, Jagielka, Barry, Stekelenburg and McCarthy.
Ajay Gopal
3
Posted 03/02/2017 at 07:17:57
David (2), I like the look of that team. Mirallas could be brought in to change the game. Maybe put Donkor also on the bench? My subs bench would look like this:
Stekelenburg, Jagielka, Holgate, McCarthy, Barry, Mirallas, Donkor.
We should get 3 points from this one, but everyone will have to be at the races, no slacking off!
Ian Bennett
4
Posted 03/02/2017 at 07:30:38
I think Holgate deserves stay in. He wasn't needed against a slow long ball Stoke team, but Bournemouth are quick in the front 4 – and Williams might struggle with 2 games in a week.
I'd have the same starting team as last week. Lookman, Gueye, Valencia or McCarthy to change the game or close out as necessary.
Gareth Clark
5
Posted 03/02/2017 at 07:40:49
I don't think Lookman will start just yet – as much as I'd like him to. So Mirallas or Valencia instead of him in David's (#2) line-up:
Robles
Coleman, Holgate, Williams, Funes Mori, Baines
Idrissa
Davies, Schneiderlin
Barkley
Lukaku.
Stekelenburg, Jagielka, Barry, McCarthy, Lookman, Mirallas, Valencia.
A back 5 (obviously Coleman & Baines will get forward a lot and give us width) – with a diamond in midfield, Gana at the bottom, Davies & Schneiderlin in the middle, & Barkley at the top of the diamond.
This would be my first choice team I think... I think it's a bit harsh to drop Holgate after one poor game.
It allows Gana, Davies & Schneiderlin a lot more freedom in midfield – two can get up the pitch, while one covers at the back.
This also allows us to sub Holgate for Lookman, Mirallas or Valencia, which would give us a much more attacking team.
Also, one of the midfielders could also be subbed, then play with 2 mids & put on one of the attackers.
Paul Tran
6
Posted 03/02/2017 at 08:07:38
Holgate and Davies stay in. Gana and Lookman start. Barkley and Mirallas on the bench. Show Williams a picture of the halfway line and tell him to press beyond it.
Craig Fletcher
7
Posted 03/02/2017 at 08:16:41
Biggest risk we have with regards to team selection, is that we have so many capable central midfielders now that Koeman might be tempted to shoe-horn them into the side.
It's important that we retain our width, so I'd still like to see three at the back with Baines and Coleman playing as wing-backs. Lookman supporting Lukaku up top is a good shout to pressurise a vulnerable Bournemouth back line, and we could probably rest Barkley and Mirallas for this one, so I'd go with Barry shielding the back line, Schneiderlin in central midfield, and Davies to be given license to support Lukaku and Lookman in attack.
Gueye as a sub to be given a run in the second half (he played four games in two weeks in the AFCON) and Barkley, Valencia and Mirallas as attacking options off the bench.
Chris Gould
8
Posted 03/02/2017 at 09:27:20
Loving the fact that it's difficult to predict the lineup. It means we have plenty of options.
I really like the look of Lyndon's lineup, but like others am not convinced that Jags should start over Funes Mori. It may be that Williams is more likely to struggle with 2 games in 3 days. Although there's been no evidence of that being the case.
I would love to see Lookman start. I actually think McCarthy may start this one and wouldn't be surprised to see Barry in the lineup. We shall see.
Bournemouth have lost Callum Wilson which is a huge loss to them. We need to take advantage and attack from the off.
Matthew Williams
9
Posted 03/02/2017 at 09:35:43
Simply a game we must win... a quick start would help no doubt.
2-1 Blues.
David Hallwood
10
Posted 03/02/2017 at 09:54:02
My guess will be Gana for Holgate and go back to 4-2-3-1.
Personally I think playing 2 holders slows the game down and offers nothing going forward, and unless you have a superstar like De Bruyne or Silva, Hazard etc in the attacking 3 you are reduced to 1-2 shots a game, which sums up our season up till Christmas.
It will be interesting to see if he shuffles the pack to accommodate Gana.
Phil Walling
11
Posted 03/02/2017 at 09:57:22
The haste among ToffeeWebbers to be rid of Jagielka now borders on indecent.
Of course he has slowed up with age and 'always has a mistake in him' but the same goes for Holgate, Williams and – most certainly – Funes Mori. And the same was said of Stones.
After Ossie and Hibbo got the treatment, Howard was hounded out and the process is well advanced with our best holding midfielder-Barry! Who will be next to cop for it, I wonder?
Alan McMillan
12
Posted 03/02/2017 at 09:59:14
One thing that strikes me after reading these comments... for the first time in a long time, we genuinely have quality alternatives all over the pitch. Things are looking up!
Gordon Roberts
13
Posted 03/02/2017 at 10:29:23
I wonder if Koeman gives Mirallas 45 minutes to improve on his dismal performance vs Stoke? If not, Lookman to come on for the whole of the second half.
Despite a threadbare squad, great to have quality options waiting in the wings.
Eugene Ruane
14
Posted 03/02/2017 at 11:04:38
There is one area that sees Bournemouth top of
any
league in any division and that is of course the sphere of staggeringly woeful and cack crest design -
Link
The centre-forward rising majestically to meet a ball... while having his Charlie George-style hair caught in (guessing) a mangle.
Oh sure, Watford push them hard - Link but The Cherries deffo have the edge.
It really does look like it was 'designed' in the late 1970s using a Ronco design-O-matik.
I can imagine it being introduced and 'Motty' interviewing some Poole second-hand car dealer millionaire chairman..
John Motson (1978): "Mr Chairman, tell us about this snazzy new club crest."
Chairman: "Well John, my nephew Jason is at art school and he's a big supporter of the club and a very talented graphic designer..."
Wonder if their supporters think it's okay, or wish that 22,500 of them had told the club "Stick that fucking monstrosity right up your hole and put the old one back."
Up the Toffees!
Danny Halsall
15
Posted 03/02/2017 at 11:07:14
I would definitely give Lookman a go up top with Lukaku. Mirallas did nothing midweek. Don't know why, but I have a really good feeling about young Ademola.
Brian Furey
17
Posted 03/02/2017 at 11:21:55
I think Mirallas's poor performance might just give Koeman the reason he needed to start Lookman. I think most of us would love to see more of what this young lad can achieve and at home to a team that are struggling looks as good a time as any.
Saying that though, you would imagine Boring Mouth will come to defend and frustrate and despite our many options at CM we don't have a lot of options in the attacking side of our team. Mirallas, Lennon, Barkley and Valencia haven't exactly being setting the world on fire.
I just hope we don't concede a silly early goal again and for them to put all 11 behind the ball.
David Pearl
18
Posted 03/02/2017 at 11:25:52
Phil, 11
Obviously Baines. Anyone over 30. It's the magic number. Yes it is, it's the magic number. A couple games off the pace as he's done for, past it.
I'm thinking a mid 3 of Barry, Schneiderlin, Gana. But it's anyone's guess. The 3 up top is where we lack quality in rotation.
Steavey Buckley
19
Posted 03/02/2017 at 11:51:34
With so many midfielders available Morgan Schneiderlin could be converted into a centre-half. He has the height, can head a ball, reads the game well, passes the ball accurately and tackles very well.
Up-front is where Everton are really weak with only Lukaku as the only experienced forward who can score goals.
Winston Williamson
20
Posted 03/02/2017 at 12:04:23
I may be going against the general mood – but keep the system and players who are building momentum.
Gana has to earn his place in the team again, which means until someone has a howler in midfield, he's on the bench.
We should not underestimate Bournemouth at all. They're a side who can surprise and who have taken points off us before.
Robles
Holgate, Williams, Funes Mori
Coleman, Baines
Davies, Schneiderlin, Barry
Mirallas, Barkley
Lukaku
Rotation? It's not like we have too many games left this season. We should play the team that's in form, until they're no longer in form.
Dan Hollingworth
21
Posted 03/02/2017 at 12:20:57
Morgan Schneiderlin has to start, he looked like he has been playing all season. Gueye has to come back in as he's been our best player.
McCarthy did not do a lot wrong when he came on. (Doesn't mean he should start, granted.) Barkley is in his best form for 18 months.
It's a tough one. Very competitive in that area all of a sudden.
Phil Sammon
22
Posted 03/02/2017 at 12:28:44
I agree with Winston (#20)...
I'm sick to death of closed-minded managers predictably starting with eleven players each week.
Kevin Jones
23
Posted 03/02/2017 at 12:30:24
Can David Ellis pick the team from now on, please? I for one would love that line for Saturday. Can't wait – feels like we haven't been the match for ages...
Jim Bennings
24
Posted 03/02/2017 at 12:34:10
I'm quite looking forward to what should be a very open game tomorrow.
I like the way Bournemouth play and Eddie Howe's team always seem like they set out to win games, not draw, it's refreshing to see from a club that's spent so little money.
Who knows what Everton will turn up tomorrow; I am hopeful that the penny has finally dropped with the players that they now play for a manager to will no longer accept below par performances. I believe Koeman has shown himself quite ruthless in quickly discarding players that he deems not good enough for his Everton revolution.
We need to keep up the pressure on Manchester United with a win.
Phil Walling
25
Posted 03/02/2017 at 12:57:08
Howe has always seemed to me to be cut from the Martinez cloth. Sticks to his tactics win or lose and no member of his team ever falls short.
The establishment love him and obligingly forget how he got found out at Burnley.
[Reaches for tin hat!]
Dean Cooper
26
Posted 03/02/2017 at 13:01:12
Winston @ 20,
If we're going to play with 12, I'd at least like to see us with an extra striker!

Ciarán McGlone
27
Posted 03/02/2017 at 13:12:10
One of the Portuguese teams about 6/7 years ago tended to play with central midfielders only and dispensed with wingers...it was fantastic to watch at the time.
We have an embarrassment of riches in midfield and two very good full backs who can provide width. Play them all:
Gana... Schneiderlin... McCarthy... Davies... Barkley...
Let them off the leash. Hopefully they'll eventually learn to pass it to a team mate. Any of them don't pull their weight then Mirallas and Lookman are gnawing at the bench.
Robert Leigh
28
Posted 03/02/2017 at 13:13:12
It wouldn't happen, but against a team that plays football (like B'mouth) I would like to see a Holgate & Williams CB pairing.
Robles
Coleman, Holgate, Williams, Baines
Gana, Schneiderlin, Davies
Mirallas, Lukaku, Barkley
Loved seeing Barkley played inside left last couple of weeks, and having the legs of Gana, Schneiderlin & Davies in midfield would allow Baines & Coleman to bomb-on as if we had a three behind them as one of the midfielders would slot in to cover.
Lookman for the last half-hour, too early for him to start, and Mirallas isn't as dangerous off the bench as him.
Agree with a couple about Donkor – maybe we'll see him in the last five games when we've secured a top six position...
Robert Leigh
29
Posted 03/02/2017 at 13:17:19
Also:
I wonder if Schneiderlin is slightly miffed that the Number 4 shirt became available days after he had to take Number 2? As Gibbo hadn't played this season, surely he could have had Number 4 anyway???
Mike Berry
30
Posted 03/02/2017 at 13:20:02
When you think barely 12 months ago the midfield was Barry & McCarthy, and with respect, look at it now! Just shows the work Everton, Koeman & Walsh have done.
The Gueye - Schneiderlin axis will be a hard pairing for any opposition to get past in the midfield. Added to Davies, McCarthy, Besic and Barry chomping and Ronald will earn his corn keep them all happy.
The big bonus for me is that it frees up Barkley to be more expressive and effective in a forward role. It's all coming together nicely. Happy days, I think we are in for a great run in.
Brian Harrison
31
Posted 03/02/2017 at 13:23:45
I hope we start with 3 at the back, you only have to look how many times Coleman gets into the opposing box playing this system. Also means we can play someone closer to Lukaku.
When we go to a flat back 4 Lukaku often looks isolated, and it seems to reduce our attacking options. Yes, Holgate got caught out against Stoke but I am sure he will learn from that. The only alternative to Holgate if we play 3 at the back would be to play Jagielka in Holgate's place.
Trevor Lynes
32
Posted 03/02/2017 at 13:39:34
I think our main let down is with the lack of creativity and goals from Barkley and Mirallas. Bournemouth will no doubt concentrate on the marking of Lukaku and this prevents us scoring.
It is about time that Barkley and Mirallas started scoring otherwise why play them.
Winston Williamson
33
Posted 03/02/2017 at 13:47:45
Oops! All I can say really... :)
I was going to say there was suppose to be a / between Schneiderlin and Barry – but I'd be lying my arse off!
Eddie Dunn
34
Posted 03/02/2017 at 14:14:24
Bloody hell! Just looked at Eugene's link! The Bournemouth crest looks like it was designed by one of the comrades who produced all of those Soviet era postage stamps. The Czechs and Hungarians were particularly prolific.
As for the Watford one, it looks like a cross between the Cat in the Hat and the fried egg thing you find inside a Dalek. I hope the little baby Hornets don't have nightmares with that fucked-up monstrosity on their replica shirts.
John Pierce
35
Posted 03/02/2017 at 14:41:42
A hard fought point versus Stoke, in some ways fortunate as we could have easily been 2/3 nil down at half time.
Convinced that injuries and poor form forced Koeman into 3-5-2, I'm still wondering what if...
But it has worked in the last month or so and performances are better. Now the real measure of progress it the home game with Bournemouth, were defeated at the Vitality for the first time this season, it was THE poorest performance of the season, albeit Watford comes damn close.
Can Koeman break down a lower level premier league side at home? My instincts say he might stick with things as they are, however we do need more in the final third. I'd personally go with Lookman up front with Rom. Not an overly physical side, Bournemouth should an ideal time to give him a start.
Mirallas has looked ineffectual in the last two games and perhaps needs a rest, especially since he stropped off on being substituted.
This is also a test for Ross, against Man City, Palace he thrived on open space and looked very good. Against Bournemouth on Saturday he has a much harder task, can he dictate the play?
I'd leave Ross out and let Gana anchor the midfield, Davies and Schneiderlin can get us up the pitch.
Holgate comes back in and straight back on the horse, when we play a flat back four both full backs are neutered. The balance isn't there.
We are neither going up or down with a conservative approach, something intrinsic to Koeman. The only way we will catch anyone above us is to go for it now we have enough points not worry about things.
I'd rather see us lose, if we really go for the win rather than serve up a draw. Bournemouth are on a poor run of form and we cannot walk into this as if its a formality.
UTFT!
Barry Jones
36
Posted 03/02/2017 at 14:59:38
The next six games:
Home:
Bournemouth
Sunderland
WBA
Hull
Away:
Middlesboro
Tottenham
This takes us up to April 1st, when we "travel" to Anfield. If we are going to make up some ground on the top six, this period would seem to provide the opportunity... Fingers crossed.

Brian Furey
37
Posted 03/02/2017 at 15:16:18
Are people serious about Donkor? I thought he was just brought in as cover for the U23s as Calvert-Lewin was moved up to the first team.

Colin Malone
38
Posted 03/02/2017 at 15:27:49
Now that our pressing game has developed, I would give Jags a run in the team. A model professional, loves the club, always gives 110%. Watching previous games, I think he's worth a place in the team.
Mike Gaynes
39
Posted 03/02/2017 at 15:34:24
Winston #20... "Gana has to earn his place in the team again"??
Gana has already earned his place in the team with 20 games of brilliance. He had our Player of the Season award locked up before he left, with no other candidates even on the track, and certainly none emerging while he was gone.
Did you know he STILL leads the Prem in tackles even after missing the last four games?
What does he have to do to "earn his place" for you, walk across the Mersey?
Gana. Back. In. Now.
Jay Harris
40
Posted 03/02/2017 at 15:44:34
Lyndon,
Jags back in?
Do you know something we don't.
Personally I think we need to look to the future and although I appreciate JAgs service to the cause his legs appear to have gone this season.
I am hoping being dragged off at halftime has shaken Holgate up a bit but not enough to shake his confidence.
I also thought Seamus had one of his poorer games (despite the goal?) and did not help him out enough.
The 3-5-2 has looked good up to the Stoke game so I would go with:
Robles
Holgate, Williams, Funes Mori
Coleman, Schneiderlin, Baines
Gueye, Davies
Lukaku, Lookman

Peter Cummings
41
Posted 03/02/2017 at 15:49:45
Don't think Bournemouth will be a home banker tomorrow, many thought Stoke would be there for the taking but in the first half especially we could have been three down when before we got our act together.
I believe in today's game there's no such thing as a 'banker' home or away as our neighbours found out v Swansea and Wolves, and 'upsets' now happen on a regular basis in all competitions which makes football such a fascinating game worldwide.
What annoyed most at Stoke was the virtual absence of our top scorer who still can't seem to cope with tough defenders and when will we see Barkley come up with those blockbuster goals he is capable of,
While there are encouraging signs of progress we are still showing signs of what needs to improve, passing is too often poor, possession lost too easily and defending often shambolic at times, if these problems are sorted we can start to look forward to a brighter future, starting tomorrow.
Mike Gaynes
44
Posted 03/02/2017 at 16:07:23
We'll have a look tomorrow at a player I wouldn't mind seeing as one of our CBs next season. Steve Cook is the real deal.
I know Koeman covets Keane but if Burnley stay top half he will have a very high price tag and lots of suitors. If we can't land him, I hope Cook is next on our CB shopping list.
Allan Board
45
Posted 03/02/2017 at 16:14:45
It's the next game in a series of games that Everton would be expected to win. We drew at Stoke because we deserved a draw! Not quite enough to win it, and about enough to get a point.
Why is it that people say "should or could have been 2 or 3 nil down at half time?" Nonsense spiel!
The same critique after the Man City game, and Palace. We won those games because our goalie is better than theirs and we took our chances better than them! It's not rocket science!
Play poor, you lose or draw. Play well and you win! Good luck Blues!
Steavey Buckley
46
Posted 03/02/2017 at 16:15:42
Peter (#41) Everton have not lost in the league since Liverpool. Bournemouth are on a bad run, and leak goals; and have just lost one of their influential strikers. Everton's confidence is good going in tomorrow's match. If Everton can't win tomorrow, there will be questions on some of the Everton players.
Brian Harrison
47
Posted 03/02/2017 at 16:22:29
As Hull proved this week, there are no nailed-on wins for any team in the Premier League this season. I have to say that I think Silva has done a terrific job since taking over at Hull, especially seeing he has 2 of his midfielders sold.
So anyone thinking tomorrow's game is a home banker, I suggest you think again. Yes, they have been on a bad run lately but that will make them all the more determined to get something from this game. So for us to win we will have to be at it from the word go tomorrow, as an early goal for Bournemouth will make it very difficult.
Winston Williamson
48
Posted 03/02/2017 at 16:23:21
Mike (#39): So you advocate changing an unbeaten team? Who deserves to be dropped for Gana to come back in?
You're right, he was our stand out player before Christmas – I've never disputed this and I actually really like the player. However, it is fair for him to earn a place in an unbeaten team.
It sends out a completely negative message to the other players that no matter if you win, and play well, you're going to be dropped to the bench anyway.
He doesn't have to walk on the Mersey, Mike – just work hard and wait for an opportunity to present itself, in the same fashion as the midfielder who replaced him after he went on international duty.
George McKane
49
Posted 03/02/2017 at 16:33:05
Remember a few weeks ago The French TV Crew followed me from TDH to Goodison for the Man City 4-0 game. Here is the TV Footage, have a look, its really great:
https://sport.sfr.fr/football/premier-league/en-video-quand-everton-vous-a-touche-vous-netes-plus-le-meme.html
Bit of fun but for those who have asked about The Dark House the film shows a bit of the atmosphere before and after the game.
See you all tomorrow for Saturday 3:00pm KO – love them!!!
Robin Cannon
50
Posted 03/02/2017 at 16:41:28
They played three days ago. There's nothing wrong with changing a team to ensure the freshest approach possible.
Similarly, changing a team or tactical approach to take advantages of different opposition weaknesses can lead to changing a team without it being a negative message to the other players.
Christy Ring
51
Posted 03/02/2017 at 16:45:20
Nothing against Barry, has been a great servant, but Schneiderlin should start in his position beside Gana, and Davies, with Ross further forward.
Ray Roche
52
Posted 03/02/2017 at 16:47:38
George, can't get that link to work
Rob Halligan
53
Posted 03/02/2017 at 16:56:28
Can open your link, George, but there is hundreds of videos, but can't see yours.
Paul Conway
54
Posted 03/02/2017 at 16:59:37
We are starting to steady the ship, but we have still too many inconsistent performances in all departments.

IMO, we should include Gana as he has proven his consistency, along with Davies and schneirderlain, who both look good.

Mirallas and Barkley are both hit and miss merchants.
There are still 'Vacancies: apply within' in both defence and attack.
Mike Gaynes
55
Posted 03/02/2017 at 17:06:25
Sorry, Winston, that makes zero sense to me. You put your best side on the pitch, and ANY best side Everton can make up includes Gueye.
As for the "completely negative message to the other players that no matter if you win, and play well"... apparently you didn't notice that on Wednesday we neither won nor played well. Change an unbeaten side? Of course, if it improves your chances of winning. The only message the players "deserve" tomorrow is We Will Win.
As to who "deserves" to sit for Gana (there's that silly word again), it's quite obvious. Holgate got roasted alive at Stoke. Needs time for his burns to heal. Play a flat back four and put our best player back on the pitch.
In fact, I expect two more changes -- Lookman for Kev, who had a poor game, and Barry for Davies, who needs a break after four straight full-90's.
Mike Gaynes
56
Posted 03/02/2017 at 17:07:41
Robin #50, bang on. You said it better than I.
George McKane
57
Posted 03/02/2017 at 17:16:19
sport.sfr.fr/football/premier-league/en-video-quand-everton-vous-a-touche-vous-netes-plus-le-meme.html
Copy and paste into Browser... it's working on FB OK, sorry. It's worth a watch – honestly.
James Hughes
58
Posted 03/02/2017 at 17:25:25
Mike #55 not disagreeing but.. nobody owns the starting slot they have to earn it. Since Gana went to Africa we haven't done too badly have we ?
Also we cant compare the Stoke performance against tomorrows opponents. Two completely different styles of play.
Mike Gaynes
59
Posted 03/02/2017 at 17:39:05
James #58, agree... and changing lineup and strategy based on a different opponent is yet another reason for squad rotation. I was just answering Winston's belief that you don't change a lineup until it loses.
However, all I can do is to shake my head in disbelief at any suggestion that Gana hasn't long ago earned his starting slot about ten times over.
Yes, we've done well without him... all the more reason to be glad he's back. In the simplest terms possible, we have a better chance of beating Bournemouth with him on the pitch than on the bench. Nothing else matters.
Robin Cannon
60
Posted 03/02/2017 at 17:41:40
If you can't compare the performances, doesn't that inherently undermine the argument that you shouldn't change an unbeaten team? If the performances aren't comparative, then our result and performance against Stoke should be irrelevant to the team or tactics we choose against Bournemouth.
Michael Dersch
61
Posted 03/02/2017 at 18:02:00
Robin (#50) I wish ToffeeWeb had a like button. I agree 100% with your post. Different horses for different courses. If the current opponent requires different tactics then different players may be needed to implement them.
Paul Conway
62
Posted 03/02/2017 at 18:07:43
George (#49),
Felicitations! Every Everton Supporter should watch this video. Any predictions?
Eddie Dunn
63
Posted 03/02/2017 at 18:07:55
George – got it on Facebook in the end... lovely stuff mate!
Colin Metcalfe
64
Posted 03/02/2017 at 18:11:11
Mike (#59), you are talking like Gana can do no wrong. Yes, he is brilliant at pressing and cleaning up at the back; and yes, his short passing style is impressive as he almost always chooses the right pass (unlike Ross).
However, I have to say his attacking play leaves a lot to be desired in fact I would go as far as to say his finishing is absolutely gash. The few times he has been put though on goal he has completely fluffed his lines.

Gana is a top player but the finished article? Not even close imo! Leave Gana on the bench tomorrow we have a lot more tougher games coming up than the Cherries at home. Keep him fresh for the away game next week.
George McKane
65
Posted 03/02/2017 at 18:18:24
Thanks Paul and Eddie, great bit of fun... like One Flew Over The Cuckoo's Nest (met Ken Kesey many years ago in Liverpool by the way).
TDH really is a Blue House – I will do 4-0 as always. I really love Saturday 3:00pm KOs... what football is about.
I will be in Dark House about 11:55 – thanks again for your nice comments.
Ian Jones
66
Posted 03/02/2017 at 18:28:20
No-one ever mentions dropping Lukaku. I would be interested to see how we would get on without him. Just don't ask me who takes his place...
Mark Morrissey
67
Posted 03/02/2017 at 18:45:42
Robles
Holgate, Williams, Funes Mori
Coleman, Baines
Davies, Schneiderlin, Barry
Mirallas, Barkley
Lukaku
Sharp
Latchford
I think that's enough
Drew O'Neall
68
Posted 03/02/2017 at 19:16:27
Kunal @ 1
'Jagielka is always liable to give away a penalty or give the opposition a goal from a mistake'
Over Funes Mori, Coleman and Baines, you choose to single out Jagielka as being likely to give the opposition a goal from make a mistake.
I don't know which team you have been watching but it isn't the one with our captain (by the way) in.
Kristian Boyce
69
Posted 03/02/2017 at 19:37:22
George, can you use your psychic ability for predictions for tomorrow's game?
Eugene Ruane
70
Posted 03/02/2017 at 19:52:04
Great stuff George.
By the way, how/when/why did you meet Ken Kesey?
Kunal Desai
71
Posted 03/02/2017 at 20:13:29
Drew,
Jagielka this season has given away two pens at Man City and at home to Swansea City. He was out of position for Southampton's winner and possibly at fault for Hull's opening goal.
Nothing personal against him. He has been a great servant for the club over the last 11 years but age has caught up with him and his legs have gone. Hope he gets a great send off that he deserves come May.
Lev Vellene
72
Posted 03/02/2017 at 20:23:14
I'd keep Holgate in the team, both because he's done so well before, but also to show that his withdrawal against Stoke was actually a tactical decision due to Mark Hughes deliberately aiming play towards the experienced Arnautovic against his position to overwhelm him and the Everton defence.
From interviews I've read, I don't really think he'll take a benching as a serious criticism, but another game succeeding at doing what he normally does so well could ensure he doesn't start doubting himself.
I really think Holgate will have had a big think about what he did not do right last game, so a new game should help him cement those lessons, I think.
Aidy Dews
73
Posted 03/02/2017 at 20:44:34
Gueye has to come straight back in for me. He's been our best player this season and deserves to walk right back in alongside Schneiderlin. We all know what Gueye is about and Schneiderlin looked very promising on Wednesday night but with Gueye in the midfield it will allow Schneiderlin to get further forward and dictate things.
I felt he was too deep at Stoke and although he was great on the ball, we need him to be great on the ball a lot further forward.
Now for me there's a big decision for Koeman to make as to who he plays out of Davies or Barkley in a 3-man midfield? I think he'll go back to his favoured 4-3-3 system tomorrow and personally I'd start with Davies. I just feel he's a better midfield player to play in a 3 than Barkley.
Davies seems to be more defensively aware than Barkley and gets back and puts a foot in, but he can go box to box and is full of energy and uses the ball well and with a midfield 3 of Gueye, Schneiderlin & Davies, a hard working and industrious trio, we can go with a back four and still have the numbers and cover to help defend but have the legs to get forward and support the attack.
Now with the backline, I'd take Funes Mori out. He's not a bad player but he is a liability and it's got to be Williams plus one. Will Koeman trust Holgate at CB in a 2, or will he stick with Mori or even bring Jags back in? It's got to be one from Jags or Holgate for me!
And I think Barkley will be looking over his shoulder and be worried about losing his place after Wednesday's showing. He was poor that night and could be at risk. Also Mirallas could be, he wasn't much better.
Is it time for Lookman to get a start? Why not, he may come in and give us a new dimension from the get go. He as the pace and can finish, and we need more of a goal threat up top to help Lukaku so why not give him the nod?!...
IF I was to pick the team, I'd go with:- Joel - Coleman, Jagielka, Williams, Baines - Schneiderlin, Gueye, Davies - Mirallas, Lukaku, Lookman
Tony Twist
74
Posted 03/02/2017 at 21:13:59
Must-win game and as with all the remaining games of the season. We should start with 3-5-2 formation. For tomorrow's game I would play Robles, Holgate, Williams, Funes Mori, Coleman, Davies, Gana, Schneiderlin, Baines, Barkley, Lukaku.
If this isn't working then Funes Mori off Lookman on and 4-4-2 formation with Barkley off for Mirallas if the goals still failing to come and the last throw of the dice 4-3-3 with Donkor up front and one of Gana, Schneiderlin or Davies going off. Good luck blues.
John Pierce
75
Posted 03/02/2017 at 21:24:31
Balance is the key, not the best eleven but the most balanced. 3-5-2 is the most we can expect from the team at the moment.
We do not have two centre-halves who can consistently play as a pair. Funes Mori is in purely because he is left footed, for every good thing there's something crazy in his locker
Williams was an expensive stop gap and would need a fast smooth player next to him to play in a back 4. Holgate, despite promise has much to learn.
Combine the three and each cover the others vulnerability, add to this that neither Baines (age) and Coleman (defense) are now suspect in a back four the back three is the way to go.
You might think our midfield could be that good that if they do their job in a four then perhaps the strain on the defense wouldn't tell.
However, the best performances have come in the last month, albeit with a very low bar, that was primarily with a back three.
Holgate shouldn't be dropped despite being singled out by some for a poor performance
Both Williams and Mori were complicit in let 'Dipplodocus Crouch meaander away from them after Holgates error, both said stoppers watched as Crouch volleyed, and then Arnuatovic got in.
Gana will score on Saturday, no doubt...
Mick Davies
76
Posted 03/02/2017 at 21:33:14
Phil @ 25,
The establishment love him and obligingly forget how he got found out at Burnley.
Where do you get this garbage from, The Sun? ... Howe left Burnley for personal reasons (would you want to live there?), and nothing to do with footballing issues.
He's not doing badly now with a club in their first ever taste of the top flight – and he kept them up, with the smallest stadium in the Premier League's history.
Dan Davies
77
Posted 03/02/2017 at 21:43:54
Both Jags and Baines will need replacing very soon. Get real. Along with Barry. Gana for me, is straight back in alongside Morgan.
Paul Conway
78
Posted 03/02/2017 at 21:49:13
Aidy Dews @ 73, Fully agree.
If you refer to my post at 54. You saved me a hell of a lot of typing, thanks. I was too tired to go into the details.
Tony Abrahams
79
Posted 03/02/2017 at 22:13:24
I think this Eddie Howe looks like a decent manager; I can't believe he's getting compared to Martinez, even if it is off Phil Walling?
Did you not see the Liverpool game, when Howe changed his formation at half-time, and then saw his team overturn a two goal deficit in the second half, Phillip?
Mike Gaynes
80
Posted 03/02/2017 at 22:39:56
John Pierce (#75),
Funes Mori isn't in just because he's a lefty. He's in because he's the only defender we have currently who can win a contested header. We've gotten marginally better at defending set-pieces since he came into the side.
As to Holgate being singled out by "some" for a poor performance, face it, he was singled out by everybody who saw the game except perhaps his mum, and even she was probably mumbling something about ball-watching. It's a hard habit to break, but Coleman did it and Holgate will too. In the meantime, however, every team we play will now start targeting him with left-wing runs off the ball.
John Pierce
81
Posted 03/02/2017 at 23:22:11
Mike,
How can you defend that lad? His aerial ability in the box is poor. He's rash, hotheaded and has little in the way of distributing the ball.
He is by far the weakest link in the side, and was just as culpable on Wednesday as Holgate was, again why was he not subbed, balance.
It was clear as day he was at fault for Crouch getting free for his volley and was left flailing on the floor as Arnuatovic went clean through. Perhaps he needs to clue up on his positioning as well as his heading too.
Holgate has shown a certain callow nature but he easily better than Funes Mori. My money is with Holgate. No future in the Argentine, he'll be out the door in the summer whilst Holgate is ball-watching in the first XI with his Mum watching proudly on.
Tom Bowers
82
Posted 03/02/2017 at 23:32:25
No matter what starting eleven it is, they need to come out hot and with an intensity that just gets control of the game from the off.
All teams in the Premier League can play a bit if you let them and they will try to park the bus and hit you on the break.
With Jack Wilshere they are a better team... so keep him quiet and Everton should win.
Phil Sammon
83
Posted 03/02/2017 at 23:49:19
John @81,
'His aerial ability in the box is poor'
Can't agree with that. He's the only player we have who looks even remotely keen to score from a corner.
Perhaps Galloway is the man to come in and eventually play that left centre-back role. We were always told that's where he'd end up.
Mick Davies
84
Posted 04/02/2017 at 00:29:10
John Pierce @ 81,
So Funes Mori is your new pet hate – is there an Everton player you're happy with? I suppose you know more than Koeman as we've only conceded 6 goals in the last 8 matches – be much better if Jags was in there, eh?
Clive Mitchell
85
Posted 04/02/2017 at 01:13:22
McCarthy in for Gueye, ta very much.
John Pierce
86
Posted 04/02/2017 at 01:41:59
Phil, the point is has he scored this season? No. Yet Williams has... from a corner no less. Has he made numerous mistakes, several I'd say. The ledger puts Funes Mori in debit.
Mike, are you okay hun?
If you afford the post a second look rather than a cursory glance, you will see I said a back three covers the deficiencies of all three. At least you could recognise we were poor in the first half and Holgate was in part to blame yet others equally as culpable were left wanting but without the 'burn you applied to young Mason and his Mum.
Nothing new in my dislike of average players, which we are still riddled with, 20-odd years without a trophy colours that particular view.
As for me knowing more than Koeman, of course I do, I'm a fully paid up fan, with over 40 years of watching my blueboys.
Opinion Mike, is what it is. Stick to that and enjoy ongoing broadening of a variety of views.

Darren Hind
87
Posted 04/02/2017 at 02:44:25
Those singling out Holgate for criticism on Wednesday night need to take another look. He (correctly) stepped up every time we were in Stoke`s half. The perfect way to play a team spearheaded by Peter Crouch.
Unfortunately for young mason, Williams would not leave his comfort zone and left him vulnerable to balls played over the top or in behind, by playing everyone on side.
This was a learning curve for Holgate. he will realise Williams feels exposed when pushing up. You simply can not play a pressing game with Williams in the team.
I can't believe people wold have a go at Howe. He is performing minor miracles to have Bournemouth anywhere near the Premier League. They had a fantastic start to the season (including playing us off the park). They are the Premier League paupers though and have little depth to their squad which would explain their slide.
I expect a comfortable win, but want to see good creative, entertaining, football. Bournemouth will not come to shut up shop, they will come to play and if we can't entertain against them when they are in this form, I will give up.
Alexander Murphy
88
Posted 04/02/2017 at 05:53:17
Starting a settled XI has worked well recently, until a poor performance against Stoke. Arguably, Hughes anticipated and exploited our stability and any vulnerability.
Wholesale changes aren't helpful, judicious tuning is. Holgate's first below par performance is adequate reason to drop him. Barkley's recent improvement stalled. Gana's consistently high quality performances are adequate reason for his re-inclusion. Lookman has been exciting and lively and has certainly caught Koeman's eye since arrival. Joel, surely, starts as first choice 'keeper now.
I wouldn't be surprised to see Jags in for Holgate and Lookman in for Barkley, but how to accommodate Gana?
More than two changes is risking a back-to-the-drawing board feeling, that's best avoided.
Perhaps the lacklustre midweek outing will be used to fire things up and avoid an embarrassing setback against a flimsy Bournemouth.
Paul Tran
89
Posted 04/02/2017 at 08:13:57
Ah, come on, Darren, you'll never give up.
I'd put Holgate as first name on the sheet. He's been playing well. He had a bad start at Stoke, who singled him out and had him all at sea. You can't shout "play the kids" and then sling them after 45 mins.
Keep Holgate and Davies in. Play Gana and Lookman. Mirallas and Barkley on the bench.
I like Howe. His teams are well organised and play good football. At some point, a 'bigger' club will gamble that he can cut it higher up the table with increased expectations.
It should be a good game with plenty of space. I'm expecting a win. With an almost happy manager having cleared out much deadwood and the team apparently playing the way he wants them to play, we should expect nothing less.
Stan Schofield
90
Posted 04/02/2017 at 08:35:53
I wouldn't leave out Holgate on the basis of a relatively poor performance against Stoke, who were difficult, very physical opposition. He's been consistently very good, and everyone has an isolated blip.
Gana has had several, but he, like Holgate, has been consistently good overall. It might be a good idea to rest Davies after four consecutive 90 mins, given the choices we now have.
John Malone
91
Posted 04/02/2017 at 08:44:52
I expect Gana to come straight back in but I hope its not for Davies!
I suspect Barkley will be dropped and reading between the lines with Koeman's comments that Morgan S will be played further forward in the 'ten' position!
I reckon he will play a 4-5-1:
Baines
Funes Mori
Williams
Coleman
Davies
Schneiderlin
Gana
Barry
Mirallas
Lukaku
Phil Walling
92
Posted 04/02/2017 at 09:00:23
Younger players are the easiest to drop. They don't winge and moan – they can't afford to – so expect any two of Barkley, Holgate and Davies to get benched (rested) for today's game.
Tony Abrahams
93
Posted 04/02/2017 at 09:04:40
I never watched the Stoke game, Darren, but it's a very valid point that you make about Williams. Maybe when the team close down quicker from the front, then this will give the defence more confidence to push up, but if a defender's not the quickest, he will usually play on the back foot.
I'm looking forward to the game though, which is something I haven't always done these last couple of years, and I'm just waiting for "Happy George" to answer Eugene's question? But on a morning like today's, he's probably looking out the window, looking across the Mersey, and probably can't wait to get to two of his favourite places!
Paul Johnson
94
Posted 04/02/2017 at 09:25:44
Fantastic video George. You have convinced me, 4-0 it is coyb.
John G Davies
95
Posted 04/02/2017 at 09:37:00
Paul (#89),
Holgate will start and rightly so. A Rolls Royce of a defender,a better player than Stones even at this young age.
He was at fault for the goal at Stoke though. A defender can't step out to play an attacker offside unless he is either the last man or if he has looked along the line to see where his defensive partners are. Mason did neither.
An easy mistake for a young kid to make he will learn off it. Part of a defence that has conceded 3 goals in last 6 league games so him Williams and Funes Mori are playing well.
Darren Hind
96
Posted 04/02/2017 at 09:53:04
Paul,
Three games ago, my lad turned and said to me, "Look at Williams, he is making it impossible for the rest to move up." It's been a topic of conversation amongst our party.
If we can see it, even the tactically challenged Mark Hughes could see it. He didn't just target Holgate, they were angling balls at both the wide men of our back three. Unfortunately for Holgate, he was at the scene of the crime and it's his fingerprints, people, which were left there.
But, as the senior and central defender It is absolutely the responsibility of Williams to move us up as a unit. He has got to stop creating two stools for the others to fall between or Wednesday night will not just be a one-off. By simply advancing 3-4 yards, Williams eradicates the problem.
Just to prove to you that I can let up, I have put all of my £20 betting money on one in the 2:45 at Wetherby (bottom horse).
The irony proved far too great for me to resist.
George McKane
97
Posted 04/02/2017 at 09:59:22
Eugene and Tony, thanks for your comments. Indeed, just getting ready to go to The Dark House, checking camera, just took a photo of the roof of Goodison from my window – it's on The Dark House Blues Facebook Page... have a look.
Sitting at my desk surrounded by art photos, Van Gogh, book of Anna Akhmatovah, Lennon and listening to Van The Man: beautiful Blue Sky over Goodison: "I shall drive my chariot down your street and shout, Hey I'm dynamite and I don't know why".
The Ken Kesey story is great. I am always quoting McMurphy in my work and Kesey came to Liverpool about 20+ years ago – I wrote to him and met him, he was amazing. He had his gang with him and was in The Acid Bus. I got some photos and had a gas with him.
He was on at The Royal Court; I had booked with my mate Tony Scanlon and thought it would be heaving. It was almost empty but Kesey was fantastic, just rambled on, beautiful stories and prose. He had a Danish Helmet on with giant horns... a really nice guy.
There's too much to write; maybe we should meet for a pint and have a gas. So, off to TDH soon, my wife Gosia is in Gdansk at the moment so I will get "the bus under the River" and then walk from Scotty down "those ancient haunts"... "across the river where Angels play".
I love Saturdays / matchdays – always quoting McMurphy and Cool Hand Luke. I did a talk to Criminology University Students last week – did an impression of McMurphy and "old Lukas" and said you know "sometimes nothings a real cool hand to have"... They thought I was mad and I asked them if they knew the movies...? NO ,of course; I told their Lecturer that they needed me to come in and rewrite their Syllabus.
Well, off soon... I have to print some photos for the gang at TDH. Have a look at this:
https://sport.sfr.fr/football/premier-league/en-video-quand-everton-vous-a-touche-vous-netes-plus-le-meme.html
It would be nice to meet one day for a long talk and a pint. Cosmic grooves all the way.
Up The Blues.
John G Davies
98
Posted 04/02/2017 at 10:01:43
You should have an Ayrton on the top horse as a saver.
Darren Hind
99
Posted 04/02/2017 at 10:02:56
I meant Tran - not Andrews
John G Davies
100
Posted 04/02/2017 at 10:06:03
John G Davies
101
Posted 04/02/2017 at 10:32:21
Back to reality.
I would go Gana, Schneiderlin and Tom in a three-man midfield. Barkley in front of them and behind Rom. Same back 3 and wingbacks. Mirallas on the bench.
Hopefully the start of a little run of wins. Hard to break the top 6 this season but looking positively at it we keep winning and who knows.
James Lauwervine
102
Posted 04/02/2017 at 10:33:35
George (#49), that video is brilliant. Gives a true sense of what a day at the game is like and what it is to be a blue. And you picked a pretty good game for it! Well done, mate.
Colin Malone
103
Posted 04/02/2017 at 10:35:30
Would Moyes or Martinez have dropped Barry, Jagielka, or Barkley? No way.
It show's what a strong manager we have in Koeman.
Eugene Ruane
104
Posted 04/02/2017 at 10:43:56
Brilliant George.
I'm just going through my pre-match routine which involves a breakfast of nothing but a coffee – I like to be starving by the time I get to the supper bar.
Re Cool Hand Luke, let's hope Koeman's after-match interview isn't a narked 'What we got here is failure to communicate.'
Up the Toffees!
Andy Wheeler
105
Posted 04/02/2017 at 10:46:28
Expecting a good win today, I would like to see Lookman make his full debut.
COYB
George McKane
106
Posted 04/02/2017 at 10:48:29
Eugene and James, thanks mates.
Eugene, you still in Normandy (close to Talacre)?
Just off now, keep it cool – but mainly keep it cosmic.
Andrew Clare
107
Posted 04/02/2017 at 10:51:22
Teams in the bottom half of the table fight for every point at this stage of the season and can be very frustrating to play. So it is important to open them up early otherwise the game can develop badly.
With this in mind I would play Lookman from the off and go for the early goal. Koeman has got to have the team primed and ready right from the word go. We always seem to start games as though we are not ready.
I would also retain Davies as he has been a great attacking threat since he came into the side. Gueye also has to be accommodated as he is such a tremendous player.
Do all these things and we will win.
Paul Tran
108
Posted 04/02/2017 at 10:59:01
Darren, I'd agree with you on Williams. Holgate was let down by his colleagues at Stoke. He was all at sea, so for me it was a good decision to take him off and would be a better decision to play him today.
The Dutchman is a fair shout, but didn't make the cut for me today. Good luck with that.
Terry Farrell
109
Posted 04/02/2017 at 11:42:17
Gana has to play alongside Tom and Morgan. That is an awesome middle 3 with engines that will dominate all others. Ronald will then have to decide if it's 4 at the back or Mirallas drops out.
Great to have a manager of Ron's standing managing our great club and I trust him to get it right or change it early if it's not. His tough love is working and Ross is looking more assured. Exciting times. Koeman is god.
Benji Learman
110
Posted 04/02/2017 at 12:13:22
No offence to Holgate:
Robles
Coleman, Funes Mori, Williams, Baines
Schneiderlin
Davies, Geuye
Barkley
Lukaku, Lookman
If Koeman wants pressing, then Lookman no more. ;)
Frank Crewe
112
Posted 04/02/2017 at 12:41:32
There seems to be this idea that Davies should be rested just because he has played four games. I don't think it is a good idea to bench players who are in form. Especially the young ones. While his confidence is sky high, use him.
We need all our best in-form players on the park as much as we can. Personally, I would go with Davies instead of Barkley in a 5-3-2.
I would stick with Mirallas over Lookman because he's generally good at home and Lookman is a great impact player. He's still very young and will get his chance to start eventually.
Robles
Coleman, Holgate, Williams, Funes Mori, Baines
Gana, Schneiderlin, Davies
Mirallas, Lukaku.
Bench: Stekelenburg, Lookman, Barry, Jagielka, McCarthy, Valencia, Barkley.
Although considering that it wasn't that long ago our best midfield was Barry and McCarthy, it's good that Koeman has so many options available to him and it shows the progress we are making. Long may it continue.

ps: What about a shout for Donkor on the bench?
Dave Abrahams
113
Posted 04/02/2017 at 13:37:50
I don't know if Tom Davies will start or not... just to point out, in every game Tom has started, he has made silly mistakes with very poor passes; he hasn't let it bother him, and in every game he has got better and more importantly stronger.
I hope he starts but would like him to concentrate from the first minute – along, it must be said, with the rest of the team.
Dan Egerton
114
Posted 04/02/2017 at 14:01:25
#39 "Gana has already earned his place in the team with 20 games of brilliance."
His first 5 were brilliant then he fell off and played poor for the next 5 or 6 games (where we rarely won). He passed poorly, gave a couple of goals away and proved that he has no finishing skills whatsoever (this still hasn't improved, see his open goal failure from the pass from Lukaku against Man City).
He started playing better again before the African cup games and the window for obvious reasons. I'm still not convinced of Gana's consistency, but when he plays well, he is unplayable. But to say he has had 20 brilliant games is pure nonsense.
Brian Furey
116
Posted 04/02/2017 at 14:05:53
Team named:
Joel
Coleman
Williams
Funes Mori
Baines
Barry
Schneiderlin
McCarthy
Barkley
Lookman
Lukaku
John Davies
118
Posted 04/02/2017 at 14:08:34
Barry over Gueye and Davies? Really? Oh dear!!
Andrew Ellams
119
Posted 04/02/2017 at 14:08:39
I fully expected the 4-3-3 formation today with Holgate missing out. Did not expect to see Barry and McCarthy in the team with Davies and Gana on the bench. Maybe rotation of our central midfielders is something we'll need to get used to.
Stephen Brown
120
Posted 04/02/2017 at 14:09:06
Risky selections there!?
No Gana or Davies! Is Lookman ready?
Seamus McCrudden
121
Posted 04/02/2017 at 14:12:01
Very solid midfield. Gana & Davies coming on around the hour mark perhaps?
John Pierce
122
Posted 04/02/2017 at 14:17:03
That selection has weirded me out. Not sure we will play 4-3-3 but will sag back to play 4-5-1.
Rom cannot be isolated, but I guess Lookman will stay high; Ross, as is his inclination, will drop deeper.
Never will be convinced of a back four with current personnel.
That side leaves me cold, not sure people need a rest when we are barely playing one game a week for the next month or so.
Eddie Dunn
123
Posted 04/02/2017 at 14:20:01
Davies is young, so perhaps Ron is protecting him a bit. Good for Barry and Mac to get some time, let's hope they are sharp enough.
Pleased to see Lookman starting – Mirallas was crap midweek so, fair enough.
Seamus McCrudden
125
Posted 04/02/2017 at 14:21:08
Barry or Schneiderlin to play anchor just in front of the 2 centre-backs maybe...
Phil Sammon
126
Posted 04/02/2017 at 14:21:23
Dear me, what a let down. Three defensive midfielders? That's a new one.
Brian Furey
127
Posted 04/02/2017 at 14:21:45
Glad to see Lookman start but very surprised to see three defensive midfielders at home to Bournemouth. He's probably giving Gana a good rest as he's played a lot this season.
No doubt they will sit back and play on the break so Koeman wants plenty of bite in midfield. Hope Schneiderlin gets a few shots today.
Phil Walling
128
Posted 04/02/2017 at 14:22:55
If we ever return to European competition, we shall need twice as many top class players so that they can ALL get suitable rest periods as befits 㿨k slaves.
And what else would the manager have to do if he couldn't play his rotation games?
Jay Wood
129
Posted 04/02/2017 at 14:26:01
Not convinced by the midfield combo. Morgan, Gareth and James are very similar in many ways. I don't see them able to break through lines in the same way as Tom Davies attempts since he came into the side.
Lukaku and Lookman together up front could be fun!
Worth checking out this video on the club's Facebook page (the only place I've found it) of the pair being very chummy in training and showing deadly finishing skills.
More of that today, please boys.
John Pierce
131
Posted 04/02/2017 at 14:26:55
Question is what's he resting people for? The only real creativity will come from Lookman, unproven and Barkley, inconsistency personified.
Beer o'clock I think.
James Hughes
132
Posted 04/02/2017 at 14:36:05
Gooners beaten 3-1. We could/should win today and close the gap to 7 points on them. COYB
---
Add Your Comments
In order to post a comment, you need to be logged in as a registered user of the site.
Or Sign up as a ToffeeWeb Member — it's free, takes just a few minutes and will allow you to post your comments on articles and Talking Points submissions across the site.