Koeman acknowledges Kone's difficult position

23 Comments [Jump to last]
Friday 3 February 2017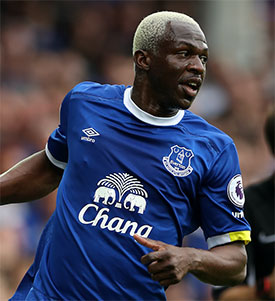 Ronald Koeman admits that Arouna Koné faces a challenge getting game time over the rest of the season after his proposed move to Crystal Palace on deadline day fell through.
The manager was asked about the circumstances behind the failed transfer but while Koeman didn't elaborate on the reasons it never happened, he said that having an extra striking option isn't a bad thing.
"Arouna's role is difficult," the Dutchman explained. "He hasn't been involved in a lot of games this season and he had some physical issues during the season
"But I like the boy because I know him well; I worked with at PSV in Holland. All the front players are really good in terms of fitness.
"If we get injuries them maybe we'll need Arouna so he needs to wait for his opportunity.
"That's difficult at the moment but in football things change quickly. I'm happy he is still in because he's a really experienced player."
---
Reader Comments (23)
Note: the following content is not moderated or vetted by the site owners at the time of submission. Comments are the responsibility of the poster. Disclaimer
Dermot Byrne
1
Posted 03/02/2017 at 17:28:24
I'm sure he won't die of poverty as he waits!
Steavey Buckley
2
Posted 03/02/2017 at 17:44:41
There is nothing stopping cancelling his contract by mutual consent then allow him to play for Sunderland or Palace. Kenwright should be relying upon Everton youngsters in the Under-23s for forwards.
Mike Gaynes
3
Posted 03/02/2017 at 18:12:38
"There is nothing stopping" him except sanity, Steavey.
He's making £40,000 a week. Who is his right mind would give that up?
David Connor
4
Posted 03/02/2017 at 19:24:41
Who cares.The fella's made shedloads of cash for being both injury-prone, and shite... Tough at the top as they say...
Frank Wade
5
Posted 03/02/2017 at 20:57:02
The Arouna Kone that played for Wigan in that FA Cup Quarterfinal and in league games against us that season, was a very impressive player. Unfortunately, he succumbed to a serious career-threatening injury shortly AFTER he signed.
He hasn't been able to achieve the same levels since for a variety of reasons such as (I'm guessing here), lack of top fitness, Old Father Time, lack of confidence, lack of game time as a striker, losing confidence after being played as a winger. Just another football story.
I do have to ask, would he have performed any better/worse than our main striker did at Stoke? The 2012 version of Kone would have made some contribution.
Anthony Flack
6
Posted 03/02/2017 at 21:00:12
Ouch... all the comments seem a bit tough
The guy has always worked and tried hard, and on occasions has shone.
Not his fault we have better players or that he has had injury issues.
Cheers... and win tomorrow, please.
Mick Davies
7
Posted 03/02/2017 at 22:02:18
He scored a Premier League hat-trick for us; how many players have done that in the last 3 years? (Naismith and Lukaku... I can't remember any others.)
I was glad the deal fell through, as Rom may get injured, and I don't think Valencia is as effective in front of goal.
Mike Gaynes
8
Posted 03/02/2017 at 22:06:15
Anthony (#8), no intention to be tough on him, I agree with you wholeheartedly.
I was delighted when he arrived and still believe he'd have been a major contributor if not for the injuries.
Paul Conway
9
Posted 03/02/2017 at 22:09:10
If he has to be thrown into the fray for whatever reason, and becomes the player we all expected him to be, then we will all be pleased, as most of us are with the new player Robles has become.

Jakob Herd
10
Posted 04/02/2017 at 00:27:32
Frank (#5),
Jesus, man, you're clutching at straws in your criticism of Big Rom – Kone doesn't have a shade of the ability and ruthlessness of our main striker... Look at his record: 72 goals in 171 Premier League games and he's only 23. It's taken Peter Crouch 419 games (his whole career) to get to 100 goals and Kone 339 games to get to 111 goals, mostly in some very ordinary leagues before his Premier League days.
I really don't understand your criticism when he has an off-day... or he has three defenders marking him the whole game.
Anthony Dwyer
11
Posted 04/02/2017 at 00:30:58
I may be wrong here, but if Kone has only played for us this season then he could accept his contract being made void, then he would be free to join another club as a free as he would be out of contract.
There was supposed to be bids for him before the transfer window closed, surely he can come to an arrangement with the club and his agent.
Just a thought.
David Pearl
12
Posted 04/02/2017 at 01:14:18
I'm sure with only 6 months left on his contract he could buy it out and get that back as a signing on fee from whatever club takes him.
Other than that Kone isn't half as bad as people make him out to be. I think it's unfair to ask lukaku to play every single minute of every game. He needs a touch of rotation at least. Injuries and age creep up on all players.
Loko Sanchez
13
Posted 04/02/2017 at 01:30:28
Stick him with the U23s like they did with Niasse. Take away his locker too!
Mark Andersson
14
Posted 04/02/2017 at 02:00:28
I like Kone plays with a smile and works hard.
His hold-up play is better than Rom's. Maybe play him and Lookman and give Rom a rest.
Hope we get a win and a good performance against Bournemouth.
Kieran Kinsella
15
Posted 04/02/2017 at 03:55:23
I like Kone. He's a very intelligent player. He's technique isn't the greatest hence his shooting but he is a useful team player. He creates openings, he works hard. He's been incredibly unlucky with injuries and now he's old.
But let's not make him out to be a dead beat AvdM type. We gave him a contract, he's entitled to see it out. We can't have it both ways.
Fans get upset when in-form players leave mid-contract so we are hypocrites to try and ditch a guy going through a tough time when it suits us.
Trevor Peers
17
Posted 04/02/2017 at 08:48:50
Jakob (#10). Some interesting and revealing stats about the importance of having a top class striker. Kone has obviously been a pretty poor striker in the Premier League.
Roberto shamelessly looked after his mates giving them long contracts; Kone must now be a multi millionaire thanks to Everton, with very little in terms of performance on the field to show for it.
To Kone, it must've been like winning the lottery... why anyone would have any sympathy for him is beyond comprehension. Koeman is slowly clearing out the deadwood, Besic next?
Karl Meighan
18
Posted 04/02/2017 at 09:29:02
I'm no lover of Kone but he has had spells in an average Everton team where he's deserved his place and probably playing out of position. He has no future if we want to improve but his effort can't be called into question, and there has been many worse in his time at the Club.
Rob Dolby
19
Posted 04/02/2017 at 09:32:11
I agree with Frank (#5),
Injuries have blighted his time with us and, whilst he isn't the most prolific of strikers, his strength is his general hold-up and link-up play. We all know that, if Rom could link up play and hold the ball for longer, he would be at Real Madrid and not us.
Eddie Dunn
20
Posted 04/02/2017 at 09:33:26
It just makes me wonder why the clubs left the deal so late? Surely they could have sorted out a compromise if they had started negotiations sooner? Kone, I presume, was unwilling to accept a pay cut. It's his choice and our mistake for handing out such long contracts.
He seems a likeable lad and has had bad luck with injuries, but he may come in handy if Rom gets a knock. He can hold the ball up and bring others into play, he just looks short of confidence.
Dave Williams
21
Posted 04/02/2017 at 11:02:55
I think it's a shame when we slag off players who try. He has been very unlucky, has constantly been played out of position out wide but always gives his best and has shown he can score goals.
A bit of encouragement helps more than slagging him off – look what has happened with Joel lately!!
Not every player can be a superstar but if Rom gets injured we will be glad to have Kone around.
Steve Ferns
22
Posted 04/02/2017 at 12:39:59
Kone always smiles, on and off the pitch, you can never fault his effort.
After the injury he was never the same player. However, in and around the time of the hat-trick, I thought he played quite well. He linked up well and played with some intellect.
He looks slower every game though and without the pace, he's not got much else in his locker. Nethertheless he keeps his head down, works hard, and keeps smiling. You can't criticise a player for giving his all, having a good attitude and ultimately just not being good enough.
Paul Dewhurst
23
Posted 05/02/2017 at 09:24:53
Most of the complaints about him above are money related, which comes across bitter about his wealth.
As a footballer, most agree works hard scored a few goal (not enough though) been injured and is getting old.
The summer Bobby Martinez signed him we sold Victor Anichebe for £6m and signed Kone for a similar amount roughly. He's definatley scored more goals than Anchebe would have!

Peter Fearon
25
Posted 14/02/2017 at 17:58:57
The Kones and Valencias and Anichebes of this world are the reason the Lukakus and Diego Costas cost so much. All three of the former are mediocrities at best by any reasonable measure but they still earns tens of thousands a week for their failures and flops and near misses.
We should give Kone a free transfer just on principle to show that we have a least some minimum standards. Otherwise who wouldn't we give a place too? Niasse? He is already playing for Hull better than ever did for us! Jo? Someone drawn at random from Gwladys Street?
Add Your Comments
In order to post a comment, you need to be logged in as a registered user of the site.
Or Sign up as a ToffeeWeb Member — it's free, takes just a few minutes and will allow you to post your comments on articles and Talking Points submissions across the site.