Davies named PFA Fans' Player of the Month

33 Comments [Jump to last]
Tuesday 7 February 2017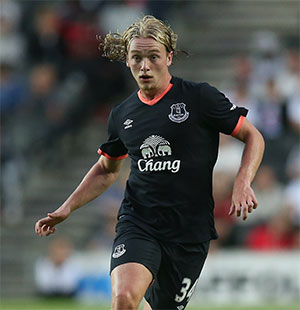 Tom Davies has won the PFA Fans' Premier League Player of the Month award for January following his breakout month in Everton's first team.
The 18 year-old beat off competition from Tottenham's Dele Alli in the online poll of supporters, picking up over 25,000 of the 58,000 votes cast.
Davies scored his first senior goal for the club in the 4-0 drubbing of Manchester City at Goodison Park, starting and ending the move in superb fashion with a chipped finish over the goalkeeper.
He also weighed in with two assists and was second only to City's Kevin de Bruyne for accurate through-balls played in January according to whoscored.com.
---
Reader Comments (33)
Note: the following content is not moderated or vetted by the site owners at the time of submission. Comments are the responsibility of the poster. Disclaimer
Gio Mero
1
Posted 07/02/2017 at 17:45:53
Oh the joys of the years to come...
Steve Ferns
2
Posted 07/02/2017 at 17:58:38
Well deserved. Nice to see he's recognised by fans of other clubs as well.
Thomas James
3
Posted 07/02/2017 at 18:00:17
Long may his form continue. Great news for him and well deserved.
Gerry Quinn
4
Posted 07/02/2017 at 18:09:44
At 4pm last night, Tom was just ahead of Dele Alli in the voting – TW was then given the web address to vote amazing that just 2 hours later, Tom ended up with twice as many votes as Alli!!!!
ToffeeWebbers take a pat on the back... and Tom – you thoroughly deserved those votes – keep it up, young'n :)
Mark Melton
5
Posted 07/02/2017 at 18:10:14
Well deserved. Now, sort your hair out and pull your socks up. Only joking.
James Hughes
6
Posted 07/02/2017 at 18:15:59
Cheers, Gerry, I voted courtesy of the link provided by your good self.
Hopefully a minor award by Tom for now, with bigger and better things to come.
Jay Wood
7
Posted 07/02/2017 at 18:20:00
Well in.
Hopefully the first of many awards and accolades to come his way throughout a successful career.
Len Hawkins
8
Posted 07/02/2017 at 18:28:02
The World is his lobster!
Jon Cox
9
Posted 07/02/2017 at 19:17:48
Funny that,
Absolutely nothing on a national radio station about this tonight.
I'll bet if it was Dele Totting, the press would be having a right jizzfest.
I hate the media, they're such a bunch of biased London-centric luvvies.
Stan Schofield
10
Posted 07/02/2017 at 19:43:47
Brilliant, well done Tom!
Jon@9: I agree, but forget about the media, they're full of shit. Doesn't stop us going onwards and upwards!
Tom Magill
11
Posted 07/02/2017 at 20:10:49
Well done, our kid!
We're proud of you!
Joe Foster
12
Posted 07/02/2017 at 20:28:51
Big congrats and well deserved.
Lev Vellene
13
Posted 07/02/2017 at 20:29:31
The socks and the scraggly beard are okay...
Congrats on the award!
Tony McNulty
14
Posted 07/02/2017 at 22:03:49
I wonder if the perception of Everton in the media might be subtly changing.
Given that my locks were heading in a Tom Davies direction, I went to have my hair cut today.
As I sat down a tabloid newspaper had been left open at the sports page. It said, "ex Everton player Yakubu "
In fact I had noticed a similar thing the other week. The press have a choice of which one of a number of a player's former teams they could allude to. Recently, I believe we are getting the nod more and more.
Chad Schofield
15
Posted 07/02/2017 at 22:08:41
Brilliant news, completely agree about how the media would be acting if Dele Alli had won.
David Booth
16
Posted 07/02/2017 at 22:44:50
I really hesitate to say this – and don't issue a fatwa on me, fellow ToffeeWebbers – but we have our own Gerrard in the making here?
Tom Davies has the potential to be our inspirational talisman for the next decade or more.
Olalekan Taofik
17
Posted 07/02/2017 at 22:59:23
Tony (#14),I quite agree with you that the media might give us positive mention this time if we continue to turn out good performances. Congrats, Tom.... I'm waiting for Lukaku's February award... or any contrary opinion on Rom?
Eric Paul
18
Posted 07/02/2017 at 23:08:14
More like Lampard.
Darryl Ritchie
19
Posted 07/02/2017 at 23:13:52
He has a positive effect every time he steps on the pitch. Runs just as hard at the finish, as he runs at the beginning. Shames the slackers to do likewise.
Koeman's pressing game works with Davies on the field.
James Flynn
20
Posted 08/02/2017 at 06:32:17
Over in teh USA, Tom's goal against Man City is up for NBC TV's goal-of-the-month for January. If you want to vote for him, go here:
Will Mabon
21
Posted 08/02/2017 at 06:45:51
Fully deserved - on playing ability alone, and not new-player novelty.
Great to think so many Toff..., er, independent voters recognized him.
Paul Conway
22
Posted 08/02/2017 at 06:48:53
Over here in France, Koeman was voted manager of the month by SFR twitter fans. Their sports programme called 91E (91st minute), have positively ohh-LA-la'd over our January performance.
There were three nominees: Paul Clement, Maurice Pochetino and Ronald Koeman. Great stuff, we are starting to get recognised... Even George!
To view, type, en video- trophee 91e: Koeman manager due mois.
Daniel Lim
23
Posted 08/02/2017 at 08:31:13
Wow. 69% of the votes so far in the NBC poll.
James@20
Stan Schofield
25
Posted 08/02/2017 at 10:03:24
David@16: We have our own Tom Davies.
Brian Furey
26
Posted 08/02/2017 at 10:41:09
Congrats Tom and thanks for help turn around our season and give Ross a new lease of life.
On another note I see the AC Milan manager has already came out and said Geri needs to try harder: Deulofeu told to improve
"He needs to grow in terms of being consistent during the game and he needs to be more decisive. He can do a lot better, and I'm convinced he will do a lot better."
He played the full 90 mins on Sunday but AC lost their 7th game of the season and are 8th in Series A. That was his 3rd appearance so at least he's giving him plenty of games. I wonder was he chatting to Rom after his goals on Saturday?

Winston Williamson
27
Posted 08/02/2017 at 10:54:39
Touching on the point of perception, both in the media and other fans.
I'm frequently hearing an increased level of frustration from my rednose mates at our gathering momentum. Bless them, they appear quite worried and many are complaining their owners are not backing Klipperty Klopp in the transfer market!
As so many rednoses work within the media, it's no surprise we are often negatively projected.
One thing is absolutely certain, every rednose I've spoken to about Davies are worried we have a genuine talisman - wait till he bosses and scores in a derby and they'll hate him as much as we hate Slippy G
James Flynn
28
Posted 08/02/2017 at 11:00:24
Daniel (23) - Saw that too.
As they used to say in politics over here, "Vote early and vote often."
Matthew Williams
29
Posted 08/02/2017 at 11:10:37
Well deserved... top player, should always start.
If your good enough... etc.
Our youth players will only improve us long term & with Tom being a local lad makes his award all the more special all-round.
Terry Underwood
30
Posted 08/02/2017 at 11:45:48
Proud of you, Tom. Now keep your head down and your feet on the ground, there is a long road ahead. Well done.
Daniel Lim
31
Posted 08/02/2017 at 11:49:52
Haha... Slippy G. The famous slip that handed Man City the title.
Robert Leigh
32
Posted 08/02/2017 at 13:11:49
Stan @ 25 - love that comment
Tony Hill
33
Posted 09/02/2017 at 09:46:49
Interview with him in some of the papers today. Sounds a good lad, although we knew that already.
Will Jones
34
Posted 24/02/2017 at 23:19:37
Well done lad!! Amazing respect!!!
Add Your Comments
In order to post a comment, you need to be logged in as a registered user of the site.
Or Sign up as a ToffeeWeb Member — it's free, takes just a few minutes and will allow you to post your comments on articles and Talking Points submissions across the site.