McCarthy and Mirallas 'not risked' due to fitness concerns

23 Comments [Jump to last]
Saturday 11 February 2017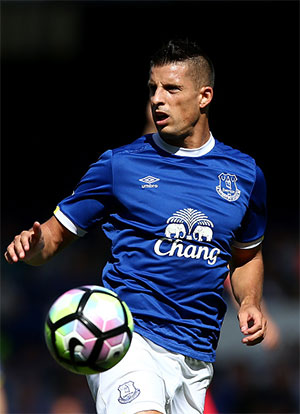 Kevin Mirallas has a groin strain and, like James McCarthy, was not risked.
Ronald Koeman has revealed that both James McCarthy and Kevin Mirallas were kept out of the squad today because of slight injury worries.
Both players were involved in last weekend's 6-3 win over Bournemouth but were missing from the team sheet for the match at Middlesbrough as the manager aimed to ensure they are fit for the next game in a fortnight's time.
"They weren't fit enough today," Koeman told evertontv. "James was struggling after last weekend and, with his history this season, we didn't take any risks. He will be available in two weeks.
"It's the same for Kevin who was struggling with his groin. We want to make sure he is 100 per cent for the next game."
---
Reader Comments (23)
Note: the following content is not moderated or vetted by the site owners at the time of submission. Comments are the responsibility of the poster. Disclaimer
Mick Davies
1
Posted 11/02/2017 at 20:00:58
I noticed the last kick of the first half v Bournemouth, McCarthy was about to clear the ball out of our area and another defender (Williams I think) kicked him accidentally. He was probably treated at half-time and given 10-15 mins to see how it went.
Pity really as we were a more balanced side in the first half, and he's been really unlucky with injuries over the last two seasons. The bonus is, there are so many good midfielders in the squad, he's not badly missed.
Jim Bennings
3
Posted 11/02/2017 at 20:31:08
We miss Macca's energy and we missed it today.
Mick Davies
4
Posted 11/02/2017 at 20:57:17
Jim 3, I see your point, but with Morgan, Gana and Tom, there was enough energy to run Sellafield. We know what Boro are like – they have a very tight defence but don't score many – so those 3 should have been ideal, but the North East in a winter blizzard is a great leveller.
Steavey Buckley
5
Posted 11/02/2017 at 21:53:24
Without doubt, James McCarthy is Everton's best midfield player (when match fit) with Tom Davies and Ross Barkley forward of him. His absence was well noticed against Middlesborough today, because without him, Everton could not dominate midfield. No wonder Koeman dismissed the idea of selling him.
Laura Round
6
Posted 11/02/2017 at 22:53:04
Kevin must have strained his groin bending to tie up his NB trainers he's be peddling all week... always red ones too.
Christy Ring
7
Posted 11/02/2017 at 23:46:50
Steavey, I agree entirely, McCarthy offers so much more.
James Flynn
8
Posted 12/02/2017 at 02:03:01
Three years running with McCarthy's hamstrings.
A regular in the Premier League a lot of years for a player his age. Especially a player whose calling card is covering every blade of grass.
From here on out, I can't see his hammy healing completely.
Dave Williams
9
Posted 12/02/2017 at 11:54:50
"Without doubt" James is NOT our best midfielder. He will run and press all day but Tom and Morgan have so much more to their game than James and when Ross is on his game he is the best midfielder at the club.
It's all opinions and it's so good that at last we have a few genuine candidates again.
Peter McHugh
10
Posted 12/02/2017 at 16:48:43
Pity we didn't have Niasse instead of Valencia to come on.
Steavey Buckley
11
Posted 12/02/2017 at 17:41:36
Dave: Morgan (another Barry but a lot more expensive) plays far too deep just in front of Williams and Funes Mori, so is bound to look good, would get a nose bleed if he went too far into the opposition's half. But if Koeman wants a pressing game, he will have to replace Morgan with a fit Besic.
Gavin Johnson
12
Posted 12/02/2017 at 17:52:00
Steavey, you sound like Schneiderlin being like Barry is a bad thing. A younger version of Gareth would be some signing.
Schneiderlin doesn't need to press forward all the time as a defensive midfielder. He just needs to protect the defence and be able to pick a forward pass, the same role Michael Carrick had at Man Utd for years.
Steavey Buckley
13
Posted 12/02/2017 at 18:00:23
Gavin: If Koeman wants a pressing game, he bought the wrong type of player in Morgan. To press the opposition, all midfielders need to be higher up the pitch in tandem. Morgan is more of a Martinez-type of player, who likes to sit in front of the back 4.
Mike Gaynes
14
Posted 12/02/2017 at 20:07:24
Dave Williams (#9), the best midfielder at the club is none of the players you mentioned. It's Gueye.
Steavey (#11), Besic is already on his way to his next club.

Steavey Buckley
15
Posted 12/02/2017 at 20:50:12
Mike: I thought Gueye was not at his best on Saturday. I noticed too many Middlesborough players making too many inroads into the Everton half, which he would have stopped before he went away to the African Cup.
Some of his passing was well below par as well. With more expected from the Everton fans from the Everton team no player should take it for granted they can play week-in & week-out without proving it.
James Newcombe
16
Posted 12/02/2017 at 20:57:04
Steavey, when is Besic going to be fit then? I like the lad but he's not one to rely on, unlucky or not.
Antonio Michaels
17
Posted 12/02/2017 at 20:59:24
Mike @14
Please do tell, where is Mo Besic going? You have made that comment several times so you must be very sure of what you say.
Steve Woods
18
Posted 12/02/2017 at 21:02:47
Steavey @ 15, without wishing to appear pedantic, if you cast your mind back Gana was actually very poor in about three games before he went off to the AFCON thingy. Hopefully its just a temporary dip in form but IMO recently he's been nothing like the great player that he was for us up until about early December.
Steavey Buckley
19
Posted 12/02/2017 at 21:03:20
James: Besic is back in training and expect him to go with the rest of the 1st team to Dubai for the warmer winter break as Everton have no game until the 25th of February.
Steavey Buckley
20
Posted 12/02/2017 at 21:12:09
Steve: I thought Gueye and McCarthy were massive for Everton when playing Arsenal at home on the 13th of December and against Liverpool on the 21st, until McCarthy was injured at the end of the first half.
On Boxing Day, when Everton beat Leicester away 2-0, Gueye was in the team, and looked good again when beating Southampton 3-0 at home.
I do believe Everton will see the best of Gueye and McCarthy when they are playing together in midfield. Where that leaves Morgan, I don't know?
Sam Hoare
21
Posted 12/02/2017 at 22:13:21
I'm not sure I can agree McCarthy is our best midfielder. Not sure he's even in the top 3. He has been playing better since January but has a way to go to convince me he's better than Gueye, who before he went to AFCON had the most tackles and interceptions in Europe.
I think any combo of Davies, Gueye, McCarthy and Schneiderlin should give us plenty of energy and presence in the middle. Two of them have only just come in and they need time together and the right system around them and they will flourish.
Gavin Johnson
22
Posted 12/02/2017 at 22:43:10
I have to agree with Mike on Besic, Stevie. It's hard to see how he will get a game ahead of our other midfielders. If we get a decent offer I think he'll be sold in the summer. He might have talent but he'll never get a run in this side with his injury record. There's too many good players waiting in the wings. His Everton career has been stop-start to say the least.
As for Schneiderlin, we knew what we were getting when we signed him. United signed him to replace Michael Carrick and we signed him to replace Gareth Barry, and I'd argue Man United played a high pressing game under Fergie with Carrick in the side. Not to mention the very Saints side he played in under Ronald Koeman.
Mike Gaynes
23
Posted 13/02/2017 at 01:47:27
Steavey (#15), Gueye was definitely not at his best on Saturday and was deservedly subbed off. He's still our best and will show it again very soon. Did you know that even after missing five games he is still the leading tackler in the Premier League?
Antonio (#17), I'm sure enough that I've made several bets with other TWers. To condense my previous comments, I'm confident Koeman doesn't fancy Besic because having seen a good deal of him – managing against him and then watching him in training and preseason prior to the injury – Koeman made offers to Gueye, Witsel, Sissoko and also pursued Schneiderlin and, as we recently learned, Thomas Delaney. All defensive mids. And all before Besic was hurt.
Karl Meighan
24
Posted 14/02/2017 at 12:13:53
Hopefully Besic is going nowhere near a first team jersey, as imo he's only a slightly better option than Cleverley.
Reckless, liability and crab are all words I would use to describe him. He constantly over-hits passes which must be a nightmare to control and, the Man City semi-final apart, I struggle to remember him having any impact on a game.
---
Add Your Comments
In order to post a comment, you need to be logged in as a registered user of the site.
Or Sign up as a ToffeeWeb Member — it's free, takes just a few minutes and will allow you to post your comments on articles and Talking Points submissions across the site.