Koeman confident Lukaku will be fit to face Black Cats

20 Comments [Jump to last]
Thursday 16 February 2017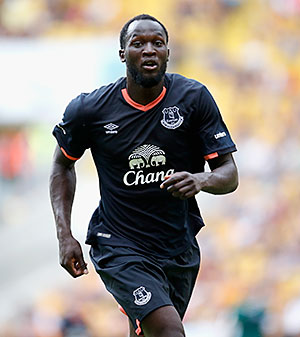 Ronald Koeman expects Romelu Lukaku to return to training next week after the striker missed the trip to Dubai to seek specialist treatment on a calf injury.
The manager has explained that Lukaku has been carrying the problem for 10 days and that he allowed his leading goalscorer to take leave from the squad's mid-season training camp to be assessed by someone he trusts.
Koeman expects the Belgian to be fit for the visit of Sunderland to Goodison Park in nine days' time.
"We know that for 10 days Rom has had some problems with his calf," Koeman said in the Liverpool Echo.
"He has a lot of confidence in the Belgian doctor and I gave him permission to go to Belgium and recover.
"We expect him, normally, next Tuesday to be joining in the training session. He will be fit and available for the weekend."
Koeman is also hopeful about the prospects of James McCarthy and Kevin Mirallas being able to play a part in the Premier League clash with the struggling Black Cats.
Both players were rested for the trip to Middlesbrough last weekend, with McCarthy suffering from what the manager described as muscle stiffness following his return to action against Bournemouth and Mirallas being treated for a minor groin strain.
"They are progressing well," Koeman said. "We knew that they would not play in the friendly this Friday but next week, from Tuesday on, they will be available for all the training sessions.
"Normally they would be fit for the weekend of Sunderland."
The team will fly back to Merseyside this weekend after enjoying a week in warmer weather which the management hope will set them up for a strong finish to the season.
---
Reader Comments (20)
Note: the following content is not moderated or vetted by the site owners at the time of submission. Comments are the responsibility of the poster. Disclaimer
Chris Gould
2
Posted 16/02/2017 at 18:07:12
If there was one match that we could and should be able to cope without Lukaku, it would be home to Sunderland.
Hopefully we won't need to find out.
Kunal Desai
3
Posted 16/02/2017 at 20:05:34
I wouldn't be so sure Chris. Mirallas and Valencia up top would not frighten a fragile Sunderland defence. Don't forget, they went to Palace in their last outing and put four past them.
We were riding on a crest of wave three seasons back and bottom of the table then; Sunderland crashed the party winning 1-0 at Goodison.
Ian Randles
4
Posted 16/02/2017 at 21:43:09
Can anyone help please...
I am trying to buy 2 tickets for the Sunderland game. I have tried StubHub but they're all single tickets. If anybody knows of a reliable website that I could buy from then please could you advise. Cheers.
Trevor Lynes
5
Posted 16/02/2017 at 22:42:28
Without Lukaku we are toothless unless the other front men start doing their job properly. Being neat and tidy in midfield is not enough.
In fact young Lookman has shown more goal threat than the rest, at least he shoots.
Gary Hughes
6
Posted 17/02/2017 at 00:47:45
Lukaku is, without doubt, the best striker we have had since Lineker... yet, like many fellow blues I just can't take to him. His goal scoring record is 'phenomenal' but the big bids haven't come so why is that? I would say it's because for every Bournemouth display there is a Boro or Stoke no show.
I expected him to move last summer but, after stinking out the Euros, nobody was willing to pay the money his goals demand. Personally, I'm indifferent if he goes, as long as we get the right money then so be it. If and when he goes, I would spend the lot on Vardy & Giroud – now there's a modern day Sharp & Lineker for a manager who dares to play with two strikers.
Richard Lyons
8
Posted 17/02/2017 at 06:27:42
So McCarthy's problem was muscle stiffness? After precisely 61 minutes on the pitch? It seems "match fitness" has a different meaning now than it used to...
Mark McParlan
9
Posted 17/02/2017 at 08:58:19
Gary (#6), you would sell Lukaku to buy Vardy and Giroud?
Vardy has scored 5 this season, Giroud 8. Both are 30 years old. I really can't see this as a good piece of business...
Brian Furey
11
Posted 17/02/2017 at 12:26:56
Gary, just keep reading your first line and forget about whether you or anyone else can take to him. I'd say Koeman can get very frustrated with him as well as Ronald doesn't like players who won't listen or work hard but he knows he's probably got the best striker he's ever worked with as a manager and he will do whatever it takes to keep him happy.
On another note I see the Spurs fans are going apeshit over Sissoko after their defeat last night. He's only played one full PL game and has scored none and has 2 assists in 6 months. He is their record signing at 㿊M it sounds like we really were lucky to not get him last summer.
Spending what we did on Bolasie was a big risk but another 㿊M on Sissoko could have been a huge waste of money. I wonder did Walsh rate him as he said in a recent interview that they also look at the personality of the player to see will he fit in and work for the team.
Kevy Quinn
12
Posted 17/02/2017 at 12:48:54
Sell Lukaku and buy Vardy and Giroud? Dear me. Lukaku has scored three more than both of them. Madness to even consider selling him, he has a few bad games but is the best striker we are going to get with our current league position.
Kim Vivian
13
Posted 17/02/2017 at 15:30:25
Brian – picking up on your comment... I know this article isn't about the knob, Sissoko, but I think most people agreed at the time that we had dodged a bullet there.
I certainly couldn't fathom him as a Blue, and Spuds deserve what they got. Even their own supporters that I work with weren't that enamoured by the prospect.
Brian Furey
14
Posted 17/02/2017 at 16:02:12
Yeah but, Kim, does it not worry you that we were chasing him in the first place. I was shocked by how much we spent on Bolasie but thought at least he's big, strong and will work hard to provide assists for Rom but I never rated Sissoko.
I also see a lot of Arsenal fans are very despondent about their season. They feel every season is the same with them hoping for Premier League and Champions League success but as usual come up short at this time of year. They could still win the FA Cup, of course but they feel they need a new manager.
Just shows you that having loads of money, a new stadium, a big support but if you've not for the right manager you will struggle to make progress on the pitch. Could this be us in 5 years time? I for one would be happy with that progress.

Kim Vivian
15
Posted 17/02/2017 at 16:17:40
Brian, yep - But it felt like 11th hour urgency to me off the back of too little strategic planning time for our new coaching set up back then, and everybody was getting hot and bothered, and carried away like the world would end and there was no life after Aug 31st.
But here we are – the world's still turning, we seem to be going about our stuff reasonably efficiently on the face of it and I feel pretty optimistic on the whole right now.
Eddie Dunn
16
Posted 17/02/2017 at 16:48:15
In the case of Giroud, he has been on the bench for most of the season – I wonder what his stats are like comparing minutes played to goals?

Patrick Murphy
17
Posted 17/02/2017 at 17:03:10
Eddie (#16),
According to worldfootball.net, Giroud has scored 8 goals from 17 league appearances including 11 substitute appearances spending a total of 657 minutes on the pitch.
Rom has appeared in 24 games with just one as a substitute scoring 16 goals in a total 2097 of minutes playing time.
Rom has scored 1 in 131 minutes and Giroud 1 in 82 minutes.
http://www.worldfootball.net/team_performance/everton-fc/eng-premier-league-2016-2017/
Soren Moyer
18
Posted 17/02/2017 at 17:52:35
Fit fat Rom!
Stan Schofield
19
Posted 17/02/2017 at 21:35:02
Hard to fathom suggestions that we sign the likes of Vardy. He was a one-season wonder in a team playing well. Lukaku keeps scoring regardless of the season or the team. Different class of player.
James Marshall
20
Posted 18/02/2017 at 12:34:57
I bloody love Lukaku. I don't understand why people don't like him, and want him sold or swapped just because he shows ambition and selfishness.
Those are the reasons he scores so many goals!!
I sing his name, as do many thousands of blues at home and away games because he's our centre forward, and a goalscoring machine. The kids a beast and personally I value every goal he scores for us because of course, he won't be a blue forever – anyone thinking otherwise is deluded.
Why people can't enjoy players while we have them is beyond me – what's the point in that line of thinking? You can only enjoy them while they're Everton players... they will move on. Live in the moment.
Terry Farrell
21
Posted 18/02/2017 at 14:03:30
James Marshall, I totally agree. I think he loves the club but he wants to win things... so, if we don't move quickly enough, he will go elsewhere.
Dave Abrahams
22
Posted 18/02/2017 at 14:37:39
Off thread, but poetic justice at Burnley lose at home to Lincoln City in the last minute, goal from a corner.
Burnley have played on the break all season and parked the bus, Lincoln did the same to them today and won 1-0.
Trevor Lynes
23
Posted 18/02/2017 at 16:47:08
Legends are made of EFC players with no where near the ability of Lukaku and in thirty years time fans will salivate over this lads goals for us.Dunc is a legend but he comes no where near Lukakus stats.
Rom is playing every game and never gets subbed until the final minutes of matches.Others are benched or subbed continually and the reason is, we have no one anywhere near Lukaku in ability to cover for him.
Playing less games and using stats to bulk up a players worth is ridiculous.Giraud has scored goals but his all around form is keeping him from starting many matches.Using this fans criteria Gabbiadini is well ahead of anyone with 3 goals in 2 games.Lukaku is not only great this season he has carried us since he arrived as far as goals are concerned.
Add Your Comments
In order to post a comment, you need to be logged in as a registered user of the site.
Or Sign up as a ToffeeWeb Member — it's free, takes just a few minutes and will allow you to post your comments on articles and Talking Points submissions across the site.