Everton vs Sunderland

82 Comments [Jump to last]
Friday 24 February 2017
Match Preview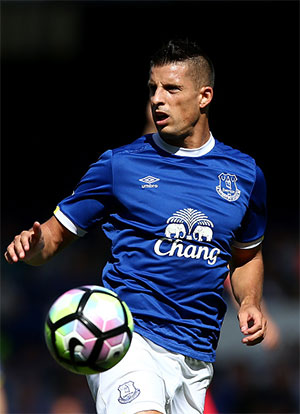 Kevin Mirallas is available again after overcoming a groin problem but will he get the nod over Ademola Lookman?
After what feels like an eternity since Everton last played, the Blues are back in action and back at Goodison Park this weekend facing a Sunderland side that is sitting on the bottom of the Premier League.
David Moyes returns to Goodison Park for the first time since he was stalked by the Grim Reaper during his last game as Manchester United boss in April 2014 still very much embroiled in his battle to keep the Black Cats in the top flight.
A run of just one win in six in the League since the turn of the year tells its own story, as did their last result, a 4-0 home defeat to Southampton that underlined their defensive frailties that will be sternly tested by a Blues side who have scored 13 goals in their last three at home.
Though Sunderland won their last away game 4-0, it was against a Crystal Palace team that is only sitting above them in 19th in the table on goal difference and their fans will travel from Wearside tomorrow in apprehensive mood.
While disappointed by the goalless draw at Middlesbrough a fortnight ago, Evertonians will, by contrast, be expectant after the feast of goals they enjoyed against Bournemouth earlier this month. Ronald Koeman will caution against any complacency though as he seeks to continue the momentum of an eight-match unbeaten run that stretches back to Boxing Day.
The Dutchman has been boosted by the confirmation that Romelu Lukaku's calf problem was relatively minor and that his trip to Belgium for treatment while the rest of the squad travelled to Dubai has apparently been a successful one. The striker has trained normally over the past three days and will be in the team when it's announced at two o'clock.
Koeman can also welcome back Kevin Mirallas and James McCarthy who both missed the Boro game with minor complaints but with that will come some selection headaches, albeit of the good kind.
Idrissa Gueye, Morgan Schneiderlin and Tom Davies were named as a central midfield trio at The Riverside and would be good bets to get the nod again over Gareth Barry (who turned 36 this week) and McCarthy. Koeman has usually selected the Irishman when fit, however, and he was impressive in his last start against Bournemouth so it wouldn't be a surprise to see him come into the side, perhaps at Davies' or Gueye's expense.
Further forward, you suspect it will be a straight choice between Mirallas and Ademola Lookman over who plays alongside Lukaku and Ross Barkley, with the calibre of the opposition maybe tempting the manager to give the youngster another start after two more weeks to settle into his new surroundings and soak up more of what Koeman expects of him.
Sunderland aren't without their threats, of course, and chief among them will be top scorer Jermaine Defoe whose ability to conjure a goal out of nothing or capitalise on the smallest defensive lapse means that he will need to be watched by whatever defensive combination Koeman goes for.
Then there is added dynamic of the band of ex-Everton players who will also be returning to Goodison, most notably Bryan Oviedo and Darron Gibson who were both in Moyes's starting XI against Southampton two weeks ago.
Gibson, in particular, will feel like he has something to prove having failed to register a start under Koeman all season while Oviedo was praised by Black Cats fans for the impact he has made coming into difficult circumstances in a that mired in another fight for survival.
There are no easy games in the Premier League but given the high spirits in the Blues' camp and their home form since the derby defeat, Everton will be strong favourites in this one. Koeman's men will need to remain focused and, perhaps, patient, if they aren't able to make an early breakthrough but if they show up on their game, they should take the three points and close the gap again on Manchester United who are in EFL Cup final action this weekend.
Kick-off: 3pm, Saturday 25th February, 2017
Referee: Stuart Atwell
Last Time: Everton 6-2 Sunderland
Predicted Line-up: Robles, Coleman, Williams, Funes Mori, Baines, Gueye, Schneiderlin, Davies, Barkley, Lookman, Lukaku
Full details: ToffeeWeb match page
---
Reader Comments (82)
Note: the following content is not moderated or vetted by the site owners at the time of submission. Comments are the responsibility of the poster. Disclaimer
Steavey Buckley
1
Posted 24/02/2017 at 09:08:10
The same team that performed not so well at Middlesborough needs James McCarthy even to beat Sunderland.
James Stewart
2
Posted 24/02/2017 at 09:23:23
I'd go with 4-3-2-1 and probably go with Mirallas. Lookman off the bench.
Robles
Coleman, Williams, Funes Mori, Baines
Gueye, Schneiderlin, Davies
Barkley, Mirallas
Lukaku
Gordon Crawford
3
Posted 24/02/2017 at 10:03:04
3 at the back and lets go for the jugular. 4-0
David Hallwood
4
Posted 24/02/2017 at 10:23:30
Good report, Lyndon, as ever. Not so sure about going for the throat, Gordon (#3) – I'd just like to see a solid professional, controlled performance with the blues coming out on top. 2-0 would do nicely.
Btw, I like the look of James's (#2) team.
John Keating
5
Posted 24/02/2017 at 10:41:38
Yes, I would go with James's (#2) team.
Robert Leigh
6
Posted 24/02/2017 at 10:42:08
Slightly worried about Defoe's movement off Williams & Funes Mori, and as he is their main (only) attacking threat I would like to see the following:
Robles
Coleman - Holgate - Williams - Baines
Schneiderlin
Mirallas - Barkley - Davies - Lookman
Lukaku
Stekelenburg, Funes Mori, Barry, Lennon, Gueye, McCarthy, Valencia
More attacking, means no Jags at all, but Oviedo will go at us unless he has a winger to mark. Holgate can track Defoe better than Jags & Funes Mori with his pace.

Terry Underwood
7
Posted 24/02/2017 at 11:02:32
If we have a fully fit squad. No excuses for not winning this one. Not too bothered about scoring shit loads of goals, just gimmie 3 points. Hope the ex-Blues get a respectful reception the players anyway.
Mike Berry
8
Posted 24/02/2017 at 11:17:33
Defoe is always a threat but I can't see the supplies getting through. Our midfield is so combative now that it will snuff out the chances. I think this lineup is going places when we buy another centre-back in the summer ?
Potential for a big win but in the Premier League you never know....
Come on, you Blues.
Ian Bennett
9
Posted 24/02/2017 at 11:28:31
3-5-2 for me. Boss the midfield and no silliness at the back.
Robles
Holgate
Williams
Funes Mori
Baines
Barkley
Schneiderlein
Gueye
Coleman
Valencia
Lukaku
Davies, McCarthy, Lookman or Mirallas ready to change the game if needed.
Matthew Williams
10
Posted 24/02/2017 at 11:39:44
Another win here methinks; I like the look of Robert's team, but I'd still go 3 at the back & attack them with width with Seamus & Bainesy.
Gotta start Davies, the lad looks quality & fires us up with some top movement & real passing ability.
3-1 Blues... the Black Cats can have one (for Bradley)... the Spurs game next is the REAL acid test for me!
Steve Ferns
11
Posted 24/02/2017 at 11:56:35
I think people make too much about systems and formations.
For example, take a 4-4-2. Then add in the Everton team of '85:
Southall
Stevens, Ratcliffe, Mountfield, Bailey
Steven, Reid, Bracewell, Sheedy
Gray, Sharp
Now we all know these guys. Stevens bombs forward just as much as Coleman ever does, destroying the myth of the marauding fullback as a new invention. Anyway, if they had heat maps and all the modern malarkey, we would see Steven and Stevens much further forward than the left flank. Bailey hardly ever got forward. He would tuck in to cover in the middle and allow Ratcliffe to cover Stevens, especially with his pace. Then Reid would drop deeper than Bracewell. Gray played as the furthest forward of the two forwards and Sharp or Heath would drop deeper into midfield to help initiate attacks.
Suddenly that 4-4-2 is able to be molded into a 3-4-3:
Southall
Ratcliffe, Mountfield, Bailey
Stevens, Reid, Bracewell, Sheedy
Steven, Gray, Sharp
Or you could easily argue that it was playing as a 4-2-3-1:
Southall
Stevens, Ratcliffe, Mountfield, Bailey
Reid, Bracewell
Steven, Sharp, Sheedy
Gray
My point: stop banging on about formations. They don't matter. The best managers make minor tweaks and are fluid enough to react to what's going on.
We don't need 3 centre-backs against Sunderland, that's absolutely bonkers. If we're bothered about the defence, then rest assured Koeman can see the same issue. He can just as easily cover the same issue by instructing Schneiderlin / Gueye or my preference of McCarthy to drop into defence when necessary and to bring the ball out. Having 3 actual centre-backs just to look after Defoe is nuts, and if you said this when Moyes was in charge and added the words "to make us more attacking" your fellow ToffeeWebbers would have sent for the men in white coats!
Frank Crewe
12
Posted 24/02/2017 at 12:18:53
I think we should go with McCarthy rather than Gueye:
Robles
Coleman, Williams, Funes Mori, Baines
McCarthy, Schneiderlin
Davies, Barkley, Mirallas
Lukaku
Subs: Stekelenburg, Holgate, Jagielka, Gueye, Valencia, Barry, Lookman.
Mike Mulhall
13
Posted 24/02/2017 at 12:23:25
4-0 – Rom gonna do the hat-trick double...
Jim Bennings
14
Posted 24/02/2017 at 13:41:18
If we can't beat Everton Rejects at home, then we've got worries...
We need to turn up with the right mentality and correct attitude and make sure we apply ourselves from the word go.
We can take advantage of Manchester United having no game in the Premier League this week and also again in two weeks when they face Chelsea in the FA Cup Quarter-final.

Colin Williams
15
Posted 24/02/2017 at 13:59:35
Why Mirallas? He's done very little within the team structure to improve us – in fact, the guy's been invisible! People are playing this guy before Davies, Lookman... Fecking crazy if that happens.
When Mirallas starts, he always comes off early because he's been shite and still people want him to start – fecking crazy!!!
James Lauwervine
16
Posted 24/02/2017 at 14:02:09
My preferred team for this fixture would be:
Robles
Coleman, Holgate, Williams, Baines
Schneiderlin, Gueye
Davies, Barkley, Lookman
Lukaku
The front four have an average age under 21! Hard on McCarthy I suppose who was excellent against Bournemouth. I'd play Lookman, Davies and Holgate every game.
Alexander Murphy
17
Posted 24/02/2017 at 14:04:55
I'm expecting a couple of Crosville's or Ribble's double-deckers parked up by 3 pm.
Defoe is still able to find the onion bag. However, Everton have options everywhere.
If we do lack anything, it's because us fans are still petrified to peep outside the cage after a decade-plus of stories about "the bogeyman".
Play with intent, Blue Boys. Score. Score early, score more and more and more.
4-0. Not saying how many minutes into the game, though.
And Robles MUST start.
Peter Cummings
18
Posted 24/02/2017 at 14:21:17
While on paper this should be a home banker we Evertonians have learned to expect the unexpected as has been the case too often, especially at home, this season.
Sunderland are fighting for their Premier League lives and won't lie down, Defoe is clearly their main threat and needs to be closely watched and any of our former players picked will be out to prove their point, IMO we must score early on and force them to abandon any 'parked bus' approach to stifle our attack.

Jason Bowen
19
Posted 24/02/2017 at 15:12:33
Moyes still going on about how bloody marvellous he did when he was with us, I see! Should've stayed with us, then, eh Davey boy, instead of doing dodgy underhanded deals to go to Man Utd coz that got ya nowhere, did it!
I for one hope we tear them a new one!

Paul Birmingham
20
Posted 24/02/2017 at 15:18:24
Massive game and could set up the right tempo for a strong finish if we "turn up". One game at a time, so all hopes and focus on beating Sunderland and to win with a clean sheet would be a big help. Get Koeman to play the Sunderland 1985 home game prior to kick-off and get the team buzzing from the off.
No doubt Moyes will have some ideas on how he will stop us, but Defoe is their main hope and, if our midfield clicks, we should be too strong for them.
Matthew Williams
21
Posted 24/02/2017 at 15:54:37
3-5-2 suits our play at this moment in time, 4-4-2 doesn't. Koeman will switch formations, tactics etc as the game progresses, depending on the game scenario.
We can't take any game for granted in the run in... the Mackems will give it a real go, we need to be positive & mentally strong from the off.
A good win will send a clear message out to the teams above us... were chasing you the fuck down... right till the final game!
COYB.
Matthew Williams
22
Posted 24/02/2017 at 16:06:24
Robles... first name on the team sheet for me, playing really well. Many said on this site "Give the lad a run a games, he deserves his chance" – and he has saved us vital points of late.
Just gotta keep this unbeaten run going & keep the pressure on the teams above us.
3 points a must... then onto the Lane!
Keith Conchie
23
Posted 24/02/2017 at 16:26:55
I would start Lookman up with Lukaku and Barkley in behind them. It will give us a strong attack from the start, and try and get an early goal because we know their going to park the bus. An early goal would force them to come out and have a go, giving us more opportunity to counter attack.
Davies, Schneiderlin and Gueye in midfield
Coleman, Holgate, Williams and Baines in front of Robles.
The midfield will break down any attack from Sunderland, while Lookman and Barkley can drift wide when needed to support our fullbacks in attack.
Robles
Coleman Holgate Williams Baines
Davies Gueye Schniederlin
Barkley Lukaku Lookman
Just my opinion and probably totally wrong. :)

Dave Williams
24
Posted 24/02/2017 at 16:48:44
Up at 6 tomorrow morning to catch the South West supporters club coach at Taunton. Will be a 16-hour day so hoping to see some goals. My team:
Robles
Coleman Williams Pennington Baines
McCarthy Schneiderlin Davies
Barkley Lookman
Lukaku
Subs: Stekelenburg, Holgate, Gana, MIrallas, Valencia, Barry, Walsh.
I can't see Walsh making the bench but it's high time he did!
Let's give young Bradley a great day!!
Jay Harris
25
Posted 24/02/2017 at 16:55:20
I think Sunderland will try and make this into a very physical game and, for the avoidance of a red card, I would leave McCarthy on the bench to start.
Now that Gueye has fully recovered from the Afcon trip, he would be the first name on the teamsheet for me. I think Schneiderlin, Davies and Barkley seem to work well together and then, for me, it's a question of either 3 at the back with Holgate in, or 4 at the back and Lookman in alongside Lukaku.
I am hoping for an early goal to unsettle them and hopefully a big win.
Ray Roche
26
Posted 24/02/2017 at 16:57:28
Steve Ferns (#11),
'Ere, don't you come on here talking all that common-sense rubbish. And stop being positive. No call for that sort of thing at all.
Tony Abrahams
27
Posted 24/02/2017 at 17:35:21
Good point about McCarthy, Jay (#25), how many red cards has he had in a blue shirt now?
Steavey Buckley
28
Posted 24/02/2017 at 18:08:10
McCarthy is Everton's best midfield player, so why leave him on the bench? The only problem with him is keeping him fit.
Ben Howard
29
Posted 24/02/2017 at 18:27:12
'Stop banging on about formations', says Steve Ferns, who then bangs on about formations!... in quite an informative way too. 😁
Dave Abrahams
30
Posted 24/02/2017 at 18:38:27
It's very surprising (again) that not many fans put McCarthy in their lineup when selecting their eleven to play. It's happened a few times and yet the McCarthy who played so well in his games versus Arsenal, Liverpool and Bournemouth was excellent and he would always be in my starting side. Hope he plays and starts tomorrow.
Tony Abrahams
32
Posted 24/02/2017 at 19:05:58
But he might get sent off, though, Dave!
Harvey Miller
33
Posted 24/02/2017 at 19:17:37
This is nothing but an easy game. They will try to keep it tight. This is time for Ross to show that he can be a playmaker against a wall of defenders.

Dave Abrahams
34
Posted 24/02/2017 at 19:22:13
Tony (#32) – well there is a first time for everything.
Paul Tran
35
Posted 24/02/2017 at 20:05:00
Early goal, we'll do them big time. If not, we'll make hard work of it. Regardless, we should be beating these at home.
Joe Hurst
36
Posted 24/02/2017 at 20:05:38
Won't ever want to forget the joy of singing "Keano, Keano, what's the score?" around the Old Lady.
Fond memories.
Kristian Boyce
37
Posted 24/02/2017 at 20:15:27
Just heard the TalkSport ad for the game and they are calling it the 'David Moyes Derby'. It's going to be a tough game as Sunderland are going to be using textbook Moyes tactics, the stuff of nightmares from the live forum back in the day.
Mick Davies
38
Posted 24/02/2017 at 20:36:34
I'm a big fan of McCarthy, but as he is just coming back from injury, I'd leave him out of this one. We should be comfortable if we play to the form of late. He will be needed in future, tougher battles.
Tom Davies is a must, and Gana needs game time after the AFCON, and last weeks break. As others have stated (though I'm not sure it needs mentioning) our Number One is Robles, and any change of keeper can only knock his confidence. The form he's in at present must be in the top 3 PL goalies at least.
It should be a comfortable win, (though we were saying that at Xmas 2013, when Howard and Osman decided to destroy our momentum) and our unbeaten run should continue... OAU – COYB
Mike Gaynes
39
Posted 24/02/2017 at 20:46:13
Can't figure out all the folks who want to put Holgate in the middle of a back four when they've never seen him play in that role before. That applies even more to Dave's (#24) suggestion of Pennington, who is just back from a very long injury layoff and certainly requires no rush job into the senior side.
Holgate's fine in the 3-5-2 if that's the alignment, but why get experimental with our back four, especially against the bottom side, when we're playing so well right now?
I'm fine with James #2 and that 4-3-2-1 attack. I'll take Gueye as my marginal preference over Macca, but have no issue with those who like Macca better.
Joe Hurst
40
Posted 24/02/2017 at 20:48:44
Which makes me chuckle Kristian (37), as I think of Moyes as some kind of reincranation of Pennywise the clown, from Stephen King's "It".
"They all float down here, Mackems, they all float."
Dan Davies
41
Posted 24/02/2017 at 21:42:48
Morgan and Gana need game time together. They need to suss each other out for the benefit of the team.
When they click, it hopefully will be a really good midfield partnership.
Jay Harris
42
Posted 24/02/2017 at 21:45:20
It's interesting that we are all unsure of our best line-up so big Ron must be having a difficult time of it, keeping players happy and motivated.
I just hope Tom Davies doesnt suffer because he would be the easiest to tell he is on the bench.
To me, the team selection is less important than keeping the team motivated and on their toes.
Dave Abrahams
43
Posted 24/02/2017 at 21:48:09
Mick (#38),
I understand your point of view in holding McCarthy back so he is properly fit but the team were lacking last time out at Middlesboro in midfielders pressing going forward, lacked the intensity that McCarthy had shown in his previous games.
Sunderland, although looking down and out, will fight to get at least a point. James will take a lot of the fight out of them.
Tom Bowers
44
Posted 24/02/2017 at 22:59:04
I have to agree there are no easy games in the Premier League and I believe even more so against bottom feeders who are fighting for their lives. Everything is down to Everton coming out of the starting blocks with the right intensity and forcing the Black Cats out of any mass defensive strategy by scoring early.
We are all too aware of several Goodison games earlier this season when the opposition frustrated the Blues but we must now believe they are a different team that is far better equipped to handle teams like Sunderland, even if they do have a poacher like Defoe.
Basically Koeman has a full squad to choose from and should take care of business even though Sunderland will have several Everton cast-offs anxious to prove something.
Lev Vellene
45
Posted 24/02/2017 at 23:02:26
Mirallas is a difficult choice. He can do it, but I've never been sure whether we should start with him on the pitch, or if he'd been better off as a substitute in the second half.
Now that we have Lookman, I'd be tempted to let Mirallas start, then let Lookman have a go at the tiring opposition during the later half of the game. Mirallas always has the promise to do something right when he starts, but he fades away if he fails with any early impact.
Mike Mulhall
46
Posted 24/02/2017 at 23:03:11
Mate, McCarthy's like a tampon: in for a week; out for 4... Shame as I do rate him.
Will Jones
47
Posted 24/02/2017 at 23:07:49
So the way it is, PR stunt, players however under wraps, come back, 3-5 days with the family, lazy training for 5 days... Star striker returning from visiting his family, fasting unprepared, mediocre 15 mins First Half, poor 30 mins thereafter. 0-1 down at half-time, bright start, 2nd half, but to no effect... ultimately losing 0-1. Mosey saying his is blessed at Goodison Park.
Lev Vellene
48
Posted 24/02/2017 at 23:17:30
Mike (#46),
Very early on, I saw McCarthy more as an attacking option in our midfield (well, DFM to AFM, as needed), I was rather deflated when I learned he was considered a defending midfielder 'only' by most people.
Shame about his injuries, but I think Koeman has found a spot to peg him into when fit. And I hope he'll feature a lot more, but then who for??? I'm sad I don't have Koeman's wages, but very happy that I don't have his headaches (even if only from making hard choices about the playing XI!) :P
Lev Vellene
49
Posted 24/02/2017 at 23:21:04
Will (#47),
You are so positive in your views that you might make this site implode! Please stop, or you'll hurt more than my sides! :D
Don Alexander
51
Posted 24/02/2017 at 23:38:54
Bloody hell folks, the propaganda that "there's no easy games in the Premier League" seems to have gripped a few of us! We, us, Everton are talking about Sunderland for Gawd's sake.
If we can't field a team with the necessary mind-set to win without too much stress, it'll tell me that two weeks in the sun (with one notable absentee staying behind to natter with his Flemish doctor, dad, agent, clairvoyant (you choose) should never happen again. Anything less than a comfortable win will be a kick in the goolies by the team to Koeman after everything he's said this week.
Unlike his "phenomenal" predecessor I believe Koeman has already sorted the wheat from the chaff temperament-wise from the squad. Poor performance is now out in terms of retaining your place in the team and even good performance doesn't guarantee it such is the growing quality of the squad (ask Tom Davies). That's how it needs to be to further develop this and next season, and ever afterwards, if Mr Moshiri is being genuine.
The score's irrelevant providing we win but I'll be disillusioned, again, if it turns out to have been a struggle.
Joe O'Brien
52
Posted 25/02/2017 at 01:40:11
4-0 – Lukaku 2... Lookman and Baines to keep the run going. Easy peasy... it's Moyes and Sunderland, ffs.
David Ellis
53
Posted 25/02/2017 at 03:27:07
Steve Ferns (#11),
I agree with your analysis of the '85 side – with one niggle. Bailey didn't come forward as much as Stevens because he wasn't in the side.
He'd been replaced by Psycho Pat by'85 – and he certainly gave a lot more going forward down the left than (the otherwise excellent) John Bailey. As a result the side was a much more balanced 4-4-2 = with two attacking full backs and two wide midfielders (Sheedy and Steven) who were essentially wingers that could tackle back (well at least one of them could – Steven) and two excellent defensive mids that covered for the attacking wide men (Reid and Bracewell).
The current team is beginning to stir memories of that '85 side... quality all over the park... almost. Mind you I've felt it a couple of time before, the Arteta period between 2007 and 2009 before he got injured and Roberto's first season. Good sides but not good enough to quite get to the silverware in the modern age... but hope springs eternal
Gerry Morrison
54
Posted 25/02/2017 at 05:20:28
Mike (#46). Menstral cycles last five weeks! Who knew?
George McKane
55
Posted 25/02/2017 at 07:48:01
Really love Saturday 3:00pm kick-offs – a real football day. I had a quick look across The River towards Goodison and will hopefully get to TDH for normal activities around 12:.00 noon.
Got to fix the back fence – and then get myself ready. Looking forward to a great day... cosmic grooves all the way.
Up The Blues.
Sam Barrett
56
Posted 25/02/2017 at 08:18:22
😀 Brilliant, George!
Tony Abrahams
57
Posted 25/02/2017 at 08:28:13
I think Aunty Doris's nephew will be coming to park the bus today, George, and he's never happy, so leave the fence till next week, mate, and just enjoy your favourite day of the week!
Brent Stephens
58
Posted 25/02/2017 at 09:10:44
Sorry about the fence, George. Doris Day was okay for me.
Bill Griffiths
59
Posted 25/02/2017 at 09:15:01
On the train from Bangor for the game. Don't know what weather's like in Liverpool but it's pretty terrible here in North Wales, guess it will not be much different there.
If like this for the game, it might make it something if a lottery. Here's hoping, COYB.
Denis Richardson
60
Posted 25/02/2017 at 09:21:30
Game is ours to lose. Sunderland are crap with Defoe being their only threat. As long as Schneiderlin and Geuye start we should dominate the midfield, which is half the battle won.
Moyes will play a Moyes game, park 17 buses and hope to nick one on a counter or set-piece. I expect we'll have loads of possession, especially in the first half, so we'll need to be very patient.
Schneiderlin and Geuye are our current best midfielders (also both Koeman signings) so I hope/expect to see them start so they can begin to build a long-term partnership. Personally I'd like to see an initial 4-3-3 or 4-3-2-1:
Robles
Coleman, Willams, Funes Mori, Baines
Davis, Schneiderlin, Geuye
Lookman, Lukaku, Barkley
Mirallas and Valencia as attacking back-up off the bench. No midweek games until April so no need to rest/rotate anyone – play the best team every weekend, injuries & suspensions notwithstanding.
I hope we absolutely stuff them and send the ginger twat packing – Moyes derby, my arse!
With the Manc derby postponed and Liverpool playing on Monday, 3 points today will seriously close the gap on the top 6 and start to put the pressure on a couple of teams above.
Also we have Spurs away next weekend, so all the more important to get 3 points today.

Phil Sammon
61
Posted 25/02/2017 at 09:24:07
Everton to win at a canter.
Everton 1 - 0 Sunderland
Baines (90' – pen)
Adam Luszniak
62
Posted 25/02/2017 at 09:29:00
Steve Ferns, it's not bonkers to play 3 at the back against Sunderland. Antonio Conte plays 3 at the back against nearly every team and he seems to be on course to win the league.
When we play 4-3-3, both full backs are hampered by the fact that when they go forwards, they leave Williams and Funes Mori exposed behind them, and neither of those is up to the task. With 3 at the back, the wing backs can play more advanced and add width which we sorely need. This allows the advanced midfielders to play further up the pitch, and closer to Rom. It's pretty simple actually, 4 at the back leaves Rom isolated, and 3 at the back provides him with support.
This isn't necessarily down to the formation, but more to the personnel employed in it. If we had two fast centre backs, the full backs would have more confidence in going forward, but we don't unfortunately.
Lastly, I think to say that formations don't make any difference, and then go on to provide in depth analysis of how systems work and how they can adapt, is pretty ironic.
Steve Ferns
63
Posted 25/02/2017 at 09:30:47
David (#53) Everett Lowland Tidal Analysis you're right.
Coincidentally, there's an interview with Trevor Steven on the Everton Show this week, and the Rat is in the Studio. Graham Stuart remarked about how much the modern fullback bombs on more than in the past, i.e. Coleman. The Rat correctly pointed out just how much Stevens got forward. Definitely worth a watch, Blues. That show is getting better and better.
There was some more clips from Dubai and I liked the look of a certain player getting forward, putting in some decent passes and scoring. Who was it? Funes Mori! I wonder if maybe he could be better in a more advanced role, but then again, he'd never make our midfield.
Colin Glassar
64
Posted 25/02/2017 at 09:33:00
As OFFM loves to talk about his "achievements" at Goodison, especially his 4th place finish, I'm going to predict a 4-0 home victory in honour of that earth-shattering event.
George McKane
65
Posted 25/02/2017 at 09:41:46
Fence done – bit of Doris Day and Rock Hudson.
Now sitting at my writing desk surrounded by my favie photos and images: to my right, a photo of me from Koln newspaper with my "One Evertonian is worth Twenty Liverpudlians" from our Exhibition in Koln of Dark House photos. Above that, a Postcard of Goodison. Above my head, some postcards of Van Gogh and me dressed as Vincent for his Birthday; Diaghilev, Wordsworth, Klimt and William Morris... behind me, my friend Josef's original jacket from Auschwitz (given to me in his will – red triangle no 95902); poster from Le Chat Noir, Rave On Mr Satie, Solidarnosc Posters... Window on my left with Goodison in sight – a bit grey and drizzle.... like a Whistler Symphony in grey and gold.
Off to Goodison soon:
"Take Me Back Way, way back, way back
When you walked, in a green field, in a green meadow
Down an avenue of trees
On a, on a golden summer
And the sky was blue
And you didn't have no worries, you didn't have no care
You were walking in a green field
In a meadow, through the buttercups, in the summertime
And you looked way out over, way out
Way out over the city and the water
And it feels so good, and it feels so good
And you keep on walking
While we're still and quiet
And you look out on the water
And the big ships, and the big boats
Came on sailing by, by, by, by
And you felt so good, and I felt so good
I felt I want to blow my harmonica

Take me back, there, take me way back there
Take me back, take me back, take me back
Take me way, way, way back, way back
To when, when I understood
When I understood the light, when I understood the light
In the golden afternoon, in the golden afternoon
In the golden afternoon, in the golden afternoon
In the golden afternoon when we sat and listened to Sonny Boy blow
In the golden afternoon when
We sat and let Sonny Boy, blow, blow his harp"
So, just before I go and get myself all ready for the Golden Trip – just going to sit and have a blow on my harmonica....
There you go...
"In The Internal Moment...
When you lived, in The Light...
In The Grace...
In The Light."
I love Saturday Games.
Darren Hind
66
Posted 25/02/2017 at 09:56:15
Everton + beast = canter
Everton + Galute = long afternoon
Hardly sticking my neck out as it has been thus for years now.
Would love to see people like Schneiderlin, Gana and Macca start to add a little respectability to their scoring stats.
Ray Roche
67
Posted 25/02/2017 at 09:57:54
Gerry (#54),
"Menstral"... isn't that the cold wind that blows into the South of France?
Chris Gould
68
Posted 25/02/2017 at 10:11:48
Darren, that pretty much sums it up for me. I would love to see others step up if Rom is having a quiet day, but I think he'll get 2 or 3 and we won't need to worry about it.
As for Mike's (#46) menstrual cycle analogy: mate, once they're out, they're out for good!!!! They never go back in!
Tony Abrahams
69
Posted 25/02/2017 at 10:25:19
The times, they are a changing, George? I think it was Tony Draper who put that song on T/W, after Seville smashed Liverpoolin Switzerland. It was in Spanish, and it was absolutely brilliant, like today's game hopefully...
And whilst I've got no time for Moyes, I've got loads of time for "our little mascot", and most of all I'd love that song to be true for him and all his family.
Brian Harrison
70
Posted 25/02/2017 at 10:26:00
As many have said, if you keep Defoe quiet, then you are halfway to winning the game. I think the one improvement I would like to see is more goals from midfield and Barkley and Lookman or Mirallas whichever plays.
I read an article where Barkley said he understands his new role better under Koeman. He admits he needs to score more and is now more aware of his defensive duties. I think the change in Barkley is a sample of what Koeman is changing in this team.
Trevor Lynes
71
Posted 25/02/2017 at 11:10:12
Sunderland will fight tooth and nail so the ref must be on the ball and watch for grabbing in the box. If we can score in the first 20 minutes Sunderland will come out and the match should suit Lukaku and Co.
They will attempt to reach half time without conceding so an early goal or two is a priority.
I just hope that someone steps up to the plate if Lukaku is tightly marked. We cannot just rely on him for goals.< After the warm weather break in the Emirates, they should be fully fit and raring to go.
COYB.
Paul Thompson
72
Posted 25/02/2017 at 11:18:34
Moyes will park the bus and hope Defoe nicks one. If we score early and they have to open up, it could be a deluge. I'd start with Lookman as he can get amongst a somewhat static and ponderous back four.
It's going to be a little weird with so many ex-blues on thier side. I'll be generous if we're winning.
4-1 (Lukaku 2, Lookman, Funes Mori. Defoe for them.
Baines to miss a pen (if Pickford plays!)
Shaun Traynor
73
Posted 25/02/2017 at 11:21:08
Lads, a total long shot: has anyone ever been to Chiang Rai in Thailand? If so, do you know anywhere here that will have the game on?
Karl Jones
74
Posted 25/02/2017 at 11:21:27
In terms of the result, I see Mark Lawrenson has predicted a 1-1 draw on the BBC website, so we all must bow down to such a superior ex RS Football intellect!
Ray Roche
75
Posted 25/02/2017 at 11:27:47
Karl, would that be the same bellend who has never tipped the RS to lose? He's just a total plank and yet another reason why an "independent" BBC should have a clear out of all the RS supporting staff that decide on footballing matters. Like who goes first on MotD.
Devendran Saegaran
76
Posted 25/02/2017 at 11:38:01
I agree we should put in James McCarthy as he can play a through ball in to the front more better than Barkley. Although Barkley has been doing quite good in this past few games, he still has a problem of holding the ball for too long and trying to execute skills. This act will bring to the ball getting loss and a counter attack play by the opposition.
Therefore, I suggest that Koeman play:
Lukaku
Lookman Valencia
Davies McCarthy Gueye
Coleman Baines
Funes Mori/Holgate Williams
Robles
Eugene Ruane
77
Posted 25/02/2017 at 11:42:02
Ask not for who the inflatable scythe and plazzy skull mask tolls, it tolls for thee – miserable arse.
Up the Toffees!
Phil Walling
78
Posted 25/02/2017 at 12:30:31
We always think when we're having a half-decent season that the next one must be better. But it don't work like that and Ranieri and Martinez are living prove.
Every campaign is an entity in itself so don't see a thumping win today as any more than just that. A thumping win but it will do for now!
John G Davies
79
Posted 25/02/2017 at 12:53:22
Mr Ruane (#77),
Rapier wit and caustic as ever.
Brilliant stuff, Eugene.
Geoff Lambert
80
Posted 25/02/2017 at 13:22:37
Got to be 1-1.
I have been supporting for to long to think the easy games are easy.
A chance to make some progress on Man Utd... will it happen? I would like to think 4-0 or 5-0 but my head tells me this is Everton and we don't do the expected.
COYB.
Geoff Lambert
81
Posted 25/02/2017 at 13:27:16
Shaun (#73), Try Chiang Rai Night Bazaar, I believe you can find some footy on there.
Colin Glassar
82
Posted 25/02/2017 at 13:42:17
Completely agree, Phil. Everton have a habit of kicking us in the teeth just as we think we've turned the proverbial corner.
I just have to believe, and hope, that Koeman is a different manager from our previous ones and really does have a plan to take us back to the summit.
If we batter a poor Sunderland team today, it won't mean much as a mark of tangible progress but it'll be three more points which is okay with me.
Slowly but surely, he is reconstructing the team and giving them a winning mentality which is something we've been bereft of for far too long.
Jeff Armstrong
83
Posted 25/02/2017 at 13:47:16
So Phi (#78), even if we win, it's still gloom and doom..., jeez!
Laurie Hartley
84
Posted 25/02/2017 at 21:05:54
George (#65) – Sunday's can be good also:
"Hark, now hear the sailors cry
Smell the sea and feel the sky
Let your soul and spirit fly
Into the mystic"
Cosmic grooves to you from the land of Oz.
Up the Blues!!!!
---
Add Your Comments
In order to post a comment, you need to be logged in as a registered user of the site.
Or Sign up as a ToffeeWeb Member — it's free, takes just a few minutes and will allow you to post your comments on articles and Talking Points submissions across the site.