Bolasie takes another step while Besic nears full fitness

27 Comments [Jump to last]
Friday 10 March 2017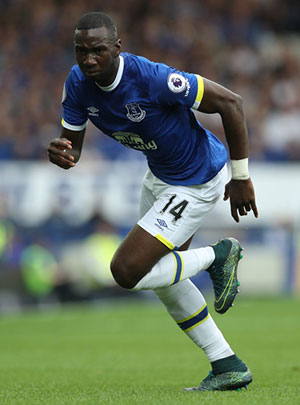 Yannick Bolasie underwent his second surgery this week and is now on to the next phase of his recovery
Ronald Koeman has provided updates on some of Everton's injury casualties, including Yannick Bolasie who is now onto the post-surgery phase of his rehabilitation.
The Congolese wide man went back under the knife yesterday for the second of two scheduled operations and can now focus on what is estimated to be at least nine months of patient recovery before he can play again at first-team level.
The damage that Bolasie suffered to his knee last December was so extensive that it has required two different surgeries, one to repair the meniscus in December and the second to address the ruptured anterior cruciate ligament this week.
He sent a message to supporters from his hospital bed and his manager echoed the assessment that all had gone well.
"Yes, his second surgery was very successful. Now it's time to recover and work hard to come back," Koeman told evertontv.
"I will call him later today and speak to him but everybody was happy with how the surgery went yesterday morning.
"His first surgery healed well and now he needs to recover from his ACL surgery. Everybody knows it's around six or seven months and we will see and we are really pleased that he can start his comeback."
While Bolasie still has plenty of road ahead of him, another ACL casualty, Muhamed Besic, is nearing full fitness after suffering his own injury in pre-season.
Koeman told the print media at his pre-match press conference yesterday that he didn't expect the Bosnian to feature much at first team level this season, preferring to ease him back to playing in the Under-23s.
"Mo is doing well," Koeman explained to evertontv's Rob Urbani. "Of course, it's always about time. I think today it's seven months ago that he had his injury and he's part of the squad in every training sessions.
"Last week, he's did his first 11 against 11. He will do it again tomorrow and that's the next step. Then maybe 45 minutes in the Under-23s to get some game time because that's what he needs to get back into the first team."
Meanwhile, Dominic Calvert-Lewin is fit again and could be included in tomorrow's match squad to face West Bromwich Albion. The young striker has been sidelined with an ankle injury picked up just minutes into his first senior start against Southampton at the start of the year.
"He's available," Koeman confirmed. "After six, seven weeks out the team he's now in his second full week of training and he looks very good."
---
Reader Comments (27)
Note: the following content is not moderated or vetted by the site owners at the time of submission. Comments are the responsibility of the poster. Disclaimer
Will Mabon
1
Posted 10/03/2017 at 09:22:37
I hope it all works out for Bolasie... a horrible injury in unfortunate circumstances.
As to Besic: "...to get back into the first team". Interesting words from Koeman.
Paul Conway
2
Posted 10/03/2017 at 11:00:09
It's going to be very difficult for Besic to come back, and even harder to reach the level he was at (which I might add was very hit and miss), let alone surpass it, in order to crack into the first team. No time for inconsistencies.

Unless Koeman can work his magic like he seems to have done with McCarthy and Barkley.
Trevor Lynes
3
Posted 10/03/2017 at 11:10:15
Let's hope that Yannick makes a full recovery and retains his pace and direct running.I reckon a fully fit Bolasie will increase our firepower and Rom will benefit from his support. Bolasie can really frighten defences when he is in full flow and I am optimistic for our future with him back and firing.Speedy recovery with best wishes from your fans.
Peter Gorman
4
Posted 10/03/2017 at 11:37:07
The more I read about Bolasie's injury, the more horrific it seems. In olden times that would surely have ended a career.
Hope he recovers well and as soon as possible. Although he could easily be described as 'mercurial', he was in the process of developing a very promising understanding with Lukaku.
Dave Abrahams
5
Posted 10/03/2017 at 12:07:10
All we can do is hope Bolasie makes a full recovery, it is going to be a long hard road to full fitness, mentally and physically. Best wishes for your future.
Jim Bennings
6
Posted 10/03/2017 at 13:28:48
It's impossible to see a future for Besic now given the fact we have so many central midfield defensive players, add to the fact he's not a Koeman signing.
Mike Gaynes
7
Posted 10/03/2017 at 15:16:43
Trevor (#3), well said. The test for Bolasie will obviously be his changes of direction, which he executes with the power and torque of a leopard. He'll have to be able to count on that knee standing up to it. Wish him the best... hope to see him by the first of the year.
Jim (#6), agree. Been saying that here since last fall. I still believe he won't wear our shirt again, but also wishing him the best wherever he goes.
Charlie Lloyd
8
Posted 10/03/2017 at 16:42:11
Jim @ 6
Not a Koeman signing?
Any hard facts behind that statement?
Chris Gould
9
Posted 10/03/2017 at 17:13:38
Charlie, what Jim said is a hard fact.
Ben Howard
10
Posted 10/03/2017 at 17:46:52
Charlie, I think he could only mean that he didn't sign him... possibly.
Dave Abrahams
11
Posted 10/03/2017 at 17:57:21
Maybe Charlie is getting mixed up with Bolasie, this thread is about him after all.
Jeff Armstrong
12
Posted 10/03/2017 at 18:12:51
I reckon Besic had 2 decent games for us, both at home. After a number of injuries, I think the club may have passed him by.... It would be nice if he could get fit and move on for a decent fee.
Charlie Lloyd
13
Posted 10/03/2017 at 18:27:50
I wish Bolasie all the very best in his recovery.
I thought he was one of the better performers in what was a difficult period from October to December. Then he got injured and since then our fortunes have improved. It's just a quirk of football that. I'm not claiming we are a better side without him. I'm more thinking if we would have been even better with him. Stoke and Middlesbrough come to mind. Bolasie may have produced that bit of magic required.
As for the point regarding signing Bolasie. just find it hard to believe Koeman would allow any players to be signed without his say so. Walsh spots them, Koeman green lights it. That's my take, though, only an assumption not based on hard facts.
Patrick Eimsman
14
Posted 10/03/2017 at 18:31:50
Gutted for Bolasie and speedy recovery but let's face it he will never fully recover into the player he was after his horrific injury. Everton will have to take the hit on his wages and fee.
Chris Gould
15
Posted 10/03/2017 at 18:55:46
Charlie, I think you need to read Jim's post again, mate.
As Dave said, you've got a little mixed up. He was referring to Besic, not Bolasie.
Mike Gaynes
16
Posted 10/03/2017 at 20:02:07
Patrick (#14), there is no reason at this point to assume Bolasie will not fully recover. Arteta, Jags, Robert Pires, van Nistelrooy, Del Piero all suffered major knee injuries that shelved them for a year, and all came back to play at peak. So did Shearer back in the day.
Certainly his recovery will be slow, as will his return to form. You might be right about the final outcome but we probably won't know for sure until the start of the 2018 season.
Charlie Lloyd
17
Posted 10/03/2017 at 21:10:16
Chris @ 15
Thanks. I've noticed that now. Totally threw me cos it was a Bosalie thread.
I'll sort out my attention to detail!
Steve Ferns
18
Posted 11/03/2017 at 04:43:06
Wasn't Bolasie signed at the request of Lukaku? The rumour I read on this very site was that he was specified by Rom as a player outside of the big clubs who would be available, and most importantly would supply more ammunition.
When Rom was persuaded to stay for another year, it was Bolasie who we bought to show him our commitment. Which is why we overpaid for him.
Clive Rogers
19
Posted 11/03/2017 at 10:37:56
The problem for Bolasie is that he will be 29 by the time he gets back to full fitness. I just can't see him making an impact. The team may well have moved on by then. Sad but those are the facts.
Jon Withey
20
Posted 11/03/2017 at 11:15:56
Fingers crossed for both, who are like-able players.
At the worst Bolasie can be ahead of Lennon next season.
Besic has it all to do given our extensive Midfield but could be a part of the squad if Barry moves on.
Otherwise I hope he does well elsewhere – he can do a job.
Colin Glassar
21
Posted 11/03/2017 at 12:53:04
Lennon, Jon? I'd completely forgotten about him. I thought he'd moved on.
Fingers crossed for Bolasie but it will be hard for him to be the same player again.
Paul Birmingham
22
Posted 11/03/2017 at 21:58:51
Good luck to the lad. Like Higgins, Inchy, Brace, and the rest, it's often, never the same after such terrible injuries, but let's hope Yannick Bolasie is when he comes back.
Bobby Thomas
23
Posted 12/03/2017 at 14:02:30
Jon (#20),
Everyone will be ahead of Lennon next season, as he won't be here.
On Bolasie, I'm not over sold on him and believe the fee, for his age and erratic play, plus absurd showboating, aspects which are never going to be ironed out at this point in his career, was very poor business. We overpaid by several million. He was an improvement, although improving on Deulofeu couldn't be that difficult.
It will be the mid-point of next season when he comes back and the season will be two thirds over by the time he gets up to speed without hopefully picking up any other niggling injuries. It will be interesting to see how much he has lost, but it doesn't look good for a wide man touching 30 coming off the back of a bad knee injury.
Alan Bodell
24
Posted 12/03/2017 at 21:36:54
Feel so sorry for Mo Besic when he hasn't been free of injury really for so long but, having seen him boss some of his national games, I'm sure a fit Mo will be a massive boost to the squad.
Ian McDowell
25
Posted 12/03/2017 at 21:59:18
I really rate Bolasie and hope he can make complete recovery. His pace and strength make him crucial to our way of playing. Good luck in your recovery.
Mike Gaynes
26
Posted 13/03/2017 at 00:33:05
Alan (#24), a fit Mo has never been a "massive boost to the squad" except for that one lone game against Man City.
He may well be a boost to whatever squad he's in next season. It won't be ours. Unless at least two of the five players ahead of him depart AND Koeman suddenly loses interest in Delaney.
Derek Thomas
27
Posted 13/03/2017 at 00:47:39
Some might say that the 'best' game Besic ever had was when he went off versus Chelsea and allowed Naismith to come on and score a hat-trick.
We will have to trust Koeman to assess him yay or nay, or he could end up just tagging teaming McCarthy on the treatment bench.
Add Your Comments
In order to post a comment, you need to be logged in as a registered user of the site.
Or Sign up as a ToffeeWeb Member — it's free, takes just a few minutes and will allow you to post your comments on articles and Talking Points submissions across the site.