Liverpool vs Everton

171 Comments [Jump to last]
Friday 31 March 2017
Match Preview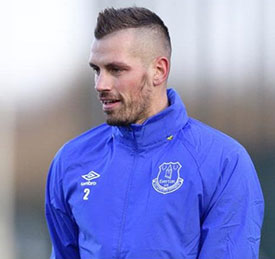 Evertonians will be eagerly awaiting any indications from Ronald Koeman over the fitness of midfield linchpin, Morgan Schneiderlin
What a difference (almost) a year makes. While Evertonians approached this fixture last season with a particularly deep dread that was more than justified by the horror show that subsequently unfolded, this weekend's trip to Anfield will be approached with a very different mindset by the Blues.
Top of the form table for the 2017 calendar year so far, the team gelling nicely under the management of Ronald Koeman, and the uplifting news that an imminent land-purchase deal for Bramley-Moore Dock promises to begin the road to a new home on the banks of the Royal Blue Mersey, things are looking decidedly more rosy than they were during the death throes of Roberto Martinez's tenure.
Yet, trepidation remains for Blues fans who haven't witnessed an Everton win at Anfield since 1999. (How much longer do we have to read that sentence?) Shorn of the energy and talents of Seamus Coleman, weakened by injury to Ramiro Funes Mori and possibly without Morgan Schneiderlin as well, the Toffees will, once again, be dealing with selection problems for the annual grudge match across Stanley Park.
With four goals, three assists and a pivotal role in Koeman's attacking strategy, Coleman will be hugely missed but in Mason Holgate, Everton an enthusiastic and adept deputy who has already demonstrated an effectiveness at right back. He gets forward well and has the natural defensive aptitude of a centre-half.
That is, of course, if Koeman opts for a conventional back four over a five-man defence with that would require Holgate in a central trio alongside Phil Jagielka and Ashley Williams. Given the pace that exists in the Liverpool line-up, however, it would need to be a compact and defensively-minded quintet that would limit the Blues' attacking options somewhat.
The deciding factor in just how Everton play is likely to be the fitness — or lack thereof — of Morgan Schneiderlin as he tries to recover from a calf strain. The Frenchman has quickly established himself as the linchpin of the midfield and Evertonians will be eagerly awaiting any news of his availability from the manager at his press conference this afternoon.
The fear is that should he fail to make it, Koeman will turn to Gareth Barry rather than take the preferred option of pulling Tom Davies back to partner Idrissa Gueye in front of a back four. The veteran brings obvious experience but as he showed in the Goodison derby in December, his lack of speed prompts the team to drop off 10 to 15 critical yards, space that the reds ruthlessly exploited in that game. Davies, on the other hand, has the engine and the stamina to go box-to-box much more easily.
Providing Everton aren't as defensive and unthreatening as they were in the reverse fixture, the key — apart from shaking off the psychological shackles — to a long overdue triumph at Anfield will be Romelu Lukaku. The Belgian has been on fire lately and stands on his own as the Premier League's top scorer so its imperative that the Blues find ways to give the ammunition he needs to do what he does best.
He will have a personal point to prove, too — apart from an ultimately meaningless goal at the Emirates in the FA Cup, his only goals on the grounds of the biggest teams in the land have come at the Etihad Stadium against Manchester City. He has an opportunity this weekend to etch his name deeper into Everton history by living up to his reputation and scoring the winner.
Giving him service will prove difficult if the last few derbies are an indication of how this one will go. A virtual spectator as the Blues were humiliated last April and starved of the ball at Goodison in December, Lukaku hasn't really had much opportunity to affect a derby game since he scored the equaliser against the reds in October 2015.
Liverpool play with what can be a suffocating intensity, particularly at home, and they have potential match winners of their own in the likes of Philippe Coutinho and Roberto Firmino. It will be up to Everton to mitigate Jurgen Klopp's mandated pressing tactics on the one hand and avoid spending too much time on the back foot as the reds attack on the other.
The good news is that Klopp will be without one of his star players himself in the form of Adam Lallana, while Jordan Henderson also looks set to be ruled out through injury. Both will be big misses for Liverpool and boons to Everton as we hopefully make a concerted effort to start addressing our awful record in local derbies.
More than just local pride is at stake, too. An Everton victory would pull them within just three points of Liverpool and set up the possibility, however optimistic, that they could sit above their bitter rivals come Wednesday evening. That would, of course, require the Toffees to win at Old Trafford and Bournemouth to get all three points at Anfield but stranger things have happened.
One step at a time, though. Let's just win this one first…
Kick-off: Saturday, 1st April, 2017
Referee: Anthony Taylor
Last Time: Liverpool 4 - 0 Everton
Predicted Line-up: Robles, Holgate, Jagielka, Williams, Baines, Barry, Gueye, Davies, Barkley, Mirallas, Lukaku
Full details: ToffeeWeb match page
---
Reader Comments (171)
Note: the following content is not moderated or vetted by the site owners at the time of submission. Comments are the responsibility of the poster. Disclaimer
Kunal Desai
1
Posted 31/03/2017 at 07:46:43
I thought Spurs are the form team of 2017?
Schneiderlin playing will be key, otherwise I see our midfield and defense being over run by likes of Mane and Coutinho.
Terry Farrell
2
Posted 31/03/2017 at 07:53:56
A good summing up, Lyndon. I can't see Morgan Schneiderlin being fit and if touch and go will be saved for the Man Utd game.
I know it was an Under-23s game I saw but Jonjoe Kenny has the same style as Seamus so I'd go 5 at the back and bench Gareth. He has been brilliant for us but tomorrow I can see him giving too many free kicks away and getting swamped. We need to be aggressive and in their faces tomorrow.
Mike Green
3
Posted 31/03/2017 at 08:08:59
We have problems in defence, problems in midfield only one real route to goal that doesn't perform in big games and are playing a team who love playing us at a venue where we habitually capitulate.
I'm an optimist though. Barren spells do not last forever and we've built up a head of steam, the manager has instilled belief in them and I've got a hunch Davies, Holgate and Barkley might actually thrive tomorrow. Then we have Rom. Maybe the 𧴜m man might just send shockwaves through the Kop tomorrow and bring them down them down to earth with a very heavy bump.
I think were 5/1 tomorrow – my head might say no but my heart says it's worth a tenner against a team who are missing players and have been wildly inconsistent this season.
COYB – let this be the start of our years of domination.
Mike Price
4
Posted 31/03/2017 at 08:19:05
The bookies odds are staggering – a Championship team wouldn't be given 5-1!
The key is a no-fear approach with aggression and a bit of nastiness. We've been bullied and ran scared for far too long and I'm sick of our 'nice boys' bottling it.
Kim Vivian
5
Posted 31/03/2017 at 08:21:30
We sit at the top, Kunal, with Spurs and Chelsea effectively level on points assuming they win their respective games in hand. What impresses me is that we have an 8 goal-difference advantage on our nearest rivals. That's some going in 3 months.
Hopefully we'll continue and bang a couple in tomorrow (no reason why not) but I have predicted a nil-nil for this one.
Jim Bennings
6
Posted 31/03/2017 at 08:41:29
I'm hoping for a surprise, a real brave powerful performance full of guts and determination. But I'm fully prepared for our usual "freeze then shrivel up into shrinking violets" job, the same as we have seen for the past two decades.
Tomorrow will tell us everything we need to know about the mental strength of this squad, are they big enough? Do they have big personality, are they fearless and do they want to go out and try and win and make one of themselves a new modern day Merseyside derby hero?
I personally find it unbelievable that we are even talking about a 18-year hoodoo in a game that is played a matter of yards away from Goodison Park, it's quite unreal.
Paul Mackie
7
Posted 31/03/2017 at 08:44:12
If Schneiderlin is playing, we might get a draw. Otherwise, I can't see anything other than us losing I'm afraid.
Obviously I'd fucking love to be proven wrong!
Jim Bennings
9
Posted 31/03/2017 at 09:04:06
Paul Gerrard, the goalkeeper from the last win at Anfield in 1999.
"Bloody hell it was great, in the changing rooms afterwards everyone was buzzing. If you don't get the result you want then it goes the other way.
But I just can't believe it's been that long since Everton last won there. It is crazy."
Let's hope that one day the visiting team changing room after a Merseyside derby at Anfield will be buzzing again.
Paul Gerrard is right, it's been way too long.
Amit Vithlani
10
Posted 31/03/2017 at 09:10:33
Much depends on how well Baines defends down the left. Gana will need to shadow Mane on that side.
Our centre-backs need to defend set pieces. How many times have the RS done us on set plays? Once upon a time, we were the set-piece kings in these matches.
Young Mason needs to keep it simple and defend his flank allowing Gana to help Baines.
Robles – please no silly mistakes. Whatever we think about the performance against Spurs, one of the goals was due to a fuck up by him and I was also surprised Kane beat him from long distance on the first goal.
Peter Murray
11
Posted 31/03/2017 at 09:45:13
This game will be less about individuals, absences or formations. It will be about Everton's psychological attitude.
For years, we seem to have gone into this fixture with a collective in-built defeatism, reaching its climax with that shameful capitulation last season.
The players have got to believe that we now have the squad and set-up to win. They owe it to every Evertonian to start changing history. What more motivation do you need?
Dan Egerton
12
Posted 31/03/2017 at 09:47:20
"I thought Spurs are the form team of 2017? "
Nope. We are. Spurs are 2nd. Same points but we have the edge on goals for and against.
Joe O'Brien
13
Posted 31/03/2017 at 09:52:05
I previously posted that we can't sit back because we'd get run over. Now I've completely come round to the idea of sitting back and frustrating them.
Besides, what Klippity says that they've got a Plan B... that's rubbish because they clearly haven't. Any team who sit back and hit them on the break tend to get something there. Spurs tried to play and got beat,and looking at our predicted team tomorrow, they were a lot stronger. Give them space they will hurt us. Sit back they don't get that space.
It would be nice to out play them and beat them but they've beaten a lot a big teams that tried that. If you sit back they can't move the ball quick enough. When they're move eventually breaks down hit them on the break fast. Mirallas, Lukaku and Davies running at them would cause them a lot of trouble.
Robert Leigh
14
Posted 31/03/2017 at 09:52:50
Like all Evertonians I'm hoping for Schneiderlain to be fit. If not, though, I fear the worst. I would be tempted to play Barry as the third centre-back, so line-up as follows:
Robles
Jagielka - Williams - Barry
Holgate - Gana - Davies - Baines
Barkley - Lukaku - Mirallas
As Barry drops so deep, it makes sense; he's great on the ball, then the energy of Holgate, Gana, Davies & Baines in front can apply pressure and push us up the park.
Either way, COYB!!!
Stan Schofield
15
Posted 31/03/2017 at 10:01:24
We have better players, and should win, possibly convincingly if Koeman gets the team selection and tactics aimed at winning rather than containing, especially away from home.
Just looking at that form table, they will be the ones fearing us. We talk about a psychological problem with these games, but that's the past. Liverpool have their own psychological problems now, they're fragile and their defence is very vulnerable, and they're now struggling more with their pressing style. All of Klopp's bluster and showmanship cannot hide this.
2-0 to us, comfortably.
Keith Conchie
16
Posted 31/03/2017 at 10:09:47
All this talk and stats that we haven't won there since 1999 is irrelevant.
If Schneiderlin is fit, great he'll play and won't care about our poor form at Anfield. Neither will Davies, Gana or Holgate. Or Williams too. These players haven't been involved in our poor record across the park.
Rom won't care neither, the form he's in at the moment. Just hope he produces the goods. And the same for Koeman. Injuries aside, I believe he will set us up to have a go at them and will only be happy with 3 points. This is his team now (still in development of course).
Let's be positive, even with the injuries, and hope for a win tomorrow. I'm going 2-0 to us, Rom and Ross.
COYB
Rob Halligan
17
Posted 31/03/2017 at 10:19:39
I think Koeman will adopt a 3-5-2 formation tomorrow. I would go:
Robles
Holgate Williams Jagielka
Lennon Gueye Schneiderlin Barkley Baines
Mirallas
Lukaku.
Not quite a 3-5-2. I'd play Lennon purely because he will get up and down the right, as well as give Holgate cover.
If Schneiderlin isn't fit, then play Davies. I wouldn't play Barry. A booking and possible sending off waiting to happen.
Ajay Gopal
18
Posted 31/03/2017 at 10:21:16
This game has to be won, and we need to play without fear – unlike what the team that was set out against the Spurs, who looked that they believed they were second best.
If Schneiderlin is not fit, then, Lyndon's team is the most likely:
Robles
Holgate Jagielka Williams Baines
Davies Barry Gueye
Mirallas Lukaku Barkley
We will likely be up against:
Coutinho Firmino Mane
Wijnaldum Lucas Can
Milner Klavan Matip Clyne
Mignolet
I think the teams are evenly matched in terms of ability – it all then boils down to the desire.
Paul Kennedy
19
Posted 31/03/2017 at 10:23:41
Don't go gung-ho – we need to sucker-punch. If we leave ourselves open, we will get picked off. As has been said, the teams that frustrate them and break on the counter have had the best results there.
Tom Brown
20
Posted 31/03/2017 at 10:28:10
Like many Blues, I dread the worst and am peeking forward towards this game between my fingers. The game means so much. It isn't even "just" a derby this time...
With 3 points, we still stand an outside chance of top 4. Top 4 could mean retaining Lukaku and definitely improves our chances of attracting top players in the summer. Take 3 points and we put a serious hole in the RedShite's chances of top 4 and that will give them problems.
And what makes it really scary is that I think we actually have a very good chance. It is the hope that kills you!
My line-up would be: Robles; Baines, Williams, Jagielka, Holgate; Lennon, Gueye, Schneiderlin; Barkley, Davies; Lukaku.
Lukaku should be the best player on the pitch and it is up to him to live up to that.
Liverpool do not have players that can compete in midfield like Gueye, Schneiderlin, and Davies can, even if they had Henderson fit. The big risk is Jagielka and Williams are missing a bit of pace. – I desperately don't want that compounded by seeing Barry on the pitch.
To cope with the lack of pace, the players need to get their tactics right. Yes, the players. I have no doubt that Koeman will send them out with the right instructions but then it is up to the players to put it into practice in the heat of battle. Get their shape right, control the space, and the pace problem is much reduced. Get it wrong and we risk being torn to shreds.
The second biggest risk is Schneiderlin not making it. I think we can cover for him defensively with Davies taking a deeper role but there is a big loss in speedily switching from defence to attack. Schneiderlin has been showing what he can do as a quarterback and we don't really have anyone else quite as good. Barry can do it but we can't afford his lack of pace. Without Schneiderlin, there is a much greater chance we could end up pinned back.
Stan Schofield
21
Posted 31/03/2017 at 10:36:00
Tom, I'd go further, and say that, without Schneiderlin, Davies playing deeper could give us adequately speedy switching from defence to attack.
The combination of Gana and Davies, with Barkley higher and free roaming, could dominate the midfield. In this game particularly, all three will be well up for it.
Jason Bowen
22
Posted 31/03/2017 at 10:41:54
Sit deep: Gana, Davies and hopefully Schneiderlin to protect the two oldies at the back and hit them on the counter with the pace of Mirallas, Barkley and Lukaku to finish!
I'm hopeful even thou we have been decimated by injuries!
Mike Berry
23
Posted 31/03/2017 at 10:53:01
Morgan will make it, and we will make it a win. We can dominate the midfield and with the right support Rom will get his goals!
Stan Schofield
24
Posted 31/03/2017 at 11:04:20
Going back to that form table, our form in 2017 is league title form, since 2.3 points per game would give 87 points over 38 games. Compare Liverpool's 1.3 points per game, which would give 49 points over 38 games, i.e. mid-table form. And we haven't even been playing at our best in quite a number of games!
Let's just forget about the history of derby games; it's current form and management set-up that count.
David Hallwood
25
Posted 31/03/2017 at 11:07:40
Great write-up, Lyndon. One if my RS mates (yes I've got a few) made the point that is there any other fixture from the teams that regularity finish in the top half of the table that a team has gone so long without winning.
It's got to finish some time – why not tomorrow – and at 5/1, I'll put the blue glasses on and march down to the bookies.
An intriguing fixture, this one. Normally I look forward to this like a visit to the dentist, but much will depend on team selection. Like most people, I hope Barry doesn't start, but brought on with 20 mins to go when we're 3-0 up (yeah right)...
I certainly hope Koeman doesn't approach this like the Spurs game; try to contain them, then hit them on the break, 'cos we've seen that this can put pressure on the defence.
Actually looking forward to this and – let's say it – the 3 points! COYB
Sam Hoare
26
Posted 31/03/2017 at 11:11:32
They have a lot of pace and guile in their front line and we have very little in our back line. In particular, I think Mane will give Baines a torrid time.
Difficult to know whether to sit back, making less space for them and hope to grab something on the break with Lukaku, Mirallas and Barkley against their suspect defence, or whether to try and press them as high and hard as they will be pressing us.
I suspect Koeman will go for the former and if it doesn't work then be crucified for it. The fact that RS have struggled more against lower league teams than the top 6 suggests they prefer an open game so it make sense to me as long as Romelu has a good day holding the ball up.
Much will depend on the concentration and application of Williams and Jagielka, neither of whom have covered themselves in glory yet this season. Perhaps this is their chance...
Robles
Holgate Williams Jagielka Baines
Davies Schneiderlin Gana
Barkley Mirallas
Lukaku
We've gotta win there one day.
Derek Knox
27
Posted 31/03/2017 at 11:15:59
Although we have lost Seamus, and to a slightly lesser degree, Funes Mori, I have a reasonably optimistic expectation about this one. If it boils down to desire alone, I think we would edge them on that score, I think the teams are fairly evenly matched.
The three players of theirs who could seriously threaten us, are Coutinho, Firmino and Mane, if we can shackle them, they don't have a lot left.
A bold statement I know, and through blue tinted spectacles at that but, from what I've seen of Liverpool this season, take them, and Lady Luck away, they don't have much else to offer.
The other thing that could unhinge us, is our desire to go in like a bull at a gate because even a fifty-fifty challenge will go in their favour.
I think Koeman knows how much we all want this, and will have them drilled with the right attitude, and in the right direction.
COYB
Thomas Lennon
28
Posted 31/03/2017 at 11:31:01
They didn't do much at Goodison Park but neither did we. The two teams contained each other effectively to produce no chances – it was a stalemate with neither going for it. I suspect that they hoped we would 'go for it' and release space on the break.
Now it is our turn but they are better at passing through midfield (which compensates for lack of 'bite') and very good at their 'interception' game that compensates for lack of ball winning so we saw too little of the ball. Regardless, it should have been 0-0.
Barkley was shut down (and out of form), Gueye overstretched, Barry a little exposed. Now we have Davies and hopefully Schneiderlin with an in-form Barkley; we have a chance in midfield if we can keep them out. We will score. 0-0 at 75 min and it is ours! The key might be we have to make the most of any luck that comes our way – you can be sure they will.
John Raftery
29
Posted 31/03/2017 at 11:31:52
We need to take a leaf out of Tony Bellew's book: get through the first two rounds and then win the fight in the later rounds. If we can get through the first 20 minutes without conceding, I would fancy us to get something out of this game.
Brian Furey
30
Posted 31/03/2017 at 11:57:00
I've noticed in my work a lot of RS fans seem worried about this fixture this time and feel Everton are on a great run of form. They think their defence could struggle with Lukaku if he gets the right service.
Whilst I agree we have, I think it's a tad misleading in that we've had 6 home games and 4 away. We've scored 22 goals at home in those 6 game since January 1st and only conceded 3 (all in the one game).
However, away from home, we've won 1 (away to Palace), drew 2 (Boro & Stoke) and lost 1 to Spurs. Them lot have scored 10 and conceded 3 at Anfield, winning 3, draw 1 and losing 1.
I think if Gana can play his usual action-packed game, we will make it hard for them to score. He will enjoy being up against Mané, I suspect, and it's good La-La boy is out as he's dangerous.
Hopefully, if we do sit deep, we can continue getting those quality diagonal balls up to Rom to run onto and cause their defence problems. It's vital though that we keep our discipline as too often we go a man down and then lose our way.
I'm not expecting it to be pretty and, like most of our away games, I expect Koeman to go with the tactic of keep it tight in midfield and play direct then to Rom. I'd like to see Mirallas start as well though we've not seen much of Lookman in recent weeks. Has the novelty factor worn off a bit?
Charles McCann
31
Posted 31/03/2017 at 12:00:44
Please God, no Gareth Barry in the line-up! We need to match the pace of this Liverpool side and sadly Barry has none. I'd be tempted to bring in Lennon to offer protection on the right to Holgate.
I feel it's important we're set up to attack with Davies, Barkley and Gana in midfield Mirallas on the left and Lukaku up front. With Seamus missing, it is going to be more difficult but I still believe we are good enough to go there and win. Fingers crossed!
Colin Malone
32
Posted 31/03/2017 at 12:05:52
Do we play our pressing game as did Arsenal and Chelsea against the RedShite? Or do play the game like Swansea, Southampton, Hull and Leicester?
We know Merseyside derbies are one-offs so, if anyone can, Koeman can.
COYBB.
Alan J Thompson
33
Posted 31/03/2017 at 12:12:22
What is it they say; as one door closes another one opens and every problem is an opportunity.
Kenny to right back, Holgate or Walsh (is he fit?) to midfield and Calvert-Lewin alongside Lukaku.
Tony Draper
34
Posted 31/03/2017 at 12:15:16
Tom Davies is 18.
Cometh the hour, cometh the Man!
Onward Evertonians!
Kevin Gillen
35
Posted 31/03/2017 at 12:18:46
I don't know what all the fuss is about not playing Barry, he was probably our best player in our last fixture and I don't think he would ever let the team down. I expect to see Holgate in for Coleman and an aggressive performance from all the Blues.
I would love it if McCarthy was fit, he really shook them up in the first half of the derby at Goodison. I agree with most of the posters, we need to go there with winning on our mind. 1-0 to us with Tom Davies the scorer.
Terry Underwood
36
Posted 31/03/2017 at 12:23:09
Pleeeeeeeeeeeeeeeeeeze
Christy Ring
37
Posted 31/03/2017 at 12:30:20
It all depends on the team Koeman picks tomorrow. I presume McCarthy is out, so if Schneiderlin is available, it will be a huge plus in midfield. If he's out, Koeman cannot pick Barry. He must have learned, when he came on for Macca in the home game, his lack of pace was horribly exposed.
Seamus is a huge loss, but Holgate is a great replacement. Baines will be tested, and cannot afford to give Mane too much space. Barkley will be chomping at the bit, after Southgate's snub. I'm quietly confident, but if Barry starts???
Craig Walker
38
Posted 31/03/2017 at 12:39:43
Absolutely hate derby games, especially at their place. The butterflies have started already. Last season's debacle was the nadir for me as an Evertonian.
Please, just once, turn up at Anfield and don't act like rabbits in headlights. Oh, and Rom, justify your rhetoric when it matters most to the supporters.
Tony McNulty
39
Posted 31/03/2017 at 12:50:56
This is a game which ought to show what our manager is made of.
He has defensive worries so how will he cope?
This is a real test; if we were to go on a great run from here, we could make or get very close to Champions League. And that would really move the club on a treat.
An important game which will answer a number of questions.
Dave Abrahams
40
Posted 31/03/2017 at 12:56:47
Alan (33), "What is it they say, as one door closes, another one opens."
Sometimes the saying is: "As one door closes, another one gets slammed in your face."
I think it all depends on who isn't fit and who gets picked in their place.
I can't see Everton getting less than a draw – no matter who plays.
Don Alexander
41
Posted 31/03/2017 at 12:58:29
We are usually in the mire if we sit back on the edge of our area but, with the lack of pace in our defenders, we have little choice. A high line is what Klopp, Mane, Firmino and Coutinho would most want from us after all. So we have to defend deep, and our midfield has to sit deep as a consequence.
I don't expect any of the two or three offensive players in our team to be ripping them a new one given these factors. Obviously I'd be delighted if anyone proves me wrong, such as one of Europe's greatest centre-forwards perhaps.
Graham Mockford
42
Posted 31/03/2017 at 13:03:35
Schneiderlin out for tomorrow and against Man Utd.
Kunal Desai
43
Posted 31/03/2017 at 13:13:30
Sadly light in midfield; I think it'll be a narrow defeat. Hope I'm wrong.
Joe O'Brien
44
Posted 31/03/2017 at 13:19:27
Schneiderlin out for the next two... what a disaster. As many above have mentioned, Barry can't start. His legs have gone. Morgan is a huge loss.
We still need to go for the 3 points. Contain the fuckers then take them apart on the break.
Gary Russell
45
Posted 31/03/2017 at 13:22:07
Echo pics of the lads training. Besic running in full flow. Maybe he will show tomorrow.
Gary Russell
46
Posted 31/03/2017 at 13:25:00
Cleverly deal done to Watford! I'd like to see Pennington tomorrow, too. Four young scouse lads, don't think their lot have any near the first team.
Gareth Clark
47
Posted 31/03/2017 at 13:28:28
Only one line-up we can realistically go with:
Robles
Holgate Jagielka Williams Baines
Davies Idrissa Barry
Barkley Mirallas
Lukaku
Subs: Stekelenburg, Pennington, Kenny, Walsh, Lennon, Lookman, Valencia
John Daley
48
Posted 31/03/2017 at 13:30:02
Given the way he struggled against the constant movement and pace of the Spurs players recently (and expecting something similar from the RS tomorrow) I would say there's worse games Schneiderlin could miss.
All our central defenders are pretty much interchangeable when it comes to ability, with Jags and Williams having clear daylight between them and Funes Mori when it comes to experience and keeping a cool head.
Coleman is a big miss, for his character and fight as much as for his charging up and down the line, but this game won't be won or lost because of a forced change in right-back. Holgate has shown he can cope, has pace and composure in his locker and his extra height could come in handy here as well.
For some reason, I fancy us to turn them over this time, irrespective of injuries.
Ciarán McGlone
49
Posted 31/03/2017 at 13:36:50
It's now extremely likely that Barry will start... My money is staying in my pocket... Even at 4/1.
Christy Ring
50
Posted 31/03/2017 at 13:47:54
Worst possible news, Schneiderlin out, Koeman has to remember what happened, when Barry came on in the home derby. HE CAN'T START HIM.
Mark Wilson
51
Posted 31/03/2017 at 13:51:13
A huge blow, Morgan not playing. Coleman missing is almost as bad, of course, and McCarthy would have been certain to play with Morgan out. If he plays Barry, we immediately setup too deep and slow and when we concede so much ground, as at Spurs and Chelsea... well, you can't hold out for 90 minutes like that.
I had been thinking maybe this time... maybe we can avoid yet another going-over... but I'm gutted at that news about Schneiderlin. A win tomorrow and at Old Trafford would simply be a daft ask, but what a season-changer it could be. Feeling sick already! Just for once lads, shock us and them!
Kevin Tully
52
Posted 31/03/2017 at 13:51:20
Koeman:
"In the last two seasons Everton were maybe afraid to play against Liverpool, but why you need to be afraid of Liverpool I don't know."
I don't care what anyone says (and I agree he did a very good job with little money), Moyes had Everton running scared like a Third Division club playing away at these grounds. Joe Royle didn't give a fuck for reputations and had an excellent derby record.
It's not about throwing players forward like Martinez, it's the mental attitude before you step out onto the pitch that matters. One fact is undeniable, Liverpool thought they were going to win every derby they played in, we didn't. We have to get over a psychological block playing at that dump before we can progress. The key lies with young players who are not carrying any mental baggage from the days of 'plucky little Everton."
Gary Russell
53
Posted 31/03/2017 at 14:00:05
Hard to see Ron surprising us tomorrow. I have never done a team lineup, but here's my first. Fuck it, some local fire running through the team with youth and speed:
Robles
Pennington, Jagielka, Williams, Holgate, Baines
Walsh, Davies, Gana
Barkley
Lukaku
Ciarán McGlone
54
Posted 31/03/2017 at 14:09:42
We appeared scared to play them in the earlier game this season too.
Joe O'Brien
55
Posted 31/03/2017 at 14:21:37
Gary, not a hope will he play Pennington and Walsh... Pennington may be on the bench but Walsh – no way. Definitely not either of them starting anyway.
Not saying they're rubbish, but imo it would be the wrong match to try and be that bold.
John Wilson
56
Posted 31/03/2017 at 14:23:06
It's such a shame about Coleman – as the game tomorrow really needs the tenacious type of Everton players. Of whom, they will be glued to the ball like a laser guided missile – even if it means forcing the Liverpool players off the ball albeit with a caveat: do not provide the enemy a free kick in a dangerous area.
Keith Conchie
57
Posted 31/03/2017 at 14:46:16
Koeman's comments about McCarthy in his press conference, are very telling. He's obviously had a few strong words with him, and no doubt he'll be sold in the summer. Also had a prepared statement from the club with regards to the whole situation.
This manager takes no messing about. And by the sounds of it, neither does our club anymore!
Gary Russell
58
Posted 31/03/2017 at 14:46:39
I think it is exactly the game to be bold Joe. Would make a change from being the timid gobshites we always look. Does your answer confirm the "too much respect, to them lot"?
I think managers don't go for it enough when it comes to team selections. Jonjoe, too, these are the lads we need for the battle. Yes, I agree they ain't seen no action, but NO FEAR. It is about fucking time!!!
Colin Malone
59
Posted 31/03/2017 at 15:05:58
Jonjoe Kenny from Kirkdale. Lads from Kirkdale ain't timid.
Go on, Koeman... give him a go.
Tom Bowers
60
Posted 31/03/2017 at 15:10:27
Whilst the form of the team has turned around since the first part of the season we need some icing on the cake so to speak to think of the season being a good one. We have had some sour tastes with the injuries particularly to Bolasie and now Seamus and it would be really nice to get a good derby match result and then finish higher than the RS.
The team really needs to be up for this one at the Anfield barnyard as we know they will attack with venom from the off to expose Everton's average back four. However, their own back four isn't too good either as some lesser teams have proved at Anfield this season.
Whatever luck is going in a derby match, it usually is not going Everton's way, so they have to make sure it doesn't come down to luck and be totally focused for the 90+ minutes.
Dave Lynch
61
Posted 31/03/2017 at 15:13:05
For the first time in years, I'm gonna watch this game.
I honestly believe if we go gung-ho, we will be playing into their hands. They are a better team when they hit you fast on the break, the key IMO is to keep the ball and dominate the middle, play it on the floor and utilize the channels they leave exposed with the attackers running at them.
They are useless when chasing the ball and tend to dive into tackles out of frustration. Klopp will have them fired up and they will start at breakneck speed.
Stifle them and play the controlling game is the way I see it. I reckon Lookman buzzing around Lukaku will frighten the life out of them, their back four cannot cope with movement and pace.
My bottle's gone already, so if this post makes no sense it's not my fault. My brain's already played the game out about a dozen times today.
Paul Conway
62
Posted 31/03/2017 at 15:19:34
If we are at a turning point, then this game is just another, whereby, we will be difficult to beat.
In fact, IMO, we are at the moment harder to beat than LFC. So, injuries aside, our positivity should win out. We are on the march, COYB
Joe O'Brien
63
Posted 31/03/2017 at 15:20:37
Gary, give them no respect at all. Just the game might be too big for the young blues who haven't featured so far. That lot will know it'll be their real debuts, they make one mistake early on in the match and the crowd will slaughter them. Great prospects but again, imo, not the match to go with them.
I'd give them no respect because I think we're better than them and we need to go there for the 3 points.
Gary Russell
64
Posted 31/03/2017 at 15:34:35
Wishful thinking more than being realistic on my part, Joe. As I said, I doubt Ron will surprise us. Pennington has featured last season. And Jonjoe too, even if it was brief.
Better suggestions than that of Lennon as right back, which I read on here. Agree it might be too much for them. But then again, maybe it wouldn't. I think he will go safe with Barry. Besic is fit, but another player I doubt he will go for. I see Ron as safe and pragmatic, without being overly adventurous in his team picks.
Another Spurs selection and tactics would wind a lot of us up. He has just said he doesn't know why we are scared playing Liverpool, but it seems to many, that's was how it looked against Pochettino's lads.
Jim Bennings
65
Posted 31/03/2017 at 15:48:18
To be honest I'm all for playing some un-exposed players tomorrow.
We have failed year in year out with the same old tried and tested.
Look down the years the amount of Merseyside derby debutants that have scored!
Danny Cadamarteri, Duncan Ferguson, Steven Naismith, Andy Johnson, Romelu Lukaku, Francis Jeffers and Gary Speed all players who have scored on their first derby.
Might just be the game for a Tom Davies, Ademola Lookman or Enner Valencia or Calvert-Lewin some surprise element.
Sam Hoare
66
Posted 31/03/2017 at 15:48:24
Barry has been very good for us in last few seasons but as we saw against Spurs he is terribly suited for playing against a fast, pressing front line.
Hard to see what other options there are unless he plays Barkley in a deeper role with Lookman and Mirallas supporting Romelu.
I fully expect to see Gareth in the starting line-up and hope the consequences are not another red derby.
Minik Hansen
67
Posted 31/03/2017 at 15:58:18
Koeman's first visit to our former ground Anfield, now our little brothers' ground. Let's give him a great start there. COYB.
Ed Fitzgerald
68
Posted 31/03/2017 at 16:04:41
It's a big test for Koeman. It's no good saying that he doesn't know what there is to be scared of and then making it abundantly clear by his team selections that he is scared, as he did at Spurs. A win is really the only result that gives us any chance of getting in the top 6 or 4 so why not go for it?
I am hoping for a few positive surprises regarding the line-up and formation employed from the start, but it's the hope that kills you, right? I'd love to see some of our youngsters flourish tomorrow. COYB
Brent Stephens
69
Posted 31/03/2017 at 16:06:09
Jim (#65),
Yes, Calvert-Lewin seems to have some pace, so I'd love to see him run at and around their dodgy defence.
Darryl Ritchie
70
Posted 31/03/2017 at 16:14:24
We match them, player for player, very well. I've never really understood this "fear" thing. Year after year, we've lost before the players even leave the dressing room. The only thing not decided is how many goals we will lose by.
Time to put this superstition to rest. We're missing a few important players, but so are they. This is not a particularly good LFC team. They're very suspect at the back. They can score, but so can we. I will be disappointed if we don't beat them, and I will not celebrate a draw.
Brian Harrison
71
Posted 31/03/2017 at 16:42:15
I wish I could just for once be positive about going there and winning, but wins to us are as rare as hen's teeth. For large parts of the last 40 years, our record there is abysmal, yet when you hear the pundits talking they all trot out the same rubbish that form goes out of the window in derbies. No it doesn't. For us, we go there and are delighted with a draw, such is the hold they have on our club.
Thankfully I am old enough to remember in the '60s when they came up, that we would go there with no inferiority complex, that seems to exist now. I know Koeman is trying to change the mindset to make our players winners. Well, Ronald, tomorrow would be a great starting place for the new winners' mindset to kick in.
John Wilson
72
Posted 31/03/2017 at 16:44:06
Useless at chasing the ball, I hear someone say. Liverpool v Man City game, let's just say they chased the ball from the seldom times that Man City possessed it.
Paul Thompson
73
Posted 31/03/2017 at 16:45:19
With our injuries, the team more or less picks itself. Even without the depletions, I'd have gone for sit deep and hit on the counter because that's what Liverpool struggle against. Especially with Lallana and Henderson out, their strength is the speed and fluidity of their attack.
We have to close them down and frustrate them, then move the ball quickly for Rom and Mirallas to run on to. I wouldn't say I'm optimistic, but not dreading it as much as usual.
Dave Williams
74
Posted 31/03/2017 at 16:49:15
With Morgan out, Gareth will play from the start. Play him deep just in front of the back four with Gana and Tom further forward as conventional DMs. Ross and either Kev or Dom either side of Rom and Gareth could be effective with play coming on to him rather than him chasing after their high pressers.
Gareth will scrap as will Gana and Tom and above all we need fight, guts and will to win. With no Gerard and Henderson injured, they are not packed with fighters, and we must go for them!
Brent Stephens
75
Posted 31/03/2017 at 17:01:16
The rs injuries (Lallana, Henderson) give me some hope. But, as ever, I will be cacking it tomorrow.
Come on, lads... just once, please.
Andrew Presly
76
Posted 31/03/2017 at 17:37:58
I like the idea of Lookman & Calvert-Lewin up with Lukaku and then Holgate at right back with Gana, Davies and Barkley in midfield.
This fixture needs new personnel –not the same old shit. People like Barry, Mirallas, Jagielka & even Baines have had their go and they just embarrassed themselves and us. Next men up!
Stan Schofield
77
Posted 31/03/2017 at 18:00:41
There's too much pondering on the history of derbies here. That's the past, not the here and now.
I hope Koeman is developing a winning mentality in the squad, unlike in many of the posts on here. Reading some of these posts, you wouldn't think we were the in-form team of 2017.
Andy Ellis
78
Posted 31/03/2017 at 18:26:59
Such a poor record there in my lifetime but still get goosebumps thinking about Sharpies goal (I was in the Kop), the Rat's free kick (the Kop again), the Kanchelskis derby (their main stand, it was so comfortable that day – the game, that is, not the shite seat), Gary Stevens League cup (Annie Road with the blues). I wasn't there for Kevin Campbell.
I'm not there tomorrow either, usually pessimistic given our track record there but just got a good feeling in my bones this time... could this be the Lukaku derby? C'mon Blues, time to give the younger fans some memories!
Paul Baxter
79
Posted 31/03/2017 at 18:39:50
Had a day off today and saw the highlights of the Anfield derby from 85-86 on BT Sport. I was at the match myself but sometimes it's easy to forget how great that team was, Sheedy was out and Van Den Hauwe played centre-half but we just played them off the park.

A repeat tomorrow 2-0 with Jagielka and Lukaku scoring to match Ratcliffe and Lineker will do, I think.
Ian Hollingworth
80
Posted 31/03/2017 at 18:47:13
So Rom, you are one of the Premier League's best strikers and destined to play at the top stage, winning lots of trophies. Tomorrow would be a great time to show us all you mean it with a match-winning performance.
Over to you, Rom.
Paul Birmingham
81
Posted 31/03/2017 at 18:49:45
Keith at 16, that's exactly the spirit we need.
The mind can work wonders or wreak havoc, but I'm sure Koeman will get a performance tomorrow. Let them worry about us.
As long as the ref and linesmen have some guts and don't do one, then if we turn up in mind, and spirit, we can get a result. Ross and Rom?
Andy Meighan
82
Posted 31/03/2017 at 19:09:13
Andy (#78),
Ratcliffe's wasn't a free kick. It was a speculative shot. But how we laughed. Them wins have been few and far between at that hovel.
Our record is cringingly embarrassing and it's about time it stopped A hiding tomorrow and I swear I'm finished with Everton. I'm sick to death of it.
It's alright beating the likes of Hull, Bournemouth, Palace, etc. It's about time we started replicating that home form against the sides above us. You owe us, Everton... and I mean 'owe us'.
Jimmy Daly
83
Posted 31/03/2017 at 19:29:53
I have no logic to this prediction, but, I can honestly see us controlling the game, Barkley to score around 40 minutes.
Lukaku 60 mins, and finally Can giving away a penalty in the 83rd min, and getting sent off in the process, Baines making it 0-3.
Loveren reducing it to 1-3.
Happy Days.
COYFBB

Bobby Thomas
84
Posted 31/03/2017 at 19:35:28
Robert (#14),
Playing Barry left of 3 centre backs, with Mane playing that side for the shite, is one of the worst ideas ever.
Tony Twist
86
Posted 31/03/2017 at 20:12:11
I don't want Barry anywhere near the starting eleven tomorrow. I would hope that Barkley has matured enough to take over in centre midfield from Schneiderlin, so my team is:
Robles,
Holgate, Williams, Jagielka,
Kenny, Gana, Barkley, Davies, Baines,
Lukaku, Calvert-Lewin.
We need plenty of pace and running across the midfield. Lookman to replace Calvert-Lewin after half-time.
Steve Harris
87
Posted 31/03/2017 at 20:25:57
I think these next two away games are pivotal in more ways than one. We've got to use a different approach to our usual defensive, lethargic away displays that we always seem to put up against the so-called top 6. Three times again this season against Man City (lucky draw after being outclassed), Chelsea (embarrassing capitulation) and Spurs (very negative selection and performance).
It could also have a big bearing (if he hasn't decided already) on whether Rom is going to stay or go. If we put in two more tepid displays then he'll, probably rightly, think we can't compete in big games and he needs to go. But if we show plenty of bottle and class, it might just make him believe that, with a decent summer window, maybe we're worth persevering with. I just want to see us have a really good go at it and make us all proud again
Ian Bennett
88
Posted 31/03/2017 at 20:26:39
Same style for me Tony, although I'd go Mirallas or Valencia up top, and between Kenny, Pennington, Walsh and Lennon for the last place.
Hope Barry is nowhere the starting XI.
Tony Twist
90
Posted 31/03/2017 at 20:34:10
Ian (88), yeah it gives me chills putting Williams and Jags in the same line up but felt both would be better with their experience than swapping one for Barry. You never know... in this layout, Barkley could be the new Hoddle!
Peter Howard
91
Posted 31/03/2017 at 20:34:50
Jimmy (83)
You're talking shite.
There's no way Loveren will pull one back!
Sid Logan
92
Posted 31/03/2017 at 20:43:54
Of the currently top 20 ranked players in the Premier League we have 4: Baines, Barkley, Gueye and Lukaku. They are all playing tomorrow.
Liverpool have 2: Lallana and Mane and only one of them is playing tomorrow.
Reason for optimism?
Neal Kernohan
93
Posted 31/03/2017 at 20:51:12
So stressed out, I have fallen out with my girlfriend!
Make it worthwhile, Blues...
Andy Finigan
95
Posted 31/03/2017 at 21:19:12
I have just been watching DD sacrifice. Now how each soldier worked together to try and save one and another as a team is a real eye opener. That's Bravery, that's balls.
I know it puts football into perspective but, if Ronnie could give our team some balls then we will win this game and go on to win trophies.
The trouble is can the manager do that or do the players need to have it in there dna
I really hope that our team players picked have the gumption needed.
Maybe one excellent early tackle will give the team the encouragement to have the Hart and fight needed?
If we win this, then our whole history for the next 10 years could change. That's what could be at stake tomorrow.

Mark Morrissey
96
Posted 31/03/2017 at 21:50:40
I'd simply like to see the stats to change once and for all.
It's been unnaturally too one-sided for such a long time and I'd like the change to happen tomorrow. I'd like to see us start dominating these derbies from start to finish. No fear. Have a go and give your all. Nothing but your best, boys.
Gio Mero
97
Posted 31/03/2017 at 21:52:19
Just my opinion but I would have been full of optimism hadn't I seen our team folding so badly at White Hart Lane. Seeing the suggested starting XI does nothing to ease my fears.
Were Ron to play a team packed with our youngsters, I would at least dream of the possibility of a new derby era.
Lev Vellene
98
Posted 31/03/2017 at 22:27:13
Kevin (#52): That fits in so nicely with what Jamie Carragher said in his recent interviews (wherever, Sky/Echo???):
He was always all fired up for a fight, the EFC players then politely greeted him by name... And he was totally mystified as to why they were not out there for a battle, and as such saw them as being on the defensive already (my interpretation...)!
So we can only hope that Koeman will have put the fear of the Bench into his acolytes, and will then be judging the asses somehow misfit to grace it by the amount of sweat and blood lost during our next game! And then even more so, by the following game!
Ernie Baywood
99
Posted 31/03/2017 at 23:10:23
The selection at Spurs was pathetic. Barry got a lot of blame but the fact was that we had players out of position, no attacking intent and were just too narrow with centre midfielders right through the team. Missing Schneiderlin is disappointing but at least means that we won't revisit that selection!
Robles
Holgate Jagielka Williams Baines
Gana Davies
Mirallas Barkley +1
Lukaku
Maybe it's Barry with Davies further forward, but I'd like to see Davies play deeper. He and Gana can overwhelm their attacking players, and both have the stamina to break quickly.
Playing defensively is one thing. Playing deep with an intent to break in numbers is another – I'd like to see the latter.
Just got a feeling that Lookman could be a derby player. Workrate, pace, skill... they would shit themselves!
James Brand
100
Posted 31/03/2017 at 23:13:11
Forget comparing our squads. "On paper" we should have won more but our problem is mentality – we lose the game in the Anfield tunnel before the whistle. Whilst you've got Jags as captain that will always be the case.
Not even going to bother tomorrow - why build your hopes in the same way that lot do (it's our year!) for true-to-form Everton to crush your dreams?! I'm going for a walk in the countryside where I'll be conveniently located to avoid mobile-reception at 4:50pm for the inevitable cockney Kopite texts to come firing thru.
We've got so used to losing to them as much as they have got used to beating us that actually, neither of us really cares anymore... we lose is par for the course as much as them winning... gloating over the water cooler on Monday just doesn't have the same ring to it for that lot these days – we all know the script!

James Brand
101
Posted 31/03/2017 at 23:14:04
Sorry, meant 2:30pm!!
Dan Davies
102
Posted 31/03/2017 at 23:20:39
Fancy us to turn them over myself, a late goal should do it. COYB.
James Brand
103
Posted 31/03/2017 at 23:21:13
It's also such a predictable fixture and result that we don't even get put on 1st on MotD!! Even the broadcasters know it's a nothing fixture with a pre-determined result!
Dan Davies
104
Posted 31/03/2017 at 23:23:46
Pre-determined my arse, we've got nothing to lose but bragging rights. It's time.
Paul Smith
105
Posted 31/03/2017 at 23:33:14
There's some real negatively on the latter part of this thread. I can't wait for the game, excited, nervous trying not to buy into any expecting the worst bollocks.
We can best them, law of averages suggests it will happen; they're a good outfit when their at it, but so are we. Let's get behind the lads and turn that awful stand resembling a large hope punch into a library.
Christy Ring
106
Posted 31/03/2017 at 23:35:10
The one day Schneiderlin and McCarthy are missing, you would still say, sorry Gareth.
Stan Schofield
107
Posted 31/03/2017 at 23:40:29
James @100 & 103: I see Koeman developing a 'winning mentality' in the squad. A winning mentality involves, amongst other things, forgetting history and focusing on the here and now, on winning every game regardless of the opposition.
In contrast, what you've written is a defeatist mentality, inappropriate for a team challenging for the top. If our squad thought like that, we'd never win any games. Cheer up.
Nigel Johnson
108
Posted 31/03/2017 at 23:43:04
Lots of opinions and all valued, but the time has come. No excuses, if some of the Everton players are as good as many say, then let's see them stand up and be counted. Deliver or shut up it's that simple. Other team player's are delivering so Barkley, Lukaku let's see what you've got in the big games.
Come on you blues do it f the injured players who are missing. Show pride, show passion, show desire, and above... show some bottle.
Paul Birmingham
109
Posted 31/03/2017 at 23:55:13
It can be our day based on this squad, which tomorrow will be stretched. But it's time to make new Legends and take the very best of our past forward and make new history.
Just watched The Golden Vision and Alex The Great, and I'm certain that Koeman, will get a result tomorrow. (Could be the ale, talking, I hope not)
That's my inspiration, and also in memory of The Golden Vision, my arle fella, and for this squad, now's the time for a good performance and a win. Swansea, Wolves, etc.. done it, it's our day to make.
Now for honour and EFC pride.

Kieran Kinsella
110
Posted 31/03/2017 at 23:58:25
I bring bad luck if I watch the derby so I won't.
In 31 years since watching the 86 final, I've missed about 9 derbies due to work but seen the rest. I had a call night during the Gosling game, loan closing during the Johnson game. Some college event during the Kanchelskis game. I was in Austria skiing for the 4-4 and the replay. Don't recall why I missed the Campbell game.
In fact the only Everton wins I watched live were Wayne Clarke's winner to end their record run and Joe Royle first game as manager. I saw all the Martinez games, most Moyes bar the Johnson hat-trick, a number of Walter games and Kendall and Harvey's. I think I bring bad luck.
Kieran Kinsella
111
Posted 31/03/2017 at 00:00:38
With that said, I will watch MotD for the Davies winning goal.
Liam Reilly
112
Posted 31/03/2017 at 00:02:17
I'll get shit for this but Barry should start in the absence of Schneiderlin, because experience is going to be paramount to keep 11 players on the pitch.
I fancy us for this one, because I don't think Koeman cares much for stats; to him, its all about beating wants in front of you.
Ernie Baywood
113
Posted 01/04/2017 at 00:05:08
Liam, I don't think Barry starting will be such a problem, providing it's not allied to a strategy of just keeping them out.
Paul Birmingham
114
Posted 01/04/2017 at 00:05:15
History is great and is right to acknowledge and give credit but tomorrow, EFC must fight and play to win.
No more negativity, it's a game, at our Old Ground!
Jason Bowen
115
Posted 01/04/2017 at 00:06:20
Have faith in Koeman and the team. An animal is most lethal when injured and we're definitely injured.
Get them fired up and spitting flames, Ronnie. No niceties at the handshakes, just stare them down and watch them RS wilt!
Neil Wood
116
Posted 01/04/2017 at 00:06:58
The time has come.
Jay Wood
117
Posted 31/03/2017 at 00:14:50
Seamus and Morgan are big misses for us, Funes Mori and McCarthy to a lesser degree, make no mistake. But Lallana is a big miss for them, Henderson also.
Add to that 2 of their more influential players - Coutinho and Firmino - played almost the entire 2 games of 2 very tough qualifying games for Brazil in the same time our better players were either not involved, or played just 1 of 2 international games. The Mersey Derby, on top of their long distance travelling, will tell on them.
Our injuries leave us stretched in key areas, no doubt. It will be very interesting to see how Koeman shuffles and plays his cards. Given the shortfall in midfield and centre back, I fancy he will incur the wrath of many and play Barry. I for one won't immediately despair if that is the case.
Koeman's selection and how he sets up the side will tell us a great deal about his own mind set. What is apparent to me is he hasn't yet replicated what he achieved with Southampton in away games against the top six sides. He recorded many an impressive win - not fluked - away to Arsenal, United (twice), Chelsea and Spurs in his 2 years with the Saints.
We are the form team of the two teams. Forget history. Play with no fear.
Saturday, closely followed by United midweek, is his big chance to make a real impression with the faithful.
Ernie Baywood
118
Posted 01/04/2017 at 00:20:25
Understandably we focus on our side and who should play... but just for one minute take a look at them:
Liverpool predicted lineup
Simon Mignolet
Nathaniel Clyne
Dejan Lovren
Joel Matip
James Milner
Emre Can
Philippe Coutinho
Lucas Leiva
Sadio Mané
Georginio Wijnaldum
Roberto Firmino
Who do you really worry about? Mané, fair enough. None of the rest are ripping the league apart. They're living off a good start to the season, but that was a long time ago.
Davies and Gana vs Wijnaldum and Can? Barkley up against Lucas?
Firmino and Coutinho can perform, but haven't been have they?
Get Rom running at that defence!
Matthew Salem
119
Posted 01/04/2017 at 00:30:54
I fucking hate derbies. Always have. This is my contribution to this thread. You are all very welcome. COYB!!!
Mark Andersson
121
Posted 01/04/2017 at 00:43:48
It's a win for me... and for the next 3 derbies... the defeatist mentality of a lot of posters is to blame as this transmits to the players .
Koeman is a winner it's about time you hiding behind the couch shitting your pants with your fingers crossed stood up and have some belife that we are the bigger name on Merseyside...
Liverpool 1 Everton 3
Kenny Smith
122
Posted 01/04/2017 at 00:47:46
If they don't get going early on, then I fancy we could get something. I wouldn't go toe to toe cos that's what the other top six teams have done and got beat.
Men behind the ball and play on the break for an hour then push on when the flag wavers start getting on their backs and getting frustrated.

Mark Wilson
123
Posted 01/04/2017 at 01:11:15
Liam (#112) the biggest worry about keeping 11 players on the pitch is if Barry starts!
Franny Porter
124
Posted 01/04/2017 at 01:12:19
Schneiderlin has declared himself unfit on Twitter, anyone think this could be a ploy? Seems unusual to show your hand when not necessary.
I'm clutching at straws aren't I?
Gordon Crawford
125
Posted 01/04/2017 at 01:15:47
Ernie, that shower don't have to be playing well to beat us. We normally just bend over for them from before the first whistle. I hope we win for the first in a very long time. 1-2 Everton.
Ernie Baywood
126
Posted 01/04/2017 at 02:10:48
Absolutely, Gordon. We've lost to worse Liverpool teams than this. That lot never seem to lack belief, however deluded.
Surprising to see the media warming to us this time around. I'm going to put my money where my mouth is. Hoodoos aside, the odds are far too long.
Bobby Thomas
127
Posted 01/04/2017 at 03:35:08
Hopefully Koeman has learned from the Spurs balls up, where the first 11 offered nothing defending or attacking.
It's a lot of pressure for an 18 year old but if it's a 4-2-3-1 I would put Tom Davies in front of the back 4 with Gueye, not Barry. I think he can handle it. We need mobility, I imagine they will try & start fast. Barry is becoming a liability away from home.
We need to defend properly & not concede first half. If we do that we have a good chance.
Kieran Kinsella
128
Posted 01/04/2017 at 04:37:37
Been reading crap all week about how the hate filled local lads always drive on Liverpool to beat the nice Everton players. This time there are no local lads in the RS team so wonder how that will play out.
Tony Draper
129
Posted 01/04/2017 at 05:53:38
I want Ross and Tom and Rom to run at them with the ball. Charge at them and bloody scare them utterly shitless.
Idrissa will get the ball from them and feed our lads with an efficiency based on sheer simplicity.
They will employ the entire panoply of dark arts, because they have absolutely no shame. None.
We know our history, it even includes their birthing.
They, have invented theirs.
Dave Lynch
130
Posted 01/04/2017 at 06:14:36
Don't think there was at Goodison, Kieran, and it didn't stop them snatching a win.
Darren Hind
131
Posted 01/04/2017 at 07:05:50
"I fancy he will incur the wrath of many and play Barry."
I hope you are wrong Jay. I'm a big critic of Koeman, but he has had most of his options taken from him this week. It would have been easy for him to scream the house down and get his excuses in early, but he hasn't, he has shown impressive dignity and It would be just plain wrong to hold him accountable if things don't go our way today.
Barry's inclusion could go either way. We all know he can be over run, and with the gobshites baying for a red card, he will have to choose the time for his "professional foul" very carefully, but we must also remember that he is vastly experienced and has a great football brain. His presence and wise advice may stop the likes of young Tom getting too carried away. It's a big decision, I'd definitely start him, but I wont be criticising Koeman if he decides against it.
I'll leave the selection decisions to the boss. Like many of you I have a massive decision to make meself; What time do you have that first bevy? It's an early kick off and things could get very messy if you go too soon.
Pace yourself guys. We may have our problems, but they're still shite.
There is every chance you will be celebrating long into the night.

Eddie Dunn
132
Posted 01/04/2017 at 08:06:23
Barry could be exposed for his lack of pace, but Koeman may have to play him. I am worried though, at the heart of our defence. Jags and Williams with Barry in front of them is an accident waiting to happen.
Having said that, Schneiderlin has made a few mistakes in that area recently. I am sure Koeman is aware of the potential problem , so let's hope he has a plan.
Perhaps Gana will sit in front of the defence and with Barry further forward and Barkley and Davies completing the midfield.
The key question is whether to go for a back four or five? Whoever plays at right back will be targeted, but if we want to win the game Lukaku will need support. It will be too late putting Valencia or Calvert-Lewin on if the game is out of sight.
I fear that Rom will have to live off scraps for the first hour. Long punts from Jags and Williams. If we are still in it with 20 mins to go, then we may see Lookman, Calvert-Lewin or Valencia.
For all of the "No fear" talk, I think we will be set-up to survive. I just hope we don't get pinned on the ropes and caught out.
Tony Abrahams
133
Posted 01/04/2017 at 08:07:18
I like that last sentence Darren, and I hope we can put the clocks back this evening!
For all Barry's experience I just think he plays too deep to compensate for his lack of mobility, and sometimes this can tend to suffocate us.
Defend deep, but break quick has got to be the mantra for today. Frustrate and Destroy, then we can all have a party, on our neighbours!
James Byrne
134
Posted 01/04/2017 at 08:19:15
No doubt the biggest loss for these next two games has been Morgan.
I anticipate Barry to start but I don't think he'll be as big a liability with the Shite having no local / British lads playing.
Massive game for the likes of Barkley, Davies, Holgate, Calvert-Lewin and maybe Lookman. Lukaku should score if he gets chances and the key players today could be Mirallas / Lennon!
Darren @131 You're still a big critic of Koeman! Why?
Koeman has brought something special to this club particularly since the clown Martinez was thrown out. The Manager has class and a real sense of purpose; he's part of a massive step change in this clubs future.
You just can't please some people, regardless.
Ian Bennett
135
Posted 01/04/2017 at 08:26:25
Kieran (#110) – have you thought about just taking up golf? I am blaming you for our decline.
Matt Garen
136
Posted 01/04/2017 at 08:34:34
135 posts so far, many optimistic, yet deep down in the soul everybody knows what's coming. Death, Taxes and losing the Derby.
John G Davies
137
Posted 01/04/2017 at 08:38:04
I agree with posts above. The Barry selection conundrum can go either way.
He has kidded us a few times this season when we thought the pace of the game would be against him. If everyone was fit I would not start him, MccCarthy and more importantly Schneiderlin who will be a big miss being out he has to start for me.
We need legs around him though. I would go 4-3-3 with Gana and Tom. Davies has looked as if he may be ready for a rest at times over the last week's, unbelievable amount of games for a lad of his age to play. It being a derby will carry him through hopefully.
They have a decent record against the top four for a reason, that being they are fast on the break and top sides leave space for a counter when they attack in numbers. They have struggled against sides who sit deep(not on the edge of the box). The crowd of tourists and daytrippers get frustrated and it passes down to the pitch.
Full backs will need to play a big part for us today going forward and defending. Most important thing is the message "win your own battle. Don't be on the back foot, let your opposite player know he is in a game as early as possible, first challenge 100%."
How many of us would give everything to have the ability to play in one of these games. We need passion, aggression and a winning mentality.
COYB
Darren Hind
138
Posted 01/04/2017 at 08:38:18
I see you've started the party early, Matt.
Chris Gould
139
Posted 01/04/2017 at 08:43:12
Darren, you have been a consistently big critic of Koeman, which is of course your right. But your post #131 was supportive, gracious, and very accurate. Derby day must be having a lucid effect on you.
I hope this is the day when he finally wins you over.

Oliver Molloy
140
Posted 01/04/2017 at 08:52:25
To win today, we will need to play very well, get stuck in (fairly) and have a bit of luck.
Up front our want-away striker needs to prove he can be unplayable and really is one of the best strikers in football and add a few more millions while doing so.
Prediction – draw!
Rob Halligan
141
Posted 01/04/2017 at 09:03:26
Nerves are shot to shreds. Just want to get in that shithole and get out again.
2-0 to the mighty blues. Lukaku 2.
Kev Wood
142
Posted 01/04/2017 at 09:12:28
On my way to Anfield right now. Made a decision a few years ago to try to get to this one whenever I can as our day will definitely come soon.
I was one of the lucky few who were at the Jags Derby a couple of years ago and was delighted with that one. Lots of Kopites wandering round with long faces after his equaliser. For the next one, when we lost 4-0 I was firmly convinced before the game that it would be our last chance for the foreseeable future to beat them. Thankfully, with Mr Moshiri's presence the future looks far brighter. I missed the next 4-0 capitulation though I would have been there if I could.
As for today – there's all to play for although injuries mean that both sides will not be at full strength. If Koeman, Duncan and the coaching staff can get the starters head's right and we play with bottle and Blue spirit we can do them.
As is my habit, I'll be having a small bet on Mirallas to score first and EFC to beat them 2-1. Whatever happens, I'll be there to the final whistle, high on hope. Come on Everton. Heads high!
Dave Abrahams
143
Posted 01/04/2017 at 09:32:26
I've been told by someone, don't know how good his contact is, the team is:
Robles Pennington Baines Holgate Jagielka Williams Davies Gana Barkley Calvert-Lewin Lukaku.
I haven't got the subs, but not sure I agree with this selection. If it is right, and it is a big 'if', there is a good selection of youth and experience in the side. Liverpool are not as good as they are painted so, if we attack them with controlled aggression, let them know we are up for a good fight, we can come away from Anfield singing.
Dan Egerton
144
Posted 01/04/2017 at 09:43:32
Liam 112 - "I'll get shit for this but Barry should start in the absence of Schneiderlin, because experience is going to be paramount to keep 11 players on the pitch."
Except Barry is the most booked player in the history of the Premier League!
Martin Nicholls
145
Posted 01/04/2017 at 09:44:11
Kev – haven't been to that shithole for many years but want to be there when we finally break the hoodoo, so I am going today.
One thing is for sure: there won't be many scouse red shite there today judging by the vast numbers of Scandinavians etc out in town last night – numbers were truly staggering. They were like rats – unfortunately there was always at least one within 10 yards!
Good post, Dave (#143).
Dan Egerton
146
Posted 01/04/2017 at 09:44:26
We don't have enough Midfield players, but a surplus in centre-backs so I'd go 5 at the back, with Baines and Holgate moving up and back as needed.
Neil Wood
147
Posted 01/04/2017 at 10:07:30
Not woke up this nervous for many a year.

Joe O'Brien
148
Posted 01/04/2017 at 10:21:30
Would be nice to christen their new tunnel and dressing room with win. What a sign to put on their tunnel... arrogant fucks.
Dermot Byrne
149
Posted 01/04/2017 at 10:22:46
Martin (#145),
Hats off to you, mate, for making the effort and going. I think it is a bit like betting on the National. But I really hope they repay your faith.
James Hughes
150
Posted 01/04/2017 at 10:30:23
I agree with Mark #121 As the manager said why be afraid of going to Mordor. I have put my money on us to win with a small bet of winning by a big margin @250-1
Have faith fellow blues lets go piss on their parade, COYB
Raymond Fox
151
Posted 01/04/2017 at 10:50:28
We are a 9/2 shot to win and I have to agree that about sums up our chance.
They have injuries, I know, but ours seriously weaken us; I think they will have too much for us in attack.
I hope I'm wrong but that's how I see it.
Andy Meighan
152
Posted 01/04/2017 at 11:25:27
Joe (#148),
What have they put up in their tunnel?
Brent Stephens
153
Posted 01/04/2017 at 11:35:26
Everton: Robles, Pennington, Jagielka, Williams, Baines, Gana, Davies, Holgate, Barkley, Calvert-Lewin, Lukaku.
Chris Leyland
154
Posted 01/04/2017 at 11:35:41
Nice to see the unbiased panel on Sky of three ex/Liverpool players and Reidy.
Who is the ref - Kenny Dalglish?
Steve Cotton
155
Posted 01/04/2017 at 11:35:44
Most reds I know are quite full of confidence. This could be a great time to shock them and go down in history…. 3-1 to the blues and Lukaku to get 2 of them.
COYB
Gio Mero
156
Posted 01/04/2017 at 11:36:47
Great starting XI. Full of hope now...
David Graves
157
Posted 01/04/2017 at 11:43:45
Well done, Dave A.
Top contact!
Ed Fitzgerald
158
Posted 01/04/2017 at 11:46:54
I have been critical of Koeman for his selection but I commend his bravery today in trusting the younger players. COYB
Let's show these RS no fear.
John Pierce
159
Posted 01/04/2017 at 11:51:49
For the first time this season Koeman has shown the confidence in a set of players.
Bravo. The side has energy, and threat. Great selection. Forced into it, yes, but he still could have relied on experience and age.
Time for Rom to walk the walk .
Joe O'Brien
160
Posted 01/04/2017 at 12:02:24
On the money, Dave A. Well happy with the line-up... fair play to Koeman for being brave.
On the ball too yesterday, Gary, with your pick of Pennington. I stuck on money for an Everton win... 4/1 – great price. COYB
Brent Stephens
161
Posted 01/04/2017 at 12:05:06
Dave A. Great knowledge on the team selection. Now give us the final result. And make it the right one!
Mike Powell
162
Posted 01/04/2017 at 12:07:22
A bunch off kids against the RedShite... you just couldn't make it up!!!!
FFS – when are we going to get some luck against this shower?
Dave Ganley
163
Posted 01/04/2017 at 12:08:43
Liking that line-up.... now go and show no fear and beat the RS. Nothing to be afraid of there.
Christy Ring
165
Posted 01/04/2017 at 12:14:08
Credit due to Koeman for his brave selection. He knows after earlier fixture that Barry hasn't the pace. I'm very optimistic. and well done, Ronald Koeman.
Colin Hughes
166
Posted 01/04/2017 at 12:14:37
Too inexperienced, they will crumble under the atmosphere at that place. I predict at least 3-0 to the RedShite.
We shouldn't have let Deulofeu and Cleverley go out on loan... now, we are truly exposed for experienced players.
Ciarán McGlone
167
Posted 01/04/2017 at 12:17:22
I like Koeman's selection.
Chris Leyland
169
Posted 01/04/2017 at 12:20:23
Colin Hughes – Koeman should draft you in to do motivational pre-match talks to players.
Dave Abrahams
170
Posted 01/04/2017 at 12:25:00
Brent (#161) – I can't predict the result, but still confident we will get at least a draw. We've got to let them know we are there,t hat is the most important ingredient going into the game. E V E R T O N
Jay Wood
171
Posted 01/04/2017 at 12:31:26
That is a cracking selection in my book.
With the injuries to Coleman. Funes Mori, Schnderlin and McCarthy, Koeman might well have been tempted to go with the experience of Barry. He hasn't. He has gone HEAVILY with youth.
Pennington, Holgate, Davies and Calvert-Lewin. Four players unpolluted by years of failure against the Pinkies.
No fear, Everton. No fear.
Let's do 'em!
Colin Hughes
172
Posted 01/04/2017 at 12:39:54
There you go you soft bastards,7 fucking minutes, told you's too many kids who have hardly played in the team, today.
Marley Rimmer
173
Posted 01/04/2017 at 13:01:11
Any links for the game?

Colin Hughes
174
Posted 01/04/2017 at 13:08:45
3 bastard minutes we were level for, what's wrong with the shithouses who play for us? Do they fear having parity with those twats for any length of time on a football pitch?
Colin Hughes
175
Posted 01/04/2017 at 13:21:37
Bring back Joe Royle, he was the only Everton manager who knew how to play these, even Kendall had a shite record in his first spell. Koeman hasn't got a clue how to set up at a hard ground .see also Chelsea and Spurs away.
Colin Hughes
176
Posted 01/04/2017 at 13:24:15
Altogether now MURDERERS MURDERERS. MURDERERS.
Jay Wood
177
Posted 01/04/2017 at 13:27:47
Colin Hughes.
Grow the fuck up, and then some.
Colin Hughes
178
Posted 01/04/2017 at 13:46:41
Fuck off Jay, that's our problem, we are too nice to them, that's why we never beat them.You wouldn't get Millwall crawling up West Hams arse or Sunderland up Newcastle's.
---
Add Your Comments
In order to post a comment, you need to be logged in as a registered user of the site.
Or Sign up as a ToffeeWeb Member — it's free, takes just a few minutes and will allow you to post your comments on articles and Talking Points submissions across the site.