Manchester United vs Everton

156 Comments [Jump to last]
Monday 3 April 2017
Match Preview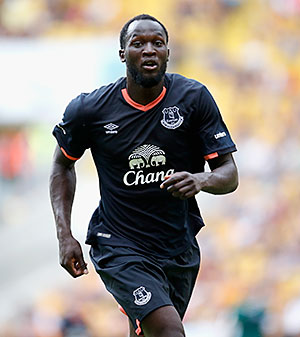 Isolated and anonymous at Anfield, can Romelu Lukaku make a real difference for Everton at Old Trafford?
Everton face the second of two testing away fixtures this week when they make the trip up the M62 to Old Trafford to face another top-six side in the form of Manchester United.
Reeling from Saturday's hugely disappointing Merseyside derby, the Blues' hopes of mounting a challenge to finish above Arsenal and tomorrow night's opponents in fifth place — and thereby avoid the Europa League qualifying rounds — probably depend on them coming away with a gold dust-esque away win against a side above them in the table.
It will be a tall order. United are currently on a 19-game unbeaten run in the Premier League, having not tasted defeat since their 4-0 hammering at Chelsea back in October. Their last home defeat came a month earlier in their derby against Manchester City and, of course, Everton's only win at Old Trafford in the last 25 years came a little over three years ago courtesy of the now-departed Bryan Oviedo's solo strike.
That memorable win was indicative of the short-lived but fearless attitude that was instilled in the squad by then manager Roberto Martinez but, in general, the old psychological traits forged by over a decade under David Moyes have proved hard to shake off.
Certainly, the fervent belief that the normally straight-talking and defiant Ronald Koeman would come in and banish such inferiority complexes has yet to be fulfilled and there's a feeling that the more defensive shape that he has used in matches away at the top sides this season has become his own twist on the Moyesean "knife to a gunfight" brand of self-defeatism in these kinds of games.
Many Evertonians will, no doubt, be hoping there will be a different system on show to the three-man central defensive formation that has now been so effectively dismantled by Chelsea, Tottenham and Liverpool. There is definitely an escalating desire among the fans in the build-up to this game to see the Blues really take the game to United and prey on the weaknesses that have made them the draw specialists of the top flight this season.
Koeman will likely have the same group of players available as he did on Saturday but he has admitted that the game against United will bring different challenges than the one against Liverpool so there could be changes to the starting XI.
Central defence, where Matthew Pennington was, unwisely, thrown into the deep end at Anfield with damaging results, would be the obvious starting point, with a reversion to a conventional flat back four on the cards. In that instance, Mason Holgate could be deployed at full back to the right of Phil Jagielka and Ashley Williams.
Central midfield could also see some alterations of Koeman feels that Gareth Barry has something to add to what will probably be a less frenetic encounter than the derby, while it remains to be seen if the Dutchman saw enough from the Dominic Calvert-Lewin-Romelu Lukaku partnership to persist with it over the option of recalling Kevin Mirallas to the lineup.
For his part, Jose Mourinho will welcome Zlatan Ibrahimovic back to his team following a three-match suspension and there can't be many in the Everton camp will be looking forward to a rested "Zlatan". The narcissistic Swede scored what looked like it was going to be the winner in the reverse fixture at Goodison last December before Leighton Baines struck an 89th-minute penalty and he will surely want to make up for the time he has lost over the past month sitting on the sidelines.
Keeping him quiet while nullifying the more creative elements of Mourinho's midfield will be key for the Blues if they were to get anything out of the game. Likewise, some big stand-up-and-be-counted displays from some of the stars who went missing three days ago are going to be essential to Everton's chances.
Two draws from Liverpool away and Manchester United away would probably have been viewed as a decent return by the majority of Evertonians but the beauty of the three-points-for-a-win system is that a bit of adventure and single-mindedness in this fixture could earn three for the Blues on its own and put them level with the Red Devils on points in the table.
That, and the fact that anything can happen down the season's final straight should be incentive enough. We'll see if that is indeed the case.
Kick-off: 8pm, Tuesday 4th April, 2017
Referee: Neil Swarbrick
Last Time: Manchester United 1 - 0 Everton

Predicted Line-up Robles, Holgate, Williams, Jagielka, Baines, Barry, Gueye, Davies, Barkley, Mirallas, Lukaku
---
Reader Comments (156)
Note: the following content is not moderated or vetted by the site owners at the time of submission. Comments are the responsibility of the poster. Disclaimer
Kenny Smith
1
Posted 03/04/2017 at 07:57:23
After Saturday's disaster, I'm hoping to see us stretch Man Utd with Mirallas and Lookman. I don't expect to see Barkley or Calvert-Lewin.
United are as short as we are when it comes to centre-halves at the minute so Lukaku has no excuse and owes us a performance. I really rate him but struggle to understand how a fella with his pace, power and stature offers exactly the same threat as a Cottee or Lineker. He needs to do more to influence games when he doesn't score.
Anyway, this away game is the more winnable one in my opinion... but I'd of preferred to win the last one.
Kim Vivian
2
Posted 03/04/2017 at 08:25:08
At last... Hopefully we can move on from the Saturday post mortem and look forward to this one.
Two teams playing off the back of a disappointing weekend and wanting to bounce back for their own and their fans' sakes. Hope we can squeeze it but I can see this turning into a bit of a bore fest tbh and will predict a 0-0 tomorrow.
Dermot Byrne
3
Posted 03/04/2017 at 08:31:38
I have copied the derby reaction thread, Kim, so if we lose I can just paste it over, save us hours and we can all go out and frolic like lambs in the spring sunshine!
(Love the image of angry football fans frolicking like lambs after defeat.)
Phil Walling
4
Posted 03/04/2017 at 08:35:11
The team suggested above is the one 'Klever Koeman' should have named for the derby game. Why do managers always have to do daft things in these 'lost cause' fixtures against Them? We've usually 'had it' before the teams step out.
Koeman is a 'write off' after less than a season in charge!
Liam Reilly
5
Posted 03/04/2017 at 08:36:26
I've said for months that 7th is the best we could hope for and the injury situation just adds fuel to that.
We should just go after them and treat it like a home game, as they'll not be expecting that and we've little to lose.
Mirallas should start and I'd like to see more of Lookman.
Mike Berry
6
Posted 03/04/2017 at 08:47:15
Please no five at the back again with two novices. Let's have Super Kev or Valencia on from the start as well to give Rom a chance, then the team may have one.
Man Utd are far from unbeatable and have a lot of players missing. We could well surprise them and have the faithful thinking, "Why didn't we play like that at Anfield?" Team selection is the key.
Paul Kelly
7
Posted 03/04/2017 at 09:06:16
Well, dismayed and tortured by our latest 'bend over, pants down' display at those horrible red fockers over the park, one that reeked of managerial naivety, (yes Ronny, it's your fault) hopefully old onion head has learned his lesson, though I doubt it.
I really don't know what he was thinking (doubt we will) but a fixture to turn our away form around couldn't come at a better test than this, a more attacking mindset from the off and earlier subs (should it be needed) will have those lingering doubts I've now got after an away run which is not so endearing.
Go at them from the off; what happened to early subs like when it wasn't working at the beginning of his tenure, ruthlessness? Two wingers?
Winner as a player, hopefully a winner as a manager, hopefully with us. Make me right or I'll attack with vehement displays of cussing and bile in front of my TV and scare my dog. Over to you.
Steavey Buckley
8
Posted 03/04/2017 at 09:28:49
Sitting back and waiting for the opposition to attack should not be an option. But that will happen if Koeman opts to play Barry in a defensive midfield position, that will include another 3 players also in the their mid fifties.
It is better to have Davies and Gueye in midfield with Barkley just in front of them with Mirallas, Lukaku and Valencia the 3 upfront. But knowing Koeman that's not going to happen so Everton will be conceding another 3 goals on Tuesday with just 1 goal in their favour.
Eddie Dunn
9
Posted 03/04/2017 at 09:32:23
The international fixtures and the injury crisis were followed by the tactical mistake at Anfield. The dust has barely settled on the ignominious defeat and we are suddenly heading for what normally would be one of our toughest fixtures.
It is a chance though, for the team to put that last performance behind them. Man Utd are the draw specialists, and without Zlatan failed to unpick West Brom's defence but with the return of their talisman, we can expect some joined-up play from the Red Devils. Rooney could also figure.
I expect our manager to go to a back four, but that is where his sense of adventure will end, and I would think he will pack the midfield, leaving Rom alone up front.
It might work, and if we are still in it after an hour or so, we may see the introduction of one of our tricky bench-warmers. A draw would be a good result.
Robert Leigh
10
Posted 03/04/2017 at 09:49:49
Agree with Liam (#5) – why has Lookman not had a look-in recently? Looks a very skillful young lad who I would love to see running at opposition defenses.
Brian Harrison
11
Posted 03/04/2017 at 09:50:21
I don't know why Valencia is not used more, he usually makes an impact when he comes on and seems to create room for Lukaku. I would play him in Barkley's position, and have Mirallas and Lookman out wide.
Man Utd will have Ibrahimavic back from suspension and Pogba fit again. Although unbeaten in 19, Man Utd are struggling for wins at home. But we always seem to be the fall guys when teams are desperate for a win. Let's hope we don't on this occasion.
Gary Heywood
12
Posted 03/04/2017 at 09:51:18
We would have needed our best 11 on top form and tuned in to get anything out of these type of games. A match starting with Jagielka, Baines, Barry and the limited Calvert-Lewin will be well beaten. We just ain't got the squad or mentality to compete with the teams above us.
I thought Baines stunk against Liverpool and would prefer to see Garbutt or Galloway at left back. I'd play Valencia from the start and play Lookman at some point. Koeman needs to say to Rom, "If you don't give a shit, from now on, you don't play."
The teams above us in the Premier League aren't anywhere near the cream of Europe but Everton can make them look just that with their brain-dead, self-destruct, inferiority brand of football. Just stop it. It's perfectly possible to score against and defend well against these teams.
David Pearl
13
Posted 03/04/2017 at 10:01:33
Well, as pointed out by Phil (#2) we should of played that line up against the RS. What was he thinking?! That same pessimistic mind set was used v Spurs.
Should we expect any different now or is this his way of demanding more summers spends? Keep the same shape that saw us top of the form league FFS.
Play to the strengths of Lukaku. Give Valencia his chance. Give peas a chance. Lukaku hat-trick. 3-2 the Blues.
Martin Nicholls
14
Posted 03/04/2017 at 10:05:09
Hope the players aren't as defeatist as many posters on this thread.
Phil Walling
15
Posted 03/04/2017 at 10:09:58
Defeatist?
We fecking lost, didn't we?

Stan Schofield
16
Posted 03/04/2017 at 10:14:25
Our home form is tremendous, but our away form is dreadful. Koeman surely needs only ensure that his away tactics are the same as his home tactics? To ensure we go out to win each game, rather than contain and look scared when away.
There is a clear winning mentality at home, and an apparent defeatist mentality away, and this appears to be down to the tactics, not the attitude of the players. If you enforce bad tactics on the players, they will struggle no matter how hard they try.
We do have the capability and talent in our squad to beat the top sides, which we do when at home. Surely it's not an unsolvable problem to do the same thing when away?
Ronny lad, don't make the same mistakes again, please.
Jim Bennings
17
Posted 03/04/2017 at 10:17:28
Given the options available, there has to be starts for both Mirallas and Valencia tomorrow.
But reality is its just going to be another tale of woe with us no doubt solving Man Utd's goalscoring crisis, we all know when a team needs a helping hand just call for Everton and fill your boots.
I want to see a team that is full of passion and hunger to correct Saturdays misery but I fully expect nothing.
Big game for Koeman and the players to bounce back and redeem themselves in, again a question of mental strength – or rather the lack of it.
Guy Hastings
18
Posted 03/04/2017 at 10:31:19
I'd think about giving Lukaku a run out after resting him on Saturday.
Peter Warren
19
Posted 03/04/2017 at 10:36:53
A lot of criticism of Koeman and yes tactically he has gotten things wrong. However, I would rather that than stubbornly same old same old.
We will beat one of the big boys trying stuff and he should keep trying different stuff as we simply don't have good enough players to simply play our way at present.
Koeman seems to be more bullish about next season; I'm content to just leave him to do his job as sees fit until then.
Jim Bennings
20
Posted 03/04/2017 at 10:50:03
It's another "glass ceiling game" one where we know that, no matter what form we are in going into it, we just don't win.
Our record away to these types of clubs is unbelievably bad and I'm just astonished that I witnessed us actually win at Old Trafford in 2013, arguably our most shock result away from home since the Premier League formed taking into account our record at those venues.
Frank Crewe
21
Posted 03/04/2017 at 11:03:42
Instead of these overly complicated set ups I would just like to see a straight forward 4-4-2. Drop Barkley because he was atrocious at the weekend.
Robles.
Holgate Jagielka Williams Baines
Mirallas Gana Barry Davies
Lukaku Valencia
Subs: Stekelenburg, Lookman, Barkley, Pennington, Calvert-Lewin, Lennon, Besic (if he's fit).
I chose Barry because I'm assuming Schneiderlin won't be fit. If he is fit, put Barry on the bench in place of Besic and play him instead.
As for Jagielka and Williams, we don't really have anyone else and Pennington didn't do himself any favours. If we had two other centre-backs, I would drop both Williams and Jags and play them instead... but we don't, so we are where we are. Can't drop everyone – as much as I'd like to.
Peter Laing
23
Posted 03/04/2017 at 11:25:02
Personally, I would rest Tom Davies, the lad has been doing really well in terms of his development but he may benefit from a blow. I would play:
Stekelenburg
Baines Williams Jagielka Holgate
Barry Gueye
Barkley
Valencia Mirallas
Lukaku
Matthew Williams
24
Posted 03/04/2017 at 11:25:34
Maybe the answer to our away game woes has been staring us in the face all along...
Don't play Lukaku!?
Paul Conway
25
Posted 03/04/2017 at 11:55:16
Martin Nichols @ 14
I can go with as many combinations as you want around Lukaku, Davies, Gueye and Barkley (as they are our best players), and still come up with a team that is just not good enough, against the top teams. If that's 'defeatist', then I accept the tag.
We just have who we have and, as I said before, whatever manager comes in instead of Koeman, he wouldn't be happy inheriting this lot. The only changes we haven't yet employed is letting the players wear each others under crackers.
Barry Rathbone
26
Posted 03/04/2017 at 11:58:36
Don't expect anything, lads... it's sooooo much easier.
Unfortunately, just like the RS, they have better players and a significantly better squad which, given our lack of backbone, leaves us looking forward to fish and chips on the way home as the only highlight.
Ste Traverse
27
Posted 03/04/2017 at 12:50:08
Drop Calvert-Lewinwho offered nothing on Saturday and Pennington too, who it could be argued was at fault for two of the goals at Anfield.
I'd put Holgate at the right side of the 3 centre backs and bring in Lennon as the right wing back.
Mirallas to replace Calvert-Lewin. He usually plays well against United and deserves a run in the side.
And I'd certainly 100% blame Moyes for our continued shite away record against the top teams. He totally changed the mentality of our club where that's concerned and it's still hanging over us.
Ian Jones
28
Posted 03/04/2017 at 12:56:43
Looks like Lennon is ruled out according to the press conference today.
John Wilson
29
Posted 03/04/2017 at 12:59:47
Stan Schofield,
You said Koeman is a good 'home' manager but a bad 'away' manager. I would instead say Koeman is a shit manager if he cannot manage in both aspects. It's like you couldn't have a great 'low-value building' architect and a shit 'millions of pounds' architect.
My other point is that we got slaughtered by Tottenham recently for the same reason we got hammered at Anfield on Saturday. Koeman called himself 'the master tactician' in his tweet correspondence to the International manager. However, Koeman did not make changes at Tottenham or at Anfield during the break.
Common sense says, make some changes as it is foreseeable we will get our arses tanned based on the good team's previous good half-time performance. But no, the master tactician (or master dickhead!) instead puts the same team on to a predictable thrashing and only changed things either near to or actually in the final third. You just could not make it up.
Koeman clearly cannot judge games in real time. He is far from a master tactician.
Alastair Donaldson
30
Posted 03/04/2017 at 13:03:07
I agree with Liam, 7th has been our likely finish; for any number of reasons it is a reasonable return on our recent investment. The biggest disappointment was ducking out of both cups; soon as that happened the season was effectively over.
Absolutely the right time to be using the remaining games to try different players and line-ups now and make sure the summer delivers a serious influx of quality players.
We should play on the front foot against Man Utd and be very direct, they are short at the back currently (though it's all relative!) we are doing okay from set-pieces this season.
Despite the weekend result, I found things to be pleased about... we should be proud of the number of young Brit players we have.. Reds have what 2, Chelsea 1, Man Utd will maybe have 1 against us. I for one hope we can retain a strong balance of local players...

Gareth Clark
31
Posted 03/04/2017 at 13:03:30
I agree with the line-up completely!
The only other line-up that I'd like to see is:
Robles
Holgate Jagielka Williams Baines
Davies Idrissa Barry
Barkley
Lukaku Valencia
Stekelenburg, Pennington, Kenny, Walsh, Besic, Lookman, Mirallas.
Guy Hastings
32
Posted 03/04/2017 at 13:16:19
Ste (#27) – like taking a slap to a gunfight.
Patrick Murphy
33
Posted 03/04/2017 at 13:27:18
As we approach another fixture against one of the so called 'Big Six' tomorrow, I have compiled a table to show how we have fared against those teams since the inception of the Premier League and grouped the results into five season chunks.
The home record is OK I suppose given the disparity in finance and sponsorship but it isn't going to be enough to propel us into a 'major force' if it continues in a similar vein in the next five years.
Everton's Home record versus Big 6
Seasons PL W D L PTS PPG
92-97 29 8 10 11 34 1.17
97-02 26 5 10 11 25 0.96
02-07 30 9 6 15 33 1.10
07-12 30 11 7 12 40 1.33
12-17 29 10 11 8 41 1.41
Tot 144 43 44 57 173 1.20
The away record at these big six venues is a complete bugbear to all Evertonians and needs to radically improve. don't ask me how but someone at the club needs to address the issue.
It is Everton's record against these teams that will dissuade new sponsors and finance and similarly if the club can find a way of taking more points from those six it will attract finance and sponsorship.
Everton's Away record versus Big 6
Seasons PL W D L PTS PPG
92-97 29 6 8 15 26 0.9
97-02 26 1 5 20 8 0.31
02-07 30 2 8 20 14 0.47
07-12 30 6 9 15 27 0.9
12-17 28 1 10 17 13 0.46
Tot 143 16 40 87 88 0.62
Everton and its fans cannot continue to dismiss the results at those grounds as only to be expected. The club has to try and improve those results year on year; if it can't do that, then it has to find a way to beat the other dozen clubs more regularly and start turning draws into wins, particularly away from Goodison.
'Super Seven' encounters 2012-17:
Team PL W D L PTS PPG Win%
Chelsea 57 27 19 11 100 1.75 47
Liverpool 60 22 23 15 89 1.48 37
Man City 58 22 17 19 83 1.43 38
Man Utd 55 21 15 19 78 1.41 38
Spurs 58 16 20 22 68 1.17 28
Arsenal 57 13 23 21 62 1.08 23
Everton 57 11 21 25 54 0.94 19
It will be interesting to see what those tables look like in five years time. We all hope there will be a significant improvement; however, a victory at Old Trafford tomorrow wouldn't go amiss in raising our collective spirits.
Tom Bowers
34
Posted 03/04/2017 at 13:28:24
Had to feel the season was over as soon as Seamus got injured and then the double whammy with Funes and then Morgan still out.
Everton have to stop the crosses from Young and Valencia who are basically 2 wingers. Everton do not possess any aerial prowess in defence and the fullbacks Baines and whoever will not be able to get downfield much.
I see another vain effort to contain and once they concede it will be game over. Enough said about the negative side but Man Utd are due to lose, aren't they? Why not Everton to win?
Alan McMillan
35
Posted 03/04/2017 at 13:32:45
Patrick - fair play for pulling those stats together, takes time to do it.
Just shows our mindset towards these games is completely wrong. That can only be changed over time; how we need someone to lead by example on the pitch in these situations, to pull everybody up to the level we are capable of.
Winston Williamson
36
Posted 03/04/2017 at 13:45:43
I think the predicted line-up is the one which will play. However, I'd like it to be this:
Robles
Kenny, Holgate, Jagielka, Baines
Barkley, Gana, Davies
Mirallas, Lukaku, Lookman
Charles McCann
37
Posted 03/04/2017 at 13:48:12
Hopefully Koeman has learned from his mistakes at the weekend. We need to go back to four backs, five in midfield, and Lukaku up front.
I don't want to see Barry back in the team. For me dropping him against Liverpool was the only decision koeman got right. Barry came on with roughly half an hour to go at the weekend and what positive impact did he have? Absolutely none.
Although Barkley didn't have a great game against Liverpool, he has the talent and playing a bit deeper, alongside Davies and Gana in midfield, would work well with Mirallas on the left and either Valencia, Lookman or Lennon (if fit) on the right. Holgate is capable of playing right back fine.
This Man Utd team is there for the taking but we need to have a right good go at them and not sit back inviting them on to us.
Minik Hansen
38
Posted 03/04/2017 at 14:00:30
Stekelenburg will probably start. One way to go get 'em, and that's the right attitude to the game, COYB.
Eddie Dunn
39
Posted 03/04/2017 at 14:08:17
It was a strange game at Anfield, for our defenders. Not only were they having to play without Seamus, and using the 3 at the back or 5 at the back, as it often looks if your wingbacks don't get upfield. The other problem was zonal marking against a team without an obvious centre forward. Mane was coming from deep, as was Firminio and Coutinho.
When our neighbours made the Origi switch we were caught napping as suddenly we had a more orthodox striker to deal with.
Man Utd with Zlatan leading the line, should be more obvious in their play. I doubt that our bumbling backline will have the brains to deal with him, especially as he is better in the air than any of our lads.
We seem to get caught out by any off-the-cuff play. The Alli goal at the 'Lane, Origi's stroll through the middle, and anyone running from deep.
I have no confidence in our ability to defend against decent teams; our only hope will be to pick an offensive selection and score more than them.
Jay Wood
40
Posted 03/04/2017 at 14:17:01
Good stats compilation again, Patrick, to add to yesterday's table of performances against the top sides you produced. Thanks.
Stan Schofield, you are starting to repeat in all your posts now the idea that, based on this season's results, Koeman is a good 'home' manager, but a poor 'away' manager. That is too simple a correlation to make, based on less than a single season's results to date.
Since football was invented in 1992-93 and the advent of the Premier League, Everton's average number of away wins over 25 seasons is just 5 per season. Koeman is currently 1 over par with only 4 wins and needs 1 more level to be level par.
Our best ever away wins return was in the Premier League era was 9 under Moyes in 2008-09. We also recorded 8 wins under Moyes in 2007-08 and again in Martinez' golden debut season in 2013-14.
Those are exceptions to the norm. Typically, we achieve only 4-5 away wins per season. In his 2 seasons at Southampton, Koeman oversaw 7 victories on the road in both seasons. Comfortably above Everton's 25-year average.
I don't disagree with you that the performances, selections and tactics employed by Koeman thus far away to the better teams in his time at Everton have left a lot to be desired.
This both disappoints and puzzles me. Why the latter? Because in his 2 seasons at Southampton – as already demonstrated – he achieved above average away wins when compared to Everton's away record. He also achieved impressive away wins away to Arsenal, Man Utd (twice), Chelsea and Spurs with Saints. And they weren't fluked either. The victories were fully merited.
I would argue (as you frequently do, when comparing Everton to Liverpool) that in the same time scale we had, and still have, better players than Southampton. And yet, arguably the 'lesser' team bettered the 'better' team's away record under Koeman.
That doesn't suggest to me he is a poor away manager as you claim. Rather, it encourages me to believe he is a manager capable of getting results against the very top teams on their patch.
That he hasn't achieved that yet with Everton is indisputable. That he is incapable of ever doing so is open to debate.
Jay Harris
41
Posted 03/04/2017 at 14:29:26
I propose a totally different approach.
We put Pennington and Holgate on as sacrificial lambs to start a fight with Ibrahimovich and Pogba respectively so they all get red carded.
Our remaining 9 would then be a good match for their remaining 9 and we have much more goal threat than they do.
Simple this management lark, isn't it?
It is still April 1, isn't it, as I have a blank since Saturday morning.
Phil (Kelsall) Roberts
42
Posted 03/04/2017 at 14:29:49
Ste (#27),
Totally agree – we need the attitude we had pre-Moyes. I really missed those "flirting with relegation" seasons and so upset with this "we are no longer good enough to be below the top 7" attitude. I really hated the "let's get to 40 points first and see where after that" than the "let's see how close to June we can be before getting to 40 points" attitude the club has prior to his arrival.
Denis Richardson
43
Posted 03/04/2017 at 14:31:32
This is a massive game for Man Utd, one they have to win to gain ground on the RS and City if they have any ambitions on Champions League next year via the league. They're aren't any 'big' sides left in the Europa League but I can't see Mourinho giving up on top 4 just yet.
Our top 4 ambitions are pretty much over after Saturday, so the pressure/unrealistic expectation is off to an extent on that front. Hopefully that means we can be a bit more relaxed and not suffer the rabbit in head light syndrome we normally do in the derby. However, it's going to be a big ask to come away with a win with Zlatan back.
Hoping for the best but can't see us getting more than a draw at best.
James Stewart
44
Posted 03/04/2017 at 14:59:16
Stekelenburg has to start – you can't play Robles after Saturday:
Stekelenburg
Holgate Williams Jagielka Baines
Gana Barry Davies
Mirallas Lukaku Lookman
Rick Tarleton
45
Posted 03/04/2017 at 15:19:03
Lukaku needs another player up-front who'll do the running and create some space for him. Valencia or Mirallas look the best option. I rather enjoyed Guy Hastings acidic aside about Lukaku.
A back four: Holgate, Williams, Jagielka and Baines. Three in front of them Davies, Gueye and Barry and then Barkley, Lukaku and Mirallas playing up-front. Lookman is the wide player on the bench to provide an alternative.
Incidentally, anyone notice Deulofeu played in a friendly for Spain? Glad someone's got some faith in that lad.
Mick Davies
47
Posted 03/04/2017 at 15:44:19
Peter Laing @ 23, well done, you win the stupid post of the day award: Stekelenberg? Does Chelsea and 5-0 ring any bells?
Just noticed, you have to share the award with James Stewart @ 44
Sean Patton
48
Posted 03/04/2017 at 15:58:50
The Premier League... where anything can happen, right?
Just not when Everton are involved, as Patrick's post points out.
We all know the script here: Zlatan returns and leads the home team to a comfortable and routine victory.
Jamie Crowley
49
Posted 03/04/2017 at 15:59:00
Look here, if Lookman doesn't get a look-in I'm going to look at Koeman at ask him what the hell he's looking at. You don't have to look very far down the bench to see Lookman needs a look.
Look it up. He's worth looking at as we look on at Everton looking to take three points in a hostile-looking environment.
Looking at this last weekend's heartache, I'm looking at having a go at Man Utd, with Lookman terrorizing a poor-looking defense.
Denis Richardson
50
Posted 03/04/2017 at 16:02:44
James 44, you'd go with Jags, Williams and Barry in the starting line up? Likes of Martial and Rashford will have a field day running at those three. Barry will be carded within the first 10 mins.
With Funes Mori out, we probably have to start Jags and Williams; if they start, I personally wouldn't be adding Barry. I'd go for:
Robles
Holgate, Jagielka, Williams, Baines
Gueye, Davies
Lookman, Barkley, Mirallas
Lukaku
Barry to come in later if needed. United have load of injuries too and need a win so we need pace in the side.
Jamie Crowley
51
Posted 03/04/2017 at 16:04:38
Jay Harris,
Your hockey-easque goon squad of Pennington and Holgate is a great idea.
A five-minute major penalty with multiple trips to the box would definitely through Man Utd out of their game.
Raymond Fox
52
Posted 03/04/2017 at 16:04:38
James to my eyes the 3 goals we conceded were all spot on shots, I cant blame Robles for not stopping any of them.
Obviously you think otherwise, the defenders are the ones to blame.
Dave Abrahams
53
Posted 03/04/2017 at 16:05:05
Remember the semi-final against Liverpool about five years ago when we never performed (again), never tested the Liverpool goalkeeper, Jones, who was a less than average goalie...
Well, the next week, we went to Old Trafford and scored four in a 4-4 draw, this without Baines who was top class at the time. Maybe we can have a good go at them tomorrow even though it is three days too late... I wouldn't be surprised, we always do things back to front.
Brian Wilkinson
54
Posted 03/04/2017 at 16:20:47
Every fan is entitled to an opinion, I am not making any predictions, I took enough flack on a different thread a few days back, but if some think resting Davies and bringing Stek back in, that is their choice, we cannot all agree but some posters should not be so quick to jump in and condemn the posters.
We are all Blues, we all want Everton to win, whatever different line-ups fellow Blues select, then although we may or not agree with the selections, that is the posters choice.
What I will say is the starting 11 owe the fans and the club big time; tomorrow night will do for starters.
David Graves
55
Posted 03/04/2017 at 17:03:05
Good on you, Brian!
You never know your suggestion could have made a difference. Couldn't have been any worse could it.
You did take some stick so it's good to see you still posting.
Peter Laing
56
Posted 03/04/2017 at 17:16:17
Mick at (#47), you may think my suggestion regarding changing the goalkeeper is stupid – but it's my opinion. For the record, I personally don't think Stekelenburg or Robles are the answer, both are average at best.
I do however believe that Robles was very poor against the Shite, poor positional play and dreadful kicking. He was also poor at Tottenham and therefore, in my opinion, does not deserve to keep his place. Koeman needs to sign a top class keeper during the Summer with Robles used as back up at best.
Brian Wilkinson
58
Posted 03/04/2017 at 17:21:34
Your choice Peter@56 you are entitled your opinion, Think my Derby post selection above I posted on another thread puts you behind me for team selectionbaffles by some posters.
Jay Harris
59
Posted 03/04/2017 at 17:36:50
Brian, I totally agree.
I said before Saturday's game that it didn't matter what team we put out as long as we showed up. We didn't show up as a team, so the selections did matter and the kids got roasted. I just hope Ron can lift them sufficiently to give Man Utd a game.
They are getting hell from their own supporters for not winning enough games so there will be plenty of pressure on the special one and his spoilt brats for this one.
I agree with those posters who say have a go at them. With SuperKev and Lookman exploiting the wings and Barkley, Gueye and Davies filling the midfield, we just need the rearguard to perform.
Keith Monaghan
60
Posted 03/04/2017 at 17:48:07
Frank @ 21 - Agree totally with you selection. All the criticism of Rom is totally unfair – Barkley gets off far too lightly just 'cos he's a scouser.
We had other problems at the week-end particularly in central defence, but we have no real options to replace Williams (& maybe Jags). It's so common that Ross dwells on the ball far too long, makes awful decisions, and hides - most of his ground-covering is very ineffective as the only time he goes close enough to an opponent he makes crazy tackles – he's NOT a team player and needs replacing.
One point of disagreement is I can't realistically see how Besic can be match fit for aa game like this after such a long lay-off & no prior but brief first team run-outs.
Mick Davies
61
Posted 03/04/2017 at 17:49:29
Jamie @ 49 and Denis @ 50, I agree entirely about Lookman. He looks dangerous every time he gets the ball near the opposition area. I think he has much to learn about spotting players in better positions to score but that will only come with games. I wish he'd have been on at Anfield instead of Calvert-Lewin.
Steavey Buckley
62
Posted 03/04/2017 at 17:52:09
Mick, it does appear Koeman has had second thoughts on Lookman, who looks a little out of his depth, so has not had a look in recently.
Brian Wilkinson
63
Posted 03/04/2017 at 17:54:57
Robles had a poor game, but there again a nudist camp got more cover than the defence in front of him.
Peter may have a point in regards to Stekelenburg, I would give Robles another chance; yes he was poor on Saturday but so was the entire team. He's performed well since coming in so only on that basis would I stick with Robles.
I see where you are coming from Peter, but I think Robles should have a chance to redeem himself, with Stekelenburg on standby for the Leicester game if we have to make a change.
Mark Morrissey
64
Posted 03/04/2017 at 17:55:39
Keane, Maguire and Van Dijk. Get em all in and off load Jags and Williams and then we might have a fighting chance. Problem is, all the top 6 also want them and will snap em up and so who will be left for us to get? We have to be quick off the mark in the summer or we'll be fooked again.
We so dearly missed Seamus and Snidey on Saturday. We are paper thin on quality but hopefully they can turn it round against Man Utd. Ross needs to turn up and stop worrying about what the press think of him and just play his game. As always, I fancy our chances. 1-2 to the Mighty Blues!
Ian Jones
67
Posted 03/04/2017 at 17:57:30
I still haven't seen the match yet. Only the goals so cannot comment on individual performances but I was pleased Koeman had started with the younger players. You never know how good they can be until you try them. If we had drawn or won then I assume no-one would have bothered too much and we would have wondered how much we could have beaten them by with our first team.
I would be happy with 3 points out of these 2 games so we better beat Man Utd.
Ciarán McGlone
68
Posted 03/04/2017 at 18:06:41
I think that people are getting over excited about Davies. The kids only 18 and has a long way to go but the degree of expectation from our fans is frankly unwarranted and potentially detrimental.
Kieran Kinsella
70
Posted 03/04/2017 at 18:19:52
Ciaran
I agree. With that said, he's had a sustained run in the team unlike the "diamonds" Dowell, Ledson and Baxter who were all over hyped aged 15. Davies slipped under the radar till he made his debut but we should expect he will have ups and downs as a young kid.
Jamie Crowley
72
Posted 03/04/2017 at 18:42:01
@51 -
Can't spell. Throw, and esque... I think. It's Monday and my brain isn't working.
Regarding Davies, there's no question he's one hell of a talent. I've not been this excited about a young player since Stones chipped the keeper in that preseason friendly here in the States.
He's going to have an off game now and again. It's not Tom Jesus Davies, just Tom Davies. Despite having a similar hairstyle to The Savior, he's just a boy. One who will provide a lot of happiness over the years I think.
Evertonians are really tough on their own. Not quite "eat your own young" tough, but pretty damn tough. I think this kid is thought of highly will be allowed the requisite patience needed for him to mature.
Jamie Crowley
73
Posted 03/04/2017 at 18:44:34
And he just signed a new contract? That's outstanding.
David Hallwood
74
Posted 03/04/2017 at 19:03:25
What makes the derby result even worse, is that all the top 6 Spurs & the RS apart dropped points and if (if, if, if) we would've won, we would've have jumped to 5th just 3pts behind the RS grrrrrrrrrrrrrrrrrrrr.
But onto Tuesday, I agree with Lyndon's line up, obviously Koeman must see something in Calvert-Lewin to pick him before Mirallas, because on Saturday there was just too many kids playing in an unfamiliar system-I watched the derby again and we were all over the place with no discernible pattern.
I'll go for a spawny 2-1. COYB
Darryl Ritchie
75
Posted 03/04/2017 at 19:16:05
Robles had an off day, so did a lot of Toffees, but Stek is now his backup for good reason. Stay with Joel, and hope everyone in a blue shirt ups their game.
Peter Laing
76
Posted 03/04/2017 at 19:20:53
On the evidence to date, we are outclassed by what has become the top six – Man City results aside. To aspire to be better than 7th then Koeman will have to radically change the spine of the side. New GK, two new centre-halves, a midfield playmaker and probably two forwards.
Personally I cannot see Lukaku staying beyond the summer and there is a huge question mark hanging over Ross Barkley with a contract on the table remaining unsigned.
We have made progress on the last 2 seasons under Martinez and Koeman was very shrewd in January making a cull of the bit part players who were contributing little. Koeman will know where the deficiencies are in the team and we could also be looking at two new fullbacks given the nature of Coleman's injury and Baines's decline.
Hopefully Koeman, Walsh and Moshiri have their targets and a plan of how they will execute player recruitment. We are in a healthier and leaner position than this time last season and a last push is required to consolidate this season and look with optimism on next.
Bobby Mallon
77
Posted 03/04/2017 at 19:25:25
It's time to play 4-5-1 with what we have left.
Stekelenburg
Holgate
Williams
Jagielka
Baines
Mirallas
Gueye
Barkley
Barry
Lookman
Valencia.
I would drop Lukaku; he does fuck-all in the big games... especially away from home.
Paul Birmingham
78
Posted 03/04/2017 at 19:29:25
There's no point now in going over the car crash of a game against them last Saturday.
Lessons surely will be learnt i.e. Don't play unproven Rookies i.e. Calvert-Lewin and Pennington. in terms of defence based on the U23s games, I've seen, the better player in defence is Matty Foulds, no nonsense but he does the defensive job.
Neither who played against the RS,looked good enough; it was a practice match for the RS stackers in my view and whilst I'm happy to be proven wrong, and I hope, I am, I can't see neither cutting it in the Premier League.
New game fresh hope, play Mirallas , and no choice but to play Barry,he will try at least, but if we attack and press, basically do all the things we didn't do against the RS, then I'd take a good fighting performance as the team owe us one after the sham, against the RS.
Let's be positive in what has been a tough few days. Can we nick an early goal and get in their heads and turn the crowd? We've done it in the past...
Anyone know who's the ref tomorrow? Cheers.
Dave Ganley
79
Posted 03/04/2017 at 19:30:50
Can't believe the amount of people putting Saturday's result entirely down to Koeman. Lot of sages after the event. How many posts pre game stated Barry must not play? How many posts suggested that barge line up, like the look of it? Quite a lot actually.
With hindsight there is no doubt that Koeman made errors in selection but did Koeman tell Barkley to take every wrong option bar one? Did Koeman instruct Lukaku to play musical statues all game? Did Koeman tell the defence to totally ignore Coutinho and let him run? Did Koeman say midfield completely collapse and let the RS have the run of the place? No he didn't.
Players didn't perform and didn't do any kind of job regardless of tactics. It was a terrible day all round from the players, they have been doing this for years now and seemingly getting away with it. Against decent opposition some, well most really, are just not good enough at the moment.
I take absolutely no joy in saying these words, I hope they ram these words down my throat tomorrow. We are about right in 7th place, an average RS team took us to the cleaners. Bastards even have a song about us never winning the fucking derby again. The players and Koeman owe us, again for a shit performance against a top 6 club. The Mancs are there for the taking, as the RS were, but even have to start taking these opportunities.
I guess Barry will play tomorrow, so line up would be
Robles
Holgate Jags Williams Baines
Gana Barry, Davies
Mirallas, Barkley,
Lukaku
Some of those players only play as we have no one better.
Summer is so important now as to what direction we are heading.
Bobby Mallon
80
Posted 03/04/2017 at 19:48:03
Dave @79: no, he did not tell the players to play the way you report it. But he, and only he, has the power to change it and he did not.
He did not take off the statue that was Lukaku; he did not take off headless chicken Barkley, and he did not take off caught-in-the-headlights Pennington. So yes, it was down to him.
Brian Williams
81
Posted 03/04/2017 at 19:51:55
Summer is indeed important and we'll have to spend, spend, spend.
Keane and Maguire at the back, Sigurdsson for midfield, and Lacazette up front whether Lukaku stays or not. If we were really going to push the boat out, I'd add Luke Shaw and Trippier and that would complete a brand new back four. All the players mentioned would be bought as first 11 and not squad players with a lot of what we have already being squad players or moved on.
That's a total of six new players with the likes of Niasse, Cleverley, McGeady, Jagielka, possibly Deulofeu moving on. Wishful thinking? But of course.
Dave Ganley
82
Posted 03/04/2017 at 20:21:03
Bobby, I never said Koeman was blameless and he should have changed the system, but if we're talking about underperforming players then he could have changed nearly the whole team. Where do you start?
Maybe Koeman was like a chicken in the headlights himself by the shear ineptitude of the players, damning if true but wouldn't surprise me given how bad they were.
The reason I'm so angry at the players is because I genuinely thought we'd turned a corner. I assumed the Spurs game was an anomoly by changing a winning team and changing the successful midfield to include Barry. I was wrong, the players are just not good enough at present to compete at the top table.
Who would you have put on? Valencia on his own? We have seen that and it doesn't work, he is not a solo striker. I would have replaced Barkley with Mirallas but who knows if that would have worked. What about the shambles of a defence? There are only so many subs you can use.
Ian Horan
83
Posted 03/04/2017 at 20:21:24
Bobby @ 80, for Koemanto address the all round abject performance he would have needed roll on roll off subs like kids mini soccer.
He had a very poor hand going into the game. The RS game changes, Mane and Coutinho, punished us for being naive. Our game changers, Barkley and Rom, shouldn't have bothered getting changed.
Brian Wilkinson
84
Posted 03/04/2017 at 20:37:17
Bobby@77 good shout for your forward line.
Bill Gienapp
85
Posted 03/04/2017 at 20:44:29
All I'm getting from this thread is that everyone seems to know precisely what Koeman should do on Tuesday and that everyone is contradicting one another in the process. Business as usual then, LOL.
Kieran Kinsella
86
Posted 03/04/2017 at 20:49:39
Joel is not crap as some suggest, he's an average Premier League goalie. He looks decent compared with many goalies but he's not top six caliber.
If we want to crack the top six, we need a better goalie or we can just about get by with him if we do a Man City and spend £300 million on better outfield players.
Martin Nicholls
88
Posted 03/04/2017 at 21:29:12
Phil (#15) – keep up mate! This thread is about tomorrow's game, not last Saturday's!
Rob Halligan
89
Posted 03/04/2017 at 21:53:32
For what it's worth, my team would be:
Robles. Holgate, Jagielka, Williams, Baines. Gueye, Davies, Barkley, Mirallas, Lukaku, Valencia.
Ray Roche
90
Posted 03/04/2017 at 22:26:51
Paul (#78),
"Anyone know who's the ref tomorrow?"
Some dickhead with a whistle. Probably with a Man Utd shirt on under his top and a love letter for Maureen in his arse pocket.
Jay Wood
92
Posted 03/04/2017 at 22:49:59
Koeman in good form in his pre-match presser today.
A few pounced on his 'proud' comment after Saturday's game and gave him grief for it. He stands by and explains his comments more today and is deliciously dismissive about pundits and journos.
"I know what we are doing. I know the problems we had before the game. The team was different from the one I would start if all the players are available. I try to be realistic about the situation, the team, the progress of the team, the project of Everton. It's only one game. It's [not good] to take conclusions from only Saturday.
"I don't like [individual criticism] of individual players. It's a team. The team was not good enough, but I was proud. I was really proud. That is not to defend my team. I'm a football manager who sees football realistically. It's easy to give your opinion in front of the TV without any responsibility.
"I'm happy. I see a lot of progress in the club, in the team. It's a whole season, not one game. Some players didn't perform to the level of the last few games (he mentions Rom and Ross). [They] can't always be a '10', but that's football. If you don't play football, you maybe don't understand it."
On the MON spate, he is very dry on why he got embroiled: "To defend the club. To defend our medical team. I'm the right man to do that. And it's my responsibility, not yours" (to journo).
On the playing of young players and how much they will have learnt from the game, he first corrects the journo by saying, including subs, we had 6 players, not just 4, 22 and younger in the match day squad. "Maybe it's something to see, rather than expecting a championship team."
He goes on to say: "Everyone talks about the Everton academy. I'm the right manager to give them opportunities because I'm Dutch. I'm not afraid to give chances to young players."
Deliciously phlegmatic, IMO. Nicely handled.
Mike Dolan
93
Posted 03/04/2017 at 22:56:05
Given the team we have, I would say we are exactly where we should be in the table.
Given the injuries to so many key players, Saturday's result was really not that surprising. If we could have fielded a squad with Bolasie, Coleman, Schneiderlin, Funes Mori, Besic in it then we are not that far behind Liverpool but of course injuries are part of the game and you need real depth in the squad in order to compete. At this moment in our development, we need all of the stars to be aligned to compete consistently against the teams above us.
Just as an aside, do you think Rooney would have got a game for us on Saturday? Wink Wink.

Ciarán McGlone
94
Posted 03/04/2017 at 22:56:21
"If you don't play football, you maybe don't understand it"
Right lads, get yer coats.
Tom Bowers
95
Posted 03/04/2017 at 22:59:02
Everton have lost 2 games this year, both away and against top six teams. Big deal! Okay we as fans don't want them to lose any game but all teams do and we certainly didn't need another derby game loss.
It is Koeman's first season and he has turned the team slowly around from earlier in the season but has made mistakes which may have cost some games. The injuries to Bolasie, Coleman, McCarthy, Schneiderlin and Funes Mori have put a blight on the season which we thought might see them get into the top four; that is just a dream now.
They have some aging players particularly on the defensive side of things which have to be addressed before next season. Keane would be a good man to get for starters. We don't know what Rom will do and Valencia will probably be sent back to the Hammers.
The big question will be who will step up offensively? We have some exciting youngsters emerging, Calvert-Lewin, Lookman and Tom Davies plus Pennington and Holgate at the back.
We have been optimistic at the start of many a new season in recent years but this next one may indeed have more promise than any of those. If Rom goes, then Everton will get a huge fee which can be used towards getting Keane and another target striker.
Frank Thomas
96
Posted 03/04/2017 at 23:21:54
Maybe Matthew (24) has a point maybe we should leave Rom out from the start and play Valencia and Mirallas and bring Rom and Lookman on after the 6th minute. Their defence may then be tired leaving us a chance to bag a few goals using the subs pace.
This game is a must win for them. Correct me if I am wrong but they signed a 㿷m per year shirt contract and if they fail to qualify for the Champions League for 3 years (?) then the sponsorship drops to 㿏m p/a for the whole 10-year period. They would lose 𧹈m.
Stan Schofield
97
Posted 03/04/2017 at 23:53:16
John@29: I agree. He needs to sort himself out.
Stan Schofield
100
Posted 04/04/2017 at 00:17:32
Jay@40: You're correct, I'm quite wrong to say Koeman is a good home manager, etc. I'm guilty of not being specific enough.
What I should have said is that it appears from results to date that Koeman is a very good 'home manager' for Everton, but a poor 'away manager. I'm looking only at his management of us, no other teams in the past, and should have said so.
Gordon Crawford
101
Posted 04/04/2017 at 00:22:37
It would be great if we could turn up and put on a show for the fans, but I highly doubt it. I think we will get beat 2-1.
In saying that, what do I know, Ronald seems to think that, unless you've played at that level, then you can't really comment.
Tony Kost
102
Posted 03/04/2017 at 00:33:37
I haven't read many of the current posts (sorry if repetitious then!) .
It's one thing losing these "big games" – Liverpool, Spurs, Chelsea – but it's the manner in which these games were lost.
Poor tactics; poor team selection; lack of ability to adapt. Losing is one thing, but the team has to give some hope to the fans that they can compete at that level with the better teams.
Seventh is the best we can hope for this season – the top 6 is a separate league within a league.
Koeman has to show that he has learnt from the Anfield capitulation – and picks a better team and formation to compete against Man Utd.
Thank you and goodnight! COYB

David Booth
103
Posted 04/04/2017 at 00:38:46
Well isn't this just the wrong team in the wrong place at the wrong time?
Had we got a point at Anfield we could go to Old Trafford with a fair measure of confidence and expectation. However, having been exposed and our well known shortcomings revealed for all to see, one would have to be a blind optimist to expect anything from tonight's game.
If we plan, prepare, and play like we did on Saturday, it is going to be an embarrassing night. But, if we dare to try something different – In an effort to finally break the hoodoo we self-impose on ourselves – it could be quite a revelatory evening.
So I would advise going back to experience over youth, switching to a back four with HOlgate at rigt back; stiffening up the midfield with Barry alongside Gana; putting Tom Davies on the bench to use for impact if necessary; and giving Lukaku some much-needed support up front with Valencia to help occupy the centre halves and Mirallas as a wildcard to unsettle the defence with pace, directness and eye for goal.
If we play our usual, predictable way, there will surely only be one outcome: a dismal, dour, spiritless, clueless, déjà vu defeat.
So time for Ronald to show us what he's made of again, ditch what is becoming our customary caution against 'big teams' and shake things up.
Playing two up front with Lukaku will surely give him the space and opportunities he needs. Putting Barry in midfield will solidify it and give Barkley a springboard to exploit the space in front of him. And the back four will benefit from a narrowing of the space between them and the next line of defence.
That being said, Ibrahimović will of course score on his return, so we will have to be on top form. Another dull defeat could really take the last remaining wind out of our sails for more than just a game or two and we cannot afford that to happen.
If we drop off now, and West Brom overtake us, it really will be a calamitous end to the season. One hopes we are better than that and if ever we needed to draw on the confidence and belief gained from our results so far this year, this is the time to do it.
So, once again, Evertonians will be praying for the players to show what they're made of. If they can't/don't, then it really will be proof that they are not good enough. I believe they are and fervently hope that the bitter pill we had to swallow on Saturday will be spat out in style.
But do the players have the will, grit and determination to match the fans' expectations? I believe it is possible. But they need to believe it too – and there lies the key to anything we aspire to in the future.
David Israel
104
Posted 04/04/2017 at 00:59:33
Here's a piece of good news, lads: I'm taking my grandmother to Old Trafford. She says we always won there when she was a young lass and Bobby Charlton was still playing. I'm sure that is the only way we can win this game. Not that I am superstitious or anything, of course.
Hugh Jenkins
105
Posted 04/04/2017 at 07:08:09
David (#103) – you propose a team that is supposedly the mark of a new "cavalier" attitude for Everton. But the personnel you propose for this are mainly "tired old men" or "not quite made it at the top" performers.
Last Saturday was cavalier – okay, the team didn't make it first time out – but that surely was not expected? However, to drop Davies to the bench, not give Pennington another start and start falling back to Barry and Valencia is going to send all the wrong signals to our youngsters.
Okay – maybe changes have been forced on us through injury, but after Saturday, realistically our hopes of top 4 have gone for this season, so isn't is as wise to keep blooding the youngsters, give them the experience now – this season, so that they are more prepared for next season?
I have a feeling that the season may end like this:-
We, will finally finish 6th.
The RS will finish 4th, but Leicester, under Shakespeare, will confound the world once again, and win the Champions League.
This will mean that the RS despite finishing 4th, will go into the Europa League – with us at 6th place getting the final Europa League spot arising because both cups have been won by teams finishing above us in the league.
Schadenfreude for us – after years of suffering.

Darryl Ritchie
106
Posted 04/04/2017 at 07:22:14
I see the ref is Neil Swarbrick. I don't know anything about him. Is he good news or bad?
Will Mabon
107
Posted 04/04/2017 at 07:40:50
"I would drop Lukaku; he does fuck-all in the big games... especially away from home."
Excluding of course that near-solo goal off Bolasie's flick at The Etihad, after running half the length of the pitch and then around the outside of Clichy.
Mark Boulle
108
Posted 04/04/2017 at 07:45:46
Just our bloody luck that, as injuries rip the heart out of our team, we have to play them as a refreshed Ibrahimovich and Pogba return to their side! No hopes whatsoever for tonight. I'm assuming defeat... anything less will be a very pleasant surprise.
Dave Pritchard
109
Posted 04/04/2017 at 08:03:04
David (#104), even if Bobby Charlton was brought in to their midfield now we would probably still lose.
Liam Reilly
110
Posted 04/04/2017 at 08:40:20
Our away record against these sides is atrocious, especially in recent years, but it's not a like-for-like comparison between Everton and the likes of Southampton for away results because these sides are always up for games against Everton.
The games against Man Utd, Man City and Liverpool are all derbies and it's rare to see the London clubs rest anyone against Everton either.
Call it respect or whatever you want, but I believe that the tide is turning slowly with Koeman and Moshiri at the helm.
Mark Hughes
111
Posted 04/04/2017 at 08:41:56
Super Kev should get 30 to 60 mins every game.
Rob Dolby
112
Posted 04/04/2017 at 08:43:09
Too much negativity on here about the young lads who are trying to break through. Pennington, Calvert-Lewin and Holgate and Davies were not helped with the formation chosen which played into the RS hands. From the old guard, only Baines and Jags had half decent games.
Even with a full strength side tonight is going to be tough. Stekelenburg has to come back in, Play a flat back 4 of Baines, Williams, Jagielka, Holgate. 5 in the midfield with Barkley, Mirallas, Barry, Davies and Gana, with Rom up top.
I can't believe someone earlier suggested dropping Lukaku; what planet are some people on?
Stephen Wissett
113
Posted 04/04/2017 at 08:49:40
For me, the team was unbalanced on Saturday, and too many players were playing out of their natural positions. Holgate was poor as a make-weight right wing-back. I would play tonight:
Stekelenburg
Kenny, Jagielka, Williams, Baines
Gana, Walsh, Davies
Mirallas, Barkley
Lukaku
If you are going to play the youngsters, play them in the positions they are used to playing.
Ernie Baywood
114
Posted 04/04/2017 at 09:18:36
Rob, I don't blame individuals. It's a team game. What are the odds that all our players just have an off-day at the same time as Ronald seems to be claiming? We saw this under Roberto too – it became impossible to judge players because the tactics were just so rank.
I'll stick with my view from before the derby. If you're going to go all out defence and play narrow in midfield, then don't bother picking Romelu. He's a passenger in that style of play. But obviously, that style of play is shit and results in defeat every time we do it in the big away games... so don't do it. Include players who will attack from wide positions, give Ross some options and Rom some support.
There is literally nothing left to play for now so hopefully he finds his balls and has a go. No shame in losing to a better team, Ronald. Plenty in not even trying to compete.
Scoreline prediction. We'll lose. I just hope we give a good account.
Clive Rogers
115
Posted 03/04/2017 at 09:19:32
It is time for Williams to be dropped after his last awful performance. I would play Holgate there and Jonjoe Kenny at fullback.
Clive Rogers
116
Posted 04/04/2017 at 09:24:29
Robles has to be dropped also.
Gordon Crawford
117
Posted 04/04/2017 at 09:54:47
It's funny how people see football matches. On Saturday, Ross got crowded out every time he got the ball. At times, this was his own fault due to his first touch being heavy. But Rom can also shoulder some of the blame as he didn't make the runs into space that Ross needed. In the second half, Ross was slightly better, but Rom was non-existent.
Robles made a glaring mistake on Saturday, but overall he has been very good. I would keep faith with him for now. Koeman said he played a back three at the weekend; the players must not have got that memo then as that was a back five. Tonight, I would go with 4-4-1-1 and see what happens. The one thing I want to see tonight is fight and the desire to put Saturday right.
Tony Kost
119
Posted 04/04/2017 at 10:18:42
David Israel – good luck with your Grandma.
I tried to get mine in – but I couldn't conceal the urn!
Kevin Tully
120
Posted 04/04/2017 at 10:46:25
It's funny how some people want to defend our record (especially in the Premier League) playing away from home to these teams. I've heard wages, transfer fees, net spend, better manager etc used as an excuse as to why our record is so dire. In fact, it's beyond dire now, and going into embarrassing territory.
Does anyone think when these sides play Everton they are all at their 100% best? They have no injuries, there is no fatigue from playing in Europe as most of these sides do? You could guarantee any one of Liverpool, Chelsea, Arsenal or Man Utd could go to the far reaches of Russia in mid-week, pick up a ton of injuries, have to play their second string and still fucking beat us!!
That's got nothing to do with wages, or net transfer spend. There is a deep-rooted inferiority complex that's manifested itself into the club psyche. Who or what is to blame is neither here nor there at this point, but I will never understand how we cannot shake it off. I remember an Arsenal reserve side playing us off the park in the League Cup about 10 years ago, when we had a decent side.
If there was ever a prime candidate for a club to employ a team of sports psychologists then we are the perfect example. You could get to 100 games and have a win percentage of 2%!
Robert Leigh
121
Posted 04/04/2017 at 10:54:46
I'd play Kenny at right wingback – what we missed was some pace down that wing on Saturday.
Robles (give him a rollicking too, last game or Stekelenburg is back in)
Holgate - Williams - Jagielka
Kenny - Gueye - Barry - Baines
Barkley - Lookman
Lukaku
Barry will be fine against Carrick, but part of the problem is the lack of a left footed Centre Back with experience; the right side of our team will be very raw from now until the end of the season given Holgate really has to play.
Gordon Crawford
122
Posted 04/04/2017 at 10:58:47
Good points, Kevin. That's exactly what I've been saying. It's a perfect example of an Inferiority complex. Psychological assessment might be just the ticket or a good boot up the ass might also have the same effect. I'll go for the latter.
Ian McDowell
123
Posted 04/04/2017 at 11:09:45
Kevin Tully @ 120 Absolutely spot on.
Injuries and suspensions are all part of football and shouldn't be used as an excuse, you can select a squad of 25 and that's excluding youngsters.
I'm not expecting anything to change tonight as it's not a quick fix. We unfortunately just don't have the mentality to cope with pressure or expectation.

Kevin Tully
124
Posted 04/04/2017 at 12:11:29
Here's what Carragher had to say about our players being too nice FFS!!!
"When you shake hands before the game, I'd be like a lunatic, steam coming out of my ears, wanting to get stuck in" he added "but the Everton players would be saying hello and 'Hiya Carra!' I'd be thinking, the game's kicking off in a minute, why are you even saying my name? Why are you even speaking to me?
"I wasn't saying 'Alright Ossie' or 'Alright Hibbo' or 'Alright Leighton'. I already thought we had the advantage. It's like a boxer coming out and wanting to shake hands with another boxer, and it's like 'No! I wanna punch ya!'
"I never felt that they were as aggressive or as nasty as us – in the nicest possible way – about winning those games. I always felt we had the advantage mentally and physically. I always felt that was strange."
Peter Barry
125
Posted 04/04/2017 at 12:11:48
If Lukaku fails to perform or goes on walkabout again, I am sure our 'fair minded' supporters will draw the appropriate conclusions.
Brian Harrison
126
Posted 04/04/2017 at 12:28:03
Kevin,
I don't think our players lack aggression; most of the bad tackles in the game were committed by Everton players. What we lack is quality players something we haven't had enough of since the 80s.
Yes, our record is poor against the top sides, and yes I think especially against Liverpool there is definitely a massive inferiority complex. Because even with the players we have had over the last 30 years our record should be better than it is.
As Man Utd, despite spending a fortune and Arsenal are struggling to make the top 4, that just highlights what a massive task it is for Everton to be able to challenge for a top 4 spot. What you can guarantee is that all the clubs presently in the top 6 will all again spend big in the summer.
So yes, a better mental approach to these games will help but ultimately it will come down to ability, and sad though it is, there are very very few of our players who would get into any of the top 6 starting line-ups.
Ste Traverse
127
Posted 04/04/2017 at 12:53:10
Moyes (during his tenure) and the club openly promoted that a top half finish was us 'punching above our weight' so it's no surprise we've an inferiority complex and with it a poor record against the top clubs (plus Liverpool) over many years, particularly away from home.
Kim Vivian
128
Posted 04/04/2017 at 13:00:26
Sports psychologist. Kevin – I agree and have been an advocate for a long time. We may actually have one but I don't think so... I only know of a guy called Lewis Charnock who I think works with the academy. If that's the case then he seems, as part of the set up, to be doing a reasonable job.
I am unaware if we have a senior sports psychologist but, if not, we should be looking for one. Someone of the calibre of Steve Peters who helped the RS and can include British Cycling on his CV as well as other well-known names from other areas of sport.
There was an interesting article in the Telegraph a week or so ago:-
Mind games: how footballers use sports psychology.
Also with interesting links within the article itself. This from a piece about the All Blacks struck me: "Though it might seem strange for a team of imperious dominance, humility is core to their culture. The All Blacks believe that it's impossible to achieve stratospheric success without having your feet planted firmly on the ground". It would be impossible to apply that philosophy to 95% of Premier League players.
Rom especially take note
Tom Bowers
129
Posted 04/04/2017 at 13:36:37
It's too easy to expect defeat in games like this. Everton went there a couple or more years ago and won with an Oviedo goal. A repeat today would do me.
I would like to believe that Everton will not play 2 games in a row similar and so I expect a good showing today even with missing players. So, they drop Rom. and who do we start, Valencia with Calvert-Lewin or Mirallas.
People are quick to jump all over Rom. when things go wrong and that's ridiculous. If you have a guy who can score regularly who can pick up the slack, then maybe... but Everton don't as yet.
Patrick Murphy
130
Posted 04/04/2017 at 13:39:07
I won't bore everybody with yet another table of stats, however, it is interesting to note that against the teams who are not part of the big six, Everton have a win percentage of just under 50% for the last 10 years combined taking 457 points from the 255 matches played.
Stoke City the next best team, in the second tier group, have during the same period a win percentage of circa 38% and have taken 1.46 points per game from 228 matches amassing 332 points.
At Goodison, Everton have taken 2.06 points per game from the 127 games played, amassing 261 points.
Away from Goodison, Everton have won 50 matches from the 128 matches played against those teams outside of the big six and have taken 1.53 points per game amassing 196 points. Stoke by comparison have amassed 125 points on their travels with a ppg of 1.11.
The current season shows that Everton have taken 41 points from the 21 games played with a win percentage of 57% and ppg of 1.95 against the 2nd tier teams. West Brom, the next best team, have taken 39 points from their 21 games with a win percentage of 52%.
At Goodison, Everton have taken 26 points from the ten matches played so far with 8 victories and two draws. WBA have taken 25 points from their 11 home fixtures.
Away from Goodison, Everton have taken 15 points from the 11 games played whilst WBA have taken 14 points from the 10 fixtures they have played away from home.
Unfortunately I haven't got the tech skills or the time to compare the big six teams records against the lower teams, but I would expect that they would be better than the Toffees but by how much? Therefore it could be argued that it is Everton's lack of points against the big boys that is holding us back.
However, we could and should be taking more points from those 2nd tier teams away from Goodison which would help to push the club a little higher in the table.
Craig Walker
131
Posted 04/04/2017 at 13:50:53
There's a lot of talk about us versus the RS and to me it's very simple. Our big players don't turn up and even their so called inferior players, give 10% extra.
When they had Peter Crouch up front he was scoring as they put 3 past us. When we had Wayne Rooney and we thought the tide was turning, he was being marked by Igor Biscan: result, they put 3 past us.
The flop that was Robbie Keane managed to score against us. So did traitor Barmby in his first game against us. It's in their DNA that they're going to beat us and it's in our DNA that we're going to lose.
Only during Big Dunc's first spell did I ever have any confidence that we would at least match them for commitment and effort. Last season we threw away games where we had more than a two goal advantage on numerous occasions. They needed two goals against Dortmund and you just knew they would get them.
That's the difference. They have this positive belief which permeates through the club. We have the opposite.
Most derby games turn on one or two incidents. Normally we get chances and we fluff them. I can remember Bilyaletdinov missing from about 3 yards in one game. Deulofeu had a one-on-one in the first Martinez derby at Goodison and fluffed it. Distin could have just found touch in the semi-final when we were 1-0 up. Even on Saturday we had one good move which found Holgate in space in their box and he chose the wrong option.
Saturday just confirmed everything I thought about the current Everton team in that we are weak at centre-half. Barkley is nowhere near the player we want him to be.
We don't have a good enough goalkeeper and haven't had since the days of Nigel Martyn. Lukaku never shows up when it matters.
I still trust in Koeman and think we will be a much better team once he's had time to get rid of the deadwood. He's made a good start with the likes of Cleverley, Gibson and Niasse departing. If he makes more signings like Gueye and Schneiderlin then we'll be okay. If he makes more signings like Ashley Williams, then I'll be more worried.
Ajay Gopal
132
Posted 04/04/2017 at 14:04:21
Robles
Kenny Jagielka Williams Baines
Gana Barry Davies
Barkley Lukaku Mirallas
Subs: Stekelenburg, Holgate, Pennington, Calvert-Lewin, Valencia, Kone, Lookman
The subs bench looks terribly weak indeed. At one time, I thought we had a surfeit of midfield options; now, loaning out Cleverley & McGeady looks like not such a smart move after all.
Rob Dolby
133
Posted 04/04/2017 at 14:15:07
DNA, my arse. I stand to be corrected (and very probably will be) but, if my memory serves me correctly, when Sheedy scored and flicked the V-sign to the Kop, that victory in the Screen Sports Super Cup took us above our neighbours in head-to-head contests won.
We have had 30 years of mismanagement since. No matter which way you compare it, we have been run like a corner shop.
Moshiri means business and has genuinely made us more professional. Bringing Koeman in and moving to the dock is a start; this is evolution for us, we've just got to hope Moshiri continues his interest in us.
Craig Walker
134
Posted 04/04/2017 at 14:32:04
Rob. Maybe not DNA but I stand by what I say. Even the glorious 80s included us losing 3 cup finals to them and gifting them the league away at Oxford when we'd beaten them home and away. I think the game with Ratcliffe's goal put us one ahead of them.
Brian Harrison
135
Posted 04/04/2017 at 14:49:40
I think starting Valencia has to be an option tonight; I think he has been unlucky to start so few games. Certainly Lukaku seems to enjoy the space that he gets when Valencia is on the field. I also like the fact that he is quite prepared to get beyond Lukaku, where most of our other attackers never want to run beyond Lukaku.
Seems Lookman has been frozen out of late, not even an appearance from the bench of late. He has pace which always troubles defenders; maybe give Mirallas a run out.
If Man Utd have any chance of making the top 4 then a win tonight is vital, so with Ibrahimovich and Pogba back, I guess they will throw the kitchen sink at us. Let's hope we play with a bit more belief than we did on Saturday.
Steavey Buckley
137
Posted 04/04/2017 at 14:57:27
For any team to be great, the team has to start from the back. Everton, to become a team that can beat any team in the league including the top 6, has to have better defenders and a goal keeper.
Every top 6 team Everton have played away from home this season has given Everton a tough time. Conceding 12 goals in 4 games at an average of 3 goals a game just isn't good enough.
Alan J Thompson
138
Posted 04/04/2017 at 15:00:50
Robles doesn't need dropping now but the 'keeping coach who has stopped him sliding around on his knees now needs him to get his angles right and be on his toes, not standing flat-footed having decided where it will go before it's been hit.
Brent Stephens
140
Posted 04/04/2017 at 15:05:59
Peter Barry #125 "If Lukaku fails to perform or goes on walkabout again, I am sure our 'fair minded' supporters will draw the appropriate conclusions".
And if he doesn't go walkabout...
James Hughes
141
Posted 04/04/2017 at 15:22:17
Can the team in Blue please turn up tonight and show some effort. It was all totally wrong on Saturday, so please no repeat from either the players or the manager.
On a personal note, I woke with a hangover on Sunday for the first time in over a decade, so can you please not put me through the same shite. It would be greatly appreciated.
Mike Gaynes
142
Posted 04/04/2017 at 15:29:03
Clive (#115), Robert (#121), Ajay (#132)... regarding your choice of Kenny to start at right-back... Wha??????? Based on what, pray tell?
You've never even seen the lad play, unless you've been to a Reserve game. His one senior appearance was as a sub in a meaningless game last spring.
I think we're all pretty much unanimous that Koeman's biggest error Saturday was throwing Pennington into the side for his season debut in a pressure cooker at Anfield. And now you want him to make the exact same mistake at Old Trafford with a player who has even less experience than Pennington?
In the words of the legendary Betty Boop... No. No. A thousand times, No.
Ste Traverse
143
Posted 04/04/2017 at 15:31:38
Rob Dolby (#133).
The Sheedy V-sign to the Kop game wasn't a victory in the Screen Sports Super Cup as, unsurprisingly, we lost both legs to them in that competition; it was in another 3-1 defeat to them in April 1987.
Winston Williamson
144
Posted 04/04/2017 at 16:04:35
Mike (142):
I too opted for Kenny at right-back, the reason being he is the only natural right-back fit and available. Holgate and Pennington are booth naturally centre-backs.
I understand where you are coming from; it will be a tough environment for either of the three aforementioned.
Dermot Byrne
145
Posted 04/04/2017 at 16:16:53
I fear we will lose quite badly tonight with our absentees and their players back. Win this and manager earns some praise.
Dave Abrahams
146
Posted 04/04/2017 at 16:34:54
Brent (#140), if Lukaku doesn't go walkabouts tonight, I'd say he has a decent chance of scoring. Whether his goal(s) mean we win, I'm not sure...
Lukaku has scored 21 league goals; 11 have come in four games, so he has scored ten in the other games.
If he plays on his toes, he can score; if he plays on his heels (as on Saturday), maybe not... mind you, he scored two versus Watford on his heels.
We all want him to play well and score so we can spend the hopefully huge fee when he goes.
Mike Gaynes
147
Posted 04/04/2017 at 16:46:18
Winston (#144), not sure what constitutes an "unnatural" right-back, but Holgate has done well there in two separate stretches when Coleman has been injured in the past. If I recall correctly, nine of his 11 career starts for the senior side have been at right-back.
Why anyone would prefer an untried reserve player like Kenny for a game like this is beyond me.
Barry Jones
148
Posted 04/04/2017 at 17:12:46
Guy #18. Excellent!! So funny yet sadly true.
David Israel
149
Posted 04/04/2017 at 17:15:58
Dave (#109), Mind your words, mate! You are liable to be called 'defeatist' in these here pages.
David Israel
150
Posted 04/04/2017 at 17:18:53
Tony Kost (#119), that happened with me, as well, but with my great-grandma – who still remembered Everton having Anfield as their home ground.
Barry Jones
151
Posted 04/04/2017 at 17:21:27
Dave Ganley (#79). Good, sensible post, as usual.
John G Davies
152
Posted 04/04/2017 at 17:23:23
Back four for me. Holgate right back. Zealand shouldn't, be able to run off Jagielka and Williams. As long as Gueye covers the deep runs of Mikatharian and one of the centre halves tracks across to cover full backs we should deal with what pace they have wide.
I would go with 4-3-3 Barkley dropping deeper but with license to run at their back four. Mirallas Valencia wide and slightly deeper than Lukaku.
Barry Jones
153
Posted 04/04/2017 at 17:25:40
David (#104). We may need your grandmother to be kitted up and ready to play too if last Saturday is anything to go by.
David Israel
154
Posted 04/04/2017 at 17:29:25
Barry, she used to be a pretty useful sweeper. She has slowed down somewhat – a bit like Jags and Barry – but she's still a great reader of the game. 'Where's Joe Royle?' is her favourite war cry.
Barry Jones
155
Posted 04/04/2017 at 17:32:02
Most women are good sweepers. (Is that sexist?)
Linda Morrison
156
Posted 04/04/2017 at 17:34:44
We have a third of what would probably be our first choice team out, some for a very long time. This shows how poor the squad is for me.
I felt sorry for Pennington the other day, a kid put into that but who else was there to choose?
As for Lukaku, I hope someone offers a good wad of cash and he goes, he obviously thinks he is too good for Everton. At the moment he is probably correct.
I'm not watching tonight as I can't see anything but a Man Utd win.
Tony Marsh
157
Posted 04/04/2017 at 17:35:47
Dreadful weekend locked away again after another derby defeat. I can't see anything other than Man Utd easy win tonight as confidence is shattered.
Koeman is a fraud and continually makes a mess of team selections, formations and tactics with Lukaku bailing him out most weeks at Goodison. Saturday was a disgraceful performance from Koeman just like the Spurs game clueless. Who's idea was it for the entire Everton team to stand gawping at the Kopp during walk on??
If it's right Arsenal want Koeman let them take him and put Unsworth in charge. We might get a Craig Shakespeare type reaction from the team. If we get tanked again tonight, what's the point of going in to the European League next season. More misery awaits.
David Israel
158
Posted 04/04/2017 at 17:37:22
No, Barry. I meant it in the same vein.
Barry Jones
160
Posted 04/04/2017 at 17:39:59
I thought so after re-reading. I am a bit slow today. Keep the comic relief coming, David, it's much needed after the weekend.
Karl Jones
161
Posted 04/04/2017 at 17:42:02
Put your house on Ibrahimovic scoring tonight. We're always crap in these sort of games. I can't see anything but a clear Man Utd win.
Jim Hardin
162
Posted 04/04/2017 at 17:46:54
Where to begin...
First, Come on Everton and freaking smack Man Utd around.
As for some comments on here. I guess watching the game on TV from an elevated camera view you can see what some cannot (especially with taping and reviewing the game). Namely, Ross Barkley was terrible.
The number of times Lukaku started a run to space that Barkley, instead of putting the ball into space to allow him to run onto it, instead fired the ball right into a defender, was amazing for a so-called professional.
Add to that the number of times he dribbled into the opposition and lost the ball, passing up open passing options and you can understand why Rom had a bad game. One, commentator put it 14 minutes into the match, "Rom hasn't had even one kick," about the lack of service, and "Barkley has got to do better."
If Ross was not a local lad, people would be calling for his head and for him to be dropped. His unforced errors, too many touches, too loose of a touch, passing up open players, and passes to the opposition without any pressure on him are really poor.
I for one would sell him to the first bidder and go get Pulisic (yes he is being groomed to play Ross's role for the USMNT) or Sigurdsson, who can do everything Ross has the fabled "potential" to do but, who actually does it.
As for Pennington, he was stuck out on the right with Holgate providing no support. In contrast, when Holgate was put out on the right side as a center-half or right back he was given a combination of Coleman and Gana and Lennon to help him. That was the fault of the manager and allowed the game to be taken away from Everton.
Denny Kerr
164
Posted 04/04/2017 at 18:09:08
Guy (#18).
We may have lost the derby, but nice to see we haven't lost our sense of humour. Funny post, and it helps.

Ian Jones
165
Posted 04/04/2017 at 18:17:41
We are still unbeaten against Man Utd in 2017 so it surely can' t be all doom and gloom. 2-1 to us tonight.
In defence of our defence. Most teams doing well have a reasonably settled formation and pattern of play and if they get really lucky don't suffer too many injuries.
So far it seems we have tried a bit of everything. However, Williams has been a big disappointment. I assume many of us thought he was a good buy at the price we got him for.
I also think we were a bit unlucky on conceding the first goal. Apart from allowing Mane to run through, not clever, I think he took his shot a fraction earlier than our players were expecting. I think Robles positioning was such because he was preparing for a shot from a different angle. Had Holgate not fallen over, he probably would have blocked the shot.
Second goal not helped by Williams turning his back on Coutinho's shot.
Tonight's a different game. We will win.
Stephen Wissett
166
Posted 04/04/2017 at 18:37:37
Having watched the under 23's on numerous occasions this season, I wouldn't hesitate to throw both JJ Kenny and L Walsh into the starting line up. Kenny is the nearest player in style to Coleman that we have that is fit.
For me, Holgate needs to lose a bit of the swagger that he seams to have (Stones-esque) he has undoubted ability but could do with a bit more raw aggression.
Liam Walsh is one of the finest passes of the ball I think we have in the whole Under-23s and first team squads, he has a bite to his play and great vision. I think it's his size that has hampered his progression into the first team to date, plus when fit we are usually top heavy with central midfield players.
I don't think either player would be phased by playing at Old Trafford tonight.

Darren Hind
167
Posted 04/04/2017 at 18:39:12
After Saturdays Weston. The players and the manager should be made up this one has come around so quickly.
Not many fixtures could offer instant redemption. This is one of them.
I'm desperate to see the boys shove all that shite the media have given them straight back down their fucking throats.
Paul Conway
168
Posted 04/04/2017 at 18:42:42
Linda Morisson @156,
I Respect your views and understand your frustration, but, you can't be a fair-weather supporter. When Everton gets into your blood, it's like a love affair. And just like a wayward loved one, you are ready to forgive.
You have to withstand the agonies in order to rejoice tenfold when, we do reap the fruits of our efforts. Its sad now, its like when you loose a loved one, or dear family member, you don't stop listening to their favourite music (or yours), because it reminds you of them and makes you cry.
Au contraire, its something you have to do and believe it or not it makes you feel better.
So, I am going to watch and, Even if we do mess up, I know I will rant and rave like you can complain about a family member, but ,you won't listen to other people barracking them. It's in the blood!
Brent Stephens
169
Posted 04/04/2017 at 18:46:34
Stephen, i agree about Liam Walsh. Love the lad. If only he were a bit bigger. But what a battler. And a good eye for a pass.
Dave Ganley
170
Posted 04/04/2017 at 19:01:01
Keeping my fingers crossed for that, Darren.
Raymond Fox
171
Posted 04/04/2017 at 19:11:09
Hard to have a firm opinion on tonight's game. They're not exactly setting the world on fire at the moment.
I think if my life depended on the result, I would have to go with Man Utd, I don't think we are a 5/1 shot though but that's what's on offer!
Colin Glassar
172
Posted 04/04/2017 at 19:14:43
After the disappointment of Saturday the least we can do is put in a shift. I don't think we will get any higher than 7th now but some good performances will give us some optimism for next season.
---
Add Your Comments
In order to post a comment, you need to be logged in as a registered user of the site.
Or Sign up as a ToffeeWeb Member — it's free, takes just a few minutes and will allow you to post your comments on articles and Talking Points submissions across the site.