Everton vs Leicester City

136 Comments [Jump to last]
Saturday 8 April 2017
Match Preview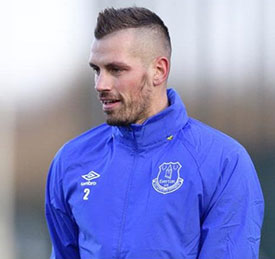 Morgan Schneiderlin will undergo a fitness test this morning to determine whether he will be fit to return after two games out with a calf problem
Following disappointment on their travels at Anfield and Old Trafford, Everton return to Goodison Park for back-to-back home games that represent perhaps their final chance to have a say in the race to finish in the top five in the Premier League.
Defeat in the Merseyside derby was followed by a significantly better showing against Manchester United, one that almost secured three vital points that really would have had Ronald Koeman's team well-positioned heading into the final nine games of the campaign.
As it is, the Blues come into this weekend three points behind United in sixth and Arsenal in fifth hoping that six points from their next two fixtures at home to Leicester City and Burnley can maintain the pressure on the clubs above them.
Goodison may have become Everton's fortress in 2017 — they've won six straight on home turf in the League so far this calendar year — but neither the Foxes nor the Clarets will provide easy opposition.
And Koeman's outfit has been depleted by key injuries in defence to Seamus Coleman and Ramiro Funes Mori, while Ashley Williams is suspended, leaving the manager with just one experienced hand at the back in the form of Phil Jagielka and needing to partner his captain one of his younger centre halves.
Matthew Pennington started as one of three centre backs at Anfield but struggled when pitched into the cauldron of the local grudge match. Nevertheless, Koeman kept sufficient faith in him to bring him on in difficult circumstances at Old Trafford on Tuesday night where he was again deployed alongside Jagielka and Williams to help form a line of defence that almost held out long enough for a win.
Mason Holgate, meanwhile, is a centre half by trade but who has acquitted himself well at right back deputising for Coleman and Koeman's decision over whom to play in the middle in Williams's stead may come down to whether he feels Jonjoe Kenny could do the job at right back. That would allow Holgate, arguably a more assured and experienced presence, to move into the centre next to his skipper.
Evertonian eyes will also be searching out the name of Morgan Schneiderlin when the team sheet is published at 3pm on Sunday, hoping that the midfielder will return after missing two matches with a calf strain.
"We need to check tomorrow morning if Morgan Schneiderlin is available for the weekend," Koeman said in his pre-match press conference yesterday. "That decision will be made tomorrow and the rest [of the squad] is the same."
Schneiderlin's influence and assured presence have been missed in the middle of the park and his return would certainly help to offset somewhat the afore-mentioned absentees in defence. With the manager alluding to a minor issue with Gareth Barry's knee before the Liverpool game and the need to keep him fresh for United last Tuesday, the French international's return could be even more important.
Further forward in the line-up, you would imagine that Kevin Mirallas did enough to warrant a second successive start with a display against the Red Devils that probably deserved a longer outing than the 60-odd minutes Koeman afforded him before substituting him in favour of Pennington.
But there were rumblings of discontent among the faithful that Dominic Calvert-Lewin, the other sub on the night, was preferred to Enner Valencia and Ademola Lookman, both of whom will be champing at the bit to get another run out now that the Blues are back at Goodison.
Leicester, the mocked and derided fallen champions who were in danger of being relegated in the year following their improbable title triumph, come to Merseyside on a run of five successive wins under Craig Shakespeare who was given the managerial role in place of sacked Claudio Ranieri until the end of the season.
They start the weekend in 11th place having seen off Liverpool, Hull, West Ham, Stoke and Sunderland since the Italian's dismissal and will be full of confidence that they can repeat last season's feat when they beat Roberto Martinez's side 3-2.
Shakespeare will be without his captain Wes Morgan, however, as well as midfielder Papy Mendy because of injury and could rest some important members of his team with one eye on next week's Champions League quarter final away at Atletico Madrid just three days after this match.
Indeed, the distraction of that clash with the Spanish club could work very much in Everton's favour and if the Blues can get their attacking machine humming again, reestablish the service lines to Romelu Lukaku and provide enough protection for the youth in their back line, they should be able to gain revenge for that miserable afternoon in December 2015
Kick-off: 4pm, Sunday 9th April 2017
Referee: Robert Madley
Last Time: Everton 2 - 3 Leicester City
Predicted Line-up: Robles, Holgate, Pennington, Jagielka, Baines, Barry, Gueye, Davies, Barkley, Mirallas, Lukaku
---
Reader Comments (136)
Note: the following content is not moderated or vetted by the site owners at the time of submission. Comments are the responsibility of the poster. Disclaimer
Chris Gould
1
Posted 08/04/2017 at 09:42:21
Whatever defence we assemble will have their hands full with this resurgent Leicester side.
Now that Leicester are pretty much safe, I would imagine Shakespeare is more concerned about their historic Atletico match. Hopefully they will all play with that in the back of their minds and not display the same intensity that they have recently.

Andrew Presly
2
Posted 08/04/2017 at 10:00:29
Nevermind the 2015 game, these knocked us out of the FA Cup this year! At Goodison! Still not over that one but a nice big win on Sunday will help.
Pennington seems a good lad but he's a Championship level player, similar to someone like Shane Duffy. For the disallowed Ibrahimovic goal he was all over the place. Slightly embarrassed for him and don't like that feeling watching and supporting an Everton player.
Bench for Matty, Holgate in the middle and let's see what Kenny can do at right back.
Barry Pearce
3
Posted 08/04/2017 at 10:17:07
Kenny at right back for me.
Let's see how Holgate fairs at centre-back.
Brian Harrison
4
Posted 08/04/2017 at 10:33:57
Looks like Koeman will have a few selection problems for the visit of Leicester City. Who does he play in the back 4 alongside Jags and Baines, on his recent selections it will probably be Holgate and Pennington.
Up front he seems reluctant to start Valencia and will the spat with Mirallas mean he will be on the bench. That would possibly open the door for Lookman, who seems to have fallen out of favour recently.
Seems apart from a collapse that we will finish in 7th place which will probably get us into the Europa League. I suppose most would have taken 7th for Koeman's first season, but if we are to improve next season then our transfer activity will need to be sorted very early into the window. As things stand at present, it looks like Lukaku will definitely be off and maybe Barkley as well. So having to replace your two main strikers wont be easy if they leave.
So this summer could be pivotal for Everton, I suspect there will be more players let go at the end of the season. I would suspect Kone will be sold if they can find a buyer, Niasse will be gone and probably Valencia will go back to West Ham. So there could be a massive turnover of players which doesnt really help as it will take time for players to settle in to a new team and a new City to live in.
Chris Gould
5
Posted 08/04/2017 at 10:47:49
Andrew, how can you write off Pennington after a handful of appearances?
Centre-back is a position that requires experience as, much like goalkeepers, their mistakes often lead to a goal being conceded. It's much easier to allow a forward or winger to make mistakes while gaining experience.
Often centre-backs don't establish themselves as a reliable player until they have played a hundred games or more. Maybe he will move elsewhere to gain that experience, but, like Keane from Man Utd, he may develop into a very good player.
David Hallwood
6
Posted 08/04/2017 at 10:53:05
Great summary, Lyndon. If there's a time to play a resurgent Leicester, this is it. Winning 5 out of 5 has all but assured them of safety, and they have arguably the most important match in the history of the club on Wednesday, so I'd be surprised to see Vardy & Mahrez starting tomorrow; in fact, it may be 6-7 changes in the side.
Still a tough one though because if my memory serves me well,didn't they come with an under-strength side in the FA Cup?
It won't happen but I would like to see Holgate at centre-back & Kenny at right-back – two players in their natural positions. Get back on track after the disappointments of last week.
Peter Murray
7
Posted 08/04/2017 at 11:01:45
Optimistic – Koeman has previously bought/nurtured good players at Southampton, so we can hopefully kick on & succeed in Europe, with our new cash available.
I'm not at all bothered who we loose in the summer, as obviously there not here for the " long haul", after all Rome wasn't built in a day, hang in there & play like we know you can – if the mood takes you.
Bigger problem would be the loss of Koeman, as any manager arriving, would have his own idea of players, tactics & transfers. Surely our supporters could see what a similar "brown shoe" fella could achieve, especially with our experienced, past selections – thank you, Coronation Street Bill.
Except for several non arrivals against the no-mark teams we have improved, on last seasons non event – so it's continue this & just get rid of these supposed superstars, who think there's a greener field elsewhere – on the bench, perhaps, but collecting this undeserved cash.
Leicester are there for the taking, but defo on a forward surge, they can only play as well as we let them – revenge for our supposed cup venture.
COYB
Robert Leigh
8
Posted 08/04/2017 at 11:20:01
Agree with Chris (#5) about Pennington, too early to write him off and he has been unlucky to have another youngster playing to his right rather than Coleman, he would surely fare better with experience either side.
I'd go as follows if it was my team:
Robles
Kenny - Holgate - Jagielka - Baines
Davies - Barry - Gana Gueye
Barkley - Lukaku - Lookman
Subs; Stekelenburg, Pennington, Garbutt, Schneiderlin, Calvert-Lewin, Mirallas, Valencia
If Schneiderlin is fit I'd still like him on the bench. Barry played well at Man Utd and is one booking away from a suspension (bound to happen against a pacey Leicester City) so we will need a fit Schneiderlin against Burnley.
If he pulls up injured and Barry is suspended, our first eleven next weekend will have higher numbers on their backs than baseball players with all our injuries!
Andrew Presly
9
Posted 08/04/2017 at 11:41:59
Very true that it's an unforgiving position, Chris and it is relatively harsh but having watched him at first team level and with the U23s over the last 3-4 years he falls short in terms of stature, pace and ability on the ball. Three key assets for the position.
As I said, he's a good lad and will be a solid pro at the level below the Premier League. Certainly not someone we can afford playing in our first team for a few years while he learns on the job.
Time to aim high and not settle for being best of the rest with a nice bunch of triers. I've had enough of that and fancy a change. 11 tossers who win please, Ron!
Niall McIlhone
10
Posted 08/04/2017 at 11:47:59
Good summary of the set-up for tomorrow, Lyndon: I wish the Foxes all the best in that tough fixture in midweek and certainly hope it is to our benefit that they are now (almost) clear of the relegation mire and don't want injuries for the Champions League game. We'll see.
One player who could be useful to us in our present dilemma is Besic. I don't know if he is near fitness or not, there seems to be little information coming out, but he can fill either the defensive midfield or centre-back role.
Surely if he's close to match fitness, you'd put him on the bench? Unless he gets game time very soon, he might as well be out for the season. I agree with the shouts for Jonjoe Kenny at right-back, he has been chomping at the bit for a chance at the big table, he deserves it now.

Mike Powell
11
Posted 08/04/2017 at 11:52:13
Heres hoping Schneiderlin is back; if he is, I would play Barry at centre-back. I think Pennington is out off his depth; nothing against the lad but he is just not good enough for the first team
David Pearl
12
Posted 08/04/2017 at 12:07:37
I'd have Holgate in the middle too but think he will stick with Pennington. That means Gueye has to sit in front of the back two and stay with Vardy or he will run them ragged.
At right back I'd have Lennon if Holgate starts as centre-back. Hopefully we control the ball without sitting too deep. 4-2 the blues!!
Kim Vivian
13
Posted 08/04/2017 at 12:40:50
I'm with David on this one. Give Lennon a run out at right back, Holgate and Jags in the middle and Baines at left-back of course. Bit of pace on the right from Leighton and even a potential goal. I've gone 4-0 on this one.
I hope Definitely Red falls at the first this afternoon in the Grand National.
Ian Bennett
14
Posted 08/04/2017 at 12:43:47
I would be tempted to try a bit more fire power up top. They'll have Champions League on their thoughts, so I would give it a right good go from the off.
Robles
Kenny
Holgate
Jagielka
Baines
Barkley
Davies
Gana
Valencia
Lukaku
Mirallas
Gareth Clark
15
Posted 08/04/2017 at 12:43:53
There is only two line-ups I'd go with:
Most likely:
Robles
Holgate Jagielka Pennington Baines
Idrissa Barry Davies
Barkley Mirallas
Lukaku
Subs: Stekelenburg, Kenny, Schneiderlin, J Williams, Lookman, Calvert-Lewin, Valencia

Or a slightly more risky:
Robles
Holgate Jagielka Pennington
Kenny Idrissa Davies Baines
Barkley Mirallas
Lukaku
Subs: Stekelenburg, Foulds, Barry, Schneiderlin, Lookman, Calvert-Lewin, Valencia
And I would like to see Schneiderlin come on for at least 20 to 30 mins!
Paul Conway
16
Posted 08/04/2017 at 13:07:20
Seems like Lookman has dropped down the pecking order, along with Valencia. They are obviously not showing enough in training.
At least Niasse seems to be doing something right!
Jim Bennings
17
Posted 08/04/2017 at 13:25:37
Too little too late for a top 5 challenge given Man Utd and Arsenal have two games in hand, we needed to beat United to put the pressure on, we knew going into those two last week we needed at least three points, so it's just a case of cement down 7th and then have a proper serious summer transfer window.
We have too many passengers in the team that don't offer enough going forward against better sides. Leicester will offer a real threat as they are bang in form and there's always a rick our defence; Vardy, if he plays, will trouble us.
Lukaku will probably throw in his usual "mind elsewhere now the season is nearly over" performance, daydreaming of his big move away.
Barkley will be what Barkley is, get into good positions only to make the wrong decisions.
And seriously I will start to really worry about Koeman if he goes with Calvert-Lewin again, nothing against the lad but come on, there are clearly better options at this moment in time.
David Hallwood
18
Posted 08/04/2017 at 13:33:11
The problem with Gana is that he's not a natural sitter, he goes hunting for the ball, so I think Gareth or Morgan (if fit) is a better option given the frailty or our centre-backs presently.
Karl Graham
19
Posted 08/04/2017 at 13:39:25
Robles
Kenny Holgate Jagielka Baines
Davies Gueye Schneiderlin
Barkley Mirallas
Lukaku
Subs: Stekelenburg, Pennington, Garbutt, Barry, Lookman, Calvert-Lewin, Valencia.
That would be my team, if Schneiderlin doesn't make it Barry in the team and Williams on the bench. I would bring Lookman and Valencia on later in the game to stretch them pace-wise.
Frank McGregor
20
Posted 08/04/2017 at 13:42:32
I would hope to see Lukaku turn up for this game as his non-performance in the last two games has dropped his value by £20 mill.
I really hope to see him gone in the summer so as we can get a player in that wants to play for Everton.
Bill Gall
21
Posted 08/04/2017 at 13:52:11
If Schneiderlin is fit do not be surprised if he puts Barry in at Williams position. with Holgate, Jags and Baines. Midfield of Ghana, Davies, Schneiderlin and Barkley. Mirallas and Lukaku up front.
Colin Glassar
22
Posted 08/04/2017 at 13:56:34
Sounds like Leicester might rest most of their key players e.g. Vardy, Mahrez, Drinkwater etc and Morgan is injured. The Champions League game has to be more important for them as they are now safe in the league.
Kieran Kinsella
23
Posted 08/04/2017 at 14:14:59
Amazing how everyone is clamouring for Kenny's inclusion. If he does play and struggles I just hope you don't all crucify him as you have Pennington and Calvert-Lewin after the last two games.
Colin Glassar
24
Posted 08/04/2017 at 14:16:21
Don't you believe it, Kieran, pedestals and all that.
Ernie Baywood
25
Posted 08/04/2017 at 14:25:36
I know we seem to see Pennington as a centre back but when he played right back (last season?) I remember him doing well. Maybe that's the better option - Holgate looks very assured and confident while Pennington might benefit from being in a slightly more forgiving position.
Team ahead of the defence should, subject to fitness, pick itself now... but we'll see.
John G Davies
26
Posted 08/04/2017 at 15:33:04
4-2-3-1
No need for 3 central midfielders playing against 4-4-1-1
When we have the ball get Lukaku and all of the 3 high up the pitch in one-vs-one situations.
Paul Birmingham
27
Posted 08/04/2017 at 15:34:31
This will be a very tough match in view our squad availability and depending on Morgans fitness, I'd opt for bringing in Kenny in defense and carry on with Barry if Morgan can't play..
This is a massive game and let's hope EFC turn up in good form and win tomorrow.
Alan J Thompson
29
Posted 08/04/2017 at 16:20:31
As Leicester seem to play a counter attacking game, I would imagine that Mr Koeman will go with three at the back.
Mick Davies
30
Posted 08/04/2017 at 16:43:28
Leicester are on a good run since the Bard took over, but even with our depleted squad, we should have enough to see them off; but with the apparent lack of team spirit and dissent amongst our players, God knows what attitude we're going to see from our 'team'.
Patrick Murphy
31
Posted 08/04/2017 at 17:25:59
Yes Jim (#32)
Every man and his dog wants to see Lukaku move on to another club, but don't forget that the project at Goodison is only a little more than 12 months old, Spurs, Chelsea, Arsenal, Man Utd, Man City and our neighbours have been ploughing money into their projects for a good while longer.
Roberto set us back a good few years and it will take a couple more seasons to get the right blend to compete. If I was an envious person I might kick the cat due to the wonderful footballers that other teams possess, but I don't care about their players only about what Everton can do and hopefully we will start to make inroads during the next few years and who knows we might stop looking over the way to gauge how we are doing – meanwhile we'll have to endure it and those that constantly use them as a barometer.
Jim Bennings
32
Posted 08/04/2017 at 17:42:31
Yes I think what we are and have been crying out for is stardust.
We need that little sprinkling of genius, that little player that we can either pull on as a sub even to go and potentially win us a match that looks certain for a draw for example.
We've had players of that ilk over the years, Rooney when he came through, Arteta had genius, to a lesser extent the maverick abilities of a Manuel Fernandes or Tommy Gravesen.

James Stewart
33
Posted 08/04/2017 at 17:57:34
Stekelenburg
Davies Jagielka Holgate Baines
Gana Schneiderlin Barry
Mirallas Valencia
Lukaku
Is Besic fit? He's been in first team training for a month. Not the game for Pennington and I'm out of patience with Barkley.
Danny O'Neill
34
Posted 08/04/2017 at 18:14:16
Regardless of formation, we need balance at the back. I appreciate the options are limited but we made the mistake against Liverpool of have 3 very similar "traditional" and slow centre backs in the 3. Likewise if we play a 4 tomorrow, in my opinion it can't be Pennington & Jagielka.
Whether it's 3 or 4 at the back, it has to be the right balance. So, for me it's either Jagielka, Pennington and Holgate (3) or Jagielka, Holgate with Baines + right back. That's where I'm struggling so go with the 3. What's happened to Lennon though? Would offer more cover as a wing back if we go 3
Kevin Rowlands
35
Posted 08/04/2017 at 18:22:00
Won't happen but I'd bench Barkley and Lukaku tomorrow after their substandard efforts the last two games.
Robles
Kenny Holgate Jagielka Baines
Gueye Schneiderlin
Davies
Calvert-Lewin Valencia Lookman
They're probably going to play a weakened team so why not? It would also send a strong message to the other two...
"Not going to perform? No problem – there's the bench."
John G Davies
36
Posted 08/04/2017 at 18:43:56
Jim (#34),
I liked Arteta as a player but he was never the player people perceived him to be.
Rack your brains and think of one pass in his whole Everton career when he got a player in one-on-one with the keeper?
Danny O'Neill
37
Posted 08/04/2017 at 19:42:56
I get your frustration, Kevin and acknowledge that no player is above the chop, but you don't bench the first 20+ goal a season striker we've had since our last success.
Sadly, I was shouting the same in the 86-87 season as Gary Lineker continuously frustrated football purists such as myself with inadequate footballing performances; however, he scored goals. The man couldn't pass, dribble or do anything other than score; that's what he was paid for and that's what he done.
He will go missing, he will frustrate, but over the course of the season a striker like Lukaku makes a difference.
Keith Monaghan
38
Posted 08/04/2017 at 19:43:02
John at #38,
Arteta was one of our best players in the last 15 years – he was far more consistent and effective throughout his 5+ years with us than Barkley has ever been or ever will be.
When has Ross ever given 100%?
Peter Kowalski
40
Posted 08/04/2017 at 19:46:49
Everton vs Leicester; Head to Head statistics:
http://www.fctables.com/h2h/everton/leicester/

Julian Wait
41
Posted 08/04/2017 at 19:51:56
Too early on Pennington, give him a few games and see what he can do.
I'm in the same mode as Kevin (#37) above: I'd be happy to see Kenny, Holgate, Jags, Pennington and Baines in defence with Barry or Gueye in front for security. I wouldn't risk Schneiderlin unless we need to (if he is fit).
I'd be tempted to bench Davies (to balance having the kids at the back and one in front) and see both Mirallas and Lookman start (why is he not getting time?), if not Lookman then Calvert-Lewin, with Valencia maybe getting a start, and Lukaku off the bench, again if needed.
Highly experimental, and unlikely, but some options to try against a probably weakened Leicester team. (I'd like their young left back – Chilwell? – and Schmeichel in the summer, please.)
Martin Nicholls
42
Posted 08/04/2017 at 19:59:19
Patrick (#33) – "every man and his dog wants to see Lukaku move on to another club". Utter nonsense. Posters here on TW seem relatively evenly split and if I remember correctly, the recent poll on this site showed over 60% saying that he should NOT be sold in the summer.
Patrick Murphy
43
Posted 08/04/2017 at 20:01:40
I meant the media, Martin. I should have been more explicit.

Kevin Rowlands
44
Posted 08/04/2017 at 20:01:41
Danny, I just watched the Chelsea game, if you want to see a proper world class striker Costa is it, maybe not his best game in front of goal but his work ethic and commitment to the team is incredible.
Koeman should make Billy big time sit and watch tapes of Costa and explain to him this is what we want. After his pathetic last two half-assed performances, yes, you're damn right I wouldn't have him in the team, and after the Williams incident, he wouldn't even be in the squad.
Danny O'Neill
45
Posted 08/04/2017 at 20:04:31
He's also got better players behind him, Kevin. A striker is as good as his supply chain.
Michael Kenrick
46
Posted 08/04/2017 at 20:05:16
A couple of shouts for Luke Garbutt, the invisible man of Finch Farm.
He was on loan with Wigan Athletic for the first 6 months of the season but Transfrmkt lists him as returning to Everton on 2 January. But not a word about him since that I can find.
That means he's been back 3 months without getting a single game for the U23s... or anyone else.
Martin Nicholls
47
Posted 08/04/2017 at 20:06:57
Patrick (#45) – noted! Sorry mate!
Danny O'Neill
48
Posted 08/04/2017 at 20:06:57
And Costa more than most has had his critics for attitude; that's what you want from a striker. They are selfish, frustrating and always blame everyone else... that's why they're strikers!!
Patrick Murphy
49
Posted 08/04/2017 at 20:10:09
He's also got over 3 years remaining on his contract, Michael, very strange, he'll be due a testimonial – not really – by the time he ends his contract if he doesn't leave in the meantime.

Danny O'Neill
50
Posted 08/04/2017 at 20:10:48
Do you think maybe it's an attitude thing Michael? Remember the contract demands before he'd actually established himself?
Kevin Rowlands
51
Posted 08/04/2017 at 20:11:23
I agree that a striker needs proper supply Danny, I think he's had plenty of that this year but the physical part of the game and the overall effort put out versus Costa is like night and day, remember he is the one that is telling anyone who'll listen he's world class, compared to Costa he's not even close.
Danny O'Neill
52
Posted 08/04/2017 at 20:15:26
Isn't Costa older and more experienced? Experience counts in any position and any line of work. 20+ goals over the course of a season is a good return. Judge over a season, not 2 games.
Danny O'Neill
53
Posted 08/04/2017 at 20:17:21
I'm sure Costa has had at least 2 shit games this season, however he's scored a lot of goals and had many better ones.
Trevor Peers
54
Posted 08/04/2017 at 20:25:20
Danny @47,
Lukaku does have world-class service when he plays for Belgium, and still manages to look clumsy.
He does score goals for them but his first touch is appalling for a player who thinks he's a world-class player.
Brian Wilkinson
55
Posted 08/04/2017 at 20:26:42
Spot on summary, Lyndon, saved me a lot of typing repeating the same things.
I think Everton will be up for this one and I'm predicting a 2-0 win.
Kevin Rowlands
56
Posted 08/04/2017 at 20:33:28
Danny, I and quite a few others have been judging for the last 3 years – not just the last 2 games. Anyway, all I said was that I would drop him and Barkley tomorrow and gave my reasons.
It's about the game tomorrow; I believe the team I suggested would give a very good account of themselves and at the same time deliver a message to them two.
Danny O'Neill
57
Posted 08/04/2017 at 20:37:32
I don't have an issue with your view, Kevin. I just wouldn't drop a striker who is more likely to score than most others in our team because I'm pissed off with his last 2 performances. You threw the 3 year thing in but earlier you mentioned his last 2 performances.
Take his goals out of the equation and where are we this season? He's a striker and paid to score goals. Over the course of the season, that's what he's done and hopefully, what he'll do tomorrow.
Danny O'Neill
58
Posted 08/04/2017 at 20:40:53
I've also judged him over 3 years; he has scored in excess of 80 goals, not a luxury we have been afforded in recent times. In a team that under-performed in 2 seasons during that period.
Jim Bennings
59
Posted 08/04/2017 at 20:48:46
John,
Arteta was integral for Everton in his spell, don't forget he missed a year's football with ligament injury 2009-10, even when he returned he was class, was a dead-ball specialist who scored a variety of goals.
He also was our player of the year when he played wide midfield in 2005-06 where he put in skillful dazzling performances.
Don't forget too that he only had James Beattie or Andy Johnson in front of him, not Lukaku.
The only crying shame was that he was never called up to Spain squad partly due to the outstanding all-conquering squad the Spaniards had back then.
Danny O'Neill
60
Posted 08/04/2017 at 20:58:40
Hear, hear Jim; a great footballer who simply didn't have quality in front of him to benefit from his ability in his prime.
Brian Williams
61
Posted 08/04/2017 at 21:12:07
I think we'd all forgive Lukaku's poor first touch, his apparent lack of interest now and again and his laziness every so often if he'd have just kept his effing mouth shut.
You can't argue with his goal return, he's the premier leagues leading scorer ffs and we should be over the moon to have the Premier League's leading goal scorer but, and this is the part that pisses me off, I just can't love him like I loved Sharpy and Andy Gray and others like em, and it's all because he's made it quite obvious that he sees us as a stepping stone and never misses a chance to make that obvious.
It's like going out with a really fit bird only to overhear her telling her mates she's only with you coz you've got a few bob. We'd all be so much happier if we were just living in ignorant bliss, but Rom's took that away from us and that's why he divides opinion so much.
If he was saying how much he loves the club etc etc when he's away on international duty, or if he'd have just said fuck all, he'd have the backing of every single supporter.
Think about it.

Peter Cummings
62
Posted 08/04/2017 at 21:13:06
I must admit I am not up to speed re the new names stepping up to the first team, really have to rely on TWebbers, the Echo and live games on the box, about names like Pennington, Holgate, Garbutt etc,
One name I expected to see more of was young McAleny who seemed to do well and was likened to Rooney and set for bigger things.
As for tomorrows game its going to be another nail-biter if the Foxes play as they can, although their Champions League game might be a factor in giving us an edge. In my opinion, Kevin Mirallas has to start after his unfair sub last week, and, of course if the Big Man decides to turn up.
Kevin Rowlands
63
Posted 08/04/2017 at 21:16:40
Did you see his performance in the Man Utd semi-final, Danny? the one chance we really had to win a trophy in recent times, I'll say no more...
Danny O'Neill
64
Posted 08/04/2017 at 21:28:43
Yes,Kevin just like you did. But have you seen his performances in countless other games whilst he's been with us? It seems you don't like him regardless.
I don't think he's flawless and he is by no means the finished article; however, 20-goals-a-season strikers are hard to come by (as we know) and all successful teams need one regardless of how frustrating they can be, how often disinterested they are and how selfish they are.
Let's get a Marcus Bent; he worked hard.
John G Davies
65
Posted 08/04/2017 at 21:31:13
Jim (#61),
As I said I liked Arteta in the role he played for us but anyone who thinks he was a player who created chances for the forwards is very much mistaken.
Andy Crooks
66
Posted 08/04/2017 at 21:32:53
How can anyone say, on how little we have seen, that Pennington is out of his depth? Why on earth must it be great or shit, black or white?
At the minute, I see us as an in-between club with loads of potential. That's okay by me.
Kevin Rowlands
67
Posted 08/04/2017 at 21:46:24
Danny, countless games no, some games yes.
I actually was starting to warm up to him a bit this season but then he opened his big fucking mouth again and never backed it up in the next two big games.
Last season he downed tools for the last 14/15 games and never scored at all, he helped get the then manager fired. When that same manager was announced as his new national team boss he is clearly filmed taking the piss at Old Trafford with his mate when they heard the news.
He then later on states to the press that his new national manager understands his strengths and how he plays – the same bloke he had helped get fired at Everton.
Do I want this sort of person at our club? No fucking chance!
Danny O'Neill
68
Posted 08/04/2017 at 21:51:17
Not out of his depth at all Andy. Young and learning. He's a traditional centre back. Was unfortunate to be paired with similar players in a 3 against Liverpool. 3 traditional centre halves with little pace stood in a straight line against a pacey and tricky attack.
He'll be a good player given time and played alongside a partner that compliments but offers something different.
Danny O'Neill
69
Posted 08/04/2017 at 22:02:46
Okay, Kevin, you don't like Lukaku. Got it!!
Hey, as long as we win tomorrow who cares who scores? In my unfortunately long experience, it matters not over time. Players come and go; always have.
Costa (your earlier comparison) was allegedly pushing for a move away to China in January; or certainly using it to strengthen future bargaining. They're all the same. An unfortunate trait of the modern game.
Danny O'Neill
70
Posted 08/04/2017 at 22:04:16
So we'll sell and replace. Want the same standard? You'll get a similar character...
Kevin Rowlands
71
Posted 08/04/2017 at 22:11:31
I never once said Costa was a better person, Danny, just a better player. I've also had a long experience supporting Everton just like you.
As for Lukaku, it's not and has never been personal with me, it's business. He is not even close to being a world class player; a great finisher, yes. Imho, the sooner he's gone from.our club, the better.
Martin Mason
72
Posted 08/04/2017 at 22:28:43
Could have been really tricky and still could be if we aren't careful. The Champions League tie on Wednesday should weaken them a lot tomorrow. I hope that Lukaku plays well and scores and that Pennington gets a good game under his belt and plays well.
Most of all, I'd like us to finish the season well and give hope for a better one next season. I'm still positive about what's happening and believe that we have to be patient and expect some reverses especially this season.
We're a league below Chelsea and I ask: Can we build a new ground and buy players to become as good as them? I really doubt it unless we first keep our good players (Lukaku and Barkley) and hope that we get 2 or 3 top players through the Academy.
I say keep Rom and Ross because there aren't players on the market to replace them, even though they still have work to do on their games. Ross especially is a much maligned lad who has actually played very well this season.
COYB
Trevor Peers
73
Posted 08/04/2017 at 22:33:34
Brian (#61),
Excellent post, you've summed up most supporters' feelings brilliantly, regarding Lukaku.
We will tolerate him until he leaves, but there will be no love lost when he finally buggers off.
Christy Ring
74
Posted 08/04/2017 at 22:49:32
Martin, agree entirely, Barkley has played well this year, and deserves a lot more plaudits. I don't understand all the negative comments.
John G Davies
75
Posted 08/04/2017 at 22:52:47
Michael (#46)
Luke Garbutt – lovely left foot... poor defender.
Trevor Peers
77
Posted 08/04/2017 at 22:53:18
Martin, I think with the money we would receive from the sale of Ross and Lukaku we could easily find players who would be a better fit.
Therefore there is nothing to fear from selling them both, especially if they want to leave.
Brent Stephens
78
Posted 08/04/2017 at 23:26:01
Trevor, if I have an old banger, and somebody paid top dollar for it, I could buy two new bangers, or a better car. But why would anybody want to pay top dollar my old banger, if it's a banger? They are blind to what we can see?
Martin Mason
79
Posted 08/04/2017 at 23:33:36
Trevor, the good thing is that we have good recruitment now at the club and they will know if we can get better value world wide than Rom and Ross for the same price. I have a feeling that Everton will try to do whatever it takes to keep both but will have to accept losing Rom to Chelsea.
Brian Wilkinson
80
Posted 08/04/2017 at 23:47:48
Kevin Rowlands – excellent posts.
Michael Kenrick
81
Posted 09/04/2017 at 01:07:31
Is it the Daily Mail feeding Capn Phil this shit or does he actually believe what he's saying regarding 'plucky little Everton' being overlooked:
"We've had a couple of seasons where we've not been in the mixer so we've got ourselves to blame in that respect,' he said ahead of today's game against Leicester.
"If we were regularly knocking on the door for fourth and fifth as the club did in previous years, we'd probably be a bit more annoyed.
"But as it is we are a club that finished 14th last season so we've got to make people sit up and take note. The only way we can do that is finishing high up in the league."
No problem, Phil, as we're in 4th now... or is it 10th???
Peter Fearon
82
Posted 09/04/2017 at 01:11:09
The idea that we are still going to challenge for a top 5 finishes is frankly ludicrous. We are not going any higher and not dropping any further. Last nine games are interesting for the development of players and as individual dramas but as far as the league table is concerned the season looks over.
James Marshall
83
Posted 09/04/2017 at 01:39:06
It was a given that we'd finish 7th about 5 or 6 games back - nothing has changed in that respect and we will finish 7th.
Personally I didn't really give a shit about the derby or the Man Utd fuck up at the end because, even if we'd won those games, we'd still finish outside the top 4 because Man Utd have games in hand on us anyway.
Europa League has always been our aim, and we're guaranteed it unless Leicester achieve the unthinkable in the Champions League. I'll be cheering on Atletico this week.
Joe O'Brien
84
Posted 09/04/2017 at 01:39:53
I'm in the same boat as you, Peter... the league seems to be just – sorry for the pun – petering out. If we'd managed to hold out for the win on Tuesday, maybe... but now I don't think we'll get the 6th or 5th spot.
You never know – we might not drop many more points till the end, bar Chelsea I suppose. But it all feels just flat to me and till now, every match was a big match. Drives my wife nuts when she hears it.
Mick Davies
85
Posted 09/04/2017 at 03:26:45
James @ 83,
Personally I didn't really give a shit about the derby
Really? I think you're in a minority of one there, mate.
Kevin Rowlands
86
Posted 09/04/2017 at 04:25:58
Thanks Michael, needed a distraction from the Lukaku shite, boy do I despise that twat, with him it is personal with me, he blocked me on twitter because I asked him about that sublime pass to Mcmanaman for that goal in the Wigan quarters and the fist-pumping shite thereafter. I hate the fact that he was ever involved with our club.
Btw, thanks Brian, and here's me thinking everyone on here hates me... I just say it as I see it and appreciate that everyone is entitled to their opinion. For me though, see Peter Roberts posts, he's always spot on regarding you know who.
David Barks
87
Posted 09/04/2017 at 06:01:31
Wow!
Brian Porter
88
Posted 09/04/2017 at 06:43:21
Interesting to see Sky Sports Top 30 Premier League players so far this season. Based on a whole raft of complicated statistics, two Everton players make their Top 30.
At #22, Ross Barkley, above players such as Kante and Aguero.
At #4, Romelu Lukaku, though I'm sure Rom would place himself even higher.
So let's remember that not everyone is negative in their view of Ross and his overall performance this season.
Jim Harrison
89
Posted 09/04/2017 at 07:22:50
It think it is fair to say Pennington isn't at Premier League standard, but that's due to his age and experience. Without playing, how will he ever develop?
He is playing due to injuries and suspension and, whilst not setting the world alight, he is giving a good account of himself.
Nev Renshaw
90
Posted 09/04/2017 at 07:44:04
I've seen a few "They'll have the Champions League on their minds" comments. I don't think so, they're pro footballers, and they'll just be focused on this match.
Ian McDowell
91
Posted 09/04/2017 at 08:03:48
Today's game will be tough, Leicester are resurgent after sacking Ranieri. Vardy is back in the goals and his pace is a massive threat. Another player I like is Silmani who is an absolute beast in the air and I'm not sure if we have anyone who can look after him given the suspension of Williams.
It will be interesting to see if Pennington starts or Holgate moves to centre-back or even if Morgan is fit to start and Barry drops back. I hope Mirallas starts; I thought he was good on Wednesday and always looks a goal threat.
Eddie Dunn
92
Posted 09/04/2017 at 08:03:51
We will be severely tested today. Leicester are showing the form that won them the league last season, and their players will be keen to maintain the run before the important Champions League match.
Our rejigged defence will be under pressure and I doubt that it will keep out Vardy and Co. Hopefully we will attack well enough to score one more than them.

Darryl Ritchie
93
Posted 09/04/2017 at 08:21:40
We've made Goodison a bit of a fortress. Leicester are in form and fearless again. They're missing key players at the back, as are we. I see plenty of goals.
Everton 3 - 2 Leicester
Karl Jones
94
Posted 09/04/2017 at 08:48:32
We should beat these comfortably. Their 5 wins have been against Sunderland, Stoke, West Ham and Hull (and the RS). All teams in bad form. They've been awful all season apart from the Champions League, so let's not elevate them into being some sort of top side all of a sudden.
Dave Abrahams
95
Posted 09/04/2017 at 09:02:27
Brian (#88), if the people who make up the stats used their eyes instead of figures, most stat tables would be different.
Paul Conway
96
Posted 09/04/2017 at 09:04:47
Kevin Rowlands @ 44
Re: Lukaku shouldn't be in the squad after the Williams incident: Given our current 'shit creek' scenario, after the current spate of injuries and our lack of attacking threat, your comment on Lukaku is a bit like ripping off your balls to spite your own dick.
It's pure daft logic, considering Lukaku's goal contribution.
Danny O'Neill
97
Posted 09/04/2017 at 09:29:19
I don't hate you, Kevin – enjoy the debate and yes, Costa is undoubtedly the better player. It will be interesting to see if you know who reaches the heights he clearly rates himself as being able to when he is 28 at probably at his peak.
Here's hoping all on here have a great result!!

Mike Connolly
98
Posted 09/04/2017 at 09:38:59
Peoples Club banner back on the Park End Stand. Back to winning ways: 3-0.
Mike Green
99
Posted 09/04/2017 at 10:18:42
Kevin – good posts, and ones which I can completely empathise with.
Lukaku is an enigma. At his devastating best, revisit his four goals against Bournemouth; at his worst we don't have to look much further back than his last two games and then throw in his Belgian press soundbites and you have a player who can deeply polarise opinion.
It's amazing that we have a 20+ goal a season striker – with potential to be much better – whose stock with the home support is so fragile.
I think that boils down to the feeling that Rom doesn't want to score goals for us, he wants to score goals for him, which we can swallow when he's scoring them but when he isn't we are quick to question what is the point of Big Rom.
Personally, I lay a lot of that at the door of his agent – if they'd been a bit shrewder on the PR front I think our views on Rom would be far more united, he'd get far more support from Evertonians, which ultimately would do far more for his cause.
Lewis Barclay
100
Posted 09/04/2017 at 10:24:16
If we had another striker that we had some real confidence in, I'd drop Lukaku to the bench for this or the Burnley game, to a shake things up a bit.
Stan Schofield
101
Posted 09/04/2017 at 10:59:20
Mike @99:
Regarding Rom's stock with the home support, it is clearly strong rather than fragile. He was cheered in the last home game. Plus, a recent poll on TW had 62% of votes in favour of the club keeping Rom for the duration of his current contract, even accounting for the risk of him going on a free transfer at the end of that period.
Clear evidence of firm support for Rom from the bulk of Evertonians, despite (a) the wishes of a minority for him to be sold, and (b) all the bullshit from the media saying he will be sold.
Anyway, on the important topic of today's game, 3-1 to us.
Peter Murray
102
Posted 09/04/2017 at 11:20:27
I've never booed an Everton player... but Lukaku is the nearest I've ever been!! Without his goals... nothing – surely by now all world wide teams knows his attitude is rubbish & all round play pathetic.
What other teams would put up with or tolerate his displays?? Our Wembley performance against Man Utd said it all – how can we further/improve team spirit, dressing room togetherness, with him present and saying these ridiculous things on international duty??
Agree his goals kept us up, but any building for our future good is non existent, & Koeman knows this and will take the required action at the season end!!!
COYB
George McKane
103
Posted 09/04/2017 at 11:24:40
Sunday morning - - Big Beautiful Blue Summer Umbrella - - Silver Glistening on The River like short brush strokes off Vincent's brush - - with The Waterfront Glimmering and Rising above The River and Shimmering in The Haze like a Canaletto or Tintoretto - - Two Blue(ish) Birds looking forward and back at their momentous history preparing for their New Nest - - sitting in my writing room surrounded by my art and poetry and simple glance around and I am surrounded on my walls and through my windows by history - - to my right Firenzi - - my left Venetia - - middle is our New Home - - if I lean out the window I can almost touch it - - starting from first game next season I will start a FB Page and photograph our new home every home game from start to finish - - I will post links when it starts - - just listening on this lovely morning to a bit of Good Vibrations - -
"I love the colourful clothes she wears
And the way the sunlight plays upon her hair
I hear the sound of a gentle word
On the wind that lifts her perfume through the air
I'm picking up good vibrations
She's giving me excitations
Good bop bop, good vibrations
Bop bop, excitations
Good, good, good, good vibrations
Close my eyes, she is somehow closer now
Softly smile, I know she must be kind
When I look in her eyes
She comes with me to a blossom world
I don't know where but she sends me there
Oh my my my, what a sensation
Oh my my, what elation
Got to keep those loving good vibrations
Happening with her"
Just getting myself in the mood for the journey under The River like some Jules Verne another great Evertonian) character - - I will be driven in my chariot by the wonderful Malgorzata - - that's Gosia to me and you:
"And I shall watch the ferry-boats
And they'll get high
On a bluer ocean
Against tomorrow's sky
And I will never grow so old again
And I will walk and talk
In gardens all wet with rain
Oh sweet thing, sweet thing
My, my, my, my, my sweet thing
And I shall drive my chariot
Down your streets and cry
Hey, it's me, I'm dynamite
And I don't know why'
I will pass Smith Street and Great Mersey Street and remember Sunday mornings listening to 2 Way Family favourites with Lonnie Donegan ( who I had the privilege to meet and have a pint with) - - looking up to Stanley Road recalling having a "pint of Spensos" on Saturday evening after Confession in St.Ollies and pretending it was Guiness - - playing Allalio and Kick the Can - -Saturday mornings helping me Mum with the shopping down Greaty to earn my pocket money for the match - - calling for Brian Brady and going up to Goodison as early as 12.30 and waiting for the gates to open - -passing Wessie Road Baths and memories of running along the road with our "cossies" on under our trousers trying to be the first in the water - - never ever thinking that I would live anywhere else or that The Barlow Arms would become my Match day Home and was even called The Dark House.
Had time this morning to sit and read with a second coffee - - poured from my Yellow Coffee Pot into my Yellow Mug - - a la Rimbaud - - read little Osip Mandelstam - - another good Blue
"My turn shall also come:
I sense the spreading of a wing."
Bit of Van in the background -- switching now to one of my favourite tunes of all time - - remember dancing to it a feeling cool in the CI on Sunday Nights - -with my green heringbone suit and Ox Blood Comos - - Its Allright by Curtis mayfield (The Impressions) - -
"When you wake up early in the morning
Feeling sad like so many of us do
Hold a little soul
And make life your goal
And surely something's gotta come to you
And you gotta say it's alright
Say it's alright
It's alright, have a good time
Cause it's alright
Whoa it's alright"
Just sat here with Blue Light coming into room via open window and a little breeze off the river - - turned around and I am sure I saw Erik Satie sitting on my sofa - - haven't seen him since appearing at Le Chat Noir around 1913.
Looking forward to the game - - still points to be played for - - be nice to get "home" after recent "travels" - - ready for a nice pint in TDH - - I am meeting 2 friends from Norway who were/are Beatles Nuts but I converted them to Evertonianism - - "Ahhh Cool Jerk" - - - and as always will meet our lovely Irish Friends - -prefer Saturday KO's to Sundays but 4.00 is better that 12.30 or 1.30 - - OK just beginning to move on - - camera ready - - little bit of Stone Soul Picnic - - it will be an interesting team selection - - for me I never criticise the younger players - - but have have high expectations of the experienced players - - will be interesting to say the least today.
Since I last wrote it has been Vincent Van Gogh's 164th Birthday (30th March)and I celebrated it as I always do - - this year it was filmed by Made in Liverpool TV - - see here - - go to 16mins 01 secs - - Link.

With a warm handshake - - George Vincent Van Goodison.
David Hallwood
104
Posted 09/04/2017 at 11:26:33
Even though I'm a Lukaku fan, and it's a long time since we had the league's top scorer, but Baz from Toffee TV made an interesting observation that his record against the top 6 is not impressive to say the least.
Not only in goals but performances; two poor performances against the RS & Man Utd non-existent at Chelsea, didn't play v Spurs at home, scored at WHL but otherwise well marshalled by two world class centre-backs-just the sort he'll be playing against in the Champions League. Good games v Man City (including a stormer of a goal) and v Arsenal.
So a mixed bag, and still lots to learn about ball retention and hold up play, as the spat with Williams showed. Will he stay or will he go? Who cares... we did okay when Rooney left (who BTW is twice the player Rom will ever be) and we're in a healthier position now, so if he's going, and it looks odds on, let's hope Ron spends the money wisely.
Martin Nicholls
105
Posted 09/04/2017 at 11:32:06
Stan (#101) – spot on!
Chris Gould
106
Posted 09/04/2017 at 11:33:23
George (#103)
Thank you for putting me in a really happy place.
I look forward to any post-match thoughts/delights you may have.
George McKane
107
Posted 09/04/2017 at 11:40:36
Wow, how lovely, Chris – keep cosmic.
James Marshall
108
Posted 09/04/2017 at 11:55:10
Mick @85 – what I mean is, I didn't dwell on it or the Man Utd game since they aren't going to have any greater bearing on our season than when we lost to say, Swansea.
Paul Tran
109
Posted 09/04/2017 at 11:58:18
Souness is bang on the money re Barkley in the Sunday Times today. I hope we buy a real quality midfielder in the summer so Ross can watch, learn and improve, if he has it in him.
Costa and Lukaku are two strikers with the attitude all top strikers need. Difference is that Costa can hold up the ball, wind down time and bully the opposition. Lukaku must acquire this to be as good as he thinks he already is.
Today is very close to call. Valuable game time for the demanded now maligned youngsters. The One For Arthur winnings will be partially reinvested in the both teams to score market.
Brent Stephens
110
Posted 09/04/2017 at 12:01:44
George #103. Only on TW. Lovely.
Tony Abrahams
111
Posted 09/04/2017 at 12:11:48
Have to agree Chris. I was'nt sure if George was going to be on today with him preferring Saturday games, but if the game is half as good as post 103, then we are in for a treat at "glorious Goodison" this afternoon!
I don't know wether to play Satchmo, or Don McClean, after reading that George. Tres bien scouse!
Laurie Hartley
112
Posted 09/04/2017 at 12:23:39
George # 103 - "Bit of Van in the background". As I read that line I could have sworn I heard the voice of Mahelia Jackson coming through the ether.
Up the Blues!
David Hallwood
113
Posted 09/04/2017 at 12:27:02
Paul (#109) – what's the gist of Souness's comments?
Gary Russell
114
Posted 09/04/2017 at 12:30:42
David... Souness:
"Ross Barkley needs to raise his game if he wants to be part of what could be an exciting era at Everton with Ronald Koeman in charge. I haven't seen enough evidence of progress and learning his position from the 23-year-old midfielder since his breakthrough season four years ago to convince me he will change that in the years to come, though.
"That's why I called him a "playground player" after watching his performance in the Merseyside derby last weekend. He needs to show greater understanding of the game and greater consistency or he could end up sitting on the bench. Instead of the rumours of him moving to a bigger club, he may find himself bound for a smaller one."
Chris Williams
115
Posted 09/04/2017 at 12:32:49
George
Wonderful stuff as always. And on a lovely sunny Sunday morning.
The CI on a Sunday, goodness that takes me back. Trying to bunk into the bar upstairs and Gerry on the dance floor, making sure there was enough space between boys and girls dancing together. Walking home to Orrell Park afterwards, my dad still up waiting to smell my breath when I got home.
Interesting game today. No alcohol for me – Lent!
Martin Nicholls
116
Posted 09/04/2017 at 12:36:02
Chris – given up alcohol for Lent? I bow to your willpower!!!
Brian Harrison
117
Posted 09/04/2017 at 12:37:31
Paul,
I haven't read what Souness said in the Times today, but last week he said after the derby that Barkley keeps making the wrong choices. I agree, his decision making doesn't get any better; yes, he has improved under Koeman this season but if we hope to challenge for a top 4 spot he has to improve and quickly.
I watched Spurs yesterday and Dele Alli was total class, by the way you never hear anyone describe him as young Alli and he isn't 21 till later this month. Yet Ross at 23 is still sometimes called young Ross. The biggest problem Spurs will have is trying to keep him out of the clutches of Real or Barca.
George McKane
118
Posted 09/04/2017 at 12:39:17
Thank you all for your Cosmic Grooves - - feel them all wafting across The River - - - - Chris (W) - - same for me always walked home to Smith Street - - never ever had an alcoholic drink in The CI - - only Coca Cola - - but thought that was cool - - loved dancing and trying to dress like Otis Redding - - remember getting a green shot silk suit made to measure by Harrison Brothers on Kirkdale Road and thinking I was really cool - - Rave On.

David Hallwood
119
Posted 09/04/2017 at 12:43:27
Ta for that Gary(#114) even though he's a horrible bastard (and I've got personal experience) Souness is bang on with that one.
James Hughes
120
Posted 09/04/2017 at 12:44:41
George, thanks for the read buddy hope you have a good day. I made it home for the recent Hull game and popped into the TDH for a swift one. It brought back memories of the early 80s, having a season ticket and spending pre-match over the road in the 'Wessie' sad to see it is still closed.
Chris Williams
121
Posted 09/04/2017 at 12:45:37
Martin
It's ok once you stop shaking!
Darren Hind
122
Posted 09/04/2017 at 12:45:50
Nice one George.
After committing the cardinal sin for the past two days – mixing drinking and gambling. I was in need of a bit of kick start today. You've just provided it.
You took me back about 40 years with your Good Vibrations. Beach Boys, Wembley stadium "not cool" was the general consensus by then.
That was before they brought the house down.
Tony Abrahams
123
Posted 09/04/2017 at 12:46:20
"A playground player" is such a terrific phrase, but you had to be tough and spiteful to get on in the playground, and also very aware. unless of course it was every man for himself? But these fella's usually blew-up, after doing too many dribbles, which is sometimes how Barkley plays.
Ross, is definitely improving but it's not easy having to be the creator when the team doesn't have great forward movement and sometimes I think he plays better coming from deep.
Martin Nicholls
124
Posted 09/04/2017 at 12:49:27
Chris - I'll take your word for it! Looking forward to pre-match Guinness already!
Chris Williams
125
Posted 09/04/2017 at 12:52:19
George,
Otis, now you're talking!. I remember hearing Respect for the first time on a breakfast show in '65 I suppose. On my way out to catch the bus to school (61 I think) and it was one of those moments. Never heard anything like it.
I was on a tight schedule, everything at the last minute, but I had to listen to the end. Missed my bus, late for school, caught by the prefects, detention.
Otis Redding got me detention!
Chris Williams
126
Posted 09/04/2017 at 12:54:33
Martin,
I can give up booze but not Everton.
David Hallwood
127
Posted 09/04/2017 at 12:59:47
Tony (#123) but is he? Like all Evertonians I want to see Ross becoming one of the greatest midfielders in Europe; but what's happened to the Ross of 3-4 years ago, the one that waltzed through Newcastle's defence, the one that came on against Arsenal (in the cup I think) and terrified their defence, the one that scored the spectacular goal at the Park End v Man City, who went on to win the league.
He's added a lot to his game; the inch perfect through balls, ball retention etc, but the amount of times he's given a ball in space; now the old Ross would drive forward; this one invariably, stops, checks sees what's on, then carries on, by which time the opposition is back in numbers.
Compared to other No 10s; Alli,Coutinho & Hazard, Ross is some way back.
George McKane
128
Posted 09/04/2017 at 13:12:22
Chris - - worth it though I guess - - remember when a new single or LP came out and would walk around to mates with it under my arm - - posing of course - - and sit and listen for hours over and over again:
"Sunday six-bells, and in between the silence there was conversation
And laughter, and music and singing, and shivers up the back of the neck
And tuning in to Luxembourg late at night
And jazz and blues records during the day
Also Debussy on the third program"
Take Me Back Take Me Way Way Back to Great Mersey Street.
Paul Tran
129
Posted 09/04/2017 at 13:14:33
Spot on, Brian. I keep reading on here what a little shit Alli is. I'd love us to have a little dynamic shit of a player who makes things happen, scores goals and isn't constantly described as 'young' or 'promising'. And OPTA stats don't tell you everything. I'd take the more effective Alli anytime.
Tony's right, Ross is improving, but quick enough? Would you build a team around him or buy a quality ready-made player in the summer? Instead of blaming Moyes, Martinez, Hodgson, and Southgate for 'damaging his confidence', maybe we could consider that he's a good talented player without that extra edge that takes him to a higher level?
I keep saying I hope he proves me wrong, and he doesn't. I really hope he does, but I think his only chance is to work and play with some real quality in that midfield.
Answer me these, if Koeman had bought him last summer for 㿅-30m, how much stick would he be getting on here? If Spurs shelled out mad money for him, who would he replace?
Tony Abrahams
130
Posted 09/04/2017 at 13:21:19
Agree David, but that goal at Newcastle came from Barkley, running from deep. He's never a number ten, this type of player, receives the ball much better than Ross, and mostly play on the half turn, always looking to flick and spin, or just keep it simple?
Until 2017, I'd personally never seen Ross Barkley, play two good games in succession, but this has now began to change, and if you highlight some of his individual play, then it's obvious the kid has got loads of talent. Putting it all together is the hard part, and only by doing this will he reach the next level, or as Souness says, even stay at it..
David, I'm not sure the West Ham fans, really rated Frank Lampard, but once Mouriniho! Got him playing in a position and a system, that suited him, he became a much better player, and he was probably also helped by getting out of the pressure cooker at Upton Pk, were he probably felt that the fans were never 100% behind him?
Chris Williams
131
Posted 09/04/2017 at 13:21:53
George, it was well worth it. Otis Blue.
Hope your bet comes up today. Cosmic Grooves.
Ray Roche
132
Posted 09/04/2017 at 13:30:18
George#103
"Ox Blood Comos" .takes me back..mohair suits nostalgia rules, OK.
Ray Roche
133
Posted 09/04/2017 at 13:38:24
Just checked the AA Traffic News before leaving, the M53 is at a standstill towards Wallasey. Any Blues coming from North Wales, may want to check the traffic situation before leaving.
John G Davies
134
Posted 09/04/2017 at 13:46:23
Tony,
I have said the same thing for a long time.
He is not a 10.
He should be one of a midfield 3 in my opinion.
John Wilson
135
Posted 09/04/2017 at 14:10:05
Nearly every team in the PL is difficult for Everton. Leicester are on good form too. The match is also televised and Everton can't seem to perform in front of the cameras. I think there will be goals in this game, not just therefore one goal to Everton. I think we'll either lose this game in our current form or struggle a draw; I think less likely a clean sheet (but maybe for Leicester?). I also expect RK to not learn from his mistakes and remove the likes of Kev even when he/ other is playing well - just as he (RK) seems to do on default - to replace him with the spice boys. Valencia and Kev , and Lukaku (loo-cack-oo) also on from the game's commencement as there is a player in Valencia and has provided some assistance to Lukaku recently. Barkley is clumsy but he has the build and weight to do some use...ergo he has potential but will he use it?
Dave Abrahams
136
Posted 09/04/2017 at 14:11:12
George McKane, God bless you for your lovely uplifting posts.
Regarding your green suits, reminded me of my lovely cousin, he died recently, a great blue and a great fella, Anyway he ordered a made to measure suit years ago in Neville Reads, in London Road, got it made to his exact design, paid for it while it was being made, had two try ons to make sure it was the way he wanted it. Finally he got and brought it home, went upstairs put it on and came down to show the family, his mam said nothing, just looked at the suit with her mouth open, his dad, my uncle Georgie mouthed Jesus Christ, my cousin Souey finally said what everyone was thinking. 'John the suit looks okay but why did you pick that colour' he said 'Black, what's wrong with black' John was colour blind, his sister said ' John the suits bleedin' bottle green, people will think your working at The Odeon or The Gaumont' he never lived that down.
Carry on with your match day postings Georgeyou brighten everyone's day.
Brian Wilkinson
137
Posted 09/04/2017 at 14:30:32
Kevin @86, you are welcome; it is how I see it, frustrating at times because I certainly would try Lookman and Valencia out, you are not on your own, I need to watch how I word my views but you nailed it word for word.
That's what makes this site a good forum on all things Everton, we cannot all agree on views, but if we see someone who's disrespecting the club shirt, or not putting a shift in, we will vent our anger.
Today's game will be tough, but I think we will pick the three points up. We need to start the game quicker than past matches, Leicester will not want a high tempo game with next week's European game coming up, so let's hit them hard and fast and put the game to bed early doors.

Terry Davies
138
Posted 09/04/2017 at 15:02:26
where's the live matchday blog?
Mike Green
139
Posted 09/04/2017 at 19:33:41
Stan (#101) – I don't agree.
I voted to keep him in that poll because, at the moment, we need his goals badly. If we can replace his goals there are large parts of his game, and his off the pitch disruption, that I could do without.
He is the league's top scorer but Evertonians aren't lifting the roof off chanting his name or on their knees begging him to sign his new contract. Support for him is there, but it would be on his current run.
He will hit a dry patch again and you will see Evertonians become restless, because behind the goals I don't believe the support is strong, I think in truth it's very fragile.
Happy to agree to disagree.
---
Add Your Comments
In order to post a comment, you need to be logged in as a registered user of the site.
Or Sign up as a ToffeeWeb Member — it's free, takes just a few minutes and will allow you to post your comments on articles and Talking Points submissions across the site.