Koeman and Jagielka make trip to see Coleman
Wednesday 12 April 2017

22 Comments [Jump to last]
Seamus Coleman received a moral-boosting visit from his club manager and captain this week as he continues his rehabilitation from a broken leg.
The fullback suffered a double fracture of his right leg in the Republic of Ireland's World Cup qualifier against Wales last month and has been spending time with his family in his home town of Killybegs since undergoing surgery in Dublin.
Ronald Koeman and Phil Jagielka were joined by Everton's fitness coach, Jan Kluitenberg, and head of medical services, Matt Connery, as they made the trip across the water to visit Seamus in County Donegal.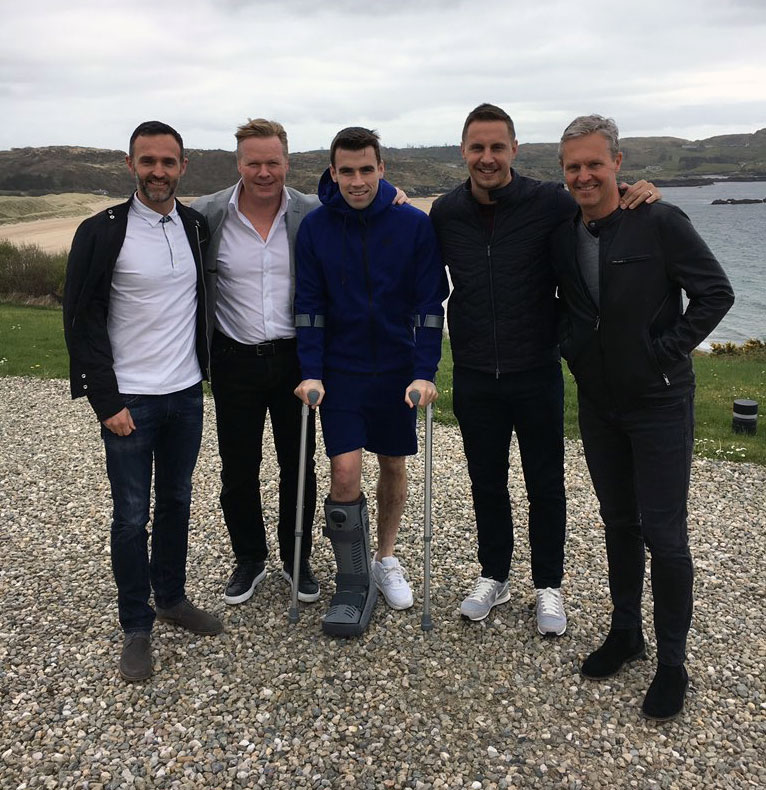 Ronald Koeman tweeted this photo of the group with Seamus Coleman
"Seamus is positive and he is feeling strong," Koeman told evertonfc.com.
"He is really grateful for the messages he has received from Everton fans and from people all over the world.
"Before he comes back to start his rehabilitation, he will spend up to 10 more days at home in Killybegs before starting out on his recovery from the injury."
Coleman's operation was deemed successful by his surgeon but no firm date for his return has been announced. He is not expected to be fully fit until the New Year.
---
Reader Comments (22)
Note: the following content is not moderated or vetted by the site owners at the time of submission. Comments are the responsibility of the poster. Disclaimer
Robert Leigh
1
Posted 13/04/2017 at 08:00:34
Sending out all the right signals to potential new players by visiting injured teammates. It was nice to hear Bolasie saying how supportive Seamus has been, and although a terrible shame, he was happy that he will be with him side-by-side as they recover from their respective injuries.
Can't wait to see those two ripping people apart in January/February '18.
Trippier in for cover in the Summer?
Derek Knox
2
Posted 13/04/2017 at 08:29:35
What a nice gesture for a truly genuine lad, I'm sure Seamus would appreciate the Club's concern, and the esteem that both Club and fans hold him in.
How many other Clubs would extend the same appreciation for one it's injured players? Not many, if any at all!
COYB
Steve Ferns
3
Posted 13/04/2017 at 08:55:21
We are getting Cuco Martina in to cover Seamus in the short term.
He's this summer's Steklenenburg. Tried and trusted as far as Koeman is concerned. Free transfer as well. It's a no brainier for him.
I just hope this means we will keep playing Holgate or give Kenny a try and not just play Martina.
Peter Murray
4
Posted 13/04/2017 at 09:02:00
Great example of Everton's values, the "family club" in action.
Shaun Brennan
5
Posted 13/04/2017 at 09:30:39
Fantastic gesture, this is the sort of portrayal put out there that puts the club in a caring light. Well done, Everton.
Will Mabon
6
Posted 13/04/2017 at 09:38:26
How the hell do you get the coat hanger down that thing? Must itch like the devil.
Shane Corcoran
7
Posted 13/04/2017 at 10:05:18
Steve (#3), you sound fairly certain on that one. Any reason for that?
Rob Dolby
8
Posted 13/04/2017 at 10:39:23
Great to hear the fans singing his song at the last few games. He is my captain in this team a true leader on the park. We need more players with his attitude and determination and less of the tattoo and hair gel brigade.
Give Kenny and Holgate a go instead of buying a journeyman stop gap.
Steve Ferns
9
Posted 13/04/2017 at 11:49:32
Just what I've heard from different people. Also on a free transfer, as cover whilst Seamus is out, it seems pretty certain. Koeman signed him once and he played him, whilst the current boss won't give him a game.
Mike Gaynes
10
Posted 13/04/2017 at 14:59:47
Will (#6), note the straps, it's a removable boot, not old-style plaster. Maximum scratchability.
Alexander Murphy
11
Posted 13/04/2017 at 15:12:25
Rob Dolby, you have written my post for me, thank you.
Gerry Quinn
12
Posted 13/04/2017 at 16:44:29
Gaynes, you old fart, when did you get back, and how was it all?
Can't wait to read your "Been there, seen it, done it!" :)
Richard Lyons
13
Posted 13/04/2017 at 17:40:50
Lovely place, Killybegs (when it stops raining), and you can get great fish & chips there... wonder how much of that Seamus will be allowed.
Tà súil agam go mbeidh biseach ort go luath!
Paul Ferry
14
Posted 13/04/2017 at 18:19:14
He ain't back yet, Gerry – he'll be at the game Saturday, mate.
Mick Davies
15
Posted 13/04/2017 at 18:19:55
Along with Bainesy, my favourite player over the last few years. A true blue who loves the club, and a very humble and likeable human being.
I really hope he comes back without losing any of his pace or bottle, and is made club captain for as long as he's part of our squad.
Shane Corcoran
16
Posted 13/04/2017 at 18:25:11
Good man, Richard. Fàdas and all.
Gerry Quinn
17
Posted 13/04/2017 at 18:33:22
Did they not have the decency to clean his legs off after surgery?
Steve Ferns
18
Posted 13/04/2017 at 18:34:59
Maybe making Seamus captain will ensure his bottle. He is one who would take the captaincy with a sense of obligation.
Jags has been a fine captain. His conduct on and off the field, his work rate and determination are all exemplary.
From Ratcliffe to Watson to Weir to Jagielka, we've had a good run of captains, and Seamus would fit in that company, I'm sure.
Gerry Quinn
19
Posted 13/04/2017 at 19:02:22
You don't hear it on TV, but can any matchgoers near the touchline tell us if Seamus does a lot of shouting/urging in a game – he looks so quiet...
Mike Gaynes
20
Posted 13/04/2017 at 20:41:30
Hi Gerry... I'm still here... Edinburgh right now, then back to England tomorrow and ready for the Burnley game.
I'll post an article shortly after I get home. You won't believe what TW hospitality made happen for me. Amazing.
Paul Tran
21
Posted 13/04/2017 at 20:52:28
Make sure you see a few of those Edinburgh pubs, Mike. You enjoying your time this side of the border?
Mike Gaynes
22
Posted 13/04/2017 at 20:58:58
Very much, Paul. Done pub lunches every day but haven't made it out for any nighttime music. We old farts get a bit sleepy around 8.
---
Add Your Comments
In order to post a comment, you need to be logged in as a registered user of the site.
Or Sign up as a ToffeeWeb Member — it's free, takes just a few minutes and will allow you to post your comments on articles and Talking Points submissions across the site.