Everton vs Burnley

60 Comments [Jump to last]
Saturday 15 April 2017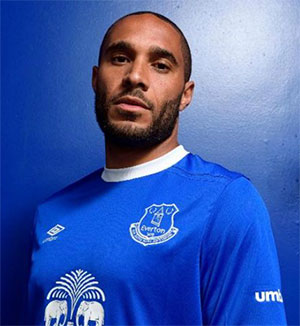 Ashley Williams returns from a one-game ban and will likely go straight back into the starting XI
Just three home games remain for Everton in 2016-17 as they try and push their way into the top six on the back of what has been phenomenal home form since the turn of the year.
The Blues can set a Premier League record of eight successive home wins this weekend if they can beat Burnley who have yet to win away from home this season. The Clarets have relied on their own home form to keep them clear of relegation danger so far and they travel to Merseyside sitting in 12th place, eights points clear of the bottom three.
For Ronald Koeman's Everton, a second successive game at Goodison Park offers the opportunity to move into fifth place in the table, at least until Arsenal, who travel to struggling Middlesbrough, and Manchester United, who host Champions-elect Chelsea, tomorrow and to sustain the momentum for more difficult assignments to come in the final few matches of the campaign.
The Dutchman is boosted by the return from suspension of defender Ashley Williams who missed last weekend's win over Leicester City as he served a one-game ban for his sending off at Old Trafford but will have an otherwise unchanged squad from which to choose.
Muhamed Besic made his long-awaited return to action earlier in the week following his recovery from a ruptured ACL with 45 minutes for the Under-23s but the Bosnian is not expected to be involved at first team level just yet.
Brendan Galloway also featured for the second string for the first time this season after returning from a loan spell at West Bromwich Albion but the terms of his release from the Baggies stipulate that he can only play at U23s level.
Koeman would not be expected to make too many changes for this one given how well his charges fared last weekend. He made just one substitution in that game, withdrawing Morgan Schneiderlin with 17 minutes left as a precaution following his two-game injury lay-off, a reflection of his confidence in the players on the pitch to finish the job on the vanquished Foxes.
Kevin Mirallas's energetic and feisty display should see him keep his place playing off Romelu Lukaku up front while Matthew Pennington will likely make way for Williams at the back.
Sean Dyche, meanwhile, can recall the fit-again Steven Defour but has to make a decision over the match fitness of Johann Berg Gudmundsson after his recent recovery from a knee injury.
Koeman was particularly perplexed at how his side had managed to lose the reverse fixture at Turf Moor so while he will be wary of Burnley's strengths, he may also have a particular desire for revenge in this game. His Toffees are, however, a different proposition these days to the one that was sloppy and profligate with possession in that encounter last October.
Better with the ball and more incisive up front, Everton should have too much for the Clarets who have notched just nine goals on their travels all season.
Kick-off: 3pm, 15th April, 2017
Referee: Mark Clattenburg
Last Time: Everton 1-0 Burnley
Predicted Line-up: Robles, Holgate, Jagielka, Williams, Baines, Schneiderlin, Gueye, Davies, Barkley, Mirallas, Lukaku
---
Reader Comments (60)
Note: the following content is not moderated or vetted by the site owners at the time of submission. Comments are the responsibility of the poster. Disclaimer
Darryl Ritchie
1
Posted 15/04/2017 at 03:47:25
They haven't won an away game all season, while we have made Goodison a fortress. Everything points to a fairly comfortable win, but while they aren't desperate for the points, the law averages says they will win an away game, sooner or later, even if they are a rather average side.
Not this time though.
Everton 4-0 Burnley. A Lukaku brace, one for Mirallas and another for the goal machine that is Jagielka.
Will Mabon
2
Posted 15/04/2017 at 05:49:43
Lyndon - the word "Phenomenal" is still banned until season 2018-19.
The words "Incredible" and "Moment" are also discouraged.
Gary Russell
3
Posted 15/04/2017 at 05:50:37
Lovable Lawro's BBC prediction about Burnley game ends with, 'I think Everton's excellent run will continue – and maybe Ross Barkley will deliver the knockout blow.'
What an utter rotter.
Will Mabon
4
Posted 15/04/2017 at 06:04:46
Lawrenson, comic genius...
Kieran Fitzgerald
5
Posted 15/04/2017 at 06:28:31
It's a weekend where we really need to win and need Man Utd and Arsenal to both drop points.
Arsenal still have to play Spurs, Man Utd and us. Man Utd still have to play Chelsea, Man City and Spurs. These games would hopefully cancel out their games in hand.
We do have winnable games left with Chelsea a tough one. We are at home though.
The last game of the season against Arsenal could be a huge game. A win for us against Arsenal on the last day of the season, a little bit of revenge for recent seasons as well maybe.
Gary Russell
6
Posted 15/04/2017 at 06:47:53
Indeed Kieran, I mentioned the Arsenal game over a month ago, to my mate, suggesting the potential it may have. Fifth is still a real possibility.
Colin Glassar
7
Posted 15/04/2017 at 07:53:01
2-0 to the Blues.
Dermot Byrne
8
Posted 15/04/2017 at 08:10:58
Droll Will #2. Lol.
Mike Gaynes
9
Posted 15/04/2017 at 08:11:50
I'm getting warmed up... stretching...
Dermot Byrne
10
Posted 15/04/2017 at 08:18:45
Watch that hamstring in your warm up, Mike. You need to be fully fit for this! Enjoy.
Harry Wallace
11
Posted 15/04/2017 at 08:19:37
Does anyone know who Arsenal and Man Utd play for their games in hand?
Mike Gaynes
12
Posted 15/04/2017 at 08:24:55
Feelin' it already, Dermot... thanks.
Peter Warren
13
Posted 15/04/2017 at 08:37:10
Enjoy, Mike.
David Greenwood
14
Posted 15/04/2017 at 08:42:15
5-0 win coming up. Enjoy, Mike.
Jimmy Salt
15
Posted 15/04/2017 at 08:44:34
TalkSport are selling Lukaku this morning.
He's outgrown Everton apparently.
Phil Jeffries
16
Posted 15/04/2017 at 09:08:02
Usually if a team hasn't won, player hasn't scored... you know the rest! But I'm a little more confident with Koeman in the dug-out. 1-0 defeat coming up then!!!!!! COYB!
James Hughes
17
Posted 15/04/2017 at 09:15:20
Got a feeling George will be in the money at full time. Burnley are poor away from home, so 4-0 for me.
Hugh Jenkins
18
Posted 15/04/2017 at 09:22:56
Phil (#16). I too am more confident with Koeman at the helm.
Anyone who has followed the Blues over a sustained period will inevitably fear, as you do, our past habit of being generous to those in need of a goal or a win.
Hopefully, however, our form since January 2017 and the new found steel in the team augers well for the future. It may soon seem a distant past since the type of scenario you describe went hand in glove with Everton FC. I, for one, hope and trust it is onwards and upward to a bright future.
Lord knows, we have suffered enough false dawns. People are already starting to talk again,about "Fortress Goodison". Long may it continue.

Mark Rimmer
19
Posted 15/04/2017 at 09:24:54
Still can't stand Clattenburg, I don't care if he's done well since that derby, he should have never been allowed to officiate another Everton match. The fact he's gracing our hallowed turf to do so today makes my blood boil.
Stan Schofield
20
Posted 15/04/2017 at 09:44:55
A really big win has been on the cards for a while. This one should fit the bill. 6-0.
Steve Woods
21
Posted 15/04/2017 at 09:46:31
At least the 'comic genius' that is Mark Lawrenson doesn't have us down for a 0 - 2 as he did last week.
Gareth Clark
22
Posted 15/04/2017 at 09:49:34
I agree with the line-up – the best we have at the moment. Also tried & trusted.
Bench of:
Stekelenburg, Pennington, Kenny, Barry, Lookman, Calvert-Lewin, Valencia.
I would like to see Valencia get some game time & Lookman too. While Barry will most likely come off the bench also.
Other than that, I hope we might switch to a back three at some point in the game, situation dependent of course. With Kenny slotting in at right wingback.
COYB.
Eric Myles
23
Posted 15/04/2017 at 09:53:47
Phil (#16), as Vokes hasn't scored in a while, I'm expecting a hat trick from him.
So 4-3 to us.
Phil Sammon
24
Posted 15/04/2017 at 09:59:01
Doesn't Williams get a three-game ban for his straight red? Or is that just for violent conduct?
George McKane
25
Posted 15/04/2017 at 10:07:03
Saturday 3.00pm KO - - Ode To Joy - - Now Listen To The Beat - - just stood by my side window overlooking The Royal Blue Mersey with the Hallowed Ground just past my fingertips and behind the morning clouds I can see the Pennine Hills - - going into my front room and turning away from The Waterfront I can see Moel Famau - - standing with my arms folded purveying nature like a Casper David Friedrich character on top of the mountain in wonder of the world but somehow on top of it all - - Ahhh To Be A Blue - with a bit of Crosby Still Nash and Young in the background - - appropriately "Carry On" :
"One morning I woke up and I knew that you were gone.
A new day, a new way, I knew I should see it along.
Go your way, I'll go mine and carry on.
The sky is clearing and the night has gone out.
The sun, he come, the world is all full of light.
Rejoice, rejoice, we have no choice but to carry on.
The fortunes of fables are able to sing the song.
Now witness the quickness with which we get along.
To sing the blues you've got to live the tunes and carry on.
Carry on, love is coming, love is coming to us all."
Moved on to Judy Blue Eyes - - wondrous:
"Something inside is telling me that I've got your secret. Are you still listening?
Fear is the lock and laughter the key to your heart and I love you.
I am yours, you are mine, you are what you are
And you make it hard, and you make it hard, and you make it hard, and you make it hard."
Took some time over my second coffee to have a quick read of Walt Whitman - -well it is Saturday - - "Keep your face always toward the sunshine - and shadows will fall behind you." - - Some people are so much sunshine to the square inch."
Made me wander onto Van The Man - - Rave on John Donne Live - - I close my eyes and Van's voice and ramblings lift my spirits and I fly over New Brighton like Ivan at the beginning of Tarkovsky's Ivan's Childhood - - "Rave on, Walt Whitman, nose down in wet grass".
Van - - "Turn it up, turn it up, little bit higher, radio
Turn it up, that's enough, so you know it's got soul"
Listening to a bit of soul - - Marvin Gaye, Curtis and some Temptations and remembering my green Herringbone Harris Tweed suit with a black silk hankie in the breast pocket - - yellow Ben Sherman button down collar and Ox Blood Comos - - CI Sunday and does anyone remember Monday Night at Reeces in Clayton Square next to Owen Owens - - Monday night was soul night - - Tamla and Atlantic - - Otis, Wilson Picket, James and Bobby Purify - - you could find a different place every night of the week for dancing - - loved the Mardi - - and later started going to The Babalou on Thursdays listening to West Coast stuff - -jumping around to Steppenwolf and Free - - hair longer - - suits gone - - baggie kecks with the little belt on the back and green stripe Dunlop pumps - - bought from the big Co-op in London Road - - coloured silk scarf tied around my neck
- - woweee.
Listening to different bits of music and letting my soul and spirit fly into the mystic - - I love getting ready for my Saturday visit to Le Maison Noir - - walking along Smith Street onto Westminster Road - - passing Whittle Street where I would get the 33 bus to school - - the magic number 33 - - wonder if that's why I am who I am - - excuse me Mr Camus - - they were indeed magic days - - and today onto TDH - - take some early photos of the gang for our FB Page (The Dark House Blues) - - get my bet on via Mick The Bookie - - 4-0 of course - - do the coupon with gang (one of the reasons I love Saturday KO's) - - gas about last week's game - - wait for team news off Liam The Team (my grandson) - - after the game we stay for "scouse and butties" and when TDH empties a little around 8.00pm we do our Everton quiz - - been doing the quiz in TDH for 35+ years - - fabulous - - still very serious and competitive. Love it.
Sun is now bouncing through the windows - - crackling off the roofs like something from Signac - - my window is open a little - - gonna play a little Debusssy - - I close my eyes and it is as if "sound a perfume swirl in the evening air" - -
For anyone interested we are hosting a Yellow House Fundraising Night this coming Thursday at Tom Halls Tavern bottom of Brunswick Street on the corner of The Goree - - around 7.30 - - live music and I will be doing - - well something - - - like Cool Hand Luke "I aint never planned nothing in my life" - - I will just be doing some floating on the Astral poetry and stories - - £2 on the door - - all proceeds to keep Yellow House going.
Well have to go for tidy up and dressage - - Gosia will drive me in her chariot under the magical River toward TDH and beyond Goodison - - wait a minute - - a quick run to my side window - - yes I can see the roof - - shimmering there in the distance - -
"And now I see with eye serene
The very pulse of the machine;
A being breathing thoughtful breath,
A traveller between life and death:
The reason firm, the temperate will,
Endurance, foresight, strength, and skill;
A perfect Woman, nobly plann'd
To warn, to comfort, and command;
And yet a Spirit still, and bright
With something of an angel light."
Cosmic grooves to all Blues - - Shine On . . . and on . . . and on.

Gareth Clark
26
Posted 15/04/2017 at 10:12:05
On a side note:
I really really hope (almost expect) we get Keane in, in the summer.
What a signing that will be!
A goalkeeper, CB, LB, CM, CAM, winger & striker.
Pickford
Keane
Chilwell
Tielemans
Sigurdsson
Iheanacho (he can clearly see what we did for Lukaku's career & being second choice, instead of 3rd choice at City, we could convince him).
Pickford
Coleman Keane Williams Baines
Idrissa Schneiderlin Davies
Barkley Sigurdsson
Lukaku
Robles, Funes Mori, Chilwell, Tielemans, Mirallas, Iheanacho

GK: Pickford / Robles / Stekelenburg / Hewelt

RB: Coleman / Kenny / Connolly / Jones
RCB: Keane / Holgate / Jagielka / Pennington
LCB: Williams / Funes Mori / Galloway
LB: Baines / Chilwell / Robinson

RCM: Idrissa / McCarthy / Walsh
CDM: Schneiderlin / Barry / Besic
LCM: Tielemans / Davies / J Williams

RAM: Barkley / Bolasie / Lookman
LAM: Sigurdsson / Mirallas / Calvert-Lewin

ST: Lukaku / Iheanacho / Sambou
Michael Spear
27
Posted 15/04/2017 at 10:44:20
George @25, almost brought tears to my eyes here on the early train up from Euston listening to Joni Mitchell, with CSN next up on my playlist.
I'm getting there early to take in the uncovered tile floor in St Georges, something I've wanted to see for years (and not just for the blue Liver bird featured in one of the designs).
You do know how to make people feel homesick even after 45 years down south!
George McKane
28
Posted 15/04/2017 at 10:48:15
Hello Michael,
Lovely Joni Mitchell - - and you are of course in for a special treat with the wondrous floor at St.George's Hall - - and then onto Goodison - - call in The Dark House - - The Barlow Arms on Barlows Lane (Wessie Road).
Cosmic grooves all the way - - George.

Phil Sammon
29
Posted 15/04/2017 at 10:56:55
What the bloody hell is in the air on Merseyside?!
Dave Williams
30
Posted 15/04/2017 at 11:04:13
George- what fabulous stuff and I well remember Reece's and the Babylon for the more " hairy" live music, the disco at Silver Blades where Motown ruled- great memories. I have looked at your website and seems like you do marvellous work up there.
Great post!
Tony Hill
31
Posted 15/04/2017 at 11:04:29
Thanks, George, purifying the air after the pollution of yesterday.
Brent Stephens
32
Posted 15/04/2017 at 11:08:51
Match day and George McKane time. What more could a blue wish for?
Dave Abrahams
33
Posted 15/04/2017 at 11:14:39
God bless you George, like a lot of Everton fans I think of you on Saturday morning on match days at Goodison and look forward to your post and your look back on life from years ago.
Loved your oxblood como's always wore them and black ones, not sure about the rest of your outfit in those days but each to his own.
Here's a poser for your quiz : which famous former player managed a club for seven years and the club never had a team during that time. It wasn't during the war. Give you the answer next week if nobody gets it, but knowing Scousers ( and Evertonians ) some one will answer it two minutes after you ask it.
Good luck and good health always George.
Rob Dolby
34
Posted 15/04/2017 at 11:24:39
I would keep Pennington in for Williams. The lad looked a lot more assured after a shaky start. Let's face it he has been thrown in at the deep end against the Liverpool, Man Utd and the current Champs.
Coyb
Eric Myles
35
Posted 15/04/2017 at 11:26:17
Michael (#27), you'll be disappointed: the bird is grey.
Brian Harrison
36
Posted 15/04/2017 at 11:29:42
I have a soft spot for Burnley, I loved visiting Turf Moor to watch Ray Pointer, Jimmy Mclroy, Jimmy Adamson great players. That was when Burnley were challenging Everton and Spurs for the title.
Obviously being a small town club they no longer have the resources to challenge at the top end of the league. I think it will be our toughest home game for a while, and a chance to see Michael Keane. I hope we sign him; he looks a class act.
So I am going for 1-0 home win, to keep our good home record and put a little bit of pressure on Arsenal and Man Utd.
George McKane
37
Posted 15/04/2017 at 11:32:40
Just off - - Dave lovely comments as always - - I lived on The Brow for a while - - Phil - - Mmmm - - Something In The Air - - I made a CD a few years ago called "Reclaiming The City For Artists Lovers and Poets".
Off to TDH - - Up The Blues.
Jon Cox
39
Posted 15/04/2017 at 11:49:03
Hey George, since someone mentioned oxblood como's I thought you might like this for a memory.
"...By the turn of the century a crop of branches had opened up in the surrounding area and the Flemings name had become well and truly established. Once youth culture took hold in the fifties the jeans made the transition from work wear to leisure wear, becoming the jeans of choice for the city's Teddy Boys. From the Ted's thru to Mods of the 60's, then skinheads of the 70's and a brief period for the scouse smoothies in 1980.
The label would go into decline during the nineties due to the heavy competition from imported brands. A part of Liverpool's heritage was lost in 1998 when the last remaining Flemings shop on Walton Road closed its doors for the last time."
Was a bit of a "skinhead" in the early 70's till I discovered "Deep Purple" Then the "hair" just grew and grew :-)
4-0 COYB
Micky Norman
40
Posted 15/04/2017 at 12:01:12
Ah Fleming's. Supatuffs or Standards? Anyone who doesn't come out of Goodison at 5 o'clock with a throat that feels like a 40 grade sanding block and their ears ringing is a pussy. We all know why. Remember, this goes round the world on TV.
Terence Tyler
41
Posted 15/04/2017 at 12:16:34
There will be no Sun reporters today, as they have now been banned.
Neil Wood
42
Posted 15/04/2017 at 12:33:18
Have they, Terence? Where did you hear this?
Chris Williams
43
Posted 15/04/2017 at 12:33:40
Aah sweet soul music George, takes me back to the Mardi Gras, and vodkas and lime.
Don't forget Sam Cooke and the great Levi Stubbs, Aretha and Irma and the Funk Brothers who along with Booker T and the MGs drove the music.
Lovely thoughts George, win your bet and cosmic grooves.
Jimmy Salt
44
Posted 15/04/2017 at 12:36:40
Just been on TalkSport – The Sun is banned.
Terence Tyler
45
Posted 15/04/2017 at 12:38:12
Club website.
Derek Knox
46
Posted 15/04/2017 at 12:49:06
Think George has been sampling the Jamaican Woodbine.
Hope El Teflon has not been experimenting with that spice again.
COYB
Andy Meighan
47
Posted 15/04/2017 at 12:51:40
George. As ever... Beautiful, just beautiful.
I look forward to it every home game. Gives me that warm feeling inside and almost makes me forget about the negative.
And Micheal (#27), listening to the great girl herself, Joni. Which album, Micheal? Because she's made some absolute gems...
It seems strange to know a lot of our fans of a certain age have the same musical tastes as myself. I'd like to ask the two aforementioned gentlemen what they think of the late great John Martyn? To me... non pareil...
Oh the match. Lukaku 1st goal and us 4-0 – that's what I'm doing again anyway. Cosmic grooves all the way, Georgie baby Right just about to put on Van and Georgie Fame. Who can I turn to? Marvellous.
Jon Cox
48
Posted 15/04/2017 at 12:53:14
Oh no... that'll mean TalkSport will be calling us a "Little club" again.
Ironically I think Murdoch has more than a few grubby fingers in this so-called radio station. Back to the footy.
I would love to see Koeman late on, that is, if we're about 4-0 to the good go three at the back and give Jonjoe a run-out at right-wingback.
Dave Abrahams
49
Posted 15/04/2017 at 13:24:43
Chris ( 43 ), yes, Sam Cooke, what a singer, he could sing the dictionary and make it sound supreme. Through in Della Reece, another great great singer, tells a story with every song she sings, like she'd lived that story.
Peter Cummings
50
Posted 15/04/2017 at 13:25:59
I don't think it will be the walkover many seem to think against Burnley today, they are likely to survive the drop this season because of their defensive strength in away games where many of their points have come from draws and some of their losses by only a single goal.
They have a 'take no prisoners' attitude so we will have to expect a tough physical battle and hopefully steer clear of injuries.
Andy Codling
51
Posted 15/04/2017 at 13:35:15
Early goal required today.
Chris Williams
52
Posted 15/04/2017 at 13:36:16
Dave,
Thanks for reminding me about Della, I'd forgotten about her. 'I Believe' And 'It's Magic' from memory, which is always dangerous. I used to hear her on Family Favourites of a Sunday.
I think she became a Minister late in life.
Clive Rogers
53
Posted 15/04/2017 at 13:37:33
Jon (#48),
I'd like to see Kenny get a run also. We are going to need an attacking wingback before Seamus is ready again.
James Hughes
55
Posted 15/04/2017 at 13:37:53
I see Geri has had a decent game for AC Milan in their derby. Won the corner as well in the 97th minute which got them back to 2-2.
Good luck to you, Geri lad.
Sam Barrett
56
Posted 15/04/2017 at 13:49:06
George, your beautifully poetic post has absolutely made my day. Moel Famau, there's a blast from the past!
Your post couldn't be further from the vile, putrid excuse for a human being that has just got his paper banned from EFC, please keep them coming.
As you've cheered me up I'm gonna do your favoured 4-0 bet too. Cosmic grooves! 😀
Jon Cox
57
Posted 15/04/2017 at 14:08:56
Peter, regarding Burnley's away record.
9 goals for and 30 against. With three nil-nils and one 1-1 draw means they've only gained 4 points from their "Take no prisoners" attitude...
Whether it be 4-0 or not I still see three points for a home game where momentum is a key factor.
Dave Abrahams
58
Posted 15/04/2017 at 14:14:26
Chris (#52), It's Magic, really is magic when sang by Della Reece, google her and she will remind you how gifted she is singing 'A house is not a home' and 'These foolish things' along with many more.
Chris, I hope we are all singing today and in the future, I get the feeling we are on the way back and upwards. Or it could just be George putting us all in a good mood.
Jon Cox
59
Posted 15/04/2017 at 14:19:08
The team:
Robles,Baines, Williams Jagielka, Holgate, Schneiderlin, Gana, Barkley, Davies, Lukaku, Mirallas.
Subs: Barry, Valencia, Stekelenburg, Calvert-Lewin, Lookman, Pennington, Kenny.
Chris Williams
60
Posted 15/04/2017 at 14:19:51
Dave
I will have a listen. I've got a soft spot for these standards.
I think we are starting the way back, but a bit to go yet. So the optimism is definitely boosted by George's cosmic Grooves, massively uplifting of a Saturday.
Michael Spear
61
Posted 15/04/2017 at 20:07:00
Wrong thread, I know, by now as I've just passed through Watford on my way home (near Watford) via Euston after the game.
Anyway, Andy @47, it's my own compilation from most of Joni's albums, though given my age most of them are the early ones (hence the Crosby, Stills & Nash follow on).
And George, I couldn't make the Dark House... Was meeting my brother all the way from Mold, yes, in the shadow of Moel Fammau. You couldn't make it up, could you (well, some could, but they're banned now!)
Oh, good result, not great... over to the right thread. Night all, Euston approaches.
Neale Wiseman
62
Posted 18/04/2017 at 08:18:14
Can I say I am getting sick of lazy Echo articles slagging off Robles.
A quick visit to the fantastic Squawka stats site will confirm he sits 3rd in the Premier League list. 50% clean sheets is something we only dreamed of until recently. All this with multiple back 4 variations in front of him.
Yes he has made a couple of errors recently, but Lukaku never misses when clean through on goal, does he?
For those touting the likes of Joe Hart, go look at their stats, and keep very quiet!
---
Add Your Comments
In order to post a comment, you need to be logged in as a registered user of the site.
Or Sign up as a ToffeeWeb Member — it's free, takes just a few minutes and will allow you to post your comments on articles and Talking Points submissions across the site.