Everton have too much for plucky Burnley
Saturday 15 April 2017

134 Comments [Jump to last]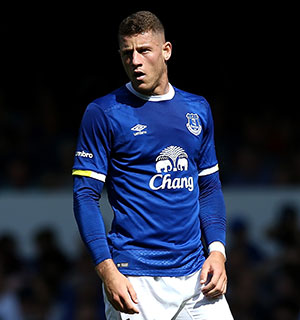 Ross Barkley put a difficult week behind him with a deflected goal that put Everton back into the lead with 20 minutes to go against Burnley
Everton overcame a determined Burnley performance to register their eighth win in a row at Goodison Park with Ross Barkley ending a difficult week with the decisive goal.
The Clarets had executed Sean Dyche's game plan of stifling the Toffees' creativity in a battling first half display but their resistance was broken early in the second period when Phil Jagielka scored for the third game in succession.
Joel Robles's rush of the blood to the head handed Burnley a route back into the game almost immediately, though, as Sam Vokes levelled from the spot. The quality Ronald Koeman's outfit eventually told, however, as Barkley restored the lead and Romelu Lukaku rammed home a third goal.
Featuring the one expected change that saw Ashley Williams return from suspension to replace Matthew Pennington at the back, Everton had an early opportunity as Mason Holgate centred for Lukaku but the Belgian's side-foot shot was straight at goalkeeper Tom Heaton.
Burnley then settled into a pattern of frustrating their hosts in midfield and trying to make a breakthrough of their own which they almost did in the 17th minute when Michael Keane headed a corner back across goal but Barkley headed off the goal line.
And Vokes twice came close to handing the visitors the lead in the final quarter of an hour before half time; first, when he was put clear by Joey Barton but Jagielka forced him wide and Robles blocked his shot behind for a corner; then when Jagielka made a mess of an attempted back-pass but with just the 'keeper the beat, the Burnley striker fired weakly straight at him.
Seeing the need for a different approach for the second half, Koeman withdrew Idrissa Gueye at the break and introduced Enner Valencia and it was the Ecuadorian's powerful shot that was parried behind by Heaton in the 48th minute.
From the resulting corner, Valencia glanced the ball on, Williams got a further touch and Jagielka's final header crossed the line before the goalkeeper could try and push it out and prevent the goal.
That should have been the platform from which Everton could build a bigger lead but just three minutes later, Robles marshalled Vokes well wide of goal but then chopped the striker down with a clumsy and ill-advised challenge that left referee Mark Clattenburg with no option but to award a penalty.
For a while it didn't look as though it was going to be Everton's day as Kevin Mirallas fluffed a golden opportunity served up for him by Barkley when he shot tamely at Heaton. The Belgian then scuffed another good chance and fired off the post when given a second bite at the cherry before Lukaku's header from another Holgate delivery also ended up in the Burnley keeper's arms.
Persistence paid off for the home side with 20 minutes left, however. Barkley dragged the ball past the nearest man and into the box and shot left-footed, his effort taking a double deflection off Keane and Ben Mee before bouncing in off the far post.
Three minutes after that, Lukaku made the game safe with a trademark effort of his own, rolling Keane superbly and then using his strength to hold the defender off and smash a shot between Heaton and his near post.
Barton despatched a direct free kick into the wall and Barkley had to head off the line again in the closing stages but the Blues were able to see out the final quarter of an hour fairly comfortably.
The victory takes Everton's tally of goals at Goodison Park in 2017 to 29 and lifts them into fifth place in the Premier League above Arsenal and Manchester United for the time being.
Full details: ToffeeWeb match page
---
Reader Comments (134)
Note: the following content is not moderated or vetted by the site owners at the time of submission. Comments are the responsibility of the poster. Disclaimer
Gio Mero
1
Posted 15/04/2017 at 18:16:03
Well... already 10 points up last year's tally with 5 games to go. We are just getting better and better.

Davies and Barkley superb. Jags can't stop scoring and Holgate has definitely gained in confidence today

Bit worried about our keeper, though.
William Cartwright
2
Posted 15/04/2017 at 18:23:06
I must admit that, when the self-inflicted equalizer went in I was filled with anger and the "same old, same old" expectancy that we would drop the points. Full marks to RK and the team for getting the win.
Clattenberg seemed a bit one-sided in the match, but that may be my own biased perspective. Booking Barkley was poor touch in the circumstances.
I see the sports pages have stopped showing the top six and the BBC (mistakenly?) reported we have "moved up to SIXTH" albeit temporarily!
Joe Foster
3
Posted 15/04/2017 at 18:34:15
Nah... Barkley's not going anywhere.
Derek Knox
4
Posted 15/04/2017 at 18:36:35
We struggled early on, and gave the ball away on numerous occasions, Gana, had a real off-key today.
Thought Valencia made a real difference when he came on, don't know what anyone else thinks, but if we could strike a deal with West Ham I would like to see him as a permanent addition.
Fifth in the Table but most teams have two games in hand around us, makes you wonder where we'd be, if we hadn't squandered so many winnable games earlier on!
Josh Barber
5
Posted 15/04/2017 at 18:37:24
Don't think the Premier League will be missing Mark Clattenburg...
Brent Stephens
6
Posted 15/04/2017 at 18:40:48
Gio "Well... already 10 points up last year's tally with 5 games to go. We are just getting better and better".
Koeman doing the business. My guess is we'll get even better under him.
Steve Ferns
7
Posted 15/04/2017 at 18:43:49
There was a mention at half time for Mike Gaines and ToffeeWeb. I hope you enjoyed the game, Mike, although sadly you didn't get to see the blues in full flow or full voice.
Dermot Byrne
8
Posted 15/04/2017 at 18:46:02
Steve... What was said? Sounds great, that.
Colin Hughes
9
Posted 15/04/2017 at 18:48:02
Koeman needs to work on our away form now. Just 4 away wins all season is the reason why we will probably finish 7th.
Failure to win at any of Watford, Hull, Burnley, Middlesbrough and Bournemouth was unforgiveable. Let's take the game to woeful West Ham next week, who clearly have problems when they are conceding 2 to Sunderland today, rather than setting up to try and stop them with a deep midfield.
Koeman needs to play two up top and sacrifice either Gueye or Schneiderlin.
James Stewart
10
Posted 15/04/2017 at 18:49:28
You're right, Derek. Valencia changed the game. We look better with him on. Not the most gifted but he works hard and is effective. I'd have no problem with us signing him up.
Darren Dennett
11
Posted 15/04/2017 at 18:51:26
I was unable to take my usual seat or even listen on radio today. What is the opinion on Michael Keane? Yes or No?
Brian Williams
12
Posted 15/04/2017 at 18:54:57
Ross did really well today. He didn't hide after an indifferent first half and was always wanting the ball, and got what he deserved, and thoroughly enjoyed, in the end.
I said to the young lad next to me after the goal "He's bound to sign that contract after that celebration." (which went on even as he was booked) but the lad pissed on me chips when he said "Yeh, Rooney did that though remember."

Brent Stephens
13
Posted 15/04/2017 at 18:59:04
I'm confident Ross will stay, Brian. He loves the club (you won't believe I originally mistyped that as "he loves to club" – Freudian slip!) and most of us love him.
Superb skills again today. And continues to cover more ground and put in more challenges than he used to do. Koeman is working his magic.
Steve Ferns
14
Posted 15/04/2017 at 19:04:32
It was just a welcome message for Mike amongst the usual half time messages. They mentioned his recent illness and it was his first game, and that the message was from everyone at ToffeeWeb, although a few in particular were mentioned. It was a nice touch for Mike.
Dermot Byrne
15
Posted 15/04/2017 at 19:06:49
Brill Steve F. Nice to hear.
Martin Mason
16
Posted 15/04/2017 at 19:09:41
Ross had a superb game again today and seems to be getting better and better. Valencia had a very good game too when he came on. Overall a very good win in a league where every game is hard.
Ian Bennett
17
Posted 15/04/2017 at 19:11:32
A bit ragged at times for me, we rode our luck. Goals change games and we flicked the gears to put them away.
Another black mark for Robles will condemn him next season. Holgate had a decent game, but he doesn't quite have the quality of a Coleman at right back.
The change for Valencia to occupy that right hand side was a spot on call. Big game for Ross in a horrible week. Hope he puts his name to a new contract soon. Today will have meant a lot to him.

Jon Cox
18
Posted 15/04/2017 at 19:13:19
I agree Brent, watching Ross at the Street End was amazing. You could say that Ross staying with us is purely "academic".
Colin Hughes
19
Posted 15/04/2017 at 19:16:00
You've got to laugh at those RS gobshites in the media. Ray Houghton on TalkSport commentating on Man City then talks of the goalscoring feats of all the top clubs this season.
Goes through all of the "top 7" yet conveniently doesn't mention Everton's 60 goals yet mentions Arsenal (below us) scoring 61 and Man Utd only scoring 46 and that's why they are not in the title race.
Kieran Kinsella
20
Posted 15/04/2017 at 19:18:22
Brent & Jon,
I'd like to agree but I've seen plenty of badge kissers who've left clubs. If he is going to stay, I'd expect a quick announcement. If it drags on past the next few weeks, I'll assume he is headed elsewhere.
Kristian Boyce
21
Posted 15/04/2017 at 19:18:32
It must really hurt for the BBC to see us in 5th. They showed a table earlier, 3rd through 8th, to ensure Man Utd and Arsenal were in it.
Brent Stephens
22
Posted 15/04/2017 at 19:19:35
Colin, some people belittle the goals our lads score but Evertonians recognise what we've got. I don't get annoyed at such blinkered people, just laugh at the lack of nous and / or honesty.
Jon Cox
23
Posted 15/04/2017 at 19:20:12
Valencia, a defo gamechanger when he came on.
I hold my hand up, I wanted Koeman out earlier in the season and now humble pie never tasted so good. Hats off to Ronny. Great sub and a great manager in the making.
The antithesis of Matinept. Ice cold with a slice of venom..
Brent Stephens
24
Posted 15/04/2017 at 19:20:40
Kieran, you're right. Badge-kissing in itself counts for little. Let's get him signed.
Kieran Kinsella
25
Posted 15/04/2017 at 19:21:44
Arsenal have a tough run-in. If we say lose to Chelsea, but they lose two games then the last day match will be the decider.
Man Utd have an easier run in but if they get distracted by the Europa League and keep drawing games then we could catch them as well.
Terry White
26
Posted 15/04/2017 at 19:23:40
William (#2), re Clattenberg, yes, I think you show all the signs of being biased. A player jumping into the crowd is an automatic booking. Why do we blame the ref for that?
We show very long memories. Clattenberg's refereeing in the derby game was in 2007! Since then, in my opinion, he has become the best Premier League referee, albeit in a generally poor crowd.
Colin Glassar
27
Posted 15/04/2017 at 19:24:00
Rom has now equalled Dixies's 9-game (at home) scoring streak. How many games have we got left? Can he get to 60 goals this season? Exciting times.
Tony Byrne
28
Posted 15/04/2017 at 19:27:29
A decent 3 points against a well drilled Burnley. Ross played well today, though my MotM was Tom Davies, this lad can time a tackle & pass a ball way beyond his years,
I believe we have a very special player emerging in Tom Davies.
Dermot Byrne
29
Posted 15/04/2017 at 19:27:42
Brent. Badge kissing means everything. It is a sign that your heart lies with the club that made you and that an extra 㿀k per week means nothing. It also means you will fight and face the risk of not hitting the very top because of love and loyalty.
Jaysus... Last beer.
Graham Mockford
30
Posted 15/04/2017 at 19:32:51
Jon (#23),
I think you may be getting a bit carried away just as you were when you wanted the sack for Koeman.
We are on course to finish exactly where we should as a minimum, 7th.
It's a big improvement on the last two seasons but of course they were really dire. Our home form is great, we keep rolling over sides we should beat, we are free scoring and mostly enjoyable to watch. But our away form is distinctly average and the two decent sides we have played away in 2017 we came up distinctly short.
We could still get 6th and at a push 5th but we will have to probably go and win our 3 remaining away games including Arsenal.
Our progress is encouraging and the summer is key in terms of player recruitment but we need to be genuinely challenging Top 4 next season rather than just best of the rest.
I'd be giving Koeman a B+ currently.
Jon Cox
31
Posted 15/04/2017 at 19:34:03
Kieran, I'm not sure you should write us off against Chelsea that easily. With our form it could easily swing our way.
As for Ross it wasn't the badge kiss that did it for me. It was the fact that he had the temerity to jump on the Gwladys Street wall and tap his badge when booked.
The signing is all about dosh and it's relevance with other players imho.
Tony Hill
32
Posted 15/04/2017 at 19:35:32
That goal from Lukaku when you watch it back was superb. It looked good at the time because of his turn but the finish was fast and very clever too. There are not many who could have scored that goal in such a way against a strong defender and goalkeeper.
Martin Mason
33
Posted 15/04/2017 at 19:38:21
A lot of Evertonians have slagged Ross off on line but even worse in his face at the ground. I think this is a lesson learned in how we need to treat developing players – we must give them support and breathing space not only for the players but for the club and manager that have to bring these lads through.
The jump now from Academy to first team squad is a big one and we have to allow these lads space to make that jump.
Steve Ferns
34
Posted 15/04/2017 at 19:40:24
Graham, I find it difficult to assess Koeman's first season. On one hand, it's behind Martinez's first season, and we all believed we were 7th or 8th best team in the league; otherwise, would Martinez not have been achieving as expected last season, not underachieving?
But what Koeman has done, is to give us hope and pride. Other fans (of other clubs) are talking about us once more, they like what they see, and surely prospective players will find us attractive too.
We have money to spend and Koeman can hopefully build on this season. Without continued improvement, then this season is not that great. We can see a progression, and a platform and the building being done. That is what makes us all so optimistic and hopeful.
Jon Cox
35
Posted 15/04/2017 at 19:41:07
Graham, "carried away?".
Isn't that what football supporters do?
Graham Mockford
36
Posted 15/04/2017 at 19:43:53
Jon,
I don't want to get all Phil Walling on you but a little perspective helps, I find.
Jon Cox
37
Posted 15/04/2017 at 19:49:48
Whats wrong with Phil Walling? He has his view just as you do.
"Perspective" is a luxury for those sitting on the sidelines..
Colin Glassar
38
Posted 15/04/2017 at 19:54:52
Well said, Martin Mason. Nowadays no-one has any patience with managers or players. Everything has to be NOW or take a hike. When you ask for said patience you are called everything under the sun, and worse, eg, You accept mediocrity.
Anyways, talking of Phil Walling, where's Darren and his joystick?
Graham Mockford
39
Posted 15/04/2017 at 19:57:21
Jon
"Perspective" is a luxury for those sitting on the sidelines..
So I'm not allowed to have a considered view and must be either suicidal or swept along on a wave of optimism?
Actually, I did sit on the sidelines today... sat in the Paddock because, in an effort to improve my lad's love-life, I let him have both my Park End tickets.

Brent Stephens
40
Posted 15/04/2017 at 19:57:32
Dermot, I'm just saying that badge-kissing doesn't on its own signify anything. We see lots of players do that but for me it's not always convincing. But I do believe that in Ross's case it is genuine.
Jon Cox
41
Posted 15/04/2017 at 19:59:15
Colin unfortunately todays football is all about the here/now. Ask Ranieri..
Sam Hoare
42
Posted 15/04/2017 at 19:59:58
Our form in 2017 is Champions League standard. This team is looking very strong right now and I just hope that somehow they can convince Lukaku and Barkley to give the project another year as 3 or 4 high class first team additions and we have a real shot of crashing the party next season.
The only teams that have outplayed us are Spurs, who look the best team in the country currently, and Liverpool, who obviously have signed some satanic deal that sees our players go to putty in the derby. I reckon we may well beat Chelsea at Goodison and have a decent shot of finishing 5th or 6th.
Jon Cox
43
Posted 15/04/2017 at 20:02:14
Graham, what a good dad you are,
Good on yer pal.
Brent Stephens
44
Posted 15/04/2017 at 20:04:25
Graham (#39), "in an effort to improve my lad's love life, I let him have both my Park End tickets".
Improving his love life in the Park End?! It must have been rocking!
Jon Cox
45
Posted 15/04/2017 at 20:07:12
Brent ha ha stop being a card or I'll make you buy your next pair of shoes from Russell and Bromley in Lord Street. :-)
Brent Stephens
46
Posted 15/04/2017 at 20:25:07
Jon, explain the Russell and Bromley reference! I'm totally in the dark on that!
Ron Marr
47
Posted 15/04/2017 at 20:39:29
Sam 42 agreed. In 2017 after 14 games we're second to Spurs in the form table and tied with Spurs in goals scored 35.
League Table. Change custom dates to see 2017.
Ciarán McGlone
48
Posted 15/04/2017 at 20:46:18
I thought Davies was poor today, a lot of industry, but very little else. Give the kid a break.
Couldn't understand the Gana substitution, but we won and Valencia was an absolute nuisance when he came on.
Kudos to Ross, he was very good today... MotM.
Peter Laing
49
Posted 15/04/2017 at 20:52:57
Sorry, Ciaran, have to disagree. Davies was a little off the pace in the first half as were most of the team. Much better in the second half when the shackles came off, covered a lot of ground and some of his passing was sharp and incisive.
Good to see Ronko mixing it up and bringing Valencia on changed the dynamic of the game as we looked much more offensive. I would like to see Valencia offered a permanent deal.
Tony Hill
50
Posted 15/04/2017 at 20:54:25
If we could get Valencia at a decent price, I would take him. He has years in him, seems popular with the other players and has made a serious difference to us this season in games. He's been a really big bonus.
I suspect we won't keep him but we should all be grateful for his presence over the last 8 months or whatever it is.
Andy Crooks
51
Posted 15/04/2017 at 20:54:50
Ciaran, I don't believe Valencia has had the run in the side he needs. Do you think he would be worth buying? I would like to him start with Lukaku for the rest of the season. Then we might know.
Ciarán McGlone
52
Posted 15/04/2017 at 20:57:34
You can disagree all you want, Peter...That's your prerogative. I simply see a kid running about at this stage.
For several games, he's been less than average.. does one great thing then it's back to running about aimlessly. He needs a break.
Ciarán McGlone
53
Posted 15/04/2017 at 20:59:36
I'd buy him, Andy. He's an absolute nuisance and has a trick and a shot in him... At £13 mill, I'd say he's worth it.
Andy Meighan
54
Posted 15/04/2017 at 21:03:43
Mike Gaynes, I like many others on here was delighted you finally made the pilgrimage to the mecca. But I've just read a post that said you haven't been well Can you elaborate, pal, because I'm sure like many on here, we wish you all the very best.
Today: scruffy first half but once again our class shone through. Onward Evertonians!
Peter Laing
55
Posted 15/04/2017 at 21:04:26
Ciaran, that's why Koeman has played him in every match since he broke through and I can hardly recall Tom being substituted. In that time he has come up against some serious midfield opposition and hasn't looked over awed. I will take Koeman's judgement over yours.
Terry White
56
Posted 15/04/2017 at 21:04:31
Ciaran (#48) perhaps Gana being yellow carded in the first half had something to do with the substitution?
Kieran Kinsella
57
Posted 15/04/2017 at 21:04:45
My nephew went today. His first match and he got his picture taken with Big Dunc. He hasn't even started school yet but he's wise enough to pick the right team.
Brent Stephens
58
Posted 15/04/2017 at 21:07:53
I suspect the uncle has to take some praise, Kieran!
Graham Mockford
59
Posted 15/04/2017 at 21:14:14
Terry (#48),
I think it was more tactical than that. Burnley did a decent job in the first 30 minutes but defended very deep and went long to Vokes at every opportunity.
Going to a two in central midfield was a smart move as we were not going to get overrun in central midfield like the derby and Valencia occupied their back four much more.
I quite like Valencia as a player and was surprised he didn't get any time against Liverpool or Man Utd. I'm not convinced he's top 4 material though. I think our sights should be set higher.
Ciarán McGlone
60
Posted 15/04/2017 at 21:18:29
"I will take Koeman's judgement over yours"
What's the point discussing it then?
Jim Bennings
61
Posted 15/04/2017 at 21:26:17
Remember last season?
How toxic the atmosphere at Goodison was and how it seemed that every misplaced pass by an Everton player was greeted with sheer vitriol?
Koeman has brought back the feel good factor to Goodison Park and it's actually enjoyable going to Everton games again.
Last season was beyond a joke, it was piss easy to come here and score a bag load of goals for visiting teams.
Just need to sort the away form out now.
Kieran Kinsella
62
Posted 15/04/2017 at 21:28:16
Jon,
I agree we could get a result versus Chelsea but I was making the point that we could finish about Arsenal even if we drop points along the way. The Chelsea game looks the most difficult.
Swansea have been a bit of a thorn in our side the last few years but they look pretty poor and shorn of confidence. I don't seem them beating us unless we simply don't perform which is possible but hopefully won't happen.
We always do well against the Hammers.
Watford could be tricky. They're a weird team. They seem to go into every game home or away with as much chance of a 3-0 win or 0-3 defeat. That said we should be able to deal with them.
As for Arsenal, I remember under Royle they nicked was it 5th or 6th from us on the last day of the season. Under Martinez they crept past us too despite us hammering them at Goodison Park. I believe they have a better record against us than any other team. So I'd love to do a number on them at their place at the end of the season.
Seamus McCrudden
63
Posted 15/04/2017 at 21:35:09
I thought Tom Davies was going to get hooked at half-time as he was poor first half but to be fair the team were poor. He found much more space second half when we were pressuring much higher up the pitch after Valencia came on.
Some of his passing was very slick & his vision is really excellent at times. He releases the ball early & keeps the game flowing at a good tempo which we profit from as a team.
I hope that Ross can do the same as he just dallies a little too long at times on the ball for me.
Mike Gaynes
64
Posted 15/04/2017 at 22:02:52
Steve (#7) and (#14), yes, we saw that... it was a conspiracy between Keith Harrison and the club, which also put my photo in the game program. What incredibly nice people. I was honored.
Darren (#11), Keane was fine and competent most of the way, but he's the one Rom destroyed on that turn. Sure, you could accurately say that Rom can do that to anybody, but I was surprised he wasted Keane so easily.
Rob Halligan
65
Posted 15/04/2017 at 22:17:58
Shouldn't have allowed Keith to take your photo last week, Mike.
Glad you've enjoyed your trip over, and have a safe journey back home mate. A real pleasure to meet you.
Josh Barber
66
Posted 15/04/2017 at 22:48:16
Steve #34 Everton have exactly the same number of points right now that they finished with in 5th place in 2014-15. So it's hard to say that Koeman is doing "only as well as Martinez's first season"... but I guess it's all relative if you only care about what place the club has at the end of the season.
Jon Cox
67
Posted 15/04/2017 at 23:23:36
Sorry Brent, it's been long cos of Terminator 2.
Russell and Bromley were the shoe shop on the corner of Neville Street and Lord Street. It's where we always met our girlfriends of an evening.
Surprised you didn't suss this coming from Southport and knowing about Lord Street.
By the way Do you know of the pub called the Rabbit? It's on Manchester Road.
Jon Cox
68
Posted 15/04/2017 at 23:35:15
My babe has just told me to sign out. but before I do – check out Match of the License Fee Scam (Also known as the BBC).
Check the in-form league table. Total lies. That's it! No more BBC Tax scam for me.
Nigel Johnson
69
Posted 15/04/2017 at 00:10:55
Great result, Koeman got it right today. Barkley showed that he wants to stay at Everton, Everton need to show him love.
I an't wait to see what players arrive next season. In Koeman I trust he knows how to get the best out of the players and isn't afraid to say it as it is so everyone knows where they stand with him.
Harvey Miller
70
Posted 16/04/2017 at 00:28:27
Great goal from Rom but it surely guarantees that he will move away in the summer. Real or Barca will get him but now the price will be next world record, we must ask £120M and they will pay £99M.
He goes, but, with the money, we will get the playmaker, another striker and a quality centre-back. That's all we need, for now.
Mike Berry
71
Posted 16/04/2017 at 00:33:01
Some credit must go to Burnley and the way their manager set them up. Dyche is a very good manager and must not be underestimated when you consider his limited resources.
However, we have a good manager too, and at half time he certainly put a spark under the players arses after a lack-lustre second-best first half display.
I thought the introduction of Valencia opened things up, and Barry later to keep us solid is light years away from what Martinez would have done.
Another home win; we dug in and won.
Derek Knox
72
Posted 16/04/2017 at 08:46:03
Jagielka for Golden Boot.🤔
Keith Harrison
73
Posted 16/04/2017 at 10:07:03
For anyone interested, and it seems like there are a good many, I believe Mike intends to put a potted version of his UK sojourn on here in time.
I will be doing a meandering one similar to the Harold Matthews tribute I did last year, after Mike has published his version. He was mentioned in the programme yesterday, had a message on the Jumbotron, and had one read out on the Tannoy system at half-time.
As I write, Mike is making the journey back to Heathrow for his return flight to the US, and is immediately booked in for treatment on his return.
He has had a superb time here, and special mentions to Kev Johnson, Rob Halligan and Peter Mills who really have gone above and beyond, plus all ToffeeWebbers, and the Everton family in general who made this special for an absolute gentleman.
Safe return and good luck Mike, wherever your next journeys take you.
Ray Smith
74
Posted 16/04/2017 at 10:07:44
Harvey (#70),
You need to add a keeper, mate.
Brent Stephens
75
Posted 16/04/2017 at 10:57:39
Jon (#67) – thanks for the heads up on Russell and Bromley. I'm from Aintree originally – only lived in Southport for the last 6 years (still looking for the sea).
Tony Abrahams
76
Posted 16/04/2017 at 11:06:28
Harvey (#70), I've slagged Lukaku, as much as about 99% of the people on TW, but that goal he scored yesterday was absolutely top drawer. Touch, turn, pace, power, and a shot hit so hard and early, I thought it had hit the side netting from my seat. Their keeper looked like he was in a great position, but before he could blink, the ball was already past him!
I left Goodison yesterday thinking that we had scored a couple of scruffy goals until I saw Lukaku's on MotD this morning. Only top players score goals like that?
Rob Halligan
77
Posted 16/04/2017 at 11:16:09
Harvey (#70), I don't know why, but Lukaku's reaction when celebrating his goal led to me thinking he may well stay for at least another season.
With European football almost guaranteed for next season, (I can't see Leicester winning the Champions League), then maybe Rom will give us another year. It could be Champions League, highly unlikely, but you never know, but at least he will be able to perform on the European stage.
Keith (#73). Looking forward to reading Mike's story of his trip. Just hope he doesn't have to pay any excess baggage allowance when he checks in at Heathrow!

Brian Harrison
78
Posted 16/04/2017 at 11:21:47
As I suspected Burnley would make it difficult for us and, as Koeman said, the better team in the first half. Too many of our players were below par, and could easily have gone in at half-time a goal down. But obviously Koeman sorted things out, brought Gana off, I think maybe his booking made the choice of who to bring off easier.
I thought Tom Davies might have been taken off as it was probably his worst 45 minutes since joining the first team. But this kid is a rare talent to be playing in the hardest position at 18 and looking so composed is brilliant. I am sure if he keeps progressing this boy will become a very special player.
I thought Valencia brightened things up when he came on, because he comes inside; he also creates space for Lukaku. I would definitely sign him at the end of the season.
I think Koeman has us about 18 months behind were Spurs are now; we look very solid and, with the right additions in the summer, I think we can get very close to a top 4 spot.
But the elephant in the room is what happens to Lukaku and Barkley? Let's hope they both must see that next season we will be challenging for a Champions League spot and decide to give us at least one more season. But if not, I have faith in Walsh and Koeman to bring in the right players.
Finally, if one or both decide to leave, I hope we get the absolute maximum in transfer fees. Surely if Pogba and Bale went for huge amounts, and we all know that strikers always cost more, then Lukaku should not be sold for a penny less than 𧴜 million. Should Barkley leave, then, if Stones as a centre half was worth 㿛½ million, then Ross must be worth 㿭 million at least.
Graham Mockford
79
Posted 16/04/2017 at 11:34:18
Brian,
I suspect we may be further another year behind Spurs than you think.
Man for man I think you could only make an argument for Coleman and Lukaku getting into their best XI.
I still think we are three players short of having a first XI that is truly competitive. A keeper, a centre half, a creative midfield player. If Barkley and Lukaku leaves in the summer that becomes five high quality recruits this summer.
In addition we will need better back up players and looming on the horizon we will need to replace Barry, Jags and Baines who at best probably have one more season left each.
The good news is the squad is in a stronger place than 12 months ago; however ,there is still a lot to do.
Keith Monaghan
80
Posted 16/04/2017 at 11:44:53
Tony @ 76 – you forgot (perhaps from your seat you couldn't see this? – it was clear as anything from my seat at the Gwladys Street end of the Main Stand) to mention he was also having his arm pulled hard by Keane for a few yards up to & including when he shot.
As others have said, I 'd like us to sign Valencia – he's not top drawer, but is pacy, puts a shift in & will be very useful if as looks highly likely we're in Europa League – I still think we need another goalscorer as well. Plus of course at least one centre-back, a keeper, a creative midfield player & a left back. Big Plus – we have a very good manager.
I still think we'll end up 7th, but 6th is possible – tomorrow's Arsenal result could be key (impact on their morale etc).
Dave Abrahams
81
Posted 16/04/2017 at 11:55:05
I've got to agree with Graham (#79), there is still a lot of weeding out to do but in Koeman I hope and trust we have the right man to get us there, providing he stays here.
I am sorry to harp on about it but I have already written off our chances to get into the top four next season for the simple reason we are in The Europa League; it will be a big handicap to our season in the Premier League, but good luck to all the fans who will travel to wherever we go in Europe.
Martin Mason
82
Posted 16/04/2017 at 11:58:20
Graham @63
I agree, Spurs are playing marvellous football now based around a really intensive pressing game. Jamie Redknap said that their midfield were like a pack of jackals not giving Bournemouth a chance to develop any game. Kane is superb and I'd give anything to see Erikson at Everton. Good fast full backs too.
Tony Hill
83
Posted 16/04/2017 at 12:09:27
Dembele is very important to them. Barkley said he was the toughest opponent he's played against. They're a fine side and I think the run-in could be very interesting.
Keith Conchie
84
Posted 16/04/2017 at 12:35:07
Ross was definitely Man of the Match IMO. Rom's goal was sheer class too. A slow start to the game, but the manager mixed things up at half-time and obviously had a good word with the players, as the second half was much improved.
Only thing I don't get, is why Ross got booked for his celebration. I know it's in the rules, but shouldn't it be encouraged to interact more with the fans in a positive way? Just seems silly to me.
The fans pay good money to watch there team, the player's produce the goods, yet both are not allowed to come together to celebrate? Madness!
Rob Halligan
85
Posted 16/04/2017 at 12:58:36
I know exactly what you mean, Keith (#84). It's a ridiculous rule. What harm has he done?
The most ridiculous one ever was when Tim Cahill scored the winner at Man City, pulled his shirt over his head, and promptly got sent off due to a second yellow.
Like that other silly rule, whereby an injured player has to leave the pitch, while the player who injured him, stays on.
These rules need changing.
Peter Lee
86
Posted 16/04/2017 at 15:02:02
Keith, far from mixing things up, he sorted them out. We were a mess first half, a mess of his own tactical making.
Because we have two slow centre-backs we can't push up. Burnley's forwards were by no means quick but two on two they gave us problems when our attacks broke down and we had pushed up.
The problem is that our attack, that is Lukaku, is on his own and we are too stretched front to back. In that case we needed to pull him deeper and move players wide so that we have space to pass through them. We have better players after all.
Second half, he addressed that to some extent by bringing Valencia on. He played wide, had good control and can beat a man in tight corners. I called that at half-time but suggested (prepare for howls of protest) that the man to come off should have been Barkley. We were much more compact and effective in the second half.
Credit Koeman for changing it but one of my reasons for still having reservations is that he set the team up wrongly at the outset and didn't change it after the five minutes it should have took him to realise he'd dropped one.
We've done well since January but in too many games we start off at sixes and sevens and hand the opposition the initiative. Early goals have covered this to some extent. What saves our bacon is that he does change it – eventually – and we now have a team which can outlast most others. (See goals in last 20 minutes.) Credit it him for that.
Big game for us is Chelsea when he has to get it right from the off. Problem is defensive midfield. Schneiderlin and Gueye are good players but both like to get five yards too further forward than I would like to give us some defensive stability. I've mentioned Gueye getting the wrong side of players costing us goals recently and Schneiderlin attempted a tackle nearer the half-way line than our box that he was never going to make in the build up to the penalty. Yes, Robles had a rush of blood, but the through ball wouldn't have happened if Schneiderlin had been in the D.
Against Chelsea, we need both Schneiderlin and Gueye to play a more controlled game in front of a back four. Valencia and Mirallas to start wide-ish and, tin-hat on for this, Davies central with Lukaku playing deeper and much close to our midfield.
Brian Hennessy
87
Posted 16/04/2017 at 15:19:43
I see Barcelona are firmly looking at bringing back Deulofeu in the summer.
Koeman has done a lot of good things since he came to us but I can't help but feel his handling of Delboy and loaning him out to Milan is something that we will look back on with regret for many years to come.
From the BBC website –
Barca sporting director Robert Fernandez confirmed to Catalan station TV3 on Sunday: "The club are firmly considering the option to bring him back to play for the first team next season."
Geoff Lambert
88
Posted 16/04/2017 at 15:28:18
Peter (#86),
I think you will find Jags is one of the fastest centre-backs in the league.
Phil Sammon
89
Posted 16/04/2017 at 15:31:08
Brian,
I don't think you can have a go at Koeman for his handling of Deulofeu. I like the lad. He's incredibly gifted... but he has had many opportunities and not stepped up.
If Barca want him, fine. They take him... and then what? He isn't getting into their side. So they sell him in a year or so, Everton get a cut and, ultimately, they make a loss. It doesn't make much sense on their part.
Graham Mockford
90
Posted 16/04/2017 at 15:43:08
Geoff (#88),
I love Jags and that may have been true at a certain point in time. It certainly isn't any longer...
Peter Lee
91
Posted 16/04/2017 at 16:00:07
If you take your shirt off, you get booked. If you run into the crowd, you get booked.
These rules are almost as stupid as the players who break them.
Gordon Roberts
92
Posted 16/04/2017 at 18:47:05
Peter Lee (#86).
"We were a mess first half, a mess of his own tactical making".
According to Koeman, the players didn't follow the game plan - you are being very unfair blaming the manager. Just saying...
Steve Ferns
93
Posted 16/04/2017 at 19:22:59
Agreed Gordon, he was never ever the fastest off the mark or over 10 yards, but he was measured as the fastest over 50. But then again that was just one sprint. In their prime, I'd have put my money on Distin over Jags.
Anyways, his speed is clearly gone as judging by the foot race he had in the derby, but he's got enough nous that he looks like he's adapting. I'm not writing jags off yet. I hope he'll have one more good season for us.
John Pierce
94
Posted 16/04/2017 at 19:24:05
Nah Graham, if anything Peter is pointing out a recurring issue with Ron. Often more apparent away from home but despite changing things several times this year at half time or earlier (seen as a strength) his selections have needed a change so perhaps something in it.
That's more on him than the players. Fair cop, I think.
WBA (a)
Bournemouth (a)
Burnley (a)
Bournemouth (h)
Liverpool (a)
Southampton (a)
Burnley (h)
Peter Lee
95
Posted 16/04/2017 at 19:51:41
Gordon, that's maybe true, but what gives me reason to doubt is, firstly, it's how he has sent them out most games (see John's post) and, secondly, he changed the shape fundamentally at half time.
I can't remember his ever saying "I picked the wrong team and/or I asked them to play in the wrong way. I should have changed things earlier" Cos' he has done those things, as every manager has, and never held his hand up for it that I can remember.
Mark Frere
96
Posted 16/04/2017 at 19:54:13
I really can't understand the calls on this thread for us to sign Valencia on a permanent basis. Okay, he had a positive impact yesterday but he's been pretty dreadful most of the time. He's like a Steven Naismith with a bit more pace, and he has a poor goal scoring record in the Premier League. No way would I like to see us trigger the 㾹 million buy option after his loan.
I'd like to think we have moved on from signing this quality of player; I'm pretty sure we have a striker currently on loan at Hull that could do the same (if not better) job than Valencia could do.
There was a chance yesterday where Valencia only had to pass the ball in front of Lukaku for him to make it 4-1 but he passed it behind Rom – that sums Valencia up: piss poor!
Lev Vellene
97
Posted 16/04/2017 at 20:03:23
Plucky, Lyndon?
I guess we've all been waiting for the right moment to apply that to anyone else! Is there a way for us to trick the Sky-guys into using that for any team not being Everton these days?
Lev Vellene
98
Posted 16/04/2017 at 20:10:24
Mark (#96),
Until you said the part about "Hull", thus meaning Niasse, I was just mildly disagreeing! Valencia is a lot better than Niasse, but I also hope we can either buy a lot better than both, or find someone from the U23s that would be equally good, or even better with some games under his belt.
I still hope we can buy some quality before looking to the U23s before next season starts!
Neil Wood
99
Posted 16/04/2017 at 20:32:42
Just something to highlight Sky's clear bias towards the "big 6"
This is taken straight from the Sky Sports App talking about Chelsea's title battle with Spurs:
"However, Chelsea who have been top since November 5th appear to have an easier run in than Spurs as they don't have to face any of the top 6 whilst the North Londoners have home matches against Arsenal and Man Utd"
I think you will find Everton currently occupy 6th. Sorry to spoil the party!
Keith Conchie
101
Posted 16/04/2017 at 23:01:06
MotD2 tonight have just been talking about Mourinho and his record against the top 7, yes that's right – top 7.
However that's only because Arsenal are 7th. If they win Monday and go back 6th, then we can all relax because it will be all about the top 6 again, and Everton can disappear back into the unknown rest of the league. Phewwww!!!!!
Thomas Lennon
102
Posted 16/04/2017 at 23:39:12
Pulis, Keown and others seem to be paying attention to Everton's progress. The former referred to the top seven at the weekend and the latter said something like 'great things happening at Everton over the next 2-3 years'.
The gap from us to the rest is far bigger than the gap from us to top group. There is a top 7, perhaps not all yet capable of winning but definitely a big gap to the bottom 13.
Mick Davies
103
Posted 17/04/2017 at 02:53:10
Once again, our game isn't deemed as important as Stoke v Hull and Watford v Swansea by the BBC - I reckon if we won the league they'd turn the table upside down, or do what they did to the Sex Pistols: blank us out and say there won't be a Number One this year.
Biased Beyond Comprehension
Ron Marr
104
Posted 17/04/2017 at 02:59:18
Yeah, Robbie Earle referred to the Top 7 and West Brom being the best of the rest on TV today.
Daniel Lim
105
Posted 17/04/2017 at 05:30:26
Who is Robbie Earle? Must be a decent human being.

Daniel Lim
106
Posted 17/04/2017 at 05:36:17
Steve @93
Agreed.
I asked a question "is that fella extremely fast or is Jags being very slow" during the derby, at the TW live forum.

Michael Kenrick
107
Posted 17/04/2017 at 06:55:00
Daniel,
Robbie Earle is one of the lead studio analysts (aka 'pundits') for NBC's coverage of Premier League games in the USA. He's actually not that bad, apart from the requisite top 4/top 6 bias.
His Wikipedia page contains a lot more on him.
Peter Lee
108
Posted 17/04/2017 at 15:06:09
Some years ago, I was asked to lead a training day at high school. In the compulsory plenary session, one of the lads, who'd been on the piss at lunch,(the best way to approach these days IMO) asked "Why does the head organise these days for when he's not here?" I duly noted it on the flipchart.
I later asked the lad who'd organised the day if the head was really the arsehole everybody said. He showed me the staff squash ladder. The head was on the top but it was pointed out that he insisted that the players were listed from least points down to most.
Darren Hind
109
Posted 17/04/2017 at 16:38:08
Ciaran (#48 & #50)
Slightly harsh comments although not completely without merit.
Davies is a defensive midfielder, That's were he has come through the ranks.
Take a look at the earlier games when he played in his natural position. Him and Schneiderlin protected their back four magnificently against Stoke. Don't forget, against Man City, Schneiderlin had only just signed and wasn't given a start and Gana didn't play. Young Tom gave a masterclass alongside Barry.
I'm not sure whether Koeman decided of his own accord or he was concerned about the criticism for playing three defensive midfield players, but Gana was back from Africa and he had paid £25m for Schneiderlin. He had to play them.
It was always going to be young Tom who would give way and when we went to WHL, Koeman pushed him forward 10 yards. Ironically the other two were given a severe chasing, but Tom suffered too. He was a fish out of water and spent the match running about, as you say "aimlessly".
Telling it the way it is often upsets the rose coloured specs crew, but you are right, there has deffo been times when he has looked a little Tommy Gravo. but there is more to come from this lad, You sometimes have to pinch yourself to remember how old he is.
Davies is most definitely a better player when he is deep, with the game in from of him, anyone who saw his progress to the first team and his earlier games will know that. The problem he has now, is that he is trying to learn a slightly different role, a more advanced one which requires 360 vision and he is having to learn to do it in one of the hardest leagues in the world.
Unless injury forces Koemans hand and Tom is put back in his natural position, he will continue to work box to box, sometimes his efforts will appear "aimless", he will still be trying to adjust to needing eyes in the back of his head, but such is his heart, his skill and his determination, he will have enough moments to continue getting into most people MotM reckoning.
I don't agree that he needs a rest though, he's only been playing central for a couple of months, he's still full of energy; he'll learn more playing than he will from the bench.
This kid will get better and better
John G Davies
110
Posted 17/04/2017 at 16:43:29
What a complete load of balderdash.
Tom is up there in the assist charts for young players. A couple of great finishes to score. One in the manner that any attacking midfielder would be proud of. He is a box-to-box midfielder all day long.
Defensive player, my arse.
Darren Hind
111
Posted 17/04/2017 at 16:54:49
I did say:
"Anyone who seen his progress and the way he played in first few games... then witnessed the dip when he was pushed forward... That lets you out on all three counts.
When people were screaming for him to be included, you had never seen him, you simply told us "honest Ron knew best."
Now you're an expert.
Brian Harrison
112
Posted 17/04/2017 at 16:55:33
John G
Totally agree with you, no way has Tom played as a defensive midfield player. When Mirallas was fouled on the edge of the box against Leicester it was Tom who was alongside and carried the ball a couple of paces before slotting it home. The goal against City apart from Lukaku nobody was in front of him when he made that run and then scored. The goal were he carried the ball to the edge of the opponents box before being knocked down he got up and got a return pass from Ross, received it well inside the box and scored.
For me when he plays with Gana and Schniederlin he is always the furthest forward, so don't know how some think he is a defensive midfield player. But wherever he plays this boy is going to be something very special. At 18 he is outstanding in 3/4 years if he keeps improving he will be the best midfield player we have had since Peter Reid.
Just on a different topic I saw a statement from Tony Pulis and he said he thinks that Everton will spend massively in the summer. How he knows that I don't know but it seemed strange that he would mention it if he hadn't heard what they are planning this summer.
Paul Tran
113
Posted 17/04/2017 at 17:00:44
The thing about Davies is his flexibility. He can read the game, pick a pass, put his foot in when required and can burst into into the box to score. He did a cracking man-marking job in Carrick. Plus a bag full of nous and game intellugence.
His flexibility means that the midfield can all get forward, knowing they can cover each other.
Absolute gem this kid.
Darren Hind
115
Posted 17/04/2017 at 17:43:22
Paul
You are right of course. But I saw him lots of times and he played defensive midfield for Rhino.
Is it even contestable that he came in as a defensive midfield player?
If he didn't play alongside Barry as against City, who did?
if he didn't play alongside schneiderlin against Stoke who did?
Has he not struggled at times in a more advanced role?
Has he not only been pushed further up since Schniederlin came in and Gana came back?
You have to laugh at the the way some people respond to the individual as opposed to the point. It's not as if I was slagging of Davies... I was praising him to the heavens.
Paul Tran
117
Posted 17/04/2017 at 18:07:26
I hope you realise I'm not arguing with you, Darren!
I don't really care whether Tom's defensive or anything else. Not my argument.
What's interesting now is that instead of thinking about defensive midfielders who sit deep and slow the team down, we've got midfielders who can cover each other while they take turns to go forward. A similar-looking flexibility to Spurs' midfield.
My guess is that Ron's stuck Tom further forward because he's the best of the three at bursting into the box and scoring. Interesting that Tom got the call to mark Carrick. Shows me that Ron trusts him and rates him defending and attacking.
John G Davies
118
Posted 17/04/2017 at 18:12:47
Paul,
That's also my thoughts on Davies.
Your right, I'm wrong. 😀
Darren Hind
121
Posted 17/04/2017 at 18:22:43
Paul
No, I don't think you were arguing with me. My points were not directed at you.
Although I think you may be right about Davies being better than Gana and Schneiderlin going forward, I don't think they can do the job he is being asked to do.
He can do their job though.
Koeman couldn't drop Davies, but Gana had been Player of the Season up to the Spurs game and he had just paid £25m for Schneiderlin. Davies had forced his hand and is deserving his run in the team.
Paul Tran
122
Posted 17/04/2017 at 18:29:43
That's a fair point, Darren, so at least Ron can actually see something a lot of us can see!
Graham Mockford
125
Posted 17/04/2017 at 19:01:30
Darren (#115),
My memory of the Man City and Stoke City games is that we played three centre halves in a 3-4-3 formation. (3-4-2-1 probably closer to the mark.)
Davies did play centrally in both games but I don't think he was playing as a part of a defensive two with Barry and Schneiderlin respectively. He was the more advanced of the two.
I think it was also the same in the Palace game which was between City and Stoke.
John Daley
127
Posted 17/04/2017 at 19:15:46
As for Davies, there's little doubt he was initially considered a defensive (rather than 'attacking' or 'box-to-box') midfielder by Koeman, because he came out and said as much when people were clamouring for him to be included:

"It's a more holding midfield position and he is aggressive and he is strong. He can improve in his football but that's all about him bring a young player who needs to make steps
Dermot Byrne
129
Posted 17/04/2017 at 19:29:28
Jaysus Davies is good now, will become brilliant and can play defensive and attacking midfielder.
Ciarán McGlone
134
Posted 17/04/2017 at 20:06:52
Darren,
I think you may be right. Perhaps the amount of running he does while playing a box to box or the advanced role makes his movement look a bit aimless. Either way, he has been underwhelming recently and I think his automatic inclusion isn't warranted.
He's only 18, and I'd hate to see the fervour that is currently surrounding him, backfire.
Paul Tran
136
Posted 17/04/2017 at 20:22:59
Brian, that was a crafty quote from Pulis, designed to show his employers what a great job he's done to get WBA to eighth. Puts a bit of pressure on us to deliver, too.
I've no doubt we have that kind of money to spend. The big question is whether we attract the players that cost that much in total.
Darren Hind
137
Posted 17/04/2017 at 20:23:34
Dermot,
I think you too are right, Davies is a terrific player. This wasn't intended to become a row. I thought my praise of Davies was rich.
The only reason I posted is that I thought Ciaran was taking a little bit of unwarranted, for stating what is in my opinion a reasonable observation.
The Koeman quote posted by John, proves beyond doubt that Koeman knew he was a natural defensive midfielder.
I simply pointed out that, for all his obvious skills, Davies was still relatively green in a slightly more advanced role and was having to learn in the most difficult of circumstances.
Tony Abrahams
138
Posted 17/04/2017 at 20:34:25
If Tom Davies is underwhelming now, then he must be destined to become one of the greats in this great game of opinions!
John G Davies
139
Posted 17/04/2017 at 20:36:49
I don't think anyone is or has doubted the quality of Tom. Certainly not me. I have described him recently as a major part of Everton future.
Players for as long as the game has been played develop other aspects to their game and change the way they play. It is a fact that Koeman originally saw Davies as a player with defensive midfield capabilities.
It us a fact that he now sees him as a player with more forward-thinking capabilities. A box-to-box player.
Raymond Fox
141
Posted 17/04/2017 at 21:01:47
As Ciaran (#134) points out, let's not put too much pressure on Davies's shoulders to play a blinder every game. These young footballers are now under the spotlight like never before. He's a local lad which adds to hype, Barkley and Stones have been lauded prematurely in the recent past only to go off the boil for a while.
It's only natural when the lad makes a great start in the first team that we should get excited about his potential, but he's a good few bridges to cross before we get carried away too much. Fame and fortune to name but two.
Tony Abrahams
143
Posted 17/04/2017 at 21:16:13
Very good points Raymond, having money in the bank, has definately ruined loads of top young players in the past. I only speak for myself, but I don't expect him to play a blinder every game, and if he's given a rest then I hope it's not until he needs one!
The reason I feel this way, is because I just love this kids honesty, and I was only thinking on Saturday, how much work that he does for the team. Work, I'm sure that not everyone would notice, but maybe I'm wrong, and because this kid inspires me so much, then maybe I already have rose tinted spectacles when I watch him very closely?
Dermot Byrne
144
Posted 17/04/2017 at 21:20:58
Agree Darren H... But he can develop into either I hope, mate.
Ciarán McGlone
145
Posted 17/04/2017 at 21:25:39
Tony,
You'd have to be Stevie Wonder (although there was a suggestion that Mr Wonder had once caught a mic, and was overplaying his visual deficiencies).. not to see the amount of work Davies puts in.
John G Davies
146
Posted 17/04/2017 at 21:29:46
You're not wrong, Tony. He ran over 12 kilometers in a recent game. Thats some work rate. He gets into all areas of the pitch, both in a defending and attacking mode.
He will need a rest before too long. Very unusual for a kid of his age to have the run of games he has had.
Tony Abrahams
147
Posted 17/04/2017 at 21:53:59
Agree Ciaran, but not about it being aimless movement though.
Tony Abrahams
149
Posted 18/04/2017 at 08:06:38
It's a squad game now John, and once everyone is fit then especially so for Everton's midfield, and although I think Gueye, has been terrific for us this season, and is another with a brilliant work-ethic. I thought Koeman made the right choice on Saturday, simply because Davies can pass the ball better than little Gana.
Opinion, nothing else, but it makes me smile whoever is going to play in there, simply because our engine room is going to be full of players with loads of energy, and in the modern game of football, only real skill comes a close second to this vital commodity... (Never!)
John G Davies
150
Posted 18/04/2017 at 08:39:22
I agree, Tony.
Tom has got more vision than Gana, sees the pass earlier. That's my point in saying he is more of a defensive player.
Don't get me wrong I would like to see a player with Tom's ability on the team sheet every week and I'm only suggesting a one week rest. Whichever way we go we have got one hell of a player on our hands in Tom.
Darren Hind
151
Posted 18/04/2017 at 19:04:54
Rhino praised him for the protection he offered. Koeman confirms it by calling him a holding midfield player. He is a defensive midfield player who is being asked to broaden his game - unless both of his managers have got it wrong
The fact is he is not as experienced as the two who are fulfilling the role now and because we don't have anybody else with the energy to get in as many tackles and also support the attack. There was a vacancy for him and he had deserved his chance.
People have to accept him for what he is, He will always be more about tackles than raking passes, he will always be more about interceptions than goals or assist, he is more Peter Reid than Hazzard.
This idea of resting him makes no sense. Walsh spoke to the powers that be, so he wont be going with the young England side. He's learning every week, He's enjoying his football. He's full of energy, He is an asset to the team and He is due to start a long holiday in a few weeks . . what on earth would we be resting him for ?

---
Add Your Comments
In order to post a comment, you need to be logged in as a registered user of the site.
Or Sign up as a ToffeeWeb Member — it's free, takes just a few minutes and will allow you to post your comments on articles and Talking Points submissions across the site.