Blues one point closer to Premier League 2 title

91 Comments [Jump to last]
Friday 21 April 2017
Chelsea U23 2 - 2 Everton U23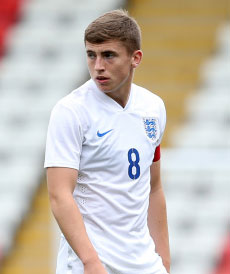 Jonjoe Kenny played in some brilliant crosses for Everton
Everton U23s drew 2-2 with Chelsea in their last away game of the season putting them a little closer to the Premier League 2 trophy.
Despite numerous chances in the first half, it was Chelsea who took the lead through Ugbo. But Bassala Sambou was on hand to get Everton back in it before the break.
Liam Walsh scored an excellent goal a few minutes after the break to give Everton the lead off a brilliant low cross from Kenny. But that man Ugbo broke through again at the other end and it was even-steven going into the final 20 mins.
A fantastic move saw Jonjoe Kenny again centre brilliantly, and Sambou tried to get his header down to beat the keeper but it was just too close, allowing him to pull off a crucial save.
David Henen replaced Joe Williams with 12 minutes left. Kenny's next cross beat the keeper and bounced off the top of the cross-bar! With 5 minutes left, David Unsworth replaced Harry Charsley with Courtney Duffus.
Another brilliant save by the Chelsea keeper, Mitchell Beeney, in added time denied Everton the winner leaving it down to the final game season — assuming Man City win their game at Liverpool on Monday. The Reds hold the keys to Everton's destiny as they are also the final opponents of the season, in a game scheduled for Goodison Park on Monday 8 May 2017.
Everton U23s: Hewelt, Robinson, Feeny, Williams (78' Henen) Besic, Kenny Baningime [Y'], Walsh, Dowell, Sambou, Charsley (89' C Duffus).
Subs not used: Gray, Foulds, Broadhead.
---
Reader Comments (91)
Note: the following content is not moderated or vetted by the site owners at the time of submission. Comments are the responsibility of the poster. Disclaimer
Karl Jones
1
Posted 21/04/2017 at 21:00:18
The Chelsea U23s are a worse bunch of divers than their first team... and the Ref bought it every time.
Paul Ellam
2
Posted 21/04/2017 at 21:01:25
Just like Everton to prolong the agony – and hopefully ecstasy!!!
Robert Workman
3
Posted 21/04/2017 at 21:02:11
The old man in goal kept Chelski in it!
Martin Nicholls
4
Posted 21/04/2017 at 21:03:21
Job done – a point was all we really needed.
Martin Nicholls
5
Posted 21/04/2017 at 21:07:44
Liverpool play Man City on Monday – what's the odds they roll over?
Bill Griffiths
6
Posted 21/04/2017 at 21:08:33
Thought we need at least 2 points?
Dave Williams
7
Posted 21/04/2017 at 21:08:50
Why is that, Martin?
Tony Hill
8
Posted 21/04/2017 at 21:09:46
Fine game. I have a feeling that Kenny may become a proper player for us.
Sue Brown
9
Posted 21/04/2017 at 21:11:56
A good entertaining game, we really should have seen them off early though. Some great work by Kenny, nice it was noted by the commentary – "another Seamus Coleman in the making".
Mike Doyle
10
Posted 21/04/2017 at 21:12:54
Kenny easily the best of the Everton players – gets forward and can cross.
Andrew Presly
11
Posted 21/04/2017 at 21:15:51
That save at the end from Kenny, let that in please Mitchell Beanie or whatever the hell your name is!
Kenwright was next to Steve Walsh in the stands and between those two and Unsworth we hopefully get some of these lads involved at first team level. They've got heart and can play.
Looked a good game tonight. Besic also came through the 90 mins well, looking comfortable at centre back. Where was Galloway?
Michael Penley
12
Posted 21/04/2017 at 21:17:08
If the RS roll over for Man City on Monday and lose 9-0, we'll know it was revenge for us losing to deny them the title under Rodgers.
Martin Nicholls
13
Posted 21/04/2017 at 21:21:16
Bill and Dave – I think we can only lose it if City win three remaining games and we lose last. We're 6 points clear with a superior goal difference.
Martin Nicholls
14
Posted 21/04/2017 at 21:25:27
My mistake – City have to win their 2 remaining games and we would need to lose our final game. In process they'd need to overturn an 8-goal difference.
Dave Abrahams
15
Posted 21/04/2017 at 21:32:40
Thanks to Frank Wade and his link, I got the last 20 minutes, we had two great efforts from Sambou and Jonjoe Kenny which brought great saves from the Chelsea keeper. Baningime played well, he's come on great this season, looks calm and assured, measures every pass. Kenny looked great and puts great balls into the area.
Notice the corners off Dowell and Walsh played with plenty of pace on the ball, the one from Liam nearly produced the winner with the header off Jonjoe. I wish I had seen the full game, it must have been very good if it was the same as the 20 minutes or so that I saw.
Barry Pearce
16
Posted 21/04/2017 at 21:34:30
Agree about Jonjoe Kenny.
He should have played right back, when Seamus got his leg broken. I know Holgate has done okay there, but Jonjoe is a more natural right back. Hopefully his time will come.
Dave Abrahams
17
Posted 21/04/2017 at 21:43:43
Looking at the team Michael has put down, I think we did brilliantly to get a draw as we only played with eight men.
Joking Michael, you did very well to get a report out so soon after the game, well done.
Michael Kenrick
Editorial Team
18
Posted 21/04/2017 at 21:47:35
Hehe... struggling here to find the full teamsheet, Dave. Maybe I threw it away with the chip wrapper!!
Dowell and Sambou... need one more.
Jay Wood
19
Posted 21/04/2017 at 21:48:10
Dave @ 14, pity you missed the first 30 minutes.
Even the Chelsea TV commentary acknowledged we were far and away the better team and should have been five up! Very impressive all over the park. They lucked out with the opening breakaway goal completely against the run of play.
I also liked Baningime. Jonjoe solid as ever. So was Robinson at left back and Feeney at centre back. Besic looked very ring rusty. Very weak turning his back on their equalising goal.
Charsley and Williams not quite at it. Walsh - other his goal - also a tad under par. Dowell influential and Sambou tireless in his efforts but still a bit raw.
An enjoyable watch.
Dave Abrahams
20
Posted 21/04/2017 at 21:53:41
Jay (#18), yes I thought Besic looked a bit rusty, just getting some game time in, but I wish they wouldn't have used him tonight in such an important game for the U23s. Still we should clinch the title against Liverpool, even a draw will be sufficient.
David Chait
21
Posted 21/04/2017 at 21:57:01
A point should be enough bar some orchestrated goal fest by Man City.
Seems we deserved the win but I'll take the draw! Well done lads!! Let's close it out last game so no reason to watch over our shoulders.
Jay Griffiths
22
Posted 21/04/2017 at 22:00:43
A solid crowd for the last game should help. Get the natives in. Remember, that lot won't have the Thomas Cook crowd for this one. A proper rallying of the local populace required.
These can be seminal moments for the medium term future of a football club. A catalyst for progression. If its possible, get there. It matters.
(Good to see you at Old Trafford, Martin. Hopefully, see you tomorrow!)
Lev Vellene
23
Posted 21/04/2017 at 22:02:08
Dave (#20), I totally understand your feelings, but the U23 are still the modernized version of the Reserves team, right? No other arena to bring the injured back to first team fitness now?
Brian Wilkinson
24
Posted 21/04/2017 at 22:02:49
It was Robinson number 3 you missed Mike, save you rooting through the chip wrapper.
Brian Wilkinson
25
Posted 21/04/2017 at 22:08:16
Their goalie is only 21, he must have had a tough paper round.
Frank Wade
26
Posted 21/04/2017 at 22:09:40
A strange game. In first 20 minutes, we could have been 4 or 5 up. Second half Chelsea much improved. Some terrific crisp passing from Dowell and Walsh in to Sambou.
I know it's a major step up, but if these lads were able to supply Lukaku in the same way, we would be in serious business. They are constantly looking for the forward killer pass.
At the end, Liam Walsh shaped to shoot and played in a beautifully disguised pass for Jon Joe Kenny, which lead to the corner. Kenny was terrific throughout. I hope he gets a run in one or two of the remaining games. Antonee Robinson is also looking good at left back.
Dave, I think Michael missed out on Robinson, Dowell and Sambou, but great to have a report out as you say.
Stuart Murphy
27
Posted 21/04/2017 at 22:14:34
Just back from the match which we should have won if we had taken our chances and their goalie had not made some good saves, he certainly looked older than 23!
Bill Kenwright was very sociable and chatting to the fans at half time. The fans were out in force and outnumbered the oppo fans and there were about 250 in total.
Frank Wade
28
Posted 21/04/2017 at 22:15:32
Wow. Looked up the Chelsea keeper Mitchell Beeney. His father Mark played some games for Leeds. I though he looked a hairy under 23 and was wondering why he would be playing. He is only 21, a mature looking 21 to say the least.
Tony Hill
29
Posted 21/04/2017 at 22:16:21
Yes, let's all get there to see us win it against the shite. It will be the moment when the deadly polarity is reversed and good begins its final triumph over evil.
Peter Gorman
30
Posted 21/04/2017 at 22:33:08
The game against the RS ought to tell us a lot about these lads. If they triumph with aplomb with the title at stake, I'd wager they are the characters the first team needs. Fingers crossed their level of ability develops accordingly.
Peter Gorman
31
Posted 21/04/2017 at 22:39:57
The entire game appears to be on the OS;
http://www.evertonfc.com/fixtures/2010-to-2019/2016-2017/english-premier-league-2/chelsea-u23-vs-everton-u23/match
Preserve beyond the Jackson 5 and it begins.
Mick Davies
32
Posted 21/04/2017 at 22:45:07
How was Liam Walsh, besides the goal? Been hearing so much about the lad, I thought he would have made the 1st team bench at least by now under Koeman.
Dave Horne
33
Posted 21/04/2017 at 22:50:28
Michael,
Everton drew 2-2 with Chelsea - not tied!
Graeme Jenkinson
34
Posted 21/04/2017 at 22:53:59
Great turnout for us in my hometown Aldershot. 5 minute walk instead of my usual 8 hour round trip to Goodison. Decent game to watch and good to see our prospects in action. Must have felt like a home game for the lads there were so many Evertonians in the stand.
Martin Nicholls
35
Posted 22/04/2017 at 06:26:28
Jay (#22) – you too mate! Yeah, will be at Olympic Stadium later on. Having a few pints in Euston Flyer (near St Pancras) from about 12 – be good to see you if your'e anywhere near.
ps: Good post again!
Tony Abrahams
36
Posted 22/04/2017 at 08:05:05
Good points made by Peter@30. I also hope that Jonjoe Kenny gets a few games before the season ends because the kid is definitely ready for senior football now and it's always nice to have a scouse heartbeat in the first team.
I know everyone will say the same things about there own football team, Graeme (#34), but I do think the reason Everton, are such a special club, is really because of the passion of the fans, who genuinely love their club. I think Koeman, has realised this, and hope it helps him to convince a few top players to want to join us for next season!
He's saying that he wants to fill the squad out with these younger players though, but I'm not so sure that will be so easy for him because, if they do go on and prove what Peter is saying, then I don't think many of them will be wanting to just play Under-23 football again next year...
John Dean
37
Posted 22/04/2017 at 08:16:11
Bassala Sambou had a terrific game. Despite his final touches being off, he was a constant danger, had the confidence to be always finding space and, when in possession he would take the shot rather than turn backwards or pass wide. He will score a lot of goals.
Morgan Feeney also stood up to the challenge well. A really terrific team performance overall.
Damian Wilde
38
Posted 22/04/2017 at 09:22:56
Great to see the youngsters doing well.
Peter Lee
39
Posted 22/04/2017 at 11:02:41
When we won the Youth Cup with the likes of John Hurst and Jimmy Husband in the team, 23,000 turned up for the Goodison leg of the final.
Any chance of a similar turn-out in a couple of weeks?
Fiver to get in, kids free, all money to EiTC. Could be rocking.
Peter Gorman
40
Posted 22/04/2017 at 11:04:45
Tony, I totally agree that Kenny deserves a run-out; I've been a little surprised that Holgate played in his position instead of centre-half when Williams was suspended.
Kenny was one of the stand out players for England's youth a few years ago, along with Ledson who I personally believe wasn't gladly let go by the club but himself decided to pursue first-team football as you fear.
I had the pleasure of chatting to some Oxford Utd fans a few months ago about the players that connect us, including Lundstram and McAleny (who are doing well there), but they simply raved about Ledson, saying he was something special.
Mick Davies – believe us when we say Liam Walsh is the real deal. At U23 level he looks like a Rolls-Royce player; technically great with an eye for a killer pass. Even in the first minute of the game at Aldershot he played a superb ball to Sambou (otherwise excellent) which was shot over the bar. A very intelligent footballer.
Walsh reminds me in many ways of Davies insofar as nothing seems to phase him, he is eager to learn (as evidenced by his year on year improvement) and he is incredibly vocal on the pitch. What a tantalising thought!
Barry Pearce
41
Posted 22/04/2017 at 11:40:48
We sure have some amazing talent, in that under 23 squad.
Just hope we don't lose some to other clubs, if they don't get an opportunity to show their worth.
Young Tom Davies has thrived since playing for the first team. I'm sure one or two others could do the same.

Brian Wilkinson
42
Posted 22/04/2017 at 13:19:11
Kenny reminds me of Coleman, darting down the wing, getting crosses in, and a knack for having a shot or two on goal, he cannot be far off a first team appearance, looks quality as do a few of the others.
Kieran Kinsella
43
Posted 22/04/2017 at 13:23:06
Peter
I keep reading reports of Walsh leaving in the summer permanently for Barnsley, Yeovil etc.
Peter Gorman
44
Posted 22/04/2017 at 13:26:28
Where are you reading those Kieran!? That would be awful unless there was some kind of Deulofeu-buy-back clause inserted.
I am trying not to read too much into the fact he doesn't feature on the bench, after all our midfield is our strongest department by some distance.
Barry Pearce
45
Posted 22/04/2017 at 14:17:15
That truly would be awful, if Walsh was allowed to leave permanently. I think he may go out on loan, but I wouldn't like to see him sold.
Dave Abrahams
46
Posted 22/04/2017 at 14:18:37
Kieran (#43), I hope Everton FC are wise enough to get Liam Walsh and others a loan deal with teams in the Championship, they are too good for anything less than that.
They are too good and too ambitious to remain at Everton staying in the U23's, they must be given some sign that are close to getting some time with first team, or like Ledson they will be on their way. Ledson will return to a Premier League team before too long.
Gio Mero
47
Posted 22/04/2017 at 14:33:23
Some brilliant plays and a very good team.
Particularly liked Robinson and Baningime. Have to agree Besic looked quite off the pace in Premier League terms. Shame that last-minute save.
Tony Abrahams
48
Posted 23/04/2017 at 07:37:44
Peter, I know that Everton are giving these kids big contracts financially now, probably because all of a sudden we've gone professional! But players only love you when there playing, and these kids are not stupid, so they will know it's now time they were playing senior football?
Attitude and real character are the keys as you say mate, because it's something that is definitely lacking in our first team at the minute.
Everton Football Club lack real winners but it looks like this stops at The Chairman because it definitely looks like Moshiri has Huge plans, which might not be so good for these kids who are trying to break through?
Peter Gorman
49
Posted 24/04/2017 at 13:42:58
Here's a little food for thought after watching an interview with Liam Walsh on the OS following the draw with Chelsea. The interviewer pointed out that a point was no bad thing and asked why the lads 'took it badly'. Walsh made the following statement:
"We are all winners in that dressing room – we all hate losing, and even drawing games. It doesn't matter if it's in training, we're still the same."
After what we witnessed against West Ham, this is pretty sweet music to the ears.
Sam Hoare
50
Posted 24/04/2017 at 14:05:33
The Europa League must be a huge incentive to these players. Those that have done well this season and apply themselves well in pre-season will definitely get opportunities as the squad rotates to cover the extra games next season. I wouldn't be surprised to see the likes of Walsh, Kenny, Sambou etc getting game time in Europa League.
Rob Halligan
51
Posted 24/04/2017 at 18:47:28
RS U23s playing Man City U23s tonight. Providing Man City don't win, then we win the Premier League 2 title. What's the odds City win about 5-0?
Kieran Kinsella
52
Posted 24/04/2017 at 18:54:48
Peter
It was about three weeks ago. It was a Yorkshire paper I stumbled across on Google News when I searched "Everton." It said a manager – pretty sure it was Barnsley – was scouting Liam Walsh with view to a permanent summer signing when his Everton contract expires.
Kieran Kinsella
53
Posted 24/04/2017 at 18:57:39
This article supports the contract expiration though I can't find the transfer article:
http://www.liverpoolecho.co.uk/sport/football/football-news/everton-fc-youngster-liam-walsh-8751100
Kieran Kinsella
54
Posted 24/04/2017 at 19:02:44
It is being discussed on Barnsley fan forums and was reported in a rag that has been banned by Everton too.
Mark Louch
55
Posted 24/04/2017 at 19:19:57
As a regular at Aldershot's matches as well as a southern based-Toffee, I went along on Friday to see the title being won.
Whilst that did not quite happen, what a pleasure it was to see a vibrant attacking display by the young Blues. They fully deserved to win even though Chelsea were certainly in the game 2nd half. Every blue was excellent and they tried to play football throughout.
Kenny is first team ready in my humble opinion, excellent on the night and Walsh, Sambou and Baningime were very good with the others not far behind. A few of these will be valuable squad players with Europa League commitments next season and the future looks really promising.
One other comment: Besic is a long way off being ready for the first team as yet. Physically fit but not match sharp.

Steve Woods
56
Posted 24/04/2017 at 19:30:11
City U23s up 0 - 1 after 25 minutes.
Steve Woods
57
Posted 24/04/2017 at 19:31:00
Liverpool U23s just equalised 1 - 1
Steve Woods
58
Posted 24/04/2017 at 19:52:01
Half Time LFC 1 - City 1
Brian Williams
59
Posted 24/04/2017 at 19:58:08
Anyone planning on going to the mini derby on the 8th of May?
Peter Gorman
60
Posted 24/04/2017 at 20:21:23
Kieran, you had me really worried there for a minute but thankfully I found the following;
http://www.evertonfc.com/news/2016/09/09/walsh-signs-new-contract
We've got him until June 2019 at least. Phew! Well, if he does go now it will be entirely the clubs' cock-up as opposed to some Dan Gosling style shenanigans (which on reflection, was also the club's cock-up).
I would make a point of going to that derby Brian but alas I will be on the other side of the world. Quietly cheering on the reds tonight (they are only kids so innocent of the sins of their fathers).
Steve Woods
61
Posted 24/04/2017 at 20:34:19
2 - 1 Liverpool 71 minutes
Brian Williams
62
Posted 24/04/2017 at 20:36:32
I'll cheer for you, Peter. Just hoping that the other shower don't get beat by City tonight which will make the mini-derby a mere formality.
Hope a big crowd turn out for the young uns.
Peter Gorman
63
Posted 24/04/2017 at 20:37:24
Looking good – so they'll be giving our boys a guard of honour before or after the match?
Steve Woods
64
Posted 24/04/2017 at 20:38:57
2 - 2 after 76 minutes...

Peter Gorman
65
Posted 24/04/2017 at 20:40:33
I'll shut up.
Brian Williams
66
Posted 24/04/2017 at 20:40:40
Shit. Come on the YRS!
Steve Woods
67
Posted 24/04/2017 at 20:54:41
3 - 2 Liverpool. (92 minutes 1 minute to go)
Colin Glassar
68
Posted 24/04/2017 at 20:56:25
Who's winning?
Steve Woods
69
Posted 24/04/2017 at 20:57:04
Liverpool winning 3 -2
Brian Wilkinson
70
Posted 24/04/2017 at 20:57:38
All over – the title is ours!
Paul Ellam
71
Posted 24/04/2017 at 20:57:44
Rob Halligan
72
Posted 24/04/2017 at 20:57:55
Game over. RS 3-2. CHAMPIONS!!!
Peter Gorman
73
Posted 24/04/2017 at 20:58:18
Well in lads. Thoroughly deserved. Time to harvest this particular crop of winners methinks.
Colin Glassar
74
Posted 24/04/2017 at 20:58:18
Yessssssss, get in you young blues!!
Brent Stephens
75
Posted 24/04/2017 at 20:58:58
Excellent! Well done young uns.
Martin Nicholls
76
Posted 24/04/2017 at 20:59:14
Champions! Shite had no supporters there – flights from Oslo must have been too expensive!
Steve Woods
77
Posted 24/04/2017 at 20:59:20
Thats it, all over, Everton win the Premier League 2 title. Well done the young blues well deserved you can enjoy a great last home game at Goodison, pressure-free.
Dave Williams
78
Posted 24/04/2017 at 21:01:44
I always did like LFC!!!!!
Gordon Crawford
79
Posted 24/04/2017 at 21:09:47
Brilliant flipping news. :) COY-Young-B
COYYB
Stu Gore
80
Posted 24/04/2017 at 21:13:37
U23 Champions!
Kieran Kinsella
81
Posted 24/04/2017 at 22:10:17
Peter
It's probably a load of bullshit then cause the story was based around the supposedly expiring contract.
Peter Gorman
82
Posted 24/04/2017 at 22:23:57
I'd argue that Premier League 2 is bigger than the Women's Super League but doubt we'll see the lads get too much attention.
Btw, I'm basing that not only on the fact the U23s could play them off the park but I've also seen my fair share of women's football when my ex-wife played goalie for several years.
It wasn't just the fact she ran off with her centre-forward that made me loathe every minute I wasted.
Gavin Johnson
83
Posted 24/04/2017 at 22:44:40
Well done to David Unsworth and the young uns. Winning at this level will hold the kids in good stead for the future. We have some set up when we can get ahead of City and Chelsea who spend a relativefortune bringing in youngsters.
Who the hell is this kid Baningime? I'd never heard of him until I saw this story the other week with the Kante comparisons. Did we buy him like Sambou or has he come up from school boy level? Does anyone know.
Kieran Kinsella
84
Posted 24/04/2017 at 22:58:07
Gavin
Baningme joined Everton aged 9. He's from the Congo. He was a peripheral figure with the u18 not long ago so he must have stepped up pretty quickly.
Brian Williams
85
Posted 24/04/2017 at 22:59:24
I watched the game against Chelsea recently and it brought home even more so than before just how big a step-up it is to the 1st team, even for the outstanding players in the Under-23s.
Made me realize how good even the players we say are cack have to be to play in the Premier League. I can understand how young Tom Davies finds it difficult at times but also understand just how talented that lad must be!
Dave Williams
86
Posted 24/04/2017 at 23:00:58
Gavin- Baningime was one of the stars of last seasons under 18 team but I don't know if he is a local boy- not a scouse name! I have a feeling he is at least part French?
Gavin Johnson
87
Posted 24/04/2017 at 23:05:03
Thanks for the info Dave, will keep an eye out for him now. Sounds like one who's developing faster than expected.
Kieran Kinsella
88
Posted 24/04/2017 at 23:06:16
Dave he's from Congo
Dave Williams
89
Posted 24/04/2017 at 23:07:40
Do they speak French in Congo?
Thanks Kieran – sounds like one to watch!
Gavin Johnson
90
Posted 24/04/2017 at 23:21:39
Kieran, yeah, I thought that when I read the report about him the other week: That he must have been pretty peripheral but had suddenly developed, Hopefully he'll have a similar trajectory to Tom Davies.
Danny Broderick
91
Posted 25/04/2017 at 00:10:55
Assuming Arsenal win their games in hand (because they will be playing for their cup final places now), we are pretty much nailed on to finish 7th. Any hopes of top 6 will have pretty much disappeared.
I'd love to see some of our young lads put in the first team, if not away at Swansea, then certainly at home against Watford. They could do no more than win their league this year – there must be a few talented players there, like Jonjoe Kenny, who haven't really had a look in yet. Give them a little reward for their fine efforts.
---
Add Your Comments
In order to post a comment, you need to be logged in as a registered user of the site.
Or Sign up as a ToffeeWeb Member — it's free, takes just a few minutes and will allow you to post your comments on articles and Talking Points submissions across the site.