Deulofeu in limbo after leaving AC Milan

110 Comments [Jump to last]
Tuesday 30 May 2017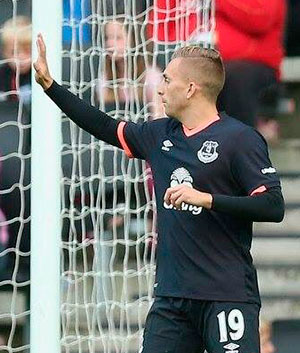 Gerard Deulofeu is set to return to Finch Farm when pre-season training resumes but his future is uncertain following the end of his loan spell in Serie A.
The Spaniard made a positive impact with the Rossonieri, scoring four times and laying on another three but Milan have elected, at least for now, not to try and sign him on a permanent basis.
No clause to that effect was inserted into the loan deal that took Deulofeu to the San Siro in January because Milan were still in the midst of a takeover by a Chinese consortium.
That buy-out is complete but it doesn't look as the 23-year-old will be the subject of an offer to buy from Milan's new owners but there have been suggestions that Barcelona could activate a buy-back option.
The Catalonian giants can sign Deulofeu this summer for &euros;12m but the final decision would rest with incoming manager Ernesto Valverde.
Ronald Koeman, meanwhile, appeared to have made his mind up by the middle of last season that Spain international wasn't quite cut out for the squad he envisions at Goodison Park and was happy to allow him to go out on loan mid-season.
Whether Koeman has revisited his opinion following Deulofeu's displays in Italy remains to be seen but he would likely need to see how the player fares back in the Premier League before believing that he has what it takes to be a consistently productive presence in the Everton side.
---
Reader Comments (110)
Note: the following content is not moderated or vetted by the site owners at the time of submission. Comments are the responsibility of the poster. Disclaimer
Michael Penley
1
Posted 30/05/2017 at 06:09:57
It would be a little bit absurd if the club our manager "dreams" of being in charge of takes a player off our hands that we have rejected. Taking on rejects has historically been our role, at least over the last 20 years.
James Watts
2
Posted 30/05/2017 at 06:40:12
Deulofeu has an abundance of talent and, if I had the choice, I'd keep him. I certainly rate him higher than Mirallas.
Haven't seen him play for Milan but by all accounts he's done pretty well. The Italian league is much slower of course and that may suit him.
I'm guessing as he'll be entering the last 12 months of his contract he'll be shown the door though if Barca don't take him back.
Liam Reilly
3
Posted 30/05/2017 at 07:02:41
A slower paced league seems to suit him because he gets more time to recharge during games.
I don't know if it's a stamina or mental thing with this boy, but I don't think we've ever seen him truly fully fit. He could change all that with a good preseason.
Dan Egerton
4
Posted 30/05/2017 at 07:09:12
I think it's a fitness/attitude thing. He's the "apple in his parents eyes" glory boy who isn't used to actually working hard for the adulation kind of guy.
James Watts
5
Posted 30/05/2017 at 07:35:40
Dan (#4). Sounds like our £100m striker!
Will Mabon
6
Posted 30/05/2017 at 07:37:06
Bit too much limbo around for my liking.
Nev Renshaw
7
Posted 30/05/2017 at 07:37:34
He's another player that didn't realise his full potential.
Paul Smith
8
Posted 30/05/2017 at 07:52:18
The Spanish Aiden McGeady?
Duncan McDine
9
Posted 30/05/2017 at 08:00:30
Spot-on, Paul!!!
Trevor Peers
10
Posted 30/05/2017 at 08:02:12
With all these loan players returning, why do we need to make any new signings at all?
Ian Burns
11
Posted 30/05/2017 at 08:02:27
I realise I'm definitely in the minority on this lad but I like him. I feel he is played out of position on the wing. Fully fit and central, I get the feeling we would see a more effective player – just an opinion.
Paul Hughes
12
Posted 30/05/2017 at 08:14:49
I saw Deulofeu a few weeks ago, playing for Milan against Roma. While it was a little difficult to judge, as Milan collectively stank out the gaffe, he didn't impress. And this of course was a 'slow' Serie A game.
In a familiar fashion, he ran down blind alleys with no effective delivery, and was at fault for Roma's crucial opening goal – losing the ball while fannying around in midfield and leaving his defence exposed by not chasing back.
I tend to agree with the comment above – a Spanish McGeady. Perhaps Huddersfield will be interested in him?
Sam Hoare
13
Posted 30/05/2017 at 08:15:15
He did pretty well in Milan when given a good run of games but I don't think Koeman trusts or rates him. He may get one last Everton chance but will have to hit the ground running.
Similar to Barkley, he possesses so many of the attributes but the mental side, in particular work-rate and decision-making, is where he needs to improve.
Tony Abrahams
14
Posted 30/05/2017 at 08:16:49
I expect one of two things to happen. Either a return to Barca, or a straight swap with Milan, for this Niang?
Andrew Clare
15
Posted 30/05/2017 at 08:30:08
Just not good enough. A swap for Niang would also be a disaster, another player who is not good enough.
The modern footballer has to be in the Arturo Vidal mode. A skillful,physical all-action, in-your-face footballer. Signing players that just 'hang around' for half the game is a complete waste of time.
In fact, if Koeman signs anyone remotely like Niang or Rooney or Bolasie or Williams this time around, we might as well accept that success has passed us by.
Mike Berry
16
Posted 30/05/2017 at 08:39:37
Ronald was right to ship him out, a liability with flashes of real talent but not a team player. Adios and good luck.
Steve Bingham
17
Posted 30/05/2017 at 08:45:31
I'm hoping that if the board back Ronald Koeman properly this summer then Deulofeu and McGeady will be shipped out as they most definitely are not the high-energy hard-working players that he wants to have in the team across the board.
Likewise with the current Barkley situation if he does sign brilliant but if doubts persist then move him on and bring in The lad from Swansea. We just don't have the luxury to wait and see if Ross is going to finally fulfill all this promise next season.
We have to bring in the very best players possible and the manager has to be supplied with them asap to allow us to make the next step. Big summer coming up for our club!
Eddie Dunn
18
Posted 30/05/2017 at 08:46:28
He had plenty of chances to improve his defence and his workrate but he consistently underachieved. He is a player who tries too many step-overs, has a tendency to dive, and lacks fitness.
He would be better off (not financially) going back to Spain and playing for a smaller club.
Dave Williams
19
Posted 30/05/2017 at 08:59:13
Too many luxury players with him, Mirallas, Lukaku and Ross. None of them are consistent, they all lose the ball too easily and cannot be relied on to always cover the defence. We can possibly carry one of them if the other ten play for the team
Geri looks unfit to me and seems way too nice. Sheedy was a luxury player but he did try to cover, had a nasty side and was five times the player any of this lot are.
I'd ship him out.
Neil Wood
20
Posted 30/05/2017 at 09:06:04
Deulofeu is a playmaker, winger and striker who is leading scorer for Spain U21s, and has recently been promoted to the Spanish national side.
People keep bleating on about his defensive frailties and his tracking back etc... He's NOT A DEFENDER!
Yes, I accept that this "pressing game" holds out for a little more effort from your front players but not all are in the same mould as Sanchez etc.
How much tracking back does Silva do? Would you tell him to do one? Is Coutinho a presser? A tackler? No.
Give Deulofeu the chance just behind the striker/s and give him the freedom to just roam. Leave the pressing to others and allow him to simply attack.
I could list numerous players past and present who didn't track back but were mightily successful...
Why are we all obsessed with the pressing game? Sometimes you have to look at it logically and adapt dependent on who you are playing. If you play the same style then come up against a team who also play that style then if there better at it than you, you will lose.
So you adapt and play differently and use gems like Deulofeu to unlock stubborn defences etc.
Scott Hall
21
Posted 30/05/2017 at 09:16:34
I love this kid. Is he the finished article? No, not yet. But he's pacey, tricky and unpredictable. When he's on the pitch we create chances and that is what has been sorely missing in recent months.
If he goes back to what he's good at which is putting in crosses and looking for a killer pass then we have a real quality player on our hands. He's not a full-back or wing-back and never will be.
Sadly I don't think he'll be back in a blue shirt and I think he'll be the one that got away.

Clive Rogers
22
Posted 30/05/2017 at 09:27:33
Koeman has made his mind up about Deulofeu and it's now just a question of where he goes.
Ray Roche
23
Posted 30/05/2017 at 09:28:22
Neil (#20), Scott (#21),
If Alex Young was playing today half of ToffeeWeb would be wanting him "shipped out". Young didn't tackle back and I don't recall Vernon having much of a defensive attitude either, but they were brilliant at what they were in the team for.
To score goals and frighten the opposition with skill, pace and ability. I'd keep Geri and give him a real chance behind the striker, the position Barca apparently see as his eventual role.
Or we could fill the team with a shower of Nolans, kick the shit out of the opposition and hope for a lucky break.
Dave Pritchard
24
Posted 30/05/2017 at 09:29:10
I would let him go. Occasional brilliance, frequent mediocrity. Will not improve us.
Scott Hall
25
Posted 30/05/2017 at 09:35:52
Ray (#23), You're spot on. That bloody Kanchelskis couldn't tackle a wet tissue. Thank god we shunted him out the door.
Give me 11 Mark Pembridges all day long. We won't create a sausage but damn it – we'll work hard!
Ed Fitzgerald
26
Posted 30/05/2017 at 09:37:29
Del Boy, Barkley, Duncan McKenzie, Alex Young , Dave Thomas, Sheedy, Pat Nevn , Trevor Steven -apologies to any mercurial wasters I've missed off this list - all players I adored watching but clearly for some not enough work rate and tracking back.
Don Alexander
27
Posted 30/05/2017 at 09:38:20
Comparisons with the likes of Coutinho and Silva make me laugh. >This lad has played in 60 games for us and as yet has not ripped the arse out of anyone like those two regularly do.
On the contrary, he often seems cream-crackered even in the first half of some games, has less visible interest than Barkley and Lukaku in trying to win the ball back, and spends a lot of time displaying a fabulous impersonation of a proper Spanish senora.
"Floats like a butterfly, stings like a butterfly" should be his motto.
Scott Hall
28
Posted 30/05/2017 at 09:45:41
Don, it is physically impossible to look less interested in winning the ball back than Lukaku. The only way would be to literally lay down on the pitch and pull a duvet over yourself. Even then it's debatable compared to Rom's "stop, flap your arms and point to another area of the pitch" routine.
Dave Williams
29
Posted 30/05/2017 at 09:52:51
I fully accept the point about not wanting a team of pressers and I loved watching Young etc as much as anyone.
In my opinion, this lad is not in the same class as anyone who Ed lists above apart from maybe Nevin who was a waste of 𨀼k. He is unfit, can't kick the ball properly (one great free kick excepted) and looks to lack the guts to make a tackle.
If he could apply himself and get fit it would be interesting to see him play behind the main striker and I would love to be proved wrong (not for the first time) but, as things stand, I can't see him making it with us.
Dave Pritchard
30
Posted 30/05/2017 at 09:52:58
What is the Spanish for Marmite? Should be Del's new nickname if comments on here are anything to go by. It is not just about tracking back. He just doesn't produce the 'magic' anywhere near often enough. Also, whatever skills you have, there is no excuse for not being fit enough to play.
Colin Grierson
31
Posted 30/05/2017 at 09:54:04
Deulofeu has bags of skill. He can pick a pass. He gets the crowd on their feet. However, his decision-making is terrible. He tries beating players when he should pass. He gambles with an eye-of-the-needle pass when the outcome (if it doesn't come off) is a threat on our goal.
To compare him to some of the great players I've read on this thread is ludicrous based on what he's done in a blue shirt.
Andy Meighan
32
Posted 30/05/2017 at 10:04:38
I've lost count of the amount of times I've seen him on his haunches blowing for tugs. He might be talented mercurial etc but he's patently unfit. Too much fannying round with them silly step-overs and he's a diver as well. And with the new initiative coming out this following season, he'd spend more time being banned.
Koeman obviously doesn't rate him so I'd be shocked if he made a return to the squad. There's got to be better out there. Over to Walsh and Koeman...
Ray Roche
33
Posted 30/05/2017 at 10:07:14
Dave Williams, Colin Grierson, you are missing the point if you think myself and others are making a direct comparison between Deulofeu and Young etc.
The only comparison being made is that Young, Vernon etc, were not in the team because they "tracked back" which appears to be the main requirement for some people on here. They were in the team for other reasons and the likes of Deulofeu (and others) get in teams for skills other than tracking back. Lukaku doesn't do much tracking back does he?
This obsession with work rate will make football a team of super fit robots. I'm glad I saw the likes of Marsh, Best, Young, Worthington and others before the main requirement to play football is a "good engine". Entertainment? Yeah. Right.
Don Alexander
34
Posted 30/05/2017 at 10:15:23
Ray, the days of 60s football had two teams with two wingers each and two inside forwards and a centre forward. Fabulous to watch on a good day but, like the classic American car, now confined to the dustbin in favour of prosaic functionality. Sad but true.
Len Hawkins
35
Posted 30/05/2017 at 10:31:21
With the new Diving Directive coming in I think Senor Del would be in the scrutineers video assessment every week. Oh for the heady days of a player only going to the floor when he was put there by some John McGrath type centre half.
If I keep hearing these so called Pundits on TV saying "he felt a touch so was entitled to go down" I am going to throw something at the TV.
For anyone too young to remember McGrath he used to have his sleeves rolled up to the shoulders and his shorts waist rolled over til they were just short of being Speedos and anything that moved got kicked.
Stan Schofield
37
Posted 30/05/2017 at 10:38:34
We need a bigger squad, especially given the Europa League. We need players who produce flashes of brilliance, otherwise we'll be shite. Whether players produce 100% effort for 90 mins is of secondary importance. Football is full of mediocre teams who do that. But we don't want to be mediocre.
Having players like Deulofeu is a must, and if we got rid of him, finding ball playing replacements who produce flashes of brilliance would not be easy. Folks on TW keep wanting to ship out a lot of players, without really knowing that we'd get adequate new signings. That's just unreal.
The reality is we already have fine players, we need to add to them with a few signings (and a few is all that we will get), and the manager has to develop the tactics to get the best out of what we have.
It's the ball players who produce flashes of brilliance, managed effectively, who make the difference between consistently top teams and the rest.
Andrew Clare
38
Posted 30/05/2017 at 10:38:47
I loved the game in the 60s, seeing lots of great wingers and centre forwards. It was really exciting. Today's game is totally different.
All of the top teams in Europe have players with the attributes I mentioned in my earlier post. Skillful,physical, all action, in-your-face type players.
There is absolutely no point in signing so-called luxury players the just don't contribute enough. Old players are no good either with on or two exceptions.
So I just hope we sign far better players than we have done so far under Koeman with the exception of Geuye and Schneiderlin; otherwise, we will do well to even achieve 7th again.
Get rid of Barkley, Lukaku and most of the defence, including the goalkeeper, and bring in the skillful all-action modern-day footballers with the winning attitude.
Eddie Dunn
39
Posted 30/05/2017 at 11:02:01
Ray, the game has moved on. You have to be fit to compete in today's pacy Premier League.
Del has got skill and trickery in bucket-loads, but he is not like (as Ed Fitzgerald says) like Steven, Thomas or Sheedy. They performed on a regular basis, and there is no comparison to this kid , who might be afforded time in Italy or for Spain's Under 21s, but is simply powder-puff weak, with lungs like two old crisp packets.
Koeman will offload him to Malaga.
Mark Morrissey
40
Posted 30/05/2017 at 11:03:43
Keep him, the squad needs him. We have enough players to sign from keeper to striker. I'd keep him for the bench and play him more centrally
Tony Abrahams
41
Posted 30/05/2017 at 11:20:05
Stan (#37), I agree with most of your post, except with players who give 100% being of secondary importance. I think I know what you mean, Stan, but not many managers in top level football will put up with having players like this in their teams.
I do agree that a manager has got to get the best out of what he's got, though; I don't always think that Koeman did get the best out of all his players last season.
In Deulofeu's last game for Everton, he absolutely skinned the Leicester fullback to create a simple tap-in for Lukaku but I'm not sure he gave his own fullback enough help when Leicester went forward themselves?
He can't be trusted to get back and help, but neither can Ross Barkley really, so do the same with Geri – and take away his defensive responsibility, as much as possible, and let him use his natural ability and pace, to go and attack the opposition, and see if he responds?
Ray Roche
42
Posted 30/05/2017 at 11:43:14
Don, Eddie... listen lads, I've played and watched enough football to know that sport, like everything, evolves. However, you can't tell me that there is no place for a player with an abundance of skill.
Hazard, Silva, Coutinho are all skilled players but they have stamina which Deulofeu doesn't appear to have in his locker. That, in my opinion, is his main weakness, not his lack of vision, his ability to hit a killer pass, or a great cross. I would like to give him a trial in the role behind the Striker.
People have said on here that Koeman has seen enough to warrant offloading him. I'm backing Koeman (usually) but he's still the guy who brought in Williams – he's not infallible.
Anthony Dwyer
43
Posted 30/05/2017 at 11:44:57
I'd like to think Geri has grown since being loaned out; hopefully Barca won't want him and he realises he has to try harder.
If the above happens I'd keep him.
We will lose Rom and most probably Ross too, Jags is on his way out so its a huge part of our spine, a spine that doesn't have a keeper too.
Players like Geri can be moved on at any stage, there will always be suitors who will take a chance on him at 㾶m+ so no rush.
Go get Iheancho, Batshuayi and add Geri to them, put faith in the young forward line and see where it takes us.
Geri is a potential superstar; add him to the other two and we potentially have a frightening front line with bags of goals for around 㿞m.
After Rom and Ross sales, we should have 𧴜m, the above 㿞m plus 㿞m left for a keeper, a creative midfielder and a centre-half will probably mean were not that much out, especially when we get Niasse and Cleverley money plus Jags and Kone off the wage bill.
Mike Allen
44
Posted 30/05/2017 at 12:09:06
We have so many potential players that are over-hyped. All the players in the squad have had long enough to prove themselves. Anyone can have an off-day but it has to be balanced with having more good days.
Not asking Deulofeu to chase around like a headless chicken but please don't sulk when things are not going your way. His body language is terrible at times, along with a few others, I might add.
Gerard Carey
45
Posted 30/05/2017 at 12:18:31
I think Koeman has his mind made up on Deulofeu: Not his type of player. Only way we will hold on to him is if we don't get the necessary new players in during the summer. Deulofeu could still be a useful player to have for the Europa League though, if the slower pace of these games would suit, like some have said.
Ian Hollingworth
46
Posted 30/05/2017 at 12:22:32
Deulofeu did not cut the mustard at Barca or when on loan at Seville and now it seems Milan do not want to make the loan move permanent.
It cannot be coincidental that none of the managers involved want to make him a permanent fixture of their teams?
Paul Birmingham
47
Posted 30/05/2017 at 12:29:43
I like Geri Deulofeu but from the March 2013 derby, when the RS were on the ropes and we gave them back the game several times after missing loads off chances, I've waited to see if he'd step up and improve his decision-making.
For me, it hasn't happened and, whilst there're worse players in our squad, this to me will be further proof for Koeman to say it's time to offload.
Everton must be ruthless if we want to progress and this transfer window is massive but I reckon, as high as the stakes are, it will be very tough hunting to get the players we'd all like, if at all? So who will buy him? Do we keep him? Are we forced to keep him?
It's almost Catch-22. I hope and pray I'm wrong and we get the players plus a shrink, to cast aside the demons when we play the top 6, and we don't bottle big matches.
Sounds familiar, BAU EFC preseason, unless the board really do want to make a statement.
We wait with patience and hope.
Ed Fitzgerald
48
Posted 30/05/2017 at 12:31:12
Eddie,
Sheedy and Dave Thomas often went missing in games; however, they were always a threat (even though Sheedy was often labelled as lazy by our own fans) I take your point about Trevor Steven – a complete footballer.
I personally think I Del Boy is an excellent footballer I actually think he just needs to play regularly. Players such as Silva, Hazard, Couthino also go missing but their worth is recognised by their managers and fans.
Alexander Murphy
49
Posted 30/05/2017 at 12:38:05
He's talented and young and he's bouncing around from club to club.
When he switches it all on, I absolutely purr watching him play.
The single factor which the fans and coaches are dying to see is entirely within his own control.
You can not teach those who do not want to learn.
Tony J Williams
50
Posted 30/05/2017 at 12:44:41
Amen Ian.
That's 5 managers who don't want to keep him; seems straightforward enough to me.
I list him with the other players that I fervently wished to be our next star player but ended up being a McFadden/Beagrie.
As already stated above, there is no excuse to not be fully fit at his age. Rumour is that he likes the old cancer sticks too much.

Craig Walker
51
Posted 30/05/2017 at 12:45:15
Some good moments in a Blue shirt. However, it's not the lack of tracking back which frustrates me about Deulofeu. It's the constantly running into a full back and then waving your arms to the ref/Bullens Road stand whilst the game moves on.
It's also the jigsaw like qualities on any one-on-ones with the goalkeeper. He could have booked our place in the League Cup Final at the Etihad but he went to pieces, and not for the first time.
Andrew Ellams
52
Posted 30/05/2017 at 12:47:37
Since Del moved to Milan, Koeman has settled on the 4-3-3 formation were the two wider players are more inside forwards than wingers. Would that suit him as much as being an out-and-out winger?
Geoff Lambert
53
Posted 30/05/2017 at 12:48:21
I would rather watch 60 mins of Delboy skill than 90 mins of someone like Lennon giving 100 per cent of huffing and puffing.
Well worth keeping even if it's only as back up or a second-half sub with something to change a game.
Alexander Murphy
54
Posted 30/05/2017 at 12:57:45
Tony (#50),
"Rumour is that he likes the old cancer sticks too much."
If there is any truth in that, then he might as well get pissed up as well, but wouldn't that explain everything?
John Daley
56
Posted 30/05/2017 at 13:20:17
It's  strange to me that a team that has been crying out for some width and an injection of pace for the last three months is seemingly ready to ship out the one player in the squad able to provide it straightaway.
For whatever reason, Deulofeu was given short shrift by Koeman from the off. He featured in the first game of the season as a makeshift forward (where he did well enough, looking a threat on the break, before blowing a decent scoring chance) but was subsequently handed only a further three league starts and one in the cup. Hardly the perfect platform to play yourself into form and fitness or acclimatise to a new managers preferred 'press/punt' style of football.
The decision to loan him out in January was bizarre, bearing in mind the long-term injury to Bolasie, the paucity of natural  wide players within the squad, and the splashing out of 㾷m on a raw kid (with potential) who was obviously some way off being ready to step right in. The ill-suited Barkley, Calvert-Lewin and Valencia have all taken turns filling in since, to little success. Would Deulofeu, given a regular run of games, really have contributed less?
The last time he had an extended spell of starts, back in the first half of 2015-16, he was one of the most productive players at the club, putting a number of chances on a plate for Lukaku, whipping in early pacy crosses that Andy Hinchcliffe would have been proud of and playing some perfectly weighted, defence splitting through balls. Since then, he's only ever featured sporadically so it's hardly surprising his effectiveness would wane.
Saying all that, his 'long ball' comments to the press in mid December, which could be construed as a not very subtle dig at Koeman's playing style, probably didn't help his cause and, I would guess, effectively shut the door on any second chance under the current manager.

John Daley
57
Posted 30/05/2017 at 13:25:37
"Del boy did not cut the mustard at Barca or when on loan at Seville and now it seems Milan do not want to make the loan move permanent."
It's not quite that simple in this case because of the various clauses inserted into his contract which Barcelona insisted upon.
Adriano Galliani publicly stated back in April that Milan have held a number of talks with Barcelona about Deulofeu, in an attempt to ascertain their intentions.
Jay Wood
58
Posted 30/05/2017 at 13:33:10
I'll place myself very firmly in the Ray Roche and Stan Scofield camp on this one. There is an unhealthy obsession that any and every type of player must contribute in every aspect of the game. Pure nonsense, for me.
That Deulofeu doesn't conform to whatever template Koeman has in mind is perhaps evident in that he only played him from the bench in most of his appearances at Everton, and even with Bolasie injured long term, he allowed Del Boy to go out on loan to Milan.
His call. It is, after all, the remit of the manager to ensure there is balance throughout the team to achieve what he wants to with his tactics.
That there is no place for Gerard Deulofeu in that scheme saddens me. There is nobody – nobody at ALL -– presently at the club capable of producing what Gerard offers. To replace him with somebody of equal ability (oh! and who can ran around a lot, also) will cost a heavier coin than we can currently sell him for.
IMO you will not achieve fleeting or lasting success with a team/squad of workhorses only. You need players of the technical ability of Del Boy to go to that elusive 'next level'.
He has shown at Everton what he can do when given a good run in the team. Name another player in the last 3 seasons who, when he gets on the ball, he gets more 'bums off seats' in anticipation of what he can do.
Claims about his stamina can also be challenged. Since arriving at Milan in January, he has been a fixture in the side. He has completed the full 90 minutes in the majority of his starts with Milan, being substituted a handful of times after the 80th minute. His earliest substitution out was on 76th minute in a match in which he scored with a rating of 8.28. His average match rating – playing in Serie A, remember – is 7.3 with a successful passing % of 82.3%, scoring 4 goals and making 3 assists in 17 appearances.
Compare that to Kevin Mirallas over the full season at Everton: 35 games, 4 goals, 6 assists, pass success rate of 82.9% and an overall average match rating of 6.86.
Offensively, Mirallas vs Deulofeu we have the following 'per game' stats:
Shots: 1.8 vs 2.2
Key passes: 1.2 vs 2.5
Dribbles: 1.4 vs 2.9
Fouls against player: 0.7 vs 1.3
Defensively, Mirallas vs Deulofeu stats per game:
Tackles 0.5 vs 0.9.
Interceptions 0.2 vs 0.9.
And yet, Mirallas at 29 has just been rewarded with a new contract. Gerard, 6 years his junior, is seemingly being shuffled towards the exit. Who would you say of the two is more likely to be in decline, and who still has the time and potential to improve?
Think about the 2nd half of the season and the options Koeman left himself with after shipping Gerard out to Milan in January.
Do some of you really want to argue that Deulofeu would not have been a better option, not just from the bench, but to start in some games where Valencia, Calvert-Lewin, or an out-of-form Mirallas, were shoe-horned into the position Gerard could have naturally filled? Or are you arguing they represented a better option because they contributed more 'defensively' than Del Boy would?
S'cuse me while I go off and have a coughing fit.
Aidy Dews
59
Posted 30/05/2017 at 13:33:24
Geri has to be going back to Barca. Milan don't look like their gonna pursue a permanent deal even though they've been really impressed with him so I can only assume it's cos Barca are gonna take up their buy back option up.
Koeman won't want to keep him, would rather have the funds and freed up wages for his own recruiting. He didn't rate Deulofeu with the squad we had last season so, when he gets his own players in, he won't rate him then either, will he?
Shame really cos he's a talented player but he's just not cut out for the pace and physical demands of our league
Anthony Dwyer
60
Posted 30/05/2017 at 13:35:36
Geri played 18 games for AC Milan from January, why is it that people suggest that he's not wanted by them?
They clearly don't have big money hence they are reduced to loaning from us, but it seemed to me that he was being used within their team.
Gordon Crawford
61
Posted 30/05/2017 at 13:43:59
I think if your face doesn't fit with Ronald then your out the door. Doesn't matter how talented you are. The boy must have rubbed him up the wrong way.
I totally agree that Kevin is less effective than Geri. But sadly we are not managing our beloved club and can't make the decisions that we feel would best benefit the team.
To let him go and keep Kevin is a big mistake in my eyes.

Matthew Williams
63
Posted 30/05/2017 at 13:48:56
Keep him... play him... time to be very shrewd on future signings. Let's not waste what funds we do have for a change.
Use the players we have already... make them better players. Decent coaching wouldn't go amiss!
Tom Bowers
64
Posted 30/05/2017 at 13:50:22
I cannot understand why Deulofeu has not become a permanent fixture with some top team. The obvious answer could be he is just not good enough.
Maybe as a product of Barcelona people expected a lot more and certainly he brought excitement in his earlier days before his bad injury.
Also I agree that Mirallas has little more to offer than Del Boy and the biggest problem is that neither are very good at defensive duties which one expects from wing backs these days and so it is on offence that they must shine but very often don't.
As we all expect, there will be several players being moved on again this Summer and it all comes down to what plans Koeman has; but strangely, Mirallas won't be one of them.
Ian Hollingworth
65
Posted 30/05/2017 at 13:51:14
The article we are responding to implies that AC Milan do not want Deulofeu, does it not? Now their takeover is complete Milan could well be more financially better off than us as we have yet to see just how much financial muscle we now have or do not have.
Just because he is better than some of our current options does not mean he is good enough for where we want to be. We have a lot of players that we need to replace with better players.
Derek Thomas
67
Posted 30/05/2017 at 14:15:19
Ray @ 23; I take your point Re TW – an exaggeration to make the point. But not strictly true, He did the amount that was asked of him back then and maybe a bit more; As The 1967 Man Utd game on Vimeo shows.
Deulofeu though; Is it can't or won't. I still maintain that somewhere down the track, in 5 or 6 years, there could well be a Club who will take a chance (if he's still playing) on him and find they have a real No 10... with the caveat that, at what level this may happen is anybody's guess.
Next season; Sometimes having a number of decent players will matter more on the day than how much they track back... For all we know He may do well in a Europa League environment.
Short Version; Ron, don't cut your nose off to spite your face; Delboy or Niasse for that matter, if nobody buys them, could well pop up with a crucial goal... just like they did for Hull and Milan.
Neil Wood
68
Posted 30/05/2017 at 14:15:51
Jay @ 58 – Well summed up, pal... Like it.
Ray Roche
69
Posted 30/05/2017 at 14:20:43
Derek, I was, still am, a massive Alex Young fan and there were undoubtedly occasions when he's tackled back, and I've watched him on YouTube until my eyes bleed...
You make a good point about Deulofeu being a player who might do well in the Europa League. We'll need a much bigger squad next season to avoid being an embarrassment both home and abroad.
Brian Furey
70
Posted 30/05/2017 at 14:21:10
Sounds like the Milan fans are as frustrated as we did with him in that they can see he has huge potential but rarely delivers on it.
I would imagine Barca won't be taking him back either has he's not learned anything really from his time at 3 different clubs.
His call up to the Spanish senior team was very surprising for me.
I'd be happy to keep him as a squad player in order to come in and try to change a game but he's not a starter for me.
James Stewart
71
Posted 30/05/2017 at 14:54:28
I'm in agreement with @67 we may need him especially in the Europa. Boro away in the cup he was outstanding and got us through that day. Would rather have him coming off the bench than some of the deadbeats like Kone.
John Daley
72
Posted 30/05/2017 at 14:55:14
"
The article we are responding to implies that AC Milan do not want Deulofeu, does it not?"
No, it doesn't.
It claims "Milan have elected, at least for now, not to try and sign him on a permanent basis."
A major factor in that is, thanks to the deal agreed between Barcelona an Everton, no other club can sign him 'on a permanent basis' at the moment.
At no time has anyone linked with Milan come out and said they do not want to sign Deulofeu, but (as mentioned earlier) their general manager has publicly stated he held talks with Barcelona to try and work out if there is anyway in which they might be able to sign him.
If they 'don't want him', why the fuck would he waste his time doing that? 
Four days ago, Milan manager Vincenzo Montella, had this to say:
"Deulofeu has given us a lot and he's a had a great impact. His fate isn't up to us, but I think all players are replaceable – as are coaches."

Two days ago he followed up by saying:
"Deulofeu has had an amazing impact at the club but he has to leave now. He may return here in the future because he's had a great season here. We have given him an important chance here at AC Milan and he has taken it all, he has shown all his qualities".
Milan may have given up hope of signing him on a permanent deal, but that's a vastly different situation to them deciding they 'don't want him'.
Barcelona have first option under the terms of the deal agreed with Everton. They have until June the 30th to activate the clause. Milan, or any other club, are effectively powerless to act until that date passes or, alternatively, Barca make clear their intentions in regards to taking up the option on the player. 
If Barca do decide to buy Deulofeu back, for the contractually defined sum of 㾸m, they are then forbidden from flogging him for the next 12 months. They may however be able to buy him back and then let him leave on loan immediately (perhaps with a view to palming him off for a profit when the year long 'sale prohibiting' clause has come to an end).
Milan's next move in this matter is obviously dependent on Barcelona's decision and whether they themselves are prepared to delay pursuing other targets in order to wait for a player who could be made unavailable to them at a moments notice.

Dave Abrahams
73
Posted 30/05/2017 at 15:06:14
Lots of opinions good and bad about Del Boy. I can't really make my mind up about him; he really can excite and create and then he can frustrate and have you tearing your hair out – in the same game or even the same minute.
Overall, I would keep him; there is a great player in there – it is mostly up to him... much the same as we have been saying about Barkley. Like a few have said on here, I would play him behind the striker.
The only reason I can see why we have kept Mirallas is to make money on him when he goes; he has had many more chances than the Spanish boy and is a lot less effectual than him, so give Del Boy another season.
Alan J Thompson
74
Posted 30/05/2017 at 15:06:53
It's the lad's own fault.
If he stopped taking on defenders and told the Manager that he is in fact a defensive midfielder then he'd be right. Then all he'd have to do is hide so that nobody can pass to him and when he does get the ball just pass it sideways or backwards before getting into a no-pass position again.
Tackling? Barry and Schneiderlin get away without it, just needs the odd yellow every now and then.
Paul Kelly
75
Posted 30/05/2017 at 15:17:36
I would like to see him back, coming inside more and mixing it up with Barkley, [or Sigurdsson, Silva, Mata... delete as appropriate from the last three].
Plus we have Europe to contend with if we get past FC Dynamo Third Rate in the qualifiers. No-brainer, it is? Maybe...
Jim Knightley
76
Posted 30/05/2017 at 15:24:07
It's interesting to see fans bemoan the overly attacking nature of some attacking players, and then criticise negative defensive football.
Deulofeu is a luxury – there is no doubt about that. He will not work hard defensively, and for that reason is attractive as an impact player. Yet, he is clearly incredibly gifted. No-one crossed the ball as well as he did for us during the Martinez era – he has a rare mix of speed, dribbling ability, and crossing ability.
So many quick and skillful wingers lack the ability to cross, and his uniqueness was demonstrated by several superb assists and crosses. I'd love him back as his potential is obvious and I don't believe that attacking players all have to defend – if that was the case, some of the greatest attacking talents in world football would never have made it.
We will have a lot of football next season, and his ability will come in handy. With so many defensive midfielders in our side, I can't see why we can't accommodate Deulofeu on occasions and rely on him for his obvious impact from the bench.
His performances at Under 21 level also illustrates his ability to both assist and score goals, and I think that is something which could be brought out at senior level in the right set up. think he needs a Mahrez roll to flourish, but in terms of pure dribbling, passing and crossing ability, I think he is better than anyone in our squad.
I'd also reiterate comments about his fitness – It might be that he needs a stern manager to motivate, or it might that he merely lacks the fitness capacity of some players, but that is something that can and should be improved. Whichever, I'd like to see him back here for another season if Barcelona do not activate the buy-back.
Nicholas Ryan
77
Posted 30/05/2017 at 15:39:53
Jim (#76). You have got it exactly right, with the words: 'Deulofeu is a luxury'. No club can afford to have a string of 'luxury' players on the pitch at any one time, but surely, there's space for the occasional one, once in a while?
Geri can, on his day, do things that no-one else can do. Why not keep him in a 'super-sub' role, for the days when we are having trouble picking the 'Pulis lock'!
Paul Kelly
78
Posted 30/05/2017 at 15:46:59
Many a time he put in deadly low whipped fast paced crosses towards the front post and nobody had the brain to take the gamble/opportunity. Type of cross you only had to connect with to score (my opinion).
Nicholas Ryan
79
Posted 30/05/2017 at 16:01:16
Sorry to post again so soon... but I couldn't help but see a comparison with the great Paulo Rossi. Rossi started at Juventus, as a right winger, but didn't impress, and was loaned out to Serie B. There he played in a central role, and scored a bagful of goals.
Juventus took him back, but thought he was too small, slow and passive for a striker. He was also the laziest person ever to kick a football, and I doubt that he ever set foot in his own half, in his whole career.
However, Juve and Italy persisted with him in the centre and, in the 1982 World Cup, he was top goal-scorer, player of the tournament, World player of the year, and European Player of the year. He scored all 3 goals in Italy's 3-2 beating of Brazil.
I'm not saying Geri will hit those heights, but the similarities are slightly spooky!
Karl Meighan
80
Posted 30/05/2017 at 16:10:25
No Lukaku doesn't do a lot of tracking back... but he scores goals – lots of them. If Deulofeu created as many as Lukaku scored, he may have a case; but it hasn't happened yet for Everton.
Eugene Ruane
81
Posted 30/05/2017 at 16:38:27
To be honest, I just think he's too old:
Link
John Pierce
82
Posted 30/05/2017 at 17:08:12
The lad has had three years to cut it in the Premier League, a further year in Spain at Seville and played six months in a walking league my father would cope with. Whilst he has skills, and yes he needs to apply himself when things are not going for him, little mentioned here on his reaction to adversity.
Decent start at Seville, then dropped barely played. Emeri, a decent manager found him wanting. His spells at Everton under two managers pretty similar despite their approaches. He whines and gives up when physically outplayed in England, his arms flailing everywhere etc. Skill? Yes; temperament? No.
How much luxury can we afford in the team? Lukaku, Barkley and now Geri in the team. Three Bollards without the ball. Creative players have to pull their weight, its not they aren't out there, we are not good enough to attract them. That's the problem.
Those championing Geri would have him out the door if we could get better all-round players. In England you cannot be that vulnerable without the ball, Geri might stay and come on from the bench, even do well in the Europa League. Not a Premier League player.
Jay Harris
83
Posted 30/05/2017 at 17:11:53
Like Barkley, he has tons of technical skill but he is symptomatic of the "inconsistent" Everton that we have witnessed for the last few years.
If we are to progress, we can only do it with players that show up every game.
Brian Harrison
84
Posted 30/05/2017 at 17:25:25
I think everybody more or less agrees that Deulofeu has talent and, as many have said, he also has deficiencies. But he cost ٤.5 million, now if Barca don't use their buy back clause and Milan don't make an offer. Would it not make sense to keep him with all the games coming thick and fast next season?
Also Bolasie probably wont be back in action much before December, and who could you get for the money Deulofeu cost? We might have possibly 3 forwards leave this summer in Lukaku, Barkley and Valencia, so we will need players.
Stan Schofield
85
Posted 30/05/2017 at 17:40:45
Jay @83: The inconsistent Everton includes being managed by a manager who was sacked and who is regarded widely on TW as a disaster in his final two seasons. Now that we have a different manager, and one of his jobs is to ensure consistent performances, plus he hasn't really given Geri much of a chance, don't you think it seems at least reasonable for him now to be given that chance, especially given the European commitments next season?
John Pierce
86
Posted 30/05/2017 at 17:44:03
And let's face it Bolasie will play over Geri, he was bought to replace him.
He's just as inconsistent, but has physicality to his game. Koeman would pick him 99 times out of 100.
To have luxury in your team, it needs to be balanced. Koeman's Everton are anything but.
Ray Roche
87
Posted 30/05/2017 at 17:59:35
Brian, I think he cost £4m when we signed him.
Tom Bowers
88
Posted 30/05/2017 at 18:02:25
Jay Harris (#83) has hit the nail on the head. Too many Everton players are inconsistent either over the course of 90 minutes or over a bunch of games.
Del Boy reminds me of Sterling in as much as he promises much and delivers very little. When they threaten they either hit the cross too long or too short or just sometimes pass or finish poorly. However, Del Boy only cost a fraction of what Sterling did.
Mike Allison
89
Posted 30/05/2017 at 18:03:32
I'm definitely a fan of Deulofeu anyway, as he's genuinely special at times, but the Europa League basically requires you to have two different XIs capable of winning games in a week. Therefore, if we don't keep Geri, it's another signing we need to make, and we're now trying to shop in a market where there aren't many players to go round and we're at the back of the queue.
John Raftery
90
Posted 30/05/2017 at 18:18:10
I was a fan of Geri in his first season on loan and was pleased when we signed him on a permanent deal. At one time he was inconsistent. He could not be described as that with us last season. Between August and December he was consistently poor. Now I am not even sure Unsworth would welcome him in the Under-23 squad.
Paul Tran
91
Posted 30/05/2017 at 18:48:50
Not good enough, not fit enough, not strong enough, mentally weak. Whatever talent he has is far outweighed by the above.
Jay Harris
92
Posted 30/05/2017 at 20:06:45
I totally agree with you, Stan, about Martinez... but Geri, for all his talents, has been inconsistent from day one in almost every game that he played.
I wouldn't mind bringing him off the bench if we keep him but would not have him anywhere near a first XI with top 4 ambitions.
IMO, we need some hard-nosed winners – not the toyboys of Barkley, Deulofeu and Lukaku.
Joe Foster
93
Posted 30/05/2017 at 21:33:59
He will be like a new signing etc etc.
Ray Smith
94
Posted 30/05/2017 at 21:45:57
I'm not Geri's greatest fan; however, he has managed to get into the Spanish national team!
Arteta, who I rate above Geri in their respective time frames, couldn't get in the squad, let alone play. Keep him, we are in for a hard transfer window.
Every player looking for a move is linked to Everton. We never learn!
Steve Walsh turns up wherever, and the price doubles. We haven't actually signed anybody yet! Once the top 6 have had their pick, we can then start recruiting the remainder.
Sigurdsson and Hart, if captured early enough, may turn the tide. However, our usual penny-pinching hesitation will leave us once again floundering in the bargain basement all the time Kenwright is involved.
Moshiri needs to make a statement now of his intentions, rather than keeping quiet. We flatter to deceive. We were the best of the rest, but that doesn't attract the big boys.
Rant over
Paul Dewhurst
95
Posted 30/05/2017 at 22:03:29
People defending Geri? He just hasn't done enough, 75 apps (including sub); 8 goals; he doesn't produce results or performances.
Flashes of brilliance are just that – flashes. Okay, we don't need everyone pressing but how he responds to being pressed is the problem. In a slow league, all the space and time he will get results; he will not get that in the UK.
Fitness and mindset are not what's needed to be a top Premier League player.
Stan Schofield
96
Posted 30/05/2017 at 22:16:35
We could have done with his flashes of brilliance, however infrequent, in our appalling away games where we completely lacked any attacking flair and nous.
Paul A Smith
97
Posted 30/05/2017 at 22:29:33
In my opinion, Deulofeu is another who suffers from unfair criticism. He can be awkward to watch, like most players can, but he produces the goods when he's on the pitch. I think we need his raw pace too.
Again, I am saying we have a long campaign coming and who better to take the pressure off players in our squad? He can lace them European defences, I am sure.
Every player has their critics but I watch players across the park be almost anonymous then set a goal up, then wow – they're the man of the moment. Deulofeu can produce them moments.
I have lost count of the amount of times he has hit a class cross into Lukaku or many Lukaku should have got.
He loses the ball, fair enough, but most players of his type don't constantly keep possession. How many times did Bolasie run into trouble?
His defensive side is non-existent, we know that, but don't all these defensive-minded players we have behind him cover for that?
Ian Hollingworth
98
Posted 30/05/2017 at 22:34:44
"Barcelona have first option under the terms of the deal agreed with Everton. They have until June the 30th to activate the clause. Milan, or any other club, are effectively powerless to act until that date passes or, alternatively, Barca make clear their intentions in regards to taking up the option on the player."
So does that mean that it is also out of our hands what happens to Del Boy? Is it that, even if we wanted him, Barca could still take up the option to take him back at the agreed fee?
If that's the case, then any opinions or discussion is a waste of time until we know either way.
John Daley
99
Posted 30/05/2017 at 22:45:31
"Is it that, even if we wanted him, Barca could still take up the option to take him back at the agreed fee?"
Yes, that's right. That fact was clearly stated by Martinez at the time Deulofeu was signed:
"There is nothing we can do if they activate it. That was the deal and the only way we could access the player in the terms that we wanted."
Jay Griffiths
100
Posted 30/05/2017 at 22:52:28
I'm a regular, local, blue collar worker. I'm pretty good at almost all facets of my job. I know this is because I do my job, hour-in & hour-out, day-in & day-out, week-in... etc.
This is the crux of debates I have about footballers today. They train hour-in & hour-out, day in day out, day-in & day-out, week-in... etc. How can anyone excuse a professional of not being able to tackle, dribble, track back, head a ball, pass, or any of the attributes that make a professional athlete?
These lads train at football every day. What the fuck do they do with their work hours? I wonder if managers say, "He's pretty useless at heading a ball so don't ever bother wasting time on it." "As for him, he's shit at accurate passing so keep it to 'ave it' for this training session."
Fuck me, I wonder if Jagielka's passport says "Stopper" on it? Williams's could say "Plug" as his profession.
Geri, prancing, posing, bone idle, petulant, feeble, unfit, dribbler. Customs would raise one eyebrow at most!
Don Alexander
101
Posted 30/05/2017 at 23:00:31
Jay, you took the words right of my mouth!
Michael Kenrick
102
Posted 30/05/2017 at 23:01:34
If that's the case, then any opinions or discussion is a waste of time until we know either way.
Not sure you should stray too far down that particular path on any Everton forum, Ian. There have been some threads (the odd Rooney one a few years back as I recall) where some posters became convinced that the whole idea had been deliberately floated as a rumour to gain an indication on which way the zeitgeist was pointing amongst the fanbase. It does give meaning to our ramblings, I suppose, but to think that our 'feedback' actually changes anything may be misplaced. Or is that something that should remain unsaid amidst today's social media frenzies?
The contrary view is that saving your opinions and discussion until a decision is made is actually too late as, well, it's then a done deal and you're just commenting on what went down, all after the fact.
Personally, that has more value to me as (a) it's in response to something real, not imagined. And (b) still on the 'reality' theme, don't we know, deep down, we ain't really gonna change nothing anyway?
Stan Schofield
103
Posted 30/05/2017 at 23:08:46
Jay, it's always been the case that footballers come in all shapes and sizes. Apart from the adaptable all-rounders, like Sandy Brown, it's a specialist job, particularly at the highest levels.
I couldn't give a toss whether Geri can't tackle well and consistently, it's what he can do (and most others cannot) that I'm interested in and that we need.
Jay Griffiths
104
Posted 30/05/2017 at 23:13:46
Appreciate the opinion, Stan. For the money I spend, I'm more interested in what they will do rather than what Geri can and may do.
What he can do, is unfortunately inconsistent.
Stan Schofield
105
Posted 30/05/2017 at 23:18:15
Jay, but all I'm really saying is that he hasn't even been given a chance under Koeman. It would be interesting to see if Koeman, as the supposedly better manager compared to Martinez, could get consistency from the likes of Geri.
When Koeman was in his way here, I was hopeful that, with his pedigree as a player, he would appreciate the skills and get the best out of the likes of Geri.
John Pierce
106
Posted 30/05/2017 at 23:37:22
Stan, Koeman's mind was firmly made up when MaCauley, Dawson, Nyom and Evans played pinball with him in game 2. Geri threw his arms in the air screaming like a petulant young man.
No stomach for a fight playing up front in 'his' most favoured and productive role.
If the lad can't get stuck at centre forward, then were would he?
If the football authorities would wake up and introduce rolling substitutions, he might have a career yet!
As Arsenal sign the Belgian top scorer, Begovic is signed by Bournemouth we are scrapping and whining over a player whose barely played for us for 12 months...
Tumbleweed filling up the transfer office at Goodison.
Paul Birmingham
107
Posted 30/05/2017 at 00:01:09
Let's hope the board, SW and RK et al, are doing decisive business and all will be revealed slowly but surely in the next month.
Looking forward to the CLF, and an upbeat summer for all Evertonians.
Jon Fogg
108
Posted 31/05/2017 at 01:52:06
I think part of the issue with him is that he hasn't progressed and has now been "found out" by defenders who are anticipating his moves.
Run, step over, step over. Run a little slower... attempt to stand the defender up, then kick it past them and get to the ball first to cross at the bi-line.
Or...
Throw a randomly early cross into the box... normally low to the near post.
Finally, he isn't that quick when running with the ball and his speed can be negated when what he does is predictable.
Jim Hardin
109
Posted 31/05/2017 at 02:16:55
If Deulofeu returns, you will have to pardon me for not organizing the parade. Mediocre stats and forgettable performances, unless you count his center-stage drama-queen theatrics and histrionics.
I can start my Spanish National XI of players not good enough for Everton. I have Deulofeu and Robles with only nine more to add before the World Cup. Of course we always do need someone on the team to score less, and do less, than Barkley so Everton can justify keeping them both.
Dave Williams
110
Posted 31/05/2017 at 10:02:42
Trying something different and losing the ball is one thing but failing to get himself fit to play and not having the guts to tackle people is not acceptable to me.
He doesn't help himself and comparing his stats in the Italian League to someone else in the Premier League is not a true comparison as it may well be that he is better suited to a slower tempo.
I would be delighted if he changed his approach and harnessed his skill to at least being fit to play 90 minutes but I can't see him doing it.
Michael Penley
111
Posted 31/05/2017 at 14:02:51
I heard he is keen on the heroin. Would certainly explain his laziness on the pitch.
Jay Wood
112
Posted 31/05/2017 at 14:08:13
Alan J Thompson
113
Posted 31/05/2017 at 14:45:13
I'm sorry but I get the impression that most of us look for different things in a game. Barkley being available to take a pass when others aren't and then being blamed when there is nobody to pass to. Similarly, watch Deulofeu when he runs outside the full back. A pace and a half before he would hit a cross in stride, his head comes up looking to see who is where in the penalty box and ,on seeing no-one, he checks.
The problem lies, almost permanently, with those off the ball doing nothing and going nowhere. If pressing and covering back is that important why do we play with three defensive midfielders who, certainly in away games, rarely cross the halfway line.
Phil Walling
115
Posted 31/05/2017 at 18:21:06
Whilst trying to ignore the allegation above, I seem to remember that Koeman was initially impressed by Deulofeu.
He talked of seeing him as support striker and played him in the role during the pre-season games. Thereafter, he was in and out of the side until he' claimed' a permanent seat on the bench and an occasional 10 mins action.
Certainly he was head and shoulders better than Lookman and Calvert-Lewin who looked ordinary beyond words although I agree with those who say we've had worse.
All-in-all, a 'sell', methinks. All three of them!
Add Your Comments
In order to post a comment, you need to be logged in as a registered user of the site.
Or Sign up as a ToffeeWeb Member — it's free, takes just a few minutes and will allow you to post your comments on articles and Talking Points submissions across the site.