Walsh heads Everton delegation on Milan trip

57 Comments [Jump to last]
Wednesday 14 June 2017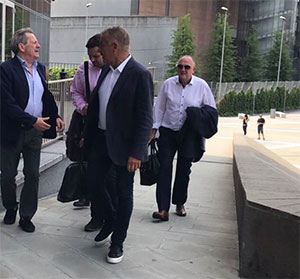 The club's director of football Steve Walsh was in Italy today meeting the heads of a number of clubs to discuss potential transfers.
A photograph of Walsh arriving for talks was shared on Twitter earlier today by Sky Sports Italy journalist Gianluca DiMarzio who suggested that the Blues' delegation was there to hold talks with AC Milan and Internazionale but it appears as though they will also meet with Fiorentina and Napoli while they are there.
Naturally, speculation has been rife as to which players he could be in Milan to discuss, with the names of striker Carols Bacca, Jeison Murillo, Gianluca Lapadula, Ever Banega and M'baye Niang bandied about.
In an interview with Radio CRC, Everton scout Carlo Jacomuzzi admitted that Bacca and defender Duvan Zapata were "interesting" options.
The future of Gerard Deulofeu, who spent the latter half of last season on loan at the San Siro, could also be on the agenda. If they are interested in in retaining him on a permanent basis, AC Milan have yet to lodge an offer to sign him.
Inter's Zapata, a Colombian international team-mate of Murillo who was linked with the Blues last week, has long been sought after by Premier League clubs while Bacca of AC, now 30 but still prolific in front of goal, could be looking for a move.
Jacomuzzi said that the club's interest in Dries Mertens has waned after he signed new terms in Naples and that Everton are no longer looking at Faouzi Ghoulam, also of Napoli.
"Bacca and Zapata have interesting profiles, but [a move] for one would exclude the other," he said. "These days we will talk with AC Milan, Fiorentina, Napoli and other teams. We'll see if anything happens.
"The 25million that [Napoli president] Aurelio De Laurentiis asks for Zapata is too high. However, everyone has the right to ask for what they want.
"This day we will have talks with several Italian teams, we talked with Milan, then we will also talk with Inter and Napoli.
Meanwhile, Italian transfer gossip site TuttoMercatoWeb suggest that Everton have approached Juventus about Gabon midfielder Mario Lemina who has been the subject of a proposed move to Valencia this summer.
Quotes sourced from ClubCall
---
Reader Comments (57)
Note: the following content is not moderated or vetted by the site owners at the time of submission. Comments are the responsibility of the poster. Disclaimer
Jon Withey
1
Posted 14/06/2017 at 17:22:18
Sounds like a nice holiday.
Gordon Crawford
2
Posted 14/06/2017 at 17:26:18
Yes I am enjoying myself. Walshy is buying the drinks. :p
Gordon Crawford
3
Posted 14/06/2017 at 17:27:37
But who they could be after, time will tell. But the Italian league has some top talent that needs a purchasing :)
Pete North
4
Posted 14/06/2017 at 17:30:49
Didn't realise how famous Steve Walsh is. Wherever he goes someone takes his pic to share with us all. Can't believe he's there for Niang though. If we wanted him we'd have taken him on loan in January and anyway his 'productivity' is moderate at best, including at Watford (1 goal every 627mins) . The Niang story is like the Balotelli connection - 100% dreamed up by his agent to try and grab other club's interest .
Alasdair Mackay
5
Posted 14/06/2017 at 17:34:19
Why does it say Zapata is a defender?
I thought he was a Striker!?
Brian Cleveland
6
Posted 14/06/2017 at 17:36:01
That's not the briefcase with the Arteta money is it?
David Hallwood
7
Posted 14/06/2017 at 17:39:29
I hope we get Zapata. Cos it'll make quizzes like 'name an Everton player for every letter of the alphabet ' that much easier

Mike Gaynes
8
Posted 14/06/2017 at 17:58:52
Alasdair #5, Zapata is definitely a striker.
Brian Williams
9
Posted 14/06/2017 at 18:03:58
Does the fact that he's jetted off to Italy mean Sandro's deal is sorted?
David Ellis
10
Posted 14/06/2017 at 18:04:42
Move along gents...nothing to see here
Mike Gaynes
11
Posted 14/06/2017 at 18:23:39
We should be able to calculate Moshiri's transfer budget based on where Walsh's delegation is staying on his expense account.
The Mandarin Oriental means we might get a photo of dinner at Ristorante Seta with Bacca and Zapata.
If they're at the Greco (where I spent one night in 1978), Walsh will be coming home with Banega's boot boy and and a couple of takeaway pizzas.
Aidan Baker
12
Posted 14/06/2017 at 18:34:05
Both Milan clubs are under new Chinese owners who want to improve their lot very quickly. Milan just made it to the Europa League at the expense of Inter.
Milan have made no secret of their desire to keep Deulofeu, and given Barcelona's reluctance to buy him back, I think they just need Everton to agree a fee (15million Euros is mentioned over here in Italy).
The other players mentioned in this article don't strike me as the most consistent with the exception of Mertens who has just had the best season of his career and taken over from Higuain as the darling of Napoli fans.
From Milan - I would love it if we could get Manuel Locatelli only young but has the makings of becoming a brilliant player, Suso who plays between the lines of attack and midfield or the young defender Romagnoli who Montella noted in the very good Roma youth setup.
From Inter - I like Candreva who has bags of talent on the right, lots of assists and scores important goals, Joao Mario the ex-Porto midfielder who has a motor on him (though Everton already have lots of competition in that area) or Gagliardini who arrived from Atalanta last season and may soon become a key member of the Italian national side.
From Napoli - I like Koulibaly and Mertens. Can't really think of others worth going for at the moment but Walsh and his team may see things differently.
From Fiorentina - Federico Bernardeschi comes to mind, there is lots of speculation about him going to Juventus or Inter. Has scored some lovely goals from outside the area last season. Kalinic is a good striker who Milan are after, and one for the future is Federico Chiesa (the son of former Italy striker Enrico Chiesa).
Tom Bowers
13
Posted 14/06/2017 at 18:55:21
Just a fishing expedition I suspect.
Steve Ferns
14
Posted 14/06/2017 at 19:10:52
Seems bizarre. Maybe he's off to sign a striker here as Sandro fell through?
David Barks
15
Posted 14/06/2017 at 19:13:54
Steve,
What about it is bizarre exactly? When Lukaku leaves we will have exactly zero strikers in the senior team. I would sincerely hope we plan on signing more than a single striker this Summer. Kone gone, Valencia gone, Lukaku soon to be gone. By my count that leaves us needing a hell of a lot more than just Sandro.
Chris James
16
Posted 14/06/2017 at 19:19:22
Don't be ridiculous Tom, he wouldn't leave us on tenterhooks, fly all the way out there and attempt to tackle these clubs without intent - besides he doesn't even look like he's packed his rod!
Or were you just baiting us with your remark, attempting to catch us out?
Sam Hoare
17
Posted 14/06/2017 at 19:21:36
Always liked Banega. Not hugely inspired by the other names. Bacca has always scored goals to be fair and Lemina looks a good player.
Mark Morrissey
18
Posted 14/06/2017 at 19:43:44
I thought Zapata was a fly spray, that's what Wikipedia says.
Sorry, private joke... only joking, Martin.
John Hammond
19
Posted 14/06/2017 at 19:53:41
Alastair, Christian Zapata is a Milan defender, probably got confused.
Martin Nicholls
20
Posted 14/06/2017 at 19:57:53
Mark#18 - nice one!
Steve Ferns
22
Posted 14/06/2017 at 20:25:43
What's bizarre?
We're off signing dross in Italy when we should be securing Pickford and Sandro. Now we're going to sign a load of randoms instead of focusing on quality. One of whom (Niang) we almost signed five years ago and last season he looked much worse than Calvert-Lewin.
We need to get quality in and continue to develop youth talent. We should be holland securing Klaassen, picking up the new Ajax prodigy de Ligt, and why not Kasper Dolberg. The one stop Ajax shop for three great young players, then back to England for sigurdsson. And then on the phone to Lukaku and saying, what do you think now Rom? One more year?
Steven Jones
23
Posted 14/06/2017 at 20:38:47
I think it is excellent both from a profile point of view but also an open options and build relationships point of view.
We know there will be twists and turns as some of our targets get picked off by a desperate West ham, Stoke or Crystal Palace willing to spunk the lot of their TV money or a champions League outfit offering better step up
We need Walsh out in the market where Italian clubs and relationships may deliver 1-3 quality players - either squad depth or replacing the strike force which has all but disappeared.
Mr Walsh has already put our stake in the Sandro table stakes and Pickford appears to be a Fitness test from conclusion .
Sigurdsson is a waiting game and Koeman will be playing the Dutch angle and no doubt the Spanish angle
But where is Bill? and Bob?
Certainly not Bizarre Stevie F...?
Mark Riding
24
Posted 14/06/2017 at 20:40:11
Michael Penley
25
Posted 14/06/2017 at 20:42:38
Not sure about all these names being mentioned, but I do like Bangingemin. Quality striker. He's the one I'd be taking a look at.
Ary Lima de Moraes
26
Posted 14/06/2017 at 20:50:46
Aidan (#12). What about Berardi? Didn't hear about him this season.
Shane Corcoran
27
Posted 14/06/2017 at 21:02:01
I think David Ellis's post at #10 might be my favourite ever, in this context.
Scout is interviewed, Walsh is photographed but there's nothing to see here. Brilliant.
Mark Morrissey
28
Posted 14/06/2017 at 21:19:18
Ha ha, nice one MN
Mark Morrissey
29
Posted 14/06/2017 at 21:31:05
Steve @22. We can't secure Pickford anymore than what we have done with him already. He is now playing with England and he will be having a medical with us when that tournament finishes. We have to wait.
I'm hoping that we haven't actually told the journos who are "actual" Italian targets really are. I'm hopeful that Steve Walsh and his entourage are laying a smelly trail to keep them off our real targets. We can but hope.
Liam Reilly
30
Posted 14/06/2017 at 22:05:07
Wouldn't it be worse if he was sitting on his backside at Goodison?
Let's see what he's got before the knives come out.
Steven Jones
31
Posted 14/06/2017 at 23:20:52
MM (#29) – I understand we are actually doing the medical out in Poland with England's permission
If these reports are true then both player and agent must be on-side.
Kieran Kinsella
32
Posted 14/06/2017 at 23:32:20
The story is bizarre in the sense that it sounds as if Walsh was given a wad of cash and sent on holiday to Italy with instructions to bring back some souvenirs. The targeting seems very vague with them bouncing around from club to club and player to player.
Peter Warren
33
Posted 14/06/2017 at 23:34:03
SJ, of course player and agent agree – otherwise, we wouldn't agree fee with Sunderland. So, unless he does a Sissoko, then we've got him.

Gavin Johnson
34
Posted 14/06/2017 at 23:52:55
The logical deal would be a straight swap – Deulofeu for Niang. I'm not sure about Niang, he doesn't score many but my guess is that he's been deployed primarily as a winger.
He's still only 22 and I suspect that his game is better suited to the Premier League than Serie A football. He did okay for Watford. I gather they wanted to sign him so he mustn't have done too bad.
Carlos Bacca would be a decent signing, again in a deal for Deulofeu with us chucking a few million Milan's way.
Not sure about the other Milan striker (Lapadula) He's 27 and bounced around most of the clubs in Serie A without ever getting a cap for Italy. Definitely not the calibre of striker to replace Rom, IMO.
Mike Gaynes
35
Posted 14/06/2017 at 00:03:18
Steve Ferns (#22)... you crack me up.
"We're off signing dross in Italy... a load of randoms instead of focusing on quality."

Man, you would boo a sunset. At 11am.
David Israel
36
Posted 15/06/2017 at 01:30:54
Aidan Baker (#12), I don't think Joao Mario used to play for Porto. Some other Portuguese team, but I'm not sure which one.
Philip Jeffries
37
Posted 15/06/2017 at 03:52:07
I can see a few loan deals coming out of the Italy trip. We can't sign too may permanently as we will breach FFP rules. But we need the bodies. Just a thought?
Joseph Terrence
38
Posted 15/06/2017 at 04:14:23
Philip, loans will count toward the wage bill and FFP limits the increase in wages. As far as I know transfer fees do not factor in FFP, though I could be wrong.
Eric Myles
39
Posted 15/06/2017 at 05:00:46
Aiden (#12), you don't rate Icardi from Inter?? Or don't think we could tempt him?
Philip Jeffries
40
Posted 15/06/2017 at 05:01:49
Joseph (#38) - I agree with you. But think of the dead wood we have cleared over the last 12 months and I think wages aren't necessarily the issue.
I'd suggest, without selling anyone, we'd have £80m maybe to spend. Just a figure plucked out the air... but if it is in that ballpark, we would spend that by signing Klaassen, Pickford, Keane and say one more top player in the £20m range. So it wouldn't surprise me if we target 1 or 2 on loan.
Darryl Ritchie
41
Posted 15/06/2017 at 07:16:27
Hopefully, Walsh is in Italy on a shopping trip to purchase a striker to compliment Sandro, and a quality centre-back to pair with Keane.
This above is, at present, wishful thinking, but it would be nice if it actually came true.
Pessimistic slant is: Walsh is just in Italy to finalize the sale of Deulofeu.
Brian Williams
42
Posted 15/06/2017 at 08:51:24
I think if it was the sale of anybody from Everton, they'd be visiting us!
Alasdair Mackay
43
Posted 15/06/2017 at 09:43:40
It says Carlo Jacamuzzi said that we were interested in "defender Duvan Zapata", so there is a break down in communication somewhere.
Either John (#19) is right and they got their Zapata's confused, or we have a really bad scout that can't tell the difference between a defender and a striker.
Or, perhaps more likely, the whole list of names is a smokescreen to throw the press off the real target – Koulibaly.
Denver Daniels
44
Posted 15/06/2017 at 10:02:33
Keita Balde has turned us down after we had a £26m bid accepted by Napoli, apparently.
Martin Nicholls
45
Posted 15/06/2017 at 10:06:06
Denver – I read that; apparently because he's looking to move to Juve. What I took from the report was that we'd outbid the shite for him – another sign that we mean business?
James Morgan
46
Posted 15/06/2017 at 11:18:43
And Italian media now saying we've agreed a deal for Gustavo Gomez from Milan for ٥m. A Walsh special perhaps?
Brent Stephens
47
Posted 15/06/2017 at 13:38:59
Being reported that fee agreed for Niang.
Trevor Lynes
48
Posted 15/06/2017 at 14:06:58
We are now linked with Ilicic of Fiorentina which would be a real statement signing.He looks brilliant a really attacking midfielder who has ball control, scores goals and plenty of assists. Here's hoping. :)
Erik Dols
49
Posted 15/06/2017 at 14:17:19
Aidan (#12) Thanks for the great update. You don't rate Insigne from Napoli? I hold him in high regard.
Mike Gaynes
50
Posted 15/06/2017 at 14:22:34
Lyndon, did Jacomuzzi refer to Zupata as a defender, or did you?
Chris Williams
51
Posted 15/06/2017 at 14:42:38
In the latest reports Zapata is referred to as a striker. I always thought he was a bandido!
John Daley
52
Posted 15/06/2017 at 15:15:19
TalkSport claiming AC Milan have "agreed to sell Gustavo Gomez to Everton", but Koeman needs to okay it.
Phil Jeffries
53
Posted 15/06/2017 at 15:18:35
Same Italian media now reporting that Koeman has told Milan to jog on and that we aren't interested in Gomez.
Extremely happy to sign Klaassen. Just wish we had news on Ramirez as he is the one we need. He is awesome.
Gordon Crawford
54
Posted 15/06/2017 at 15:25:01
Graham Lloyd
55
Posted 15/06/2017 at 15:39:39
It seems open house now Steve Walsh is in Italy that we are buying everyone but my sneaking feeling is he is getting rid of Deulofeu and using him as a bargaining chip for a forward like Niang but I do hope Sandro comes.

Hurry up and make your mind up or the big blue ship will sail without you, Sandro.
Brian Williams
56
Posted 15/06/2017 at 15:48:44
If there's an truth in the multitude of reports coming out of Italy you'll have nothing to worry about with regard to a playmaker, or striker or two, or a couple of defenders, or a pizza chef!
Gordon Crawford
57
Posted 15/06/2017 at 15:54:05
Pizza chef would be great Brian. In saying that their pizza's can be so very boring; no chicken, pepperoni or beef. :(
Dale Rose
58
Posted 16/06/2017 at 08:32:44
Viva Zapata.
---
Add Your Comments
In order to post a comment, you need to be logged in as a registered user of the site.
Or Sign up as a ToffeeWeb Member — it's free, takes just a few minutes and will allow you to post your comments on articles and Talking Points submissions across the site.