Bradley Lowery passes away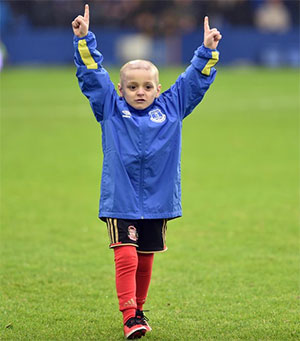 Bradley Lowery, the young Sunderland boy who captured the hearts of the football world with his battle against neuroblastoma, passed away today his family have announced.
He forged a special bond with Evertonians after Everton FC generously pledged £250,000 towards a fund aimed at getting him potentially life-saving treatment in the United States and he was twice invited to be mascot at Goodison Park.
His seemingly indefatigable smile belied his illness, even when it was confirmed that his condition was terminal, and his friendship with former Black Cats striker Jermain Defoe has been a heart-warming part of his final few months which also saw him lead the England team out at Wembley.
Bradley died surrounded by his loved ones at the age of 6.
Everton Chairman Bill Kenwright paid tribute to Bradley and his family, saying:
"One of football's all-time greats. We are so privileged to have known him... .and will always be proud that he chose us as his second club.
"We send our loving thoughts to his mam and dad and his family... plus those who were inspired by him throughout the world of football.
"Especially our friends the supporters, team and staff at Sunderland AFC. And of course his beloved Jermain. Respect!!
"One Bradley Lowery. There's only one Bradley Lowery."
---
---