Everton vs MFK Ruzomberok

103 Comments [Jump to last]
Thursday 27 July 2017
Europa League Preview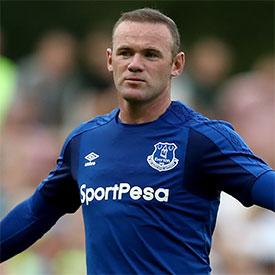 Wayne Rooney will start a competitive match for Everton for the first time in 13 years
Lars Baron / Getty Images
The start of the Premier League campaign is still two-and-a-half weeks away but Everton's 2017-18 season kicks off in earnest this evening as they take their first steps on the road to Lyon.
The Toffees' seventh-place finish in 2016-17 gained them entry into the Europa League but only at the Third Qualifying Round stage which entails an early start against minnows MFK Ružomberok at Goodison Park.
The return to European competition, coupled with the club's ambitious summer spending, has engendered unprecedented interest from supporters, however. Unlike the first group stage game against Wolfsburg three years ago when 28,000-plus attended in the midst of an iffy start to Roberto Martinez's second season in charge, Goodison is sold out for the home leg, guaranteeing a bumper crowd under the lights for the visit of the Slovakian side.
The chance to see some of those new close-season acquisitions for the first time has no doubt helped ticket sales, none more so perhaps than one Wayne Rooney who will line up in an Everton jersey for a competitive match for the first time in 13 years.
Ronald Koeman didn't specify which of his six eligible new recruits will be in the starting XI but confirmed in yesterday's press conference that the 31-year-old will play, although he stopped short of confirming where.
Romelu Lukaku's departure has created a vacancy among last season's line-up of automatic starters and Rooney, while his powers as an out-and-out striker have diminished with age, could be charged with filling that void for this fixture at least, particularly if Sandro Ramirez isn't deemed ready.
The Spaniard could well start as well, though, along with Kevin Mirallas in a forward three, with three more new signings down the spine of the team in the form of Davy Klaassen, Michael Keane and Jordan Pickford. Cuco Martina, the free agent acquisition who left Southampton this summer, is almost certain to start in place of the injured Seamus Coleman if Koeman opts for a back three.
At centre half, with Ramiro Funes Mori sidelined for the rest of the year, it will be a case of Ashley Williams or Phil Jagielka getting the nod to partner Keane if the new man from Burnley is selected unless the manager goes with a back three and risks fielding all three.
In terms of the opposition, Ružomberok are very much a little-known quantity to most Everton fans. The Ruža are back in European competition for the first time in 11 seasons thanks to their third-place finish in the Slovakian league last season.
They edged past Vojvodina of Serbia 3-2 on aggregate in the First Qualifying round and overcame the odds to overturn a 1-0 first-leg deficit against SK Brann in the last round to win the away game 2-0, solidifying their credentials as a side capable of scoring late goals and winning away from home.
The consensus must be, however, that Everton will have too much for their less-fancied opponents and, barring unforeseen disaster, it will be the Blues who progress to the playoff round next month.
Kick-off: 8.05pm, Thursday 27 July, 2017
Predicted Line-up: Pickford, Martina, Jagielka, Keane, Baines, Schneiderlin, Gueye, Klaassen, Mirallas, Rooney, Ramirez
---
Reader Comments (103)
Note: the following content is not moderated or vetted by the site owners at the time of submission. Comments are the responsibility of the poster. Disclaimer
Richard Lyons
1
Posted 27/07/2017 at 06:23:55
Live on ITV4, right? Can't wait!
Kieran Fitzgerald
2
Posted 27/07/2017 at 06:39:41
Just checked the t.v listings Richard and it looks like it. Really looking forward to this.
Jermaine Jennings
3
Posted 27/07/2017 at 06:48:52
Reading the newspaper, Koeman has left Mo Besic and James McCarthy out of the squad as he looks to trim the team.
For me, I would love Mo to stay as I feel he has more to his game than James McCarthy.
Travesty if Mo is sold.
Mike Kennedy
4
Posted 27/07/2017 at 07:21:27
I am expecting Koeman to field a strong side tonight with a view to getting a convincing win. He will then have the option to rest players from the awkward journey of the return leg. I understand the place is a very long distance from an airport.
Jakub Kollar
5
Posted 27/07/2017 at 07:44:31
Any idea how to watch from abroad? I'm getting slightly nervous and excited!
Ernie Baywood
6
Posted 27/07/2017 at 07:48:43
It's on BEin sports in Australia, Jakub.
Jakub Kollar
7
Posted 27/07/2017 at 07:51:40
Thanks Ernie. No chance it will be aired here in Sweden. I better start looking for a streaming link.
Colin Grierson
8
Posted 27/07/2017 at 08:00:43
It'll be live on ITV player online if you log on using a VPN. Google VPN if you don't know how.
Jonathan Tasker
9
Posted 27/07/2017 at 08:16:09
"Ambitious summer spending?"
Am I living in some sort of parallel universe?
The club has made a net profit of £7m on deals so far so I just don't get all this spending talk. Are you mixing us up with Huddersfield?
Ian Smitham
11
Posted 27/07/2017 at 08:35:47
Hi, a bit of help if someone would be kind enough. For the game today.
I travel over via M57, then past Stonecross and park by the junction with Queens Drive. Last few games of last Season saw major roadworks causing some delays and angst. Anyone able to let me know if they are finished?
If not I will do the alternative of going to the end of the M62 and down Queens Drive.
Cheers
Tom Hughes
14
Posted 27/07/2017 at 09:12:08
Looking at their badge, I think we may be playing Lancashire's archery club's best 11. Could be dangerous.
Derek Knox
15
Posted 27/07/2017 at 09:12:43
Don't know if I would have picked Mirallas, apart from his brilliant goal against Twente, he didn't impress me as much as Lookman, on the pre-season run outs. Recently, his form seems to have dipped in his game play.
I personally think the younger ones should be encouraged at every opportunity, I regard this game as one of those, and this would make the likes of Mirallas have to up their game, to be considered.
COYB
George McKane
16
Posted 27/07/2017 at 09:14:13
Ian - - I have to drop some of the young people from my group around that area every week - - its still a nightmare - - avoid it totally - - once stuck you can hardly move - - maybe even come to the end of M57 and drive through Aintree and Walton and park near the ground - - good pub car park by The Dark House (The Barlow Arms) - -£5 - - any problems call me on 07972611052 - - best of luck.
Eddie Dunn
17
Posted 27/07/2017 at 09:16:26
Jonathan Tasker (#9). An interesting point.
Before the sale of Lukaku, when many of us were getting all excited over our summer spending, myself and some others pointed to the likelihood of the Lukaku move being already arranged, bar the details. This does indeed put our encouraging activity in perspective.
The Icelandic saga that is the Siggurdson transfer will actually mean that we spend some money! Now the importance of the Chinese overdraft facility is more evident, as this must have enabled some of our spending in the knowledge that the Lukaku dosh was definitely on it's way.
The club needs to sort out the Sigurdsson business and bring in a striker, or we may struggle to be as "productive" as Koeman wants.
John G Davies
18
Posted 27/07/2017 at 09:23:47
Jonathan (#9),
Good point. Koeman and Co will have totally transformed the squad for a relatively small amount by the time the ins and outside are balanced off. Brought the squad more balance, more all round attacking threat, more work rate and most importantly more of a winners mentality.
Simon Jones
19
Posted 27/07/2017 at 09:24:23
So far the comments here are a moan about our summer spending, how to watch on a VPN link and the roadworks! This is a big season for us and one which will begin to define the future for us.
There is a real challenge ahead to displace any of the six teams who finished above us in May, yet I think we could potentially get past Spurs, Arsenal and the RS. This two leg tie could well set the tone for our squad at the beginning of the Premier League season.
I'm beside myself with excitement for this game!
COME ON YOU BLUES!
Rob Hooton
20
Posted 27/07/2017 at 09:51:16
Taking my 7 year old son to his first Everton match and setting off from London shortly. So tough to get tickets these days – I'm not surprised this has sold out as am sure we will struggle to get to any other games this season. My brother is over from Thailand too and my dad is also going so the first time 3 generations of us are at the match together.
Hoping for a great atmosphere and a Rooney hat-trick to get my boy well and truly hooked! My dad started taking me in 1984 so I hope the same success is to come.
COYB!!
Martin Nicholls
21
Posted 27/07/2017 at 10:02:43
Rob (#20) – hope you get what you wish for! I'm taking my 9-year-old grandson to his first senior game (he's been to three U23 games before) and am hoping for exactly the same as you!
Managed to pick up a ticket for a seat three along from my own in GS4 so hoping my usual "neighbours" will move along a bit!
Enjoy the game! COYB
Stan Schofield
22
Posted 27/07/2017 at 10:11:03
Rob @20: Great first match to take your 7-year old son, the atmosphere will be great. I was also 7 when my dad first took me to the match in the early 60s, and Alex Young was playing and scored, and I was hooked. I'm sure your lad will be hooked after tonight!
Derek Knox
23
Posted 27/07/2017 at 10:12:53
Rob @20, It's heartwarming when you hear of stories like this, that you are all making the effort, from far and wide, to attend the game. It makes you even more proud to be associated with our wonderful team.
I am sure the atmosphere tonight will be electric, though the opposition are low-key, with due respect, the events of the summer turn around, will, I hope, leave a lasting impression on your 7-year-old son, as it will all three generations.
Goodison, is a great atmosphere, for games like this, and with it being a sell-out, albeit with reduced capacity, the place will be booming.
Enjoy!
COYB
Lee Jamieson
24
Posted 27/07/2017 at 10:33:31
Rob Hooton, special day for you today then mate. Make sure you get a picture next to Dixie with the ground in the background and I hope we smash six in to make the game memorable. COYB
Hugh Jenkins
25
Posted 27/07/2017 at 10:41:41
Simon (#19),
Are you the same Simon Jones who used play for Carmarthen Town AFC?
Mike Allison
27
Posted 27/07/2017 at 11:14:13
I'll be disappointed if Martina starts ahead of Kenny. The five U20 World Cup winners need to play an important part this season; otherwise, we just become another rich club that won't give youth a chance. If that happens, the promising young players will stop signing and go to Tottenham instead.
James Stewart
28
Posted 27/07/2017 at 11:16:28
What I predict Koeman will play:
PIckford
Martina Keane Williams Baines
Gana Schneiderlin Klaassen
Sandro Clavert-Lewin Rooney
What I would like to see:
Pickford
Kenny Keane Williams Baines
Gana Schneiderlin
Davies Klaassen Sandro
Rooney
Jonathan Tasker
29
Posted 27/07/2017 at 11:18:07
Eddie (#17) – I don't expect any more signings. It's all based around us selling Barkley and that's not going to happen any time soon.
When the manager uses the first Press Conference of the season to try to find a buyer for Barkely, you know it doesn't augur well.
And when Koeman comes out and says that we can still buy players even without selling Barkley,I believe the polar opposite.
This is the second year in a row where we supposedly had a £100m war chest. We haven't. We remain strictly sell-to-buy and the next one to be sold will be Tom Davies.
Simon Jones
30
Posted 27/07/2017 at 11:22:20
Hugh (#25), definitely not – if you ever saw me kick a ball, you would know I was always best kept well away from any team.
Chris Gould
31
Posted 27/07/2017 at 11:26:54
Jonathan, if the Swans had accepted our latest £40-45 million offer for Sigurdsson then that money would have been spent well before Barkley was sold. So, what you are spouting is nonsense.
James Stewart
32
Posted 27/07/2017 at 11:28:15
@19, Well said, Simon, I feel exactly the same.
@29, Change the record Jonathan. £45m bid for Sigurdsson is? Where is that coming from then? Rom's replacement? North of £20m if Giroud and even more if Benteke. That's before you even get to Funes Mori's replacement.
Barkley will fetch £30m tops which will leave us with a net spend of around £70-100m by the end of the window. Plus a vastly superior team to last season which is the more important point.
Dave Abrahams
33
Posted 27/07/2017 at 11:35:38
Rob Hooton (#20), I hope you and your family have a great night.
Stephen Ashton
34
Posted 27/07/2017 at 11:38:25
Anyone know if The Horseshoe are showing the game?
Jonathan Tasker
35
Posted 27/07/2017 at 11:46:20
James,
I would love to change the record but we are talking Everton here.
If you seriously believe that three more players are coming in, without Barkley being sold, we will have to politely disagree.
Tony Abrahams
36
Posted 27/07/2017 at 11:55:52
Good advice for Ian, that George, but if he parks on that side of the ground, he mightn't be able to get away so easily after the match.
It always amazes me that when you see the East Lancs Road so cluttered up, that it's just as easy to go down rice lane, through the vale, and onto the M57 at the Fazakerly, Kirkby junction. It's a little bit more in miles, a bit sticky to start, but once you get onto the vale, and stay right, you very rarely meet any traffic Ian.
George, I can't wait to read your post about going the game tonight mate, maybe you can incorporate a little bit of your own first visit to Goodison, for Rob's little lad!
James Watts
37
Posted 27/07/2017 at 12:03:01
Jonathan (#35). I think
you're
missing the point. Koeman has clearly stated he wants 3 players – no matter the situation with Barkley. And your post a few above states:
We remain strictly sell to buy and the next one to be sold will be Tom Davies.

You're negative about things, no idea why, but that's fine. Just like a couple of others. But to keep banging the drum on the same issue with no logical well thought out reasons simply won't win you many friends, I'm afraid.
Take a step back and enjoy what is happening. We're moving in the right direction, whether you want to see it or admit it is another thing.
Sam Hoare
38
Posted 27/07/2017 at 12:05:07
This won't be the team but I'd like to see:
Pickford
Kenny Keane Williams Baines
Klaassen Schneiderlin Davies
Dowell Rooney Sandro
A close one between Dowell and Lookman but Dowell has impressed in pre-season and has a vision and long-range ability that might unpick a packed defense.
Simon Bates
39
Posted 27/07/2017 at 12:14:25
James (#28), I would like your second choice team as well. Maybe switch it to 4-3-3, with Klaassen and Sandro, right and left of Rooney up front, leaving Davies to drop back into our now settled midfield 3, which I think may tonight be paramount ,as that would be the only section of this team,yet to play a serious match together.
If we are bedding in all these new players tonight , it makes sense that the engine must be fully tuned. Failure at this stage of our 'assent to the top', would be rather embarrassing and could undermine all we are trying to prove.
Still can't wait though, COYB.
John Pierce
40
Posted 27/07/2017 at 12:15:44
It might our first competitive game of the season, we might have several new additions in the first XI.
I'm looking for tacit signs Koeman will ditch his pragmatism now he has 'his' players, 'better' players etc. The improvements in the squad should be matched with a more rounded tactical approach.
I don't want to see two midfielders being defensive. So no room for Gana tonight for me. And I want to see three attacking players stay high in the formation, thus will rely on the whole team pushing up the park.
4-3-3 is how I believe the purchases have been made for. Based on pre-season:
Stekelenburg
Holgate
Keane
Williams
Baines
Schneiderlin
Davies
Klaassen
Sandro
Rooney
Mirallas
Tony Abrahams
43
Posted 27/07/2017 at 12:25:17
James, I agree with you a lot more than Jonathan, but I also think that we will need Barkley to be sold, if we are to sign three more players.
The reason is simple. We are paying a hell of a lot more money for individual players now, and you only have to look at the price of Sigurdsson to realise this.
Back to the footy men, and leave the arguments alone until after tonight's match. I wonder who is going to be our penalty taker this season!?
Brian Furey
44
Posted 27/07/2017 at 12:30:45
I wonder will Rooney be taking the penalties and free kicks now? No harm to Baines but when was the last time he scored a free kick?
I loved Bainesy when he was in top form whipping in crosses and scoring for fun but the last few years he doesn't seem to use that left foot to the same effect.
I know nothing of Martina but a lot of people seem to rate him though he's not played much football the last few years. I'll be surprised if he starts tonight in place of Holgate, even though he is more of a right back.
I'd like to see Calvert-Lewin start tonight.
James Watts
46
Posted 27/07/2017 at 12:32:06
Tony (#43). That's cool, I can understand your point. I guess we'll truly see in the next 5 weeks.
My view is we do still have money to spend, no matter what happens with Barkley. We've heard that direct from Koeman. Why would he lie? Those 3 signings should cost around £80m I would imagine (assuming one of them is Sigurdsson).
I agree Barkley will be sold and will offset our spending but to say that proves we're a sell to buy club (still) is a bit odd no? (I know you didn't say that yourself!).
And back to the game, agreed. Really looking forward to tonight. Expecting a nice win and looking forward to seeing the new boys :)
Rob Halligan
47
Posted 27/07/2017 at 12:32:13
Tony, only one obvious choice for penalties: Baines. Though I do believe Rooney takes a good penalty.
Jakub Kollar
48
Posted 27/07/2017 at 12:33:57
So guys, I've seen Ruzomberok playing quite a few times and if we don't destroy them completely, I'll be really surprised. I know anything can happen but this would be even bigger surprise than Leicester winning the Premier League. Ruzomberok are far below anything we've seen during the last 10 years.
Now just don't get complacent...
Eddie Dunn
49
Posted 27/07/2017 at 13:00:24
On the penalty taking, I expect Rooney to assume command. As good as Baines is, I wonder if his ankle problems have affected his willingness to take them.
On the team as a whole, I saw evidence in the friendlies so far, that we may play a bit more football this season. Whatever the result tonight, it will be far too early to jump to conclusions. The opponents are third rate and we have had only a few weeks of training.
Let's hope for some positive play, and a nice two- or three- goal cushion to ease us through.
Tony Abrahams
50
Posted 27/07/2017 at 13:06:01
There are loads of very odd things said on ToffeeWeb, James, it's probably the diversity that makes it so addictive!
I also think Baines is the obvious choice, but as well as him, we now have Rooney, and I'm also wondering about Sandro and Klaassen, and I also think that, on the day of a game, it's better to look forward to the footy, rather than argue about things that people argue about every single day!
On second thoughts, how much do people think we will get for Ross Barkley? I was getting called a fuckin lunatic, and an odd ball in work yesterday, because I said Everton won't get more than £20 Million for him.
Michael Burke
51
Posted 27/07/2017 at 13:28:54
Tony (#50), I'd be surprised if we get that much for him. We hold no aces in this transfer. 1 year left on his contract and he doesn't want to be here. Lose-lose situation for us. He can walk away for nothing next summer too.
James Watts
52
Posted 27/07/2017 at 13:29:17
Tony (#50). Spot on about Barkley. I said on here, when the season finished and it was obvious he was going to be sold with also having the the £50m price tag on his head, that we'd be lucky if we get between £15-20m for him. Lots of people disagreed but it was obvious to me that clubs simply won't pay a high price for him because of his contract situation. Unless it's a West Ham or Newcastle and they get desperate for players did we ever have any hope of something over £20m.
I fully expect him to leave for £15-20m by August 31st. Even more so now he's injured until that sort of time anyway.
He's worth more in today's market for sure, but we won't get it.
Tim Kells
54
Posted 27/07/2017 at 13:34:13
Tony (#50) – I agree with you. I think Spurs will try and leave it as late as possible in the window to bid, knowing we'll be desperate to sell rather lose him for nothing next year.
Mark Rankin
55
Posted 27/07/2017 at 13:36:15
We are doing incredibly well signing some top young talent, all of them stating that this is on the basis of Everton giving them a chance to play first team football that they won't get elsewhere – if Martina plays ahead of Kenny tonight, this will send out a very negative message, so, I hope Koeman gets it right! Play Kenny, he deserves a start.

Jon Withey
56
Posted 27/07/2017 at 13:41:44
Unless somebody other than Spurs come in for him, then Ross will go for a modest amount. It might be that any clubs interested are happy to wait for us to accept a small amount– deadline day or January maybe ?
If we manage to get ٞ30m for him before then we'll have done well.
When you look at the falling prices of Oxlade-Chamberlain and Wilshere who didn't quite make it... 'potential' doesn't last forever.
David Israel
57
Posted 27/07/2017 at 13:49:29
Simon (#30), even Carmarthen?
David Israel
58
Posted 27/07/2017 at 14:01:58
This being the season's first competitive match, I don't think Koeman will field many of the young players, and will prefer to be on the safe side. Therefore, I don't expect to see people like Dowell, Kenny or Lookman in the starting eleven.
I'm sure Mirallas will start, and Gana, Schneiderlin and Klaassen, too, as obviously will Rooney. The back four will depend on whether he plays 4-3-3 or with three at the back, but Keane, Williams and Baines will surely start. And, of course, Pickford in goal.
Tony Abrahams
59
Posted 27/07/2017 at 14:03:30
I also hope he plays Kenny tonight, Mark, because I think Jonjoe deserves a chance, but I still think he will pick Holgate.
I think Barkley already knows where he's going, and that's why the kid is saying nothing because the club who he his going to have told him to be patient and sit tight because that way they will be able to give Everton a lot less and the player a bit more?
It's only an opinion but, wherever he goes, I hope the manager explains to him that if he does get stick, then it's nothing personal! Just strictly business in this unforgiving world of professional football, especially if it's going to make him a fortune!
I remember playing for my Sunday league team, and arguing with our manager. He told me to fuck off if I didn't like it, and I replied that "I don't play for you, you fucking cunt, I play for the lads." Anyway I went on and scored the winner in a top of the table clash, and was still arguing with our manager at 4 o'clock the next morning, with my point being that I couldn't stop playing for the lads, because I fucking loved them.
Sam Hoare
60
Posted 27/07/2017 at 14:18:03
James@52 and Tony@50 I'd be extremely surprised if he went for less than £20m (including add-ons). Michael Keane was in the last year of his contract but still went for £25m-£30m.
I hear that a few of the top clubs are interested in him and he won't want to risk not getting his move. For Everton keeping him for another season may be more beneficial than getting £15m even as a squad player. In that sense we hold the cards.
I don't think we'll get near the £50m we were reportedly asking for but I fully expect it to be around the £25-35m range. If Stoke were willing to pay £25m for Arnautovic then Barkley will pull in at least that amount if he goes. Otherwise the club may let him stay and be given a similar amount by tribunal when he leaves at the end of his contract. Didn't RS have to pay about £10m for Ings via tribunal a few years ago and that was before player values went crazy!
Paul Jones
61
Posted 27/07/2017 at 14:18:32
Chang makes way for Carling tonight.
Any thoughts?

David Israel
62
Posted 27/07/2017 at 14:22:55
Yes, Paul, big improvements, on and off the field!
Andrew Keatley
63
Posted 27/07/2017 at 14:25:56
I'd be quite surprised to see so many of the new signings start the game tonight. Lyndon has gone for six "debuts", I'd be surprised to see more than four. I reckon it'll be a good mix of young and old rather than new and old:
Pickford
Holgate
Keane
Williams
Baines
Barry
Gana
Davies
Mirallas
Rooney
Calvert-Lewin
Stekelenburg, Klaassen, Sandro, Schneiderlin, Lookman, Dowell, Jagielka making up the bench.
Whatever the line-up, we should be able to get a decent win.

Pete Cross
64
Posted 27/07/2017 at 14:27:33
Paul (#61) – no they don't; no alcohol on sale tonight!
John G Davies
65
Posted 27/07/2017 at 14:28:55
Paul (#61),
Not another two signings. We will end up like Leeds... The club will be bankrupt... How much did we pay for them? That's too fuckin' much...
Colin Grierson
66
Posted 27/07/2017 at 14:29:11
Piss makes way for different piss, Paul. Have your drinks before and after the game.
Tony Abrahams
67
Posted 27/07/2017 at 14:37:25
Good point, Sam.
Michael Burke
68
Posted 27/07/2017 at 15:02:57
Sam (#60), Keane was purchased at that price as he is seen a starter for us.
I don't see Ross starting regularly in any of the teams above us. Will he want to go to any of the other teams below us, will they pay that much for an inconsistent player.
Maybe he needs to realign his thoughts on his ability and what he wants out of his career. Sadly, I see it going the way of too many of our lads who left too soon for bigger and better things.
Derek Knox
69
Posted 27/07/2017 at 15:20:18
While I appreciate that this post is about tonight's tie, it seems to have drifted back to talking about Ross.
Like many posters have said, his main problem, is between his ears, I can't believe for one minute that Rooney would not have had a 'quiet word in his ear' and still he remains adamant about leaving.
Let's just hope we get shut soon as, he is setting a very bad benchmark, for the younger lads, or they may learn from his stupidity.
Rob Hooton
70
Posted 27/07/2017 at 15:32:27
Thanks for the well wishes, gents, can't wait to get to the Old Lady, though not sure if we'll ever get off this bloody M6.
I would like to see Kenny at right-back tonight and only one defensive midfielder; like others have said, it stifles creativity too much having two.
Shame about Barkley, it will be the biggest mistake in his life leaving now IMHO, though maybe he doesn't have the stomach for it?
Colin Grierson
71
Posted 27/07/2017 at 15:39:44
Derek (#69),
I think the latter is more likely the case but of course only time will tell. The minute he refused the contract he was a gonner, no matter what he said or did afterwards. We will try to get what we can for him and his agent will try and get what he can (wages wise) for Ross. However, the knowledge that he has turned down £110k a week doesn't leave a lot of places open to him.
In my view, he, or his agent are plain stupid.
Anyhow, 4-0 tonight, COYB!

Mike Allison
72
Posted 27/07/2017 at 15:47:31
Not sure if it's just an oversight on their part but the BBC don't list Calvert-Lewin in their squad of players we're selecting from. Anyone know why or is this just an error?
Phil (Kelsall) Roberts
73
Posted 27/07/2017 at 16:02:18
Just heard from my eldest that he has the lurgy.
We have 2 tickets on a pdf in the Park End. Not sure if we can just mail the pdf for someone to print out and go in? Will we be banned?
If it can be done – donation to EFPF, we'll trust you.
We will sit and watch on the box.
Ian Bennett
74
Posted 27/07/2017 at 16:15:03
I'd go
Pickford
Lennon
Keane
Williams
Baines
Schneiderlin
Gana
Klaassen
Davies
Rooney
Sandro
I don't think Mirallas has done enough to get the nod, whilst I'd go with Lennon ahead of the other right backs against 'weak opposition'.
Stu Gore
76
Posted 27/07/2017 at 16:24:59
Rooney can have all the free kicks he likes BUT Baines on pens.
Managing Everton rule number 1 = Baines on Pens!
Managing Everton rule number 2 = See rule Number 1
Jason Broome
77
Posted 27/07/2017 at 16:29:48
Live on YouTube
https://www.youtube.com/watch?v=HYAyI6_1gyw
Dermot Byrne
78
Posted 27/07/2017 at 16:34:47
Anyone excited? Jaysus, I am!
George McKane
79
Posted 27/07/2017 at 16:47:58
Thus Spoke Zarathustra. Music from 2001Space Odyssey. Fanfare. The Dawn of a New Age. A New beginning. The Blue Renaissance with Lenardo Da Koeman, Cosimo Rooney. Sandro Botticelli Ramirez. Michelangelo Keane. Pickford The Magnificent. Interestingly next week I will be taking several of our gang from Yellow House to Florence on a Project - - will be back for the Stoke Game though - - no worries.
The theme of The New World and Age of discoveries is with me - - last week I stood in Belem outside Lisboa at the site where Vasco Da Gama sailed looking for new worlds - - I squinted for a moment and felt like Moshiri when he could see a new Blue Continent arising from the old world along from his Liver Buildings Blue rooftop and set sail on his voyage to create a "new Blue world".
I am at the moment sitting in my writing room - - its around 4.05 pm - - I will be leaving in a few minutes - - making my own way tonight under The River towards Heaven - - Gosia is working. I am looking at my old postcards all around me - - Van Gogh, John Lennon, Klimt, William Morris and of course my large photo of Goodison with my little "snowflake" desktop shaker with Goodison inside and "Home Of The Blues' - - like Orson Welles in Citizen (Mc)Kane - - I move for a moment and go to the side window and there it is in front of me - - The New Grail - - The Holy Site - - and soon I will go under that river to come up from the seabed to Scotland Road and look over my shoulder and picture the new site - - like a modern Wordsworth:
"The City has not anything to show more fair:
Dull would he be of soul who could pass by
A sight so touching in its majesty:
This City now doth, like a garment, wear
The beauty of the morning: silent, bare,
Ships, towers, domes, theatres, and temples lie
Open unto the fields, and to the sky;
All bright and glittering in the smokeless air.
Never did sun more beautifully steep
In his first splendour, valley, rock, or hill;
Ne'er saw I, never felt, a calm so deep!
The river glideth at his own sweet will:
Dear God! the very houses seem asleep;
And all that mighty heart is lying still!"
I will walk along Scottie passing my Haunts of Ancient times and close my eyes for a moment and
" I hear Goodison singing, the varied carols I hear
of workmen building our new site
of shouts and calls and ticket sellers
And friends rushing through crowds to greet each other
Entering the Dark House once more
Seeing eyes turn and smiles break and beers pushed into my hand
Its good to be a Blue Man and we who have waited our time are now
Ready and capable to sing and shout of our beloved Blues."
Along through Smith Street and Whittle Street on my right where we caught the magical Number 33 to school - - along Westminster Road and already:
"And we'll walk down Wessy Road again
And we'll sing all the songs from way back when
And we'll walk down Wessy Road again and the healing has begun
And we'll walk down Smith Street in style
And we'll walk into The dark house and we'll smile
And we'll say "baby, ain't it all worthwhile?" when the healing has begun
I want you to put on your new Everton top tonight
You can wear your cap and all the rest
When you hear the music ringin' in your soul
And you feel it in your heart and it grows and grows
And it came from the backstreet rock and roll and the healing has begun
That's where we come from, man."
Thank you Van.
And of course a bit of Blake:
He who binds to himself a joy Does the winged life destroy;
But he who kisses the joy as it flies Lives in eternity's sun rise.
A bit rushed tonight - - have to leave early - - back to normal for The Stoke game.
But if you want to know what its like to be True Blue friends have a look at this - - I have been with Dan all day today and will be meeting him again at Goodison later - - Link
Brent Stephens
80
Posted 27/07/2017 at 17:09:16
Citizen (Mc)Kane #79. Good to read the pre-match Muse again.
4-0 for Dan tonight!
Kim Vivian
81
Posted 27/07/2017 at 17:16:17
Is it me or is Wayne looking pretty young, slim and trim in that picture?
Chris Williams
82
Posted 27/07/2017 at 17:28:48
Welcome to a new season and welcome back George. Really nice link George, so 4-0 it will be and best wishes to Dan.
Patrick Clark
83
Posted 27/07/2017 at 17:29:19
Unbelievable (though not really – Fox's approach to coverage embarrassingly bad across the board) this is not being aired in the US. Appreciate the streaming links.
Raymond Fox
84
Posted 27/07/2017 at 17:34:34
He does, Kim.
We are 1/14 tonight, they must all have two left feet or there's only ten of them travelled!
Keith Hitchen
85
Posted 27/07/2017 at 17:59:19
5-0
James Hughes
86
Posted 27/07/2017 at 18:02:19
George, well done Sir it brought a tear to my eye.
I loved the the Yellow House Declaration of Peace, hope you have a good evening. Could you say hello to to Dan for me.
John Audsley
87
Posted 27/07/2017 at 18:14:27
Very excited about tonight.
First time in decades I've felt like this.
Can't wait for Z-Cars and the Goodison roar.
David Barks
88
Posted 27/07/2017 at 18:17:19
The only positive about qualifying for this competition at this stage is we get to kick off the season this early. Can't wait to see Everton kick off the season tonight!
James Ebden
89
Posted 27/07/2017 at 18:22:20
Line-up, apparently:
Pickford
Holgate
Keane
Williams
Baines
Schneiderlin
Gueye
Davies
Mirallas
Rooney
Klaassen.
Colin Glassar
91
Posted 27/07/2017 at 18:28:29
Can't wait!!
John Pierce
92
Posted 27/07/2017 at 18:38:22
Totally will be chanting Rooney ROONEY ROONEY! at my TV in New Jersey. My dog looking at me with a raised eyebrow.
Cannot wait!
Joe Cavanagh
93
Posted 27/07/2017 at 18:47:02
My new dog is called Rooney. It's a she, but she's going to be a monster (a Rhodesian Ridgeback, for canine aficionados).
David Israel
94
Posted 27/07/2017 at 18:49:46
George (#79) You are hereby awarded the Nobel Prize for Evertonia!
ps: I have stood next to that monument at Belem, in Lisbon, where all the famous Portuguese navigators are lined up along the sides of a stone ship, with Prince Henry the Navigator (son of an English princess) at the bow. Looking back, I can see Harry Catterick instead of Henry, and the whole School of Science on the sides of the ship.
Paul Ferry
95
Posted 27/07/2017 at 18:56:26
James Ebden. Where does that XI come from? When was the last time an XI was announced 103 minutes. before kick-off?
David K Shaw
96
Posted 27/07/2017 at 18:58:02
Not quite the team I hoped to see but I'm excited nonetheless...
Stekelenburg
Martina
Keane
Williams
Baines
Klaassen
Gueye
Schneiderlin
Calvert-Lewin
Mirallas
Rooney
David Israel
97
Posted 27/07/2017 at 19:03:49
Calvert-Lewin is clearly a favourite of Ronald's, but he has to improve his finishing.
This is about the sort of line-up I expected, with the keeper's exception.
Kevin Prytherch
98
Posted 27/07/2017 at 19:05:47
Strikes me that Sandro and Pickford aren't included due to their late arrival back for pre-season. He obviously doesn't rate Kenny or Holgate at right back.
Just hope it doesn't start knocking their confidence as Kenny was outstanding for the Under-23s and Under-20s.
David K Shaw
99
Posted 27/07/2017 at 19:05:48
Yeah a little surprised not to see Pickford but I guess he only had 45 mins of pre-season. Hope Stekelenburg isn't the Europa League goalkeeper of choice for Ronald Koeman.
Lee Jackson
100
Posted 27/07/2017 at 19:06:04
I'm stuck at work and will be in a waste-of-time meeting from about the 60-min mark. At least I can watch the first half on ITV4 via the internet and a proxy server. I'd go 3 at the back and perhaps leave Baines out:
Pickford
Holgate
Keane
Williams
Lookman
Schneiderlin
Klaassen
Davies
Sandro
Rooney
Mirallas
Very attacking and maybe swap Mirallas, Sandro and Lookman around during the game just to give their fullbacks nightmares.
COYB!!!!
Dave Abrahams
101
Posted 27/07/2017 at 19:06:23
George (#79) welcome back to start of a new season and hopefully a new era for the Blues.
I know you don't want any thanks or praise for the work you do, so simply 'God bless you, George, and carry on with the work you do!'
Michael Kenrick
102
Posted 27/07/2017 at 19:07:24
No Sandro! I'm bummed.
Brendan Fox
103
Posted 27/07/2017 at 19:10:37
Why Stekelenburg has been given the nod over Pickford, I don't know. Given the fee paid for Pickford, he surely has to be No 1 and allowed playing time to get to know the other players in front of him.
And I'm disappointed Koeman is not giving Kenny a chance to prove himself ahead of Martina.
David Israel
104
Posted 27/07/2017 at 19:11:54
Yes, I hadn't thought about that Europa League choice of goalkeeper possibility, David (#99). But it makes sense, theoretically speaking.
Sean Callaghan
105
Posted 27/07/2017 at 19:12:00
Rooney to be captain? Or Baines?
Lee Jackson
106
Posted 27/07/2017 at 19:12:00
Most disappointing that Martina starts and Kenny not even on the bench. I guess Koeman still hasn't got Calvert-Lewin to hand over those pics.

John G Davies
107
Posted 27/07/2017 at 19:13:37
Calvert-Lewin is going to be a good player, a learning curve for him at the moment but he will get there.
Media raving over Solanke at the U20 World Cup tournament. I thought Dominic looked the better player.
Lee Jackson
108
Posted 27/07/2017 at 19:14:07
Sean (#105), Koeman said Jags is captain, Baines and Barry are the back-ups, so it'll be Baines tonight.
David K Shaw
109
Posted 27/07/2017 at 19:16:33
Agree, Michael, I hope he gets 30 mins in 2nd half. If we can wrap it up tonight, we can give a few more a run out in the away leg without any risk of humiliation. Fingers crossed!
Nigel Munford
110
Posted 27/07/2017 at 19:16:54
John, Calvert-Lewin scored the U20 World Cup winning goal – that's what these pundits should be talking about.
Mark Dunford
111
Posted 27/07/2017 at 19:17:01
Goalkeeper choice is big disappointment. Stekelenburg is the weakest of the three we have. I can only assume he is waiting for Pickford to settle and Joel to move on. Also, I agree on Kenny.
Christy Ring
112
Posted 27/07/2017 at 19:17:17
Martina in ahead of Kenny, disappointed.
Brendan Fox
113
Posted 27/07/2017 at 19:51:03
Koeman has bottled it selecting Martina over Kenny.
Martina couldn't get a game for Southampton last season yet is somehow better than Kenny who was England U20 standout player in the World Cup.
Stekelenburg over Pickford is another poor choice.
Add Your Comments
In order to post a comment, you need to be logged in as a registered user of the site.
Or Sign up as a ToffeeWeb Member — it's free, takes just a few minutes and will allow you to post your comments on articles and Talking Points submissions across the site.