Rodriguez secures return to Uruguay

22 Comments [Jump to last]
Friday 11 August 2017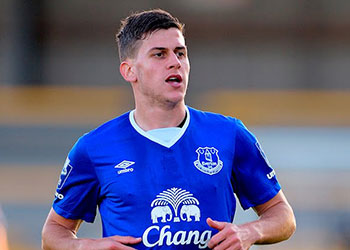 Leandro Rodriguez's frustrating spell in England is over after he made a move back to his home country with Danubio FC.
The 24-year-old was signed by Roberto Martinez two years ago for £500,000 with high hopes that he could prove to be a hidden gem from the same country that produced the likes of Diego Forlan, Luis Suarez and Edinson Cavani.
Despite scoring for the Under-21s early in his time with the Blues, he failed to make the grade, however, and found himself in limbo last season after Ronald Koeman came in.
Now, after loan spells with Brentford and Waasland-Beveren he has completed a free transfer back to Uruguay where he no doubt hopes to relaunch his career.
Rodriguez made just one appearance for the Everton first team as a substitute in an FA Cup tie against Dagenham & Redbridge in January 2016.
---
Reader Comments (22)
Note: the following content is not moderated or vetted by the site owners at the time of submission. Comments are the responsibility of the poster. Disclaimer
Matthew Burgess
1
Posted 11/08/2017 at 22:12:26
Good luck to the guy. Hope he gets his career back on track back home.
Harry Wallace
2
Posted 11/08/2017 at 22:16:35
Good luck back home!
Will Jones
3
Posted 11/08/2017 at 22:17:17
It is hard to adjust to different parts of the world, and the pressure is always on, at both at work and at home (cos the misses comes as baggage, I mean expecting the same or better)... it was worth a gamble from the Everton guys at the time
Gordon White
4
Posted 11/08/2017 at 22:19:35
Good luck to him. EPL is a big step up for players from some leagues.
John Smith
5
Posted 11/08/2017 at 22:29:59
It wasn't £500k it was a little over £600k.
Denis Richardson
6
Posted 11/08/2017 at 22:57:58
Ah - one of the fruits of BBSs 'in depth' knowledge about the S.American continent .
Guess he wasn't called BBS for nothing.
Jay Wood
7
Posted 11/08/2017 at 23:08:40
Recalling an article on the lad from a few months back, it must be a huge relief to him to have returned to his home land. Thousands of miles away from family and friends and very, very isolated in an alien environment.
I hope he can carve out some sort of career for himself back in a familiar environment.
Talking of 'the disappeared', just where is Shani Tarashaj these days, the Swiss forward signed from Grasshoppers in January 2016?
He is still listed on the official site as being on loan at Eintracht Frankfurt where he spent last season. I haven't seen or heard him mentioned in any of our squads.
Can't win 'em all, eh?
Gordon Roberts
8
Posted 11/08/2017 at 23:18:10
Rodriguez and Tarashaj were both phenomenal prospects brought in by Martinez. Great to see ToffeeWebers being gracious to players who didn't make the grade because they were not up to standard. Let's get behind our current manager – COYB
Tom Bowers
9
Posted 11/08/2017 at 23:23:31
Many have not made the grade and some cost a lot of money. This kind of thing happens and on some occasions it's due to a change of scenery or even a manager who has a different view of things.
He must have done very little even whilst out on loan otherwise some clubs may have shown interest in him.
Paul Hewitt
10
Posted 12/08/2017 at 00:04:05
Waste of time and money.
Vijay Nair
11
Posted 12/08/2017 at 00:16:37
Tarashaj is out injured, Jay...
https://mobile.twitter.com/i/web/status/884837474136072192
Jason Heng
12
Posted 12/08/2017 at 02:17:44
Over the years, Everton has had a number of suspicious transfers – remember a couple of Americans from some university team or an Egyptian player?
I wonder how much of these transfers were conducted as means to pay off the agents, rather than for footballing reasons?
Brian Porter
13
Posted 12/08/2017 at 06:54:22
Good luck to the lad. Hope he makes it big in his home country. I can't help feeling old BBS managed to confuse River Plate Uruguay and River Plate Argentina.
As for Tarashaj, it's weird that when we signed him he was already a Swiss international but he seemed to go backwards as soon as he came under the tutelage of Roberto Martinez. He can't have been that bad at the time as the Swiss national team, whilst not exactly world beaters, are not the also-rans they used to be years ago. I can only wonder what went wrong for him
Peter Gorman
14
Posted 12/08/2017 at 10:27:37
To be fair, Brian, he was not a full international before he signed and hardly became first choice for Switzerland after. Made one solitary appearance at the Euros and I'm not sure he has played for them since.
Any how, good luck to him and Rodriguez. Hope they can look back fondly at their time with the club aside from the football.
Paul Birmingham
15
Posted 12/08/2017 at 11:19:59
Feel sorry for the lad. Deffo BBSE overhype, at his finest, building the lad up to be a world beater.
Belgium will see through him soon. I hope he's banned from EFC for life.
Tough, tough game today and rock hard start, and we need a striker CD, CM maestro... in a few weeks, an impressive start to the safer window, has petered out..3 point today, is a must , no banana skin today for EFC.
Jack Convery
16
Posted 12/08/2017 at 12:08:10
One of the mysterious Martinez signings bites the dust. Murky waters indeed. Niasse will be out next. We really had a great scouting system under Martinez... NOT.
Colin Glassar
17
Posted 12/08/2017 at 12:11:15
Niasse is going to Spurs in a player plus cash deal for Harry Kane, Jack. Kenwright's a bleeding genius.
Frank Wade
18
Posted 12/08/2017 at 12:18:08
Had high hopes for Leandro, but he just couldn't make it at the level we expected. I hope he can get back to playing at a high level at home.
I wouldn't place any blame at Martinez's door for this one. He had scored for River in matches against the top two Uruguayan teams Penarol and Nacional. It was a risk worth taking like the risk Ajax took when they bought a carnivorous striker from the same part of the world.
We can't win em all.
John Pickles
19
Posted 12/08/2017 at 15:21:32
Martinez also brought in a Romelu Lukaku, whatever happened to him?
Not everything is black and white, Martinez was a poor manager, but the endless criticism of everything he did is firstly incorrect and secondly becoming tedious.
Des Farren
20
Posted 12/08/2017 at 21:27:10
"Belgium will see through him soon". A more bitter comment you could not want to read.
Apart from "hope he is banned from EFC for life", whatever that means.
Charlie Lloyd
21
Posted 13/08/2017 at 01:13:14
A cheap buy who never worked out. Similar to the Moyes purchase of, was it, Joao Silva from Portugal. Some will progress and some won't. I expect the phenomenon that is Henen to head the same way before long.
Jeff Armstrong
22
Posted 13/08/2017 at 11:00:06
Damned if you don't, "we where offered him as a kid for £500,000, but turned him down,look at him now " etc etc
It really is hit and miss with kids from another continent so let's hope he has a good career,who knows it might turn out Martinez was the genius on this one and Koeman the chump!
Add Your Comments
In order to post a comment, you need to be logged in as a registered user of the site.
Or Sign up as a ToffeeWeb Member — it's free, takes just a few minutes and will allow you to post your comments on articles and Talking Points submissions across the site.