Everton build solid lead over Hajduk

219 Comments [Jump to last]
Thursday 17 August 2017
OLI SCARFF/AFP/Getty Images
Everton will take a two-goal advantage into the second leg of their Europa League play-off against the Croatians thanks to goals by Michael Keane and Idrissa Gueye
The Blues built up some irresistible momentum in the first half and took the lead with half an hour gone when Keane rose highest to head home Leighton Baines's cross.
Gueye doubled the advantage in first-half stoppage time with a confidently taken goal off Wayne Rooney's pass and thanks to Jordan Pickford and excellent displays at the back by Keane and Ashley Williams, Ronald Koeman's men held off intermittent pressure from Hajduk in the second half to avoid conceding an away goal going into the second leg.
Ademola Lookman made his first start in a side that also included Cuco Martina and Kevin Mirallas and the Blues made a good start without really threatening beyond a succession of crosses into the box until Davy Klaassen came within an inch of connecting with a low ball from the right.
The lively Lookman saw an early shot deflect behind while Vlasić screwed a tame effort wide at the other end before Morgan Schneiderlin picked up an early yellow card for a late tackle on Kožulj.
Klaassen and Baines sliced efforts well over the crossbar until another corner off a Martina cross led to Everton taking the lead.
The ball was kept alive by Baines after the initial set-piece was cleared and with the help of Klaassen he surged back into the box and clipped a teasing cross to the back post where Keane headed home with half an hour gone.
The game was held up shortly afterwards, however, when it all went off in the away end with seats and punches flying towards stewards. Play resumed four minutes later with the Hadjuk section heavily guarded by police.
Everton remained on the front foot and a great move carved the visiting defence open after Klaassen had seized on a slip not far outside the box. The Dutchman fed Rooney who played Gueye in superbly to tuck a smart finish inside the far post.
Vlasić had the Croatians' first shot on target in first-half stoppage time but Pickford was equal to the effort.
And after Hajduk had tested the Blues' keeper from distance again, Rooney had a great chance to make it 3-0. The forward was played in perfectly by Klaassen but his attempt to place a shot past the 'keeper was saved.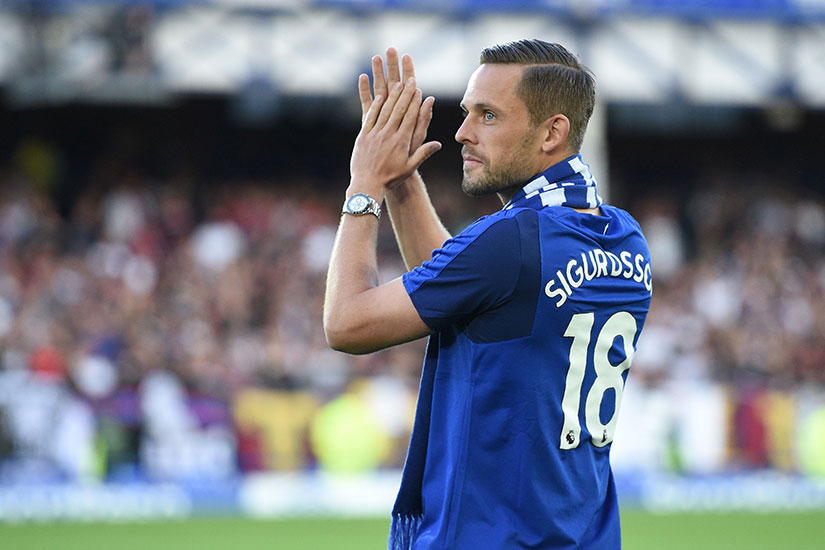 Gylfi Sigurdsson was paraded before his new fans before kick-off
Rooney had a decent chance early in the second half as well when Martina was released into space on the overlap and he crossed to the middle but the forward's header drifted wide of the far post.
Everton's tempo understandably lessened as the second half progressed and they tried to hit Rooney's runs off the last defender, the veteran unfortunately not finding the referee's assistant in charitable mood.
Hajduk, meanwhile, kept probing and when a foul on Gueye wasn't given, Ohandza found himself free to run at the home defence and force a save from Pickford who palmed his effort away to safety.
Klaassen's evening came to an end with just over an hour gone when Calvert-Lewin was introduced in his place but it was Hajduk who started to carry the greater threat, Hamza firing wide after dispossessing Gueye 25 yards from goal.
Everton lost their way a little in the final quarter of an hour and Pickford twice had to beat the ball away to deny substitute Erceg from the angle and then Momolla from distance.
Lookman had a late effort blocked as the Blues briefly threatened to score a third but the score remained at 2-0 until the final whistle.
Kick-off: 8.05pm, Thursday 17 August, 2017
Everton: Pickford, Martina, Keane, Williams, Baines, Schneiderlin (Davies 46'), Gueye, Klaassen (Calvert-Lewin 62'), Lookman, Rooney, Mirallas (Besic 76')
Subs not used: Stekelenburg, Jagielka, Lennon, Holgate
Full details: ToffeeWeb Match page
---
Reader Comments (219)
Note: the following content is not moderated or vetted by the site owners at the time of submission. Comments are the responsibility of the poster. Disclaimer
Jay Harris
1
Posted 17/08/2017 at 19:31:23
Apart from Schneiderlin and Rooney who I would have rested the lineup looks good enough to get us through.
Trevor Lynes
2
Posted 17/08/2017 at 19:59:18
May as well play Rooney now as he will be flagging in a month or two.It looks a pretty punchless attack without strength or height.
Neil Lawson
3
Posted 17/08/2017 at 20:05:23
Baffled. Delighted that Lookman is starting but surely a winger (2 if you include Mirallas) requires an orthodox centre forward. Where then is DCL? Oh for Dave Thomas and Bob Latchford.
Victor Jones
4
Posted 17/08/2017 at 20:07:35
How about a brace from Rooney in the first half then rest him? And a screamer from Martina? Lookman also scores. Four nil to the Toffees. Job done. Easy this old game when played the correct way.
Serious though, why Gueye and Schneiderlin in the same team? I just hope Koeman has instructed them to pass forward. Especially Schneiderlin.
Let's hope Davies does not suffer because of this explosion of midfield players. And lets hope tonight that Williams and Baines can turn back the years , and keep up to pace.
Klaassen and Rooney are also an interesting pairing. It's an interesting team. It's an interesting set up. I don't always think it necessary to go with width. Teams can also be opened up through the middle. But let's hope that Mirallas and especially Lookman shine.
It's time folks. For what its worth it's, 4-0 to the Toffees. Rooney to score first. COYBs...
Ian Lloyd
5
Posted 17/08/2017 at 20:29:48
Really positive stuff so far but I'm sorry Klaassen doesn't cut it I'm afraid :-/
Ciarán McGlone
6
Posted 17/08/2017 at 20:54:37
We're playing with width and using players who are comfortable playing from the flanks. The side looks balanced and comfortable on the ball. Kudos to Koeman, he's picked a decent side and formation tonight.
Gana having another blinder and running things in the middle. Schneiderlin knocking the ball around nicely. Rooney looking like the classy footballer he is. That turn where he was fouled was footballing porn... And the turn and defence splitting pass for Gana's goal – sublime.
Enjoyable to watch. Nobody having a bad game and Klaassen showing his game..
Lookman needs bigger shorts.
Jay Wood
7
Posted 17/08/2017 at 21:00:52
Cracking half, from first whistle to (delayed) final whistle.
Morgan Schneiderlin SUPERB! The way he is spraying the ball around from deep to either flank with pin point accuracy a stark contrast to his summer performances to date.
Klaassen as well putting in his best performance since joining. Instrumental in both goals and nearly on the score sheet himself.
Rooney showing so much guile.
The whole team playing at a different tempo to anything they have shown thus far. Pressing hard all over the pitch. Quicker, slicker passing from everyone.
Oh! And Martina is not the yard dog some label him.
Stan Schofield
8
Posted 17/08/2017 at 21:03:33
Excellent first half. We look comfortable on the ball, playing with confidence. Nice rapid passing movements. The players seem to know where the others are. And good 'pressing'!
Chris Williams
9
Posted 17/08/2017 at 21:05:58
Much better from a balanced team. Starting to see things shaping up a bit and fitting together gradually.
Round pegs in round holes, Schneiderlin and Klaassen showing better form and a bit more of their capabilities.
Keep it going and finish these off now. They have a good record at home apparently. If you're travelling take care of yourselves.
Lenny Kingman
10
Posted 17/08/2017 at 21:06:07
A superb display and not a bad word for any members of the blue revolution about to storm the world.
Neil Cremin
13
Posted 17/08/2017 at 21:44:19
What a regressive substitution. We should be pushing on for a third. If they score we are in a whole new ballgame.
Ciarán McGlone
14
Posted 17/08/2017 at 21:45:06
Not sure what formation were playing now.. poor second half. Koeman trying to be too clever. No need. He deserves the bouquets for the first half, but he equally deserves the brickbats for this half. Chalk and cheese.
James Fletcher
15
Posted 17/08/2017 at 21:58:29
Second half felt like half the team had put a bet on it being 2-1 .
Neil Cremin
16
Posted 17/08/2017 at 21:58:47
I think that we have been much slicker in our passing and pressing in the second half but our substitutions have been regressive: Besic for Mirallas and Calvert-Lewin for Klaassen. Crazy and regressive substitution. If we concede a goal, we are in big trouble.
Paul Johnson
17
Posted 17/08/2017 at 22:02:03
I can understand the frustration in the second half. However 2-0 rested players with substitutions. Big game on Monday onwards and upwards.
John Mckay
18
Posted 17/08/2017 at 22:03:35
Job done at half time. Decent first half. Second half 2 to forget. If we play like that against citeh we are buggered lol
Chris Leyland
19
Posted 17/08/2017 at 22:07:51
4 competitive games this season and 4 wins with no goals conceded. Koeman out the clueless idiot.
Mike Green
20
Posted 17/08/2017 at 22:08:00
Good performances all over the pitch, clearly tired last 20 mins, Gana superb but Keane and Pickford are going to be towering figures at this football club. Decent progress and could've done with another goal but a solid result too. Roll on Monday!
Tom Bowers
21
Posted 17/08/2017 at 22:10:34
Good performance but could have become sticky as they started giving the ball away cheaply.
Koeman would have known they would press forward to get that vital away goal and sloppy passing gave them the impetus to have a go.
Would have liked to have seen Lennon on for the last 20 minutes in place of Lookman to stretch Split and keep them more at their own end.
Everton sitting back to contain is not good to watch even against teams like this.
Colin Glassar
22
Posted 17/08/2017 at 22:10:55
Careful Chris, you might upset some of the old timers on here.
Dennis Ng
23
Posted 17/08/2017 at 22:11:53
I also think the Besic sub is a bit regressive cause we had to soak up more pressure than before the sub. Still a job done with a 2 goal lead.
Derek Knox
24
Posted 17/08/2017 at 22:12:02
Would have liked another goal to be actually safe, but we didn't concede, will have Siggy and Sandro fit then, so should be enough.
That is, if they don't get banned for their fans behaviour, a disgrace really, and to crown it, their players went to their section at the end and applauded them.
I watched, or tried to watch via youtube, but it kept stopping, but when on was crystal clear picture-wise.
Shane Corcoran
25
Posted 17/08/2017 at 22:12:48
Happy with most performances. Lookman and Klaassen were poor enough as was Rooney other than his assist.
I hope I never have to listen to those two commentators again.
Great to keep a clean sheet in Europe which you'd like to think will get us over the line.
Mike Kennedy
26
Posted 17/08/2017 at 22:13:10
Klaassen was class! Morgan played well the distribution was fantastic. A great first half. Too many kids playing naive football in the second half but an absolutely brilliant result.
Anto Byrne
27
Posted 17/08/2017 at 22:13:37
That was very enjoyable loved the passing and movement. They have to attack us in the next game so it will leave them exposed for the counter attack. Roll on Ciy; it's going to be an interesting game.
Neil Thomas
28
Posted 17/08/2017 at 22:14:35
Ian Klasson not cutting it? Did you watch a different game to me? His little touches were great tonight. As for Pickford and Keane what bargains. I would have been happy to have taken that score before kickoff tonight. Well done lads
Jay Wood
29
Posted 17/08/2017 at 22:14:46
The quality of the performance fell away a tad in the 2nd half, but not to the degree some are criticizing the team for.
The formation remained largely unaltered. There was constant movement and pressing throughout the whole 90 minutes. Nobody had a bad game. Many had very good games.
Passing was quicker and crisper, with a wide range from short to long.
There was passion on the park - Rooney giving it out large to all the team after a sloppy passage of play. Young Pickford bollocking Rooney for an unnecessary crossfield pass that put the defence under pressure.
The keeper time and again showing a good starting position whenever the visitors attacked and pulling off two fine saves. His catch and instant volleyed pass to DC-L a delight to behold, displaying what some of us anticipated from him: quick transition from defence to attack.
The 3 players that came on knew they had to perform to impress to try and earn a starting berth. Plenty of others in the squad who can be rotated in.
Four competitive games, no goals conceded.
This is just the start.
Encouraged.
Tamhas Woods
30
Posted 17/08/2017 at 22:15:07
#5 Ian Lloyd - Give him 6 months in the Prem, and I guarantee he will be the most bastardly, horrible opponent our opposition could ever dread.
Simon Bates
31
Posted 17/08/2017 at 22:15:17
He had to take Morgan off as he was on a yellow and that takes some of his game away. Davies seemed like a straight swap. My problem was switching Lookman and Mirallas as we were getting joy on both flanks till then.
Baines, Keane, Gana and Schneiderlin all superb first half.
Klaassen and Rooney are showing an understanding, whilst Martina was good.
That's 4 competitive matches and 4 clean sheets, all wins.
We can't ask for much better than that for a foundation to work from.
Chris Keightley
33
Posted 17/08/2017 at 22:18:19
A solid petformance would like to have seen the dominance from the first half continued until the 75 min at least then subs let them back in with sloppy play.

Lookman had acres at time but checked and went back put us on a flat footed position. Keane excellent tonight and Pickford solid and assured. I enjoyed 45 mins; we will need 90 against Man City to get a point or narrow win.
John G Davies
34
Posted 17/08/2017 at 22:18:27
Good solid performance, another clean sheet and the lads looked fitter. The pressing was very good.
The keeper shows a lot of authority for a kid.
Centre backs solid. Midfield worked hard and kept the ball well for the majority of the game. Gana? Some player this lad.
Klaassen getting used to the pace as the game went on, clever in the last 30 yards.
Rooney, tired but full of class.
And a mention for Cuco Martina. Be decent playing with a back three as a wing back, very good distribution tonight.
Signs of progress were obvious to me.
Charlie Lloyd
35
Posted 17/08/2017 at 22:20:19
Right tempo from the start. Pretty solid throughout. Keane and Pickford extremely impressive.
They came into it a bit in the last quarter but it's very unusual to get a trouble free 90 minutes.
Overall a step up from the Ruzomberok and Stoke performances.
Dermot Byrne
36
Posted 17/08/2017 at 22:20:24
There is sensible debate and
Yippppppeee
Night all
Gordon Crawford
37
Posted 17/08/2017 at 22:20:45
Very happy with first half, second half was a non event after the subs came on. Another clean sheet too, which is great. Roll on to Man City. Now to sign some top strikers and we will be lethal this year.
Sam Hoare
38
Posted 17/08/2017 at 22:21:30
Lots of positives with Klaassen showing some really neat, incisive passing and Gueye, Keane, Pickford looking like a very solid defensive spine.
One fault for me was the lack of striking options. We had a lot of possession tonight and good positions but I don't recall either of our two strikers testing the keeper. Wayne is more of a withdrawn striker and DCL is still very raw. Get Siggurdsson and a proper striker in that team and I think we'll be looking pretty tasty.
Shane Corcoran
39
Posted 17/08/2017 at 22:21:41
Some thought Klaassen was good tonight? Opinions eh.
John Mckay
40
Posted 17/08/2017 at 22:22:08
I thought Klaassen had a decent game to be fair. Setup Rooney on a plate for the keeper to make a good save.
Again impressed with Pickford what a signing he is turning out to be, probably sticks his gloves in super glue before the game because every shot seemed to stick to his hands with ease, some fantastic saves towards the end as well. With a keeper like that the whole defence will feel confident that if they so make a little mistake there is a quality guy behind him who will most of the time make the save.
Best keeper in a blue shirt since the legendary Southall.
Decent first half job done. 1 away goal and they will need to score 4 with Gylfi coming in and Sandro maybe fit should be good.
More games for the team to gel together.
Opposition wasn't too bad quality either – that Barry fella looks decent going forward for them.
Dave Bowen
41
Posted 17/08/2017 at 22:23:33
I'm all for giving Mo game time while he recovers from (yet another) injury, but we were crying out for Lennon to keep them penned back. Is RK keeping him injury-free to be sold in this window? I didn't think we should've signed Pickford at that price, but every time I see him, I'm more & more impressed. Great pic on YouTube until t'internet takes a break!
Stephen Brown
42
Posted 17/08/2017 at 22:24:04
Credit to for the often criticised Ashley Williams. He and Keane were very solid!
George Cumiskey
43
Posted 17/08/2017 at 22:24:24
Great result not a very good performance I'm afraid and DCL not the answer to our striker problem. If they get an early goal over there we could be in big Doo Doo.
Neil Roberts
44
Posted 17/08/2017 at 22:25:46
I am seeing improvement by the game.Some of the play in first half was really good to watch.
Chris Watts
45
Posted 17/08/2017 at 22:27:14
Lookman getting panned on here??
He set the tempo of the game for us. Gave us width. Took people on. He was sensational first half and changed the team from last week.
He lost the ball a lot in the second half but this was his first game of the season so he's bound to be rusty. Plus he's still very inexperienced. We need to start him every week and watch him develop into a great
Neil Thomas
46
Posted 17/08/2017 at 22:34:17
Shane what did Klasson do so wrong tonight? Nice touches good eye for a through ball and really puts himself about. Still settling in so we should get behind the lad and give him a chance. Compared to Barkley his work rate is fantastic pressed the opposition all night that's probably why Koeman went for a player like him.
Chris Leyland
47
Posted 17/08/2017 at 22:34:37
Shane, Klaassen was directly involved in both goals and set Rooney up for a clear chance to make it 3, which he missed. Apart from that, he was obviously shite.
Damian Wilde
48
Posted 17/08/2017 at 22:39:00
Sigurdson's wife - tremendous.
Don Alexander
49
Posted 17/08/2017 at 22:39:51
Perfectly acceptable performance and result from such a newly assembled squad. To my eyes Davy K looks like he'll soon be a very good player in the EPL.
I just hope the next four league games where we travel to United, Chelsea and Spurs as well as hosting Spurs go well in terms of performance if not result, as well as the return in Croatia of course.
Peter Gorman
50
Posted 17/08/2017 at 22:40:20
Klaassen was awful because apparently he didn't score a hat-trick or whatever. He had a good game but I admit I'm still not convinced he is much more than the 'Dutch Naismith' we've heard about on here. That is by no means an insult btw, just that we've yet to see his potential to catapult us into the top teams. Koeman probably signed him because he has a good mentality.
Overall the performance was very good and Martina did well which hopefully shows the 'one of the worst Everton player ever' comments to be the guff that they are.
Plenty of positives but also some worries too; it is fantastic that we are looking so solid but it is at the expense of an edge up front. Also, plenty of players being static when we have the ball and I'm not sure that is worse than constantly being offside.
Koeman is setting a bit of a worrying trend by constantly leaving Rooney on the pitch no matter how knackered and sloppy he gets. However if Keane and Pickford are there to pick up the pieces, it is not all bad – what a cracking pair of signings they look to be.
Neil Thomas
51
Posted 17/08/2017 at 22:40:34
Nice one Chris. The good thing is with him doing all that and still being shit can't wait to see him have a cracker of a game
Nigel Munford
52
Posted 17/08/2017 at 22:42:46
Klaassen was class tonight. His bite, persistence and aggression that got the ball to Rooney for Gana's goal.
Neil Thomas
53
Posted 17/08/2017 at 22:43:23
Don I would be more than happy with shit performances and 3 points in every game
Don Alexander
54
Posted 17/08/2017 at 22:44:33
Almost pretty enough to be the Toffee Lady Damian!
John Daley
55
Posted 17/08/2017 at 22:46:49
"Klaassen was directly involved in both goals and set Rooney up for a clear chance to make it 3, which he missed.
He also came very close to nabbing a goal himself, after making the sort of well-timed run into the box that too often failed to materialise from our midfielders last season.
John Smith
56
Posted 17/08/2017 at 22:49:06
I'm warming to Cuco Martina.
John Pierce
57
Posted 17/08/2017 at 22:49:22
Ian 5. Really decent stuff on the thread tonight.
But Ian Lloyd doesn't cut it I'm afraid. :-/
Nigel Munford
58
Posted 17/08/2017 at 22:50:04
Reading through a few comments about Klaassen and I guess he's like Marmite eh? Well as I posted earlier, he had a very good game tonight, oh and I like Marmite.
Stan Schofield
59
Posted 17/08/2017 at 22:51:16
I thought each player did well tonight. Klaassen has had some criticism on here, but he had a hand in both goals, and he looks to be adapting rapidly to the Premier League. I think he's class, plenty of clever, deft, touches, which can change a game.
The quality of the passing, both short rapid passing interchanges, and long-range balls switching from one side to the other, was immense.
On that performance, we look solid, and with some clever football. If I had to choose a MotM, it would be Keane. Total quality.
Nigel Munford
60
Posted 17/08/2017 at 22:51:31
I guess Ian and Shane don't like Marmite??
Ian Bennett
61
Posted 17/08/2017 at 22:51:42
Good performances from a number of players. I'd like to see those offside calls on proper TV, as judging by the pattern of the grass stripes I think a couple were incorrectly called.
Schneiderlin looked a lot better, whilst Keane, Gana and Pickford all looked good. Klaassen struggled but did create the chances. He's still settling so no panic from me. Nearly 3 assists isn't a bad place to be even if he gave the ball away cheaply on occasions. Even Martina played well.
Nothing for boo boys here, but we needed 3 to put this game to bed. Will be tricky away.
Paul Hewitt
62
Posted 17/08/2017 at 22:53:48
Not one single player can be called tonight. NOT ONE.
Bill Gienapp
63
Posted 17/08/2017 at 22:54:02
Surprised anyone would choose to have a go at Lookman. Yeah, he was noticeably sloppy over the final third of the match or so as his sharpness began to desert him, but he was a terror in the first half. He's still raw of course, but he showed exactly the sort of qualities (quickness, tenacity, athleticism) he brings to our side.
John Daley
64
Posted 17/08/2017 at 22:57:58
"Best keeper in a blue shirt since the legendary Southall."
I bet the poor lad wishes he could wear a blue shirt rather than his current kit which looks like something cadged out of Mr Blobby's washing basket.
Shocking kit aside, he has looked very impressive so far. The fact he's not shy in handing out a bit of an ear bashing to more experienced players is another encouraging sign that we might have finally scored our first fully rounded keeper since Nigel Martyn called time on his career at the club
Paul A Smith
65
Posted 17/08/2017 at 22:58:31
Shane 39 he wasn't good mate. He wasn't terrible either and I think its only a case of getting up to speed with the movement and hurried passing of premiership football.

Brian Williams
66
Posted 17/08/2017 at 23:03:14
I mentioned on the other thread about the Split fans looking like a para military hit squad on their day off in town this afternoon.
I was wrong, it wasn't their day off.
Animals!
John Mckay
67
Posted 17/08/2017 at 23:09:47
John Daley #64, fair comment about him not actually wearing a blue shirt but you know what I mean :)
Class act and only 23 to think there is probably another 15years of football in this lad he is only going to get better and better, be in the England team soon miles better than Hart.
Thought it was madness paying that kind of money for Pickford and reading the Sunderland fans comments about him was very good they was all gutted about him leaving even though they was getting a record price for a British keeper.
Decent game tho good moments, imagine having Lukaku in this team...
Tony Hill
68
Posted 17/08/2017 at 23:10:13
Brian (66), it was like a Nuremberg rally. I counted two women among their fans.
Gueye is a quite superb player. One of the best buys we have ever made and if he can add clever goals like the one tonight then he will become truly great.
I thought Williams was excellent. He and Keane have struck up an understanding, each covered for the other tonight on the two occasions they made errors.
Pickford too, of course.
All round, I was very pleased.
Neil Lawson
69
Posted 17/08/2017 at 23:12:32
And if Bob Latchford had been playing it would have been 5!

Job well done. On tele next week so here's hoping they don't get an early goal cos I've given up drinking until September and not sure that the tension and angst would be good for me.

55 years a true blue but forever hoping for the best but expecting and fearing the worst!
Si Cooper
70
Posted 17/08/2017 at 23:13:12
It is strange how opinions differ so much. I really enjoyed the commentary from Snods and Co., thought it had good blend of critique and humour.
However, only saw last 35 mins of game. Looked much better than 3 previous performances but there were lapses in concentration. The oppo showed enough to rue not getting a third goal tonight; if they score first and early in the return leg then it could get a bit tense. Hopefully Gylfi and Sandro will add to our threat and keep the tie in our control.
John Pierce
71
Posted 17/08/2017 at 23:15:18
Koeman, gets applause tonight from my little idyll in New Jersey, Gimlet in hand and a decent stream, Everton played very well first half, I was out of my seat! Tempo, ball pace and dinky first touches, really Koeman's Everton?
The selection was correct and harmonious, despite my eyebrow curling excessively at DCL's omission at CF.
Each player played at the right tempo from the off, pressed and stayed high up the pitch so much the crux in this style of play.
Opposition were limited but did have a danger about them.
The players scrutinised heavily so far did themselves a favour by looking to attack. Martina, is athletic and forward looking, this game suited him.
Schniederlin played more forward passes today than in all previous games and Klaassen's touches came off today. Such a clever player.
Second half was adequate but the players not the Manager get the evil eye. Playing at the better tempo for a decent 20minutes would have sealed the tie, so important with a heavy and difficult league schedule.
The last platitude goes to Rooney, he makes others better. Nice one lad.
Barry Williams
72
Posted 17/08/2017 at 23:19:02
Just back from the match, the biggest surprise was that they weren't serving booze!!?? What's that all about? No wonder the Croatians kicked off. Actually, it was hard to see what happened from my position in the Upper Bullens at the opposite end of the stand to them.
The match, well I was pretty happy. The passing was good, there was plenty of width. Martina, so far, has proved Koeman right. I saw him directing things a lot, communicating with both Mirallas and Lookman, plus guiding others where to put the ball, plus he looked fine defensively and going forward, he made some excellent runs.
Keane and Williams were very solid, Baines past it nah! We lost a bit of shape when Schneiderlin went off, but that was to be expected, we may miss Gareth Barry in these situations. Klaassen looked decent, but what is obvious, a target man is needed. Obvious to all I think.
Anyways, happy with a 2-0 win, and in Pickford we may have a gem!
The next game will be a real test!
Peter Mills
73
Posted 17/08/2017 at 23:25:30
There were definite signs of some fluidity of play developing in the first half. Still a work in progress, but progress there is.
Klaassen was good at times, struggled at others, but he's got a football brain. Gana was excellent, as were Pickford and Keane.
And decent games from Cuco and Williams.
I think Sigurdsson will fit in.
Phil (Kelsall) Roberts
74
Posted 17/08/2017 at 23:28:26
Snods and Co commentary.
Besic comes on.
He has been unlucky with injuries, mind you looks like he has been unlucky with his barber as well.
Chris Keher
75
Posted 17/08/2017 at 23:28:45
Regarding the crowd trouble I arrived about 5 minutes before the start (Upper Bullens right next to the away entrance) and there was about 6 away supporters, all with shaved heads and all with identical black clothing with some sort of red/yellow logo on the back of the jacket. They were being searched by the stewards but you knew immediately that there would be trouble.
Frightening really because if anything was caught on CCTV you wouldn't be able to tell who was who because they looked identical.
I'd have serious reservations about going over there.
Trevor Peers
76
Posted 17/08/2017 at 23:29:52
Great result, so satisfying to see us finally playing like a proper team again. Obviously we need a striker, but there are signs we are gaining in confidence. They all played really well, but Pickford and Keane were outstanding.
There is a lot of talent in the squad and Sigurdsson will make us even better, tough games to come, but I think we'll be OK.
Danny Broderick
77
Posted 17/08/2017 at 23:31:33
Has anyone heard from Ciarán McGlone or Darren Hind?!
Brent Stephens
78
Posted 17/08/2017 at 23:34:32
Job done in the first leg. Second leg over there, to boldy go (Split infinitive, I know) and all that. What a horrible set of fans.
Fair does to Williams, a rock tonight (can he really keep that up??). Martina did well going forward (though defensively suspect).
Just loved Pickford, and Lookman first half (they paid him more attention second half). Keane, Gana, impressive; Schneids' passes amongst other things. Baines solid and now belting forward again. Rooney a leader.
Am I allowed to be a happy-clapper tonight?
Danny Broderick
79
Posted 17/08/2017 at 23:36:39
Gueye was outstanding tonight, one of the best midfield performances I can recall in recent years. Pickford is looking like a phenomenal signing at the minute - one pass in the second half to DCL was out of this world. Williams and Keane did well at centre half also.
I still think that DCL and Lookman struggled at times. Both could do with a season on loan in the Championship, in my opinion. But this was a very positive night, all in all. We should be able to get at least a draw over in Croatia, which will see us through...
Brent Stephens
80
Posted 17/08/2017 at 23:38:22
And the most impressive thing tonight for me was the collective tempo in the first half, the speed and crispness of passing, the cohesiveness.
David Booth
81
Posted 17/08/2017 at 23:38:59
Why is Mirallas always taken off?
He looked cheesed and with good reason too.
He was a real bright spark tonight and a tiring Lookman or the ineffective Rooney should have gone before him.
Anyone else get the feeling that Rooney is undroppable/un-substitutable right now though?
Colin Glassar
82
Posted 17/08/2017 at 23:39:52
Sounds like Ronald isn't too happy with the 2nd half.
Ciarán McGlone
83
Posted 17/08/2017 at 23:42:25
David,
I think Rooney being undroppable may have something to do with him being superb on the pitch. I think you're letting confirmation bias get the better of you.
Lewis Barclay
84
Posted 17/08/2017 at 23:47:55
4 games, 4 wins, 5 goals, 4 clean sheets.
Next.
Andrew Keatley
85
Posted 17/08/2017 at 23:49:57
Good result. Performance was mixed. We tired pretty badly in the last half hour - particularly Rooney, Martina and Lookman. Some lovely switches of play in the first half in particular - generally from Scheniderlin and Gueye (who actually played well together - finally), but also Keane and Williams, giving Lookman and Martina some time and space in advanced positions. Keane and Williams were solid, and Pickford looks very confident and assertive.
As for Klaassen, I think he has shown very little in the first four games - and unless he improves quickly then I can see him as our expensive bench-warmer for the big games this season.
Tony Abrahams
86
Posted 17/08/2017 at 23:50:53
I thought it was Ashley Williams, best game since he joined us tonight Brent?
Glad Koeman's not happy, because that game had shades of Sporting Lisbon, from a few years ago tonight.
Barry Williams
87
Posted 17/08/2017 at 23:51:01
Just watched some footage of the crowd trouble I couldn't properly see at the ground, just throw them out, problem solved!
Colin Gee
88
Posted 17/08/2017 at 23:52:02
Job almost done, we could really have done with a third goal to kill the tie off. If we score first over there it's game over. But if we can't defend a 2-0 lead then we don't deserve to go through anyway.
Thought we played really well in the first half but we tired in the second half.
Everyone looking forward to next Thursday night in Split?
Brent Stephens
89
Posted 17/08/2017 at 23:55:29
Tony #86. yes arguably Williams' best game since we signed him. Now if he can keep that up.
Colin Malone
90
Posted 17/08/2017 at 23:57:38
Klaassen, easily shoved off the ball. God help us if he plays against a top team i.e. Citeh. Hope he proves me wrong but most of the time, the ball is a hot potato. His link-up play stinks. Looks like the one to drop out for Gylfi. Goalkeeper and defence, great. Idrissa, Man of the Match.
Barry Williams
91
Posted 17/08/2017 at 00:00:23
Just read Koeman's comments on the second half display, excellent!
Gordon Crawford
92
Posted 18/08/2017 at 00:07:36
Klaassen was much better tonight. Hopefully he will continue to improve. Koeman is spot on about second half. But why did he bring on Mo, instead of Lennon?
Declan Martin
93
Posted 18/08/2017 at 00:09:52
Still not convinced about Klaassen, despite a couple of good touches. So far, Gueye has been our outstanding player, with Keane not far behind.
But Hajduk Split were really dreadful – way poorer than the Slovak side from the previous round.
Derek Knox
94
Posted 18/08/2017 at 00:10:19
Watched Ronko's post match interview on Sky Sports News, he didn't seem too happy about second half performance.
I thought the refereeing and linesmanship was very poor, and inconsistent, they got away with a lot of fouls, unpenalised, and some of the off-side decisions were clearly not.
Should have enough to take over there, that is if they don't get banned before that.
Brian Wilkinson
95
Posted 17/08/2017 at 00:10:34
I got a good view of the trouble, I was 4 rows up in the Park End stand and towards their fans, they surged forward and then plastic bottles were incoming and outgoing, stewards and police were in there quick and did a great job, then a few minutes later they started fighting among themselves, trouble makers hooked out of the ground; then it settled down after that.
As for the match a great first half, said before the Game still unsure about Klaassen but he played well tonight, Gueye was everywhere and as for Pickford, so calm and one hell of a goalkeeper we have there.
Kase Chow
96
Posted 17/08/2017 at 00:15:24
Really can't understand any negativity re Klaasen
Involved in both goals with clever football brain + additional chance for Rooney and nearly scored himself
We have a player called Barkley that gets criticised for not doing the simple things, not getting his head up, not playing the first time pass.
We get a player that does it and he gets criticised for it?!?!! Amazing
Andy Meighan
97
Posted 17/08/2017 at 00:15:58
Klaassen was class tonight. Sorry but I thought he had a decent game nothing more nothing less. Gives the ball to the opposition far too many times for my liking; lacks pace but still finding his feet.

The performance itself was typical Koeman: great for one half and a bit shite the rest of it and could have easily let Split back into it. We could have easily made this a lot easier for ourselves but his negative tactics dictated otherwise. But hey, he's spent zillions so let's be kind to him.

Oh and by the way, to all you Martina bashers, the lad was outstanding tonight more so than Klaassen, Gueye (who,goal apart, his forward passing is atrocious), and Williams who looked shell-shocked the last 20 but I thought Schneiderlin was great for an hour, spraying balls all over the park. Let's see more of the same on Monday, hey.
Dave Speed
98
Posted 17/08/2017 at 00:17:35
Absolutely no complaints from me tonight. Lookman and Calvert-Lewin are what they are. They are two young lads learning their trade. Circumstances have meant that we are nurturing two young 'uns in the first team instead of one at a time, as is the usual way.
Lookman in particular just needs to learn to be aware of what's happening around him as he tends to trip over himself when it's time to release the ball, but no complaints, just advice.
Calvert-Lewin is a willing runner but again, he could look up a bit and see what's on, advice again. I thought that Klaassen played well, probably his best game. Gana - what price now? We had plenty of good deliveries into the box and more goals wouldn't have flattered us.
I think that the high tempo game was great, but not surprised that it fizzled out a bit so early in the season. It is obvious that the team aren't fit enough yet to keep it up for 90 minutes.
All-in-all, if we were away and lost the first leg 2-0 we would be gutted, and terrified of losing a goal going for it. That's the position that Split are in now. They aren't Barça and they are not going to swarm all over us in the second leg. We will see the team being able to keep up the tempo as the season unfolds, and eventually it should be for 90 minutes. I reckon that we are well capable of pinching a goal and that will end the tie.
Barry Williams
99
Posted 18/08/2017 at 00:20:33
Kase Chow - 96
On top of that he is new to the country, league and team! What do people expect?
Ian Smitham
100
Posted 18/08/2017 at 00:22:25
Just got back from the game, having had a none so easy journey home, every Motorway is blocked, dug up or you cant get on or off it. Loads of signs warning motorists, talking of signs, a few on the pitch tonight. Pickford and Keane are superb, Southgate was watching, I recon they are in his next squad, the defence looked solid and Martina played a full part, some excellent crosses. Lookman looks a prospect to me, but at his age, an unfinished article, Gana is superb, Schneid did well but was an accident waiting to happen, further up the field is a work in progress, I hope Dominic makes it, he seems willing, as for Tom, I hope the Lawyers have had a good look at his contract, he is the future. Enjoyed the game, I thank their fans...just saved me £500ish, good luck to ours that do go. Cheers, Ian
Brian Williams
101
Posted 18/08/2017 at 00:30:04
Barry#87.
Just throw them out?
These aren't your average English halfwit wannabe hooligans.
The vast majority of thos Split supporters (and I use the term loosely) were part of a very well organized quazi military group who have no respect for law and order and no fear of our very civilized police force.
What they're about has nowt to do with football and throwing them out is a lot easier said than done.
Ian#100.
Good decision not to go. Anyone that does wants their head reading!
Barry Williams
102
Posted 18/08/2017 at 00:36:02
Brian Williams - 101
Sorry Brian, I didn't express myself well enough, I meant throw them out of the competition, not just physically throw them out! As an ex-boxer/kick-boxer (very ex) I know it ain't that easy to deal with a bunch of nutters no matter how trained you are. It also taught me how hard I wasn't, especially when you fight some of those little Thai guys !!!!!
Sorry, I really wasn't be flippant! I really wasn't.
Brendan Fox
103
Posted 17/08/2017 at 00:36:16
For those knocking Lookman and Klaassen re-watch the game and watch their individual performances and what both brought to the team especially when going forward but also when tracking back and stop talking nonsense and stop being so myopic.
Lookman still raw ran at them, harried and chased linked up well with Martina who also had a good game and generlly was a pain in their side the whole night though he did tire in the last 30 mins and was more sloppy in losing posession, most of the evening he had two or three opposing players trying to close him down. What this does is creates more space for other players to run into or exploit.
Klaassen is a very intelligent and skillful player whose reading of the game and the other players was very good showing why he was brought to the club. The fact he was involved with both goals with good closing down and deft touches, set up Rooney with what should have been a third goal before half time and was inches away from getting on the end of a cross from Martina to score in the first meant for some he played poorly??? Give me strength.
Brian Williams
104
Posted 18/08/2017 at 00:46:34
Hey Barry 102. No probs mate didnt think you were being flippant and I agree 100% with you about throwing them out of the competition.
It's the only punishmemt that'll work.
They don't look on the game as a game at all.
With them it's nationalistic and political.
It's a war to them, and that's not me being dramatic. You can't reason with em because their beliefs and hatred are too ingrained so you have to just ostricise them.
I saw and watched a lot of them in town today and they weren't on a European jolly like we would be, they were on a mission and they weren't relaxed and enjoyiing themselves they were tense and angry.
Strange to see and frightening in a way.
James Watts
105
Posted 18/08/2017 at 00:51:02
Yep, I would agree with most people. Good first half, not so good second. It looked like the players just assumed they could coast through the second half to me. Thought the sub were okay. Calvert-Lewin for Klaassen to drop Rooney back and Besic to shore things up 20 mins out.
Absolutely love the arrogance with Pickford. He knows he's good and one save where he just batted it away and looked as if to say 'seriously? You expect to beat me?' Great to see.
Not sure why Klaassen is getting stick either. Thought he did well, linking play up and being a nuisance.
And a special mention to Martina. I absolutely bagged the signing numerous times but thought he did well tonight, especially going forward. Best game I've seen him play (including a few times at Southampton that is).
Declan (#93) But Hajduk Split were really dreadful – way poorer than the Slovak side from the previous round. I thought Split were okay, certainly better than our previous opponents. Least they had a go at scoring!
David (#91) Why is Mirallas always taken off Because he was typical Mirallas. Does okay for 5 mins and goes missing for 20. Right sub if you ask me to make sure we don't concede.
Jamie Sweet
106
Posted 18/08/2017 at 00:53:40
I can't remember the last time ToffeeWeb universally warmed to new signings as quickly as they have to Pickford and Keane!
They do appear to have genuine class which we have lacked in both positions for quite some time now.
And at 23 and 24 years old respectively, playing in positions where it is widely considered you don't reach your peak until late twenties / early thirties, the potential in these two lads is frightening!
Barry Williams
107
Posted 18/08/2017 at 00:56:19
Brian Williams - 104
No worries mate, my fault for not being clear enough. The thing is any supporter shouldn't be put off going abroad to what is essentially is a game because he or she is worried they'll get their head kicked in. If that is a genuine worry, then that team should be banned. Passion is passion, violence and intimidation is just violence and intimidation. I just don't understand the mentality of going to another country, kicking off, getting arrested etc. and I never want to understand it. I am home after living abroad for 16 years in many different countries, why would you want to get arrested in one? Weird! But what you say about ingrained hatred is so true, especially in the Balkan states. I worked in Azerbaijan and was amazed at the hatred logical and intelligent people had towards Armenia. This hatred then can be directed towards anyone who is not in your 'tribe'. worrying and sad!
That's why I love the sports I did, and still do to a much lesser extent, mid 40s now. No matter how big and tough you are, you'd meet your match. No friends involved, no booze, just you and the other guy. It certainly sorts people out and keeps egos well in check!
A bit of levity needed. I thought we played well, and was also pleased with Koeman's lack of satisfaction at the second half display! It bodes well.
David Pearl
108
Posted 18/08/2017 at 01:13:45
Well. I was looking into going to Croatia for second leg. Could you be bothered being part of their little band of knob heads? The one head guy in white conducting his little minions (morons) forgot to face the field and watch the game. It's a shame to be put off from going away to enjoy a new place... meet nice new people. I'd like to know how some of them got into the country. You don't behave like that and not have any prior.
Atmosphere from home support better than it has been for a while but the team did play well first half. I'd of liked to if seen Lennon come on for Lookman second half. And I think also the linesman had a good game and our forward line need to wake up. Very poor
Martina had a much better game today. Defensively not great but he is a natural RB that likes to go forward. He looked confident which is s good sign. Pickford is still to be beaten. (Should l have said that)
Mike Gwyer
109
Posted 18/08/2017 at 01:17:34
Anyone going to Split needs stocking up on gum shields, body armour and "run fucking fast" trainers. Fuck sake, it was like being back in the 70's.
Kevin Day
110
Posted 18/08/2017 at 01:20:32
Just back from the game, took my 9 year old daughter to her first time, and absolutely loved it. Only downside was trying to explain to her why the Split fans were causing trouble just along from us in lower bullens, absolute animals! If anyone on here goes out there next week please please be careful and don't wear your colours cos I'll bet a pound to a pinch they'll be looking for targets!
Anyway, moving on from that, first half was very enjoyable, seemed like things are starting to click into place, players finding each other without looking.
Second half we simply took our foot off the gas I thought.
Pickford though, absolute gem! Midway through the second half he picked out Mirralis out wide right in Splits own half with a peach of a ball, almost Beckham like, we've sure got a goodun there!
Onwards and upwards fellow blues.
Derek Thomas
111
Posted 18/08/2017 at 01:24:17
James @ 105; If there was a drop off in the 2nd half, what was the cause. Did Hajduk 'up' their game - if they did, why did it come as a surprise to our lads. Why was it not mentioned upon at HT?...'Right lads same again only more so, 2-0 down they'll be out of the blocks smart-ish to get something back.
Were some players taken off too early, were some players taken off too late, or not at all. Were the replacements the right ones.
Was there a collective; 2-0 up - job done, foot off the pedal?
All or part of the above - Something else?
Or Is Koeman only responsible for the Halves that go right.
James Watts
112
Posted 18/08/2017 at 01:41:57
Derek #111. 'Was there a collective; 2-0 up - job done, foot off the pedal?'. Nail on head. Think that was defo the case. They looked too relaxed to me in second half thinking they could coast it. No way to tell if that's down to the half time team talk, Morgan going off or players being too arrogant. Possibly all three?
'Or Is Koeman only responsible for the Halves that go right.' Absolutely not! I'm the first on here moaning about Koeman if things go wrong with silly tactics or selections or subs. Tonight I think Koeman did well overall and liked his comments after the game too.
Laura Round
113
Posted 18/08/2017 at 02:02:52
Glad your back safe Kev, glad Amelia had fun :) we came home in the end.. after an hour getting the boots signed 🤣
Peter Cummings
114
Posted 18/08/2017 at 02:18:37
I agree that anyone thinking of going to Croatia next week would be wise to think again. One has only to remember what Croatians did in Bosnia during the civil war to appreciate what kind of mindset rules their pitiless view of those who they see as a threat to their nation, and that view applies to sports.
Jim Knightley
115
Posted 18/08/2017 at 02:21:54
Exactly this Chris 19.
Koeman starting Lookman was brave - it demonstrates, once again, his readiness to trust in youth. It's a testament to us, and to our future, that we finished an essential game with a 21 year old, a 20 year old, and two 19 year olds on the pitch.
The first half was very good - the second less so. Perhaps it was the break that changed things, or our a change in our tactics or there's. It could have been 2-1 but then it could have been 3-0 too. Martina's performance was positive; he put in several excellent crosses.
It's encouraging, although we are heading into a tough week - We play arguably the best team in the league away on Monday, are away in Croatia on Thursday, and then play Chelsea at home on the Sunday. It gives next to no preparation time for the Thursday and Sunday games. I was not, and am not, optimistic about City away, but I'm more hopeful after that. I'm excited for Chelsea at home though - I think we can, and arguably should, beat them. I just hope that this Thursday football doesn't impact too negatively on our league form - 3 games in 6 days is a little insane, especially given the quality of Chelsea and City. Rotation will be necessary - I'd stick Sandro in from the off in Croatia and bench Rooney.
James Watts
116
Posted 18/08/2017 at 02:30:39
Jim, hope you're not going to Goodison for the Chelsea game. It's at Stamford Bridge 🤣
Bill Gienapp
117
Posted 18/08/2017 at 02:34:09
Not to burst your bubble Jim, but the Chelsea game is at Stamford Bridge. The following game against Tottenham's at home though.
Jim Knightley
118
Posted 18/08/2017 at 03:05:11
FFS- Cheers guys. I mixed my fixtures up - would have loved to have played them at Goodison at the moment.
I can't think of a much harder 6 days tbh - it will be a real test.
Colin Malone
119
Posted 18/08/2017 at 03:13:51
Hey, I hope I'm wrong about Klaassen but I don't think I am. He does not come deep to link up play, he's shoved off the ball too easily, the ball is a hot potato when he receives it. Things can only get better in that position.
John Pierce
120
Posted 18/08/2017 at 03:19:13
A quick rewatch of the game hasn't changed my very rosy view of proceedings.
Koeman got it right, the side had balance, an attacking balance given the opposition, unlike the previous round, were it was way too defensive.
Rooney as the only recognised CF did stay high up the field and again , showed so much craft and nous around the box. For those who think he might be used sparingly or rotated in and out, Koeman aint dropping him ever. Worth noting he has always appeared to gain in sharpness from constant action.
One good debating point was Lookman, to my eye, not ready for the Premier league, its just too dynamic for him. Too often ponderous with the ball, but in tandem with a right back gave him time and space and did create opening for an improving Martina.
If Koeman gets it right, he should blood him consistently in the EPL, and maybe he's a quick study and might make a thrust into the first team.
Martina can go for and sees some decent things but, even tonight though was poor at defending. Cups only please Ron.

Andrew Keatley
121
Posted 18/08/2017 at 03:44:44
Brendan Fox (103),
Asking people to rewatch the game so that they can agree with what you believe to be true is a bit annoying - like others might have been duped by only watching the game once, or maybe missed some of the subtleties that only the truly enlightened like you are able to see.
Klaassen is not contributing anything like what I want him to contribute – or believed he would contribute. He may have decent movement off the ball – I should hope so, he is a Dutch international and former captain of Ajax – but his use of the ball has been lacklustre since he signed, including the game against Hajduk Split. He needs to improve. Quickly.
James Watts
122
Posted 18/08/2017 at 03:45:00
Colin #119.
.. he's shoved off the ball too easily, the ball is a hot potato when he receives it. Things can only get better in that position.
Errrm. He was involved in both goals. Without his little touch I doubt Baines would have got the ball back for the cross for the first. And single handedly harassing their player, nicking their ball and feeding Rooney for the second. Worked his arse off as well throughout the 60 mins he was on for.
If he's useless, as you seem to suggest, how many chances did we make without him after he was subbed?
I'm not sure we were watching the same game. Baffling.
Jamie Sweet
123
Posted 18/08/2017 at 05:19:42
Is Cuco Martina a fullback or flying winger?
He took up some great positions, made clever forward runs, and put a number of brilliant balls into the box. Could have had five assists on another day.
If Kenny had put in that sort of attacking performance, we wouldn't hear the end of it!
He's clearly not the donkey we all thought he was is he?
Mike Gaynes
124
Posted 18/08/2017 at 05:46:26
Colin and Andrew, not sure what planet you were watching from, but the TV signal from Earth must have been a little fuzzy. Klaassen was immaculate with the ball today, made multiple fine passes, was critical to both goals and set Rooney free for what should have been the third goal with a first-time touch that was just lovely. And he won four tackles that I saw.
Jamie, Cuco's definitely not a donkey, but not a flying winger either... excellent touches and crosses, but won't beat anybody to the byline off the dribble. And defensively his positioning is excellent, but he can't tackle. At all. Solid player, certainly not our RB of the future but has contributed two games in a row.
And James #105, full respects for holding your hand up on Martina.
Dominic Tonge
125
Posted 18/08/2017 at 05:47:04
Thought we did enough , looked very good in spells , and then took it too easy too early. Koeman was right about the second half - but these are the subtleties of European football that a lot of our squad need to learn . Two - nil in a premiership game or one off cup game is a lot safer than at home in a two leg tie .
We are starting to see partnerships forming , the new lads all looked decent tonight , and most encouraging was (and hear me out) seeing look an get a start , and Besic and DCL coming on . We are finally in a position to utilise a bit of squad rotation , add Gylfi S and there is more depth and quality - if we get a striker in , again we are stronger . The lads on loan are going well (Dowell is basically in line for the key to the city of Nottingham, and the Makems are drooling over Browning.) I would like another CB in - Step forward Chris Smalling, but A striker and cover on the left is more pressing . All in all an encouraging display , because it's not so long ago (Martinez era) that our two goal lead would have been undone with a scruffy 93rd minute goal from the visitors leading to the inevitable one nil defeat away .
Regarding Lookman , I noticed he tends to square a player up, then slow (or stop completely) before taking them on , he does this a fair bit , and that means he's relying on pace over two or three yards , and body strength to go past his marker. If he was trying to beat these same players when at a run (or at least carrying momentum, he'd get a lot more joy .
James Watts
126
Posted 18/08/2017 at 06:00:01
Credit where it's due Mike, he deserved it last night and have no problem praising him for his good performance. And did so with a smile on my face too as happy to be proved wrong in this instance. Long may it continue!
I suspect Koeman will put Holgate back in against Man City though as he is much more solid in defence.
We'll see though!
Tony Hill
127
Posted 18/08/2017 at 06:58:31
Rooney disappeared as an attacking threat in the second half and looked tired. His fitness will continue to be a factor. First half, though, a couple of his passes (including, of course, the one for Gueye's goal) were a joy.
Can he continue to contribute at a top level for a significant part of the season, once the initial "rush" of his return wears off? That's going to be a big question for us especially now we have Sigurdsson.
Mike Gaynes
128
Posted 18/08/2017 at 07:00:54
Hope and assume you're right, James. Holgate in my view is well beyond solid defensively, he's outstanding. Clearly the best choice for the City game IMO.
Mike Gaynes
129
Posted 18/08/2017 at 07:03:24
Tony, I'm guessing he'll be even better with the tireless Sigurdsson behind him. Wayne has handled his defensive duties superbly but I expect Gylfi to assume many of those responsibilities now, and Wayne can run a little less and contribute a little more late in games.
Tony Hill
130
Posted 18/08/2017 at 07:13:31
I hope so, Mike. I was against his return and thought he was finished after the first qualifiers. But he is one of the best players I have ever seen live and certainly the most exciting when he was in his rampaging youth. I would love him to have an Indian summer with us.
Peter Mills
131
Posted 18/08/2017 at 07:51:18
Kevin#110 - regarding that pass by Pickford, it's the first time I have ever heard a round of applause for a kick by a goalkeeper.
Rupert Sullivan
132
Posted 18/08/2017 at 08:14:39
Mirallas was excellent tonight - some great vision and passing. I can't see why he was taken off, I would have pulled Lookman off instead as he looked like he had run out of ideas by the end
Craig Walker
133
Posted 18/08/2017 at 08:30:15
I'd been on holiday for 2 weeks and hadn't seen anything of the Blues so far this season but was regularly reading TW. I watched this game having read all the comments on this website and fearing the worst.
I was pleasantly surprised with how good we looked in that first half. Schneiderlin was excellent. Klaassen looked a lot better than Tobias Linderoth to this viewer (he was compared to him on the Live Forum).
Rooney showed glimpses of class and even Martina looked useful. Williams and Mirallas had good games too. Keane and Pickford look excellent acquisitions. Gueye was everywhere and was my MotM.
There were lots to be encouraged about. We took our foot off the pedal a bit in the second half and were frustratedly getting caught offside too often. I don't think we were ever threatened though and looked solid at the back. I liked it when Pickford berated Rooney for that wayward pass. At last, it looks like we have some leaders on the pitch.
Just hope we can get a good striker in before the deadline (still not convinced by Calvert-Lewin yet) and I think we need another centre half.
Peter Lee
134
Posted 18/08/2017 at 08:33:47
Just a word for Mirallas. I've often been critical but he played a much more disciplined game wide left last night and we were more balanced as a result. More please.
Kim Vivian
135
Posted 18/08/2017 at 08:36:50
Great to be able to watch and enjoy our performance after the last 3. Rooney is a massive influence, Keane, Pickford, Williams - it's all been said above.
Martina is my surprise package to date, Morgan - best game I've seen him play for us, hooked to protect that yellow, Lookman great first half but frustrating in the second half losing possession to much - I think he should have been taken off instead of Mirallas.
D C-L looking promising but needs more time. Hes a big strong lad and on a couple of occasions (eg after that ball out from Pickford) I would like to have seen him get his head down and go more direct for goal a la Lukaku. Besic looks like one of their fans but brings bite to the pitch. Would like to see him given more game time.
I didn't see a bad performance from any of our lads last night. Optimistic for a point on Monday
All in all a pleasing evening bar the interruption.
If you thought that trouble was bad - wait for the world cup. If you haven't already seen it check the BBC Russian Hooligan Army documentary. Compelling and Frightening.
https://www.youtube.com/watch?v=-X4LG_p4WHI
(Russian media portray this as fake BBC film making, btw.)
Check out that documentary.
Erik Dols
136
Posted 18/08/2017 at 08:58:39
Kim #135, anecdotal evidence this but nonetheless: I was visiting Moscow with some lads a few weeks ago. A local derby (CSKA vs Lokomotiv Moscow) was on, we got tickets, went to the match by public transport and got back in the city without any trouble at all. Friendly people.
Of course, a couple of lads spending some days in Moscow is not something to get hooligans in action, and some thousand of England fans in a World Cup is something different. But we were surprised how friendly and easy-going everything was.
Paul A Smith
137
Posted 18/08/2017 at 08:59:38
Is anyone here going to bollock Koeman for his 2nd half assessment? He had so many negative thoughts, or was he just being honest.
Of course he was.
Brendan Fox
138
Posted 18/08/2017 at 09:05:56
Andrew @ 121 - You are entitled to your opinions on what you saw, you are however in a very small minority of people who thought Klaassen had a poor game. This in my mind makes you wrong in your opinions given his involvement in both goals and two other very good opportunities to score.
I'm all for setting the bar high in what we expect to see from the players providing they are realistic expectations and criticism of any of the players when it's warranted. I've slated Scheiderlin and Martina on previous showings this season in other threads along with many others and am happy to eat humble pie as they both played very well yesterday.
I can save a slice for you if you like?
Stan Schofield
139
Posted 18/08/2017 at 09:11:13
I didn't think the 2nd half was as bad as Koeman is saying, but he's obviously (and rightly) demanding a full 90min high performance. It must have been difficult to maintain the tempo and fluidity of the first half, particularly this early in the season. The first half was excellent, so it wasn't difficult to look relatively bad in the 2nd half.
Overall, I thought our performance was very impressive, we are looking a skillful and high-pressing side, just need to develop that for a whole game.
James Watts
140
Posted 18/08/2017 at 09:13:41
Paul #137. Not sure what if you're being critical of us TWers or Koeman, both parties or none of us?
Anyway, what did you think? Did you think his assessment was wrong? I personally felt what he said was correct and didn't have a problem with any of it. It was all reasonable, made sense and an accurate description of what went on.

Stan Schofield
141
Posted 18/08/2017 at 09:16:21
Peter@131: Yes, that was great. However, delving back into history, I remember Gordon West getting applauded, especially for his throwing. He could throw the ball as far as most goalies could kick it, and very accurately.
James Hughes
142
Posted 18/08/2017 at 09:16:42
I went to Croatia last year, stayed in Korcula near Split. The Euros was on and the locals were great. I talked football with some of them and they are very passionate about their team to say the least.
The day of the game will be the only risk as emotions will run high for them. Otherwise the country and people are fantastic. Split fans have seen themselves as being victimised and are fighting against corruption in football, well worth a read.
Tony McNulty
143
Posted 18/08/2017 at 09:22:40
Out all of the signings we have made I think it is our goalkeeper who will prove to be the one who has made a real difference. These are early days, but we may even have another Nev on our hands.
Because he is relatively small for a keeper. he can get down to shots near the ground. I saw Harry Kane recently on the box talking about how he always tried to keep his shots near the deck since it made it harder for the keeper.
A further bonus is Jordan's distribution of the ball. One kick out to the right wing last night was pretty special.
If he continues as he is, the problem we will have is keeping this guy.
Nitesh Kanchan
144
Posted 18/08/2017 at 09:27:06
I feel the Schneiderlin and Gana partnership will be crucial in he Man City and Chelsea games to frustrate them.
Paul A Smith
145
Posted 18/08/2017 at 09:27:37
I thought he was right James 140 I just laugh when a fan says the same their either negative or think they have seen something Koeman hasn't.
I thought it was a lot better in terms of dominace but again we had to thank the keeper for giving us breathing space going into their place.
I won't pretend we were not looking better last night and stronger but I won't pretend it wasn't good enough 2nd half and we don't work goal keepers enough.
Brent Stephens
146
Posted 18/08/2017 at 09:32:28
Kevin Day #110 - was that you with your daughter in front of me at the Blue Dragon chippie?
Dave Williams
147
Posted 18/08/2017 at 09:39:02
Width was the key last night. For the first time this season we had two wide men and this was exploited by Morgans superb long cross field passing and instant ball control by Lookman. Morgan was spectacularly good and what a great reaction to the justified criticism of him last week. For the first time he blended well with Gana and I thought we looked a very good team in the first half- all we lacked was an out and out striker.
Pickford and Keane are great buys and how we got them ahead of the top 6 teams is remarkable. Davy was crucial for both goals and Baines had a much better game, possibly because he had MIrallas in front of him who also had an excellent first half.
But a word for Martina- took ridiculous, almost hysterical criticism from some posters on here when he signed and most likely those posters had never or only rarely seen him play. I thought he had a very good game last night and he showed why Ron signed him. He may or may not be the answer on Monday against City- I haven't seen enough of him to know how he will cope with a more defensive role- but he showed ability last night and put in some of the best crosses I have seen in a long time. If Rom had been playing he'd have scored a few from those!
Shane Corcoran
148
Posted 18/08/2017 at 09:44:12
Neil #46, I thought he got caught in possession and gave the ball away a lot last night. I didn't say he wasn't trying and I'm also not (from my living room) getting on his back. I just thought he was poor.
Chris #47, stick to the stats. I watched the game, formed an opinion, never said he was shite.
Paul #65, I agree completely with you but you're obviously talking shite. Didn't you read Chris's post?
Paul A Smith
149
Posted 18/08/2017 at 09:44:38
Also, The crowd incident robbed some momentum from us last night. I thought we had just hit our best level at that time and the incident took it down a notch.
John Hammond
150
Posted 18/08/2017 at 09:52:57
Klaassen showed glimpses of what he's about when he's played in the #10 position - Harrassing the defenders and some nice touches in and around the box. He's obviously still finding his feet in a new team. Rooney had a another good game and I'll be fair and leave it at that. I thought Mirallas and Baines were pretty poor in the first half although a lovely assist by Leighton.
Shane Corcoran
151
Posted 18/08/2017 at 10:16:18
Also, did Rooney have a good game? Nice assist for Gana but caught offside four times in the second half and then that ridiculous pass from his own penalty area near the end.
Steavey Buckley
152
Posted 18/08/2017 at 10:23:22
Rooney could have had a hatrick with a bit more composure. Everton need to be clinically finishing, because the approach play is not that bad. Soon find out on Monday against Man City how good Everton really are.
Ray Robinson
153
Posted 18/08/2017 at 10:23:43
Whatever the merits of Klaassen - and it's far too early to tell if he will turn out to be a good signing or not - it's clear that he is struggling with the pace of football in England. The lad clearly has a good brain although he will have to learn when to release the ball early (as he tends to do) and when to hang onto it. At the moment though he does seem to be spending more time chasing the play rather than being involved. When he does contribute though, it tends to be telling. I remain to be convinced over his overall impact but am prepared to give the lad more time.
Clive Rogers
154
Posted 18/08/2017 at 10:24:24
Mirallas and Klaassen were the weak links last night and were rightly taken off. Mirallas cut inside every time he got the ball ending with a backward pass. He never crossed the ball once, unlike Lookman and Martina on the other flank.
Klaassen has not yet come to terms with his team mates and the English game. He will need time.
Mike Doyle
155
Posted 18/08/2017 at 10:50:27
Anyone at the game know what caused the Croats to kick off . and who they were fighting with?
I recall a cup game at Goodison (v Spurs / early 70's). It kicked off behind the Park End goal and the police legend that was "Blackbeard" went over the wall, truncheon out, to sort it out. No placating the troublemakers.
Could have done with him last night.
Paul A Smith
156
Posted 18/08/2017 at 10:52:52
Shane 148 I wouldn't be bothered about people who think your writing for their happiness.
We have all witnessed a great individual performance in our time of watching football. Big Dunc v Man U, Fellaini v City, Drogba v Us many a time etc etc.
Nothing I have seen has come anywhere near them performances yet but like we all know the season has just started and players are finding their way.
Reading comments of 'he is class' about anyone but Rooney at this point to me is beyond the hype people moan about.
We haven't played class opposition yet so how anyone can be in this bracket yet is impossible to me.
I first post without reading a comment mate I don't really need anyone telling me somebody was class or how they played. You'd have to be a really really lovely person to use class after 3 awkward games.
I am happy with Keane so far but I didn't forget he could have cost us a goal last night. Or Rooney.
I can't decide how anyone else will think but my feeling has always been, how does it benefit anyone to not keep things in perspective.
For years now I have heard our deluded rivals tell me about Class and this is our year.
All that class has never got them the silver they want though has it?
Thats why liked Koemans view, honesty is key. And guarantee, ( or as you can see) now he has said that, there will be far less people worried about sharing their 2nd half view on here.
Rob Halligan
157
Posted 18/08/2017 at 10:56:51
James Hughes # 142. There are four of us going over to Split on Tuesday, coming back Friday. As we staying in the city centre, is there anywhere you can recommend bar wise, for us to go too? As we are going Tuesday, it should give us some time to suss out any bars not likely to be targeted by Split fans. You hear plenty of stories about British fans being attacked in bars by the local fans, after all.
It does sound like, as you say, the majority of Split fans are a decent bunch, just a few mindless idiots who want to cause trouble.
I guess it's just going to have to be one of those European away games when we need to keep a low profile.
Steavey Buckley
158
Posted 18/08/2017 at 10:59:15
Klaassen's through ball for Gueye to score was real Klaass. If he does that every game, he will be just fine. Klaassen reminds me of Archie Gemmill formerly of Preston, Derby County and Notts Forest, that Harry Catterick tried to sign when he sold Alan Ball, and he was alright as well. Scored a cracker when he dribbled passed many players to score against Holland for Scotland in the 1978 World Cup in Argentine.
Paul Chaloner
159
Posted 18/08/2017 at 10:59:21
I would have taken 2-0 at the start of the night but felt short changed at the end.
Klaassen is starting to show more each game, Pickford and Keane look class acts. Gana as good as ever, Rooney still has it; Martina is not as bad as many are making out but roll on Seamus! Still not convinced about Williams, Morgans absence in the 2nd half was the difference I think. Lookman faded after an hour but looked lively, causing problems before that. Should have been 4 but could have been 2-1.
All-in-all there's a steady improvement in each game. Need a target man though.
Terence Leong
160
Posted 18/08/2017 at 11:44:01
Klaassen has shown a willingness to work hard. It's not obvious, but it was his willingness to stretch out his leg, to divert the ball to Baines, while Baines ran into the box. If he hadn't done that, the ball would have been nicked by the opposition.
And his persistence to get around the opposition for the second ball led to the second goal. He's not a hard player but he has shown enough to press and fight for the ball. He will certainly come good.
Craig Walker
161
Posted 18/08/2017 at 11:47:07
It's amazing how people see the game differently. The Liverpool Echo's website gave Mirallas a score of 5 and were almost questioning "what has gone wrong with Mirallas?" I thought he played his best game in ages for us. He offered width and sprayed the ball about nicely.
Kevin Day
162
Posted 18/08/2017 at 11:57:02
Brent @146.
We never went in the chippie mate, walked past it though, if you saw a girl with "Day" on her shirt it was probably us, we mainly milled around the fans zone and club shop before the game so she could take it all in. She can't wait to go back.
Paul A Smith
163
Posted 18/08/2017 at 12:30:05
Craig 161 I had mixed feelings about Mirallas. I thought he give what they call a mature performance. Unfortunatley I think thats all he can do now as he has not got that burst of power he once had.
The league moves on so fast and good players from 5 years back are only average now.
He mostly kept it simple last night but nothing dynamic enough.
Brent Stephens
164
Posted 18/08/2017 at 12:30:24
Kevin, great to hear how enthused she was on her first visit. May there be many more, and many exciting ones.
James Hughes
165
Posted 18/08/2017 at 12:39:49
Rob #157 I stayed in Korcula, an island off the coast of split about an hour away by ferry. Sorry I can't help you pal. Plenty of Split fans on the Island nice people but a bit fanatical, mind you I know a few Hammer fans like that as well!
We were going to visit Split but were told it is mainly an industrial port, so we took the ferry to Dubrovnik instead.
The island would have been a great base and the ferry would get you to Split about two hours before kick off !! I am a useless travel agent
Brian Harrison
166
Posted 18/08/2017 at 12:50:09
Well after a very bright 45 minutes in the first half, we again slowed the tempo and, instead of pushing for a 3 or 4 goal lead, settled for the 2. A real pity Rooney didn't put that chance away just before half time, as I think they deserved a 3 goal advantage.
Lookman started very brightly and looks like he could benefit from a run of games, he just needs to realize he doesn't need to do a trick every time he receives the ball. I thought Klaassen struggled with the pace of the game; he showed some nice touches and it will be fairer to judge him in a few months time.
I thought Gueye and Williams were our 2 best players, and Schneiderlin was playing well till he had to go off.
I thought Mirallas again flatters to deceive you always think he is going to have an impact on games but that happens less and less now.
I think with having to incorporate so many new faces doesn't make it any easier either. Also when Schneiderlin went off it seemed to unbalance us a bit. I had said maybe we don't need 2 holding midfield players but last night you could see the gaps in midfield when Schneiderlin had gone off. To be fair, Tom Davies isn't a defensive midfield player so maybe he shouldn't have been asked to play in Schneiderlin's position.
George Cumiskey
167
Posted 18/08/2017 at 13:02:10
I watched the match on bein sports,it showed the crowd trouble. I saw one of their supporters jump out of the ground punch one of the stewards and go back into the ground. And I never saw anyone drag him back out and arrest him ! .
Dan Nulty
168
Posted 18/08/2017 at 13:04:35
Craig, I agree with the echo. MIrallas showed some nice touches from great balls from Gueye and Schneiderlin first half. He kept trying to come in on to his right but doesn't seem to have the burst of speed to get clear for a shot - though he tried anyway. No real end product and at 29 there should be.
Thought Lookman looks a great prospect, as people have mentioned above, too many tricks at times and his passing is dreadful and decision making not yet there - will come with experience. They got worse as the game went on as he tired too.
First half was excellent and we should be fit enough to keep that pace up so second half was disappointing.
Klaassen made some good runs and wasn't spotted, did look a little headless chicken at times but genuinely believe once the players around him get used to his runs he will score goals. Fully expect Mirallas/Lookman to make way for Sigurdsson.
I thought Rooney led the line well and didn't come back as deep too many times, should have scored before half time but was well read by the keeper.
We do need a number 9 though.
Andrew Keatley
169
Posted 18/08/2017 at 13:09:12
Brendan (138) - I am expecting a lot from Klaassen, and so far - for me anyway (maybe I am not so easily pleased as others) - he has been underwhelming. I didn't say he had a poor game.
I'd love to be celebrating his performances but that is going to come from him doing more on the ball and on the pitch, and not from suggestions from other people who think he's doing all right.
Be interested to see how he does in the next few games. I hope he hits a rich vein of form, but my fear is that he will be slightly off the pace and will not contribute much.

Sam Hoare
170
Posted 18/08/2017 at 13:25:48
I agree with Andrew that Klaassen still needs to do alot more but in that game last night I saw a few things that gave me cause for optimism. Little touches and little moments of good decision-making such as those that led directly to our two goals and our best other chance that Rooney should have put away. He sees the game well.
He needs to get fitter and ideally a little stronger and faster but Davvy has got it where it counts and where you often can't train to improvement, in the head.
If only we could blend Barkley's physical attributes with Klaassen's mental attributes then we really would have a world class player!
But I feel fairly confident that Klaassen will come good and will form a good relationship with Rooney and Siggurdsson in particular in order to make us a bit sharper and inventive in the final third. It may take a while but he's only 24 and this league is a big step up. I'd have a bet that if he stays fit and in the team he'll end the season with seven or eight goals and as many assists.
Ray Robinson
171
Posted 18/08/2017 at 13:49:26
George #167, I discussed the subject of the violence at the match with my mates in the Park End at the time it happened, remarking that there were several individual incidents, each of which alone would have warranted the ejection of Hajduk Split supporters. However, I think the event was actually rather sensibly policed. Rather than target individuals which would have been seen as incendiary by the Split supporters (not that they needed any more excuses), the security staff attempted to contain. Wading in with batons flying would hardly have helped last night and would certainly have led to a full-on riot. Far better to identify the perpetrators later on - if that can be done. Last night's policing was sensibly adapted according to the circumstances, in my opinion
I too saw the incident where a steward was attacked. No coincidence that the poor bloke was black. It doesn't augur well for the return leg. It's not as if Hajduk don't have previous for racist chanting.
The almost total absence of women, children and older folk in the away support last night was amazing. As a 64 year old (or any age for that matter), I would stay away from the return leg at all costs!
Colin Malone
172
Posted 18/08/2017 at 13:49:36
From where I was sitting in the ground, the ball was getting spread to the wings, why? Watch the change when Gylfi plays. The beauty of not watching from a TV camera is you can see player movement off the ball. In my opinion, KlaAssen, Mirallas and Lookman did not do enough.
John Malone
173
Posted 18/08/2017 at 13:57:21
The problem I've got with Davy Klaassen is how far off the pace physically he is!
I agree with above comment's that you can see he has got a good brain and half decent touch but usually with the smaller technical player's they are one step ahead with there movement they usually find pocket's of space and are quick on the turn but Davy has not shown this at all yet. He hardly moves from the centre of the pitch even when he is marked or surrounded by the opposition.
Everytime the fullback's get the ball Klaassen is static and watches the game instead of being the guy who links's defence to attack!!
I expected more from a £27 million signing who was the captain of Ajax!
Dan Parker
174
Posted 18/08/2017 at 14:24:37
Davy's only played one game in the Premier league and people are on his back already, beggars belief. He showed glimpses of real class yesterday. It often takes players a bit of time to adjust to the pace of the Premier League. I think he'll be a top player for us.
On another note, I thought the police and stewards handled the trouble yesterday in exemplary fashion, not an easy feat.
Colin Gee
175
Posted 18/08/2017 at 14:39:39
I holiday in Split a few times a year, the locals are great friendly bunch, they love to talk football and the Premier League, they always say that Hajduk Split is more than a football club it is a religion and unfortunately there are like in any religion a few 'nutters' 99% of them are fine and wont cause any bother, it's that 1% that will be looking out to cause trouble.
I suspect that there will be a large Police presence in the city at the beach and at the Riva where the majority of the bars and restuarants are along the harbour front. My advise is to enjoy yourselves don't be a dick and don't fuck about with the Police either, they treat their fans like shit, big sticks and no questions asked!
I was there when they played their big Croatian rivals Dinamo Zagreb one year, lets say that it got a bit 'interesting'!!
Dermot Byrne
176
Posted 18/08/2017 at 14:46:15
The weird thing Colin was with their fans last night about 4.30 outside Lime Street and they were brill. Great banter with Blues. Happily on the ale. Ah! Religious like devotion, 1-0 down, the ale. Not just a Croation prob that eh?
Shame...as you say some nutters ruin things.
Iain Thomson
177
Posted 18/08/2017 at 14:50:52
Klaassen bashing seems a bit harsh. His positional play may be simply doing what he has been told to do in terms of team shape.
I appreciate he gave the ball away a few times but at least he is trying incisive one touch passes like his stretched return to Baines that was key to our first goal and the pass to Rooney where he missed the chance. I think once the team train and play more together more of his touches will come off. Its refreshing seeing someone play that way rather than too many touches slow indecisive play that was a feature of our play centrally in the final 3rd last season.
The Pickford half volleyed pass was a joy to behold as was him bollocking Rooney.
John Pierce
178
Posted 18/08/2017 at 15:09:44
Some odd accounts of Klaassen last night on this thread.
He was very good, yet several players were below his standard. No strident criticism there?!
Mirallas, Williams & Davies sadly were not effective or effected the game last night. You might want to start there rather than with DK.
Everton have long sought players with brains, and leadership qualities. Rooney and Klaassen fit this perfectly. A cerebral player not a kick the crap out of everything making you think I'm good kind of player is Daavie.
I'm sorry his game is much more subtle and if people cannot seen that then perhaps go watch some video of him.
The intangible elements he brings are that. Reading of play, movement, first time play, ball speed, playing the appropriate style of pass to specific colleagues.
All easily missed. A very good acquisition that Daavie la.
Phil Bellis
179
Posted 18/08/2017 at 15:28:28
John (178)
I've just watched the 20 mins video after being wrapped up watching "in the flesh" at Goodison
Viewing more calmly, I thought Klaassen was involved to great effect; I'm sure he'll get there once he's up to pace with the Prem and more in tune with his colleagues
He doesn't seem to be an "I've lost it...oh dear, never mind" hand-on-hips type player
John Pierce
180
Posted 18/08/2017 at 15:32:09
Phil, nice one!
Jon Hirshman
181
Posted 18/08/2017 at 15:32:42
Saw the game last night and I thought that Klaassen is starting to settle. His contribution was excellent and I think that he will soon adjust to the pace of English football. Also think that Williams was very good again. Despite what others say on this site he did well against Stoke for the half he was on. Martina had a very good game defensively as well as attacking. I would argue that his crossing is better than Coleman's on last night's evidence. Interesting about Gueye and Morgan playing in the same team, Idrissa does get forward more and Morgan is very definitely a holding player which he did very well until half time and what was with not booking that Split lad for his foul on Rooney. Happening very early in the game shouldn't make any difference.
Ian Glassey
182
Posted 18/08/2017 at 15:37:18
I have an ex work mate from the late 60s who lives in Holland and for years he has raved about Klaassen and Ziyech. He knows his football and told me by the end of the season we will love this guy, and I believe him he is a very good footballer.
Dermot Byrne
183
Posted 18/08/2017 at 15:40:28
Gueye is the best. What a player. He will develop into a real Blue legend. Jesus we are developing a team with some great players. Jigsaw is close to completion. Watch the team after 10 games. I predict we will be making big happy headlines.
Peter Mills
184
Posted 18/08/2017 at 15:47:54
Stan#141, Gordon West could indeed throw the ball like an exocet missile. In the FA Cup 3rd round at Southport in 1968 their lumbering centre forward Eric Redrobe (?) tried to thwart him by standing in front of him. Gordon just dropped to one knee every time and the ref gave a free kick.
Mind you, he did once get sent off at Newcastle for 'accidentally' following through with his throw and punching their centre forward who was trying the same tactic!
Shane Corcoran
185
Posted 18/08/2017 at 16:01:31
How would one "get on a player's back" or "bash" him by giving a slightly unfavourable review of one game he has played?
I think if we all agree not to tell Davy all the horrible things that have been said then it might not affect his game.
Ssshh.
Dave Abrahams
186
Posted 18/08/2017 at 16:18:50
Jon (181), I agree with you Martina was very good with his crosses, we could have scored off a couple of them. I think you will have to defer judgement on his defensive abilities, he doesn't look like he tackles right to me, prods with his left foot and he didn't make any firm connections with the tackles he made last night, got completely lost marking his man near the end in a move that nearly cost us a goal
I was happy with his crosses but will reserve judgement on the rest of his game especially the defensive side of it.
Ron Sear
187
Posted 18/08/2017 at 16:25:50
If you really want to understand what the term 'fake news' really means take a look at the Croatian account of the Everton game against Split.
Link
Stephen Brown
188
Posted 18/08/2017 at 16:26:06
We are developing a winning mentality with leaders all over the pitch!
Coleman – captain of Eire
Williams – captain of Wales
Baines – vice captain
Jagielka – captain
Keane – captain of Burnley
Klaassen – captain of Ajax
Rooney – captain of England/Man Utd
Schneiderlin – captain of Southampton (I think?!)
Sigurdsson – captain of Iceland
Plus others e.g. Pickford showing similar qualities.
–
Drew Shortis
189
Posted 18/08/2017 at 16:28:04
First half I would have rated the entire team 8/10. Second half they lost a bit of focus and dropped to 6/10. Shame Schniderlin had to go off as that was the best i've seen him play for us to date. Still solid win and should be plenty to see us through. They need to attack & score at least two and if we hit them on the counter and get one they will need four!
Now the rumours of Diego Costa are gathering pace. If there's no other suitable permanent options out there right now then a six month load would be ideal. I don't like his conduct at Chelsea, but that would not be our problem. Could give us that boost to really have an outstanding season and in January off he goes to Athletico and we see who else there is available. I can't see how we can lose out on this one. If he starts acting the fool just banish him from Finch Farm and if possible terminate the loan. If that's not possible then we've only lost out on a few months wages. That said, I can't see any reason for him to act up in such a short spell.
Rob Halligan
190
Posted 18/08/2017 at 16:39:08
Just being reported on SSN that UEFA have charged Hajduk Split following last night's trouble.
Amazingly, they have also charged Everton. WTF for though, I don't know. Can only be for the missiles that were thrown back into the Split fans from the park end.
Mike Green
191
Posted 18/08/2017 at 16:46:18
Ron #187 - all Ron has to do is pin up the penultimate paragraph for a bit of motivation:
Chris Williams
192
Posted 18/08/2017 at 17:00:38
Spot on Rob,
That's exactly what we've been charged with. One charge seemingly, while Split have a litany of charges to contend with.
Quite a lot of previous these guys seemingly, not just this season, but apparently their fines total about £650k over time, according to some accounts.
Tom Roberts
193
Posted 18/08/2017 at 17:49:17
It never ceases to amaze that there are people on here who can be fooled by a player like Mo Besic who runs around and smashes into people, picking up yellow cards on the way, and who cannot see the footballing intelligence of Davy Klaassen. I'm sorry to use this quote from Johann Cruyff that I'm sure you are all familiar with now.
"You must have strong positioning, ability to control the ball at speed and also have the technique to deal with the speed of it [in midfield]," said Cruyff in 2014.
"Xavi, Toni Kroos and Davy Klaassen can do it. All three have perfect anticipation and they can play it both left and right excellently.
"You watch, when Klaassen plays from that position for Ajax, the tempo increases immediately. Moreover, he rarely loses possession."
I think Johann Cruyff knew a thing or two about football.
Phil Bellis
194
Posted 18/08/2017 at 17:57:29
So UEFA will, of course, take the financially beneficial option and fine them, rather than kicking them out; Ker...ching!
Brian Wilkinson
195
Posted 18/08/2017 at 17:59:03
I fully expect the away leg to be played behind closed doors, I really hope so cause I feel for any Blues who travel for the away leg if not.
Brian Wilkinson
196
Posted 18/08/2017 at 18:00:33
As for the second half, without doubt the trouble that flared, knocked the momentum out of Everton, just did not seem to up it in the second half.
Danny Broderick
197
Posted 18/08/2017 at 18:21:08
I can't quite believe that some people are questioning how well Williams played last night. I admit that he is not the most easy on the eye - he is a bit one dimensional, and he's not the most natural footballer! However, he has now been involved in 4 games, and we have not yet conceded a goal. At one point, Keane made a mistake, and Williams came over with a cracking slide challenge. I honestly think we have the makings of a good partnership between those 2.
Rob Halligan
198
Posted 18/08/2017 at 18:22:27
Brian, I understand your concern about the second leg. However I don't think the second leg will be played behind closed doors.
Everton received 1400 tickets for this game, the majority of which have now been sold. So that's 1400 Everton fans who have shelled out for flights and accommodation. UEFA must surely be aware of this, and must realise that it's too late in the day to play this game behind closed doors?
Also, I don't think there will be many travel insurance companies who would consider paying out because the game is "played behind closed doors".
The only option, in my opinion, is to vastly reduce the capacity for the second leg, but there again it is probably too late in the day to impose this. Should Split get through, and I don't think they will, then I would imagine their group games will be played behind closed doors, or at least one of them. More likely any sanction will be imposed upon them next season.
Stan Schofield
199
Posted 18/08/2017 at 18:53:00
Danny@197: I agree, I thought Williams was solid and assured. Regarding Keane, he doesn't mess about, he's as hard as they come in the tackle, and very skilled with it. And they seem to have an understanding. Must be some reason we've kept a clean sheet.
Mike Gaynes
200
Posted 18/08/2017 at 19:02:06
Rob, you be careful over there, my friend.
Mike Gaynes
201
Posted 18/08/2017 at 19:07:30
Brian #196, not sure I understand what you're saying. I commented on the Forum how well we kept our composure and pace immediately after the crowd incident. We promptly created three more great scoring chances after the interruption and both Gana's goal and Rooney's miss happened in those minutes.
Yes, we went off the boil in the second half, but I'm not sure how you blame the crowd problem for that.
Rob Halligan
202
Posted 18/08/2017 at 19:17:22
Cheers Mike. We'll be fine. The old saying "if you don't go looking for trouble, then you won't be involved in any". Or something like that anyway.
Will just be a case of keeping a low profile and not wearing any colours. We also intend to stay away from the main square in Split, the place where Everton fans (and other fans I imagine) usually congregate at these European aways. By not attracting attention to ourselves we should be ok.
Tony Hill
203
Posted 18/08/2017 at 21:39:27
Pickford's excellence is obvious but he is already building a rapport with the fans which is very promising indeed. Apart from improving ourselves technically, we need vibrant players who can draw out the soul of the club and make going to Goodison a special experience and an intimidating one for opponents.
Jordan not only acknowledges the fans at both ends but he relishes the support and will rally it when it matters, he's brimful of confidence and fight. He'll have bad patches and make mistakes, of course, but this man is a jewel for us because he has a great deal of what we've so sorely lacked for far too long.
Bill Gienapp
204
Posted 18/08/2017 at 22:17:19
Fascinating how divisive Klaassen seems to be. Personally, I think he's still getting acclimated, but his quality and intelligence were on ample display yesterday.
Ciarán McGlone
205
Posted 18/08/2017 at 22:32:58
I have no doubt that the TW opinion of Klaassen last night is clouded by his failure to meet a fare amount of passes put into him... He is just too slow to get get to anything competitive..
Once his teammates realise his pace is non existent, they'll stop expecting him to catch these balls. Thought he looked decent, but I expect him to be relegated to the bench to fit Sigurdsson in anyway.
Paul Strudwick
206
Posted 18/08/2017 at 22:41:41
Regarding Klaassen, I'm sure after a few months his class will show. I remember when Arteta first joined, he looked like a fish out of water for quite as few games.
Darren Alexander
207
Posted 18/08/2017 at 22:43:24
Well, we are not long home after a fairly long trip involving an overnight stay in a hotel near Lime Street. It was my son's first trip to Goodison so was a pretty special night for us – the wee man loved the walk onto Goodison Road when the ground suddenly appeared before him, and really liked seeing our granite & Dixie's statue. Only real problem was trying to explain the away fans' behaviour as not being a common occurrence at Goodison.
As for the game – good stuff, in the main, but would have loved to have had that killer third goal. Pickford, Keane, & Gana were all great, and I thought both Schneiderlin & Klaassen did well. I expect us to see this one out next week without not too much on-field drama, but all the best to any of our fans heading over there, and fingers crossed you stay clear of any bother. COYB.
John Malone
208
Posted 18/08/2017 at 22:45:02
Tom 193, I don't care who said it Davy Klaassen couldn't lace Toni Kroos or Xavi's boot's he's not in their league!!
Johan Cruyff was obviously "bigging" up the captain of the club he loved and the guy who shone in a terrible league!!
Top class player's shine no matter what league they play in and show the qualities that make them 'better' than the rest instantly!
Klaassen for me is a carbon copy of Will Hughes from Derby, technically accomplished, good brain, can score a goal make a chance but not big enough, fast enough or strong enough to do it at the top level!
Graham Mockford
209
Posted 18/08/2017 at 22:46:55
John Malone #208
4 games ffs. Give the lad a chance.
Mike Green
210
Posted 18/08/2017 at 23:06:20
Come on Graham #209 get real, put all that game time together and he's played for us for an entire afternoon already. Been involved in a few goals, yes, but I've not seen his name on the scoresheet yet and it's almost tea time. What is he still doing here?!?!?
Davie Turner
211
Posted 18/08/2017 at 23:10:00
John Malone (#208),
While comparing Klaassen with the likes of Kroos and Xavi is nonsense, Xavi was one of if not the best playmaker of recent times and a totally different player and Kroos is quality proved in two top leagues.
I take issue with your not big enough, fast enough, strong enough, Xavi is 5' 7, Iniesta 5' 7" and a bit and well there are plenty of players who lack pace, height and strength playing at the top level. Similarly your premature comparison to Will Hughes is clearly ridiculous.
As for top players being instant successes in any league that is utter tripe. Dennis Bergkamp took a good while to settle at Arsenal, Bale was shocking at Spurs, Henry took time and some top players just don't work out in certain leagues, Diego Forlan as an example.
Why not just let's see what happens, if at the end of the season he hasn't been up to much then fine but it not even September.
Michael Penley
212
Posted 18/08/2017 at 23:46:16
By the end of the season, we will all be eating our words over Klaassen. My money's on him becoming one of our best players.
Nigel Munford
213
Posted 18/08/2017 at 23:59:30
Seems Klaassen's the new whipping boy!
Seamus McCrudden
214
Posted 19/08/2017 at 00:06:06
I agree Michael P.
John Malone
215
Posted 18/08/2017 at 00:06:19
Davie (#211), why is comparing Klaassen to Will Hughes clearly ridiculous??
He is of similar height, similar build as well as his similar playing style being a central creative midfielder who isn't the quickest but has a nice touch and good brain?? What's ridiculous about that?
My point was Will Hughes has undoubted talent and ability but no on from the top league has took a chance on him for because he is short in the other physical department's I have mentioned above about Klaassen!
On the other point were you said I was talking tripe, I never once said all top player's were instant successes what I said was their class and their strengths shone instantly which I stand by.
Did N'golo Kante, Idrissa Gueye, Eden Hazard, Diego Costa, Suarez, David Silva, Juan Mata or any of the other many top class import's to our league need time to show they are the real deal??
No, because class is permanent and when you've got it, you have got it and it show's!
Graham 209, I am more than willing to give Klaassen a chance what I said was he's not in Xavi and Toni Kroos's league because he's not!
I really do hope the Dutchman comes good because it will mean he is playing well and doing the business on the pitch for us but first impression's are he is going to struggle and I fear for him that Gylfi is going to slot in an be an instant success!!
Andrew Keatley
216
Posted 18/08/2017 at 00:11:33
Maybe Klaassen will turn out to be a completely inspired signing, and help the team to achieve new heights. I hope so.
Or maybe he will struggle to adjust to the Premier League and be in and out of the starting XI.
But the level he is currently at - and I know it is only four games - is not currently giving me much to get excited about.
Keane and Pickford have really hit the ground running. Hopefully Sigurdsson will do the same.
Anto Byrne
217
Posted 19/08/2017 at 00:17:12
Can't understand all the negativity with Davy Klaassen. What's that – 5 games?
I like the quick feet not worried about a tackle or two. Chases back and has good movement going forward, as witnessed with the Rooney goal, drawing the defender.
I've been playing a bit of five-a-side to keep fit – I'm 60 yr. Takes a while to gel as a team... lol!
Colin Gee
218
Posted 19/08/2017 at 00:32:31
Rob #202
Good advise, Split will be full of tourists at this time of the year anyway so it should be easy to blend in. It isn't going to be a Nurenberg or a Wolfsburg type away away, where thousands of blues descend on the city, drink the place dry, sing our songs and paint the town blue without a problem. It's going to a a quiet one, have a few drinks, keep an eye on each other and you should be all right.
I've seen people on twitter saying that they are taking Serbian flags and Dinamo Zagreb flags, you may as well paint a target on your back which says "kick the shit out of me please", because that will definitely happen to anyone that it stupid enough to do that.
Don't forget they fought a civil war 25 years to get rid of the Serbian influence over the former Yugoslavia and Dinamo are their corrupt and most hated rivals. All the top Croatian FA officials are ex Dinamo, imagine having all Kopites as members of the FA and you can go someway to imagining how bad it would be.
As I said somewhere up the thread football is a religion to them.
Davie Turner
219
Posted 19/08/2017 at 01:43:21
John
My point re Hughes is it is far too early to draw the comparisons, same as whoever apparently mentioned the Kroos thing. As I said, it took Bergkamp a good while to settle as I hope we agree that he was a class player?
As for instant successes, you stated "Top class player's shine no matter what league they play in and show the qualities that make them 'better' than the rest instantly", which would suggest instant successes to me but apologies if that was not the intent.
For me Klaassen has done okay; no, he hasn't set the world alight but I feel it far too premature to write him off as a Championship player, which again I get from your talk of top leagues. Time will tell, but he deserves our support and he is getting some undeserved stick at the moment.
Phil Sammon
220
Posted 19/08/2017 at 03:25:42
I don't know what people were expecting from Klaassen, but for me he's been a very pleasant surprise. He's basically the opposite of Ross Barkley. Ross will hold on to the ball, do a nice turn, delay for a few seconds, then return the ball to where it came from.
Klaassen very rarely has more than one touch, but uses it so wisely. He's no physical specimen, but does he need to be? He's sharp of mind and plays with his head up. Barkley can't see over his garden fence while Klaassen casts his gaze over the Pyrenees.
I think my biggest concern is going to be how Klaassen, Sigurdsson and Rooney all fit in the same team. All like to play in the hole. And Davies, I do fear for young Tom Davies.
Joseph Terrence
221
Posted 19/08/2017 at 04:26:46
Phil S, 220, perfectly said.
Nigel Munford
222
Posted 19/08/2017 at 06:19:20
Refreshing to see a lot of posters actually seeing Klaassen as a good signing on here now. As some have said, it's only been 5 games, totally different league, he will take time but I think we will see an inspired signing in him.
Add Your Comments
In order to post a comment, you need to be logged in as a registered user of the site.
Or Sign up as a ToffeeWeb Member — it's free, takes just a few minutes and will allow you to post your comments on articles and Talking Points submissions across the site.