Koeman hopeful on Sandro

39 Comments [Jump to last]
Tuesday 22 August 2017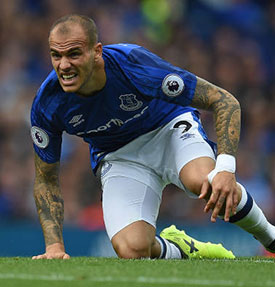 Sandro grimaces after suffering a heel injury against Stoke
Sandro Ramirez could be fit to make the trip to Split later this week but Ronald Koeman says it is still too soon to say for sure.
The Spaniard missed the first leg against Hajduk with a heel injury sustained against Stoke City in the Premier League opener 10 days ago but had been expected to play a part in yesterday's clash with Manchester City.
Sandro didn't make it, however, and his tweet of a photo of his foot in a protective brace while he settled down to watch the Blues' draw at the Etihad had many Blues fans fearing he would still be out for some time.
"I was disappointed he wasn't fit," Koeman said of the striker. "He had some problems yesterday.
"I hope [he will be fit] for Thursday. We have a really tough five days."
Everton take a 2-0 first-leg lead to face Hajduk on Thursday and then travel to Chelsea for their third away game in succession before entertaining Tottenham at Goodison Park after the international break.
---
Reader Comments (39)
Note: the following content is not moderated or vetted by the site owners at the time of submission. Comments are the responsibility of the poster. Disclaimer
Nitesh Kanchan
1
Posted 22/08/2017 at 07:49:14
Let him recover fully and start in the Chelsea game. There is no need to rush him for the Split game.
Brendan Fox
2
Posted 22/08/2017 at 08:23:09
Hope it's not an achilles injury for Sandro as this could be a real setback for him and the squad.
James Watts
3
Posted 22/08/2017 at 08:31:49
Did anyone see his picture on IG? Looked like he had it in a protective type cast from toe to above his ankle. Let's hope it was just precautionary!
Brian Williams
4
Posted 22/08/2017 at 08:40:32
"I hope [he will be fit] for Thursday. We have a really tough five days."
Let's not get carried away eh?
Tony Everan
5
Posted 22/08/2017 at 09:38:31
Highlights the importance of getting quality reinforcements in. It is a long hard season , some gruelling winter fixtures ahead.
The striker and left footed centre half we sign will have a massive impact on us fighting through the season successfully.
Derek Knox
6
Posted 22/08/2017 at 10:01:39
Too true Tony, the season has just started, and we are light on strikers, DCL did great last night, but being so young, it's a lot to demand of him.
I think we will see a couple of new faces, come the window closure, I just hope they are right for us.
Denis Richardson
7
Posted 22/08/2017 at 10:29:59
Would prefer the club left him at home to recover 100% rather than take him to Split say 80% ready.
Could do with his running against Chelsea and I'd hope the rest of the squad could get us through the tie with a 2-0 lead. The likes of Lookman and Mirallas should be 100% ready for Split given they didn't feature yesterday and Schneids can give it 100% before he sits out the Chelsea game.
Its going to be a long season (hopefully!)
Neil Thomas
8
Posted 22/08/2017 at 18:03:49
Last night showed we need a striker who can hold the ball up. Are defence did a great job but to have a player who could hold on to the ball would have given them a break
James Stewart
9
Posted 22/08/2017 at 18:22:25
Not really got going yet so I hope we don't rush or play him until he is 100%.
Jay Harris
10
Posted 22/08/2017 at 20:03:24
Dont know why we were so slow off the mark as we knew early days we would have to replace on of the most important positions in the team but we seemed to put blind faith in the Giroud deal and missed out on several other opportunities.
Although currently injured I would like us to go for Dembele and I think we should show our ambition by going for Danny Rose as Leighton's successor as he is currently dissatisfied with Spurs.
Shaun Wilson
11
Posted 22/08/2017 at 20:12:25
Good call on Rose Jay
Denver Daniels
12
Posted 22/08/2017 at 20:25:08
As an aside I see Southampton have signed Wesley Hoedt, who was linked with us, for 15m. Be interesting to see how he goes as I seem to remember Erik Dols being quite impressed with him.
Also, just watching Nice v Napoli . how good is Hamsik and Mertens.
Dennis Ng
13
Posted 22/08/2017 at 20:36:25
Denver, I would love Manolo Gabbiadini on our team. Looks very smart in his team play and sneaky. He would be the type of striker we should go for as we move towards a possession based team.
Denver Daniels
14
Posted 22/08/2017 at 20:50:36
Dennis, we did try to sign him. He didn't want to come. No doubt we'll sign a striker but who that is will be anyone's guess. We haven't even been linked with anyone aside from the usual. Hopefully we have other targets in place besides Giroud.

Dennis Ng
15
Posted 22/08/2017 at 20:53:56
GAH! I didn't realize that. Such a sad turn of events then. Maybe if they miss out another Europa, he will change his mind LOL
Giroud is fine I guess. Not sure if we can get him at this time though.
Denver Daniels
16
Posted 22/08/2017 at 21:05:50
I wonder if we have an agreement in place with teams currently in CL qualifiers. Maybe if they get knocked out and drop down to the UEFA league then we could sign them. I presume they wouldn't be cup tied as it's two different competitions.
Shaun Wilson
17
Posted 23/08/2017 at 06:03:47
Hey Denver, are the CL qualifiers over before the transfer window closes, or do we have to wait until January to sign players from teams that didn't qualify?
Denver Daniels
18
Posted 23/08/2017 at 07:53:14
Shaun, group stage qualification ends this week and the transfer window closes next Thursday. I was just speculating whether this could be a reason we havn't signed a striker yet. It's a possibility I guess. I've had a look at some of the squads from teams who've been knocked out and it's slim pickings to say the least, just looking at the strikers.
What really has me scratching my head is the much publicised Steve Walsh (window) shopping trip to Italy though. If nothing comes of it you have to wonder what the point was.
Brian Porter
19
Posted 23/08/2017 at 08:44:05
I hope he is fit to play. He needs as much game time as possible to fully integrate into the team. As for potential alternative strikers, we have some far made the mistake, in my opinion, of making our interest in other players very public. I'm hoping this time Walsh is playing his cards close to his chest and negotiating a deal or two quietly, off the radar and will surprise us all with a signing or two very soon.
John Wilson
20
Posted 23/08/2017 at 12:42:44
When we look back in Everton's history of persons who knew exactly where the goal was, in no particular order, the Tony Cottees; the Graham Sharps; the Andy Grays, it's an injustice to Everton that we now refer to the Lookman; The Sandros. These players should be striker substitutes (well Sandro perhaps, but Lookman perhaps not good enough yet). Lookman should have been put on loan to Champions league or below. I watch the likes of Lookman on the ball and am just not convinced, so the only similarity between Lukaku and Lookman is his skin colour, no way near as talented (yet), but still RK puts him on. It just shows how trivial our offensives really are.
Colin Glassar
21
Posted 23/08/2017 at 12:59:32
Really starting to worry now about the lack of news on the striker front. We knew since last season that Lukaku was leaving but no one, apart from Giroud, seems to have been lined up.
I think the transfer window will explode into action in the next day or two. I just hope Vinnie O'Connor deems it worthwhile to stand outside FF.
James Watts
22
Posted 23/08/2017 at 13:13:15
Don't worry Colin. I hear we are strongly linked (from many dubious sources) for that fella from Benfica, Jimenez. Bargain at 45m when you consider he has scored 24 in 80 games in a league where Benfica score for fun.
But seriously, week away, and the lack of news. Yeah, maybe getting a bit worried myself. Would be absolute madness not to get someone decent in.
Brian Williams
23
Posted 23/08/2017 at 13:15:21
Yeh, agree Col. And we don't want anyone tapping him up to sign for another club either!!!!
Colin Glassar
24
Posted 23/08/2017 at 13:23:18
James, we only seemed linked to a bunch of unknown MF player, of which we have enough of.
I'm not going to name any of my preferred candidates (waste of time) but at LB, for example, Luke Shaw has recovered from his injury and doesn't seem to be in Jose's plans so why don't we go for a season long loan with an option to buy?
Look at how many decent strikers Arsenal have got eg Sanchez, Giroud, Wellbeck, Perez, Iwobi etc... Even the rs have Firminho, Origi, Sturridge, Solanke, Ings, Mane etc we've got .? Ok, a few young good 'Unsy but seriously short up front.
Colin Glassar
25
Posted 23/08/2017 at 13:24:46
Good 'uns I meant
James Watts
26
Posted 23/08/2017 at 13:31:57
I hear you Colin.
I don't think Shaw will happen for a couple of reasons. 1) Surely he'll want first team football, which he won't get with us and 2) His attitude is very questionable (if you believe Jose) therefore wouldn't fit into Koeman/Walsh's very public declaration they only want players of the right 'character'.
To be honest, I'm less concerned about left back. Yes we absolutely need a back up but I guess we can play Martina there when need be/if we're desperate. I'm much more concerned about a forward. No quality forwards are even getting mentioned since Giroud decided to stay put. I hope it's one we're keeping quiet on, probably a false hope granted. If we end up with a Valenica type loan signing on deadline day, then this board, Walsh and Koeman will deserve a lot of stick.
Brian Harrison
28
Posted 23/08/2017 at 14:10:36
Although both Sandro and DCL look very promising we still need a recognized striker. Having said that I don't want Benteke, but why we arent asking Roma how much for Dzeko I don't know. He knows the premiership was well liked at City has scored goals at all his clubs.
Come on RK you know it makes sense!!!.
Dermot Byrne
29
Posted 23/08/2017 at 14:16:02
Brian 38. Yes
Paul Mackie
30
Posted 23/08/2017 at 14:16:15
Brian - I suspect it's more that he wanted to play his way back into the squad so that he could retire from international football on his own terms. Not really a 'fuck you', more of a "I'll retire when I'm ready, not when you tell me to"
Colin Glassar
31
Posted 23/08/2017 at 14:18:33
Not my first choice Brian but Dzeko would be a fine, short-term solution while DCL, Sandro and Oneruku(?) get a bit more experience under their belts.
As for Rooney, I guess there is a bit of a "get stuffed" reaction. He's been pilloried by the media in recent years (sometimes justifiably) and now the same detractors will come out and eulogise him, the bunch of hipocrites.
Derek Thomas
32
Posted 23/08/2017 at 14:27:29
There will be another 1 or maybe 2 big signings only if we qualify for the Thursday Cup.
Jay Harris
33
Posted 23/08/2017 at 15:01:21
As I watch the likes of Chris Woods, Andre Gray, Solanke and even Defoe signing for other clubs while we dither I only hope that we end up with much better quality than these.
Of those deemed to be attainable I would go for Vardy, Dzecko, Dembele. If we have ambitions for top 4 we should be looking to replace a 76m striker with a 75m striker.
Jay Harris
34
Posted 23/08/2017 at 15:27:31
Should have both been 75m.LOL
Rob Birks
35
Posted 23/08/2017 at 18:39:26
Agreed Jay. Frustrating that we've known since early in the year that Rom was leaving. Is it that hard to draft in a quality striker? Maybe it is! Anyways Sandra and klaasen both injured. Hope they're not a couple of powder puffs in and out with injuries.
Steavey Buckley
36
Posted 23/08/2017 at 20:40:56
Klaassen and Sandro will both miss the return leg in Split, with Sandro already a doubt for Everton's Sunday game against Chelsea.
Paul Johnson
37
Posted 23/08/2017 at 20:49:51
Where did you get this info from, Steavey?
Brent Stephens
38
Posted 23/08/2017 at 21:00:15
On the EFC website, Paul.
Paul Johnson
39
Posted 23/08/2017 at 22:25:11
Thanks Brent.
Peter Howard
40
Posted 24/08/2017 at 06:30:28
Jay (34)
If we buy a striker that tall he's bound to be plagued with back trouble!
Add Your Comments
In order to post a comment, you need to be logged in as a registered user of the site.
Or Sign up as a ToffeeWeb Member — it's free, takes just a few minutes and will allow you to post your comments on articles and Talking Points submissions across the site.