Leicester City vs Everton

149 Comments [Jump to last]
Saturday 28 October 2017
Match Preview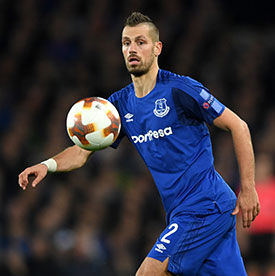 Morgan Schneiderlin could be fit following illness but would he be automatically selected?
Everton and David Unsworth travel to Leicester this Sunday looking to build on their performance against Chelsea in the cup and improve their standing in the Premier League.
The result in midweek may not have been a favourable one but there were signs to support the belief that the Blues are a far better team than they appeared to be in the final weeks of Ronald Koeman's reign — now they have to put a run together and prove it.
If Unsworth was on a hiding to nothing at Stamford Bridge, the King Power Stadium will be where the rubber meets the road for the caretaker manager. With a few more days under his belt to become more familiar with the entire squad and impress on them his methods, he will feel more ready for this his first Premier League game in charge.
As the build-up in the media will surely highlight, this is a meeting between two teams who made poor starts to the new season and whose impatient boards took decisive action in removing their manager as a result.
Koeman was dismissed after nine, Leicester sacked Craig Shakespeare just eight games into the campaign but the Foxes installed their new man this week, with ex-Southampton boss Claude Puel their somewhat surprising choice to take the team forward.
The Frenchman was accused of defensively-minded football at St Mary's which won't necessarily mesh with the attacking philosophy instilled under Claudio Ranieri that swept them to the title two seasons ago. Nevertheless, Everton should be wary of any "new broom" effect Leicester may exhibit of their own.
Puel is expected to make a winning start on Sunday, with the Foxes priced at 11/10 to defeat Everton. The visitors can be backed at 12/5, with the draw available at the same price, but play online casino games ahead of the match to give yourself the chance of boosting your bankroll.
"We'll do our homework as we normally do," Unsworth said in his pre-match press conference. "We'll be very thorough and detailed in our preparation, regardless of whether there'a a new manager there or not.
"I want us to concentrate on ourselves and do what we do best. That's the most important thing at the moment.
Asked if he felt it was difficult parsing a starting XI from the pool of players he has at his disposal, some of them big names or with big transfer values who, like in midweek, might not get a look-in.
Indeed, the Blues' record signing, Gylfi Sigurdsson, didn't make the pitch at all against Chelsea in the League Cup defeat and neither did Michael Keane. Davy Klaassen and Sandro Ramirez weren't in the match-day squad at all but Unsworth will find in the coming games — depending on how long he remains in the job, of course — that he may need to draw on a number of players while he tries to find the best team and combination.
"No, it's not difficult at all," he said. "They're nice problems to have. Like I say, we'll do our homework on Leicester and we'll pick a team to win the game with the individuals we have available.
"So, no, it's not difficult working with top talent. I just have to get my message across quickly of how I want to play and so far the players have been fantastic in taking on board that information.
"Today was an outstanding [training] session. Most of the players who played the other night just had a recovery session so the players who weren't involved trained and that was a really decent session.
"The more time we can get on the training ground, the more it will benefit us in the long run."
Quite what the "right" team to take on Leicester in Unsworth's mind remains to be seen. Idrissa Gueye is eligible again after serving his one-match ban for the two yellow cards he picked up in the defeat to Arsenal while Morgan Schneiderlin is likely to have recovered from the illness that kept him out of the Carabao Cup game.
One of those could come in for Beni Baningime — it would be harsh on the youngster given his impressive debut on Wednesday, but experience might win out — while the other could also start given Unsworth's penchant for two holding midfielders at Under-23 level, although James McCarthy can fill the same brief and may keep his place.
In defence, Ashley Williams's place is, perhaps, the only one under threat following his lapse against Chelsea and Keane could be the beneficiary if Unsworth is so inclined. Meanwhile, in attack he may look to address how isolated Wayne Rooney was and perhaps pull him back into a more withdrawn role or play him off Dominic Calvert-Lewin, either at the expense of a winger or one of his central midfielders.
Leicester have won both their games since Shakespeare's dismissal, a 2-1 victory at Swansea City and a 3-1 League Cup triumph over Leeds, but with both sides in unfamiliar territory when it comes to the man in charge in the technical area, there is opportunity here for Everton to take the positives from Wednesday and carry them through to this game, particularly if Unsworth is able to execute on his game plan.
If they can remain tight at the back by keeping the likes of Jamie Vardy, Shinji Okazaki and Riyad Mahrez quiet, then they will have the platform on which to express themselves in an attacking capacity and, hopefully, find their scoring form up front.
Kick-off: 4pm GMT*, Sunday, 29 October, 2017
Referee: Andre Marriner
Last Time: Leicester City 0 - 2 Everton
*UK clocks go back an hour on Sunday morning
---
Reader Comments (149)
Note: the following content is not moderated or vetted by the site owners at the time of submission. Comments are the responsibility of the poster. Disclaimer
Joe O'Brien
1
Posted 28/10/2017 at 07:35:49
I'm going with the same scoreline as last year..2 nil to the blues.
I would drop Rooney for Sigurdsson and Williams for Keane
I fully expect to win this match that will take us out of the bottom 3 and never to be in it for the rest of the season..
Pickford
Baines
Jags
Keane
Kenny
Mirallas
Gueye
Sigurdsson
Lookman
DCL
Joe O'Brien
2
Posted 28/10/2017 at 07:38:30
Sorry Davies in the middle as well. We might as well start with 11.
Robert Leigh
3
Posted 28/10/2017 at 07:52:08
Like it Joe- though I think Lennon deserves to stay in, he gave Kenny some protection.
Pickford
Kenny
Keane
Jagielka
Baines
Gana
Davies
McCarthy
Lennon
DCL
Mirallas
Lookman off the bench, also with Rooney and Siggy, Niasse, even Sandro we actually have some firepower to come on.
Raymond Fox
6
Posted 28/10/2017 at 08:22:03
All away games are difficult. We are 11/4 they are 11/10 favs!
We are pedestrian at the back, Jags is still our quickest defender, just what Vardy likes.
I like Roberts team in every respect, depends how they game is going of course, but substitute in the second half Rooney for Davies, Niasse for DCL and Lookman for Lennon. Vlasic and Baningime in the squad.
If Barkley does indeed sign a new contact which I would like to see, its another midfielder to add to the stupid number that we have already have!
Wide open game as far as result is concerned, fingers cross for some kind of result.
Eddie Dunn
7
Posted 28/10/2017 at 08:32:19
I wonder if Schneiderlin's "illness" midweek was to do with his pal leaving. Just a thought..
Tony Hill
8
Posted 28/10/2017 at 08:54:00
I think we'll win. I also agree with Robert's choice (#3). Mirallas always scores against Leicester.
Gareth Clark
9
Posted 28/10/2017 at 09:22:58
Pickford
Kenny Keane Jagielka Baines
Idrissa Davies
Sigurdsson
Vlasic Niasse Calvert-Lewin
Robles, Williams, Holgate, McCarthy, Lennon, Mirallas, Rooney
Derek Knox
10
Posted 28/10/2017 at 09:23:50
Joe and Robert, like the team selection but, isn't Gana still suspended? I think Baningime deserves a run in Gana's slot, if he is. Hope Schneiderlin gets to feel what it's like to be either left out; or on the bench; would serve as a wake-up call.
He was okay when he first came to us; but this season he has been absolute horse dung; as so many others seem to have gone; let's call it the Koeman Affect.
Derek Knox
11
Posted 28/10/2017 at 09:28:24
Sorry, I stand corrected, thought Gana got a thre match imposition.
Paul Johnson
12
Posted 28/10/2017 at 09:39:13
Pickford
Kenny Jagielka Williams Baines
Gueye Davies
Lookman Sigurdsson Mirallas
Calvert Lewin
Subs Robles Keane Holgate McCarthy Rooney Niasse Lennon
I would like us to keep the same back four for a number of games. This area of the field is a big no no for chopping and changing. And apart from Kenny (who I think is an able stand in) it is the one that didn't concede much last year.

Jon Withey
13
Posted 28/10/2017 at 10:27:50
Robert at #3 has it about right - we are away so some experience and some ball retention is needed - so Lennon, McCarthy.
We aren't going to blow them away with the line up though - see how it goes and bring on Rooney or Niasse.
At some point it would be good to see some striking partnership, Rooney / DCL or Niasse / DCL - just to give defenses more to think about.
Kevin Prytherch
14
Posted 28/10/2017 at 10:35:37
I can see pretty much the same team but with Gana coming in for Beni.

I think that he'll retain the Mirallas Baines partnership and the Kenny Lennon partnership. The latter mainly because of the cover that Lennon provides for Kenny opposed to Lookman.
Jagielka and Williams will stay as the centre backs for experience only.
I don't think he'll drop Rooney as he helps the youngsters out so it might be a choice between McCarthy and Calvert Lewin depending on how he sets the game up.

Chris Gould
15
Posted 28/10/2017 at 10:50:02
Leicester have won their last 2 and will be keen to impress their new manager. Added to the fact that they are at home, I see this as a very tough assignment.
I would be surprised if our defence can keep a clean sheet and would be satisfied with a draw.
We all want to see Unsworth get off to a fairytale start but 3 consecutive away games (including Lyon on Thurs) is a very tough start. He could very well have 3 losses under his belt before he gets a match with the Goodison crowd behind him.
I predict a highly entertaining 2-2 draw tomorrow and another improved and promising display.
Tony Everan
16
Posted 28/10/2017 at 11:01:00
I agree we have great chance of winning this one. Especially after the super 2nd half performance.
Paul Johnson's side is the one for me , maybe with Lennon/Lookman sharing the 90 mins between them.
I am willing Dave Unsworth on , I want him to do well and get some momentum going.
2 wins against Leicester and Watford will be a new dawn for the club , and see Unsworth appointed as manager.
It's all up for grabs ! An Exciting week ahead...
Come on you blues , make it happen!
Laurie Hartley
17
Posted 28/10/2017 at 11:01:22
I don't think he will drop Williams and personally, I don't think he should - Williams is a fighter. I think between them Jagielka and Williams can look after Vardy and Mahrez
Okazaki is a smashing player and a danger man - I think Idrissa will get the job of looking after him but I think Baningime might also start. I like the look of this lad and his demeanour - I think we've got a real one here.
I also think David Unsworth likes McCarthy and Mirallas so they are back in contention - bit of irony their.
Because the new gaffer isn't compelled to play "anyone", it looks to me that he has lots of options. The youngsters will follow instructions and the new signings may find themselves fighting for their place in the staring eleven. Very healthy.
It all looks very different to me in the space of a week.
Jamie Evans
18
Posted 28/10/2017 at 11:05:19
I fancy a draw as well. But please, please, no Williams. Can you imagine him in a race with Vardy ?
Tony Everan
19
Posted 28/10/2017 at 11:07:14
Vardy worries me most of all and is the threat.
The way he wins penalties infuriates me. Gets side by side with the defender then sticks his leg out so the defender runs into him. Invariably they both collapse ina heap.
He does it every week and wins a good few pens from the tactic. When he tries it tomorrow I hope Mr Marriner books him.
Grant Rorrison
20
Posted 28/10/2017 at 11:08:41
Think we'll win tomorrow. 2-1. Then it's win or bust in the Europa on Thursday night.
James McPherson
21
Posted 28/10/2017 at 11:24:45
Laurie, appreciate football is always going to be about opinion - Williams to me is an "ale-house" footballer. His condition (widely publicised on social media) on returning to pre season with a "belly" was a depressing site...yet simultaneously illuminating as to the calibre of the man. As for his antics during Lyon...as disgraceful as it was empty as a gesture...because that's all it was. Playing the fake hard man to give that veneer of caring is the last refuge of the desperate and often incapable. We have had a few of them in our time...we can spot them a mile off...
Kim Vivian
26
Posted 28/10/2017 at 12:30:58
Well a great start to the weekend after an evening with the Aussie Pink Floyd in Brighton last night capping off a good week of no RK angst and a good showing on Weds. Hopefully all rounded off nicely with a win tomorrow.
I think that Leicester will be no better than that Chelsea side on Weds, and I also have us down to win 2-1. Predicting a starting line up is tricky so I am not going to try, other than to say I think one of either Siggy or Rooney will start to give us that little extra creativity. Rooney can offer more imo but I think Siggy may have been rested in the week so we may see him start. A real tough call but I am thoroughly looking forward to it.
Gary Edwards
27
Posted 28/10/2017 at 12:37:20
Jagielka - Wiiliams - Baines in a back 3/4/5 doesn't work. They're not mobile enough, poor distribution they're past their prime, indifferent form, they're poor to average defenders and they concede goals, lots of goals. Keane though not in good form too is the better option (certainly better than Williams). I would like to see Feeney given a chance.
I don't see Unsworth being too adventurous, possibly opting for a 5-3-2 (or 5-4-1) formation to combat Leicester's threat (Vardy plus width) and give Kenny and Baines licence to bomb forward though I don't think Baines has it in him anymore, perhaps Valsic.
Beni & Gana will be tried as a central mid pairing at some point, why not now ?
Mirallas / Lookman & Rooney to provide attacking guile in midfield and DCL / Niasse running the channels & pace up front:
For me:
Pickford
Kenny-Jagielka-Keane-Feeney-Vlasic
Mirallas -Gana-Beni-Rooney
DCL
.. Jagielka restricted to blocking and breaking up their play only.
John Pierce
28
Posted 28/10/2017 at 12:48:26
I hope Unsworth goes with his convictions. Purpose and the same formation as Wednesday; 4-1-4-1.
Bring Keane in for Williams, Sigurdsson for McCarthy and DcL for Rooney.
Worry less about Leicester and more about winning, something we've not done forever on the road.
Len Hawkins
29
Posted 28/10/2017 at 13:04:24
Gana only got one game for two bookings, I believe the Arsenal player is distraught at the scuff mark Gana left on his brand new Violet and Ultramarine boots and thinks he should have had a straight red but they were only Umbro boots so a booking is fair.
Rob Newling
31
Posted 28/10/2017 at 13:19:22
All in the lacing then Len #29 ? - if ya knows your Merriam-Webster dictionary !

Paul Holmes
35
Posted 28/10/2017 at 14:09:34
What games have some of the posters on here been watching ffs! I'm glad most of the posters on here don't manage Everton, otherwise we would be relegated. How anybody would want Keane in the team is unbelievable! Have you been watching Everton with a blindfold on?
Watch the games against Atalanta, Lyon, Arsenal – the lad is a Championship player at best! Bring back Funes Mori – all is forgiven!
Keep Kenny at right back until Coleman recovers because a team with Keane and Holgate at right back will lose Unsy his chance of becoming Everton manager (the penalty against Lyon shows he is not Premier League standard at right back).
Don't take my word for it – watch the videos of the games I have mentioned. It's no coincidence that Everton played their best football of the season at Chelsea with those two missing.
Roger Helm
36
Posted 28/10/2017 at 14:15:55
Very funny Len! Though not so funny to see Everton outfought and out-muscled by Arsenal.
Dave O'Connell
37
Posted 28/10/2017 at 14:19:22
Pickford
Kenny
Baines
Keane
Jagielka
Gueye
Davies
Sigurdsson
Mirallas
Rooney
Lookman
Clive Rogers
38
Posted 28/10/2017 at 14:20:34
Can't see Lennon starting as he was poor on Wednesday and the first one pulled off. He's not there just to protect Kenny, but to attack the FB and get balls into the box, which he can't do anymore. Helping the FB out is the easy option. Kenny was attacking much better when Lennon had gone off.
Colin Glassar
39
Posted 28/10/2017 at 14:31:28
So McCarthy is injured again? How long can we afford to keep this fella? He's getting worse than Gibson was.
Sam Hoare
40
Posted 28/10/2017 at 14:41:34
I have to say that I don't think Keane has been any better than Williams. He wins a fair few headers but some of his positioning has been atrocious and he is often caught ball watching. Pretty disappointing for £28m (and he was in the last year of his contract).
Keith Monaghan
41
Posted 28/10/2017 at 14:47:10
Paul @ 35 – having been at Goodison Park for all our home games, my view is that Keane did well initially but his form collapsed during the drubbing by Spurs. However, IMO he's better than Williams, who's easily the worse central defender in the Premier League, and sadly Jags is little better.
I thought Williams was a desperate buy, and on the evidence of my eyes this season I find it amazing that anyone would put him in our best 11.
Given our defence's lack of pace and aerial ability , I fear for us against any team who gets in decent crosses &/or attacks us with pace.
No surprise if Macca's injured again – how long will it take us to learn that players who are semi-permanent crocked are more trouble than they're worth and disruptive? (e.g. Dunc 2, McFadden 2, Gibson & Macca) – if they're so frequently unavailable, their abilities are irrelevant.
Ray Said
42
Posted 28/10/2017 at 14:56:08
Leicester are a threat when teams attack them and leave space for the quick counter. I think we should play Calvert-Lewin with Mirallas and Lookman or Vlasic supporting and offering pace and width with three solid midfielders holding position and snapping at them so Gana, Davies and Beni – who deserves to hold the shirt, in my opinion. Squeeze the space, hold the ball and hit them on the break.
Phil Smith
43
Posted 28/10/2017 at 15:00:29
I'm defo going for a front 3 of Calvert-Lewin, Niasse and Lookman for tomorrow.
John Pierce
44
Posted 28/10/2017 at 15:00:37
Clive... interested you say Lennon was poor. I thought he was the guy that pushed forward at the beginning of the second half.
I also think whilst the incision was lacking he gave the side shape as did Mirallas. This helped both full backs to get forward. It gave the team structure not seen for a while.
At this moment, rightly in my opinion, Unsworth is looking for cogs in the machine to achieve a result as a team.
Under the last fella it was all about individuals. So I think he will retain him and look to introduce Vlasic & Lookman as the game wears on.
Terry White
45
Posted 28/10/2017 at 15:10:34
I think Keane suffers from us switching from 4 to 3 at the back. He is not a right-sided back 3 player. He is much better suited to the right middle side of a back 4 and the sooner we settle on that the quicker he will settle in.
Tom Bowers
47
Posted 28/10/2017 at 15:57:03
I thought all the players put in a good shift against Chelsea and just tired from that effort late on.
I would play Keane with Jags tomorrow. Jags can stay on pace with Vardy better than Williams who really is average.
It goes without saying that Everton need points from all games hereon in and if they play with the spirit shown against Chelsea, they could take this one but need that first goal even – if it's the 89th.minute.
Charles Brewer
48
Posted 28/10/2017 at 16:03:00
The most interesting questions in the next few weeks (apart from "Will Everton ever play on Saturday again?" and "Will Everton ever play at Goodison again?") will concern the big price signings from the summer. Leaving Pickford - who has looked like a great buy - aside, it is going to be very hard to justify ever playing Klaassen again, and Siggurdson as, if I remember correctly, provided exactly one decent dead-ball strike when a fired up Williams scored, other than that Sandro has done nothing, Keane looked OK to start but is now probably less of an asset than Williams and Rooney has demonstrated that whether he has anything left, he is not effective up front (despite scoring something like half our goals).
When Spurs blew the Bale money, at least it took a while for the errors to become clear, this lot have taken about 5 matches to be exposed.
Tony Hill
49
Posted 28/10/2017 at 16:15:55
John (#44), yes all about the team with Unsworth.
Charles (#48), I think they all still have a chance actually - including Rooney, despite my overall scepticism with regards to his return. Again, it depends on how they can be made to contribute to the team. I think everyone deserves a second chance post-Koeman.
Brent Stephens
50
Posted 28/10/2017 at 16:22:34
Terry #45 "He is not a right-sided back 3 player. He is much better suited to the right middle side of a back 4".
In support of that, Terry, I've noticed how often Keane drifts towards his fellow CB. And that often leaves the TRB exposed to a man that Keane should be picking up. Martina has suffered from this in several games.
Drew Shortis
51
Posted 28/10/2017 at 17:18:37
I'm glad Rhino has been handed this opportunity after his sterling work with the U23s. He has a crop of young talent that he knows and trusts and who can form the core of our team for years. When you look at Pickford, Kenny, Holgate, Baningime, Davies, Dowell, Lookman, Vlasic, Calvert-Lewin & Onyekuru we pretty much have a first team for the next ten years right there.
The trick is going to be in bringing these young talents through whilst making the most of the more senior pros at the club. I think we have a good blend. A top striker is a priority in January, but other than that I think we have all the personnel we need (especially when Coleman, Bolasie & Barkley are back). The tricky part is how to combine them with the older pros. We have too many midfielders at present. Who do you leave out? If you keep chopping and changing how does anyone build up a run of form? Having Barkley, Sigurdsson, Klaasen & Rooney in the same squad makes even rotation a problem. Do they play as the number ten once a month?
It's better to have too many players than too few, but picking the best team and keeping all these big names happy is no simple task. I'm intrigued to see how David goes about this task. My advice would be to pick the players on form that fit the system he wants to play, rather than shoehorning players into positions based on their status or transfer fee.
Tom Bowers
52
Posted 28/10/2017 at 17:26:59
What happens at Everton now that Koeman has gone is going to be big discussion and very varied. Yes, many players have played poorly and the team as a whole have shown very little intensity and spirit but at Chelsea the other night one, could see a difference even though the team was a mixed bag, so to speak.
Unsy still has the offensive failings to deal with and if they continue, then obviously January 2018 becomes so important no matter who is in charge.
This may be a time for the likes of Lookman and Calvert-Lewin to really show what they are really made of but it's likely Unsy will be under pressure to revert to the guys on big wages for these upcoming Premier League games.
Everton have a big squad of players both young and experienced, some of the experienced players being past their best and others underachieving. Unsy has lots of headaches regarding starting eleven choices but I think he may get them through this bad spell.
Frank Crewe
53
Posted 28/10/2017 at 17:42:10
I just want to see a side that has pace and width so no Rooney.
Pickford
Kenny Keane Jagielka Baines
Davies / Schneiderlin / McCarthy / Gana (Any 2 from those four)
Lookman or Lennon Sigurdsson Mirallas / Vlasic
Calvert-Lewin.
Bench. Stekelenburg. Williams, Baningime, Rooney, Niasse and two from whoever is left out from those I've picked for the first 11.
I wonder what the chances of getting Pennington back are?
Paul Holmes
54
Posted 28/10/2017 at 17:52:30
Keith Monaghan @ 41, I have to completely disagree with you. After watching every match this season (home and away, Europa League and friendlies), Michael Keane is the worst of our centre backs,closely followed by Holgate when he was used in that position because of injuries.
No supporters on here can agree with any team Everton select, which is worrying as we're into November next Wednesday. I rely on my own judgement with the two eyes I was given (like everybody else) and imo I would play Williams and Funes Mori, or Jags and Funes Mori when everybody is fit for selection, and sell Keane as soon as possible; bad buy at £28 million!
Derek Knox
55
Posted 28/10/2017 at 17:55:29
Tom @ 53, yes it will be interesting to see what happens in the next few weeks and games, he has certainly been thrown in at the deep end as it were.
The subject of inherited players; would be the same whoever got the job until January at least, so time; although limited, is in Unsy's favour albeit for a couple of months.
Having said that, apart from the glaringly obvious lack of a Lukaku replacement; jury's still out on a couple; it's not a bad group of players. I know it's early days but the game at Chelsea did show; in a short space of time how quickly Unsy has lifted the spirits of a dejected and confused squad.
The acid test will be tomorrow, I have every confidence he will select the right combination to get something from the game.
COYB
Ian Lang
56
Posted 28/10/2017 at 18:14:48
It's unacceptable for our club and our team to be 2nd from bottom with the quality and money invested.
Tomorrow's game against Leicester is a must-win and we must see a massive response from the players for 90 minutes – not 45! Pace, power, grit, determination, teamwork, aggression, quality and importantly... goals! If we fail to beat this lot, then I have no idea how we will get out of this mess. COYB, 2-0.
Team:
Pickford
Kenny Keane Jagielka Baines
Schneiderlin
Lookman Sigurdsson Mirallas
Calvert-Lewin Niasse
Dave Abrahams
57
Posted 28/10/2017 at 18:16:09
There are two references to McCarthy being injured again in this thread, how true are they?
David Pearl
58
Posted 28/10/2017 at 18:21:27
Well, most of the fan-picked teams like to omit Rooney... the one player than can keep the ball, pass the ball... and put the ball in the net. Not a bad skill set. If we change a couple players, he will not be one of them.
Christopher Marston
59
Posted 28/10/2017 at 18:30:03
Pickford Kenny Baines Jagielka Keane Gueye Davies Lookman Mirallas Sigurdsson Calvert-Lewin
Tom Bowers
60
Posted 28/10/2017 at 18:34:00
Well guys, Rooney is the only player who can score a goal so why leave him out? The problem is playing him too far up front. He is far ahead in the smarts department and can set up others with his astute passes. Problem is that others cannot capitalize because of poor ball control etc.
We need to see greater contributions offensively from all players but when the passing play is so slow, opposing teams have it easy.
Hopefully Unsy has some strategies he can use that will get the best out of this team until the likes of Bolasie, Coleman and dare I say Barkley return.
Jim Bailey
61
Posted 28/10/2017 at 18:39:56
We need to get shut of Mirallas. He offers nothing, and I'm fed up with the amount of times he shoots when there are two or three defenders virtually on top of him.
Selfish, arrogant and doesn't or won't track back. Petulant, with a childlike nasty streak. He is, has been, and always will be a weak link in this team.
I really cannot understand why fans think he is so good/creative etc. In my opinion, the guy is a showboating liability and should be discarded at the earliest opportunity.
Oliver Brunel
62
Posted 28/10/2017 at 19:29:56
We have a shocking defence this must be addressed in January. I believe Unsworth will be a success but we need to get rid of a few players with the wrong mindset.
David Israel
63
Posted 28/10/2017 at 19:34:03
Lyndon, good piece, but do you seriously think our board showed impatience in taking decisive action to remove our manager?
Ian Bennett
64
Posted 28/10/2017 at 19:44:06
Being reported McCarthy has a bad hamstring injury again.
Shame, I'd put him in:
Pickford
Kenny
Baines
Jagielka
Keane
Gueye
Schneirderlin
Davies
Lookman
Rooney
Mirallas
Clive Rogers
65
Posted 28/10/2017 at 19:48:18
Jim, #62, you are correct. Never takes the fullback on, never crosses the ball. His only move nowadays is to cut inside to shoot with his right foot, and the opposition are waiting for him to do it, forcing him to pass backwards. Basically he is just not a winger.
Clive Rogers
66
Posted 28/10/2017 at 19:56:01
John, #44, Lennon is a spent force. He offers nothing going forward and prefers to stay back and help out defensively, the easy option. The team and Kenny were much better when he was pulled and Unsworth knew it and won't pick him tomorrow.
Hugh Jenkins
67
Posted 28/10/2017 at 20:08:46
I see Dowell got a hat trick today for Forest whilst none of our loanees at Sunderland are even making the bench.
Eddie Dunn
68
Posted 28/10/2017 at 20:25:17
You can all pick your own teams but Rooney will start tomorrow.
It is a team game and if one player is struggling (for instance , the right back) then the right sided centre back or the right side midfielder or winger should identify the problem and help out.
It should be the same all over the park.
One of our problems (in fairness to Koeman) is bedding in so many new faces was always going to be difficult and in the helter-skelter world of the PL, little margins lead to defeats.
Unsie is right to try and simplify things, get a basic balance to the team and take it from there.
I heard someone on Five Live today extolling the virtues of one of the better teams, commenting on the fact that good players can play in different positions during a game, as colleagues get caught out or go on a run etc.
Siggurdson was often used on the left for the Swans last season, and it is possible to swap places during a game, it is just getting used to your teammates so it becomes normal.

Ian Donnarumma
69
Posted 28/10/2017 at 21:12:48
[My first ever comment, after reading reports and comments for a few years now...]
I must say, I'm feeling very positive ahead of tomorrow's game, following the team's second-half performance against Chelsea. I have the feeling that David Unsworth can and will have the team playing with confidence, working hard for one-another (off the ball as well as on the ball) and using the full width of the park.
David wants them to enjoy their football – the performance level of every member of the team will be raised as a result. I won't try to choose a line-up.
But think of these two facts Everton are the only side to have taken points off league-leaders Man City this season. And, back in 1986-87, following the departure of the goal-machine Gary Lineker, the team made up for the loss of all those goals, by sharing out the scoring and going on to win the league for the second time in three years.
If it was done then, it can be done again. The quality is there in this squad. I'm looking forward to listening to Darren and Sharpy on the EFC website tomorrow.
Evertonian since 1967.
Steve Cotton
70
Posted 28/10/2017 at 21:23:47
Most people posting teams without Vlasic... but surely our best option at the moment...
Laurie Hartley
71
Posted 28/10/2017 at 21:39:29
James # 21 - I acknowledge your post.
It will be interesting to see how David Unsworth sets the defense up.
Tony Hill
72
Posted 28/10/2017 at 21:55:02
Steve (#71), Vlasic is very much part of our future but I wouldn't mind letting him take a step back and seeing what he can do from the bench. That said, I wouldn't mind seeing him start either.
David Johnson
73
Posted 28/10/2017 at 22:12:17
Lots of players getting slagged off on here. Sigurdsson is a fantastic player and I'm sure we'll see a different Davey Klasson too once we're set up properly. I'd be tempted to start with the lads who finished at Chelsea.
Dave Abrahams
74
Posted 28/10/2017 at 22:28:12
I'm gutted for James McCarthy if these stories of another hamstring injury are true, not having a lot of luck is he after a long period of trying to sort his hamstring problems out, if true it's a long way back for him, best wishes for your future James.
John Pierce
75
Posted 28/10/2017 at 22:59:17
Clive, I'm not disagreeing really, only in part. I'll acknowledge he past his best but unlike many other wingers in the side he holds his position. This is more important to the side than individual talent atm. It will allow the better players to function, and help Kenny defensively.
Lookman or Vlasic have yet to develop any positional discipline or defensive instincts. They are better affecting the game after 60mins or so.
Kenny was poor on Wednesday and has only fleetingly looked like he can handle the premier league. But as our alternatives are terrible, Coleman miles away from fitness he's gonna get a long run at it.
Keith Monaghan
76
Posted 28/10/2017 at 23:33:15
Paul @ 54
We'll have to agree to differ re AW & Keane.
You do make some good points though. I agree re FM when he's back - he's strong in the air, at both ends of the pitch, and gives the central defence a better balance being left-sided.
Derek Thomas
77
Posted 29/10/2017 at 01:05:25
I for one don't believe a word of this, Schneiderlin was 'suddenly' taken ill or failed to recover or whatever it was - classic managers ploy, don't tell the lad he's playing so he doesn't worry about it. Harvey said he thought he was just along for the ride Vs Milan or to help with the kit, Harry told him just before the off.
Now He's done the hard part, he'll be worrying he's NOT playing rather than worrying about how he'll do if he is.
Jack Convery
78
Posted 29/10/2017 at 01:09:38
Need to start on the front foot and score first. The crowd may well turn as they are not happy about the new manager. COYBs.
Steve Ferns
79
Posted 29/10/2017 at 01:14:51
The main thing Funes Mori gives us is pace at the back. That loss of pace resulted in a poor run of form that started at the end of last season.
Sure Funes Mori is a liability at times, he has a mistake in him, but he adds crucial elements in terms of the pace, the left foot and ability to pass out from the back (although he's not half as good as he thinks he is!).
Brian Porter
81
Posted 29/10/2017 at 06:03:14
Given his superior strike record, I'd like to see Niasse in the starting line up, with DCL given a rest, having played every game so far, and still no Premier league goals. Depending on how the game goes, they could be swapped over after an hour, or used as a partnership up front for the last thirty minutes.
For those advocating leaving Rooney out, it's worth remembering that our only two scorers in the league so far are... Rooney and Niasse!
Kunal Desai
82
Posted 29/10/2017 at 08:38:56
Six points for Unsworth to get from the next two games if he has any chance of getting the managerial job longer term.
Or do we think the board have already decided who they want to appoint regardless of the Leicester and Watford game?
Tony Everan
83
Posted 29/10/2017 at 09:13:45
Kunal , if he gets the 6 points the job is his.
At least that is until the end of the season. If he does well over the next 6 months he will get a longer term contract.
If he gets us 2 wins in my eyes he has proved he can organise and motivate . That as well as understanding the strengths and weaknesses of the squad. He would be the best man for the job at this moment.
It's his for the taking. If the players want him as manager it's in their power to make it happen.
Ajay Gopal
84
Posted 29/10/2017 at 09:20:49
It may sound like a Sky cliche, but no game in the PL is easy. I am fervently hoping for a win; unfortunately for Unsworth, he will not be given as much time as Koeman to prove himself. I am afraid that Moshiri will dump him quickly at the earliest excuse because he seems to fancy big-name managers.
I think Unsworth will go with:
Pickford
Kenny Jagielka Williams Baines
Davies Gueye Sigurdsson Lennon
Rooney
Calvert-Lewin
Robles, Keane, Schneiderlin, Vlasic, Mirallas, Lookman, Niasse
Paul Smith
85
Posted 29/10/2017 at 09:30:48
My team to play Leicester is as follows
Pickford, Kenny, Keane, Jagielka, Baines, Lennon, Gueye, Davies, Vlasic, Lookman, Calvert Lewin.
I feel this team has enough to get around the pitch whilst still creating though. I think Unsy will play Rooney either up front or number 10. We have got to do something about our away record which is shocking starting today.
Derek Knox
86
Posted 29/10/2017 at 09:54:28
I quite like the look of your pick Ajay, and think it will be close to what Unsy opts for; not sure if he will leave Ashley Williams out; if nothing else he has shown that fighting spirit, some would say; a little too much so.
I hope he doesn't play Schneiderlin, unless he can play like he did; when he first came to us, but I doubt that very much.
Fortunately for us, Leicester are in a transition stage; and dare I say it, a bit erratic; but having said that, not to be under-estimated either; not that Unsy would, as he has a lot to prove to those upstairs himself.
You could see in his post match interview after the Chelsea match; he had mixed emotions; proud of the spirit shown by the lads; but tempered by the defeat.
The contrast between that, in his first game in charge; to the after-match excuses regularly voiced by Koeman, is stark.
Sorry for bringing Koeman into a positive post, but I felt a diametrically opposed attitude needed to be made.
Looking forward to the game, hoping we carry on from the second half of Wednesday's Cup performance.
COYB
John Wilson
87
Posted 29/10/2017 at 09:59:25
Niasse has scored more than Rooney pro rata (ie like for like) as Niasse has only had approx. 20% of Rooney's playing time, as was pointed out by a TW-er. Lyndon never mentions Niasse unless he scores but were it not for Niasse's previous PL goals for Everton, we simply would not have won those matches. Niasse, in short, saved Everton but now all of a sudden he's like persona non grata, again.
Ray Smith
88
Posted 29/10/2017 at 09:59:41
RK couldn't/wouldn't see it/admit it, that you cannot play Rooney and Sigurdsson together, let alone Klaassen, and let's not forget that Ross may well stay.
I'm not sure how many times I have said it in posts, that they can't all play together and Unsy has stated that openly, which is the real point of my post.
2 good results and hopefully Moshiri will see sense.
Unsy is a risk, however, he's not a novice. Other successful managers generally start in the lower divisions befor landing a top post. However, I would suggest that Unsy has served his time with the U23's winning Premier League 2. Bit of a no brainier in my book.
Stan Schofield
89
Posted 29/10/2017 at 10:06:52
Ian@69: Spot on. Yes, there's quality in the squad, they just need organisation and motivation. Let's hope Unsy is the man.
Ben Howard
90
Posted 29/10/2017 at 10:16:29
---------------------- Pickford ---------------------
--- Kenny -- Keane -- Jagielka -- Baines --
- Lookman - Gueye - Rooney - Mirallas -
----------------- Niasse -- DCL -------------------
Subs: Robles, Holgate, Williams, Lennon, Schneiderlin, Sigurdsson, Vlasic
Let's go back to basics with a 4-4-2. Niasse and DCL looked to have the beginnings of a fairly good partnership. I think the pace and power of the two of them would scare a lot of defences.
Rooney can't do it up top anymore but still offers a great deal in terms of passing ability and shooting from distance and general team motivation and organisation - it's time to see him do that from midfield on a regular basis.
This team would see us start on the front foot with all players easily understanding their roles. The introduction of Siggy and/or Schneiderlin could see us change shape seamlessly.
COYB!
James Marshall
91
Posted 29/10/2017 at 10:22:34
Everyone seems worried about Vardy but he hasn't exactly set the world alight this season. As long as we don't play too high a line he can be nullified.
Vardy needs space in behind defences so if we've been drilled right and play the right line, he can be managed. Keep tight to him and don't leave too much space in behind and Williams and Jags/Keane can handle him.
He can be out muscled if you play him correctly.
It'll be interesting since their new manager is generally very defensive in his setup.
I wouldn't be surprised to see a 0-0 draw.
Laurie Hartley
92
Posted 29/10/2017 at 10:45:27
I think David Unsworth trust his young guns implicitly. McCarthy is out so I wouldn't be surprised if he starts Baningame again. I hope so.
Pickford
Kenny, Jagielka, Williams, Baines,
Lennon, Idrissa, Baningime, Mirallas
Siguardson
Calvert Lewin
Up the Blues!!!!!
Mike Kennedy
93
Posted 29/10/2017 at 10:54:50
I have read most of the posts here on this thread and there 2 things that stand out. Both make me worried.
Firstly, there are very few players that don't get criticised especially in defence where no one, who is fit, appears to be universally liked. All the selections appear to be the best of a bad job.
Secondly, there is very little agreement in team selection throughout. With unanimity going to the youngsters, which I can't help feeling is an emotional response as opposed to hard headed decision making and also giving them slack.
It will be interesting to see the actual team selection and performance. From reading the posts it would appear we don't have a team capable of very much. Goalkeeper aside every other player gets slagged off by someone or other.
In Rhino I trust!
Mike Kennedy
94
Posted 29/10/2017 at 10:58:39
I have read most of the posts here on this thread and there 2 things that stand out. Both make me worried.
Firstly, there are very few players that don't get criticised especially in defence where no one, who is fit, appears to be universally liked. All the selections appear to be the best of a bad job.
Secondly, there is very little agreement in team selection throughout. With unanimity going to the youngsters, which I can't help feeling is an emotional response as opposed to hard headed decision making and also giving them slack.
It will be interesting to see the actual team selection and performance. From reading the posts it would appear we don't have a team capable of very much. Goalkeeper aside, every other player gets slagged off by someone or other.
In Rhino I trust!
John Wilson
95
Posted 29/10/2017 at 10:59:45
The basic stats for Rooney's Man U PL goals:
https://www.premierleague.com/players/2064/Wayne-Rooney/overview
5 goal - his last season at Man U: 25 App, incl. 10 sub): (2016/17)
8 goal - 28 Apps incl. 1 sub (2015/16
12 goal - 33 Apps (no sub.): (2014/15).
17 goal - 29 Apps (2 sub): (2013/14)
12 goal - 27 App (5 sub) 12 (2012/13)
1) Clear decline in goal performance from 2012/13 except for season 2013/ 14.
2) 26/ 27 goals from 33/ 34 Apps in 2009/10 and 2011/12 seasons. Prior to, there are lower goal ranges 6 - 12: (seasons 2005 - 2012).
3) We clearly took Rooney when he lost his striker ability. When you consider that Manu would likely have provided Rooney with much better service than at Everton, and based on his average performances over 3/ 4 seasons, Rooney is not likely to get more than 10 on average each season.
James Marshall
96
Posted 29/10/2017 at 11:03:49
Rooney played primarily in a withdrawn attacking midfield role for the latter part of his Utd career. That's why he scored less goals. This is not news!
John Wilson
97
Posted 29/10/2017 at 11:09:05
On those stats alone, and given Rooney's several misses, Lookman's misses, DCL misses, Niasse could potentially be Everton's best striker currently. Niasse can score goals and even with the pressure on that lad's shoulders he still scores.
Dave Williams
98
Posted 29/10/2017 at 11:11:13
Beni deserves another game alongside Gana and Tom. That gives us energy to burn in midfield and to cover their breaks.
Lookman and Kev out wide with Siggi given a try behind DCL.
Jags and Williams at CB- Vardy is a nasty player and not a great game to play Keane if he is suffering from a lack of confidence as Vardy would be at him from the start.
John Wilson
99
Posted 29/10/2017 at 11:11:53
Niasse game time this season - with no pre season warm up, is approx. 2.5 hours. Statistically, Niasse has played 4 games and scored 3 goals.
Dave O'Connell
100
Posted 29/10/2017 at 11:14:49
Start of 2018
Pickford
Coleman
Baines
Keane
Funi mores
Davies
McCarthy
Barclay
Siggurson
Rooney
Bolasie
Now that team excites me
Brian Harrison
101
Posted 29/10/2017 at 11:23:41
As the Premier league has already proved this year there are no easy games. Leicester playing at home under a new manager, so it wont be easy, and lets remember David Unsworth has probably only had 3 training sessions with this team.
I think he has to be given till Xmas to allow him a chance to get his methods working. The other reason to give him till then is we cant change this squad till the Jan window. I would think that he would accept that to give him that time would be a fair assessment and he at least would have a couple of months to get his ideas across. But I fear that if we fail to win at Leicester or away at Lyon or against Watford and the board will move for someone else. So I hope that he can turn things around and maybe push back a decision if things go well till the end of the season.
I am sure confidence is low at present and the only thing that will change that is winning games. Yes they played better in the second half against Chelsea but it was still a defeat however well they played in the 2nd half.
I did say after the sacking of Koeman that was the easy bit changing the form and mentality of this squad is quite another thing. I also said not to expect a massive turnaround in results whoever we appoint. Lets remember this team are not playing well individually or collectively and that will take weeks and months to change that around.
Oliver Brunel
103
Posted 29/10/2017 at 11:34:53
John Wilson is right , Niasse is the only one who can potentially score goals. Lets be honest DCL is not ready as a striker (I would prefer Dowell). Rooney may score a couple but there is no one in our midfield who can score goals (forget Sigurdsson). Imperative we get a real quality striker in in January or we will be battling relegation. The way Unsworth sets up will suit Niasse, he will probably play off DCL with Rooney as a no.10. I hope McCarthy is not injured and Barkley back soon. I also think its essential to get Dowell back from loan (cant believe people saying leave him at Forest-what is we get injuries??).
Minik Hansen
104
Posted 29/10/2017 at 11:35:55
Just woke up and I was dreading reading Schneiderlin could be ready to play, then realized Unsy is in charge. Even Schneiderlin I suspect will come good, with the majority of the squad around him energized to get the job done. COYB!!!!!
Oliver Brunel
105
Posted 29/10/2017 at 11:36:09
Just to add before the pedants attack me -I know Dowell is more of a winger but if push came to shove we could use him asa striker/no10.
Tony Twist
106
Posted 29/10/2017 at 11:37:24
I think Niasse is best used as an impact sub early in the second half, same with Rooney really though it does depends on where he plays. If he is up front then definitely only of use for half a game, if playing midfield and holds back a little bit and orchestrates the play then he should be able to last longer and still influence the game.
To stand a chance of being the full time boss Unsworth needs to win this match. It's harsh but I would discount him if he can't win one of the next two matches. As regards rumblings of big Sam or Dyche then we might as well stick with Unsworth.
My team would be Pickford, Kenny, Keane, Jags, Baines, Rooney, Vlasic, Davies, Gana, Lookman, DCL in a 4-1-4-1 formation with Rooney ahead of the defence in midfield directing play not running around like a headless chicken as he can deliver some clever passes to the more energetic members of the team further up the pitch.
John Wilson
107
Posted 29/10/2017 at 11:42:03
Oliver, this is what happens when you put ex footballers in charge as coaches/ managers. I wonder how many of them have been to university.. ie learnt to think! They just don't seem to have the IQ needed. Playing Rooney as goal threat is just sentimental bollocks. On paper, that is statistically speaking, I do not know where our goals are going to come from if we don't play Niasse for significant amounts of time. He - as said above - has only had 2.5 hours playing time, so how is he suppose to improve a goal threat. It is a shame we haven't got a thinker's manager.

John Wilson
108
Posted 29/10/2017 at 11:47:24
Tony Twist - abso-fucking-lutely! We need Niasse on for at least 30-45 mins. I would say start him from second half earlier on as there is stronger likelihood he will score. Unsy is about letting the spice boys score, ie Lookman, DCL, Davies, et al but neither of these have Niasse skillset for scoring goals. Niasse scored goals against Manu and Liverpool; Bournemouth; Swansea. It's criminal if Everton were not to build the team around Niasse when he comes on.
Eddie Dunn
109
Posted 29/10/2017 at 11:54:50
It is going to be a very tough afternoon at The King Power. Leicester can be a good team on their day and with a new manager at the helm, the players will be wanting to put in a good shift and their fans will be expecting them to beat us.
Our league position says it all, and they will want to take three points off a rival and propel themselves away from danger.
A point today will do for me, just like I said last week prior to the Arsenal game. Our expectations have become unrealistic.
We are in the relegation places and we will need to get used to being happy with a point at places like Leicester.
Our away form has been shite for far too long now so if we avoid defeat there, it will be a step forward.
We will play a deep line which will help our geriatric defence and give them a chance to keep Vardy under lock and key, but I think we will have to score to get a point.
1-1 for me.
Oliver Brunel
110
Posted 29/10/2017 at 11:56:26
Tony (106) I was just about to post a team but you beat me to it! I would go with that team, I like the idea of Rooney playing deeper just worried he might give away too many free kicks with wayward tackling.
Mike Kennedy
111
Posted 29/10/2017 at 12:03:45
I have just been on a Leicester City forum to get a feel for the respective optimism of the their and our fans.
It is fair to say that they expect a decisive victory. As one of their fans put it commenting on Everton ' no attack, shit defence, 5-1'. He obviously, cannot rate his own team's defence if he thinks we'll score with no attack haha.
I have not seen their optimism mirrored here.
I want to see this game but I'm not sure I can endure the agony. Please tell to stop being so pessimistic.
Mark McParlan
112
Posted 29/10/2017 at 12:04:43
Setting up a team to play in the Premier League in 2017 is pretty simple. There's no need to mess around with fancy formations - most of which just blend into the same thing anyway.
You put a man between the sticks - obviously Pickford.
You deploy a solid, traditional, back 4. Baines despite poor form is our only viable left-back, pick 2 of 3 of Keane, Jagielka, and Williams for the centre-back spots, and pick 1 of the 3 of Kenny, Martina, or Holgate for the right-back slot.
Play a winger on the left, and a winger on the right. We seem quite bereft of options here - Mirallas, Lookman, Vlasic, Lennon. A centre-forward up front, perhaps Calvert-Lewin, Niasse, even Sandro. And to fill in the space in the middle, we play our 3 midfielders of various stripes. Schneiderlin, Davies, Rooney, Sigurdsson, Gueye, Klaassen, Beni.
////////////////////////////////
You can call it a 4-3-3, a 4-3-2-1, a 4-5-1, a 4-1-4-1, a 4-2-3-1, whatever. It's all the same thing. Back 4, midfield 3, 2 wingers, and a striker.
With this in mind I'd like us to line up something like this:
-----------Calvert Lewin
Mirallas-----Rooney-----Vlasic
-----------Gueye-Davies
Baines-Williams-Keane-Kenny
-----------------Pickford
Tony Twist
113
Posted 29/10/2017 at 12:21:16
I think Leicester can be confident coming into this match but really we should be in a position to surprise them. They have a new manager who hasn't really had time to influence their team or has influenced their team but maybe not to the point of where they are totally comfortable with how things should play out. We have Unsworth in charge who has been at Everton forever. He knows the players, it's now time to deliver. To survive, Leicester, whether it is home or away are the type of team we have to beat. None of this happy to draw business, we have to beat them. Unfortunately, Leicester have purchased wisely and now have a number of good strikers. It is therefore vital for Unsworth to send them out in the right frame of mind, get them worried about what we are going to do and make our chances pay. If we let them settle then we will be in trouble. Professionalism in our play is vital today, no fuss, no drama, keep tight, punish them and come away with all three points. COYB!
Christine Foster
115
Posted 29/10/2017 at 12:42:15
Will be interesting to see what team he puts out, I think Jags and Williams will be paired, but for me.. a 4-4-2
Pickford, Kenny, Williams, Jagielka, Baines, Mirallas, Gueye, Davies, Vlasic, Rooney, Calvert Lewin.
Sam Hoare
116
Posted 29/10/2017 at 12:42:27
Tony "To survive, Leicester, whether it is home or away are the type of team we have to beat."
No. To survive we just have to have more points than 3 teams. Irrelevant of where those points come from.
Leicester were champions two seasons ago and beating them away is a tall order for a team so low on form. But hopefully we are on an upwards curve.
I'll settle for 1-1, an organized team with players in their right position showing some fight and passion.
Stan Schofield
117
Posted 29/10/2017 at 13:00:35
John@107: I agree that it would seem sensible to play Niasse. But the other stuff, seriously IQ? I thought IQ was a measure of stupidity rather than intellect.
Jim Lloyd
118
Posted 29/10/2017 at 13:11:34
Well said Sam. There are no easy teams and if we get a draw at Leicester, I'll be satisfied. I'd be made up...delighted if we win; but to me, the players until Rhino became Manager, I couldn't call a team, so we've got to become a team first and foremost.
That's what I think Unsy will instil in the players (is already instilling into the players, along with a much more positive and agressive attitude. It still doesn't guarantee us a winn against anyone yet. We're starting from scratch with the class players we need, missing from several positions due to failing to get them in the transfer window.
Most, if not all of the premier league clubs, have more developed teams than us, some much more with much better players.
However, I think we've got enough good...and very good players to form a team who can achieve our first objective...get away from tyhe trap doo; and stay away. In January, we might be in a position to talk about recruiting players for one or two vital positons to start us becoming a difficult side to paly against. But for now, it's battling for every point that I want to our lads do.
Paul Tran
119
Posted 29/10/2017 at 13:15:05
I don't need a thinker to tell me Williams is a deep, dogged stopper that stops the team pressing, Mirallas is a busy-looking show pony and Rooney is all but finished.
I'd take Christine's team, with Keane instead of Williams, Lookman instead of Mirallas and Sigurdsson instead of Rooney.
Jamie Evans
120
Posted 29/10/2017 at 13:17:39
FULL SUPPORT !!! Come on you blues. Massive today. Absolutely massive.
Stan Schofield
121
Posted 29/10/2017 at 13:26:16
We need to go out to win each game as it comes, this one included. Going out to settle for a draw away from home could be the root cause of our dreadful away form compared with our home form last season. We don't want a repeat this season. Although go we're third from bottom, it's 9 games in, not 9 games left, so I think it's premature to be talking about the threat of relegation and the importance of picking up points to avoid it. Which should always be going out to pick up points, the aim being 3, in every game. That's a winning mentality, which we've lacked for a long time, and which perhaps Unsworth can inject with his 'take each game as it comes' approach and the attention to detail that comes with it.
Will Mabon
122
Posted 29/10/2017 at 14:05:15
Nailed it there I believe, Mr. Schofield.
John Wilson
123
Posted 29/10/2017 at 14:10:13
Stan, about the IQ I wasn't being literal. I just meant for managers to think more, ie RK never used to think - he just tried things randomly without really trying. I am no football brain..but some things I would do, ie change the system if it was clearly not working, earlier on rather doing it too late. So, it's about common sense and not so much about intellect. You know what IQ means and I here do not need to provide my views on IQ.
John Wilson
124
Posted 29/10/2017 at 14:14:01
Toffee TV Pedz said we need to one in every three to avoid relegation. This is rather concerning, but rather than worry we should look only at one game at a time. I do think confidence for the team has been terribly low, and what Unsy said, the new members of the team have likely found it difficult to play at their best when they have joined a team on 'scraping the barrels' form.
Gary Russell
125
Posted 29/10/2017 at 14:15:25
Rooney is finished? I didn't want him back here, but he's here, and has scored a few already. So 'finished' seems somewhat premature. I would use him sparingly and hopefully Unsy, who I have complete faith, does likewise. 100% sure of a win today today, whatever team he puts out.
And welcome back Tony Marsh, regardless of your opinions!
David Tennant
126
Posted 29/10/2017 at 14:17:41
I'd take our old boy Shane Duffy in a heart beat
Colin Glassar
127
Posted 29/10/2017 at 14:21:18
I'd love us to win today but I can see us losing a hard fought game 2-1. I think Unsy, or whoever, have a hell of a job on their hands to change the mentality of the players.
I hope I'm wrong.
Derek Thomas
128
Posted 29/10/2017 at 14:21:51
Oliver@105; Much too early for Dowell yet in any position. A No.10? maybe in 5, 6, or 7 years; and as for being a striker, forget it - 5 goals in 12 games from a none striker 'seems' goodish, but what it was, was 2 goals in 11 games and 3 in one game where everything went in.
I don't think he has a proper position yet, he might just turn out to be one of those 'Footballers' like McFadden or Bily who were forever searching for a fixed position in the team.
Such skills in a young lad, mean by default, he's out on the wing...unless he learns to effectively contribute to a team. Managers are very reluctant to carry 'Fancy Dan's' now a days

John Wilson
129
Posted 29/10/2017 at 14:22:23
I am not saying that Rooney's distinguished career is over far from it. I am saying, it's unlikely he will score more than 8-10 goals this and or next season based on his previous goal scoring records (ie overall, statistically). Un-likely does not mean he definitely won't but it does mean there are chances that his current form will not be any different to his previous goal scoring. Statistics are not perfect predictions for the future albeit they do reveal credible patterns.
Will Mabon
130
Posted 29/10/2017 at 14:25:27
Colin, hard to guess the outcome today.
Looking forward to the game, the anticipation of seeing the shackles coming off the team, but feeling a liddle noyvuss...
Paul Kossoff
131
Posted 29/10/2017 at 14:25:51
Tough time for Unsworth, Chelsea, Leicester then Lyon. Will the men in black give him the job if he dosn't win any of them? I doubt it.
Here hoping for a win today.
Colin Glassar
132
Posted 29/10/2017 at 14:31:26
Will, I think what's going on behind the scenes at Goodison is having an adverse effect on the playing side. Whoever the manager is, he and Moshiri have a big job on their hands.
I hope we win for our, and Unsy's, sake.
Tom Bowers
133
Posted 29/10/2017 at 14:31:41
Cannot understand the Rooney negativity.
Sure he's past his best but still a lot better than most in the team this season and is the one man who knows where the net is. The fact he hasn't scored more is due to the team performing poorly.
We all know the big gap left by Lukaku was not filled and the in an out form of other ''strikers'' has cost the team valuable points against normally poorer sides.
Until January we have to expect that the team will not score many goals in a game and so it's up to the rest to put in a good enough shift to at least give themselves a shot at the points.
Gary Russell
134
Posted 29/10/2017 at 14:32:06
'Toffee TV Pedz said we need to one in every three to avoid relegation'
Nine games is less that a quarter of a season, in case ya maths is shite, so it does seem a bit early to start fretting just yet, no?
John Pierce
135
Posted 29/10/2017 at 14:32:34
I'll weep if Schniederlin is in the team, symbolic of the Koeman's reign, just not the player he was.
Needs time out. Just not the player with energy and verve in the middle of the park.
Stick to your guns Rhino. 4-1-4-1.
Paul Kossoff
136
Posted 29/10/2017 at 14:37:51
Everton are winless in their last 12 Premier League away games (D6, L6).
They have kept only one clean sheet in nine league matches this season.
The Toffees have won just two of their last 13 games in all competitions.
Eight points is Everton's worst tally after nine games of a Premier League season since 2005-06 - although they ended that campaign in 11th place.
Wayne Rooney and Oumar Niasse are Everton's only goalscorers in the league this season.
I didn't realize we were this poor.
Will Mabon
137
Posted 29/10/2017 at 14:40:46
Colin, media talk of course but I read earlier that Moshiri is looking for a more recognized manager whereas Kenwright wants the job to go permanently to Unsworth. Rumours or not, it would be better to
not
be hearing two views on issues from the club hierarchy, as often as we do.
One day, Everton will smoothly and efficiently just get on with things, I hope.
Vijay Nair
138
Posted 29/10/2017 at 14:45:13
Spot on Paul (119). Agree with your lineup 100%
Oliver Brunel
139
Posted 29/10/2017 at 14:48:35
Mike (111) I wouldnt bother reading the Leicester fans forum. A town where the most absorbing hobbies are scone eating and producing crisps. Hence the obesity problem. No, Everton fans temper their fear and loathing with a dose of common sense hence our grey outlook. Wheres George McKane to liven things up?
Colin Glassar
140
Posted 29/10/2017 at 14:50:19
Only when Moshiri grows a pair Will and pushes BK and his cronies out.
Oliver Brunel
141
Posted 29/10/2017 at 14:51:05
Will(137) I agree.The disturbing thing is the people who chose our last 3 shambolic managers have a say in choosing another. Drink and drugs here I come.
Mark Dunford
142
Posted 29/10/2017 at 14:51:21
Should be clear that we are on the edge of a relegation fight. A quarter of the season gone and we're in the bottom three. We've less points than games played, have hardly scored and have a dreadful goal difference. Having said this, the team played really well on Weds and the attitude was very positive. Unsworth brought some players in from the cold and allowed young players to have a chance. It is a shame he has three away games before his Goodison bow because we need to keep the fresh feel captured at Chelski. Like others, I'm also worried by the reports of division within the hierarchy.
Paul Kossoff
143
Posted 29/10/2017 at 14:52:21
Paul 119, how can you include Sigurdsson in the team when along with Sandro he is on Bill's list of unwanted Christmas presents to try and (give away!) In January!
John Wilson
144
Posted 29/10/2017 at 14:59:20
Gary Russell, I never did the math actually; I instead trusted that Pedz was making a valid point. Having said that, if there were a continuous run of bad for even a bit longer then this could have led to longer term impact causing relegation.
If Niasse had not scored twice against Bournemouth when he did, I think Everton's confidence would have been worse than what it is now.
Brian Williams
145
Posted 29/10/2017 at 15:01:38
Jesus how has Williams kept his place?
Seamus McCrudden
146
Posted 29/10/2017 at 15:02:55
EVERTON TEAM NEWS
Team to play Leicester: Pickford, Kenny, Williams, Jagielka, Baines, Lennon, Mirallas, Gueye, Davies, Rooney, Calvert-Lewin.
Subs: Robles, Schneiderlin, Sigurdsson, Niasse, Holgate, Lookman, Baningime.
Steven Astley
147
Posted 29/10/2017 at 15:02:59
No room for Vlasic again
Colin Glassar
148
Posted 29/10/2017 at 15:04:31
The dogs of war are back.
Brian Williams
149
Posted 29/10/2017 at 15:04:39
Vlasic HAS to be injured surely?
David Pearl
150
Posted 29/10/2017 at 15:04:52
He is injured Steven
Andrew Keatley
151
Posted 29/10/2017 at 15:05:09
Steven Astley (148) - You seem to be a bit obsessed with Vlasic.
Phil Malone Jnr
152
Posted 29/10/2017 at 15:05:20
Stekelenburg
Kenny, Jagielka, Keane, Baines
Gana, McCarthy
Lennon, Sigurdsson, Lookman
Rooney
Pickford needs to work on his hands. I think he's a stopper in the same mould as Howard, but not as good. Will be, but not there right now. Haven't seen him cleanly hold a ball this season.
James Stewart
153
Posted 29/10/2017 at 15:05:33
That is a very strange line up.
Colin Glassar
154
Posted 29/10/2017 at 15:07:04
Almost the same as Wednesday, James
Lee Jackson
155
Posted 29/10/2017 at 15:08:28
Notes from the team selection.
1. Good Martina is no where to be seen.
2. Slightly puzzled by vlasic commission- carrying a knock?
3. Rumours of another McCarthy injury appear true.
Keith Monaghan
156
Posted 29/10/2017 at 15:11:19
I hope I'm wrong, but that line-up looks set up to get over-run by Leicester's pace - Williams & Jags! Rooney!

Gordon Roberts
157
Posted 29/10/2017 at 15:11:20
Is Macarthy injured again??
Jim Lloyd
158
Posted 29/10/2017 at 15:12:49
It isn't about settling for a draw, either away or at home. We play to win every game with Unsy in charge but if we don't get beat, then that's a first step. I don't think we can yet say, "Oh we should win this one or that" because the team is only just beginning to function as one.
As for who's in the team, then Unsy'll have who thinks will do the best job in each position within a team structure. That'll make a change anyweay!
Steve Ferns
159
Posted 29/10/2017 at 15:13:45
Good to see Unsworth going for youth at the back!
Paul Kossoff
160
Posted 29/10/2017 at 15:14:18
Baines should be dropped, Williams, a joke he's still in the team, Unsies got his mates in? I would tell every bleeding one of these players, you don't give 100% for the fans and the people paying your wages, you will be in the u 23,s and not considered for the first team for a month! Oh for a Brian Clough.
John Hammond
161
Posted 29/10/2017 at 15:15:44
Is that 442 or 4231?
Will Mabon
162
Posted 29/10/2017 at 15:27:39
John, I'd say possibly 4-2-wide 2-front 2. Mirallas and Lennon wider, advancing/dropping deeper as required. Total guess by the way!
Brian Williams
163
Posted 29/10/2017 at 15:42:15
Good words from Unsy's prematch interview.
Talking of "being on the front foot" and "having a right good go."
Also mentioning "Evertonians demand that."
Things we never heard from Koeman.
Add Your Comments
In order to post a comment, you need to be logged in as a registered user of the site.
Or Sign up as a ToffeeWeb Member — it's free, takes just a few minutes and will allow you to post your comments on articles and Talking Points submissions across the site.