Crystal Palace vs Everton

33 Comments [Jump to last]
Saturday 18 November 2017
Match Preview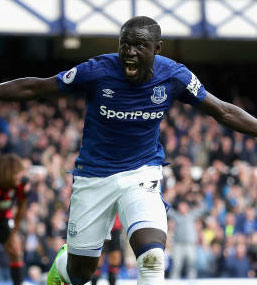 Will Oumar Niasse spearhead the attack again after his crucial goalscoring intervention last time out against Watford?
David Unsworth continues at the helm in what, officially at least, remains an interim capacity as Everton resume Premier League action this weekend against Crystal Palace.
The Blues travel to Selhurst Park, the scene of their last away win way back in January, hoping to record back-to-back victories for the first time since September. The successive triumphs over Sunderland in the Carabao Cup and Bournemouth in the League also marked the last time Everton had won in any competition prior to the meeting with Watford last time out.
Now, with the last international break of the year out the way, they are looking to put a run of results together that will get the club back on an even keel and banish further talk of a relegation battle this season.
Having overseen three successive defeats away from Goodison Park since taking over from Ronald Koeman but with the benefit of a further fortnight to get more settled into his role, this promises to be another test of Unsworth's suitability for a longer stint as stand-in manager or as a candidate for the job on a permanent basis.
With seemingly little progress made regarding other options, Unsworth could get a few more games to prove himself and he will know that wins are the only currency that will purchase him a position he clearly covets.
Once again, all eyes will be on his chosen formation, line-up and approach to taking on a team that sit bottom of the division after the worst possible start but one which has shown signs of improvement recently under Roy Hodgson.
The Eagles beat Chelsea 2-1 at home a month ago and drew 2-2 with fellow strugglers West Ham, managing goals for the first time at Selhurst Park while losing only narrowly away at Newcastle and Tottenham.
Hodgson also looks set to welcome Christian Benteke back to his side following injury, one player Everton would have preferred not to be facing given their defensive vulnerabilities this season, particularly at set-pieces.
Unsworth, meanwhile, insists that there are no problems with either Morgan Schneiderlin or Kevin Mirallas following reports and rumours of a lack of commitment and discipline from the duo and that both are available for selection.
Schneiderlin has started only one game in the last month, that his ill-fated appearance at Lyon where he was sent off in the 3-0 defeat while Mirallas hasn't figured since coming off at half-time at Leicester and it would not be a surprise if neither player made the starting XI this weekend.
A starting midfield trio of Idrissa Gueye, Beni Baningime and Tom Davies is more likely again, with Ademola Lookman perhaps providing the width if Unsworth doesn't opt for two strikers.
Depending on how results shake out elsewhere, Everton could rise to 12th with a win, close the gap further on the top half of the table and put more daylight between themselves and the bottom three.
Kick-off: 3pm, Saturday 18 November, 2017
Referee: Anthony Taylor
Last Time: Crystal Palace 0 - 1 Everton
Predicted Line-up: Pickford, Kenny, Keane, Jagielka, Baines, Gueye, Baningime, Davies, Lookman, Rooney, Niasse
---
Reader Comments (33)
Note: the following content is not moderated or vetted by the site owners at the time of submission. Comments are the responsibility of the poster. Disclaimer
Bob Parrington
1
Posted 18/11/2017 at 07:58:42
Good suggested starting line-up IMO except for Rooney. I believe we should use either Calvert-Lewin or Niasse from the start and perhaps bring Rooney on as a sub if needed during the game.
Guy Hastings
2
Posted 18/11/2017 at 08:20:12
If we can't contain Zaha and he's in the mood for it, our back line will be under a lot more pressure than theirs.
Rob Dolby
3
Posted 18/11/2017 at 08:21:54
Got to keep it tight and play on the counter. Palace looked good against Spurs and deserved more. 4-5-1 today:
Pickford
Kenny Keane Jagielka Baines
Lennon Davies Beningime Gueye Rooney
Niasse
Stating the obvious but the formation and tactics are crucial to Unsworth's future today. Play too open and we could get a pasting. Keep it tight and grind a result out will do him no harm at all.
Jamie Evans
4
Posted 18/11/2017 at 08:43:27
Agreed Guy @ 2. Young Jonjoe will need a hand looking after Zaha I think. Who is the best option to do that, though? Lennon offers this option defensively but I'm not sure he can give us 90 mins.
Mark Rankin
5
Posted 18/11/2017 at 08:50:43
Pickford
Kenny, Keane, Jagielka, Baines
Lennon, Davies, Gueye, Lookman
Sigurdsson
Niasse
Derek Knox
6
Posted 18/11/2017 at 09:02:06
A bit surprised that Sigurdsson is not included; then again, that is only a speculative team projection, and notice Mark Rankin has had the same notion.
A difficult one to predict this, having watched Palace in the last few games, their miserable run of results belies the performances.
This again will be a huge test for Unsy and the lads, Palace will be desperate for a win and will battle all the way. Like us, they have found goals hard to come by, and also have conceded too many, oh like us too.
A nail-biter till 4:50 pm, which could pose a problem – I have none left!
COYB
Darren Hind
7
Posted 18/11/2017 at 09:13:01
We'll find out a lot about the players today... and Rhino.
Mark McParlan
8
Posted 18/11/2017 at 10:10:30
I still can't get my head around all the calls to drop Rooney, our top scorer. 5 goals at this point at the season isn't too awful for a player who plays as a second striker. Meanwhile, everyone wants to keep Sigurdsson in, who is just as bad in play, and has only managed to score once. Rooney has to play.
Calvert Lewin
Vlasic Rooney Sandro
Gueye Davies
Baines Williams Keane Kenny
Pickford
4-2-3-1, 4-3-3, 4-5-1; it's all the same thing.
Need to see a massive improvement from Gueye and Davies, both have been absolutely awful recently. Sandro deserves another chance I feel – try him out on the wing. Calvert-Lewin starts ahead of Niasse because Niasse only seems capable of scoring in the second half of games, and especially coming off the bench on 60 minutes.
Geoff Lambert
9
Posted 18/11/2017 at 10:22:11
If we are hoping to get something from Palace, then we need some pace and width.
Sandro is just not up to the standard and won't make the squad, never mind the bench. Lookman and Lennon will add pace and, in Lennon's case, some good covering work to help Kenny.
Pickford
Kenny Jagielka Keane Baines
Lookman Davies Gueye Lennon
Rooney
Niasse or Calvert-Lewin
Eddie Dunn
10
Posted 18/11/2017 at 10:25:59
Niasse is more effective coming on after an hour because defenders are tiring and his power and speed can be useful. His poor control holds him back against fresh defenders, so start Calvert-Lewin with Rooney in the hole.
Paul Kelly
11
Posted 18/11/2017 at 10:41:46
Doubt he'll start with Lookman,I reckon Siggy and Rooney in mid', Rooney on the left maybe, DCL up top and except to see Lookman and Niasse after the sixty minute mark?
I'd go with the 4-5-1, wingers to give the full backs some cover and give us some width on the front foot-personally.
Whatever happens, sacrifice the performance for the result, win ugly if we have too.
John Keating
12
Posted 18/11/2017 at 10:53:46
A massive game for both teams.
Palace will be looking to get a result against us and Woy will have them up for it.
The pace they have will give us a big headache defensively.
Fingers crossed to escape with a point.
Kunal Desai
13
Posted 18/11/2017 at 11:08:39
I'd go with Lookman and Lennon wide with DCL and Niasse upfront.
Frank Crewe
14
Posted 18/11/2017 at 11:15:51
Still going with Rooney eh guys? Even though he stunk Goodison out against Watford. Personally I wouldn't have Rooney on the pitch unless we are three goals up. The fact is he plays his own way and won't follow orders. He won't stay in position. If he plays at No10 he drops back into midfield to get the ball. If he plays wide he drifts inside. He the lacks pace to play up front. He needs to be benched.
Modern football is all about pace, power, and height. You need athletes and Rooney lacks all those qualities. Age and injuries have took their toll on him and he's just reputation. The odd goal he gets cannot make up for the downside he brings to the team whenever he plays. Look to the future and play those players that actually have one and not a player who is all past.
Dennis Stevens
15
Posted 18/11/2017 at 11:24:49
451/4411/4231 surely has to be the way forward to provide that triangle in midfield & the necessary width & pace on the flanks. Beyond that, put the right people in the right slot based on capability & attitude. If Unsworth can then get them playing as a team we might yet dig our way out of this hole.
Laurie Hartley
16
Posted 18/11/2017 at 11:28:13
If ever there was a game we need to win this is it so I think it's time for the older heads to step up and be counted.
I am hoping David Unsworth sets up in a 4 5 1 with Rooney as the lone striker in this one. Tell him not to cross the halfway line or drift out wide. if he does that he will get opportunities and will score.
Pickford
Kenny, Jagielka, Williams, Baines
Lennon, Gueye, Siguarddson, Beningime, Mirallas
Rooney
Subs : Niasse, Lookman, Keane, Sandro, Davies
Lennon and Mirallas must make a big contribution in this game because our fullbacks are going to need cover.
Dave Williams
17
Posted 18/11/2017 at 11:35:26
Pickford
Kenny Keane Jags Baines
Tom Gueye Beni
Lennon DCL Lookman
It is so difficult to pick a balanced team.Id go for Vlasic over Lennon if he can be trusted to track back. This is why Unsy or whoever comes in needs time- we do not have a sufficiently balanced squad to be able to pick regular starters and way too many of the players are showing very poor form. If the Schneiderlin of last season was available with the Siggy from his Swansea days then the team would be so much stronger and it is a pathetic indictment of the more senior players that we have to look at the young players to provide the fight and energy which the more experienced players should be showing by example.
We really have accumulated a very sorry collection of prima donnas!
Mark Tanton
18
Posted 18/11/2017 at 11:54:25
Will Unsworth be conservative or adventurous today? That is the question. He's welcome to that decision, because I don't know!
David Pearl
19
Posted 18/11/2017 at 11:56:18
Will we ever see Sandro and Klaassen again? Niasse up front for me, no other option. Play Rooney and Siggi behind and press in midfield. And ffs keep and control the ball. I'd personally play Rooney next to Gana in midfield if he'd be disciplined enough. Worked a treat the Koeman and Walsh partnership.
Jim Wilson
20
Posted 18/11/2017 at 12:06:29
The midfield is too lightweight and not solid enough for me. This is were we will come unstuck by not protecting the defence well and not creating enough.
Thomas Rigby
21
Posted 18/11/2017 at 12:07:59
No wonder we don't know our best team or why we have not replaced Lukaku ,or why we have no pace in the team,or why we have too many No 10's,or no cover at left back or another quality centre back, or why we have failed miserably to identify the type of manager we want so inevitably fail to appoint anyone.
Today's Times tells all Everton fans all they need to know.
During the summer transfer window one Premier League club who negotiated with Everton over a player transfer were given three different prices in the space of a day with Moshiri,Kenwright and Walsh all providing significantly different valuations.
So now we know for sure that we have a chaotic management team.
It is a complete disgrace.
Kevin Tully
22
Posted 18/11/2017 at 12:09:14
There's a good chance we will go 12 months without an away win. It seems relegation form has been stalking this club for longer than we thought.
David Pearl
23
Posted 18/11/2017 at 12:29:49
I can't see 3 bids coming in from 3 different people. Whatever the case, I have no idea how Walsh is still in a job.
Kevin Prytherch
24
Posted 18/11/2017 at 12:37:49
I like the suggested line-up, only if it has Rooney and Lookman playing as inside forwards, the same way Koeman used Barkley to good effect last season. Somewhere between wingers and central.
John Wilson
25
Posted 18/11/2017 at 12:58:36
If we're out of the Europe League, how can be playing the Euro team on Thursday?
Terence Tyler
26
Posted 18/11/2017 at 13:28:06
John, we're playing Atalanta on Thursday.
Richard Lyons
27
Posted 18/11/2017 at 13:41:10
John @25 - we're "out" of Europe because, mathematically, we can't qualify; however, the first round group games haven't finished yet.
Now then, COYB - let's see some passion and pride!
Brian Williams
28
Posted 18/11/2017 at 13:41:40
John. We're out in as much as we can't qualify for the next stage. We still have to play remaining games though... unfortunately.
Christy Ring
29
Posted 18/11/2017 at 13:50:03
I hope Unsy plays Lennon and Lookman or Mirallas out wide to protect our fullbacks today, and one of Rooney or Sigurdsson.
Michael Lynch
30
Posted 18/11/2017 at 14:06:18

Pickford
Kenny
Keane
Jags
Baines
Schneid
Gueye
Sugurdsson
Lennon
Lookman
Niasse
Tony Everan
31
Posted 18/11/2017 at 14:16:41
yes Christy , one thing is for sure and that is our full backs will need protecting.
Dean Cooper
32
Posted 18/11/2017 at 15:49:41
Keane, Lookman, Schneiderlin and Pickford have been bad but Baines has been the worst player on the pitch.
Gueye, Kenny and Sigurdsson have played well. Niasse our best but his fighting spirit is a red card waiting to happen.
Don't even know how to improve, we have the same problems with no width or pace on the bench with the omission of Mirallas and Vlasic. That Loftus-Cheek is a real player, wish he was one of ours!
Carl Allan
33
Posted 18/11/2017 at 15:56:13
Yet again we are leaking goals today,even against the lowest goalscorers in the division.For a former centre back Unsworth certainly doesn't know how to get his team defending, that 5 games now where we have conceded two or three under him,and we are not finished yet today. this reminds me of Villa two seasons ago when they went down with a shocking defensive record.
Add Your Comments
In order to post a comment, you need to be logged in as a registered user of the site.
Or Sign up as a ToffeeWeb Member — it's free, takes just a few minutes and will allow you to post your comments on articles and Talking Points submissions across the site.