Niasse ban for simulation upheld

276 Comments [Jump to last]
Tuesday 21 November 2017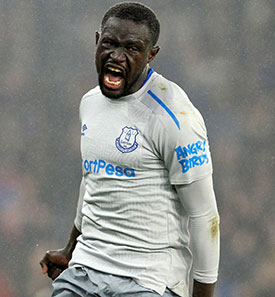 Updated
Oumar Niasse has been handed a two-game ban for deceiving a referee following a Football Association review of Saturday's penalty decision at Crystal Palace.
The Everton striker went down under contact from defender Scott Dann and was awarded a spot kick by referee Anthony Taylor but he has been charged for simulation based on video replays of the incident.
The decision was made by a three-man panel of an ex-player, ex-manager and ex-referee and then upheld after the club appealed.
Niasse is the first player to be censured retroactively under the new FA guidelines and suspended for two matches, missing the games against Southampton and West Ham.
"It is alleged he committed an act of simulation which led to a penalty being awarded in the 5th minute of the game," the FA statement read.
Everton said they were "disappointed" with the Football Association's decision to ban Niasse for diving. A club statement read:
"Although we are disappointed by the decision of the Independent Regulatory Commission to reject Oumar's denial of the charge, the Club and the player accept the outcome of today's hearing.
"We will make further comment when we have fully reviewed the observations contained in the report.
"
Speaking after the appeal was denied, caretaker manager David Unsworth insisted that he felt there was contact on his player and that referee Taylor made the correct decision at the time.
"I'm disappointed," Unsworth admitted. "The referee is right there. I think there's contact; I think it's slight but there is contact and anywhere on the football field, that's a foul.
"The referee states, as he told Scott Dann, he had no intention of playing the ball and there is a slight bit of contact on Oumar. That's my view and it won't change."
"I think these people [the FA] will be very busy. It's a dangerous precedent that could be set if decisions are given against you which are debatable."
---
Reader Comments (276)
Note: the following content is not moderated or vetted by the site owners at the time of submission. Comments are the responsibility of the poster. Disclaimer
John Wilson
1
Posted 21/11/2017 at 15:42:13
The fact is, Niasse appears to be on course to score, the first Crystal Palace defender put his arm out and the second one appears to have made contact too. This is two players, not one, who have made contact. Yet, Niasse is charged.
This is outrageous. The ref is more than qualified to make a decision. In his reasonable belief, the contact made suggested that Niasse was not only impeded from scoring, but the dual contact by two players led to Niasse falling.
Tony Abrahams
2
Posted 21/11/2017 at 15:46:53
They say that you can't eradicate diving, so let's just let Niasse off then!
Hugh Jenkins
3
Posted 21/11/2017 at 15:47:11
I would be interested to know if the FA have a self imposed time limit on making such judgements – ie, does it have to be within a specified time limit following the end of the game to which the charge relates, or is it open ended?
The reason I ask is, if there is no time limit (let us suppose that, in any event it can only apply to the current season), can Oumar (or his "legal representative(s)"), present the FA with some footage of glaringly obvious cases of simulation in the Premier League, this season that they have failed to act on, particularly seeing as there was clear contact in Oumar's case?
I wonder what the outcome of that would be?
Joe Foster
4
Posted 21/11/2017 at 15:47:51
Just when you think nothing else can go wrong... WALLOP.
Adam Scott
5
Posted 21/11/2017 at 15:49:45
Let's be honest, there is a fair degree of simulation there. Contact was minimal and not enough to realistically lead to that fall.
That being said, the fact that there is minimal contact makes this a dangerous precedent for the FA.
I don't feel it is the most clear cut example I have ever seen on diving, but if I was looking at it impartially I would probably call it a dive. It is a ballsy decision for the FA to charge though. IF they are consistent with it, and it is a very big if, fair play. I somehow doubt they can be though.
Stephen Morgan
6
Posted 21/11/2017 at 15:50:16
Why isn't Zaha getting banned too? He clearly dived in the last minute trying to get a penalty. Regardless of whether it was awarded or not it was a clear attempt to cheat and should be punished too.
Robin Cannon
7
Posted 21/11/2017 at 15:50:35
John (1) - Let's not look at it with blue-tinted glasses.
We can certainly ask questions about FA consistency and how the charge system works, but that was a dive any day of the week and we'd have been screaming if a penalty had been awarded against us.
John Wilson
8
Posted 21/11/2017 at 15:56:23
Robin, I am looking at it objectively. I am looking at the variables involved and matching them to the FA rules.

Brian Williams
9
Posted 21/11/2017 at 15:56:26
Niasse made the most of it, no argument with that. The question that needs to be asked is: Did the Palace defender commit a foul? In my eyes? Yes.

It wasn't a neck high tackle that almost killed the opposing player but that doesn't matter. A foul IMO was committed because the defender's action impeded the progress or movement of Niasse.

Now if that's the case, that a foul was committed, then it doesn't matter what the fuck Niasse did to make sure the ref saw it. He could have done a triple somersault with a tuck because if a "foul" has been committed and that foul occurred in the penalty area it's a penalty.

It's a disgrace that I believe wouldn't have happened to any player in one of the "big four/five/fucking six or whatever."

The panel have decided it's about time we did something because we haven't yet, and I feel Niasse has been charged and tried by the media and stupid pundits like that fuckwit Neville on MotD. The same man who still has the record for the most ridiculous dive ever witnessed which actually caused half the Everton team, half the opposition team, and most of Goodison to burst out fucking laughing!

Roger Helm
10
Posted 21/11/2017 at 15:56:36
He made the most of it and throwing his head and arms back didn't look so good but the defender's left shoulder came across him to stop his progress, and there was contact, so it was a penalty.
They say that slight contact when running at speed can throw a player off balance, although I suppose any rugby player would have a good laugh at the video.
David Barks
11
Posted 21/11/2017 at 15:56:54
It was a dive. Doing the pathetic "What about" whataboutism is irrelevant. He was not taken down, he went down. We'd be furious if it happened against us. This isn't a system to punish any dive anywhere.
"Incidents only resulting in a penalty being awarded or an opponent being sent off – whether that's through two yellow cards or one red – will be punished."
He went down to win a penalty. It should not have been a penalty as it should not have been a foul. This is designed to start to eliminate this from the game.
Minik Hansen
12
Posted 21/11/2017 at 15:57:07
All the players should have known before kickoff? If there is no consistency from the FA, I hope someone makes a case of it. Power to the people('s club).
John Wilson
13
Posted 21/11/2017 at 15:57:43
I also have a problem with the term 'deception'. "the act of causing someone to accept as true or valid what is false." dictionary definition.
How can you 'cause' a ref to believe there was Misconduct to result in 'successfully deceiving said ref..when the Ref was present. The ref was right behind Niasse so the ref could be said ot have expected a penalty was foreseeable. Niasse never petitioned for a penalty. The ref automatically pointed to the spot. That cannot be successfully deceiving the match official (ref).
The ref decided it was a penalty and he was so close in proximity, ie right behind.

Steve Pugh
14
Posted 21/11/2017 at 15:58:04
I have two things to say on this.
Firstly, why now? Everyone knows that their have been clear examples of simulation previously this season that have not been acted upon. What is so special about Oumar?
Secondly, as I would have accused players of diving if that had been given against us, I have no problem with them going after divers but what will happen the next time Rashford or Aguero wins a penalty by deceiving the referee through simulation? The first time a Sky darling gets away with it should be very interesting.
Jay Woods
15
Posted 21/11/2017 at 16:08:50
Okay, so if a player can be done for retrospectively diving, then can the game be replayed? One makes no sense without the other.
Steve Cotton
16
Posted 21/11/2017 at 16:10:18
The FA will have to prove that the contact from Dann was negligible, this is patently impossible to determine.
If this had been Gerrard running thru and brought down, the only retrospective action the FA would have taken would be to red card Dann...
Paul Kelly
17
Posted 21/11/2017 at 16:12:23
Club to contest charges!
John Wilson
18
Posted 21/11/2017 at 16:15:23
No, the FA do not have to prove a foul:
The case is that Niasse – by Misconduct – 'successfully deceived' a match official (ref). So, the FA have to prove this to bring a charge against Niasse.
Niasse has to disprove the FA's case against him within 14 days. Niasse could take this to an FA tribunal arbitrator.
Dave Pritchard
19
Posted 21/11/2017 at 16:15:25
That's likely to be a 3-match ban then. Does that take in the derby?
Tony Mace
20
Posted 21/11/2017 at 16:17:24
I was there on Saturday. I don't remember seeing a referee. The bald git should get done for simulation. Pierluigi Collina in disguise
What about Calvert-Lewin getting pulled back when clear through? Is he getting an award for not going down when the Palace player was 5 yards behind him and still had hold of his shirt??
Constantly blowing the whistle for Palace players falling over!!!
There was clear contact with Niasse – okay he went down easy but the terms 'dive' and 'simulation' should be used when there is no contact.
Paul Kelly
21
Posted 21/11/2017 at 16:18:51
David Barks: "Incidents only resulting in a penalty being awarded or an opponent being sent off – whether that's through two yellow cards or one red – will be punished."
Interesting, so that means you can dive just outside the area, not get a player booked and then the resulting team can score from the free kick and it goes unpunished, but if the 'defender' gets sent off, the player can get banned after the game whether the team scores or not!
Think I'm right; quality ruling by our governing body – gobshites!
Rick Pattinson
22
Posted 21/11/2017 at 16:19:51
Poor Oumar. He hasn't had a lot of luck.
Someones cursed this fucking club... I blame Rooney... or Klaassen.
Stan Schofield
23
Posted 21/11/2017 at 16:22:26
Putting to one side whether it was deception or not, this is interesting. If the FA is prepared to do this on this occasion, then we should expect them to be looking at every case of perceived deception, which would cover a hell of a lot of behaviour we see.
There should be habitual divers who will either stop diving or be found repeatedly guilty of deception, players who fall to the ground clutching their face and looking for a foul, players claiming the ball went out of play off an opposition player, etc.
If there aren't a lot of such cases, it will indicate that this particular case by the FA is a purely political act aimed at looking as if they are determined to crack down on cheating without actually cracking down on cheating, whilst choosing an easy target to do so.
Liam Reilly
24
Posted 21/11/2017 at 16:24:02
Don't think anyone will argue that it was a soft penalty, but it's consistency that's the problem for me.
I'll bet he gets done for 2 games to show they mean business but the next time Alli or Kane or Zlatan goes down like they've been shot; will they be done?
Doubt it.

Brian Williams
25
Posted 21/11/2017 at 16:24:58
Paul (#21),
It actually includes a free kick which leads to a goal as well mate.
Jimmy Salt
26
Posted 21/11/2017 at 16:25:14
A couple of things spring to mind.
Has this law been in place since the beginning of the season? If so, is this really the first time in all the games played that this has happened?
This smacks of the powers that be wanting to implement change but not wanting to upset a Sky favourite, big club or whatever.
Pick on a less favourable club, less noise but still get the message out. Interesting times ahead if this sticks, I will be amazed if there is consistency.
Ray Roche
27
Posted 21/11/2017 at 16:26:03
Diving is diving, whether it's in the box or on the half-way line. If a player blatantly dives then,yes, suspend him for a game, it's the only way they'll learn.
But this bollocks about it resulting in a pen or a sending off, words fail me. If the gobshites currently ruling (and ruining) our game are serious, then they'll use the same rule wherever a dive takes place.
As Paul Kelly says so accurately above, if a player dives and the team score from the free kick, why does that differ from a penalty? The answer is it doesn't... so make the rule count for the entire pitch, not just the penalty area.
I'd like them to take a really good luck at the feigning of injury too. All the screaming and banging the bloody pitch when you're clearly not hurt... FFS, grasp the nettle, FA, UEFA, FIFA and do something sensible (and not corrupt) for once.
I also think that in this case Niasse has been tried by dickhead pundits.
Mick Davies
28
Posted 21/11/2017 at 16:28:48
Brian Williams @ 9 sums it up perfectly. Why is it okay for hundreds of others (including our own Wayne Rooney when he was at Old Trafford) to continually fake contact with impunity, yet when Niasse exaggerates the amount of contact, he is charged for his first ever offence?
The Sky/FA mandarins have been inundated for years to clamp down on this, so what do they do? Wait until it isn't one of the powerful top 6 clubs, or an English player, then 'make an example' of a foreign player with hardly any experience in the Premier League.
Just a pity they failed to notice a guy called Suarez from across the park, who made it an art-form.
James Lauwervine
29
Posted 21/11/2017 at 16:31:13
He's the first Premier League player to be censured retroactively, not the first player. However, for this to be the first Premier League case is a joke when this happens every weekend without fail. Plus it's a case where there was actual contact.
It's also ridiculous that this only applies to penalties and red cards. It's like saying you can go out with a gun and shoot it randomly no problem. However, if you happen to hit someone...
What a load of shite.
Colin Glassar
30
Posted 21/11/2017 at 16:32:54
Define "Dive" please. Klinsmann dived, Gerrard dived, even pathetic Phil Neville dived. Oumar was bumped off the ball and fell over. That, gentlemen, is not, technically, a dive.
Tony Everan
31
Posted 21/11/2017 at 16:33:00
Have the review panel been unduly influenced by MotD, Clattenberg etc? If they've watched and listen to all that verbal garbage, there is no way they can have an independent objective ruling.
Another thing: Roy Hodgson, ex FA England manager, London-based club.
If we were playing against Burnley, there would be no review.
Bill Watson
32
Posted 21/11/2017 at 16:35:25
Tony (#20),
Yes, I was there, too, and although there was minimal contact, for the penalty, there was contact. At least in this respect the referee was consistent because he spent the rest of the match blowing up for the slightest physical contact.
This opens up Pandora's box for the FA not least in that if the referee had thought it was simulation Niasse would have received, at worst, a yellow card. If he's found guilty by this panel then he faces a ban.
I'm against diving and cheating but any action should be fair and consistent and this, patently, is neither.
I would hope Everton contest this charge all the way.

Tony Everan
33
Posted 21/11/2017 at 16:39:43
Fully agree Bill
The fact that there was contact on Oumar opens up all sorts of problems for the FA.
Measuring the degree of contact and it's effects is going to be pretty damned controversial.
If there was no contact at all, it wouldn't be up for debate.
Adam Carey
34
Posted 21/11/2017 at 16:42:24
I would think we all agree it was a soft penalty, but it was a foul. My understanding of a foul is an un-sportsmanlike act to impede you playing football? This occurred on Saturday with Dann coming across Niasse to stop his route to goal.
A penalty is a foul in the 18-yard box. Did I miss a rule change that said soft fouls aren't to be counted when giving penalties?
I can't stand this nonsense spouted by ex-players in their pundit roles, most of them defenders I might add, that has the world believing that it should only be a penalty if you get chopped down.
Anywhere else on the pitch that block would have resulted in a foul. The FA could get caught out here, especially with the amount of jostling and shirt-pulling at corners.
John G Davies
35
Posted 21/11/2017 at 16:43:08
I would fight this all the way.
Sick of us being nice Everton, don't rock the boat just accept the hand we are dealt.
Make a case of it, show videos of top six players diving and ask why they are not charged?
David Barks
36
Posted 21/11/2017 at 16:43:20
It was not a foul, it was never a foul. It was a dive.
Mal van Schaick
37
Posted 21/11/2017 at 16:45:44
Contact that deliberately impedes a player and prevents a goal scoring opportunity in the penalty area equals foul. Deliberate foul in the penalty equals penalty.
I cannot see how the FA can accuse Oumar of simulation after the incident has taken place. It's retrospective.
Does this mean that the FA are doing to go through the archives and charge players, ie, Suarez for one, for play acting after the fact.
FA are yet again a laughing stock.
Tim Greeley
38
Posted 21/11/2017 at 16:46:01
This is kind of infuriating. I've spent 9 years watching this goddamn English "football" and in almost every single game I've watched some twat has conjured up way worse than this. Rolling around for 3-4 minutes in pure agony, then getting up "Okay, I'm done."
Luis Suarez won the RS ten points that one season they finished 2nd, throwing himself around like he had nine lives and spent eight of them getting stabbed to death on the pitch.
And Vardy was even worse for Lester's championship, in fact they only won the goddamn thing because he cheated, nay deceived, them in to so many penalties.
But no, let's clean things up now, starting with poor effing Oumar Niasse for a play in which he was actually run into by a defender. One player moving in one direction runs into another player running in another direction with clear, irrefutable proof of contact.
Tim Greeley
39
Posted 21/11/2017 at 16:51:55
And what about the hack, Anthony Taylor who was right there and called it a penalty!?!?! Does he get a ban too!?
This decision essentially says that he is unfit to be a top tier referee as he either: A) so easily deceived as to be a liability, or B) really bad at his job.
Or how about – just to get crazy here – C) he made a judgement call in his best discretion (from only a few feet away of the incident) as a fallible human being that is, at the worst, debatable.
He wasn't sent a dubious email from Nigeria with a link to steal his identity here, I mean – deception!?!? Give me a fucking break.
Brian Williams
40
Posted 21/11/2017 at 16:55:39
IYO.
Paul Kelly
41
Posted 21/11/2017 at 16:56:54
Brian at #25, is that definitely right? If so, it's making my head explode.
Paul Kelly
42
Posted 21/11/2017 at 16:58:58
It was a foul, there was contact and a slightly exaggerated fall.
John Pierce
43
Posted 21/11/2017 at 17:02:09
As David Barks says. It was a dive, pure and simple. A player trying to win a penalty for his team. Good on him.
The false outrage and feigned disgust would simply pail away if a ban had come on the back of the winning goal at Mordor or an FA Cup Final. You would be lauding Niasse to the sky if that was the case, and at the same time whilst basking in the delight of it all patting him on the back for taking one for the team and serving his ban. Not frothing at the mouth at the inequity and injustice of it all.
He was been professional and managed to convince the referee. He got caught and fair dos, the ban is no more or less than other examples this season.
I just wish more of our players put this amount of effort into winning a game for Everton.
Charlie Lloyd
44
Posted 21/11/2017 at 17:04:13
David @ 11
He was impeded by a defender who made no attempt to get to the ball. Small contact but it was a block and as a qualified ref I'd have given it any day. If that had happened at our end I'd have expected the worst.
So I disagree with your opinion.
Steve @ 6
Well made point regarding the dive by Zaha at the end which warranted no further action.
The panel who sat on this should be ashamed of themselves. This sets a high precedence I expect about a dozen players every week before this lot because Niasse was blocked, even if he was a bit theoretical in his action.
Brian Williams
45
Posted 21/11/2017 at 17:04:38
Paul (#41).
That's what they were saying on TalkSport, mate. They definitely said that it included a free kick which led directly to a goal. I'll see if I can check online anywhere though as TalkSport has been known to TalkShite!
---
Update: TalkSport were talking shite. It doesn't include free kicks which lead to goals. Penalties or sendings off only.
I was wrong. Apologies for the error lads.
Ray Roche
46
Posted 21/11/2017 at 17:07:42
Until the likes of Shearer stop using terms like "There was contact so he was entitled to go down" football will always have diving. Sadly, there are certain players who will always be given the "benefit of the doubt". None will ever wear EFC Blue though.
Ray Smith
47
Posted 21/11/2017 at 17:09:01
It's obvious to me, dive or no dive Oumar is a soft target.
The FA have opened a can of worms.
I don't normally do what if's!
Would Roy have complained if Baines had missed the penalty, I don't think so.
How many dives occur during a game? Who is going to police it?
A dive is a dive, wherever it is on the pitch.
10 PL fixtures a week x 90 minutes, who is going to review that amount of footage?
When one of the current elite get away with it, will Everton have grounds to appeal.
This is the start of a slippery slope.
With the money footballers earn, they can afford to employ lawyers to represent them against a charge of cheating, which labels them as a cheat. Slander and libels suits will follow.
Absolutely ridiculous situation they have put themselves in.
How would you feel if you were labelled a cheat, when your not. Defamation of character, and I can see the lawyers already lining up to represent mega rich footballers.
Raymond Fox
48
Posted 21/11/2017 at 17:14:17
You can bet your bottom dollar he gets 2 games... it's only Everton isn't it.
Paul Kelly
49
Posted 21/11/2017 at 17:19:17
He'll get three for appealing! £2b fine and fired into the Sun on a Saturn V rocket.
Paul Kelly
50
Posted 21/11/2017 at 17:29:38
https://royalbluemersey.sbnation.com/2017/11/21/16684856/oumar-niasse-diving-charge-suspension-sterling-bernardo-manchester-city-arsenal-richarlison-watford
Check out the three penalty decisions in that video that went unpunished-joke this is.
Brent Stephens
51
Posted 21/11/2017 at 17:31:11
Hugh #3 – there's a time limit to bring charges and to appeal.
Nev Renshaw
52
Posted 21/11/2017 at 17:34:03
Oh well. Fair cop I suppose. Look on the bright side, we would probably have gone on to lose the game.
Eddie Dunn
53
Posted 21/11/2017 at 17:38:10
Deception of the referee! I regularly see players claiming throw-ins that are clearly not theirs. Players run to the official and en masse try to persuade him to take out a card for an often innocuous foul. Defenders regularly collapse as if being hit with a side of pork when a striker is harrying them from their rear.
Our very own Lennon in the very same match got back to Zaha and as soon as Aaron got his body between Zaha and the ball, he conveniently collapsed at a brush of Zaha's torso. Are not all of these instances attempts to deceive the ref?
Call it gamesmanship if you like – it happens in every sport. You play to the edge of the rules to gain any advantage.
I hate diving, but in this case, in my opinion, it was a foul, in the box... therefore it should be either a penalty or obstruction and an indirect free kick.
By all means cut out proper cheating, ie diving with no contact (Dele Alli ,Sanchez) or leg dangling, fishing for contact (Vardy, Aguero, Sanchez, etc).
This is simply not a clear enough example to pick to make some kind of mid-season statement. And, like someone else on the other Niasse thread, I wonder if Woy's old chums in the FA are taking his side here.
Derek Knox
54
Posted 21/11/2017 at 17:41:07
Okay, why wasn't Koeman done for simulating a Manager?
Nigel Munford
55
Posted 21/11/2017 at 17:43:24
So was Lennon's a dive against Watford?
Brent Stephens
56
Posted 21/11/2017 at 17:44:43
Can I use this "simulation" charge against my wife? Video evidence is available.
Tony Everan
57
Posted 21/11/2017 at 17:49:39
You wife With Oumar, Brent?
Or with your good self...?
Brian Williams
58
Posted 21/11/2017 at 17:50:05
No answer to that Brent. :-0
Brent Stephens
59
Posted 21/11/2017 at 17:50:47
Unlikely to have been me, Tony! Unless retrospective – sepia photos.
Brent Stephens
60
Posted 21/11/2017 at 17:52:17
PS Tony, for the avoidance of doubt, NOT Oumar and me!
Gary Mortimer
61
Posted 21/11/2017 at 18:07:37
As said by many of the above, it was a very soft penalty, but it was still a penalty. Let's face it, Scott Dann was trying to block Niasse off, but he was so slow he only got a slight nudge on him.
If this was the first game of the season, I could (almost) understand the furore, but as we're almost a third of the way through it appears odd that they choose this incident to start off their Anti-Everton, sorry I meant to say anti-diving campaign.
If Palace had held on after going back in front, this would not have happened.
Tom Bowers
62
Posted 21/11/2017 at 18:09:39
This really opens up a can of worms doesn't it. The referee and his assistant also screwed up, did they not, and should be suspended. Anthony Taylor was right on top of the incident and called it so then he must be incompetent, right?
In any event, it's a yellow card for simulation so where does the two-game ban come from? This sucks of typical FA cock-ups and if it is to be the acid test, then the same criteria should be applied to video evidence of grabbing and shirt-pulling in the box for corner kicks when these referees miss them. Wouldn't that stop that kind of foul play as well?
There is so much of that nonsense going on the FA would be meeting all day every day to review it all. Come on, guys, get real!
Ian Brandes
63
Posted 21/11/2017 at 18:16:41
Reruns show contact. Minimal or not, still a.penalty.
John Pierce
64
Posted 21/11/2017 at 18:26:57
Ian.
Next time you walk down a busy street and someone 'creates minimal contact' with you I'm sure you'll fall over dramatically and believe they did it deliberately to stop you getting to your destination. 😝
Kim Vivian
65
Posted 21/11/2017 at 18:31:14
Brent (#56). Can you post again, mate – I can't find the link.
Brian Wilkinson
66
Posted 21/11/2017 at 18:40:13
One thing if it comes to cheating that the FA should also be acting on, is the constant shirt-pulling and hampering players in the penalty box, when a corner is taken. Surprisingly this goes on week after week, even after a ref has stopped play and spoken to the players.
It continues without anything done. Where are the FA panel on these reviews when it has been proved that a player has been taken out inside the penalty box?
If this is the case and I cannot believe in November, this was the only time a player went down inside the box unchallenged and won a penalty. In this case, contact was made, very minimal, but contact all the same, but if this applies from the start of this season, then Vardy is a dead man walking for some of the penalties he's been awarded this season.
On a final note, let's hope this applies across the board for every player in the Premier League for the rest of the season.
Mike Hughes
67
Posted 21/11/2017 at 18:40:58
Only just seen the incident on YouTube.
In my opinion, that was a penalty. The defender appeared to play the man. Minimal or not, contact was made.
Given the headlines, I was expecting something really blatant (reminiscent of Suarez) but, while it may be slightly soft, I've seen far worse refereeing decisions than to blow up in this case.
Typically, we are on the receiving end again.

Eric Paul
68
Posted 21/11/2017 at 18:44:18
On a slightly different subject, why wasn't the Watford defender who fouled Niasse as he scored red carded or charged retrospectively as it was a clear attempt to stop him scoring?
Christine Foster
69
Posted 21/11/2017 at 18:45:27
Let's face it, in every game, every week, you see the same thing, usually far worse. Yet nothing is done; now who decided a panel was required for this incident and why? Did Palace make a formal complaint? What difference warranted action against Niasse and not others?
Secondly, you cannot have is both ways – if the FA have to retrospectively ban a player for conning an official, then what about the blatant foul play by every defender at corners?
Niasse is guilty of doing what every other forward in the Premier League does every game. He exaggerates a fall; how many times for Christ's sake do you see a defender shielding a ball out collapse when a hand touches his back... and a foul is given. That's simulation too...
Can of worms? Absolutely! Niasse and Everton are being made scapegoats for a corrupt and incompetent FA.
As I said, who makes a complaint who verifies a case to answer? Start with the top six first... no balls.
Eddie Dunn
70
Posted 21/11/2017 at 18:46:52
As mentioned above, where is the logic of a possible 2- or 3-game ban for an offence that, during a game, is only worthy of a yellow card? This shows the FA as very keen to jump in at the behest of two miserable pundits on a tv show.
Somebody has decided that they need to protect the interests of "the game" by picking on a man who has bounced back from poor treatment from Koeman to become a bit of a cult hero for us.
Isn't it a shame that the focus couldn't have been put on the likes of Sanchez (a supremely gifted player, playing in a huge London stadium, for a top 6 team). Or Aguero (a supremely gifted international player, playing for the Champions elect).
Perhaps Dele Alli (another fancy player playing for a London team, gracing Wembley every fortnight, and a key component of the England team).
No, the FA take it out on Oumar, a lad trying to carve out a career for a team up North, a team in a bit of trouble to boot.
Now it is time for David Unsworth to speak up for his player and the club to back him to the hilt. Come on Everton let's create a siege mentality... no one likes us – we don't care!
Rob Halligan
71
Posted 21/11/2017 at 18:54:11
This thread could run on for months. I have another take on the incident.
Niasse was impeded, not once but twice, no doubt about that. However, had Niasse just stopped, stayed on his feet and flung his arms in the air complaining he had been fouled, would the referee have given the penalty, or would that be considered as obstruction?
In my opinion, it was a definite penalty, just that the way Niasse down was a bit soft.
Christine Foster
72
Posted 21/11/2017 at 18:55:00
I tell you what I am angry and god help any opposing player going down like a sack of spuds at Goodison park in the future and god help any referee who fails to award a blatant foul.
Goodison Park looks after its own. Niasse is no cheat.
Note to any opposing club visiting Goodison: You're going to get nothing,
Note to any referee visiting Goodison, you'd better think before you do or don't blow that whistle because the FA has just made your job 39,989 times harder.
Paul A Smith
73
Posted 21/11/2017 at 19:00:52
I thought it was horrible and would have hated it being Zaha against us but this charge is more than horrible. Not only is it the first time but there are players known for this kind of simulation.
If this had been Aguero, there's no fuss but to be honest if we see penalties given like that every week, it would be awful.
Niasse is one strong character though. One of the unluckiest men I have known at Everton and still smiles like a kid at Christmas.
As I type this, I just thought shouldn't the ref be charged too? His view was perfect and Niasse didn't have a whistle.
Brent Stephens
74
Posted 21/11/2017 at 19:03:27
Kim (#65) – haha! you had me looking back at what my previous post was! It's in the post, Kim. For your eyes only.
Paul A Smith
75
Posted 21/11/2017 at 19:06:37
Brent, I simulate next to my other half all the time, and get a 3-week ban, mate.
Hence my frustrated posts... but hey ho.
Brent Stephens
76
Posted 21/11/2017 at 19:08:25
Paul, a 3-week ban is very generous.
Paul A Smith
77
Posted 21/11/2017 at 19:09:35
Haha suppose so Brent. There was one occassion I got it down to 2 on appeal.

John Pickles
78
Posted 21/11/2017 at 19:12:33
Bet the ex-manager was Koeman.
2 game ban and lose his locker again.
Mike Berry
79
Posted 21/11/2017 at 19:13:50
I really hope ALL fans get behind Oumar and the club in the appeal, and show real solidarity, and make it vocally too.
Oumar, by fate rather than design is slowly etching himself into Everton folklore.
Don Alexander
80
Posted 21/11/2017 at 19:16:15
The YouTube footage shows that at the very moment Dann put his arm into him Niasse had just increased his pace, as he had to do to get to the ball, by very strongly stepping off his right foot in a way that meant his whole body had no option other than to veer left, in the direction he fell immediately following contact.
I therefore don't believe he necessarily fell deliberately. He may not have been "centred" in terms of his balance through no fault of his own, unfortunately for Dann.
I expect the FA will seek to punish him though, on the lesser civil-law "reasonable probability" threshold of proof, on the say-so of the "completely independent" panel they appoint and pay, rather than the higher criminal-law threshold of "beyond all reasonable doubt".
Dennis Heaton
81
Posted 21/11/2017 at 19:17:20
It's now Tuesday and the match was Saturday. I would like to know if this 3 days to review the incident is the time limit or can the FA go back further in time?
If so, then they must review all matches from the time this rule was started because John Daly, the Olympic diver, may get a decent pairs partner from one of the matches as there seems to be plenty of players that could qualify.
Martin Nicholls
82
Posted 21/11/2017 at 19:18:39
Doesn't matter what any of us think lads. This "clampdown" is a "flavour of the month" thing as was the similar "clampdown" on the shirt-pulling etc that Brian refers to at 66 above. Like that, after one or two token gestures by the FA, it too will die a death and largely be ignored again.
For the record, I think that under current views (TV pundits opinions which have somehow become refereeing interpretations) this was a penalty and the king of pundits, Alan Shearer ("There was contact, he was entitled to go down, it was a penalty") should be called as a defence witness!
Raymond Fox
83
Posted 21/11/2017 at 19:19:22
The treatment that Oumar gets off these stuffed shirts, and I dare say, the half-wit jeering opposition supporters, will not put Niasse off his game.
From what we've witnessed so far, it will make him bloody well more determined to stuff it up them.
Anto Byrne
84
Posted 21/11/2017 at 19:19:26
Until they bring in the cameras and videos, we just have to suck it up.
Although it looks to be two defenders so maybe it's a penalty?

Mike Berry
85
Posted 21/11/2017 at 19:19:55
Players from Liverpool and Man Utd have regularly got away with worse. It's trial by TV. Glad the club is contesting it.
Andy Crooks
86
Posted 21/11/2017 at 19:34:57
If a Liverpool player was to do that in the derby, I would be outraged. It was a blatant fucking dive that should embarrass Niasse. Why are we debating this? If you admire " Everton cheating", fair enough. But this was cheating. He deserves to be banned, in my view.
However, the referees are not consistent and cheating goes unpunished in too many games. I admire Niasse, his effort, his dignity and his attitude. His dive was laughable, though.
Kim Vivian
87
Posted 21/11/2017 at 19:34:57
Paul (#77) – that would usually mean paying a hefty fine to reduce the sentence in my house.
Julian Exshaw
88
Posted 21/11/2017 at 19:38:39
Quite frankly, this stinks! I knew when Lineker and Co were harping on about it on MotD that it would come to this.
Niasse is an easy target, as is Unsworth. No way would this have happened to Kane (or Beckham in his day), for example.
If it was a case of him moaning on the ground, holding his face, feigning injury, I'd be all for it because I hate that. In this case, however, there was clear contact.
Niasse himself comes across as a genuinely good lad, honest as the day is long, very untypical of him to 'dive'.
In any case, there is almost an unwritten rule in football that if you are impeded in any way, you as good as have licence to go down.
Kim Vivian
90
Posted 21/11/2017 at 19:42:06
Another take on this...
Watching again (and again, and again) – I think Oumar's reaction to the arm across him is reminiscent of like anticipating a hit to the throat. I honestly think he might have been expecting that and reacted accordingly.
I dare say many strikers (no names mentioned) would make a right song and dance, writhing around to get the double whammy of a pen and a sending off for Dann but Oumar's honesty had him back up on his feet, no harm done.
Doug Harris
91
Posted 21/11/2017 at 19:48:52
Is the ref's decision not final on occurrences as such? If so, why is there any inquest for three no-marks to give their opinions.
One man in charge of the game and his decision was a penalty, correct.
Mike Allen
92
Posted 21/11/2017 at 20:05:13
Am I getting this wrong? The ref in his match report said he gave a penalty for a trip, the panel pick this up and don't see any evidence of a trip. However, the player never said he was tripped but said that the defender's arm came across his chest and blocked his run.
The so-called Sky expert said he thought it was a trip from the referee's angle but from the front angle it was evident it wasn't a trip. The referee got it wrong the trial by TV.
The referee got it wrong, the player got it right by saying he was not tripped but hindered by the defender's arm, evidence shows upper body contact was made by two defenders.
Guy Hastings
93
Posted 21/11/2017 at 20:11:40
If the ref is 'successfully' deceived, then does the ref drop a division for the same number of game the players misses? I suspect not...
Jon Hirshman
94
Posted 21/11/2017 at 20:17:21
Derek Knox, very good.
Will Mabon
95
Posted 21/11/2017 at 20:23:41
Laughable, media-cultivated reaction. How about an official explanation of what footballing move Dann is believed to have made.
Andy @ 86 – I'd be interested to read your description of exactly what you saw from both parties in the incident.
Ray Roche
96
Posted 21/11/2017 at 20:33:21
Just watching the Spurs game, in the space of 10 minutes both Son and Sanchez have gone down feigning injury, Son following a tackle where no contact was made and Sanchez when an arm across his head that wouldn't bother a 5-year-old knocked all 6ft-2in of him to the ground.
And Niasse gets done.
Steve Cotton
97
Posted 21/11/2017 at 20:33:45
Andy (#86), I can only assume you watched a different incident to the rest of us. Dann raises his arm and impedes him. It's there for all to see. Whether he exaggerated the fall or not, it was a foul every day of the week.
Sorry, am I disturbing you during the Sevilla game?
Laurie Hartley
98
Posted 21/11/2017 at 20:34:42
Christine (#72) – I agree with you and reiterate what you said – Niasse is no cheat.
One of the reasons both Niasse and Lennon have given their all for us is because we have let them know we are behind them.
If the club or Niasse do appeal it, he should get our total support.
Mick Conalty
99
Posted 21/11/2017 at 20:48:59
Let's get back to basics, remember Tommy Smith for the RS, you dived out of the way or he would kick the fuck out of you. Remember when men where men and not fucking big girls.
Christy Ring
100
Posted 21/11/2017 at 20:54:15
I think it stinks, there was minimal contact. Dann is mouthing off because he knows he was too close when Niasse turned him, and there was contact with his arm.
Oumar is being used as a scapegoat. Have a look at James Vardy's technique, and the penalties he's earned.
Colin Glassar
101
Posted 21/11/2017 at 20:54:21
Smith against Morrissey, Mick? Norman Hunter vs Nobby Stiles?
This lot today would end up in a psychiatric ward if they had to face men like those fellas.
Will Mabon
102
Posted 21/11/2017 at 21:05:09
"Remember when men where men and not fucking big girls."
Careful, Mick – political correctness alert. We're all the same now, haven't you heard?
Alex Short
103
Posted 21/11/2017 at 21:06:49
Have a look at the Sane dive v Leicester, or the Silva dive against Burnley or that Watford striker against Arsenal. Total lack of consistency by the FA.
Niasse was obstructed so we should have had a indirect free kick, so the ref's interpretation was incorrect, it was the referee's mistake.
Dann deliberately stopped Niasse from getting the ball, a clear foul for all to see, and Niasse didn't ask for a penalty, unlike the divers I've previously mentioned.
Kim Vivian
104
Posted 21/11/2017 at 21:08:57
We are on the football pitch, Will.
Anyone watching Sevilla? Madhouse atmosphere. Great from the crowd.
Colin Glassar
105
Posted 21/11/2017 at 21:11:35
C'mon Seville!! Pathetic, I know.
Andy Crooks
106
Posted 21/11/2017 at 21:18:26
Steve Cotton, # 97 , I would like to know exactly what you are implying in the last snide comment of your post.
Jim Wilson
107
Posted 21/11/2017 at 21:31:59
Is there no end to Clattenberg's attacks on Everton? He should have been reviewed years ago. What a cheek. He actually gave penalties and fouls against us when a player was diving while deliberately ignoring blatant penalties we should have had. It shouldn't be just The Sun that is banned from Goodison!
Kim Vivian
108
Posted 21/11/2017 at 21:31:59
Ha... See that Mane dive!
Kim Vivian
109
Posted 21/11/2017 at 21:36:55
Yesssss. Colin. 3-3, What a good game to watch.
Mark Morrissey
110
Posted 21/11/2017 at 21:41:51
Colin @ 30 is bang on. Not a dive, he just went down easily and that's not a dive. When do we pay?
Jack Convery
111
Posted 21/11/2017 at 21:43:33
Tom Daly has been charged by the FA.
Bob Parrington
112
Posted 21/11/2017 at 21:45:15
Media run assassination bullshit akin to the old cowboy lynching squads. Fuelled by the RS prick Dann, to cover up his own failure!
Clattenberg should have kept the fuck out of it, too!
Paul Hewitt
113
Posted 21/11/2017 at 21:53:36
He dived, he got caught. Take your punishment.
Stan Schofield
114
Posted 21/11/2017 at 21:53:41
Colin@105: It's not pathetic, it's great!
Rob Halligan
115
Posted 21/11/2017 at 21:57:03
Ray (#96). I watched the Man City game for a while, and in one attack, following close contact from a Feyenoord defender, Aguero threw himself to the ground in the penalty area. No penalty given but no further action taken by the referee.
UEFA should pass on their reports to our FA for them to take retrospective action against them for simulation.
Max Murphy
116
Posted 21/11/2017 at 22:00:27
Dive or not, all we want is consistency in decision-making for all teams. And this never happens when it comes to the 'big four' or Liverpool. We know what they get away with, and what Everton have to endure. No need to quote examples – we all know the incidents.
Also, what really irritates me is that smug bastard Shearer on MotD. He really believes he is the mouth-piece for the Premier League, and what he says is doctrine. He rubbishes any fellow guests who disagree with his 'philosophy'. I'm just waiting for the time when he gets really shafted on that program.
Ray Roche
117
Posted 21/11/2017 at 22:07:16
Jack (#111),
So has Linda Lovelace.
Bobby Mallon
118
Posted 21/11/2017 at 22:16:55
If he is getting done for deception, then Ryan Shawcross gets done also in the Stoke game. He clearly gets up, waving to the ref that he did not touch the Brighton player when he definitely did and Brighton where denied a penalty.
Shawcross then live on air at the end admitted that he did make contact and smiled about it. He should definitely get done for deceiving the ref.
Adam Carey
119
Posted 21/11/2017 at 22:33:46
Does anyone remember back in the Moyes days when we went almost a season without winning a penalty? In the end, we sent in video footage of the stonewalls. I recall a soft pen being given in the last few games
I hope that if Niasse gets found guilty, someone at the club makes another video of all of the simulations against us. This could be a disaster for the FA. As others have stated in the thread, there have been some shocking dives or feigning of injuries this season. What about simulation of cramp or injuries to run down the clock?
Also, I find it funny that this complaint, amongst many, is fast-tracked after an ex-England manager complains. This isn't me looking through blue-tinted glasses either.
Rob Halligan
120
Posted 21/11/2017 at 22:38:28
Paul Merson on The Debate tonight appeared to be in support of Niasse. Saying there was definite contact and he had every right to go down. Just the way he went down was a bit too theatrical.
Steve Cotton
121
Posted 21/11/2017 at 22:55:37
Mane also threw himself tonight in the RS game. This should be highlighted by the media... oh hang on, it's LFC.
Joe McCormick
122
Posted 21/11/2017 at 22:57:28
If there is consistency, fine. But we all know there won't be. Will Shawcross get done for admitting it was a penalty last night!
Will the ref in the Leicester - Man City match be retrospectively punished? Will Ashley Young ask 500 previous dives be taken into consideration?
Andy Crooks
124
Posted 21/11/2017 at 23:27:25
Steve Cotton, seeing you are posting again, any chance of you clarifying your post (#97). Come out and say what you mean.
Tony Everan
125
Posted 21/11/2017 at 23:31:56
At the point of contact from Scott Dann, Oumar has no idea whether it's going to be minimal or a severe block.
Depending upon the psychological make-up of any given player, he may want to take some form of movement away from the oncoming lunge of the defender to protect himself from injury. Especially if there is contact from the lunge.
As there was contact, Oumar has no case to answer and the ruling should be overturned.
None of this is premeditated, it is blink-of-the-eye stuff.
I'm just saying that the panel have been very harsh on what is clearly not a black-and-white situation.
James Marshall
126
Posted 22/11/2017 at 00:35:16
There was contact, but he did dive. The contact looked minimal, and not enough to make him go over like he did.
To be fair, this new law is a good idea – Niasse has just been unlucky in being first up to bat. There will be others to follow, you can count on it.
Had it happened at the other end, we'd all be furious about the penalty, and delighted the player was being pulled up for it retrospectively. We're just pissed-off because it's our player.
He dived, the new rules state he can be banned for 2 games for it, the panel of 3 people will decide and we'll all move on. Next.
Andy Mead
127
Posted 22/11/2017 at 01:36:03
I agree with the law but it should be taken further. I think a video ref should also be used.
Say for example a team thinks a player had dived no matter what the situation, then the team captain can ask the ref to look at it straight away and the punishment can be instant.
In this case, there would be no penalty, Niasse gets sent off for diving, and we probably lose the game. All fair in my book.
Then watch all managers tell their players to stop diving, faking injury and we can rid the game of this blatant cheating which is called 'part of the game' now...
Paul Kelly
128
Posted 22/11/2017 at 02:41:59
Andy Mead: "In this case there would be no penalty,Niasse gets sent off for diving and we probably lose the game. All fair in my book."
I fucking despair, I really do with comments like this! Obviously never seen the incident have you? Surely? Please explain to me how Dann hitting Niasse's body (as clear as bottled water) is not a foul? Have you watched it? Did you not see the contact? Jumping on the bandwagon of our club's poor showing lately (guess).
Jack Cross
129
Posted 22/11/2017 at 03:29:03
There is only one person that I can see at fault and that's the ref. Is he getting disciplined?
If he didn't see it, then why did he give it? Oh not the old one, he was unsighted?
So is the ref saying he didn't see Dan's arm across Niasse's chest? Or is he saying he simply went on how Niasse was falling?
How can anyone other than Niasse say how rigid Dann's arm was across his chest, making him fall?
If this is allowed, he will be a marked man with all refs.
Rick Barnes
130
Posted 22/11/2017 at 04:13:26
Cards on the table – I like Niasse. Honestly, I'm not even just jumping on the bandwagon, I wrote a book back in January and named a character 'Majak Oumar Deng' in honour of our shunned hero who I thought was being unfairly done by...
On the weekend, I thought it was a penalty. But, after taking off my blue-tinted glasses and watching the replay again, it was a dive. He felt contact and threw himself down, like we've seen before from others, but still – I think it deserved a yellow and I don't think it was a penalty. If, say, Aguero did it to us, we'd be raging at the ref.
But where the rule breaks down is now we'll have a player serving a two-game ban for a yellow card offence. A player caught diving during a game gets a yellow... caught after gets two games. Same offence, different penalty.
However, thinking optimistically, could this be to our advantage? Yes, Oumar might find it hard eliciting a penalty shout from a ref. But by the same token, any player going down theatrically against us this season will be met by the howls of over 39,000 rabid Evertonians baying for justice.
Will a ref err on the side of caution when Sanchez or Alli somersaults into the box where before he'd give it? We might get less penalty decisions for us, but maybe we'll get less given against us too...
And now, having set this precedent, surely this spells the end of Sterling's career which would make a lot of us very happy.
Clive Thomas
131
Posted 22/11/2017 at 06:59:07
So let's see now if Sterling, Sanchez and Ashley Young get the same treatment? Because they do it every game!
I think not as they are the so-called Sky big fucking clubs. The FA are two-faced.
I know it was a soft penalty so what happened to fair play and consistency?
Who said the ref wasn't deceiving the FA – he's the one who made the decision?
Steve Cotton
132
Posted 22/11/2017 at 07:00:12
Andy Crooks (#124),
I too was watching the Sevilla game hoping for an LFC loss (or am I bitter?) to make the day seem a bit better. It didn't happen but the way Sevilla came back made me think I feel a little warmer inside.
As we disagree about the Niasse incident, let's move on. I saw contact from Dann, you didn't!!
Matt Butlin
133
Posted 22/11/2017 at 07:24:48
Haven't read any of the comments above but I remember Gerrard (get a penalty) diving, the dive being acknowledged and justified by the pundits because the intent to foul him was there. The FA can bleat on about this and that but it's all made up on the spot.
Christian Watson
134
Posted 22/11/2017 at 07:51:48
Is it just me that thinks that we are being held out to dry here.
This has all the hallmarks of the powers that be actually wanting us to be relegated. We can, I'm sure, think of multiple examples of simulation over the years, but how many of these incidents result in a retrospective ban? It would never happen to some of the media darling names (Suarez, Gerrard, Sanchez, Sterling, Aguero etc).
Hugh Jenkins
135
Posted 22/11/2017 at 07:56:24
James (#126) – From my understanding, the panel of 3 have already decided. This takes place before the FA issue the charge. You may also wish to note that, from what I have read elsewhere, I understand that the ex-player involved on the panel was Murphy (former RS midfielder).
Steve Pugh
136
Posted 22/11/2017 at 08:15:24
Football is a contact sport.
For years on this forum we have complained about the stupid "there was contact so he had the right to go down" comments and rightly so. Don't become hypocritical now because it is one of our own.
Oumar's ban isn't the important one. It's what happens to the next player caught clearly diving that is important now. Especially if he plays for a big club (or Newcastle). If this ban is the first step in stopping the divers, then I for one, can live it.

Rob Baker
137
Posted 22/11/2017 at 08:16:34
More worrying is who will be up top for two games. Never thought having Oumar unavailable would be so disastrous... haha!
James Marshall
138
Posted 22/11/2017 at 09:11:08
Hugh@135, yeah you're right, the panel have already decided - the right of appeal is there but I suspect it'll just be a token gesture and the 2 match ban will stand.
It's a new rule people are simply going to have to get used to, and should in the future, stop people diving quite so much - which is surely a good thing.
Eddie Dunn
139
Posted 22/11/2017 at 09:17:17
For those of you taking the dive line, surely the problem here is the situation where the defender has no intention of playing the ball, but every intention of body checking the attacker, with the aim of illegally putting him off his stride. It is a clear foul, mostly because Dann is so clumsy.
The problem is that Niasse knows that referees are unlikely to spot this type of cynical foul, and unless the recipient makes the contact obvious, the official is liable to pass on the decision. To get this kind of decision away from home is unusual.
Yesterday, the "legendary" Jim White was hanging our lad out to dry although Bob Mills defended him to a point. Mills did say though that we don't have any bent refs.
We may not have bent refs, but they are swayed by the home crowds, and certainly favour the so-called top 5.
The FA also steer clear of upsetting the big boys wherever possible. LFC never did get charged for tapping-up Van Djke. If we, or Stoke had done it, I wonder if the FA would have overlooked it?
Simon Jones
140
Posted 22/11/2017 at 09:36:39
I wasn't at the game, but my gut reaction was it looked a penalty. I'd already heard on the radio that the pundit thought it was "soft" but to use the most over-used of cliches, "You've seen them given."
As far as I can tell, managers want the players to go down under contact and there was clear contact. I'm sure if I studied fifteen camera angles, frame by frame, I could make a case for simulation, but at normal speed, with a normal view, Dann looks like he commits a foul and Niasse goes down.
It was my understanding that this new rule was to catch blatant dives. This does not look like a blatant dive to me, there is too much of a grey area in the decision. I await further clarification with interest as this sort of sanitisation of football is going to take a big part of the game away, that of controversy. I mean, what would we have to moan about here? (emoji winking)
Stewart Oakes
141
Posted 22/11/2017 at 09:55:20
Just a quick point as to why it would be a 2 game ban for a yellow card offence. If a player dives and the referee gives him a yellow card, said player has failed in his attempt to deceive the referee. If the ref falls for said dive the player has been successful in his attempt to deceive the ref, hence a 2 game ban.
For me it was a stone wall penalty which the ref gave without hesitation.
Eddie Dunn
142
Posted 22/11/2017 at 10:06:52
Stewart – that point has been made earlier, more than once, and on the other Niasse thread.
Kim Vivian
143
Posted 22/11/2017 at 10:35:22
That's a bit of a sniffy retort, Eddie. Takes ages to trawl through the threads if you've just come on.
Stewart – I think the point the FA are making is that they take greater offence at the success of the con rather than the attempt at the con in the first place, and the fact that the perp has gained a benefit from it (ie, a successful pen in our case).
I agree with you though that it was a minor foul, but sadly Oumar's theatrical skills let him down.
Sam Bull
144
Posted 22/11/2017 at 10:35:40
Dann purposely stepped across Oumar... even if Dann did not make contact, that's a foul, the intent to prevent the player going past him would be a foul anywhere else on the pitch. Obstruction!
But Dann made contact... caught him with his forearm and shoulder, that ladies and gentleman, is a foul, and if it's in the penalty box, its a penalty.
Now it's rare they are given, to be fair, and Oumar made the most of it... but ref was yards away, so he could not be conning the ref, as the ref could see it.
Eric Myles
145
Posted 22/11/2017 at 10:36:54
Adam #119, iirc we went 2 seasons without a penalty, only being awarded one in the last game of the 2nd season.
The video evidence Moyes sent to the refs association was of 12 incidents in the first half of a season. The head of the refs said 10 were penalties... none were awarded.
Jay Wood
146
Posted 22/11/2017 at 11:43:05
As I commented yesterday, and as others are saying, the FA has now set the bar high by using this incident as the test case in the Premier League for the new simulation law.
The law itself is an initiative I support. Any genuine lover of football considers simulation a nauseous aspect of the game.
That said, I am genuinely surprised they have picked out this example above many other clearer examples of simulation from this Premier League season alone.
And like others, I wonder at the decision-making process by which an incident is referred to the panel that sits in judgement. Do they have a team of grunts, studying every minute of every game, flagging up possible simulation and referring it to a higher authority who then make the call to proceed with a charge or not?
Or rather, is it determined by the noise the media makes in the aftermath of a game? Not being UK-based I cannot say for certain, but reading between the lines on TW, I understand there was quite a furore by the talking heads of football punditry.
If the latter, this calls the decision making process into question and leaves one wondering at the integrity of those sitting in judgement.
I say that not because it was an Everton player and my club charged on this, but because it is a far from clear cut case as there is clearly contact between the 2 players.
And as I also said yesterday, defenders at this level are very, very cute. Dann 'simulated' a tackle. Oumar got half a yard on him, was in front of him and so Dann knew a regular tackle with the feet was high risk, so he attempted to impede him, put him off balance, whatever it took, to disadvantage Oumar from getting off a clean shot.
It was a foul. It was a penalty. It was a soft one. Oumar went down, but even then not over-dramatically.
The club apparently has said it will contest the charge. I say 'apparently' because even on the official club site the only reference I found to the charge was in the 'What the papers' say round up for today, quoting papers saying the same.
I really hope the club does contest this fiercely, with video evidence of the incident, contrasted with clear cut examples of obvious simulation from this Premier League season in which no charges were brought.
Eddie Dunn
147
Posted 22/11/2017 at 11:46:29
Kim, This is a thread, to come in having not read the other posts suggests that you are only interested in venting your (not you personally) own spleen and not listen to others.
I am just annoyed by those too lazy to at least scan what's gone on before.

John Wilson
148
Posted 22/11/2017 at 11:55:43
Kim Vivian
Once an idea has been implanted into the subconscious self (ie, subliminal), it would be very difficult to believe anything else.
So, if the media or someone who allegedly knows what they're talking about in football said Niasse dives... then other influential outlets confirm it, what you're left is you who may feel that it was not a dive but the overwhelming evidence against you may suggest that you're best to conform.
Derek Knox
149
Posted 22/11/2017 at 12:04:08
Mý sentiments too, Jay Wood, like you say, we all genuinely want to see this sort of behaviour stopped or punished severely as a deterrent. But let's be consistent!
The last statement is easier to say than to implement, simply because every referee is different, may be in a different position when 'foul occurs, getting line of sight blocked by a player etc, but surely that is why there are two assistants, allegedly working as a team.
It's the inconsistency too that really gets people's backs up, and yes, it does seem to happen more to the non-elite, and not the media darlings!
John Wilson
150
Posted 22/11/2017 at 12:12:30
It should be the referee who decides that it was a 'successful deception of a match official (referee). Not 3 idiots who don't have a brain cell between them, called the 'panel.'
Stewart Oakes
151
Posted 22/11/2017 at 12:38:00
Eddie, I had read all the posts on this thread before posting (and have just re-read them) Posts 62, 70 and 130 question why on the pitch it's a yellow and post game it's a 2-match ban, I can't see any posts that explain this; however, if I'm wrong, I apologise for this. I haven't read the other Niasse thread.
I do however take offence at being accused of being only interested in venting my own spleen. I gave an explanation to someone else's question and then gave my own opinion on the incident – how's that different from what everybody else has done?
Tony J Williams
152
Posted 22/11/2017 at 12:49:29
Good job we haven't got the same system as Italy and Germany... imagine what the redshite implants would do with that?
https://www.foxsports.com.au/football/bundesliga/german-video-assistant-referee-chief-hellmut-krug-sacked-over-matchfixing-allegations/news-story/a1aba5229112b57fe0580d3b702d013e
Martin Nicholls
154
Posted 22/11/2017 at 12:49:51
Eddie (#147) – absolutely right but Stewart is far from being the only example illustrating your point.
Tony J Williams
155
Posted 22/11/2017 at 12:51:01
Funnily enough, just showed the clip of Oumar to a red who sits next to me and he said, "Penalty, all day long!"
Colin Malone
156
Posted 22/11/2017 at 12:54:15
I'm not mad, honest. Let's talk about a non target man at the club. At the half-time interval, I watch the subs warming up. Has anyone else noticed the ball skills of Robles, our reserve goalkeeper? The lad has great skill, trapping the ball, controlling the ball with his chest, he's big and strong. I was well impressed. Anyway, just a thought.
Martin Nicholls
157
Posted 22/11/2017 at 12:55:15
Sorry guys – I should have refreshed before posting! Mea culpa!
John Wilson
158
Posted 22/11/2017 at 12:55:40
There is no need to read the whole thread – you don't need to read whole book to understand what it's about.
Alex Mullan
159
Posted 22/11/2017 at 13:02:21
This would never ever ever happen to Lukaku, Ibrahimovic, Aguero, Salah, Sanchez, Kane. Fuck me it didn't happen to Dele Alli.
It's almost as if, wait for it, if you are one of the Sky Darlings... you get special treatment..
Len Hawkins
160
Posted 22/11/2017 at 13:06:34
What really makes my piss boil is the likes of Shearer, Murphy and Merson etc etc telling us for years "He obviously felt a touch and was entitled to go down". Now they are judge and jury and over the other side of the fence... two-faced bastards!
I hate diving but having Poachers turned Gamekeepers pontificating on the very thing they were so adept at and have advocated is a disgrace.
Dermot Byrne
161
Posted 22/11/2017 at 13:10:59
Sad he has been picked on, for what is the inevitable consequence of no-touch football. A game many increasingly dislike.
Kim Vivian
162
Posted 22/11/2017 at 13:12:30
I don't think it's been said but Niasse, by going down as he did, was not deceiving the ref but emphasising the offence in case he was about to miss it. Wouldn't be the first time. It's like shouting a bit louder to make yourself heard.
And I say again – if he had stayed on his feet, sure as x = x that pen would not have been given.
Steve Pugh
163
Posted 22/11/2017 at 13:26:19
There is some really messed up thinking going on here. If you try and fool the ref and he is clever enough to spot it you get a yellow card. Do the same thing and the ref is too stupid to spot it you get a three-match ban.
Surely the only difference in the two scenarios is the ability of the ref so the punishment for the player should be the same in both and the referee in the second instance should be retrained, or sacked.
Kim Vivian
164
Posted 22/11/2017 at 13:27:00
John (#148) – assuming I'm reading your post right. As I said yesterday on the other thread: "Best to take the hit and get the two games out of the way in my view..."
And as I also said, it's not the end of the world. Sandro can do a job and we may (as Christine Foster said yesterday somewhere) get some longer term spin off from it.
Silver linings and so on.
All this begs the question 'When is a foul not a foul?', or maybe even 'When does a foul become a foul?'
But in answer to my own (first) question...
When the ref's a turkey, I suppose!
Eddie Dunn
165
Posted 22/11/2017 at 13:39:30
Stewart (#151),
Sorry, my point was meant to be a general gripe – it happens a lot. Then there is the odd one who says "Oh, I've just come on and haven't had time to read the other comments" (meaning, that they can't be arsed to).
Anyway, we both agree about the penalty and the injustice in the panel system.
John Wilson
166
Posted 22/11/2017 at 13:42:37
Kim, I was answering the question based on my legal opinion.
Steve Cotton
167
Posted 22/11/2017 at 13:43:29
Can't we get enough signatures for a government review??
John Smith
168
Posted 22/11/2017 at 13:45:10
Ray Roche (#27),
Agreed.
"But this bollocks about it resulting in a penalty or a sending off, words fail me. If the gobshites currently ruling (and ruining) our game are serious, then they'll use the same rule wherever a dive takes place.
As Paul Kelly says so accurately above, if a player dives and the team score from the free kick, why does that differ from a penalty?"
It has to be everywhere any time. If they're serious about tackling this issue, they need to change culture. Culture does not change selectively.
Kim Vivian
169
Posted 22/11/2017 at 14:21:53
John, hi.
Yeah, I get that but surely the evidence in this case is tangible, or in 'black and white' at least. I try to put myself in the opposite camp, as it were, as though it was Williams with the tackle and say Mane in the dock and I would probably be screaming "...send him down/off with his head, deport him..." etc., or worse.
However, the evidence would be there for me to view, and I would come to the conclusion that the law has become an ass in our game, stemming from the "if you get a touch you're entitled to go down" brigade (which is most pundits who are like fucking sheep following the lead of each other) and tbh innocuous touches like Dann's on Niasse (or my hypothetical Williams on Mane) should be allowed to go. But the law is the law as it stands today and one would have to concur that there was a foul but that the player made a meal of it.
In my hypothetical, I would not expect Mane to get a ban however much I wanted it because of the foul as evidenced on video, and my screaming would change to "Fuck me – top six/ RS favoritism ... etc etc."
I am truly surprised the verdict has gone against Oumar but the FA are probably champing at the bit to show this rule applied and looking for an example and we caught the short straw, not because of who we are, but because of who we aren't.
What's the latest on our "apparent" appeal? Anyone know? I feel we should make a noise even if it means losing Oumar for another game – assuming that is set in stone as well if we fail.
"RS / top-six favoritism etc, etc."
Martin Nicholls
170
Posted 22/11/2017 at 14:37:29
Would not the 3rd game ban be imposed only if our appeal was deemed to be "frivolous"? Even the FA idiots would surely acknowledge that the matter is at least arguable so an appeal could not be deemed frivolous?
John Wilson
172
Posted 22/11/2017 at 14:45:58
Kim at 169: 'evidence' is a key term. Evidence means something to indicate X or Y; or that X caused Y. Normal viewing of photographic material by itself is circumstantial.
In my view, it would need a frame-by-frame sequence of shots in several screens in super slow motion, so that sequence A, B, C, D, E etc determines if Niasse did dive or not.
The next stage, in my view, would then answer the legal question which is, did Niasse in fact by his act or omission cause such 1) an offence 2) sufficiently serious for Misconduct; and 3) 'successful deception of a match official' (the ref) and in so doing; 4) it led to a penalty.
John Wilson
173
Posted 22/11/2017 at 15:04:14
I was reading a UKSC case just now that suggests that there must be access to justice, ie includes Magna Carta.
"74. In English law, the right of access to the courts has long been recognised. The central idea is expressed in chapter 40 of the Magna Carta of 1215 ("Nulli vendemus, nulli negabimus aut differemus rectum aut justiciam"), which remains on the statute book in the closing words of Chapter 29 of the version issued by Edward I in 1297:
"We will sell to no man, we will not deny or defer to any man either Justice or Right."
Those words are not a prohibition on the charging of court fees, but they are a guarantee of access to courts which administer justice promptly and fairly:" Lord Reed (at paragraph 74 (page 22)), in R v Lord Chancellor [2017] UKSC 51.
https://www.supremecourt.uk/cases/docs/uksc-2015-0233-judgment.pdf

Kim Vivian
174
Posted 22/11/2017 at 15:06:53
John - I believe a frame by frame narrative (from all or whichever angles) would provide the evidence that a first offence (the contact/obstruction by Dann) was committed, and Niasse's actions could only be construed as (serious) misconduct if they had been the first offence. In this case Niasse's 'offence' ( the over dramatising of the collapse to the ground or purported 'simulation' as they like to call it) cannot be construed as deception of the match official because he was not constructing a non existent offence by Dann. The offence had been committed and he was simply exaggerating things for he benefit of the ref (and us of course!)
I am unsure of which site of the fence you sit on, John, with this. I think you believe the evidence is sufficient to absolve Oumar but will carry insufficient clout to make the difference. Would I be right?
Ray Robinson
175
Posted 22/11/2017 at 15:56:13
BBC reporting that he's been banned for 2 matches. I await the next similar action on Alli, Sturridge, Vardy, Mahrez et al.
Brian Wilkinson
176
Posted 22/11/2017 at 15:59:10
Sometimes you have to take a hit where the ref was unsighted and after being looked into a case can be answered for; however, in this instance, the ref could not have been better placed, with a clear view of Dann coming across Niasse and halting his run, although minimal, the ref blew right away, not after a think, in his view he saw a foul.
I find it hard to believe that two previous players who had no contact when going down get away Scot free, yet a player who had contact, had a ref in a perfect position, gets a two-match ban.
John Keating
177
Posted 22/11/2017 at 16:07:08
I think we have to accept it. However, the Club should now approach the FA every time a similar situation occurs, regardless.
One rule for everyone even if it's one of our favourite untouchable teams.
Tony Everan
178
Posted 22/11/2017 at 16:12:19
This has opened up a massive can of worms. The floodgates are well and truly open. There will be hawkeyes everywhere demanding consistency of the ruling. Any inconsistencies by the FA on implementing this rule fairly for all clubs will be magnified a thousand fold.
They have put themselves firmly in the spotlight and every contentious decision will need justifying. Failure to implement the rule fairly for all – rich and poor, Sky 6 or no Sky 6, England players and foreign, ex England managers and the rest, London clubs or the rest, 75,000 fans or 11,000 fans – will render the FA not fit for purpose.
It's the beginning of the end for this organisation.
John Wilson
179
Posted 22/11/2017 at 16:17:52
Kim, my point was / is that, on the Niasse facts, we could not know what would happen on frame-by-frame test save having undertaken that procedure. In absentia, it's just circumstantial. I do not know furthermore, as according to TalkSport, why Niasse appeal has been rejected.
John Keating
180
Posted 22/11/2017 at 16:17:53
Does anyone know who these three "wise men" are?
Obviously not only should the Club ask the FA to review every further "dive", the three arseholes who unanimously agreed this decision should be individually put on the spot every single time. What's good for one is good for all.
James Marshall
181
Posted 22/11/2017 at 16:22:10
So if the player gets a yellow card for diving, that's it. If the ref misses it, and a player then gets pulled up for diving, he gets a 2-match ban...
How on earth is that reasonable? I mean, he did dive in my view, but just because the ref didn't notice, the player then gets a 2-match ban because the officials didn't spot it? Surely it's the referee who should be getting the 2-match ban, and Niasse should get a retrospective yellow card!
Alex Fox
182
Posted 22/11/2017 at 16:23:02
There
was
contact, but Niasse went down very easily. Does that constitute diving? Probably. But it is also something we see in every match, on every part of the pitch, several times a game.
Managers talk about intelligent players 'drawing' the foul. Pundits say he 'had a right to go to ground there'. For too long there has been seriously mixed messages.
Personally I have no major issues with the ban – but only if this form of severe punishment is upheld with consistency across the league from here on in.
The disciplinary panel better be prepared to work overtime though, because consistency means that we should start seeing dozens of these bans each and every week.
Does anyone believe that will happen?

Tony Everan
183
Posted 22/11/2017 at 16:32:12
Yes, Alex...
I fully expect there to be about 10 players banned over the next few weekends. If they are consistent.
The FA better reserve a hotel for the numerous 3-man panels they will need.
Steve Ferns
184
Posted 22/11/2017 at 16:38:14
We need to appeal to CAS. We shouldn't accept this.
Rob Halligan
185
Posted 22/11/2017 at 16:39:56
James (#181). I totally agree with what you're saying. I guess it's a two-match ban because we benefited massively from the situation by getting a penalty and converting it. Had the penalty not been given, Niasse may or may not have been booked but I seriously doubt he would have been charged retrospectively.
As I say, it's only because of the penalty award and being scored that he's been banned. Would have been interesting to know what would have happened had the penalty been missed? Would there have been such an uproar over this?
Jackie Barry
186
Posted 22/11/2017 at 16:42:46
BS decision made by a BS organisation running what has now become a BS league. It's all BS!
Kim Vivian
187
Posted 22/11/2017 at 16:43:34
Interesting comments at the end of the story on the BBC footy page. Very mixed opinions but even one RS saying Mane should have been booked last night for his dive in the area.
Alex – he did dive but the offence is deception, not diving. Deception is the manufacturing of something that doesn't exist and Dann's contact on Niasse was evident.
Paul Kelly
188
Posted 22/11/2017 at 16:53:09
Corrupt FA, don't expect any less from them, after all they relegated Swindon two divisions and Spurs just got a point deduction for the same thing, didn't they?
Jim Harrison
189
Posted 22/11/2017 at 16:56:36
I suppose we cant have it both ways. We all want diving to be cut out, but don't want to be the first ones to suffer from the consequences. Now the biggest thing is for there to be consistency. It has to be applied, week-in & week out, across the board
As for the incident, perhaps his conduct throughout the match played a part? I read in one report he had 3 dubious actions in the game, the final resulting in a booking. Haven't seen them all to judge on their individual efforts but if it is the case then he made himself an easy target
I also wonder, if you watch it slowed down, does it look worse? I mean does he pull up his legs before the contact with Dann's shoulder? I have just watched it about 5 times and to me it still looks a penalty at normal speed!!
It's not a rough challenge, and Niasse makes a meal of it, but Dann steps across him. If he runs full pelt at him, Niasse will be knocked off-line. There will be more black-and-white dives this season. We are not looking at a Stevie G number here...
Paul Kelly
190
Posted 22/11/2017 at 17:04:15
Roll on the Next few weeks games, I'm willing to bet they'll be worse diving/decisions that will go unpunished!
Can we complain, anyone complain for that matter, about any decision since the beginning of the season?
David Connor
191
Posted 22/11/2017 at 17:16:16
Fair enough. Let's see if the shithouses that run the FA implement the same decision when it comes to the so-called big boys. I suspect not. The whole FA is rotten to the fucking core. Parasites.
Rob Halligan
192
Posted 22/11/2017 at 17:17:01
The funniest thing about this is that Crystal Palace fans seriously think the penalty should be rescinded and they should be awarded the three points. Hopefully, come the end of this season, Palace will be back in their rightful place... the Championship.
Jason Wilkinson
193
Posted 22/11/2017 at 17:21:01
John (#180), according to his cousin, Martin Allen is one of the panel. I have no idea who the other pair of twats are.
Dave Abrahams
194
Posted 22/11/2017 at 17:25:05
John (#180), I think the names of the three people who sat in judgement on Niasse's case should be made public and carry this on in all cases from now on.
Chris Gould
195
Posted 22/11/2017 at 17:41:56
This decision may well make the game more controversial and often farcical. Defenders can now knock the opposition off balance and obstruct them in the knowledge that the player will not want to risk going down and getting a ban.
Any slight foul can be enough to put a player off from scoring or stop them getting onto a through ball, but it may not be enough to put them over. If they stay on their feet they won't get the free kick. That's when they get called 'too honest'.
This is a ridiculous ruling and the FA have well and truly messed up. They have had opportunities this season to apply this rule to players who have dived without contact. Why the hell do they decide to apply it for the first time in the Premier League for an incident which is far less cut and dry? It makes no sense whatsoever.
Nigel Munford
196
Posted 22/11/2017 at 17:41:59
Do we know who raised the complaint for this to be escalated? Can anyone raise a complaint, for simulation?
Liam Reilly
198
Posted 22/11/2017 at 17:44:07
Shocking decision and no win for Everton, because any future challenge from Everton for diving will just be seen as sour grapes.
They had to make an example and they did. Can't wait to see Alli, Aguero or Zlatan in the chair. Will never fucking happen.
Shocking.
Trevor Peers
199
Posted 22/11/2017 at 17:46:47
Just watching Chelsea, Willian earned a penalty with minimal contact, simulation I thought ! Immediately justified by continual replays. Hopefully Willian now gets a two match ban.
Of course that won't happen, the cowardly FA will always favour the top teams, my guess is this is a forerunner to complete video control of the whole 90 minutes, with a bias towards the Sky 6.
Rob Halligan
200
Posted 22/11/2017 at 18:00:01
In future referees will take the easy way out and not give a penalty and just book the player for diving. It looks like only a handball, or if an attacker is actually cut in two by a defender, will penalties be awarded.
Stan Schofield
201
Posted 22/11/2017 at 18:07:30
On the face of it, this decision could well deter players from diving, even those from the 'top clubs'.
As Lyndon Lloyd wrote on a separate thread, the FA seems to have made a rod for its own back. That said, this potential problem for the FA could be reduced if referees now err decisions towards not awarding a penalty following an incident that might previously have led to a dubious penalty award.
Roger Helm
202
Posted 22/11/2017 at 18:29:55
Does anyone know the answer to Nigel's question? What is the process? Who makes the complaint that instigates the FA review? It can't be just the FA watching MotD and waiting anxiously on Shearer's comments.
I think the FA would have been wiser to stick to cases where there was clearly no contact between the players, rather than this sort of case which is clearly a grey area, as can be seen from the comments on this thread.
Anyway, players are simulating left right and centre. How many times does a player go down shrieking in agony after a challenge, trying to con the ref that he has been seriously hurt? How many times do they fall down in the box at a corner claiming a shirt pull? The whole game is semi-crooked and has been for years. I remember Franny Lee winning about 12 penalties in a season for Man City.
Kim Vivian
203
Posted 22/11/2017 at 18:31:59
Any of you guys on, or following, the BBC live comment tread on this?
Derek Knox
204
Posted 22/11/2017 at 18:34:10
The upside of all this, if there is one, will be that Oumar, who is already held in high esteem by the majority of fans, due to his exemplary behaviour, after the disgusting treatment he received from our former charlatan of a Manager.
He will now be approaching Superhero Status!
It was interesting too, the interview by Granada Reports/SSN, with Unsy, who is a creditable person in his own right, publicly defending Oumar and reiterating the player's honesty, as part of his character.
Brian Cleveland
205
Posted 22/11/2017 at 18:35:28
So by the same token, shouldn't bans also be given for defenders fouling a man and no penalty being given?
It's the same, just the other way around – they conned the ref into believing it was fair and no foul...
Mike Berry
206
Posted 22/11/2017 at 18:36:00
I wonder what will happen when the usual suspects dive? Thinking of the so-called top five.
Colin Glassar
207
Posted 22/11/2017 at 18:54:03
I can't wait to see a few dives this weekend from the media darlings, just to see if there's any consistency. I bet they aren't touched and if not this is fucking apartheid!!
Who's on this review panel anyway? Carra, Jamie Redknapp and Stevie Me? I wouldn't be surprised. This bullshit is really putting me off football.
Colin Glassar
208
Posted 22/11/2017 at 18:59:31
And a £26k fine thanks to the moron who took a swing at the Lyons players. That's the players Christmas meal down the drain then.
Michael Archer
209
Posted 22/11/2017 at 19:04:07
Dann stepped in front, and regardless stopped a goal-scoring opportunity, in my opinion, so any dive was secondary. The FA have waited for a less high-profile player to fall foul to issue this. There has been so much more this season that have bought free kicks or penalties but no action taken. Easy target.
Kim Vivian
210
Posted 22/11/2017 at 19:12:25
Countrywide consensus on this seems to be about 50/50 – I don't know how the panel was unanimous.
And as experts, I do not believe they can claim to more 'in-the-know' than fans.
Jack Convery
211
Posted 22/11/2017 at 19:24:47
If I was Niasse I would get a solicitor who is an expert in defamation of character cases and take the FA to Court over this. His integrity is being questioned. I still believe Dann's elbow makes contact as he turns side on and it's this that Niasse feels and as he's like a new born foal most of the time – as we know – he goes over. He doesn't throw his arms up – he doesn't wink at anyone V he doesn't fist punch and shout "Yes!"
He didn't have to as the ref, immediately on seeing what happened, blew for a penalty. Let's begin a petition – Justice for Oumar – this decision and the media trial stinks to high heaven. I'm so angry about this, it's untrue. The lad is as honest as the day is long. Fuck 'em all.
Martin Nicholls
212
Posted 22/11/2017 at 19:26:27
This will NOT open a "can of worms" not only because worse offences have already been ignored since the "rule" was introduced but also because previous such clampdowns (eg, manhandling other players in penalty box at corners, free kicks etc) have quickly been forgotten about once one of two players were penalised.
Neil Copeland
213
Posted 22/11/2017 at 19:26:32
I thought the FA were supposed be finding ways of making the game more entertaining and open with more goals. I am not for one moment condoning diving or simulation but surely this decision will result in referees favouring the defending player resulting in fewer penalties and therefore less entertainment and goals?
It really is a strange and very disappointing outcome and as others have stated already, one which I am sure they will come to regret. The FA's time IMO would be far better spent perfecting the use of in-game video evidence and a proper review of the offside rule.
Does anyone know how UEFA and FIFA view this ruling or is this where the original directive has come from?
Derek Knox
214
Posted 22/11/2017 at 19:28:25
That's the whole point, Colin, there is no consistency!
Look at Northern Ireland's World Cup Qualifier against Switzerland, a crucial game for the Irish where they had a chance, okay a slim one, and the referee gave the Swiss a penalty for what was clearly not a handball (shoulder, proved by video evidence) and the rest is history, as their aspirations were.
Like you say, mate, apart from the ridiculous money in today's game, accentuated by the likes of Sky, it does put you off watching, especially if it's not an even playing field to start with.
Jack Convery
216
Posted 22/11/2017 at 19:31:53
This weekend I reckon a lot of pens will be given and the refs will say – if I'm wrong, he'll get a two-game ban. The refs have a Get Out of Jail card now.
Steve Ferns
217
Posted 22/11/2017 at 19:34:33
No need to do anything fancy like hire a defamation lawyer, just take it to CAS (Court of Arbitration for Sport), the panel was a biased Kangaroo court anyway. The ban would have to be suspended whilst the appeal is heard.
Keith Monaghan
218
Posted 22/11/2017 at 19:35:05
This decision was an absolute disgrace – Niasse was running towards the ball, Dann made no attempt to move towards the ball and tried to block/deflect Niasse's path to the ball – a clear penalty.
Just waiting to see the serial offenders get accused & done, ie, Aguero, Silva & Sterling.
Arrogant big-mouths like Shearer employed by the BBC & paid ridiculous salary funded by us tax-payers need to learn the laws of the game – they're mouthing off on MotD is far too influential.
Rudi Coote
220
Posted 22/11/2017 at 19:38:57
With you on that, Jack. He's being victimised probably because he wears an Everton shirt. The whole thing is a disgrace.
Dubious, yes... but not as clear-cut as Gerard's tackles against us in particular. Stamp it out by all means but let it be consistent. No witch hunt.
Eddie Dunn
222
Posted 22/11/2017 at 19:45:28
I don't think this will bring a tidal wave of similar charges, mainly because refs will feel the need to punish miscreants on the pitch, so yellow cards will be the order of the day.
As it is only applied postumously to those who have conned the ref, the FA will not want to set up these kangaroo courts all of the time so surely the refs will be advised to watch out for it.
Of course, the same happened with shirt-holding in the box, but after a couple of months they all seemed to stop penalising it.
Jason Wilkinson
224
Posted 22/11/2017 at 19:51:53
Who decides which decisions the panel (whoever they are) get to look at? If a player is sent off for two yellow cards. No appeal is allowed as "the referee is deemed to have dealt with the incident" and you can't appeal a yellow card.
Has the referee not dealt with the award of a penalty? Surely (and I know this doesn't help our plight) the only justice in this instance is to strike the goal from the match result and award Palace a 2-1 victory.
If by banning Niasse we lose to Southampton and West Ham (no goal threat) it doesn't help Palace. The very team deemed to have been cheated. I am aware that red card incidents don't help the offended team either.
The authorities have once again not thought this one through. None of us want to see blatant cheating in the game but until it can be dealt with during the course of the game then retrospective action will never be fair for the offended club.
Steve Ferns
225
Posted 22/11/2017 at 19:58:56
Neil, was wondering the same myself. It's pretty dead, news wise, so I went to twitter to look at rumours, only thing I can find is "Silva in by the end of the week", off some ITK, but I don't believe that myself.
Eugene Ruane
226
Posted 22/11/2017 at 19:59:33
I just think this is dead Everton.
Years of players flinging themselves on deck, rolling about, going down like Gillian Taylforth and the worst punishment - a booking.
Meanwhile, 2017, we are practically striker-free, but have this unusual character in Niasse who, despite being told to fuck off, loaned out, had no locker etc, finds his way back, into the first team and actually scoring.
A miracle!
Cue the FA who have watched years of cheating - "let's do THIS feller."
As I say, dead Everton.
Justin Doone
227
Posted 22/11/2017 at 20:01:59
Unbelievable. Ridiculous. Quite simply wrong.
How can 3 independent people agree on this? Dan probably can't get out of the way but he turns his arse into Niasse. There is clear contact with both turso and leg. There has no dive, there is no change of direction going into Dan.
Could Niasse have stayed on his feet? Probably. Therefore got can't argue he went down easily. It was a soft penalty but still a definite penalty.
There has been and will be 3 or 4 more clear cut 'con's' in every game. Niasse is not the first cheat this season.
Don not accept it!!!! That's has annoyed me. Fight it simply because their decision is wrong. There is clear evidence.
Steve Ferns
228
Posted 22/11/2017 at 20:02:12
Eugene, where you been mate? I've missed your humour in these dark times.
Kim Vivian
229
Posted 22/11/2017 at 20:06:33
Neal (#215 & #223) – I think this has all been an elaborate charade dreamed up by Kenwright's scriptwriters to distract us from the manager void.
Neil Copeland
230
Posted 22/11/2017 at 20:06:43
Steve, thanks and yes saw that also. I was talking to a Citeh supporter today who reckoned we upped our offer to Watford to £12m but no idea where he was getting his info from.
Like you, I very much doubt we will see any change this week, which I wasn't really expecting anyway, but would be good to have some news from the club.
Jack Convery
231
Posted 22/11/2017 at 20:13:07
Neil, the two will be Kenwright and Moshiri – I'll hire an interpreter for Mosh. Can you buy a box of Kleenex for Bill Kenwright? He will burst into tears as soon as he sees how passionate we are about EFC. He'll probably come with a musical – Blues Brothers – oh sod it, it's already been done. Maybe Blue Blood Brothers.
Colin Glassar
232
Posted 22/11/2017 at 20:13:09
Neil, all I can tell you it isn't Big Sam. He's put his name forward for the Zimbabwe job now that Mugabe has gone.
Eric Paul
233
Posted 22/11/2017 at 20:13:36
What happens when the ref misses a stonewall penalty? Does he get a 2-game ban?
Jack Convery
234
Posted 22/11/2017 at 20:14:20
Colin – good one.
Neil Copeland
235
Posted 22/11/2017 at 20:22:11
Colin, nice one!
Jack, Blue Nose Brothers maybe?
Neil Copeland
236
Posted 22/11/2017 at 20:25:19
Kim (#229), all makes sense now!
Jack Convery
237
Posted 22/11/2017 at 20:38:19
Neil – can't see that up on The Empire, sorry to say. Though you never know, after all he's good at selling and promoting. It's just a pity he's crap at running a football club.

Trevor Powell
238
Posted 22/11/2017 at 20:52:50
"Successful deception of a match official".
Does this mean that an unsuccessful decption is not an offence?
Bit, like Kuyt's lunge years ago, he got away with it by failing to maim Phil Neville!
Mind you, that could have been because the ref was brown-nosing Stephanie Gerrard!
Raymond Fox
239
Posted 22/11/2017 at 21:12:39
Very predictable I have to say, why because it didn't involve a top player from a 'darling' top 6 club.
Was Niasse fouled inside the box, yes unless my eyes are deceiving me, so that does not count? Where do you draw the line on deceiving the officials.
Why I keep watching this sport that is becoming more ridiculous each year financially, I don't know. Success is almost exclusively controlled by how big the club's bank balance is.
Maybe its because I'm bored shitless most of time! No I can't be, because I'm bored shitless when I watch most matches most of the time also.
Mick Conalty
240
Posted 22/11/2017 at 21:50:17
Colin (#232) Big Sam is coming to Everton – with Mugabe as his Gold Keeping coach.
Steve Carse
241
Posted 22/11/2017 at 21:58:46
The irony in all this is that its introduction has only added to the potential for more controversy and inconsistency. Surely that's the opposite of what all the current debate about the game has been all about improving.
If nothing else it should make the administrators hold back from the introduction of video technology on incidents which are not black and white.
Christy Ring
242
Posted 22/11/2017 at 22:09:39
This three-man panel, I heard Danny Murphy was the former footballer?
Mark Dunford
243
Posted 22/11/2017 at 22:11:23
I was at the game on Saturday and was surprised when the penalty was awarded, yet not as surprised as I was when Sakho wasn't sent off for pulling back Calvert-Lewin, which seemed a nailed-on red card.
The suspension seems strangely harsh and I guess the powers that be were looking for an opportunity to send a warning to bigger names. Retrospective action is usually a mistake and this will create more trouble than it resolves.
Steve Cotton
244
Posted 22/11/2017 at 22:13:12
It would be unethical to use Murphy due to his involvement with our biggest rivals. If this was the case, the entire impartiality of the panel would be suspect; this needs clarifying
Bob Parrington
245
Posted 22/11/2017 at 22:20:45
FA are bloody idiots. A clear case of lynching squad mentality without any thought to the consequences.
Do they now suspend the ref and send him on new training course? Of course not and shouldn't be so but neither should Niasse have even been brought up on the charge. A bunch of utter pricks with no ffucking brain between the lot of them.
Dave Pritchard
246
Posted 22/11/2017 at 22:39:21
Have to hope for a couple of nil-nils in the next two Premier League games.
Jim Robinson
247
Posted 22/11/2017 at 22:40:20
Following the Carlos Tevez affair, Sheffield United successfully sued West Ham for around £18 million when they were relegated.
I suppose Crystal Palace will now also have grounds for a civil action against Everton at the end of the season if they too are relegated due to an illegal action which cost them 2 points. That was some time ago so I expect if found guilty Everton will be liable for something in the region of maybe double that amount. There goes a decent striker.
I hope Everton are employing lawyers right now to discuss the probable outcome of a civil case against the FA for defamation character by Niasse.
Jack Convery
248
Posted 22/11/2017 at 22:45:42
Worms come in a sealed can for a reeason. We aint heard the last of this and the sour taste we all have today we be a toxic taste ober the next few weeks when we witness others getting away with it. Mark my words it will happen.
Bob Parrington
249
Posted 22/11/2017 at 22:54:50
Jack (#248), As sure as eggs is eggs!!! (Can't remember who coined this phrase.)
Do we give Anthony Taylor a rousing reception when next he is at Goodison Park?
Jack Convery
250
Posted 22/11/2017 at 23:08:06
Bob, only if he gives us a pen.
Bob Parrington
251
Posted 22/11/2017 at 23:20:14
Yeah Jack. Ha! Ha! Something like this.
The defender dives to handle the ball on its way in to the net and pushes it around the post. Ref awards the penalty! Defender says "I tripped over" (no red card) Blues win 1-0. FA says – clear case of tripping on a long blade of the GP turf so we'll make a new rule – Replay the game! Everton to start 0-2 down as punishment!
They're fuckwits!
Do I appear angry? FA is either corrupt or, at best, completely incompetent.

Steve Ferns
252
Posted 22/11/2017 at 23:33:39
In other bad news, we also got hit with a fine off UEFA for failing to control fans in the Lyon game. It wasn't too expensive, not even half of one of our average overpaid player's weekly wage.
Jack Convery
253
Posted 22/11/2017 at 23:45:44
Bob nice one. They hate us. There is part of me that wishes the so called top 6 would f off to a Euro League and let the rest of us start playing the game we all used to love.
Nothing about stats – how much possession etc – just bloody football. It's about 11 v 11 and who scores the most goals wins – simples. I could be so happy.
Derek Thomas
254
Posted 22/11/2017 at 00:02:32
We all know what will happen down the track, there WILL be a carbon copy, but this time by a 'name'...only MotD WON'T be all over it...and surprise, surprise, neither will the FA.
Dave Bowen
255
Posted 23/11/2017 at 00:33:43
Am I missing something here? Dann blocked off Niasse, there is definite contact & while Niasse did exaggerate the fall, his run was illegally impeded. A cast-iron free-kick anywhere else on the pitch.
Furthermore, unless the rule has been changed it cannot be 'simulation' if there is contact. Even if the Ref deemed it to be a dive, surely that is a yellow card, not a red & therefore not a 2 match ban. If the FA Panel think the Ref was wrong to award a penalty, surely it's the Ref that should be suspended & not Niasse.
Si Cooper
256
Posted 23/11/2017 at 00:35:08
Case in point, Willian tonight. Slight tug as he sets himself to shoot, he could stay on his feet but he goes down to secure the pen. Pundits all agree definite pen.
Different channel, different comp but if anyone can justify a significant difference between this and the Niasse reaction to Dann barging across his direction of travel, I'd be very interested to hear it.
Anto Byrne
257
Posted 23/11/2017 at 03:19:37
More players need to be sent off for this. Unfortunately video play is the best way to eradicate it. Niasse is just a bit unlucky and the way he plays is definitely not the greatest player but he scores so I can't compare.
Christine Foster
258
Posted 23/11/2017 at 04:31:35
Should use that thermal imaging camera they use in cricket that goes white if there's contact... that would prove it..
Defenders get away with murder in the penalty box, yet never given, ever. Forwards make a meal out of every contact and rightly so because otherwise unless you cripple a guy and take his legs off at the hip, a ref won't give it.
referees being spineless has made the situation worse. I would say one thing to the FA, if it's a foul anywhere else on the pitch, then it's a foul in the penalty area.
Diving when clearly not touched is simulation, making a meal of contact is exaggeration, the first is cheating, the second is attention seeking.
One final point, referees now regularly book a player for tackling even if there is no contact, because of the intent. It follows on if the intent of the defender is to impede a forward then at the very least it's obstruction, if there is deliberate contact of any description it's a direct free kick.
Apply the law properly in the first place and all of this would go away. Idiots.
Gary Russell
259
Posted 23/11/2017 at 04:57:14
Retroactive everything or why bother. Kompany's blatant chopping down of Vardy the day before deserves a ban. The list goes on and on, and on. I am struggling to keep my diminished interest in the game as the farcical FA get more ludicrous and outright questionable by the week.
Rivaldo's shameless and disgraceful acting for Brazil v Turkey in the 2002 World Cup was a watershed for me. And to think, its gotten worse. The FA, UEFA and FIFA are inept and spineless and it seems, corrupt.
John Pierce
260
Posted 23/11/2017 at 05:39:57
Christine,
Sorry you cannot divine intent. You can only process what opportunity has been taken away by any attempted challenge.
Contact is permissible, doesn't mean its a foul. That doesn't preclude diving either or exaggerating after contact not significant enough to warrant a free kick.
They are the same. Which I have no problem with, diving is no worse or better than hauling a man down clean through. Both morally repugnant as they are the epitome of professionalism and outside the spirit of the game.
But within the framework of a game its fair dos, thats the state of the game we watch today.
Niasse chanced his arm and was caught out.
The uproar would be vanquished if the ban came off the back of a fa cup winner or derby. Many wouldn't care less, so we have to be careful the line we tread.
Happy as a sand boy he won the penalty, but it was a dive and he/we have to pay the penalty.
Ironically it hurts Palace more as both Southampton & West Ham have a better chance v Everton without Niasse.
Guy Hastings
261
Posted 23/11/2017 at 06:45:10
They had to return a guilty verdict otherwise they'd have looked soft. As opposed to simply looking stupid.
Christine Foster
262
Posted 23/11/2017 at 07:41:37
John, obstruction is never given these days, certainly never in the box, because if it was then at the very least it was a free-kick. The defender impeded the player either intentionally or not. In this case he clearly attempted to impede him and did so.
A foul should have been called for under the laws of the game. The referee decides if it was intentional or not, whether an attempt was made to play the ball, whether the ball was within playing distance. In this case the defender played the man. That's a foul.
Secondly, as I said in my first post, the intent was to impede and prevent a goalscoring opportunity. Clear foul, yellow card.
Because it was a goal scoring opportunity and intentional action by the defender it was a penalty under the laws of the game. The referee correctly applied the law.
Niasse made the most of the impediment because if he hadn't the defender would have gotten away with a professional foul.
that's the game as it stands today. That should be the defence based on the law of the game itself – not on pundit power.
Steve Pugh
263
Posted 23/11/2017 at 08:05:56
Another one to throw into the pot.
If a player dives causing an opponent to get booked and later in the game that opponent picks up a second yellow card and is thus sent off; is the dive contributing to the sending off?

Stan Schofield
264
Posted 23/11/2017 at 08:54:37
The ban will be a positive thing if there's consistency and it improves the game, which has become tarnished by cheating. That said, cheating by players is one thing, and is tolerable (not acceptable) provided it is policed well. However, if it is not policed well, and if there is no consistency following this case, then that would appear to confirm systematic corruption in the game. Corruption directed by money, if a lack of consistency favours the 'top' sides.
In this case, the game would no longer be worth watching. I've watched it increasingly less in the last decade, not because of an active determination to avoid watching, but because things like cheating (particularly from repeat offenders who go unpunished), getting in the face of referees, and touchline histrionics from managers, have made enthusiasm wane. To a point where I often don't watch games because I just can't be arsed.
If systematic bias and corruption are confirmed, I can see myself not watching it at all.
Alex Short
265
Posted 23/11/2017 at 09:00:20
Let's face it, the perpetrator of the incident, the catalyst of what has transpired has got off very lightly with this incident. Dann had an awful game, nearly as bad as Keane. Be nice to see a bit of retribution by the FA in his direction, sure he will get a nice reception at Goodison.
The big question is when will the obstruction rule ever come back into being? If it wasn't a penalty it certainly was a indirect free kick, will Niasse ever get a penalty again? Upwards and onwards! COYB.
Tony Everan
266
Posted 23/11/2017 at 10:17:40
So if a defender (Scott Dann?) this weekend is sneakily holding a players shirt in the box.
All done covertly so the ref and linesman cannot see .surely this is a premeditated deception of the match officials, in order to stop a player scoring.
A 2-match ban for cheating the ref?
Les Green
268
Posted 23/11/2017 at 12:39:32
We used to wish for consistency in refereeing but now we need consistency in football pundits. Over the weekend I saw that some pundits that were previously promoting the need for the striker "go down" as soon as he feels any contact, are now the ones calling for retrospective bans for diving.
This was a media trial and it won't be applicable to all teams on all occasions. I hate what Sky have done to football over the years and this weekend I fully expect Jeff Stelling & Co to go all out on demanding Niasse is crucified on pay-per-view.
Terry Underwood
269
Posted 23/11/2017 at 12:45:06
The first time a white player takes a dive without being charged, EFC should instruct Race Discrimination lawyers. However, if this stops other players diving, it is a small price to pay, provided the rule applies to the darlings at the top of the table too.
Peter Hughes
270
Posted 23/11/2017 at 12:54:06
What a stupid inane comment! What's a player's colour got to do with Niasse ban?
Tony J Williams
271
Posted 23/11/2017 at 13:04:31
I fully expect this to be upheld this weekend and forwards for Leicester, Watford, Huddersfield, Swansea and Stoke to be banned for two games
In truth I reckon the number of other bans this season will be able to be counted on one hand if not one finger.
Raymond Fox
272
Posted 23/11/2017 at 13:16:14
The ban could be very costly for us.
Niasse has become the one player in the squad that substantially weakens our chance of winning the two games when not playing.
Derek Knox
273
Posted 23/11/2017 at 14:12:43
I've just watched again the clip of Oumar going down, and am more convinced than ever, it is not a dive, not because he is one of us, or anything of that ilk.
Anyone running, I don't care who they are, unless they are superstrong, and even then, if you get a push or even lose your footing slightly (not applicable here, but still relevant) you will, because of the impetus, go down, or off track!
Ironically, Woy has just been on Sky Sports News and endorsed that it was definitely a dive, but also said, that a player can lose his balance and therefore should not be booked for simulation.
We all know how honest Oumar is both as a person and as a player, and it really hurts and annoys when you have all these so called experts, declaring, basically that he is a cheat!
Joseph Terrence
274
Posted 23/11/2017 at 14:18:26
My two cents, it was a dive, and in a vacuum, the ban is probably justified. However, when looking at the league as a whole, as many have rightfully pointed out if Niasse happened to be wearing a kit from the 'top 6' it would never have been looked at again.
I have to disagree with you who are saying that it wasn't a dive, but it is easy to see why the situation is so frustrating. Nothing will change though so might as well get on with it.
Lawrence Green
275
Posted 23/11/2017 at 14:36:22
Roy Hodgson said today at his press conference "All I can say is the FA and the people who make the decisions are siding with me rather than the player."
The FA decision-makers shouldn't be siding with anybody, they should be impartial and make a judgement based on the evidence presented to them. If as has been rumoured Danny Murphy was one of the trio that decided there was a case to answer doesn't he have a conflict of interest seeing as he played under Hodgson at Fulham not to mention that he also played for local rivals Liverpool.
What's happened is water under the bridge now, but surely a better system can be produced than the current one. If any manager feels so aggrieved about a 'cheat' having duped the officials by diving then wouldn't it be an improvement if that manager had to make an official complaint within an hour of the final whistle and the panel could then be asked to adjudicate as to whether it is a legitimate claim or not.
All very transparent and not at all dependent on the talking heads making a fuss which then spooks the Football Association into action.
Charles Barrow
276
Posted 23/11/2017 at 15:45:38
Surely it's up to the referee to decide these issues at the time. If the FA actually enforce this new rule, I look forward to seeing Ashley Young, Wilfied Zaha, Jamie Vardy and numerous other 'divers' being banned.
Some hope. Like holding in the box it will be quietly forgotten in a few months.
Roger Gordon
277
Posted 23/11/2017 at 16:52:54
Hodgson made some sound points and his last comment on Sky Sports News was that "it should be left up to the referee". I agree, and question what this kind of retrospective action is all about. If it's "cleaning up the image" of the corporate Premier League, is that still football, or some kind of circus?
It's different if the ref misses something, but Taylor had a good view... leave these contentious football matters on the pitch, they'll always exist, and we thrive on them, and then move on to the next match.
John Pierce
278
Posted 23/11/2017 at 17:58:09
Chritine, you now have introduced obstruction into the mix, perhaps conflating things.
The reason I feel and would never award that penalty is Dann despite trying to 'failed' to take away Niasse's opportunity to play the ball.
His touch was too far away from him to retain possession and going out of play. Even if Dann didn't touch him, he was never getting the ball. It requires a player to be within playing distance, the ball had gone, Niasse knew that and chanced his arm and when down to exaggerate the contact. The contact was incidental. A dive, or whatever name you give it.
Nick Lacey
279
Posted 23/11/2017 at 18:17:39
Why haven't Everton gone to Court of Sports Arbitration to appeal this? There was definite contact and not forgetting that Niasse is like Bambi on Ice. Niasse did make a meal of it but the years of listening to MotD and Sky and listening to hypocrites in people like Shearer who say 'the slightest bit of contact in the area and you have a right to go down as it knocks you off your stride', but now it is Everton, it is suddenly a dive.
The fact that Scott Dann said after the game, 'If there was contact it was minimal'. The fact that he used the words 'if' means that there was contact – otherwise, he would have said that he didn't touch him. The whole things stinks of top 6 bias.
I have never been so angry with the FA and football.
Ray Smith
280
Posted 23/11/2017 at 21:36:51
Retrospective!
Correct me if I'm wrong, relates to previous incidents from the outset of the study?
Therefore why start with Oumar when you have a plethora of incidents to populate your study.
I know it won't happen, but why not start at the beginning and retrospectively punish everybody. Not sure how long the new rule has been in, but what's good for one is good for all.
See the top 6 duck and dive if it ever happened.
Once you have cleared the plethora (which won't be particularly long) retrospective decisions can be handed out quite quickly.
The one thing it won't change is the result!
Gerry Quinn
281
Posted 24/11/2017 at 16:11:52
The pike position is performed with the body bent at the waist. A proper pike position will demonstrate little or no gap between the upper body and the legs. The toes are pointed and the head looks over the toes. The knees show no flexion.
Pike position can be performed with the hands extending out from the body in an open pike position, touching the feet as used in voluntary dives, or with the arms wrapping around the legs in a closed pike position.
I personally gave Oumar a 5 out of 10...if he had wrapped his arms around his legs, that would have increased to a 9!

John Keating
282
Posted 24/11/2017 at 16:19:58
Just read the reasoning behind the FA ban and the judgement of the 3 experts – I use that term lightly – plus the FA observer at the game.
Unbelievable and completely pointless having a ref at the game.
A right can of worms. This weekend might be havoc, to say the least, all over the pitch. Idiots.
Simon Lloyd
283
Posted 26/11/2017 at 08:52:46
Just watched the highlights of Swansea v Bournemouth. The Bournemouth number 5 successfully deceived the referee by going down as if he'd been shot, the ref then disallowing a goal.
Didn't hear any clamour from the three wise men on MotD for retrospective action. Why is that?
Bob Parrington
284
Posted 27/11/2017 at 06:32:41
Good to see Hislop defending Niasse in the light of Ramsey's drawing of a penalty with a dying swan dive to give Arsenal the 3 points at Burnley this weekend.
Pure and utter bullshit that The FA are not even looking at it. Well said Mr Hislop! even up against the shouting down of that dickhead on the panel whose name I can't even recall – but let's just call him biased dumb fxck.
Christine Foster
285
Posted 27/11/2017 at 13:38:09
Just see Lukaku has gotten off any ban for kicking a Brighton play, twice, in the nuts on purpose.. Can just see that being the same for everyone else in the Premier League? I don't care if he was our player once, the hypocrisy of the FA is staggering..
Liam Reilly
286
Posted 27/11/2017 at 14:58:30
Just seen that myself, Christine – what a repugnant joke the FA is.
It's a clear as daylight that Lukaku has lashed out at the Defender and no punishment is given, but in Niasse's case, it is not clear cut so we'll ban him.
Add Your Comments
In order to post a comment, you need to be logged in as a registered user of the site.
Or Sign up as a ToffeeWeb Member — it's free, takes just a few minutes and will allow you to post your comments on articles and Talking Points submissions across the site.