Liverpool vs Everton

198 Comments [Jump to last]
Friday 8 December 2017
Match Preview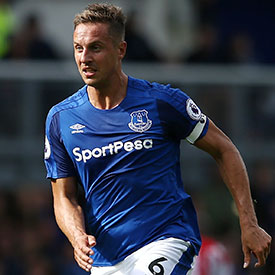 Phil Jagielka could be fit to return to central defence after missing the last three games
If there's a prevailing mood these days among Evertonians when it comes to the Anfield derby, it's surely one of resignation. The agonising over the ever-lengthening time since Everton's last win there, the hand-wringing over the crippling psychology that has built up over this fixture, and the desperation to beat Liverpool on their own patch for the first time in 18 years seems to have been replaced by a detached numbness that won't be dispelled until a Blues side finally does win this particular fixture.
What will be will be.
There was a realism about Everton's prospects against the Premier League's most in-form attack from new manager Sam Allardyce as well as he gears up for his first taste of the Merseyside derby.
He takes across Stanley Park a team that was, until very recently in a tailspin, seemingly headed for a relegation battle but which has now win three games on the bounce with three clean sheets and can now start looking upwards again rather than over their shoulders.
They will certainly be in a better frame of mind coming into this game than they would have been a fortnight ago but they will have their work cut out to earn a fourth successive shut-out against what is a depressingly dynamic and pacy forward line.
Allardyce's comments during his pre-match press conference certainly suggested that he is under no illusions about the strength of the opposition, a team that has scored 15 goals in its last three outings and has yet to lose on home soil in any competition this season.
The 63-year-old arrived at Everton with a reputation for successfully exploiting team's weaknesses — Jurgen Klopp's reds are notoriously suspect at the back, for example — and Evertonians will be hoping he can extend the good record he established playing at Anfield with his previous clubs but Allardyce admits the preparation will start by focusing on nullifying Liverpool's strengths first.
"It's a [Liverpool] that, I have to admit, is probably in the best form it's been in since Jurgen arrived and with one of the best strike forces available in the Premier League," he said.
"That's certainly something we'll have to master before we can think about can we get in the right areas to try and get an opportunity to score a goal, not waste the possession that we get and not let the occasion over-awe us.
"That is the most important thing — to deliver a performance that is tactically right to block off the areas that Liverpool try and work in and then how good we're going to be when we're in possession.
"I think we all know that probably won't have as much possession as Liverpool on Sunday but we have make sure we do use [what possession we get] correctly and in the right manner.
"If and when we get a chance, we need to score. We need to be very clinical in our finishing when it comes along and that will hopefully get us a good performance and a result.
"The whole occasion is a test for the players that we have. The players need to rise to the occasion. It's a one-off and however Liverpool are playing at the moment, it is a derby match and anything can happen.
"All I can ask of the players is they play their best game. It still might not be good enough against this Liverpool [but you have to] go in with a positive frame of mind and really know what your strengths are, play to your capabilities and try to get a result."
Allardyce indicated in the presser that the players who remained on Merseyside while the younger members of the squad salvaged some pride in Cyprus with a tremendous performance against Limassol will form the bulk of the starting XI on Sunday.
The manager also confirmed that in addition to Michael Keane, who returned from injury to make a cameo off the bench in last weekend's win over Huddersfield, Phil Jagielka could be fit again. Leighton Baines is still ruled out, however, placing a significant burden on whomever is selected in the left-back or left-wing-back role — most likely Cuco Martina.
"Some of those players who played last night will almost certainly be on the subs' bench," Allardyce said when asked if some of the standout performers last night will have played their way into contention to face Liverpool.
"They have impressed me which is something I want to see. I don't want to see people sulking and thinking, why am I here. I want to see people be professional and that's exactly what all the players did last night."
That professionalism and commitment is the minimum of what will be demanded from Blues supporters on Sunday. Regardless of the result, they will be looking for further signs of progress while Allardcye is still in the process of assessing what he has inherited from Ronald Koeman as he looks ahead to the January transfer window and the return to action of the long-term injured.
Can the top flight's noted "spoiler" banish the mental block that Everton have had around facing the enemy from across the Park and spring a surprise? It might not be as big a deal as getting a statue made of him should he achieve it as was quipped during his press conference but it would certainly earn him a place in modern Toffees folklore.
Kick-off: 2:15pm, Sunday, 10th December, 2017
Referee: Craig Pawson
Last Time: Liverpool 3 - 1 Everton
Predicted Line-up: Pickford, Kenny, Jagielka, Williams, Martina, Gueye, Davies, Rooney, Lennon, Sigurdsson, Calvert-Lewin
---
Reader Comments (198)
Note: the following content is not moderated or vetted by the site owners at the time of submission. Comments are the responsibility of the poster. Disclaimer
Mike Hughes
1
Posted 08/12/2017 at 18:11:13
Can't see it going ahead with the predicted snow forecast and associated travel chaos.
It'll be a shame because Sam Allardyce (the most successful manager in our history after 2 games in charge I think) would have spoilt the predicted party.
If it goes ahead, 1-2 or 1-3 to The Mighty Blues.
Lenny Kingman
2
Posted 08/12/2017 at 18:12:23
The only certainty is that Everton won't win.
Alex Short
3
Posted 08/12/2017 at 18:25:53
Don't change the team. And none of those niceties in the tunnel before the game, eg, at Southampton. Let the players show something and win it for the long-suffering Blues supporters. COYB
Stan Schofield
4
Posted 08/12/2017 at 18:27:19
Lenny, we pay tax and die, but Everton might win.
Derek Knox
5
Posted 08/12/2017 at 18:27:38
Good preview, Lyndon, I do actually hope the weather doesn't stop this game going ahead. Principally because we have started to build a momentum, which incidentally runs in tandem with confidence, and although Liverpool are the team of the moment, I just want to get this game out of the way.
Getting back to the projected team, it terrifies me when I see Martina's name on the team sheet, let alone on his shirt. I make no secret of my dislike for him in an Everton shirt, another Koeman cock-up, he is totally inept as a defender, it's like employing an accountant that's useless at Arithmetic. He is probably a decent chap away from football, nothing personal against him, he's just awful for Everton in my opinion.
Gerry Quinn
6
Posted 08/12/2017 at 18:28:25
I normally don't guess scores, but I feel that this will be a 3-1 to Everton – I just feel it
...deep breath, breathe in, karma and all that shite.
Trust me, it is not often I am wrong with my predictions... :)
Jamie Crowley
7
Posted 08/12/2017 at 18:35:40
Is it supposed to snow there? Travel chaos Mike @1?? What the hell, both sets of fanbases have to travel all of 10 miles max probably?
Oh... wait... half of theirs will come from Norway...
I don't feel good about this game, but hoping for that elusive three points that has escaped Everton long before I took any notice.
Will be up at the ass-crack of dawn here in America to watch. COYB.
Lenny Kingman
8
Posted 08/12/2017 at 18:37:54
Derek (#5),
This dog's body of a game will go out the way but another one is coming.
About Martina, he might have defensive shortcomings but going forward he has something of the Carlos Alberto about him.
In other words, there is a style of his play that I enjoy. Good luck to Martina and may the spirit be with him overall.
Peter Murray
9
Posted 08/12/2017 at 18:38:06
Surely any living, breathing Evertonian must be just praying that some form of team pride, effort & real desire will be evident, that unfortunately for countless seasons has been sadly, totally non-existent, missing for so long!!!
Come on you Blues – just give it a real go & tackle as if your lives depended on it, like Peter Reid, Paul Bracewell etc always did.
If outplayed,take no prisoners & ensure they know there has been a game – unlike so many previous attempts !!!
C O Y B ALWAYS
James Power
10
Posted 08/12/2017 at 18:39:47
Fuck 'em, Sunday we smash them. Let's be nasty and hard-faced and bright and focussed and let's go into their back yard and smash the living shit out of them. No respect, no quarter given. Come on boys, let's alter their reality.
Dermot Byrne
11
Posted 08/12/2017 at 18:44:28
This will be the day Sigurdsson becomes a Blue legend!
Kevin Tully
12
Posted 08/12/2017 at 18:45:31
If you needed any indication about how far off we are from even challenging the 'top 6' then one question at the presser will give you an idea:
"Sam, Do you think the wind and possible snow will be to your advantage, and stop Liverpool playing football?"
Fucking hell, we really are viewed as fodder. This is a question you would ask a League 2 manager in a Cup game. Even our own former manager said it, didn't he? "We have to knock it long and hope for second balls."
We have such a long way to go before we can start to even think about playing like these sides we aspire to join. First step, stop kidding ourselves the youngsters will get us to where we want to be. Some may prove to be competent, that is all. Secondly, stop buying players from relegation threatened sides, they don't have the mentality to compete, or the talent.
We really need to regroup, steady the ship, and hope we can find something special in the transfer market. Until then, mid-table. I include 7th place in that bracket. We will play for a draw, and lose, exactly like the Man Utd game. I just hope we can keep the scoreline respectable.
If we were to take the lead, this side would shrivel up before our very eyes.
Peter Warren
13
Posted 08/12/2017 at 18:45:58
Martina good going forward? Perhaps Lenny is fishing and I just took the bait!
Ian Bennett
14
Posted 08/12/2017 at 18:48:30
I'd like to see Lookman coming on from the bench. I think he's a good ball carrier to bring on if we're still level.
I would be tempted to start Niasse up top, and may be Calvert-Lewin on the right. Lennon has done okay, but I think Niasse's nuisance value and Calvert-Lewin's aerial presence for the diagonal ball would be key to get anything going in their half.
Gueye needs to stay on his feet, we need 11 men on the park.
Pickford
Kenny
Williams
Holgate
Martina
Gueye
Davies
Rooney
Calvert-Lewin
Sigurdsson
Niasse
Kim Vivian
15
Posted 08/12/2017 at 18:52:00
For fuck's sake – Just how bad is the forecast? You've gotta be kidding. We're going to do 'em on Sunday.
Rob Coles
16
Posted 08/12/2017 at 18:57:58
Norwegians will be used to the conditions. We may just snatch the win we need.
Matthew Williams
17
Posted 08/12/2017 at 18:58:19
The Biggest game on Earth... this time eh, lads!
Win it! Fuck 'em. now is the time to end the misery. Can someone please produce a Kingy moment of shear joy!?
Gareth Clark
18
Posted 08/12/2017 at 19:03:52
Pickford
Kenny Holgate Williams Martina
Davies Idrissa Rooney (c)
Sigurdsson
Calvert-Lewin Niasse
Subs: Robles, Keane, Jagielka, Schneiderlin, Lennon, Vlasic, Lookman
Stick with the same back 4 – no need to force Keane or Jagielka back into the team. Don't mess with something that is working.
I wouldn't mind seeing Lennon on for Niasse – but I think that Niasse & Calvert-Lewin up top give us a proper threat.
I would love for Klaassen to get a spot on the bench too... he's such a hard worker, he needs a confidence boost to allow his undoubted talent to shine through.
Mike Hughes
19
Posted 08/12/2017 at 19:06:43
Gerry (#6),
Nice to see a bit of positivity on here after the last week or so. 1-3 it is then!
Jamie (#7),
The distance to travel for football fans is irrelevant. All depends on whether it is the right or wrong kind of snow.
The wrong kind (to use the technical UK term) means that everything grinds to a halt. No trains or cars. Power cuts. National emergency declared. The army are on the streets. Food coupons issued. Curfews. News interviews with pensioners. Third World countries sending aid etc.
Other countries have tornadoes and earthquakes and volcanoes but they are nothing compared to the wrong kind of UK snow. If it is white it is the wrong kind. Then, God help us all.

Jack Convery
20
Posted 08/12/2017 at 19:13:18
It would spoil Caragher's Xmas if it were called off!
Kim Vivian
21
Posted 08/12/2017 at 19:16:44
And all because the RS prefer it warmer, Mike.
Lawrence Green
22
Posted 08/12/2017 at 19:21:23
I'd be a wee bit fed up if I was a Manchester City supporter "Liverpool the team of the moment"? They are scoring goals that's true but they've also been turned over a couple of times too at Wembley by Spurs and at the Etihad by Manchester City. OK they are pretty good at Anfield and haven't lost there in the Premier League since Sam Allardyce's Crystal Palace side took 3 points home with them at the back end of last season.
They have enough admirers in the media and elsewhere without Evertonians feeling they have to pump up their already inflated egos. Sky deemed fit to have a day of Liverpool Football Club today, hardly the action of an organisation that has no favourites is it?
Everton may well leave Anfield with their tails firmly between their legs on Sunday but in no way should the Everton team or the Everton supporters be entering that ground with a defeatist attitude.
Everton are not Tranmere Rovers or any similar club going to the home of the detestables hoping to keep the score down, we are a Premier League club who should be looking to earn three points from a tricky fixture – admittedly that does seem unlikely given our teams dreadful away form in 2017. But, our bad league run away from Goodison has to end somewhere and where else would be better to do that, than on our old stomping ground? COYB

Rick Tarleton
23
Posted 08/12/2017 at 19:34:35
Loved today's joke on Facebook. Weather warning: heavy snow expected on Merseyside. Liverpool fans must consult flight timetables and railway timetables. Everton fans – wear a big coat.
I'm worried, they are scoring goals for fun and despite our recent run, our defence does not look rock solid in any way.
Jack Convery
24
Posted 08/12/2017 at 19:37:00
Would take a hard earned point as we did at the Etihad and stuff them in the Cup. That would make my Xmas and New Year.

Mark Burton
25
Posted 08/12/2017 at 19:58:21
Ian (#14) – I would prefer your team against the RS.
Colin Glassar
26
Posted 08/12/2017 at 20:19:35
I hope it's cancelled. Big Sam needs time to implement his master plan and we will be ready by January.
If it does go ahead, and the RS followers can't make it from their home countries, I'm sure there'll be enough Everton fans to fill their dump.
Stan Schofield
27
Posted 08/12/2017 at 20:39:20
Kevin @12: Surely a question from the media doesn't reflect anything significant. They ask pretty banal questions, don't seem to understand anything about football, and are often biased towards Liverpool. In other words, they're generally full of shite.
Raymond Fox
28
Posted 08/12/2017 at 20:44:46
Only those wearing very blue tinted glasses can see us winning this game. Sorry boys, logic strongly suggests we will lose it, a draw is a very good result for us and I would take one now.
Stranger things have happened before though, and it will be interesting to see if the 'Big Sam' factor comes into effect... Here's hoping.
I feel a lot happier now that Sam is manager, helped by Shakespeare and Lee, it looks a very strong experienced management team, I have to say.
Whatever happens on Sunday, I think we will be going the right way with these in charge.
Stan Schofield
29
Posted 08/12/2017 at 20:49:33
Kevin, by the way, you say mid-table. In fact, over the last 15 years we've finished on average with 58 points and 8th. Liverpool have finished on average with 68 points and 5th. The same averages apply to the last 5 years.
We have a psychological issue with derbies. If we didn't, that 10-point difference would be a lot less, and would equate to finishing 2 points above them (on average) if we beat them at home and away.
That's the actual difference in facts, rather than fearful opinion, ie, small margins. The difference between them and the truly top teams, like Man Utd, is greater than the difference between them and us.
John G Davies
30
Posted 08/12/2017 at 20:55:19
Hear hear, Stan.
Very interesting figures there.
Jamie Evans
31
Posted 08/12/2017 at 21:00:58
Let's have something right. They are horrible. They should have been wound up/closed down after the Suarez T shirts fiasco.
Despicable. Disgusting rats. A bit of rain would clean that yard up. Any blues going have a bath afterwards. Vile place.
Andy Crooks
32
Posted 08/12/2017 at 21:01:29
Raymond Fox, I know what you are doing. It is the Everton Way. We imagine the worst, every possible grim scenario, and hope that only something we cannot envisage will happen.
Therefore, we cannot contemplate an Everton victory. However, by not contemplating a victory, we subconciously contemplate it. Thus envisaging an outcome that we did not wish to contemplate.
Yes, this is what the derby does to me. It causes psychological injury; I have had enough. Let us win!

Terry McLavey
33
Posted 08/12/2017 at 21:04:54
Raymond Fox,
I agree with you on the strength of our management, I am so much more confident with this team, Sammy Lee doubters... I don't understand? He's a professional and if he's good at his job – what's the problem?
I still worry about their goalscoring power though, but I'm sure Sam has a plan and won't roll over.
Jamie Evans
34
Posted 08/12/2017 at 21:05:27
Psychological injury, Andy. Every year. Twice a year. This time we have the pain 3 times.
Please Everton. Enough is enough. We love you. Please give us something back.
Ernie Baywood
35
Posted 08/12/2017 at 21:14:57
Well I've seen us go there with better teams and get hammered.
Logic therefore suggests we could be in for an absolute battering, but maybe for once the people who say "anything can happen in a derby" might actually be right.
That's about as optimistic as I can get!
Tony Abrahams
36
Posted 08/12/2017 at 21:17:55
Agree with Lawrence @22, and recall a similar thing happening last season, when Liverpool started it very well. That was until Man Utd parked the bus at Anfield, and got a draw, and Jose Mouriniho, put it right on the media, by saying they were going on about Liverpool, like they were the 8th wonder of the world!
The less respect we give them, the better we will do against them, and maybe then the media might even stop disrespecting Everton.
but that's not something that really bothers me if I'm being honest, it's losing every big game we play, is the thing that gets on my nerves.
Kevin Tully
37
Posted 08/12/2017 at 21:36:54
Semantics, Stan. An average of 8th over 15 years. My definition of mid-table. And most other fans', by the way. Let's all stop kidding ourselves, and accept that the odd win at Goodison over the likes of Chelsea doesn't make us a good side.
We haven't won away from home for almost a year, some people have their fingers in their ears, singing at the top of their voice when it comes to this club. About time some of us spoke a few home truths, no matter how uncomfortable.
We are witnessing Everton turning into a very mediocre Premier League side. I can't see it changing direction unless someone like Usmanov declares an interest. The top 6 have raced away.
Will Mabon
38
Posted 08/12/2017 at 21:46:05
We've been an okay team, mostly. The last time we looked a threatening team was in the first season of Martinez. Top teams have a dangerous attack. We looked close for a time. The money came two or three years late.
John Keating
39
Posted 08/12/2017 at 21:49:11
I have already got 2 cushions behind the couch and a case of beer.
I intend to go behind the couch shortly after midday Sunday and stay there until Friday. I've read up on how the SAS get rid of their piss and shit and have made plans.
I am hoping that when I surface Friday the slagging from the RS has reduced to an almost acceptable level and they are planning their next goal haul.
Sorry guys I would to be optimistic but realism on this occasion wins.
Tony Hill
40
Posted 08/12/2017 at 21:49:47
Insofar as any club is the reflection of its fan base, then it's little surprise that we're dreading this one.
We wet our pants about the proper number of posts on here and about whether we should all be nicer to one another. That's after we've finished (maybe) our diva swooning about hiring Fat and Evil Sam.
Meantime, the Shite expect to crush us and are quite happy to tell us so.
Grow up and man up.
Brian Wilkinson
41
Posted 08/12/2017 at 22:00:09
Big downpour of snow, game cancelled, rearranged in January when Coleman, Bolasie and reinforcements in the transfer market, with our neighbours having a fixture pile up and Coutinho in a Barcelona top, Mane and Salah facing three match bans, missing the game.
Rest assured the game will go ahead, when did the gods ever smile on us when we played our neighbours?
Stan Schofield
42
Posted 08/12/2017 at 22:09:05
Kevin @37: Surely midtable is 10th to 11th. Top-6 is 6th, that is if you finish 6th you're in the top-6 by definition. Now, 8th is just about the average 6th and 10th-11th, which makes 8th between mid-table and the top-6. So we're actually above mid-table, surely. In fact, on average, 3 places behind Liverpool.
Mike Hughes
43
Posted 08/12/2017 at 22:10:19
Well said, Tony.
The attitude of some fans is 'surrender monkey' at best.
Why not just shit your pants now lads and get it over with? You can do it again tomorrow before match day. Then you can hide behind the couch with your beer, shit yourselves again and piss your pants for good measure.
Attitude is the starting point. If we do lose, I'd prefer to go down fighting rather than smelling of my own shite.
Sam will have them psyched-up like Rambo in the jungle, bandanas on and ready to spill some guts (metaphorically speaking).
Jesus wept, no wonder we are where we are – more 'high principled' than high standards. Wave your white flags at the match as well if you like...
Total mediocrity.
Bradley Smith
44
Posted 08/12/2017 at 22:18:36
The reason the top 6 have raced away is because we have never invested in the team without selling are big hitters.
Moyes over-achieved massively on a shoestring budget, most of his signings where brilliant after selling Rooney because we were on our knees as a club. Baines, Jagielka, Lescott, Arteta, Pienaar, Cahill, Coleman, Fellaini, Stones, Howard – that's a few that come into my head, he signed all these for pennies...
Then Martinez got Lukaku an Co after selling Fellaini. We have sold Stones, now we have sold Lukaku – we persist to weaken the team before we spend, it's as simple as that.
You can't keep doing that and hope you get good players for less than the amount, you will eventually come unstuck and this is what we are seeing now. The Lukaku cash has been spent on players who are not up to it – so this is where we are... a club with real ambition keeps Lukaku and Co, and then spends the £150 million!
The closer this games gets on Sunday, the more I fear the same old embarrassing display. I hope they prove me wrong but, after 18 years of it happening, it doesn't get any easier! It requires a big one... Keep the faith!
John G Davies
45
Posted 08/12/2017 at 22:19:27
Stan (#42),
Thanks for that. I posted similar re mid-table. I was informed by a fellow ToffeeWebber that general football concensus was mid-table was anywhere between 7th and 13th.

Kevin Tully
46
Posted 08/12/2017 at 22:20:35
Give it a rest, lads. I've seen more Everton in the trenches home and away than most. If metaphorically puffing your chest out on here means something to you personally, then be my guest. We'll murder 'em! (Feeling it now!)
Stan Schofield
47
Posted 08/12/2017 at 22:25:35
Kevin, puffing your chest out is, for example, the likes of West Brom saying they're not far behind Liverpool, contrary to the facts. All I'm doing is saying we're not far behind Liverpool based on the facts.
Stan Schofield
48
Posted 08/12/2017 at 22:28:59
John, fair do's, I suppose that puts us at the top of mid-table, as opposed to the middle or bottom of mid-table.
Jay Woods
49
Posted 08/12/2017 at 22:30:40
I usually describe us as "White Flag Merseyside" after the derby, or suggest we should have an Ajax-style vertical bar up the middle of our shirts – coloured yellow. But Sam might actually give us some spine this time.
Oh, and can Leighton Baines please not play? He upsets the Liverpool players by begging them for autographs and fawning before them in the tunnel.
Tony Hill
50
Posted 08/12/2017 at 22:31:44
Well, we can puff our chests out or go off to Dignitas and have them cave in. Despair is always unattractive.
Mike Hughes
51
Posted 08/12/2017 at 22:33:42
Give it a rest, lads.
As fans, metaphorically puffing our chests out would be a better starting point than metaphorically shitting ourselves.
I'm 51 years old and we've been mediocre for most of my life. I woke up and smelled the coffee long ago. We've been in the top flight for longer than anyone but our MO for the last 30 years has been 'survive' for the most part.
But why post that on the eve of a derby match?
If we have any chance at all (which we have), I'd suggest talking us up rather than down.
We have a new manager who has made a good start, has beaten them at their place with an inferior side, and we are on a 3-game winning streak. And we're playing the Red Shite.
If only the pro-EFC passion was as strong as the anti-Allardyce bollocks was last week.
"Oh that nasty, corrupt man. I'd rather we didn't exist than had that brute in charge. The shame."
Bollocks.
Kevin Tully
52
Posted 08/12/2017 at 22:39:54
"Shitting ourselves"
It's a game of footy. Dear me. 51 you say, Mike? You don't even know me.
Brian Ronson
53
Posted 08/12/2017 at 22:41:30
We now have two opportunities to beat them. If they win, so what? Their arrogance is nauseating. One of these times we will beat them and it will be a wonderful moment. Sam's guile increases the chance of that happening. Keep the faith!
Kevin Tully
54
Posted 08/12/2017 at 22:43:22
I should know better than to answer "Internet Bravehearts"...
Note to self.
Mike Hughes
55
Posted 08/12/2017 at 22:43:35
Kevin - not meant personally.
Just used your post as the general theme on here was negative.

Tony Hill
57
Posted 08/12/2017 at 22:45:01
It's a terrible thing is irony, Kevin, it follows you up your own arsehole.
Mike Hughes
58
Posted 08/12/2017 at 22:47:59
"Internet Bravehearts"? Kevin
You don't even know me. LOL.
Seriously - nothing personal.
(Note to self).

John Keating
59
Posted 08/12/2017 at 22:49:13
Mike, as a young man of 51, you need to lighten up or you won't see 52.
I doubt Sam's doing his team talk based on what he's reading on ToffeeWeb.
Mike Hughes
60
Posted 08/12/2017 at 22:53:24
John Keating.
I think you'll find my posts are a lot more "lightened-up" than several others on that thread. Yours included.
I might not see 52 but it'll be better than whatever miserable world some posters are in.
Again, nothing personal.
But it's a derby match FFS.
Peter Lee
61
Posted 08/12/2017 at 22:59:59
Kevin Tully, how did we play for a draw in the Man Utd game?
At 1-0 down, we got a grip on the game, could/should have at least equalised and had so much control Jossie pulled off Rashford for a midfield player. This was when we did the opposite. Bonkers, but hardly playing for a draw.
That kind of comment undermines any other judgement you might make.
John Keating
62
Posted 08/12/2017 at 23:09:35
Yes, Mike, I know it's a derby and I can honestly say that I have been to a lot more, well mostly at home than most people.
People are posting some serious and some light-hearted posts. Try and differentiate or you will be in the Royal before kick off
Kim Vivian
63
Posted 08/12/2017 at 23:12:45
Fucking hell, lads.
United we stand, divided .....? Well, you know the rest.
Any RS will be laughing out their arses if they're reading this.
Mike Hughes
64
Posted 08/12/2017 at 23:16:22
Thank you for the advice, Dr Keating.
Much appreciated.
Honestly.

Harvey Miller
65
Posted 08/12/2017 at 23:16:42
Every chain ends some time. So we have not won there for a while, for a long, long time.
I remember we had not won at Elland Road for about 50 years and Rooney changed that in 2002. So I hope another chain will be broken on Sunday.
Wayne must be played as a defensive midfielder but he must have a license to do what he does best, be everywhere and spread those passes and maybe arrive in the enemy territory to score like he did against West Ham.
It's going to be a hard, hard game but if we can hold the storm their defense could be vulnerable.
Rob Newling
66
Posted 08/12/2017 at 23:21:22
Snow will definitely suit their lot.
I'm told Norwegian Blues stun easily, but COYB, let's leave them pining for the fjords!
Steavey Buckley
67
Posted 08/12/2017 at 23:24:16
When comparing ourselves to Liverpool, Everton should do a Huddersfield Town of late and concentrate on the winnable game against Newcastle United next Wednesday evening, weather permitting, and play a much weakened team – what Huddersfield did when they played Arsenal before the played Everton.
To expend much-needed energy, risk injuries and suspensions are not worth it. Liverpool have a much better team, who are now scoring many goals without really trying. They are just scoring goals for fun as though it is an exercise training game.
Quite frankly, the Liverpool manager, Klopp, has bought very well over the past 2 seasons (including this one, so far) with direct fast players who can score goals (such as Mane) no older than 26, while Koeman has bought players for a lot of money who are not good enough or are in their late 20s. So it's fair to state, Everton may only get one good season out of Bolasie when he returns to full fitness next season.
Simon Bates
68
Posted 08/12/2017 at 23:25:59
I personally, am cautiously optimistic about our structure right now. I think we have possibly the best two coaches in the Premier League, in Shakespeare and our Sammy!!!
I don't know if this derby has come too soon, but I do know that, with Sam's experience and know how, with these coaches, we will do a number on a lot of teams.
Let's hope for at least one win there, either Sunday or in the cup. I seriously expect them to not be outwitted by Klopp, twice in a month.
Soren Moyer
69
Posted 08/12/2017 at 23:33:11
I hope it gets cancelled. We are not ready for the derby yet but we will be in 2-3 weeks time. With Martina as left back, I don't feel confident at all.
Kevin Tully
70
Posted 08/12/2017 at 23:36:03
Peter, nobody is declaring to be undeniably proven correct, just my take on things, brother. Look, there is not one poster on here who will be right out into town on Sunday if we win. You're all invited to mi casa for what the kids call "pre-drinks."
Address to follow.
Tony Hill
71
Posted 08/12/2017 at 23:38:54
I think we will get at least a draw on Sunday and that we may win. As much as they have a fine attack – though a delicate one, not too keen on a fight – they have a poor defence and a liability of a goalkeeper.
We need to be tight, confident and unafraid. I think we will be.
I am baffled by the idea that we are only entitled by some cosmic law to win either the league game or the cup game. I think we have a perfectly good chance to win both.
Winning depends to a large extent upon a collective belief, upon creating a psychological momentum that expects victory, or that does not expect defeat. There is no curse upon us, there is no given narrative. It's about will and courage, primarily. Yes, talent is important but concentrated mind will generally win over matter.
Now is a very good time, if we are brave enough.
Tony Everan
72
Posted 08/12/2017 at 23:46:45
The game will be on, Liverpool will make sure of that.
They will want to play us before we reinforce the squad with a top striker and bolster the defence.
However, the lads have regrouped the last 3 games and can give a good account.
Charlie Lloyd
73
Posted 08/12/2017 at 23:50:01
Steavey @ 64
Are you honestly thinking of throwing the derby?
It's been painful for many years but you can never give up.
Darren Hind
74
Posted 08/12/2017 at 00:02:14
Kevin Tully is right. Logic does suggest we are in for a harrowing time of it... but I've had a bevy and logic doesn't come into it.
I think we have all seen enough genuine surprises in the game to throw in the towel.
Martinez's possession obsession was brushed aside. The Zombie football Koeman took over there, simply embarrassed us. We have to hope Sam can get us up-and-at-them
They don't like it up 'em, those RS!
Anthony Burke
75
Posted 09/12/2017 at 00:04:14
The cold weather will affect the Brazilians; we will be 3-0 up by half-time, then a blizzard will come over Merseyside with the ref having no option but to abandon the match.
When the game is replayed, they will win 1-0 – just our luck.
James Power
76
Posted 09/12/2017 at 00:19:45
Lots of posts doing ourselves down. We are mid-table - we are witnessing us being a mediocre Premier League team - what? We were that a few years after winning the league, so what? Lie down?
Pre-arranged excuse for losing on Sunday before we turn up, if you ask me. I'd rather talk myself up and then deal with the shit if it goes badly, at least we had heart, belief. Getting our excuses in before it happens, if you ask me. I'd rather die on my feet than live on my knees.
Fuck it, change of attitude please! Fuck them, most of it is in the head, and that starts with us... stop being a fucking pussy and let's fucking have them. Come on!!!!!!
Anthony Burke
77
Posted 09/12/2017 at 00:28:52
I've backed us at 20/1 to win and both teams score. I hope I do one over on the bookies' negativity over us!!!
Steve Ferns
78
Posted 09/12/2017 at 00:59:41
Tony Abraham's, there was a posting limit after all. Just to answer your query I did not mean five-a-side goals. They are tiny. About two feet wide and one foot high. There is no keeper and no one defends it. It's about blocking the pass and making the pass so you intercept you don't defend.
The goals look a bit like this: Link
Paul Birmingham
79
Posted 09/12/2017 at 01:02:25
They are average and nothing special. Belief and vision can see us win this day. They are not the finished team and EFC is the team in form..
And fuck the rest , we are Everton. Do a man-to-man on their Brazilians, and they don't have any reliable alternatives.
Well overdue for a win at our old ground? I'm in pub nostalgic mode but belief mode we can beat them.
We can and will beat them, this weekend.
Steavey Buckley
80
Posted 09/12/2017 at 01:07:57
Charlie @70. I am football realist. Everton have had awful transfer windows in the past 2 seasons when Koeman was in charge that has made Everton weaker. Weaker than when Martinez was the manager, and he did not have the type of money to spend compared to what Koeman had.
During that time, Klopp has added an array of attacking footballers plus the impressive Coutinho, Firmino and the scoring sensation, Salah. My question is, which ones do Everton players mark, that's if they can get near them?
If Tom Davies, Gueye and Schneiderlin play against them with their usual silly late tackles, with a packed Anfield roaring and howling for their dismissals, Everton will be losing 1 or 2 players for games in the future when they have a better chance of getting a result.
David Currie
81
Posted 09/12/2017 at 01:17:47
11 v 11 – get in hard against these bastards, work hard and fucking win the game.
Lee Brownlie
82
Posted 09/12/2017 at 02:12:00
Lenny Kingman:
'The only certainty is that Everton wont win'.
Nice. Victor fucking Meldrew's kid or what? COYTs!!!!!!!
Gary Russell
84
Posted 09/12/2017 at 02:29:27
Lawrence (#22),
"They have enough admirers in the media and elsewhere without Evertonians feeling they have to pump up their already inflated egos. Sky deemed fit to have a day of Liverpool Football Club today, hardly the action of an organisation that has no favourites is it?"
Maybe you missed it. Sky spent the day at USM Finch Farm in February, to be broadcast before the April 1st Derby. They had Carra wearing an Everton shirt and Rom roasting him one on one.
https://royalbluemersey.sbnation.com/2017/2/28/14760618/sky-sports-spends-the-day-at-evertons-usm-finch-farm-training-ground
Gary Russell
85
Posted 09/12/2017 at 02:39:38
Maybe some players won't have the stomach on Sunday, in near icy temperatures... I'm thinking some of theirs more than ours.
Matt Brown
86
Posted 09/12/2017 at 03:15:12
I'm sure, if some of these comments were quotes from Sky, there would be an outcry from the very same people posting them here.
Jay Harris
87
Posted 09/12/2017 at 05:14:54
There is no doubt on paper they have the better players but, as pointed out many times, the game is not played on paper.
Nothing lasts forever and who in all honesty would have had us beating West Ham 4-0 after getting thrashed by Southampton?
So let's get our heads up and get that belief and confidence that we so often accuse the players of lacking and convince ourselves we'll get a result on Sunday.
Laurie Hartley
88
Posted 09/12/2017 at 06:18:13
The fact is we have to go there this Sunday. Usually that ends up with us getting battered. I believe a large part of the reason for that is because we go there thinking we are already beaten.
But for us fans, there is always a choice. We can, if we wish, choose to go there with a winning mentality. Or do we go their cowering???
Time for a change of attitude on our part. Haven't we had enough?
I can't go there (because I am on the other side of the world) but if I wasn't, I would definitely find a way of getting into this game and I would release my inner madman.
As Darren Hind said, they don't like it up them, those RS. I hope our 7,000 give it to them before and after the kick-off.
I also hope Sam Allardyce starts with the same team as the West Ham game, with Rooney leading us out. Rooney won't be going there thinking we are beaten. I reckon he'll score.
Up the Blues!!!!
Brian Porter
89
Posted 09/12/2017 at 07:10:24
I hope Sam gives Niasse a start with instructions to get at their defence from the start. Oumar's unpredictability and vision to nick the smallest gap in a defence would be just the thing against their well publicised leaky back line. If we can force them to keep an eye on what we are doing in their half, it helps to take some of the pressure off our own slightly suspect defence

Niasse is perfect for the role of spoiler up front and will annoy them to hell and back. He is then also in a position to bring Calvert-Lewin and our other midfielders into play to feed off him. Come on, Sam, give him a chance to hit them fast before they hit us first. He'll be itching to get back into action again after his travesty of a suspension.
Paul Tran
90
Posted 09/12/2017 at 07:23:08
Their weak points are their back four and keeper. In the last few derbies, we have made a point of not testing them. That's got to change tomorrow.
We desperately need Allardyce to conjure some movement and pace in this team. And 90 mins concentration in our defence.
We're better than several teams that have beaten them. That needs to be ringing in their ears when they walk out there tomorrow.
John Keating
91
Posted 09/12/2017 at 07:35:45
Unlike some on here, I am no tactical genius, just an average punter who has followed football all their life and watched hundreds and hundreds of games live and on telly all over the world.
However there is one thing I do know.
In my opinion if we try, as some have suggested, we try to take the RS on at their game, open it up and go for them, well we will get... How can I say it?
Oh yes, fucking hammered!
Terry Farrell
92
Posted 09/12/2017 at 07:43:51
I think as long as we can keep 11 on the pitch we can get a result. Darren, welcome back mate!
Loved Roy Keane's after match summary the other night after their 7-0. His face said it all and he gave faint praise saying they will get beaten when they play a top team. He obviously hates them.
On another note, I think as a lad Sammy Lee was a blue and went to SFX. Anyone confirm?
David Ellis
93
Posted 09/12/2017 at 08:00:22
A propos nothing in particular, I saw a lovely quote from a Sunderland website:
"Chris Coleman's debut was, I am afraid merely Sunderland's latest disaster. Yet again they lost to opposition that were rather bad, but unfortunately not bad enough."
Oviedo and his back up are both out injured and Gallagher is back in the side at left back as they face table-topping Wolves! Eek!!!
John Keating
94
Posted 09/12/2017 at 08:28:25
Terry (#92) I know he was born in the Bullring so there's a chance he could have gone to SFX. About being born a blue...?
Anthony Flack
95
Posted 09/12/2017 at 08:40:18
I expect the script to follow a familiar pattern: Spirited first 30 minutes, then a scrappy goal before first time.
Second half, Gueye sent off, queue a short improvement in our performance, then 2 more goals in last 15 minutes.
Final score: RS 0 Everton 3
John Keating
96
Posted 09/12/2017 at 08:40:47
Terry, I just asked my brother: Lee was deffo NOT a blue. His dad had him at Mordor early doors.
Paul Birmingham
97
Posted 09/12/2017 at 08:48:54
It's as much in the mind as on the pitch. The team will compete tomorrow as the dross of the last two seasons can't be repeated.
The RS aren't a great team – we must get at them in their faces, squash the space and make sure we get runners in their box and good crosses and make use of the free-kicks.
No doubt they'll come out fast but we can't get overawed and the players bottle it. Sam and Sam won't make this happen as, unlike the last 2 managers, they have pride and realism of the task at hand.
Here's to bookie buster tomorrow. Worth a win double – this game and the Cup game v the RS.
Steve Ferns
98
Posted 09/12/2017 at 08:54:33
Sammy Lee did go to St Francis Xaviers High School.
Peter Lee
99
Posted 09/12/2017 at 08:56:14
I had the pleasure of watching Swansea tear them a new one last season. Standing on the seats in the Anfield Road with mates from that fair city. Ace.
Of course we can beat them. Their defence and keeper are undeniably poor. Worrying for them when they laud the renaissance of Moreno at left back and bemoan his absence through injury. They can't defend dead balls and if anyone is ace at coaching those, it's our man in charge.
Gueye has done a number on better players than Coutinho.
We won't be naïve as we have been recently and anyone who thinks Rooney won't be up for it doesn't know the man.
Can't wait for kick-off.
Sam Hoare
100
Posted 09/12/2017 at 09:01:59
The first goal will be crucial, as it often is. If they score, I fear the floodgates could open; if we score, then I think we might just have the spirit currently to frustrate them and hold onto it.
There is next to no chance of Sam sending us out there to go toe to toe with them and leave ourselves open to their lightning counters. The aim will almost definitely be to be well organised, compact and to frustrate them for the first half, whilst hopefully having the facility to launch our own counter-attacks and/or be a danger from set pieces.
I wonder if he will be tempted to shift Calvert-Lewin to the left and play Niasse through the middle giving us a front three of Calvert-Lewin, Niasse and Lennon. That is a front three that is hard-working and quick and well suited to harassing them in possession and being able to spring a quick counter. It would mean leaving Gylfi out though and likely Sam will want his set-piece delivery.
Charlie Lloyd
101
Posted 09/12/2017 at 09:10:55
Steavey @ 80
I understand your realism view but you never throw a derby.
We go there and give it our best shot or what's the point?
I may be a dreamer thinking we can win but the pleasure in doing it is what keeps me going.
Chris Gould
102
Posted 09/12/2017 at 09:16:51
I predict a Man of the Match performance by Williams. I think Allardyce will tell him to keep it simple and do what he does best, which is block and tackle. Of course, he could also give a penalty away and get sent off, but I think we'll see the best of him tomorrow.
Unfortunately refs don't allow the 'dogs of war' any more. Those days are long gone. Any over-zealous challenge is a booking and flair players are over-protected. The first tough challenge from us will be a yellow and then that player is walking a tightrope.
We have to sit back, be 100% focused, make zero mistakes, and get a bit of luck. We also need an unbiased ref, or better still, a ref that's biased in our favour!
So, massive challenge, but not impossible.
Ben Dyke
103
Posted 09/12/2017 at 09:17:02
All this talk of being ready for the derby is a bit misplaced. You can't be ready – it just hits you and the players have to find something inside to overcome the onslaught. Of course a few more weeks' training with the new coaches and a few more matches putting it in to practice would have been nice but whatever – it's a derby and as a player you should live for these.
It's definitely all about what goes on between the ears and Liverpool have been much better psychologically for many years. Here's hoping for a magnificent turn-up for the books tomorrow.
Terry Farrell
104
Posted 09/12/2017 at 09:22:47
Thanks for confirming, John – must have been thinking of Rush, Fowler, Owen, McManaman, Carragher, McMahon, Lallana and all the other LFC Blues.
Shane Corcoran
105
Posted 09/12/2017 at 09:29:09
If Liverpool weren't playing so well in attack, I'd give Allardyce's arrival and approach some chance of getting a result.
As it stands, I'm afraid I can see a 3-0 home win.
Graham Mockford
106
Posted 09/12/2017 at 09:51:46
I don't think there is any doubt the way we are setting up for this. Let's hope it's freezing and windy and we see a "give no quarter" performance.
Eddie Dunn
107
Posted 09/12/2017 at 09:53:01
With Sky depending on the game, there would have to be an enormous white deluge, bringing traffic chaos to stop this game.
Despite the red media predicting the second coming, we might just surprise a few people, and nick a point.
John G Davies
108
Posted 09/12/2017 at 10:08:58
David Baxter
109
Posted 09/12/2017 at 10:11:09
Peter Lee (#99),
You said that Gueye has done a job on better players than Coutinho... Which players would that be then??
Phil Walling
110
Posted 09/12/2017 at 10:33:18
Shane @ 105, I got 10/1 against a Blues win yesterday whilst RS were quoted as 1/2. Apparently, bookie was overwhelmed by takers for offer of 25/1 against Reds winning by three goal margin.
Let's see if the bookies have it wrong!

David Hallwood
111
Posted 09/12/2017 at 10:34:48
Mummy!! Mummy!!! The nasty red men are coming Mummy.
Dear oh dear, gents, grow a pair! Personally I can't wait for tomorrow. Will we win? Well, we've got a chance. They're great going forward but let's be honest absolutely shite at the back; almost laughably at set pieces, and guess what Sam's teams are good at?
To the poster that said we sold our talent, they wanted to go. Don't forget, Bobby wouldn't sell Stones to Chelsea, but if a player wants to go, they go. Simples.
And speaking about the loss of Lukaku, we've scored 1 more after 15 games than we did last season, but conceded more, so I think I know where we need strengthening.
Brent Stephens
112
Posted 09/12/2017 at 10:48:31
I don't think it's about the fans growing a pair. We can be as confident as we want on here. But if we know that, game after game, our players won't grow a pair, there's nowt we can do on here to change that. Being confident on here doesn't influence the players.
But COYB! Let's take it to them. Nothing to be scared of! There for the taking!!!! There we go. A win guaranteed. And breathe.
Please, Sam. Please, lads. Surprise me. Delight me.
James Hughes
113
Posted 09/12/2017 at 10:59:15
It's not about growing a pair; I think Sam will be threatening to remove them from the players if they don't put in a shift.
He has a plan and a strategy to beat them and that is a first for many years. I am pretty sure it does not involve a knife to a gunfight.
If We get a George Mckane score tomorrow, that is 250-1. I can dream, can't I?! Let's do it, Blue Boys!!!
Tony Everan
114
Posted 09/12/2017 at 11:03:01
There has been a huge number of derbies that have ended 0-0 or 1-1.
The teams and players that played in those past games played their hearts out, these draws do not get any attention but, more often than not, it has been blood and thunder that has got them.
We go there, fight like lions – there's no reason we can't come out with something. Especially as their defence can wobble like a jelly in a sauna.
Jack Convery
115
Posted 09/12/2017 at 11:04:55
He led Palace there last season, didn't he? We have better players than Palace, don't we? If he organises us as he did with Palace, we'll win, won't we? I can see Benteke and Sakho dancing again if we do it – can't you?
Michael Penley
116
Posted 09/12/2017 at 11:13:40
The fans aren't confident. Anyone can see that, praying for snow and for the game to be called off.
Even Jagielka and Baines's friendly smiles and cowardice before the game doesn't compare with the cowardice of the fans.
Brian Murray
117
Posted 09/12/2017 at 11:15:04
Despite his derby goal, nice guy Jags is a big part of the problem when we play at the piggery. Too nice along with quiet man Baines.
Baines even said to my daughter in Formby he likes Gerrard as a person... Jesus, he is a vile arrogant man I have first hand knowledge of. Bit of banter with him got out of hand before FA Cup semi-final and he called me a bluenose bastard so I obviously replied, "39 Italians can't be wrong, you Huyton red prick!"
Merry Xmas. COYB
Stan Schofield
118
Posted 09/12/2017 at 11:22:49
Michael @116: Some might be praying for the game to be called off, but I can't see that most are. I'm certainly not.
Some seem to be assuming we'll lose, and some even say that logic dictates it. In fact, logic dictates that we might win, that the chance of winning is less than the chance of losing or drawing, and that the chance of winning is influenced by how Allardyce sets us up both tactically and in terms of attitude.
Mike Connolly
119
Posted 09/12/2017 at 11:30:17
Agree with Brian (#117),
That has been the problem we are too nice. Even Carra admitted that we were very friendly in the tunnel. Hope if big Sam sees this, it will be a massive slap on the head for the culprits.
John Otway
120
Posted 09/12/2017 at 11:44:10
We're so nice that we call that gobshite Carragher "Carra"!
Brian Williams
121
Posted 09/12/2017 at 11:48:34
Brian Murray (#117).
I'm surprised Gerrard didn't try to land one on you but I'm guessing he didn't have ten mates to back him up this time.
They're all the same, mate. i bumped into Phil Thompson this time last year. He was with his family and I was with my brothers. Football naturally got mentioned (not by me) and he said something like "Oh you're a bitter are you, my mate's a Blue and he's the same – really bitter."
Owing to the fact that he was with his family I just looked at him and shook my head. I can't believe the sheer lack of awareness of the possible reason we're "bitter" towards them (for those that are) and the total disregard of everything that surrounds that reason.
It's as though they revel in what happened to us (the ban) while totally dissociating themselves from the real tragedy. It's this that has made me have no respect for any of them that refer to us as the "bitters".
I've only managed to have one conversation with one of them over this, a decent fella I have to say, and when I put my side of things to him he was mortified and said "I'd never thought of it that way." And that's coming from a decent fella!
Dave Williams
122
Posted 09/12/2017 at 12:01:45
It's really very simple.
They are currently a better team than us but, if we are set up properly and fight like hell for every ball, then it will not be easy for them.
Sam will relish this – probably his biggest ever game in terms of atmosphere etc – and he will have had them working all week on how to play it.
We have to play a team who will fight and scrap and refuse to lie down and a noisy Everton fans' end will help a lot too.
Teams have done this at Anfield before whilst we lie down and let them trample all over us. No Baines or Jagielka this time – so let's show some bottle and see what we can do.
John G Davies
123
Posted 09/12/2017 at 12:04:24
Brian,
That would be the Thomson who – having had a fall out with his mate – stood up in a medical tribunal to let them know his ex-mate, who was claiming disability benefit, managed to climb the stairs to sit in the top row using the complimentary tickets Thomson supplied him with every week.
They are a different breed mate.
Bradley Smith
124
Posted 09/12/2017 at 12:14:16
Big Sam is the man for the Toffees. People say he's corrupt, where are all these squeaky clean humans, the world's a corrupt place, always has been.
Sam just got caught, he has got a point to prove and I've got faith in him. Another thing is this "style of football" garbage I hear people talking about, I don't care if we play 10 centre halves and win 1-0 every week! It's a results business... not who has the best style.
Let's be realistic, Sammy Lee is a great great great coach as well; welcome on board, Big Sam an little Sam! They can put Phil Thompson on there as well if they want – as long as Everton win, I'm happy... I don't care how it's done.
As for tomorrow, with Wayne Rooney in the ranks, anything is possible; it requires a lot of things to go in our favour. The weather will help us. The ref needs to not get intimidated and the players need to puff their chests out for once and stand tall.
Onward Evertonians! To victory... Side by side as we sing along together, Ev-er-ton, We're Everton and we'll be Everton forever.
Darren Hind
125
Posted 09/12/2017 at 12:16:08
Kim Vivian
126
Posted 09/12/2017 at 12:33:48
Eric Paul
127
Posted 09/12/2017 at 13:30:16
Allardyce will have us drilled to chase and close down to deny them time and space to get into their rhythm
And then get the ball forward at the earliest opportunity to put pressure on their defenders.
We will win this game.
James Marshall
128
Posted 09/12/2017 at 13:34:54
Of course the game will go ahead –TV revenue dictates these days not getting bodies through the gate. If a few thousand are stuck in traffic/weather, that won't stop the game in my view.
The snow itself won't stop the game either – the Anfield undersoil heating will see to that.
I can't see us beating them tomorrow, although I also don't see us shipping too many goals. 2-0 to them would seem like a reasonable result given the way things could turn out – I don't see us scoring, but I also don't see them scoring their current hat-full.
Tony Abrahams
129
Posted 09/12/2017 at 13:37:24
Is that the truth, John G? Fucken hell, I hate the Anfield iron! But snitching is surely the lowest of the low?
Didn't a 17-year-old Rooney, get reported off 100's of Liverpudlians for something he done in a Goodison derby game?
I think I understand most things in life, but I don't understand a snitch!
Andy Meighan
130
Posted 09/12/2017 at 13:38:32
John (#123),
What a piece of work that Thompson is... Has the cheek to call us bitter! Makes me sick when I hear him discussing Everton on the Phil Thompson Show... Sorry, I meant Soccer Saturday. I think to myself "You hate us, you bitter Bastard – stop trying to be impartial!"
The producers of that show must know he's bitter. He's never reported on an Everton game as far as I'm aware. Along with that other horrible prick Aldridge that club is riddled with them. And they wonder why we hate and despise them?
One of the morons in work said to me last Saturday before the Huddersfield game and said to me "Where are you watching it today?" I just give him a dirty look and said "I'm going, you cunt." He looked at me incredulous. They're the ones who I loathe the most, the pub goers who make out like they're the greatest fans in the world... They'd need a Satnav to know where the hell-hole was.
Derek Cowell
131
Posted 09/12/2017 at 13:39:21
Their shite defence have let in two goals at home in the league this season! We can all have hope but predicting 3-0 wins is just defying all logic and history.
Our club has an inferiority complex when playing them based on defeats in 3 finals, 4 semi-finals and numerous heavy derby defeats (4s and 5s against). Fact is they usually win when it matters, especially in the modernish era, and tomorrow will be no different.
I do have hope though; I hope we don't get a real thrashing, although I know that we really could! I'm a realist but my fingers will still be crossed!
By the way, Little Sam did go to SFX in Woolton. I played against him in school footy.
John G Davies
132
Posted 09/12/2017 at 13:48:55
It's true, Tony. A mate of mine asked him one day had he put anyone else into the social security lately.
Went bright red and walked away without reply.
John G Davies
133
Posted 09/12/2017 at 13:59:32
http://www.redcafe.net/threads/phil-neal-on-heysel-jamie-jackson-interview-wow-you-wont-believe-what-happened-a-decade-ago.405220/
There's another example Tony.
As I say, a different breed to us.
Tommy Carter
134
Posted 09/12/2017 at 14:07:20
I'm interested to see how this one goes. To be honest Liverpool have some outstanding players and, man for man, we just do not compare. Salah has been unbelievable and it's a shame he plays for LFC as he makes the game look so easy.
Our job is to make it tough for them and I think we have bits and pieces of quality that could help us to nick a goal. I don't expect us to win but what I do expect is undoubted effort and determination to get a result.
Let's give them something to think about, let us be physical, let us be aggressive as the brilliance of their front line can be levelled out by a lack of desire to beat a more determined and aggressive man to every ball.
Derek Cowell
135
Posted 09/12/2017 at 14:07:50
If Kenny or any other of our young players develops into anything special,we all know what will happen. The club will sell them to the highest top 6 bidder. That's why we will never join them and that is the attitude that has to change.
No club with any top table ambitions can afford to constantly sell their best players. We've done it for years. Never mind Lukaku, Stones and possibly Barkley, we did it with Arteta, Lescott and even further back Keown, McMahon, Ball etc etc.
Not to mention players who went on to be top world players like Dacourt, Materazzi and possibly Mustafi and Dier. We've had so many top top players at this club over the years and have let them slip through our fingers to the benefit of other clubs. This has got to stop if we are to be a top club again.
Dave Abrahams
136
Posted 09/12/2017 at 14:09:55
Sammy Lee went to SFX Grammar School, more than likely went to St Nicholas before that, which would be his local school before winning the scholarship, or maybe his parents paid for him to go to SFX college.
Derek Knox
137
Posted 09/12/2017 at 14:11:06
Watching the West Ham v Chelsea game, Hammers still one up, looking a totally different side that we played 10 days ago.
First half there were three blatant simulated attempts by Chelski players to get free kicks, one in the box by Morata, needless to say there was no retribution by the ref. This is what grinds my gears, there is no consistency, bet Oumar feels it even more than I do.
So you see before today's match, you would think the Hammers would have been torn apart, there is hope, when it seems the odds are against.
Like Sam has intimated for tomorrow, West Ham got the early goal and it has rattled Chelsea.
COYB
James Hughes
138
Posted 09/12/2017 at 14:15:11
John G (#134) – that link is something else mate. Big nose is a shameless man.
Brent Stephens
139
Posted 09/12/2017 at 14:25:36
Well, well. Moyes does the business against Chelsea against the odds. Impressed with Masuako.
Sam to do likewise tomorrow? Tight at the back. Fast on the break.
Colin Glassar
140
Posted 09/12/2017 at 14:27:03
West Ham have just upset the Sky applecart by beating media favourites, Chelsea. If they can do it....
Stan Schofield
141
Posted 09/12/2017 at 14:49:53
I think there's too much focus on Liverpool. For example, raving about Salah. He's in great form, and was signed to fit in an already good attack. If he'd joined us under Koeman there's a fair chance he'd have been shite, because we were so disorganised.
Similarly, Coutinho was very inconsistent before Klopp arrived, as was Firmino. He's got them sorted, by organising the attack and motivating them. Form comes and goes, and their attack is in very good form. But let's get it into perspective, a reality check.
A lot of folks talk on here as if Liverpool are great, but they are simply not. I know a lot of reds, and they don't think they're great, they just think the attacking players are very good and in good form, but they're not too happy with the defence because they know that to get to the next level (of actually winning things) a team needs a strong defence including a top keeper.
Their squad is not significantly better than ours, despite the assertions made on here. We have been incredibly disorganised, hence the changes in manager. There's now a chance of some stability, so let's see how that goes.
John Keating
142
Posted 09/12/2017 at 14:52:09
Dave he must have got the scholarship to SFX Woolton a bloody good 11-plus as it was top top marks to get in there. At that time, the other one on par with them was St Edwards, West Derby.
Used to love playing SFX when I was at school. All the inner city schools had the Council pitches which, as you might know, were like the Pennines and as bloody rough as them. Definitely Allardyce footy on them. SFX had their own pitches which were like snooker tables, absolutely Wembley class. They had changing rooms and we always got a cup of tea after the match.
Always looked forward to playing them. Plus, we always hammered them! Bit before Little Sam's time though!
Rick Pattinson
143
Posted 09/12/2017 at 15:05:57
No one alive can out do Big Sam in the tactics department. I predict a 1-0 for us in a scrappy affair.
Kim Vivian
144
Posted 09/12/2017 at 15:06:48
Made up for Dave Moyes and West Ham, and a few Hammers mates down here.
If they can beat Chelsea, we can surely beat the Red Shite. We are much closer together than those two teams so follow the Hammers example.
I wasn't watching constantly but, from what I saw of the game, Mark Noble had a great captain's game. If Williams (assuming he plays) can put in a shift like Zabaleta seemed to and our boys keep their belief, we will do this.
Just wish I could be there.
Derek Cowell
145
Posted 09/12/2017 at 15:24:00
I forgot, to add to my previous post, that we also sold Fellaini when he was our top player.
I hold my hand up now (probably to ridicule) but I have always liked Sam Allardyce as a manager. I have kept my head down on here though due to all the slagging off he got on his appointment. How many of those same people are now praising his organisational ability?
It remains to be seen of course if he can actually change things and tomorrow is just too early to judge him so, if it all goes tits up at Anfield, I will not be blaming him... as long as we show some spirit and fight and don't surrender like we have in the past two years' 4-0 drubbings.

David Israel
146
Posted 09/12/2017 at 15:52:29
I don't want to dampen anyone's enthusiasm, but over this long, 18-years-old crossing of the desert, I have seldom felt so little confidence about playing at the dark side as I feel this time out.
It's a mixture of several factors: their current form, scoring goals for fun,; our suspect defenders, essentially in the centre; our depressing form this season, until a fortnight ago. The fact that we have a new management team in, stuffed with fellows who enjoy a fight, somewhat brightens up my pessimism, but only somewhat.
Still, of course, lurking in the dark, is that small bright light that tells me the score is still nil-nil and anything can happen.
COYB!
Eric Paul
147
Posted 09/12/2017 at 18:10:13
Derek,
All clubs sell their top players for the right price.
Jim Whiffen
148
Posted 09/12/2017 at 18:10:41
BBC just announced that Merseyside police will be meeting with LFC Officials first thing in the morning to discuss safety issues; not clear if that's to do with the weather or the behaviour of their piss throwing and spitting fans in the upper Anfield Road stand? .
John G Davies
149
Posted 09/12/2017 at 18:59:49
Anyone watching the Valencia game tonight? Playing Celtic Vigo 7:45 kick off.
I would appreciate thoughts on a young lad Sisto playing for Celta. Watched him a few times, potentially a good Premier League player. Better wide left for me, but can play right or off a forward.
Thanks, chaps.
Terry White
150
Posted 09/12/2017 at 19:11:38
As a tactical thought, Saleh, Firmino and Mane do not defend, that is why they are so good on the break. If we were to do the same thing with Calvert-Lewin, Lookman and Lennon/Vlasic, so they have to leave men back at set pieces and let our defenders defend for once, I wonder whether that would be our best chance of getting something out of the game?
Kim Vivian
151
Posted 09/12/2017 at 19:29:15
Now then lads - I don't know you personally so I can't identify you, but it seems that some of you have been 'spycammed' posting on toffeweb yesterday.
You know who you are own up! Or be outed...
Peter Lee
152
Posted 09/12/2017 at 20:48:18
David, 109, De Bruyne and Hazard.
Harvey Miller
153
Posted 09/12/2017 at 20:57:16
It's odd we lose so many times in the derby matches considering that we have always had more locals in our team.
Somehow reds seem to want to win the game more and that's the key, it's not really so important how many talented players you got, it's how much you want to win.
Nowadays, quite often reds lose at home to lower teams like Crystal Palace and then destroy us. In the 70's derby-games were always tough (usually ending 0-0 or 1-1) even if the dark side were champions or not. Sometimes we were also near the top (1975, 1978).
Derek Knox
154
Posted 09/12/2017 at 21:35:37
Kim, Paws for a moment, they may have had a Tom and Geri moment possibly, but still made more sense than some of the comments that do appurr on here!
Or is that being Catty?
I'll have to check the claws in their contracts.
A lot won't take this lion down.
Andy Crooks
155
Posted 09/12/2017 at 21:40:25
I was fearful about the derby and then I thought, no, Sam can set up to get us a point. I have thought again and realised just how utterly defeatist my mindset has become. This is what happens:

If we lose 4-0 it will be hard to take but, frankly, not the end of the world. We have become immune to such shit. But, say, we win 4-0, well, it would be the stuff of which legends are created, it will be the turning point. I demand that it is what we aspire to.
Jordan Pickford – will play for England for years. He can stop anything they throw at him.
Jonjoe Kenny – local lad, no nerves, this is your day.

Leighton Baines – you are not done yet. You can whip in winning crosses.
Ashley Williams – no back number, get back to Euros form.
Mason Holgate – class, keep Ashley calm.

Gana Gueye – stay on your feet and hit them hard.
Tom Davies – whizz the hall about and show how great you will be.
Aaron Lennon – you have been a revelation, protect Kenny and scare the shit out of them in your free time.
Wayne Rooney – be, fucking Wayne Rooney, this is your time.
Gylfi Sigurdsson – you were worth every penny and you will show it.
Dominic Calvert-Lewin – on MotD they will compare you to Harry Kane.
Sam Allardyce – you won't ever lead England to a World Cup Final but now you have the chance to do something better. Let this be the turn around, let us be confident, and let us aspire to greatness. We are better than sneaking a point at Anfield.


Soren Moyer
156
Posted 10/12/2017 at 01:51:10
If we score tomorrow, it will be from a free kick or similar as we simply do not have the legs to hit them on the break.
Terry White
157
Posted 10/12/2017 at 04:00:39
Soren (#156), unless we play Calvert-Lewin, Lookman and Lennon or Vlasic and ask them to stay up and not defend.
Steven Jones
158
Posted 10/12/2017 at 04:22:38
Andy Crooks 155 = Great Post mate!
Steven Jones
159
Posted 10/12/2017 at 04:23:57
This looks so bad, with their on-form forwards at home etc, that the ridiculous Everton 2-1 win looks so on!
Laurie Hartley
160
Posted 10/12/2017 at 07:05:50
Twenty four hours since my last post and still no sense of foreboding. I like this feeling – I could get used to it.
Duncan McDine
161
Posted 10/12/2017 at 07:38:35
Never mind a statue... if we beat them, I'll get a tattoo of Sam's face on my face.
Duncan McDine
162
Posted 10/12/2017 at 07:41:20
In this cold weather, I fear the Redshite will be better prepared, what with their liberal use of Nivea. Our lot's lips will be chapped to fuck.
Chad Schofield
163
Posted 10/12/2017 at 07:54:59
Hopefully a T-Rex will come and stamp on their attack, Duncan.
Conn Prosser
164
Posted 10/12/2017 at 08:41:36
Not posted for a long time, but I felt compelled to join the positive chorus of "we can beat these". Not seen this much pre-derby optimism on teedub for a long time. For the seven thousand that walk to Anfield today, I am with you in spirit. Give 'em hell! Come on you toffees! Rooney to score.
Les Martin
165
Posted 10/12/2017 at 08:43:35
Regardless of the result, we will know that Sam and his staff have set us up tactically to put on a decent show.
We all know that our defence needs surgery, so give him time to put it right and let's not throw tantrums if we come unstuck today, he needs time.
Dave Abrahams
166
Posted 10/12/2017 at 08:55:59
Duncan (#161) have a good think about that, and ask your wife first, she is the one who has to wake up every morning and look at you!!!!!
Jim Whiffen
167
Posted 10/12/2017 at 09:20:29
Conn; we only got 2,800 tickets... And not sure it'll be on, just looked out the window and it's like fuckin Narnia!
I'll dig the car out just in case though... UTFT
Duncan McDine
168
Posted 10/12/2017 at 09:21:14
Dave, my wife barely looks at me now mate! I describe it more as a 'glare'!
Paul A Smith
169
Posted 10/12/2017 at 09:50:41
Good luck blues. Best of luck to those willing to pay and stand in the theatre of theatrics.
It's one thing beating them but beating the ref too is virtually impossible.
Jay Woods
170
Posted 10/12/2017 at 10:24:05
As some of you know, I live in Latvia but I hear the weather's a bit nippy back west and there could be heavy snow where you are. The forecast for this afternoon in the NW looks really rough... Any word of the game being postponed?
Steve Carse
171
Posted 10/12/2017 at 10:26:56
No sign of snow north of the city at least, but forecasted for mid morning.
Alex Mullan
172
Posted 10/12/2017 at 10:28:29
I fear we're going to need a Henry V 'St Crispin's Day' level team talk later to keep this under three goals. If we win, it may actually rival Agincourt.
Colin Glassar
173
Posted 10/12/2017 at 10:33:45
Or a Churchill "fight on the beaches" speech, Alex. Still praying for snow tbh. Let's play this game in February when they've got European footy.
Derek Knox
174
Posted 10/12/2017 at 10:37:36
I think although weather is always unpredictable, they would have issued some sort of indication that the Match may be off.
I always think about the loyal and die hard fans who have to travel, and that applies to both sets of fans, who have to travel long distances to the Match.
Fans are always secondary, and last to know of these things as long as Sky are getting their ill-gotten revenue, all is well in their eyes.
James Marshall
175
Posted 10/12/2017 at 10:41:35
People are still talking about it being called off on here, but quite literally this has not been mentioned anywhere else – are we really that bothered about one game on here that we want it called off?
Talk about raising the white flag! (I do think we'll lose by the way!)
James Marshall
176
Posted 10/12/2017 at 10:42:58
A global audience dictates whether the game goes ahead, not a few hundred/few thousand people turning up late for the game..
Colin Glassar
177
Posted 10/12/2017 at 10:46:06
Is it even snowing in Liverpool? It's –5 C where I live and no-one is complaining.
Jay Woods
178
Posted 10/12/2017 at 10:51:19
Who said they wanted it called off?
I have negotiated the time slot with my wife to lie in bed and watch it. I have very little else to do here in Latvia on a Sunday afternoon; there are no mountains so I can't do my hobby of hiking, the standard of football played here is dismal (besides, winter sports prevail here), and I have no family or friends to visit.
In other words, I want it to go ahead, even though the fundamentals are bad for us: they have a world class attack against our horrendous defence; they are at home; they normally beat us which gives an extra psychological edge to them and to their fans; and our attack is very average if not poor.
The only positive is that our manager doesn't suffer fools and might be able to organise us well enough to contain them, or even nick a cheeky win.
Tony Hill
179
Posted 10/12/2017 at 10:54:33
The game will be on unless the snow gets a lot worse. At the moment it is persistent but light and it is not settling.
Tim Taylor
180
Posted 10/12/2017 at 10:59:29
Duncan McDine @162: Fantastic! Thanks for the chuckle. I hate those fucking adverts!
Mark Murphy
181
Posted 10/12/2017 at 11:02:22
Hey Jay!
Latvia sounds a lot like where I live – West Sussex! I will be watching the game in the pub with two gobshites and a spud. Not confident to be honest but I'll never admit it to them bastards!
Come on you Blues!
Ray Roche
182
Posted 10/12/2017 at 11:15:32
Here on the North Wales coast there is an inch of snow. I measured it with my dick.
Chris Gould
183
Posted 10/12/2017 at 11:16:04
The last thing we want is for it to be called off. We want it to be very cold and uncomfortable. I don't think the likes of Coutinho, Firminho, and Salah are going to enjoy playing in these conditions.
The colder and wetter the better!
Neil Wood
184
Posted 10/12/2017 at 11:21:46
Why are we wanting this game called off? Have some spirit!!! This is, when all said and done, a Merseyside derby. We often lose these games because of that kind of mentality. We have a team capable of competing with the very best despite our somewhat lame showings of late.
Yes they are a good side. A very good attacking side but they will not like it up them. We need to go into this game with every intention of winning it – not pinching a point winning it!
We are Everton for god sake and we should not be contemplating losing. Strong at the back with enough attacking prowess to really make them think (Lookman, Vlasic).
I'm not praying for a win. I'm expecting one.
Charles Brewer
185
Posted 10/12/2017 at 11:25:26
I cannot think of a modern manager more likely to get some kind of result for Everton at Anfield than Allardyce. Season 1 Martinez might have outscored them and if the ex-Moyes defence hadn't forgotten what it was for, then a result would have been possible then.
But Allardyce doing the "soft German" stuff on Klopp, and giving clearly disingenuous praise to Liverpool may be what can reverse the results of the century to date.
Initially. I was not in favour of 'Big Sam' at Goodison, but after a while it became clear that a collegiate and passionate Unsworth was getting no change out of the players, and only someone with a very fixed view of what was acceptable on and off the pitch would do. I came to the conclusion that the players deserved an Allardyce (a Ferguson would have done much the same).
A good result would begin to persuade a few of the slackers that their approach is not going to continue to pay, and may also start to heal the horrific divisions that the appalling Koeman put into the players: 1) old Moyes/Martinez, 2) Unsworth's young lads 3) vastly overpaid and overpriced mediocrities who in no way justified their ever-present status.
I look forward to Sam Allardyce's Goodison Mindgames stuffing the rather unstable Klopp, and to a healing of the rifts in the team. Actually, I'd be delighted to see Klaassen, Schniederlin and Siggurdsson turn out to be world beaters - but if they don't begin to show form, I'd flog them to anyone who'd take them, at any price just to get rid of the divisions sown.
Meanwhile, I look forward to this afternoon with no expectation of success, but at least a bit of hope.
Steve Ferns
186
Posted 10/12/2017 at 11:26:11
My first trip to Mordor for the derby since the 80's!
I am feeling very optimistic and I'm expecting three points and a famous win.
COYB
Charles Brewer
187
Posted 10/12/2017 at 11:29:07
Steve, have you had the appropriate vaccinations? Cholera, typhoid, blackwater fever, yellow fever and rabies should be mandatory before entering that swamp.

Ray Roche
188
Posted 10/12/2017 at 11:39:04
Charles, maybe Steve should avoid rickets .like their last League Title, it's in the past as well, along with their mindset...
Brian Harrison
189
Posted 10/12/2017 at 11:54:06
Well its dry and cold in Liverpool but no snow so the game will definitely go ahead. I think they have only failed to score once in the league at home and that was against Utd. So chances are we will need to score at least once to get a draw, as I don't think our defence is good enough to keep out their attack for 90 minutes.
Yes we will have to defend well but when in possession we will need to keep the ball, and by that I don't mean the back four inter passing. I think Rooney and Sigurdsson will be very important in that department. I would think when we havent got possession Allardyce will have Lennon close to Salah, to try to negate his pace.
I will be delighted with a draw, but history tells us it might have to be a damage limitation game. Just as long as they don't capitulate if they score early, as any confidence picked up in our last 2 wins will quickly disappear and all the negative thoughts will come flooding back to players and fans.
Eric Paul
190
Posted 10/12/2017 at 12:03:42
Andy Crooks,
Great post, I do believe we will win; after reading that, I will be gutted with a draw.
Dave Abrahams
191
Posted 10/12/2017 at 12:06:11
Brian (189) lot of sense in what you say but I think we have a decent chance of winning. I wouldn't presume to tell the manager and his coaches how to play today, except to say watching the game versus Huddersfield last week the only real chances they had came when Everton had corners; three times Huddersfield went on the attack from them, but thankfully failed to profit from them.
Today I'd have Kenny, Lennon and Holgate back when we get corners and Gueye just outside their penalty area, four players with decent speed to cover them on breakaways, they are lethal on them especially the Egyptian, apart from that let them worry about us, we can win this if everyone is up for it, the fans going there will be.
Brian Harrison
192
Posted 10/12/2017 at 12:17:27
Dave 191
I really hope you are right and we do win, but other than the 60s were I expected to beat them and the 80s when we had as good a side as they had. The rest has been really depressing, I keep trying to hang on to the old adage of surely the law of averages we must beat them sometime at Anfield. But now I just hope we get out of there without a battering, I mean how unlucky that our bogey team is our neighbours. I just hope today is the law of averages game.
Paul Smith
193
Posted 10/12/2017 at 12:23:24
My team for today.
Pickford
Kenny
Martina
Holgate
Keane
Lennon
Gueye
Beni
Rooney
Sigurrdson
Lewin
I would put the extra man in midfield to try and stifle them the longer it goes 0 - 0 the pressure grows on them.
Derek Knox
194
Posted 10/12/2017 at 12:27:28
I think the main thing to do today, apart from trying to score without conceding, is to try to retain some form of control in a derby atmosphere.
By that I mean, no stupid or rash challenges in dangerous areas, Tom Davies and Ashley Williams the most likely culprits, because the ref can, and will be swayed by the Anfield crowd.
I know it won't be easy by any means, but still remain confident we can get something.
COYB
Simon Dalzell
195
Posted 10/12/2017 at 12:35:22
Ray @ 182 That must have been so uncomfortable, especially having to measure twice!!! At least you're blue all over.
Michael Lynch
196
Posted 10/12/2017 at 12:38:53
If we can get out of this with some pride, that would be a fantastic outcome. I'd love a draw, but mentally I'm prepared for a massive defeat. I just can't see any way the Shite won't score four or five against us. Sure, the last couple of games we've kept clean sheets, but we haven't faced a fluid, attacking team since a fairly ordinary Arsenal put five past us at Goodison. I love the optimism, but unfortunately I think this is going to be the chance for all the Sam haters to start moaning.
Nicholas Ryan
197
Posted 10/12/2017 at 12:40:41
Where's all this snow I was relying on, to get the thing abandoned!!
Colin Glassar
198
Posted 10/12/2017 at 12:54:39
Even General Winter hates us, Nicholas.
Jon Withey
199
Posted 10/12/2017 at 12:59:48
You'd expect Sam to try and disrupt Liverpool somehow - let's hope it works. Liverpool also have vulnerabilities : perhaps we can get them on set pieces.
Dave Abrahams
201
Posted 10/12/2017 at 13:46:54
Brian (191), yes Brian I understand how you feel, but lots of times we have gone there without any belief that we can win, even at Goodison, one game there we were 2-0 up early in the game, Hartford and McBride (I think) then they scored before half time and the only happy faces in the crowd at the interval were Red fans, we got away with a 2-2 draw in the end but they marmalised us.
Belief will go along way, Sam and Sammie will make sure we have plenty of it, the rest is up to the players.
Add Your Comments
In order to post a comment, you need to be logged in as a registered user of the site.
Or Sign up as a ToffeeWeb Member — it's free, takes just a few minutes and will allow you to post your comments on articles and Talking Points submissions across the site.