Watford lodged formal complaint over Everton's approach for Silva
Tuesday, 15 May, 2018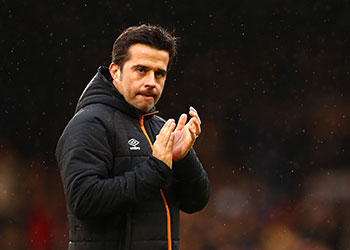 Everton are reportedly hoping to hold fresh talks with Watford's hierarchy to avoid a potential points deduction for what the Hertfordshire club deemed to have been an illegal approach for Marco Silva.
The Blues' major shareholder and de facto owner, Farhad Moshiri, had made the former Hull City boss his top managerial target following the sacking of Ronald Koeman last November but failed to get Watford to agree to let them hold talks.
Offers of compensation as high as £12m were said to have been offered by Everton but the Hornets held firm in the desire to keep the Portuguese. Results nosedived in the following weeks under Silva and, citing the Blues' interference as the catalyst, the club's owners sacked him in January.
According to reports, Silva remains Moshiri's main choice to succeed Sam Allardyce who is expected to be formally dismissed tomorrow but, while there is nothing stopping Everton's from seeing through their revived attempts to hire the 40-year-old from a legal perspective, it could inflame tensions with Watford and prompt them to press home their claims with an arbitration panel that their former boss was "tapped up".
In the unlikely event that they are penalised to the fullest extent, it could see Everton start next season in arrears with a points deduction, although a more likely outcome might be a cash settlement between the two clubs. A conciliatory offer from the Blues was apparently rejected following the first negotiations held last month.
The situation is complicated further by the fact that Silva is fighting Watford for unpaid compensation of his own to the tune of £750,000.
---
Reader Comments (133)
Note: the following content is not moderated or vetted by the site owners at the time of submission. Comments are the responsibility of the poster. Disclaimer
James Hopper
1
Posted 15/05/2018 at 23:04:57
What are they suggesting we did wrong? We approached them with a generous financial package asking for permission to speak to him. That's the way it's supposed to be done, right?
Steve Ferns
2
Posted 15/05/2018 at 23:07:53
As stated on the other thread, this is just the Pozzos being the Pozzos and trying to make some cash.
Did Everton really make an illegal approach? Is this any different to what Man Utd did to us, or when Spurs appointed Pochettino?
We made approaches, they were leaked to the press, and Silva did everything he could to make it clear he wanted to come.
Money will just change hands and there will be no points deduction. It's just a question of how much Watford will fleece us for.
Alternatively, Moshiri might go for the easier option of Fonseca now he's got no chance at Arsenal.
Chris Gould
3
Posted 15/05/2018 at 23:09:10
Well of course we tapped him up. We wouldn't offer £12 million if we didn't already know he wanted to come.
As if Watford don't do it. Every club taps up. It can't be controlled.
Hope he's worth all the hassle!
John Raftery
4
Posted 15/05/2018 at 23:10:48
A points deduction before the fixture list comes out! Why are we even thinking about taking that risk?
Tom Bowers
5
Posted 15/05/2018 at 23:16:00
That's a good start to next season. Bottom already !!
James Flynn
6
Posted 15/05/2018 at 23:16:17
So, Silva IS coming, then.
Can't see any other reason a club that's had 13 managers in the last 10 years, would have the balls to file a complaint. Money! They screwed up on the 12 million. NOW they want it?
Everton is going to make some announcements this week. Manager out. Manager in, top-o-the-list. Watford file a complaint. NOT when they fired Silva and openly blamed Everton. Not then. NOW, when Silva is about to be introduced.
As bad as our season was, I'm leaving it be for a moment to send up a request for a blessing on the heads of every Watford supporter. Stuck with that shit-show of an ownership.
Derek Turner
7
Posted 15/05/2018 at 23:18:33
Perhaps it was the public nature of our desire to have him.
Anyway, its all a bit like Niasse being banned for diving. Everton deducted points for desiring another club manager then everyone forgets about it when the shite do it six months later.
Being an Everton fan really encourages paranoia.
Michael Lynch
8
Posted 15/05/2018 at 23:21:33
He's that good, Marco Silva, that even with a ten point deduction, he'll almost stop us getting relegated. Assuming his head isn't turned by my nan offering him a cup of tea.
Matt Muzi
9
Posted 15/05/2018 at 23:24:45
If they wanted to lodge a complaint surely it should of been done at the time not at the end of the season after they've sacked said manager & appointed another one for over half the season!
James Hill
11
Posted 15/05/2018 at 23:27:44
Marco Silva
2011–2014 Estoril
2014–2015 Sporting CP
2015–2016 Olympiacos
2017 Hull City
2017–2018 Watford
Zero Trophies
What a catch for a club with ambition. Still does seem to last more than a year. Maybe he will have us relegated by Christmas.

Rick Pattinson
13
Posted 15/05/2018 at 23:30:12
What the hell has happened to this club . And Silva isn't the man...we will be calling for his head come january
Steve Ferns
15
Posted 15/05/2018 at 23:31:28
James Hill
He won trophies with Estoril, Sporting and Olympiacos. He was also the first man to beat Porto at the Stadium of Light for 6 or 7 seasons, this was the first in a three match run of defeats that saw Fonseca sacked from a previously unstoppable Porto.
Why do people spout lies?
Jay Wood
[BRZ]
18
Posted 15/05/2018 at 23:35:50
This is absolutely barking...
Jerome Shields
20
Posted 15/05/2018 at 23:42:24
This sounds very unprofessional on top of paying Koeman the balance of his wages in his Holland position and a compensation package to Big Sam to buy out the remainder of his contract.
£ 4 m (I'm too sick to look up exact figure) plus £6m and £12m. Someone has made an estimated £22 million cock-up big time.
This Summer is going to a Media field day. Moshiri is being seen as a soft touch. In September, we have to have a team up and runnng. The whole situation is bloody ridiculous.
John Smith
21
Posted 15/05/2018 at 23:42:29
The stadium of light is Sunderland FC's stadium. What the heck are you on about?
Steve Ferns
22
Posted 15/05/2018 at 23:46:11
John Smith, got my
Benfica Stadium
mixed up with my
Porto Stadium
Benfica's stadium is the original Stadium of Light and Sunderland nicked both the concept and the name, obviously translating it into English.
Fran Mitchell
23
Posted 15/05/2018 at 23:46:14
Pochettino: Espanyol, 3 seasons, 2 mid table finishes, sacked after a bad spell of 9 points in 12 matches.
Southampton: 2 seasons mid-table, even Koeman got more points than him.
His record shows how shit he obviously is.
I mean, Poc is now what, going into his 4th season at Spurs and no silverware. He is obviously crap.
Can Silva do what Poc is doing at Spurs for us? No idea but he is highly rated in the game, as Poc was. Sometimes trusting in the talent of a manager is better than picking at previous jobs and supposed failures.
Lawrence Green
24
Posted 15/05/2018 at 23:46:29
Good spot John #21

By Richard Bright in Lisbon

12:01AM BST 01 Apr 2003

Demolition began at Benfica's Stadium of Light here yesterday, bringing to an end half a century of glorious football at one of the world's greatest arenas.

Dubbed both "the Cathedral" and "Inferno" for the fervour of its fans, the stadium was home to Portugal's most successful club - and their greatest player, Eusebio - and was the launchpad for George Best's rocket to stardom in the Sixties.

The new Luz stadium, being built just next door, will host the final of next year's European Championship final
David Israel
25
Posted 15/05/2018 at 23:51:24
Steve #15, not at the Stadium of Light, surely: Silva's never managed Benfica. As for Fonseca and Porto, apparently he was handed Porto's weakest squad in years. And he did take a small club into the Champions' League qualifiers before that.
Edit: I see you have corrected that, Steve. By the way, 'Luz' is the name of the area in Lisbon where Benfica's ground is located. It does mean light in Portuguese, but it should not be translated.
Roberto Birquet
26
Posted 15/05/2018 at 23:58:18
Charge the fuckers for Z Cars
Steve Ferns
27
Posted 15/05/2018 at 00:01:36
David, Porto were top and flying. Silva came into town with Estoril and beat them at their own ground (The Dragon Stadium not the Stadium of Light) for the only time in their history, and for Porto's first home league defeat in 6 or 7 seasons. Porto were top, flying, and unbeaten. After Silva beat them, they lost the next two, so three in a row, and Fonseca was sacked.
The context was that Benfica were Champions and Porto was expected to challenge. The Porto board felt three defeats in a row as inexcusable and so sacked Fonseca.
The point being that these are supposedly the two front runners. When they have gone head to head, Silva wins. With comparable clubs in the same League, Silva usually finishes above Fonseca. In fact the only time Fonseca finished above Silva was when Fonseca got 3rd and Silva got 5th. Fonseca had a small but established Super Liga side, but it was still a remarkable achievement and it was enough to land him the Porto job.
David, Sunderland still nicked the name for their Stadium off Benfica.
John Kavanagh
28
Posted 15/05/2018 at 00:01:55
This sums up how badly Everton is being run. Not only do we pay 50% over the going rate for players, we are a soft touch for any club looking to get its debts reduced. We are simply not savvy enough to do what every other club does to avoid getting sanctioned or ripped off.
We should tell Watford to sod off and counter-sue them for a billion for stealing the Zcars intro - for tapping up our history and heritage. If the FA then deduct points then it will only confirm what we already know - that the FA are in the pocket of the RS and have it in for us.
Derek at #7 - it's not paranoia it's reality. "The truth is out there". Expect Everton to get another ban from Europe because of the troubles at the onion patch before the Man. City game. If it had been Everton, EUFA would have banned us the next day instead of delaying any hearing until after the dark side have secured another trophy following a dodgy penalty shoot out.
Wayne Paul
29
Posted 16/05/2018 at 00:18:28
Not Silva but, if it is to be, I'll support him.
But what's it gotta do with Watford? He got sacked.
Dan Parker
30
Posted 16/05/2018 at 00:28:35
Knowing our luck with the authorities in the game, we'll used to set an example and get the points knocked off.
David Tennant
31
Posted 16/05/2018 at 00:34:52
@James #11
Here is his trophy cabinet:
Estoril
Segunda Liga: 2011–12
Sporting
Taça de Portugal: 2014–15
Olympiacos
Superleague Greece: 2015–16
Individual
Segunda Liga Coach of the Year: 2011–12

He has won things and has improved teams and more importantly players wherever he has been. And after getting promoted at Estoril he led them to fifth place in their top tier. He also has a better record than Fonseca in a head to head.
I'm warming to Silva. Wouldn't mind Fonseca but doesn't know our league. Benitez would improve us but Liverpool history ('Everton are a small club'). Arteta is a risk but loved him in a blue shirt-he is going to Arsenal anyway. Sean Dyche- very Moyes (not necessarily a bad thing). Eddie Howe, boyhood blue, good coach, attacking but defensively suspect.
Geoff Lambert
32
Posted 16/05/2018 at 00:39:28
James Hill (#11),
Need to do your homework before coming on here and embarrassing yourself with such utter bollocks.
Brian Wilkinson
33
Posted 16/05/2018 at 00:45:18
Dan @30 — not only that but Niasse and Lanzini of West Ham are the only two players to receive bans for simulation, Ali has been booked three times for simulation, he receives 3 yellow cards in different games, but no ban for simulation.
If they are going to hand bans out for simulation, they need to also ban players who picked up a yellow card for simulation.
Ron Marr
34
Posted 16/05/2018 at 00:47:18
Hmmm... the Telegraph claims there was an agreement in the mediation that Everton would not pursue Silva in the summer.
The Premier League urged the clubs to mediate rather than launch their own probe, and there was a meeting between Everton and Watford in April in an effort to resolve differences.
At the same meeting Watford felt they had received an assurance Silva would not be pursued by Everton this summer. That guarantee does not look solid now, with Silva the preference to take over once Allardyce's brief reign is formally ended.
Tony Twist
35
Posted 16/05/2018 at 00:49:42
Reason enough not to get him then. Let's move on. Moshiri needs to wisen up and fast as everyone seems to want to kick us whilst we are down.
Soren Moyer
36
Posted 16/05/2018 at 02:26:33
How can a club sack their manager, then tell other clubs NOT to hire him in the future or they will sue them! Doesn't sound right!!!
Roman Sidey
37
Posted 16/05/2018 at 03:47:18
Imagine the plethora of top players wanting to sign for a club in the minus points at the start of the season, thus pretty much scrapping any chance of challenging near the top.
William Cartwright
38
Posted 16/05/2018 at 03:48:19
If Silva joins us, and I for one kind of hope he does, then he needs to take a course on how to interpret and comprehend scouse and ToffeeWeb supporters. Reading some of the comments during the last few days, we get the impression that we talk through our arses (myself included), we focus on the negative, don't believe in luck or fortune when it comes our way, are as jealous as hell of the Redshite (myself included), and can't be bothered to do basic research to find the facts when spouting usually negative opinions.
He will be pleased to see some balanced and informed opinions coming amidst a lot of tripe (Steve Ferns et al) and Phil Walling provided useful context reference to looking on the bright side.
We are rid of Allardyce, we have a genuine owner with class and an exciting new young and talented manager coming in. Enjoy the moment, and support the Club's endeavors.
COYB (and you Phil -you might enjoy yourself!)
Jamie Crowley
39
Posted 16/05/2018 at 05:07:23
Steve Ferns -
Reading as many posts as I can, and really enjoying your managerial insight, I've a question for you.
Who is the more "attacking" manager - Silva or Fonseca?
I simply don't have the knowledge base, hence the question.
Watching Watford it seemed to me to be very counter attacking, and you've alluded to Silva favoring a jail-break on cocaine approach.
I think Fonseca is a bit more pragmatic?
I know you've probably answered this question either directly or in the main on your various posts, and a cliff-note version response would be appreciated if you can.
Alan J Thompson
40
Posted 16/05/2018 at 05:07:57
Soren (#36); I wondered about that, wouldn't it be restraint of trade?
Ray Carvin
41
Posted 16/05/2018 at 05:11:06
At a loss here. The RS make an illegal approach for Van Dyke, back off for a while, then announce him as their player outside of the transfer window. They have the audacity to have him paraded as their player and give interviews as their player all while he was still contracted to Southampton!
One rule for...
Bill Gienapp
42
Posted 16/05/2018 at 05:20:57
This is outrageous. If the league wants to see the matter settled so badly, why don't they tell Watford to put the collective pacifier back in their mouths and fuck off back to Hertfordshire?
We did nothing wrong. We wanted to hire their manager, made them an absurdly generous offer, they threw it back in our faces (as was their right) and that was the end of it. However, if Silva preferred to come manage us, that's their problem.
Bobby Mallon
43
Posted 16/05/2018 at 05:39:02
What has this fella ever done. He's won nothing and with our supposed ambition why are we not courting the likes of simeone. I would rather have chris houghton or Eddie Howe or dyche than Silva
Jim Harrison
44
Posted 16/05/2018 at 05:55:33
Bobby 43
Good job you read the thread!!
He has won things
Paul Tran
46
Posted 16/05/2018 at 06:24:05
It doesn't matter whether it's 'fair' or not, Watford think they have a case and the owners are clearly vindictive enough to try and frighten us into giving them a few bob.
If we do take Silva, I suspect money will change hands and it will all blow over.
Ian Hollingworth
47
Posted 16/05/2018 at 06:29:38
Silva biggest success was with Estoril as they were a 2nd tier team when he took over, they are also the side that he stayed longer than 12 months.
Porto and Olympiacos were established trophy winning sides (it was Olympiacos 43rd title) that said you still need to manage them to win it.
His win ratio in the premier league is dire and I seem to remember many on here using that stick to beat previous managers.
Silva would defo be better than Sam but is that the total of our ambition getting somebody better than Sam.
Whatever happens needs to be quick so we can move on and we all need to get behind whoever is appointed.
Anthony Evans
48
Posted 16/05/2018 at 06:38:29
I really do have to laugh as some of the ignorant comments on here regarding Silva. The facts remain, and if you would have read what was going on, it may explain things so plainly that a 5-year-old would understand.
Silva was appointed as Watford Manager for £1.5mill a year; he signed the contract, which Everton knew, but they still made illegal approaches without Watford's consent.
Silva met with Everton officials and agreed a deal, for which Everton then, to cover this up, slapped in a cheeky bid. In fact, they offered 3 deals, with the last deal standing at £20mill. Watford's owners turned it down knowing that both parties broke the rules. Watford's season was going well, and they were sitting in the top 6.
From that first bid to the last, Watford never won a game, and Silva refused to distance himself from the Everton job. Due to Silva's behaviour and the downturn in results, and Everton's refusal to back off, Watford sacked him.
Watford's owners since his sacking have refused his claim of Watford owing him £750k for his wrongful sacking, and it's going through the Courts.
So who should pay for this? It should not be Watford, but Everton, because meeting him and doing a deal behind the owners' backs is breaching his contract and Everton have broken the rules too.
Everton thought they would be clever before slapping in a bid, but they have been found out, derailing Watford's season in the process as they now had a manager that wanted to go, and was not committed to his job at Watford. The owners stood firm against him breaching his contract and against Everton's illegal approach.
Now what part of this is Watford wanting money for nothing? Everton and him broke the rules and he shouldn't get a penny. Compensation should be paid for the derailment of Watford's season and Everton's illegal meetings with him.
Christopher Timmins
49
Posted 16/05/2018 at 06:44:57
Ray, Liverpool paid a pretty price afterwards for their man in order to get the deal across the line. There penalty was effectively included in the price.
If Moshi really wants Silva he has to hand over the money and move on. We can't have a drawn out saga. If he wants Silva then he has to be in place at some stage before 1 June.
Brian Porter
50
Posted 16/05/2018 at 07:07:45
So, we made an official approach to Watford asking for permission to speak to their manager, and even offered them around £12m compensation if he joined us. They said no so we upped the offer to £15m and they said no again so we backed off. All played out pretty much in public via the media. If that constitutes an illegal approach, I'm a Dutchman.
They then sack him when their season goes pear-shaped and tried to blame us. (If that's true then who tapped up Koeman?). We have to blame someone don't we?
Now he's free and we might hire him, months later, they come creeping, looking for compensation. What for? We didn't nick their manager, they fired him! That was their choice, nothing to do with us. They really are pathetic.
By the way, I'd rather have Fonseca, so I have no axe to grind re Silva. But, fairs fair. We were up front about our desire to hire Silva and it would be pretty difficult for them to prove any wrongdoing either by us or by Silva unless things happened that haven't been made public, but somehow I think they are simply chasing the gravy train in this case.
Tell them where to go. Do your worst, you pathetic little club!
Michael Lynch
51
Posted 16/05/2018 at 07:15:07
Speaking as a lawyer (ok, I'm not really), I can't see how an agreement not to approach him is still valid after they've sacked him. This is a nonsense claim and will be thrown out of court.
Jeff Spiers
52
Posted 16/05/2018 at 07:29:55
Well, let's sue them for pinching Z Cars. Pricks!!!!
John Pickles
53
Posted 16/05/2018 at 07:35:46
Watford still pissed with us for 1984, their only chance of winning a decent trophy.
Bobby Mallon
54
Posted 16/05/2018 at 07:42:06
Ok his prem record is rubbish. For gods sake if we want to finish top 6 or above we need a manager that's done it in big leagues not Greece
Steve Ferns
55
Posted 16/05/2018 at 07:59:45
Jamie, Fonseca is the more attacking manager.
Liam Reilly
56
Posted 16/05/2018 at 08:02:49
Regardless of the reasons behind his departure from Watford; they can't sack him, apparently hold off on his severance payment and then prevent him from taking up a new offer.
There are so many legal reasons why that nonsense wouldn't stand up in any court so I don't know why Moshiri and co don't just tell them to feck off.
Liam Reilly
57
Posted 16/05/2018 at 08:02:50
Regardless of the reasons behind his departure from Watford; they can't sack him, apparently hold off on his severance payment and then prevent him from taking up a new offer.
There are so many legal reasons why that nonsense wouldn't stand up in any court so I don't know why Moshiri and co don't just tell them to feck off.
Jon Withey
58
Posted 16/05/2018 at 08:13:02
Unless they have some concrete evidence of direct contact - it wouldn't stand up, surely.
Jon Greenbank
59
Posted 16/05/2018 at 08:37:07
I expect money will change hands and he will become our new manager. If that's the case then let's get behind him and see what happens. At least the shake up appears to be happening quickly and may even be done before the transfer window opens. Not like EFC to act quickly!
Rob Dolby
60
Posted 16/05/2018 at 08:39:05
What did Kendall win before managing us?.
People have to see the potential in someone.
A young manager who has the hunger to try to match and beat the big boys with an attacking style of play.
Not just moan that we haven't appointed Pep coz our motto says we should.
I'd be happy with either Silva, Howe or Fonseca.
Ed Curry
61
Posted 16/05/2018 at 08:43:12
Pep's record would be rubbish as well if he was manager of Hull and Watford.
Phil Walling
62
Posted 16/05/2018 at 09:07:22
That's another fine mess you've got us into, Moshiri !
No doubt, this difficulty will be overcome by a large wedge of compo going Watford's way - and it won't be the Messer's money, will it ?
The Club stands at risk of going broke if this idiot abroad keeps shelling out 'to get hold' and 'fet rid' !
Paul Tran
63
Posted 16/05/2018 at 09:08:47
It's an age-old tactic, Liam. Bluster, threaten and work on the basis the other side will settle before litigation. Unless, of course, there's proof we've made an illegal approach.
My guess is this is all around interpretation of the one-year break clause in Silva's contract, which I believe comes into effect on 1st June.
Andrew Ellams
64
Posted 16/05/2018 at 09:13:44
It's nonsense. It might cost us a few quid but still Sam's compo and this won't add up to the £12million we offered for Silva previously.
Sam Hoare
65
Posted 16/05/2018 at 09:19:51
Sounds like Watford throwing their toys out of the pram. They might get a little slice of pie to stop making waves but nothing like the £12m they might have had; which is probably what they're hoping for.
Either way it looks like Silva coming in. I'd be excited by either him or Fonseca. Seems to me like Silva has some unfinished business in this league and I think that will be a handy motivation.
Rudi Coote
66
Posted 16/05/2018 at 09:49:19
Thus guy is a huge mistake. Not a good manager at all. He took Hull down despite having 22 games of the season left. Watford were going the same way until he was sacked.
Neil Wood
67
Posted 16/05/2018 at 09:51:35
Sam gone!
Tim Locke
68
Posted 16/05/2018 at 09:54:11
A day of mourning
Richard Lyons
69
Posted 16/05/2018 at 09:54:51
YEEEESSSSSS! On my Reuters feed: "Everton part company with manager Sam Allardyce - club statement"
This is the happiest I've been for months
David Milner
70
Posted 16/05/2018 at 09:57:59
Best news yet, seems like Christmas all over again.
Tony Everan
71
Posted 16/05/2018 at 10:02:41
The FA should investigate Watford's hiring and firing of managers and players thoroughly too.
Just to make sure that they are a perfect club themselves and have never tapped up a player or one of their many managers.
Interview the clubs they got their last 10 managers from.
Jim Potter
72
Posted 16/05/2018 at 10:04:17
Hip hip hooray! The fat king is dead. Long live, er, er, who's ever next.
Please let's get these next decisions right. I could not stand another hideous season like the one we've just endured. Soul destroying.
So, if only for my sake Mr Moshiri, pick the right people for this big shake up. Clear out some of the crap on our books, and bring in some diamonds who want to win.
Make me happy again. It's not a lot to ask for, is it?
Simon Smith
73
Posted 16/05/2018 at 10:18:55
Some of the idiots you get on the bbc "have your say" section. If you ever need a reminder of why we hate rs fans, just read the comments section on the allardyce article.
Karen Mason
74
Posted 16/05/2018 at 10:27:26
Whoever our next Manager may be, almost every Blue must think that he will be a big step forward from Allardyce. Reading some posts on here, some of you are already giving off negative vibes. While history may give some some indication of a young Managers ability, our judgement should not be prior to their appointment IMHO. Allardyce was 60 odd when we appointed him, so his history was long & well known, which is why we didnt want him. BUT, it looks as though Moshiri is more interested in a younger ( hopefully more hungry) recruit. So come on guys, (& girls), lets all sigh with huge relief when we hear officially that Allardyce has gone. Then welcome our new Manager with a huge roar of encouragement, to get us all off in the right foot. Whoever it is, whatever their history, they are at Everton, & after the horror show this season, let's all be positive about our new Manager, whether he was your personal favourite or not.
Jon Hirshman
75
Posted 16/05/2018 at 10:32:21
As I've said on another thread (although I've no idea if Michael/Lyndon allowed it), let's not be dicks about this. The way to behave regarding Allardyce's removal is exactly the way Denise Barrett-Baxendale has in her statement on the official site in which she recognised the shit we were in and what Allardyce has done to get us out of it. As far as RS fans are concerned Simon, I never concern myself with those people's opinions. Besides which I don't understand Norwegian.
Tony Williams
76
Posted 16/05/2018 at 10:37:53

Jim White says we as fans have too much say. If it weren't for us there would n't be any football club and players and managers earning an immoral amounts of money just for being in football, when there are people out there working 40, 50, 60 hours too pay a mortgage and feed a family. WE HAVE GOT EVERY RIGHT TO PUT OUR POINT OF VIEW.
James Marshall
77
Posted 16/05/2018 at 10:39:49
Simon@73
How to use the Internet 101: never read comments sections. This goes for all websites, especially the BBC and Yootoob
Tony Abrahams
78
Posted 16/05/2018 at 10:43:44
Tony, I'm still waiting for someone to laud "The Evertonians" because these false bastards, really don't know what it's like to live in the real world, and must think we all get free tickets, and free travel, for having to put up with the boredom.
James Hughes
79
Posted 16/05/2018 at 10:52:43
Yes James, I see Michael Vaughan having a dig at us on Twitter, The Twat should stick to cricket
George McKane
80
Posted 16/05/2018 at 10:57:34
Allradyche gone - Granada just called - I will be on Live tonight at 6.15 - Official.
Tony Everan
81
Posted 16/05/2018 at 10:57:47
They all want Everton to be the nice 7th place club that doesn't interfere with the top 6.
Perish the thought that we have ambition, and a very ambitious owner.
They criticise sacking Sam because they know it means we are not lying down. We will not accept seventh.
We are building a club that can compete with the top 4 in a few years time.
Supporters and sycophants of the the top six don't like it one bit.
Noleen Daya
82
Posted 16/05/2018 at 11:08:37
Such joy! I can hardly work. I'll be polishing off a bottle of champagne tonight!
Brian Harrison
83
Posted 16/05/2018 at 11:12:14
George
I am sure they will ask why sack him when he has got us to 8th in the league, well you can quote the opta stats. We are 19th in shots in a game, 19th shots on target, 19th in dribbles so in each category there is only 1 team worst than us. We don't expect to win the league but we do ask to sometimes for us to be entertained. Our loyal supporters in spite of Allardyces poor football have renewed their season tickets in record numbers, how many clubs fans would do that after the season we have had.
Looking forward to your cosmic waves at 6.15 George.
Rob Halligan
84
Posted 16/05/2018 at 11:13:32
Simon #73 and James #77. The red echo is the worst. The Everton section is full of red shite comments on every story. It's like they are totally obsessed with us.
Simon Smith
85
Posted 16/05/2018 at 11:14:39
Thanks for the advice James. Not that I'd ever have read it if I had taken your advice!
James Hill
86
Posted 16/05/2018 at 11:25:54
Geoff Lambert go and check mate that's his record and you Steve ferns. See who's talking bollocks. Any way looks like we are going to find out. If he's the man and gets results I'm happy I'll support him. Could give a fuck how he does it as long as gets results.
Mike Price
87
Posted 16/05/2018 at 11:32:11
What's being missed is how incredibly lucky we were in just about every game we got points in, after the West Ham game. The only exception was Brighton at home, every other manager was shaking their head in disbelief that they didn't win. We all saw that but because no one else was watching, Allardyce could pretend differently and the media bought it.
Trouble is we still have poor players we couldn't give away and still seem naive in our transfer dealings. Whoever we get has a major task to get us comfortable survival whilst developing the squad and an attractive playing style.
James Marshall
88
Posted 16/05/2018 at 11:44:36
"The Premier League suggested mediation between the two clubs and when Keith Harris and Bill Kenwright met Watford officials in London last month, they said that Silva would not be appointed as the next Everton manager.
Did anyone else ever read this? I don't think I ever read this until today.
Steve Brown
89
Posted 16/05/2018 at 11:51:57
George @ 80, they chose the right person to represent the fans. Good luck.
James Hill
90
Posted 16/05/2018 at 11:52:33
Yepnhe did win some cups . Stand corrected
Derek Knox
91
Posted 16/05/2018 at 11:55:02
I fail to see how Watford can dictate what Silva can do after sacking him, surely any contractual obligations are nullified by that.
Surely it's akin to losing a job or being made redundant, the Company don't have any jurisdiction on what their ex employee does to seek another post.
As for possible points deduction, it gets even crazier!
There is mention of Keith Harris too being on the Board, which beggars the question ' where's Orville ' probably doesn't give a duck. :-)
Soren Moyer
92
Posted 16/05/2018 at 11:57:06
Jim Harrison #44, Brilliant mate!
Ed Fitzgerald
93
Posted 16/05/2018 at 12:00:17
George
I could not think of anyone better to speak on behalf of the Blue bretheren. I will be watching and I know I will be entertained - unlike watching Everton this season!
Give em hell George - and bombard them with your posso cosmic blue waves and if that does not work - hit them with the stats!!
Good Luck
Steve Ferns
94
Posted 16/05/2018 at 12:04:04
Go on George. You're one of the most reasonable and laid back Evertonians, if anyone can put our point across it's you.
Dermot Byrne
95
Posted 16/05/2018 at 12:05:34
George you outrageous publicist! Just kidding, as your old chum from my LCVS days, I cannot think of a better man to speak wisely re current issues.
Brian Williams
96
Posted 16/05/2018 at 12:07:25
An Evertonian who phoned in earlier on the Jim Whitewash show on Talkshite put forward a really valid and very well put together argument against "the myth" that Allardyce "saved" us.
One of the many excellent points that he put forward was that after the win against Huddersfield, Allardyce's first game in charge, we were 10th in the table.
He went on to say that Allardyce thus moved us up two places from when he first started to the end of the season.
He also quoted the damning stats over shots, shots on target, possession etc.
Not surprisingly the "experts" on the show very quickly glossed over the points raised and moved on to shite that supported their stance.
George McKane
97
Posted 16/05/2018 at 12:07:45
Thanks gang - - just did a radio Interview and said what in effect you are all saying - - said look beyond the his points - -I said he never "endeared" himself to any Evertonians - - mentioned the lack of "smiles and fun"a round Goodison and young players and how his friends in the media called the fans names and his total demeanour and dismissal of the fans.
Will try my best as always on Granada tonight.
Cheers gang.
Posso waves and Blue Cosmic Grooves all the way.
Brian Williams
98
Posted 16/05/2018 at 12:12:39
George. Just tell em that it was OBVIOUS he was going at the end of this season by virtue of the fact that Mr Moshiri wanted him here on a 6 month contract and tried to get Allardyce to accept that length of contract.
Allardyce wouldn't go for that, so effectively negotiated himself a circa £6m payoff after pushing for an 18 month contract knowing full well that he was gone at the end of the season.
I said on here several times, at the time he was hired, that Moshiri only gave him an 18 month contract because Allardyce would accept nothing less.
Anyway, history, thank fuck! (Might be an idea NOT to say THAT on Granada).
Brian Harrison
99
Posted 16/05/2018 at 12:15:31
You couldnt make it up, we have had a season of the equivalent of sticking needles in your eyes. Now I have had an email from Everton this morning asking would I like to enroll to walk on burning embers to help raise money for ETIC.
What next enroll for crucifixions before every home game, I mean come on guys havent we endured enough over the last few years.
Mind with all the changes at board level maybe they plan to change our name to Masochists FC.
Noleen Daya
100
Posted 16/05/2018 at 12:16:11
Two things that irk the &%$% out of me about the nit wits who claim we are ungrateful for what he did. Number one, he is morally corrupt! And two, as many have said on this forum, none of them would want him managing their team! The fact that he is now part of our history makes me want to vomit!
Steve Ferns
101
Posted 16/05/2018 at 12:18:25
Jay Wood, I see the Boca juniors manager's odds have shortened to 20-1. That might keep him as an outsider, but he's now joint 4th favourite. With you being South America based, can you tell us about him and why he's being backed?
Steve Ferns
102
Posted 16/05/2018 at 12:21:48
Very funny Brian Harrison!
Brian Williams
103
Posted 16/05/2018 at 12:25:25
Oh God, Moyes has left WHU!!!!
ODDS OF 25/1
Steve Ferns
104
Posted 16/05/2018 at 12:28:22
Brian, 6/1 with Ladbrokes!!
Emery is 25/1
Please, no!
Brian Williams
105
Posted 16/05/2018 at 12:30:48
Steady Steve. I'm 8/1 FFS.
Carl Taylor
106
Posted 16/05/2018 at 12:35:04
It's official not the sacking of BFS, but that Tony Cottee is a proper beaut! I never took to him as an Everton player, as I firmly believed he never wanted to join us, but his comments today confirmed he is a proper West Ham fan. "He can leave with his head held high", "No doubt Everton were heading for relegation", "Sam will get loads of offers; some big Championship clubs will be interested"!!
What planet do these turds in the media live on? Do they listen to what they say? 1. We were NOT definitely heading for relegation. 2 BFS should not hold his head high anywhere, as he was filmed being a crook. 3. You have just answered the question as to why he should never have been at Everton if you think interest in BFS will be high amongst Championship clubs!! So you don't expect him to be shooting to the top of the list for the Arsenal job TC? What about a return to your beloved West Ham if he is so fu**ing great?
I am so happy today that this stain has been removed from our club. The important work starts now and I hope we make a sound appointment. Whoever it is, they need to make a statement about how the perception of the club needs to change.
Steve Ferns
107
Posted 16/05/2018 at 12:39:48
I loved TC as a kid, but since he left us, he's hardly been a cheerleader. I wonder why, did we do something to him? Was it leaving on 99 goals?
Brian Williams
108
Posted 16/05/2018 at 12:41:52
Jesus. Everton season ticket holder on Talkshite already pleading for Moyes to come back to Everton!!!
Tony Everan
109
Posted 16/05/2018 at 12:42:09
And surprisingly, Benitez is 2nd favourite amongst 3000 fans here .
Ahead in popularity of both Silva and Fonseca.
Craig Walker
110
Posted 16/05/2018 at 12:43:55
Moyes comes back and I'm done. I'd sooner have Allardyce. Rafa for me.
Steve Ferns
111
Posted 16/05/2018 at 12:44:08
Season ticket holder for the RS more like.
Brian Williams
112
Posted 16/05/2018 at 12:45:13
Actually sounded sincere Steve, with the reasons being given quite legitimate
FOR A LUNATICI!!
Steve Ferns
113
Posted 16/05/2018 at 12:46:45
He's got to be a RS wind up merchant.
Neil Carter
114
Posted 16/05/2018 at 12:49:36
Next appointment will reflect the level of ambition.
Is Silva a significant step up or another risk similar to Martinez?
Personally would like to see a higher level of achievements from an overseas manager.
If we've got the funds to compete top 4 then someone whose been to European finals and won leagues is where we should be aiming. Look at the top 4 managers-isn't that where we are aiming? Need that level to attract players to move us forward.
This next appointment critical for Moshiri's level of ambition.
Steven Scaffardi
115
Posted 16/05/2018 at 12:53:38
@Steve Ferns 107 if you read Graeme Sharp's book, I'm pretty sure form memory that he singles Tony Cottee out as one of a group of players who was a bit of an outsider at Everton. Maybe that is why he doesn't really speak with the same love about the club as others. Plus I also think he is West Ham through and through. Choosing us over Arsenal also didn't really work out that well for him!
Laurie Hartley
116
Posted 16/05/2018 at 12:54:53
Nervous Times - Time for a laugh:
Jay Wood
[BRZ]
117
Posted 16/05/2018 at 12:55:12
Steve @ 101.
I really can't give much insight as here in Brazil I follow principally the Brazilian league.
I note (on research) he has won the Argentinian league in both of the 2 seasons he has managed the club, but their league structure is a very strange set up - 28 teams no less, who play each other just once for a 27 game season. Weird.
I have, however, seen them play live twice on TV recently as they are in the same group as Palmeiras - the Brazilian team Gabriel Jesus helped win the Brazilian title for before completing his switch to City - in the Copa Libertadores, the South American equivalent of the CL.
Now Palmeiras have started the season in good form and could reclaim the title they lost to bitter Sao Paulo rivals Corinthians last season (that said, Corinthians beat them 1-0 on Sunday to register their first defeat of the still fledgling season).
But back to Boca Juniors. ANY Brazilian-Argentinian clash at ANY level in ANY sport always has an edge.
In the two games with Palmeiras I watched on TV, in their home game Palmeiras absolutely battered them, but only scored in the 90th minute.
Then would you believe it, deep into injury time a certain C. Tevez popped up with a thoroughly undeserved equaliser. A couple of weeks later, Palmeiras travelled to Argentina and again were by far the better side, this time winning 2-0.
As a result, BJ are in 3rd place and in danger of missing qualifying to the KO stage of the Copa Libertadores.
Nothing I saw shouted out to me that BJ play any sort of innovative football or that they are managed by a footballing genius.
Steve Ferns
118
Posted 16/05/2018 at 13:04:12
Thanks Jay
Dermot Byrne
119
Posted 16/05/2018 at 13:08:57
Don't tell 'em your name Pike
Mike Dolan
120
Posted 16/05/2018 at 13:58:19
The biggest question here is why would we want a manager who would leave his floundering team in deep trouble and who has has a problem honoring his contractual obligations to his employers? I personally would think that such blatant disloyalty would disqualify Silva for the Job no matter how good he might be as a manager. What goes around comes around.
I wish Fat Sam well. He did serve up some crap ( well actually he served up some of the most painful football I have ever seen) but it not like the team deteriorated after his arrival. We were horrendous all season. He pulled us out of what was becoming a death spiral and we need to give him a nod for that.
The managers I would be interviewing tomorrow would be Mikel Arteta, Fonseca and Eddie Howe. My hope would be we take a punt on Arteta.

Salim Rehman
121
Posted 16/05/2018 at 14:09:12
Mike, my candidates would be:-
Conte (if he leaves Chelsea)
Benitez
Ranieri
Fonseca
Silva
Not Howe, Not Dyche, Not Moyes.
Jamie Crowley
122
Posted 16/05/2018 at 14:30:37
Steve Ferns @ 55 - thank you.
Steven Jones
123
Posted 16/05/2018 at 14:39:12
Nervous wait now - no matter who it is we need to get behind them.
Anyone in the know have any inkling on timing and have we been lining anyone up?
Michael Lynch
124
Posted 16/05/2018 at 14:44:40
Suprised by the way our poll is going. As it stands, Emery, Rafa, Howe and Fonseca are all ahead of Silva. I'd be surprised if Silva isn't announced next week, but he's clearly going to have to do a bit of work to convince the majority of the fans. I'm sure everyone will get behind him, as they did with Martinez and Koeman at the beginning (though not Allardyce), but there will be murmurings if he doesn't get off to a good start.
A lot will surely depend on who is bought in to improve the squad. And perhaps as importantly, who is dumped. Keane looks beyond repair to me – every forward in the Premier League has noticed his lack of mobility on the turn by now, and he appears as flawed as Per Krøldrup when we wasted money on him. IMO he needs moving on asap.

Brian Ronson
125
Posted 16/05/2018 at 15:22:38
I hope we are not going to get embroiled in an unnecessary wrangle with Watford over Silva. He is not Guardiola after all. The chase for him mid-season was unseemly and damaged the reputation of our Club. He did let the situation affect him which puts a question mark over his character in my book.
There are a number of managers who could do the job. My preference would be for a hungry young manager (like Moyes was once) who will not let under-performing player drag down his own reputation.
.
Brian Williams
126
Posted 16/05/2018 at 15:39:32
Steve#123
Well Brands is in so things should move quickly on the manager front.
Rob Halligan
127
Posted 16/05/2018 at 15:42:59
Brian (#126), turning out to be a decent day...
http://www.skysports.com/football/news/11671/11374960/everton-appoint-marcel-brands-from-psv-eindhoven-as-director-of-football
Brian Williams
129
Posted 16/05/2018 at 15:44:59
It is indeed Rob. :-)
Alan Rodgers
130
Posted 16/05/2018 at 19:38:06
George 97 you came over very well on Granada Reports .
Ian Hollingworth
131
Posted 16/05/2018 at 20:24:32
Going to be interesting on here if Silva gets the job as, according to the poll, 78% would prefer someone else.
Jack Convery
132
Posted 16/05/2018 at 22:25:21
It has to be Silva – as I reckon he has already told Moshiri he does not want Rooney and to get rid before he takes up the reigns on 1st June. This way, he does not get the blame from those who want Rooney to stay – Kenwright for one.
He obviously wants to play a team with pace and not have someone slowing down the game and losing possession in midfield. I know its crystal ball gazing but won't be surprised if I am right for once!!
Baldrick's cunning plan is finally coming together. Let's hope we don't all end up looking like turnips.
Andy Crooks
133
Posted 16/05/2018 at 23:10:09
Jay Wood, would you consider putting up an article about Brazilian football? I am interested because I watch Irish league football where prize money is increasing and wonder what the money is like there.
I saw an Irish league team reach the quarter final ( losing unluckily) of the old European cup. I suspect you are watching a standard of football monumentally higher than I am but I would be interested to know justbhiw good home playing Brazilians are.
More importantly, I am planning my World cup betting. I have extrapolated a Germany Belgium final ( 25/1) and have ruled out a strong South American presence. I would, for financial reasons, appreciate an analysis of Uruguay and Colombia. I will, of course, donate to a charity of your choice if you can help!!
John Smith
134
Posted 16/05/2018 at 23:28:37
According to this article, with the appointment of Silva, Everton will take on the burden of paying three managers at the same time (as well as a big pay out to Martinez in the past) as well as possibly paying Watford too. I see this as proof that Moshiri is willing to bankroll Everton's chance at success.
http://www.dailymail.co.uk/sport/football/article-5737611/Marco-Silva-replace-disgusted-Big-Sam-Everton-payouts-hit-30m-Allardyce-axe.html

Jay Wood
[BRZ]
135
Posted 16/05/2018 at 23:50:38
Dunno if I've got time for all that Andy, but a quick response is:
* Whilst Brazil Serie A is the 'richest' league worldwide outside the big 5 in Europe, the overwhelming number of players are paid a pittance and on very short contracts (think MONTHS, not even years)
* Get this: 82% of professional footballers are paid...Samba beat drum roll...US $250 a MONTH!!! A little better than the national minimum wage of $220 a month
* 14% of players (that'll be those in the top 2 leagues) earn between $250-1250 a month
* The very best players earn $2500-$125,000 . the latter figure is a complete outrider. Only ONE player earns that (when the data was taken to which I'm referring, it was possibly Robinho, he of City who thought he'd signed for Chelsea!)
* Players are frequently cheated out of their salaries by clubs. At the end of one season, the night of the last game of the season, one of my local clubs reported the following day that their offices had been broken into (no evidence of forced entry), the safe cracked and the outstanding wages owed to players stolen. Given it is on a main avenue, behind heavily barred and guarded fences 24-7 with CVTV, let's just say it was not very plausible. The players never got their money
* Pimps in Brazil - literally! - prey on the poverty of families with a 'talented' footballer, 'buy' their contract with promises of taking them to Europe to earn a fortune to transform the family's life . only for the young hopeful to disappear into the global sex trade. There are THOUSANDS of Brazilian footballers plying their trade (and other vices...) in every corner of the globe.
* I enjoy the Brazilian league. The games are certainly competitive, no shortage of technical skill, but scouts from Europe are all over the country and any half decent talent is taken into the locally run academies very early. I think Barcelona alone has 6 academies established in Brazil - it's a big country!
* The league is made up of overwhelmingly Brazilian players. I laughed at the start of last season when great concern was expressed that there are 60-odd foreign players now plying their trade across the 20 teams in Serie A. Chelsea alone probably have at least that number on their books across all age groups at any one time!
* Many fading stars return from Europe to comfortably play on for another 3-4 seasons into their late 30s. Whilst they no longer cut it in the top European leagues, they still look among the best players in Brazil. That tells you a lot about the overall standard. I honestly don't see any 'Cor! I wish Everton would get him' players of the right age.
* As for the WC, I honestly wouldn't go near any of the South American sides betting wise other than Brazil, Andy. Dani Alves is a big loss for them - he and Marcelo on either flank are fundamental to how the GREAT manager Tite sets them up. I would not be surprised to see them go all the way.
* Assuming Brazil does have a good WC, I would not be in the least surprised if someone like Real Madrid went for the manager Tite. This is a very impressive man on many levels. Eloquent, intelligent, great man manager (he doesn't have a permanent designated captain for the national team - he constantly rotates the arm band, saying he wants every player to be captain in every game), tactically incredibly astute.
Happy punting!
Mike Corcoran
136
Posted 17/05/2018 at 00:23:28
I would like to see our former managers kept on to work out their compo. Litterpicking at the Park end, serving pies. You never know when you might need them to take over for a couple games.
Chris Jones [NZ]
137
Posted 17/05/2018 at 00:27:52
Confused by this: why, if he's unemployed, can't we simply employ him? Is there someone out there who knows employment law and who can explain why Watford can reasonably ask for compensation? Or did we actually tap him up and are at genuine risk of penalty from the authorities??
Steve Ferns
139
Posted 17/05/2018 at 13:14:13
Mike Corchoran, I don't know why British Clubs don't operate an Italian style system.
In Italy it is not unheard of to have five or even more changes of manager in a season. For example, they sack manager A after 10 games. In comes manager B. He does no better so in comes manager C. Then they decide that manager A was actually better, so he comes back in. Then he gets sacked and suddenly B is back in charge.
Basically managers in Italy have a contract, they have to honour that contract. If Arsenal wish (as is proposed) to hire Juve's Allegri or Napoli's Sarri, then they have to buy out the contract.
Everton should insist that Big Sam is placed on gardening leave. Then come spring, if it's all going tits up, we call him back in, get him to save us and dangle a nice little bonus for him if he does the job.
Only messing, I wouldn't want Allardyce back at the club no matter what. However, Koeman and Martinez should have had their contracts bought out (as in the Italian system) or we should have mutually agreed to relinquish (cancel) the contracts when they found new jobs.
Paul Kossoff
140
Posted 18/05/2018 at 15:38:51
Sky Sports News
✔
@SkySportsNews
BREAKING: Watford FC file official complaint against Everton to the Premier League over alleged tapping up of former head coach Marco Silva. #SSN
22:41 - 15 May 2018.
Cheeky twats!!!
Steve Ferns
141
Posted 18/05/2018 at 15:46:08
Don't worry, Paul. Brands has gone round with Archie Knox's old baseball bat. If he can't persuade them to withdraw their complaint, then Sasha Ryazantsev will make them an offer they cannot refuse.
Paul Kossoff
142
Posted 18/05/2018 at 15:48:10
Steve, I don't understand, we made an official approach for him, so what are they trying to pull?
Add Your Comments
In order to post a comment, you need to be logged in as a registered user of the site.
Or Sign up as a ToffeeWeb Member — it's free, takes just a few minutes and will allow you to post your comments on articles and Talking Points submissions across the site.