Brands plans squad cull to free up funds for Silva
Wednesday, 6 June, 2018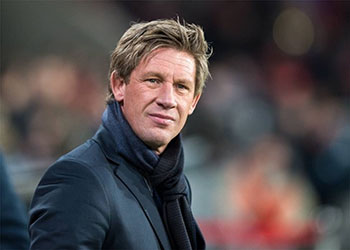 Marcel Brands has warned that Everton will need to trim its bloated squad of surplus players and wages before he and Marco Silva can make the targeted signings they believe will improve the team for next season.
The Blues' new Director of Football and manager are undergoing an analysis of the playing personnel they have inherited from Ronald Koeman, Sam Allardyce and Steve Walsh and Brands admits that some difficult but necessary conversations over their future with the club will have to take place with some players.
At issue is a senior squad boasting between 35 and 38 players, depending on how a few of the Under-23s who have been on the fringes of the first team are classified, and some hugely inflated transfer fees and wages that were paid and offered to last year's recruits in order to get them through the door.
Brands was asked whether there would be a repeat of last summer's open chequebook and he was frank in his assessment, while also admitting that it is going to be hard to offload some players because few clubs can match their current salaries.
"No," he said in The Guardian. "First of all we need to offload players to raise money [for transfers], and also salary-wise. But it's not only a money thing. Of course money is important but also, for a coach, it is not workable to start with 38 players in your squad.
"We have to look for a squad Marco can work with and I think there always has to be space for young players to come to the first team.
"That has to be, let's say, 25-30 players. Now there are 38 and a lot are not young any more. They are players who have arrived.
"We have to be honest when we take the decision with these players. Do they have prospects here at Everton? Some of the conversations will not be nice but I think Marco must start with a squad that everyone is eager to play for and has prospects to play."
Wayne Rooney could be first out the door as his slow-moving negotiations over a switch to DC United are seemingly nearing conclusion and, according to the latest reports, Morgan Schneiderlin and Davy Klaassen are two more players signed by Ronald Koeman on wages north of £100,000 a week who could follow him.
Schneiderlin is said to be keen on finding a new club, with speculation towards the end of the season just finished linking him with a return to France, and Sandro Ramirez, who arrived for just over £5m but is also on a big salary, has stressed he has no desire to play for Everton again after securing a loan move to Sevilla in January.
Klaassen, meanwhile, has publicly stated his desire to stay at Goodison Park to fight for his place but is reportedly being eyed by Besiktas, initially on loan, and, according to The Mirror Yannick Bolasie is the subject of interest from at least one Premier League club.
"[I]f you make a new signing," Brands continued, "with the salaries in England and the player is not successful, then what do you do? In most countries players cannot make the wages they get in the Premier League, so a lot of players who don't play here cannot play anywhere, because the salaries are not comparable.
"Hopefully I will succeed in offloading the right players. They are good players, so I hope there will be interest for a few of our players."
---
Reader Comments (131)
Note: the following content is not moderated or vetted by the site owners at the time of submission. Comments are the responsibility of the poster. Disclaimer
Mark Andersson
1
Posted 06/06/2018 at 02:19:47
So we are still a club that sells to buy, except this season we have no star players that other teams want to pay a silly amount for.
However it seems that they have a plan for once. I would be happy just to see a squad of players hungry to play for Everton. They could off load half the current squad as most of them are not fit to wear the royal blue jersey.
It's going to take time to rebuild I just hope that our new manager has a bit of luck to help him and the fans gel and the nay Sayers keep there negativity to a minimum..
Here is hoping for yet AGAIN another new dawn.
Rudi Coote
3
Posted 06/06/2018 at 03:20:08
Yes, Mark, we are a big club... a good club.
Gavin Johnson
4
Posted 06/06/2018 at 04:35:51
Not really Mark. He doesn't really mean it in those terms does he?! With a squad of 38 and no European football we all knew the squad needed to be trimmed. Fair play rules mean you can't go over a certain amount and with us paying 80% of our income on wages we must be near our threshold. We'll still bring in 3-4 quality signings after we move some deadwood on. Some of our deadwood is still very attractive to other clubs.
Mike Gaynes
5
Posted 06/06/2018 at 04:44:07
Gotta cut back the rose bushes to make them bloom again. Sometimes even pull out one or two so the others can bloom bigger.
Nice to see Brands is sharpening his pruning shears.
Jerome Shields
6
Posted 06/06/2018 at 05:14:34
Brands and Silva have identified the initial problem..They have been told like Allardyce to reduce the wages bill. Allardyce was reluctant to try to offload players that Koeman and Walsh signed under the Moshiri watch. Allardyce preferred to offload Martinez's signings and reduce the youth on the payroll. The main objective was no financial loss to the club via transfers.
Brands has outlined the main problem: players bought in on inflated transfer fees, given inflated contracts and not suitable for purpose. Last Summer's madness in a nutshell. Walsh took full blame and we are still paying Koeman, who should have been shot.
The sequence will be: Any player of value out on loan will go first, especially those reluctant to return. Secondly will be the players of interest to other clubs. Next, old players nearing the end of their contracts. (No more cosy 1-year contract extensions.)
The first job for Brands will have been to tell Moshiri that there will be inevitable losses on some transfers, bought in during his era, as he observed on looking at their contracts. Something that Big Sam didn't do as he tried to get a contract extension. Brands insisted Big Sam go before he started.
Silva's job will be to present a younger team, with strategic additions for the start of next season. Mid-table finish with good cup runs at best for the new season.


Alan J Thompson
7
Posted 06/06/2018 at 05:16:03
Mike (#5); That, unfortunately, is known as 'deadheading' and Mr Brands seems to be speaking the bleedin' obvious. It's the maths that take a little working out. Silva says a short but quality list which seems to mean 3 players in so, to reach a first team squad of say 26, that's 15 that need to go.
Bill Watson
8
Posted 06/06/2018 at 05:26:52
I'm very encouraged by the way Brands appears to have, immediately, grasped we have a bloated and overpaid squad and seems to want to open the door to some of the younger players to stake a claim.
We may even be pleasantly surprised by what we actually have in the Under-23s but, if they don't shape up, they should be moved on, along with the usual suspects who we're all well aware of
Of course, as Brands has mentioned, it may be difficult to offload some because of the money they're on. It's shaping up to be an interesting close season!

Victor Yu
9
Posted 06/06/2018 at 06:17:43
Sandro will become a star.
Darren Hind
10
Posted 06/06/2018 at 06:19:52
Got his work cut out moving a dozen players out. As the guy says, you won't get many clubs from other countries prepared to match the Premier League wages. Most of these guys have signed their contracts in good faith and will feel entitled to dig their heels in.
The last thing Silva needs is unhappy payers with too much time on their hands hanging around and we all have our own ideas of who should stay and who should go, so it won't just be the players who are unhappy.
Tough, tough job!
Jamie Crowley
11
Posted 06/06/2018 at 06:27:29
Terribly difficult directive Brands has.
But trim, trim, trim.
The ecomomics of it all dictate we must.
Make an assessment of the players. Trim the waste – even if it means leaving money on the table – and move on.
Tough, tough job indeed. Get to work. Get 'er done.
Chris Watts
12
Posted 06/06/2018 at 06:52:12
Nothing surprising here. I'm sure there is money available now but Brands, in my opinion is saying exactly the right thing.
We all know there are a dozen players who are the wrong age, don't have the heart or the quality to play for a top 4 side. By getting rid now, he's helping the manager for the start of the season. I'd rather 12 left who are not in Silva's thoughts and 3 top class players arrived and we build slowly.
Must add though you're damned if you do, damned if you don't. If he had come out and said we have a great and balanced squad, he would have been criticised for toeing the party line and not having a clue about what went on last season. Surely this shows Moshiri has learned and was seriously unhappy with recruitment last year, which is a great sign.
Niall Hughes
13
Posted 06/06/2018 at 06:56:09
I don't see how any of us can complain? Most of us wanted a lot of the squad gone last season and it only got worse as it went on. A lot of players just need to be off the wage bill; youngsters coming back and a couple of quality signings will help.
Players you would expect to be going if we are able to move them on; Robles, Steklenburg, Williams, Martina, Mirallas, Besic, Rooney, Galloway, Browning, Henen. Then you have a couple that might want a move in Sandro, Schneiderlin, Funes Mori and Niasse?
There's 14 without the starting line-up really being affected too much; sign 2 or 3 quality players and you're in a much better position than last season.
Plus a manager who will play youth and play forward. Are we cracking top 4? No... but we will be a lot closer.
Martin Nicholls
14
Posted 06/06/2018 at 06:57:44
There is a difference between players (eg, Sandro and perhaps both Rooney and Schneiderlin) who have made it clear they don't want to or won't play for us and those who we deem surplus. As Darren says, the latter group will feel entitled to "dig their heels in" and not move for anything less than similar terms.
The former group, who are effectively saying "we won't do the job that you are paying us for" should be willing to accept reduced terms although I very much doubt they will.
Jon Withey
15
Posted 06/06/2018 at 07:12:51
So basically clear up the very expensive Walsh and Koeman mistakes – and not satisfactorily as we will lose cash. Still, as long as we can sell to Premier League teams, then prices are inflated for everyone.
'Offload' is a funny choice of words when trying to sell.
Robert Leigh
16
Posted 06/06/2018 at 07:30:40
I'm encouraged by his words, though with no major tournament next summer, the incentive to move on is reduced for a lot of our players.
It's a difficult balance between making sure players don't run down a contract, leaving us with no fee when they move, to giving them too-long deals and leaving us in this situation.
It seems Brands has a plan though, and this shouldn't or won't happen again moving forward.
Brian Williams
17
Posted 06/06/2018 at 07:38:07
What could be done, and I believe it happens quite often, is for the selling club (us) to supplement an outgoing players salary in order to secure the sale.
Take Schneiderlin for instance (please take Schneiderlin ;-)). He's allegedly on £100k a week. We get an acceptable offer for him but the buying club will only pay £75k a week, (It's disgusting saying "only" when you're talking about £75k a week isn't it?).
So we offer to make up the shortfall for the remainder of his contract with us (should he have stayed). He gets a move, the buying team get the player and pay a salary they're happy with (at least for the remainder of his original contract) and we get a fee and free up £75k a week (£100k minus the £25k) in salary.
Do this as little as four times and you could theoretically free up anywhere between £200k and £300k depending on how much the club agrees to supplement the outgoing player's salary. £300k could free up two, possibly three, very good players salary.
I know it doesn't actually reduce the overall salary budget but it means you get two or three players you really want while keeping the salary budget the same. And the club will certainly not have to supplement ALL outgoing players salaries.
This is just an opinion, a suggestion, a theory, an idea, so don't tell me where I've gone wrong in a million places, Mr Ferns..... or else!! ;-)
And anyway, my Mrs tells me she uses a similar system with shoes... and believe me, she's got lots of shoes. :-((
Jon Withey
18
Posted 06/06/2018 at 07:40:45
Certainly we'll have to write-off some money in our 'net-spend' – whether that means reduced fee or wages is a point of detail.
Ian Hollingworth
19
Posted 06/06/2018 at 07:51:18
I agree with the above that this is a very tough job. All the buying clubs know we are desperate to offload and will be looking for good deals. If we need to offload before we buy, then this will also be tough as all the quality will already be snapped up.
It does feel that Mr Brands has a plan though and that's a welcome change.
Eddie Dunn
20
Posted 06/06/2018 at 07:51:35
The problem we will continue to have is attracting better-quality players. We will still need to offer handsome wages to compensate them for our lack of European football.
This is why we are most likely to go for the likes of Shakiri, who has forgotten what that is.
Niall McIlhone
21
Posted 06/06/2018 at 08:27:42
I am sure Unsy will have briefed Mr Brands and our new manager as to the balance of the squad and the personalities involved.
It seems to me that some of the players who will be surplus to needs are those with a "bad", or want-away attitude, but also there are those I perceive who have had a "good" attitude, despite the adversity of last season. In the former camp, maybe Mirallas, Schneiderlin, and Sandro, and in the latter camp, undoubtedly would be Niasse, Baines and Klaassen.
I think a lot of the movement will depend upon Mr Moshiri being willing to take a big loss on the likes of Schneiderlin, Williams and Bolasie, and the preparedness of the players and their agents to accept substantial wage cuts to re-boot their careers, even if it means loan deals where EFC still pay part of the wages.
Best of luck, Messrs Brands and Silva, the pruning must start now.

Jim Bennings
22
Posted 06/06/2018 at 08:27:44
I feel for Silva and Brands knowing that they have to clear up the mess left by Koeman and Walsh. How we are going to chuck so many players (who's going to want them?) before being able to make quality signings, is a test already for Brands.
Sentiment aside you'd like to think: Sandro will go to Spain; Klaassen get a respectable loan out for at least half the season; Besic will be offloaded to Boro; Williams to Swansea; Schneiderlin maybe to somewhere in France etc.
I'd be looking at getting quite a few young players out on loan to Championship clubs or maybe even bolder moves abroad like Lookman has made, and I'd include at least one of Calvert-Lewin and Tom Davies in this loan cull – both I believe are not ready yet for the harshness of the Premier League.
Robles or Stekelenburg will go. Rooney is on his way out to the States... and I wouldn't be too averse if someone came in with a good offer for Bolasie.
It's all easy to select who's going where but of course reality is different. Let's not forget the transfer window this year which is compromised by the World Cup will be further compromised by the early closure before the season starts.
Andrew Ellams
23
Posted 06/06/2018 at 08:32:47
Jim, don't feel sorry for them. This is exactly the remit they have been brought in on and they're being paid a load of dosh for hopefully getting it right.
Derek Knox
24
Posted 06/06/2018 at 08:44:36
While I totally agree, a massive clear out is needed, if we are not going to buy before numbers are reduced, we could miss out on potential targets.
The main problem, as I see it, that a lot of players have long contracts... which would likely not only deter any interested clubs, but are also likely to impact on them not actively seeking departure either.
It is a problem, which I don't envy M&M having to sort out.
Benjamin Dyke
25
Posted 06/06/2018 at 08:53:43
I've never been so excited to talk about losing players. What a complete disaster Koeman and Walsh created. I hope we get rid of 15 and bring in 3 new stars.
Kunal Desai
26
Posted 06/06/2018 at 08:58:03
It's a sensible strategy and approach to have in place. Though how many of those dozen-plus players that need shifting on is a monumental task. Expect to take big hits on transfers fees while, for others, we subsidise a percentage of their wages if they do actually move on. Some of these players are in their comfort zone, content to see out there contracts.
Sam Hoare
27
Posted 06/06/2018 at 09:09:02
Tough job as other have said.
That being said, there are lots of bottom half clubs looking for players who they believe have Premier League quality or some stardust to help keep them up.
As Brian @17 says it may be necessary with the really stubborn to help supplement wages. Good lord, they have got recruitment wrong over the last few years haven't they? All those on here who always bang on about how we should'nt be worried about overpaying transfer fees and wages because 'it isn't our money'; well this is what happens.
There may also be some players that we are fed up with who Marco likes the look of. Perhaps the likes of Schneiderlin and Bolasie or even Sandro and Klaassen might surprise us and show their best under a new system.
Personally I'd be happy if we could somehow lose the following:
Schneiderlin — £15m
Bolasie — £15m
Sandro — £8m
Rooney — £12m
Klaassen — £15m
Williams — £2m
Martina — £1m
Galloway —£1m
Mirallas — £4m
Browning — £2m
Funes Mori — £10m
Robles — free
I don't think any of those transfer fees are wildly unrealistic given the premium some clubs are prepared to pay for Premier League experience. That would be around £70m in fees (minus considerable agent cuts and possible wage subsidisation) and 11 players out without losing many names you'd expect to see in our best starting XI, bar Rooney perhaps and Schneiderlin or Bolasie on a good day.
Depending on who we bring in and perhaps how they perform in pre-season I think loans out for:
Kieran Dowell
Beni Banigime
Joe Williams
Antonee Robinson
And possibly even Calvert-Lewin, Davies or Holgate depending on how Marco see's them fitting in. Personally, I'd prefer to see Holgate starting the season in defense over Michael Keane if he has a decent pre-season.

Kunal Desai
28
Posted 06/06/2018 at 09:20:27
I'd be happy if we recouped that figure, Sam; however, I would expect it to considerably less than that. The club will want only permanent deals for many of those players and will be desperate to get them out of the door, in which case, they may have to bite the bullet to get shut of them as opposed to them returning again after a season-long loan deal.
Erik Dols
29
Posted 06/06/2018 at 09:24:37
I agree Sam. Take Yannick Bolasie for example. For any bottom-half club playing on the counter-attack, he can put in a very decent shift, at least on paper. Should warrant a transfer fee of seven digits easily and his salary demands could be met.
Or take Funes Mori. Not going to the World Cup but still in the Argentine national team recently. An Italian team will pay a decent fee for him.
The thing is, Bolasie is not the first player I want to leave. He and Funes Mori are perhaps the last two players of your list I would want to leave.
Ship off Bolasie and Funes Mori, can't lose Mirallas and Williams so they are in the squad next season? That's not a scenario I would like to see.
Lawrence Green
30
Posted 06/06/2018 at 09:26:36
None of us expected the club to hang on to every player in the squad this summer and many didn't really expect the club to be purchasing expensive high profile players either, but why the hell didn't Moshiri and company put checks and balances in place before they parted with the clubs money? Now we have a situation where the balance sheet might take precedence over the team sheet.
There are many many players in the squad that won't be missed but can we recoup enough money to replace some of them and will we end up having to sell the likes of Pickford and Lookman whilst being stuck with the likes of Besic et al?
It will be a major achievement if the club can remove some of the deadwood and hang on to its better players whilst remaining competitive in the coming season. Another inconsistent season beckons whilst we hope that some of the youngsters can carry the team and we also hope that we buy the right additions to enhance the team.
Obviously, it can't be much worse than what we have witnessed in the last 18 months or so and if Silva can produce a more attractive style whilst simultaneously garnering points we should be happy. But challenging the top six is likely going to be out of reach for us in the near future and, as fans, we have to recognise that fact and show even more patience for a little while longer.
Dermot Byrne
31
Posted 06/06/2018 at 09:30:41
This is hard to judge at such an early stage. If I was asked to talk details a few days into a new job, I would find it tricky. I may not yet have picked up the nuances of my new boss's vision, never mind my key staff member who is also new.
I could have had those interview-stage chats and done my research but the reality of truly learning about the new employer began when I started here... just a few days ago.
Whatever their income is, it is all about relationship building at management level and agreeing shared vision and compromises.
That is so dull to me and most footy fans but is a reality. To me, our DoF may just be the one to pull this off. Seems the type.
But, as we are all mostly agreeing... patience. I expect big changes by Monday!
Bobby Thomas
32
Posted 06/06/2018 at 09:38:59
It's going to take 3 windows or so to get this done, and some players may be easier to shift than others. Hopefully at centre back we can get Williams out the door and Funes Mori has had enough of being over here.
We then bring one in. This player has to be under 25/26 years, with pace, presence, and is a ball magnet type on crosses. We then go with our 4 for the season, Player X, Holgate, Keane, Jagielka, and let the partnerships establish themselves.
This will be the last hurrah for Jags. He will need to be used cautiously and when he is sharp. Still a good defender if used sensibly.
I am concerned about Keane but he is young-ish for a defender and has faults that can be coached. On that basis, and the fee shelled out, he gets another go.
Big season for Holgate. He's been threatening to be a player for a while now. I'm hoping this season is his breakthrough one.
Len Hawkins
33
Posted 06/06/2018 at 10:02:20
The last three managers and one DoF have taken the best part of £30million in compensation. They should take the lot to court for dereliction of duty and claim back the monies paid out.
I would imagine there is a fortune being paid out to some Pest Control company... Goodison Park and Finch Farm must be alive with woodlice, the amount of dead wood those clowns assembled.
Colin Malone
34
Posted 06/06/2018 at 10:02:36
I'm undecided about Bolasie, even though he was piss-poor last season. I would put that down to big Sam's tactics, ie, Bolasie in the Merseyside derby, didn't know what to do, where to go, and I would put that down to chasing hoofball instead of possession football.
Rooney? Yes, I'd give him another chance.
John Raftery
35
Posted 06/06/2018 at 10:04:29
Apart from Coleman, Walcott and Tosun, I would not be sorry to see any of the other senior players leave. The harsh reality is most of them will still be here on 12th August. Very few of them are marketable on anything like their current salaries.
The money has been spent, the top players have gone, leaving the new management duo facing a huge challenge to turn this squad into a stylish free-flowing footballing team capable of climbing higher in the table.
It is safe to assume Brands and Silva were aware of this when they signed up but they may not fully realise just how poor the senior squad really is. Their own huge salaries will presumably provide adequate consolation.
Neil Wood
36
Posted 06/06/2018 at 10:06:13
Sam,
I like your thinking and kind of agree in a way with some of it. But I don't want to be sold down the river for some players.
If Funes Mori, for instance, played for Chelsea then he'd be commanding double what you propose as a transfer fee. A regular international and would of been a World Cup starter if it wasn't for his injury.
In contrast to that though is the £15 million price on the head of Bolasie. I genuinely wouldn't pay that guy in washers. I know he's been injured but I have seen better wingers on the back field than him and certainly better crosses of a football.
People dig at Schneiderlein all season and granted, he's been shit for the vast majority and shown no commitment but there is a player in there somewhere... with Bolasie he's a mid speed gangly waste of a wage.
In addition I would be doing my level best to convince Sandro to stay as he could be vital in a new system. How much do we read in the gossip columns about Lozano and others. Whilst I agree Lozano looks an incredible prospect, we have one called Sandro already on our books that given game time, the right coaching and system will be equally as effective.
We also have Dowell, Holgate and a bunch of other youngsters who need to be brought along.
This would be my ins and outs. Without being contradictory, I am going to choose Lozano as an incoming but will choose Sandro to stay.
Out:
Williams — £2 million — £75 k weekly
Bolasie — £10 million (if someone's daft enough) — £80k weekly
Niasse — £8 million — £55k weekly
Rooney — £0 — £150k weekly wage
Schneiderlein — £15 million — £120k weekly
Martina — £0 — guessing £30k weekly
Mirallas — £3 million — £70k weekly
Funes Mori — £15 million — £40k weekly
Galloway — £1 million — £10k weekly
Browning — £2 million — £6 k weekly
Robles — £0 — £20k weekly
Stekelenburg — £0 — £25k weekly
Besic — £5 million (I'd be tempted to keep) — £25k weekly
Garbutt — £1 million — £6k weekl
Pennington — £3 million — £6k weekly
Tarashaj — £0.5 million — £5k weekly
That leaves us with around £65 million incoming transfer fees and a saving of around £700k weekly on wages (£36.4 million a year)
Pickford
Baines
Jagielka
Coleman
Keane
Walcott
Sandro
Tosun
Mcarthy
Gueye
Sigurdsson
Klaassen
Vlasic
Dowell
Holgate
Davies
Lookman
Kenny
Baningime
Hewelt
Onyekuru
That's 21 players.
Add in another 4/5 signings at an average of £20 million each. We've culled and trimmed the squad but added the quality to what we already have.
Simples really.
Geoffrey Williams
37
Posted 06/06/2018 at 10:06:45
What an awful job Koeman and Walsh did last year.
Ian Lang
38
Posted 06/06/2018 at 10:19:48
Seems there are few blues who are concerned about the money and losses; however; to put this in perspective and very simply, we break even.
Look at it this way, just for these 4 players... Player purchase:
Lukaku — £28m
Stones — £3m
Barkley — £0
Deulofeu — £4m
Total outlay: £35m (Excludes agents fees, player sign-on bonuses and etc...)
Sell-on prices:
Lukaku — £90m with add ons
Stones — £50m
Barkley — £15m
Deulofeu — £12m
Sold price: £167m. Profit on players sold: £132m
That £132m funded Moshiri's plan for player incomings:
Schneiderlin — £25m
Bolasie — £27m
Pickford — £30m
Klaassen — £24m
Sandro — £5m
Vlasic — £10m
Total purchase price: £121m
Profit: £11m from sales on the fab 4 to purchase of the above 6. That £11m covers about 50% or so of those 6 players' wages a year.
We can afford a loss on those players and start over. It hasn't worked out and Moshiri and Co are correct – get rid of the crap, get them off the wage bill, and generate as much cash as possible. I'm sure Moshiri will add additional funds for the right players once the clear-out is done.
Tony Everan
39
Posted 06/06/2018 at 10:34:01
Neil (#36), Your and Sams summaries are not far off the mark at all. Like Mo most of the players there have the talent to be a relative success elsewhere with a new environment, playing regularly. Horses for courses. I agree; I doubt we will be getting a fee for Rooney, just relief from his wages.
Silva could be tempted to keep Niasse having worked with him at Hull. Knowing he can get a goal from nowhere when one down, or seeking a late win.
Klaassen is an interesting one... depends on what Silva makes of him, probably from his Ajax days. There's almost no data from his time with us. He may well keep him and give him an opportunity to impress unless a serious bid is tabled.
Carl Manning
40
Posted 06/06/2018 at 10:52:18
The sell-to-buy vibes coming out of the club could also be being used to help with negotiations with other clubs who saw us last year throw money around and would likely inflate prices on us this summer! I don't think Moshiri would ever throw money around like last year now he seems to have been burned, until the new two in charge have proven they are diligent in what they do.
I don't think either of the M&Ms would have come if they had been told there's no money until you sell. I guess I'm just hoping there is, it's just not as much as last year and they're playing this card in the media to try and pay the going rate, not the Everton prices of last year.
Steve Ferns
41
Posted 06/06/2018 at 11:21:00
After listening to the latest Everton Business Matters, I was dismayed when they talked about the wage bill. It's between a staggering £105 to £130m.
However, I have looked at other clubs and found the following:
1. Man City – £264.1m
2. Man Utd – £263.5m
3. Chelsea – £219.7m
4. Liverpool – £207.5m
5. Arsenal – £199.4m
6. Tottenham – £126.9m
7. Leicester City – £112.6m
8. Southampton – £112.5m
9. Newcastle Utd – £112.2m
10. EVERTON – £104.6m
11. Swansea City – £98.7m
12. West Ham Utd – £95.0m
13. Stoke City – £84.9m
14. Sunderland – £84.4m
15. Crystal Palace – £80.6m
16. West Brom – £79.1m
17. Watford – £76.0m
18. Bournemouth – £71.5m
19. Middlesbrough – £64.9m
20. Aston Villa – £61.5m
22. Burnley – £61.2m
24. Brighton & HA – £40.4m
35. Huddersfield Town – £21.7m
Source: planetfootball.com – published 20 May 2018
This is meant to be up to date, it's recently published and fits inside the Everton wage parameters I read about after the January window shut. For me, this changes things a bit. Everton Business Matters highlights how we're running at a loss and the wage bill is a big factor in that. So there needs to be some pruning for sure. We're a long way off the big 5 (to use the old term) and Tottenham are not too far ahead, and surprisingly Newcastle are.
What about individual players?
Name / Wage Per Anum / Per Week
Wayne Rooney / £8.3m / £160k
Morgan Schneiderlin / £6.2m / £120k
Gylfi Sigurdsson / £6.2m / £120k
Eliaquim Mangala / £5m / £100k
Theo Walcott / £5.7m / £110k
Yannick Bolasie / £3.9m / £75k
Leighton Baines / £3.6m / £70k
Davy Klaassen / £3.6m / £70k
Ashley Williams / £3.6m / 70k
Sandro Ramirez / £3.4m / 65k
Michael Keane / £3.1m / £60k
Jordan Pickford / £3.1m / £60k
Oumar Niasse / £2.9m / £55k
Phil Jagielka / £2.6m / £50k
James McCarthy / £2.6m / £50k
Idrissa Gueye / £2.4m / £45k
Ramiro Funes Mori / £2m / £40k
Seamus Coleman / £2m / £38k
Cuco Martina / £1.8m / £35k
Henry Onyekuru / £1.6m / 31k
Mo Besic / £1.6m / £30k
Martin Stekelenburg / £1.6m / £30k
Luke Garbutt / £1.5m / £28k
Tom Davies / £1.3m / £25k
Mason Holgate / £1.3m / £25k
Nikola Vlasic / £1.3m / £25k
Joel Robles / £1.0m / £20k
Brendan Galloway / £1.2m / £23k
Ademola Lookman / £1.2m / £23k
Shani Tarashaj / £0.8m / £15k
Dominic Calvert-Lewin / £0.6m / £12k
Tyias Browning / £0.4m / £8k
Jonjoe Kenny / £0.2m / £3k
Beni Baningime / £0.1m / £2k
Josh Bowler / unknown
Lewis Gibson / unknown
Nathan Markelo / unknown
Kieran Dowell / unknown
Anton Donkor / unknown
Cenk Tosun / unknown
Note: deals for Robles and Mangala are expiring. Jagielka's might be too.
I like Rooney more than most of you. I would have still had him, in a playmaking role in a midfield 3 in a 4-3-3 up to around March, when John G Davies persuaded me that Gylfi was a better bet. By then, it was clear to even me that he was not good enough and Sigurdsson should drop into that role flanked by two energetic runners (Gueye and Davies). In which case he's on the bench. And as much as I would like Rooney to stay and prove everyone wrong, you can't have those wages on the bench. He has to go.
Schneiderlin is another who has to go. His wages are unjustified. Getting rid of him is an impossible task, though. Who'd take over that contract (3 years left to run – £19m left to pay him!), and if they do they aren't paying a fee.
Bolasie is exactly the same, another 3 years to go. The guy will be 32. Who on earth thought that it would be a good idea to give an explosive player a 5-year deal on silly wages?
Sigurdsson also has a 5-year deal, so another four years.
You'd think I'd skip Walcott as no-one would omit him from their best XI. But it needs to be noted that he has 3 years left on his £5m-a-year 4-year deal. He will be 33 when it ends, and again, he's an explosive player, and so that pace will go soon.
Leighton Baines is not an Everton legend for me. A term used too easily. But, for me, he's right up there with Tim Cahill in that category just below; perhaps Icon is the best word. I love Baines, the way he played, the swagger, the anti-footballer persona, and of course the fact he's from Liverpool. But at £70k a week, £3.6m a year, he's a player I would listen to offers for, and would explain that he may have to get used to the bench, unless he can roll back the years and give us one last hurrah.
Davy Klaassen is by all accounts a lovely guy. His attitude is exemplary, he doesn't whinge or whine, he trains hard, and he is desperate to succeed... but, at £3.6m, so would most people! I think there's a player there, but if we can sell him for half what we paid, and we can get rid of that contract, I would.
Ashley Williams is now 33 years old. He's got another year to go on his £11m 3-year deal. Would you pay him £1.0m to leave and find another club now? I'd rather not, but it makes sense as he has no future here and could be a destabilising figure in the dressing room.
Sandro was supposedly on £100k a week, so I found this figure to be low. Even still £3.4m a year is astronomical. I doubt anyone in Spain would take over the contract. Let's see how desperate Sandro is to leave... if so, he will take a pay-cut; if not, it's time to report to training and to knuckle down. He's only got 3 years left on that deal!!
These are the key players to consider getting rid of. Sure, add a few of the mid-earners up like Cuco Martina, Henry Onyekuru (we will be paying a massive proportion of those wages), Mo Besic, Funes Mori, Galloway, Tarashaj (only two years to go!) and you will save £174k a week or £9m a year, which is little over what Wayne Rooney costs us. This is why it's so important to get rid of as many of the big earners who are not in the first XI as possible.
Getting rid of the likes of Tyias Browning, Jonjoe Kenny, Beni Baningime, Calvert-Lewin, and even Mason Holgate make little impact. I know only Browning is really suggested as a departure but, if a load of players leave, we may need numbers to be 4th choice centre-back and he can fill that role.
In conclusion, it's not as bad as I thought compared to other clubs. We need to get numbers out the door but it needs to be the right numbers – guys at the top of the list who do not command a key position in the squad, and not a load of young players at the bottom of the list.

Kevin Gillen
42
Posted 06/06/2018 at 11:21:44
Congratulations to Ian Lang at #38 for pointing out what needs to be said. Everton's net spend is still around the break-even point. There are too many players who have not made it through to the first team and are no longer young prospects.
Also, there are some players rightly identified above that need moving along. Some tough decisions need to be made but that is what managers get paid for and their decisions leave us either better or worse off.
I think Silva will want a hard core of 18 players. If you want to build that extra player that is a team ethic you need a strong tight group that play for each other and can grind out results and performances away from home and make Goodison Park an intimidating place to come to.
There is no distraction of the Europa League. I expect a more high energy Everton playing higher up the pitch and I demand a good start to the season so that the pressure of a relegation battle is removed. I want to see consistency in selection (Allardyce at least provided that).
I believe that Moyes was always right when he said that the most important players are the ones already at your club – not the fantasy wish lists of the Playstation Fifa fans. It is difficult to see players joining Everton that would improve the squad. I expect some cautious transactions that put round pegs in round holes (a sec
ond left back for example). A scattergun approach or paying wildly over the odds (Bolasie) won't work for me.
Lastly, I want to see players that would die for the Blue Shirt. Every Evertonian wants that so let's see players at least that can give us that.

Henrik Lyngsie
43
Posted 06/06/2018 at 11:23:01
There seems to be a lot of players who are considered deadwood on ToffeeWeb. There is a lot of frustrations with certain players because of their performances under Koeman and Allardyce.
We should not forget that some of them are actually very good players. But for one reason or the other they did not work out in the Koeman and Allardyce set-ups.
I would argue that for certain types of players the way we were sat up made life very difficult for them. Often we have played 4 or even 5 defenders who can't make a forward pass paired with two defensive midfielders without a forward pass in their DNA. So an offensive player who does not thrive under that system might work well under Silva.
So Silva's job is not to assess who played poorly under Koeman and Allardyce. But rather who he would believe would thrive under him. We might get some surprises here. Maybe some of the deadwood suddenly become fan favorites again.
Maybe we will win at Anfield thanks to a Mirallas winner assisted by Bolasie with Schneiderlin and Williams running the show defensively... I think we will see some nice surprises from Silva's hand.
Steve Ferns
44
Posted 06/06/2018 at 11:47:43
Brands should give a few pay rises though: Davies, Calvert-Lewin, Holgate, and Lookman should all be given £35k-a-week deals. This will stop any dissent due to comparatively low pay against players who may be behind them in team selection. Kenny could get up to £10k a week, but don't repeat the Galloway and Garbutt mistake.
If Coleman really is on £38k a week, then the lad is vastly underpaid compared to others – one-third of Schneiderlin's wage, for example!
Tom Bowers
45
Posted 06/06/2018 at 11:58:12
I'm not so much interested in what wages certain players are getting but how they are performing. Last season was an all-time low on individual performances and as a team in my opinion. Despite finishing in the top half, many of the games were downright ugly to watch even some of the wins.
We all have our preferences on who should stay and Silva will have his own but his opinion is somewhat vague at this moment as he hasn't seen them play 38 games or more like we have. He may need a few pre-season games before making up his mind – or advice from the coaching staff who are left.
Tony Marsh
46
Posted 06/06/2018 at 11:58:56
How on Earth did Blue Bill and Business Brain Moshiri allow Koeman to buy such utter shite on top top money is beyond me. Didn't either of the two Muppets in charge at Everton have a light-bulb moment between them?? How come no-one said "Hold on a minute... What the fuck is going on here???"
I can excuse Farhad to some extent but Kenwright is supposed to know about football. Surely Mr Everton could suss out the fact that we were buying shite. Old-aged slow shite as well...
I didn't realize how big our squad is and how lacking in depth it also is. Basically all the Sky dosh goes on wages and gate receipts for a season and probably pays Wayne Rooney's salary. It's a long road ahead for Marco..
Mike Doyle
47
Posted 06/06/2018 at 12:22:40
The reality is that, to move some players on – certainly to clubs outside the Premier League – EFC will have to agree to pay part of their salaries or accept a loss on the transfer fee (or both).
Brian Harrison
48
Posted 06/06/2018 at 12:29:34
Well, at last, a dose of realism. There is not an unlimited amount of money to spend. Like all well run businesses you have a budget and you stick to it. I am sure Moshiri must be mortified when he thinks the money he gave the club has been used so badly. The problem is that there are very few clubs who could afford the ones we want to offload, and therein lies the problem.
There are players there with 2 or 3 years left on their contract, and they will not move for less money, and why should they? So they may be prepared to go out on loan but, as far as getting them out of the club, a whole different ball game.
So unless we can move 8 of the 12 out then our transfer kitty will be greatly reduced. So that just makes Silvas job a lot harder, obviously they will have discussions as Brands said with the ones they want to ship out. But once they have told the players they are no longer required and you cant move them out, then you can imagine the atmosphere they would create around Finch Farm.
As for Steves idea in paying Davies, Calvert-Lewin, Holgate and Lookman £35k is just madness. None of these are regular first team players, so it would create more problems for the rest of the squad, not less.
So, in light of what Brands has said, this will take more than one transfer window to sort, and I know long-suffering Evertonians won't like it but we might have to go through a rough patch before we start to see the light. We have assembled an expensive collection of players that are not fit for purpose; pity they're not commodities as we could take them back and ask for our money back. But these are players with clever agents who will screw the club for every penny for their clients, before most will consider any transfers.
Jack Plant
49
Posted 06/06/2018 at 12:36:00
Kevin, I don't think that's what Ian was saying; his list doesn't include the £45m for Gylfi, £25m for Keane, £10m for Lookman, £10m for Williams – that's £80m not including the raft of youngsters we've brought in.
We are nowhere near net nil transfer spend since Moshiri arrived.
Fran Mitchell
50
Posted 06/06/2018 at 12:54:57
Speculating fees is pure guesswork, and in reality, due to wages, many players we will probably let go for nominal fees.
The likes of Garbutt, Browning, Galloway, Williams and maybe Funes Mori will likely be cut loose, but only Funes Mori would bring in a fee.
In midfield, Besic, Scneiderlin, Klaassen, McCarthy are also likely to move on if suitors can be found. Quite possibly on loan-before-sale deals.
Rooney, Bolasie, Sandro, and Mirallas also need to be moved on. Bolasie is a tough one, but hopefully a newly promoted club may take interest; however we may have to accept a loan-before-buy type deal.
It is a lot to cull, a difficult task. Maybe one or two will convince the manager to keep hold of them. But clearing the dead wood is essential for the manager to be able to build a team, using both youth and new signings, without having an over-bloated squad with low morale.
Keith Gleave
51
Posted 06/06/2018 at 13:00:03
Lots of comments here about sell-to-buy; I think this only applies regarding the wage bill and the FFP. Last year Moshiri set up the cheap loan with the China bank so transfers can be funded without breaking the business plan supporting the club.
There is no doubt that Rooney moving frees up a substantial amount to pay one good salary or two reasonable ones. If Schneiderlin and Bolasie leave it totals £360k freed up on wages from them.
So, if the right players are available, I don't think there will be too much of an issue in buying. Let's just hope we can get the quality in and get Lookman back.
Steavey Buckley
52
Posted 06/06/2018 at 13:12:52
Keep changing managers, accumulate unwanted players for the next to deal with.
No matter how much money the wealthy Tony Fernandes pumped into QPR, the chairman kept on changing managers, who took them into the Championship... where they remain with little money to spend.
James Morgan
54
Posted 06/06/2018 at 13:13:41
I reckon 12 or 13 players could go which would free up the wages to bring in say 4 top quality players. Alongside promoting the youth, this would give us a competitive 27- or 28-man squad, roughly.
Mirallas, Bolasie, Rooney, McCarthy, Klaassen, Besic, Sandro, Williams, Funes Mori, Robles, Martina, Schneiderlin, and Garbutt should all go. Quality over quantity all day. I can see Sandro, Mirallas, Schneiderlin, and Williams being the hardest to shift though. Big wages for underperforming players.
Craig Walker
55
Posted 06/06/2018 at 13:15:09
Pickford, Coleman, Walcott, and Tosun are the ones that we definitely need to keep. The rest of them need to justify their value to our squad.
I worry about Pickford having a good World Cup and becoming one of our valuable assets.
We need to start thinking like a top 6 side if we want to be one. We can't let sentiment cloud our judgement, eg, "James McCarthy is one of us". If these players aren't good enough for Spurs, say, then we need to identify better alternatives and ship them out.
I'm fed up with us saying things like Schneiderlin is worth keeping because he had a good couple of games. With that mindset, we will always be also-rans aiming for mediocrity.
We should be thinking "Will this player go away to Anfield and perform?"
Iain Johnston
56
Posted 06/06/2018 at 13:15:14
Ian lang (#38),
You haven't factored in amortisation which changes things considerably. It's not a case of simply deducting one from the other; neither do you factor in the add-ons, they may never happen – especially if the new club sells the player on before the criteria are met.
Lukaku – £28m
Stones – £3m
Barkley – £0
Deulofeu – £4m
So, as you rightly point out, £35m.
Now for the interesting bit...
Lukaku – £75m; Profit: £63.8m
Stones – £47.5m; Profit: £46.6m
Barkley – £15m; Profit: £15m
Deulofeu – £12m; Profit: £10.2m
Sold price: £149.5m; Profit on players: £135.6m.
Amortising makes a massive difference; for instance, a fee to us of £15m for Schneiderlin would see a £2m profit...Strange but true.
It's why players never form any part of a club's valuation and why the only indication you get of a total squad valuation is by seeing what they are collectively insured for.
It's not rocket science; sign a player for £10m over 5 years, his value drops £2m a year. Sell him just after his 3rd anniversary for the same £10m? You've made £6m profit...!
It's why Lukaku wasn't sold until after the 3rd year anniversary of his signing: we amortised a further £5.6m, giving us a larger profit on his sale as, by then, on our books, he was only worth £11.2m.
The only constant in football is that players will always be bought and sold. Amortisation makes it so.
The secret is to sign high-value payers on short contracts – especially for a mid-table club who will sooner rather than later sell them on. The quicker the transfer fee is drawn down, the more you make when you inevitably sell.
Ian Lang
57
Posted 06/06/2018 at 13:17:01
Jack (#49) – keep in mind £70m of that are players we want to keep, 😁 ie,Gylfi, Keane, and Lookman.
Williams we all want out but the £10m purchase price and wages you could say were offset by the sale of Cleverley to Watford £10m or so, I believe, plus the same wage.
Moshiri committed £100m of his own funds which he has invested if you include the £20/£30m of payoffs for poor managers and staff.
We have spent over £ 240m including sales and Moshiri's investment.
Business logic states you have to buy to sell – no club in their right mind would have 38 players on huge contracts then in addition go and spend huge transfer fees and wages on new players take you over 40.
Let's get rid of the shite, claw back what money we can and invest it wisely; like Silva states –quality over quantity.
Looking forward to the next steps. This has been planned for some time with lots of due diligence done; this is not something just been planned for 3 weeks.
Jay Wood
[BRZ]
58
Posted 06/06/2018 at 13:19:48
It will be a tough balancing act and it requires patience and tolerance on our part, the fans.
For all the reasons listed – aging players, players who are not cutting it, younger players not going to make it, bloated contracts (including those happy to sit it out at Everton, rather than transfer away for a lesser salary) – it is going to be a 'hard sell' to trim the squad and keep it competitive.
An eternal optimist, I remain hopeful a positive turnaround can happen quickly. I have a sense that when it comes to recruitment Brands in particular, together with Silva, will not play a blindfold game of sticking a tail on a donkey as Koeman and Walsh appeared to do... then going out and buying said donkey. I am sure they have a strict criterion set for who and what they want to recruit.
By way of comparison, in naming his World Cup squad, the hugely impressive Brazilian coach, Tite, outlined his selection criteria. The very first thing he mentioned was a player needs to be emotionally stable. Next, he mentioned hunger, desire. Actual playing ability came third.
On that score, you will note David Luiz was not selected. Nor has Hulk or Alex Sandro at Juventus (even though Dani Alves in his position was injured on the eve of the squad being named). Indeed, since Tite took over 2 years ago, Luiz and Hulk have barely featured, so the coach made an early call on both of them.
How does that relate to Everton?
Like him or loath him, Moyes established a strong determined unity in his squad on his watch by recruiting emotionally 'stable' players.
Like him or loath him, Martinez's first season got us playing some scintillating football that got us on the edge of our seat, and even out of it.
We need to return to a marriage of the two to bring the buzz back into the club and on the terraces.
Jim Wilson
59
Posted 06/06/2018 at 13:25:40
All this talk of wholesale changes is worrying the hell out of me.
Anyone with a football brain knows any change needs to be gradual. A couple of good influential signings and the offloading of the most obvious below-par players should be the order of the day and not some of the above childish Fantasy Football.
As for selling Jagielka or Baines, this should only be considered once we have players ahead of them who are consistently playing well in the first team. We needed Jags and Baines last season when they helped to settle the defence no end when they came back into the team and we will probably need them again.
If our new manager picked a settled team with a back 4 and a sensible game plan this would improve us straight away and with a couple of excellent signings who knows what we could do.
After a dreadful season we finished 8th so with sensible management we can certainly finish higher. But mess with the squad too much and it's a recipe for trouble.
Neil Wood
60
Posted 06/06/2018 at 13:39:12
James that's my point in my post above.
Losing around 12 players and bringing in 5 quality additions:
Maybe the following:-
Digne (£15 mill)
Carvahlo (£20 mill)
Lozano (£30 mill)
Fekir (£50 mill)
Kluivert (£40 mill)
Martin Berry
61
Posted 06/06/2018 at 13:47:00
This is just what we need, to do the tough work and make the hard decisions to enable the team to be set for the future.
It looks as though Brands and Silva will decide which players they wish to discard and which ones to bring in, with Brands doing the actual behind-the-scenes work, which he says will make for some "not so nice" discussions with players no longer required, but it has to be done.
I do expect a few new players in; if, for example, 3 signings were top quality, then who cares about showing 12 players, who are deemed no longer worthy, the door...
Don't expect any miracles in their first season as it will be one of consolidation whilst carrying out the transition.
The faithful will need patience and look at the long-term benefits, and any fans who suddenly think a top six or a trophy is on the cards next season may be disappointed, but of course we can dream and try to remain positive.
Mike Gaynes
62
Posted 06/06/2018 at 13:58:33
Wow, this has become a very busy and informative thread since I made a wry reference to pruning the roses and went to bed last night.
Ian, Iain and Steve in particular, thank you for all the hard work and detailed analysis. I'm going to continue to refer back to your posts as Brands does his work through the summer.
Ash Moore
63
Posted 06/06/2018 at 14:32:30
To be honest, I'm still staggered that anyone had any reason for optimism last summer. There were people here talking Champions League...! (You know who you are.) It was obvious to me we were buying vastly overpriced shite.
The problem with the squad is .it isn't really a squad. It ceased to be one just after Bobby got the brown boot. It's actually a hand full of Martinez players, a few more old stagers from the Moyes years, a big Koeman clique, the lads who came through the academy and a sprinkling of Allarshyster bodies.

BTW, What the absolute fuck were they doing, letting Allardyce buy fucken anyone when they knew he'd be gone before the Bank Holiday???
When Phil Walling spouts doom, it's because of the very situation we are in. This is how QPR, Sunderland, Aston Villa and others landed in the shit, by allowing a stream of managers to buy a stream of expensive dross.
This is a huge summer for us, and an even bigger season. Silva and Brands have been given an enormously difficult job; we can only hope that they're up to it.
Liam Reilly
64
Posted 06/06/2018 at 14:40:57
As Iain (#56) says, an accountancy term 'Amortising' is key here; so there won't be significant loses in the window, regardless of who the club offloads.
Buy a player for £20M over 4 seasons, then his value is reduced by £5M every season (£20M / 4 years = £5M per year) until his contract is completed and he's (on paper) worth £0.
Therefore, sell him after two years for anything greater than £10M and BOOM! You've actually made a profit!
Smoke and mirrors.
Kieran Kinsella
66
Posted 06/06/2018 at 14:49:03
Interesting points Steve, Ian and co. I would add a few things.
I heard Pelligrinin today whining and publicly trying to goad Gold into making one massive signings, just one, that would make all the difference to West Ham. Reminded me of similar comments from Redknapp at West Ham when he publicly bullied Fernandes into buying Samba. We know how that ended.
From Moshiri's point of view, I think he is wise to be careful as there are a couple of cautionary tales in Aston Villa and Sunderland. Wealthy owners, ploughed in a ton of cash, rapid turnover of managers, ended very badly for both.
Also, our scattergun recruiting also affected the U23s. Unsie now say sJosh Bowler is potentially a "game changer" – for not the first team but the U23s. We spent £4.25 million on this guy who will soon turn 20 and now we talk of him as U23 potential?
We already had an U23 game changer. His name was Liam Walsh, but at 21 we decided he wasn't going to make the first team so why keep him around. After all, the U23s is supposed to be a training ground for would-be prem stars and not a destination within itself.
We also spent what £5 million on Gibson. Granted, he is younger and may come good but couple with cash spent on Lookman and Calvert-Lewin as "Under-23 signings", we are being very reckless with throwing out cash on kids. The smarter teams, snap up 16-year-olds then deal with some paltry fine from Uefa for poaching. Or they buy 17- and 18-year- olds who are first team ready. They don't spend a lot on someone whose immediate future is hovering the U23 with occasional loan spells at mid-level EFL clubs.
A further consideration to Steve Ferns' point about running at a loss is the stadium. We are wanting the city of Liverpool to carry the risk that we default on that debt. Looking at Aston Villa, there are and should be folks who are genuinely concerned about the long-term viability of that deal. Consequently, we need to make sure we are a sound credit risk. It isn't just the necessary thing to do, but it is also the right thing to do.
Much as I like Everton, I don't want to see us blow a bunch of cash on flash Harry's and a stadium if it means burdening the Liverpool taxpayers with a huge debt down the line. I think the deal for the stadium could and should work but only if we are fiscally responsible. We can't keep following the trail we blazed last summer or we will end up like Aston Villa.
Finally, despite hyperbole about "the worst team ever." We did finish 8th not 18th. We do have young players that I think can improve, we also have players that can improve if used in their proper positions. Making wholesale changes also disrupts the squad. So If we can do what Marco & Marcel suggest – sign maybe 3 key players, and cut our liabilities – then we will be in good shape.
Tommy Surgenor
67
Posted 06/06/2018 at 14:53:57
Liam (#65) and others;
Just curious: How does amortising work when a player extends his contract? Or has an option for further years?
Are they listed on our asset register as being 'worthless' due to their original contract term expiring?
Steve Brown
68
Posted 06/06/2018 at 14:56:31
Players who will fetch a fee:
Schneiderlin, Niasse, Bolasie, Rooney, Besic, Martina.
Release / offer as free transfers:
Robles, Galloway, Garbutt, Browning, Grant, Tarashaj, Jagielka.
We'll be lucky to give them away:
Williams, Mirallas.
Loan out:
Baningime, Dowell, Onyekuru, Pennington.
Keep:
Vlasic, Lookman... and Klaassen. He's worth one more this season with an intelligent management
Harry Wallace
69
Posted 06/06/2018 at 14:58:41
Goalkeeper: Pickford / [New Player] / Stekelenburg
Right-Back: Coleman / Kenny
Centre-Back: Keane / Holgate / Jagielka / Feeney / [New Player]
Left-Back: Baines / [New Player]
Right Centre-Midfield: Davies / [New Player]
Left Centre-Midfield: Gueye / Baningime / [New Player]
Centre Attacking-Midfield: Sigurdsson / Klaassen
Right Wing: Walcott / Vlasic
Left Wing: Lookman / [New Player]
Striker: Tosun / Calvert-Lewin / [New Player]
I know we need to keep new players to a realistic number... but seven new players are needed to have a good squad.
Priority positions for me are: 1) Left-back; 2) Centre-back 3) Right-midfielder; 4) Left-winger; 5) Striker.
Steve Ferns
70
Posted 06/06/2018 at 15:00:33
Gavin Johnson
71
Posted 06/06/2018 at 15:03:14
Interesting story doing the rounds today is that we might go in for Angelino, the Man City U23 left-back who has been playing in Holland.
Seems feasible. Brands wanted to buy him for PSV but didn't have the funds. I wouldn't be against this kind of signing. Thinking out of the box, relatively cheap.
An interesting caveat to the story is the Baines to the MLS rumour. Brands doesn't seem the type who's bothered about sentiment so who knows?! The story is in The Sun again, so hardly credible. It would make sense for us and Baines, but could well be crap journos adding 2 and 2 together.
Steve Brown
72
Posted 06/06/2018 at 15:04:13
Also, not sure about the £65k salary per week quoted by Steve @ 41 for Sandro. Other sources have his salary as £120k a week and £100k per week for Klaassen.
Bill that to Steve Walsh.
Mike Gaynes
73
Posted 06/06/2018 at 15:09:59
Ash (#63),
"What the absolute fuck were they doing let Allardyce buy fucken anyone when they knew he'd be gone before the bank holiday???"
Because the players were needed. One thing Allardyce did right (maybe the only thing he did right) was to bring in Walcott and Tosun, both of whom proved excellent additions who will be key cogs in the team moving forward.
Steve Ferns
74
Posted 06/06/2018 at 15:11:38
I thought that too, Steve. There's a few sites about that give different amounts. The EBM guys get all the facts and figures and mess around with them. Perhaps Lyndon or Michael can ask them to look at the actual accounts and clarify.
Ash Moore
75
Posted 06/06/2018 at 15:19:33
Mike (#63) – No, no, you missed my poorly made point. It's not the players he brought in. It's allowing a guy they knew would be gone before the clocks went back input into the squad. Allardyce should not have been anywhere near those signings, because his input was not really required. And they knew it wasn't going to be required.
More poor business decisions. The club has form at this sort of thing – they allowed Martinez to spend what was then a fortune on Niasse when Martinez was already a shot duck. You saw what happened with Niasse after that, an unwanted expensive situation that Koeman handled dreadfully.
Jay Harris
76
Posted 06/06/2018 at 15:19:50
Mike,
A great analogy but regrettably we don't have many roses at this point in time.
We have some old dead roses and some young shoots with promise but not many roses that are pleasing on the eye.
I do believe the first order of the day will be to get some of the the "older" players out so expect Rooney, Scneiderlin and Williams out promptly.
Then some of the younger couldn't quite make it like Galloway, Garbutt, Pennington.
A number of the kids to go out on loan such as Browning, Dowell and Onyekuru.
Robles is out of contract; Sandro has expressed a wish to go and I see Funes Mori going too. So there are 12 right away.
I see us getting 3 quality recruits to balance the squad a bit. I would love to see Rose or Tierney at left-back, Dembele as defensive midfielder, and Vardy up front for a couple of seasons.
Play Lookman on one flank with Walcott on the other backed up by Seamus and Rose (hopefully) and we have the pace and goals we have been craving for. Davies (rejuvenated) Gueye and Dembele in midfield would certainly beef it up and put some energy in there.
Steve Ferns
77
Posted 06/06/2018 at 15:25:14
Jay, do you really think Schneiderlin will be off so easily? To whom? for how much, and are they covering all of his wages?
Same questions regarding Ashley Williams.
I fear we'll be paying them both to leave (ie, a proportion of their wages for the duration of their existing contracts – 1 and 3 years respectively).
Did you realise Tyias Browning is now 24? I didn't – I looked it up. It's a shame as he's Everton through and through and he looked top quality in the youth levels. I remember one "Rhino" charge reminiscent of his manager.
Steve Ferns
78
Posted 06/06/2018 at 15:35:48
To answer myself on Jay's behalf, there's rumours that Wolves want Schneiderlin to compliment the excellent Reuben Navas. They need a quality powerful ball-winning central midfielder.
So remember, guys, if any Wolves fans ask you what Schneiderlin is like, tell them he is a powerful ball-winning central midfielder, with an excellent range of passing. Don't say he's very mobile or they might realise you're lying through your teeth. We need to take their money and run!
Jay Harris
79
Posted 06/06/2018 at 15:40:23
Steve,
Schneiderlin has been going on about going back to France for the last few months so I am sure his agent will be prompted by Brands to make it happen.
Don't forget ,Tyias Browning had some really bad luck with injuries which affected his development but, from what I have seen of him, he looks our best centre-back prospect apart from Morgan Feeney (still young) and the already established Mason Holgate.
Steve Brown
80
Posted 06/06/2018 at 15:43:53
Steve @ 74, I hope your figure is right. Otherwise, Walsh should be shot for offering such a huge salary to an untested player.
Jay Harris
81
Posted 06/06/2018 at 15:44:11
Steve,
I didn't answer your question on Ashley Williams.
I see one of the promoted sides or maybe even Swansea (Welsh Pull) being interested in him but, as other posters have said, wages and fees may have to be realistic to pull it off.
Steve Ferns
82
Posted 06/06/2018 at 15:47:00
Jay, It's a pity Aston Villa didn't come up, Williams could have replaced John Terry.
Tony Everan
83
Posted 06/06/2018 at 15:50:26
Steve,
Even lower clubs have very strong financial firepower from the Sky bonanza. Proven Premier League performers such as Schneiderlin and Williams could help guide a team like Southampton or Cardiff to lower mid-table security and hence keep the massive benefits coming.
The massive payouts to smaller clubs will ensure players like them will be in some sort of demand.
Ash Moore
84
Posted 06/06/2018 at 15:50:27
After his latest misfortune, gentlemen, I hasten to remind you that Mr Williams is going nowhere.
Tony Everan
85
Posted 06/06/2018 at 15:55:01
Ash, depends on the severity of his collapsed lung – the term sounds catastrophic, but a healthy adult can recover in 1 to 2 weeks.
Regardless of anything, I wish Ashley Williams all the best and a speedy recovery. I don't want him back here but I would be pleased see him go and get Swansea promoted next season.
Duncan McDine
87
Posted 06/06/2018 at 15:59:05
Silva will have assessed our squad carefully over the past few months knowing fully well that he's the new Everton boss. Brands may be slightly less prepared, but I'm certain that a list of potential ins and outs has been drawn up already. As mentioned, it could well prove difficult to sell a few of our top earners, so I expect a fair few to be loaned out come deadline day.
Ian Lang
88
Posted 06/06/2018 at 16:04:21
ToffeeWeb on fire today — good input and debate from all!
Just to follow up and on some posters; Liam 65 as one?
Our assets, ie, our players, are depreciating, not appreciating, therefore anyone thinks we're going to make a profit, even after 2 years, on most of these players, are on another planet.
Let's look at Bolasie as an example:
Purchase price – £28m; Upfront payment – £22m with £6m add-ons to come.
He's been at Everton 2 years, so we have invested £22m purchase price + signing on bonus + approx £7m in salary to date = £30m or more
How much is Bolasie worth today? An aging player, serious injuries he's had, loss of pace. Valued at £10m, we'll be lucky to get that as no-one in their right mind will pay large sums of money nor the wages for him.
So in 2 years our outlay for Bolasie alone is £30+m include signing on bonus. He is a depreciating asset that has cost us an absolute fortune. Furthermore, we still have to pay Crystal Palace the remaining amount for the player.
So what has Bolasie given Everton in 2 years? 2 goals, 3 assists and over a year on the sidelines, unfortunately.
We've actually lost over £20m, I don't see any profit here by selling him after 2 years... lol!
The club needs to stop paying over the odds for shite average players on large wages on 4- or 5- year contracts – absolutely criminal.
Mike Gaynes
89
Posted 06/06/2018 at 16:14:56
Ash (#75), yep, understood. But we know that footy decisions and business decisions sometimes conflict, especially at Everton. Hopefully that problem is being ironed out now.
Steve (#78), it'll be interesting to see if Neves's commitment to stay with Wolves wavers under the offers that will be coming his way this summer. Gotta agree, however, that Schneiderlin is gonna be a tough sell. Who knows... maybe Silva can pull his head out of his ass and get him back to the form he showed a year ago?
Michael Kenrick
90
Posted 06/06/2018 at 16:39:37
Just some factual corrections amidst the Fantasy Football (as is my wont!):
● Steve (#41) – Anton Donkor left us back in January;
● Nial (#13) – David Henen left us in April.
Carry on!
Raymond Fox
91
Posted 06/06/2018 at 16:43:46
Individual players' ability is subjective so talk of replacing them with 'better players' is a pretty loose term.
We finished 8th last season which is not a million miles from 6th which in itself is difficult enough.
For years we have been unable to buy any player that the usual top 6 wanted and when we produce a player good enough, they are soon waving us goodbye!
That's two mighty big reasons why we are stuck where we are. I'd love to see some light at the end of the tunnel but I fear it will be more of the same, 7th or 8th is where I realistically see us finishing again.
I hope to be proved wrong, but...
Christy Ring
92
Posted 06/06/2018 at 16:45:20
The amount of players we have to get rid of is staggering. As has been said, the biggest problem is wages.
The likes of Schneiderlin, Bolasie, Sandro and Klaassen are on big contracts, and the last two have another 4 years left, so they'll want compensation, and no clubs will offer them the same deal. Sandro wants out, but is he willing to lose millions in wages? His agent isn't that stupid.
We'll be in the same position as Leeds were years ago, under Ridsdale.
Niall McIlhone
93
Posted 06/06/2018 at 16:58:04
I wonder if we will ever know just how much of a fuck-up Walsh was in acquiring highly expensive, yet non (and low) performing players on huge wages and long-term contracts? Or was this more in the hands of Mr Kenwright or Mr Koeman, I really don't know?
Plenty have mentioned the cautionary tales of the likes of Villa, Leeds and Forest, I feel there are direct parallels with mistakes of the past. The unravelling of a (still good) Nottingham Forest team in the 90's was rapid, and they have never really recovered?
I return to my earlier post, I do worry that, in getting shut of poor performers, some of the casualties will actually be young players who want to succeed for Everton FC, and who were mistreated or overlooked under Koeman and Allardyce, but will progress with effective coaching and encouragement to succeed. This is where I hope the new management will be savvy. Personalities do matter.
John Davies
94
Posted 06/06/2018 at 17:02:01
I live in Spain.
I watched Sandro on television and he is very ordinary. Get rid of him ASAP.
John Pierce
95
Posted 06/06/2018 at 17:07:47
One hopes Brands lets the dirty dozen know who they are immediately, plain and simple, that it's time to move on. It will give both the players and club the best chance of moving forward.
Brands suggested that quality not quantity is the answer this summer. A notion many should want to agree with, and without European football, unwanted players only sat wasting away. So a fairly sensible and measured aim imo.
Again, it's all seems planful and a key distinction, it's been communicated which gives the fanbase both a connection and an expectation.
Brands definitely the star billing this summer until the football starts in August.
Tom Bowers
96
Posted 06/06/2018 at 17:08:57
Everton should cut their losses on some of these poor signings like Sandro etc. The club needs to move on and it won't happen with some of these time wasters especially when there are a few young guys chomping at the bit for more playing time under a new boss.
The last few seasons has seen an influx of second-rate players and a second-rate product on the field is what resulted. The trauma of last season cannot be repeated.
Kristian Boyce
97
Posted 06/06/2018 at 17:09:52
It's been interesting to see a number of media outlets have picked up on this story, and are headlining their reports as "Cash Strapped" Everton. While being completely false, this type of reporting may be a positive for us.
I think every agent in Europe knew last year that we had money and used our name to either link us with their players to get them better deal at their current clubs, or offer them us at inflated prices. Also, having Brands in the DOF role, they know they aren't dealing with an amateur like we had in Walsh.
Andrew Clare
98
Posted 06/06/2018 at 17:11:41
I just can't believe how reckless we were last year in the transfer market.
I groaned when we signed Williams and Bolasie, just like I did when we appointed Walter Smith as manager. I do wonder about the people who run our club sometimes. You have to go back a long way to find people who knew what they were doing. Hopefully now it's all going to change for the better.
Once we have got rid of the obvious dross and old timers I am sure Silva will get the rest playing far better than they did under Koeman. No need to mention Allardyce as everyone will play better now that he's gone. Last year's transfer business was crazy/stupid.
David McMullen
99
Posted 06/06/2018 at 17:44:00
I'm very enthused by both Brands and Silva. Here Brands is ticking all the boxes of what is needed going forward with the squad, and ticks all the boxes for what is the complete opposite of the poor running of the club (in the transfer market and with the squad retention) in the last year or two.
No-one should see it as "sell-to-buy". The players are by and large over paid failures and need to be gotton rid of. Fuck, I'd even suggest Everton should do what Man Utd did with Rooney; if some players have too much in wages, we could part-pay them just to get shut of them. Not that they deserve it.
Anthony Hawkins
100
Posted 06/06/2018 at 18:03:15
Having a balance of youth and experience isn't all about fielding young players who are or aren't good enough. The youngsters will make mistakes but they also have the legs and fearlessness to scare the opposition.
That's what it's about. You're more likely to lose a game fielding a team of purely older experienced players than you are fielding a good mix of the two, even if the youth aren't of the highest quality.
Getting rid of the chaff is exactly what's needed. Rooney, Klaassen, Baines, Jagielka, Schneiderlin, Bolasie, Williams... all need to go. It won't happen in one transfer window.
Steve Ferns
101
Posted 06/06/2018 at 18:20:15
We're far from cash-strapped. We're ailing Everton and we need to take our medicine.
If we're to be a club in transition, then it means we're moving from point A to point B. Which means it might take 4-5 windows to get shut of all of the players listed, and with some we may just need to let their contracts expire. It also means it takes 4-5 windows to sign the players we need.
I think Brands will need patience more than Silva.
Iain Johnston
102
Posted 06/06/2018 at 18:21:40
Tommy (#67), There isn't an asset register for players, they aren't included in any clubs assets.
The period changes but starts at the value the player has amortised to.
You sign a player for £12m over three years; during the middle of year 2, he's now worth £6m; he signs a new 5-year contract. Rather than drop £4m a year, the value drops by £1.2m a year... so, at the end of year 2, he is worth £5.4m.
Bear in mind that the player has been offered a new contract because he's clearly shown that he's quality and market forces are pushing up his saleable value, meaning that the slower drop isn't too important.
You flog him in year 3 now amortised to £4.2m for £20m and show a £15.8m profit.
Iain Johnston
103
Posted 06/06/2018 at 18:39:18
Jay (#76), you've mentioned Rose, Dembele and Vardy a few times now. Rose is soon to be 28, Dembele is soon to 31, and Vardy is 31.
Tierney is being seduced by Atletico Madrid, I fear that ship has sailed, unfortunately.
Tyias Browning isn't a kid, he's 24. I'd sell him.
Schneiderlin has basically asked to leave, Rooney is probably on his way plus Sandro will command around £12-£15m. Together with the others, I believe we could raise over £70m.
For me, I'd look at Bryan, Delaney, Mawson and have a serious look a Sessegnon for left wing. If we can offload Niasse plus Vlasic and Klaassen, I'd then move on Maddison and Lozano.

Mal van Schaick
104
Posted 06/06/2018 at 19:25:46
I agree with Neil Wood. If only you were on the board!
Plus, sign Alcacer from Barcelona: 7 goals in 12 games.
Paul Birmingham
105
Posted 06/06/2018 at 19:37:57
Good to see some firm plans to offload the dead wood which is what we've expected after the exploits of last summers transfer splurge.
Hopefully with a leaner and hopefully keener squad, the football side will also improve.
Generally in life, there's rarely much gain without hard work and pain. Early days but I sense at last the days of lacklustre can't be arsed and out of sight is out of mind, very piss-poor management will be history.
The overhaul and remake will take time and patience.
Jay Harris
106
Posted 06/06/2018 at 20:02:53
Iain,
My view is we need some experience to lift the younger players and carry us through the next few years. Baines and Jagielka have done this the last few years but are beginning to get to that career finishing age.
Rose is 5 years younger than Baines and IMO is the only left-back connected with us that would be an improvement on Bainesy.
Vardy still has that pace and devilment and knows how to handle premier league defenders; if we got a couple of years out of him I would be happy.
Dembele I agree with your point but again he would beef up our midfield for a couple of years and is a step up on Schneiderlin.
Joe McMahon
107
Posted 06/06/2018 at 21:21:20
Liverpool paid £38M for Salah and £28M for Firmino.
The appointment of Steve Walsh has done us. The standard of player brought in for the crazy fees paid is dereliction of duty. Who else was going to offer £45M for Gylfi Sigurdsson? £25M for Klaassen?? £25M for Keane??? No-one.
Then Lukaku goes with a gassed-out Wayne Rooney coming our way when it should have been Marcus Rashford or no deal at all.

Andy Crooks
108
Posted 06/06/2018 at 21:23:15
This is a particular hobby horse of mine so apologies to those who have heard it a million times:
Could we stop referring to what footballers earn per week. No other highly paid job does it. Have you ever seen a banker's job advertised at, say, £10k per week? It is a disgusting media move to attack young working class men who earn big money. Also, it patronizes supporters who are obviously too thick to work out how many pints and packets of fags £5 million a year can buy.
It is designed to turn supporters against players and it is fucking odious. Yeah, footballers are paid too much; so are bankers, lawyers, cosmetic surgeons, film stars, pop singers, models etc.
Tony Everan
109
Posted 06/06/2018 at 21:23:45
If we could get 12 out as listed, Neil (#36) and get Danny Rose and Dembele or more likely Carvalho for starters, I would be happy.
If Funes Mori goes, add a central defender; l like Mawson too but I am wavering as I'm not sure he has the necessary mobility and pace required. I like his committed style though and he poses a goal threat too, especially from corners and free kicks around the box. He is a player who is ready to take the next step . We could offer him that.
Kev Jones
110
Posted 06/06/2018 at 21:24:00
Liam (#65) you suggest that 'Amortisation is key'. I agree... but not in the way I think you mean.
It reminded me that 'amor' is the Latin word for 'love' and that perhaps our attempts to quantify the worth of players relates to our sense of a love invested in players that has been disappointed. We might then attempt to soothe the pain of this disappointment through imagining how we might make good our loss through a profit in transfer dealings.
Terry White
111
Posted 06/06/2018 at 21:33:36
Rose has barely kept his place in the Spurs team this season. Davies is a much better all-round player than Rose who is a thug and I would not want him to stand in the way of one of our younger prospects. Signing anyone experienced to replace Baines will do just that whether it is Rose, or Shaw.
Signing Dembele or Vardy might give us a short-term fix but will otherwise set us back years.
The only good thing about this discussion is that it is highly unlikely that either of them would want to leave the London nightlife.
Jack Convery
112
Posted 06/06/2018 at 21:39:37
He's talked the talk; now let him get on walking the walk. Mirallas first, please. Fire Sale at Finch Farm and then another at Villa Park by the sounds of it.
Trade in Willaims for Alfie Mawson — that's a no-brainer and a win-win for all concerned.
Tony Everan
113
Posted 06/06/2018 at 21:58:56
Joe (#107),
I've thought that all along, the Lukaku sale was a pure puppy dog roll over on our part. We should have been demanding Rashford as a makeweight or no deal. Letting him go without replacing him first, for whatever reason, was off the scale.
Steve Ferns
114
Posted 06/06/2018 at 22:00:17
I'm not convinced by Mawson. Do people really think he's that good? Maybe, I'm scared he'll be another Keane who comes out of one system and into another and can't replicate what he did well.
I have high hopes for Holgate. I think he's got some excellent attributes and needs a big strong leader type alongside him, and then can bring the speed, passing and ability to bring the ball out of defence.
Mike Doyle
115
Posted 06/06/2018 at 22:04:19
David (#99).
The Man Utd / Rooney wage subsidy example will almost certainly apply to the players we want to move on as most appear to have 2, 3, or 4 years left on their contracts. It's difficult to see too many clubs wanting them.
I'm expecting to see quite a few long-term loan deals arranged as it makes no sense to have a load of surplus-to-requirements players hanging around Finch Farm.
Marcel's going to be a busy boy over the coming weeks...
Ian Burns
116
Posted 06/06/2018 at 22:05:21
Terrific thread and as always I have read every post. What strikes me is that there appears to be general agreement on the list of 12 who should go, so that tells me M&M would be thinking along the same lines.
However, who should come in is exceptionally diverse but I believe such incomings have also already been identified by M&M and will not be the major names some have identified within this thread.
What is blindingly obvious to me is that this is going to take time, as most have agreed this is not going to be an easy or quick fix. So what will be needed by all Everton fans is a busload of patience and then some more. I don't know what we can expect to see by way of some small noticeable improvement, maybe some of our more knowledgeable posters can enlighten us but I go back to my point — patience is going to be required big time.
Lev Vellene
117
Posted 06/06/2018 at 22:32:16
If there's a chance of selling Williams, we'd better get that deal done early! They might change their mind in July when he can't get through the door for the medical! He returned for preseason last year looking like he'd spent the summer gorging on burgers, pizza, ice cream and beer...
Neil Wood
118
Posted 06/06/2018 at 22:51:11
Steve, I'm massively with you in the Holgate camp!!!
Tony Everan
119
Posted 06/06/2018 at 22:55:10
Lev,
Williams's 4 out the 5 a day is not too bad. Add a box of Ferrero Rochers before bed for the full house.
Iain Johnston
120
Posted 06/06/2018 at 22:56:46
Steve (#114), I understand your concerns regarding Mawson; as a club, we know all too well of players who dangle but don't deliver.
An advantage for me is that he's played with Holgate, Keane, Dowell and Kenny, possibly Davies too. If the ethos now is to give youth a realistic chance, maybe it would be to our benefit if we have a group who know each other?
Michael Burke
121
Posted 06/06/2018 at 22:58:10
I'm staggered some on her think Sandro is worth keeping. I got panned early doors (after a Europa League qualifier) for suggesting he was awful; unfortunately, I was right.
What has made this worse is to see the wage he has been collecting all this time.
I am also very concerned moving forward that the senior management at Everton signed off on so many poor purchases over the last 2 years. Walsh rightly getting fried here, but people above him gave the green light.
Michael Burke
122
Posted 06/06/2018 at 23:02:11
I'd also like to add that any new players bought are played in their best position. I am not a fan of shoe-horning the best 11 players into a team. Pick a formation and a brand of football, then pick the best player in those positions.
I have no idea where Tom Davies is best suited because the poor lad has had no consistent appearances in the same position.
Liam Reilly
123
Posted 06/06/2018 at 23:05:51
Ian (#38 & #88),
I said it's all smoke and mirrors, matey; instructed by my accountant my company makes a loss or small profit every year; which is fine by me as I pay less tax.
I can also drive an Audi and write it off after a number of years because the asset depreciates and it's a company expense.
It's all nonsense; God only knows what Moshiri's team can do with a football club.
Tony Williams
124
Posted 06/06/2018 at 23:07:29
All these rumours do really get to me — we are in pole position to sign Maddison of Norwich. Why on earth supposedly intelligent people put this rubbish on paper...
How many of these rumours come to fruition? When reported, that's the last you ever hear of them.
Jamie Sweet
125
Posted 06/06/2018 at 23:07:38
Any enthusiasm I have for this Brands - Silva duo, which I genuinely think could be a good one, is ruined by the nightmare of a situation they have inherited.
Such a shame that the last lot screwed things up on such a massive scale that these two effectively have their hands tied from the start.
Hopefully this talk of us having no money unless we sell is a ploy to stop us getting so completely ripped off like we did in every transfer this time last year.
We were mugged at every turn because everyone heard us claiming "We're fucking rich!"
Don Alexander
126
Posted 06/06/2018 at 23:31:24
To me, Mawson has what Holgate lacks, namely physical stature and "presence" as a defender. Then again, Holgate has what Mawson lacks, namely pace and comfort with the ball. I just hope there's a few youngsters at Finch Farm who can still accept what an allegedly hands-on top coach can deliver instead of continuing to play the dross we've all had to become accustomed to.
Bobby Thomas
127
Posted 06/06/2018 at 00:02:25
Jay (#108),
Rose, Vardy and Dembele?
Three old men who have all seen their best days. In terms of what they have left in the tank – and fees and wages – they represent everything the club should be looking to avoid.
Kev Jones
129
Posted 06/06/2018 at 00:11:28
Like Tony at #119, I'm eating a Ferrero Rocher but thinking about #123 Liam's relationship to his Audi. I don't drive an Audi myself but Liam's post reminds me of his #65 post and general ToffeeWeb interest in Amortization and my speculation about its relation to thwarted love when our players let us down.
Ian Lang
130
Posted 07/06/2018 at 00:55:59
Enjoyed the discussion and all the comments today blues. I've let some of my pals know today that if you wanna understand running a business, football club, commercials, marketing, football, transfers, contract management, then just read ToffeeWeb – the stuff of legends; I mean who needs education or company training when you can get free training here? lol 😂
Joking aside and on a serious note, I actually believe we have the right people at the club and that this has been properly planned for some time.
The more I hear from Brands and Silva, the more I like and the more confidence they I have in them. They have a presence, especially Brands, which I like and if we can all see and sense that then the players know these guys mean business. They seem aligned and want to work together; let's hope it all goes to plan. About time our great club gets back to where we rightfully belong at the top.
My expectations for next season are quite simple and realistic:
I can feel a treble coming on, Premier League, Carabou Cup and FA Cup winners. The following season and for a further 14 seasons in a row, we will take Europe by storm and win the Champions League becoming, the all time leaders of most Champions League winners!
After all, I must confess I am the time traveller from the year 6491 😂 who passed a lie detector test!
Michael Kenrick
Editorial Team
131
Posted 07/06/2018 at 05:12:28
Some great posts on this thread re 'amortisation' and player salaries. Thanks, Ian and Steve.
I've often thought of trying to track these as more realistic indicators of what is really going on with our player assets. But, while the examples are elegantly simple, the uncertainties seem to be just too many, and – unless I am wrong – there really aren't any reliable sources online for either the real contract value (often 'undisclosed') or the real player's salary (just what is and isn't included in this day of "image rights" and god knows what else they get...?)
And Steve, from my limited review, I don't think the published accounts are much help here, other than giving us the total numbers. No player-by-player breakdown, so you struggle to make the sums work.
I tried tracking the accounts using a spreadsheet someone sent me 8 or 10 years ago. I did okay for a few years... but each year the names and categories would change a little and it eventually became just too hard to make it follow what was published in the audited accounts.

Ray Smith
132
Posted 07/06/2018 at 11:41:57
I read a lot in the media about Davy Klaassen being shipped out as a so called failure who didn't live up to expectations.
IMO he hasn't been given a fair chance to prove and establish himself.
If he is to go, he should join the queue behind;
Robles
Stekelenburg
Martina
Niasse
Schneiderlin
Williams
Bolasie
Rooney
Mirallas
Mangala
Tarashaj
Henen
Grant
13
Other possibles:
Sandro
Garbutt
Besic
Funes Mori
4
That's 17 without Klaassen.
Give the lad a chance, because Allardyce didn't.
So why does he appear to be high on the media list of early exits? Or perhaps I'm too soft.
Steve Ferns
133
Posted 07/06/2018 at 11:49:03
Thanks Michael. Any chance of that article?!
Jonathan Tasker
134
Posted 07/06/2018 at 11:55:13
Why don't we get rid of Duncan Ferguson? He doesn't do anything.
John Gartland
135
Posted 07/06/2018 at 16:53:26
What happened to the money we got for Lukaku?
Pat Kelly
136
Posted 07/06/2018 at 21:36:26
It's going to take time to offload the overpaid dross. Some we won't be able to shift.
Meanwhile we can't buy till we recoup from sales. Not a great prospect. Don't expect early purchases. Last-minute buys are not usually the best.

Add Your Comments
In order to post a comment, you need to be logged in as a registered user of the site.
Or Sign up as a ToffeeWeb Member — it's free, takes just a few minutes and will allow you to post your comments on articles and Talking Points submissions across the site.