Everton History
"Maestro" – The Jack Southworth Story
Rob Sawyer

10/09/2018
0

comments | Jump to last
Share:
Evertonians laud the club's lineage of talismanic goal scorers. The list includes "Sandy" Young, Bill "Dixie" Dean, Tommy Lawton, Dave Hickson, Alex Young, Roy Vernon, Joe Royle, Bob Latchford, Graeme Sharp, Andy Gray and more. Some wonderful marksmen are somewhat overlooked, however, due to the passage of time; foremost amongst them are Fred Geary, Bobby Parker and Jack Southworth. The latter remains the only Everton player to achieve the feat of scoring a double hat-trick in a first-team match. Yet there was much more to this polymath who excelled on both musical and sporting stages.
"Jack" was born John Southworth on 11 December 1866 in Ainsworth Street, Blackburn to a family immersed in music. His great-grandfather had been a bandsman who had booked the great Niccolò Paganini to display his violin virtuosity at the town's Theatre Royal in 1837. Jack's father, Robert, had combined his day job as a joiner with being a cornet player and conductor at the Blackburn Borough Band. Robert and his wife, Martha, would be blessed with nine children – all of whom displayed musical talent. The seven sons would, at some point in their lives, pursue careers linked to music – be that in show-business, orchestras or, in one case, academia at Durham University.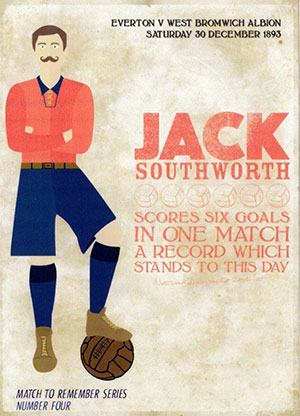 Jack Southworth card by ToffeeArt
Jack would become an excellent violinist but he was also more than proficient on various brass instruments. He made his performing debut, aged 14, with Ohmy's Circus Band at Belle Vue and further appearances followed at Blackpool and elsewhere. Excusing the pun, music was not the only string to his bow. His football prowess was evident from an early age. He helped found and then captained Inkerman Rangers (the Southworth family lived at 14 Inkerman Street) and Brookhouse Perseverance. The latter was an informal feeder club for Blackburn Olympic – leading him to appear as an inside-left forward for their second-string from the age of 16. Showing great promise he scored 5 goals for Olympic against Leigh in a Lancashire Cup fixture.
A knee injury sustained whilst playing as a guest for Accrington against Padiham threatened his sporting progression. Unable to continue as an outfield player, he threw in his lot as a goalkeeper – to such good effect that by the season's end he was appearing between the sticks for Olympic's first eleven. A further injury – this time to his other knee, whilst guesting for Vale of Lune, further hindered any chances of a return to outfield duties. Having signed professional terms with Olympic for the 1885-86 season, a theatre engagement took him and his brother James to Chester. In 1886, they both signed forms with the Cheshire city's team and made a number of appearances there. Back in his hometown, with his knees feeling stronger, Jack tried out in the centre-forward position for Olympic – he'd operate from this position henceforth. One hiccup was a four-month suspension imposed for turning out for Olympic in the FA Cup whilst still registered to Chester.
Olympic, based at the Hole-i'-th-Wall stadium, was ostensibly Blackburn's working-class team. In 1883, it had become the first northern club to win the FA Cup – just 5 years after its formation. In contrast, Blackburn Rovers which was founded in 1875 by a mix of Shrewsbury School and Blackburn Grammar old boys was seen as the middle-class team in town (it fielded a number of professionally qualified players in its early years). By 1888, Olympic was in a state of financial disarray which prefaced collapse in 1889. Not without some regret, Jack and brother James crossed the Rubicon and became Rovers players in time for the inaugural Football League season of 1888-89.
At Rovers' Leamington Road ground, Jack cemented a reputation as a prolific centre-forward. He scored on his Football League debut (a 10-goal thriller against local rivals Accrington) and hit two hat-tricks on his way to 21 League and FA Cup goals. He was rewarded for his excellent form with an England debut in February 1889 – predictably he scored in a 4-1 defeat of Wales. He would maintain this scoring form in his two other England appearances in 1891 and 1892. But why so few international appearances? On several occasions, Jack was withdrawn from squads, presumably by Blackburn Rovers (clubs had a veto in those days) whilst on other occasions, he was a non-playing reserve. He was once selected (in April 1893) for a representative Football League team which took on their Scottish counterparts.
In the 1889-90 season Jack twice hit four goals in League matches (Blackburn finished in 3rd place) and also scored the crucial goal in a FA Cup semi-final victory against Wolves to set up a final encounter with Sheffield Wednesday. Rovers, with a team packed with international players, were clear favourites but they exceeded all expectations with a 6-1 victory (Jack scored once) which, according to Philip Gibbons in his book, Association Football in Victorian England was: "...one of the finest exhibitions of attacking football in an FA Cup Final, with England internationals, Walton, Townley, Lofthouse and John Southworth at the peak of their form."
Jack was customarily prolific in the following (1890-91) season which saw Rovers, again, advance to the FA Cup Final, staged at Kennington Oval. Notts County were soundly beaten, 3-1, with Jack, again, on target.
It would be fair to surmise that Jack was the most complete central forward of his era. Described as the 'Prince of Dribblers' for his ability to carry the ball forward, Jack could also pick a pass and was fearless in the tackle. And, of course, he could put away chances that came his way. To the Rovers fans on the terraces, he was 'Skimmy' – the origins of the nickname are uncertain. Some credited it to his speedy 'skimming' across the turf at speed but later he would state it was derived from a comic strip character of his childhood years. It's hard to compare him to a striker of recent decades. Certainly he was no mere poacher in the Lineker mould so, perhaps, Ian Rush would be a better comparison.
Having musicianship as a sideline helped keep Jack fresh on the football field. In a 1901 article in the Dundee Evening Post, he discussed how he enjoyed leaving football behind in the close season:
John Southworth, the famous Blackburn Rovers centre-forward, and latterly of Everton, confessed that in the summer he did really nothing in the way of training. After eight months hard football, he opined that players were apt to grow stale, and he always welcomed the close season "for rest". I didn't go in for any special diet," he says, "good, plain, wholesome food is best, with very little pastry." He was not exactly a teetotaller, but very moderate regards drink. Southworth thinks that about nine hours sleep is necessary.
The 1891-92 campaign continued in the same scoring vein but Rovers were less competitive in the league – the costs associated with the 1890 relocation to Ewood Park perhaps being a factor. The 1892-93 season was a relatively poor one for Jack, yielding a meagre (by his high standards) 10 goals in 23 appearances. This brought his Rovers record to 97 goals in 108 Football League appearances and 24 goals in 24 FA Cup outings.
For some years, other Football League clubs, Everton included, had coveted Jack but he had never shown an inclination to leave his home town. Things were about to change, however.
Perhaps Rover's travails, and Jack's delay in re-signing for another season, gave other clubs fresh hope that Jack could be tempted away in the summer of 1893. Everton, now ensconced at Goodison Park, were keen to reinforce their squad having failed to build on their League title success of 1890-91. Jack was seen as the man to spearhead the attack and return the club to trophy-winning ways. The city of Liverpool was certainly an attractive destination for Jack as it offered considerably more opportunities in his parallel musical career – which would be of paramount importance when his playing days reached their conclusion.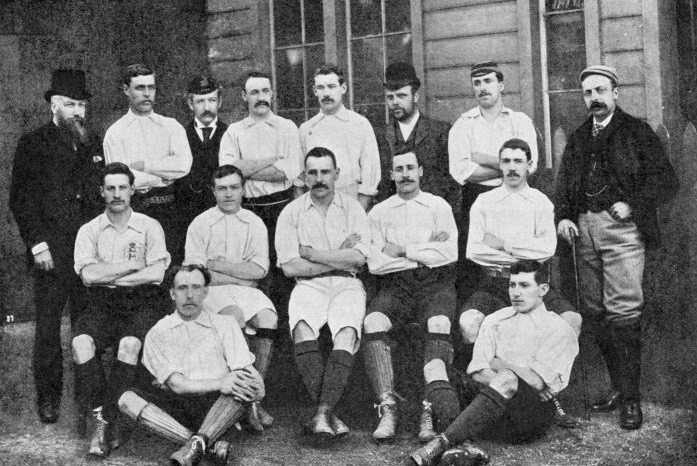 Jack Southworth in Football League XI playing Scottish League XI at Parkhead, April 1893
Buoyed by the prospects of Jack seeking fresh pastures, Everton made their move. The Manchester Courier and Lancashire General Advertiser  reported on 24 August 1893 that: 'A deputation from the Everton Football Club waited upon the Blackburn Rovers Committee on Tuesday night for permission to approach J. Southworth their famous centre forward. Permission was refused, Southworth having consented to again sign for his old club, terms having been arrived at.'
This was not quite the end of the matter, however. The terms agreed in principle by the Rovers sub-committee for Jack to stay-put were: £3 wages per week in winter and summer, a bonus of £10, back-payment for the previous 17 weeks at £3 per week and a legal agreement that he should be allowed to go at the end of the next season at a transfer fee not exceeding £20.
When Everton's directors were given short-shift by Rovers' officials, they were offered one concession. Namely, should Jack fail to sign on the dotted line then the Toffees would be notified and given 'first option'. This, supposedly confidential gentleman's agreement been made in full expectation that the full Rovers committee would ratify agreement reached between Jack and the sub-committee. However, word of it reached Jack via one of his brothers who was acting as an intermediary-cum-agent. One Lancashire journal wrote sternly of: 'A power behind the throne... working the strings'. In the end, the full Rover's committee baulked at what had been agreed in principle with Jack by the sub-committee – the release clause of no more than £20 causing most concern.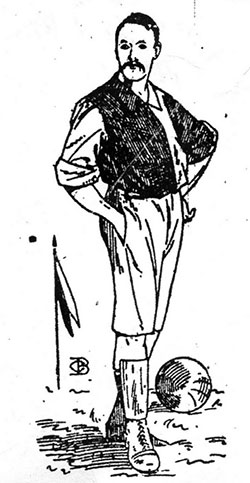 This impasse opened the way for Everton to return to Blackburn to finalise the transfer to Merseyside. At the reconvened talks, it was reported that: "A good deal of plain talking went on... and they (Everton) were told that they would have to pay for their premature action in the matter, but ultimately they agreed to terms with which the Rovers are perfectly satisfied, but which, if I am rightly informed, will make his appearance in the Everton team almost as costly as a prima donna's."
The same journalist, very much in the Blackburn camp, continued:
"He is undoubtedly the finest centre-forward in England when in form and, as such, he is worth a big price. But the Blackburn people, with the money in their pockets, cannot forget the many occasions during the last two years on which Southworth has not been in form; and they think they can afford now to do with a more steady if less brilliant centre.  People may say this is a case of 'sour grapes' but the feeling seems genuine in Blackburn that Rovers' committee have done the right thing, whatever may be the consequences."
With the deal, for a transfer fee in the region of £300, concluded, Jack took to the columns of the Blackburn Standard to put his version of events across and repudiate claims that he had acted greedily or improperly.
"JACK" OPENS HIS MOUTH AT LAST. 
John Southworth, the ex-Rover, writes to us as follows:
"SIR, — Now that my connection with the Rovers Football Club is at an end, and I am in a position of greater freedom and less responsibility so far as the committee are concerned...From week to week lately your columns have contained statements in reference to my conduct and attitude towards the committee, and imputing to me the most mercenary and unsportsmanlike conduct in my negotiations with the committee, and which are calculated very seriously to prejudice me in the eyes of the public if allowed to go unchallenged. First of all, I may state that in trying to sever my connection with the Rovers I have only had one object in view: to try and assure myself of a position after my football days are over, which a place like Liverpool affords for a musician, more so than Blackburn."
Jack went on to detail how he had resisted previous overtures to join rival other clubs and receive increase his relatively meagre football earnings:
"If I had been the selfish, grasping, mercenary character I have been represented to be, utterly regardless of anybody or anything but my own pocket, I could, four years ago, have had £2 11s, a week all the year round from Everton with a prospect of £3 a week or even more the following year. And since that offer I have refused one from Sheffield United two years ago (in fact only a few days before I signed for the Rovers for two seasons)... It would be interesting to know how many of those who are so bitter on the subject would have refused these tempting offers.
"In breaking off the agreement arrived at between the committee and myself I wish to state that it was not my fault. The sub-committee appointed to meet with me, and supposed to have full powers, agreed without any reservation whatever to terms, including my release, if desired, at the end of the season for not more than £20, but the full committee repudiated the agreement."
Jack promptly started repaying Everton's considerable outlay as he replaced the great Fred Geary at centre-forward. Dovetailing with Edgar Chadwick, his former Rovers' teammate, and John Bell in attack, he was soon off the mark for his new club. Come December, he hit a purple patch with a run of scoring in 6 consecutive matches. On 30 December 1893 West Bromwich Albion came to Goodison Park for a festive fixture watched by 14,000 spectators.
A week earlier, Jack had treated Goodison to a four-goal salvo past Sheffield Wednesday (final score, 8-1) but this dull, penultimate afternoon of 1893 he would surpass that and etch his name in Everton folklore. Within a minute of the start, the Black Country team was a goal down to John Bell's effort (Bell was another significant capture by Everton, lured from Dumbarton). Then it became the Southworth Show. His header from right-winger Alex Latta's cross was supplemented by two further goals before the break. Two minutes after the restart, the in-form marksman grabbed his fourth of the game. West Brom briefly rallied but a further quick-fire brace brought Jack's tally to six. The game finished 7-1. Over a 10-day period he had netted 15 of the club's 22 goals over four matches.
The Liverpool Echo gushed: "Southworth gave one of his wonderfully good displays. There is not the slightest doubt but that the whole of the Everton successes now are traceable to the skilful manipulation of the ball by Southworth. The rest of the team apparently recognises Southworth's grand form and unselfishly afford him every opportunity for displaying it."
Jack would continue to score with metronomic regularity that season – 27 goals in 23 League and Cup appearances but, disappointingly, no silverware came to Goodison. Everton punished by poor form away from Goodison, finished in a distant 6th place, 11 points shy of the champions, Aston Villa.
For Jack's second season on Merseyside he was awarded the club captaincy. He picked up where he had left off, with a hat-trick against Small Heath (Birmingham City) in the second outing was followed by another three-goal haul two matches later. After 8 starts Jack's tally for the season stood at a respectable 8 goals but a sporting tragedy was just around the corner. At Deepdale on 19 November, in a benefit match for Preston North End's goalkeeper, James Trainer, Jack collided with an opposing player. The damage sustained to his knee was so serious that he was carried off the field and unable to continue after treatment (probably of the cold sponge variety). He would never play again.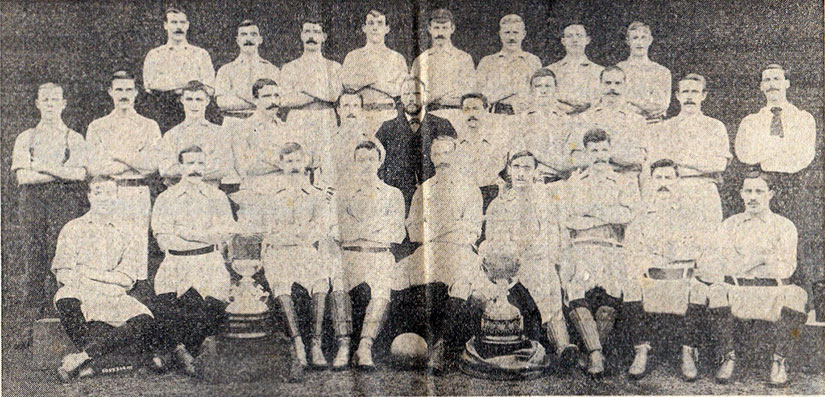 Everton 1894-95 squad, Jack as captain with the ball at his feet
The Everton Board minutes give a flavour of the souring relationship which developed between the injured player and club directorate. The club referred Jack for 'special treatment' on his knee by a Dr. Whitehead in Manchester which, for reasons not outlined, he declined to attend. Consequently the board suspended Jack (without wages) in January 1895 and refused to back down, even ignoring a personal plea in April for clemency in light of financial hardship. It is telling how the media did not report this sorry state of affairs.
There is no further reference to Jack in the Everton Board minutes until August 1900 when, surprisingly in light the shoddy treatment received five years previously, he was engaged as Everton's assistant trainer on £2 per week. It is unclear how long he held this role, as there is no further mention in the minute books. Jack's playing registration with Everton was not expunged until 1903 – presumably it was retained that long just in case he should make an unlikely comeback from injury with another club.
Jack was luckier than most footballers reaching a premature end to their careers. Not for him work down the docks, in a newspaper shop or as a pub landlord. He, instead, focussed on a career as a musician for hire with several orchestras in the North West, including the Halle (for whom his brother, Thomas, was 1st violinist) and the Liverpool Philharmonic. He played under famous conductors including Sir Thomas Wood and Sir Thomas Beecham. One conversation between Jack and Beecham, passed-down through the family generations was:
Beecham: 'What are you doing with those, cymbals Southworth?' 
Southworth: 'Nothing, there are no cymbals in this part, Sir.'
Beecham: 'Well just roll them around then (to make a show).'
Although Jack remained a resident in Liverpool for the rest of his life, from 1910 until the outbreak of the Second World War, he would spend each summer season living and working in Llandudno. Here he would appear with the Llandudno Pier Orchestra, giving concerts to tourists but would also find time hone his golf skills (reaching a scratch handicap on the Great Orme course). Jack also appeared for the Pier Orchestra cricket team and was extremely adept at snooker, billiards and bowls. The Liverpool Evening Express reported in June 1944 that, aged 77, Jack at had just won the Thingwall Bowling Club championship, playing through three rounds without a break.
He continued to earn a living as a musician for hire (on tuba, trombone, euphonium and bass fiddle), engaged for five years with the BBC Northern Orchestra in Manchester leading up to his retirement, due to arthritis, in 1947. His son, Harry, continued the family tradition by playing cello in several local Liverpool orchestras.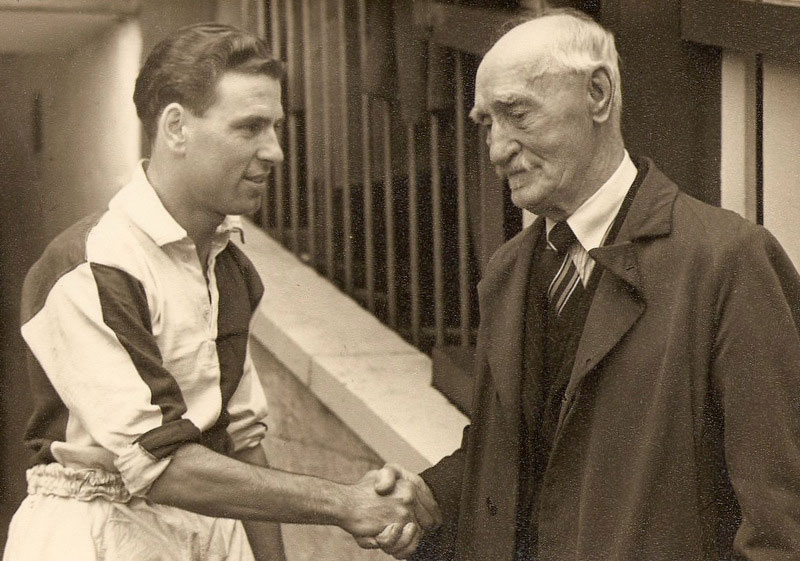 Jack Southworth meets Les Graham of Blakburn Rovers in 1950
On 23 September 1950, Jack was a guest of Blackburn Rovers as they took on Manchester United (this was his first match he'd watched at Ewood Park in a decade). He was not keen on going on account of not wishing to don a tie. In fact he was quite adamant about it and it took all of wife Jessie's persuasive powers to talk him round. He was photographed being introduced to the Rover's forward, Les Graham. When interviewed by the Blackburn Times during his visit he was reluctant to dwell on his football career, being much keener to talk about his life in music. However, about the modern game and how it compared to his footballing era, he observed: 'My impression that it was nicer to watch in those days though perhaps slower. Now the centre-half is more a full-back with the inside men well back. Then he was an important man in attack and the forwards were almost in line.'
Jack's final days would be spent relaxing at home with Jessie, often puffing on his pipe, at 3 Beech Tree Road, Wavertree – a few doors down from their daughter, Fanny. He passed away on 16 October 1956, aged 89.  On learning of Jack's passing, Leslie Edwards of the Echo wrote: 'It was at Llandudno, that people used to point out to me this spare, upright figure as the famed England and Everton centre forward of an almost forgotten era. They say he was one of the great gentlemen of soccer – the John Charles of his day. I can well believe it. What a great life John Southworth packed into his 89 years. Happily he was nearly always well. He breakfasted yesterday fit as ever… a few hours later he died... Few from one of the golden ages of football are left to bid him adieu.'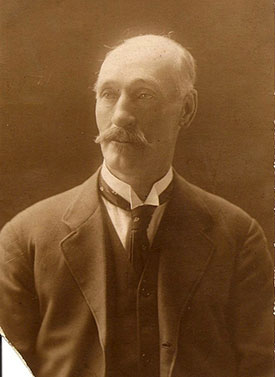 Jack Southworth in his post-football days
Few finer players have pulled on the shirts of Everton and Blackburn Rovers. Even in an injured-curtailed spell at Goodison Park, 'Skimmy' was able to set a six-goal benchmark that has never been equalled by his royal blue successors.
Jack Southworth Career Record
Blackburn Rovers:
Overall Total (League and Cup): 132 appearances & 121 goals
(NB: 10 goal scorers remain unidentified during his time at the club)
Everton:
Overall Total (League and Cup): 32 appearances & 35 goals
Honours:
FA Cup: 1889-90 and 1990-91 winner
3 England appearances & 3 goals (1889-92).
Football League: 1 representative appearance & 0 goals (1893).
Image credits:
Images care of Southworth family except the image Everton in 1894-95 from Everton Collection and colour artwork piece by Thomas Regan (ToffeeArt)
Acknowledgements and sources
Grateful thanks to the Southworth family and Mike Jackman (Blackburn Rovers author)
Billy Smith's Blue Correspondent website
ToffeeArt
Northern Daily Telegraph
Blackburn Times
Liverpool Echo
Manchester Courier and Lancashire General Advertiser 
Everton Collection website
Englandfootballonline.com
Blackburn Rovers: The Complete Record (Mike Jackman)
Everton: The Official Complete Record (Steve Johnson)
The Everton Encyclopedia (James Corbett)

Follow @robsawyer70
---
---
© ToffeeWeb