Everton History
The Charlie Parry Grave Event – 1st March 2019
EFC Heritage Society

07/03/2019
11

comments | Jump to last
Share:
An unprepossessing road in the shadow of Goodison Park, is named Salop Street. Salop, or Shropshire as it is more commonly known, might not, at a first glance, be awash with Everton links but that can be misleading. In fact the, largely rural, county has a loyal Blues following (the Shropshire Blues is the local official supporters club branch).
Oswestry, 50 miles from Goodison, has several connections links to Everton that go back to the earliest days of the club. George Farmer, a son of the town and a Welsh international footballer, was a key player in the club's early days and lined up in the Blue's first ever Football League match in 1888. More recently, one of the Toffees' greatest players, Alan Ball, spent his formative years in the area when his father, Alan Ball Senior, was managing Oswestry Town FC. But, it was to mark the life of another former player that EFC Heritage Society came to the town's cemetery on 1st March.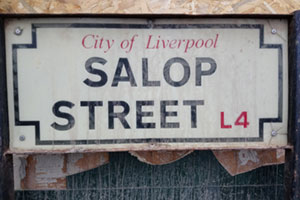 Charlie Parry might not be a household name but he was in the select band of 'Blues brothers' we now refer to as the First Kings of Anfield. Born in 1869, Charlie was a member of the first Everton team to win the Football League, in 1891. The versatile player had two spells with the Toffees and went on to win the Welsh Cup in 1900 in an Aberystwyth FC team also featuring future Everton keeper, 'Dick' Roose. Charlie made 13 appearances for Wales over a 7-year period and saw out his playing days as a goalkeeper in Oswestry where he worked as a labourer. His early death from tuberculosis, at the age of 52 in 1922, was followed by that of his wife, Ada, just four years later. Whilst researching Charlie's life for a ToffeeWeb article, Rob Sawyer learned that there was no headstone to mark his final resting place (although family initiatives had seen a plaque installed in the market hall and a residential road named after him).
EFC Heritage Society (EFCHS), which has been involved in the restoration of nine graves, to date, decided to commission the installation of a headstone in recognition of Charlie's service to Everton. The project progressed with support from, amongst others, the Parry family, Oswestry Town Council, The Football Association of Wales, Everton FC, Neville Evans (President of Aberystwyth Town FC and the man behind the National Football Collection) and Clive Davies. Thomas Reagan, of Toffee Art designed the event programme.
In the region of 70 people gathered at Oswestry Town Cemetery, fittingly on St David's Day, for the ceremony to unveil the headstone which was designed by Allen Mackie of E.F. Mackie Ltd. Charlie's former clubs and the FAW were represented and Everton supporters came from as far afield as Barnsley to attend. After messages of welcome from Oswestry's Mayor, Councillor Sandy Best, and EFCHS Chairman, Brendan Connolly, Rob Sawyer spoke on behalf of the Society about Charlie's life and times. It was highlighted that when Charlie suffered hardship, struggling to keep the wolf from the door, Everton sent teams on two occasions to play benefit matches - an approach reflected in the work of the Everton Former Players Foundation in the present day.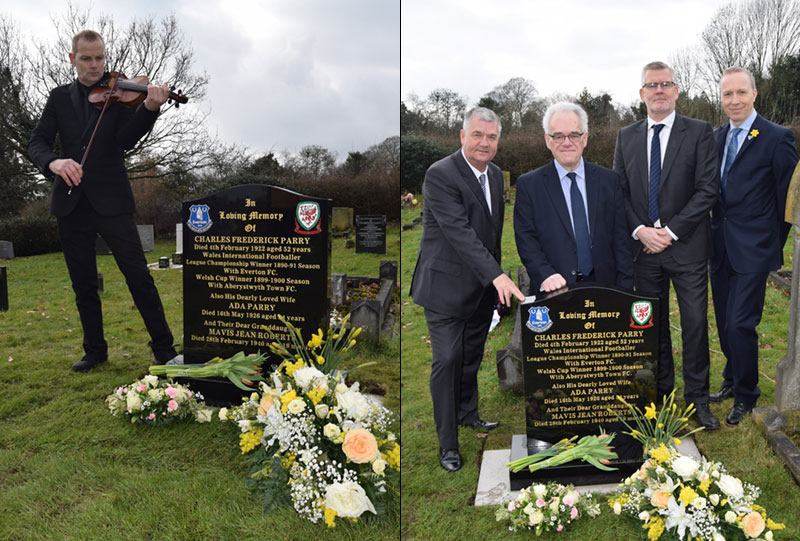 Left: Violinist Daniel Axworthy provided musical accompaniment at the event; Right: Ian Snodin, David Parry, Darren Griffiths and Rob Sawyer by the new headstone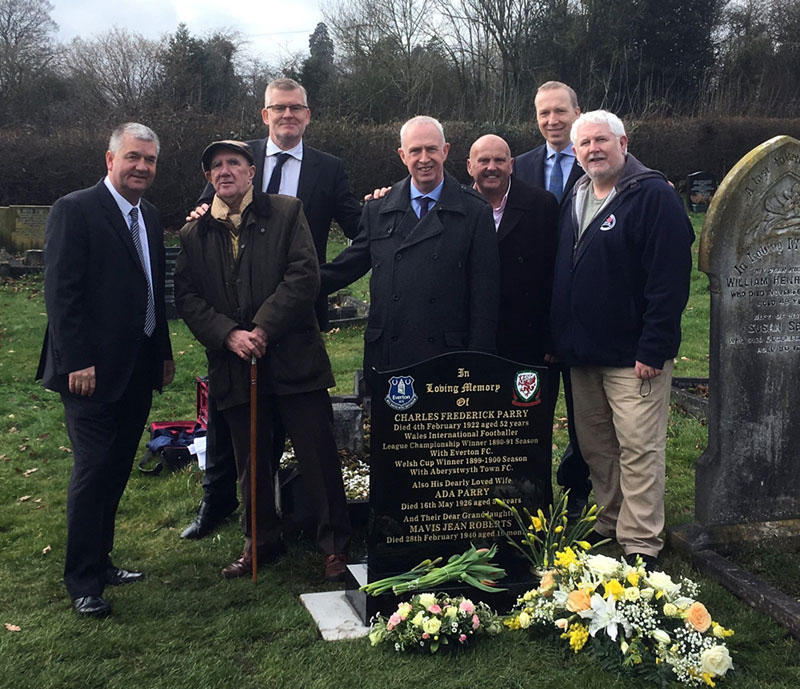 Ian and Darren with Everton Heritage Society and stonemason Allen Mackie
Darren Griffiths, for Everton FC, and David Parry, on behalf of the Parry family, also addressed the attendees. Ian Snodin, Everton Ambassador and a member of the most recent Everton team to win the title, laid flowers at the grave. A floral tribute was also laid by Margaret Atkins in memory of her sister, Mavis Roberts, who passed away in infancy and was laid to rest with her grandparents. Afterwards other attendees laid daffodils and other floral tributes. Violinist, Daniel Axworthy, provided a fitting selection of musical accompaniments at the event, including Z-Cars and Land of My Fathers. A reception was then hosted by the Town Council at Oswestry's Guildhall.
Brendan Connolly, Chair of EFC Heritage Society, said:
"Today was the culmination of much hard work by Heritage Society members. It was rewarding to hear such positive comments from the members of Parry family who are, rightly, proud of Charlie's achievements. Our thanks, again, go to everyone for supporting the Society's latest event and to Ian Snodin and Darren Griffiths for attending today."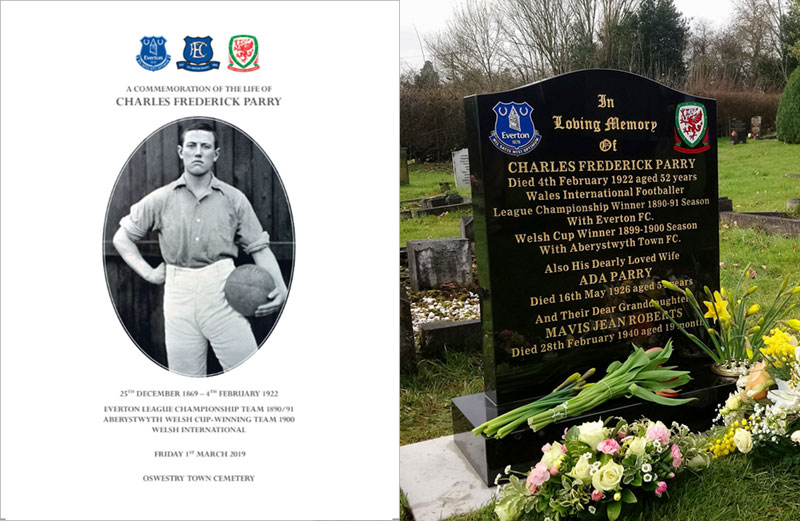 Follow @EvertonHeritage
---
Reader Comments (11)
Note: the following content is not moderated or vetted by the site owners at the time of submission. Comments are the responsibility of the poster. Disclaimer
Martin Nicholls
1
Posted 07/03/2019 at 08:45:19
Great work by Rob and the Society – well done. And thanks to Charlie for helping make Everton the "First Kings of Anfield"!
Steve Hogan
2
Posted 07/03/2019 at 10:13:15
What a great story, fantastic where so many different bodies can come together to pay tribute to one of the original Evertonian's. So much of our past history makes us what we are today.
Well done to all concerned.
Peter Mills
3
Posted 07/03/2019 at 11:26:06
Great work as ever by EFC Heritage Society.
David Peate
4
Posted 07/03/2019 at 17:18:24
Honoured to have attended this event. Well done, Rob Sawyer and the EFC Heritage Society.
Pete Jones
5
Posted 07/03/2019 at 19:04:41
Great work and a nice write-up, Rob. There is a bit of an Everton connection down Salop Street; it's the address of the Blue Base where EitC run some of their initiatives like the Stand Together and Pass on the Memories groups among many others.
It's also where the trees that commemorate the Everton players who were killed in the two World Wars are planted. It's a really nice place (and handy for the Aldi across the road).
Gerry Morrison
6
Posted 07/03/2019 at 22:45:55
Many thanks to all those who talk part in this. This is the kind of work that distinguishes us from the rest, and makes me feel proud to be an Evertonian.
Lenny Kingman
7
Posted 08/03/2019 at 08:39:34
What a special way of honouring someone who has a place in the marvellous history of this club. Have taken many visits to the locale as a patient at the nearby renowned Orthopaedic hospital where many pro footballers have been treated over the years.
Must make a special effort next time I'm in the vicinity to lay some flowers at the headstone of a man who, like all of us, has been touched by Everton Football Club in their lifetimes.
Mike Morris
8
Posted 08/03/2019 at 11:10:47
This article brought tears to my eyes. How do I join the Heritage Society?
In my view, that first Championship winning team should have not one, but two prominent, exterior blue (royal, obviously) plaques to mark their achievement: one at Goodison Park and one at another football ground less than a mile away!
Surely the Liverpool Heritage Society (if there is one) would not object to this idea?
In addition, it would be great if we had the names of the men who played in the first St Domingo team and the first Everton team similarly recognised for posterity. Sadly, I suspect that the former task would be even more difficult and futile than Sisyphus's. (I know he didn't play for us!)
Mike Berry
9
Posted 08/03/2019 at 18:39:16
Judging by the expression on his face, he had 'attitude'. Oh, for today's players to have some.
David Parry
10
Posted 08/03/2019 at 19:16:08
I was delighted to speak at the March 1st commemorative event when Everton FC Heritage Society brought together kind contributions from Everton FC, supporting organisations and individuals to honour my Grandad.
The commemorative booklet, produced by the Everton FC Heritage Society, will provide family members with the opportunity in the future to outline to our grandchildren the life of Charlie Parry, the Wales and Everton footballer.
Family members were delighted to be part of the St David's Day commemoration to a Welshman, and wish to thank the Heritage Society and in particular Rob Sawyer for honouring our Grandad in a once in a life time memory we will always treasure. Thank you Rob; thank you all.

John Keating
11
Posted 08/03/2019 at 22:47:32
Well done Rob and the Society fantastic work yet again.
You guys deserve every plaudit
Add Your Comments
In order to post a comment, you need to be logged in as a registered user of the site.
Or Sign up as a ToffeeWeb Member — it's free, takes just a few minutes and will allow you to post your comments on articles and Talking Points submissions across the site.
© ToffeeWeb