Report
City too slick for profligate Everton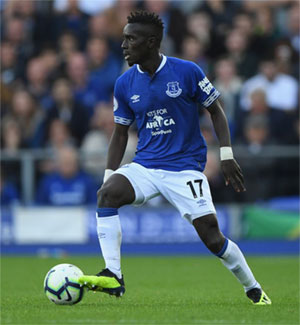 Idrissa Gueye was a doubt with a groin injury picked up in Monday's draw with Watford
MANCHESTER CITY 3 - 1 EVERTON
Everton got nothing from what is arguably their most challenging assignment of the season as their current run of poor results continues.

Everton made two changes from the draw with Watford last weekend. Kurt Zouma and Dominic Calvert-Lewin replace Idrissa Gueye and Theo Walcott, with Marco Silva switching to a back three.

Manchester City make four changes from Wednesday night in the Champions League. Riyad Mahrez, Fernandinho, Fabian Delph and Kyle Walker replace Raheem Sterling, Phil Foden, Alexander Zinchenko and John Stones, who all drop to the bench. Sitting in the dugout alongside them: Sergio Aguero and Kevin De Bruyne, back from a long injury layoff.

Gomes played a risky pass across the front of his box. Jesus nearly latched onto it, but Keane rescued the situation.

Everton force the first save. Sigurdsson powered past Fernandinho and slipped a ball down the inside-left channel for Calvert-Lewin, who turned and fired a shot towards the bottom right corner. It was going in, but Ederson fingertipped round the post. The flag goes up for offside, incorrectly, so Everton are robbed of the corner.

Calvert-Lewin nearly created some space with a dribble down the right touchline, but not quite. Sane romped back up the other end and cut into the Everton box from the left, but was well marshalled by Mina.

Everton are attacking with some verve. Digne whipped in a cross from the left; Coleman had a go from the right. City zoom up the other end, but Fernandinho passes the ball out of play. As City came forward, Jesus turned Keane but Zouma was across quickly to block his shot. That looked dangerous.

A lovely cross in from Digne was worth a goal from Richarlison in acres of space if he had headed it goalward but the Brazillian decided to welly it over the bar. Bernard made a good down the left, but his attempt to find Calvert-Lewin at the far post was overhit.

Digne had to foul Mahrez wide left of Everton's area,, giving away a dangerous free-kick, Jesus fired in the free-kick goalward, but his effort is blocked. It breaks to Delph, who pearls a screamer inches over the bar from distance. Gundogan got close but Pickford saved.

But it was only a matter of time: from a stupid short goal-kick, Mina's poor clearance was intercepted by Fernandinho and laid off to Sane, who slid a pass down the inside-left for Jesus. The striker takes a stride into the box, and lashes the ball in past Pickford, who had no chance. Three at the back exposed; Everton game plan in tatters.

Everton had played really well, failed to take a fantastic chance, and given up a really stupid goal and Everton now look a sad reflection of the early form. Vive la difference... City now in complete control while Everton keep giving the ball away in their own half.

Another crazy moment as Gundogan lofted a cross into the box, Keane sent it straight at goal and Pickford had to push the ball around his post with his fingertips.

Finally, a better response from Digne's free kick, a throw-in on the right. Richarlison and Coleman combine well, sending the full-back scampering clear. He fired into the centre for Calvert-Lewin, but Ederson read the danger and punched clear.

Everton resort to launching it long from the back, trying to make something for Calvert-Lewin to chase or flick on, but it's not really working. At the other end, Mahrez got into a great position on the penalty spot but hit it too close to Pickford. They did score in the next attack but it was flagged offside, the back three doing their job this time.

Mahrez pounced on a loose ball from Mina in the box and slammed a half-volley at goal, but Pickford saved it solidly. A typical half from Everton, starting brilliantly, squandering a fantastic chance, giving up a poor goal, and then strggling not to be overrun.

No changes from Marco Silva at half-time, leaving the dreadful Mina in place in the back three, the midfield over-run, and Calvert-Lewin chasing bouncing balls up front.

Sane clipped in a cross, Jesus beat Mina easily to head the ball easily past Pickford. 2-0. Game over.

With the little speedy players showing the way, it's a double change by Marco Silva before the hour: Bernard and Coleman are replaced by Walcott and Lookman.

But incredibly a goal out of nowhere, Calvert-Lewin forced the ball in past Ederson, probably off Delph, from a lovely cross in by Digne. 2-1.

But Sterling came on and soon made it 3-1, with another header, despite the three monster centre-backs in Everton's defence. Everton should have responded straight away after Lookman danced down the inside-left channel, then rolled a pass across the face of the box for Richarlison. He should at least hit the target, but sidefoots rashky well over the bar. So wasteful.

Lookman agin worked his magic, bursting down the left, reaching the byline, he put it on a plate for Walcott, who somehow shoots over the bar from all of 6 yards!

Delped lunged in on Calvert-Lewin with a really poor challenge worthy of a red but of course the Everton player booked (for afters) with the City player getting away with a yellow card also.

Third change of captain in game when Tom Davies came o for the tenaciously inconsequential Gylfi Sigurdsson.

Walcott zipped down the right, getting the better of Delph. He crossed low. Calvert-Lewin, on the right edge of the six-yard box, executes a dainty back-flick towards the bottom left. It's on target, and would be a delightful finish, but there's no pace on the ball and Ederson claims the ball. Everton have had their chances.

Lookman took the ball off Gundogan and sent Richarlison running in on goal. Richarlison looked to curl one into the top right but his effort was deflected out for a corner.

Everton were so much more lively since Lookman came on but at that point, the game was lost.

Scorers: Jesus (22', 50'), Sterling (69'); Calvert-Lewin (65')

Manchester CityEderson, Walker, Otamendi, Laporte, Delph [Y:77'], Bernardo Silva, Fernandinho, Gündogan, Mahrez (75' De Bruyne), Gabriel Jesus, Sane (66' Sterling).
Subs not Used: Stones, Aguero, Zinchenko, Foden, Muric.

Everton: Pickford, Coleman (57' Walcott), Mina, Keane, Zouma, Digne [Y:19'], Calvert-Lewin [Y:77'], Gomes, Sigurdsson (81' Davies), Bernard (57' Lookman), Richarlison.
Subs not Used: Stekelenburg, Baines, Tosun, Schneiderlin.

Referee: Craig Pawson

---
Reader Comments (210)
Note: the following content is not moderated or vetted by the site owners at the time of submission. Comments are the responsibility of the poster. Disclaimer
Christy Ring
1
Posted 15/12/2018 at 12:34:39
I can see us being overrun in midfield, Sigurdsson not strong enough in that position; hope I'm proved wrong.
Ian Lloyd
2
Posted 15/12/2018 at 12:52:44
Same old same old.
Ciarán McGlone
3
Posted 15/12/2018 at 12:56:59
Playing far too deep and keep giving the ball away in our own half.. a combination of disaster. They're going to have most of the ball... but that doesn't mean we have to drop so deep. 5 at the back was a daft choice.
Mike Allison
4
Posted 15/12/2018 at 12:58:59
Can anyone remember the last time we won with three at the back?
Jerome Shields
5
Posted 15/12/2018 at 13:00:00
Too deep and giving the ball away. I agree.
John Graham
6
Posted 15/12/2018 at 13:02:18
1-0 down already. I can see this being a long day.

Got to keep positive. We will get chances, just got to put one or two chances away. COYB
Ian Lloyd
7
Posted 15/12/2018 at 13:08:59
We have come for a draw at best – we can't score... only one result
We're just not good enough.
Ian Lloyd
8
Posted 15/12/2018 at 13:11:43
I'm sorry but Calvert-Lewin is just a younger Tosun.
If we don't recruit a striker in January, then I give in.
Ciarán McGlone
9
Posted 15/12/2018 at 13:17:40
Sigurdsson is abysmal. Give him and Mina the hook... get Davies and Lookman on.
Mike Allison
10
Posted 15/12/2018 at 13:19:17
How have you picked out Calvert-Lewin as the problem?! The mind boggles.
Going three centre backs, with no-one in the space in front of them and no-one around Fernandinho, has to go down as the first big strike against Silva. This is already the hardest game of the season; don't give your own players extra problems to cope with.
Dave Bowen
11
Posted 15/12/2018 at 13:19:49
The short goal-kick routine might be okay at home when teams are sitting deep against us, but away at Man City? Bloody suicide!
As for Calvert-Lewin's efforts at holding the ball up, simply embarrassing. Completely out of his depth. Even Tosun (who I don't rate) could do a better job.
Chris Gould
12
Posted 15/12/2018 at 13:21:26
The ref hasn't given us a free kick the whole game.
Mina has had a poor half. Zouma has been very good.
We have taken too many chances when playing it out from the back. If we can eradicate these silly mistakes, then it's not beyond us to get back into this.
Ian Lloyd
13
Posted 15/12/2018 at 13:23:41
Mike,
I haven't picked him out as the problem, there is more than Calvert-Lewin that isn't good enough, I'm simply saying that what other "top ten" team would play him up front?!!
If we put him up for sale, which top 6 club would come in for him? Answer is none.
Ernie Baywood
14
Posted 15/12/2018 at 13:28:40
I don't think we've got anyone better than Calvert-Lewin in that role. And not exactly the game to judge his worth.
He's done more dirty work than our out-of-position striker has in the last few weeks.
Jay Wood
[BRZ]
15
Posted 15/12/2018 at 13:29:33
Going with 3 centre backs in the absence of Gueye has left us without a terrier closing off Man City's passing lines. You HAVE to hold on to the ball when you get it off City, and we are not doing that at all, so the pressure on our backline is relentless.
It was all tidy enough for the first 20 minutes and Richarlison had a great chance to give us the lead, but Mina's ball out after receiving it from Pickford's goal kick... oh dear!
City did well, with their wide player closing off Mina's chance of playing it down his line and driving him back towards Pickford. But Mina HAS to do better with that ball out. It fell to a player in ample space, with players on the move and us a wee bit out of position.
Add that one to Mina's poor clearing header that led to Liverpool's goal in the derby (overlooked and forgotten due to Pickford's gaff).
Mina also looks the least disciplined in this back 3 set up, getting pulled out of position into midfield.
Silva was evidently livid at such a soft surrender. But he also needs to look at midfield, cutting out their passing at source and ensuring better possession when we do get the ball.
Otherwise, it will be all too easy for City.
Ian Lloyd
16
Posted 15/12/2018 at 13:30:09
No, we haven't, Ernie, I agree — and what a state to be in still after spending millions and millions — so annoying.
Ernie Baywood
17
Posted 15/12/2018 at 13:30:27
And Mina has been as bad as any defender I can remember.
He's looking every inch the clumsy giant we feared we were getting.
Mike Allison
18
Posted 15/12/2018 at 13:31:37
Calvert-Lewin's role in this set-up is practically impossible. He's doing as well as anyone could.
Christy Ring
19
Posted 15/12/2018 at 13:34:25
I questioned our midfield formation before the game; sadly, I'm proved right.
Sigurdsson isn't physical enough, can't tackle, he's a No 10, Fernandinho is controlling everything.
We need to bring on Davies or Schneiderlin... 3 centre-backs when you're chasing the game?!?
Chris Gould
20
Posted 15/12/2018 at 13:41:15
Smallest guy on City's team scores a header standing between Keane and Mina?!! How do we allow that to happen?
So frustrating.
Ian Lloyd
21
Posted 15/12/2018 at 13:46:38
Just so demoralising.
David Connor
22
Posted 15/12/2018 at 13:46:48
Far too easy. Not even competing...
Piss poor to a man. No spirit in the side at all — Bloody awfull!!!
Frank McGregor
23
Posted 15/12/2018 at 13:51:15
Sorry but Mina is not suitable for the Premier League style of play. A big mistake bringing him in to Everton.
I am sure John Joe Kenny would do a better job. We look like we are playing like Hull City today.
Christy Ring
24
Posted 15/12/2018 at 13:52:01
We wait until we go 2-0 down before we change to a back four; Mina should be off.
David Connor
25
Posted 15/12/2018 at 13:55:25
Not rocket science football. Have a go and you have a chance...
Fuckin' Hooray.
Chris Gould
26
Posted 15/12/2018 at 13:59:24
So that's another header from a tiny City forward. Again, how is that allowed to happen?
Mina has been awful. Not sure if it was him or Digne who should've picked up Sterling. Shocking.
John Graham
27
Posted 15/12/2018 at 14:01:57
Great substitutions and a deserved goal.
We can do this...
I believe in Father Christmas!
Ian Lloyd
28
Posted 15/12/2018 at 14:02:32
We can't hit a barn door — Walcott and Richarlison missing sitters again!
And our goal was an own goal — it was going wide before it flicked off Delph.
Ralph Basnett
29
Posted 15/12/2018 at 14:03:26
No passion, no heart, no fooking idea!!!
Where is the team that played so well against Arsenal, Man Utd and Liverpool?
Coleman is done, Sigurdsson is done, Calvert-Lewin only scored because it came off a defender.
All-in-all, another inept display. Spurs next... so another home defeat — I fookin' hate Everton!!!!!
Christy Ring
30
Posted 15/12/2018 at 14:19:40
Fernandinho has the freedom of the park, walks through and sets up Sterling's goal. I said it before the game, we had no physical presence in midfield, and Silva made a huge mistake playing Sigurdsson beside Gomes. Hopefully McCarthy is not far away, because he's the only option to replace Gana.
Jim Bennings
31
Posted 15/12/2018 at 14:22:47
Why is anyone shocked? Same shit, different season at Everton.
Before people start talking about transition, EVERY season is transition at Everton and nothing every changes.
Chances are we'll be still talking about transition this time next year and the year after and the year after that probably still awaiting a win home or away to the top six.
Ernie Baywood
32
Posted 15/12/2018 at 14:22:52
Jeez... Calvert-Lewin can't win, can he? Best goals per minute at the club, works his socks off in shitty jobs, and still can't get any credit.
I'll tell you one thing: Richarlison's efforts would have needed a hell of a deflection to hit the target. For some reason we don't want to talk about how abject he's been over the last month or so.
Ralph Basnett
33
Posted 15/12/2018 at 14:23:34
Words to describe Everton's performances in the last three games:
Gutless
Passionless
Heartless
Clueless
The pattern here is the last four letters — all LESS!!!!!!!!!
Fookin' terrible.
Ian Lloyd
34
Posted 15/12/2018 at 14:24:42
Jim @31,
I completely agree.
Mediocre after mediocre.
Mike Allison
35
Posted 15/12/2018 at 14:27:36
Just hold off taking out your frustration on any of the players individually. They were hamstrung by truly appalling management today. I know we don't want to hear it because we've pinned hope and faith on Silva, but he got that completely wrong today.
Even when he belatedly went to a back 4 he took off Coleman and played a centre back out of position. There was never a player protecting the centre-backs at any point and Fernandinho was never challenged or pressured at any point.
Getting away with a two-goal defeat, under those circumstances, means the players actually must have done some things pretty well.
Jamie Crowley
36
Posted 15/12/2018 at 14:34:03
Mina, after today, must be dropped. He was awful. Again, we must be ruthless in our decisions and approach. If he's not dropped after today, it sends a poor message to Zouma and Keane in my opinion.
We simply have to find a striker. Have to. Too many chances not finished. We have to finish out chances against the best sides – we need to be ruthless.
Gana missing was massive.
Unlike probably most, I saw some positives today. We aren't a million miles off.
But we simply have to beat some of these "top 6" sides come Spring. Most have been away games. Spurs at home – that's a game to really right the ship. Win that home game, we start a resurgence. Lose, and it's just more of the same – we can't beat the top sides.
David Connor
37
Posted 15/12/2018 at 14:34:03
Let's face it, Man City hardly broke sweat and scored 3 goals. We were poor from first to last minute. No belief. No desire and no fuckin' idea.
Walcott, Coleman and Sigurdsson offer nothing whatsoever to the team and need to be replaced in my opinion. Fuck the £45 million fee we paid for the Icelandic International — he flatters to deceive and is worth nowhere near the fee we paid for him.
Another defeat more than likely next week against Spurs. This team will be lucky to finish top 10 — never mind top 7.
Very poor yet again. Silva has a huge job on his hands, make no mistake. We are a poor outfit.
Danny Broderick
38
Posted 15/12/2018 at 14:37:30
I thought the manager got his tactics all wrong today. Playing 5-4-1 was asking for defeat, basically letting them have the ball. We were poor for 60 minutes. The manager then went to the opposite extreme, 4-4-2 with Gomes and Sigurdsson in centre-midfield. We were too open. Still, I thought we played well in the last 30 minutes. We had a go, and not many teams have created that many chances away at Man City.
A very mixed day, but our best moments only came when the game was effectively over. I thought we could have got a point there today if we had had a go from the start. The manager seemed to start with Moyes - Koeman - Allardyce tactics, as opposed to Marco Silva tactics. Frustrating, but we won't be the only team to lose at City away this season.
Ernie Baywood
39
Posted 15/12/2018 at 14:37:39
Hindsight is 20/20, Mike.
What I will say is what I've said before, holding Silva up as a tactical genius is plain wrong. He's more Moyes than Guardiola. He's got a style of play and his adjustments are from the short version of the Penguin Book of Football Management.
I don't necessarily mind that. The last thing this team needs is an over-complicated methodology.
Today... well, I wouldn't have gone for 3 at the back. I probably would have gone for Davies in the middle for some energy, Richarlison on the left and Calvert-Lewin up top. Walcott or Lookman on the right.
Who knows, maybe that team would have got their pants pulled down.
Max Murphy
40
Posted 15/12/2018 at 14:37:48
Thank you, Everton, for your fantastic Pantomime performances in the last 4 games, in this festive season.
George Cumiskey
41
Posted 15/12/2018 at 14:38:17
What team 3 -1 down with five minutes to go tries to play it out from the back?
I'm afraid I'm losing confidence in Marco — he doesn't seem to learn from his mistakes: he keeps picking Sigurdsson when he's been a complete passenger for weeks.
Dermot Byrne
42
Posted 15/12/2018 at 14:38:42
Ralph... we were not passionless at Anfield. Far from it. Let's not rewrite history when we are disappointed.
Ernie Baywood
43
Posted 15/12/2018 at 14:41:01
Dermot, I don't think we've ever been passionless.
Even today, what do you do? Every time we tried to press high City just ripped through us.
Hate to say it but today was like taking a knife to a gunfight. We needed luck – and when we got it, we didn't take our chances.
Alan J Thompson
44
Posted 15/12/2018 at 14:42:54
What a load of rubbish!
Silva's Idea of parking the bus when all that was needed was Davies replacing Gana. The three central defenders meant that none of them knew where they were actually meant to be or doing and, Pickford's saves aside, only Keane and Calvert-Lewin were coming out with any credit until the substitutions on the hour mark.
Man City rarely got out of second gear. Bernard, Gomes, Sigurdsson and Richarlison looked out of their depth and little if any support was seen when we went forward.
I'm yet to be convinced that Silva isn't just another Martinez and this reeked of another knife to a gunfight. I'd rather be hammered trying than going down like this.
John McFarlane Snr
45
Posted 15/12/2018 at 14:43:21
Hi Ralph [29] and like-minded fans, the remedy is in your own hand: find another Saturday afternoon pursuit. Watching your favourite team lose a game is disappointing, but in life far worse things happen.
Tony Twist
46
Posted 15/12/2018 at 14:43:24
Pathetic and embarrassing. Even after a lot of money spent we are struggling to find teams to beat. Looks like December is going to be a nightmare of a month. Too much nowadays Everton are comfortable losing matches.
Mina really needs to take a long hard look at his performances: maybe the Premier League is too much for him. Let's hope he has the strength of character to pull himself and this team around because, at the moment, he is possibly the weakest link.
Kieran Kinsella
47
Posted 15/12/2018 at 14:44:57
Fair enough, we lost to City's world all star team. The problem is, we have been dropping points against the lesser teams. If you want top 6, then when you draw against Huddersfield and Newcastle, you have to make up for it by getting an unexpected win at Man City, Arsenal, Liverpool etc.
If you lose the games you expect to lose, and you draw and lose some games that you expect to win, then your running the gauntlet of mid table mediocrity where a few points separate about 8 teams. One of those jammy teams will get 8th place, one will get 15th. It's the difference of a point or two. But the step up to the top 6 is huge.
Phil Smith
48
Posted 15/12/2018 at 14:47:25
So frustrated (yet again!) after that. We could have really got something there if we took our chances and believed a bit more. Too many players out of form getting game time. Mina was a fault for ALL their goals and needs to be dropped. Secretly hoped he's get a red at the end. Lookman HAS to start in front of Bernard. Coleman needs a rest.
My team next week would be:
Pickford
Kenny Zuma Keane Digne
Davies Gomes
Sigurdsson Richarlison Lookman
Calvert-Lewin
Kieran Kinsella
49
Posted 15/12/2018 at 14:48:03
As for Mina... Materazzi anyone? Good player, but can he adjust to the Premier League? He wasn't great in the last game either. He may be one like a David Luiz where he suddenly gets to grips with it and does well. But he may also end up being a Veron, someone good who never quite settles here.
Mike Allison
50
Posted 15/12/2018 at 14:49:54
It doesn't take hindsight to see my points, they were obvious. When I saw the line-up before the game, my heart sank. Silva seems to be trying to keep three centre-backs happy instead of picking the right team.
Surely anyone can understand that you don't go into the most difficult game of the season changing your own tactics so that your familiarities and understandings disappear?
Frank Sheppard
51
Posted 15/12/2018 at 14:50:42
Predictable result with no points, some good bits, such as being on top for first 15 minutes agains ta super team who are usually fast starters. But — and it's a very big 'but' — at 2-1, the conclusive goal is from a Sterling header FFS!!!! Oh for Moyes to come back as defensive coach... which seriously would be a lot better than it sounds.
John Keating
52
Posted 15/12/2018 at 14:51:41
We had chances and could and should have taken them. The thing is had we got a second City would have just upped their game another 1% and got another – it was really that easy.
We are determined, regardless of how our players are marked, to play the ball out of defence. All well and good if we have players making space and supporting others. We don't.
We have Gomes, Keane, Mina, Zouma, Calvert-Lewin, Sigurdsson all over 6 foot and we still can't beat the first defender. Not just today – it's been an issue all season.
Lastly. Well what can anyone say about our passing? Abysmal... and there can be no excuse. From the start to the finish, it was woeful. This has nothing to do with having the best players in the world – it's bloody basic and we have trouble with it.
I was really hoping that, after the Newcastle and Watford debacles, we would leave the Etihad, yes, having lost, but at least with our heads held high after giving them a good, hard, close game. Dream on.
Joe McMahon
53
Posted 15/12/2018 at 14:51:42
Neutrals used to have a soft spot for Everton because they were not Liverpool. Over the last 20 years, this has changed, as Everton are a nothing club, who win nothing, never play in Champions League, and whose stadiumis a dated dump.
Something has gripped this club since Joe Royle left, the only word I can think of (off the top of my head) is 'mediocrity'.
Marcus Taylor
54
Posted 15/12/2018 at 14:58:23
Kieran #47,
Exactly. The 'Top 6' away, we usually get nothing. The 'Top 6' at home might yield the odd win here and there but, effectively, the bulk of our points will come from the other 26 games – which is why taking just 3 points from home games against Huddersfield, West Ham, Newcastle and Watford is simply not good enough. A side with supposed 'Top 6' ambition should be taking at least 10 points (minimum) from those fixtures.
Jay Wood
[BRZ]
55
Posted 15/12/2018 at 14:59:54
The changes Silva made at 2-0 showed how we should have started the match, albeit with different personnel on the park from the starting XI.
I hope this puts to bed for a while the belief among some that 3 centre backs is a good idea. Bin it, please.
Going 4-4-2 (or 4-4-1-1, if you prefer) we were much, MUCH more in the match as a result and at 2-1 we suddenly had a sniff of taking something from the game.
(And Ian Lloyd @ 28, it's pretty graceless of you to claim Calvert-Lewin's goal was an own goal and going wide, rather than offer any praise – however grudging – to his contribution. Dom played as well as anyone in Everton Blue today. Care to comment on Richarlison's contribution today, by comparison..?).
Leaving the 3 centre-backs on the pitch proved our undoing on the third goal with players not adjusting well. Clearly, Zouma had assumed the right-back position with Coleman's withdrawal, but facing a City counter, Keane covered the right-back position, Zouma got back to front-post centre-back position with Mina nowhere... and – for the second time in the game – one of the shortest players on the pitch headed in their third.
The positives are that, reverting back to the formation that has served us well all season, we carried more threat. Annoying, then, that Silva 'blinked' and went with a formation at the start to contain City, rather than play our game as he has until now.
I believe it is time to give both Lookman and Calvert-Lewin an extended starting run in the team. If Lookman can produce from the off what he brings coming on as sub and if Calvert-Lewin can display the control, the hold-up play and the finishing he is capable of, the team will be better for it.
Oh! And Keane and Zouma as the preferred centre-back pairing, please. Mina found wanting on all 3 goals today and was lucky to escape a red card, putting his head into the City keeper at the end.
Ray Said
56
Posted 15/12/2018 at 15:05:43
In my view, he should have stuck to his favoured formation and then replaced Gana with the nearest like-for-like – probably Davies – yes, I know he has his detractors but, in style, ground covered, and hustling, he is probably the nearest to Gana. Instead, we get a change of formation. Wrong choice by Sliva, I think. We may still have lost by a couple of goals to a very good team.
Derek Knox
57
Posted 15/12/2018 at 15:05:59
Maybe I am just an optimist but I thought, considering they are the best side I the country, we didn't do that bad.
Okay, the three at the back idea just didn't work, but we did create chances – admittedly they should have been more clinically dealt with. We are still giving the ball away cheaply with misplaced passes and panicky clearances.
I still believe we have a decent nucleus of players and never thought for one minute that the transformation would happen overnight.
Another window, another clear-out with a few additions with competition for places, and we will not be that far away. Let's get things in perspective, it took Man City a while to get where they are now.
David Hallwood
58
Posted 15/12/2018 at 15:06:53
Jay (#55), you've just beaten me to it. 3 at the back and get done by 2 free headers from players both under 5'-8" as you said. Either play like that or bin it and my vote is bin it.
George Cumiskey
59
Posted 15/12/2018 at 15:08:25
I don't know why people are blaming everything on Mina, what about Keane and Pickford, and some posters on here are still putting Sigurdsson in their teams. Mind-blowing!
Andy Walker
60
Posted 15/12/2018 at 15:08:52
Mate of mine who's a City season ticket holder said we had chances but couldn't convert them. Richarlison missed a sitter at 0-0 and then another second half. You've just got to score those when you're away at City.
David McMullen
61
Posted 15/12/2018 at 15:09:16
City too slick? Rubbish. We were shocking.
City were hardly at their best.
We've lost our way and Silva needs to sort them out fast.
At least that's the end of the away "big 6" until the last game of the season.
Jay Wood
[BRZ]
62
Posted 15/12/2018 at 15:10:56
Hang on! Other than Mina's woeful clearance for the first, the passing out from the back didn't hurt us today. That isn't the problem.
Indeed, take a look at where our goal starts from - very brave, tightly marked, sharp passing with City players pressing between Digne and Gomes deep in our left-hand corner took opposition players out of the game and saw Everton quickly advance in numbers and created space for Lookman to cross and Calvert-Lewin to score.
Where we abjectly failed today was maintaining possession, especially in midfield, when they did receive the ball. That, and the absence of Gueye cutting off City's passing lines.
Play Lookman, Calvert-Lewin and (if Gueye is still absent next week) Davies against Spurs and see how it goes. Lookman and Calvert-Lewin need an extended run in the team to discover their worth to us.
Ian Lloyd
63
Posted 15/12/2018 at 15:11:54
Jay, not graceless — fact, it was going wide.
He, along with about 6 others, wouldn't get in any other top 6 side. Simple.
Something completely wrong at this club and has been for a very long time.
Steve Ferns
64
Posted 15/12/2018 at 15:15:20
Spot on Jay.
Ian, what are you on about by "something very wrong at this club and had been for a very long time"?
What on earth does that even mean?
Jamie Crowley
65
Posted 15/12/2018 at 15:16:10
Yes, the three at the back was awful. They completely controlled midfield.
Someone earlier said Silva missed the trick by simply just playing Davies for Gueye.
I agree.
And no, Derek Knox, you're not alone. It was a bad day, but we're still moving in the right direction. It's painful to continually say that a la broken record after the last four games, but it's true.
Steve Ferns
66
Posted 15/12/2018 at 15:17:02
Listen to Mourinho, Sarri, Klopp and now Guardiola. I can't remember the last time opposition managers were so complimentary about us. It highlights how good we actually are. But some just want to moan.
Kieran Kinsella
67
Posted 15/12/2018 at 15:17:52
The squad is imbalanced. I know Lyons had a scatter gun approach but I don't think we did enough last summer to address that.
Gomes and Bernard, for example, are good but you need some balance in midfield. Gana is the only one who can tackle, Sigurdsson is the only one who scores. So we have Gomes, Bernard, Davies, Schneiderlin, all of whom have a bit of skill, and can pass but you cannot rely on having one midfielder in the squad who can tackle and one who can score.
Then we have Walcott, he was always profligate with his finishing. His weapon was pace. He is older now, he was 29 when we signed him so he doesn't have the greyhound pace he had at 19 or 20. It is similar to when we signed Aaron Lennon. The difference being that Lennon, having lost his pace, at least worked incredibly hard. So, even if he wasn't producing a lot, he was setting a good example to his teammates.
Tosun is a generic Crystal Palace type striker who could be a superstar in some of the weaker leagues but just isn't good enough or ruthless enough for the Premier League. Having sunk £40 million into those two less than a year ago, I can't see us having a big spend when we are still carrying deadwood (albeit we hope they never return from loan... eg, Mirallas, Bolasie etc).
I think in the summer we erred when we got Mina and Zouma. One would have been enough with Jagielka and Holgate still in the squad. Likewise, Bernard seems like one who we got just cause there was no fee. We didn't need him with Gomes, Davies, Sigurdsson, Lookman, Richarlison and Walcott all able to do anything he does. We should have got a scoring midfielder, and a tackling midfielder.
Steve Ferns
68
Posted 15/12/2018 at 15:17:52
Jamie, I agree. I hate 3 at the back.
Jay Wood
[BRZ]
69
Posted 15/12/2018 at 15:18:00
Ian, you clearly struggle to discern the difference between 'fact' and 'opinion' and, it seems, basic physics and the trajectory of the ball.
Goal awarded to Calvert-Lewin and not referred to the disputed goals commission is all you need to know.
A real bugger to your 'opinion' that Calvert-Lewin's goals to minutes played ratio in the Premier League is the best at the club this season.
Now that is a 'fact'.
Dave Ganley
70
Posted 15/12/2018 at 15:19:10
Have to say, I have been a big advocate of Silva since he's been here but today was very poor. We were second-best everywhere. We didn't harass them up top, the midfield was overrun, and the shocking 3 at the back was awful. The big chance we had, what on earth possessed Richarlison to try and volley it? It had 'header' all over it.
The difference between the Liverpool game and this was stark. We looked frightened to death most of the time just backing off. Where was the fight and heart? We let them do whatever they wanted. I get that they are a quality team but surrendering like that, well that's the most disappointing aspect of today. It wasn't much better than the disaster last season at our place against them. Give them the ball like that and we don't stand a chance.
After all the good work that's been done this season, this was a real setback. I'd like to think that the players and manager are fuming due to their awful performance and bad tactics but I'm not so sure... It'll be put down as "no disgrace to lose to such a good side" blah blah blah. I wonder what would happen if teams didn't respect Man City too much, got in their faces, were nasty, didn't give them any space to think? They may still win but, crikey – we don't have to concede the game to them. We took it to Liverpool but shrivelled badly against the Man City B team.
Mina has only just got here and only played a few games so we should give him a chance but today he was terrible. Way too casual and giving the ball away in shocking areas. Calvert-Lewin may turn out to be a decent centre-forward but not at the moment. What little service he got was wasted. He didn't hold it up and didn't bring anyone into play. Coleman was poor, passing and crossing pretty awful. I thought Gomes was okay but we just weren't a unit. We were back to playing as though they had only just met. Bernard needs to toughen up; he was pushed off the ball a lot.
Hopefully they will play this video nasty all week and resolve never to play 3 at the back again. We need to realise that you can't surrender like that. It's no wonder that Man City have been undefeated for so long at home against the so-called lesser teams, they are beaten before a ball is kicked – and I include us in that lengthy list. That's the worst part of today's defeat: we were beaten before the kick-off. Yes, we can point to Richarlison's miss but would that have made a difference? Probably not... and, in any case, he missed... so moot point. Gutless and cowardly today and I hope never to see that kind of surrender again.
Ian Lloyd
71
Posted 15/12/2018 at 15:20:03
Steve,
As in we've spent millions and millions and haven't improved one bit – always going to finish 7th or 8th and always happy with mediocre.
I've supported Everton for 25 years and travelled miles as I love the club and always will but cannot understand why people can't see how poor we are and constantly defend mediocre players, managers and performances.
I'm not saying this to annoy or fall out with anyone – I'm just so fed up with not being able to enjoy a season.
Ian Lloyd
72
Posted 15/12/2018 at 15:21:23
Goals-to-minutes ratio? Hahahah!
Don't make me laugh...
Paul Tran
73
Posted 15/12/2018 at 15:22:02
Groundhog day all round.
Started well, missed a good chance, conceded a poor goal, on the back foot. Pulled one back, then concede straight away.
You can get away with poor performances like today's if you have players who can score the chances we created today and at Anfield, Old Trafford, The Emirates and The Bridge.
We need a goalscorer, like the one we sold a couple of years ago. We need a physically strong, dominant centre-midfielder who can pass the ball.
Jamie Crowley
75
Posted 15/12/2018 at 15:23:54
Jay, Steve, and others -
Regarding this passing out from the back, it is hurting us in my opinion in this way:
There's not enough options! I can't count the number of times I saw an Everton player with the ball moving forward and having no options!
I don't know what the answer is – movement off the ball by our forwards probably – but we simply have to have more options for the back line to play the ball forward.
That being said, Pep is a master at reducing options for the opponent, and I'm sure that factored into it as well.
Martin Berry
76
Posted 15/12/2018 at 15:24:01
Extremely poor defending for all three goals also allowing a smaller man to out jump our towering defenders is just inexcusable. I thought the last 20 minutes we were good and created chances and actually took the game to them.
The best thing to come out of this game is that Lookman and Walcott can both play in the same team, their presence changed the game as it wore on.
Steve Ferns
77
Posted 15/12/2018 at 15:25:21
What on Earth are you on about, Dave. We had chances. We gave it a go. We kept at it until the end. We never gave up. Silva never gave up. We never surrendered. xG has it 1.86 to 1.81 to sum up just how many good chances we had.
Bottom line is we were up against the 100-point Premier League Champions at their own ground on the way to another 100-point season. Their bench was worth almost £200m and our team is 4 months into a rebuild.
I think it wasn't that bad all things considered.
It's about progression which means getting better and better. Sure we've slipped backwards in the last couple of games but let's see what happens in the five games after Spurs.
Paul Birmingham
78
Posted 15/12/2018 at 15:25:41
Another day of disappointment and too many self-inflicted mistakes and we got cut up. We don't take our chances when presented and so I see a frustrating season panning out or until we get a proven centre-forward and more guile, guts and craft in midfield.
Too casual for me off the ball, and it's got to be blood, sweat and guts just to stand a chance at this level, and then to use the ball well.
All not lost but the cross bar is adjusted and Pickford will too learn a lot from positioning sense and angles. Seamus had little protection, but I sense his confidence is eroding rapido.
Big descisions next week as Spurs will go for the kill early doors. We can't have a repeat of last season's game
Somber times for Evertonians but the team now needs backbone and fight, where we get it from will be interesting.
Jay Wood
[BRZ]
79
Posted 15/12/2018 at 15:26:04
Ian @ 72:
"Goals-to-minutes ratio? Hahahah Don't make me laugh."
Evidently, I just did.
Get back to me when you can offer some genuine analysis, Ian, rather than repeating tired old cliches.
Tony Everan
80
Posted 15/12/2018 at 15:26:51
Man City have got too many good players, we cannot match them. It was a side without David Silva and with Aguero, De Brunye and Stirling on the bench.
Saying that, if we took our chances, like they ruthlessly did, we may have got something out of the match.
I am not too despondent; that's about as tough as it gets.
Positives? I think Lookman now has to start and Calvert-Lewin did okay in the circumstances; he will get games over Christmas. I want him to stake his claim to be a starter.
Ralph Basnett
81
Posted 15/12/2018 at 15:29:49
Dermoptera (42), Newcastle, Watford, City = 3 games 😂👍
James Hughes
82
Posted 15/12/2018 at 15:30:07
The Manchester City project started just over 10 years ago. It took them 2 years to win the FA Cup, the following year for the Premier League. That was them spending and wasting money like there was no tomorrow.
For example, 9 years ago, they spent £22 mill on Lescott; how much did we spend on Mina? Fans demanding things NOW need a dose of reality. £220 mill for Neymar, £140 mill for Coutinho – even Juve spent £90 mill on an ageing Ronaldo. We spend £90 mill on three players! I have said before – we ain't shopping in Harrod's.
For all of us dreamers, we need another huge investment and quite possibly another Rooney quality academy player to break through. I will continue to live in hope and pray Brands finds a gem or two.

Steve Ferns
83
Posted 15/12/2018 at 15:30:26
Forget league position. This is a transition season. It's about improving performances and closing the gap on the top 6. Were doing that.
Last season we got 8th with 49 points. We lost more than we won. This season I want / expect 55+ and to win more than we lose. The gap was 18 points or so. Get that into single figures.
Then next season we close that gap further and hopefully gatecrash the top 6. That's progression, forget league position. It's all about getting better and better season by season. We are getting better and better. Remember last season when Man City destroyed us at Goodison in 30 minutes. Well this was better and we were away. Progression mate. It is happening.
Ian Lloyd
84
Posted 15/12/2018 at 15:30:58
Jay, not here to fall out with other Evertonians – I'm just so pissed off with it!
Apologies if I come across as "argumentative" – not meaning to be, just born out of frustration!
I'm at the Spurs game next week, if you fancy a pint and a discussion?
Alan J Thompson
85
Posted 15/12/2018 at 15:39:03
I don't give a shit who they have on the bench, out injured, suspended or just couldn't give a shit; we have to try more than we did today! We gave up before the toss of the coin!
Steve Ferns
86
Posted 15/12/2018 at 15:42:18
If you call that giving up, what did you call every game under Allardyce where we never even had a shot? We wouldn't even cross the halfway line with the ball against a team like Man City.
Phillip Warrington
87
Posted 15/12/2018 at 15:46:06
Same old... defeat here, lose to Spurs next week...
Are we really getting better or have we just got a couple of better players than last season?
Mike Keating
88
Posted 15/12/2018 at 15:49:15
The difference between the teams was the quality of passing – they were faultless and we woz shite. They also have clinical finishers and we don't.
Doesn't help when Pickford decides to play the ball to Mina on the left of the box when the easier option was blindingly fucking obvious.
ps: I didn't realise Sigurdsson was on the pitch until he was yanked off.
Drew O'Neall
89
Posted 15/12/2018 at 15:49:53
Walcott's best performance so far.
Lookman did well. Good to use a 'technical' game to give him and Calvert-Lewin minutes.
Mina's concentration and decision making leaves something to be desired.
Zouma and Keane are the premier centre-backs.
Coleman and Bernard played well until they were hooked.
Victor Jones
90
Posted 15/12/2018 at 15:52:21
Steve Ferns Remember last season when we drew 1-1 with Man City.
We can all use pointless "remember last season" comments.
Remember that we beat Watford and West Ham and Huddersfield and Newcastle all at Goodison. Remind me how we did this season.
But the football is better. So everyone keeps saying. Especially Mr. Ferns. Shame about the results though.
Ok .I know that we are a work in progress. We are always a work in progress. But we need to start winning some matches.
I'm getting fed up with punters telling me that we are playing better really.
A few scrappy 1-0 wins now over Christmas would do me. Then come January Mr. Ferns can tell us how beautiful we are when we beat Lincoln City 4-0.
Just start winning a few football matches. Win dirty if need by.
We will dissect everything come May.
Isn't football all about results? Even though some punters on TW think it's all about entertainment. Go and watch Bruce Springsteen then. He's entertaining. Everton are not.
And no guarantees that the next few seasons will prove to be any different. We are all just hopeful. Nobody knows anything.
Derek Knox
91
Posted 15/12/2018 at 15:53:50
Just watching the Spurs v Burnley game, still 0-0 but as they are both our opponents shortly, I don't see why we can't get a result against them both.
Chris Watts
92
Posted 15/12/2018 at 15:53:59
The comments here lol. We've lost to the best team in the Premier League away and created at least 5 great chances... but, yes, let's write off the manager and half the players.
Can no-one remember the dross from last season. Thrashings and games that end with no shots on goal.
Our finishing was appalling again and there were defensive lapses but Man City have destroyed Man Utd and everyone else — in my opinion, we do need a world class goal scorer and a new right back but to suggest we were awful just isn't correct.
Ciarán McGlone
93
Posted 15/12/2018 at 15:54:13
Of course it's a transition season... that hardly mitigates unforced errors and dozy tactics and formations.
Alan J Thompson
94
Posted 15/12/2018 at 15:54:33
Steve (#86); What does that comparison have to do with today's game?
In case you missed it, Allardyce wasn't at today's game and the majority of players weren't at Everton when Allardyce was.
How far back do you want to go?
Dave Ganley
95
Posted 15/12/2018 at 15:57:08
Steve, I agree with you to an extent about a season in transition and vast improvement this season compared to last; however, we lost this game with the set-up and tactics. Yeah, we had a go when the game was all but gone but you can't give Man City a 2-goal lead.
The first half, with the exception of our chance, we were completely like rabbits in the headlights. Hardly got near them. Their back 4 had such an easy time of it passing it out it was embarrassing.
This was completely an anti-performance compared to what we put up at Anfield. That's why it's so disappointing today because we know we can do so much better.
A 3 at the back was and always is a white flag for me because it just invites the opposition onto you. Given correct personnel, then it may be great... but we don't have them.
Midfield was a shambles. We were overrun and bereft of any ideas when we had the ball. Having a go when you're chasing a game and have nothing to lose doesn't constitute being brave and taking it to the opposition. Do it from the first whistle and you may have a point.
I'm not losing sight of the fact that we have improved immeasurably but today was very poor on every level. We showed way too much respect and only really had a go when we had virtually lost the game.
Chris Watts
96
Posted 15/12/2018 at 15:59:19
Alan, I suggest you reread Lyndon's reviews if the matches last season. I did and it is painful reading. We literally went 4 games without a shot in goal. We had no pace in the team and got hammered on a regular basis. That is in this calendar year, it doesn't seem unreasonable to go back a year and comment on the overall improvement.
Christy Ring
97
Posted 15/12/2018 at 16:00:31
We were playing the best team in the Premier League today, and Silva totally played into their hands.
I wrote the first comment on here today, when I saw the team sheet before the game. How he could start with Sigurdsson beside Gomes with Gana out was ludicrous, Fernandinho must have been smacking his lips, probably the easiest game he'll have this season.
I still don't understand why he brought off Coleman instead of Mina when we went to a back four. Hope he'll learn from his mistakes with Spurs next.
John Pierce
98
Posted 15/12/2018 at 16:03:02
I hope Silva holds his hands up and concedes his formation had us playing with one hand tied behind our back.
The players for there part hampered by a formation which limited their strengths were not good. Where that lines blurred between them and the manager is hard to see. To introduce a system like that away to the best team in the league was utter folly.
The change of formation instantly gave us more vim and our personality returned. Whilst ultimately we were more open the players looked far more comfortable.
After that we created more than City in the last 25mins. A City side that really were quite average by their standards.
So it feels like another hard-luck story, the lack of clinical edge leaves us having to play error-free at the back. Our ability to pass was moribund today, a key factor in our malaise.
Sigurdsson, invisible. Coleman needs dropping. Zouma the best on the park for us. Calvert-Lewin & Lookman deserve a run in the side.
Three at the back, Marco — every time you think it, bin it!!!
Dave Lynch
99
Posted 15/12/2018 at 16:05:10
Bluntly... It wouldn't have mattered what formation we played, they are far superior in every department than us.
That includes the coaching staff.
Rob Dolby
100
Posted 15/12/2018 at 16:05:28
Once again, we had our chances which we couldn't convert against one of the big boys.
It's all about the quality and we are 3 or 4 short against a team like City; even if they are weakened, they won comfortably.
We didn't keep the ball well but still had chances. Mina didn't have a great game; not sure the 5 at the back suited anyone.
Jesus: 2 chances, 2 goals.
Alan J Thompson
101
Posted 15/12/2018 at 16:05:46
Chris (#96); I repeat, what does that have to do with how we set up and played today? We were hammered by a side that didn't put all their effort in to it or needed to and were playing their second game in 3 days. So, let's go back shall we to the game under Koeman when we thrashed them 4-0. Or doesn't that have a relevance?!?
Eddie Dunn
102
Posted 15/12/2018 at 16:13:18
I wanted us to play three at the back against Watford, who have big strong players. Today, I was amazed that Silva decided to go with it.
Obviously there were errors all over the park which contributed to our demise. On the whole, though, it was plain to see that we were awful in the second half on Monday and for most of this afternoon. Lookman had his moments and showed just how poor Bernard was.
The main problem remains our lack of cutting edge. Calvert-Lewin did okay but Richarlison and Walcott missed chances that you simply have to take to get points at the top table.
If I might point a finger at one player, it woud be Pickford. His two notable saves were almost straight at him, he misjudged his angle when coming off his line to Jesus, and he jumped out of line on Jesus's sharp header. Add to this a dependence on his 3 big centrebacks to deal with balls in the air. Just come out and take them, lad! Also, he again demonstrated one good kick out but sent several into touch.
Mina was gash and Zouma with Keane should get the nod. Does anyone know if Coleman was injured? Why take him off and play Zouma at right-back?
I thought we'd lose but to those who think we were ever in it – get real! City took their foot off the gas; if Sterling had been on from the start, we would have been embarrassed. When Man City tried, we couldn't get near them. However, they are the best team in the Premier League.

Steve Ferns
103
Posted 15/12/2018 at 16:26:26
I suggest some of you go and listen to or read the comments of Guardiola. You clearly saw a different game to him.
Paul Birmingham
104
Posted 15/12/2018 at 16:26:59
Until we can keep composure and tempo, and have a clear Plan A and B etc for game scenarios we'll struggle, but there's a massive improvement on the utter garbage of last season.
Year on year, all the top teams generally spend and improve... perhaps Spurs didn't do that much business preseason. All the time, it gets tougher, but we must keep believing. It seems that we need to win dirty or win well v Spurs but go at them and put the chances away.
Every game this season, we've spurned excellent chances and lacked belief when in good positions. the difference today was that Man City have a total drive and belief and professionalism, not often seen in a generation.
A massive dose of hope and belief and hopefully a crowd that will kick in before kick-off and see it through to the 97th minute.
I'm expecting Harry and Dele to be taking the piss, falling over in the box, so I hope the team is drilled. Big stakes next week.
John Boswell
105
Posted 15/12/2018 at 16:30:52
Well, the view from my seat reveals:
1. A new team that has not yet played a half-season together. It can only get better!
2. Half of this team is new to the Premier League. They can only get better!
3. Everton have restructured their management, from top to bottom this summer. Change has happened and things will only get better.
I am certain that our team will harvest more points from the reverse fixtures in the second half of this season, thus proving that things have got better.
Finally, we will be getting a fantastic new stadium on the banks of the Royal Blue Mersey, very soon.
The sleeping giant that has been Everton FC is awakening. COYB.

Andy Meighan
106
Posted 15/12/2018 at 16:31:02
Steve Ferns @66 — what do you think Klopp, Guardiola and Sarri etc are going to say? That we are fucking ordinary??
And do you honestly think only for Pickford's aberration that Klopp would have been so complimentary??? Not a chance!!!
The truth is, we are an ordinary side and, once again, are fighting for the Best of the Rest title, alongside the Wolves and Bournemouth in the Premier League.
That was poor today; what possessed Silva to play 5 at the back was beyond me. I'm a fan of Silva's but today he got it so wrong. Man City never got out of 1st gear and at times it looked like men against boys.
And, for god's sake, when is one of our managers going to see through the imposter that is Sigurdsson???? Another game where he brought absolutely nothing to the table — I really don't get some of our fans' love-in with him. Yes, he 'll get the odd brilliant goal now and then but, apart from that, he offers nothing.
That said, he wasn't alone today; 6 or 7 were poor. Let's just hope Silva reverts now to a flat back 4 and keeps it like that.
Ciarán McGlone
107
Posted 15/12/2018 at 16:33:49
Haha... treating Guardiola's 'pat on the head' as a match analysis...
Wise up!
John Pierce
108
Posted 15/12/2018 at 16:37:01
Steve, that comment is almost as patronizing as Guardiola's. He's patting us on the head, just like Klopp did weeks ago.
'Everton played nice but we still won' — the refrain of a manager who has nothing to meaningful to say.
We did not play well today and the manager got it wrong; something he should concede – I won't hold my breath.
That doesn't make him or the players terrible but, considering he's a man for detail and precision, his tactics were anything but.
Ralph Basnett
109
Posted 15/12/2018 at 16:37:28
I find it amazing all the comment made about how we played and how good we are, that's because they have all beaten us; by stating we are good makes them even better?
Do you think. Mourinho, Klopp, Emery and Pep would be singing our praises if we scraped a draw?
Rafa and the Watford manager both admitted we are a strong team but both thought they were hard done by.
All managers are full of praise for the opposition once they have beaten them, the after match interview is a game, just going through the motions.
The proof in the pudding is in the points on the table, and at this moment Watford look like taking over us to put us in a more truer position than we have been.
All the money spent and, whilst we have improved our style of play, we are making basic mistakes, are passionless, and are moving back more than forward.
It is now time for our manager to manage, pat the backs that need it, kick the arses that need it and the players to show a little steel.
Onwards and upwards.
Alan J Thompson
110
Posted 15/12/2018 at 16:37:50
Steve (#103); I bet we all saw the same result but Guardiola didn't have to make excuses for putting out a winning side other than saying that we only scored three times when they scored, they were great but somehow we were better.
Silva decided on a formation that Everton hadn't used previously and were played off the park. Compare it to what you want: we were hammered.
Marcus Taylor
111
Posted 15/12/2018 at 16:41:15
Steve #103
Brilliant! We got a little pat on the head off Guardiola! Superb. How many Premier League points do we get for that?
You can bet your bottom dollar he wouldn't have had a good word to say about us if we'd beaten them – he didn't when we stuffed them 4-0 at Goodison Park!
Paul Hewitt
112
Posted 15/12/2018 at 16:42:00
Dave @99. Very simplistic, but very true.
Frank Crewe
113
Posted 15/12/2018 at 16:44:48
I don't think Mina and Keane is working. Both slow players. We looked better when Zouma was partnered with Keane. Zouma has more pace and Keane improved alongside him. I still say 4-3-3 would be our best bet. Having only one up front didn't give their defenders anything to do.
It reminded of the infamous hammering Arsenal gave us when Charlie Adams scored. We set out to scrag a draw that day as well. And, just like today, it didn't work. Once you concede, you can't change. Better to go down fighting than not to have tried at all. Another faithless manager chickens out.
David Connor
114
Posted 15/12/2018 at 16:53:40
We need to lose the deadwood as soon as we can and bring in fresh faces to stand any chance of making top 6 or 7. At least 6 first teamers need offloading: Jagielka, Baines, Tosun, Niasse, Schniederlin, and Walcott.
Sorry to say, Coleman and Sigurdsson have to be on borrowed time as they have both been very poor in recent weeks, especially Coleman.
A good recognised striker is a must if we are to stand any chance of making top 6 or we are looking at around 10th. Really poor squad.
Pat Kelly
115
Posted 15/12/2018 at 17:00:59
Still in the top half. Which is amazing for a bunch of misfits who still don't play as a team. Silva has an impossible job on his hands. His only hope is the Club gets another investor.
John Keating
116
Posted 15/12/2018 at 17:06:37
Klopp and Pep would say we did good, wouldn't they? To take that as a summation of our performance today is ridiculous.
I think everyone agrees we are in yet another transition. I think most people agree that it was extremely doubtful we would get anything out of City.
The thing is are we actually learning anything? Is Silva and the players leaning anything? Well, based on today the answer must be no. The mistakes we are making are those we have been making since the opening day of the season.
Do we have to be in this transition thing as an excuse as not to be able to pass the ball to each other? Beat the first man at crosses and corners / Insist on playing the ball out from the goalie, 2 or 3 passes then back to the goalie to launch it.
Yes, we do have a long way to go but let's not use the last 3 shite performances as an excuse and a free pass to the players and management.
Eddie Dunn
117
Posted 15/12/2018 at 17:11:34
Steve, you obviously admire Guardiola and rightly so, but He is, as others have pointed out merely tickling our tummies as we roll over and let his team have our dinner.
He was less kind when we actually beat them 4-0, saying "In the bad moments, we have to be close. It's awful for my players. We created chances but don't score and when they have a chance, they punish us."
We were never in that game.
Terry White
118
Posted 15/12/2018 at 17:17:53
Martin (#76), in neither case for the 2nd and 3rd goals were our "towering" defenders outjumped. Rather, from excellent crosses, the whole defence was guilty of bad marking in allowing the free headers. I think Zouma, who by then was playing right full-back, should have done better to block the cross for the 3rd.
Steve Ferns
119
Posted 15/12/2018 at 17:21:51
Guardiola admitted they were lucky with the third. We were right back in the game and we could have equalised, and it wouldn't have been unfair. We also should have gone ahead through Richarlison.
Would that have made it a good performance? No. But because we missed those chances, it doesn't make it as bad as most on here are saying. These aren't the best in the premier league, they're the best in Europe.
And Guardiola doesn't say things like this often. We drew with Sarri's Chelsea. He doesn't make the comments he did that easily. All of them agree, we're a good side and an improving side.
But don't let that stop some of you who only chat on here when we lose. Funny how it's quiet on here when we're winning.
Dermot Byrne
120
Posted 15/12/2018 at 17:31:29
John K: that is reality coloured by frustration. We played bloody well at Anfield and lost by a mistake.
You can moan as much as you wish but the way we are improving is slow and don't expect too much more. Do you know how the Premier League works? The status quo is paid for by massive amounts of money and will be worse as the Sky 4 get even more from a new deal.
The consequence is that clubs like us find it very hard to get the best players. The best will always be millionaires within a month or two so they will consider what stage they play at. Euro or not.
Of course we can say another new dawn but neither you or us quite know if it is or isn't one over the next season or two.
So then it just goes back to how you deal with what was an obvious result today.
They didn't try? Yes, they did.
They passed badly? Yes. But look at why.
John Keating
121
Posted 15/12/2018 at 17:40:49
Steve. If you really think we deserved anything out of that, then there's not much to be said. We were poor throughout and not just today. Newcastle and Watford were abysmal.
Numerous posters have said it is easy and usual for the victorious manager to heap praise on the losers and, God knows, we've played like losers the last 3 games.
City never got out of first gear; again, if you could not see that, fair enough. We got exactly what we deserved for a thoroughly poor performance throughout the team.
Silva and the team have been rightly praised when it has been deserved – the RS game for example – and therefore I think your last paragraph is completely out of order.
Supporters have every right to express their opinion on what they witnessed and how they saw things. We may be an improving side and Silva does need time; however, being blinkered does him and the team a disservice
Joe O'Brien
122
Posted 15/12/2018 at 17:43:30
Steve@119, I was just about to say the same thing. This site is hopping mad when we lose with a large amount of posts. There is a lot fewer when we actually win.
For those who said we were useless, we carved out numerous chances tho score against a very very good side. Yes, we started with the wrong formation but could have easily drawn the match if we had taken those chances. Not bad for a team who were supposed to be so crap.
Some people just love to moan.
Stan Schofield
123
Posted 15/12/2018 at 17:46:08
What managers say in pressers doesn't matter, whether they compliment us or otherwise, it's irrelevant. What matters is what we think based on what we see on the pitch.
Based on what I see on the pitch, I think that we have a very fine Everton side, one that can open up any team, but unfortunately doesn't have the final killer punch to score goals. I can't help but think, if we had a striker like Lukaku, we'd not only be opening teams up, but scoring goals, possibly in abundance.
A frustration here is that, in previous seasons we've had a top striker but limited ability to open teams up. Now it's the reverse: we can open teams up but lack a top striker. Richarlison is very good, but not, at the moment, a top striker, and might never be one.
So, in my opinion we're 'paper thin' away from opening teams up and scoring aplenty. Including against the top sides. This contrasts with previous seasons, where we've needed a host of improvements. As such, what I see is clear progress, of the sort that cannot be captured simply by comparing our points tally so far with that in the recent past.
Of course, to open teams up and score consistently requires strength in depth, which we clearly lack at present. But, given the success of the previous transfer window, if we have similar success in the next one or two transfer windows, we could be competing with the best, and sooner than any of us could until recently have expected.
To reiterate, I'm not really bothered about the opinions of other managers, good or bad. I know what a good Everton side looks like, and I saw the 69-70 side, so I'm happy to rely on my own impressions, as I think the rest of us should. And my judgement tells me that we're not that far off from competing with top sides like Man City on a fairly equal footing. Despite all the pessimism on ToffeeWeb that says we're light years away.
John Keating
124
Posted 15/12/2018 at 17:52:07
Dermot,
Not sure what you're on about regarding the game against the RS? We played really well, no issues with me there. What I was saying if you read my post was that Klopp appraising us because they won. Are you suggesting that arsehole would have been praising us if we'd won? No chance!
Regarding how things work in football. How the Premier League works. Things go slowly and take time etc etc. Well since I've been going since Carey was there I do have a bit of an idea on how things work and what and when to expect.
Regarding our poor passing today which you admit was bad but then ask why; well, I don't know why. Maybe it's the same reason for our poor passing against the mighty Newcastle and Watford.
Justin Doone
125
Posted 15/12/2018 at 17:54:08
Richarlison and Walcott are not strikers. They miss too many good opportunities.
Richarlison is our most important, best and gifted player both technically and mentally. But in terms of converting chances, there isn't a lot between him and Calvert-Lewin. Therefore, I'd like to see Calvert-Lewin start the next 4 or 5 games with Richarlison wide left.
I'm on team positive and can see improvements. I understand its a results business. You only get good results by scoring which is why I much prefer a Martinez/Silva coach to the others because they want to play attacking football and score.
So forget the formation and on pitch instructions for a moment because there comes a time when players need to take responsibility.
Silva has to be ruthless and drop underperforming players. It's not easy and most of our past managers refused but I think Silva will be stronger when it comes to making them decisions. Hopefully including his own errors. Learn, improve, move on.
If we lose the next 4 games, he's under immense pressure but I hope we finish the season with him and assess in the summer.
I have low expectation for this season; so far, I'm happy in the general play and players brought in. Onwards and upwards as they say.

Gordon Crawford
126
Posted 15/12/2018 at 17:59:59
We didn't play well and got beat, that's is a fact. But we could also have drawn that game.
We start the game with too many passengers. Richarlison granted has scored goals, but he does nothing else, well except fall over a lot. Sigurdsson, Walcott, Bernard haven't been great, though the latter tries very hard.
It's Marcos first season; he needs time and money. Apart from today, we haven't been outplayed by anyone.
Christy Ring
127
Posted 15/12/2018 at 18:02:17
I don't agree with all the doom and gloom and negativity. Tactics and team selection cost us today.
Gana was a massive loss, and playing Sigurdsson in midfield and 3 centre-backs completely backfired. I'm not saying the result would have been any different if Gana was fit, but we would have had a lot more balance against the Champions.
Silva is only in the job 6 months; most of this squad played dire football last season. He has brought in 4 players in the summer window,, hopefully a striker next month... I for one am full of optimism – it's a work in progress.

Mike Oates
129
Posted 15/12/2018 at 18:08:10
It's so difficult to attain a Top 6 position, let alone a Top 4. We've been close but either poor defending when we have a good attack, or poor goal scorers when we defend well, there is always a missing piece or two of the jigsaw.
You have only got a season or two at the most to demonstrate you can compete at that level; if not, your better players will move on. The likes of Gomes will want to see us very close to the Top 6 if not actually in it if he is to stay. Similarly, Richarlison will only give it 2 seasons.
At the moment, we need a new right back, a box to box top class midfielder and clearly a Lukaku replacement. We won't get all 3 in this winter transfer window but a class midfielder or forward will demonstrate our ambitions to get up to 6th .
Eddie Dunn
130
Posted 15/12/2018 at 18:12:59
Oh Steve, please, do me a favour!
The whole point of TW is for us to give our opinions on who was playing badly and our views on how to fix things. When we win, we all just sidle off to the pub or watch a documentary and all is well with the world.
This is therapy, and cheaper than a trick-cyclist.
George Cumiskey
131
Posted 15/12/2018 at 18:40:31
Steve Ferns, let's see what happens in the 5 games after Spurs, so have you given up on that one.
So let's just get beat by Spurs and see how we go after that?
Jamie Crowley
132
Posted 15/12/2018 at 18:42:20
Steve Ferns -
Hang in there man! Haven't seen a "pile on" like this in some time!
Guardiola did have good things to say, as have the others. They recognize we are moving in the right direction. Can't ever remember any of them complimenting the fat one.
Now let's take the next step and piss those patronizing / complimentary managers off.
Jamie Crowley
133
Posted 15/12/2018 at 18:44:52
This whole thing is kind of funny / ironic.
Steve does these ridiculous in-depth tactical analysis which he's thanked and lauded for. Rightfully so.
Considering this is a guy who's spent hours for us with his articles and submissions, it might be decent form to cut him a break, even if you disagree?
I dunno...
George Cumiskey
134
Posted 15/12/2018 at 18:45:57
Managers always have complimentary things to say about teams you've just beat.
Get a grip, for god's sake.
Jamie Crowley
135
Posted 15/12/2018 at 18:46:50
No they don't, George. They didn't for Allardyce. Not always, sir!
John Wells
136
Posted 15/12/2018 at 18:47:08
I think if we had a Lukaku in form we'd be 5th right now, look at the chances we have missed all season. Seriously we are not far away.
Eddie Dunn
137
Posted 15/12/2018 at 18:49:21
Steve, don't take it the wrong way! I love your input.
Rick Tarleton
138
Posted 15/12/2018 at 18:49:43
At the end, I felt rather like a middle-ages philosopher. We had a choice: to play badly but it would do great good, ie, Liverpool would be put under pressure at the top, or we could play well and cause great evil, ie, Liverpool would stay top. I consoled myself that we "chose" the former and that Richarlison, Sigurdsson and Calvert-Lewin missed great chances for the greater good and Mina chose today to have a stinker.
In reality, we were outplayed by a superb team.
George Cumiskey
139
Posted 15/12/2018 at 18:50:34
James, how did you know I was a 'Sir'? Haha!!
Joe McMahon
140
Posted 15/12/2018 at 18:50:59
Jamie, I'm not particularly an Allardyce fan, but keep referring to him as fat and people forget the fatest manager we've had was Unsworth.
George Cumiskey
141
Posted 15/12/2018 at 18:52:49
In reality, Rick, we've been outplayed by a lot worse teams than Man City.
Dave Abrahams
142
Posted 15/12/2018 at 18:54:19
I didn't see the game, just read about it on the Live Forum and you get a mixture of opinions on there.
I'm happy with the fans who are saying Brands and Silva have only been here six months and have made a huge difference; that's my opinion as well,s so I would agree, wouldn't I?
Nevertheless, some players in the squad now and some who played today will not be here in the near future. New players will come in and improve the team as most of the players who came last summer have done. I'll grin and bear it until I can see that there has been no real improvement; but I think we will improve each transfer window.
On today's game, I thought it was the wrong time to play three at the back; is there ever a right time? When Gana was ruled out, I would have replaced a man with plenty of energy with the same calibre of player: Davies. Not everyone's cup of tea, but still a decent replacement.
Calvert-Lewin gets plenty of stick on here and not enough encouragement to counteract that; Richarlison gets the opposite point of view, his goals will get him that leeway. Calvert-Lewin deserves the same treatment; he's going to be a good player for us.
The one thing I cannot defend is the woeful passing; it's been like this for a few seasons... highly paid professional footballers can't find their own players with a 10-yard pass or less; disgraceful. Also, the way we give goals away with absolutely stupid mistakes, game after game.
After all that, I am still confident in Everton's future; there is a lot to work on, but we will get there under the present manager and Mr Brands, they definitely need more time than some are prepared to give them.
David Pearl
143
Posted 15/12/2018 at 18:54:26
I saw some positives today and hope that we stick with this formation and bed it in a few games. A couple new recruits added to this 11 and I'd be very optimistic. We need a bit of confidence in front of goal so let's go again.
Free headers given up in our box obviously not good but I'm sure we can cut that out...
Brent Stephens
144
Posted 15/12/2018 at 18:55:07
My nuts almost dropped off with cold at the Etihad. I always hope for a win but was realistic about our chances. Man City are a class act – what would we give for a bench like that? Lovely football. I thought we fought hard, with maximum effort, and with passion (witness Seamus etc having a go at the ref and their players over several incidents).
Oh, the enigma that is Walcott and Lookman – they both played well, but Walcott with another miss; and if Lookman could deliver a full game like that... Gana was sorely missed today, sorely missed. Sadly Mina was "nebulous" (ask Mrs May what that's all about) l– not so much issues of height but anticipation and positioning (don't ask Mrs May about that).
I'm still chipper about the future but we need to negotiate a few good deals for strikers (don't ask Mrs May about negotiating).
Stephen Williams
145
Posted 15/12/2018 at 18:55:57
Just back from the game.
Bottom line is that we were beaten as soon as Silva set us up with three at the back. When Ma City hold their wide players really wide, none of our centre-backs want to leave the middle (they're just not comfortable there) so the wing-backs have to retreat to become a back 5!
The consequence is that we concede all the midfield territory to the team that knows precisely how to use it better than any other.
Absolutely terrible tactics – we could all see it after 10 minutes but it took us to go 2 down before Silva did anything about it. Shocking – I had decent hopes for Silva but now (after today, Huddersfield, West Ham, Newcastle etc), I'm not so sure.
Allied to this, we were the architects of their 3 goals. If we had been carved open by fabulous pass and move then fair enough, but we weren't. It was embarrassing. Too many had a bad day. Too many more of them and we'll be bottom half. The points haul over the next 10 games needs to be very good before we play the difficult reverse fixtures.
Jamie Crowley
146
Posted 15/12/2018 at 19:00:22
Brent and Stephen - brave men! It looked
freezing
there!
George - obviously Sir! As plain as the nose on your face. Absolute no-brainer. :0)
Brent Stephens
147
Posted 15/12/2018 at 19:09:56
Jamie, now roasting nuts by the fire in the xmas spirit! You know what walnuts look like!
Lawrence Green
148
Posted 15/12/2018 at 19:11:39
Jamie, I was going to appoint you as my defence lawyer if I ever needed one but I saw your comment at #133 and thought "Hmmm... Jamie's defending Steve and he wants us to cut his brakes..." :)

Kunal Desai
149
Posted 15/12/2018 at 19:15:45
Brands and Silva are clearing up the mess left behind by Koeman and Martinez. I would say half of it has been cleaned. Probably another half still to be completed but that won't be completed until the summer. I would also expect Walcott to leave next year and the likes of Coleman, Sigurdsson and Gana to become squad players.
The likes of Bernard and Mina may need a full season to adapt to the Premier League, though Digne and Gomes have settled in well. In any case, we need another four to five first-teamers to push on. Some of these players are not as good as we make out. Moshiri will have to dig deep in the summer. We need at least one top class forward and possibly another good forward. Again the recruitment policy will need to be carefully considered.
It is a season of transition so expect some bumpy rides particularly at home where I think we will almost drop a lot more points at home with the opposition still to visit Goodison including the likes of Leicester, Wolves and Bournemouth – dangerous sides where points will inevitably be dropped against, as well as the top six.
Based on our performances away from home, bar this game I would expect us to pick up more results.
It's going to a be mixture of results all the way through to the end of the season but we must give Brands and Silva the time needed to deliver a side capable of pushing on. What we don't want is another transitional period with another managerial setup. We have to get behind Silva.
Derek Knox
150
Posted 15/12/2018 at 19:18:33
Brent, look on the bright side of things, Theresa May, but her sister won't!
I said pre-match that Gana would be missed, and also added he gets a lot of undeserved criticism for his tireless running and winning the ball back. Okay, his passing could be a lot better, but he is not alone in that .
We did play a very good, and frighteningly under-strength Man City side. I was more frustrated in previous games where we have lost a lot of points against beatable sides too often, and mostly at home.
Just watching the Fulham v West Ham game, so it's looking like we will drop another place down the table.
John McFarlane Snr
151
Posted 15/12/2018 at 19:25:06
Hi Stan [123], I am lifted by posts such as yours, there are positives to be gleaned from reversals, and I believe there is cause for optimism. That's not to say that everything is perfect, and I also believe that the club is moving in the right direction on and off the field.
I think you know, that I have been watching Everton for quite a while now, suffering the despair of relegation, the joy of League titles, FA Cup triumphs, and a European trophy.
I know very little of today's game but, to be truthful, I don't think the outcome was unexpected, there seems to be a division of opinion as to the quality of the performance, my view has always been that footballers [like any other humans] are not programmed robots, who never make mistakes and perform at a constant level.
Compiling this post from a physical rehabilitation unit (the result of a fall down the stairs of my home) is far more painful than losing 3-1 to what is probably the best team in the country, and while football has played a big part in my life, that's all it is, a part; there are far worse things happening around us.
Steavey Buckley
152
Posted 15/12/2018 at 19:53:57
Progress, what progress?
Last season, with a dysfunctional squad of players and managers, we managed to beat West Ham, Huddersfield, Newcastle and Watford at home. Everton this season (so far) have been beaten by West Ham and struggled to draw with Newcastle, Watford and Huddersfield. While managing just 1 away win so far this season.
If Silva does not have a good transfer window at the end of the month, the rest of the season is going to be one big struggle with too many players either not good enough or out of form, which is the present situation at the moment.
Ray Jacques
153
Posted 15/12/2018 at 20:04:29
I was at the game and haven't seen replays on tv yet, my thoughts as follows:
Three centre-backs a disaster. Why 3 big lads against City's quick and mobile forwards? It didn't make sense. Plus the full backs pushing up left acres of space for Sane and Mahrez to run into.
Pickford was culpable for the first goal with is distribution that put us under pressure on the edge of our box and for one of the headed goals that seemed to go straight through him.
We needed to score first to get anything from the game so the Richiarldson miss was critical. We had no pressure on the ball in midfield so they had way too much time. Our passing and corners remain abysmal.
We made chances which is encouraging for the future; there is progress but we have to accept initial ups and downs without some hysterical reactions on here.
Coleman is struggling. Start Lookman next week.
Max Murphy
154
Posted 15/12/2018 at 20:08:16
Steve #77, are you actually serious?
"It's about progression which means getting better and better. Sure we've slipped backwards in the last couple of games."
So you think, before the last couple of games, we have actually progressed? We haven't beaten anyone of note – Leicester away is the highlight of a season that is almost half-way through.
There is absolutely no progress in Everton's football. If you think there is, you are sadly deluded.
John Hammond
155
Posted 15/12/2018 at 20:08:46
Considering we were atrocious at home against Watford with our regular formation, we weren't as terrible with 3 at the back today against the best team in the country. It could've been a completely different game had Richardson put that early chance away as we are so dangerous on the counter.
They had 5 shots on target and two of those were dead easy headers scored by two of the shortest players on the pitch. Talk about shooting yourself in the foot.
Our left-back is mostly an excellent crosser so I think we need Calvert-Lewin up front from now on to take advantage of the number of balls he gets into the box. Lookman is far more dangerous than Bernard and Walcott combined and has to start. Sigurdsson needs a rest so let's try Bernard at No 10.
Spurs have a North London derby in the League Cup before us, so will they rest many players?
John McFarlane Snr
156
Posted 15/12/2018 at 20:10:55
Hi Steavey [152],
I suppose the answer to your question is "We lose more attractively".
I'll have to close now, the tablet nurse is on her way around...
Tony Abrahams
157
Posted 15/12/2018 at 20:12:28
I heard on the radio today that this was our best points tally for five seasons after how many games we have played. That's progress, but the team has hit a poor run of form and maybe that's because "the squad" is not good enough?
Not good enough today, but still could have scored a few, just like at Chelsea, Liverpool and Man Utd, so although results haven't changed it's the first time I've seen a negative team picked by the manager.
Klopp's actions spoke much louder than his words and Guardiola was praising Everton because they were still making chances right until the end of the game.
He said he couldn't relax because most teams are usually beat once the third goal goes in, so maybe this will give our most important man food for thought, because Silva's team looks much better when they play on the front foot.
Conor Skelly
158
Posted 15/12/2018 at 20:18:46
I need to vent about Richarlson. Our very own manager's son shouldn't be immune from criticism on ToffeeWeb like he is in the Everton dressing room. Just watched the West Ham game and Anderson for them is, I'm sorry to say, the far better of the two Forty Million Brazillians.
The amount of times our Brazilian loses the ball is criminal and the two chances today!? Where was the quality? Always going down at the slightest contact when staying on your feet to keep a move going is the better option. Also, his constant, almost permanent scowl just irritates me.
For all the hype and yes he's scored goals, I've actually been a bit disappointed with him lately. I'm sure Marco will be rotating more players over the coming weeks and the timing couldn't be better. Might be time to roll the dice with a few of the youngsters from the start.
Digne and Gylfi need a rest. Digne's been good. Solid, but Baines should be used in-rotation over X-mas. I'm surprised there hasn't been more rotation already between the pair.
We all know Coleman needs replacing. I'd prefer not to go into detail as the man deserves the dignity of not being slated. The demands have gone up as he has gone down. Such is life. A hero, man of the people but I'd like to see us try Walcott at right wing-back in a back 5 if only to see the side without Seamus in it.
I'd also like to see Davies get a game now in CM ahead of Gueye for a while and see if we create more chances.
Lookman needs to start every game until he finds a rhythm. He's our best player. Yes, our best player without a doubt. The only player today that could hold his own in the company of the opposition. We need to use and enjoy him while we still can because in the not too distant future we will be watching him lining up for a "Man City" and wondering why it never worked out with us. The lad is quality.
Calvert-Lewin also impressed me today and, having written him off before, I'm starting to think there is a player far better than anything else we've got at center-forward; if we can get him on a scoring run, then the sky's the limit.
For Spurs:
Pickford
Walcott
Zouma
Keane
Mina
Baines
Gomes
Davies
Bernard
Calvert-Lewin
Lookman
Lawrence Green
159
Posted 15/12/2018 at 20:24:39
Tony #157, that's the truth: we do have more points after 17 matches than the previous five seasons; however, it is a very low bar.
Roberto's first season had his team on 34 points from 17 games. The only saving grace this season is we have already played 5 out of the 6 big sides away with only Spurs to travel to on the last day.

Stan Schofield
160
Posted 15/12/2018 at 20:25:05
John@151: Best wishes for a fast recovery from that fall down the stairs.
Like you, I really do believe that Everton are finally on the up, and more rapidly than many of us would have dared to expect. I'm as confident as I've ever been in all my years of supporting Everton that, based on what I've seen this season, we will soon be a team at the very top.
It's only football but, when we're at the top, it makes some other things in life, more important things, seem easier. I don't know why, but it just does.
William Gall
161
Posted 15/12/2018 at 20:26:54
I doubt that using a 3 man back line was the problem, as Man City over this, and last season, have faced every defensive set up imaginable, and most of the times especially this season, have opened them up, usually after 20 min.
Everton have a problem in scoring, full stop. Richarlison had 2 chances he should have put away, and Walcott had another. Overall, we created more chances than other teams against City have and we got punished for missing them.
We keep looking for improvements and this season with some of the new players and the new management set up; I believe we have started to improve on what we have had to put up with over the last couple of seasons and managers.
It is quite easy to criticize a manager, but we don't spend days studying videos and watching teams before the selection of games, we just pick the team we think is playing well.
I have written on here a number of times, don't forget that the oppositions manager and his coaches spend a lot of time studying their opposition's weaknesses, and Everton's was shown with the people on the bench, compared to Cities.
We have to get in another player that can score, and take the pressure of Richarlison and Sigurdsson, as we don't have any other players who are capable of scoring double figures.
The problem in the upcoming transfer window is, we can talk about as many top class strikers as we want, but getting their clubs to part with them without getting into Financial Fair Play rules may be more difficult than we think.
Mark Wilson
162
Posted 15/12/2018 at 20:28:44
Steve, #119 "Funny how it's quiet on here when we're winning..." That could be because we don't actually win that often, drawing a lot of games we should be winning and you know what, rarely putting in a stonkingly good 90 mins. That's the reality for me. A few positives but as for "going in the right direction" – I'd say we are still struggling to figure out the direction and that's not helped by a startling lack of consistency from the squad.
Play rubbish, blame "transition". Really? Transition didn't allow almost unmarked players to head in from a few feet despite us having three centre-backs in the box. Transition didn't see our keeper spoil yet another very impressive overall display with a careless pass and not getting down quick enough to the Jesus shot. Transition didn't miss a couple of glorious chances to score when such chances are why you've paid huge money for quality.
Players do all those things and it was players who let us down today, and yes, we were playing Man City but frankly if we'd taken those chances who knows .
I have been screaming for the three at the back and wing backs for a few weeks now. I'd have played it against Watford. Two fast accurate full backs create the pressure and chances and it only works if you have the centre-backs in form and if they really are on their game. How unbelievably stupid am I? Please don't answer as I'm embarrassed enough that I could have thought for one minute we were ready to play that way.
Mina was an utter shambles, an utter, utter, shambles and I didn't like the way he spent ages on the pitch at the end laughing and joking with his Man City mate. You've just had a total nightmare and helped cost us three goals and rather than laughing you should have hidden your huge grin and spent that time in front of our amazing away support, apologising for being so shite; but then what am I saying, we are in transition so it's fine.
Gomes picked today to put in a shift barely recognisable from what we've seen. He has a small excuse in that the setup doesn't work for him and he's unlikely to see it again.
But quite what's gone wrong with Gylfi is beyond me. From a run of games with goals and cracking all round performances to being the invisible man.
Bernard? I was horrified when after the Leicester game we had folk on here bellowing about us at last finding a world-beater Brazilian. You just knew he'd be mostly rubbish from that moment. Consistency? It's no good being a hero one week and just plain ordinary the next four.
I can see that Richarlison is a good player and I feel he will get 15-18 Premier League goals but this team has three other forwards in Tosun, Calvert-Lewin, and Niasse who are just not good enough on a regular basis. Today saw a decent goal from Calvert-Lewinbut overall I thought he struggled and doubt Tosun would have done any better. If Brands thinks we don't need a quality forward in January he's not the skilled operator I suspect he is. It's desperate Marcel, even a punt is better than this.
I'm shattered seeing that "performance" from Mina. He's meant to be the next big thing. It doesn't matter whether you're in transition or have been here years. That's a confidence-sapping performance. I will feel nervous watching him the next few games but I'd drop him and leave Keane and Zouma together for a while.
So there it is, some get excited cos the opposition Manager is kind to us; others feel that transition means we can be crap for a Brexit Backstop length of time and I really think they will be using the transition excuse for the next three years. Crazy, crazy, crazy. This is the league where managers get sacked after four games for pity's sake!! We have to be a lot better, a lot faster — that's the gig... even if it upsets the reasonable majority.
Winning is the only progress.
Derek Taylor
163
Posted 15/12/2018 at 20:38:20
Perhaps this is our bad run, the sort all teams suffer sometime in the season. Nothing more to do than continue to 'believe' in Silva although it is beginning to appear that he is no braver than several of his predecessors and that his team is not a lot better than those turned out by them.
Last season's 8th may be hard to repeat although much better to watch. No doubt increasingly, our attention will be diverted towards the riverfront rather than focused on the pitch. The long wait for playing success will go on.
Simon Dalzell
164
Posted 15/12/2018 at 20:41:13
Mark Wilson #162.
I'm feeling a little disappointed and weary, pondering for a good while what to say, especially regarding the ''Transition '' ........ (I can't spell "bollocks", so I just put dots)
No need. You've said it perfectly.
Jamie Crowley
165
Posted 15/12/2018 at 20:41:15
Conor @ 158:
I need to vent about Richarlison. Our very own manager's son shouldn't be immune from criticism on ToffeeWeb.
I agree. My gripe, and it really, really pisses me off, is the amount of times he goes down easy. It's seriously embarrassing. He's got to knock it off.
Mark @ 162:
Winning is the only progress.
I'm not going to get down on the team today. But I would say I agree with you. We are at that point to be sure. Many would scream, "We've been at that point!" and I understand that completely. But one thing's for sure – we're at that point now. We need a result against Spurs.
And if we fucking don't get three points on Boxing Day, I'm giving up. Burnley is the wife's team. We cannot lose that game.
John McFarlane Snr
166
Posted 15/12/2018 at 20:54:52
Hi again, Stan [160]
Thank you for your good wishes. Although I can barely walk without the aid of a zimmer, I am determined to be mobile by Christmas Day. I haven't studied the fixture list so I am not sure when my first fitness test will take place.
The point I was trying to make was, if you take Everton's attendance as 30,000, then there is very good chance that someone is going home to some seriously bad news, which overshadows the disappointment of an adverse result.
I can't pinpoint the moment I came to that realisation, but it certainly helped me to put my love of football in general, and Everton in particular in perspective.
I must apologise if this comes across as the ramblings of an 80-year-old fool, but I feel sure there will be one or two reading this post who will have experienced such an occasion.

Derek Knox
167
Posted 15/12/2018 at 21:10:19
John McFarlane Snr, sorry to hear about your fall and subsequent incapacity. Like you say Football is a diversity from actual life, sometimes not always good either, but nevertheless pales into almost insignificance in comparison with the unforeseen that can take us all by surprise.
It was a pleasure, and I consider a privilege to meet you recently, along with the other TW'ers, and as you suggested when you are up and about again, we must repeat it, though I doubt Mike will be flying over for that one.
All the very best wishes for a speedy recovery, John, and best wishes to your family for the Festive Period and beyond.
John McFarlane Snr
168
Posted 15/12/2018 at 21:34:24
Hi Derek [167],
Thank you for your kind words. I will have to be mindful of the 20-post rule, but on a lighter note, would you favour a Zouma - Zimmer partnership, or do you think it would lack a bit of pace?
I think the tablets are kicking in now, so I had better lie down in a dark corner.
Stan Schofield
169
Posted 15/12/2018 at 21:34:46
John@166: I hope you are mobile by Christmas Day.
Yes, I recall quite a few occasions where I've had to tell myself that there are more important things in life. The last one was a week last Sunday, when I was doing my nut over what happened in that last minute. But, on that occasion, telling myself to get a grip didn't work, and I didn't sleep very well that night. Ridiculous, but that's what happened.
Peter Mills
170
Posted 15/12/2018 at 21:38:01
John Mc, get well soon.
John Kavanagh
171
Posted 15/12/2018 at 22:30:16
I think, after the Allardyce and Koeman fiascos, the vast majority of TW posters were prepared to give the new manager time and acknowledged that this would be a transitional season. I would still be happy if we finished as low as 13th so long as the football improved. So far, it has, even though some of the performances and results have been very disappointing.
We still have some major problems to solve, chiefly an inability to pass or cross the ball with accuracy. We also need to grasp the nettle of the right-back position. Like with Baines, it is becoming increasingly clear that Coleman is never going to recover from his injury sufficiently to play for a top ten side.
Sigurdsson is in very poor form and it seems he is never going to achieve the level of consistency required by a top-six side. Likewise Walcott, which is why Arsenal let him go.
Unlike many on TW, I don't believe that the solution lies in the transfer market. Even the Sky favourites have blown big money on flops – but then they can afford to. Anyway, FFP rules out Everton using the transfer market to fill the squad with top players – even if they wanted to come and we had the money.
So, in what is a transitional season, why shouldn't we now use it as an opportunity to bring on some of our youngsters and see whether they are up to the job and then (if they aren't) filling the positions next summer.
Here, I speak of Kenny, Holgate, Dowell, Davies, Calvert-Lewin and Lookman. Okay, Holgate might be going out on loan (but if he had been half as bad as Mina was today he would have been crucified on here).
For me, Dowell is capable of doing everything that Bernard currently does except for a few show pony tricks. And the lad can finish – even from the penalty spot! Kenny was improving and was unlucky to be dropped when Coleman was passed fit - perhaps too early for the good of both players.
Calvert-Lewin has scored more goals in less pitch time than a few big club/big money forwards eg, Morata. Lookman is, for me, our most skillful player and (if he is willing to listen, learn and hone those skills) will be a top player.
But they admittedly have one huge disadvantage – they are English and therefore go against the fan myth that all foreign players must be better because they are technically superior, cost a lot of money and look great on their YouTube vids.
Thankfully, Brands's strategy sees that the only way to the top under the FFP glass ceiling is through bringing on academy players, supplemented by transfers where necessary.
So, given the recent results and performances by some players, my plea to Silva is to give more opportunities to our youngsters. My plea to TW and all our supporters is to give them support and encouragement if they are given the chance.
Jay Wood
[BRZ]
172
Posted 15/12/2018 at 22:38:02
In the final reckoning, professional football is a results-driven business.
Managers and players alike are retained or dismissed based on results.
That said, when a new management team takes the helm it also has to be taken into account the squad and the existing culture at the club they inherit.
Silva and Brands inherited a shambles. A bloated, unbalanced and ageing squad – some still with years to run on their contracts. Lots of money squandered on dross. A 'style' of play that made the eyes bleed. A deep-rooted and long-standing culture that was timid and didn't dare to dream about truly competing with the very best in one-off games, let alone over the course of a season to genuinely compete with them for trophies.
The foreshortened transfer window Brands oversaw (due to the World Cup and the nonsense of closing it before the league kicked off) was nothing short of spectacular. He moved on a helluva lot of deadwood which seemed an impossible task. He held his nerve and recruited well. All the recruits have had good moments – some more than others, admittedly.
Silva for his part (until today) has been bold in his selection and how he sent his team out to play. Again, there have been good moments, there have been bad moments.
I for one did not expect a quantum leap forward after just 5, 10, oor 15 games, as some on TW seemed to expect. I did expect consolidation, an improvement in the quality of the football, and to see a plan in place by which to incrementally progress. I am seeing all that.
We are but 17 Premier League games and 2 League Cup games into Silva's reign. IMO, he has got his team selection and tactics wrong on two occasions: the home game against Southampton which saw us eliminated in the League Cup, a competition we should have had a reet good go at, and then again today.
It isn't hindsight on my part to decry the 3 centre back selection. I've spoken against it all season, and did so again in Lyndon's pre-match thread when the team was announced. Today's game laid bare why, especially against a team as talented as Man City.
It's a misnomer to believe you are reinforcing the centre of your defence by playing 3 centre-backs, all the more so when your players are not used to playing the system. What invariably happens is that the unit ends up playing too deep and too narrow and the full-backs also have to stay more 'at home' to defend their flanks, further diminishing our attacking threat.
Furthermore, the centre-backs who are more accustomed to playing with a single partner and knowing which hemisphere is their 'zone of responsibility', are disorientated by being flanked by two rather than one fellow centre-back. They drift instinctively into their more usual default positions and fail to operate as a slick 3-man unit.
There is evidence of this in all 3 goals Everton conceded. For the first, credit to Guardiola for doing his homework. He knows – as should all Premier League clubs by now – that from goal kicks, Silva likes to split his centre-backs to either side of the penalty area to receive a short kick from Pickford, or for usually Gomes to drop into the centre and gather the goal kick. When Pickford played the ball to Mina in this position today, the City player closed in on Mina, cutting off his safer out ball down his flank and drove him back towards Pickford in his own penalty area. The usual short return ball to Pickford, or a switch to Keane, was not on and Mina hit it... well, neither long nor short, but rather centrally straight to a City man in bags of space.
This exposed another failing of the set up: Coleman was well advanced from his full-back position leaving the dangerous Sane in acres of space, Mina and Digne also out of the equation to cover, and Zouma and Keane exposed as Jesus ran through. Somehow, placing blame on Pickford for the goal, as some attempt in this thread, is looking away from the real cause here.
A further consequence of going five at the back is that you lose a body in midfield. It was all the more critical for Everton today that that body was Gueye. If nothing else, Everton's porous midfield for at least the first hour of the game should be a salutary lesson for some as to the importance of Gueye to the team.
It was all too easy for City to pick off the overwhelmed Gomes and Sigurdsson in this setup. Siggy in particular is hopeless in receiving, retaining and laying off the ball he receives with his back to the opposition goal, in a deep-lying midfield position. He is at his best in the more advanced position he has played all season where he is much more influential and can hurt the opposition more.
Again, a further knock-on effect of the 5-man defence system is you also negate the advanced wide players, in this case, Bernard and Richarlison, neither of whom add much to the solidity of your midfield. The system also serves to isolate your front man.
That all said, until the opening goal, we were keeping City at arm's length and had a couple of very good counters: Calvert-Lewin's marginal offside call when he turned and shot well forcing the City keeper into a full-stretch save and then Richarlison's wild blaze over from Digne's excellent cross.
Silva should have changed things at half-time. He didn't. Five minutes into the re-start, we were 2-0 down to a goal again showing up the deficiency of the 3 centre-back system.
Coleman and Zouma are pulled out wide as they follow the ball; Keane edges over to fill the space vacated by Zouma; Mina doesn't tuck in to protect the centre of goal and the diminutive Jesus simply walks into the space between the two to head home unchallenged from an admittedly good cross.
Only then does Silva make the necessary changes... and we start to get a foothold in the game, rather than being constantly overran. Whether he withdrew the right players in defence is another matter, because he left all 3 centre backs on the field meaning one of them – Zouma – had to fulfil an unusual role at right-back. This would hurt us for their 3rd goal.
Our goal was EXCELLENT! From front to back. The ball recovery by Digne deep within his own penalty area; the courage and confidence to play a tight ball to the edge of the area to Gomes (very Barcelona-like); the equal courage and skill by Gomes to see off the challenge of Sane and play the ball to Siggy; Siggy's play to set Lookman away; Lookman's shimmy and sharp pass-back to Siggy; Siggy's turn on the City defender and attempted pass-back to Lookman; the clearance falling to Digne, who had stormed up the park from his own goal touchline in support, kills the ball beautifully to then put in an exquisite cross; Calvert-Lewin's excellent movement and header (which some gracelessly begrudge).
From nowhere, we were in the ascendancy... only to surrender the two-goal advantage again within 3 minutes.
It actually started from a promising Everton attack until Lookman crossed the ball into Ederson's hands. The keeper rolled the ball out and suddenly City were galloping off on a counter. I'm not sure why, but Zouma – now playing right back – was up around the edge of the City area when this counter was sprung and started sprinting back, accompanied by the eventual goalscorer Sterling.
Because of the way the play developed, the ball was played wide to Jesus in the space vacated by Zouma and Keane tracked across to cover him. Zouma continued to get back into defence, but effectively, Keane and Zouma had switched positions. City recycled the ball, which was played back into our area now pulling Zouma out of the centre. Mina tracks too far across, thus leaving another short arse to head another goal from the centre of our 6-yard box.
Based on today's events and other recent games, I hope the 3 centre-back option is permanently confined to the rubbish bin. I also think it is time to inject some new blood into the team for an extended run: namely, Lookman and Calvert-Lewin.
If Lookman can produce over the majority of 90 minutes what he consistently does in his shorter cameos, we have our own Raheem Sterling on our books. It is now time to see if Calvert-Lewin can step up, otherwise we may never know. Contrary to a good number of nay-sayers, Dom has many, many qualities.
And if Gueye continues to be unavailable, add another young gun, Tom Davies.
Silva's default XI have had a very good run of games. Some of them have shown promise whilst also being very peripheral.
And to close by returning to my opening phrase, football is very much a results-driven business. Two points from 12 with other teams bunching up behind us means we need a result or two to stop this slide.
Make it happen, Marco.
Steve Solomon
173
Posted 15/12/2018 at 22:38:23
I don't understand the pessimism here from some on TW.
Today we played possibly the best football team in the world and we actually took the game to them without fear. We had 9 shots with 2 on target. They had 15 and 4. If we actually had a striker worth anything (Richarlison is not a striker yet), we may have got something out of this.
We are worlds apart from the dour, pointless nonsense we saw under Koeman and Sam. Last season, we bitched and moaned about the gutless lack of pace and endeavour and the lack of a proper plan with an unbalanced team. This team is starting to look balanced to me but we are only 17 games into this season and we're comfortably in the top half of the table and pushing for a Europa League spot.
We've conceded half the goals compared to this time last season (about) and we have some proper decent players in Mina, Gomes, Digne and Richarlison. And only one Number 10 on the field!
Sure the last 2 games were disappointing but we held Chelsea and the RS fluked a last-second result.
Silva's style is evident and positive, which is what the majority of us here wanted; and yes, we will concede goals but I enjoy watching us play now, even if it's only from my couch on the other side of the world. I don't feel the dread I felt last year every time we played.
We need to get behind this guy and the team he is building and I honestly believe that 2 more transfer windows will make a huge difference. It's not easy unloading players that nobody wants.

Paul Birmingham
174
Posted 15/12/2018 at 22:55:34
Jay @172 and Steve @173, very good and balanced assessments.
It's massive v Spurs, and the team must start converting the chances, else the confidence will erode.
Hopefully lessons learnt today, and next week we start fresh and positive, with a game plan to win.
Paul Hewitt
175
Posted 15/12/2018 at 22:59:11
Man City vs Everton is like putting a heavyweight boxer against a middleweight boxer. Sure, he might get a few punches in. But he ain't gonna win.
Derek Taylor
176
Posted 15/12/2018 at 23:34:17
Blimy! I've read shorter novels than some of the posts on here. And they usually name the culprit – not excuse him on grounds of transition!
Andy Kay
177
Posted 15/12/2018 at 23:46:30
Goals win football matches, simple as. Goals from midfield is were the bigger teams differ from the lesser teams. I simply can't see Gomes, Davies, Gana, or Bernard taking any pressure off a misfiring attack during a game.
Nothing in recent matches has made me believe Walcott, or Lookman will help contribute either. Even Gylfi has missed two penalties already this season.
I'm afraid I might be on my own here but I honestly think the formation is the Elephant in the room. One Striker (or in Richarlisons case, a converted winger) is all well and good when you've got goals from midfield. But with the lack of firepower in support, I'm amazed Tosun and Calvert-Lewin have managed to get on the scoresheet at all this season.
If it's tactically okay to play 3 centre-halves yesterday, why can't we play 2 strikers for once? The 2 wide players with one central striker hasn't worked for about 5 years now. How many times did we say Lukaku was isolated and needed support? What's any different now?
I'm afraid to say all these modern managers are too concerned with water carrying defensive midfielders, No 8s, No 10s, false nines etc. Give me 2 strikers being a pain in the arse to centre-halves, and goalscoring midfielders who can still tackle, anyday of the week.
Eddie Dunn
178
Posted 15/12/2018 at 23:50:02
A footnote.
Sigurdsson was played out of position today and he reminded me of the player out wide left last season. He is a Number 10. He also looks knackered.
We are still short as a squad. If Gomes gets crocked, we will be in trouble. Surely Davies would have been the proper replacement for Gana?
Onwards and upwards.
Best wishes to John McFarlane Snr – speedy recovery to you!
John Boon
179
Posted 15/12/2018 at 00:01:06
Agreed that today wasn't our best but, despite losing, I still feel much better than after we lost last season. I don't have to listen to Allardyce spouting rubbish.
The older I get the less I get upset by defeat. Most posts clearly indicate the vast differences in perspective about who should play where, when and how. I still support Silva, but let's be realistic, because he is probably just as confused as the fans are. He is still finding his team and we cannot expect major change to take place in half a season.
I agree that some of our younger players such as Lookman and Calvert-Lewin need more opportunities. Michael Keane is an example of "taking time". He deserves credit for the great progress he has made this year. At the present time he is probably the best CB we have.
I also think both Zouma and Mina will prove their worth. Also, I agreed that Mina was out to lunch today. Also, I thought Walcott showed that he can still be a very good player. I would still like to see him given the chance to play centre-forward.
On a general basis, we have a raft of new players who have all shown that they have the ability to play at a high level. Coming together as a team is not nearly as easy as some fans assume. It would be great if they all had their best game ever at the same time. That may take until next season. Personally, I would like Everton to win every game every week... BUT!!!
Derek Thomas
181
Posted 15/12/2018 at 00:06:30
Andy Kay @ 177;..."What's any different now? I'm afraid to say all these modern managers are too concerned with water carrying defensive midfielders, No 8s, No 10s, false nines etc. Give me 2 strikers being a pain in the arse to centre-halves, and goalscoring midfielders who can still tackle, anyday of the week."
I agree, too many individuals and Individual so-called specialist positions... it used to be called a proper midfield, it worked as a unit, everbody defended, attacked, chased etc as a whole unit, not a Chuckle Brothers, me to you, you to me.

Dick Fearon
182
Posted 16/12/2018 at 00:54:58
I am in the same boat as others in voicing a growing lack of confidence in Silva.
I know his plan is in its early stages but he takes ages to recognise in-match problems or attempt to solve them.
By the 30-minute mark, it was clear Richarlison and Calvert-Lewin were having a miniscule impact yet, until far too late, Marco did not address it. To bring a better response from required a simple swap of their positions.
While failing to adequately fill Gana's role, Sigurdsson's and Gomes's attacking talents were stifled. That was also belatedly rectified with a simple change.
When Marco's penny finally dropped the game was already lost.
I have been critical of Lookman in the past but if he continues as he did I will be converted.
Sean McCarthy
183
Posted 16/12/2018 at 02:21:44
Well that went pretty much as expected
What did we learn today?
Coleman needs replacing. Horrendous injury has clearly taken it's toll. His big asset was his pace as he was never the best defender in the league but with him losing some of that pace he's a liability at the back. If Jonjoe Kenny isn't the answer then we need to find a replacement. Maybe harsh but true.
Mina hopefully will come good but looks a bit dodgy especially seeing as he cost nearly £30m. Early days but fingers crossed he improves. Quickly.
Keane just leaves you with heart failure whenever the ball goes near him. He may have improved on last season but still room for further improvement.
Pickford needs to master the basics and stop trying to be clever. Two great saves today overshadowed by his role in the 1st goal. Naive to say the least
Midfield was MIA. City just strolled around for the most part.
Calvert-Lewin might have tried valiantly today but does anyone seriously think he's premier league standard. It's not like he's 18 and raw. The good players are 1st choice by his age. He's the same age as Jesus. (The City player, not the son of God!!) He is a better option than Tosun – but only just!! Even his goal was poor. A free header that came off his shoulder and was diverted into the goal off the defender. I'm not even convinced it was on target before the deflection!!
As for the bench, I'd look to offload Walcott if they can find someone daft enough to give us (most) of our money back. Nobody in their right mind is going to give us half the fees we paid for Tosun or Schneiderlin.
Getting close to the halfway stage and my verdict on the season so far is 'underwhelming'.
Steve Brown
184
Posted 16/12/2018 at 03:00:29
Marco's starting formation left us out-numbered in midfield and he should had changed at half-time. Starting the second half the same way made it inevitable we would concede a second goal.
He made mistakes today tactically but you can't often say that about him. Certain players also made mistakes at key parts of the game that cost us dearly. But, we missed three clear goal scoring opportunities and when we changed formations posed a real threat.
Some of the reaction on here is completely over the top. We are making progress no doubt under Silva as he reaches 6 months in the job. Guardiola won nothing in his first season and Klopp still hasn't won anything. Let's show some patience.
Ashley Roberts
185
Posted 16/12/2018 at 03:06:34
For me, Silva got the tactics all wrong today. As soon as I saw the line up was going with a back 3, I knew it would be a disaster and it was.
I am also certain he made the wrong substitution change in defence by bringing Coleman off. I thought Mina had a bit of a nightmare, to be honest, and should have been having the early bath and maybe that would have prevented goal number 3 as Zouma was out of position.
Once Walcott and Lookman came on, we looked a different team and if we had taken our chances (Richarlison 2 and Walcott 1) who knows? I thought Calvert-Lewin had a reasonable game which provided Richarlison with the space for his 2 chances.
I have yet to be convinced by Bernard and think he should be replaced by Lookman or Walcott for the Spurs game and Zouma gets my nod over Mina at the moment, although neither are very comfortable on the ball.
This obviously poses a problem if you are trying to play out of defence which is how we were undone for City's first goal and how they scored from 2 headers from 2 of the smallest guys on the pitch I just don't know.
While we have still a long way to go to break in to the top 6, I can at least see some shoots of optimism!!
Ed Prytherch
186
Posted 16/12/2018 at 04:21:50
Three at the back did not work today but I don't blame Silva for giving it a try. City are 100% at home and we were on a hiding to nothing. This was the best time to give it a try. If it had worked, we pick up three unexpected points; it didn't and we got what everyone else gets when they play there.
Darren Hind
187
Posted 16/12/2018 at 06:06:57
Steve Ferns,
You got an awful lot wrong when you were eulogising about Silva pre-season. Given the amount you wrote, it would have been impossible not to... but you got more things right mate and you were right about the most crucial thing. The guy plays to win and, given the zombie football we had been served for years, he has been a breath of fresh air.
Don't upset yourself about how many comments are posted when we lose, Steve. That has always been the case. When we win, most of us are too busy celebrating to log on to websites; when we lose, our weekend is shot.
I agree with other things you say, I don't accept we were never in this game, even at 3-1 we were still creating better chances. The fact is, we were really never out of it. Guardiola knows it and so do the City fans. Like the Kopites, the Chavs, the Mancs and the Gooners before them, their fans spent long periods in almost total silence.
I can't have the claim that Man City somehow took their foot off the gas either. The City players were a credit to their manager; like all of his teams, they fought like men possessed to regain the ball whenever they lost it... they were even prepared for a fight down by the corner in the dying seconds rather than let us football our way through them.
Silva has restored a lot of pride by playing with an intent but, in doing so, he has probably made it even more difficult to win at the grounds of the top teams. Although some Evertonians are failing to see it, the change in play and attitude has not been lost on the managers of the opposition. They now know we are coming to play and attack; they know we are no longer coming to fight for a solitary point.
By getting his team to play and create chances, Silva will be inwardly satisfied at this stage, but he will know the hard part is still to come. Chances are worthless unless you take them.
A top marksman is on everyone Chrimbo wish list, but how do we get one? Anyone worth their salt will be taken by one of the richer clubs. We have to work on improving the finishing of the likes of Bernard, Walcott, Tosun, Calvert-Lewin, Sigurdsson, Lookman and yes Richarlison. Their approach play has been excellent at times this season but, at this moment in time, not one of them looks capable of finishing his dinner.

Dave Ganley
188
Posted 16/12/2018 at 09:00:07
Darren, Steve, I agree with a lot of what you both say, Silva is a bright manager who has turned us around and only a fool would say there hasn't been any improvement this season. I have been very impressed with how the team have responded to him and, for the most part, we have played with an energy and style that we have been missing for quite a period of time.
Yesterday, we will have to agree to disagree. We have set a bar with how we play – especially at the so-called bigger clubs. At Arsenal, Man Utd, Liverpool and Chelsea, we competed very well, took the game to them and never looked out of our depth and were very unfortunate not to come away with anything apart from at Stamford Bridge.
I didn't think that yesterday. Yes, we had a go on the counter-attack and it could have been different had Richarlison scored when he should have. As it was, he didn't and, that chance apart, we were very poor in that first half. We sat off them, didn't harass them at the back, got overrun in midfield and gifted them chances at the back.
The midfield was especially disappointing given how that is now a strong area for us. The lack of Gana has a huge blow and taking a body out of that midfield and putting it into a back 5 really hurt us. We didn't really compete until we were 2 down. Not good enough. There is no point saying we tried to have a go until the death when in reality, all we were doing was having a go when the game was already done. They had so much time and space for the majority of that game.
It's disappointing because we know we can play much better and we didn't give ourselves much of a chance by playing 5 at the back. It invited City on and we didn't cope with that very well. Yes, we had chances but so did they, apart from the goals they scored. I don't want to be too negative about yesterday but it was a real drop in performance from the previous away games.
I get that Man City are a very good team but you have to close down and not give them space to play; we just didn't do that yesterday. Maybe this is down to the quality of the squad. We don't have the depth of squad to give some a rest. Now I'm not a big fan of saying that some players need a break, it is only December after all; however, some looked jaded, the energy levels looked off.
We just don't have the reserve players to come in and not upset the balance and performance levels so we end up playing the same 11 when fit. When one is injured, Gana yesterday, we suffer because we can't replace like for like; we should be able to replicate the energy and style that we are trying to play but we don't. There are a few that looked as though they need a break but unfortunately we haven't got the quality replacements. It's just the way it is, it will get better as we get more quality into the squad.
I have faith that Brands and Silva will get in the necessary recruits, including a striker when the right players are available. We ca'nt do everything at once, I accept that, and what they have brought in to date has been quality. Rome wasn't built in a day and all that. It will just take time. But that shouldn't detract from the fact that we were well beaten yesterday.
Man City were given license to play and took full advantage of that. This was nothing like the games against the other better clubs where we played like demons, this was a bit of a weak surrender. Tactics were wrong and we were far too easily bullied, especially first half – we were rabbits in headlights.
Now this is not to say we are rubbish because that is blatantly not true. We are already a decent team and we will get better with the next couple of transfer windows and I do think it's only a matter of time before we pick up again. I'm quite sure Silva will learn from this but let's not dress this up and suggest that it was a performance in the mould of Chelsea and Liverpool because it wasn't.
You never ever thought we would win this game once the first half wore on, unlike the others. Too much respect and giving City too much space killed us. The odd chance and having a go at the death shouldn't mask the fact that we were second best for most of that game – and Guardiola patting us on the head doesn't make that any better.
Derek Taylor
189
Posted 16/12/2018 at 09:15:48
Whether some 'felt better about today's defeat' is entirely up to them.
The record shows that, so far, Silva is no more adept at beating the Big Boys than were his predecessors. Just look at the table.
Man City, Liverpool & Co are already out of sight and the indications are that this term's Everton millionairos are not much of an improvement on those that they have followed.
'He sets out to win every game' is a trite expression which seeks to assuage our manager's tactical limitations. As ever, the argument is not so much whether his players are 'good enough' rather than whether he uses them to maximum effect.
But whatever the answer to that question, let's stop talking about 'top five' and accept that Everton are forever not so much the bridesmaids as the congregation when we go to mix it with the elite. We just make up the numbers.

Brian Patrick
190
Posted 16/12/2018 at 09:41:12
I think we need to give Silva until next season before we judge him. Admittedly, the last three games have been very poor but you could argue we deserved to beat Newcastle although we deserved to lose the last two.
We can't judge Silva on money spent as even the likes of Wolves are investing heavily. It is no guarantee of success these days. It's very simple to say 'all we need is a new striker'. Teams don't work like that.
Look at Leinster in Rugby Union. They implemented a bottom-up strategy with fantastic planning and really competent academies; it's what the Spanish clubs do. It's an ultra long-term strategy. Buying Vardy is not the solution.
Ernie Baywood
191
Posted 16/12/2018 at 09:53:35
I thought we signed Mina because we wanted a left-footed centre-back. Then I've spent the last few weeks wondering why he uses his right foot so much when it's clearly not working.
I just googled and apparently he's right-footed!!! That's his stronger foot! Fuckin' hell!!!
John Keating
192
Posted 16/12/2018 at 09:55:05
"He sets out to win every game" is a great statement if we actually achieved that. Silva needs to be able to show he can actually change things during the game to achieve a win when things are not going that well.
I look at Emery down at Arsenal. This guy will make a substitution at any time during the game if he sees things are not going to plan. He doesn't seem to bother if he needs to change formations and set-ups after 5 minutes if he sees things not panning out.
We all hope Silva turns out to be the manager some people say he will be and is. He just needs to show it a bit more.
We had Martinez, a manager who adamantly refused to change. We had Koeman who tried to fit square pegs in round holes. I just hope Silva doesn't turn into a clone of those two.
Geoffrey Williams
193
Posted 16/12/2018 at 10:30:12
I can see no positives coming out of yesterday's game. Had the performance been a one-off, then maybe I would feel more optimistic but the results of late have been poor.
I question team selection and the manager persisting in his selection of certain players who are clearly not playing well, discarding others who appear to have failed having been given half-an-hour or so as a substitute.
Fringe players in the first-team squad, but not appearing on a regular basis in either the first team or the U23s, get no real game time at all to develop any sort of form and get up to match speed, so are almost certain to fail if they do get on the pitch.
I still go to matches in the hope of a win – not in the expectation of one.
Terry Farrell
194
Posted 16/12/2018 at 10:31:34
I'm a big fan of Silva but yesterday he got it wrong. Tom in for Idrissa would have been much better. Regardless of the formation, we have to pick up men in the box! Also, Theo has to hit the fucking target!!!!
Mal van Schaick
195
Posted 16/12/2018 at 11:00:10
A bit sloppy playing out from the back and marking in the box but, on the plus side, we fought back to 2-1, and we were caught out pressing for the equaliser.
Silva is damned if he does and damned if he doesn't. He is still bedding in and trying different formations. Over the Xmas fixtures, Silva will have to give other squad members a chance. We just need a consistent winning run to bring confidence back.
I don't see the point of adding in January; we should be good enough for top 6 this season, and ensure we assess the squad for next season.
John G Davies
196
Posted 16/12/2018 at 12:09:07
Patience is required. Silva has improved us from the drab football we have watched in recent seasons.
The starting point he was given means it will take time. We as fans need to give him that time.
George Cumiskey
197
Posted 16/12/2018 at 13:11:31
Geoffrey @ 193 — spot on, mate.
Darren Hind
198
Posted 16/12/2018 at 15:38:46
John Keating,
I read your comment about Emery and decided to tune into their match. You are right of course. He will change at any time. I think he was the main reason they lost at the thus far lamentable Southampton... got any more good examples?
Paul Tran
199
Posted 16/12/2018 at 17:02:45
John, I think Silva would look a better manager if he'd inherited Lacazette and Aubameyang.
John Keating
200
Posted 16/12/2018 at 19:58:39
Darren,
One game. Check out the rest.
Our guy, well, you can set your watch by him.
Then again, like some, you can see no wrong with our maestro, eh?
Andy Crooks
201
Posted 16/12/2018 at 22:19:12
Darren Hind, Jay Woods, Steve Ferns. I respect your posts and thoughtful analysis. Do you not, though, have some fears? Silva is worryingly having favourites. Players who will not be dropped, tactics that will not be changed.
His selection was cowardly. He pressed the chicken switch and kept it pressed. Now, I like him admire what he has done, support him absolutely but... we have the right to point out shit when we see it and he was abject yesterday.
Bob Parrington
202
Posted 16/12/2018 at 23:04:24
Ray, Jay, Steve and Darren – Thanks for bringing some sense to the discussion.
I have to make the point, along with many others, that my instant reaction to the announcement of the starting line-up was "Ouch, big mistake, conceding the initiative before the game even starts!" I believe Silva will learn from such a mistake of judgement.
Unfortunately, I only got the highlights but, from these, I was impressed with Lookman.
Jay Wood
[BRZ]
203
Posted 16/12/2018 at 23:05:52
Andy @ 201.
Read my posts in this very thread. Read my post in Lyndon's match preview thread on hearing the news he was going with 3 at the back before a ball was even kicked against City.
I echo all of the concerns you express, namely:
● 'not changing the starting XI' based on actual performance for too many matches. I advocate it is time to give Lookman and Calvert-Lewin an extended starting run in the team.
● 'tactics that will not be changed'. I detailed many weeks ago (after the Chelsea game) how we play out of defence from goal kicks and highlighted the first goal yesterday how teams are now aware of it.
● 'his selection was cowardly'. I said before and post-match this was the first time Silva had 'blinked' in his selection, picking a starting XI and tactics designed to negate the opposition rather than focus on our game and make the opposition counter how we play.
● 'He pressed the chicken switch and kept it pressed'. Live in-game, at half-time, I commented within this thread the changes he needed to make, or Man City would continue to play on easy street.
At full-time, I said only when we went 2-0 down, 5 minutes into the second half, did he make the switches to a formation he really should have started with.
I wrote extensively on why we should not play 3 centre-backs together – EVER!
I wrote how, for me, he has called it wrong twice this season: the League Cup game with Southampton, and yesterday.
So I really don't understand you naming me and implying that I am somehow excusing him, or denying you or anyone else's 'right to point out shit when we see it and he was abject yesterday' as you succinctly put it, when I am totally on board with the criticism aimed at him for yesterday's efforts.
Brian Wilkinson
204
Posted 16/12/2018 at 00:10:24
Geoff@193,
Did we not try that against Southampton in the Caraboa Cup? Would you be happy for Silva to play the fringe players in the FA Cup, or put out his strongest 11?
Every man and his dog knows we need someone who can finish and put those chances away, that is what is costing us big time.
Time and again this season, we have had chance after chance but failed to put the ball in the back of the net with either poor selection of passing to a player in a better position, or simply fluffing their lines in front of goal.
Not one team has battered Everton this season; we have been our own downfall. A couple of strikers brought in, in January and, if they do their job, watch a vast improvement in results in the second half. Let's not forget, all those teams bar Spurs, all have to come to Goodison.
I just hope we go into the FA Cup games with our strongest 11 rather than 6 changes and fringe players brought in.
Frank Crewe
205
Posted 17/12/2018 at 11:06:49
Jay @ 203: "* 'his selection was cowardly'. I said before and post-match, this was the first time Silva had 'blinked' in his selection, picking a starting XI and tactics designed to negate the opposition rather than focus on our game and make the opposition counter how we play."
I would second this. If you are battling the drop at the bottom, then every point counts, so there is a justification for parking the bus. But we are not in that position. We are trying to make progress at the top end of the Premier League, so a single point is no good to us. So we have to enter every game positively and try to win all of them – whether it's Man City or Huddersfield Town.
The fact is, as soon as Gana was declared unfit, he should have just picked Davies or Schneiderlin and carried on. Now I am not a big fan of either of those players but they are the natural replacements for the current first-choice midfield. Rearranging the entire side just to accommodate the loss of one player is ridiculous. We still lost and it made Silva look like he panicked.
Justin Doone
206
Posted 17/12/2018 at 11:44:37
I think many people from both a positive and negative view point on the city game make valid points.
What I have learnt in football, just like life, is that it's far easier to be critical than it is to give praise. I think frustration and a few simple points can often be read as 'end of the world' situations when they are not meant that way.
Every loss is disappointing. It would be great to win every game playing great football but even great sides have bad days. Remember, we are not top 6. That is the aim for next season, so comparing us against top 6 teams is always going to make us look bad.
I try and judge on the whole picture so, although a loss is a loss, we played well in patches and, on another day, could have scored more goals whilst making it harder to concede.
Let's say we won 1-0 yesterday. Now the result would be great but looking at individual and team performances my comments would be the same.
We were outplayed. We didn't look comfortable in knowing when to press as a team and when to let their defenders keep ball. This needs to, and I'm sure will be, further improved.
Gana was missed. Mina didn't have a good game. Pickford distribution has been poor for several games. Calvert-Lewin played well and got a goal. Overall I see progress.
Back to reality. Silva probably shouldn't have changed formation. I'm a fan of 3 at the back if the pace and creativity is coming from the wing backs. A system we should have used more in the past but didn't. We now have pace, skill and in Gomes a real attacking threat (passing and creativity) from our midfield and forwards so wing backs are not needed.
I think Chelsea are the other team that really outplayed us but we somehow we hung on to a draw. Sigurdsson should have done the same job on the defensive central midfield as he did at the Chelsea game but clearly Silva didn't set up that way.
Tottenham are a similar team. Lightening quick counter attacks and movement all over the park but obviously not as good. I expect Silva to revert to his favoured starting line up and dropping Calvert-Lewin for Richarlison upfront, which is a real shame.
John G Davies
207
Posted 17/12/2018 at 13:28:27
John 200,
Emery's Arsenal side has gone undefeated for a run of 22 games.
Not too shabby.

Tony Waring
208
Posted 17/12/2018 at 16:17:05
Watching Man Utd yesterday restored my faith in the Blues. If the Mancs are "top 6" material, we must be Champions League winners in waiting.
Not only were the RS superior to them in every department but they made more errors in the first 10 minutes than we did at City in the whole game. There's hope for us yet as long as we don't appoint Mourinho or sign any of their stars!
Darren Hind
209
Posted 17/12/2018 at 18:35:43
John Keating
"Then again some of you can see no wrong in our Maestro eh. eh" — You really are having a laugh.
The only unconditional support I have is for my family. My article pinpointing my concern about what was then a total zonal marking system is one of the few articles I have seen up here criticising Silva. How many have you submitted?
Silva is far from perfect but, after a succession of Frankie Howards like Moyes Martinez, Koeman, and your man Allardyce, he looks like Richard the fucking Lion Heart.
Most teams go to City hoping they get the odd chance and if somebody told us before the game that we would have created five clear-cut chances, we'd have snatched their arm off.
We won't finish any higher than last year, but I rejoice at the fact that Evertonians everywhere are not having to be talked down from window ledges every Saturday night after yet another gutless shaming exhibition of cowardice.
Emery inherited a vastly superior squad to Silva. I find it amusing that you criticise Silva when his team are beaten by the best team in the league while extolling the virtues of a guy who's team are in the process of being twatted by the worst.

John McFarlane Snr
211
Posted 17/12/2018 at 20:37:03
Hi Darren [210] I agree with your sentiment, particularly the last paragraph, but I may have expressed my opinion a little differently.
I felt that David Moyes restored our pride with his 'People's Club' announcement, and who knows what he may have achieved with the money that's available today?
There were some who called for Howard Kendall's head early in his managerial career, what a tragic mistake that would have been. I know that some of the criticism of Marco Silva is the result of frustration; let's hope that he can emulate the achievements of Howard Kendall.
Stephen Jones
212
Posted 18/12/2018 at 03:24:11
You need the correct tools to do a job properly. To those who fail to recognise transition:
Wayne is finished, shouldn't get anywhere near the team. Morgan is a disgrace to the shirt. No way is Cuco a left-back. Lukaku blows hot and cold, lazy. I can't wait for Seamus to return. Baines is finished. I just don't trust Joel. We desperately need two centre-backs. Kevin Mirallas has an attitude problem. Niasse is a fraud. We have nothing down the left side.
Familiar?

Matthew Williams
213
Posted 18/12/2018 at 12:32:52
It was expected and it's looking like December will be our dodgy month. We need a complete shake-up with the starting eleven as it seems players are not producing the goods but always get a game, week-in & week-out.
I see Lincoln have gone top of their League and the lad Shankland bagged another two goals for Ayr!
We need to act on the above or the second half of the season will be deader than Betamax.
Matthew Williams
214
Posted 18/12/2018 at 13:34:05
We have three aims left this season: get on a good cup run; do the RS at Goodison; and try to finish in a Europa League place for next season.
European football must be our main aim or we might as well pull the shutters down. We might not be at the top table but being in the second tier competition will still give us a great platform to build on for the future.
Add Your Comments
In order to post a comment, you need to be logged in as a registered user of the site.
Or Sign up as a ToffeeWeb Member — it's free, takes just a few minutes and will allow you to post your comments on articles and Talking Points submissions across the site.
© ToffeeWeb