Report
Blues win a desperate fractious scrap in the end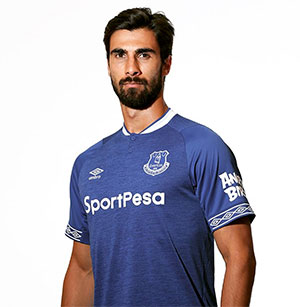 André Gomes was very lucky not to shown a red card in this game
Everton 2 - 0 Bournemouth
Lookman was the spark as a last-minute goal from sub Calvert-Lewin made the scoreline much more respectable than they deserved after this feisty fractious encounter that saw five yellow cards for the Blues.
The big news for Everton is that Ademola Lookman finally gets a starting place, with Theo Walcott dropped to the bench.
For Bournemouth, Callum Wilson and Dominic Solanke are injured; Liverpool loanee Nathaniel Clyne starts. Dan Gosling, former Everton player who failed to renew his contract, is also in The Cherries' starting line-up.
The visitors got things going and held the ball well enough to pose an early threat that was snuffed out by Bernard. Lookman was fouled but an early opportunity for Sigurdsson to swing something in was wasted as it bobbled through to Begovic.
An attack down the right for Bournemouth left you wondering how on earth Josh King failed to score after fed by Fraser in the 6-yard box. They won a free-kick on their next attack, Brooks getting clipped by Gana and wanting a penalty.
Another attack saw Lerma drive wide before Everton had a decent response with Lookman's shot blocked and Bournemouth broke at pace, Brooks getting in behind Keane and smacking the face of the post when he really should have scored.
A corner for Everton could not be converted by Zouma and immediately Bournemouth were on the counter, this time kept away from a shot on the fragile-looking Everton goal.
With Everton responding a little better to the Cherries' energy, Digne got a chance to cross with Richarlison waiting at the far post but the ball was defended away. At the other end, Brooks and Fraser were continuing to give the Everton defence something to think about.
Richarlison went down under Ake but no free-kick, much to he crowd's displeasure, as the lively pace of the game made it compelling but at the same time worrying how poorly Everton were controlling things, Pickford and Zouma almost getting in a pickle.
Gueye was called for some clumsy play on Smith, in a dangerous spot just outside the Everton area, Stanislas' free-kick placed cleverly round the wall forcing a diving nervey save from Pickford, the ensuing corner getting worked around to Gosling whose shot was well wide.
Richarlison could not get a whiff of the ball and Bournemouth were on them more like terriers than Cherries, looking to embarrass the erratic Pickford at every opportunity.
Everton broke down the right and a good cross from Lookman was headed wide by Bernard, with Richarlison waiting again. Everton could not break out, Bernard giving the ball away and Bournemouth getting another dangerous free-kick that spun away for a corner off Keane's head.
Everton mounted their best attack, the ball dropping for Lookman but he could not pull the trigger. The visitors ran Everton ragged again as the rain came down.
Everton were finally attacking with a bit more pace and intent, winning a corner, but it was repelled. But Digne fed Lookman again and another brilliant cross was admired by the Everton forwards from a distance, no-one in there to convert it. Digne was next to get forward as Everton finally looked better but overhit his cross very poorly.
A much much better Everton move, with Lookman the spark, won a corner, with Keane eventually glancing the ball onto the top of the angle. Everton continued to attack with much more desire and invention, winning a free-kick, Richarlison dropping rather too easily. Digne put it into the wall twice. Very poor execution from a strong position. The ball was worked around again and Sigurdsson pulled his shot wide when it should really be on target at least.
Incredibly, the first-half finished goalless, Bournemouth deserving something more than Everton who were frustratingly lethargic for the first half-hour.
Everton started the second half with far more determination, Sigurdsson swinging in a great cross that Bernard was too short for. Off a corner, Richarlison had three bites of the cherry, so to speak, the last one cleared incredibly off the line.
Then it was Bournemouth's turn to attack, a header skimming off the top of the Pickford's net. But Everton repelled that and were attacking again, Sigurdsson wasting a free kick with a lame chip that was easily countered.
A Sigurdsson corner went all the way over and Digne picked it up, running forward and crossing in to Zouma who planted a fine header past Begovic, a goal at last!
After some more good Everton pressure, Bournemouth broke at pace, Keane fouling Fraser but King surging forward and lashing a shot into the side netting.
Some silliness form Gomes, grabbing the ball again after a foul called, saw him and then Zouma carded. Utterly stupid. Everton had to defend and saw the ball shepherded behind harmlessly.
Everton were getting the ball forward with greater pace, but Bournemouth were still making a real game of it, looking for that equalizer. Richarlison and Sigurdsson showed some bite in chasing down the ball, then a strong barge from Gomes, could perhaps have been his second yellow card. He then stood on King's foot, never seen Gomes so agitated.
The free-kick saw havoc in the Everton area, Everton grateful to give away a corner as Bournemouth attacked, but Pickford took control and launched the ball upfield, Sigurdsson swinging in a cross for a diving header wide by Richarlison. Walcott replaced Bernard.
The frenetic pace of the game continued with the quality of play at best scrappy. Richarlison got a chance to run at Cook but drove his shot high and wide. He later went in the referee's book for a forearm in the face of Cook.
Calvert-Lewin replaced Richarlison, the rain torrential, this game with the feel of a good old-fashioned tussle lacking only the obligatory mudbath. Pickford had to be out smartly to deny Fraser. But a free-kick for the visitors was tipped away, and it came to Lookman on the break but he could not dig out the pass.
Bournemouth drove into the area and Gosling was denied expertly by Keane, at the expense of a corner, Mina replacing Sigurdsson before it was taken as the 5 added minutes lasted an age for the now desperate Blues.
Another Bournemouth corner needed a save by Pickford, who launched it upfield, Lookman fighting for it with determination then feeding Calvert-Lewin for a fine side-footed shot that nicked off Ake and slotted inside Begovic's goal to seal the points after a frantic fractious physical, helter-skelter encounter the scoreline really harsh on a very feisty Bournemouth side.
Scorers: Zouma (61'), Calvert-Lewin (90+5')
Everton: Pickford; Coleman, Keane [Y:65'], Zouma [Y:67'], Digne; Gueye, Gomes [Y:67']; Lookman, Sigurdsson (90+2' Mina), Bernard [Y:40'] (78' Walcott); Richarlison [Y:84'] (87' Calvert-Lewin).
Subs not Used: Stekelenburg, Tosun, Davies, Kenny.
AFC Bournemouth: Begovic; Clyne, Ake, Cook, Smith; Gosling, Lerma, Brooks; Stanislas (68' Mousset), King, Fraser.
Subs: Boruc, Surman, (82' Ibe) Daniels, Rico, Simpson.
Referee: Anthony Taylor
Attendance: 38,113
---
Reader Comments (242)
Note: the following content is not moderated or vetted by the site owners at the time of submission. Comments are the responsibility of the poster. Disclaimer
Jay Wood
[BRZ]
1
Posted 13/01/2019 at 13:31:56
A good starting XI.
Hopefully, the couple of games off will have helped Seamus find his mojo. Glad to see Silva stick with a back four with his strongest centre back pairing, Keane and Zouma.
Interesting he has Kenny and Mina on the bench as his reserve defenders, but no place for Baines in the matchday squad.
I think Calvert-Lewin needs to start games, but I also understand why Silva wants to persist with Bernard which means, to accommodate both him and Richarlison, the latter must play centrally.
Delighted Lookman also finally starts with Walcott benched.
Only a win will do today. From being in the top 3 in the form table at the start of December, in the New Year, we are now in the bottom 3 of that form table, alongside Bournemouth.
If we can't beat this lot, then the rumbling and disquiet about Silva and the team will grow – quite justifiably – to a growl.
It's time to get back to winning ways and start climbing the table again.
John Pierce
2
Posted 13/01/2019 at 13:42:41
Seamus is a lucky man to get the nod. Is Kenny injured? I heard nothing of note? For me Kenny has done no better or worse than Coleman but isn't getting the same opportunity to Lewin the shirt.
Silva has reverted all but to the side that he trusts. There's a good chance they'll play three in the middle, we might get over whelmed.
Expect an open game, riddled with errors 5-3 the Toffees.
Christy Ring
3
Posted 13/01/2019 at 13:48:28
Good to see Lookman starting, hope we have the old Seamus back after his break. We need to go at them from the off, and get Goodison rocking. Nice to see Wilson missing. A must win.
Sam Hoare
4
Posted 13/01/2019 at 13:55:44
Really hope Lookman seizes his chance. I think, if he and Bernard are at their best, they should be able to cause headaches for any defence.
Frank Crewe
5
Posted 13/01/2019 at 14:05:33
Mina on the bench again. I think buying him was a mistake. He's not a particularly dominating centre-back and he lacks pace. I just think he's going through the motions because, after Barca, he doesn't see himself at Everton long term. Him and Keane together are a liability. Maybe we should have bought Zouma and loaned Mina instead of the other way around?
At the moment, outside of Digne, I don't have that much faith in any of them. You never know. There is a lot of attacking potential in the side and if they get off to a good start, an early goal maybe, they could run Bournemouth ragged. On the other hand, if they don't, they might just fall apart.
John Hammond
6
Posted 13/01/2019 at 14:11:30
Like the lineup. We need to win this game and the next 2 to get our season back on track. On paper is possible...
Frank #5: Don't think Chelsea were willing to sell!
Paul Carsley
7
Posted 13/01/2019 at 14:29:24
13 mins gone and same old garbage being served up.
Ian Lloyd
8
Posted 13/01/2019 at 14:39:48
Absolute tripe to watch again!
Bournemouth playing far better and should be 2 up!
Sick and tired of watching this being served up... Zzzzzzzzzzz.
Justin Harris
9
Posted 13/01/2019 at 14:43:40
What a dire start to a game again!!!
Christy Ring
10
Posted 13/01/2019 at 14:49:34
Dour, no drive, slow, pedestrian... we're a shambles!
No-one taking the game by the scruff of the neck.
Danny Baily
11
Posted 13/01/2019 at 14:53:33
First-half stats don't make good reading...
Ian Lloyd
12
Posted 13/01/2019 at 15:05:53
Slight improvement in the last 10 mins before half-time... 🙄
Gerry Ring
13
Posted 13/01/2019 at 15:10:40
Lookman is our best player. Gylfi having another shocker. Don't understand why he keeps getting selected. Living on reputation at present. Obviously Sílva has planned without McCarthy and doesn't have him in his plans.
Max Murphy
14
Posted 13/01/2019 at 15:11:32
What a crock of shit that half was, especially from Everton. This is not even Chanpiosnship football. League One stuff.
Bournemouth are superior in every department. There's only Gomes and Lookman showing any desire. Sigurdsson absolutely crap. Is Richarlison playing???
We cannot put 2 passes together. We lose possession as soon as we get it. Do Everton realise we're playing in blue shirts? It certainly doesn't look like it the way we pass it to Bournemouth all the time...
Just waiting for another one of Pickford's howlers. And the inevitable "Bournemouth have never won at Goodison before..." Well, today's their day.

Jay Wood
[BRZ]
15
Posted 13/01/2019 at 15:13:51
It's tough watching Everton at times.
For 30 minutes there was nothing to get the pulse racing, other than a couple of palpitations as Bournemouth threatened.
Too similar to too many post-derby games. Slow and ponderous on the ball. Sloppy with our passing. Totally hapless with our ball retention. I think it was the 42nd minute before I saw Sigurdsson find a player with a blue shirt. Seamus still looking off-colour.
Lookman clearly the spark in the team. Bernard almost but not quite. The ref making some poor calls. The crowd trying to lift the team, even though the team aren't doing much to lift the crowd.
A good closing 10-15 minutes, but overall we need much, much more from both the team and Silva.
Charles McCann
16
Posted 13/01/2019 at 15:16:41
I agree, Gerry, Sigurdsson has been very poor so far. Richarlison is not doing much better up front either. Limited options on the bench. Positive signs we were starting to get going in the last 10 or 15 mins before half-time.
Jeff Spiers
17
Posted 13/01/2019 at 15:28:11
I am very, very concerned there is a sinister regime at Everton that no manager could cope with.
Tell me when a manager looked happy with us. Or am I going mad!
Christy Ring
18
Posted 13/01/2019 at 15:54:49
Can't understand why Gomes is not called ashore, before he gets a 2nd yellow, he's hanging on by a thread.
George Cumiskey
20
Posted 13/01/2019 at 16:11:28
I don't care what the score was – we were garbage. Sigurdsson stunk the place out again and Gana was just as bad.
Ciarán McGlone
22
Posted 13/01/2019 at 16:14:48
Unconvincing... but certainly welcome.
I really don't understand why we persist on wasting Richarlison up front. If Sigurdsson must play every game, then put him up there, because his influence as a Number 10 is limited.
Onwards and upwards... there's a team in there.
Jay Wood
[BRZ]
23
Posted 13/01/2019 at 16:17:37
Hanging on at the end, but overall deserved it for a much improved 2nd half.
Thankfully, Sigurdsson was hugely improved in the 2nd half and much more energetic. Just as well, because the other creative force Andre Gomes was very poor throughout.
Richarlison a bit better against a strong centre back in Cook and unlucky not to score. Keane and Zouma very solid, other than Keane's poor touch on the half-way line immediately after our goal that let them run in on goal. Superb saving tackle on Gosling in the dying minutes.
Great delivery from Digne and header for Zouma for our opener. Excellent battling, hold-up and lay-off play by Calvert-Lewin in the build-up to our 2nd and a clinical finish by the lad. Lookman has to start over Walcott more regularly.
Not always pretty, but two goals, clean sheet and three points.
We needed that. Now build on it, Everton.
Steve Brown
24
Posted 13/01/2019 at 16:17:49
Hideously tense, but the youngsters won it.
David Hallwood
25
Posted 13/01/2019 at 16:18:33
Anthony Taylor, John Moss etc — I'm just sick of looking who the ref is and knowing how bad the performance will be. Surely they're answerable to someone?
Steve Brown
26
Posted 13/01/2019 at 16:18:53
'I don't care what the score was'!
Andy Walker
27
Posted 13/01/2019 at 16:20:29
Not sure how we won that, I would be well pissed off if I was a Bournemouth fan. Lookman did well, so did Bernard and Zouma. Nice for Calvert-Lewin to get a goal too with only 5 mins on the pitch.
Hopefully the win will get the confidence going. However Coleman, Gomes, Sigurdsson, Gueye were awful, particularly Gomes. Keane was decent but made his usual mistake, which we got away with this week.
What's happened to Gomes though, he's been shite since the derby now. Is it the cold weather?
George Cumiskey
28
Posted 13/01/2019 at 16:22:53
Steve Brown, you're taking it out of context, mate, and if you're happy with that performance, it's no wonder we're not progressing.
Frank Crewe
29
Posted 13/01/2019 at 16:23:49
More luck than good judgement but a win is a win. I must admit I don't like managers who stand on the touchline with their arms folded in front of them. Martinez did it and so did Koeman. Bad body language. Defensive and trying to make themselves smaller. Never see Klopp or Pep doing it.
Richarlison totally ineffective as a striker. Calvert-Lewin on five minutes and scores. Makes you think...
Jay Wood
[BRZ]
30
Posted 13/01/2019 at 16:35:48
George @ 28.
"Steve Brown... if you're happy with that performance, it's no wonder we're not progressing."
1) Steve didn't say he was 'happy with that performance'.
2) Steve must be a hugely influential Evertonian if whatever he says or thinks is the reason 'we're not progressing'.
Darren Hind
31
Posted 13/01/2019 at 16:36:01
Sometimes when confidence is low (and ours is low) you just have to accept the breaks gratefully. Bournemouth started the game with far more of a swagger, but they have nowhere near the same pressure on them.
I'd snatch your arm off for another couple of wins like that this month. Winning is the only way confidence will return.
Lookman looking very raw at times, but nice feet and balance earned him my MotM award.
Made up for Calvert-Lewin, there's more to come from him!
Steve Brown
32
Posted 13/01/2019 at 16:37:04
George, of course it isn't great. But when it is only your second in nine games then just be thankful.
Darren Hind
33
Posted 13/01/2019 at 16:39:05
Steve Brown
I've been blaming Kenwright for years... now I find out it's all your fault.
Brown out !!!!

Stephen McNally
34
Posted 13/01/2019 at 16:39:28
Kendall out!, Kendall out! Kendall OUT! A timely Kevin Brock back pass at Oxford United and rest they say is history.
A certain Alex Ferguson was also games away from the sack until Manchester United won the FA Cup in the 89-90 season, a number of years after his appointment.
I understand the frustration of Evertonians but certain players in this team, the manager, Marcel Brands and Moshiri need more time to improve fortunes.
Silva & Brands need more than half a season to rid Everton of mediocrity which has plagued the club for three decades (apart from some fleeting moments).
Keep the faith. COYB.
Jamie Crowley
35
Posted 13/01/2019 at 16:41:05
Three points. We need to play two halves of football!
I've been banging on about this (incessantly I might add) on the Live Forum.
Our front four, for me, has to be:
Calvert-Lewin
Richarlison, Bernard, Lookman
Bernard really needs to be the No 10. Drop Sigurdsson back or impact sub him.
I'd be very appreciative and curious as to people's thoughts on this, as I do value the collective brainpower of TW.
Colin Glassar
36
Posted 13/01/2019 at 16:41:17
Ditto Darren. That was a must win game for us and I don't care how it was achieved.
I don't want to criticise anyone but Gomes and Seamus were poor today and gave the ball away easily. And, wtf does Walcott do exactly? He doesn't defend, make runs, make himself available etc... He's a complete waste of space imo.
We really lack balance, and threat, down the right flank when Seamus and Theo play together.
Lookman and Bernard were my MotM.
Anthony Murphy
37
Posted 13/01/2019 at 16:41:25
I think we need an old head in midfield, à la Barry. We need someone to control the tempo of the game and use experience to ensure the youngsters are kept in check. Although we need a striker, it won't solve all the problems. I would target someone like Dembele at Spurs who may be looking for a new challenge – I just think we lack a calming presence.
Danny Broderick
38
Posted 13/01/2019 at 16:45:25
A win is a win and I will take that. After the run we have been on, you could see we were not at it in the first half an hour. We turned it around though and finished the first half well.
The ref gave them everything. And while Bournemouth had chances, we were the team looking to win it.
We desperately need something to change up front though. Richarlison isn't the answer. Calvert-Lewin has potential, but can we rely on him for the next 5 months? I'm sure Sigurdsson's form would improve if he had a striker holding the ball up and laying it off to him.
More positives than negatives for me today anyway. Not perfect, but a step in the right direction.
Derek Knox
39
Posted 13/01/2019 at 16:49:11
While I appreciate the three points, the performance left a lot to be desired, although admittedly it did marginally improve in the second half, but they still lived dangerously at times.
Bournemouth, who are on a bad run themselves, were unlucky with a couple of shots which thankfully didn't go in. There is something intrinsically wrong at Everton which I can't quite put my finger on; we have better players in some areas who are still under-performing, there does not seem to be any cohesion or desire when in possession.
The amount of times that passing was non-existent or wild, in the first half especially, I lost count, although, like I mentioned, it did get slightly better second half.
Colin Glassar
40
Posted 13/01/2019 at 16:50:04
Anthony 37, I was wishing for Jags to come on in the last 10 mins. He might not be the most vocal captain but he can organise a defence.
Dembele would be a great option in midfield as we lack leadership on the field. Very good players but too many shy away from taking the game by the scruff of the neck.
Brian Wilkinson
41
Posted 13/01/2019 at 16:50:34
Poor, that... but a win's a win, Lookman is making himself undroppable at the moment.
Big thumbs up to Calvert-Lewin for his goal, if only we could work on him and get him making runs in the box instead of chasing the ball on the wing. Whether that is down to being told to do that, god knows, but he will cause more problems by being more central.
Don Alexander
42
Posted 13/01/2019 at 16:54:03
Steve McNally (#34) – you hit the nail right on the head, sir!
Just wonder if Keane now features in Southgate's thoughts (Southgate attended). To me, his attitude today was everything I expect of a fully committed centre-back and the likes of Stones definitely needs at least one such defender next to him in the national team.
Paul Tran
43
Posted 13/01/2019 at 16:54:17
A win and clean sheet from the team that can't win or keep a clean sheet. A goal from the striker who can't score. Achieved against a streaky team managed by a streaky manager.
Lookman, Bernard and Keane played well.
Looks to me like something's not right behind the scenes. The body language of the players doesn't look good to me.
I hope a couple of wins can sort it out.
Neil Wood
44
Posted 13/01/2019 at 16:55:00
Jamie, that's the line-up I wanted today. Sigurdsson has been woeful.
Eddie Dunn
45
Posted 13/01/2019 at 16:55:54
Good for Lookman and good for Calvert-Lewin. He has less pressure coming off the bench against tiring defenders.
He showed Richarlison what centre-forward play is all about, Richarlison would most likely have taken a touch there instead of hitting it first time.
It amazes me that our coach persists with Richarlison in that role. We had enough of square pegs in round holes under Martinez and Koeman. We need a striker.
Today, we can thank our lucky stars that Wilson was injured because I think we would have been dead and buried by half-time.
Mads Kamp
46
Posted 13/01/2019 at 16:59:56
Lookman is five times better than Walcott!
Marcus Taylor
47
Posted 13/01/2019 at 17:02:37
Robbie Earle summed it up well on NBC Sports:
"3 points in the bag but plenty of work to do on the training ground."
A fair assessment.
Justin Harris
48
Posted 13/01/2019 at 17:05:45
Jamie Crowley @35 – spot on! Exactly my choice of front four!!
Steven Astley
49
Posted 13/01/2019 at 17:05:56
Jamie, that front 4 of Calvert-Lewin, Richarlison, Bernard and Lookman will do for me. Make it happen Marco.
Gavin Johnson
50
Posted 13/01/2019 at 17:06:22
The scoreline flattered us and we were lucky in the end. Bournemouth should have had a penalty when Gomes swiped at one of their players. Good job there wasn't any VAR for him and for us. He was very erratic today and could have also been sent off for a 2nd yellow before the penalty box incident.
There were some good spells in the 2nd half involving Lookman who has to play each week now. I thought Sigurdsson and Bernard also had good moments of play. The defence has to take some credit too. Zouma scored and Keane made an important tackle on Gosling.
People flip-flop over Calvert-Lewin. My opinion remains the same that he isn't the long term answer as a 1st choice striker but he is a valid member of the squad, and for the long-term. It was a well taken goal today.
Today's win buys Silva time. Although some of the good football has been sporadic over recent weeks. It's still a million miles away from last season's anti-football, but we have to finish 7th and do something Koeman wasn't able to do and have a decent cup run.
Colin Glassar
51
Posted 13/01/2019 at 17:06:47
I'm 5 times better than Walcott, Mads!
Sam Hoare
52
Posted 13/01/2019 at 17:07:43
Sigurdsson did not have a great game but he worked unbelievably hard and still put in a great reverse ball that set Richarlison away and a lovely low cross that Richarlison headed wide. I'm not a big fan of Sigurdsson by any shot but he impressed me today with his work rate and refusal to hide.
David Hallwood
53
Posted 13/01/2019 at 17:09:06
Just watching Spurs vs Man Utd. It's noticeable how quickly Spurs move the ball up the field, with 50-yard passes — something that's almost vanished since Silva came.
Not saying go back to Route One but mix it up a touch...
Guy Whettam
54
Posted 13/01/2019 at 17:11:17
I've never posted before, but have followed others' comments for years... I'm of the opinion that confidence is too easily surrendered by certain players, which impacts their decision-making, focus, capacity to follow simple instructions, etc. This indirectly impacts those less effected, and creates moments of indecision/hesitation.
The first 30 minutes of the first half was a byproduct of the above. But... Once Brooks missed, we noticeably gained in confidence, raised our tempo and overall level of performance. The familar pattern (of conceding with the opposition's first shot on target) changed. The crowd became more vocal, and the players responded.
Gomes didn't have his best game, from a technical perspective, but I've never seen him play with more passion for EFC. And Sigurdsson and Richarlison, although anonymous in the first half, were instrumental in closing down the back four and cutting off the passing lanes, in the second.
Lookman's performance was very good, but he's benefitted from time out, during our recent poor run of form. Looks like Silva's having a positive effect on him, too.
Alan J Thompson
55
Posted 13/01/2019 at 17:13:27
After the first 5 minutes, I began to wonder which was the home side as Bournemouth were dominating. I thought that Kenny had played well enough in previous games to have retained his place and wondered why Silva would have changed?
Richarlison I thought had an awful game and Siggurdsson was not far behind. Bournemouth dominated the first half while Bernard and Lookman, for me, were Everton's best. I couldn't believe that Bernard who'd been the heart, soul and engine room of the team, was subbed and Walcott replaced him, while both Keane and Zouma had solid games.
Gana breaks down opposition moves well enough but we really need someone to play a little closer to Gomes who seems to get the ball in acres of space but can't find anyone near enough to take advantage, pull defenders out of position, and then has to play either out to Digne, which oppositions are cottoning on to, or look for improbable long balls.
For the second goal, I was almost screaming for Lookman to cross for Walcott but his vision had picked up Calvert-Lewin in acres of space to first time slot it home.
Hopefully, we can take it forward from here but still a lot of work to do – not least being the manager's substitutions.
Kunal Desai
56
Posted 13/01/2019 at 17:14:56
Three points, clean sheet, and hopefully a bit of confidence to take into the next few games. Silva had better not change a winning team, he'd better have learned his lesson from last time.
George Cumiskey
57
Posted 13/01/2019 at 17:16:20
"Impressed by Sigurdsson today" ... The mind boggles.
Christy Ring
58
Posted 13/01/2019 at 17:20:13
A much-needed win. We're lacking confidence; Sigurdsson and Gomes are passengers at the moment. Richarlison should go back on the left, try Bernard in the No 10 role, and if McCarthy is fit, his energy and drive would give us a lift in midfield, as we're so pedestrian and slow.
Guy Whettam
59
Posted 13/01/2019 at 17:20:40
I wanted to finish my earlier post by praising Lookman and suggesting that this could be the turning point we've been waiting for. A victory and a
clean sheet
was massive for us today!
MotM: Lookman 8
2nd: Bernard 7.7
Tied 3rd: Zouma & Keane 7.5
COYB!!
Jim Bennings
60
Posted 13/01/2019 at 17:22:12
Just got in from that arduous battle that was today's game and refereed by a disgusting mutant being.
We were shockingly bad for most of it but found a way to win as we managed to stay level by HT.
I hold my hands up to Calvert-Lewin and praise for his goal today, took it really well he did.
Lookman was at times really good so too Bernard.
Pickford looks low on confidence and Coleman just looks low on everything right now.
Thrilled for Zouma because he's needed that goal for a big centre-half coming up.
John Pierce
61
Posted 13/01/2019 at 17:23:34
We've seen that movie before. It usually ends differently. As unconvincing as you get. Two moments of quality; Digne & Lookman.
Almost to a man the only thing that can unite the fans and the team is the perception of injustice, and Taylor served up a big fat steaming portion of it. Sadly, that's the problem: we only ever seem to stir once we've been wronged.
The start of that game was up there with anything our troika of previous managers could come up with. The intensity, such as it was, came after halftime and surprise – we scored and then we let up, another trope we often play to.
It left us hanging on as we just invited them on. Lookman was the exception, he kept trying the hard pass, no matter the result. I was left screaming at my TV often with Lookman in possession on the edge of the area and the rest of the team static and clueless. For me he's streets ahead of the rest, only Bernard comes close to an understanding.
A lot of work to do. But relief abounds across the masses.
Derek Taylor
62
Posted 13/01/2019 at 17:24:49
On target for c 54 points and a top half finish. No real improvement on last season but hey, we are in transition!
Paul Birmingham
63
Posted 13/01/2019 at 17:30:49
A win is a win, much needed bearing tough away games starting next week vs Millwall and Southampton, both teams in good form.
The first 35 minutes was rank today, but fair play to grind out a win Win ugly, and a ground out result. For me Zouma, Lookman, Bernard, played well and, in the second half, Sigurdsson and throughout, Keane and Pickford made key blocks and saves.
Great finish by Zouma from a great cross from Digne. And confident play by Lookman to pick out Calvert-Lewin, to cement this game.
Crap officials, who should all be demoted after this display, and foul conditions, but a long way to go, but this was a good tonic and hopefully a starting point to build from.
Bournemouth have wisened up and are now as sneaky as the rest in the Premier League, had the officials brainwashed.
Still kamikaze passes out from Pickford, Keane daydreams, but hopefully this performance and Goodison Park crowd today have willed the team on to start showing belief.
Better teams would have sunk us today, but we won and clean sheet so positives to go on.
Body language of Walcott didn't look good to me and, in my view, Lookman has earned, stays and keeps his place.
I can't see any takers paying good money for Tosun, and perhaps anyone else who's not giving blood, sweat and tears for the shirt.
January is moving fast so hopefully no injuries and on to Millwall; the FA Cup is a chance to progress and it may be our time.
Jim Bennings
64
Posted 13/01/2019 at 17:39:26
In many ways, I'm glad that we had that twat Taylor as ref today because, in the second half, when his decisions got worse each passing minute, it woke the fans up and that was Goodison at its best in the last half-hour... rather than the pin-dropping silence of the first half.
We need to improve, though, and the squad still looks bladdered.
Jon Bentley
65
Posted 13/01/2019 at 17:44:36
I'm thinking the front 4 might be better as Bernard as the No 10, then Calvert-Lewin upfront with Richarlison on the left and Lookman on the right!!
Dave Williams
66
Posted 13/01/2019 at 17:56:21
Jaime #35 – me too. Sigurdsson has moments of sublime skill but is largely anonymous and was very poor today. We were very short of men in centre midfield as Gana was swamped and Gomes lost his head in the second half.
Bernard was energetic, tenacious and clever – he realised he wouldn't beat Clyne for pace and that Clyne would muscle him off the ball so he started to cut back in and was very effective.
Lookman played well and has to keep his place. Richarlison will have more impact wide left and Calvert-Lewin up front will help us to build.
We need a big dominant character as defensive midfield... Well said, Jim Bennings – I wondered how you would react to Calvert-Lewin scoring a good goal and fair play to you!
Grant Rorrison
67
Posted 13/01/2019 at 17:59:56
I'd keep Bernard out left and put Richarlison behind Calvert-Lewin.
Sam Hoare
68
Posted 13/01/2019 at 18:04:29
I'm excited to see Bernard and Lookman play more together. Two sharp, smart, ballsy footballers.
John Keating
69
Posted 13/01/2019 at 18:07:15
Well we needed a win and 3 points desperately and somehow we got it.
I said in the match thread yesterday I expected it to be slow, lethargic with unknown tactics... how right I was. A complete waste of an afternoon, should have stayed in the pub.
Like Cardiff and Southampton wins at home, the results are masking how really poor we are as a team and individuals. Silva puts a decent team out, on paper, but our tactics are non-existent.
I watch other teams and wonder why we can't last more than half-an-hour before we're knackered.
Good result; piss-poor performance from team and management.
Eric Paul
70
Posted 13/01/2019 at 18:07:55
I am a big fan of Lookman but, apart from his assist, I didn't think he had a particularly good game. He kept coming inside into blind alleys instead of going outside and taking the full back on to the line. And who says Calvert-Lewin can't shoot.
Jerome Shields
71
Posted 13/01/2019 at 18:13:25
Good result, but Everton caught out again by a high defensive line, making their high press redundant.
Richarlinson, as I said beforehand, is ineffective in the role of centre-forward. He is wasteful of possession, poor positionally, and has a poor pass-completion rate. Opposition defenders now know how to play him.
Both Lookman and Bernard are more of what we need: good positional play, good pass-completion, maintaining possession, and they are a threat.
Calvert-Lewin is the best we have for the centre-forward position and he does gel with Lookman and Bernard. Richarlison is more interested in running down blind alleys.
Silva still hasn't sorted out midfield that is susceptible to a high defensive line and adds to Everton weaknesses of not cutting out passes and crosses in their own third.
Glad to see Zouma score at last. This was one aspect of his games that was missing and Everton are now more of a threat from Defenders coming from deep.
Silva still hasn't learnt. . . He hasn't sorted out the high press and how midfield deal with a high defensive line.
Bobby Mallon
72
Posted 13/01/2019 at 18:29:03
Not a single good word from most in here, just pathetic. Those moaning gits need a reality check.
We will always be a top 7/8 side — is that really so bad? To be a top 4 side, we need to spend more than we can afford.
Brent Stephens
73
Posted 13/01/2019 at 18:38:45
Disgraceful refereeing, including missing fouls by our guys. Disgraceful. Poor, poor game until his decisions finally goaded us into action.
Lookman, Bernard, Zouma, Digne – well played.
Brian Murray
74
Posted 13/01/2019 at 18:49:15
Bobby Mallon,
Yes, unless we pursue the Russian fella, we can't really compete. But maybe a cup now and again would do... and to beat them other shite would do for me.
Jay Harris
75
Posted 13/01/2019 at 18:51:39
How we ended up with 5 yellows and they got none should be investigated by the FA.
Also, there were two injuries in the first half and he adds 1 minute injury time as we were starting to get on top, then adds 5 minutes at the end. It's no wonder conspiracy theories abound.
As regards the game, you could see the nervousness eroding from the players as we were getting towards a deserved win. It was tough but, if the crowd get behind the players, it will get better.
Special mention for Lookman today, who I thought was MotM by far, and so pleased for Calvert-Lewin – whose goals per minutes is now around 200... not bad for a lad learning his trade.
Grant Rorrison
76
Posted 13/01/2019 at 18:55:00
It wasn't that bad a performance. We kept a clean sheet. Scored two decent goals. We showed a lot of heart, desire, commitment, tenacity to get the result in appalling weather conditions and with a lot riding on the outcome after a shit run of results.
John Boon
77
Posted 13/01/2019 at 18:55:15
It certainly wasn't a good game but, as most agree, three points. Hopefully this will restore some confidence. Can't agree with the criticism of Lookman (70) . He was probably the most effective Everton player on the pitch, both with his running and his passing.
One factor which must have played a part in the general poor play from both sides was the weather. Perhaps just one more excuse.
I also found Everton players far too edgy and too easily provoked. Mind you, the Ref was absolutely terrible and should not be refereeing Premier League games.
Will Mabon
78
Posted 13/01/2019 at 19:05:13
Bobby, just looking at the table – there is now a fully defined top six, by nine points. From 7th, there is no more than a 4-point gap between teams, all the way down to Huddersfield at the bottom.
7th/8th places are indeed the target for us and will be for some time. This said, we have had, essentially, a collapse in parallel with Man Utd's five wins: we were once above them.
We're a mile away from the top level right now but we are some way from where we could be with what we already have. Our earlier season showed this, striker or not.
The spirit and commitment of the team is vital above all else, and is not evident as it was earlier in Silva's role, and also the tactical application – which is rightly manifest as people having a moan at what we're seeing.
Darren Hind
79
Posted 13/01/2019 at 19:06:50
All the criticism is true... but it's still fucking good when the boys win. Nothing beats that feeling, no matter how much heartache they may cause...
Because I'm still in love with you
I wanna see you dance again
Because I'm still in love with you
On this harvest moon.
Will Mabon
80
Posted 13/01/2019 at 19:08:19
Darren - poetry of love! Win at the bookies?
Paul Jeronovich
81
Posted 13/01/2019 at 19:08:55
Thought the players showed guts and determination to win in the second half after a nervy first half.
Two goals, a clean sheet and a win. Just need to find that swagger we lost after the derby. COYBB
Brian Williams
82
Posted 13/01/2019 at 19:09:10
John #77.
Well said re Lookman. The lad was outstanding.
This place is becoming a site for some to just moan moan moan and choose to see the negatives and ignore the positives. Same at the game. Fella behind moaned throughout the whole first half. Totally over the top.
There was a little dummy by Bernard close to the technical area where he let the ball run and then turned. It looked for a second like it hadn't come off and the moaner, and a few others started to slag him and then shut the fuck up really quickly when the move came off.
They did exactly the same when Lookman did a couple of quick-footed moves in the same area before losing the ball. The moaners were onto him in a flash just before the ball was won back and Mola set off to set up Calvert-Lewin for the second goal.
I'm no happy clapper but the negativity and constant fucking whining is making ToffeeWeb a much less enjoyable place to come.
And someone mentioned about the body language of the players, obviously not up for it blah blah. Well, if there was ever a game where they fought for the shirt, today's game was it.
Yes it took a cheating referee, he had to be, to stir em up but you could feel the anger emanating from some of those players today, a real fired up fuck you attitude, which thankfully saw us get three hard-fought points!
Dave Abrahams
83
Posted 13/01/2019 at 19:14:21
Like most on here, I thought Lookman and Bernard had very good games along with Zouma, who looked overjoyed, and ran a good 50 yards, to congratulate Calvert-Lewin on his goal. He looks very happy to be here. Most of the other players frustrated the life out of me, although there was some improvement in the second half – there had to be – they couldn't have got any worse.
Referee Anthony Taylor looked like he had had a bet on Bournemouth, gave us next to nothing, and although there was some stupidly deserved bookings by us, he never booked one Bournemouth player and allowed them to get away with some very poor fouls.
A win is a win but Everton don't half bleedin' make you suffer for some victories, this was one of them, new players are definitely needed to stop this suffering.
Ian Bennett
84
Posted 13/01/2019 at 19:20:29
Glad to get the 3 points – hope it builds the confidence. Lookman, Bernard and Zouma were the highlights and have to stay in the team.
We made hard work of it from my seat. Yes it improved, but God do I wish we'd stop playing backwards. It's so easy for the opposition centre-backs when we don't attack or even hit the channels.
Awful referee, Pickford erratic and the usual Keane error that didn't go unpunished this week. But 3 points and a bit of atmosphere made me happy. Up the blues.

Andy Meighan
85
Posted 13/01/2019 at 19:21:18
Jay Wood @23,
Sigurdsson wasn't hugely improved in the 2nd half — he was just a bit better than he was in the 1st... in which he was awful. Lazy, slow to anticipate what's going on around him, and pedestrian.
Ditto Richarlison — who, after a few games, I thought was going to be brilliant. He's actually gone backwards and his antics knock me sick. How wrong was I about him.
I suppose I shouldn't complain after winning but, by god, that 1st half was turgid.
Darren Hind
86
Posted 13/01/2019 at 19:25:22
Will,
Three points AND a win at the bookies?
Fraid not, but I'll take the three points!
Colin Metcalfe
87
Posted 13/01/2019 at 19:26:00
I just got back from the game. Pretty poor stuff from both sides really but the conditions and some strange refereeing decisions didn't help.
I notice from the start there was a hesitancy about our play which suggests that confidence was low and as game went it was more obvious.
I think Sigurdsson needs to sit out a few games as his general play was poor today carrying on from previous games.
I know he is popular but Gana Gueye is almost a passenger at times yes he can tackle but his passing long and short is patchy at best, his shooting is poor and can't head a ball so I think a replacement is needed for that position in the summer however I do think we should keeps hold of him as solid squad player.
I left before the second goal went in but no surprise to see Lookman involved. I thought he was superb today; not everything he tried came off but he is a very clever and skilful player and he should definitely play before Walcott in the next few games as I think, with more minutes, he will get better.
Pickford once again is a worry; after seeing De Gea's brilliant second half against Spurs, he is way down the list of top keepers in the Premier League. Maybe it's a confidence thing but he is struggling.
A scrappy win but so very welcome considering we had just 1 win in the previous 9...
Tony Everan
88
Posted 13/01/2019 at 19:56:30
A good effort by the lads today, a bit more fight .
Some spirited performances, Digne has a great left foot, Zouma was strong again, and Richarlison I think had a better game, but the player I enjoyed watching the most was Ademola Lookman.
Lookman is a class act, a little diamond. He is doing what we wanted him to do... making himself undroppable.
Peter Mills
89
Posted 13/01/2019 at 19:59:32
It was a pretty grim performance, brightened by occasional pieces of skill and two nice goals. The players scrapped hard in the last half hour to gain the win, showing determination that has been lacking in too many games.
Anthony Taylor is a strange referee. I saw him at Bramall Lane just after Christmas when he was totally inept. He then reffed the Man City vs Liverpool match when I thought he made a great contribution by letting the play flow. It seemed like he was trying to do the same today, but then lost the plot completely.
Sam Hoare
90
Posted 13/01/2019 at 20:02:45
I think I'd be more tempted to play Lookman than Bernard in the middle. The lad is raw but he can beat a man and unlike the Brazilian he can shoot well with both feet. Plus I think Bernard is quicker and better on the wing, whereas Ademola is always looking to come inside.
I'd be tempted to play Bernard on the left with Lookman in the middle and Richarlison on the right with Calvert-Lewin up front. The nice things is that all 4 should in theory be able to swap around.
You could maybe drop Sigurdsson back to play instead of or alongside Gomes who, whilst better, was still not his pre-Xmas self today.
An encouraging 3 points overcoming a spirited Bournemouth, terrible weather, poor refereeing and our own lack of confidence. I'm not sure we are set for the top 7 or 8 this season and yet I do feel that there's things to look forward to.
Tony Abrahams
91
Posted 13/01/2019 at 20:20:02
Gave my ticket away because I thought I couldn't make it but was lucky enough to watch most of the game on the telly.
John @2 calls the first half right because we were definitely over-ran during the first 30 minutes. I felt it was because we are just too open and it looked like we were stretching ourselves a lot more than the opposition?
Confidence is low but it's never helped when your nearest teammate always seems to be at least 15 yards away, especially when the other team is on-top.
We got much better after the break (couldn't get worse) and played some much faster attacking football, which showed why Silva set us up like this in the first place, maybe.
I wouldn't have done it if I was a manager because football is a team game and, if your teammates are never close enough, it sometimes feels like it's every man for himself; this is how we looked in the first half today.
It's easy when it's easy but, when it's not, you need your mate next to you; but for a period in the second half, it just didn't look like the right way to approach the game and maybe contributed to us looking desperate at times?
That said, I want to give Silva time, especially for the way he looked to be handling the most condescending cunt in football, IMO. Martin Atkinson gave a little smirk but Marco took it right off his face when he looked to say to him, "No, you don't seem to understand what I'm saying" and hopefully let the 4th offical see that he could see right through him in the process.
Jamie Crowley
92
Posted 13/01/2019 at 20:28:47
Sam -
Sigurdsson, despite not having his best day today, gave 100%.
I think Sigurdsson would be marvellous off the bench to change the mood and tempo of a game for us. Or to start next to Gana who is undroppable for me, in lieu of Gomes when appropriate.
If we went with a very attacking front four, and Bernard centrally behind Calvert-Lewin (or Lookman as you suggest), I'd see that as Gilfy's "role" in the team. And he'd be very, very valuable still from the bench as an impact sub, as we seemingly need something in most games to change the direction the game is heading in. Or very, very valuable for a mis-firing Gomes.
Soren Moyer
93
Posted 13/01/2019 at 20:29:10
We really do need a decent target man!
David Pearl
94
Posted 13/01/2019 at 20:31:54
Well, if we are only ever going to be a team finishing 7th or 8th I may as well not even bother watching us ever again. After the money we spent we should be higher and the football should be better. Unbelievable comment.
We could actually play both Lookman and Bernard (or Walcott, or Richarlison) more central, behind a lone striker if we played with either 3 at the back or a narrow 4-3-3. We should lessen their tracking back and press more from the front.
I'm noticing we consistently give the ball away, and that Silva doesn't have the tactical nous mid-game to fix things. Luckily our players showed some fighting spirit that had been lacking. 3 much-needed points. Fingers crossed we can build on it.
Eddie Dunn
95
Posted 13/01/2019 at 20:39:00
It always astounds me, the different takes on the performance on here.
It was though good to see Jim Bennings eat a small slice of humble pie and congratulate Calvert-Lewin. Well said Jim.
It was clear that our lads are very sensitive to our home crowd. The apprehension was clear and confidence was at a premium. It does seem that our crowd are increasingly hard to please and the players pick up on this and the two things combine to make the event even more nervy.
The weather, the wind, and then the rain had a detrimental effect on the play from both teams. Most people made unforced errors at some point and it is difficult to be perfect in such conditions.
I feel for poor Seamus, the lad bleeds blue blood, but that disgusting tackle from Neil Taylor has ruined Seamus's career.
He can get by on his knowhow up to a point, but he can't go past ordinary left backs and his feet get caught under him in those awkward crosses that come in too quickly. His days at the top are numbered, I am very sad to say.
Sigurdsson is quality, whatever the critics say. He works hard and though he took a while to get into the game, his passing is so often the key to success.
Gomes, may be carrying a knock, he maybe not quite as good as we had hoped after his first few games, but he is a cut above what we have in his role, so cut him some slack.
Finally, Lookman and Bernard are obviously essential for the rest of the season, but I want to applaud Calvert-Lewin. He has had a lot of stick on here but I have great hope for him.
The only way is up for this lad. He is learning the trade but he will only get better. More beefy, stronger and he is learning from big Dunc, and I for one think it is sinking in.
Let's hope we can build on this performance. A day when the lads all got stuck-in, showed a bit of emotion, and ground out the win.
Eddie Dunn
96
Posted 13/01/2019 at 20:53:55
Tony, spot on there, mate. We were overrun and Martin Atkinson is such a clusterfuck.
Steve Ferns
97
Posted 13/01/2019 at 20:59:42
The ref was Anthony Taylor.
As for being overrun, it's the usual problem of no one holding position in the middle and so the opposition can stroll through midfield all the way up to the back four. Nothing to do with tactics, more to do with individuals.
Anthony Murphy
98
Posted 13/01/2019 at 21:05:56
John #61
"Almost to a man the only thing that can unite the fans and the team is the perception of injustice, and Taylor served up a big fat steaming portion of it. Sadly, that's the problem: we only ever seem to stir once we've been wronged."
I think this plays a huge part when trying to put a finger on what's wrong at the club. Since Moshiri came on board, we've become increasingly dissatisfied, impatient and disillusioned as the football on show does not reflect investment. We almost sit in silence nowadays (against 'lesser' sides) expecting a one-sided, easy win with some scintillating footy thrown in. Anything less leads to a chorus of moans and groans.
No singing, not much encouragement for players - especially young homegrown ones it seems. We (me included) have become a bunch of moaning bastards who have stopped enjoying the match day experience. Only when we are wronged do we see a proper reaction. Sad but true.
We lack identity at the moment. We lack a hero or two to attach ourselves to. We aren't playing well, but there are some positives, but we never really celebrate them. We seem to have lost our way as a club. A 2-0 win at home in terrible conditions against a team desperate for a win should be celebrated, but it's more fun to moan (me included).
Not sure what the answer is as catching the top 6 anytime soon is not going to be easy. With Bramley-Moore Dock, we won't be big spenders in the coming years and the Red Shite will no doubt make things even more unbearable. My only hope is a good cup run with a trip to Wembley in May – throw in a derby win and maybe beating a top 6 team away from home and I might cheer up a bit.
Brian Harrison
99
Posted 13/01/2019 at 21:06:56
Well, after a very disappointing first half, whatever Silva said at half time had the desired effect. We moved the ball a lot quicker and played the ball over the top for Richarlison to chase as well as balls down the channel. Sometimes winning this way puts more belief into a team than a 4-0 win.
They rolled the sleeves up and battled for everything, and the crowd responded, I think that was the best I have heard the crowd all season in the second half. Whether that was because of the increased effort of the players or their annoyance at some of Taylor's ridiculous decisions I am not sure.
I thought Lookman was head and shoulders above anyone else on the park; you could feel the buzz everytime he got on the ball. He has surely earned a run of games now. Bernard worked hard but still gave the ball away an awful lot, mind he wasn't alone in doing that especially in the first half.
I don't know if Silva said anything to Richarlison but he looked more up for it in the second half. He really needs to lose this petulant attitude he seems to have got into to and refs are giving him less and less the more he complains and throws himself to the floor.
But, as I said yesterday, a win was massive, especially for Silva after the comments from Moshiri at the AGM. There is a lot to put right but it will take more than 6 months and 1 transfer window.
Lewis Barclay
100
Posted 13/01/2019 at 21:08:36
Lookman and Calvert-Lewin must start the next few games. They've earned it. I'd let Richarlison, Sigurdsson or Walcott make way.
James Hughes
101
Posted 13/01/2019 at 21:08:41
Steve, I believe the waste of space called Atkinson was the 4th official.
Tony may be referring to when the other waste of space –Taylor had a word with Marco, the first waste of space did look very smug.
I missed the Gomes booking but the missus couldn't understand why the Bournemouth player wasn't booked as well.
Rob Dolby
102
Posted 13/01/2019 at 21:10:00
A win today against 12 men in terrible conditions, and a clean sheet.
1st half we played too deep in our own half facing a strong wind. Under orders, the ball is passed around far too much at the back when at times a ball down the channel would be better.
Lookman hopefully has done enough for a run in the team.
Something isn't right in the midfield though, it just isn't flowing; far too many sideways and backwards passes. No service again to the striker – unless you call high balls against a big lump 'service'.
Tony Abrahams
103
Posted 13/01/2019 at 21:20:16
Nothing to do with tactics? Just opinions obviously Steve, but the personnel usually dictate the way a manager sets his team up, and Silva's Everton teams, up to now, have mostly been wide open (especially to a fast counter-attack).
I'm not criticising him, I watched the game from a much more impartial view today and it was no coincidence that most loose balls ended up being won by Bournemouth because, especially in the first half, we had huge gaps all over the park.
It was different once we were on top and, for a 20 minute period, I thought we were very good but, if the manager is not going to cut his cloth accordingly, then only the transfer market is going to really improve us, IMO.
John Hammond
104
Posted 13/01/2019 at 21:22:07
Hard-fought win and my heart was still pounding an hour later. Ref was shocking today. Lookman surely ahead of Walcott now.
For a much improved second half, we were still full of mistakes and unable to keep the ball and desperately needed a second goal.
Still, it's 3 points. Southampton away will be tough but we can get another 3. Let's hope today boosted everyone's confidence a bit.
John McFarlane Snr
105
Posted 13/01/2019 at 21:23:39
Hi Dave [83],
I was forced to listen to Radio Merseyside's commentary once again, and while most contributors agree with the views of Ronnie Goodlass and his partner (Ian Kennedy, I believe). a lot of posts slate Gylfi Sigurdsson, but the commentators agreed that from the half-hour mark his performance improved markedly, proving the point that we can sit next to each other and see a different game I agree with you regarding a win being a win, it gives hope, and I'd rather suffer a false dawn than no hope at all.
A mixed week on the home front, Josh didn't make it at Finch Farm but he's a level headed lad, obviously disappointed but appreciating that there are some talented young footballers around. He said he's quite happy to be playing for the West Lancs County team, and who knows? Another chance may come along.
On the other side of the coin I have jettisoned the walking frame and crutches, and I'm able to walk unaided, and will be making my comeback at the Wolves game, God willing. It may not be a reason for another get-together, but I'm sure something will crop up, hopefully an FA Cup Final.
John Pierce
106
Posted 13/01/2019 at 21:27:34
Nothing new in Silva's tactics today and, but for a slice of luck and some abject refereeing for both sides if Bournemouth had won that, I wouldn't have a complaint.
Silva's insistence's on reverting to the players & formations he trusts is wearing thin with me. Patently when it's wrong.
Coleman back for Kenny after two games? Kenny has pulled up no trees but certainly hasn't been given the same opportunity as Seamus.
Whilst I get we gave not got a bone fide centre forward, playing Richarlison there negates his strongest suit and does the lad no favours.
Out wide, he will always be the full-back's equal or stronger, giving him the edge in the air. At centre-forward, he is working with his back to goal, and getting kicked. Whilst part of the job, he just gets wound up and becomes ineffective, he started to drift out left, face the play up to find some sort of reassurance in his game.
Just play him where he is most effective, Marco!
Tony Abrahams
107
Posted 13/01/2019 at 21:33:05
John, tell Josh if he really wants to be a professional footballer, then he should use this disappointment to make himself better.
Tell him only a few have got real talent and the harder he works, then the better he will become, especially if he uses this disappointment to try and make sure it doesn't happen again.
Jay Wood
[BRZ]
108
Posted 13/01/2019 at 21:42:37
Interesting to come back to this thread after going out after the game.
I don't see anyone going overboard about the win or the performance. Rather, I see a lot of honest assessment by many posters, although it is noticeable those whose starting, middle and finishing point is only to be negative and condemn the team, the manager and individual players.
No question, the first 30 minutes the tempo was ponderous, the possession and hold-up play from midfield to forward line almost non-existent, the passing sloppy. Gomes and Sigurdsson were particularly culpable in these areas. I calculate it was the 42nd minute of the game before Sigurdsson managed to find a blue shirt with a pass.
But, after that first half hour, we got a foothold in the game and were definitely in the ascendency by the interval. And we started the second half as we finished the first which eventually led to our opening goal.
We kept the ball alive from a cleared corner, and Digne does ever so well to take the ball first beyond the covering King, and then to dig out and stand the ball up for Zouma as he does as the ball is kinda behind him. Lovely finish from Zouma, with room to plant it where he wanted as his marker from the original corner – King – was drawn out to the ball and Digne.
Some question the mysterious 'body language' they believe they read from the manager and his players. It was telling, then, that the loan player's first thought was to race to celebrate his goal with his manager on the half-way line.
Whilst Gomes continued to be off all game, Sigurdsson improved markedly after the break. He was linking up play better, playing in good passes, chasing down everything.
And while I agree the final minutes before Calvert-Lewin's excellent second were extremely nervous, Sigurdsson's second-half performance was typical of every player in Blue today.
Many were not at their best. It was still not a confident display. But I defy anyone to name a shirker today, anyone who didn't put a shift in and simply try, the absolute minimum Everton supporters have always asked of their players.
I didn't see anyone hiding, or abdicating their responsibilities. I saw a TEAM – not always slick – determined to get a result, no matter what. That mentality and application will stand us in good stead in a very bunched middle table, if continued.
So for me, Pickford shanked a kick and played a bad short ball to Keane that was picked off, but he also made great saves at the feet of the forwards and came off his line into the pack a couple of times to fist clear, high and long.
Digne was solid in all he did. Seamus, I'm sorry to say, less so. Keane and Zouma were rocks at the heart of the defence and Keane's saving tackle on Gosling at the death was top-class defending. Sad then that some only focus on his one glaring error on the half-way line shortly after we scored.
Gueye was not a wandering gypsy he has been accused of. He barely crossed the halfway line today. Gomes was the weakest link in that department today and lucky not to see red for a second yellow card. Sigurdson, a classic 'game of two halves'.
Richarlison did better than of late against a tough centre back in Cook and was unlucky not to score. Bernard continues to improve. Increasingly, in recent games, he is challenging and winning the ball off his full back, showing he isn't a total lightweight on the physical side of the game.
But the star of the show, and someone who must continue to start, was Lookman. He makes things happen. Does it work every time? Of course not. But for most of our good stuff, Lookman was an integral part of the play.
It was so sweet to see him and Calvert-Lewin combine for a very good second goal.
Give me more of these scrappy, hard-fought wins to the end of the season and I for one will be happy with that.
John McFarlane Snr
109
Posted 13/01/2019 at 21:49:16
Hi Tony [107] I'll let Josh read your post. I have told him that there are thousands of young Evertonians who dream of being good enough to be considered for trials at Finch Farm and, no matter what the future holds, no-one can take the memories away.
I haven't seen Josh today but he'll give me his version of the match. I value his opinion because he has been well trained in the appreciation of football, no matter who plays it, friend or foe.
Jamie Crowley
110
Posted 13/01/2019 at 21:49:27
Jay,
I agree 100% with every word you've written.
You need to start a Brazilian post-match analysis column on TW.
John Raftery
111
Posted 13/01/2019 at 21:53:29
If Silva delivers the improvement expected by Moshiri in the second half of the season, he may look back on this match as a vital turning point. The players showed some desire and energy in the second half, not quite managing to wipe out the memory of the desultory opening 30 minutes but at least leaving fans feeling we may still have a team worthy of support.
As a group the players are still not gelling in the way expected of a team with aspirations higher than mid-table. The fans at best can be described as disengaged for long periods of home games this season. I suppose that is progress when compared with the hostility directed at Silva's predecessor.

Michael Kenrick
112
Posted 13/01/2019 at 21:53:42
Interesting talk of passion and commitment, along with the booking for Gomes, which seemed to set a poor precedent for a very poor game that was, nevertheless end-to-end, despite the glaring lack of quality on display.
I should probably hit rewind and take another look but it was the petulant response by Gomes — grabbing the ball in obvious annoyance when Taylor had blown against him, and refusing to give it back as the Bournemouth players tried to take their free-kick. That's dissent every day of the week and fully deserving of an utterly stupid yellow card.
He was then very lucky not to see a second yellow for a full-blooded shoulder charge that knocked the lad flying... followed by the most astounding thing, when he did the grabby ball trick again! He was very lucky not to see two yellows in this game... but yes, he was showing some emotion, so that's all good, I suppose.
Roger Helm
113
Posted 13/01/2019 at 22:00:20
James, the Bournemouth player was already on a yellow so the ref bottled the second yellow, even though he was more to blame for instigating the confrontation that Gomes reacted to. The ref was poor all game. The TV didn't catch the massive booing he got at the end!
Calvert-Lewin now has 7 goals in 751 minutes played (just over 8 full match equivalents) spread over 26 appearances, according to WhoScored.com. This despite playing mostly out of position in struggling teams under two crap managers.
When he is a year or two older, stronger and more experienced, I think he will be one of the top centre-forwards in the country.
Bill Gienapp
114
Posted 13/01/2019 at 22:01:38
Great post, Jay (108).
Some of the negativity feels a bit over the top. The first 30-35 minutes were genuinely dire, but then we got a foothold in the match and were the better side in the second half. There was nothing lucky or undeserved about the win.
Also, as Brian (99) said, there's a lot of value in a team learning how to grind out ugly wins. And a clean sheet is certainly nothing to sniff at, particularly against a solid attacking team like Bournemouth.
It amazes me that some people *still* can't seem to get over Sigurdsson's price tag. I agree that he needs to influence matches more consistently... but he's on pace to score 14-16 goals this season, along with a half-dozen assists or so. If Pogba put up numbers like that, Sky Sports would have a meltdown.
Brian Williams
115
Posted 13/01/2019 at 22:31:27
Roger #113.
There were no Bournemouth players booked in today's game, mate.
Mike Gaynes
116
Posted 13/01/2019 at 22:36:25
Agreed, Bill.
Colin Glassar
117
Posted 13/01/2019 at 22:41:23
My greatest concern in the game was our last-minute collapse in added time. We must be the worst team in the Premier League when it comes to clearing our lines.
We looked like the keystone cops once the board went up. Players forget the basics; can't kick or head the ball, lose concentration, panic, play like headless chickens etc. It's not the first time this has happened and probably won't be the last.
Oliver Molloy
118
Posted 13/01/2019 at 22:45:04
Jay @108 – "give me more of these scrappy hard-fought wins to the end of the season and I for one will be happy with that".
Although I accept a win is a win, I wouldn't: more of the Burnley type of result and I would be happy .
No, I'm not calling for the manager to be sacked, but after 22 games Silva has done one thing, improved our style of play, same as he has at every other club he has been at, and this is a "big project".
With the exception of a few players we were piss poor once again and only for Brooks hitting the post we would have been beaten once again in my opinion, that's how soft we are.
Being able to scrape a win against the likes of fucking Bournemouth at home, is this acceptable – should never be unless the entire first team are all sick!
I for one am plain fed up just "waiting for something to happen" at Everton.
As many many have said on here before, "It's the hope that kills you!"
I wouldn't pay over the top for Gomes by the way!
Simon Smith
119
Posted 13/01/2019 at 22:55:37
Today we didn't look good at all, but we kept a clean sheet which is always a bonus, and I genuinely thought the forwards done well, worked very hard and the wide men created chances.
The biggest let downs today were Sigurdsson and Gomes – they both misplaced a lot of passes, and neither of them found the danger men of Bernard and Lookman even nearly enough.
Martin Berry
120
Posted 13/01/2019 at 23:28:27
Being at the game, we could only be described as dross in the first half; the only team that had a game plan seemed to be the opposition. We were frequently out-muscled in midfield and our full backs too far forward left the centres exposed.
Second half, we got stuck in but still left ourselves exposed at times. Surely Marco has to realize once and for all this "Richarlison at centre-forward" tactic does not work.
Lookman was excellent and Calvert-Lewin took his goal with great aplomb; Zouma did very well.
I still think we are in big trouble looking at today's performance, as at times we could just not pass to a blue shirt.
Chris Gould
121
Posted 13/01/2019 at 23:34:54
Jay #108, I agree entirely with your assessment of today's game.
With regards to Sigurdsson, I don't feel he creates enough chances from open play for a No 10. He also hasn't been great from set-pieces for us, and Digne has increasingly taken more responsibility for free kicks and corners.
On the plus side, he works his arse off and occasionally can score vital goals. I would like to see Bernard have a game at No 10 with Richarlison and Lookman either side of him, and Calvert-Lewin up top.
I think Bernard is starting to really get to grips with the Premier League, and he looks a real scrapper with great touch and vision. He's quickly becoming one of my favourite players.
Eddie Dunn
122
Posted 13/01/2019 at 23:34:59
Steve Ferns- I appreciate your insight on tactics and always enjoy your posts but please pay attention, as myself and others have referred to Martin Atkinson's behaviour toward Silva, not the cretinous Anthony Taylor.
Also, there has been one constant recently... Silva's tactics. It is not the players, they are playing to his system and, no matter who the personnel are, they are setting-up too open, and we are being destroyed because of it. If Wilson had been on that park, we would have been 2 or 3 down in the first half-hour.
Paul Kelly
123
Posted 13/01/2019 at 23:58:50
Second to only celebrating a goal yourself, it's great to see the team and the bench's reaction> Big Dunc celebrated with Calvert-Lewin (longest name ever) like we'd won the cup, great to see.
Paul Kelly
125
Posted 14/01/2019 at 00:14:35
Dazza Hind,
"All the criticism is true... but it's still fucking good when the boys win. Nothing beats that feeling, no matter how much heartache they may cause...",
Never a truer word spoken.
Michael Kenrick
127
Posted 14/01/2019 at 00:32:32
Roger @113,
I'm not sure about your explanation here:
"The Bournemouth player was already on a yellow so the ref bottled the second yellow, even though he was more to blame for instigating the confrontation that Gomes reacted to."
I don't know how to parse this nugget of information. The problem is that there were no Bournemouth players booked during the entire match — not one.
Irrespective of the fairness or otherwise of the officiating, which many have commented on, I think grabbing the ball and holding it to your chest to deny the opposition their free-kick is a fully justifiable booking for dissent.
To do it twice in the same game...
Don Alexander
128
Posted 14/01/2019 at 00:34:11
Oliver (#118) I think just about all of us share the frustration you express but the win was very, very important regardless of the quality of our play.
If M&M can get us in the top four before the new stadium is built, I'll take a trip to the Town Hall steps, so deep is the mess they inherited.
Steve Brown
129
Posted 14/01/2019 at 00:46:55
Darren @ 33, yes it's all down to me that we are not progressing!
I've reflected on my position overnight and decided to send my resignation letter to Everton, so hopefully Kenwright will follow.
Phil Lewis
130
Posted 14/01/2019 at 02:24:48
Prior to today's result, I read one stat which put us in the bottom 3 in the Premier League based on current form. With that worrying thought in mind, today's victory, however it was accomplished, was a welcome relief.
Many would say relegation is an impossibility and while I think it highly unlikely, a losing streak means a confidence dip. The alarming memory of last seasons complacency could easily come back to haunt us.
We deserved the victory based on our second-half endeavours. I believe overall our current league placing is a fair reflection of performances so far. The worrying aspect is that recent displays in most departments do little to suggest that the team is likely to improve much any time soon.
I will be blunt in my assessment so far. Pickford is far from being a top-class goalkeeper. He may one day prove to be, but too many areas of his game at present are lacking. He is not commanding enough and does not inspire confidence in the defence.
There is a question mark over the once ever dependable Coleman since his injury.
Tom Davies is a mystery. The boy looked a future England great not so long ago, but for some unknown reason simply does not look like the same player this season. At least he has youth on his side to recapture his form.
Sigurdsson flatters to deceive. The occasional decent cross and precision dead ball effort do not hide the fact that, more often than not, he is creatively inept and woefully unable to open up even mediocre opposition defences. Our inadequacy in attack is glaringly obvious to all.
Richarlson's performances do not warrant an automatic start, yet it seems that, no matter how poorly he plays, Silva will not drop him. Too frequently he looks a class act one match then shows nothing the next. Played wide could well prove to be his best position.
Calvert-Lewin will in time mature into a fine centre-forward, but the lad is a long way off it yet.
As for the wide men, when Walcott first arrived he showed glimpses of his undoubted talent, but all too often lately, it is painfully apparent to see why Arsenal allowed him to leave.
Lookman looks a great prospect. More matches can only boost his stamina and confidence.
Bernard has bundles of ability, I have no doubt of that. Whether he is up to the physical demands of the Premier League is still questionable. I know that anyone can look good in YouTube highlights, but when we signed him I checked him out and he looked exceptionally good, playing in a Number10 role. Perhaps a run in that position for us might pay dividends.
Martin Anderson
131
Posted 14/01/2019 at 03:09:03
Jon Bentley @65 – I like that idea – also, maybe Sigurdsson up front if we can't get a striker this month? I think we would run teams ragged like that….
Calvert-Lewin is improving slowly, but still lacks the real aggression and close control the best Premier League strikers have these days, to my mind.
Si Cooper
132
Posted 14/01/2019 at 03:43:40
MK (112) - I'd hit the rewind button and check the Gomes booking again. The foul wasn't given against Gomes. I think it was Lookman, who seemed to get a piece of the ball, and there were still players on the ground in the vicinity so there was no chance of a quickly taken free kick.
I agree, there was obvious dissent displayed by Gomes at what he saw was another cheap free kick awarded to the opposition, but the Bournemouth player's attempt to grab the ball was overly aggressive. I think Gomes was booked for the dissent that his actions displayed and not for preventing a quick free kick, which is presumably the same reason that Zouma was booked at the same time. I think Taylor should at least have had a word with the Bournemouth player.
The following incidents were hot-headed, and could easily have added up to a yellow card for accumulation if the hand around the neck in the penalty area had been spotted, but the little bit late, little bit robust bump into Cook (who milked it) wasn't deserving of a second yellow and I think the ref judged that one rightly.
The swift hand hooked round the neck was daft because any contact near the head will draw an often out-of-proportion punishment, but again I thought the Bournemouth player's reaction was excessive, which Jermaine Jenas agreed on MotD2. There are far more physical grabs and pulls on display practically every time a dead ball is crossed into the area, the vast majority of which receive no punishment at all.
I also agreed with Jenas's assessment of the game. First half, we were just too sloppy immediately after getting possession of the ball which kept us on the back foot. That aspect eventually improved and we came into the game.
For me, the players are showing real desire to play well for the manager. The first half sloppiness can be characteristic of teams that are simply trying too hard, and that is somewhat understandable given our recent results / performances, and the players were obviously fired up and prepared to run themselves into the ground second half.
Anyone that could interpret that combativeness as independent of the manager - player relationship, or any communication between them at half-time, has patently already made a negative decision on Silva's suitability.
Bob Parrington
133
Posted 14/01/2019 at 03:50:12
Anthony Taylor tried very hard to give the win to Bournemouth. Out of several missed but obvious fouls was the one that lead directly to them hitting the bottom of Pickford's right hand post. If that had gone in, I think there might have been a riot!
It's no wonder several of our guys got fired up. Trying hard, with things just not going right, the last thing we needed was lousy, one-sided refereeing. I found this surprising as I've usually felt that he is a quite balanced referee.
Bob Parrington
134
Posted 14/01/2019 at 03:51:48
I thought Lookman deserved MotM. This was an overall good display by him. Zouma and Bernard as well.
Si Cooper
135
Posted 14/01/2019 at 03:57:35
Bob, by balanced you mean equally bad for both sides?
Wasn't Taylor the one (in his first top level match, I think) who sent Darren Gibson off for a high foot when the opponent's challenge was identical, but then evened the dismissals up later in the same game for another relatively innocuous offence?
Jerome Shields
136
Posted 14/01/2019 at 04:40:32
I rewatched the match on MotD.
Everton where more aggressive in midfield in the second half and achieved a lot of turnovers, as well as yellow cards, and where lucky not to get at least two red cards.
It's obvious they need a McCarthy type player in the midfield to counteract a team who are playing a high defensive line. Silva still hasn't sorted the problem, but even he should be able to see the difference.
The other problem is defending as the opposition enter Everton's final third. Everton are too easily overwhelmed. They are not putting pressure on the attacking players or marking receiving players, allowing too much space for passing and receiving the ball and too many crosses.
Coleman on for Kenny? Coleman is too slow for the Premier League, in mind and body now. It shows that Silva has no idea how to counteract it.
Sadly, though Everton won, they are a long way off a team selected and coached to challenge in the top six, with a manager who is showing the potential to turn things around.
Everton have that look of looseness about the middle of the park that even characterised the Moyes era. If I where Brands, I would be looking at the cheap option of cleaning out the backroom staff. There is clear evidence of sloppy coaching at backroom level that has charactised Everton teams for years.
I have watched too much of this for years and suffered as a result. They are not professional: they are Luvies. In future, I shall refer to them as Luvies, to use less words and cut to the chase.
As it said on the Tottenham website, prior to the lesson they gave us:
"It's the same old wonderful Everton, with a different Manager. "
Darren Hind
137
Posted 14/01/2019 at 05:35:56
Sorry, Steve,
I'm with Tony on this one. we were impressive at Anfield and a few other games leading up to it, because we were very compact. we were attacking and retreating as a unit.
I haven't been getting to games so it's been difficult to get the "big picture" but it would appear that since the game at Anfield, we have been strung out like a washing line. Even the so-called "lesser sides" have been able to pass through and around us.
Silva took the credit when we were compact and putting in decent performances against the better teams, he must take the criticism for loose play. When players lose their discipline once, it's their fault; when they start to do it regularly, the manager must take responsibility.
Sam Hoare
138
Posted 14/01/2019 at 08:00:49
Is it worth pointing out that, despite facing 9 corners and probably as many free-kicks swung in and long throws, we kept a clean sheet? I only remember one Steve Cook header that he couldn't get on target. A much better day for the much-maligned zonal marking.
Mark Murphy
139
Posted 14/01/2019 at 08:14:25
Before:
"We need a win – any win will do – an ugly win with a goal off someone's arse so long as it's a win."
After (a 2-0 win with 2 good goals and a clean sheet):
We're shit! I'm delighted – looking forward to the next scruffy win at Southampton next week!
Paul Kelly
140
Posted 14/01/2019 at 08:14:53
We were shite, they were shiter, nuff said.
Derek Knox
141
Posted 14/01/2019 at 08:30:34
Paul K, great analytical post mate, must have taken you ages to compile that, kudos to you sir. :-)
Andy McNabb
142
Posted 14/01/2019 at 08:37:01
Mark Murphy #39.
I have been waiting for that! Yes, many posters did say that before the Lincoln game. We have to put the win into context – although I watched the 'mini-match' 24 minutes of highlights over here today and by half time I was losing the will to live.
Seriously, I take my hat off to those of you who sat in the rain and watched all 90 minutes after paying for the privilege.
Tony Heron
143
Posted 14/01/2019 at 08:48:02
What game is everybody talking about on here?
I'm just watching BBC Breakfast (aka The Andy Murray Show) and according to their sports bulletin, only Man Utd & Spurs played yesterday. No mention of Everton (again).
Liam Reilly
144
Posted 14/01/2019 at 08:51:38
It was a poor game, lacking any real quality with some bewildering refereeing decisions.
I would have had Taylor down as biased and pro-Bournemouth, because he gave us so few (if any) 50-50s all afternoon; yet he could and possibly 'should' have sent off Gomes. Then he somehow gets 5 minutes of injury time; just bizarre.
Sometimes when on a poor run; it's all just about the result – no matter how ugly.
Job done and 2 points off 7th again – which would be a good return in Silva's first season.
Sam Hoare
145
Posted 14/01/2019 at 09:02:44
We've had far uglier wins that yesterday. We scored two well made goals, both well finished. There was some poor football on display but there is in almost every Premier League game, especially in those conditions.
I'll take that every day of the week and twice on Sundays.
Sam Hoare
146
Posted 14/01/2019 at 09:23:02
Also, to those who constantly decry Gueye's ability on the ball. Check out the second goal more closely, he takes down a high ball on his chest (where he might have been tempted to just head it forwards) and gets the ball back to one of ours who plays it forward to Calvert-Lewin.
Gueye then gives it to Lookman who is almost tackled but pokes it to Calvert-Lewin and then back to Gueye who then plays an excellent pass, through the lines that sets Lookman free to then set up the goal.
Gueye is no David Silva but I think he's capable of better on the ball than many credit him for; just frustrating when he's not consistent in his passing.
Steve Croston
147
Posted 14/01/2019 at 09:23:44
I think the fact we battled hard and competed extremely well was in spite of, and not down to Silva at all.
I'm delighted with the result yesterday and echo most people's sentiments about Lookman, Bernard (he's gonna be pure class, I tell you), Zouma and Keane.
The jury, however, is still out on Silva; I really hope I'm wrong, but he seems out of his depth. Anyway, a happy Monday for us all... COYB
Mark Boullé
148
Posted 14/01/2019 at 09:34:53
Can any match goers put their finger on what is up with the atmosphere at Goodison Park?
I watched the Spurs vs Man Utd game straight after and the Spurs fans were making one hell of a racket throughout – Wembley was rocking!
It really does seem to take perceived (or in yesterday's case actual) bone-headed refereeing to get an Everton crowd going these days.
Anybody have any idea why that is? Why can't the fans just roar the team on like the Spurs fans were doing yesterday? Okay, Spurs somehow lost but boy did they play well and visibly respond to the vocal backing they received.
Is there still a majority match-going blues who experienced the glory years and for whom a mid-table clash just doesn't get the juices flowing?
It can't be the ticket prices (among the cheapest in the Premier League by all accounts) so what is wrong? A new stadium is all well and good but it's pointless if it's not going to be an intimidating cauldron for the opposition...
Sam Hoare
149
Posted 14/01/2019 at 09:34:59
Steve @147, why do you think the fight was in spite of Silva? When Zouma scored he made a point of running over to Silva and embracing him. Looks to me like players who appreciate their gaffer and fought for him.
Kris Boner
150
Posted 14/01/2019 at 09:39:27
"Battle in spite of Silva"? What evidence do you have to back that one?
We went in at half time poor and came back out better. Sounds to me like a team talk helped.
That 50-yard sprint by Zouma to hug his manager really spoke to me about the players acting in spite of the manager.
Tony Abrahams
151
Posted 14/01/2019 at 09:52:08
Interesting point about the crowd, Mark, but if it's not in-your-face football, then I think this is the way that Goodison usually is. (Unless the big teams are in town.)
I thought the players, definitely played for the manager, I also think Silva, is a very good coach, with some very good methods, but I'm not sure he's got enough good players, to carry out his plans, and this is the bit that worries me sometimes.
I only watched the last 15 minutes of Spurs and I'm pretty certain that this is the style of football that Silva wants? But imagine Pochettino having our squad now and I'm not sure we would be doing any better unless, of course, the Spurs manager was prepared to change his style, which is something I'm not sure Marco is prepared to do.

David Ellis
152
Posted 14/01/2019 at 09:55:48
This was an important win. A genuine six-pointer against a top half rival but more importantly this win takes some pressure off Silva and the team and hopefully allows confidence to come back.
I'm not going to worry about the performance.
Brian Harrison
153
Posted 14/01/2019 at 10:07:37
Tony @151,
Totally agree with your sentiments over the crowd and also your thoughts on Silva. The team didn't play well first half but it wasn't through a lack of effort, I think confidence has been lacking for a few weeks, despite the win at Burnley.
I don't know what Silva said at half time but we certainly moved the ball quicker and passed it a lot better. When Zouma made a beeline for Silva when he scored tells us that these players are definitely playing for the manager.
Has Silva made some mistakes? Yes, but for me he needs time and I think he will get us competing for a top 6 spot next year. Brands quite rightly gets a lot of praise about the players he has brought in. But I think that Brands bought Mina and Silva negotiated the Zouma deal and I challenge anybody to tell me at this moment that Mina is better than Zouma.
Let's also not forget when he arrived one of his first comments when asked about Lookman, he said "he is our present and our future" — maybe that's why the lad is still here.
Sandra Bowen
154
Posted 14/01/2019 at 10:18:32
We all see different games, I guess, but I'm completely baffled by those slagging Sigurdsson. Agreed, first half was poor but he was at the heart of every positive thing we did second half. His pressing set a tone for the crowd to get behind and created 2 clear chances for Richarlison along with three or four other dangerous balls into the box.
He might go missing for parts of the game but invariably he produces two or three moments of quality every game. And as another poster mentioned earlier, his stats are fantastic for the season.
Huge holes in midfield again, if only we had a 25-year-old Gareth Barry. We still miss him badly.
Great ugly win though; hopefully the blip is over and we can put together a decent run. And yes, fingers crossed for a striker.
Clive Rogers
155
Posted 14/01/2019 at 11:03:58
For me, Sigurdsson's form has taken a dip since the end of December and I can't help but feel that Swansea had his best years. After all, he is 30 in September. I hope I am wrong and he can recover some form, but he increasingly looks tired during games to me.
Russell Smith
156
Posted 14/01/2019 at 11:28:27
I agree totally with Tony (151) and Brian (153) – the players obviously like Silva and are playing for him; this is not Man Utd and Mourinho.
In the games up to and including the derby, we where more compact, including Gana, who was more disciplined (as has been noted on other threads). But the other factor was teams had not seen enough of Gomes and he had more time to turn on the ball and push forward with it at his feet. Now, teams push right up on him to prevent him either receiving the ball or him having to play it backwards or square.
In Gareth Barry's first season, it took teams until about mid-season, maybe slightly longer, to work out how much of our play went through him. After they sussed this, they pressed him more; he was not then as effective and our results tailed off and then collapsed the following season.
At the start of this season, we also seemed to be playing further forward as a unit, pressing opponents in their half of the pitch, with Richarlison, Sigurdsson and Bernard all harrying defenders playing out from the back, with Gana and Davies or Gomes then providing similar pressing if the ball was played into the centre of the pitch.
We don't seem to be playing this way now. Maybe it is just a lack of confidence but clearly we can play in this manner, which I believe is what Silva is looking for.
On another note, did you see the impact Lorente made coming off the bench for Spurs for the final 15minutes? He also scored a hat-trick in the recent cup game. As a short-term solution to our centre-forward problem, why not see if we can get him until the end of the season with a 1-year extension if all goes well?
This would give Calvert-Lewin time to mature further, learning from a world-class centre-forward (at least in his hay-day but still obviously with something to offer), not overly hinder his progress, allow him to get some more appearances like yesterday from the bench, and would help Sigurdsson's imput as this pair had a great understanding and chemistry at Swansea.
Colin Malone
157
Posted 14/01/2019 at 11:40:01
Sigurdsson is a classy footballer who, in my opinion, is wasted as a Number 10 position. Gylfi is the perfect fit to partner Gomes in midfield, as the Burnley result proved.
We keep the ball much longer when we played Gomes and Sigurdsson together and were less predictable in our play, with the option of playing through the middle.
Sigurdsson, Gomes and Bernard — class players who are playing too far apart from one another.
Mick Conalty
158
Posted 14/01/2019 at 11:42:00
Mason Holgate was a different class at WBA on Saturday!!!!??
Silva, pressures off till Southampton on Saturday. I just hope it's not one step backwards again.

Jon Withey
159
Posted 14/01/2019 at 11:47:58
We looked okay second half, at least on Match of the Day – personally, I'm happy to see a battling performance and Bournemouth aren't so bad.
Kudos to Pickford for one particularly fine sliding save. Keane also made some good interceptions and Lookman has some style. Let's give him a run in the team; Walcott is there from the bench for a bit of experience if needed.
I would love to keep both Gomes and Zouma.
Derek Taylor
160
Posted 14/01/2019 at 12:06:18
Don @ 128. Some of that mess was of Moshiri's making, remember!
Kim Vivian
161
Posted 14/01/2019 at 12:39:50
Disappointed to read that (evidently) Chelsea 'won't' sell Zouma. He seems to like it here and I hope he can push for a move (without us getting shafted financially – again).
Rennie Smith
162
Posted 14/01/2019 at 12:50:04
Mark @148, Premier League stadiums just don't have the same atmosphere these days, we're not alone in that respect.
We get the standard "Is this a library?" chant from the away end every home game, but with the exception of Palace, go back to their place and we'll be singing the same song. Call it the seats, call it the prawn sandwich brigade, call it the saturated TV coverage, call it whatever the times have taken the atmosphere away.
As for the Spurs game, they're a few reasons it was different: Man Utd are in town, 90k people, exciting game with plenty of chances, they're up near the top with a chance of a title (no more)... it all adds up.
Kevin O'Regan
163
Posted 14/01/2019 at 12:58:26
5 Yellow cards in a game – 1st time in a long time we have way more fouls than the opposition. Is that maybe a good sign?
I didn't see the game this time but, if 5 yellows are anything to go, by then there was anger and commitment. Maybe not on a par with the mad dogs, but heading in the right direction?
Delighted that Lookman got a start.

Dave Abrahams
164
Posted 14/01/2019 at 13:26:39
I'm still behind Silva and will continue to back him but dropping Kenny after good decent performances is a kick in the face for a young lad playing his best in a team struggling at the moment.
Black mark there, Mr Silva. It brings back memories of Martinez dropping Robles for a past-his-best Howard after Robles had performed well.
Derek Taylor
165
Posted 14/01/2019 at 13:30:20
Blind loyalty, Dave.
Silva will always be an also-ran!
Fran Mitchell
166
Posted 14/01/2019 at 13:34:23
We were woeful, especially in the first half. Luckily Callum Wilson was injured or the result could have been very different.
Lookman has surely cemented his position, for me Bernard still flatters to deceive.
Hopefully that goal by Calvert-Lewin will be a sign of things to come, him and Lookman could save us millions.
Coleman, like most, so wasteful in possession. Kenny didn't deserve to be dropped.
My main worry is that we panic whenever in possession, there is no composure, no confidence, no slowing down and controlling tempo, no looking up to see where teammates are, just rushed passes/shots/dribbles to nowhere and eventually surrendering possession.
This is what needs working on. Signings or not, nothing will improve until this problem is dealt with
Eddie Dunn
167
Posted 14/01/2019 at 14:00:16
Kenny certainly didn't deserve to be dropped but he did enough for Silva to know he can be relied on.
Derek Taylor
168
Posted 14/01/2019 at 14:11:03
You sum it up well, Fran, but with all the 'big money' signings of recent windows, the team has gone downhill since the temporary joy of Roberto's first season. Some of us have even harked back to the 'seventhish' years of Moyes. Imagine!
Even replacing the penknives with canons has failed to make much impression in the twice-seasonal skirmishes with the big clubs so there seems little point in continuing to throw away good money on players who, a few months after they arrive, look no better than those they replaced.
So, let's not keep screaming for 'signings', but just hope that Silva can do what the owner expects of him. Keep us top half or above until the Bramley-Moore Dock stadium is completed.
Tom Bowers
169
Posted 14/01/2019 at 14:30:33
There is still a lot wrong and it's doubtful if things will change much for the rest of this season. Yes, they may win 4 or 5 more games but playing like this is unacceptable to we die-hard Evertonians as most of us remember Goodison used to be a fortress but now many average teams come here and have no fear in attacking Everton's weak defensive set-up.
They are basically all over the shop at times and the closing down is woeful. Thank God the Bees were missing their main striker!
Silva is trying to use the same 14 to 15 players at the exclusion of a few others who were in favor under his predecessors but they are not proving their collective worth so it seems every game is a potential banana skin.
Clive Rogers
170
Posted 14/01/2019 at 14:42:01
Kevin, #163, there was more commitment, but the five yellows were down to the atrocious referee who gave all the fouls, throw-ins and anything else he could to them. He really had it in for us.
Fran Mitchell
171
Posted 14/01/2019 at 14:44:19
I thinjk we're capable of more than just top half, but I agree that I don't feel the issue with this team will be resolved via one or two signings.
Many on here seem to believe that we need a centre-forward, that even someone like Batshuayi would somehow transform the team.
I don't see it. The problem is at the training ground. There is something seriously wrong ever since Moyes left. Like it or not, at least with Moyes we 'played to and above' our potential, ever since (with Martinez's 1st season being a blip), we have underperformed.
Players like Davies, as with Barkley when he was here, have gone backwards.
Gomes walked into the team and floated about the pitch like he was a god, such a presence, such composure. He's since turned rabbit staring at headlights each time he gets the ball.
This is the problem. The team loses its shape because we have no composure on the ball, we pass it around like a 6-year-old playing on a futsal table. The players treat the ball like a hot potato. It's painful to watch.
But the players are better than that. On the training pitch is where change needs to be made.
If I was Moshiri, I wouldn't spend another penny until I saw any improvement on these basic elements of the game.
John Kavanagh
172
Posted 14/01/2019 at 14:56:36
Good result in the end and delighted that Calvert-Lewin scored. Shame that Lookman didn't get on the score sheet but he has done more than enough to earn a place in the starting eleven. I'm always keen to see the youngsters given a proper chance to establish themselves.
We now have a potentially highly flexible forward line with players able to switch roles. Like others, I feel that Lookman and Bernard have the ability to operate just behind the striker if needs be. I cannot understand why Silva left Gomes on the pitch after he had clearly lost it and was almost asking to get sent off. It could have lost us the match.
The sensible move might have been to replace Gomes, play Sigurdsson further back and put Calvert-Lewin on, moving Lookman or Bernard into the centre and Richarlison onto the left? Anyway, Calvert-Lewin is improving and needs more game time – and encouragement.
I still cannot fathom out why the youngsters get most of the negativity/abuse. Goodison is still a bear pit – but often for our own players. In the last two seasons it's been the experienced players and big money signings who have disappointed most, yet Holgate, Kenny, Davies, Calvert-Lewin and Lookman have all got more stick from the terraces as well as here on ToffeeWeb.
If they get encouragement and the crowd behind them young players will often grow in confidence and improve. Giving them a lot of stick has the opposite effect. And don't expect any loyalty if they do come good and other clubs start making offers.
Brent Stephens
173
Posted 14/01/2019 at 15:02:18
Clive #170, I agree, the refereeing decisions, cards and non-cards (both ways) were atrocious. I watched the recording of the game again after I got home from the game and you couldn't pick up on TV what you could see at the game (well, I couldn't). Disgraceful refereeing.
Jay Harris
174
Posted 14/01/2019 at 15:18:58
Fran, I totally agree with your analysis there.
I have said for years that the main difference between the very top layers and the rest is mentality. People like Hazard and Silva have supreme confidence and will to win.
I only see that in Lookman, Coleman (who regrettably is not the same player after his injury) and Richarlison. The rest particularly Gomes look very weak mentally which may explain why he totally folded at Barca.
I watched Sigurdsson closely on Saturday and, in the first half, he looked close to crying... then something sparked in the second half and you could see his confidence returning and eventually he was buzzing.
I know its been said before but oh for a Peter Reid, Andy Gray or Psycho Pat who weren't the most skilful players but boy did they know how to win games and never surrender.
It also doesn't help that the manager would appear to be a bottler who doesn't know what to do when the chips are down.
Even our supporters are reluctant to have any belief because there have been so many false dawns and let-downs.
Rennie Smith
175
Posted 14/01/2019 at 15:32:47
The lack of composure, or "panic", on the ball just comes down to confidence and responsibility for me. If you're on a bad run and the crowd is a little hostile, you play with fear and it's safer to try and offload the responsibility rather than hold, breathe and take control. Hopefully we get a few positive results and that confidence gathers momentum and we'll see a more composed approach?
Also, the young players aren't immune to that pressure and its effects, how many times have you heard "the youngsters play without fear"? Yeah, that's great if you're Phil Foden playing in a winning team of superstars or Rooney playing for fun in a debut, but if you're viewed as the saviour of a struggling team, it's a lot to carry.
Kevin Prytherch
176
Posted 14/01/2019 at 16:04:39
John - fully agree.
Our lousy fans (I never used to call us that, but we are these days) have turned Barkley, Lukaku, Stones and Deulofeu away.
We'll do the same with Davies, Calvert-Lewin, Holgate, Kenny and Lookman (just wait until he has a couple of bad games – he'll be Championship at best).
While all the time we'll call for big money foreign signings who only come for the money.
Then we'll moan that there's no commitment from these big money foreign signings and wish we had someone with a bit of fight (like the youngsters we've turned away).
Then we'll moan that these foreign mercenaries are on big contracts and we can't get rid of them.
Then we'll be up in arms that they all need replacing by... wait for it – big-name foreigners who only come for the money.
At the same time, we'll blame every bad result on the next batch of youngsters who are learning their trade and could do with a bit of encouragement.
Lousy vicious circle created by impatient fans who think they have a divine right to instant success now that we have a rich owner.
Ray Roche
177
Posted 14/01/2019 at 16:25:16
Kevin, couldn't agree more. You need only drop in on the live thread on match days to see that we have our fair share of knee-jerk, shoot-from-the-lip, pessimistic whingers all too ready to string up our latest young prospect the moment he plays a bad pass.
Local lads have always suffered most. I wonder how much of an influence this had on so many boyhood Blues preferring the Dark Side to further their careers?
Brian Harrison
178
Posted 14/01/2019 at 16:26:52
Kevin @176,
It wasn't the fans that turned Barkley, Lukaku, Stones and Deulofeu away — it was the managers in charge who decided to sell these players. Lukaku and Stones and Barkley went to top clubs and Deulofeu said Koeman wouldn't talk to him when he asked why he was being left out.
Let's not forget that the fans were singing "Money Can't Buy John Stones" when Chelsea were after him, so this had nothing to do with the fans.
Deulofeu made a point of going to the Glwadys Street end to applaud the fans after the game with Watford, so there is no animosity between him and the fans. Lukaku was always saying he wanted to play Champions League football — again, nothing the fans could do about that.
James Hughes
179
Posted 14/01/2019 at 16:41:42
Brian, what leads you to be believe that Brands signed Mina and Marco got Zouma?
Dave Abrahams
180
Posted 14/01/2019 at 16:43:01
Derek (165), you could be right, but I think I'll know about Silva's capability soon enough, just think it is fair
to give him some more time.
Kevin (176), I agree with a lot of what you post, but definitely not about Stones and Lukaku — nothing would have kept them here once they knew they were wanted by clubs going for honours. They were ambitious and wanted to move and that's what they did. Good luck to them, well to Stones anyway... he seemed a decent lad. Lukaku is all about Lukaku.
Don Alexander
181
Posted 14/01/2019 at 17:21:19
Kevin (#176), I don't recall any of Deulofeu, Barkley or Lukaku displaying any notion of "fight" but I may have missed a match or two.
On your broader point, I fully agree. The modern-day footballer wouldn't last a month in our dressing room in 1970 or the mid-80s. It's almost as though they don't give a damn for anything but themselves, and it's depressing.
Brian Harrison
182
Posted 14/01/2019 at 17:26:44
James @179,
I obviously have no evidence – only to say that that's my feeling. When we signed Mina and Gomes from Barcelona, Brands said he likes to do deals that didn't seem possible. Zouma had been on loan to Stoke last season, so I would imagine Siva had seen more of Zouma than Brands had.
I also think that, if Silva had signed Mina but prefers Zouma, do you not think Moshiri wouldn't have asked: "Why did we spend £28 million on Mina as a backup centre-back to Keane and Zouma?" – as seems the case.
But, as I say, it might be complete nonsense.
Mike Gaynes
183
Posted 14/01/2019 at 17:39:06
John #172, that is exactly the change I have advocated. Sigurdsson can do most of what Gomes can do in moving the ball out of the back, and he is exponentially better defensively. I'm skeptical of Bernard's likelihood of success in the #10 slot, simply because he has little experience there and definitely prefers the open spaces of the wings. But if Silva does give him that chance, I think it's Gomes who should sit, not Siggy.
Brian #182, I'm quite certain Brands made those signings, albeit with input from Silva. Managers don't sign players in this current Everton structure. And in answer to Moshiri's question, Brands would simply reply that he views the raw-but-talented Mina as a future star and therefore worth the price... but that Silva considers the more-experienced Zouma a better choice right now.
Dave #180, spot on re Stones and Rom – no way those two were going to stay, no matter how much love or money we showered upon them.
Jay Harris
184
Posted 14/01/2019 at 17:40:47
Does it really matter who wanted Zouma or Mina?
We got rid of Funes Mori, Holgate wasn't deemed to be ready, and Jagielka was injured, so they were both needed.
To a certain extent, the crowd did influence Stones and Barkley but Stones was more honourable and we got a decent fee.
I find it hard to forgive Barkley for getting us screwed over by Chelsea and continuing to draw wages and medical treatment, knowing full well what he was doing.
Bill Gienapp
185
Posted 14/01/2019 at 17:51:24
To piggyback on what Kevin (176) was saying, if Gomes has had a dip in form, it probably has a lot more to do with the poor atmosphere at Goodison triggering his Barca PTSD than anything that's happening on the training pitch.
John Kavanagh
186
Posted 14/01/2019 at 17:55:28
Kevin #176. Whilst we agree on the issue of fans at Goodison who are giving our younger players a hard time, I would add that our away support is far from lousy and is the best in the Premier League; especially given our dreadful away form in recent years.
They'll be back for more on Saturday and in good voice as always. If only we could replicate that at Goodison every home match.
Mark Murphy
187
Posted 14/01/2019 at 18:01:01
John, I used to believe that but I've been to two away games this season and not felt the same way about our away support.
The first was Arsenal where the pub was rocking and the bar inside the ground but, once we went behind, it went pretty quiet.
The other was Brighton. Once again, the concourse bar was jumping but, even from the kick-off, there was very little support from our end and, by the end, it was just like Goodison – if not worse!
I'm going to Southampton this Saturday – I really hope it's better.
Bill Watson
188
Posted 14/01/2019 at 18:05:28
For me, Gomes is a must-start player. Even though his form has recently dipped, he's still a class act and better than anyone else we have for that position.
I have criticised Tom Davies and Dominic Calvert-Lewin in the past, not because they are young, or local like Davies, but because I don't think they'll make it as top Premier League players – and top players is what we should be aiming for, whether they're from Toxteth or Timbuktu.
I was a bit surprised to see Kenny dropped in favour of Coleman because I thought he'd added to the team when he came in. Like it, or not, Seamus is not the player he was and is becoming a weakness other sides are targeting.
At the other end of the age scale, Silva spent the week bigging up Baines – and then left him out of the squad!
I don't know what was said at half-time but the team certainly showed more fight in the second half and the crowd responded appropriately. It was quite encouraging after the lacklustre dross of recent weeks.
All-in-all, an unexpected, hard-fought-for victory which was totally unexpected given Bournemouth's domination of the first 30 minutes.
Winston Williamson
189
Posted 14/01/2019 at 18:16:43
When Moyes was Manager, we knew he'd never get sacked. Kenwright would never do it, thus, most (not all) of the fans never bothered discussing getting rid of him. Stability reigned. That's what kept us 'the best of the rest', IMO.
Since Moshiri arrived, and has sacked a few managers, fans react with emotion when we lose a few games, and follow our leader's lead; sack the manager.
Personally, I'm not sure about Silva, but I am sure we need stability. Silva's not that bad, he's young and can improve. He showed earlier in the season he can tighten the defence. He needs to find a balance. He needs time. We need stability. We need to know that, after a bad run, the option of sacking the manager isn't available. IMO.
With regard to the youngsters, I'd prefer to see a homegrown develop and forge a career, than see signings such as Tosun and Niasse. Why not graduate Gordon and see how he does? Again, IMO.
John Keating
190
Posted 14/01/2019 at 18:27:36
I don't know if we need a new top-class right-back or a top-class box-to-box midfielder or two top strikers.
What I do know is we need a couple of half-decent nasty dirty bastards who will bollock every player who doesn't give everything for the shirt. Gets in the face of every referee whether they are right or wrong to give a decision against us. And leaves everything out on the pitch another every game.
Oh yes, and Kenny should play the rest of the season to see if he will be Coleman's replacement. Calvert-Lewin should play every game to see if he can save us millions in the close season. Finally, if someone offers us big money for Pickford in the summer, we should take it.
Mike Gaynes
191
Posted 14/01/2019 at 18:31:14
Bill #188, I have no news source to support it, but I assume Baines was out because he took a hell of a whack on the ankle during his superb performance against Lincoln.
He's been on the bench for almost every game this season, and I can't think of another reason why Silva would have left him out.
Paul Tran
192
Posted 14/01/2019 at 18:45:08
Before Anfield, we pressed well, as a unit. We hunted and chased. We had purpose. We lacked a bit of goalscoring quality, but there was plenty to like.
That purpose has gone. Long enough to make me think things aren't quite right. Nothing to do with fitness, all in the mind.
I'm not sure that Silva's asking them to do anything complicated: you have to question the manager as well as the players when the team isn't doing the basics as it was two months ago.
Good improvement in the last 30 minutes and the reaction to the opener and final whistle told us plenty.
Pleased with the win; my jury is still out.
Max Murphy
193
Posted 14/01/2019 at 18:52:51
Lookman was very good. And Gomes, excellent work-rate. I can understand his frustration as there are no other midfielders capable of helping him out.
A win is a win, but this simply papers over the cracks. For a majority of the game, Bournemouth were the better side – as the stats will show. A lapse in their marking gave Everton their first goal, and a counter-attack the other.
After all our dreadful defeats, eventually we'll get lucky and gain a victory – it's the laws of probability. This was one such game.
I cannot see anything in this performance that gives me optimism for progress. I think Southampton will destroy us next Saturday.
Paul Ferry
194
Posted 14/01/2019 at 18:54:57
Hi Mike (192), I can think of another reason why Leighton might have been left out: Digne. I totally agree that Leighton had a very good game against Lincoln but the reasons are in Silva's mind and he clearly prefers Digne. That is not unplaced. Digne in my view has been terrific this season with another terrific 'assist' yesterday.
Colin Glassar
195
Posted 14/01/2019 at 19:01:12
Totally agree, Paul. That game knocked the stuffing out of us and we've never recovered. It's like there has been a collective loss of confidence from the manager downwards.
As for those saying get rid of Pickford – Get Real! Yes, he's made stupid mistakes, and still does, and he's a cocky little bastard but he's the best young goalie around. If Big Nev rates him, that's good enough for me! We need more cocky bastards like Jordan, imo.
Tom Bowers
196
Posted 14/01/2019 at 19:10:33
Have to agree progress was being made and putting the brakes on RS at Anfield would have been terrific, albeit a draw, but, as usual, the RS last-minute miracle scenario raised it's ugly head again and they just keep rolling on, more's the pity.
Sadly Everton have gone in the other direction despite the big win at Burnley. Confidence seems to be they key to the problem even against Lincoln. I suppose like most of us we keep expecting Silva to weave some magic but whatever he is doing it doesn't seem to be enough.
The big meeting last week may kick-start something positive but it certainly wasn't evident on the first half showing against the Bees.
Dermot Byrne
197
Posted 14/01/2019 at 19:33:35
Uncomfortable suggesting this.
Is the confidence anything to do with the crowd at Goodison? Fabulous when we play well but they would scare the shit out of me when they are not happy.
As I said before, chicken and egg but I think the atmosphere at Goodison seems to mirror the confidence of players and visa versa.
Jamie Crowley
198
Posted 14/01/2019 at 19:33:53
I agree with Paul in respect to the derby. That game sent us on a whirlwind in a downwards direction. I don't think there's any question it affected the players. We were playing marvelously on the whole, up and to that point. And we played marvelously that entire game.
It was one of the most unlucky, freakish, heart-wrenching things I've seen in sport. Surely it had an affect on the players.
Couple that with a ridiculously busy Holiday schedule necessitating rotation, and you could almost (almost) see this coming. This malaise we found ourselves in.
I think we saw, second half yesterday, the passage of time healing wounds as it were. Winning in the FA Cup, and winning yesterday, is a very needed trend. We need to win next week.
If we can string three to four wins together, tails will be up.
The tide is hopefully starting to turn back to positive.
Dermot Byrne
199
Posted 14/01/2019 at 19:36:06
Having said that before, surely any player knows that if you work your arse off, Goodison will love you even if you make a mistake.
Jamie Crowley
200
Posted 14/01/2019 at 19:38:08
Dermot @ 198,
I say yes. You can see it on the television for sure. To my mind, there's no question.
When the team is misfiring, in the midst of a bad run, the crowd demands better. Goodison isn't shy (from my barstool in America mind you) voicing it's displeasure with shit football.
On the one hand, it's a compliment. A very, very knowledgable and demanding fanbase to be sure. Evertonians know their shit, and the team knows that.
On the other hand, it is clear to me, you can see the hesitancy and the ass-puckering when the crowd grows foul in the players.
I'm not making a judgment on any of this. I only am stating what I see and hear.
On the barstool... In America... so you can discount that if you like as I'm not there in the flesh, but the picture doesn't lie. A magician doesn't wave his wand and change the reality just because it's fed over the tv.
Darren Hind
201
Posted 14/01/2019 at 19:39:38
Tell that to Tom Davies.
Paul Birmingham
202
Posted 14/01/2019 at 19:46:15
John @191, with you all the way... except for Pickford.
He's learning his craft but he needs coaching on his decision making and box management. He's a loose cannon and needs to get back to basics. We thus need a Ratters type captain, in my view to lead, by example on and off the park.
The goalkeeper is always villain or hero, by default. Defence and attack includes the whole team; as our press is rarely a consistent and sustained press of late, we get split through the acres of gaps in midfield and defence.
Let's hope Southampton is an away day win and we are in good tune for Millwall.
I'm made up with a win but let's not sugar-coat the win, it's gonna be a long slog to be consistent and regular top 6 contenders, plus loads of money and good fortune.
Let's see what Silva can do and judge him in 12 months.
Fran Mitchell
203
Posted 14/01/2019 at 19:46:25
Good point, Colin, about Pickford.
I can't believe some fans suddenly turning on him, saying we should cash in. Quite unbelievable fickleness really.
Firstly, those who say 'sell him' I ask, and replace with whom exactly? Liverpool went through 3 keepers and £100 million before getting Alisson. Chelsea spent a fortune on theirs and question marks are still present. A good keeper is very difficult to find, and Pickford is a good keeper.
The entire team has problems atm, Pickford has made some mistakes and his distribution has been shakey, but he's still been largely reliable, made some important saves, and our problems are far from the goalkeeper.
Brent Stephens
204
Posted 14/01/2019 at 19:49:22
Kim #190 you can have my lottery numbers! How's that.
Dermot Byrne
205
Posted 14/01/2019 at 19:54:45
Sadly (or perhaps happily) it is not something you can buy, Jamie, #201
And it is the same at the ground or what you get from TV
Steve Ferns
206
Posted 14/01/2019 at 19:56:17
Sorry, I haven't had time to read everything, but some on here are criticising Sigurdsson unfairly. Clearly, they were not at the game but watched it on TV.
Sigurdsson may have been close to "crying" but that's because he took a big whack. He limped away, and carried on limping for the next ten minutes. He kept looking over at the bench and then sprinting full pelt as if to prove he should stay on the pitch, before limping once he stopped his sprints. Second half, he was moving freely and so his performance improved dramatically.
Pickford played well except for a couple of moments. When we needed him most he came up with the save, block and clearances we needed. All players lose form, even goalies. I'm sure he will learn from it. He's young and will get better.
I did think last summer that we could have considered the money Chelsea signed Kepa for and then bought Butland for around £20M and have enough to buy a striker. At the time, I thought it best to show the world that Everton are not a selling club and can keep it's world cup star. I still think that was probably the right thing to do. No idea how Butland has done over the last 6 months, but no one is trying hard to get him back to the Premier League and Stoke are not coming up.
Confidence is a massive thing. Confidence and momentum often go hand in hand. When you have it, you're unstoppable. See Leicester winning the League. But, equally, the opposite is true. See Chelsea go from Champions to bottom half when Mourinho got sacked and the same players looked awful.
For me, we've not had the bounce of the ball for a while now. Ricochets and so on always seem to go in favour of the opposition. So often, the ball just will not drop for us the way it has for the opposition. Things seem to be conspiring against us. But that will change, and suddenly we will look better than we are.
The players hear the crowd. The moans and the groans effect them. I'm not talking Boo Boy Billy shouting obscenities at a scapegoat, but when a player shanks an easy pass into the crowd and everyone makes that collective, almost involuntary, groan. When those groans are coming thick and fast it does affect them.
It means that they take the safe option. They try ensure that they pass the ball away so the crowd cannot groan at them. This results in sideways football. "Zombie football" as others call it. It's a mistaken belief that this comes from the manager. We had it under Martinez, under Koeman, even under Allardyce.
So this is not something Silva is teaching them to do. When I was a kid, players used to launch it long down the pitch when they wanted an easy out. Modern players do not think of doing that, you rarely see someone launch it down the flank into the channel and then berate the winger for his bad ball.
So yes, it does have something to do with the training, but it's something you fall into at a young age. It's not coming from Sila, Koeman or even Martinez. If you want proof of that, watch Silva, he's not applauding these sideways passes and fannying about at the back.
Silva's tactics are about moving the ball quickly, from one end of the pitch to the other, trying to exploit gaps in the opposition before they reset their shape. Fannying about at the back prevents this and allows the opposition to reset.
We won a game we could have lost. Let's hope that this is the catalyst for the players to believe their luck has changed, to shift that momentum and to get things going as every game is very winnable now, right up to we play Man City at home.
Darren Hind
207
Posted 14/01/2019 at 20:09:05
Evertonians have been the most ill-treated fans in the country. Nowhere has loyalty such as theirs been treated with such contempt.
Moyes ran out of ideas, rode on the back of the Goodison support for years, then threw it back in their faces with his stomach-churning antics when he thought he'd hit the big time.
Martinez insulted Evertonian intelligence, not just with the purposeless dross his teams served up, but by spouting pie-in-the-sky shite after every defeat.
Koeman took the piss with his half-witted signings and his "tell it like it is" bollocks as he turned us into the Premier League's ugly sister. And don't get me started on Allardyce...
Nearly 40,000 loyal Saint Josephs have been filing into the Old Lady every other week for years. You can count on one hand the number of times they haven't been short-changed – and now they're getting the blame for being subdued.
This crowd don't want much. Unsworth has proved that. He has had the place rocking on all three occasions he has taken charge of a Premier League game at the Old Lady... he didn't have a magic formula. He simply got the players to play with some passion.
Chicken and Egg? Bollocks... This is about can't-be-arsed, overpaid, gobshite managers abusing and disrespecting the loyalty of people who would die for this club. Of course it's an angry place. How could it not be?

John Keating
208
Posted 14/01/2019 at 20:13:18
Paul @203,
Gordon West was a bit of a maverick but Labone and Harris knew and trusted him.
Big Nev... well, can't say anything that has not been said before.
I don't know where you sit but, in the Park End, when we are defending, you can sense and also hear the defence having difficulties when we are under pressure. The defence, as we all know, are having problems and Pickford not moving off his line is just adding to their uncertainty.
There's been quite a few times Pickford has been questioned, to put it nicely, by defenders.
Great having an attitude but, first and foremost, we need players, especially goalkeepers, to instil confidence.
Pickford is a shot-stopper which is great if you've got a top-notch defence in front of him reducing pressure on him; unfortunately, we haven't and don't.
Steve Ferns
209
Posted 14/01/2019 at 20:15:18
That's true Darren. I also think that ToffeeWeb has a very different attitude than the match going faithful. Most of the crowd I see at the match, inside the stadium and out, are the optimistic type. You have to be to fork out the money involved. You can't go week-in & week-out, unless you have an unshakable belief that this might be the week.
I remember that Atlanta game, I was talking on the way in to a few, as I tried to offload 3 tickets in the posh seats (to no avail!) and everyone thought we'd win that day, even with a weakened side. We got beat 5-1 as you all know, but the Blues always go to the game full of hope and optimism (less so under the previous manager).
Steve Ferns
210
Posted 14/01/2019 at 20:19:13
John, sorry to disagree but I have never heard Pickford being criticised by the defence. I also sit in the Park End.
Also, Pickford is not meant to come off his line. He has been told to stay on it, by the manager. We signed 6'-3" Zouma, 6'-5" Mina and use 6'-3" Keane for this very reason.
Darren Hind
211
Posted 14/01/2019 at 20:29:51
Steve, There's a world of difference between taking up tickets for a game in a competition we were out of before the group stages got serious and being short-changed in something like 13-14 premier league games every season.

This is not the most affluent area in the country. The very least the fans should get in return for their hard-earned is passion from the players... and a manager whose ambitions stretch a little further than avoiding defeat.
Neville Jones
212
Posted 14/01/2019 at 20:34:28
A lot of fuss here about how bad we were. Agreed, we were in the 1st half, but we improved vastly in the 2nd half.
A lot of criticism of Sigurdsson. He is effectively a second attacking player behind Richarlison. Richarlison couldn't get in the game in the 1st half because we struggled to get an attack together so he never saw the ball, exactly the same as Sigurdsson.
Gylfi is a good player who admittedly looks a bit lost on occasions if we are not going forward but think what he brings to the team. He is perhaps our best player in a dead ball situation for free kicks and corners in general. He is capable of excellent goals from yards outside the area and he shows great touches and has good passing ability. Dropping him would be a bit of a gamble as he is the most effective in that position.
Richarlison was probably our most disappointing player and has undoubtedly suffered a loss of form. Perhaps a rest to the bench is a good idea but not until we bring in a striker. We need a player who can do the job of a centre-forward, another Dunc, a player who was unpopular with some supporters because he was an "old-fashioned centre-forward". It seems to me that this is precisely what we are lacking.
Calvert-Lewin is still learning and not ready for a start. He needs to improve aspects of his game and continue to develop gradually. Starting him will not achieve this. We do not, therefore, have an experienced centre forward at the club at present who is good enough. Cenk Tosun is badly out of form and whilst Oumar Niasse is a goal scorer, he is unpredictable and inconsistent. If we sell either or both, then we need to bring in a player who doesn't have to be another Messi but can do a reliable job and has goals in him.
This was Ademola Lookman's best game but we have played him from the start before and he has disappointed. He is improving every game but doesn't always get back to help out Seamus leaving him exposed at times.
We are really lacking an experienced right sided attacking player to provide an alternative to Theo who is off form. We don't have one unless you include Dowell. Bernard, Richarlison (when not playing as a striker) and also Lookman are all better on the left.
To my mind, Zouma was Man of the Match. We should buy him. Lucas Digne continues to be reliable and his cross for Zouma was excellent. A fantastic buy. Bernard is a player of real quality who has added bight to his game. Another great signing.
The main truth about the match was that we simply did not have enough attacking opportunities in the 1st half but as we were sharper and more aggressive in the 2nd with more possession those opportunities presented themselves. It was more to do with general team play than individual players, so credit to Silva who seems to have got them motivated at half-time.
One last point: players are signed for the long term. We are fortunate that even a player like Gomes and the other players from foreign leagues have shown great form so early. It can take most of a season before we see the best of them, remember that "panic signing" Fellaini?
The problem with André Gomes is that it was too much to ask him to play all those games In the Christmas & New Year period. His form suffered badly as a result and set him back. We had McCarthy available but he still gets overlooked. We need to rest Gomes or substitute him and give McCarthy a go to allow Gomes to get back to his best. We have the making of a good team so let's give them some appreciation and understanding.
John Keating
213
Posted 14/01/2019 at 20:38:35
Steve, unfortunately, the heights of Zouma, Mina and Keane, together with the zonal defending, is not really instilling a great deal of confidence just now.
There have been many occasions this season when Pickford coming off his line to command the 6-yard box could have saved us a lot of heartache.
Colin Glassar
214
Posted 14/01/2019 at 20:39:51
A bit off topic but I was sad to see Huddersfield manager, David Wagner leave the club. For a German, he was okay. Better than the prick from across the park...
Laurie Hartley
215
Posted 14/01/2019 at 20:59:51
The dust has settled for me now.
What I saw watching the full game on Monday morning was a team that finally said "bollocks to this" and won the hard way.
John #191 – I think we already have that "couple of half decent nasty bastards" in Gomes and Bernard. Before anyone says Bernard is too small let me just say Bobby Collins and Johnny Giles.
Personally, I would give Gomes the armband and play Kenny (much as I admire Seamus as a man and player).
He has got a good glare, that Gomes.
Colin Glassar
216
Posted 14/01/2019 at 21:04:25
I think Gomes needs a haircut, Laurie. He spends far too much time brushing his fringe from his face and it's distracting him. A good old fashioned short back and sides would do the trick imo or a crew cut.
Brian Wilkinson
217
Posted 14/01/2019 at 21:05:44
Last season's derby, Pickford came off his line and got caught in no-man's land to allow them to score in injury time. Whether or not that is playing on his mind god knows, but he hasn't come off his line for a corner since then.
Brian Williams
218
Posted 14/01/2019 at 21:15:53
Colin #217.
How daaaaaare you even suggest Andre has a haircut. His luxuriant locks are the silver (not Silva) lining in an all too cloudy sky.
He has beautiful hair, and to suggest he cuts it is sacrilege! Shame on you, Col!

Tony Abrahams
219
Posted 14/01/2019 at 21:29:35
Steve @207, I totally agree with you about Silva's tactics being about moving the ball from one end of the pitch to the other very quickly and this was strangely more noticeable watching from my telly yesterday afternoon.
I like this style of football much better than the Guardiola style (although he seems to have changed at Man City) and, although I only watched the last 15 minutes of the Spurs game yesterday, it was an absolute joy to see such quality played at such speed.
We, on the other hand, seemed way too far ahead of the game during the first 30 minutes yesterday, although that might not make much sense after the way we actually started the game.
We were too far apart, too many players were running away from the ball, and putting themselves into really bad positions, both for themselves and their team-mates, which eventually leads to players not even really wanting the ball.
Bournemouth never really stretched Everton; I thought Everton were stretching themselves. In the second half, it changed, and we started stretching Bournemouth, especially once we got the goal and the players then looked a lot more confident in what they were trying to do.
Players who were in positions that looked wrong then started to take up positions that looked right. The ball started moving quicker, we started isolating the opposition at times and this is obviously how Silva wants the system to operate.
Give him time... but he his going to need some more quality additions to his squad first; although, now we are back to playing mostly once a week, then just give us a d ecent centre-forward for now!
Jamie Crowley
220
Posted 14/01/2019 at 21:52:24
Brian @ 219 -
The kid definitely needs a hairband then to hold it back.
That twitch he constantly has flicking his bangs back out of his eyes is exhausting to watch. He probably burns 1,000 calories a day "hair flicking"!
Andy Meighan
221
Posted 14/01/2019 at 22:17:53
Steve @207,
So what you're saying is people who criticise your beloved Sigurdsson do so based on watching him on TV?
I criticise him nearly every week because what I see is a lazy pedestrian overrated footballer who has spectacularly failed to deliver the goods. I kept hearing we were getting this great technician, this fantastic dead-ball specialist who could put the ball through the eye of a needle.
I've seen none of this whatsoever — just the odd great goal every so often... and fair doos, there's been some gems but he's hardly done enough to warrant that moronic fee we paid for him.
I don't like singling out players because the last couple of months he hasn't been alone, has he? Richarlison, Gomes, Walcott, Mina and Coleman have all stunk the yard out... but Sigurdsson seems to get an easy ride from people who think they know better, ie, you and Jay Wood. A bit rich coming from someone who lives on the other side of the world and therfore only watchces him on TV...
So please don't insult my intelligence by saying the likes of me only watch on TV. I actually don't. I've been going to Goodison Park regularly for nigh on 50 years and have been to my fair share of away games in that time, so I reckon I know what I'm talking about.
John Malone
222
Posted 14/01/2019 at 22:28:28
Andy 222, did you just call Sigurdsson lazy and pedestrian??
Heard it all now!
Mike Gaynes
223
Posted 14/01/2019 at 22:48:42
Steve #211, you state as a fact that Pickford has been told by the manager to stay on his line. I've never seen any such quote in the media. Please support?
Andy #222, you're entitled to your opinion of Sigurdsson's abilities, but if what you see is a "lazy pedestrian" I won't insult your intelligence, just your eyesight. He routinely covers more ground than any other player in the side except maybe Gana. He closes down on opposing defenders and then goes all the way back to win tackles, and he always shows for the ball when our defense brings it out. He works relentlessly. Glad you go to the ground for the games, but next time bring your specs. Maybe some binocs.
Mike Gaynes
224
Posted 14/01/2019 at 23:00:51
Laurie #216, give Gomes the armband?!?
Colin Glassar
225
Posted 14/01/2019 at 23:02:22
Brian @219, you're wrong!
Every great footballer — from Pele, through Maradona, to Ronald and Messi — have had short(ish) hair. Name me one great player who had long hair. Go on!
Justin Doone
226
Posted 14/01/2019 at 23:15:45
We won 2-0. Every win is a good result even though it was an average performance.
Most Premier league games are won or lost by small margins and a bit of luck. Yesterday was our turn. I hope we have many more lucky days.
Given the option of being lucky or being good, I choose lucky. There are many good players, good teams, good clubs but the successful ones are those that have luck on their side.
We often bemoan our bad luck, so let's stick together and celebrate our good fortune. Here's to many more lucky days, cheers.
Brian Williams
227
Posted 14/01/2019 at 23:24:20
George Best, Col.... oh and when the wind blew, Bobby Charlton. ;-)
Jay Wood
[BRZ]
228
Posted 14/01/2019 at 23:39:34
Andy @ 222.
Ehrm...why am I referenced in your post (and misrepresented in my views) in your tirade against Steve Ferns?
Hope you've got a wet wipe for your computer screen after typing that whilst sticking your tongue out and making one very long raspberry sound, writing so much opinionated bollocks.
Chris Hockenhull
229
Posted 14/01/2019 at 23:59:27
Colin 226... I give you Charlie George... great player you may debate but, for that cameo at Wembley in '71, he was great enough for me (and as a Blue I was there... long story).
Also, though he looked like a Grateful Dead roadie in '74 Bob Latchford had a decent head of hair too.
Well, there's two for you without thinking!
Steve Ferns
230
Posted 14/01/2019 at 00:06:13
Andy @222, what the? My beloved Sigurdsson? He's far from my favourite player.
If you were at the game on Sunday, you'd have noticed the injury and the limp. I only saw the highlights on Match of the Day so I don't know if it translated to TV. I'm guessing it didn't.
Criticise him by all means, but it was obvious to everyone that, once he got over the knock, and started moving more freely, his performance improved and, once he played better, so did we.
Sorry, Mike, I didn't note down where he said it.
Derek Cowell
231
Posted 14/01/2019 at 00:07:03
George Best and Ruud Gullet for two!
Kase Chow
232
Posted 15/01/2019 at 00:15:30
Andy #222
Sigurdsson pedestrian???
Have a day off, son. What are you watching??
Steve Brown
233
Posted 15/01/2019 at 00:23:49
Colin @ 226, Zico! He was decent.
Steve Brown
234
Posted 15/01/2019 at 00:26:38
Andre without his fringe is like John Lennon without his guitar. We'll be suggesting he shaves next!
Martin Anderson
235
Posted 15/01/2019 at 02:32:05
Dermot @ 198 – yes, spot on, I always feel our teams feel a massive weight of expectation before games... Unavoidably of course, as we are Everton, but when you get newcomers like Bees and Hornets arriving, they play confidently as they have little to lose and sense the dread of failure in the home team...
Jay Harris
236
Posted 15/01/2019 at 04:18:23
Andy 222,
I can only think you are in the restricted view seats because our revival was led by some wonderful passing in the second half.
If it wasn't for him and Richarlison, we would hardly have any goals scored.
For me – and I know a lot of people will disagree – the problem is Gomes who started off like a whirlwind but has been very poor for over a month now.
Our central midfield gets walked through every game despite Gana's efforts.
Gomes has either lost his confidence or been found out but that extra half-yard he created for himself when he first came is gone and he is no longer pulling the strings in midfield.
Mike Gaynes
237
Posted 15/01/2019 at 05:29:01
Colin #226... Pirlo, Modric, Cavani, Ibra, Bale... and most of all Cruyff and Gullit.
And Maradona in his Napoli days carried a full mop of hair.
Bob Parrington
238
Posted 15/01/2019 at 06:16:48
Fran #171, you brought up the topic of composure on the ball, which was well supported – Jay #174 and Rennie #175. I agree, too. We haven't seen too much of this recently. Mind you, Lookman showed some leadership on this to a degree vs Bournemouth.
I might be howled down by commenting that I see the goalkeeper as being a leader in setting the composure of the team. But I'm more than a little worried that Pickford, in his youthfulness, has been demonstrating a considerable lack of composure since the derby game.
Early on in the game this weekend he looked nervously animated. A thought passed through my mind that Southgate was in the crowd and maybe Pickford felt some pressure from this. But then I chucked the thought away until reading your comments.
I'm not one for getting rid of him but I believe some "older heads" should be spending serious time with him on this subject.
Andy Meighan
239
Posted 15/01/2019 at 07:52:35
Mike Gaynes,
Nothing wrong with my eyesight – in fact, I'm not far off 60 and it's still quite good. I don't miss a trick, me, pal...
I'd call Sigurdsson lazy because I've seen him go hiding in games. Spurs at home springs to mind, as well as the derby... and, to me, that equates to a lazy player.
Of course it's a game of differing opinions and my opinion of him is, as I've stated many times, that he doesn't do enough to warrant being one of the first names on the teamsheet every week.
Right, I'm just going to book my appointment with Specsavers in Huyton Village... anyone got their number?
George Cumiskey
240
Posted 15/01/2019 at 10:10:27
Andy @ 222 — half-right, mate. Lazy? No... Pedestrian? Definitely. I think the game is a bit too fast for him now.
Sam Hoare
241
Posted 15/01/2019 at 11:12:45
I think lazy is actually a pretty, well, lazy adjective to throw at Siggurdsson. He's in the top twenty or so in the league for distance covered per game. He rarely stops running.
Pedestrian on the other hand may be fairer. He's not quick. Either acceleration wise or top speed. And neither is Gomes. Which I think is problematic in the middle of the park as it can hinder both our speed of counter and in particular our speed of recovery.
Another reason why Gueye is so crucial, he gets around quicker and is able to get the crucial foot or toe in to disrupt opponent attacks. We could use some more athleticism in the middle.
Mike Gaynes
242
Posted 15/01/2019 at 15:13:00
Andy, I think that's a good move considering you're under the impression he goes "hiding", and certainly nobody else here agrees that he's lazy.
Have the doc make you up a pair with the blue rims, like mine. They provide superior vision on everything Blue and block out the entire Red spectrum.
Jay #236, I'm one who agrees on Gomes. He was a nightmare yesterday and would have cost us the win if that moron Taylor hadn't gagged on his red card. I'd slide Sigurdsson back into his position and let him rest on the bench for a while. Having seen him play many times at Barca, I did try to sound cautionary notes when he was playing so well, and unfortunately I've been proven right.
Laurie Hartley
243
Posted 15/01/2019 at 21:25:28
Mike # 224 - yes. Who is your pick?
Jason Wilkinson
244
Posted 15/01/2019 at 23:40:01
I thought "walking football" was all the rage! We are setting a trend for other mid-table clubs to follow. Get them young, slow them down, put them in uncle Bill's museum. Or give them a job at Finch Farm...
Only kidding ;)
Justin Doone
245
Posted 16/01/2019 at 01:04:46
Having rewatched the game from a more relaxed and less passionate frame of mind, I'll stick with the view that a win was very much the best thing to come out of an average performance.
However I disagree about Gomes. I think he had a good game. He worked his socks off. He was the one who started the majority of our best moves and was the only player to try and show some composure on the ball.
My opinion of him has not changed. He's a top class midfielder who we should try and acquire on a permanent basis. He didn't loose his head and I don't think the challenges he gave away free kicks for were warranted.
His yellow was harsh. Gana played the ball and the ref gave a free kick against us. He picked the ball up in frustration but it was the reaction to the shove by the opposition player that he got carded for. He had the cheek to push back. Over reaction by the ref. Why not book both?
Pickford's kicking and decision making in the 1st half was maddening. I'm so glad we stopped trying to play out from the back from goal kicks. It didn't work and put us in trouble every time.
Lookman played well and I hope he gets a run of games but he won't get away with the silly turns and dribbling across-field all the time. He needs to stop and learn to give and go more often.
Walcott had no real impact when he came on. We would have have been better putting on Kenny to defend and try to stop crosses.
Richarlison tried but the ref gave him only 2 fouls all game. He was roughed up all game and yet get yellow for nothing. How they didn't have a player booked I just can't understand it.
Bernard struggled at first. Miss match against Clyne. But he stuck at it and started to get more involved as the game wore on.
Finally Sigurdsson. He always gives his all. Not a good game overall but he's certainly not lazy. All 3 midfielders put a real shift in. They all have different qualities but unfortunately none have the pace or power to really grab a game and make a difference when required.
John Malone
246
Posted 16/01/2019 at 07:08:07
Jay 236, I agree about Gomes 100% – looks like the new club buzz has worn off and he has lost that bit if spring in his step.
No doubting he is quality on the ball but he likes to play at a slow pace and, if you notice anytime he has to make a split second reaction shot or pass, he overhits it.
If we want to be a top team, I don't think we can afford any slouches anywhere on the pitch. I'd give him until the end of the season until making a final judgement.
Add Your Comments
In order to post a comment, you need to be logged in as a registered user of the site.
Or Sign up as a ToffeeWeb Member — it's free, takes just a few minutes and will allow you to post your comments on articles and Talking Points submissions across the site.
© ToffeeWeb