Report
Quality the loser in windswept encounter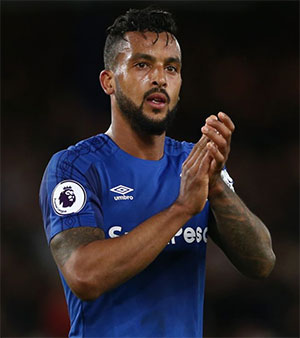 Theo Walcott has had his training disrupted by illness this week and is a doubt for the trip to Palace
Crystal Palace0 - 0 Everton
Everton returned to London for the penultimate time this season to take on Crystal Palace at Selhurst Park but a swirling wind was blamed for innumerable errors that spoilt this game as a contest.
Richarlison was declared fit enough to start after rib problems from last week's impressive win over Man Utd. Morgan Schneiderlin was also in the starting line-up, filling in for Gomes, whose ban contiues.
Everton got things started, playing all in white, with a hoof upfield from Zouma that went out of play. Benteke almost got the ball over Pickford after being offside, but Palace got a free kick and a cross was driven behind.
Everton were too slow in the build-up, yet Calvert-Lewin did get loose off a huge Pickford clearance and looked to score but a hopeless effort dribbled into the arms of Guaita. Calvert-Lewin was gifted the ball again by Scott Dann, but his control was abysmal and the chance was gone.
Richarlison was the next to demonstrate horrible ball control, losing possession under the slightest pressure as he advanced. Milivojevic went in Lee Mason's little book for taking out Kurt Zouma inside 10 minutes. A Digne long throw came to nought.
Everton were beginning to control the play better, Gueye's shot deflecting behind for a corner taken by Digne, an inswinger but horribly low, wasted. Nice movement down the left won a second corner by Sigurdsson, cleared but second phase for Everton, Coleman crossing well, some great pressure, Sigurdsson unable to pull the trigger.
Richarlison got around the back but the cross was pushed behind; Digne's second corner was no better than the first. That led to a rare ball for Pickford to field, as Everton built slowly from the back again. Sigurdsson was fouled, ignored by Mason, then slips but recovers and regains the ball, Mason then blowing the other way! Astounding incompetence from one of England's 'best' refereees?
Richarlison was clipped by Dann, Sigurdsson and Digne debating the strike from a long way out, delivered in well by Sigurdsson, Kelly getting it behind. Digne delivered from the left, a little better but lacking the required power.
Palace won a soft free-kick, then a corner, that was cleared by Everton but Palace applied some rare pressure, Milivojevic lashing high and wide. Slow build-up was spoilt by giveaways from Bernard then Richarlison but Coleman eventually swung in a cross that was too difficult for Calvert-Lewin to get his head around.
Coleman gave away a dangerous free-kick down Everton's right but nothing came of it, and another phase of painfully slow build-up from the back ensued. 35 passes later, Barnard does an inadvertent Panenka to mess up the nice ball forward by Digne.
Another move down the right stalled when Richarlison slowed and then gave up the ball. A slightly faster attack followed but it ended with another soft free-kick to the home side. Coleman delivered a nice ball right onto Calvert-Lewin's noggin but his body position and technique were all wrong and it bounced harmlessly off the top of his head.
A much more lively move say Digne play in Richarlison but the Brazilian was again intimidated by defenders in front of him and weakly surrendered the ball to them without really trying. Calvert-Lewin got free on the right but could only drive at the defender. Gueye at least got his shot on target but it was too weak to beat Guaita.
Richarlison did a little better, firing in a tasty cross for Calvert-Lewin who was two feet behind the ball and another chance to score went begging. Everton tried to move the ball forward but it ended up coming back at them as the half-time break approached, Everton passing the parcel until the whistle, a frustrating half of Everton dominance with zero end-product.
The game resumed, with the wind a factor, apparently. Players don't like it, Palace came close and won a corner that was worked around and drive into the side netting by McArthur. Palace seemed to have more of the game in the first 5 mins of the second half than the entire first half.
But Everton won a corner, Sigurdsson delivering it better, Richarlison getting to redirect it not quite goalwards. Calvert-Lewin got forward down the right but his cross evaded two white shirts. Bernard dug out a shot that was deflected onto the foot of the post, the game having more tempo than periods of the first half.
Richarliosn looked to get around Van Arnholt but the defender was too quick for him, getting the ball away smartly before the Brazilian collapsed over his outstretched leg, screaming for a non-existent penalty claim. Zaha looked to break but he ran into the indomitable Idrissa Gana Gueye.
Calvert-Lewin did well to gain space but played a horrible ball in the vague direction of Coleman. The ball was worked around in two or three more phases but no end product for Everton: a goal-kick for Crystal Palace.
Palace had a good spell, penetrating the Everton area with precision, and winning a couple of corners, but Everton defended well enough, before Gueye gifted the ball in midfield, The Whites living a little dangerously. A goal seemed closer than ever, but which way would it go?
Surely a peach of a cross from Coleman would be converted... but no, it evaded those white shirts yet again. From an Everton corner perhaps? No; Sigurdsson does not beat the first defender. Pickford joined in the exhibition of poor directional control, lashing one of his famous clearances beyond Coleman and straight out of play. A long throw from Digne was even too powerful for Zouma!
The ball was moved brightly down the left but only came back, Coleman tried a shot but seemed to be impeded, and changes were then mandated from both benched. Calvert-Lewin, who had been characteristically absolutely hopeless at scoring, was replaced by Tosun, whose record is just as bad.
Palace threatened and Kouyate passed t well beyond Pickford's post. He then saw yellow after an elaborate dive and role from the poleaxed Richarlison. But Palace were now running at Everton with noticeably more freedo,m Benteke, Kouytae and Townsend all being invited by the backtracking White shirts to break the deadlock.
Coleman got in a great cross that Tosun smartly backheeled at goal, bringing out a fantastic one-handed reaction save from Guaita... and it remained 0-0 approaching the final 10 mins.
Sigurdsson worked a nice cutback for Gueye whose shot was blocked. More Everton pressure from another corner, Digne's delivery just not good enough. Richarlison tried to shoot when a layoff might have created more, Lookman replacing Bernard. Everton's 10th corner went the way of the previous nine... the ball working its way around the Palace area yet again to no effect. Walcott replaced Sigurdsson, the final uninspriring change of the day,
Coleman in acres of space drove his cross into the side netting, summing up the problem in Everton's impotent attack. Digne's deflected cross hit the post and bounced out as Everton pressure still produced nothing of note.
A late corner for the home side was cleared and the lack of quality in so many aspects of the game was all we were left with.
Scorers: None.

Crystal Palace: Guaita; Wan-Bissaka, Kelly, Dann, van Aanholt; McArthur, Milivojevic [Y:10'], Kouyate [Y:74'], Meyer (72' Townsend); Benteke, Zaha.
Subs: Henessey, Ward, Ayew, Batshuyai, Sako, Riedewald.
Everton: Pickford; Coleman, Keane, Zouma, Digne; Schneiderlin, Gueye; Richarlison, Sigurdsson (86' Walcott), Bernard (84' Lookman); Calvert-Lewin (72' Tosun).
Subs not Used: Stekelenburg, Baines, Jagielka, McCarthy.
Referee: Lee Mason

---
Reader Comments (183)
Note: the following content is not moderated or vetted by the site owners at the time of submission. Comments are the responsibility of the poster. Disclaimer
Kevin Prytherch
1
Posted 27/04/2019 at 14:02:07
Richarlison starts, same as expected apart from that.
No Davies on the bench.
Mike Gaynes
2
Posted 27/04/2019 at 14:04:10
Unchanged lineup.
Very surprised, definitely didn't expect to see Richarlison today.
David Pearl
3
Posted 27/04/2019 at 14:06:33
No Mike me neither, I thought he was ruled out days ago! No excuses then, same performance again, please, boys!!
Dave Abrahams
4
Posted 27/04/2019 at 14:23:36
Who are the subs,please.
Jeff Armstrong
5
Posted 27/04/2019 at 14:28:15
3Baines
6Jagielka
11Walcott
14Tosun
16McCarthy
22Stekelenburg
31Lookman
Kieran Kinsella
6
Posted 27/04/2019 at 14:31:25
I guess Silva prefers mc to Tom
Jay Wood
[BRZ]
7
Posted 27/04/2019 at 14:42:56
If all fit to play and last the full 90 minutes if needed (see Baines at Goodison v Wolves), it's a no-brainer to go with the same starting XI after last week's thumping of United.
I want us back in European football asap, so whilst there is still a chance to secure a place in next season's EL, we need maximum points from our remaining games.
We've got a good record at Palace, even in the poor times, so I'm more than hopeful of a win today.
Jay Wood
[BRZ]
8
Posted 27/04/2019 at 15:55:09
Clearly we are a class above Palace. Some really nice football on display. Just breaking down a bit in the final third.
Anybody who has played football will know really windy days are arguably the worst conditions in which to play football. It appears to be swirling wind, rather than a prevailing direction. It wouldn't surprise me when and if a goal comes in this game that the wind may well be a contributing factor.
But if we keep working them as we are, I'm optimistic the breakthrough will come.
Jay Wood
[BRZ]
9
Posted 27/04/2019 at 16:55:57
Disappointing. If we have any ambition, we simply need to be winning these sort of games against this type of opposition, home and away.
Tony Hill
10
Posted 27/04/2019 at 16:56:27
A poor game in obviously difficult conditions. It showed where we are: a decent base with much to play for next year, but plainly a long way off still. We must buy well, as we all know, and we have too many players who cannot sustain performances over a number of games.
Zouma was magnificent.
George Cumiskey
11
Posted 27/04/2019 at 16:59:02
An awful game only the back four and Gana come out with any credit, and Tosun is every bit as bad as DCL.
Those people who say we don't need a new striker want their heads testing.
Brian Williams
12
Posted 27/04/2019 at 17:01:16
Really frustrating game. Looked like Silva had said first one to shoot's a (insert favourite insult here).
Lot's of overly intricate play around their box and a dearth of decent crosses.
Much the better side but lacking the cutting edge in the final third that was so prevalent against Man Utd.

Dave Evans
13
Posted 27/04/2019 at 17:06:41
Well, I enjoyed the game. Good fighting performance. We should have won, away to a team who have just taken Arsenal for a ride.
A million miles from last couple of years. Recently, I see better football, better fight and a domination of most teams we meet.
Paul Birmingham
14
Posted 27/04/2019 at 17:06:51
Disappointing and we don't have the clinical cutting edge upfront.
We made good chances and we don't have the killer ruthless streak to make the difference and win this game.
We need Wolves now to dip, but some good signs today and the back four are looking better by each passing game.
Hope for next season and a clean sheet.
Interesting couple of games and to Spurs lose was a surprise, so let's see what happens.
William Gall
15
Posted 27/04/2019 at 17:11:25
Extremely disappointing game today lots of good football played on the ground but ruined by either a cross from the wing in a blustery wind or a poor final pass. These are the type of games that show how far behind Everton are in gaining a place in the European competitions.
Paul McCoy
16
Posted 27/04/2019 at 17:15:49
Not a great game, but what on earth do people see in Zaha? Seems to think he's Messi, but lacks the talent.
Tony Hill
17
Posted 27/04/2019 at 17:17:12
Paul @14, Europe has surely gone now. Wolves are at home to Fulham next. I am encouraged by this season, in the end, but there is no getting away from the fact that it has been an overall disappointment.
As others say, we must start to win games like this. It is also obvious that we just have to get in a finisher. I admire DCL but he really must step up with his sharpness in front of goal.
Nev Renshaw
18
Posted 27/04/2019 at 17:17:52
Tony (10).Let's hope we can permanently secure the services of Zouma at the end of the season.
Paul Hewitt
19
Posted 27/04/2019 at 17:23:14
Hoping Wolves beat the RS. They can have 7th.
Tony Hill
20
Posted 27/04/2019 at 17:26:37
Just a quick PS about Tosun: he had a superb back heel effort which their keeper saved instinctively. We didn't quite get the rub of the green today either.
Jim Bennings
21
Posted 27/04/2019 at 17:28:25
Positives from today.
I think Silva is the man, he's done a decent job so far with the tools he has, at the moment he's working with screwdrivers up front instead of power tools, hopefully in the summer that will be rectified good and proper.
The defence is sound as a pound so he's quashed any previous concerns that he was ever going to be "another Martinez ".
Oh, and Zaha and Benteke can finally come out of Keane and Zouma's pocket now.
Kieran Kinsella
22
Posted 27/04/2019 at 17:28:43
In isolation 0-0 at a windswept Selhurst park isn't a bad result. But in the context of top 7 finish it is a terrible result.
Tony Abrahams
23
Posted 27/04/2019 at 17:28:44
Agree with that Nev, just as I agree with Tony, when he says we now have a decent base.
I think the wind is a great leveller, but it can also show us which players possess real quality, and which players are never going to be quite good enough, if we are to start pushing for the next level, which is why we need another v. good transfer window this summer.
Off topic but I hope it blows out by tomorrow for obvious reasons!
Brian Williams
24
Posted 27/04/2019 at 17:31:48
Tony#23.
Already checked mate. Weather should be perfect for slick one touch footy!
Tony Everan
25
Posted 27/04/2019 at 17:33:32
Zouma should be the no1 target for us if we can get him, he makes us a solid unit and we defend very well with him and Keane. There seems to be an understanding building between them.
I think Chelsea may not play ball though even if they get their embargo suspended. Zouma may want the chance of European football and be amenable to returning.
Alan J Thompson
26
Posted 27/04/2019 at 17:34:47
What a bloody awful game between two poorly set up sides. Has Silva learnt nothing, does he watch and take in anything? Last week we looked good when Bernard was in the "Gomes role" but this week absolutely nobody in that role while Gana did his best to cover all those roles. Why does this man persist in pushing everybody wide and almost no other plan or idea, will it ever get through to him that you need an alternative outlet when things aren't working and to make the opposition wonder in which direction you'll next come at them.
Calvert-Lewin was having a stinker and was quite rightly replaced but taking off Bernard for Lookman was another change of personnel for the sake of it while keeping with the same no idea tactics and then to replace Sigurdsson when the most likely candidate, Schneiderlin, was left to continue his barely there role. At one time I was wondering why they bothered with penalty areas when neither side had any idea what to do when they got to the edge of it.
It's performances like this that make we wonder if this manager is anything but a one trick pony without any idea of how to change things for the better never mind have an alternative beforehand to the main (one?) idea just to maybe make the opposition have to think a little bit.
Piss poor!
Kieran Kinsella
27
Posted 27/04/2019 at 17:38:45
I would say the clinical edge isn't just missing upfront eg DCL, we aren't ruthless enough across the board. Whether it's wingers, midfielders or even center halves on corners. As a group we need to sharpen our shooting.
Looking ahead, only one team has ever beaten Spurs at new White Hart Lane. On the other hand, Spurs have only ever won three games at new White Hart Lane. Just thought I'd help Paul Mersin out with some useless stats.
Kunal Desai
28
Posted 27/04/2019 at 17:38:51
7th place is gone now. We still need at least three or four first teamers next season, along with looking to keep Zouma and possibly Gomes.
DCL will be needed next season, but I have a feeling there may be two not just one striker ahead of him.
I hope Brands and Silva have identified at least two forwards, a midfielder, and a right-back.
Tony Abrahams
29
Posted 27/04/2019 at 17:41:12
Slick one-touch footy, before things get really Messi, on Wednesday night, Brian!
Tony Abrahams
30
Posted 27/04/2019 at 17:43:25
22 attempts with only 3 on target, which probably includes Calvert-Lewin's backpass.
Jim Bennings
31
Posted 27/04/2019 at 17:44:08
Zouma has quickly become our new Distin.
He's becoming the player I thought we were getting in Yerry Mina but obviously the injuries have curtailed Mna's first season.
Keane has had a very strong season and is probably the most improved of the players under Silva.
Kieran Kinsella
32
Posted 27/04/2019 at 17:49:58
Jim Bennings
I agree. Keane has done well. I remember when Baines and Jags joined, neither immediately settled into the side but over a year or so they established themselves and became stalwarts. Keane is following the same path. I see him as a contender for player of the year. I knock a few points of Digne for his silliness with the red card.
Anthony Murphy
33
Posted 27/04/2019 at 17:50:54
Regarding finishing 7th. I think we will beat Burnley at home next week and need to hope that Fulham get something against Wolves. This is unlikely as it'll be Wolves' last game at home this season and they will know a win is a must given they are away at Anfield last game.
If Fulham (who have played well recently) get something against Wolves, it not only opens the door for us but also ensures Wolves will have something to play for against the RS. Wolves at Anfield may not be a pushover if they know a win secures European football and a Best of the Rest finish.
Derek Knox
34
Posted 27/04/2019 at 17:54:29
Mixed feelings about today, yes we had 65% possession, the wind didn't help but was the same for both teams, we created a lot more than the home side, but it's scant consolation, when the chances that were created were not converted.
I do like DCL and he has improved with his general play and holding the ball up, but I'm afraid he has missed too many chances to be that striker we have craved for years.
He probably still has a role to play alongside a goal-scorer, but that would sacrifice either a winger or a midfielder, so I don't know where we stand on him.
Without sounding like the sour grapes parody, even if we had won, Wolves won again so we could not have caught them.
Tony Hill
35
Posted 27/04/2019 at 17:55:57
Jim @21, quite right about the defence. That is a major cause for optimism because the old chestnut is indeed true: get your defending right first and the rest will follow. Our set piece defending today was very good again, which shows that this management/coaching team is well capable of developing and improving us.
I'm afraid I can't see Zouma staying which would be a real shame. I'm hoping Mina can flower; I happen to think he will.
Let's look to next season, it could be fun.
Jim Bennings
36
Posted 27/04/2019 at 18:00:57
Hopefully we can take at least four points from our final two games and see where that takes us.
It's been a better season than last that's for sure.
Next season the target has to be to win more away games.
There's nothing much wrong with our form at Goodison, rarely ever is, but it's the lack of killer instinct in away games that has held is back since Martinez first season when we record 8 victories on the road.
Win 7 or 8 away games next season coupled with our strong form at home then we should be close to challenging that top six.
Paul Birmingham
37
Posted 27/04/2019 at 18:10:16
There's a foundation to build on but we must get Zouma, signed, Mina back to fitness, Gomes signed and some class strikers who are ruthless.
Shipping out the deadwood will be some task and it will be interesting to see if we make a net loss, or break even, on the out going players.
Plenty of hope for next season but we must kick on and be consistent in defence and attack. Good signs and hope and let's hope it's a grandstand finish and the players give their all v Burnley and Spurs.
Jason Wilkinson
38
Posted 27/04/2019 at 18:14:40
Does anyone else think Palace defended well? There is a lot of negativity about our forward play. I thought we created some good opportunities but were thwarted by a sea of red and blue defending like a team who were desperate for a point.
DCL was not at his greatest, neither were Richy, Bernard or Siggy. Gana and Morgan were effective. Zouma and Keane were a proper central defensive partnership and Seamus and Digne both got forward well. Jordan could have gone to see his mam he had that little to do. Lookman and Theo did little to change the game but Cenk was unlucky with the improvised shot in my opinion.
Many teams will go to Palace and win. Some will come unstuck because they play purely on the counter attack. We missed Gomes' eye for a defence splitter today. Over all I would say well done lads. A bit sharper next week and we will tear Burnley a new one.
DCL came in for a lot of stick for the lame effort today but it was his tenacity that got him there in the first place. I truly believe he is destined to become a true blue legend just give him time.

Clive Rogers
39
Posted 27/04/2019 at 18:33:21
Jason, DCL made his debut in 2016 and is 22. How much time does he need? He is just not a natural finisher.
Martin Berry
40
Posted 27/04/2019 at 18:34:54
We played some very good football, however the final ball was just not up to the foreplay.
I think we will crack a few in against Burnley despite their stubbornness.

Steavey Buckley
41
Posted 27/04/2019 at 18:41:35
Can't win matches if Everton don't take their chances. The final ball was also poor at times.
John Hammond
42
Posted 27/04/2019 at 18:41:41
Tricky conditions. Can't win 'em 4-0 every weekend.
As for 7th I'd rather we didn't. The Europa League qualifying rounds are a massive hindrance having to start in July. I'd rather we have a go at the domestic cups.
John Hammond
43
Posted 27/04/2019 at 18:46:19
Alan J Thompson #26: Bernard in the Gomes role? He played mostly left wing against United.
Jer Kiernan
44
Posted 27/04/2019 at 18:46:20
DCL has enjoyed game time at highest level other lads his age could only dream of (thanks to board level incompetence). He definitely has ability but I am now at the stage where I "expect" him to miss no matter how clear the chance is.
We should try to get Rom back; I really think he would fit in but at least 2 strikers are needed this summer, The miss today from Pickford's clearance was appalling – they were waiting to be beaten and, had he just passed this into the front post instead of straight at the keeper, we would have danced on them.
I have been patient with DCL but he has more than been given a chance here, and is not good enough to be first choice.
Brian Williams
45
Posted 27/04/2019 at 18:52:07
Martin, do you mean the "buildup play" or were you enjoying other interests while watching the game mate? 😳
Tony Abrahams
46
Posted 27/04/2019 at 18:58:09
Since the 17 day break we have kept 7 clean-sheets out of 9, and took 17 points out of 27, but we always want more I know.
Another good transfer window is imperative, because as Tony H said, the base is there. We now just need to add some more quality, and hopefully get rid of a lot more quantity.
It could be better, but shutting my eyes and thinking back twelve months, then surely this season has also been a real success?
A long way to go, which can only be helped by not being in Europe next season is my own opinion, especially because many "knowledgeable blues" couldn't even see where the next point was coming from before our extended break.
Jerome Shields
47
Posted 27/04/2019 at 18:59:14
Motivation alot better than the Fulham game, but didn't manage to keep their technical ability up to speed.
Still think there is something missing at Finch's Farm in the week prior to playing lesser teams.
On a up side didn't get beat after winning the last game and another clean sheet.
They will be up to speed in motivation and technically for the Tottenham game.
Glad they are not going to qualify for the Europa League, haven't the squad. Would prefer a good League Cup and FA cup run and continued progress in the Premiership next season.
Jamie Crowley
48
Posted 27/04/2019 at 19:02:24
Only saw the second half as I'm at Florida State University for "Dad's weekend" with my boy #2.
Didn't get to bed until 3 am. A young man's game this college thing. Didn't wake until 10:30 am here.
We dominated that half, hit the bar twice, and their keeper made a fantastic save off Cenk. Poor luck we didn't take it.
7th is gone and my eyes look forward to next season. With no Europe, I want:
A deep, deep League Cup run and take the competition seriously.
A deep FA Cup run.
6th in the league or better.
We are capable of all the above. We're playing some fantastic football. I'm very excited about our future for the first time in a long time.
Ray Smith
49
Posted 27/04/2019 at 19:03:35
I'm the eternal optimist!!!
We beat Burnley on Friday.
Wolves draw with Fulham (on current form).
Wolves lose to Liverpool.
We take a point at Spurs.
We take 7th on goal difference.
Funny old game, you never know.
However, regardless of how the season finishes, we need a finisher.
DCL isn't quite the finished article and reluctantly isn't going to be.
Some TW's say he needs time! He's 22 and is a handful, but not taking his chances. He's been given a decent run, but it's just not happening.
We need to keep Gomes and Zouma to stand still, there's potentially £60m.
Our current form is encouraging for next season, providing we sign Gomes minimum.
Surely Mina will come good?
Which leaves Onyekuru to take the strikers slot for no fee!
I can dream, but still remain optimistic!!!
Sam Hoare
50
Posted 27/04/2019 at 19:07:48
Jim Bennings@21 as one of Silva's chief detractors are you finally admitting that you may have been wrong then? Surely not!
I didn't watch today but it sounded like we mostly controlled the game creating the better chances but lacking the clinical touch. Everyone including Brands and Silva knows we need a few more goals in this team and I expect that to be addressed in the summer.
We have more points than last season and have played considerably better and more entertaining football, whilst bedding in younger and better players. I call that progress.
The likes of Keane, Calvert-Lewin, Coleman, Bernard, Sigurdsson and Gueye (and even Schneiderlin) have looked much improved in the final third of the season and that gives me hope that Silva's coaching is working.
If we can get 4 points or more out of the last two games I would call that a strong end to the season (since the 17 day break) and give us great impetus going into next season. The Summer transfer activity will be key of course and I think we would miss Zouma more than Gomes, although there are a few quick and strong CB types out there. I trust Silva and especially Brands to get the incomings right mostly but the harder work will be shifting the mountain of deadwood that the likes of Koeman, Allardyce and Walsh accrued.
Definite cause for optimism.
Tony Abrahams
51
Posted 27/04/2019 at 19:07:52
People talk about spending loads of money just to stand still, but it's a long time since Everton had stability and this is something that can't be underestimated after the last few disastrous years?
Raymond Fox
52
Posted 27/04/2019 at 19:11:56
A decent performance apart from the important bit of putting the ball in the net. A point is really all I was expecting and I thought we were the better team.
As far as the Europa is concerned in my opinion we are better out of it, I'd sooner we concentrate 100% on our domestic competitions without attempting to juggle with too many matches.
James O'Connell
53
Posted 27/04/2019 at 19:15:52
Finishing 7th may have added a little weight in attracting the quality number 9 we need but I agree we don't have the squad for Europe. Hopefully a busy summer and we can see what Silva can do with his own squad.
Jamie Crowley
54
Posted 27/04/2019 at 19:19:36
Tony @51 -
I personally don't think we should make hardly any moves this summer. The team is beginning to organically gel.
Add a goal scorer. Still make sure DCL gets time. And don't tinker.
Having a team - a real team - is one of the most underestimated things in sport. We have the makings of a team. As they play together more and more, they improve.
Leave well enough alone. A few minor adjustments, but don't upset the apple cart.
Jim Bennings
55
Posted 27/04/2019 at 19:22:33
I am openly admit I was knee jerk about Marco Silva after we went through a horrible period in midwinter.
I can see now that this man will get the team moving in the right direction given the backing and help from Marcel Brands to further improve the quality of our attack.
Tony Hill
56
Posted 27/04/2019 at 19:26:10
Well said, Jim @55. I also very much agree with Jamie's ambitions @48. This manager is going to do it for us, and in style. Let's just enjoy it all and ride out days like today which are markers on the road.
Jason Wilkinson
57
Posted 27/04/2019 at 19:27:06
Not all young footballers come in to there own at 22. DCL is getting better and goals will come. Were is Rashford at right now? were was Vardy at 22?
Kane took a while and Salah wasn't pulling trees up at Chelsea.
I remember Graeme Sharp in his first season. He looked like he wouldn't make it. Kendal stuck by him and he flourished.
DCL has had FOUR managers. All asking different things of him. I would give him the number 9 shirt for next season and tell him to keep working hard to stay in the team if I were Marco Silva.
Jamie Crowley
58
Posted 27/04/2019 at 19:28:32
Tony and Jim -
Exactly. Enjoy the trip. Ride out the bumps in the road.
I was too impatient as well this winter. We have the right man at the helm. Let's see how far he can take us.
Christy Ring
59
Posted 27/04/2019 at 19:37:56
I do hope the goals come for DCL, but a top striker is essential to break into the top four. These are the type of matches where a clinical finisher is a must.
John Raftery
60
Posted 27/04/2019 at 20:17:25
We totally dominated the game today, so much so Palace were happy to keep the ball by the corner flag just to eat up time in the closing minutes. The conditions made it difficult to judge crosses into the box; hence our players trying to work openings via wall passes which was tough against a team dropping so deep.
Overall I was delighted with the level of performance. On another day we might have scored three or four. The away fans rightly applauded the team at the end. As others have said Zouma was immense. For me he would be the top priority in this summer's transfer activity but I imagine Chelsea will want to keep him whether or not their transfer ban sticks.
Paul Birmingham
61
Posted 27/04/2019 at 20:38:19
We need a good preseason and any new players brought in early.
Hopefully we can get some deadly finishers, else we will be knocking on the door, for the foreseeable.
If we'd buried so many of the chances we've made this season, we'd be at least in 7th position now.
Hopefully MB, will execute his transfer plan swiftly and without fuss and Everton move on, and come next season, we are consistent and very hard to beat.
Derek Knox
62
Posted 27/04/2019 at 20:49:41
John @60, it will indeed be interesting to see what happens with the Zouma situation, I may be wrong but I get the impression, if given the choice, or asked, he would rather stay with us than go back to Chelsea.
My reasons for that are threefold, One; Chelsea wouldn't have sent him out on loan so many times if they 'really' valued him. Two; all players like to be loved by team-mates and fans, which is evident with Kurt (see how I used his first name there, in case he's reading TW tonight :-) ) Three; no team wants to keep a player who would rather be somewhere else, where he is all of the above, and virtually guaranteed regular football.
Of course they would demand a hefty fee, they paid £12M for him, so I would think because of his age etc, they will at least want to double/treble their money.
As you rightly say a lot will depend on their Transfer Appeal, but who knows who else they have stock-piled, coupled with the absent (possibly departing) Abramovich who (allegedly) wants to get out, so many plates spinning and balls in the air.
Brent Stephens
63
Posted 27/04/2019 at 21:02:14
Hoping that wolves need to win their last game to get into Europe. That'll motivate them. Who've they got in their last match?!
Phil (Kelsall) Roberts
64
Posted 27/04/2019 at 21:21:41
You really do prefer Lyndon's summary to that of Michael's.
All we get with Michael is
.a hoof upfield that went out of play
.Everton were too slow in the build-up
.a hopeless effort
.but his control was abysmal and the chance was gone.
.next to demonstrate horrible ball control
.corner, an inswinger but horribly low, wasted
.Slow build-up was spoilt by giveaways
.another phase of painfully slow build-up from the back ensued.
.35 passes later, an inadvertent Panenka to mess up the nice ball
.but his body position and technique were all wrong and it bounced
harmlessly off the top of his head
.intimidated by defenders in front of him and weakly surrendered the ball
to them without really trying.
.Everton passing the parcel until the whistle.
And that was just the first half.
I really wonder how we got even one point this season as we must be the worst team in the division. Totally utterly inept in every aspect of the game.
When I look for positives from the first half report
Nice movement down the left
Coleman crossing well, some great pressure,
delivered in well by Sigurdsson
A much more lively move
and that is all.
Michael, please don't volunteer to answer calls for the Samaritans.
I reckon if you bought a beer and a bit fell out as you put it on the table you would describe it as half empty.
Terry Underwood
65
Posted 27/04/2019 at 21:23:11
if the Russian does leave chavsea, they will be championship inside 3 years
Terry White
67
Posted 27/04/2019 at 21:28:10
Phil (#64), you and Lyndon may be the only persons on this site who think Coleman crossed the ball well today. Our crossing was abysmal and Coleman was the primary reason for that. His effort near the end when, with men waiting in the middle for the unchallenged cross from the byline, he put the ball into the side netting, epitomised his failings on the day. He has definitely been more his old self recently but this was not one of his better days. He had so much space on the right and failed to make any use of it. He was not the only one, of course.
Phil (Kelsall) Roberts
68
Posted 27/04/2019 at 21:37:21
Terry, these were all quotes from Michael, not Lyndon.
The guy just depresses me so much with his reports. I have not seen the game so make no judgement on individuals and note I have removed the names from the negatives.
But if we were that bad and dominated Palace - then. . . . .
And no mention for the excellent defending, or were they just inept like United last Sunday?
Danny Broderick
69
Posted 27/04/2019 at 21:44:11
We played well today. We are just lacking goals up front. Hopefully we can get 2 strikers in this summer, because DCL could do with a season on loan in the Championship for me.
It's great to see how solid we look in defence, that's 5 clean sheets in our last 6 games now.
Andy Crooks
70
Posted 27/04/2019 at 21:52:47
Jim @ 55 so was I. I wrote a Silva must go post. I was wrong. We write stuff because because we care, and are passionate. Good post, Jim.
Danny Baily
71
Posted 27/04/2019 at 22:20:47
Andy 70, those legitimate reasons for wanting Silva to go remain legitimate. We looked in real danger.
Winning late in the season is not necessarily a sign of a corner having been turned. I want to see results when it matters.
Trevor Peers
72
Posted 27/04/2019 at 22:22:07
I think Silva is about the best we can do at the moment, unless Usmanov joins us in the summer. He's on a par with the Wolves manager, he's very good, but not a really a top class world coach, just yet.
That said he's a vast improvement on what we have had for a long time, he's young and should improve, we can look forward to next season with optimism. With a few shrewd additions we might be able to really compete in the cups, and push for a top seven finish. It's all about money as usual, our level of achievement will be determined by how much we have to spend.
Today showed how far behind we are from the very best by our lack of a top class goal scorer or two, we would of won that game easily if we had one. Let's hope we can come up with someone a bit special in the summer, who can add 20 goals a season, it could make all the difference.

Ray Smith
73
Posted 27/04/2019 at 22:26:57
Tony 51
My comment about standing still was in relation to keeping Gomes and Zouma was in respect of keeping them.
Possibly not the correct phraseology, but my point was that we can't afford to lose them, otherwise we go backwards IMO.
David Pearl
74
Posted 27/04/2019 at 22:29:24
I missed the game but caught the radio. Sounded like we had a lot of possession but couldn't put the ball away. The defence looks sound and Digne is our buy of the season. What a player.
Up front, the difference between us and let's say the RS is that they have 3 x 15-20 goal men up top. We have 2 of 4. I think it's obvious where we have to prioritize.
Costa could be available... if he doesn't cause too much trouble. DCL has to play games so I'd look to bring only one striker. We are going to be better next season. Zouma is Number 1 priority.
As for today, it was always going to be a bit flat from last week but we still should've won. We are on the way up. If we don't make Europe, then we must keep the team together. We can't sell Gana, even though his form has actually improved since the last transfer window.
Ray Smith
75
Posted 27/04/2019 at 22:31:11
Trevor 72
I would like to see Onyekuru given a chance if his work permit can be sorted.
Not sure what's currently holding it up, but he could possibly be the missing solution up front.
Kevin Molloy
76
Posted 27/04/2019 at 23:28:33
Costa might actually be on, just because we have so many Portuguese at the club. Something like that would I think count with Nutjob.
Brian Williams
77
Posted 27/04/2019 at 23:39:42
Costa won't be coming to Everton.
Rob Halligan
78
Posted 28/04/2019 at 00:15:28
Don't want to get everybody's hopes up, but David Neres of Ajax is definitely on. We were on the train back from London today, sitting in first class, and Marcel Brands was also in there. Two lads we know were speaking to Brands who said the club is very positive about signing Neres. Here's hoping.
Michael Kenrick
79
Posted 28/04/2019 at 00:34:02
Just calling it as I see it, Phil (#64) — always have, always will. Not into sugar-coating, I'm afraid. There's always the officical site, the Echo, and the nonces on Everton Radio — but even they were getting frustrated today with the shocking lack of quality.
Some people see good things in Calvert-Lewin, as an example. Sorry but I just see the most abysmal player when it comes to being a so-called striker.
I've said it before and got slammed for it... but he is simply hopeless. There is no other word for it, I'm afraid.
Simon Dalzell
80
Posted 28/04/2019 at 00:42:55
Well said Michael. I got absolutely panned a couple of weeks ago when I suggested that DCL would never be good enough. Mentioning no names ( Man of a thousand question marks ) ,Seeing is believing.He couldn't hit a cows arse with the proverbial banjo. Comfortable win today with a decent striker.Aspirations of top 6 ? DCL LOL.
Rob Dolby
81
Posted 28/04/2019 at 00:52:17
The difference between us and arsenal is the striking department. In fact everyone above us in the league have better strikers and quite a few below have arguably better than what we have.
Quality matters up the top end. To progress we need better finishers.
DCL is learning the game in the prem. He may come good in a couple of years time but what good is that to us.
Moshiri needs to back the manager in the summer and go and get a couple of strikers.
Mark Wilson
82
Posted 27/04/2019 at 01:04:20
Jason, #57 if we go with DCL as main striker next season we will be battling for 7th again, and probably failing, again. He simply isn't a finisher, end of. How do you "learn" to put away some of the relatively easy chances he's missed this season, or today's duo? He's a vastly improved player, fans adore his dork rate and his clever running. I respect all that. But no matter how many times we deny it, goals win games and get you into Europe.
As for the usual sniffyness about the early start euro qualification via seventh. After this miserable season ripping up any chance however small of salvaging even that mediocre consolation from a miserable season with some of the worst football and results we've seen, well, I wanted it, the club actually needed it and Brand and Silva know that I'm sure. Don't understand the negativity about it, really don't. We can cope with the early start. What else have we got to look forward too ? Top four ? God I hope so but really ?.
EUROPA offers some decent nights against surprisingly big names once that early summer thing is negotiated. Our last attempt was embarrassing I know. But I'm gutted we look to have blown it.
I've loved the decent performances against good teams, well excluding Utd from that description. But you'd have to be crazy to let those games wipe out the memory of at times just how low we've sunk this season and the thought of letting three top six wins at home mean, as I've read here, that we don't need to buy in the summer, apart from a striker, well, have to disagree. Desperately need that goal scorer and like many I think DCL will be better for it, not worse. Have to add a fourth CB and two,if Zouma returns to Chelsea. And I can see Walcott, Lookman and maybe even Richarlison leaving in the summer so there's change coming there as well.
Andrew Keatley
83
Posted 28/04/2019 at 01:11:59
Michael (79) - I'm amazed that you think Calvert-Lewin is "abysmal". I think in general he is doing just fine. He clearly has areas he needs to improve in - but he also has significant strengths. I like the way he is progressing.
John Pierce
84
Posted 28/04/2019 at 01:32:17
Unsurprisingly, a predictable result. Silva still finding it tricky to breakdown poor sides.
Some very average technical ability on show today; moreover, the decision-making was woeful. Richarlison twice in the first half had presentable passes to Sigurdsson to put him in being the pick of poor choices. One assist for the season might be a clue?
Coleman, all energy and willingness to run and combine, but his touch and that cross were up there with playground efforts.
We did control the game, and did play as a team for large parts; they were awful too, I mean shockingly bad.
Another result gone begging, some will say we lacked quality... yet we ruined Man Utd last week.
We need to be more direct against this type of side and have a dribbler to commit players. Silva can ot afford to drop points against this type of side now and next season. Deffo a problem for me.
Bill Watson
85
Posted 28/04/2019 at 01:36:59
I've posted many times that DC-L isn't a natural striker and is unlikely to become one. It's a natural instinct which he doesn't appear to have.
I've also posted about the tremendous all round improvement in his game. You can't fault his work rate and his hold up play and passing is excellent. But the lack of goals is costing us, dearly.
Signing a proven goalscorer is imperative either to play with D C-L
Bill Watson
86
Posted 28/04/2019 at 01:37:00
I've posted many times that DC-L isn't a natural striker and is unlikely to become one. It's a natural instinct which he doesn't appear to have.
I've also posted about the tremendous all-round improvement in his game. You can't fault his work rate and his hold-up play and passing is excellent. But the lack of goals is costing us, dearly.
Signing a proven goalscorer is imperative, either to play with D C-L or to replace him.
Derek Thomas
88
Posted 28/04/2019 at 02:01:30
DCL is going nowhere, because unless Brands pulls out an 'unknown' gem, who then actually does the biz, who else is there? Everbody from Barca down is looking for the top striker. Enough can offer a bigger name as a club, plenty can offer more money, some can offer a better perceived location (I can't see the lure of London myself).
The current Lukaku might not have buried DCL's early miss, but the old one would've... but he won't come back and I'm not sure Silva would be able to fit him into the way he wants us to play if he did.
Seems to me our options are, a Brands hidden gem, or a loan gamble for an out-of-form/favour player on big wages somebody wants rid off... or hope DCL comes good.
There are only 2 decent teams in this League at the moment. The teams around us are 7th to 11th because they are inconsistent, 2nd to 6th are also inconsistent just at a higher level. Man Utd put together a consistent run of 7 or 8 games and just changed groups.
Roll on next season.
Simon Smith
89
Posted 28/04/2019 at 02:46:08
Just didnt quite happen today for the lads, we clearly dominated the game, but maybe lacked that killer instinct.
Gomes over Schneiderlin would have offered more going forward, but ultimately games like today need a finisher who can take them 3 points home by banging something in. DCL and Richarlison are both still young and learning and imo the subs Theo and Tosun just aren't good enough. I know Rom looks a shadow of the forward he was at us, but today a forward of Lukaku's level wins that game for us.
7th is now gone, this is a real shame as I genuinely believe the young lads needed it, but again if we're all honest, our mid-season blip was just too much, both Wolves and Watford deserve it before us as, imo, we have a better team and squad than both of them, yet they're punching with us.
Kieran Kinsella
90
Posted 28/04/2019 at 03:55:18
Jamie Crowley where do you live? I may be moving back to Tallahassee soonish.
With regard to the Michael/Lyndon perspectives. as a 15/20 year ToffeeWeber, I think both men reflect fans' views. Michael is quicker with the reviews and has more of a knee-jerk off-the-cuff reaction, Lyndon takes a bit of time to review but offers a more "big picture" dare I say "poetic" viewpoint.
For me, either way it works. Post-match, I am usually worked up so agree with Michael but day after I am usually calmer and inclined to appreciate Lyndon's more measured response.
Kieran Kinsella
91
Posted 28/04/2019 at 04:01:47
Rob Halligan 78
Not trying to be a dick like but I find it hard to believe Brands was discussing transfers with fans on a train...
Darren Hind
92
Posted 28/04/2019 at 04:02:36
I have no problem with Michael's match reports. They're raw, they're honest, they're and expression of joy, misery, frustration. He doesn't give himself a couple of hours to measure, choose his words.
What you get is the sort of reaction you would get from anybody walking down County Road after the match, but fuck me his comments about certain players - "DCL abysmal"?
This is a hobby horse of mine. I hate to see senior pros getting a free ride while younger players are hammered. DCL is not abysmal. He is a fine young player.
If those people knocking him have not seen him as our battering ram, the focal point, the get out of jail card, the perfect recipient of the long ball, the guy who has engaged the centre backs and is carrying the fight to the defences of teams like Arsenal, Chelsea and Man United? Then what on God's green earth have they been watching?
You hear it every week from the same people "Calvert-Lewin is not a natural finisher" No shit! Who said he was? But what he DOES do, is he allows us to get up the park. He creates acres of space for others. It doesn't matter if he doesn't score all the goals. What matters is we, as a team will score more with him in it than we will without him. Breaking news: We don't have a natural finisher. the 50 odd million Fat Sam squandered didn't alter that fact.
EFC need to hold on to talented youngsters. Even if we find the solution to our goalscoring problems (£100m down the back of the couch). This guy will be worth £40-50m in today's market... why get rid early, cheaply?
This team does not make a bagful of chances for their strikers. Any chances Calvert-Lewin gets can generally be found under all-my-own-work. For every chance DCL misses, Ageuro and Salah will miss three. The difference being they KNOW they`re next chance is just around the corner.
Today`s conditions were a nightmare for players, that's why (despite some decent pressing) nearly every player on the pitch (including their stars) were poor.
Kieran Kinsella
93
Posted 28/04/2019 at 05:11:17
Bit of funny news... DC United want to sign Ashley Williams. LMFAO
Andy Osborne
94
Posted 28/04/2019 at 05:20:41
In the last 6 games we have taken 9 points out of 9 from top six teams, and only 4/9 from the rest. If we want to challenge for top 6 we have to win games like today and Fulham.
If we had finished 7th, I would have happily taken that, but I am not disappointed that it is looking like we won't. I think another season without Europe will give Silva valuable time in preseason to put more of "his" stamp on the team.
Looking to next season, I am optimistic. I have enjoyed reading all the comments above, but for me Jamie (54) is on the money. The team is starting to gel and wholesale changes are not needed. A few savvy additions are what is required, in my opinion.
Gomes and Zuma are a must, but if they return to their parent clubs, they must be replaced, from outside, not from within. Schneiderlin has done ok as Gomes' replacement in the last two games, but his "crab-like" style (backwards and sides ways), is not enough if we really want to challenge the top 6.
In addition to that bit of business, we need a striker that can finish. I disagree with the need for two (unlikely we would find 2 anyway), as I think DCL still needs to be part of the squad and be given opportunities to continue to improve. But we can't rely on him to be the main guy at the moment. The Lukaku of 2 seasons ago, would have won that game for us yesterday. That's the difference we need.
The only other bit of business I would do is to find a "right-sided" Digne. To put pressure on Coleman, initially, and ultimately replace him.
It is clear, that when this team gets it right, we can be clinical (e.g. Man Utd 4-0), but there isn't enough versatility, intelligence, or ruthlessness to break down the stubborn teams (Crystal Palace and Fulham).
So, nice comment, Jamie, a few astute additions and let's see where Silva can take them next season.
Alan J Thompson
95
Posted 28/04/2019 at 05:31:08
John Hammond (#43); Have another look. In the first half v Utd Bernard played mostly central but alternated with left wing in the second half. This week, it seemed to be added to Gana's role.
Mike Gaynes
96
Posted 28/04/2019 at 07:45:31
Kieran #93, they need a designated driver for Rooney.
Steve Cotton
97
Posted 28/04/2019 at 07:55:48
On a side issue, did anyone see the late stamp by Son for Spurs? It was identical to the Gomes 3-game ban challenge! They didn't even show it after the game on MotD. If he doesn't get 3 game ban, it proves top 6 bias!
Gavin Johnson
99
Posted 28/04/2019 at 08:28:38
Missed the game and only caught the highlights. From what I saw It seemed like bad luck and bad finishing meant we lost 2 points.
Some contributors have put DCL under the spotlight for being a poor finisher. What I will say is that, while the lad isn't a natural finisher, he is excellent at keeping opposing defenders busy. He is very strong at winning headers and creates space for the likes of Sigurdsson and Richarlison.
At the same time buying a new striker is essential for Silva this summer. I don't see DCL ever developing to a striker who can score more than 10 goals a season but I still see him being an important member of the squad for years to come. His mentor, Big Dunc was hardly prolific even when he had a run without injury.
Let's hope Brands can bring in a more prolific striker who can compliment and compete with DCL. Any one of Patrik Schick, Andrea Belotti, Tammy Abraham or Che Adams would be fine for me. We must, however, jettison Niasse, Tosun and Sandro.
Steve Brown
100
Posted 28/04/2019 at 08:37:16
I don't think anyone is suggesting going with DCL as our main striker next season - we have never replaced Lukaku properly and it is about time we did. But to say he has not led the line well this season given his stage of development is daft. He creates space for other players to take advantage of, stretches opposition defences with his pace and athleticism and has improved a lot in the air lately.
He reminds me of a young Sharpie, who also wasn't a natural goal scorer but developed into one. One thing is for sure, relentlessly slagging him off won't help him or team.
Dave Abrahams
101
Posted 28/04/2019 at 08:55:43
We have different opinions on here about DCL, I like him and think he will improve, I wouldn't mind betting in a couple of years he will be still here while the much liked Richarlison will have moved on, maybe for a big profit. This lad gets plenty of praise and not much stick. To me, he is very wasteful in every game he plays, never looks up to see players in great positions to score, plays for himself, not a team player.
Yes, I know how many he has scored, some very good ones as well. Maybe he will improve, I hope so, Lukaku scored plenty... has he improved, is he a team player?
DCL needs to score more, of course he does. I think he will add goals to his all round game and do it with us.
Alan Rooney
102
Posted 28/04/2019 at 08:59:45
Why are we so poor and unimaginatve at corners? Don't they practice and dream-up new ideas on the training ground. We had 10 corners yesterday and not one was handled imaginatively. I can only think of one goal we've scored from a corner this season. Why is that?
Tony Hill
103
Posted 28/04/2019 at 09:01:23
My worry is that he may be developing a bit of a mental problem with finishing. You could see him yesterday freezing and expecting not to score.
I agree with Dave, though, I think he'll come good.
Joe McMahon
104
Posted 28/04/2019 at 09:18:50
Alan @102, as you know, this has been problem going back years. Many Baines corners not clearing the first man. Like everyone, I'm mystified.
Joe McMahon
105
Posted 28/04/2019 at 09:30:36
There have been improvements in DCL's game. But I still feel we need to loan him to the Championship for development, it's a very competitive League. At the moment, we need an effective striker who can score as well.
Jeff Armstrong
106
Posted 28/04/2019 at 09:32:56
Alan #102,
Last week against Man Utd it looked like we were going to score from every corner, especially around the time Richarlison's goal came (from a corner) Digne's goal came from a cleared corner... bloody hell, even Siggy's goal came from a corner!
Jerome Shields
107
Posted 28/04/2019 at 09:48:11
DCL's role as a centre-forward is a lot more than being Striker. He has worked hard over the season and has emerged at the best in the role that Silva expects a centre-forward to fulfil. Other very expensive centre-forwards that Everton have cannot fulfil the role. Lukaku was having difficulty fulfilling this role and, on current evidence, would have difficulty getting selected.
As I stated in an earlier post, whilst Everton were better motivated than in the Fulham game, there was something short on the technical ability of many of the Everton players. This also puts more pressure on Everton players that are technically up to speed. In my opinion, this results in the lack of quality that Lyndon highlighted on another thread.
Bob Parrington
108
Posted 28/04/2019 at 09:53:58
Watching on Optus it appeared there were heavy and blustery winds. Not the best conditions for accurate passes, crosses and corners. Some players seemed to be affected more than others. DCL was possibly the most affected and seemed to struggle with his control.
Overall it was a dominant performance and, had we benefited from some RS type luck, we might have had 3 goals - Bernard's shot hitting the post, Digne's highly deflected effort similarly and Richarlison being fouled in the area for a penalty.
If one of these had gone in maybe the comments on here would have been much different.
Derek Knox
109
Posted 28/04/2019 at 10:11:39
Bob @108, it was neither the best of conditions, nor the performance that we anticipated after the Man U game, but you should know better by now, luck and Everton, are a very rare combination indeed. :-)
At least it was a lot better than the Fulham outing, but there were a couple of occasions yesterday, when a rare Palace attack materialised, that I thought here we go, a deflection or a wind influenced shot will see them nick a goal, against the run of play.
Disappointing maybe to not get the 7th spot, although mathematically it is still possible (but highly improbable) but we can only reflect, not only on the Fulham performance, but the amount of times this season we have not secured expected points (Huddersfield at home etc,) it has eventually come back to haunt us.
Hopefully a good clear-out in the Summer Transfer Window, coupled with a few early quality additions, a good pre-season, and we should be ready to start the new campaign with serious ambitions.
Dave Williams
110
Posted 28/04/2019 at 10:18:19
Dave #101 – agreed. The lad plays a few blinders and, as soon as he has an indifferent game, guys are on his back again.
I keep banging on about the similarities between him and Sharp until I am sick of typing them but it really annoys me to see people so keen to criticise our young players rather than encourage them to keep going.
DCL is 21 or 22. Not yet physically mature, playing against grown men every week who know the dirty tricks to use against him, there's usually two of them and only him up against them and no-one in his team who will have a quiet word with opposition players who take liberties with him.
I think back to when I was his age and what I was like at work, then compare that to when I was in my mid-twenties and I had improved beyond all recognition. Scoring goals regularly is the most difficult bit to master for a footballer hence the astronomical fees paid to buy genuine strikers.
DCL has improved immensely this season and I expect to see another huge improvement next season from him. His confidence in his physical abilities will grow, he will no longer be a youth in a man's world and centre-halves will not like playing against him when he is not only faster than them but also stronger. This is what happened with Sharp – Gray taught him how to look after himself, the tricks of the trade like backing in to centre backs, and his finishing which, inside the box was poor, improved to the point of becoming our second highest ever goalscorer.
I may be wrong about him but I think we should all get behind him and help him to gain the confidence he needs because, if he gets that, we will have the best centre-forward in the country.
Don Alexander
111
Posted 28/04/2019 at 10:19:01
Just watched the MOTD replay and, whatever anyone thinks of them, Alan Shearer and Ian Wright know about how to be a prolific goal-scoring centre-forward. They both said, and illustrated, certain deficiencies of movement by DCL in the penalty area but both insisted such deficiencies can be eradicated on the training ground begging the question, again to me, as to what and who works to develop DCL at FF?
Shearer alluded to "Big Dunc" being there and so he has been, for the entire Everton careers of a series of centre-forwards but, DCL aside on the "hard-yards" part of being a team-player, have any of them shown any kind of improvement as a result?
Not to me they haven't.
Julian Exshaw
112
Posted 28/04/2019 at 10:54:37
I have always liked Silva and felt he should be given time, as many others here did. This does not mean I don't understand the frustration of those calling for his head, as Andy Crooks (70) so rightly states: 'we are all passionate(Evertonians)'. ToffeeWeb should be no place for 'told you so' types.
Back to the game yesterday. It was a bit 'after the Lord Mayor's show' but I thought we played well. This was no Sam Allardyce 0-0. I also agree with Jamie (54), in that not too many changes are needed. 3 or 4 quality players and keep Zouma, Gomes and Gueye. The future is bright, the future is... blue!!
David Pearl
113
Posted 28/04/2019 at 11:22:11
Don, I don't think Dunc's role is to encourage team play, that's Silva's job surely. We had that with Mirallas and Deulofeu, Lukaku... all selfish. It perhaps cost us a goal yesterday.
DCL has improved in aspects of being a target man, you can't deny that, and some credit goes to Big Dunc. If DCL added 10 more goals plus and Walcott had contributed more goals this season, we'd be pushing top 4.
Brian Williams
114
Posted 28/04/2019 at 11:25:02
Bob #108.
Sorry Bob but Richarlison wasn't fouled in the area for a penalty mate. That was a cracking, and completely fair, tackle.
Dave Williams
115
Posted 28/04/2019 at 11:25:23
Just read Darren #92.
Very well said- DCL is not the finished article like Walcott and Tosun are, he is improving quickly and has to be given time to see where he gets to. He is the best we have and if we get the rest of the team sorted out so that we can play like we did last week more consistently then I think the goals will flow.

David Pearl
116
Posted 28/04/2019 at 11:41:48
Actually having just watched the highlights it wouldn't take a Lukaku of two years ago to win that match. Joe Max Moore, Scott Spencer and Tosun would of done it. DCL has to do better than that.

Frank Crewe
117
Posted 28/04/2019 at 11:46:48
I don't know whether DCL will be the striker to take us forward or not. He appears to fit into a style of play we are using and for the time being that would appear to be enough. Only two games left so let's worry about it in the summer.
But before we go buying yet another striker, we should remember we have still to see Henry Onyekuru in a blue shirt and he is younger than DCL. He appears to be knocking them in for Galatasaray at the moment so, if we can finally get him to Goodison, we can see what he can do for us.
As for yesterday's game. Palace are one of those awkward squad sides that can always give you problems. They recently beat Arsenal 3-2 away so they are not pushovers. A bit more luck in front of goal and we would have won comfortably and this thread would be entirely different.
Who knows if we win our last two and Wolves slip up we could end up in 7th (and the Europa League) anyway and there are plenty of us who don't want to be playing in the Europa League. So be careful what you wish for.
David Hallwood
118
Posted 28/04/2019 at 12:01:20
Question; Is being a glass half-full type of guy reason to get barred from ToffeeWeb?
OK, it wasn't a classic to say the least, but IMHO there's progress for all to see; think back to this time last year, and the last two games vs Southampton & WHU, we drew and lost respectively with piss poor performances (the draw vs Soton Davies scored the equaliser with the last kick of the game), under the coaching skills of Fat Sam (big) and Fat Sam (minor)
When people were calling for Silva's head, they must've forgot about that and that managers must be given a chance to stamp their brand of football on the side. After all, very few mangers inherit a successful side. I've posted this many times before, but this is a new side; take Gana & Coleman out of the recognised 11 and all the other players came here this season or last, and therefore he must be given time to develop his squad/philosophy.
Silva's philosophy is the Iberian equivalent to gegenpress, and don't forget it took Klipperty 3 seasons to get right, because of the demands on player's fitness – and that's where we come to DCL. Once again IMHO, he's being trained as the focal point of the high pressing game because of his speed and fitness, and there's little doubt that his game has improved out of all recognition this season.
In answering the posts saying we need strikers now; it is a valid point, but I say stick with Silva and DCL and see where we are this time next year. If we can keep the majority of the team together, well who knows?
Gavin Johnson
119
Posted 28/04/2019 at 12:01:59
Right now, DCL reminds me of a better version of Marcus Bent insofar that he fits the system we are playing more than having any singular attribute.
Raymond Fox
120
Posted 28/04/2019 at 12:05:26
As usual, the top 6 are clear of the rest of the League, with the top 2 a country mile in front of everybody. We've scored 50 goals as of now, 4 more than Wolves, our goals being spread throughout the team.
As regards Calvert-Lewin, we need to be patient, the lad is not playing as a selfish centre-forward – he's being asked to open up the middle goal area for others to benefit, which has worked to some degree.
If he was also managing to be in the right place at the right time and had scored say 8 more, he'd be a £100m player. In actual fact, his goals per minutes played is very similar to Richarlison and Sigurdsson.

Brian Harrison
121
Posted 28/04/2019 at 12:07:08
Well the plus is obviously 7 clean sheets in the last 9 games, when Silva joined one of my slight concerns was could a side he managed keep clean sheets. Also the 7 clean sheets have included 4 of the top 6 sides admittedly they were all at home.
The problem is once again we wasted chances to win the game, a lot has been spoken about DCL and I am all for youngsters coming into the side, but at some point his age has to be put aside and we have to look at the stats. He doesnt score enough goals to be leading the line of a club trying to get into the top 6. Will DCL improve his scoring ratio I hope so, but we need a proven goalscorer to start up front next season. Lets also remember he is the same age as Richarlison who has scored 13 league goals, and I usually agree with most of what Dave Abrahams says but I believe Richarlison will score many goals and if he does leave it will be to a top club.
But the problem of goals is not just down to DCL, you only have to look at Bernard to know that. Yes he is a nice footballer but if you are playing in the front 3 you have to contribute with goals 1 league goal is pathetic. Again if we want to compete with the big boys just look at the return they get from their front 3 compared to ours.
I would try and rectify the problem by signing just 2 players in the summer, I would get Diego Costa from Athletico apparently £20 million will secure his services. Yes he is a bit like marmite you either love him or loathe him, but for me the decline of Chelsea after winning the league was letting him go. Yes he is 30 but that gives DCL a year to learn from him. The other player I would try and get would be Wilfrid Zaha I think with those 2 alongside Richarlison with Sigurdsson just behind would give us goals.
Finally we must keep Zouma he and Michael Keane are forming a very effective partnership not sure Mina and Keane would be that effective. Also Mina has had a bad run with injuries, which makes it very difficult to get an understanding with your fellow defender if you miss as many games as he has this season.
Ray Smith
122
Posted 28/04/2019 at 12:23:24
Does anybody know the current situation with Onyekuru's work permit? Surely he's qualified by now?
I accept that DCL is not the finished article but, with Onyekuru challenging for the striker's slot, who knows what they may bring out of each other?
Onyekuru is already our player, so no financial outlay there. If and it's a big if, when we leave the EU, will the eligibility rules change?
Kevin Dale
123
Posted 28/04/2019 at 12:44:36
For me, the problem is our midfield. Although our front three could do better (I think they will next season), our midfield are not creating or scoring enough,
Gueye is a great ball winner but doesn't create or score many; Gomes is still settling into the Premier League; Sigurdsson is a great player but is too slow and doesn't get into the box; Schneiderlin again doesn't create many chances or score any!
We are simply not creating that many chances for our forwards or scoring from midfield enough, and it's not just simply down to our centre-forward! We need an aggressive goal scoring midfielder alongside Gomes and Gueye, in my opinion!
Laurie Hartley
124
Posted 28/04/2019 at 12:48:41
Just one of those days from my perspective. I thought Cenk Tosun was very unlucky with his back heeler but full credit to their goalie.
That Wan-Bissaka is some footballer – I would rather have him than Zaha.
Paul A Smith
125
Posted 28/04/2019 at 12:49:40
Calvert-Lewin is in the team because he is a better bet for a goal, the team is a better bet for a goal and he's a stronger athlete than Tosun. That is the reason and Silva knows that too.
He isn't there because Silva thinks he is ideal (although he clearly rates him) and I am sure Silva knows he needs better.
Silva has inherited everything he has in attack and it's tough for him to choose the best option. Calvert-Lewin came close a couple of times yesterday and Silva may have felt a goal was coming for him.
Yesterday was a sign we are playing well but not ready for Europe. We need to keep our best 11 in the summer and also improve it.
I posted last year Wan-Bissaka would be a great signing and he looks even better now.
Alan Bodell
126
Posted 28/04/2019 at 13:11:14
Darren Hinds has got it nailed with DCL, he may not score us many but he certainly runs defences ragged trying to create for others. He is still not the finished article but I'm sure he will be. Come on City.
Paul A Smith
127
Posted 28/04/2019 at 13:17:30
When did facts become irrelevant?
Allardyce squandered £50 million?
Shooting the editors report down with a non-fact is rather crazy and the signings he did make kept us up in effect.
Squandered £12 million for Walcott? Wow!
Another post about corners shot down with a comment about Richarlison's goal coming from a corner, which didn't happen.
Nobody knows Duncan Ferguson's role which I am sure is not to teach anything negative but, everytime DCL has an off game, Big Duncs role comes into question.
Frustration is very evident in this thread but good strides have been made since we went down to one game a week. That about sums up the strength of the squad.
Colin Metcalfe
128
Posted 28/04/2019 at 13:30:09
Following the conversation regarding DCL I would say he offers more than than all our other strikers; however, let's be honest – the bar is not particularly high, our recruitment in this position has been dire: Sandro, Tosun, Niasse and not a goal between them!
Jamie Crowley
129
Posted 28/04/2019 at 13:42:20
Kieran @ 90 -
I live in Ponte Vedra, just outside Jacksonville. I get to Tally 1-2 times a year to see the boy.
If you end up in Tally let me know.
Jamie Crowley
130
Posted 28/04/2019 at 13:48:21
Paul @ 127 -
I'd argue our results have improved since we moved DCL up top and Richarlison out of that position and out wide where he is more comfortable. That one change has meant more than us playing once a week in my opinion.
And it also says a lot about DCL and his worth to the team. Let the kid develop for another couple of years and then judge the totality of his game.
Darren Hind
131
Posted 28/04/2019 at 13:49:04
Paul A Smith.
Thanks for pointing out my error. Allardyce didn't just squander £50M on Walcott and Tosun. He squandered well in excess of that – £41M to sign them and about £20M to pay them.
They get paid twice as much as the guy keeping them out of the team. It cost 20 times more to sign them and they have scored about half as many goals
Go figure...
Jim Bennings
132
Posted 28/04/2019 at 13:56:08
Imagine the kind of season this Everton team could have had if we had Jamie Vardy up front?
We are a better side with better players than Leicester in my opinion but the one reason Leicester may now finish above us is because of Vardy.
You can't really put a price on a striker that can score you goals here and now.
DCL might well improve in that department in four years time but it's the here and now that we need to be looking at for summer.
Paul Tran
133
Posted 28/04/2019 at 13:59:11
Jim, you keep banging on about Vardy. What makes you think he'd join Everton?
Jim Bennings
134
Posted 28/04/2019 at 14:03:21
Paul
I'm not saying we will sign him but we had an endless pot to piss in two summers ago, I don't know if we were in for Vardy or not but we should have been.
I'm merely saying that if our board are looking what's needed in summer to progress this promising team then it's tje absence of a goal scoring always busy striker.
If we did have Vardy I firmly believe this Everton team would have finished 6th this season.
Stan Schofield
135
Posted 28/04/2019 at 14:16:32
Jim, Vardy's style wouldn't necessarily fit well with how we play. Leicester are more direct and workmanlike, as they have to be with players less skilled than ours. Vardy fits them, because he's direct. He doesn't have the skills of DCL, who fits well with our more deft style under Silva.
Dick Fearon
136
Posted 28/04/2019 at 14:39:49
Stan @135, and what skills does DCL have that makes him superior to Vardy or for that matter most other PL strikers?
Paul A Smith
137
Posted 28/04/2019 at 14:45:59
60 now then Darren. God knows how much the previous regime must have "squandered" but 40 million to stay in the premier league, "go figure" amd it seemed fair enough to everyone at the time.
What are we looking at spending now to try and oust Wolves next season from the Europa place we need to be?
More than 40 I would suggest. 2 players Allardyce signed and Wolves are better than us.
I think (maybe stupidly) that previous regimes wasted and ruined far more of what we had.

Stan Schofield
138
Posted 28/04/2019 at 14:56:06
Dick, Vardy is obviously a better goal-poacher than DCL at the moment. But DCL has better hold-up and link-up play, he's more skilled on the ball than Vardy, plus he creates a lot of space for others. Those skills probably fit better than Vardy's into our style.
If he did play for us he'd only get heavy criticism and be called shite as soon as he hit a barren patch, certainly on ToffeeWeb.
Darren Hind
139
Posted 28/04/2019 at 15:09:28
Oh dear me.
We stayed in the premier league because we pissed 60m quid up the wall on two poor players.
I've heard it all now.
Stan
You are right about the stick players take, especially the younger ones. One guy repeatedly and I mean repeatedly came on the live forum yesterday to single DCL. Time and again he said basically the same thing. It ruined the game for me. It was like watching a match sitting next to an ill informed Parrot.
Two things are clear to me; This guy wrote DCL of as a championship player who shouldnt get a run of games and is desperate to be proved right. He's already wrong.
The second thing was more worrying. It would appear he doesnt seem to understand there was a match going on and it involved 21 other players. . Until he was pulled up he never mentioned any of the others
He claims thats constructive criticism.... It would be funny if it wasnt true
Gerard McKean
140
Posted 28/04/2019 at 15:28:14
A couple of points to add to the DCL debate: i) playing up front on your own is the hardest position for a young player to learn, and ii) apart from some exceptional examples who do both equally well most front players fall into either the selfless ball-holding, link-up man or the out and out selfish goal scoring machine category. DCL has come on in leaps and bounds this season and the way he has stood up to some seasoned PL centre-backs, who often double up marking him, proves that he is learning well and is more suited to the central role than Richarlison ever was or will be. Secondly, we are seeing that DCL, although he will score more goals with more experience, falls more naturally into the category of the target man who will provide many more goal scoring opportunities for others by demanding the full-time attention of at least two defenders.
The comment about Richarlison is not a criticism of the lad; he just looks happier not having to stand with his back to big uglies practising their dark arts on him unseen by referees, whereas DCL lets them know that retribution will be close at hand. Where I take issue is that Silva hasn't changed the set-up since moving DCL into Richarlison's previous position and he seems to expect players to fit into a system rather than tweaking systems to fit around individual players' strengths (and weaknesses).
So if DCL is emerging as a very fine centre-forward with many old school virtues being combined with the pace and fitness of the modern game, is it not incumbent upon the coach to complement those assets with those of the other type of front player, the "goalhanger"?
I've mentioned this before but over the water there from the club that boasts an illustrious history in centre-forward greats like Dave Hickson and Dixie Dean, Tranmere's James Norwood continues to bang the goals in and at 28 he's at least worth a look. Several posters mention Vardy and while I think he's probably just past his absolute best now, Vardy does provide a compelling illustration that many goal machines are late developers and have taken years to learn their trade in the lower reaches of the leagues or even non-league football. Norwood and DCL would fit the profile of little and large act of so many successful striker duos and Norwood would take an enormous weight off DCL's shoulders. Of course, Silva would have to change his preferred system but is it not worth a try?
Dave Evans
141
Posted 28/04/2019 at 15:28:18
David Hallwood 118 Well said. Being relentlessly negative is often the norm.
We have played well and dominated a team away from home who have just turned over Arsenal. We played with intensity and in phases with some skill and have been unlucky not to win in difficult footballing conditions.
I call it as I see it and I see real improvement in all aspects of our game and have real hope for next season. Despite an average game yesterday, DCL has shown great progress recently and deserves our support in his efforts to show how good he can be.
James Stewart
142
Posted 28/04/2019 at 15:37:30
The problem with DCL is he just can't finish to save his life. He has no shooting ability whatsoever. You can't coach that – it's just instinct and exactly why goalscorers cost the most money. So, while DCL does have some very fine attributes, we are always going to be a blunt sword with him up top.
Best thing to do would be to bring in a top class finisher he can at least try to learn off. A Dzeko, Costa etc.
Jim Bennings
143
Posted 28/04/2019 at 15:45:48
There was a good analysis on Match of the Day last night (every now and then there is) about where DCL needs better help from Duncan Ferguson, our coach.
As was pointed out it needs coaching that certain runs he can make will reap greater rewards but if you aren't told regularly and shown more often in training then it's hard putting them into practice during the matches.
At the moment he's working selflessly well for the team but the lad isn't getting goals himself which is a shame.
It's a shame he couldn't have capped off great displays against Arsenal and United with a goal because he deserved one.
Peter Mills
144
Posted 28/04/2019 at 15:52:13
I thought the "hopeless" DCL was magnificent against Man Utd and Arsenal.
Trevor Peers
145
Posted 28/04/2019 at 15:59:33
There is no DCL debate, we need to buy a quality striker or two. Depending on a young lad as our main striker isn't an option, he just doesn't score enough goals.
We need to sell Tosun, Niasse and Walcott and a few more, get them off the wage bill and buy potent attacking forwards, DCL will keep learning his trade but to suggest he's the finished article is way off the mark.
Michael Lynch
146
Posted 28/04/2019 at 16:06:04
I kind of agree with Trevor - DCL has definitely come on leaps and bounds this season, and if he scored a few more goals he would probably be on a Sky 6 club's radar right now.
Having said that, can we really start with him as first choice again next season? I mean, obviously, we can, but will we be able to press on with "Silva Project" without a goalscorer up front?
I found the MotD analysis almost embarrassing for DCL – three top-class strikers basically patronising Calvert-Lewin by saying "of course he can learn to be a striker" like you would a kid at school who's not doing very well at maths. Clearly, behind the scenes they'd been giving him a roasting but the producer decided to get them to offer some sage advice instead of a slagging. Cringe.
James Hughes
147
Posted 28/04/2019 at 16:11:11
Mr Stewart #146. That is a bit of a silly claim, if he had no shooting ability he wouldn't be anywhere near the team. He would have been let go a long time ago. He's far from ideal but he ran the Arse' back 3 ragged the other week. Sokratis, in particular, was glad when the final whistle went and was lucky to only get booked once.
Ian Wright, who has been mentioned on this thread, was a very late bloomer. Built up his confidence by being a big fish in a small pond, he was lucky he could make the leap to the big time.
I am not sure what people expect but a player who is a natural finisher, links> up play, brings others into the game and bullies defenders — do they exist?
Ian Jones
148
Posted 28/04/2019 at 16:36:58
Hi Karl @152, I don't think it's a given that Newcastle will roll over due to Rafa's involvement in the game. If Liverpool win, it will be because they are the better team...I don't think it's in Rafa's make-up to make it easy...he might just want to keep being the last manager to have won something worthwhile at Liverpool (putting the League Cup aside). Hopefully :)
Don Alexander
149
Posted 28/04/2019 at 16:39:42
DCL is not the finished article (I hope!) but it seems he needs coaching in the way that Shearer and Wright described in order to improve his goal tally and that's where coaching has a place. Graeme Sharp became brilliant at this but we have one coach whose "forte" when he could be bothered was way different and generally illegal then and definitely would be now, albeit he was about as prolific as a goal scorer in his entire career, stat-wise, as DCL currently is.
DCL needs education in anticipation and movement in the box and Ferguson's been coaching him for nigh on two seasons with little evidence of improvement in these key features.
Before DCL we had Lukaku, way more prolific than Ferguson but usually redundant when it came to putting himself about for the team or even reliably controlling passes to him. Did this aspect of his play improve under Ferguson? Er, no and he's being more and more found out at United for these inherent deficiencies, so it begs the question what does Ferguson actually do to improve players in the field of his own "expertise"?
And as for those who say "nobody knows what his precise role is at FF" I hope nobody's suggesting the idea that he coaches specialist full-back, midfield or wing play because that'd be unfeasible and then some to me. (That said, given Jordan's adhesion to his own goal-line when "zonal" was the defence of Silva's choice it might just have been that Ferguson was selected in training to put the lad, the ball and any attendant defender in the back of the net as he two or three times did for us as a player. He was genuinely very good at that!).
Tony Abrahams
150
Posted 28/04/2019 at 16:44:11
Calvert-Lewin is doing fantastically well for a young kid, and is definitely helping everything else trying to gel in Silva's system imo.
He might not yet be attacking the front post enough, he might not be showing enough composure either, but he's being asked to do a thankless job, and I bet you he's appreciated off his team-mates?
He knows he's got loads to learn, his reaction to his team-mates sometimes shows a mutual understanding of this, but I really hope he succeeds because he seems to be a very honest and willing young footballer.
Bill Watson
151
Posted 28/04/2019 at 16:53:20
Just a little off topic but a technical issue some may be able to help with.
I still have the 'edit' facility on my phone but it's disappeared off the laptop. Does anyone know how to restore it?
Christy Ring
152
Posted 28/04/2019 at 17:03:16
DCL is still learning, and he's only 22, but we still need a top striker. We have to offload Tosun, Niasse and Ramirez in the summer, which won't be easy, because of their wages and big contracts.
Paul Tran
153
Posted 28/04/2019 at 17:17:20
Jim #134, what we do know is that Vardy turned down an enormous pay rise & Champions League football from Arsenal to stay at Leicester. Wouldn't surprise me if we'd asked, wouldn't surprise me if he'd laughed it off.
We will keep punting £25-30M a pop until we find a good one, unless DCL or another youngster starts to get the goals.
Andy Crooks
154
Posted 28/04/2019 at 17:22:01
Michael Kenrick, your live match commentaries are brilliant, frankly, I don't know how you do it. However, you are wrong about Dominic Calvert- Lewin. This is a special player. I would have him over the lazy fucker Lukaku any day.
Andy Meighan
155
Posted 28/04/2019 at 17:28:24
Andy @154,
Calvert-Lewin isn't a special player at all. You can't question his attitude, his workrate, or his ability to drag defenders all over the shop. But 11 goals in 77 appearances would suggest he's anything but special.
He looks unsure what to do when put clean through and has squandered quite a few of those type chances. I love the way he's bullied some of the top 6 defenders but he really needs to add goals to his game because, let's face it, a striker is judged on the amount of goals he's scored.
I love the kid's attitude, I really do, but I think he'll never be top drawer. Hope he proves me wrong...
Jim Bennings
156
Posted 28/04/2019 at 19:12:47
So it perhaps begs the question why we don't try looking for alternative coaching options.
Look, I can get the loyalty and love for Dunc to some extent as he developed something of a cult status amongst fans back in the 90s (rightly or wrongly each to their own) but I can't help but think we might be better looking for alternative coaching options.
I imagine DCL might learn differently from a Les Ferdinand, or someone along the lines of a Shearer, Sheringham or Ian Wright, although I'm not sure they are even approachable given other commitments... who knows?
Paul Tran
157
Posted 28/04/2019 at 20:14:51
Truth is, Jim, we don't know what Ferguson does or how much value he brings. I think it's a mental thing with DCL; he often lacks that ice calmness strikers need for that important shot or pass.
Some mental help, or a wily experienced strike partner is what he needs.
Martin Nicholls
158
Posted 28/04/2019 at 20:21:22
Bill #151 – edit facility disappeared for me best part of two years ago. For some reason it appeared again about a month back but that was short lived. I know Lyndon was looking at the problem but evidently without success so far. Suggest you contact him direct.
Stan Schofield
159
Posted 28/04/2019 at 20:49:20
Paul@157: Yes, there's a good chance it's just mental in front of goal, and that once he 'finds his scoring boots' it will set off a spate of scoring. The rate at which he's progressed with other aspects this season, it wouldn't be a surprise if he started scoring more frequently next season. it's not uncommon with good strikers to have this kind of mental thing that sorts itself eventually, sooner rather than later.
Paul Tran
160
Posted 28/04/2019 at 21:28:57
Yes, Stan, I'm just hoping it happens sooner than later. I keep thinking/wishing he'll turn out like Sharp, who suddenly discovered his shooting boots.
Sam Hoare
161
Posted 28/04/2019 at 22:14:39
All very well saying that DCL needs to add goals to his game but if he was bullying defenders the way he does, putting in that much work for the team and scoring goals then how long do you think he'd stick around with us?!
In all seriousness though the last time we qualified for the CL our line was led all season by a certain Marcus Bent who scored around 7 goals in 37 games, his selfless running facilitated the team doing well though. I think DCL will get more goals in time but even if he does not he has been our main striker over a period where we have exhibited some of best form and performances in the last 3 years. That's no coincidence.
Andy Crooks
162
Posted 28/04/2019 at 22:21:27
Sam, you have got it spot on. He creates goals, he is utterly selfless in his work. The goals will come and when they do we will be lucky to keep him. This is a special player.
Frank Thomas
163
Posted 28/04/2019 at 22:29:08
We are not in 7th place largely because of Pickford's errors and inability to focus and direct his defence during the season. This will be solved with another keeper as back up next season.
There is hope for DCL but my worry is that he is squandering his main chance to stake his claim as the main centre forward. Week after week we have seen shots way off target and seemingly easy to take goals missed. DCL needs to take a leaf out of Roms book and grab extra 2 or 3 hours every day with Sharpie and Big Dunc. It was obvious that is what Rom did in his last season with us because Rom started to place his shots rather than blast them all the time..
Next season we will have another striker possibly Abrahams but certainly another striker and if he starts scoring DCL's game time will drop considerably.
Jerome Shields
164
Posted 28/04/2019 at 23:39:06
Though motivation had improved from the Fulham debacle, at a technical level players where below par. This had a knock-on effect on other players. In my opinion, this accounts for the lack of quality described in Michael's thread.
Everton I have likened to a team that was comfortable swimming at the shallow end of the Premier League, only to sink when they went into the deep end. This has been the case for years, only for the odd result. But recently, they have looked comfortable at the deep end and struggled at the shallow end. I don't buy into the idea that the tactics Everton now employed suit playing against a team that is prepared to attack, a top 6 side, and does not work against a team that sets up shop to defend, like the shallow-end teams.
Any forward joining Everton would have difficulty fulfilling the role that Silva would expect of them. Calvert-Lewin has emerged and worked hard at being the best at fulfilling this role as a centre-forward, more so than players that are more expensive than him. Lukaku would have a problem getting selected. I still don't think that Brands and Silva see the solution in a Saviour Striker. They see it in terms of developing players into fulfiling the required roles. Players coming in will be expected to do this, the same as Lookman, Kenny and Davies. Valdic will be back and expected to do the same. I omit Niasse and Tosun because they fall far short of requirements and haven' t worked hard enough.
In my opinion, the Fulham debacle and the half-improvement against Crystal Palace where down to poor preparation at Finch Farm in the week prior to both these games.

Dick Fearon
165
Posted 28/04/2019 at 00:26:13
How long can we wait for DCL to emerge from his learning curve?

Derek Thomas
166
Posted 29/04/2019 at 01:09:07
Dick, we'll have to wait at least until the money (£50M+ ?) is there to replace him.
Jerome, Silva seems to be working from the backs forward. That 17 day break allowed him to sort out the defence to some extent, as the recent spate of clean sheets might show.
But the further up field you go, its less to do with organisation - that helps obviously, knowing where and when to play the percentage ball etc. - and more to God given talent, or the lack of. Not much Silva can do about that. Thats a money issue.
Which is why Dick, with this working from the back, we'll be stuck with DCL for a bit yet.
Salah for instance, didn't just hit the ground scoring, he failed at 2 clubs before going over the park.
Somebody spotted him / took a chance. DCL might be a younger version...well we can but hope. Or Brands will spot a Salah MkII. I'll take either thanks.
Steve Brown
167
Posted 29/04/2019 at 03:14:18
Dick @ 165, I am one of many who have compared him to Graham Sharp. Sharpie was 24 when he made his breakthrough season in 1984, so DCL as a 22-year-old should be given at least another couple of years to develop his game alongside a more established striker. As Sharp was with Andy Gray.
Alan J Thompson
168
Posted 29/04/2019 at 05:31:01
Derek(#166); I didn't see a lot of Salah at his two previous clubs and I don't watch a lot of where he is now but the difference is the first two played him on the left as he is almost solely left footed and he is now played on the right to cut in on to his preferred foot. Remember when Martinez got Lukaku to do it, just the once, against Arsenal when he scored that cracker.
It takes advantage of the full back getting forward then draws the central defender who he then cuts across. I'm always surprised at how many expect him to go outside as you would normally expect anyone playing wide right to do.
Jerome Shields
169
Posted 29/04/2019 at 09:06:08
Derek #166
To a large extent, you are right. Two glaring weaknesses had been the defence – with poor zonal making techniques and inability to cut crosses out, particularly from the right flank – and in the forwards, in pass completion and maintenance of the high press.
The difference in the Palace game from the Fulham game which was a retrograde step back in both areas was a better defensive performance. The failure against Palace was in the final third in pass completion, though Calvert-Lewin worked harder than in the Man Utd game to maintain the final press. The difference in Silva's progress between the defence and the forward line is the forward line is progressing from a lower base.
Silva had made enormous progress in both areas as evident in recent games against the top four sides, but both the Fulham and Palace games show Everton are not quite there yet. The Palace game at least was goalless and not lost, which normally would not be the case with the inconsistent Everton we are all familiar with.
In my opinion, the underlying problems are at Finch Farm, in the coaching and training regime. The injury recovery program also, but that is for another day. Silva has quietly instilled his ideas in the squad and many of them have got the message, but he is being badly let down when the pressure is off after Everton beat a top 4 sides. Against Fulham, Everton were clearly not motivated / technically inept and against Palace, motivation was good but was not up to speed technically in the final third. Richarlison in particular was running into blind alleys again, and what's more, he knew it. It could be that Hodgson had set up Palace well. But the relentless and incisive Everton of previous games would have steamrolled Palace.
Selling Tosun and Niasse is going to be difficult, they either are not willing to improve or can't. Overall, getting money to develop the forward line is going to be difficult unless Moshiri inputs more cash, like last Summer. The Mina purchase was a good one, but Finch Farm were not up to managing the recovery. To pull his hamstring like Mina did points to poor management of his recovery training program. It may also put Moshiri off.
Derek Knox
170
Posted 29/04/2019 at 10:41:38
Jerome, it's only speculation on my part, but I don't believe Moshiri will be that reluctant to provide more cash for players. I fully appreciate his stance from past experience, but he was as guilty in many respects as those idiots Koeman, Walsh and Allardyce.
Maybe the word 'guilty' is a bit harsh in the case of Moshiri, but he was too trusting in the cases of Koeman and Allardyce, and was clearly not a 'football man' but I have noticed that he has started attending most matches, home and away, so is becoming more savvy, if you like.
I think he can now see both the error of his ways, and also the limited progress now being made under Silva. I say 'limited' because, we are not consistent, but are clearly playing in the most-part, attractive entertaining football.
The very fact that he has elevated Marcel Brands to Board Level in such a short period of his time with us, speaks volumes to me about his seriousness about Everton. I also believe that he (Moshiri) has seen the evidence in action of Brands's influence in the last summer transfer window, coming into fruition on the pitch. There is not one of the signings that has been poor, so he knows his influence is 100% reliable.
In addition to all this, there is still the distinct possibility that his friend and colleague Alisher Usmanov just may dip his toe in the water, or even be a silent investor/beneficiary of the Club, especially with the Bramley-Moore Dock project well under way.
I know a lot will depend on who we ship out also, but apart from a couple of hard to move players, I think he has also done well in finding homes, albeit temporary in some cases, for most of our swollen numbers.
When you look back at the staggering profligacy of the past, mainly at the hands of Koeman, it is annoying, but remember that we sold both Stones and Lukaku for massive profits to the Club.
All-in-all, I would like to see at least one striker, possibly two, a right back, a Centre Back (if we can't get Zouma on a permanent basis and Gomes too), a box to box midfielder, and a couple of wide players. Maybe sounds excessive, but competition for places, and cover for injuries suspensions etc, is a must, if we are to achieve any sort of consistency.
Roger Helm
171
Posted 29/04/2019 at 10:46:53
Andy@155 - the raw data you quote doesn't sound that special but let's not forget he is still very young and learning his trade in the toughest league in the world.
He has spent most of his career either as a sub, playing on the left wing, or playing for Allardyce's anti-football team. He has scored once every 281 minutes on the pitch, i.e. one very three games, which is a pretty good return for a player who is not a Cottee-style goal-hanger, but one who works very hard, and effectively, as a lone striker and target man.
I am sure he will go on improving for some years yet and I hope he doesn't get poached by a "big" club.

Ray Smith
172
Posted 29/04/2019 at 22:25:22
Agree with most of the comments on transfer and fees etc.
However, my biggest concern is that Kenwright gets involved and starts haggling over Gomes and hopefully transfers, whereby we miss out on one or both!
Please tell me I'm wrong😩
Ray Smith
173
Posted 29/04/2019 at 22:27:52
Apologies my last should read Gomes and Zouma.
Jerome Shields
174
Posted 30/04/2019 at 15:44:06
Dereck #170,
The required transfer in positions you describe do need reinforcing for the reasons you give but, as you probably realise, Brands has to overcome the problems of a bloated squad, many of whom are over-valued and on expensive contracts. Everton's wages percentage, as Paul the Esk pointed out, is higher than the top clubs in the Premier League.
The Koeman era was a disaster as far as getting suckered into buying overpriced players. I do think that Walsh was good at spotting players, eg Gueye, but wasn't strong enough to stand up to Koeman and, with the purchase of Rooney, it surfaced that Kenwright & Co were also involved in transfer targets.
Walsh's big mistake was to recommend Big Sam and not provide more support to Unsworth. Big Sam's objective was to get an extended contract and rip off Everton as much as he could, with no long-term plan. Tosun and Walcott were bought in the panic January window with that intention.
The actual sanctioning of the transfer fees and the negotiation of the contracts would have been down to Kenwright & Co. Moshiri trusted them to do this. Anyway they collectively made a horses ass of it, which will take at least another year to get the right side of.
Moshiri was the one who decided to employ Silva and Brands. After their appointment, particularly in the case of Brands, he was left a mile in front of the rest of the Senior Management to face the supporters. To his credit, he was right and earned our respect, and we are all collectively relieved.
Obvious Moshiri realised he needed to make changes at board level. Hence the appointment of Brands. I am concerned regarding accountablity regarding Brands's appointment, but Kenwright &Co are too deeply embedded, so the wholesale changes necessary at Senior Mangement level are going to take time. The playing side is the priority and the Brands appointment by Moshiri was a necessary shortcut. I suggest that someone was needed at Board level to get a handle on contracts and transfer fees, to prevent any more debacles.
Paul the Esk put forward the case for a necessary 60, 000-capacity Stadium, which I think was correct. There is no doubt that Moshiri has the ability, back-up and contacts to finance the project, but the actual management ability at Everton's Senior Management level is questionable given their past history. Going on the Football side, experience there are plenty of smart boys in Everton who will use other people's money to put the arse in themselves with no concern for the club's future. The leaked plans where for a capacity of 55, 000 capacity with a functional Stadium, that reminded us of the Swansea City Stadium I observed on a passing train. For the Historic and Important city of Liverpool, a Notre Dame type competition would be more appropriate for such a location.
The question is: What is the overall objective? Win the Premier League? The answer is that this is not clear and it seems that Moshiri is jockeying for position to have more influence in the Club and trying to head in the right direction on the playing side. Of course, you could say he controls the money, but it's not as simple as that.
I don' t think Kenwright is going anytime soon, after his Denise-inspired PR ploy of giving a busload of travelling supporters a fiver each for a drink, at Crystal Palace.
Terry White
175
Posted 30/04/2019 at 16:38:52
Ray (#172), you are wrong.
Martin Mason
176
Posted 30/04/2019 at 16:44:56
I don't believe that the target will be to win the Title on any short-term basis. They will be far better to limit themselves to goals that are achievable, such as top six within 2 years, top 4 within a second 2-year spell with cups and European games a genuine target. Winning the title will be a 5-year plan as we have to expand income in order to meet the goals as growth has to be organic not out of Moshiri's pocket only his support.
Getting our top U23s to fruition may be essential to avoid paying stupid prices. Winning the title may thus be dependent on the ground move and significantly increased gates. Of course, we may win it next season and that would be welcome but unlikely.
Jerome Shields
177
Posted 30/04/2019 at 17:16:21
Martin #176,
Everton and ourselves have been talking about Top this and that for years. When are we going to hear them talking about winning something, because talking about Top this and that obviously hasn't worked. If you are going to achieve anything, better to go the whole hog and Top this and that will automatically follow.
All what you posted is good stuff. I have thought and posted similar to what you have posted in the past, until it occurred to me the powers that be at Everton never have set an objective other than to maintain Premier League status. They have been happy with that — going into holiday mode as soon as it has been achieved.
It has been different this season for the first time in years.
Brian Williams
178
Posted 30/04/2019 at 17:17:24
I agree, Martin. The realistically achievable target has to be Champions League qualification on a regular basis within the next two to five seasons. Although this may seem a stupid thing to say, the hardest part is doing it for the first time. Once we've done it once, I think we have the people (recruitment and management wise) in place to make sure it's not a one-off.
We'd be more attractive to players if we're qualifying regularly and success breeds success. It also breeds larger income, which in turn helps with recruitment and so on and so on. We just need to get our foot on the ladder and hang on before we climb to the top of it. (Sound like a fucking window cleaner!)
We may never actually win the Premier League — look how hard the shite (long may it continue), Spurs and Arsenal, and now Chelsea and Man Utd are finding it — but we'd certainly be a lot happier in that top four, year-in & year-out.
If we did manage to get 4th, would the Sky ballbags and the media in general then talk about the top three?
COYFB.
Jerome Shields
179
Posted 30/04/2019 at 17:26:12
Ray #172,
I hope you are wrong. I now think that Brands's appointment to the Board was to get control of tranfers and contracts from Kenwright @ Co. Moshiri got a costly lesson on their capability, jollying about with his money.
Martin Mason
181
Posted 30/04/2019 at 20:42:10
Jerome/Brian, I really believe that the club has a plan and that appointing Brands, a man who understands both football and value, to the board was an amazing show of intent from the club. I think we are doing everything right and that we must be prepared to trust and support the club.
I worry about Kenwright still being involved even though I often defend him. We must have only professionals doing the business but I believe that Moshiri knows this and is allowing Bill a few final years with his trainset with ever decreasing responsibility. I really believe that this club is going places after once going only into receivership.
Jerome Shields
182
Posted 30/04/2019 at 21:47:24
Martin, #181,
I agree with you regarding Brands and Moshiri. I think that Kenwright would have only sold to someone who would let him stay on and Moshiri is gradually getting more control of the management of the Club. He needed to bring Brands on to the Board to tackle the main problem of transfers and contracts.
I have supported Everton since the sixties and have definitely seen real signs of building a great team, recently. Everton more than any other Club is built and has maintained the traditions in play of a traditional English Club. Brands, when he started, said his objective was to build on the Traditions that already existed at Everton. I see that with Silva he has done that and, playing at their best, Everton look as if they could beat any team.
The current team remind me of Nottingham Forest who, though they played good football, got relegated. In the old Second Division, Clough and Taylor took over and then began to build on what existed. They got promoted and subsequently won the Football League twice and two European Cups.
As you say Everton are going places at last.
Brian Murray
183
Posted 30/04/2019 at 22:15:11
We still playing a very dangerous game if we are still involving Kenwright in any way except an ambassadorial role. He is a one-man wrecking ball as has been proved time and time again. Hopefully Brands and now Moshiri can see this and will get us on the cusp of greatness very quickly. Coyb (and City!)
Jerome Shields
184
Posted 01/05/2019 at 06:46:04
Brian #183,
I agree Kenwright & Co are the biggest drag on Everton's progress. There influence on the Club is still there. They have already cost Moshiri a lot of money and there are still signs they will cost him a lot of money on the playing side and in the Stadium development going forward.
For some reason which I can't work out, they are able to maintain their positions in the Club, though they have been curtailed in the decision-making processes in this past year. . . or at least distanced themselves from them.
Moshiri has come more to the fore and his decisions have been a lot better. It could be they have influence within the Premier League regime and prevent any worrying investigations or at least give the impression they can.
Having watched Everton for years, certain headlines do throw up worrying signals to me of their influence. I would go as far as to say, with Kenwright & Co in place, it will be difficult to win anything and, if Everton do have success, it would not last.
Ray Smith
185
Posted 01/05/2019 at 21:53:24
Terry 175
I hope your right, but I'm not totally convinced Kenwright is not involved in bartering, whereby we lose out on signings that should be relatively straightforward.
When were we last engaged in pre-contract agreements?
Gomes and Zouma could have been sorted by now? Instead, we are going to go into a bidding war for Gomes, as other clubs are expressing an interest, likewise Zouma.
Tony Abrahams
186
Posted 01/05/2019 at 22:16:15
I honestly don't know how anyone could blame Kenwright for any of our transfer recruitment since Moshiri got on board?
I have got no time for our chairman but Moshiri appointed Walsh and Koeman, and those two were very, very reckless once they were given real money to spend.
Jerome Shields
187
Posted 01/05/2019 at 23:17:53
Tony #186,
I do think Kenwright was involved in Koeman's and Walsh's recruitment and in the Rooney transfer. The Board and Senior Management at that time sanctioned the transfer fees and the contracts given. Though Moshiri was there and provided the funds, he took a back seat in the actual recruitment. Prior to Moshiri, Kenwright & Co had no money: when it became available they just jollied about with it.
Moshiri learnt a costly lesson. Moshiri did recruit Big Sam in panic and got totally ripped off. In the Brands and Silva recruitment, it was Moshiri. Kenwright & Co were a mile behind him. Hurrah, Moshiri got it right.
Add Your Comments
In order to post a comment, you need to be logged in as a registered user of the site.
Or Sign up as a ToffeeWeb Member — it's free, takes just a few minutes and will allow you to post your comments on articles and Talking Points submissions across the site.
© ToffeeWeb