Everton pick up Virginia from Arsenal
Friday, 3 August, 2018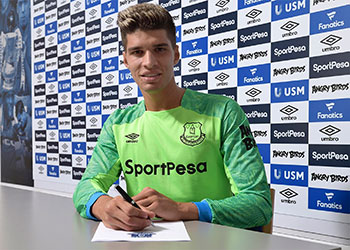 Everton FC
Everton have signed Arsenal U18s goalkeeper Joao Virginia for an undisclosed fee.
The 18-year-old Portugal youth international, who just won the U19 European Championships with his country this week, signed a three-year contract.
He has presumably been brought in to compete with Mateusz Hewelt as the third-string 'keeper behind Jordan Pickford and Maarten Stekelenburg and with Chris Renshaw and Joe Hilton for the first-choice slot in David Unsworth's Under-23s team.
Virginia joined the Gunners from Benfica three years ago and built a good reputation in the North London club's youth setup, playing his first games for their U23s last season.
He was regarded as a strong future prospect at the Emirates so there were raised eyebrows at Arsenal at the decision to let him move to Goodison Park.
"I am really happy to be at Everton," Virginia said today. "I hope to learn a lot from the goalkeepers here, Jordan Pickford, who had a great season and World Cup and Maarten Stekelenburg, who is very experienced, too.
"This is a great opportunity for me."
---
Reader Comments (27)
Note: the following content is not moderated or vetted by the site owners at the time of submission. Comments are the responsibility of the poster. Disclaimer
Tony Everan
1
Posted 03/08/2018 at 17:32:04
Welcome, Joao.
Tony Twist
2
Posted 03/08/2018 at 17:34:08
Welcome but where the hell are the two central defenders and play-making midfielder?
Rian Magee
5
Posted 03/08/2018 at 17:43:30
Welcome to the club mate!! Ignore the distespectful ballbags on twitter 👍🏻
Dave Abrahams
6
Posted 03/08/2018 at 17:43:38
Where does that leave Hilton, the young 6ft.7in keeper they signed from Man. City last year?
Jay Wood
[BRZ]
7
Posted 03/08/2018 at 17:45:20
Dave @ 6.
Playing centre back in a Marco Silva team..?
Dave Abrahams
8
Posted 03/08/2018 at 17:50:29
Jay. (7), worth a try Jay. !!!!!!
Brent Stephens
11
Posted 03/08/2018 at 18:12:32
Virginia or Hewelt as U23 keeper? Probably not a fag paper between them.
Paul Birmingham
13
Posted 03/08/2018 at 18:39:19
It's like where's the clubs priority transfer scheme, may be this seen as a major coup and will weaken Arsenal...I doubt it but good look to the lad but a kick in the teethe for some of the existing fringe keepers.
The M&M revolution, in motion. Let's hope x2 proven CBs at least along with a top midfielder who can play... and not from United.
Dream on, and that is as good as it is.
Tom Bowers
16
Posted 03/08/2018 at 18:51:03
Just what we need, another goalkeeper. Can we play him alongside Pickford to help the defence in front of him ?
Jeff Armstrong
17
Posted 03/08/2018 at 19:01:39
When does the Usmanov link start? oh I've just started it..soz
Sam Hoare
23
Posted 03/08/2018 at 19:43:14
Arsenal fans rate him it would seem and some are surprised they've let him leave. Which is a good sign.
Very young still but I think if he does well he might be our number 2 by end of the season or certainly I'm not too distant future.
Colin Leckey
24
Posted 03/08/2018 at 19:45:33
FFs so just when we have the chance to take the piss out of the RS for signing a keeper called Alison we go and sign one called Virginia!
Bill Gienapp
25
Posted 03/08/2018 at 19:46:07
It's just a signing for the youth setup, not sure why some are acting like this has any major bearing on the senior side or its current priorities.
John McFarlane Snr
28
Posted 03/08/2018 at 20:22:27
Hi Colin [24] we didn't do so bad when we had a goalie they christened 'Mae West', not forgetting the winger they knew as 'Shirley Temple' sticks and stones etc.
Andrew Ellams
29
Posted 03/08/2018 at 20:27:17
Colin Leckey feel free to take the piss. Allison is his first name, Virginia isn't
Jack Convery
33
Posted 03/08/2018 at 20:59:20
Be grateful his names not Karius.
James Flynn
35
Posted 03/08/2018 at 21:09:35
19 in October.
For what it's worth, I'll say he has a confident "Look" about him. Even in the photo.
Some highlights: Link
Paul Birmingham
36
Posted 03/08/2018 at 21:27:34
Remember The Virginian, a US, western serial as a kid.
That has stuck, let's hope the lad sticks and does well at EFC.
Chris Clark
40
Posted 03/08/2018 at 22:52:24
Can he play CB?
Steve Ferns
41
Posted 03/08/2018 at 23:13:22
Nice one. Hewelt is 21. He won't be playing for the u23s much. Hilton will be the main guy. This lad will back Hilton up and push on next season.
Dom Kearney
43
Posted 04/08/2018 at 00:18:30
My name is Dom Kearney, from Belfast, and I have been an Evertonian all my life. I live in London and hitting 40 this year and read ToffeeWeb many times daily. Really appreciate the comments put forward. Can't wait til the new season with Silva as our manager. We need at least one new CB, a midfielder and a striker.
No pun offered but can't help thinking that João Virginia looks like Joel Robles's lovechild. Had to put it out there, despite the fact that he might be a great signing...
Steve Ferns
44
Posted 04/08/2018 at 00:49:27
Welcome Dom.
Steve Ferns
45
Posted 04/08/2018 at 01:07:38
I wasn't sure if this lad played the final. The way it was worded was more like he was in the squad. I looked it up. He did play the final. So we have nicked the Portugal keeper u19 keeper off arsenal and he just played in the u19 euros final and won. So looks like a coup.
James Marshall
47
Posted 04/08/2018 at 09:51:53
Expect a glut of Portugese players incoming. Ronaldo to sign on deadline day. You heard it here first.
Alan J Thompson
48
Posted 04/08/2018 at 12:07:54
Haven't we also got a Renshaw or has he been let go? Has Unsworth still got a budget to bring in young players for the U-23s or is it now under Brands control?
Darren Murphy
49
Posted 04/08/2018 at 14:03:58
Welcome to the crazy house Dom.
Michael Kenrick
51
Posted 04/08/2018 at 05:45:49
I see he gets the No 13 shirt vacated by Mangala.
Add Your Comments
In order to post a comment, you need to be logged in as a registered user of the site.
Or Sign up as a ToffeeWeb Member — it's free, takes just a few minutes and will allow you to post your comments on articles and Talking Points submissions across the site.