Besic re-joins Boro on loan
Thursday, 23 August, 2018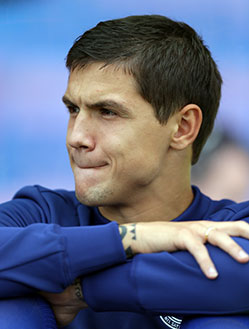 Muhamed Besic will spend the 2018-19 season at the Riverside Stadium after Middlesbrough reached another agreement with Everton over the Bosnian.
Besic looked set to join Boro on a permanent basis on transfer deadline day two weeks ago but the deal fell through, reportedly due to a dispute over agent fees.
The 25-year-old was told by new Blues boss Marco Silva that he was not in the first-team picture this season, leading him to seek a move back to Middlesbrough where he spent last season on loan.
It does not look as though Besic will be joined by Yannick Bolasie, however, with the Congolese looking likely to snub Boro in favour of a loan move to Aston Villa.
---
Reader Comments (29)
Note: the following content is not moderated or vetted by the site owners at the time of submission. Comments are the responsibility of the poster. Disclaimer
Shaun Laycock
1
Posted 23/08/2018 at 14:20:38
Good luck; lots of endeavour but not good enough I'm afraid.
Steavey Buckley
2
Posted 23/08/2018 at 14:27:21
Middlesbrough are getting Besic on the cheap.
Derek Knox
3
Posted 23/08/2018 at 14:29:49
Couldn't fault his attitude and commitment, but as Shaun mentioned never quite seemed to be consistent enough.
The other downside to his game was that he was also very likely to give the opposition a free-kick in a dangerous area, usually down to reckless tackling. Plus was also on the edge of a Yellow or Red Card, again due to his over zealousness, and eagerness to impress.
I think I am like most Evertonians, in that I couldn't help but like the lad, but I also think the Championship is his true standard.
Sam Hoare
4
Posted 23/08/2018 at 14:56:41
I think we never saw the best of Besic. Reckon he could well be a Premier League standard player though probably not top 6 which is what we have a reasonable chance of aiming at now.
Jamie Crowley
5
Posted 23/08/2018 at 15:15:13
Good for him. Happy for the guy. Hope he does well, I've always liked Mo.
Eddie Dunn
6
Posted 23/08/2018 at 15:19:55
Sam, I agree, on pre-season a few years back he looked great and then got one of his injuries.
Sometimes luck is against you and Mo has had his unfair share.
Matt Traynor
7
Posted 23/08/2018 at 15:31:24
Gutted things didn't turn out better for him (and us). The summer we signed him I visited the new Ferencvaros stadium to kill time before heading to Bratislava. When I mentioned I was a Blue the staff waxed lyrical about him and said they were glad he'd gone to a club like Everton where he'd shine...
Didn't have time to take up the stadium tour offer or take the complimentary tickets for the next match that were offered. Another proper club.
Oh well...
Mick Davies
8
Posted 23/08/2018 at 15:51:42
"...the deal fell through, reportedly due to a dispute over agent fees."
Shouldn't that be 'Parasite's fees'? It really irks me that a player and a club can come to an arrangement and a middle man can scupper the deal with his greed. Good luck to Mo but we have enough midfielders to ensure he won't be missed.
Andy Meighan
9
Posted 23/08/2018 at 18:06:32
Bought on the basis he allegedly marked Messi out the game in a World Cup game in Brazil.
Be honest — can remember him having one good game? Man City in the League Cup semi-final at home. Other than that, he's been a poor buy... not helped by the fact he is injury prone.
Good riddance as far as I'm concerned. There's been too much of his type in recent times. Let's hope the new regime gets shot of this type.
Mike Allison
10
Posted 23/08/2018 at 18:12:57
Joe Williams has gone to Bolton as well. My assumption is that this all cements Davies and Baningime as the back-ups to Gana and Schneiderlin.
At 25, Besic's seems like a 'find a new club" loan, as most of our loans this season seem to be. Only Robinson can be confident of being in our squad next season, Onyekuru probably will be if we can get him his work permit, whereas Connolly, Williams and perhaps Vlasic have a much slimmer chance of convincing Silva they should be involved.
Dave Abrahams
11
Posted 23/08/2018 at 18:38:34
Mike (#10),
I think you will find that Joe Williams has already impressed the manager; he has been sent to Bolton to get regular games and improve his fitness. There is a clause in his Bolton deal which says Everton can recall him at any time, although he could stay there all season.
Silva hadn't seen Joe play until he came here and while previously Williams had been utilised by Everton as a box-to-box player, Barnsley used him as a holding midfielder and he impressed David Unsworth in that position in the four or five times Unsworth went to assess Williams's progress at Barnsley,
Silva used Joe in that position and was also very keen on him, until Joe suffered a thigh strain in pre-season training which held his progress up.
Injury has been a constant thorn in Williams's time at Everton including one bad injury a couple of years ago which kept him out for a very long spell and took a yard or two off his pace when he came back.
I believe without these injuries, Joe might have cemented a place in the first team squad by now. Even the greatest of players need luck when it comes to injuries; up to now, Joe has only the bad side.
Sorry to go on, Mike, not having a go at you but trying to explain a bit about Joe Williams's career up to now and being a bit long-winded about it.
Mike Allison
13
Posted 23/08/2018 at 19:02:23
Thanks, Dave, I appreciate the detail.
I was aware of Silva's positive comments about him, but I still tend to err on the side of pessimism when it comes to young players breaking through. The likes of Ledson, Lundstram and Liam Walsh have been highly thought of and then let go.
Let's hope Williams fits Silva's idea of a holding player and can demonstrate this at Bolton.
Jim Bennings
14
Posted 23/08/2018 at 19:08:17
Good move for him and the realisation that we have probably seen the last of Besic now in an Everton shirt.
Hit his best form around New Year Christmas festive period of the 2015-16 season when he looked really good and I remember we were gutted he got an injury (or suspension) that put him out of the second leg Semi-Final League Cup tie at Man City in the late January such was he playing so well in that month.
Too many injuries and too many mad moments though.
Joe McMahon
15
Posted 23/08/2018 at 19:18:18
Basically not good enough for the Premier League. That's the sorry state of most our transfers over the last few years. Even going back to Moyes's last few years, Darren Gibson etc.
Dave Abrahams
16
Posted 23/08/2018 at 20:09:19
Mike (#13), fair enough. Yes, you are right: a lot of young players impress at first then go off the radar. In the case of Ledson and also Liam Walsh, I haven't given up on them. Ledson moved up to the Championship with Preston NE last year and is still only relatively young – he can still make it in the top flight.
Liam was very impatient, IMO, in pushing for a move to Bristol City; it hasn't come off for him there, yet. I don't know if he is injured but he hasn't figured for them this season, not even on the bench. He's definitely got the talent; I hope he makes a good career out of football, hopefully in the top arenas of football.
John Raftery
17
Posted 23/08/2018 at 20:54:22
Dave (16) Liam Walsh hasn't played a league game this season but he did play 90 minutes in the Carabao Cup last week at home to Plymouth Argyle. His team lost 1-0.
Dave Abrahams
18
Posted 23/08/2018 at 20:58:49
John (17), cheers for that. A League Cup game, well that's a start... and at least he's not injured.
Ian Hams
19
Posted 23/08/2018 at 23:29:20
I for one liked him, I liked his passion, I liked that he looked that he had a pass in him, and I remain convinced that when we first got him had he not been plagued with injuries he would have done a decent job for us. However time has moved on and we need and it appears we have better. Good luck to the man.
This may not be the right place for this question but do any of the more knowledgeable toffewebbers have a rough idea on the amount of money shaven off of the wage bill (new signings excluded), and also how much revenue has been brought in from any sales or loan fees?
Colin Gee
20
Posted 23/08/2018 at 00:03:46
Ian #19,
I am the same as you, there is a great player in there, Mo plays with passion and pride, always gave 100% for us, and he's got a bit of snide about him as well, just a pity he is made of glass.
Simon Smith
21
Posted 24/08/2018 at 07:42:45
Sam @ 4;
Totally agree, not out of place in the Premier League but, that said, he wouldn't make any of the top 6 sides.
Great lad but behind Schneiderlin, Gomes, Gana, Baningame, Davies and McCarthy on his return.
Hopefully he has a buy clause or proves himself again at Boro, stays injury free, and nets us a few quid.
Alun Jones
22
Posted 24/08/2018 at 16:32:11
I am quite fed up with the comments on Besic about him not being good enough. He certainly in my opinion was but was ultimately undone with his inability to stay fit.
I wish last season some of our more celebrated players had showed as much skill passion and effort as Mo did when he played for the first team.
I for one wish him well and I hope the door is ajar on his return as I do think he is good enough to grace our midfield.
Michael Kenrick
23
Posted 24/08/2018 at 18:13:37
I would take the opposite tack to you, Alun. I agree with the majority who could see he simply was not good enough.
Certainly not in the past when he failed to stake a claim in game after game – provided he was actually fit enough to play. And definitely not in the future, now we are finally making real efforts to raise the standard of the players on our books.
And his rash temper was always there right under the surface. We would be well rid of him, I'm afraid, but it is only a loan...
Steve Ferns
24
Posted 24/08/2018 at 18:23:34
I agree with Michael.
He was a defensive midfielder who had poor discipline. His positional sense was terrible. His range of passing was adequate but his accuracy was poor. He had no composure and panicked when pressed (which is why he struggled against quality opposition). He went missing. He was not a team player. He was far too aggressive. He got very frustrated and would go around kicking people.
He's not even close enough to being good enough. I'd rank him behind Baningime and Williams and they've got years left to develop before they're his age.
We're well rid.
Jamie Evans
25
Posted 24/08/2018 at 19:37:50
He is awful. Good luck to him but those saying he is good enough to play for us have obviously never watched him closely.
Christy Ring
26
Posted 25/08/2018 at 01:14:15
Steve @ 24 superb scrutiny

Ed Prytherch
27
Posted 25/08/2018 at 01:32:11
Mo came on as a sub at 72 minutes today. At 91 mins, he provided the assist for the only goal of the game and at 94 mins he was booked.
He was played out of position at Everton. Pulis knows him better than Roberto, Koeman or Sam and he plays him as a box-to-box midfielder.
Kim Vivian
28
Posted 25/08/2018 at 07:50:07
24 - Steve. I read your informed posts with interest - well structured and usually quite insightful.
That, however, I do not agree with. He was PLAYED as a defensive midfielder, sure, but he is better when given a box to box remit (ask TP). He could pick a pass (no-one was looking to him to be the next A Pirlo) and was always looking for the chance at a shot. I agree he always had a yellow card in him (but less frequently than he much lauded Gareth Barry), and to state that he "went around kicking people" when he got frustrated is beneath you tbh. Don't try and compare him with Williams and he is a very different player to Beni. I do think he will be a part of a promoted Boro this season and he will get his chances against us next year. Let's see.
I remain of the opinion that he could become a decent squad player for us with the right mentoring. We have seen what he is capable of but anyway, I wish him luck at Boro.
Victor Yu
29
Posted 29/08/2018 at 09:37:44
I don't think he is any worse than Tom Davies.
In fact, I would rather loan Davies and keep Besic for the season instead.
Andy Meighan
31
Posted 29/08/2018 at 10:09:00
Another classic from Victor Yu.
Besic has been here 4 years, played about 40-odd games, I think, and his injury record is shocking. Added to the fact he's never scored and you're advocating keeping him and getting shot of Davies on loan – who, in his fledgling career, has already played more games and weighed in with a couple of valuable goals.
I think you're way off the mark. Besic has been a major disappointment and I'm not sorry to see the back of him.
Add Your Comments
In order to post a comment, you need to be logged in as a registered user of the site.
Or Sign up as a ToffeeWeb Member — it's free, takes just a few minutes and will allow you to post your comments on articles and Talking Points submissions across the site.