Happy Walcott hails Sigurdsson's "incredible" winner
Tuesday, 9 October, 2018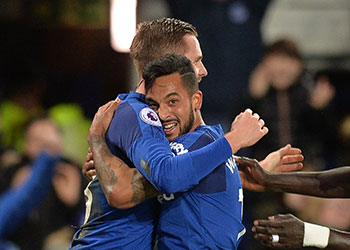 Theo Walcott has praised team-mate Gylfi Sigurdsson for his brilliant goal that lifted Everton over Leicester last Saturday.
The Icelandic Talisman came up with a piece of magic with 13 minutes left of the clash at the King Power Stadium that was still tied at 1-1 despite the Blues' attacking superiority and Wes Morgan's dismissal for a second bookable offence.
Turning James Maddison expertly, Sigurdsson took aim from 25 yards and cracked a sublime shot into the top left corner that left goalkeeper Kasper Schmeichel with no chance.
It was the former Tottenham and Swansea man's third goal in two games and a strike worthy of winning any game. Walcott was full of admiration but not all that surprised given Sigurdsson's natural talent and the work he puts in on the training ground at Finch Farm.
"The goal itself deserves to win the game – it was incredible," Walcott enthused. "His goals are brilliant.
"Gylfi practises every day in training. He's the last one off the field so I'm not surprised at all [that he scored a goal like that]."
Walcott says that the team as a whole was impressive against the Foxes as they won consecutive League games for the first time this season and also registered an away victory for the first time under Marco Silva.
It came in the wake of the Carabao Cup defeat on penalties to his former club, Southampton and sent Everton into the international break with their tails up.
"Looking back at the game, we did play some fantastic stuff," he said.
"We worked really hard coming into the match after the disappointment earlier in the week. So to come back and get the three points was important.
"We're on 12 points now going into the international break; we're on the way up. It's nice to be in a winning team and I'm very pleased with the football we played."
---
Reader Comments (27)
Note: the following content is not moderated or vetted by the site owners at the time of submission. Comments are the responsibility of the poster. Disclaimer
Dermot Byrne
1
Posted 09/10/2018 at 19:52:07
Just great to read. Just great. Yeah, the Premier League didn't acknowledge Bernard for an assist but, as I said elsewhere, keep the stats crap for big clubs.
But to see this comment is great to read.
😄👏
Tony Abrahams
2
Posted 09/10/2018 at 19:55:32
A goal from the minute it left his foot. 45 mph, I read, so it was more about pure technique than absolute power, and it was also an absolute pleasure to witness it!
Mike Gaynes
3
Posted 09/10/2018 at 20:25:36
"He's the last one off the field..."
Gylfi has had the same reputation with Swansea and his national team. Nobody works harder.
Happy to see him achieving the levels we expected.
Phil Sammon
4
Posted 09/10/2018 at 20:28:22
There's lots of things to love about that goal, but I think the thing that elevates it is the deliberate intent of how the ball ended up where it did. There's lots of spectacular goals that are lashed in from 30 yards. Jags vs Liverpool for example. He's made a great connection and it rocketed in.
The difference with Gylfi's was that as soon as he'd slipped his man (beautifully!) he knew that ball was going in the top left postage stamp. One of the best goals I've seen in a long time.
Minik Hansen
5
Posted 09/10/2018 at 21:18:06
Phil, same here, what a goal. I remember a few seasons ago we couldn't score/had no goals from outside the box. Here's to more goals from that sort of distance. COYB.
Liam Reilly
7
Posted 09/10/2018 at 22:03:45
Makes Sigurdsson the top Premier League scorer from outside the box, so it's well within his locker and playing at No 10 is where he needs to stay.
Just on the goal though, Zouma gets an assist for his pass to Sigurdsson but Bernard doesn't get an assist because the keeper touched it. On what planet was that not an assist?
Gordon White
8
Posted 09/10/2018 at 22:06:38
And the best thing of all... Hearing some pleasant comments about him for a change.
And it was a pearl of a goal!
Jamie Crowley
9
Posted 09/10/2018 at 23:49:48
I'm glad he's happy. The side, in general, seems happy to my eyes.
But before everyone starts blowing one another (favorite line from Pulp Fiction, apologies), some perspective.
We're 3-3-2. Not exactly league winning form.
We've looked utter crap in some games.
We have a horrific away schedule coming up.
We've been knocked out of a cup competition far too early for my liking.
We're back on the up. But before we start shitting rainbows, in Theo's words, "we did play some fantastic stuff," let's keep our focus. Some consistency and some more points on the board would go a long, long way for me before we start reading the plethora of player quotes about how wonderful we're doing.
Someone shit in my Corn Flakes this morning, clearly.
It was a great, great goal to be sure. Need to make that clear. I'd just prefer some more results and a string of better performances before we get all, "aren't we something!"
How about, "it was a wonderful goal. Gilfy is a hard-working player who deserved that moment. We played some really good stuff. But we need to maintain our focus and climb up the table. Everton needs to be in a higher position than they currently are, and the fans deserve even more. We need to aspire to Champions League places and silverware."
Don Alexander
11
Posted 10/10/2018 at 00:20:26
I don't claim the same level of expertise that other posters do (and I say that with respect) but Dean Saunders was over the moon about the technique demanded by what Sigurdsson actually did in scoring that goal by way of his shot, the feint on Maddison also being sublime he said. Now I know Saunders played for "them" but he was an accomplished goal-scorer so I share his belief that we saw a genuine goal-of-the-season contender.
And, by the way, I've always thought Sigurdsson a top, top player. Happily, since M&M took over, he now has a few team-mates somewhere near his level. Long may it continue.
Drew O'Neall
12
Posted 10/10/2018 at 04:38:09
Liam @7,
He wasn't at 10 when he scored that goal, he'd been moved back to a more withdrawn role.
He can play both and we need to keep him where the space is.
Derek Knox
13
Posted 10/10/2018 at 06:23:06
Yes great to have two back to back wins for a change, which has certainly lifted fans, and definitely noticeable on TW. Let's just hope we can string a few together between now and the Xmas run in.
Mind you, another International break doesn't help to maintain any sort of momentum.
Jamie C, someone shit in your corn flakes eh, I strongly suspect a cereal offender!
Stephen Jones
14
Posted 10/10/2018 at 08:54:26
Like to hear from those doubting the $45m price tag. I tend to agree, however, that he has been ineffective in many games but maybe now we're starting to see a more settled Gylfi. Skipper material also?
Derek Knox
15
Posted 10/10/2018 at 09:06:11
Stephen Jones, good point about the captaincy for Sigurdsson. With all due respect to Tom Davies, I have watched him while he has had the armband, and failed to witness any sort of leadership from him, either verbally or by gesticulating to others around him.
I think the fact that Sigurdsson is captain for his country also speaks volumes for his suitability.
John Boswell
16
Posted 10/10/2018 at 09:44:17
Good morning, fellow Blues.
Regarding Sigurdsson's goal against Leicester, I was struck by the similarity to his goal at Southampton last season when we lost 4-1. He has that in his locker and, as we continue to improve, I expect more of that from him; happy days. :)
Kase Chow
17
Posted 10/10/2018 at 11:13:11
Lest we forget Sigurdsson's first ever Everton goal... Away in Europe from 45 yards?
He's a genuine goalscoring threat.
Now for another goal at Anfield please mate. This time, the winner...
Anthony Lewis
19
Posted 10/10/2018 at 13:01:04
https://en.wikipedia.org/wiki/Football_records_in_England#Goals
Interesting
Colin Malone
20
Posted 10/10/2018 at 15:31:20
The cream always come to the top, when football is played on the deck.
Frank Wade
22
Posted 10/10/2018 at 20:02:36
Apologies for any offence, but I thought the Sigurdsson goal was very similar to Beckham's way where he managed to get top spin and side spin at the same time, to swing the ball from right to left while dipping. Brilliant GOAL, deserving of capitals methinks, hopefully more to come.
It's a trajectory more often seen in top class serving by tennis players, impossible for keepers, even those as competent and with great reach like Schmeichel. It's great to see him settle in and we are certainly seeing more quality as the quality of the attacking players around him improves.
I agree with call for captaincy for Gylfy rather than Tom who is too young for the job, but I expect Seamus back soon.
Sorry to hear of Jamie's cereal problems and hope the weather problems down Florida way don't cause further woe.
Albert Perkins
23
Posted 11/10/2018 at 05:00:10
Gylfi's goal looked great, but I was surprised to see a photo of it as it flew on its way to dip under the bar. The ball was much higher than I expected. A remarkable parabolic strike. As the team gets more control and composure, I expect Gilfi to get many more opportunities like this.
Eddie Dunn
24
Posted 11/10/2018 at 06:31:45
Gylfi possesses wonderful technique and seems to be blossoming under the new set-up. His work-rate is also incredible. I notice how quickly he gets back up after a sliding tackle and sprints off to the next task.
It was also interesting watching the behind the scenes video at Leicester – he certainly looks like captain material, with his cajoling and unflappable intensity.
I saw a fair bit of him down here in Wales, where he was very much appreciated by the Swansea faithful.
We have a super player on our hands – let's enjoy it.
Mike Gaynes
25
Posted 11/10/2018 at 06:38:37
"But before everyone starts blowing one another..."
"But before we start shitting rainbows..."

"Someone shit in my Corn Flakes this morning, clearly."
Jamie Dude, did you get freaked out by that hurricane? You need rest. Lots of rest. And a big pink pill. Or two.
Derek #13, you stole my line.
Paul Kelly
26
Posted 11/10/2018 at 07:27:53
Interesting stat on MotD, Gyfli has scored more goals than anybody else from outside the box since he's been in the Premier League. Nice.
As for Mr Crowley, not only did someone shit in his flakes, he was forced to eat them too I could imagine, possibly with warm milk. ;)
Tony Abrahams
27
Posted 11/10/2018 at 07:50:01
That hurricane was really bad so I just hope Jamie, and all his family are all okay.
Derek Knox
28
Posted 11/10/2018 at 11:08:13
Mike @25, you know what they say — "The early turd catches the squirm" or something like that! :-)
Liam Reilly
29
Posted 11/10/2018 at 12:38:03
Drew #12,
He's like a different player this season, playing at No 10 with plenty of confidence and within an attacking side.
The only reason he was moved back (cleverly by the Manager) was to make better use of the space following the sending-off; but we're probably saying the same thing.

Jamie Crowley
30
Posted 11/10/2018 at 14:34:22
Derek (and Co.)-
Brilliant - "cereal offender". Love it.
Regarding Hurricane Michael (Tony A and Frank W), Crowley's are safe and sound. It basically missed us. We're on the Atlantic. One of my sons (#2) thankfully left Florida State in Tallahassee to come home.
The poor, poor people on the Gulf Coast got hammered. Utter devastation. I've been through a Category 3 and it's awful. Michael almost made a Category 3 look like child's play.
Puts my little rant about being overly positive about a team, and a sport / game, into perspective.
Cheers to all.
Mike Gaynes - In a Matrix moment, I took the blue pill and went down the rabbit hole. Always the blue pill over the red pill.
Matthew Williams
31
Posted 12/10/2018 at 12:25:59
A stunning goal from Sigurdsson! He just needs to show the consistency he had at Swansea and we'll have a real game-changer on our hands.
Btw, that Bernard is quality!!!
Add Your Comments
In order to post a comment, you need to be logged in as a registered user of the site.
Or Sign up as a ToffeeWeb Member — it's free, takes just a few minutes and will allow you to post your comments on articles and Talking Points submissions across the site.