Manchester City vs Everton
Friday, 14 December, 2018
Match Preview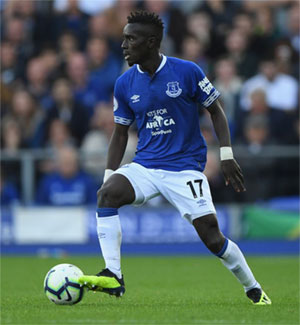 Idrissa Gueye is a doubt with a groin injury picked up in Monday's draw with Watford
Everton face what is arguably their most challenging assignment of the season as they go to the Etihad Stadium in search of a first win in four games.
A painful last-gasp defeat in the Merseyside derby was followed by disappointing home draws with Newcastle and Watford, seven lost points that have left the Toffees in seventh place and 10 points adrift of fifth place Arsenal.
Given the strength of Pep Guardiola's team and Everton's record on the grounds of the top six — they haven't beaten any of those teams on their turf in five years — a trip to defending Premier League champions, Manchester City, is the last place Marco Silva would want to go needing to get back to winning ways.
City are on a nine-game winning streak at home and while they suffered defeat for the first time this season at Chelsea, they haven't lost back-to-back matches in the League in two years. They've also not lost to a team outside of the "big six" in 51 games… since Everton hammered them 4-0 in January last year.
So, while Guardiola has a 100% record in his meetings with Silva, the Blues are unbeaten on their last three visits to this part of Manchester and last season Ronald Koeman oversaw a battling defensive display and a 1-1 draw before being unceremoniously dismissed following one drubbing too many two months later.
It's that propensity for Everton to be an occasional bogey team for City, their away performances under Silva this season and a couple of key injury concerns for the hosts that will see them travel for this lunchtime kick-off with a degree of hope rather than outright dread.
City will be without two of their midfield inspirations in the form of David Silva and Kevin de Bruyne while Fernandinho, Danilo, John Stones and Sergio Aguero are all doubts. Full-back Benjamin Mendy is also ruled out. They always have more than enough talent in reserve, however, and if Aguero doesn't make it, Gabriel Jesus is expected to lead the line, ably assisted by Raheem Stirling who is in devastating goalscoring form this season.
Silva, meanwhile, might have to make a change in central midfield for the first time in weeks as Idrissa Gueye is a doubt with the apparent groin strain that forced off against Watford. As the more combative of he and Morgan Schneiderlin, Tom Davies would be the more likely replacement but it remains to be seen whether the manager will make any other alterations to a line-up that struggled to cope with the Hornets for long periods on Monday.
Dominic Calvert-Lewin's energy and physical presence were key elements in last year's draw in this fixture and he could be an experimental option for Silva if he does decide to make another change up front, while Bernard's prior success at the Etihad with Shakhtar Donetsk in the Champions League against an opposition given more to flair than sheer brawn might see him retain his place in the team.
At the end of the day, Everton are essentially on a hiding to nothing in this one and can hopefully just go out with few expectations on their shoulders and try and spring a surprise. Coping with City's liquid passing, the pace of the likes of Leroy Sané and their ability to score goals from all over their team will be of prime concern but it's also the kind of game that can draw the best out of Silva's own stars. Here's hoping…
Kick-off: 12:30pm, Saturday 15 December, 2018
Referee: Craig Pawson
Last Time: Manchester City 1 - 1 Everton
Predicted Line-up: Pickford, Coleman, Keane, Mina, Digne, Davies, Gomes, Sigurdsson, Bernard, Walcott, Richarlison
---
Reader Comments (113)
Note: the following content is not moderated or vetted by the site owners at the time of submission. Comments are the responsibility of the poster. Disclaimer
Duncan McDine
1
Posted 14/12/2018 at 06:57:36
We'll get at least a point out of this game. We often seem to do favours for the Red Shite and have mostly played well against Man City in recent years, both home and away.

Bobby Mallon
2
Posted 14/12/2018 at 07:20:19
My team:
Pickford
Coleman
Zouma
Mina
Digne
Walcott
Gomes
Sigurdsson
Lookman
Bernard
Richarlison

Ajay Gopal
3
Posted 14/12/2018 at 07:28:58
As I mentioned on another thread, I would go 3-4-3 for additional defensive solidity, give Seamus and Walcott a rest (and Gana too, if he is not fit)
Pickford
Holgate Keane Mina
Davies Sigurdsson Gomes Digne
Bernard Calvert-Lewin Richarlison
Subs: Stekelenburg, Baines, McCarthy, Schneiderlin, Walcott, Tosun, Lookman
Gerard Carey
4
Posted 14/12/2018 at 08:07:40
Please not three at the back with two wing backs. We will get torn to shreds.
Kevin Prytherch
5
Posted 14/12/2018 at 08:31:31
If Gana is fit, I would rest Sigurdsson who is showing signs of fatigue, and bring in Davies. Ultimately playing with 3 central midfielders, letting Davies and Gana tackle everything that moves while Gomes does the creative stuff.
I would also play a front 3 of Richarlison, Calvert-Lewin and Walcott. I fear we'll have to hit Man City on the break and these 3 are the fastest players to do just that.
Set up as a fairly flat 4-3-3.
The other added bonus of this, is that Richarlison and Walcott should keep the City full-backs occupied enough not to join in their attacks as much.
Press their full-backs back, disrupt their midfield and hope that that will limit the intricate play up to the front. Expect to defend for long periods of the game then break at pace with the front 3. When breaking, Gana and Davies need to maintain their discipline. I feel this is no place for our full-backs to be venturing too far upfield.
Martin Berry
6
Posted 14/12/2018 at 08:49:14
Man City will lose at home sooner or later. We have a talented team and no doubt Marco will have a "cunning" plan. I feel that we will finally deliver via a cross and get that win.
Jim Bennings
7
Posted 14/12/2018 at 09:10:50
Yes Martin, Man City will lose at home sooner or later but it sadly won't be to us because we don't do wins at top six venues.
All the odds are stacked against us every time we play a top six side nowadays because we have gone 24 matches without beating any of them (since beating Man City 4-0 under Koeman).
It's impossible to see how we can stop City scoring and given the fact that so far we have scored one goal (a penalty) from trips to Arsenal, Chelsea, United and Liverpool it doesn't bode well.
With likely struggles and losses from these next two games, our December will be on the rocks by the time we travel to Turf Moor on Boxing Day.
Ashley Roberts
9
Posted 14/12/2018 at 09:39:34
My preference would be to go back to the central midfield pairing of Keane and Zouma. I would also like to see Davies get a start before Schneiderlin, if Gana is injured.
I have been recommending that Calvert-Lewin get a chance for some while now and for me I would play Richarlison on the left and Walcott on the right. While Walcott may not be at his best at the moment, I just do not see Lookman getting on the score sheet, however tricky he may be... and the same goes for Bernard.
I would give both of these some game time depending how things go with the option to drop Bernard into a midfield area.
John Keating
10
Posted 14/12/2018 at 09:43:56
We have to play Zouma at the back as Man City's pace and movement will cause the lumbering Keane and Mina massive problems. In fact, had Holgate been more involved this season, I would have played him and Zouma as a pairing just for their pace and City's lack of height up front.
Up front, we have to drop either Walcott or Bernard. Move Richarlison back onto the wing, and play Calvert-Lewin up front. Richarlison playing at centre-forward will get hammered by any two of LaPorte, Stones, Otamendi and Kompany.
Hate to say it but, if we can steal a draw, I would be over the moon.
Stan Schofield
11
Posted 14/12/2018 at 09:56:43
We've been playing better against the top sides than the mediocre ones who park the bus, although obviously without actually winning yet. But that could change, even against City. So long as we don't do daft things, like in the final minute of the derby, then we have a chance.
Obviously, the chances are that we won't win. But if we play well and resume some momentum, that would be a sign of continuing progress under the current management.
The six recent new signings, plus the new management, have made a big difference to our style of play, especially when playing the better sides who play good football. For this difference to continue and get even bigger, we need further signings. Another transfer window like the last one would likely push us on significantly, and we'd then be seeing rapid progress of the kind we haven't seen for a long time.
It's still early days with Silva and Brands, so let's see how things pan out as we go through a few transfer windows.
Len Hawkins
12
Posted 14/12/2018 at 11:08:12
Man City has been a happy hunting ground and there is definitely no need to go there fearing a hiding as you are beaten before you start. Minimum changes to cover injuries; if we do give the RS a leg up, then we can give them a hiding at Goodison. It seems the mindset of the supporters needs as much alteration as that of the players.
Stan Schofield, that's the spirit — keep the faith.
Jim Bennings
13
Posted 14/12/2018 at 11:13:43
Hahah, Len, nice thinking... but sadly the days of Man City as a happy hunting ground were the days when they weren't souped up with world-class talent.
I think mindset of supporters can only be changed by the players doing it on the pitch.
Even though, for the best part of the 1990s, we watched dross, the belief we could always ruffle feathers of the big teams meant supporters kept an open mind to potentially seeing a victory and being surprised.
The last 15 years has been almost like a monotonous carbon copy of season's results after season's results, failure to win away to the top sides, failure to win a derby, bottling it in big Cup matches.
I think Evertonians would all be very open to a change of mindset but it needs to come from seeing something that will take us by surprise on the pitch.
Kunal Desai
14
Posted 14/12/2018 at 11:18:16
This game would be typical for Everton to go to City and get a result.
Zouma, Davies and perhaps Calvert-Lewin to come in here.
Jerome Shields
16
Posted 14/12/2018 at 11:23:43
The best Everton can expect from this game is to play as we done against Chelsea. Solid at the back, maintain shape across the middle, and be aggressive. Hopefully there was some serious finishing practice on the training ground this weak and Mina or Keane can click on getting into the penalty area.
Tom Bowers
17
Posted 14/12/2018 at 11:31:01
There has to be some changes, that's obvious after the woeful performances by some in the last couple of games. However, what they will be may still not be enough against a Man City team full of goals although Wolves proved they are beatable. Fairy tales seldom happen with Everton, as we all well know, and are generally reserved for the RS.
As Evertonians, all we can have at the moment is optimism that the manager is working on the situation and that, by the time this season is over, he has molded a squad that can finally lock horns with the ''big boys''. The RS game would have been a nice place to start but it wasn't to be and had the exact opposite effect.
If they can put in a sound defensive performance, then they could conceivably win the game but they have to show a lot more confidence from the opening whistle than they did against Watford.
Jay Wood
[BRZ]
18
Posted 14/12/2018 at 11:31:16
Wot Stan says @ 11.
Jim Bennings @ 13 (an appropriate number for the poster...).
An individual's mindset is very much set by the individual.
To say it is determined by other individuals or events is to absolve yourself from the responsibility of determining your own state of mind and attitude to life in general.
Fran Mitchell
19
Posted 14/12/2018 at 11:32:09
If we sit back and keep it tight, Man City will eventually win, they have so much talent. The way to get something from the game is to go at them, like Lyon and others have done.
If we give them too much respect, they will pulverise us. Get at them, attack on the counter with pace and aggression and defend from the front, pressing them each time they touch the ball.
Richarlison, Calvert-Lewin, Lookman up front.
Colin Malone
20
Posted 14/12/2018 at 11:56:31
Do we fight fire with fire? No, because we cannot keep possession in the final third of the pitch.
Our right-hand side has not improved. So for me, it's a 4-5-1 formation with Gomes and Bernard playing closer together, with an energetic Richarlison up top.
David Hallwood
21
Posted 14/12/2018 at 12:25:03
I'm still banging the drum for Walcott in the middle and moving Richarlison back to the wing. With Bernard replacing Sigurdsson, who looks shot, and Lookman on the right wing.
James Marshall
22
Posted 14/12/2018 at 12:28:27
Man City will score at the very least one goal, so we have to (obviously) match them. We haven't looked like scoring easily in our last 3 games so I have a feeling we'll lose to nil tomorrow.
The question is by how many. We might keep it tight and lose 1-0 but I don't feel as though we've seen anything in recent games to suggest we'll cause an upset.
Blind faith in Everton is about the only thing to suggest otherwise.
James Marshall
23
Posted 14/12/2018 at 12:33:19
Tom@17
Wolves drew 1-1 with City on the first day of the season? I think you're confusing their results with that of them beating Chelsea recently.
Hugh Jenkins
24
Posted 14/12/2018 at 12:45:31
James (23) - We drew with Wolves on the first day of the season!
Don't know from where you got the idea that it was Man City?
Dick Fearon
25
Posted 14/12/2018 at 13:03:54
I wish I had the same confidence in Calvert-Lewin as many ToffeeWebbers. What I see in the lad is size and speed and not much else.
Think back to the likes of Gray, Hickson, Ferguson, Lyons and Sharp. Each of them had attributes that set them apart from each other. But one thing all had in common was an uncompromising hard-hitting approach to the game and that is what Calvert-Lewin lacks.
We have had the other more skilful type of striker such as Alex Young but Calvert-Lewin is not near that standard.
Big Dunc is supposedly mentoring the lad but I think he would learn more with a couple of sessions in a boxing ring.

Mick Conalty
26
Posted 14/12/2018 at 13:04:13
Jay Wood @18,

You seem to be suggesting that Jim #13 is being negative. All he is doing is telling it how it is. That we have the mentality of a small-town team. Wake up and smell the coffee.
Simon Smith
27
Posted 14/12/2018 at 13:30:34
James 23
You have the correct score but the wrong day.
Scott Hall
28
Posted 14/12/2018 at 13:51:41
If you are realistic then you can't be too angry if we lose this fixture. Sadly, they are streets ahead of us. But I will be happy and will applaud the boys off the field if we try to take our game to them and try to play without fear. Don't be scared of them and don't panic. That's all I ask. Come on blues!
Dave Abrahams
29
Posted 14/12/2018 at 13:55:31
James (22), yes, we were poor versus Newcastle and Watford, but we did create at least two very good chances against Liverpool, who had more chances than us. Nevertheless, I thought we fully deserved and earned a draw against them.
With Man City playing without several regulars, we may surprise them and help our lovely cousins into the bargain — now wouldn't that be nice!!!
James Marshall
30
Posted 14/12/2018 at 14:14:00
Re the Wolves thing above — I was alluding to Tom@17 who said Wolves had beaten City. It was nothing to do with our results against them. He said they (Wolves) showed recently how to beat City — but they never beat City, they beat Chelsea.
Jon Withey
31
Posted 14/12/2018 at 14:16:24
What has happened to McCarthy?
Gana and Sigurdsson weren't incredible against Watford – although the team in general was under par.
Unfortunately, I don't see a much better team from the squad than that which played Watford. Maybe you could swap in McCarthy for Gana if he is injured – I always imagine that we are a bit porous with Schneiderlin taking the defensive role.
Perhaps Sigurdsson is tired but he's one of our best players – would Davies's energy make up for that?
I'd like to see more of Lookman.

Derek Knox
32
Posted 14/12/2018 at 14:23:02
Dave @29 well it is Xmas, goodwill to all men and all that, but after re-thinking, it doesn't apply to those at Mordor!
Most posters seem fairly upbeat about this match, and I would also like us to get a result too, even if it does give you know who a boost, but it won't be easy against even an under strength City.
Let's face it, their subs/squad would walk into any Premier League side, so another benchmark for us to try and emulate in the rebuilding process. I would like to see Walcott pushed into the forward line with Richarlison dropping back to his more effective normal position, and either Bernard or Lookman taking the right slot.
I was surprised Lookman didn't make more of his inclusion against the Barcodes, maybe his role, for the time being anyway, is impact sub off the bench, as long a he gets a minimum of 20 minutes, I can't see the point bringing subs on with 2 minutes to go, unless it's because of injury.
Early kick-off for a change, at least it's only up the road for most fans, rather than a long journey coupled with the early start.
COYB
Jamie Crowley
33
Posted 14/12/2018 at 14:23:12
I've been on board since 2007.
I think this Man City side, and last season's team as well coupling them together, is the single best side in my short "history". They are, frankly, sublime to watch.
It will take a Herculean effort to get a result.
And that's why I watch and hope. Time to turn the car around, we're going the wrong way.
Derek Knox
34
Posted 14/12/2018 at 14:25:54
Sorry, in addition to my previous post, I meant the Hornets (Watford) can't blame that on predictive text either duh!
Jay Wood
[BRZ]
35
Posted 14/12/2018 at 14:31:19
M Conalty @ 26 (I
lurve
the formality...).
I live in Brazil, the world's biggest producer of coffee, so no issues with being able to smell the coffee (even though I remain a faithful tea drinker meself).
Jim was telling it as he sees it (and seemingly you too) based on his (tediously negative) mindset, which – according to his own submission – is determined by other parties and persons other than himself.
I observed that each one of us is the master (or mistress...) of our own state of mind and to make others responsible for it is to absolve yourself from determining your own thoughts, actions and words.
NOWT to do with the footy at all.
Steve Ferns
36
Posted 14/12/2018 at 14:32:41
Marco Silva on Everton's 2-2 draw with Watford.
"We have to analyse what we are doing.
"In some moments you are more happy with our performances. We don't play alone. The opponents begin to understand how we are playing and we have to create other opportunities.
"In the last two games at home we conceded goals that we hadn't before. Clubs come here at Goodison playing more solid.
"The biggest difference against Newcastle and Watford is we should do better when conceding goals at certain moments."
I like that he knows where the problems are. He talks a very good game. These type of comments are different to Roberto, Ronald, and Sam, and even to Moyes. However, the proof of pudding is in the eating and let's see how he develops the side.
Silva is clearly not chalking tomorrow up as an "expected loss" or hoping to keep the score down. Let's be cautiously optimistic.
Paul Baxter
37
Posted 14/12/2018 at 15:33:20
I'm going for a 2-1 win, they will score as they always do but we will put a couple past them.
I work in Manchester city centre so calling into the local bookies to see what odds they will give; should be good as they won't give us a prayer.
In work tomorrow so can't wait to see some miserable locals around the city before I go home, cheer me up just in time for Christmas...
Mike Gaynes
38
Posted 14/12/2018 at 15:43:59
Jon #31, Macca hasn't even made the bench yet. Clearly Silva does not consider him to be in the picture, at least not yet.
Tony Everan
39
Posted 14/12/2018 at 16:00:15
A tough game but I hope we don't retreat into our shell because of it. We have played quite well at Man Utd, Liverpool, Arsenal and Chelsea so I would expect a similar set up as those games. With a little bit of luck, we could have got more out of all of them. Maybe tomorrow lady luck will pay us back?
We can score at least one against them so I don't want to say it but I think 1-1 is the result. Who knows... with a slice luck maybe we can sneak a 2-1 win with Paul #37 maybe cashing in his slip. In fact, I will have a fiver on it, what's the odds?
Joe O'Brien
40
Posted 14/12/2018 at 16:04:53
I agree with Fran. I'd keep the same midfield and back four but put Richarlison back out on the left wing. Lookman out right with Calvert-Lewin through the middle.
We have to change it up from the last two matches. Bernard and Walcott might be better impact subs. I really rate Calvert-Lewin... he needs to get a run. I think he's got better potential than Tosun.
Eddie Dunn
41
Posted 14/12/2018 at 16:12:28
The outcome of this game is simple. We will lose. We do not create enough goalscoring opportunities and our defence make too many mistakes. We may nick a goal but be prepared for Man City to come out with all guns blazing after their defeat at Chelsea.
Digne and Coleman and their centre-back partners will be unable to deal with the clever running of Sterling, Sane and Jesus. 4-1 to City. They are the best and it will be no disgrace to lose this one.
Steavey Buckley
42
Posted 14/12/2018 at 16:47:54
Everton are facing Man City with a team with too many players out of form. Only Gomes and Richarlison are playing well. The defence is doing well, maybe with the exception of Coleman. But what is more worrying, there are no credible candidates to come in and replace players out of form.
Jim Bennings
43
Posted 14/12/2018 at 16:53:44
We could lose 8-0 tomorrow if City click and accept that they are in a different universe and people are right, in a one-off game we can't moan too much.
It's when you look at Everton's record against the top six over a number of years that there are solid grounds for concern and where we need to be at to improve our dismal record should be brought to light, otherwise how can a team ever expect to challenge.
Kieran Kinsella
44
Posted 14/12/2018 at 17:13:19
Mike Gaynes 38,
Macca not being on the bench doesn't necessarily mean Silva doesn't rate him. For the most part, he has used the same subs: 2 forwards, 1 winger, goalie, fullback, center half, and one midfielder. The midfielder has been Tom Davies but that could be because Silva sees him as more capable of filling in for Sigurdsson or Gomez than Macca. Macca is more similar to Gana, so he may not be involved simply because if he were then we have a sub who can replace one player versus Davies who can replace two.
Obviously, it is possible Silva doesn't rate Macca, it is also possible he is not right mentally. Allardyce made comments last season about his injuries being partly mental insinuating he was worried about getting injured again versus actually always being really injured. If that was the case then, maybe he is even more paranoid/afraid now after his horrific leg break.
But, I hope Macca is fit and healthy physically and mentally because I think he is the only suitable choice to fill in for Gana.
Tom Bowers
45
Posted 14/12/2018 at 17:21:30
Some players are never the same after bad leg injuries.
Seamus is not the same; anyone remember Jimmy Husband?
Mike Gaynes
46
Posted 14/12/2018 at 17:37:34
Kieran #44, that's all possible, and it seems likely Macca simply hasn't done enough in practice for Silva to promote him over Davies to that spot on the bench. Agreed that Macca's absence doesn't necessarily mean Silva doesn't rate him, but we may not find out for sure unless Gana (God forbid) gets injured.
Tom, these days more players make it back to full speed than not... it just takes longer for some than for others. It took Oviedo three years, Ramsey three, Shaw and Cisse both less than two, not sure about Barkley. A generation ago, Di Matteo and Edoardo never made it back at all, but medical and rehab sciences are much better today.
Darren Hind
47
Posted 14/12/2018 at 17:39:08
I can't abide with surrender monkeys. Of course it's a tall order but people throwing the towel in before a ball is kicked have no business supporting any club, let alone ours.
Like I say, it's a really tall order, but I couldn't resist having a little nibble at 12/1...

Dermot Byrne
48
Posted 14/12/2018 at 17:49:43
If we win (and, like every game, I expect us to), the headlines will be Man City crisis and some crap about the RS.
But we know... so fuck them!
Kieran Kinsella
49
Posted 14/12/2018 at 17:54:20
I saw Chelsea beat City last week. The first half performance reminded me a lot of a few years back when we drew there under Moyesy with Baines scoring. They (like us back then) were fairly defensive in the first half but it wasn't a case of backs against the walls, it was more like compact lines of 4-5-1 with them keeping quite a lot of possession in their own half. The second half, they played City at their own game with their possession game moving out from their own half into City's. It was similar to the way Wolves played when they drew with City. I think we can play that way IF everyone performs. I think it would be a mistake to do a Sam Allardyce and just pack the defense because if we do that we will be under siege for 90 minutes and they will be sure to score at least 2 or 3 of their 35 shots.
Jeff Armstrong
50
Posted 14/12/2018 at 18:23:13
I'm with Darren,. you just never know,..that's why we keep coming back,
City lost last week for the first time,a scrappy CL win in midweek followed by their first home defeat for ages!
Believe...or at least consider it might happen,before throwing in the towel before the game has actually begun.
Paul Baxter
51
Posted 14/12/2018 at 18:23:22
Tony #39 I got 28/1 on the 2-1 win, worth a go and I'm optimistic I'll be cashing in tomorrow.

John G Davies
52
Posted 14/12/2018 at 18:32:56
Positivity does far more for your wellbeing than negativity.
Going tomorrow hoping for a result, otherwise what's the point in going?
David Greenwood
53
Posted 14/12/2018 at 18:38:59
We went toe to toe with City's only challengers (say the press and media) and outplayed them for long spells.
I don't see why we can't go there tomorrow and do the same.
As ever with games like this, we have to take our chances and avoid giving the match officials a chance to decide where the points are going.
Time for our lads to stand up and be counted.
2-1, Siggy and Lookman.
Dave Abrahams
54
Posted 14/12/2018 at 18:51:23
Re James McCarthy, who I think is a very good player when fit, it was noticeable on the training link the other day, that while most of the players were at full pelt James
was strolling, so maybe he is not ready to go all out just yet. I live in hope that he makes it back to full fitness.
Bill Gienapp
55
Posted 14/12/2018 at 18:57:14
We'll win this one, just because it would send people into a tailspin over "handing" the title to the RS.
All jokes aside, we've played well in every road match this season. We've played every top six side we've faced extremely tough. We have zero pressure on us. We may not win, but there's no reason to be afraid or talking cricket scores.
Brian Wilkinson
56
Posted 14/12/2018 at 18:59:20
Last season at Goodison, we stood back and admired city stroking the ball around, it was embarrassing.
I hope this game, we go into it like we did in the derby the other week.
Will be that much tougher with City expecting De bruyne and Aguero expected to pass fitness tests.
However we have a chance, it all depends how we approach the game, approach it right and who knows.
I would not judge this team on past defeated mentality against the big clubs, we have to start putting our chances away, it is costing us big time.
Christy Ring
57
Posted 14/12/2018 at 19:03:19
Looking at some of the team selections that are posted, picking Davies to replace Gana would be a disaster, he's an attacking midfielder, we'd be completely exposed. Macca is the only player similar to Gana, don't know how he's going in training, he's fully fit, but not match fit. I know Mike Gaynes has mentioned him not making the bench, but I put that down to tactics by Silva, with Gana playing, he doesn't want 2 defensive midfielders in the squad.
As for City, a lot has been said about there injury problems, Pep has said De Bruyne, Fernandinho and Aguero are back in the squad, that makes a huge difference. Here's hoping.
Derek Taylor
58
Posted 14/12/2018 at 19:04:34
I have a sneaky feeling that Seamus, Macca and Bainsey will all be dumped at season's end. Whether Brands will be able to improve on them remains to be seen but all the signs are that their time is up.
As far as tomorrow is concerned, everything points to a City win - so expect a draw AT LEAST.
Eddie Dunn
59
Posted 14/12/2018 at 19:32:32
Darren - I presume you are calling me (among others) a "Surrender monkey". My forecast is a sober consideration of our record and current form against the best team around.
And you can fuck right off telling us that we have no place supporting EFC or any other team. Who do you think you are?
I would, of course, love us to upset the odds, and will be cheering us on regardless, but don't confuse hard logic with capitulation.

Jim Bailey
60
Posted 14/12/2018 at 19:50:25
Darren @47, nibble away. Instead of "surrender monkeys" how about common sense monkeys, or pragmatic monkeys? If anyone, anyone who supports any football club expects that club to win every game (I assume from your comment that you do), then they are bound to at some point be disappointed.
Instead of haranguing or trying to seem superior to other supportors of our club, why are you not content to allow differing opinions instead of interminably trying to prove your point?
My take on tomorrow's game is that I wouldn't back Everton with your money. However, that is my opinion and I would be happy with a decent performance.
I would of course be very happy to be wrong, but then again I'm just being pragmatic.

Dermot Byrne
61
Posted 14/12/2018 at 20:00:34
I expect us to win every game. Just my nature. 58 years of disappointment laced with some joy. But I am really just a dreamer and can deal with disappointment.
But others who know more about technicality of the game give a decent assessment of chances. I learn from them but sometimes don't want to hear from them as it brings back my dreams from the heavens to the earth.
In the end we all have our dreams and knowledge.
But we share we share being Blues.

Brent Stephens
62
Posted 14/12/2018 at 20:09:01
ToffeeWeb Conditions of Use include "You agree not to question or impugn the Evertonian credentials of other contributors or to denigrate their support of the Club".
Let's just agree to disagree on our chances at the Etihad tomorrow.
I'll be there tomorrow, living in hope as ever, but expecting the worst.
COYB!
Bill Gienapp
63
Posted 14/12/2018 at 20:12:57
One reason for optimism is that, even though we've only managed one goal collectively against Arsenal, Man Utd, Chelsea and the RS (via a penalty), we've generated quality chances in every game.

It's a far cry from last season, when we went to Stamford Bridge and couldn't even record a touch in Chelsea's BOX until the match was over an hour old.
Rob Halligan
64
Posted 14/12/2018 at 20:16:46
I'll be there with you, Brent, level 3. I'll be expecting a good performance, similar to all our performances away to all these so called top six clubs so far this season.

As long as we can walk out of the Etihad having seen the team give all they've got, and put up a good performance, then we can't really complain. After all, we won't be the first team, and certainly not the last, to come away from there empty-handed.
Brent Stephens
65
Posted 14/12/2018 at 20:21:54
See you there, Rob - Block 313 - I'll have a half, thanks!
Yes, I'd love for us to at least put in a good performance. Hope Davies can rise to the occasion, if he plays.
Rob Halligan
66
Posted 14/12/2018 at 20:24:08
Block 314 for us Brent. Row K. I'll give you a wave.
Dan Parker
67
Posted 14/12/2018 at 20:55:02
Pickford, 9 at the back and Richarlison up front.
Jay Harris
68
Posted 14/12/2018 at 20:59:39
On paper City should murder us but fortunately football is not played on paper.
We have a very good record against City so weak mentality should not come into this unless its the City players.
Siggy and Richy have got to be a shoe-in as our most consistemt goalscorersnad if Gana is not fit I would consider 3 CB's as all three are capable of playing the ball on the ground and we need the speed of Zouma in this one.
I also believe Walcott is feeling his way back into form so would play him on the RHS with Richy on the left and DCL to do the grafting up front.
Although Seamus hasnt lived up to his old form yet I would leave him and Digne to play the wingback roles with Siggy and Gomes running MF.
We are due a win and if we find the energy applied at Anfield feel we could suprise a few people.
COYB
Dick Fearon
69
Posted 14/12/2018 at 21:26:56
I went to Old Trafford when the Babes in their golden era were thrashing everyone. Meanwhile we were on the recieving end of many hidings.
If my old memory seves me right we came away with a 4-0 victory.
Where there is life there is hope so come on you Blues.
Len Hawkins
70
Posted 14/12/2018 at 21:38:10
Just as a bit of a leveler a severe weather warning has been put out for the north west tomorrow freezing rain which will make conditions atrocious for both teams. They will struggle as much as any other team if it comes about.
https://www.metoffice.gov.uk/public/weather/forecast/gcw2hzs1u#?date=2018-12-15
Dave Abrahams
71
Posted 14/12/2018 at 21:43:50
Dick (69), brings back memories Dick, if it is the game I am thinking of it was about sixty three years ago, we won
5-2 by the way, surprised everyone including all
Evertonians who were there, but it proves anything is possible in football.
Kieran Kinsella
74
Posted 14/12/2018 at 22:05:39
Jay 68,
I agree entirely. Logic says we should lose but if every football match went as expected then there would be no point watching. I am hoping for a good result
Terry White
75
Posted 14/12/2018 at 22:20:29
Dick (69) and Dave (71), the game was in October 1956, we were in 18th place out of 22 and they were top. The infamous Albert Dunlop played his first game replacing Jimmy O'Neill, and we did indeed win 5-2. I was one of the "surprised" Evertonians there that day at the tender age of 9.
Wayne Maher
76
Posted 14/12/2018 at 23:02:22
We play Mina, we get a pasting; we play Zouma, we just get beat. Mina is slow; his positioning is crap... he is just crap.
Zouma and Keane were doing well and getting a good partnership going. Don't fix something that doesn't need fixing!!!
Dick Fearon
77
Posted 14/12/2018 at 23:45:38
Dave and Terry @71 +75, I was 12 and also at OT that wonderful day.
Mark Wilson
78
Posted 14/12/2018 at 23:56:15
In the past, we have rarely had the players to setup with three at the back and wing backs. We do now. Zouma is a very mobile strong centre back. Keane is winning most of his aerial challenges and playing out with some aplomb. Mina is new and shiny and not always quite there but he will be, and together these three are a balanced setup.
Digne going forward will only improve on a very decent start. Coleman .well in this setup I'd rather see Kenny given the nod. Gomes and Davies at the races will be interesting, if a bit red card waiting to happen ish. But if they can play together going forward it will be us giving Man City something to react too, which can't be bad surely.
Richarlison, Calvert-Lewin and Lookman as a tight front three with width vital and must be provided by Digne and I guess it will actually be Coleman not Kenny.
Pace, creativity and balance. Should be good enough if they all turn up. But City are a nightmare going forward. I feel we can get something from the game but lose a goal early on and...

John Kavanagh
79
Posted 14/12/2018 at 00:05:14
It would just be so Everton that having turbo charged our lovable neighbours' season with a 96th minute points handover, we then went on to damage their only real title rivals with a result at the Etihad.
I want to see Calvert-Lewin given a proper run out and would start Lookman again on the right. The two can work well together. However, if the forecast snow does arrive, we could alternatively build a snowman in front of their goal, stick an old brillo pad on top and put a Tosun shirt on it. More likely to score.
However, my biggest fear isn't the awesome Man City line up, it's the possible return of Schneiderlin. I'm hoping Davies comes in if Gueye isn't fit as he at least has a pulse.
I hope we get a result, but fear that December could end up being a very bad month for us. COYB.
Harry Hockley
80
Posted 14/12/2018 at 00:16:17
I have a gut feeling we will get something tomorrow, Silva will have a plan... obviously, to try and nullify their threat and also be a threat ourselves on the counter, which of late we've been able to do reasonably well against the top sides so far. Although Man City possess a very different-more potent threat I'm still hopeful about this game and optimistic we'll find a way to get at least a point.
There we're many after the Watford game saying "Silva out" and "no excuses – they're all his players". I found this a bit of a joke really. While I agree somewhat with there being changes needed to be made in certain areas but saying sack the manager is shameful and ridiculous after only a few months.
Digne, Mina, Gomes, Richarlison and Zouma have been excellent since their arrival here, Bernard being the only disappointment so far and he may yet come good. They're all Silva's players that he wanted and we should be over the moon with how they're performing already. The improvement so far has been brilliant since the dross of last season.
You fickle lot need to have a look in the mirror and stop dragging us all down; give the man time, at least till next season!
Andy Crooks
81
Posted 15/12/2018 at 00:21:16
We are 12/1 to win and11/2 to draw. Those odds are quite remarkable. We are not playing supermen. We are playing a passy passy team of shit bird prima donnas. I will be having a bet. Why the fear?
What I know is that, under Silva, we will not keep it tight and get one. We will go for it. Think about it, 12/1 in a two-horse race. I will be backing my team tomorrow. If I lose, I don't give a fuck because I know, yes know, that, for the first time in years, we have a coach who will try to win.

Derek Knox
82
Posted 15/12/2018 at 00:21:48
Mark @78, I understand where you are coming from but I doubt that Marco Silva would play 3 at the back, but also that he seems very reluctant to change the side at, all unless injury or suspension dictates otherwise.
The other reason as well, which you alluded to, was Seamus has not been the player we all know and love, up to now, so I couldn't see Seamus being dropped and Kenny, who hasn't played for a while, coming into a game of this magnitude.

Andy Crooks
83
Posted 15/12/2018 at 00:28:35
Mick @26, spot on.

Jim tells it like it is
and tells it like it is
and tells it like it is
and tells it like it is.
Anthony Murphy
84
Posted 15/12/2018 at 00:45:41
I think we'll get a draw and Man U will beat the RS on Sunday.
Derek Knox
85
Posted 15/12/2018 at 01:09:36
Anthony @84, I would settle for that now, but it depends which Man Utd turn up, I have watched them in a few games and they either look a shambles at times or they click, but don't repeat 'the click' in the following game.
Jose Mourinho seems to chop and change too much; he knows what he wants, but does he get it across to the players, plus he is a trifle arrogant.
Funnily enough, with us playing the day before, and early too, depending on the result, they (RS) will set their stall out accordingly!
Bill Gienapp
86
Posted 15/12/2018 at 01:51:11
"However, if the forecast snow does arrive, we could alternatively build a snowman in front of their goal, stick an old brillo pad on top and put a Tosun shirt on it. More likely to score."
John, I generally think Tosun gets too much stick on here, but that made me laugh out loud.
Harry (80) - agreed re: Silva and the OTT reactions on here. By that logic, Chelsea should have sacked Sarri because he drew with us and lost to Wolves.
Jamie Crowley
87
Posted 15/12/2018 at 03:13:44
Never mind Emery. The Gunners were ready to crucify him week #2!!
Patience is a virtue.
Darren Hind
88
Posted 15/12/2018 at 05:25:33
Eddie @59 & Jim @60,

My comments may have been posted on this site, but they were not directed at anyone on it. I promise both of you I hadn't even read your posts before I posted... but I have now.
I went for a pint for the first time in months yesterday with my lads and two other Blues. All four of them said (with what seemed like a certain knowledge) that we would lose today. My post was identical to my response to them. Their reaction was different to yours – they laughed at me. They engaged in the banter. I won't put their replies up here because there may be children reading. You can imagine....
They too claimed that they were simply applying logic. They denied my claim that they were "surrendering". Yet, despite their piss-taking, they were all unable to come up with a better word to describe conceding defeat before the battle.
I don't subscribe to the logic that, because we have been regularly getting beat by these teams under previous regimes, we can't start beating them under this one. That, to me, simply isn't logical. It's a different approach. Yes, I understand the size of the ask; the bookies' odds reflect it.
I will roll out my comment even further than just football. it applies to all sport – please bear in mind, this is only my opinion: If an individual can't expect the unexpected, be excited by the prospect of an upset, believe he/she, or the man/woman/team they are following always has a chance, then they have no business following sport – let alone football... The point is lost on them – I truly believe that .
Do I always think we are going to win? Of course not. Do I always think we have a chance of winning? Fucking right I do!!!
There was no intention to insult you guys, or question your love for this club; if it came across that way, I sincerely apologise.
Paul Birmingham
89
Posted 15/12/2018 at 05:31:33
I'm expecting a positive reaction today and, on the basis the players should have been rocketed for the last 2 performances and midpoint of the season almost, then there's nothing to lose.
Each to their own view and most respectfully so, but football matches are not always precast and set. The challenge we face is taking chances we make, taking them and building from strength and get in the groove shown at Chelsea and first-half at our old ground.
And no reckless challenges and self-inflicted calamities, which we've seen in the last 3 matches.
At the back of City's mind, they do know, we can play and so, as long as the officials are fair, we have a fighters chance. Digne on penalty duty today.
Interesting to see who play up front, right wing and which centre-backs start.
What's Our Name!
Steve Brown
90
Posted 15/12/2018 at 05:54:20
Eddie @ 59, if I'd used hard logic as my main ingredient for supporting Everton over the last 20 years, I would have been driven bonkers long ago. So I prefer to add two tablespoons of blind optimism and teaspoon of "you never bloody know" into the mix as well! COYBs!!
Tony Everan
91
Posted 15/12/2018 at 08:18:40
The stats just popped up: 5 years and 32 matches away at the top 6 without a win; it has become like a psychological glass ceiling for us. It's time we did something about it.
Billy Roberts
92
Posted 15/12/2018 at 08:57:41
I find the more logic you apply to following Everton, going the match sitting behind posts, standing in piss, paying over the top for crud food and drink, getting treated like cattle/criminals etc, etc, sort of spoils the fun.
The whole concept of paying serious money and time to watch people play sport is ridiculous if you really think about it BUT!!! That's what makes it great isn't it? The suspension of all serious behaviour for a few hours, the singing, the wild celebrations the aggressive swearing.
I like to read posts that are well thought out with better tactical analysis than I possess but I still prefer daft enthusiastic optimism, I agree with other posts that bad luck / form has to change somewhere and that this management team is capable of doing it. The unexpected does happen in football — otherwise, there would be no-one following the game.
Chris Gould
93
Posted 15/12/2018 at 09:09:36
Darren #88,
I agree with the jist of your posts. My eldest son also said that we will lose, and that we need to concentrate on getting everyone fit for the Spurs match. I've banned him from the Xbox for the rest of the day. 'Surrender Monkey' is a great term for this defeatest mentality and thankfully I don't see any sign of it in Silva.
Allardyce was a 'Surrender Monkey' (some said 'pragmatic') and we hated his attitude. Silva, thankfully is full of fight and belief. It's an attitude we should all adopt.
Why can't we beat them? On our day, we can beat anyone. As you say, it's unlikely, but it's certainly possible!
Eddie Dunn
94
Posted 15/12/2018 at 09:48:07
No problem, Darren!
The difference is the spoken word in the pub with your mates (with facial expressions etc) is at odds to the written word on the screen. Apology accepted.
On today's game, the team worked so hard at Chelsea and Anfield and looked tired last week. I would be amazed if we can sustain the energy levels (especially if Gana is out) to keep them at bay for 95 mins.
Jimmy Hogan
95
Posted 15/12/2018 at 10:11:09
We can't even win away at Bournemouth, so I won't get my hopes up for an away win at Man City...
Eric Paul
96
Posted 15/12/2018 at 10:15:02
So, what if the players and staff applied logic? We might as well save the fuel and settle it on the phone.
Justin Doone
97
Posted 15/12/2018 at 10:23:15
It's about taking our chances as we will create some, not making silly mistakes and giving sloppy passes away in our own half and being switched on for the full 100 mins or so.
Yes, we have a good chance because the mentality and forward play has improved so much and City can still over-play at times and be gotten at. They're not a defensive team so we need to keep the pressing and movement of our forwards going for as long as possible.
I think Silva will try and play the same team if possible but I would play Richarlison left to occupy space left by Walker and Calvert-Lewin centrally to hound the centre-backs.
Gana will be a big miss and the players need to keep their discipline and patience. No point picking up silly yellow cards for needless kicks and trips when pressing. Davies can be a little over eager but Schneiderelin should be nowhere near the squad, never mind the first team.
Something different we could try is to play Baines as a central defensive midfielder. He'll help track runners back and cover for Digne. Plus penalties and corners may be more successful.
Anyway I live in hope but, should we get beat 6-0, I know it won't be without trying to win and trying to attack but beaten by a great team in good form. However, you just never know in football!
James Hughes
98
Posted 15/12/2018 at 10:33:19
If we turn up with the attitude we displayed at Mordor, then it will be close. If with the attitude we displayed against Watford, then Mr Pickford could get a bad back from retrieving the ball from behind him.
I am not wildly optimistic but I am still giving the missus the hurry-up, need to get the shopping done and be back. COYB
Mike Powell
99
Posted 15/12/2018 at 11:02:49
I would go with Lyndon's team. I don't understand the calls for Holgate and Calvert-Lewin to start, don't think either of them are good enough.

Here's hoping we put up a good performance but, after our last two games, I'm not holding out much hope, but you just never know.
Chris Gould
103
Posted 15/12/2018 at 11:34:37
Team news is in. Gueye out, Zouma as DM and Calvert-Lewinin for Walcott. No idea how that lineup will look.
Man City have Aguero, De Bruyne and Sterling on the bench.
Ian Jones
104
Posted 15/12/2018 at 11:35:30
Interesting team selection for both teams. I'm confident we can get something out of this. Otamendi included for City. Sky have it as a 4-2-3-1.
Paul Tran
105
Posted 15/12/2018 at 11:36:18
Darren, I completely agree. The only pessimism I have about our team is it's ability to take chances. We've matched those above us and missed chances – that's why we've lost those games. That's the reason why I didn't believe the 'logic' of us beating Newcastle and Watford.
Man City were fantastic against Chelsea for 40 mins, but they missed chances. Chelsea got one, scored and worked their socks off for the rest of the game, pinching another goal In the process.
I'm a great believer in logic and evidence, but sometimes life's all about accepting and thriving on the randomness it throws at us. Sometimes, you have to make your own 'logic'.
That's what we have to do today. We have to go there on the basis that, if we work like Trojans and take our chances, we can win.
Mal van Schaick
106
Posted 15/12/2018 at 11:38:15
I would've liked to see Baines at left back and Digne left midfield.
Good luck, plenty of team effort; 0-0 would be good. Sneak a win would be great. Coyb.
Derek Taylor
107
Posted 15/12/2018 at 11:40:39
It will be five across the back. Just like Big Sam's thinking. With that shape, we'll lose 0-4!
Derek Knox
108
Posted 15/12/2018 at 11:42:44
Just watching Bein Sports 11 HD to get the preview, and guess what they are focussing on, tomorrow's game at Mordor against Man Utd, so it's not just Sky who do it.
Interesting but confusing inclusion of Zouma for Gana and Calvert-Lewin, so hopefully Richarlison goes back to what I believe is his most effective position. Could he be playing 3 at the back?
Richard Mason
109
Posted 15/12/2018 at 11:42:59
Playing Zouma, Keane, Mina, Coleman, Digne, Sigurdsson, Gomes, Richarlison, Bernard and Calvert-Lewin.
Neil Wood
110
Posted 15/12/2018 at 11:44:19
I would've thought it's three at the back with Richarlison on the left, Calvert-Lewin up top, and Bernard on the right.
Ashley Roberts
111
Posted 15/12/2018 at 11:45:42
I do not like this line-up. Park the bus, here we come.
So, seeing this squad, we are on for a hiding: 3-0 to Man City, I am afraid!!
Jay Wood
[BRZ]
112
Posted 15/12/2018 at 11:50:57
Hmmm...
I think the starting XI is the first time Silva has 'blinked' in his time as Everton manager, thinking more of stopping the opposition rather than setting his team up to play primarily our way.
A very 'Sam Allardyce' pragmatism which, when he tried it at Arsenal last season, saw us 3-0 down in 15 minutes and 5-1 losers overall.
It may prove a masterstroke, but I for one am not convinced by a back five with three centre-backs, neither in one-off games nor long term.
Interesting to see Calvert-Lewin play from the start. I hope he will play up front with Richarlison dropping wide left. Maybe Silva recalls how outstanding Calvert-Lewin was away to Man City last season playing the lone striker role, showing good hold up play, laying on our goal for Rooney and being cute enough to get Walker set off.
'Ave at them, Blues!
John Voigt
113
Posted 15/12/2018 at 11:52:31
I was hoping Davies would make the starting 11.

Bill Gienapp
114
Posted 15/12/2018 at 12:06:30
City don't have Silva, and Aguero, Sterling and De Bruyne are all on the bench. Obviously still a very, very good side, but certainly no scarier than the Liverpool team we kept in check for 95 minutes.
As for our starting XI, I don't think Silva is "pulling an Allardyce"; I just think he sees this as his best line-up with Gueye unavailable. We'll see.
Brian Murray
116
Posted 15/12/2018 at 12:23:07
Ideally we want to match them in every way except goals scored, have the inquest another day!
Ernie Baywood
117
Posted 15/12/2018 at 12:23:12
I'm glad to see Calvert-Lewin in. Give him a run in the team and see how he performs.
I was listening to the Blue Room in the week and they were arguing they can't see him scoring 10-15 goals. I wonder if he needs to do that to justify his place? Obviously we'd like that but he's replacing Bernard who has scored zero goals.
Richarlison seems capable of scoring from the left or the centre. I think he'll be a nuisance, hold up the ball much better than Richarlison, and maybe he'll develop given a run in a decent team.
At some point, you've got to put some faith in a striker to play up front. Until you buy another one at least.
Ernie Baywood
118
Posted 15/12/2018 at 12:29:19
On the "has Silva blinked" debate, I think he's blinked all season.
Holding onto something away from home – throw another defender on. Need a goal at home – keep throwing strikers on.
I'm not seeing the strategic masterclass others are proclaiming. He seems to keep it pretty simple.
Today... extra defender, a striker who can hold up the ball (Richarlison has barely controlled a ball for a few weeks) and pace out wide to counter-attack. Might work but it's not exactly a complicated or unusual strategy. Let's hope it works. COYB!!!
Harry Hockley
119
Posted 15/12/2018 at 12:40:05
John 113, you should try stand-up comedy.
Ernie Baywood
120
Posted 15/12/2018 at 13:01:56
Man City love to press high. We keep putting the ball at the feet of our least capable footballers in our own corners.
It's tough enough without the suicidal tendencies.
Justin Doone
121
Posted 15/12/2018 at 15:04:35
Calvert-Lewin – another start another goal. Well done him. Not a great performance by anyone but I thought he played well.
A loss is always disappointing and I've never been a fan of making the defenders play and pass their way up the field all the time.
It's good given space and time but not when we just end up putting our own players under pressure. We need to mix it up. If they have 4 players on the edge of our box the other players need to do more to find the space.
It was always going to be a tough game. We got beaten by the better team but we played well in patches. We had a go, players need to know when to follow instructions (pass, pass, pass) and when to play direct into space and advance us up the field.
Still work to do but moving forward.
Add Your Comments
In order to post a comment, you need to be logged in as a registered user of the site.
Or Sign up as a ToffeeWeb Member — it's free, takes just a few minutes and will allow you to post your comments on articles and Talking Points submissions across the site.