Everton vs Tottenham Hotspur
Saturday, 22 December, 2018
Match Preview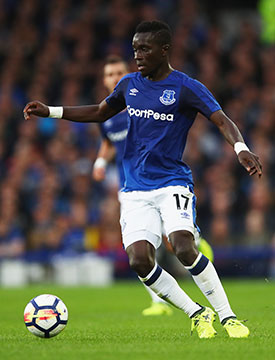 Idrissa Gueye will again be assessed late to see if he is fit enough to play
Everton's quest for a first win in five games meets one of the Premier League's more immovable objects as third-placed Tottenham come to Goodison Park for the 4pm Sunday kick-off.
The Blues have lost to the top two and drawn against Newcastle and Watford since they last picked up three points against Cardiff City and it's seen them drop to eighth place and some 10 points behind the top five.
They have the chance to at least leapfrog Wolves this weekend if they can register their first victory over Spurs since Steven Pienaar and Nikica Jelvavic's dramatic late strikes wrested victory from the jaws of defeat in December 2012. In the intervening years, it was a tale of a number of draws and one slender final-day win for the Londoners at Goodison Park until last season when Everton under Ronald Koeman laid out the welcome mat and were walked all over in a 3-0 drubbing.
This promises to be another testing encounter against a side that has proved it travels very well but whatever the outcome, Evertonians can hopefully expect a bit more fight than the solitary shot on target they mustered across the two meetings with Mauricio Pochettino's men last term.
It's also the first opportunity that Marco Silva-edition Everton have had to test their mettle against a top-six team on home turf. The meetings with the other top five saw more spirit, attacking invention and gumption from the Blues but returned just the one meagre point. Here is a chance to show that this Toffees outfit can go head-to-head with the big boys and triumph; it would be the first such win since the 4-0 win over Manchester City the season before last and it would be long overdue.
In order to achieve it, though, Silva must again try and resolve the increasingly vexing issue of Everton's wastefulness in the final third and a general lack of firepower from anyone not called Richarlison. Together with the jaded-looking Gylfi Sigurdsson, the Brazilian has been shouldering the bulk of the goalscoring burden this season but Dominic Calvert-Lewin has demonstrated that he can chip in with vital goals and he won't have done his case any harm with the one he scored at the Etihad last weekend which gave the Toffees a flicker of hope before City killed the game shortly afterwards with their third goal.
Indeed, it would not be surprising in the least to see the young striker handed another start in this one to prove that he is worthy of filling the centre-forward role, at least until attempts can be made to bolster that area of the team next month.
Whether Silva persists with the three-man central defence remains to be seen, however, and much may depend on whether Idrissa Gueye is passed fit to play after missing the last game with a groin injury. Tom Davies is waiting in the wings should the manager elect to revert to a flat back four and reinstate another holding central midfielder alongside André Gomes while James McCarthy appears ready to, perhaps, start being involved off the bench now that he is getting stronger following his double leg break.
As ever, the wide positions are somewhat up in the air. Bernard got the nod over Theo Walcott last week and again showed flashes of his ability against City but it was Ademola Lookman who came off the bench to out-shine the Brazilian and make a case again for his inclusion from the start. The England U21 player has yet to fully grasp the opportunity of a starting berth and that could see him start as a substitute once more, at least for this game, with plenty of chances ahead in what is a congested part of the fixture list over the next fortnight.
For their part, Tottenham come to Merseyside on a four-game unbeaten run in all competitions, including impressive away performances at the Nou Camp in the Champions League and the Emirates against Arsenal in the League Cup in midweek.
Harry Kane was only a sub in the latter tie because of a cold but, like Richarlison and Gomes for Everton, he is expected to have shaken off illness in time to play. The England star scored twice in both games against the Blues last season so shackling him will, no doubt, be a key focus for Silva.
Everton are long overdue a performance against Spurs let alone a win so the hope is that the Goodison crowd can create an atmosphere worthy of the occasion and the Blues can respond with the kind of stirring display they will need to overcome one of the strongest teams in the country.
Kick-off: 4pm, Sunday 23 December 2018
Referee: Paul Tierney
Last Time: Everton 0 - 3 Tottenham Hotspur
Predicted Line-up: Pickford, Coleman, Zouma, Mina, Digne, Gueye, Gomes, Sigurdsson, Bernard, Richarlison, Calvert-Lewin
---
Reader Comments (92)
Note: the following content is not moderated or vetted by the site owners at the time of submission. Comments are the responsibility of the poster. Disclaimer
Jim Bennings
1
Posted 22/12/2018 at 08:07:12
No win against Tottenham since December 2012?
Surprise, surprise – yet another bogey team of ours, lol.
That's almost as bad a record as the one we have against the Red shower.
Kunal Desai
2
Posted 22/12/2018 at 08:25:35
Very impressed with this lot. Their movement of the ball and play with great intensity is sublime.
I sincerely hope Everton can emulate Spurs and perhaps have a team in two or three seasons time that can get back to a level playing field which we were about six to seven years ago.
I expect a very comfortable Spurs win here. 0-2.
Liam Reilly
3
Posted 22/12/2018 at 08:46:56
I think it's a good time to play Tottenham.
With the ongoing uncertainty over their Manager, some of their star footballers may well be considering their own futures and that could leave a door open for a dip in form.
Kunal Desai
4
Posted 22/12/2018 at 09:24:09
Judging by the result at the Emirates in midweek, they looked more united than ever. Couldn't see any dip in form there.

John Keating
5
Posted 22/12/2018 at 09:34:04
Well, one thing is for sure: unlike the last three pathetic efforts, we can't use the "tired" excuse! Surely even these lot have had enough time off to put in a full 90+ minutes of effort in after the Man City game.
Mina or Keane to play alongside Zouma. Calvert-Lewin has to pay up front with Richarlison alongside him.
As a second winger has been a bit hit and miss so far this season, why not play Baines as a wide left?
Mark Andersson
6
Posted 22/12/2018 at 09:34:11
Should be a good game but I can't see us getting anything from this one.
I hope their manager stays put, snubs Man Utd, and sneaks past the Red Shite to win the league...
Derek Knox
7
Posted 22/12/2018 at 10:08:13
As has been mentioned, Spurs are a very good side, but if we play like we have been doing against the teams above us, I see no reason why we can't get a result.
I think Zouma has to play too, as they have pace up font with Kane, Alli and Son, to name but three. I have a fairly good feeling about this game, if we play as we should.
Roger Sunde
8
Posted 22/12/2018 at 10:08:57
It's the first game in which Silva gets to play a top-6 team at Goodison Park. Considering we played Arsenal, Man City, Liverpool, Chelsea and Man Utd – all away – the fixture list hasn't exactly been kind.
Derek Taylor
9
Posted 22/12/2018 at 10:20:35
Lose this one and it will only re-inforce the feeling that, in spite of Moshiri's money, we are continuing to tread water – at best.
I can't see his choice of manager has improved much as I regard Silva as just another Martinez (plays it pretty but not much to show for it).
But I'm prepared, nay, I want to be surprised... so I shall have a small wager on a Blues victory!
Stan Schofield
10
Posted 22/12/2018 at 10:28:10
Well, it only takes a dip in form to generate widespread pessimism.
It was only three weeks ago that we played Liverpool on an equal footing at Anfield, and would have got a result but for a random cock-up. At that time, we looked like we could get a result against any opponent.
I can see this game going any way, depending on our form. We could beat them with style if we show the form of a month ago, but could get twatted if we have the more recent form.
Brian Harrison
11
Posted 22/12/2018 at 10:35:35
I think a lot will depend on if Gueye is fit... seems unlikely as hamstrings usually take more than a week or so to repair.
We certainly missed his tackling in midfield against Watford. We don't seem to have got back our confidence after the defeat to the other lot; the amount of times we slump after being beaten by them is alarming.
A win tomorrow would see the confidence come back, and hopefully put together a run of unbeaten games.
Andy Meighan
12
Posted 22/12/2018 at 10:40:48
Someone on the Live Forum last Saturday said there's not much between us and Spurs. I really don't know what game they watch...
They're a far better side than us. No win against them since 2012? Only Everton could have two bogey sides. If I'm honest, I'm really expecting nothing from tomorrow's game.
Ed Wallis
13
Posted 22/12/2018 at 11:25:59
I wouldn't play Coleman – put Zouma in, He can run stop and pass it backwards a well as Coleman but is a much better defender. Let Walcott or Bernard have a freer run on the right ahead of him.

Liam Reilly
14
Posted 22/12/2018 at 11:28:23
The rumour mill is gathering pace, Kunai, and he's not denying that he's interested. I'll bet that, if it's not against us, then it'll happen soon.
The agents will be thinking it's time to cash in on their assets.
Jim Bennings
15
Posted 22/12/2018 at 11:29:02
What's amazing is four years ago Spurs were below us in the table and we were perhaps the team that looked best equipped to step up to the next level. But sitting here now they have left us behind in a trail of dust with a team that is continually playing Champions League football and has a team on the cusp of a title challenge.
Tottenham are everything that I want Everton to be. They have big, strong, athletic, skilful, clinical players, a squad that can replace one quality player with another. Most importantly though, they have big players that turn up in the big games and they seem to take glee from being the Top Dog in North London.
Contrast that with our big players who seldom show up in the big games and still can't get over a psychological hurdle of trying to beat Liverpool to something even in a one-off match.
We can speak of transition but transition should see each season being a massive improvement on the last, not just better playing styles, but results wise and league position wise.
Tottenham have done this every year since 2014-15 and that's what Everton Football Club must strive to do.
Jay Wood
[BRZ]
16
Posted 22/12/2018 at 11:32:31
Away to City last week was our poorest 90 minutes against a top-six side this season – all five away from home. That was down to a poor starting formation and selection from the manager more than anything else.
As poor as we were, from the 55th minute, after going 2-0 down and Silva reverted to a flat back four and more numbers in midfield (as we've played all season), we markedly improved and, all too fleetingly with Calvert-Lewin's goal, even had a sniff of salvaging something from the game.
Spurs is an excellent team, especially away from home. We will have to be at our very best to get something from this game.
Yes, it will be a challenge. But isn't that what a professional athlete craves for? To compete with and beat the best?
And with four fixtures in 10 days, there has to be rotation and changes made to the starting XI.
John G Davies
17
Posted 22/12/2018 at 11:44:52
I went to Man City last week with a positive outlook. Yes, a difficult game at the Etihad but if you go thinking we can't get anything, what's the point in going?
Same outlook for tomorrow. One or two starting to panic a little. Posts along the lines of "we have get to get tighter against the big teams" ... "he is too attack minded"...
No thanks, I have had years of watching shit house, scared football. Keep it going, Marco. No-fear football, please.
Lawrence Green
18
Posted 22/12/2018 at 11:47:22
Jim:
What's amazing is four years ago Spurs were below us in the table and we were perhaps the team that looked best equipped to step up to the next level.
Except for the fact that Spurs were 6 points ahead of us after 17 matches in 2014 and ended that season in 5h place, 17 points ahead of Everton.
The season before that, you have a point as Everton finished the campaign 3 points ahead of Spurs. In 2012, Spurs ended up in the final Champions League spot — a place that Everton haven't achieved since 2005.
Peter Gorman
20
Posted 22/12/2018 at 12:09:05
I'm with John G, 'tis better to try and fail than never try at all.
So far this season we've competed against these "big teams" and been let down only by poor finishing and naive defending. The change in mindset, however, is vital to any long-term success.
That said, we'll need to sort out those issues sooner than later if we are to beat Spurs who looked decent in their cup win against Arsenal the other day.
Jim Bennings
22
Posted 22/12/2018 at 12:29:44
Lawrence
At the end of the 2013/14 campaign we finished 5th, above Tottenham.
From that perspective we were a club that throughout 2014 looked to be better placed to move on to the next step but as I say, they have left us behind very quickly.
Derek Taylor
23
Posted 22/12/2018 at 12:53:43
Of course no-one wants to be served up 'shithouse scared football', John @ 17, but to make progress, we need more than pretty play and endless reasons (excuses) why we weren't quite at the races.
Praising Silva and his merry band but with the caveat of 'if only' is the like of what we have been doing for nearly a quarter of a century. And what will you say when he plays his ressies in the FA Cup???
David Hallwood
24
Posted 22/12/2018 at 13:41:56
All agreed – this is a toughie. I'd give Sigurdson and Coleman a rest and play Zouma and Bernard with Lookman and Charlie wide and Woolcott down the middle.
A lot depends on the fitness of Gana, with McCarthy there if fit... but it would be a big ask given his lack of game-time.
But I'm with the posters who say bin the shithouse football and go for it.
Mick Conalty
25
Posted 22/12/2018 at 13:44:04
P Gorman @20.
Surely attacking and defending is what the game is all about?
Maybe you are right — if we keep the ball in the centre-circle, we can"t get beat.
Tony Abrahams
26
Posted 22/12/2018 at 14:33:48
I agree Derek, the Christmas period usually sorts out the men from the boys. Nothings clear, but I read a headline before, with Silva saying that although he thinks we can close the gap on the top six, it's going to be a slow process, which tells me he doesn't fancy that many players out of our present squad.
Actions always speak louder than words and, with four games in ten days, it's imperative that Silva starts to use his squad, no matter if he thinks they're good enough or not, because we are only going to end up treading water if he doesn't.
Pat Kelly
27
Posted 22/12/2018 at 14:49:49
You have to love Christmas. Four games in 10 days. At least we should see more shots in a week than we normally do. And some of them might even be on target.
Alan J Thompson
28
Posted 22/12/2018 at 16:01:43
If we play three at the back, we will be cut to ribbons by the pace of Son out wide on one side and their full-back on the other with Kane and Alli arriving late and Eriksen following up on the loose ball.
Jim Bennings
29
Posted 22/12/2018 at 16:45:26
How about we start being clinical?
It might actually give us a chance of winning if we don't keep spooning chances every game and stop using transition as an excuse for not doing their job right.
What other place of work would you use six months of transition excuses for making mistakes and manage to keep the job?
Football is not rocket science, when you get a glorious chance then bloody score it.
Frank Sheppard
30
Posted 22/12/2018 at 16:50:18
And to think that during the Moyes era we overtook Spurs as the team most likely to break into the top table on a regular basis
Ian Lloyd
31
Posted 22/12/2018 at 16:57:59
Thing is guys - if we don't beat spurs tomorrow (and I sincerely hope we do) then we will have our usual 20 ish points around Xmas time again!
Not really an improvement is it :-(
Kieran Kinsella
32
Posted 22/12/2018 at 17:00:28
I think we will win 4-1. Spurs never seem to be able to quite catch up with Man City and they always stay just ahead of Arsenal. With those two losing today, Spurs are bound to lose also to keep the status quo.
Marcus Leigh
33
Posted 22/12/2018 at 17:02:04
We're down to 11th after today's crop of results (bizarre as some of them were). Need three points tomorrow to avoid getting stuck there in mid-table mediocrity – if we can put our chances away it definitely isn't beyond us. COYB!
Gordon Crawford
34
Posted 22/12/2018 at 17:08:12
2-1 win, I hope. We need strikers which sadly we don't have as of yet.
What a result for Crystal Palace. It sickens me to say this but I think it's the Dark Side's year, though I do really hope I'm wrong.
Paul Tran
35
Posted 22/12/2018 at 17:12:51
They're better than us, more goals in them than us. Just as important, they're physically stronger than us. Comparing managers, they got 3 or 4 years on us. I regard them as a yardstick for us to aim at.
Big test for the players tomorrow. We need to play like we did at Anfield, Old Trafford, Stamford Bridge, Anfield... And take our chances!
I'd like this squad to start convincing me they're more than honourable losers.
Jim Bennings
36
Posted 22/12/2018 at 17:48:40
Paul,
Chelsea and Manchester City are better than Leicester and Crystal Palace respectively but look at today's results.
If we carry on with the belief and mentality that every time we play a top six side that they are better than us then we will probably never beat one of them again.
It's a game of football, eleven men v eleven men and today's shock results should prove to us that, every time we set foot on the pitch against a top side, we CAN beat them.
I don't want to see pats on backs when we lose narrowly after competing. Hey listen, my old Sunday league team would have gone on the pitch and competed against a Premier League side.
Save the pats on the back and the nicey nicey remarks from Pep or Jurgen and Co — I want to get right in their faces and beat them; let's see the pats on the back after that.
Paul Tran
37
Posted 22/12/2018 at 17:53:57
Jim, I'd argue my points regarding us and Spurs are factual based on results and evidence. I'm asking our players to step up, take chances, and win games.
Other than Man City, we've matched the teams above us, without taking the chances to win the games. More of the same, while taking our chances, will get us results.
Mark Brennnan
38
Posted 22/12/2018 at 18:05:40
Nothing less than a win tomorrow. Just glanced at the table and we lie in 11th, 3pts takes us 7th. If we have any ambitions for this season, it has to start vs Spurs.
James Stewart
39
Posted 22/12/2018 at 18:12:54
I don't want to see Mina anywhere near the side. Coleman is that out of form I think he needs a rest too.
Pickford
Kenny Keane Zouma Digne
Gueye Gomes Bernard
Calvert-Lewin Richarlison Lookman

Trevor Peers
40
Posted 22/12/2018 at 18:13:20
Jim @36 is right on this one, we need to be in thier faces from the start and improve our woeful home form, which is becoming embarrassing again.
John Kavanagh
41
Posted 22/12/2018 at 18:40:10
JB @36 is so right. Sick and tired of being patronised by all and sundry. Now is the time to win ugly if we have to. The way results are going we will soon be right back where we were last season.
JS @39 - that's the team I'd go with, especially as Mina will find Kane even more of an arial threat than that block of flats Raheem Sterling was. No more 3 at the back nonsense. I'm afraid Spurs will focus everything on Coleman as our new weak link and it might be better trying either Lookman or Bernard in Sigurdsson's place. Our Icelandic volcano has now been lying dormant for too many matches for me.
Steavey Buckley
42
Posted 22/12/2018 at 18:46:51
Everton are in a mini slump with no win in 5 matches. Silva is being loyal to players who should not be in the team, such as Coleman, Sigurdsson and Walcott, while Everton have no recognisable centre-forward since Lukaku went to Manchester United.
And, even though Everton are (at times) playing better football than last season, even though Everton had managers last season who fell well below the accepted standard, Everton are not that much better off with points compared to the same time last season.
Yet, Silva has already spent at least £90 million so far this season, while having a squad of players that's getting larger with only promises of taking some of them on loan or are already on loan, ready to return to Everton next season.
John G Davies
43
Posted 22/12/2018 at 18:51:16
Interesting Steavey.
What would be your starting eleven tomorrow?
Tony Twist
44
Posted 22/12/2018 at 18:53:46
Silva needs to watch out because, the way things are going, he will be getting a reputation for his teams wilting and going on long runs with no wins. Didn't this happen at Watford?
Prove me wrong, Everton, else it is getting more and more likely that we don't win at all in December.
Tony Abrahams
45
Posted 22/12/2018 at 18:59:38
Silva has signed better players than we already had; so, if the squad's getting bigger, it's only because of the shite he inherited, surely?
I agree, Sigurdsson has been off the boil but he's one of the few players in our team who has a bit of physical strength outside of our defence; so, if we are to win ugly, then we will need to be physical tomorrow...
Tony Abrahams
46
Posted 22/12/2018 at 19:13:18
Paul T, how can argue with someone who's saying his old Sunday league team would compete against a EPL team?
I've got loads of lunatic mates, and when we are all together, one of them is constantly giving Pat Van Den Hauwe loads, saying that he would have destroyed him in a 50/50.
He asks me to back him up, and because there are saner people in broadmoor, it's hard explaining the difference between the levels both of these men have played at!
Steavey Buckley
47
Posted 22/12/2018 at 19:16:55
John #43. Everton's mini slump has lot to do with Walcott, Sigurdsson and Coleman playing well below their best. Tomorrow, I would play Kenny at RB, Lookman for Walcott and Bernard in for Sigurdsson the other players, the same as last week with Zouma or Mina making way for Gueye.
Joe McMahon
48
Posted 22/12/2018 at 19:19:10
If – and that's 'if' – we get a penalty, I'd like to think a different penalty taker has been sorted.
Mike Powell
49
Posted 22/12/2018 at 19:27:21
So, as it stands at the minute, we are 11th, and at the moment that's where we deserve to be. We are not going to be challenging for anything until we get at least three more quality players in, especially a striker.
Our squad is just not good enough, but we will all still be there hoping for a change in fortune, but how many of us really think we are going to beat Spurs?
Christy Ring
50
Posted 22/12/2018 at 19:47:52
If Gana isn't fit, Mccarthy has to be in the squad, because against City playing Sigurdsson beside Gomes, and three centrebacks was a complete disaster.
John G Davies
51
Posted 22/12/2018 at 20:00:45
Thanks Steavey.
I think that's a fair shout.
Rick Tarleton
52
Posted 22/12/2018 at 20:22:33
The only positive spin I can put on tomorrow's game is that if we lose, as we may well, it stops the weekend being a full house for Liverpool. I'm not hugely optimistic of a positive outcome.
John Raftery
53
Posted 22/12/2018 at 20:24:32
We are 11th in the table having recorded only one victory against the teams above us. That was against ten men Leicester. Although we have improved in certain respects, the table tells a very similar story to last season.
I think the few games will really test Silva's mettle. If we cannot beat the top six at home we need to start winning away from home against the teams below us. With only three away wins in the last 12 months we can be far from confident our team will do that.
Phil Smith
54
Posted 22/12/2018 at 21:27:57
No Mina, Coleman or Bernie for me. I'd swap all them for three young Englishmen — Keane, Kenny and Lookman.
Paul Birmingham
55
Posted 22/12/2018 at 21:48:29
JGD, well built and constructive view, and I'm with you, in that we can't capitulate like last season, perhaps one of the worst performances in the last decade in my view.
Still, like City fell today, Spurs aren't invincible, and if we can get in their faces and stick at it, plus convert chances made, we can break the win drought.
Time to rally and stand and fight for a much needed win. Finishing and no give away Chrimbo presents is key, as the last month, these two issues and a few line up formations have done us, but finishing this season, has been a killer, that's, the lack of finishing.
All The Very Best Evertonians of The Seasons Greetings, And please say a prayer for my recently deceased Uncle, whom was a Top Evertonian, Top fella, superb non league footballer, Top Uncle, and friend, after a long illness.
Thank you.

Jay Harris
56
Posted 22/12/2018 at 22:29:49
Paul, condolences regarding your uncle. Someone passing is never good especially if he is a blue.
I thought Spurs would be shaky but they destroyed Arsenal the other night.
They have the feel of our 80s side with tough physical characters and goals from a number of different players – something we can only dream of now. However, superior teams can be done with good tactics, proper organisation and working harder than them.
In what has become an urgent 3-pointer if we are to stay the best of the rest, we must up our game. I would bring Zouma back for Mina and see how the rest of the usual suspects perform but, if Seamus, Walcott or Bernard (to name but three) are not doing it, I would have their replacements ready to step in.
A clean sheet should be the first order of the day and a sneaky 1-0 win the objective.
COYB
Please don't make another Christmas miserable.
Merry Xmas to all fellow Blues
Steavey Buckley
57
Posted 22/12/2018 at 22:31:55
Southampton with a change of manager have got back-to-back wins against teams Everton could not beat. Everton fans must face the reality of a squad not good enough and a manager marginally better than what has gone before him.
Tomorrow's match does not give much optimism after being mauled by Man City but they were beaten by Palace. Something Everton can't do with the present regime.
Andrew Clare
58
Posted 22/12/2018 at 22:48:27
There's a massive gap in class between the top six and the rest.
Unfortunately I feel that Spurs will be far too strong for us to cope with. I hope I am wrong.
Andy Crooks
59
Posted 22/12/2018 at 23:17:22
I have bowed to no-one in my "glass half-emptiness" but some of the posts on this thread are enough to suck the life out of Pollyanna. Dire, dismal stuff.
Tony Everan
60
Posted 22/12/2018 at 23:20:59
This Spurs team under Pochettino are the real deal, class players with great tenacity and intensity. Goal threat from many players.
Any mistakes we make will probably get the full treatment, we will have to be at our best and maybe a bit more to get a win. In some games this season I have watched, I have seen the potential for us to step up and beat teams like Spurs at Goodison. We will see if we can rise to it, or are still taking shelter in the 'work in progress' hut for top 6 wanabees.
My post 2 pints of mulled wine prediction is an early Chrimbo pressie for bluenoses: Everton 2-1 Spurs.
Peter Gorman
61
Posted 22/12/2018 at 23:22:56
Mick @25 - point out what you didn't understand about my post and I'll talk you through it.
Andy McNabb
62
Posted 23/12/2018 at 00:11:17
Tony Abrahams #46 - would be interested to meet your mates.
I was in my playing 'heyday' back in the 80s and often wondered how 'out of place' or otherwise I would have looked in that Everton side. I was a left back so would have had to compete with 'Psycho' for that area of the pitch.
Sorry - that's nothing to do with the Spurs game but it got me thinking .
Jerome Shields
63
Posted 23/12/2018 at 06:56:25
I hope Silva is more tactically aware than he has been in these last two games.
I still think our main weakness is in the final third. Not just personnel, but a coaching weakness. Silva has to do something to address our weak right flank. Tottenham will be attacking down it.
Colin Glassar
64
Posted 23/12/2018 at 08:24:59
Wan-Bissaka (RB - Crystal Palace), Dacoure (CM - Watford) and Vardy (CF - Leicester) are the three players who could help us crack that top 4-6 gang.
Neil Cremin
65
Posted 23/12/2018 at 08:32:09
I think what is most concerning is the following:
Crystal Palace beat Man City 3-2 at the Ethiad;
Leicester beat Chelsea at the Bridge;
Last week, Southampton beat Arsenal at St Marys.
All teams which we would expect to be ahead of in the Premier League have beaten teams in the so-called top six (of which we were a member in the much-maligned David Moyes era).
Our record against such teams makes dismal reading so today will be a crucial indicator of where we can place our expectations for this season; anything less than a victory will mean our expectations are at best staying in the top half of the table.
Derek Knox
66
Posted 23/12/2018 at 08:36:04
Colin, I wouldn't disagree, but getting them is another matter, I can just imagine another negotiation with our
Z-Cars
theme-robbing 'friends' at Watford. I was only reading the other day that Watford want to make Doucoure a new 'contract offer' which would make him their highest paid player.
Crystal Palace are on a bit of a survival run, and will be boosted by their result against Man City yesterday, so Wan- Bissaka won't be easy to pry away.
Which leaves Vardy, who is reported to not like the way Puel organises his team, but yesterday's result again against Chelsea and Vardy's performance may just have them re-thinking.
We will get someone in, but doubt (hope I'm wrong) that any of the 3 you mentioned will be amongst any new recruits.
Over to you, Mr Brands!
Stephen Jones
67
Posted 23/12/2018 at 08:48:15
Desperate for a win. Richarlison needs to find his scoring boots and Sigurdsson a nice set-piece will do. Even a draw will raise spirit which is waning now. Silva will be feeling the pressure and anxious to arrest any slump. If we can muster the performance vs Liverpool, we'll be okay. Coyb
Tony Everan
68
Posted 23/12/2018 at 08:58:41
Colin #64, Vardy should have been brought in during the summer, with Niasse and Tosun offloaded. I am starting to wonder given Vardy's age, if that ship has sailed. I think M&M will be looking elsewhere for the striker, but for their own careers sake, Tosun and Niasse will be moved on.
Also, it is sad that we are contemplating the right-back slot but, if we could get Wan-Bissaka in, it would be a bit of a coup and be great for the club long-term. Could Marcel pull that one off, though? There will be resistance from Crystal Palace and competition for him.
Jim Bennings
69
Posted 23/12/2018 at 09:11:10
Tony 68,
I said the summer we sold Lukaku that we should have offered everything we possibly could to bring Jamie Vardy to this club.
Instead of that, we spent a month waiting for Giroud's wife to decide where she wanted to do her shopping and then ended up stuck with Niasse (whose cult status is more about his comedy than ability) and then wasted £27 million on the Turkish version of a poor man's Charlie Austin.
Vardy would have been excellent for Everton and I can tell you now the fans would have absolutely loved him. We all love a worker and I think he'd have been a new fan favourite in the Tim Cahill mould.
Paul Birmingham
70
Posted 23/12/2018 at 09:13:56
Cheers Jay.
Today is the reality check for EFC, and will show what this squad is made of. It's a game where we cant afford to lose, and I hope we learn from the sham of last season's game v Spurs.
All The Best, Evertonians.
Jonathan Tasker
71
Posted 23/12/2018 at 09:26:14
Spurs may be our only hope of stopping the Redshite.
Spurs will be bitterly disappointed if they can't beat the mishmash that is our current squad.
Pat Kelly
72
Posted 23/12/2018 at 10:57:07
In the bottom half of the table now. Another defeat today and the slide down the table is well underway. This might make the powers that be do something about the lack of a single decent striker in the squad.
This window is the final throw of the dice for this season. Where they finish has financial implications. Maybe that'll be a wake-up call.
Derek Knox
73
Posted 23/12/2018 at 11:21:54
Pat K, hopefully mate, I appreciate the work in progress and all that, but the striker situation is not helping but, the others are not creating enough chances either, and more importantly not scoring from the few that are created.
Let's just hope that we can nick a win and build confidence, and go on a run.
Dave Ganley
74
Posted 23/12/2018 at 11:46:38
Andy Crooks #59 completely with you mate. I don't mind people having a moan as it's part of what a forum is for but, reading some of the miserable, depressingly negative posts you'd think we were Sunderland. Everyone kissing so much spurs arse it's embarrassing.
Yes, they have done okay, but to all those saying they are the finished article, have a word with yourselves. They still bottle it, they still haven't won anything, especially the league. Yeah they did ok beating Arsenal in the cup but didn't they get thumped couple of weeks ago by the same opponents after having led 2-0?
We can bleat on about mistakes over the last few years or we can get behind the new regime. The players brought in to date have been good. No, we haven't bought a striker but not everything can be done at once.
It's not Silva and Brands fault the mess that was left for them. We have improved immeasurably since last season and we have performed well for most part. Yes we have had a dip but that just seems to have brought out all the "I told you we were crap" brigade.
As for the brigade extolling Palace and Leicester results, well all that goes to show is that if you're off your game then you get beat. Reading some posts you'd think Leicester and Palace are trailblazers. Except, we beat both of those teams, are we still that crap?
Doesn't matter how impatient we are, bottom line is that we are in transition. We have a decent first eleven and not much else. It will improve. We will have peaks and troughs while we look for consistency but how long do we punish the current regime for the sins of the past? We are more than capable of beating Spurs especially at home. Spurs are still quite a way behind Liverpool and Man City so why can't we beat them?
After going through the shite that we have been through over the last few years I'm quite prepared to give Silva and Brands some time. It won't all fall into place overnight like some think it ought to. I just hope all those negative posters give the lads some support if you're going today and not jump on their backs at the first opportunity.
Nobody wants success more than me, I've sat through mediocre to shite for more years than I care to remember and would like nothing more than to have a trophy if only to shut the gobshites up for a while, but give this regime a chance. It's only been less than half a season. We have played decent football and in only 1 game, against Man City, have we been second best. Better times are ahead.
Neil Wood
75
Posted 23/12/2018 at 11:49:15
Colin... good shout on the three but I would seriously look at Barbosa and hope we are.
I would also bring Deulofeu back as I think we were mad to let him go. In this system, he would be immense.
Worst decision made in a long long time. I appreciate the buy-back element of the deal with Barca but I'm very sure we could've sorted that.
Brian Wilkinson
76
Posted 23/12/2018 at 11:53:02
Let's not forget one thing: all very well people saying we have only picked up one point against the top 6 clubs this season. Every one of those games were away and in none of those games did we get battered or out-classed; poor defending and chances missed cost us in all of those games.
This is the first time we have faced one of the top teams at Goodison so let's see how we get on with home advantage. For me, I would only play two centre-backs, Keane and Zouma look the more solid together.
Once we get the striker issue sorted in January, those big teams all have to come to Goodison.
I would not be to worried just yet and expect a surprise from Everton today on home soil, provided we put our chances away.
Just a shame we are looking to loan out McCarthy, he could have done a job in the busy Xmas period. When fit, a midfield of Gueye, McCarthy and Gomes would be class with Sigurdsson played in a further advanced Number 10 role.
Jim Bennings
77
Posted 23/12/2018 at 12:26:56
Brian 76
Don't even go there mate!
It doesn't stop lesser teams going away to the top six and winning.
Neil Copeland
78
Posted 23/12/2018 at 12:27:32
Just to buck the trend, I think Spurs are shite; we are world beaters and will annihilate them.
Best put the top back on the bottle and get my coat.
Mick Conalty
79
Posted 23/12/2018 at 12:57:17
Peter @61
I was just being facetious about your pointing out our shortcomings in defense and attack @20. I do agree with you about us changing our mindset.
How about defeat is not an option, and the players to win their own personal battles on the pitch. All for one and one for all attitude on the pitch.
What this team needs is an Alan Ball and Billy Bremner; the rest will follow.

Mick Conalty
81
Posted 23/12/2018 at 13:09:18
Colin @64,
Have you taken what is written in the stars into account?
Derek Taylor
83
Posted 23/12/2018 at 13:22:14
Lose today and Silva will be getting dog's abuse from the very people who acclaimed him as 'the second coming' a month ago.
His summer spend of £90M did little to convince me that he and Brands were a great improvement on those they replaced and my gut feeling is that, footballwise, Moshiri is no more than Randy Lerner Mk 2. A fool and his money... et al.
But let's just hope my messages of doom will be choking me come 6-ish tonight!
Matthew Williams
84
Posted 23/12/2018 at 13:33:18
A draw is the best we'll get today: 2-2 methinks, a great game for the neutral but not so good in terms of regaining some ground in the league for us.
Derek Taylor
85
Posted 23/12/2018 at 13:43:55
How about Villa's Tammy Abraham for our striker role? He just scored another good 'un. Sunday Press has parent club Chelsea willing to unload!
Colin Malone
86
Posted 23/12/2018 at 13:46:39
I'm happy with the football we are playing after one transfer window, under Silva. Unfortunately, some fans want success yesterday.
Talking about players coming in. I'd snap Danny Ings up tomorrow.
Neil Copeland
87
Posted 23/12/2018 at 13:47:17
Dave #74, spot on mate and it could even be argued that, once we sorted out the tactical error in the second half, we went toe to toe with City.
Our main problem remains our profligacy in front of goal; if we can sort that out quickly we will soon move forward.
It will be interesting to see how we perform against a team that comes to win at Goodison Park.
So far only really Brighton have played a more open style and I thought that was our best home performance. I know West Ham gave us a lesson but that was as much down our being poor than them being good. As I say, it will be interesting.
Brian Wilkinson
88
Posted 23/12/2018 at 13:49:46
It does help though, Jim, when those lesser teams have someone who can stick the ball in the back of the net.
Let's just hope we are not talking about missed chances again after today's game.
Brian Wilkinson
89
Posted 23/12/2018 at 13:56:04
Baffled with your comment, Derek, you are not impressed with Richarlison, Gomes and Digne who were brought in.
Not seen enough of Mina to judge the guy yet, as for Bernard, the guy helps both in attack and defence, gets unfair stick for me.
I would say Gomes, Richarlison and Digne were three excellent purchases, assuming we can nail a deal for Gomes.
You cannot tell me Keane and Sigurdsson have not improved this season under the new manager either.
Also Zouma; so I''m baffled how you do not think those players are a greater improvement.
Eddie Dunn
90
Posted 23/12/2018 at 13:59:49
The reality of the Premier League is that there are very small margins between most sides every week.
Posts above mention how we went toe-to-toe with Liverpool, Man Utd, Arsenal etc and either missed our chances or were undone by defensive naivety etc.
We must also remember how we have salvaged draws and won games narrowly this season... fine margins too. Almost every game in the Premier League is settled by these fine margins.
After today's game we could be languishing in 10th or looking back upwards with hopes of 6th rekindled. A little bit of luck here and there is all we need to restore some of the belief in this team.
We and Spurs have the most congested Xmas programme and we will have to give some squad players some more game time. However, today I would stick to a back four, drop Mina, and keep Siggi and Lookman in the eleven.
I would consider bringing Bernard on for Siggi in the ten role, if things need changing, instead of the usual like-for-like, winger-for-winger that Silva tends to opt for.
I am very hopeful today and can see us getting a point but, with a little bit of belief and a touch of good fortune, we could invigorate our season.
John Boon
91
Posted 23/12/2018 at 14:04:43
Dave (74).
No point saying anything. You have perfectly summed up everything in your post. Positive and an example of how we should be reacting, and not overreacting, to what we have seen this season.
Derek Taylor
92
Posted 23/12/2018 at 14:05:31
Trouble is, Brian, results to date hardly indicate an over all improvement in the team. Granted the fare on view is more attractive but so it was for much of Roberto's time here.
Still a way to go in results before we return to the 'guaranteed' level under even Moyes, top-six games apart.
Brian Wilkinson
93
Posted 23/12/2018 at 14:21:55
I agree, Derek, certainly making progress though. Pickford, Digne, Keane and Zouma look solid and in time will get solid in defence; we need a backup for Coleman.
If we can land Gomes and keep Gueye, we have options on the flanks, the final third in the middle is where we are lacking and if we can address that, it will make a huge difference.
Either Vardy, Dzeko, or Michy Bats — any of those three would give us goals short-term with either Calvert-Lewin or Lookman learning from them.
Raymond Fox
94
Posted 23/12/2018 at 14:22:11
I can't be optimistic; wish I could. They are, man-for-man, simply a better team than us. Other teams pull off shock wins so you can never say never.
I think it's fair to say that we have better individual players than in recent years but we can't seem to translate that into wins!
John McFarlane Snr
95
Posted 23/12/2018 at 14:22:45
Hi Dave [74] circumstances prevent me from occupying my seat in the Park End today but my Grandson, who has been going to the match with me since he was 6 years old (he is now 14 years of age) will approach this fixture knowing that anything can happen in a football match, – that is if he has been paying attention.
Some fans of Manchester City and Chelsea, will have attended The Etihad and Stamford Bridge yesterday believing that their teams would face an easy task in beating Crystal Palace, and Leicester City respectively.
I don't recall the exact moment when I realised that football doesn't quite work like that, but I now approach each game with an open mind, with the exception of the 'derby games,' when I know that, no matter how well Everton play, there will be the disputed penalty, the offside goal, and – as in this season's game – the monumental mistake that will haunt Jordan Pickford and us forever.
John Pierce
96
Posted 23/12/2018 at 14:52:24
I want to see a desperate Everton this afternoon. I use the term in the American sporting sense, aka the last chance saloon.
A recognition of the situation that the club and its fans need a result to go with the performance. Several posts make reference to playing okay but getting beat at the top '6'. Damning with faint praise perhaps?
Teams need to believe in themselves and under this manager we must get a seminal result to inject that belief.
The results yesterday do, in part, put that need into sharper relief. Palace, Southampton and Leicester are poor sides, we beat them all!
Spurs are on a great run but are listing, only one fit centre half, Ben Davies playing there twice in a week.
I want to see Everton exploit that. Alderweirald has been played into the ground too.
A front foot, physical and direct shoot first effort from Everton. Get in front and we'll win.
But personally I really need to see Silva's team walk the walk today.

Add Your Comments
In order to post a comment, you need to be logged in as a registered user of the site.
Or Sign up as a ToffeeWeb Member — it's free, takes just a few minutes and will allow you to post your comments on articles and Talking Points submissions across the site.