Brighton & Hove Albion vs Everton
Friday, 28 December, 2018
Match Preview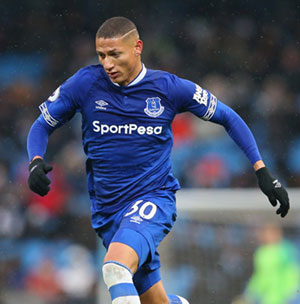 Rested against Burnley, Richarlison is expected to be recalled to face Brighton against whom he scored twice at Goodison last month
Everton look to close out 2018 on another positive note when they make their longest journey of the Premier League season with a visit to Brighton.
Marco Silva will be hoping his team can build on the Boxing Day destruction of Burnley at Turf Moor by recording their third away win of the season and completing the league double over the Seagulls for the season following the 3-1 home win in early November.
It would go another step towards easing the sting of the 6-2 reverse at home to Tottenham last Sunday and set the Blues up for their return to Goodison Park in the New Year where they will entertain Leicester City, arguably their main rivals for that "best of the rest" spot behind the top six.
The success of the three-man central defensive unit that lined up against the Clarets suggests that Silva could opt to retain it but the formation poses something of a dilemma now that Idrissa Gueye is fit again after failing to make the last three starting sides because of a groin injury.
Then there is high likelihood that Richarlison will return to the team after being rested for three quarters of the game against Burnley. Assuming Dominic Calvert-Lewin, who received praise for his display on Wednesday, keeps his place up front, that would mean one of Bernard or Theo Walcott making way.
Gueye's presence, meanwhile, points to the sacrifice of the other winger unless Gylfi Sigurdsson is given a rest from the succession of games thrown up by a congested festive programme or Richarlison is deployed as the central striker, allowing Calvert-Lewin a breather after successive starts in the space of four days.
Since their defeat on Merseyside eight weeks ago, Brighton have picked up wins over Huddersfield and Crystal Palace but were on a three-game losing run until they held Arsenal to a 1-1 draw at home in impressive fashion on Boxing Day.
Since losing to Spurs on 22nd September, Chris Hughton's side have lost just once, to Chelsea, which underlines how difficult a place to go the Amex Stadium has become this season.
Everton's game is geared towards playing on the counter-attack away from home, however, and if they can avoid the kind of vulnerability defending set-pieces that they showed in the reverse fixture against Brighton and again at Burnley last time out, Silva will be confident that his side has the goods in an attacking sense to grab a win.
Kick-off: 3pm, Saturday, 29 December, 2018
Referee: Andy Madley
Last Time: Brighton 1 - 1 Everton
Predicted Line-up: Pickford, Coleman, Keane, Zouma, Mina, Digne, Gueye, Gomes, Bernard, Walcott, Richarlison
---
Reader Comments (33)
Note: the following content is not moderated or vetted by the site owners at the time of submission. Comments are the responsibility of the poster. Disclaimer
Derek Knox
1
Posted 29/12/2018 at 00:14:29
Good pre-match assessment, Lyndon, you alluded to either Bernard or Walcott making way for Richarlison to return, which has an irony to it, as they both probably played their best games of the season thus far at Burnley.
Then there is the question of: Does he persist with three at the back? While not being an advocate of that system, I do however think that, against Brighton, it may work... Good selection headaches for the Manager, let's just hope he opts for the best one.
While I appreciate at home Brighton will be more formidable than Burnley, I still believe we have the team to get a win there, which with another three points should put us on 30 at the mid-way stage.
Leicester at home next will not be easy either as they seem to have hit a good spell of late and taken two notable scalps in Chelsea and Man City, so hopefully we can mount a run of our own and put some space between us and the teams just below us.
Paul Birmingham
2
Posted 29/12/2018 at 00:17:01
Hopefully we get a win, and I sense it will be tough, as they have more prowess than Burnley.
Hopefully, Digne, makes the game and I'd start the same team, as v Burnley.
Charlie, perhaps may nudge it in front of Theo, based on rest time and his goal, at a Turf Moor.
Hopefully the whole squad, is galvanised for the second half of this season. Starting with a positive send off for 2018, in Brighton, tomorrow.
Rob Hooton
3
Posted 29/12/2018 at 00:42:55
Who knows what the formation or lineup will be!?
I think Richarlison struggles up front alone and rarely wins a header, Calvert-Lewin has done admirably well with his hold-up and link-up play. Bernard had his best game yet so it would be cruel to drop him.
Our away form has been dreadful for so long and to pick up 2 wins on the bounce would be an amazing turnaround. It will be tough; I really hope we can do it and build some confidence and momentum.
COYB!
Timothy Sebastian
4
Posted 29/12/2018 at 02:11:58
Derek #1, it really grates me that Leicester can register wins over Chelsea and Man City, while we can't seem to do so despite having a man-for-man better team than Leicester.
Anyway, sorry for going off tangent. Focusing on Brighton, I think this match will be a lot harder than we think. They're not a bad team. A draw, rather than a win for us, may be on the cards.
Harry Johnson
5
Posted 29/12/2018 at 06:27:34
I think that it will be the same line-up as against Burnley with Gueye replacing Gomes. He looks like he is carrying an injury so may well be rested. Bearing in mind Brighton's home record, a draw willl be a good outcome although I'm hoping for another win.
Drew O'Neall
6
Posted 29/12/2018 at 07:01:01
A fit Gana can win us this game in a midfield of depleted bodies.
I suspect the expected formation is correct simply because centre backs can play twice in four days more easily than midfielders, who have to cover more ground, and it will suit us to let them come on to our three however an alternative is to put Gana and Davies in and attempt to outrun them from the start, the footballing equivalent of 'going to the body' from the early rounds.
This time of year it's a squad game and we might expect to see a cameo from Jag's from the bench if Silva does employ a threesome.
In any event, I expect to see Calvert-Lewin continue up front regardless of whether Richarlison returns, which I suspect he won't immediately unless Bernard replaces Sigurdsson who may be in need of a rest.
Interesting to see how the manager acquits himself at this time of the season when his calls count double.
Darren Hind
7
Posted 29/12/2018 at 07:58:09
I've been a long time critic of Gana. His play is often ugly and I've long since lost count of the number of times he wins the ball only to give it straight back . . an out and out tackling machine. However !
Talk about absence making the heart grow fonder.
I think we can abandon all hope of him becoming a silky smooth footballer, he hasn't been, he isn't and he wont be. but he is an absolute must for us at this period in our development
Like most on here I was deeply embarrassed by the ease with which Spurs played through us and yes, I think they would probably have beaten us even if he was there, but there is no way on this earth, they would have done it in the same manner.
His game is a simple one. He stops the opposition. His lateral movement is as good as anybody's. We don't always know where the ball will end up when he intercepts intended passes, but we do know he stops the ball reaching its intended destination . .its like playing with a "beware of the dog" sign. He may not frighten them, but he will make them think twice. The Spurs players would not have taken so many liberties if they knew the dog would keep putting his teeth through their killer passes.
Of course I would want a more talented DM, but those in existence are already in captivity, until we can discover out own, a fit Idrissa Gueye (Mike G will love this) IMO has to play

Dick Fearon
8
Posted 29/12/2018 at 07:58:17
So far not a mention of Lookaman. Is the lad injured?
Derek Knox
9
Posted 29/12/2018 at 08:19:42
Dick, he picked up an injury in training before the Spurs game, such is the severity of the injury that he will also miss this game, and is due to be re-assessed before the Leicester game.
For those wishing to watch today's game, I have checked and there are very few companies covering the match. The ones I have found up to now are Bein 1 HD (Arabic) Skynet Sports 5, and NBC Gold, that is through IPTV, there may be some streams but will know nearer kick-off.
Jamie Crowley
10
Posted 29/12/2018 at 08:20:20
Darren -
You're right, finally, about Gueye.
Some of us, two Americans for starters I'd point out with Mike G and I on the same page with the African's ability and worth, have been saying this for months.
Now I have to go to bed. It's 3:20 a.m. and I have to be up in 6 or so hours to watch the game from my throne in Florida. ;0)
Martin Berry
11
Posted 29/12/2018 at 08:37:50
Brighton have a good home record but surely we will have too much ability. and I see a 3-0 scoreline for the mighty Everton to send us into 2019 with smiles on our faces.
Alan McGuffog
12
Posted 29/12/2018 at 08:52:19
Martin.. I can only assume that there is not one drop of festive booze left in your house. Hope you're right mind.
Mark Murphy
13
Posted 29/12/2018 at 08:54:49
I'm going the game so hoping for a good win.
Especially as I live just 20 miles from Brighton so I'm surrounded by the bastards!
Redshites that is - I know more Liverpool fans than Brighton!
COYB
Jonathan Tasker
14
Posted 29/12/2018 at 08:56:07
i have gone for a 1-0 win for us today but Glenn Murray remains one of the best strikers in the Premier League.
If Burnley retain Joe Hart in goal, they will go down, so I don't read that much into our win over them.
Ian Hollingworth
15
Posted 29/12/2018 at 09:01:35
Nice to have royalty on the site as Jamie C is watching the game from his throne in Florida lol.
Absolutely on same page as Darren regarding Gana as he is very frustrating but he is currently needed.
We should go into this game with bags of confidence, 3 points for me.
Jim Bennings
16
Posted 29/12/2018 at 09:06:44
These are a tough side at home and in many ways it's very similar to the tough nature of a visit to Bournemouth.
Hughton has done wonders with a small budget and they have dangerous players, they also play in a style that sticks to a plan, notably really strong on set pieces, Dunk and Duffy and Murray a big threat.
Going forward we must keep the ball the ground and do what we did against them at Goodison as their centre halves aren't the most mobile.
If we get involved in a physical battle that's when things will get messy and start going wrong.
Frank Sheppard
17
Posted 29/12/2018 at 09:24:55
It's interesting to have real selection decisions to make with most players in form, so there are formation as well as player decisions to make for the manager. A good test today, but they should be more fearful of us than vice-versa. A clean sheet would make a very welcome change.
Sam Hoare
18
Posted 29/12/2018 at 09:28:46
As much as Richarlison looks a great player and one of our best goal threats I think he has struggled this last month, trying to do too much and perhaps tired physically. He has lost possession more than anyone in the team and perhaps no coincidence that he was absent mostly for our biggest win.
Brighton away is a tough fixture though (Spurs aside) we have tended to do better this season against teams that come at us which they will presumably do at home. DCL should start though must get balls to feet as good as he is in the air he will struggle against the monolithic Duffy and Dunk.
Bobby Mallon
19
Posted 29/12/2018 at 10:27:16
I think Bernard looked like the player we all thought he was and he looked more centrally.

Kim Vivian
20
Posted 29/12/2018 at 10:29:44
Mark Murphy - where do you live? I'm in TWells moving to Romney Marsh in a few weeks.
James Hughes
21
Posted 29/12/2018 at 11:03:11
Alan, Brighton have only beaten us twice in the league. So that means we do an Everton and roll over for them Nah I am going 4-2 for us.
If we get a pen I would like to see Digne take it. Siggi may have scored against Burnley but didn't look very confident IMO
Neil Wood
22
Posted 29/12/2018 at 11:25:05
I'm genuinely really confident about this one. Tempted by the 200/1 offering for 6-0 !!!
Brian Harrison
23
Posted 29/12/2018 at 11:27:11
The one thing that separates the top teams from the rest apart from talent is belief. The top teams would go to Brighton knowing they are far better and expect to win. So if we are to challenge for a top 6 spot next year we have to develop that same mind set, we should go there in the belief we are far better than Brighton and show it. No doubts in the mind just a positive approach, another away victory will start to build the belief.
So for me this is an important barometer into how we are progressing, a draw or defeat will show that yes managers and players have changed over the past 12 months, but we are still an average middle of the league side. But victory would give the team and supporters belief that we can challenge for a top 6 spot next season. Whatever you call it belief or confidence, these are massively game changing when you have it. You only have to look at the other on lot average they usually compete for 4th place. But last season their Champions league campaign which included beating City home and away, and then getting to the final, gave them massive belief for this season.
Now I am not saying beat Brighton away and we will be challenging for a top 4 spot next year, but successive away wins would start the belief process. Because if we hope to challenge for a top 6 or 4th spot we have to know that we can go away and expect to win not just hope for a win. Yes we still have to overcome winning away against the top 6 sides, but this would be a starting point. It has taken Spurs a few seasons to become regular contenders for a top 4 place, but they now have the belief /confidence that thats where they belong. So start to build the blocks for us to acheive that with a win today.
Eric Myles
24
Posted 29/12/2018 at 11:29:28
Derek #9, I usually get a good stream of the TSN channels from Canada. Our game is scheduled to be on TSN 1 tonight but their scheduling is hit and miss, sometimes the game cuts out in favour of that team ice skating they like over there.
Ray Roche
25
Posted 29/12/2018 at 11:44:51
As long as there is no hint of zonal marking we should be OK.
Derek Knox
26
Posted 29/12/2018 at 11:45:11
Eric, thanks for that, I do have TSN 1-5, but having checked there is no mention of any coverage of our game, or indeed any other game to be honest, but sometimes this is done for obvious reasons. I always find that TSN is pretty reliable, and touch wood hasn't let me down yet.
Sportsnet ( Canada) usually has our games too, so hopefully will get it somewhere.
Geoff Lambert
27
Posted 29/12/2018 at 12:16:07
Firstrow sports usually have a few options, Don't use the UK link and sometimes you have to fight your way through the little red x to find a good stream.
Paul Curwen
28
Posted 29/12/2018 at 12:58:15
Mark Murphy... I'm heading down from Chatham..do you know any pubs near Brighton station ?
John Keating
29
Posted 29/12/2018 at 13:11:46
Well today will tell us if we are getting things right or if it is another, of the many, false dawns.
If we have any inspirations of a top half finish let alone top 6-7 then the likes of Brighton are the teams we need to be beating, either nicely or drawn out.
Difficult to predict a starting line up after the Burnley game. I might have been tempted to play 4 at the back and give Sigi a breather.
The next month will be pivotal for us to get points on the board and more importantly confidence and belief for the final third of the season.
Dave Abrahams
30
Posted 29/12/2018 at 13:48:01
Bobby (19), I think he will do very well for us, fancied him to score at any time today, the odds were only 7/2, did
him with Mina 9/1 for a double.
Phil Greenough
31
Posted 29/12/2018 at 13:48:12
I can't understand why so many members make this game a barometer of where we are as a team. Of course we expect to win, but we've no entitlement to beat any team in the league, just ask Man City or Chelsea fans.
We could lose today and then beat the next eight teams, or we could win and then get trounced by Leicester. There are no guarantees in the Premier, I just support Everton and hope and pray for the best. All the best for the New year to all Everton fans.
Jim Harrison
32
Posted 29/12/2018 at 13:59:24
For streams, look on Reddit. I use soda player to run ones called ace streams. Quality is great and prebuffered.
Looking forwards to today's match. I would be tempted to give siggy a rest and see what Bernard offers more centrally
Paul Tran
33
Posted 29/12/2018 at 14:21:00
I always use www.cricfree.org. You have to go through pop up ads and I'd recommend you have Norton/McAfee security. You sometimes have to refresh.
Add Your Comments
In order to post a comment, you need to be logged in as a registered user of the site.
Or Sign up as a ToffeeWeb Member — it's free, takes just a few minutes and will allow you to post your comments on articles and Talking Points submissions across the site.