Silva wants Blues to replicate second-half display against Chelsea
Wednesday, 20 March, 2019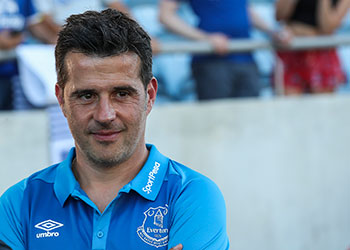 Marco Silva says that Everton's second-half performance against Chelsea on Sunday was much more representative of the quality he has always believed his team possesses.
The Blues atoned for a limp display in the first 45 minutes to come out of the interval fired up and they took the lead within four minutes of the restart when Richarlison headed home following a corner.
Gylfi Sigurdsson converted a penalty at the second attempt with 18 minutes left as an Everton side beat one of the current "big six" for the first time since January 2017.
"I'm really happy and proud of our players," Silva said afterwards. "It's easy for me to say that everything was better in the second half than in the first; I didn't like [our performance] in the first half and this is what I said to [the players].
"But the second was totally different — we had that quality and desire to win and, to be honest, I thought we deserved the three points.
"But in the first half we put some things at risk. Even if they have the quality to create problems for us, we [made] things too easy for them. In the second half we changed everything and did really well.
"It's an important win for us and an important moment for our fans after the tough afternoon we had last week. Thanks for their support — even in the first half when we didn't perform well they were behind us and they were the key again to achieve the result.
"[That second half] is to be our way and that's to be our image because we did what we planned and put our strategy on the pitch."
Silva says that he has been trying to remind his charges that they are better than their poor run since December has suggested that he believes and, in an apparent nod to upcoming games against Arsenal and Manchester United, that if they can maintain the levels they showed in the second period against Chelsea, they can beat anyone at home.
"I said to the players at half-time that we have to win and it was desire for us to win the game," Silva continued. "I said, 'we have to do everything different — with the ball, without the ball. From the first moment in the second half we have to show that and we have to prove ourselves'.
"I never had doubts about our quality. I have to put in their minds they have quality — you are all there, working together, playing together and with that desire and confidence to win the match we are able to challenge all our opponents here at Goodison."
---
Reader Comments (11)
Note: the following content is not moderated or vetted by the site owners at the time of submission. Comments are the responsibility of the poster. Disclaimer
Gerard Carey
1
Posted 20/03/2019 at 08:05:23
Happens far too often though: good half... bad half!!??
You could say the same against Newcastle: good first half and coasting, then terrible second half. I think you, Marco, need to put it together for the full 90 minutes too.
Paul Bernard
2
Posted 20/03/2019 at 09:35:34
Same old soundbite about 'We must do better'. Its been a common theme from Neville, Jagielka and now Coleman.
I'm sure a lot of people have been baffled how we bought captain material signings – from Williams to Rooney to Gylfi – and yet not one leader is on the pitch!
It's important to remember that leadership isn't just about the armband: every player must stand up and be counted, whether that's because they hate losing, they want to be the best, they are the most vocal or the most experienced – whatever it may be, we have been a soft touch since Moyes left. If we can find a rugged midfield player like Fellaini this summer, then it would be a step in the right direction, IMO.
John Pickles
3
Posted 20/03/2019 at 09:56:50
Paul #2:
"I'm sure a lot of people have been baffled how we bought captain material signings from Williams to Rooney to Gylfi and yet not one leader is on the pitch!"
Nail, head.
Tom Bowers
4
Posted 20/03/2019 at 10:49:06
There's a lot going on behind the scenes that the fans don't get to know until later when some players retire or write books etc.
We ask the questions as to why some players just don't cut the mustard when at the time seem like a positive signing or showing enough ambition to make it through from the youth ranks.
Attitude and desire play a big role and sometimes just a big pay packet is enough to make a player think he is a shoo-in every week regardless of form.
Young players are hungry for the big money and the limelight and can be distracted with things off the field that affect their performances on it.
Many young players fall by the wayside, never quite realizing their potential, and drift from one club to another.
It all comes down to having the right coaching or even a mentor.
Wayne Rooney is a class act and could still have been a factor at Everton this season but obviously didn't see eye to eye with Allardyce.
Alan J Thompson
5
Posted 20/03/2019 at 16:09:37
And next week on the bleedin' obvious... why we don't appear to be able to do it in both halves of the one game.
Tony Abrahams
6
Posted 20/03/2019 at 19:44:18
Not one leader... and, after listening to the manager, also a bunch of players who don't seem to have enough belief.
Only Coleman, Gueye, and Calvert-Lewin, have been here for over two seasons, and I'm sure – or at least, I hope – that the first thing on Silva's & Brands's list, is to get a couple of real leaders into the squad.
Mark Andersson
7
Posted 21/03/2019 at 01:30:54
It seems to me that Silva has earned a stay of execution by the board, certainly not a lot of fans.
Next season is the real test for Silva as a coach. If the hot and cold form of this season carries on, then I feel the fans will hound him out of the old lady.
Ideally there should only be two or three quality new players bought in the summer, so no excuses about transition. If all the key players have a full pre-season, then we will see just how good Silva is.
Personally, it's a lotto to even consider it either way...
Jerome Shields
8
Posted 21/03/2019 at 05:13:43
I am assuming Silva stays. . . but we will see.
Paul Cherrington
9
Posted 21/03/2019 at 12:18:23
It's just a total mystery to me why we can play so badly in one half of a game and then so well in the next?!
I don't rate Silva currently myself but, to be fair, if he could make us play all game like the 1st half of Newcastle or the 2nd half of Chelsea, I would get right behind him. It just baffles me how the same players with the same set-up can go from bad to good so quickly.
The shout about lack of leaders seems the most likely option, I agree. We need a few out there who will get stuck into teammates and get us playing when we are not at it.
John Hammond
10
Posted 22/03/2019 at 11:40:10
I totally agree on the leadership problem.
At least the last 2 games have seen a good half! Previously it was mostly just bad half... or a slightly better but still terrible half.
Tom #4: Rooney was a huge part of the problem last season. I don't see how him still being at the club this season would've made things any better.
Minik Hansen
11
Posted 22/03/2019 at 14:24:06
I don't think any of us fans can ever say how the squad would have benefitted from Rooney staying here. Would it have been better with the current setup with Digne, Richarlison, Zouma, Mina, Gomes working with Rooney? Maybe Davies would've been sent out on loan or we wouldn't have loaned Gomes or kept Klaassen?
So many questions. Anyways, I'm looking forward to see how the squad will transform further this summer with Brands and Silva in charge.
Add Your Comments
In order to post a comment, you need to be logged in as a registered user of the site.
Or Sign up as a ToffeeWeb Member — it's free, takes just a few minutes and will allow you to post your comments on articles and Talking Points submissions across the site.