Report
Truly 'Everton, that'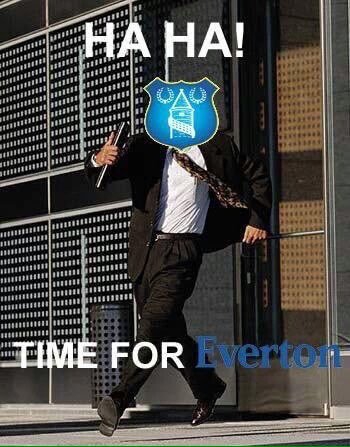 Not earned so much as a point in 9 games and only one clean sheet all season...?
Fulham 2 - 0 Everton
Everton really are beyond parody at times. The "Everton, that" phenomenon has been a running joke on social media for years, a product of the relentless mediocrity and fallibility that has plagued the club for the past three decades, and it was made for days like these.
Given that Fulham FC came into this game with their relegation back to the Championship confirmed, without so much as a point from their last nine Premier League matches and with just one clean sheet to their name — earned against the only team worse in the division, Huddersfield — all season, was there anything more nailed on than what played out at Craven Cottage today?
Credit should be given to Scott Parker and his team. Relieved of the pressure of a battle to avoid to the drop that has, realistically, been doomed for weeks, Fulham were energetic, physical and became increasingly confident once it became apparent that the visitors were having a day to forget.
After a first half in which they had given the Blues a couple of scares, the Cottagers really should have been put in their place in the second half after Marco Silva had delivered the kind of half-time team talk that spurred the second-half display against Chelsea last month that ignited what looked to have been a strong charge to finish in seventh place.
Instead, the home side came out of the interval and immediately scored and Everton essentially descended into the kind of irredeemably awful display that you really hoped had been consigned to the history of this frustrating season. It's hard to pick out anyone in royal blue who emerged from the match with much credit; Bernard was, perhaps, the stand-out performer among the outfield players and apart from some wayward kicking and one near disaster, Jordan Pickford earned his corn but this was, collectively, as bad a game as Silva's men have had all season.
Indeed, from an attacking perspective, there was almost nothing of note to report from their 100-odd minutes of "action". It was appalling just how ineffective Everton were going forward; Richarlison was utterly ineffective, Gylfi Sigurdsson lethargic and erratic, Idrissa Gueye and Andre Gomes well off their best.
Against a recognisably awful goalkeeper in Sergio Rico and a defence already breached 76 times before today, Everton managed just one shot on target. Dominic Calvert-Lewin, lauded almost universally for his robust and effective outing against Arsenal last weekend, could have scored twice but his run was a fraction late in the first half as he strained to meet Seamus Coleman's ball across the face of goal and he clipped a gilt-edged opportunity the wrong side of the post in the second that would have made it 1-1.
Other than that, there was a chance for Gueye to slip Sigurdsson in for a clear run at goal but he elected to shoot instead and, somewhat predictably, ballooned it into the stands while substitute Cenk Tosun was similarly wayward with a first-time effort in the dying minutes of the regulation 90 before eight uneventful minutes of stoppage time.
Instead, it was all about Ryan Babel and Aleksander Mitrovic for Fulham. The Serbian striker, finding all sorts of space and getting all manner of joy against Phil Jagielka — the veteran had kept his place despite Michael Keane's return to fitness but he couldn't handle Mitrovic at all — rattled the crossbar and forced a point-blank reaction save from Pickford in the first half as the Toffees' set-piece vulnerabilities returned.
Babel, meanwhile, came alive in the second period, setting up Tom Cairney to score within 30 seconds of the restart and then galloping away into oceans of space behind Everton's lead-footed back line to dink the ball over Pickford and make it 2-0 with 21 minutes to go.
There was ample time for Everton to summon some kind of reaction and, against the second-worst team in the Premier League, they could probably have salvaged a point or even won the game if they had been able to muster any of the form that had them coming into this match seeking a fourth successive win.
Their response was almost comically bad, with players seemingly unable to even control a routine pass and even three changes from Silva that saw the ineffective Sigurdsson withdrawn in favour of Ademola Lookman and then Tosun and Theo Walcott introduced for Bernard and Richarlison failed to improve the fare.
Had Gomes been sent off for leaving his studs on Mitrovic's ankle late on, it really would have set the seal on a horrible afternoon from the Blues' perspective — his transgression was unseen by referee Lee Probert — but there was enough on show to resurface all of those concerns over the mentality and fortitude of this group of players. Even on a bad day, Everton should have come away with a draw at worst.
With Manchester United coming to Goodison Park next, there is an opportunity for the home crowd to rouse them out of their torpor and ensure that this game was an aberration in Everton's recent revival since early February (St James's Park aside). Long-term, however, it seems that the depressingly familiar tendency for Blues teams to descend into maddening disarray lives on regardless of the occupant of the technical area and eradicating it will be one of Silva's big challenges.
---
Reader Comments (69)
Note: the following content is not moderated or vetted by the site owners at the time of submission. Comments are the responsibility of the poster. Disclaimer
Charles Barrow
1
Posted 13/04/2019 at 19:11:53
Yeah. On train home. Bloody awful performance. Most of the players looked disinterested. No sense of urgency. No high energy pressing. Too many laughable mistakes. No creativity. No doubt we'll beat United and lose to Burnley!!? Worrying that Silva seems not to be able to motivate the players.
Tony Everan
2
Posted 13/04/2019 at 19:26:49
Disappointed. Yes, that D word is wheeled out again.
Out battled, out thought and out played.
At least we have taken two steps forward this time before we take our obligatory two steps back.

Mark Dunford
3
Posted 13/04/2019 at 19:45:08
I've been to some embarrassing performances this season - Spurs at home, Millwall in the cup and Wolves at home - yet this was the worst. There was simply nothing to praise. No real attempts on goal. No glaring zonal mistakes to point to as excuses. It was just utterly hopeless from the start to the end of added time. Fulham started timewasting from the moment they scored, but the unavoidable truth was that they needn't have bothered, and that would have put us all out of our misery 10 minutes earlier.
Eric Owen
4
Posted 13/04/2019 at 19:53:28
Must be something wrong with my compuer.
The auto-correct keeps saying the real
Everton showed up today
and lost 2-0.
See Jose Mourinho was in the crowd.
Think he was told Hull City was playing Fulham.
Actually the rot started in the first
minute when Everton's goalie nearly scored in his own net.
The rest of the team saw him get away
with it so they thought they would see if it worked for
them.
It didn't. It was dreadfully
hard to chose Everton's best player today. I'm still
trying.
I'm also still wondering how a team
that can beat top London teams can play so lousy.
It confirmed my appreciation of
Pickford, Richarlison, Sigurdsson and Gueye and Gomes.
Did I say appreciation? They were all
lousy. Might make a good pub team.
Actually, I thought I was seeing
a performance of Dr. Jekyll and Mr. Hyde.
The only thing I'm sorry for is the
fans who went down to London.
Perhaps one good thing will come from
it. The Everton Brass now really know who they have to
replace.
Maybe even bringing in Mourinho.
Last, as if Everton weren't bad enough
today, they were showing on SIX channels in Canada.
Andy Crooks
5
Posted 13/04/2019 at 20:19:00
I think Silva and those indifferent millionaires he coaches should have a whip round to compensate the good Evertonians who wasted their money following a team who don't care as much as them. They really do not care enough. Passion costs nothing Losing doesn't hurt them.
After a win the players deserve to have a good night out. I suspect most of them still will. I am tired of the shameless fuckers.
Dave Lynch
7
Posted 13/04/2019 at 20:40:58
Someone tell me again how Sigurdsson can go from playing in a piss poor Swansea team, being their best player, dominating midfields and scoring a decent amount of goals to...
Being absolutely fucking inconspicuous by his absence in the Everton team, which arguably is more talented
Paul Birmingham
8
Posted 13/04/2019 at 20:55:26
All good points and another reality check to show the massive gulf between us and the so called top 6.
It's the recurring lack of consistency, and all the key requirements for any decent football team at any level, that today yet again this season, were left on the coach or may be at FF.
This inconsistency is seriously damaging for all Evertonians, and this level of performance is not acceptable, and there's no excuses.
We are used to poor officials and Fulham's delay tactics with their physios on at any chance to break play up, is no excuse.
Next week is another massive game as was today, but which Everton team, will, turn up?
Jerome Shields
9
Posted 13/04/2019 at 21:00:31
I don't blame Silva for that performance. If the Culture of the Club is not the same as its motto, you will get these performances all the time.
The truth is that the culture of the Clubs sole purpose is to survive in the Premier League and nothing else. Most of the players were not motivated to play in the Europa League or want too, they are happy to play in the Premier League next season. The Management bar Moshiri, Brands and Silva are quite happy and have been for years. They get their wages and no extra work. John Moore' s quote often quoted! No chance.
What other team in the Premier League is like Everton? None of them. Until Moshiri really starts to look at the off-field management of the Club, this is what you will get. If I was Moshiri I would tell the players to arrive back at Finch Farm on Tuesday and wield the axe there on Monday, just for starters.
Tony Hill
10
Posted 13/04/2019 at 21:53:05
The decision to play Jagielka - assuming Keane wasn't somehow under the weather despite being on the bench - typified the sentimentality which is Everton's ongoing curse. Ageing captain performs well and scores a goal in one match, therefore he should displace a young defender who is obviously better and fitter and who has been high quality this season.
Silva must throw off this creepy disease which afflicts us: the habit of trying to look more noble and honourable than the rest, for scant and dishonest reason. I think I know where this foolish ethos comes from and why it continues to hobble us.
Sentimentality and self-pity coming together to make the Everton way on and off the pitch. Bad, dangerous things - though, these days, we must not say so.

Mike Galley
11
Posted 13/04/2019 at 22:57:22
I guess I'm at a point where I don't get angry with this sort of Everton thing anymore. I'm just resigned to it.
I (we) knew this was going down today. Told everyone!
Some of the younger blues in work have already texted me ( we have a WhatsApp group) about being smart after the event, Whatever!
When we play the old Engineers wanderers and they're on a 458 game losing streak, I'll tell beforehand we're getting beat. Hopefully, (when get beat), they'll get where I'm coming from.
Simon Smith
12
Posted 14/04/2019 at 02:37:01
Poor mentality lost us that game, we thought we only had to turn up and Fulham would roll over, but every prem game you have to do the hard work to gain the results, we failed to do that, hence the embarrassing loss.
Si Cooper
13
Posted 14/04/2019 at 02:55:37
The psychology shown today - a 'relaxation' when facing a weaker team having recently matched more fancied opponents - is not exactly uncommon in sport, but it should only exist in the amateur ranks these days. I would presume Everton employ the latest motivational techniques (reminding the players how well they are rewarded should be enough in any case) but it must be that these are wasted on our elite players.
This shows the weakness of our squad. Ideally the manager should have a decent selection of second choices who are champing at the bit to show their worth at any opportunity, but is there anyone in our squad who we all would have called for to get a run out this time who we truly believe would have guaranteed that spark. Jags may be on the down slope but he should still be good enough to give cover for a couple of games.
That said, I would have liked Silva to have started the likes of Lookman, Davies and JJK, saying to them "Go out and stake your claim." The worry is that they are not showing enough in training that the manager feels he can use them for just this sort of game. Is it them or is Marco Silva not brave enough to roll the dice?
Ultimately it is more embarrassing that we fielded pretty much our strongest current line-up and were decidedly second best anyway.
Bob Parrington
14
Posted 14/04/2019 at 05:02:52
As stated before the game, this should be seen as a dangerous banana skin match. Mind you, I still went for a 3 - 0 Everton win.
Unbelievably poor performance. The Jekyll & Hyde likeness is well presented. I can't understand how a team of any kind can perform as we did in the previous 3 games and then play so badly they could hardly make a pass of any distinction and certainly never seemed to be able to string 2 passes together.
Jerome#9 and Tony #10 say it all. If the current culture of the club does not match the original motto there is something seriously wrong embedded somewhere deep within the structure. And, even though a few on here wanted Jags to be a starter for this game, it was a stupid emotional decision to do so. The bench maybe but not the starting line-up.
Get real Everton - this is a multi-million quid business and it appears like it's being run far less efficiently even than our family business!
Laurie Hartley
15
Posted 14/04/2019 at 06:58:54
What a disappointing result. I just can't figure us out and after that I am not going to even try to.
Bobby Mallon
16
Posted 14/04/2019 at 07:18:45
Why are we all shocked. We are a mid table team just like a Burnley, wolves Leicester. We have done nothing in over 20 yrs. If we went down we would not get out of the championship. The people who own us only care about being in the premier league, that's where the money is 40 plus points and it's holiday time. It's only us fans who want to win things.
Sam Hoare
17
Posted 14/04/2019 at 07:55:58
Jerome@9 you ask which other team in the PL is like us and answer none of them. I'd say all of them! Or nearly all of them. Football is a crazy, frustrating sport full of unexpected reversals like this.
I know plenty of Fulham fans who were pleased but also highly frustrated yesterday asking why they couldn't play like that all season before they were relegated! I know a Leicester fan who was tearing his hair out asking how they could have lost at home to a mediocre Newcastle. I know a Wolves fan who was gutted that in the race for Europe their vibrant team were battered by a poor Southampton. I also know many Arsenal fans who were red in the face after shouting at their TVs watching their efforts against us last week!
We might feel such an inexplicably poor performance is the remit of Everton alone but I'm pretty sure most fans around the country would claim the same. Every loss hurts.
We may finish the season 11th or 12th which would be crap. Or we could still finish the season 7th or 8th which I think would be good-ish. Either way Silva will be here next season I believe. The two things that concern me most are inconsistency (obviously) and the fact that we have still never recovered from a losing position this season. When Fulhan scores first yesterday I thought it the perfect opportunity to rectify that but no. The truth is we struggle badly against teams that let us have the ball and want to counter; Silva has had all season to fix that and has (can) not.
Bob Parrington
18
Posted 14/04/2019 at 08:06:28
Sam. Are you leaning towards saying that the RS, MC, MU, Chelsea, Spurs and Arsenal have a better pedigree than us and the rest of the many? Or is it just a money thing?
Trevor Peers
19
Posted 14/04/2019 at 08:38:06
We play better against the top teams which is a bonus, but the fact that Silva can't put a winning run of more than 3 games together is unacceptable.
He's not entirely to blame the squad is so short of match winners it's embarrassing. He will be given another season without a doubt, whatever money is available must be spent on players who can add or create goals.
Maybe then we could win matches like the Fulham game, even if we do play badly, by snatching a goal out of nothing, something we just can't manage at the moment at all.
Christopher Timmins
20
Posted 14/04/2019 at 08:54:41
Yesterday was as terrible as the previous Sunday was great. Let's see what the points total is at the end of 38 games and then make a judgement on manager and his squad.
Lyndon, what is now is typical was never the case in the 1960's and 1980's.
Derek Knox
21
Posted 14/04/2019 at 10:26:38
Good article Lyndon and sadly very representative of the unpredictability of the team we all love. It almost defies belief how a team can be so diametrically opposed, from sublime to ridiculous, in a matter of only six days.
I have serious doubts whether Silva has what is required to get us to where we believe we belong, it's not as if it was the odd blip, this has happened from the start with more poor performances than decent ones. Even Jekyll and Hyde performances in the same game even, but this was Hyde/Hyde, but no-one should hide from this one.
Kevin Dale
22
Posted 14/04/2019 at 10:36:29
Seeing whats happening in a game and reacting to it is something Silver needs to learn, it was obvious early on that Sigurdsson was way off his game and the team needed an injection of energy! It wasn't only Sig, Richarlison and Gueye were way below par! Jagielka was also struggling big time early on. Silver needs to react to what he is seeing and make changes that will help the team, bringing on Davies in place of Sig would have injected pace, changing Jags for Keane would have helped the defence, and taking Richarlison off and putting on Lookman could have improved the attack. Top managers react to what they are seeing and don't leave it to the last 15 min to try and change things! lets hope lessons have been learned.
Brian Harrison
23
Posted 14/04/2019 at 11:21:30
I said on Friday that this game would tell us more about this teams ability to challenge for a top 6 place next season, rather than the games against Liverpool, Chelsea and Arsenal at Goodison recently. Why because these type of results against poor opposition has almost become part of our DNA its what we have done for the last 20 odd years. Yes of course they can get themselves up for games at Goodison against the top 6 with the crowd backing them, but our inability to beat teams like relegated Fulham on a run of 9 defeats in a row, happens to frequently.
I will bet that in the back of their mind most Evertonians given are past, could see this result happening, however much we wanted to believe that this club had turned a corner with the recent results.Yesterday felt like being in a boxing match against a 1 armed opponent who had the other arm tied behind his back, but still managed to lose.
Marco Silva said after the game that we weren't aggressive enough, and he has used that same expression on a couple of other occasions when we have lost. Now there are things that take a manager time to get his methods across but surely it shouldn't be that hard to make them more aggressive. Now I know he doesn't mean go out and kick people, he means be more aggressive and positive in our style of football. What is slightly worrying is he has criticized his team for lacking aggression so how come he hasn't rectified the fault. Yes I want to hear him say what is wrong with the team but then I expect him to correct those issues on the training which doesn't seem to be happening.
As for the players well they are one of the most inconsistent group we have had in a long time. Some days they look absolutely brilliant, and the next game you think he is an entirely different player. Without doubt there would have to be a massive increase in their collective consistency to even dream of getting into the top 6. I do think this summer is crucial, both in unloading the deadwood and buying the right type of player. Its quite obvious we need 1 or 2 top strikers, DCL is still very young and shouldnt have been asked to shoulder the main striking role. But due to the ineptness of our previous and current manager, he is the best at the club at present. I hope he will in time learn to convert chances better than he does at present but only time will tell. But our failure up front is not helped when you have Bernard who has scored 1 league goal all season, yes he is a nice touch player and he works tirelessly but he doesnt score enough goals to warrant a regular place in a top 6 chasing side. Walcott 1 league goal since August woeful and Lookman hasnt come on and given a performance that makes the manager have to play him in the next game.
So that leaves us with a team with only 2 players into double figures for goals Richarlison and Sigurdsson. So not difficult to see why we are nowhere near a top 6 position. I am sure with a packed Goodison we will be up for the game against Man Utd especially as they have a very tough game away to Barcelona in midweek. But its the likes of the result yesterday that defines our season and those defeats happen to often.
Kunal Desai
24
Posted 14/04/2019 at 11:29:16
Let's get one thing straight here: the best we can hope for next season and maybe the season after is probably a 7th place finish. It's looking likely that the 6th place team this season (perhaps Man Utd) will still finish around 20 points better off than us and will heavilly invest in player recruitment over the summer to challenge Man City and Liverpool.
We are not anywhere near challenging 6th neither next season nor the season after. There is plenty of garbage to clear out at the club, not just those that are out on loans or at other clubs but also players that are regulars.
Good enough for 7th? Yes. Beyond that? No chance.
John Maxwell
25
Posted 14/04/2019 at 11:56:02
To be honest, I saw this coming 3 wins on the bounce, two against Chelsea and Arsenal. Next up Fulham and guess what... Everton never let you down. Modern Everton just don't win 4 games in a row regardless of who we are playing.
A post above says there's no team like us, but there is. Wolves and Leicester lost where you would of thought they would win, that's just why we are mid table.
I'm expecting us to finish 7th still somehow.
The title of the post says it all just like the Facebook group.
"EVERTON THAT"

Bill Fairfield
26
Posted 14/04/2019 at 11:57:55
The real Everton turned up again. This squad is so inconsistent and – if it's retained for next season – expect much of the same misery.
Andy Meighan
27
Posted 14/04/2019 at 12:02:21
Anyone thinking we only get up for the games against the big 6 are kidding themselves.
First half against Chelsea was poor; 2nd half a massive improvement. Last week against Arsenal, we were excellent. Spurs at home, a 6-2 walloping could have been more... a lot more. Man City 0-2 won at a canter, we didn't look like scoring, ditto Liverpool 0-0. Man Utd to come next week and Spurs away.
Let's look at the away games: at Liverpool, we were very very unlucky but couldn't score; Arsenal same again; Man Utd away, a penalty and other chances we didn't take; Man City, we were well beaten again, they won at a stroll; Chelsea away we didn't create much but defended superbly.
So it's a big myth that we do well against the top 6; the win against Chelsea being our first against any of them for 2 years!! It's a glaring lack of opportunities that we miss that's holding us back and Silva and Brands badly need to bring in two quality strikers in the summer. Not easy but other teams find them so why can't we?
If it's true that were in for the likes of Rondon and Adams of Birmingham, I genuinely fear for us because them two are no better than what we've got. This centre-forward dilemma has got to be rectified... otherwise, I'm afraid it'll be the same next season: mid-table obscurity.
Bobby Mallon
28
Posted 14/04/2019 at 12:17:04
I have to agree we won't be any higher than 7th for years. I just want us to go and try for the cups
Martin Mason
29
Posted 14/04/2019 at 12:25:20
I have mentioned it before but I think the problem is that as a team we aren't suited to how Silva wants to play in which pressing the opposition is essential. When we force ourselves to do it we are good but the default state is yesterday and the default result is we lose. They have to be more intense with the pressing game otherwise there is no point in having a coach.
John Raftery
30
Posted 14/04/2019 at 12:44:58
From the very first minute with Pickford's carelessness in hammering the ball at Jagielka's legs it was apparent our players lacked focus. In the previous two and a half games a proper team effort had served to mask the shortcomings of individuals. Yesterday all those shortcomings resurfaced.
In recent games it was tough picking out our man of the match. Yesterday there was strong competition for worst player. Sigurdsson was a nonentity. Gomes was largely peripheral apart from his bad tackle which may well earn him a three match ban. Bereft of support DCL could do no more than chase lost causes. Richarlison started promisingly but faded badly. Seamus started badly and deteriorated. One could go on. Only Zouma could hold his head high and look the travelling fans in the eye after the final whistle.
Silva has earned enough credit in recent weeks to withstand this poor performance. Indeed the defeat may prove a blessing in disguise if it dispels the notion that we already have a bunch of hugely talented players ready to challenge for a top six place. It should also help Brands to resist the temptation to throw away an exorbitant sum for the services of Gomes who is a decent midfielder but no more than that.
Nicholas Ryan
31
Posted 14/04/2019 at 12:47:23
3 things came out of that match:
1. If Keane was fully fit, then playing Jags was a serious criminal offence!

2. If that Gomes 'tackle' had been any later, it would have featured in NEXT week's highlights!
3. Buy Mitrovic immediately!
Mike Dolan
32
Posted 14/04/2019 at 12:57:46
I defend Marco Silva's decisions 99% of the time and firmly believe that if a player is in the squad he should be quality enough to play in any game. Jags though an old old man at this stage of his career is just not up to it, he should never have started and has not been a reliable defender for the last 3 seasons. It was a dreadfully cavalier mistake by the manager and this fragile team completely lost its shape because of it IMHO.
Ken Kneale
33
Posted 14/04/2019 at 13:21:51
Silva has had three-quarters of a season to have a positive effect on the mentality. Sadly, these performances demonstrate he is part of a continuing problem not a solution to it. His selection to start the game, failure to recognise his mistake then complete inability to get a tune out of the team in the second half underline he is definitely Duncan Ferguson, not Alex Ferguson, when it comes to management.
He should be shipped out along with Big Dunc and other backroom spongers employed on Kenwright's soppy sentiment – otherwise, we are simply mortgaging out a decision that will have to be made next autumn.
Stephen Meighan
34
Posted 14/04/2019 at 14:06:01
It didn't surprise me at all yesterday, that result... typical Everton. They've been playing well for the last few weeks then decided go back to type: no passion, heart, desire, etc. You can always guarantee, when a team hasn't won for weeks, then Everton turn up, it's remedy time for the opposition... been happening far too long. I still fancy us to give Man Utd a good game next week. They're nothing special – very lucky yesterday against West Ham.
Steavey Buckley
35
Posted 14/04/2019 at 14:32:36
The Fulham manager understood better than Silva it was a mistake for Jagielka to play yesterday. Unfortunately, Silva never realised it, even though the Fulham manager had Jagielka targeted from the 1st minute to the last. So, Silva should take the blame for the abysmal performance when he can't pick a defence to defend.
John Keating
36
Posted 14/04/2019 at 14:52:04
We had the early excuses about injuries, haven't played for ages, getting used to the system, no PL experience etc etc etc
Well that was as bad if not worse than anything we've seen this season.
So today's excuses are??
Would it not be possible to somehow reimburse those that went yesterday, and to the other abysmal efforts this season?
Speaking as not a proper Evertonian, of course.
Tony Hill
37
Posted 14/04/2019 at 15:00:58
John @30, your final paragraph sums it up as to the possibly beneficial effect of that performance over the longer term, so far as the team is concerned. I have high hopes of this manager now and I have little doubt that he and Brands will have been dismayed by it all; but they will continue to build a serious outfit.
I do not accept the view, expressed by some, that we are going to be stalled in and around 7th in future seasons (a view I have expressed myself before); I think Brands, in particular, is a proper operator with a distinct strategy for enduring success.
Gomes is a difficult one. He brings out the purist in me and he has a lovely style when on form. I would very much like him to be our player and I think he will be better and fitter next year. But I do start to worry that there may be an underlying lack of focus there. That's another thing for Silva and Brands to decide upon, of course.
Mike Dolan
38
Posted 14/04/2019 at 15:01:07
I totally agree with Steavey #35. Jags was targeted from the start. We can bot blame the player who always gives 100% but just doesn't have the legs anymore. This loss is on Marco. Learn from it and move on.
Incidentally, why oh why did the "press" disappear yesterday?? It's not like Fulham didn't have the ball? Solve that problem and we would be in the top four.
Andrew Grey
39
Posted 14/04/2019 at 15:14:46
The first time I ever went to Goodison back in 74, we lost 3-0 to Southampton who had already been relegated, so I always expect the charitable EFC to do their thing in these games.
Paul Birmingham
40
Posted 14/04/2019 at 16:03:48
As we all know you earn the right to play at any level of football.
Every team at any level needs, the basic air and water mindset along with motivation, guts, passion and skill.
Did the coaches tell them something about none of us know about the club, that can't be disclosed, did they change the players boots etc...
There's no rational for being so unprofessional yesterday. My nephew was in with some Fulham fans at their home end and they couldn't believe how the way Everton played, after previous 3 games.
To be realistic to challenge the top 6 you must be consistent, something that's proving impossible the last few seasons.
It's starting to seem like the players are being put into a trance every couple of games; what do they coach them at FF, about game management taking ownership, fighting for the cause, playing every minute of the 95 or 100 minutes..?
Diablo match, and they need the riot act, this week. It's a loss but the lazy way we lost is the worst and seemingly the belief they had the previously month had gone.
You'll not win any trophy with this approach and mentality.
Now praying for a Lazarus come back against Manure.
Time will prove.
John Keating
41
Posted 14/04/2019 at 17:44:37
I just wish our players were passionate, proud to wear the shirt, to play for Everton Football Club
Give me 11 youngsters giving 100% for the cause than these shysters every day
We are on peanuts compsred to this lot and follow them all over, season and preseason, staying in some right shitholes while they are in the lap of luxury
Rather than pandering to these no marks its about time the whole lot were made to play for fuck all and give every penny to Alder Hay
Tossers the lot of them
Tony Hill
42
Posted 14/04/2019 at 18:27:52
John @41, the story of the season, as far as I am concerned, is Bielsa at Leeds. He has ripped it all up and created a cohesive, courageous, winning culture. He has transformed players and made them grateful to be playing for the club, not the other way around. He has bent the entire enterprise to his character and will; his objective: to win in order to please the fans, and to hell with anyone who may wish to take a more delicate view of the situation.
I think Silva has it in him to do similar for us albeit by different means to suit their different personalities (I know you and many others think that's nonsense); but he/Brands must become ruthless and must stop being in any way obedient to the management-speak, "Everton are a Family" tosh; that's what allowed Grandpa Jags to play yesterday.
They must pull us up by our bootstraps and if that offends the people who think we are more than a club then so be it.
Joe McMahon
43
Posted 14/04/2019 at 19:47:14
What is Truly Everton, is our marketing and image. The new Golf Masters champion and Roger Federer, the best ever in thier chosen sports have Nike on every bit of clothing, NOT Umbro.
David Hallwood
44
Posted 14/04/2019 at 19:55:02
Great report as ever Lyndon on a day to forget.
When Klipperty rode into Mordor, with his gengenpressing, it wasn't an overnight success. The demands put on the players who wasn't use to the system meant that they'd play brilliantly for 4-5 games, then run out of fuel and get tonked by a relegation candidate team, as was the case over Christmas a couple of seasons ago when they completely collapsed.
IMHO, the same thing is happening to us, because Silva also wants to play the high pressing game. It can't be a coincidence that our recent good form came after 19 day break, where everyone was fresh and raring to go.
This is a problem for Silva to solve; if he wants to continue with the high pressing game he's got to weed out the players that can't cope and replace them with players that can, or found a way, like Klopp has, of managing games better otherwise it'll be up & down, up & down.
Dermot Byrne
45
Posted 14/04/2019 at 20:15:18
Joe 43: understand that and is that depressing?
Mal van Schaick
46
Posted 14/04/2019 at 20:22:32
The owner and board have decisions to make. If Moshri is sticking by Silva, then it looks like yet another clear out, and if this is to take place then Brands cannot remain anonymous. He should do what he was employed to do in the first instance, wheel and deal to improve the squad with quality and not mediocre quantity. I did refer to Jekyll and Hyde performances as this season ends, but if Silva shows his true worth, aside from tactics he should tell them they are playing for their futures now!
Joe McMahon
47
Posted 14/04/2019 at 20:29:22
Dermot @45, no it's not depressing (I didn't even say that). It's just another indication how we have fallen behind in the football world. Many of us have followed this club for decades and seen many failures, and this season Liverpool are gonna be intolerable, be it the media, everywhere in the UK or even on Holiday no matter where in the world.
Paul Birmingham
48
Posted 14/04/2019 at 20:53:14
Living and believing that the RS wont win and will lose on merit to City, on the basis that City win every game which with their squad resources, is achievable.
Life will be unbearable if Old Nick wins the EPL, even tonight, some are talking like they've done it already.
There's a month of fixtures in the EPL anything is possible, including City winning the EPL.
I really hope EFC get into United next Sunday and give us all some spirit for the last few games of another mediocre season.
John Raftery
49
Posted 14/04/2019 at 21:32:41
Joe (43) We had Nike for two years in 2012 - 2014. They weren't really very interested in us because we aren't a top seller. Also the two kits we had with them were not the best. Didn't they also put pressure on the club to change the badge to something easier to produce? That didn't go down too well with many of our fans, as I recall.
Jerome Shields
50
Posted 14/04/2019 at 00:13:32
Sam@17
You are right that other fans feel the same way about their teams. But I have always believed that Everton as a Club have the potential to compete at the highest level. I admit for years even finding false dawns was difficult, and when found it was inevitability false. But during this season and especially this last two games I have seen potential on firmer ground. I posted prior to the game that Everton would need to be careful regarding this fixture ( pretty obvious), but to see on the first half performance that they hadn't even turned up, I knew that the second half would end badly.
I agree Silva will manage Everton next season. I would even go as far as to say that he will see out his contract. I also think that two areas of weaknesses you mentioned, have not been addressed. I hope that Silva will address them next season.
In my opinion, this performance is the symptom of a deeper malaise as Bobby@16 has highlighted. Everton FC sole aim is to survive in the Premier League and not get relegated. This is the culture that pervades at the Club and has done for years.
At Finch Farm in the week prior to this game there was little or no preparation done for this game. Silva may as well have talked to the man on the moon, because the pervading attitude was we are home and dry. Challenging for a Europa League place was the last thing on Coaches or Players minds. As for caution regarding the Fulham game it wasn't heeded.
This attitude comes from the Senior Management of the Club and currently supersedes any plans that Moshiri, Brands or Silva may have.
Mark Andersson
51
Posted 14/04/2019 at 00:46:06
I am totally ambivalent to what is happening. I niether get excited about a great win or dissapointed and a woeful loss..
Those of you who are addicted to highs and lows of following this club need to check in to rehab clinic for the deluded...
The reality is what it is Everton are a also ran mid table has been football club...
There is a film due out this year called Howards Way... I'm looking forward to that... only because I can relate to it as a luck fan ti have witnessed the mud 80s glory years...
The game and culture of football is ever evolving and Everton have been left behind to reflect on the past with little hope of a glorious future...
Wether Liverpool win the title or not they are still top in the media eyes and the eyes if the billions accriss this crazy planet...
My advise is enjoy the good wins like a night out at the movies but lije the movies if the film was shite then just hope the next movie is a bit better...
Tony Everan
52
Posted 15/04/2019 at 07:20:03
Brian #23 says it all.
The need for a top 15-20 goal striker won't go away. We just have not got the goalscorer, the threat or someone who can manfacture a goal out of nothing.
Even when we are completely dominant we only score one goal and miss a glut of half chances. Games are rarely killed off when we are on top and when we are behind there is no way back.
Without this player we will remain a million miles away from the top 6.
If the club is serious about where it wants to be , watch this space for the striker we sign. It will define our ambition and our league position over the next few seasons.
Derek Taylor
53
Posted 15/04/2019 at 10:48:49
All said and done, Marcel Silva has proved his worth to Everton FC. The evidence of his first season is that he is more than capable of keeping the cub in the top division and the likelihood is that that will be enough to satisfy his paymaster.
Given the almost constant turmoil team affairs have suffered since Moshiri 'bought in', this has been almost a season of tranquillity - even throwing up the hope of the much coveted seventh place finish during more than one sequence of results.
With the prospect of a new stadium looking more and more a goer, we of the Goodison hoi polloi really must learn to curb our 'on field'expectations. Premier survival will do for now and Silva has shown he can deliver it.
Phil Lewis
54
Posted 15/04/2019 at 11:45:07
I left Goodison after the Arsenal game full of hope. We battled all over the park, we played neat, attractive, penetrative football and we won against a top four team. Less than a week later, the same players put on a shambolic, abysmal display against relegated Fulham. The only explanation that I can possibly fathom is down to attitude. We went into this game either believing that the outcome was a foregone conclusion, or certain players simply had none of the motivation or desire to win. Either way this non-performance was unacceptable and inexcusable.
Surely the outside possibility of European qualification should have been sufficient motivation for any self respecting professional.
I despair. It's just baffling and makes no sense whatsoever. Years ago heads would roll after such a dismal display, yet I very much doubt the same applies now. Virtually the same names will appear on the next teamsheet and we will all sit apprehensively, waiting to see which mindset we start with.
This ongoing situation is just not good enough. Progress will never be made, while it is allowed to persist.

Matthew Williams
55
Posted 15/04/2019 at 12:35:07
So the curse of the Cottage struck again!
Unless we can string at least ten games unbeaten, we will just tread water.
I just can't see a trophy-winning side anytime soon... Sorry, folks.
Darren Hind
56
Posted 15/04/2019 at 15:28:55
I believe it would be entirely possible to tell the result of an Everton game by simply logging on to TW to see who has posted and how many times. You wouldnt even need to read what they said. You already know.
Those who repeatedly predicted an apocalyptic end to our season vanished from these pages when we we putting a little run together. They're out in force across the threads now the wheels have come off again.. . Its as if they havent come to terms with how inconsistent we are. When their predictions come unstuck, you don't hear a peep, but when we lose they feel emboldened and all vindicated again.
Anyone who thought we were going to win our remaining games is as daft as those who claimed we would lose them all.
The fact is; We are not a good team. Good teams have consistency and have a solid base, we have neither.
I think we have all seen that we have players capable of competing with the shite, Chelsea and Arsenal etc and It would come as no great surprise to anyone of we beat the Mancs, but we are capable of losing to any team at any level. That's been apparent all season. Anyone attempting to bully our defenders will almost certainly succeed.
No team can play well if their defenders are running scared.
Yeah we need a marksman, a powerhouse in midfield and a creative lock picker, but until Coleman, Keane, Jagielka, Baines, Zouma, Mina, Digne and Pickford are replaced, poor teams will always have a chance. Decent players "on their day" but every one of them has a howler in him
The good teams will try to come through Gana and that often plays into our hands. The poor teams are more direct. They will bypass him . . Then we're fCUK`D
Tom Bowers
57
Posted 15/04/2019 at 15:42:21
I don't think many fans really though we had turned the corner after recent results and when you least expect it crap happens as it did at Fulham.
The microscope is firmly in place now on Silva as he is still way off course in turning this team around.
Consistency is the key and this lot just don't have any except to consistently turn in lousy performances every week even though sometimes they get lucky and win one or two.
On another note Klopp says he was proud and overwhelmed at RS's performance !! Really, Chelski whom even Everton managed to beat with a lukewarm performance. Come on Kloppy say something sensible.
Paul Tran
58
Posted 15/04/2019 at 16:04:06
Darren, you're part right. I think the main issue is how well we press, or, play the game in their half, as we said in the 80s.
The three good recent performances saw us press as a team, squeezing mistakes out of the opposition and protecting the back four.
Yesterday reverted back to mid-season, no pressing, no energy, which meant no-one supported the attack and a midfield open as a barn door, giving no protection to the defence.
A goalscorer or two would help, not just with goals, but also by giving the team the confidence of having a reliable outlet. And as you say, a physical, passing presence as the cornerstone of our midfield would help.
If I was being kind/hopeful, I'd point across the park, where it took Mr Ed a while to get his team pressing consistently strongly. That's Silva's prime task right now. Brands' is to get us at least one reliable goalscorer.
And if the rain falls in Exeter overnight, watch out for my other horse, Blackjack Kentucky, tomorrow!
Lev Vellene
59
Posted 15/04/2019 at 18:46:21
My main issue these last few (too many!) years is this one: If we have a Team Captain, then why isn't he much more vocal and ready to kick the slackers up into any nearby tree???
Is the traditionally 'nice' Everton team spirit degraded to such a degree that we now only have Team Captains who'll interact with the referee? Will a kick up the old a$$ make the atmosphere unbearable for the shirkers mainly looking out for their own ars..., umm, a$$'s? :/
Darren Hind
60
Posted 15/04/2019 at 19:15:14
Paul
Its far easier to press the teams who believe they are better than you. They will have enough confidence to knock it around at the back and draw you on.
Lesser teams will be more direct, Fulham defenders were getting the ball forward, down Channels for the lummox to exploit and bully our defenders. Their full backs were Bombing on. This why we come unstuck so often when we play lower teams. We were playing the Geordie's off the park until they went rout on. Then we simply collapsed
You cant press opponents who are not playing with the ball.
Silva is in very real danger of becoming a one trick pony. If plan A doesnt work he does not seem to have a plan B. Benitez did him like a kipper in the most basic manner. Millwall demonstrated that we can be undone by the crudest of tactics.
Alehouse football wont be leaving the EPL anytime soon, Too many coaches can steal a living by playing the percentages.
If these defenders cant cope with it, they need to go and if Silva doesnt see it, He needs to go.
We have some good players and we're not as far away from the top six as people think, but we also have some poor players and we are just as close to the other end.
We are making the huge gap between 6th and 12th seem like the thickness of a cigarette paper.
As Lyndon says "Everton, that"
Exeter eh ? Noted
Paul Tran
61
Posted 15/04/2019 at 19:49:05
Darren, it's harder against route one teams, but it can be done. Mr Ed sorted it, with an energetic, workmanlike midfield. It's up to Silva to do it for us.
Benitez did him alright, but Silva helped him by giving them the initiative. He'd have been better off being a one trick pony that day.
He'll only run tomorrow if the ground's right. And I'll keep you posted regarding Trump's next run after his brilliant show on Friday.
Chris James
62
Posted 15/04/2019 at 20:33:25
Not sure if its better or worse that everyone else has lost.
Between Newcastle and Fulham we should be at least 3 points better off now and unlike some of the other teams I think we could do with Europa.
John Boon
63
Posted 15/04/2019 at 23:21:10
Over reaction seems to be an integral part of Evertonians DNA. We become far too ebullient when we win against better teams and completely down when we lose, particularly to poorer teams. At the present time we are a middle of the table team. All mid table teams are inconsistent that is why they are not in the top six nor are they likely to be relegated.
We will only become consistent when all of the players consistently play well.
We have been like that for the last thirty years so that every season we will continue to say, "Just wait until next year" Not trying to use a pun but it really is like waiting for a Blue Moon.
Dick Fearon
64
Posted 15/04/2019 at 00:17:26
The end game is a product of training, preparation, quality players, coaching and an enthusiastic manager.
We can ridicule Klopps tech area antics yet we cannot deny he is a great motivator.
Since the start of the PL we have been cursed with managers showing as much connection to the game as a block of wood.
Moyes would occasionally glare at the referee but the rest of them would be aloof to proceedings.
Neville Jones
65
Posted 18/04/2019 at 22:31:16
What I think this shows is that our confidence is still brittle. We got away with it in the 1st half but the goal after half time knocked us back and we didn't recover.
I try to be philosophical about this, typical Everton against a team that we never found it easy to beat at home. In contrast to us, they were confident and played without pressure as they are already down.
Also, given that Jags had been given the run around why wasn't he substituted at half time, in fact why was he picked? What we needed was a bit of drive and passion in the midfield. When Gomes struggles especially in a physical game, the team starts to fall apart. The trouble is that there was nobody on the bench to do the required job. Why isn't McCarthy given a chance as this game was made for him.
As is usual, when the team struggles for possession, Sigurdsson gets more and more marginalised. Then we have 2 vital players not involved. We need to have players who can cope with a physical game and turn things around with passion, drive and commitment.
Basically, Mo has gone and McCarthy isn't getting a kick. Gueye is good at what he does but struggles without support. If he goes, we will have major problems. As for Schneiderlin, he remains unpredictable. Gomes is basically a very good player but needs to be able to adapt his game and proper backup from the bench.
Dom showed his major problem, that of scoring goals. He wasn't good but he should have scored at least 1. Even at his best, he doesn't score and has some way to go. We need a strong goal scoring striker in the summer.
Yes, we are on a par with top teams but simply don't have the consistency. If we lose our players who are on loan in the summer, we can expect a difficult season next year.
Drew O'Neall
67
Posted 18/04/2019 at 23:55:19
What a comfortable gig Everton is..
..didn't work out at Barcelona? In you come.. couldn't make the grade at Tottenham? Welcome.. All the top teams already got a better player in your position? Come down to our level, we'll make it worth your while..
No wonder our players aren't motivated, our club's a halfway house to get nearly men back in their comfort zones after the trauma of actually competing at other clubs.
Drew O'Neall
68
Posted 18/04/2019 at 23:56:24
I know that's not constructive but I feel better.
Derek Thomas
69
Posted 19/04/2019 at 01:22:51
Drew @ 67/8; Constructive? who kows? But it contains more than an ounce of truth.
Jamie Crowley
70
Posted 19/04/2019 at 01:44:44
I think I've come to a realization.
The rs are challenging for the title and the CL. They brought in a good coach, have stuck with a core group of players, and they are reaping the benefits of consistency and quality.
Spurs are in the semis of the CL and will probably get a CL spot this season in the league. They brought in a good coach, have stuck with a core group of players, and they are reaping the benefits of consistency and quality. They didn't even make a move in the transfer market!
Everton have brought in a good coach. He can frustrate, but they all do. I think he's a good coach, and is making steps in the right direction. We have a core group of players. We need to stay the course, make a few signings to plug some holes, and stick with it. We have some quality, we need consistency, and we'll see this group, and a few additions and youngsters stepping up, start to perform and climb up the table.
Patience is a virtue.
Lord, grant me patience, and be quick about it.
Drew O'Neall
71
Posted 19/04/2019 at 07:41:03
I just wonder whether we need to look for players on the up (Mane) rather than on the way down, or at least make that the profile of new additions now the squad has been largely overhauled.
Add Your Comments
In order to post a comment, you need to be logged in as a registered user of the site.
Or Sign up as a ToffeeWeb Member — it's free, takes just a few minutes and will allow you to post your comments on articles and Talking Points submissions across the site.
© ToffeeWeb