Everton History
Everton – The Baseball Years
Richie Gillham & Rob Sawyer

12/09/2019
12

comments | Jump to last
Baseball may be a minority sport in the UK but 80 years ago Merseyside was a hotbed of this popular American pastime. Had it not been for the outbreak of War in 1939 perhaps it would have gained a proper foothold in our sporting life.
Folklore has it that William Ralph 'Dixie' Dean was once introduced to the legendary Babe Ruth (of Boston Red Sox and New York Yankees fame) at a football match. Dean recalled to journalist John Roberts his encounter with Babe. The American introduced himself in typical style by booming: "You're that Dixie Dean guy! Jeez, you'll get some cash today." When Dean explained that his wages – capped at £8/wk – were not linked to the number of spectators through the turnstiles, Ruth reportedly exclaimed: "Jesus Christ! I'd demand two-thirds of this gate!" Dean, himself, would dabble in the American sport when he turned out for Blundellsands and Liverpool Caledonians in the 1930s but Everton's connections to Baseball go far beyond this. In fact, a baseball team existed in Everton as early as the first decade of the 20th century. The club, not linked to its footballing namesake, was defunct by the end of the First World War.
Thanks to Liverpool's maritime links to the USA, Everton hosted exhibition matches at Goodison Park in the 1920s. Most notable was the Chicago White Soxs' victory over New York Giants before a crowd of 2,500 on 23 October 1924.  Perhaps inspired by this, John Moores, the Littlewoods entrepreneur and future Everton chairman, launched a crusade (costing £1 million at today's prices) to embed baseball as a spectator sport on these shores. In 1933, he created the National Baseball Association and convinced 18 local teams from the Liverpool area to create a league. Other leagues were also set up in other regions, in London and Yorkshire, amongst other locations.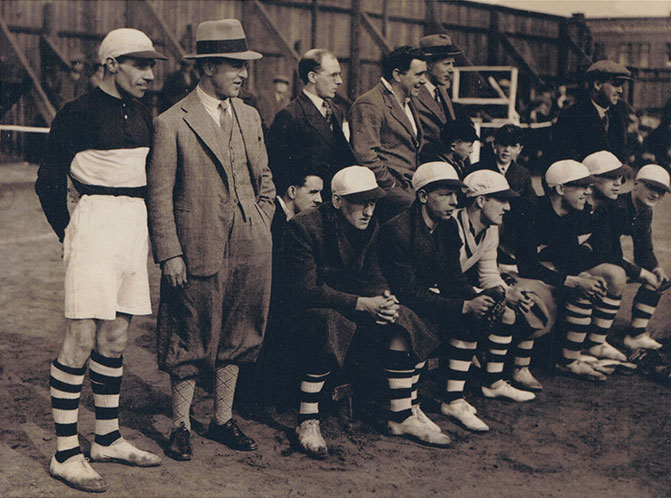 The BATS British American Tobacco Team with John Moores (2nd from left in hat), circa 1935
In 1936, The British NBA was restructured with Moores installed as President and Everton director, Ernest Green, appointed as Vice Chairman. J.C. Rouse of Liverpool FC was Honorary Treasurer whilst Everton's Secretary, Theo Kelly, was also on the Committee. The Everton Chairman during the Second World War, Bill Giddins, was also keen on baseball. He allowed Goodison Park to play host a Baseball league in which locals took on American servicemen stationed in the area. The home plate was in the corner between the Gwladys Street and Bullens Road stands.
In 1943, Theo Kelly helped raise £1,000 for the British Red Cross and St John's Fund in a charity game. He also helped to develop the sport on Merseyside by setting up youth team matches between Everton Cubs and the likes of Caledonian Cubs, Formby Cubs, Tranmere Cubs and Fazackerley Cubs. On 18 May 1944, the Everton FC Baseball Club - coached by Kelly - played its inaugural game against Rootes in Speke. Gordon Watson and Jackie Grant, both members of the football team, made their Baseball debuts. Throughout the season, the Everton players were hitting the top of the league statistics charts. George Jones topped the batting averages whilst Gordon Watson topped the fielding with zero errors for 1,000.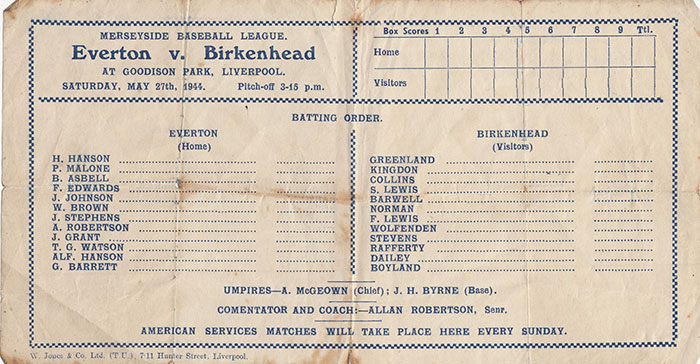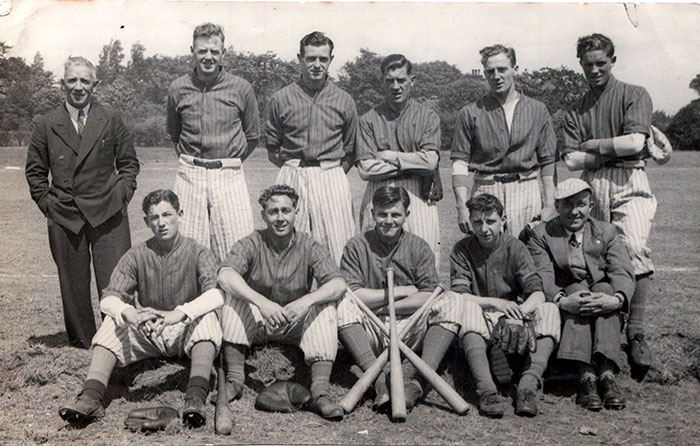 Everton Baseball team circa 1945, featuring Gordon Watson of Everton FC and Theo Kelly as trainer (wearing hat)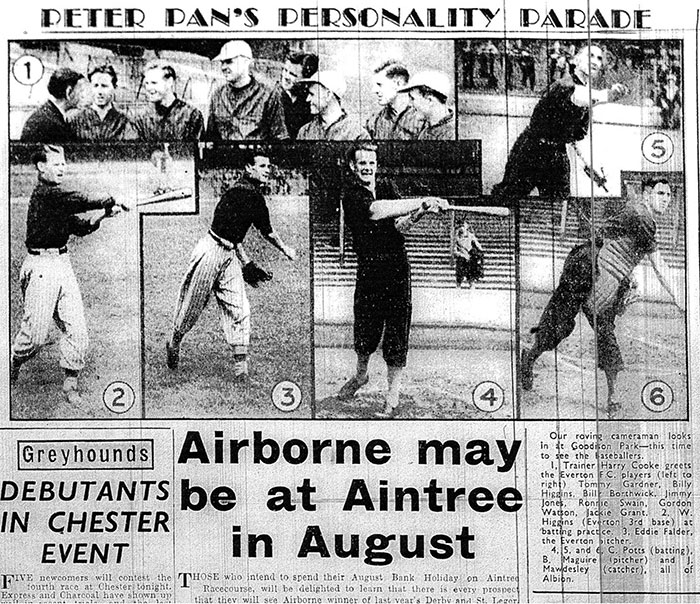 EFC Baseball Cutting (care of George Orr)
The following year, Kelly formed the Lancashire County Baseball Association; he also helped to establish a team called Halton Trojans. The last game of Baseball staged at Goodison Park came in the 1948 in the Lancashire Cup Final contested by the Trojans and Formby Cardinals. Subsequently, the Trojans would play their fixtures at Bellefield before disbanding in 1958. The reformed club, now known as Liverpool Trojans, plays today at Bootle Stadium as the Liverpool Trojans.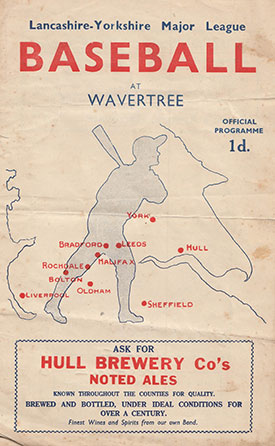 Recently Ted Bulmer shared some keepsakes with EFC Heritage Society that his great uncle George Barrett had from playing for Everton Baseball Club as well as Formby Cardinals and Patricroft. Sadly George spoke little of his time playing the sport before he passed away. Also, Joe Stephens got in touch about his namesake grandfather, who played Baseball either side of the war, including for Everton. A docker by trade, he was nicknamed Socks (or Sox) Stephens – perhaps as a nod to his Baseball prowess.
The Heritage Society is appealing to ToffeeWeb readers for further information about Baseball on Merseyside in the 1930s and 1940s and, in particular, Everton's team. Perhaps you had a grandparent who took up the sport? Anybody with information is asked to contact us via rwgsiteman@icloud.com .

Follow @evertonheritage
Share article:
Reader Comments (12)
Note: the following content is not moderated or vetted by the site owners at the time of submission. Comments are the responsibility of the poster. Disclaimer
Steve Carter
1
Posted 13/09/2019 at 04:51:22
Well, according to officialdata.org, £8 in 1935 (when Dean met Ruth) is worth £564.24 today - around £29,480 per annum.
Dave Abrahams
2
Posted 13/09/2019 at 19:58:32
There used to be quite a few baseball games at Clubmoor in Townsend Lane up to the sixties, maybe an England team, based on Merseyside/ Lancashire players,
I worked with a fella in Manweb, Hawthorn Road, can't remember his name, who played and practiced at Clubmoor, this was around 1964-66, and I'm sure there were articles in the Liverpool Echo about current baseball games around that time.
Kevin Latham
3
Posted 14/09/2019 at 00:17:15
Great piece lads, very informative. Incidentally, only last Sunday, the Liverpool Trojans won (again) the Northern Championships. I think I'm right in saying that they are the longest established ball team in Britain too, my son plays for them and I'm pleased to say that most of the team (or 'roster' to give it the correct phrase) are Blues.
They've won the National Championship on many occasions but the Northern league have gone their own way now. The season has just ended, it starts up again next April for anyone who fancies turning up at Bootle Stadium to watch. Again, great article with the Everton FC connection.
Clarence Yurcan
4
Posted 14/09/2019 at 00:55:12
Great, informative article.
David Pearl
5
Posted 15/09/2019 at 10:07:58
Great read. All the other US sports are over here promoting and expanding. Doubt very much Goodison Park (or Bramley-Moore Dock) could host a game these days though.
I watched a lot of MLB games early '90s when the Blue Jays were top. The game only seemed to come alive during the play-offs.
Anyway, great piece of history.
Jamie Crowley
6
Posted 16/09/2019 at 00:17:57
Very neat piece. I had no idea our national pastime had any footprint in England.
I had always assumed it was simply cricket over there, baseball over here.
Baseball is an absolutely fantastic game and sport. It is, admittedly, long, boring at points, lacks action often, etc. But when you really know baseball, and especially when the games actually mean something (as David alludes to with our playoffs), every single pitch is a chess match. And it's there, in those moments, the sport is at it's best, bordering great.
I find it really neat, for lack of a more in-depth descriptor, that baseball had it's time at Everton. As an American, I love the link to our country through baseball.
Thank you for this piece Richie and Rob.
P.S. - that pic of the Everton boys playing baseball looks like it was taken in Iowa. Priceless.
Kevin Latham
7
Posted 16/09/2019 at 08:56:32
Jamie,
I couldn't agree more about what a great and absorbing game baseball is. Sadly, it used to be bigger than it is over here, although there are many clubs in and around the London area, many of which have American players turning out. As you know, many Americans think the UK consists of London and nowhere else!
Here in the north, there aren't as many clubs but the ones we have are really dedicated and keep the game going. Even more sad is that there is no youth system to speak of in the north so younger players aren't coming through.
Let's hope that there's a surge of interest next year with baseball now featuring in the Olympics. It's great that we have an Everton connection with the game and Richie and Rob have done a great job with their piece. I'd really love baseball to recover its popularity – at the moment we're behind in the count!
Pete Jones
8
Posted 16/09/2019 at 18:43:10
Really interesting article lads; I've seen fragments about Everton and baseball before but this pulls it all together.
Alan Williams
9
Posted 17/09/2019 at 12:43:44
Lovely read. I too played for the Liverpool Trojans from 1987 to 2005 with a break for two years playing for the American air base at Burtonwood. My Dad played for Everton and used to get a £5 note in his boots before the game, he played in the last game at Goodison Park, and I have a copy of the scorecard.
I with some other local lads made it into the GB side bidding for the Barcelona Olympics; I still have all my correspondents from the BOC. The Sports council sent us off to Florida in 1990 to train at the Expo training camp. Great time but I don't think we realised what an opportunity it was. One guy from Hull was offered a College Place all funded but he turned it down because his girlfriend wouldn't be happy him moving to the USA, I bet he has sleepless nights thinking about what could have been. I always had my EFC sweatband on when I played, COYB
If you go to the Liverpool Museum and look in the Silver lockers in the Sports Section, you will see Baseball in Liverpool and a picture of my late Dad.

Kevin Latham
10
Posted 17/09/2019 at 13:03:20
Great stuff there, Alan, very interesting read. And what a great experience at GB and going to the Expos training camp! My son played for GB at youth level but never got anywhere as exotic as that.
As for the guy who refused the college place – I hope for his sake he's still with the girl otherwise what an opportunity to pass up.
I did know a Hull pitcher called Gavin Marshall who played college ball, maybe after your time though. I've seen the Trojans locker at the museum, next time I'm there I'll look out for your dad's picture. But yours is a great story and something to be really proud of, well done mate!
Julian Wait
11
Posted 22/09/2019 at 02:34:19
Thanks for this great article. Very relevant history for my brothers and me.
Our dad "Macker" played in Bootle area in the 1930's, as a teenager, and he told us that lots of kids used to play back then, it was really popular (especially with us commoners who didn't have the time to play cricket).
Like the article said, war broke out - on my dad's birthday - and that put an end to it. After the war started, he got drafted into the Merchant Navy as a ship's engineer. Dad ended up getting periodically stationed in NY to wait for the ships to be ready to enter the European Naval Theater ("Liberty Ships"?); while there he'd stay with his uncle in Brooklyn, and they'd go see the Dodgers, who have since long left to play in LA.
Dave Power
12
Posted 17/03/2021 at 23:21:13
Great article. I was brought up in Anfield, and I'm a proud "Townsend Boy" having lived just off the wonderful Townsend Lane during my childhood and youth.
Baseball (the English variety) was massive in the area. There were regular international matches between England and Wales played on Breckside Park or Clubmoor.
---
Add Your Comments
In order to post a comment, you need to be logged in as a registered user of the site.
Or Sign up as a ToffeeWeb Member — it's free, takes just a few minutes and will allow you to post your comments on articles and Talking Points submissions across the site.
---
© ToffeeWeb