Richarlison issues Alcântara apology
Saturday, 17 October, 2020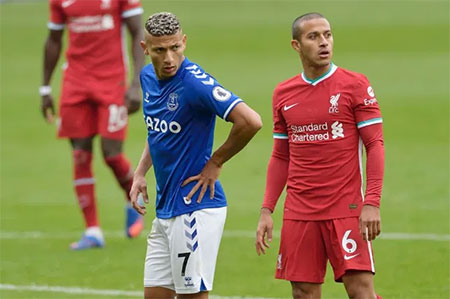 Richarlison has extended an apology to Thiago Alcântara for the ugly tackle that ended with the Brazilian being shown a straight red card during today's Merseyside derby and the Spanish midfielder taken to hospital to undergo scans on his injured knee.
The incident occurred in the 89th minute with the score level at 2-2 and both sides still searching for a winner in what was an eventful clash between Everton and Liverpool at Goodison Park.
Richarlison clattered through Alcântara in a moment of rash judgement and was sent off by referee Michael Oliver which means he will be suspended for the next three matches.
Everyone who knows my background knows that I was never a violent player.

What happened today was the result of sheer over-dedication. I did not enter that tackle with the intention of hurting Thiago. When I saw that the collision was going to happen, I picked up my foot and hit him with my knee going past him, which was inevitable due to the speed of the play.

I have already sent a message to him apologising and I also do it here publicly. I hope he hasn't been hurt and everything is fine.

I also apologise to my teammates, my club and my fans for leaving them with one fewer at the end of the game. Unfortunately, there is nothing I can do to change what happened, other than to reflect, work and move on.
Richarlison's dismissal represented another red card in a fixture that has accumulated more than any other in Premier League history but, in addition to the controversial decision to rule out a stoppage-time goal for Liverpool, the aftermath of the match has been dominated by the debate over the rules that precluded VAR official David Coote from recommending the sending off of Jordan Pickford for an equally poor challenge on Virgil van Dijk.
The England goalkeeper escaped both disciplinary action and the concession of a penalty after only five minutes because the referee had already blown for offside against the Dutch defender.
---
Reader Comments (129)
Note: the following content is not moderated or vetted by the site owners at the time of submission. Comments are the responsibility of the poster. Disclaimer
Andrew James
1
Posted 17/10/2020 at 22:03:31
Fair play to Richarlison for this. The media are fixated on our two bad challenges but I don't recall this level of condemnation for the Suarez on Mirallas or the red card that should not have been for Rodwell.
They also seem to overlook Robertson and Van Dijk getting away with stuff.
It's embarrassing that the media continually give the RS such favours within weeks of them conceding 7 to Villa, their coach arguing with pundits due to criticism that turned out to be well judged, and them trying a power grab during a pandemic.
Will Mabon
2
Posted 17/10/2020 at 22:11:39
Richarlison is probably just a decent man that means his apology for real. On the other hand, I don't think we need to be seen as subservient to another club in this way, by means of public apology for a sports injury. Not like he shot the guy. Bad precedent to set too in the general sense.
Stan Schofield
3
Posted 17/10/2020 at 22:12:11
It wasn't malicious, so no need to apologise.
In contrast, some of Van Dijk's actions prior to the interaction with Pickford were deliberate acts, for which an apology is entirely appropriate.
Will Mabon
4
Posted 17/10/2020 at 22:14:33
Wouldn't hold my breath, Stan! Which is why I don't agree with this one.
Jim Bennings
5
Posted 17/10/2020 at 22:21:50
Don't apologise for slaying one of their rats Richarlison, those scumbags have done it for years, did their fans ever apologise to Manchester City after bottling the team bus two years ago?
The biggest disappointment for me is that Richarlison now misses three crucial games, Ancelotti doesn't seem to like Bernard and all of a sudden Anthony Gordon has fallen out of favour.
Makes me wonder why we never tried replacing Kean, a move for Josh King would have been very welcome but that's passed and gone.
Stan Schofield
6
Posted 17/10/2020 at 22:22:32
Will, yes. I totally believe that Richarlison should not have apologised. LFC is an utterly cynical, win-at-all-costs piece of work, both on and off the field, and if any apologies are needed for actions over the years and currently, it's in one direction only, from them to us.
Joe Corgan
7
Posted 17/10/2020 at 22:23:56
Someone needs to put together a compilation video of all the unpunished, disgusting challenges Liverpool players have inflicted on ours over the years.
John Pierce
8
Posted 17/10/2020 at 22:25:23
Apologize privately and move on. That's the right way in my eyes. Bringing it into the media is perhaps misjudged. As long as Thiago knows then that's enough.
Richarlison had a poor game today, barely saw the ball, had one decent chance and grew frustrated. That challenge was pure futility, the lad needs a rest too.

Stan Schofield
9
Posted 17/10/2020 at 22:26:32
Jim@5: When I mentioned to a red that incident of attacking the Man City team bus (which can be viewed on youtube), he had the audacity to deny it was Liverpool supporters, and said (unbelievably) it was probably Man Utd and Everton supporters!!! This is how too many of them are, utterly lacking in truth and sportsmanship.
Tony Abrahams
10
Posted 17/10/2020 at 22:32:42
He's doesn't have to go public, I agree, but he's taking responsibility for his actions. This has got me thinking about the game a bit more, and I wish more players would stop and think, once they go home and realise what they're doing, because the cheating has got out of hand imo, and it's not doing the great game of football any favours.
It's polluted the game this cheating, and every single team in the league is responsible. It's what the powers that be have helped create, because they have never come down hard on the diving, the feigning of injury, or the imaginary card wavers, allowing players to cheat, whilst ex-players to sit in the studio, and try to keep restructuring the game.
Football is getting closer to losing its appeal, and I'm sure I'm not the only person thinking like this, because the lack of integrity is shocking imo.
Will Mabon
11
Posted 17/10/2020 at 22:39:45
Tony, the lack of integrity, the political platforming, social messaging, and just general bullshit push me close at times. Too many apologies like this and the Snowflakes will start trying to normalize them.
Brent Stephens
12
Posted 17/10/2020 at 22:51:28
Tony, I like your post. The cheating has gone too far.
I actually think Richarlison takes the moral high ground with the apology. Genuine or astute? I'm not sure.
Genuine and astute.
Stan Schofield
13
Posted 17/10/2020 at 22:55:27
Tony @10: The very fact that he is prepared to reflect on his actions means that he should not apologise. Apologising serves only to take attention away from more cynical actions of a recurrent nature that are ruining the game, committed by players and backed by their clubs who would never dream of apologising.
It's a public apology, I'm a member of the public, and I don't recognise the apology. I recognise much more significant and repeated acts where the game has been brought into disrepute, too often by LFC.
Mal van Schaick
14
Posted 17/10/2020 at 23:27:53
Apologise for what? A 50/50 tackle. Van Djik wouldn't've been on the pitch much longer anyway. His first two tackles were fouls.
Tony Byrne
15
Posted 18/10/2020 at 00:47:11
This lot won't apologise for Dirk's 2-footer, or Suarez on Mirallas, Suarez on Distin, Gerrard getting Hibbert sent off, etc, etc. Fuck them right off.
The media wankfest & fawning for this club disgusts me, regardless of the wrong-doing, they get away with it.
Anything that goes against this shower has to have a steward's enquiry for about 5 days.
Don't ever apologise for anything when it concerns them bastards.
James Flynn
16
Posted 18/10/2020 at 01:18:48
After further review, perhaps the suspension won't be 3 games.
Petur Leifsson
17
Posted 18/10/2020 at 01:24:00
Sensible reaction from Richarlison and of course he knows this was a senseless and needless thing to do considering the situation. In fact Richarlison has not been at his best so perhaps a little rest and thinking may do him good now despite three games is too harsh. Gylfi Sigurdsson has been in good form lately and I suggest he should come into the starting lineup out left so both Gylfi and James are then feeding DCL while this may also give opportunities to Iwobi, Bernard and Gordon. Yet considering Ancelotti pecking order Gylfi is next in line and personally I think he is much closer to his natural position more up front.
John Pierce
18
Posted 18/10/2020 at 02:07:00
Tony A, I hope we can coax you out of disillusionment. Your posts lately have been tinged with sadness about the game. I do understand, I used to feel similarly, a bit old Etonian I guess. I now go with it, and Everton have to. Today we were committed and actually pretty professional despite the outrage.
I enjoy interacting mate, chin up!
Kristian Boyce
19
Posted 18/10/2020 at 02:13:03
Looks like their scummy fans haven't taken to the apology to kindly and have responded with lot of vile comments. What a pleasant bunch they are 🙄
Si Cooper
20
Posted 18/10/2020 at 02:15:46
So lowering yourself to other people's standards is what people are advocating. Do that and you can forget proclaiming that we are better than them.
It's a genuine apology and reflects well on the player (which may help with the powers that be). As long as he shows proper commitment when he takes the field then I really don't mind what he publicises.
I accept this apology without judgement and move on. The promotion of 'never show contrition, it is weakness' is one of the uglier tenets of modern life. I'll leave that sort of behaviour to the other shower.
Jack Convery
21
Posted 18/10/2020 at 03:27:05
you won't see any apologies in this lot from the ever lovable RS
https://www.youtube.com/watch?v=A7_dSolOSrQ&feature=share&fbclid=IwAR3soM6nTpL_gLb-gPm6GNE9V3IFuhswpjGMvFptpG3vG-b86sLtJTN-QgQ
What goes around comes around.
Steve Brown
22
Posted 18/10/2020 at 04:05:28
Agree Richy should apologise to the Everton manager and his team mates, but what is he apologising to Thiago for? Simply no need.
Tony Everan
23
Posted 18/10/2020 at 07:54:11
Richie was full on committed and it was a rash, dangerous challenge. I have seen dozens of them from Liverpool players over the years, some yellows, some unpunished. If it makes Richie feel better a private apology is all that was needed. There would be no,public apology if the roles were reversed.
Pickford on VVD was like a dog going after it's bone. Brain disengagement, eyes locked on to the bone, red mist, get bone 🦴. Pickford was trying his best for the Everton cause, that I like, but sometimes too often when he is forced to think on the spot he cannot make the right decision.
It sounds like the lad has a bad injury and I hope he has a speedy recovery.
Duncan McDine
24
Posted 18/10/2020 at 08:35:56
The first time in years that key decisions haven't gone against us in a derby. We just need another few decades of this before things are evened up! With regards to the apology, it's a decent thing to do. It's never nice to see anyone get a serious injury - although if it happened to the shithouse Robertson I'm tempted to say that I might have a small glass of something to celebrate.
Colin Glassar
25
Posted 18/10/2020 at 08:46:07
Well now Richy, and Seamus, get a chance to recover properly. It was a forwards tackle so I don't know what all the fuss is about.
Drew O'Neall
26
Posted 18/10/2020 at 08:46:37
Jim @ 5
We have until tomorrow evening to sign Josh King.
Eddie Dunn
27
Posted 18/10/2020 at 08:47:21
The lad played for his country on the other side of the world and comes back and isn't on his game. James also started slowly but his quality got him through. Mina was caught out of position numerous times and was partly responsible for their goals.
These international games are crammed into an already packed fixtures list. It is a shame we wern't playing Fulham, as we could have put those guys on the bench instead.
I watched the game on BT and this morning watch the MOTD highlights. The game looked very even on MOTD and of course the focus was on the two injuries for the reds.
Pickford has been hung out to dry and Lineker announced that Liverpool were officially asking for that VVD foul to be investigated. Lineker stated that such a thing has never happened.
It would appear that they now see us as serious contenders and wish for us to lose our goalie for a few games(or more).
The Pickford tackle was obviously a foul but we have all seen worse ones and the media have been rallying in favour of their darlings. I could sense the hatred from Shearer towards our Mackem.
Virgil's two dirty fouls(unpunished) were strangely absent from MOTD coverage, as was Robinsons sneaky kick, and Mane's trip on Mina.
The other annoying aspect of the whinging about VAR is the freeze-frame that they use to show the line that shows the offside. Who is to say that the same frame is being looked at in the VAR suite?
A split second could show Mane on or off, but the media choose to show him looking on. None of it shows the precise nano-second the ball leaves the foot, so unless that is established first, the offside line cannot be drawn.
The delay proved that the official was looking at it intently and he didn't feel the need to get Michael Oliver to look on his monitor.
On a slightly different tack, Pickford demonstrated the two extremes of his make-up.
He could, and should have left us down to ten men very early on, and a certain defeat. He pulled off two marvellous saves, one of which(from the free kick) was incredible. He also was caught out by the Henderson non-goal, but that's goalkeeping!
However the VVD "tackle" showed very flawed judgement. I don't know if it can be coached-out of him.
It seems that in the pressure games, he has a tendency to do crazy things. Perhaps this media -scrutiny will make it less likely to happen again.
Stan Schofield
28
Posted 18/10/2020 at 09:18:30
Si@20: I think you possibly misunderstand the position. Richarlison has made it perfectly clear in relation to intent, and apology is simple not appropriate.
Apologies are substantial if they represent a commitment to change of action in the future, otherwise they are simply empty gestures so beloved of politicians and disingenuous types generally. Such empty gestures are potentially dangerous in diverting attention from issues of real substance where action for change is really needed.
This has nothing to do with lowering oneself, but quite the opposite. There are much bigger fish to fry than Richarlison's sending off yesterday, and it is utterly j appropriate that the latter take focus away from the former.
Stan Schofield
29
Posted 18/10/2020 at 09:20:12
There seems to be no edit button when a comment is submitted!
Tony Abrahams
30
Posted 18/10/2020 at 09:38:05
John P, if any Liverpudlians approach me moaning this week, they will be the ones come away disillusioned mate.
One text me at half time saying that bad decision had ruined the game, but I just spun it asking him why when they still had eleven men.
I thought Liverpool were robbed at the end, but although I can't listen to Shearer, I've saw the headline were he's criticizing Oliver for not sending Pickford off.
This hypocritical bastard once made an FA draw, on the pretext of avoiding a ban after assaulting Robbie Savage? But they now get a voice, which isn't even a voice of reason imo.
Pickford made a great save, but I agree with your assessment JP, that he needs a rest, and maybe Van Dyke wouldn't have got injured if he wasn't off-side?
Tongue in cheek? No, it's a grey area for me, Pickford has been all over the place on crosses for a while now, because he doesn't know if he's coming or going, (Never on the front, he's always on his back foot) and for Shearer to say the ref should still go and check the monitor, even though Van Dyke was ruled offside doesn't make any sense to me, because the keeper was not trying to intentionally hurt Van Dyke?
Oliver is another fraud imo, look at some of the penalties he's awarded already this season, and ask why he didn't give Richarlison one? Never a stone wall penalty for me, but this is my biggest example of why I want the game to change.
I can act all condescending to kopites, because this was the most contentious decision, along with that atrocious VAR decision at the end, but I just want to see a honest game of football, and honest men discussing it at the end.
I'm not really bothered about the discussion at the end to be honest, but loads of people who don't know enough about the game, go on about what these people have said is definitely gospel. If it was then Mane, should have been sent off at the same time as Richarlison, so let's treat everyone as equals, and make some big changes to the beautiful game right now.
I will say it again John P, football the greatest spectator sport in the world, has been stolen, and is slowly getting destroyed by trial by slow motion TV, and VAR.
Dermot O'Brien
31
Posted 18/10/2020 at 09:48:44
Richly apologised for being part of an action that injured Thiago and sent him to hospital. That's because he's a good man.
But I'm not. Fxck Thiago VVD Mane Klopp, fxck them all. As listed above, all the shithouse tackles and bad decisions we suffered through the years that were brushed under the carpet.
We all wanted a win yesterday but this has been almost as good. To see and hear them all whingeing and bleating about Pickford and last minute Var offside is just brilliant. Haha. UTFT.
John Kavanagh
32
Posted 18/10/2020 at 09:59:30
I eagerly await the reciprocal apology from Robertson for yesterday's assault on Allan and previous transgressions. I'm not holding my breath.
We are decent, honest, honorable and fair minded people. They aren't, so feck 'em.
Rob Dolby
33
Posted 18/10/2020 at 10:30:12
Thiago stayed on the pitch and set up the phantom goal. He can't have been that badly hurt. The tackle was stupid from Richarleson and deserved a red by today's standards.
Equally the kick out from Robertson is a straight red in today's game. Both incidents resulted in players injured and players feigning injury.
The commentators picked up on Richarleson play acting and rightly critisised him for it.
In Robertson's case they sympathised and expressed concern about the potential impact of the fake injury. Less than a minute after limping off he sprinted 60 yards and fell over his own feet when trying to pass the ball.
We have all experienced the bias towards them in Derby games over the years. Yesterday's VAR incident is one of the few things that has gone in our favour.
Richarleson will be a massive miss for us over the next 3 games. His work rate is unbelievable.
It will be choice between Sigurdsson or Iwobi as Ancelotti doesn't appear to rate Bernard whilst Gordon seems to have been given the cold shoulder after his visit to the office to ask why he isn't playing!

Tony Abrahams
34
Posted 18/10/2020 at 10:30:46
I wanted to see how our team performed against a top team, just as much as winning yesterday Dermot, and although we need a couple more players, or Ancelotti, has got to find a better way, with little tweaks to his personal and his system, I was absolutely delighted with Everton yesterday.
Loads of fight, and loads of spirit, a new team in the making, and hopefully fortune favoring the brave. Their kids gave us the runaround ten months ago, but I thought we were slowly grounding away at their best team yesterday, until Mina's poor clearance, was ruthlessly exposed by Salah?
We never wilted, we then went and scored arguably the goal of the game, and a player I haven't thought about since the day he left came into my mind, because we have replaced a coward with a little fighter.
No more shrugging of the Schniederlin shoulder, we had Allan leading by example, fighting, scratching, getting in amongst them, the type of player that's needed when things are not going your way, and that's why we never wilted yesterday, along with Rodriguez constantly trying to get on the ball.
Paul Tran
35
Posted 18/10/2020 at 10:49:20
Tony, that's what happens when you have manager and players focusing on what they can control. We can do the same. No point getting steamed up about the media, we never play them. VAR is out of our control as well, yesterday was hopefully the beginning of the 'evening out' process that this was meant to alleviate.
As an aside, if VAR decisions are going to 'even out', why not go back to the odd human error and flowing game? To these eyes, there is at least as much error and far more disruption under VAR.
Yesterday, for a change, we went toe to toe with them and they didn't like it. We even got the decisions. But we showed the commitment and desire that should be the bare minimum, which gave us the odd chance to show our class, like for our second goal.
I hope Carlo has a strong word with Pickford & Richarlison - on another day, their lack of discipline may have cost us. I hope his strongest words are for the squad - same commitment, same desire, same cussedness.
Keep the faith, Tony. Whatever the game's doing to itself, I think we could be onto something here.
Alastair Donaldson
36
Posted 18/10/2020 at 10:50:38
Tend to agree he should have apologised to his team mates and maybe privately to the other fella (aren't they both Brazilians?), but not publicly.
The big apology bit has been rolled out in public life this last decade to excuse any kind of wrong-doing, Politicians, Multi-Billionaires, Church Leaders etc etc..it's become expected by the media... fake news as some orange faced moron would say.
Great game to watch, good to see us really physcially getting stuck in, worried Pickford is such a Jekyll & Hyde, but "if someone would have offered a draw before the game, I woulda taken it"...classic football cliche.
Hope we can learn a bit from this and the momentum/confidence remains high.
Stan Schofield
37
Posted 18/10/2020 at 11:05:43
Alistair@36: I don't think he should have apologised to his team mates. He's got himself sent off before, to the team's detriment. If he apologised to me, I'd say I'm not interested in an apology, I don't want to see you getting sent off, forget the apologies, just sort yourself out, use some self-discipline.
Darren Hind
38
Posted 18/10/2020 at 11:13:18
I agree Tony.
I felt the new boys were a little shocked at the pace and aggression of the RS press. They all seem to want a bit more time to pick out THE pass. They'd have been told what to expect, now they have experienced it.
The shite just seemed to know when to play and when to hit the percentage ball. but that comes from experience of this type of match. Now that our boys have tested the water. They will know more about what you can and cant get away with.
I would feel very confident if we were playing them again next week.
I would never play Gomes again against opposition who we know will press with aggression and speed. His brain may be quick enough, but the rest of him isn't.
Pickford made a couple of good saves and an absolute worldy. but I'd swap him for a steady goalie who simply does the basics in a heartbeat. His erratic decision making and poor concentration is there for all to see. It cant be good for the confidence of those in front of him
I am amazed competition wasnt brought in when the window was open. A decision which could well come back to bite us in the arse.

Stan Schofield
39
Posted 18/10/2020 at 11:18:40
Darren@38: Gomes needs to be given some slack. Yes. Perhaps he should have been subbed sooner, but to say he shouldn't never play against opposition who will press is a bit strange given the way he was a class above everyone else in the Anfield derby two years ago, against the very team who press hardest. Like Seamus' injury, where he's now recovered more completely, it's likely that Gomes still needs time.
Darren Hind
40
Posted 18/10/2020 at 11:19:42
Having said that I look at the "under par" performance from James and he has
Been heavily involved in both goals.
Heavily involved and a glorious chance wasted by DCL.
Played the best two passes of the match
And put a superb cross in when Richarlison hit the post.
Needs to pull his socks up
Darren Hind
41
Posted 18/10/2020 at 11:23:28
Fair enough Stan.
Maybe it is a bit rash to dismiss Gomes from all future high intensity games, but he worries me. The player we are seeing now is a yard slower than the one you watched at Anfield two seasons ago.
Hope I'm wrong, but I don't believe that fella will ever come back
Stan Schofield
42
Posted 18/10/2020 at 11:26:15
Darren, yes, that's possible, but the same was being said about Seamus last season, and look at him now. Fingers crossed Gomes will respond similarly, but yes it's a concern.
Brian Harrison
43
Posted 18/10/2020 at 11:43:37
I can understand what Darren is saying about Gomes, but he missed the last game and we were told it was because he had a slight knock. I am just wondering if that bad injury to his ankle is still playing him up at times and lessens the time he gets on the training pitch. As I said in another post I wonder how much training Allan, Coleman and Gomes have done in the last 2 weeks, and maybe their desire to play when not fully fit should be looked at as a positive. But to hold your own with supposedly the best team in the world when some of our players had an off day has got to be a plus.
Si Cooper
44
Posted 18/10/2020 at 11:48:59
You've never made a mistake Stan? Never apologised?
You are right about actions speaking louder than words and Richy, like all players, needs to cut out any nonsense that is to our detriment.
But to deny him the right to make an apology, to dismiss it as meaningless? That is just mean-spirited and churlish. Absolutely no need for you to take it personally and criticise him for it.
Tony Abrahams
45
Posted 18/10/2020 at 12:05:48
That's why I'm thinking Ancelotti has got to tweak his personal and his system just a little bit. Dacoure is getting pushed a little fraction to right, and Gomes is not suited to being a fraction to left.
Just my opinion, but Allan & Dacoure playing centrally together, with Rodriguez just ahead of them, might work better?
I'd swap Richarlison to the right after his suspension, and try Bernard on the left. Just my own choice, some might go with Iwobi, but football seems to be about covering the flanks right now, stopping the space that this big fashionable switch creates.
I definitely think we are on the right linesPT, but don't kid yourself about the power of the media, and Liverpool own so many of these people right now, like Don Corleone and his nickel and dime Politicians, but we've got our own Don as well now, thank god!
Brian Murray
46
Posted 18/10/2020 at 12:08:43
i can't believe the excuses for Gomes. He hasn't got the cahunas for the Premier League and certainly not for a derby despite his good performance in the Anfield Pickford gift show.
Gordon will thrive in big games and Bernard with his 20 minutes might come in handy. I hope Carlo is already sorting the goalie situation out for January. Time to see if this big Dane can do it.
Stan Schofield
47
Posted 18/10/2020 at 12:28:04
Si@44: Quite often, but stick to the substance, not me! Focus!
Jay Wood
[BRZ]
48
Posted 18/10/2020 at 12:30:24
What a bizarre little thread this has turned into.
A decent young man has done something very few of us ever do - least of all high profile public figures - acknowledged an error, issued a public apology and is getting ridiculed and grief from his own supporters for doing so.
The wise words of Dr David France comes to mind with regard to all things that have resulted from yesterday's game:
'Everton versus Liverpool is humility vs arrogance, loyalty vs entitlement and art vs pornography.'
Thank you Richarlison for your humility, loyalty, art and integrity.

Paul Tran
49
Posted 18/10/2020 at 12:35:06
Gomes has always been a one good game in three/four player. He's a top bloke and his skills stood out in a poorly managed, dysfunctional team. Now we have a better-managed team with better midfielders, any excuses are running out. It's down to him to develop some consistency. He was well off the pace yesterday, but had a stormer at Anfield 18 months ago.
Regarding Pickford, I suspect Carlo will buy the keeper he really wants next summer. FFP restricts us and perhaps he felt other positions were a more inmmediate priority. That Liverpool team won trophies with the untrustworthy Grobbelaar, but I'd prefer someone more solid.
Tom Bowers
50
Posted 18/10/2020 at 12:45:56
Everton didn't play well but they were playing the''champions'' who have a squad much talented and in depth than Everton have and have been building it for years since the Yanks took over.
Kudos to the Blues for not capitulating and showing the heart that wasn't evident for many years.
Everton have no control over VAR and it would have been sickening to lose this game at the death (not for the first time in a derby) and even more so that it was Southgate's pet Henderson who ''scored''.
Pickford could have easily been red carded and still might be suspended but Richie deserved his.
Richie like Grealish gets kicked a lot but has to control it.
We have seen many derbies like this in the past and have always come away with nothing but ''the times they are a changin''.
Tommy Carter
51
Posted 18/10/2020 at 12:46:13
Bad challenge. Hope he's not injured. Move on.
Press and media seem intent on some anti-Everton and pro-LFC agenda. Someone should call Them out on it.
Seems that it's completely unpalatable for them to see 2 teams from Merseyside competing near the top.
No such sentiment when it comes to promoting the virtues of the likes of Leicester, Wolves and Sheff Utd last season.
It's transparent and it stinks.
Coleman, McCarthy, Anichebe, Oviedo, Gomes. All players that were completely crocked by opposition players. Everton know only too well what it's like to have a player directly injure one of your players and it rule them out for a year in most of these cases.
Everton not the media pursued any kind of witch hunt for any of the players involved. In fact, Son's challenge last season was particularly horrendous. The result, a snapped part of the leg for Andre Gomes. But it was nice smiley Son and London based Tottenham so no problems there.
These things happen in football. Move on.
Aside from players getting crocked by other players, there's also an element of bad luck. LFC seem to have not had much of a share of this bad luck for many years.
For example: Kone, Arteta, Jags, Yakubu, Bolasie, Gbamin, Rodrigo, Barkley, Cenk... there are probably others that I've forgotten. But it's usually about one per season for us. And it's sometimes a career finisher, it's nearly always a 12 month job and it's sometimes a relatively new signing
Tony Hill
52
Posted 18/10/2020 at 12:51:21
Paul @69, that performance at Anfield was one of the very best I have ever seen from an Everton player against top opposition (apart from the fact he should have scored). I share the worry but let's see in 12 months. Fitness and confidence are massive factors.
Bobby Mallon
53
Posted 18/10/2020 at 13:02:51
Have you seen twitter. A tosser YNWA organising a petition for parliament to get 2 points back and a social distancing march through Stanley park and a silent protest outside ground 😂😂😂😂
Drew O'Neall
54
Posted 18/10/2020 at 13:10:21
Bobby- that looks to me to be a wind up.
Dave Abrahams
55
Posted 18/10/2020 at 13:15:45
Tony (52), yes that performance by Gomes was excellent at Anfield I thought we had signed a very good player, in games I have watched since he has never remotely got anywhere near that performance, scored a cracker against Wolves, don't think he has scored since or even looked like scoring, I, honestly don't think he is any different now as he was before he got injured.
Yesterday we virtually played with ten men while he was on the field, this had a large bearing on our game, gave the midfield to them with the extra burden put on Allan and Doucouré.
The midfield is still light, as I don't think Sigurdsson or Davies completes a solid midfield, Delph, if he could only stay fit may plug the gap 'til Carlo solves the problem, although there was a lot to admire in yesterday's performance and I think most of us have the confidence, now, that we will continue to get better and enjoy some great Everton games now and in the very near future.
Robert Tressell
56
Posted 18/10/2020 at 13:22:24
Can we stop paying so much attention to our over entitled neighbours and have a thread on how well Ben Godfrey slotted in on his debut? I'd be really interested in how others saw him.
Tommy Carter
57
Posted 18/10/2020 at 13:22:54
@54 Dave
Gomes is a player we should really look to move on. He was definitely worth taking at the fee we paid. However, yesterday showed what he's all about.
He can have a 9/10 performance about once every 20 games. But he's very much hit and miss the rest of the time.
Before his injury against spurs, he had been generally poor. The game against villa away from home early in the season, he was absolutely atrocious. He's an intelligent and brave player, he goes looking for the ball and is able to take up positions to receive it. But his distribution is often erratic. He gives it away an awful lot. He bottled a challenge on the touch line yesterday which then led to their first goal.
Too inconsistent for me. May well be better suited to another league and I think he retains some of his transfer value. So for this reason, move him on in January.
Bill Griffiths
58
Posted 18/10/2020 at 13:32:04
Tony(#45), I understand what you are saying regarding our fullbacks getting little help from JR. I have seen other posters on various threads refer to this as well as articles on the Red Echo site.
I understand the reasoning in this but I believe to get the best out of JR we need to let him play where he wants to and find s way to accommodate this rather than restricting him in any way.
Mike Doyle
59
Posted 18/10/2020 at 13:42:17
Bill. Perhaps JR could be given a more central role - perhaps with another 'tracking back' player on the right to support the right back.
Again yesterday JR produced 2 killer passes - one from the right side from which RIchie hit the post and, from the left, his through ball to Digne which enabled the cross from which DCL scored. This one seems to have upset Klopp as they had set up to stop this happening.
Mike Doyle
60
Posted 18/10/2020 at 13:44:26
... forgot to mention JR's killer cross onto Keane's head for our first equaliser.
Peter Roberts
61
Posted 18/10/2020 at 14:01:32
Andrew #1
If memory serves me rightly the Rodwell non-red card was rightly criticised on MOTD and subsequently rescinded by the FA. I think Lee Dixon was quoted as saying "If that's a red card, we may as well pack up and go home"
Didnt help us on the day mind but we did get quite a bit of sympathy.
One Red I know (not a Kopite) has already bleated about VAR (fair enough), but accepts that we were also overdue some dodgy decisions in our favour in a derby based on what has happened in the past. Unlike Kopites who are aiming death threats and Pickfords family and claiming a conspiracy against them.
John Raftery
62
Posted 18/10/2020 at 14:05:44
Dave (55) Your first paragraph sums up exactly how I view Gomes. I never thought I would say this but at present Sigurdsson might be a better option. Not much in it though!
Colin Metcalfe
63
Posted 18/10/2020 at 14:29:13
Seems that Gomes is latest victim for the posters on here.
He is a top player and better than anyone we have on the bench right now so guys just please lay off him and soon he will be back to his best!
Brent Stephens
64
Posted 18/10/2020 at 14:35:11
Robert #56 "Can we stop paying so much attention to our over entitled neighbours and have a thread on how well Ben Godfrey slotted in on his debut? I'd be really interested in how others saw him."
Already said it, but I loved Godfrey's first-team debut. Thrown in at the deep end as an injury-induced sub. Against arguably the best team in the UK. Against arguably their best-attacking player in Mane. In a game where we were on the back foot for so long.
And yet, his body language (I know, so dangerous to use that one) suggested he was not at all nervous. I just loved that early foray down the right, with really good close control of the ball while being menaced by several opposition players (forget who we played, apologies).
A regular in the first team before too long?

Stan Schofield
65
Posted 18/10/2020 at 14:40:53
Colin @63: Spot on. When Gomes was first signed, he was so good that most people on here were over the moon with him, some even proclaiming 'man-love' for the guy. And his particular display in that Anfield derby was quite astonishing, he absolutely ran the show with great style that brought back memories of the School of Science.
His form drops along with that of most of the team, he suffers a very bad injury, comes back from it with some good performances, is probably still on the road to 'full recovery' (similar to how Seamus was), has some poor performances, and we find that gone from 'man-love' to 'get rid'. Fickle doesn't even begin the describe it.
Tony Hill
66
Posted 18/10/2020 at 14:41:03
Fair comment, Dave @55, and I don't defend his form now. But his injury was horrendous and his physical recovery was very quick. Not sure, however, that he's really healed.
I think there may be mental aspects with Andre. You're right, though, he has to prove himself again or he will be replaced.
Karl Meighan
67
Posted 18/10/2020 at 14:50:30
It should be us Evertonians he's apologising to, he let us down yesterday.
Tony Abrahams
68
Posted 18/10/2020 at 14:51:15
Play him where he wants to Bill, I agree with that mate. It's why I'm suggesting in front of Allan & Doucouré. He's free to roam anyway, but when he does it means Doucouré is having to go across towards the right-hand side, which was leaving to much room in the middle of the park yesterday.
Playing someone with a better work rate out wide, might help us keep a better shape is what I'm saying Bill, because there was to much room for Liverpool to play in our midfield yesterday, and I'm just thinking of solutions to an area that teams are definitely going to try and exploit?
Robert Tressell
69
Posted 18/10/2020 at 15:06:49
Thanks Brent @ 64 for humouring me. It's a big deal making your debut – and in a derby. He acquitted himself very well. A footballer with good physical attributes and a good head on his shoulders. Deserves more of our attention.
As for the role James plays, he is a playmaker who starts in a wide position. He does not play up and down the line. It would be a complete waste of his talents and nullify his attacking threat to play him that way.
The issue is not James but the third body in midfield. Gomes is not getting into games as he should. Against a steroid bloated trio he was a passenger. In games where we control the ball he's better.
If we had a more dynamic third member of our central trio, then James gets a bit more room to play / float around.
Still, lot of positives from yesterday. And plenty more to come. Tough match, nothing fundamentally broken, and the unbeaten run continues.
Tony Hill
70
Posted 18/10/2020 at 15:09:39
He was done once late on, Robert @69, but I think this player looks a top notch acquisition. He's a cold, confident sort with all the physical qualities. Very, very promising.
Michael Williams
71
Posted 18/10/2020 at 15:20:50
A thread about Richarlison publicly apologizing to his teammates, club, fans and a fellow Brazilian international (who carries a lot of weight in Brazil) turns into a thread ripping Richarlison and Gomes???? ToffeeWeb has resumed normal service.
John McFarlane Snr
72
Posted 18/10/2020 at 15:21:36
Hi Tony, [10] although you and I are of different generations I feel that we share similar views, and I believe that Richarleson was right to issue an apology to Thiago Alacantara. I listened to the game, but I've seen the highlights, and I don't take any pleasure from the Richarlison and Pickford challenges; if the situations were reversed, I think we would be rightly outraged. I know that I'm in danger of being in the 'Snowflake' brigade that Will [11] refers to.
Regarding the cheating, I never liked the fact that a player would clearly put the ball out of play, and immediately raise his arm, claiming "Our ball". Things however have gone way beyond that, the feigning injury and rolling around as though in agony, the falling down at the merest touch, and the so-called ex-professional pundits saying "There was contact so he was entitled to go down." Yes, Tony, 'Football is losing its appeal.'
Michael Williams
73
Posted 18/10/2020 at 15:22:05
By the way. Calvert-Lewin is a Championship player.
Derek Knox
74
Posted 18/10/2020 at 15:22:16
Hat's off and fair play to Richarlison, for apologising for his tackle.
Yes, it was a bit rash and ill-timed but he had the decency to hold his hands up and show he is a decent human being as well as being a great footballer.
Darren Hind
75
Posted 18/10/2020 at 15:40:20
Stan
Why is it fickle? If People did declare a "man love" for him (nothing surprises me anymore) they will probably belong to a different group to those who are saying "get rid".
Not everyone felt "man love" simply because he played very well at Anfield and not everyone would go as far as calling his excellent display that night as "quite astonishing".
I despise this unconditional love which seems to have surfaced. Gomes got his plaudits when he played well and is quite rightly getting criticised for being a passenger in nearly every game since his comeback.
The guy himself has told us he received fantastic support to get him through his dark times when he suffered his terrible injury (I still don't buy the protests of Son's innocence). But there can be no room for sentiment. We cannot afford passengers if we are going to go to the next level.
I would love nothing more than to see the guy rediscover the form we all know he is capable of, but if he continues to struggle with the pace of the game. Ancelotti will have no option but to stand him down.
Bill Gall
76
Posted 18/10/2020 at 16:05:33
First off, Richarlison is a young professional who realized he made a mistake and apologized to a fellow professional who received it and hopefully he excepted it. This should be an advert of how professionals should behave instead of milking it for publicity.
The Pickford tackle, if Van Dijk had not been hurt, nothing would have been said, and it was a reckless tackle by Pickford were he could have been injured also. Van Dijk had already laid down his marker that you shall not pass, and to quote if you live by the sword you die by the sword.
We don't like seeing anyone injured but we have seen plenty of Everton injuries in derby games with dubious tackles that never got punished, so all this red media going nuts for their poor favorites, suck it up: shit happens.
Dave Abrahams
77
Posted 18/10/2020 at 16:16:05
John (62), yes I doubt f there is much to choose between Gomes and Sigurdsson. I thought Gomes was on yesterday to go all out for 45 minutes to an hour and then be replaced by Sigurdsson, but I doubt either of them will add much to Everton's game. Hopefully Gbamin can add to the midfield area if and when he comes back properly fit.
Joe McMahon
78
Posted 18/10/2020 at 16:16:37
Darren, bang on post, fully agree.
Barry Rathbone
80
Posted 18/10/2020 at 16:47:48
At any given time fans promote a player (or several) to "top player" status regardless of ability pre-Mansoor players like Shaun Goater fulfilled the role at Man City post Aguerro. Kompany, Silva etc "the goat" would be classed as a slow-witted donkey.
The point is it's all relative, James, Digne and maybe Richarlison give us maybe 3 genuinely top players on a good day but the rest, including Gomes, are either too inconsistent or way off the standard.
Just hope for Carlo's sake the present impetus isn't derailed or very quickly the worm will turn. Improved recruitment is a continuing necessity he needs to be looking at January now.
Mike Gaynes
81
Posted 18/10/2020 at 17:07:43
DK and Jay, agreed. Richarlison is a class act who has stepped up like a man, and the apology shows it. We should be proud of the young man and the way he exemplifies Everton spirit, not condemnatory based on who else failed to apologize for bad acts in the past.
That's who he is, and that's what a true Evertonian exemplifies. I say bravo and well done.
David Pearl
83
Posted 18/10/2020 at 17:21:14
The team is still growing and certain individual players do need to be more consistent. Keane has taken his belief and desire to another level, as has Calvert-Lewin.
The next 3 games will give Sigurdsson and Iwobi a chance but we hope Calvert-Lewin can keep this form up because he's made a huge difference, probably more than the new signings. His goal-scoring form is now more important with Richarlison being out, so all eyes on him.
Stan Schofield
85
Posted 18/10/2020 at 19:07:06
Darren @75: Point taken, not necessarily the same people saying those different things, I should have thought of that. Must be my age!
Karl Meighan
86
Posted 18/10/2020 at 20:10:12
Godfrey put in a good shift and considering the lad was out of position I don't think we could have expected anymore from him.
If he carries on like that, it won't be long before he's challenging for a starting spot. More competition for places and building partnerships at the back can only be good going forward.
I am glad Thiago isn't seriously injured as it was a poor challenge, Pickford's challenge would not have been spoken about had Van Dijk not been injured, it wasn't good but not something thousands of keepers haven't done during a game. Hope he also recovers quickly but the stick Pickford is taking seems way out of control.
Will Mabon
87
Posted 18/10/2020 at 20:19:03
Stick with it Derek. Maybe tell them the worry is making you feel like going back on the H.
Peter Roberts
88
Posted 18/10/2020 at 20:19:28
Reds on social media comparing us to a pub team and that "we won't be up there for too long" when I countered that even we weren't expecting us to be up there at this stage, the guy conceded he had no comeback.
I propose that we offer them a deal: they stop bleating about the derby result on Saturday and well stop mentioning Bryan Thomas's disallowed goal and Dirk Kuyt's assault on Phil Neville.
Darren Hind
89
Posted 18/10/2020 at 20:30:59
Your point was taken too, Stan.
While the guy coming back from such an injury is doing his best in a blue shirt, he deserves our patience.
If the manager selects him, we should support him
Justin Doone
90
Posted 18/10/2020 at 21:17:01
I don't understand what some fans see as being wrong with a public apology.
Yes the media over hype the tackles in part because it was against Liverpool but it's because of this why I think it's sensible.
Richarlison has often been the target of many bad tackles and poor play but he realises this course of action is probably in his best interests as a young sport's star and all that goes with it these days.
I would have expected Pickford to have done something similar. I know he went unpunished for it, but it tells me he's not as media savy or being as well advised as our Richarlison.
I think both were genuine attempts to win the ball. Richarlison's appeared to be a 50:50 challenge. I think he did get the ball but the studs first was what was wrong with it.
Well done to him for apologising.
Stan Schofield
91
Posted 18/10/2020 at 22:54:06
Justin @90: Aside from the issue of whether it was appropriate to apologise from a purely human perspective, it's very questionable as to whether it's media savvy.
Given the apparent bias and mob mentality of the media coverage of that game, it can be argued that apologising merely serves to feed that mob feeding frenzy, helping to escalate the criticism of Everton, criticism that is ultimately futile and repugnant.
Will Mabon
92
Posted 18/10/2020 at 23:32:51
Agree with that, Stan. A bit galling to have to be media savvy but that's the way of it.
Anthony Jones
93
Posted 18/10/2020 at 23:57:16
There was no need to apologise for either challenge.
Pickford made a terrible error of judgement, as he can do from time to time.
Richarlison left his foot in when he realised he had missed the ball. This happens quite often at all levels. It is as likely he was trying to not let Alcantara get away with the ball as it is that he wanted to hurt him.
Personally, I cannot stand the condescension of the Liverpool fan. Van Dijk I don't want to see injured but it has ruined their season and so it is absolutely hilarious. I am sure Gary Naismith had a wry smile.
Stan Schofield
94
Posted 18/10/2020 at 00:06:17
Similar happened a few seasons ago when Barkley aplogised to Jordan Henderson for a badly-timed tackle, even though it had no bad consequence. This apologising shit is all one way, even though badly-timed tackles happen on both sides.
If anyone thinks that this is media savvy, they're in fantasy land. Klopp protests in the atrocious modern style, like Mourinho, the style where they constantly get in the face of officials regardless of whether they're right or wrong. And what does Everton do? Apologise!!!
If anyone thinks we're out of the mental inferiority complex with Liverpool, on this showing they're wrong. It's the usual stuff, just go belly-up at the first hint of a tantrum from the likes of Klopp.
Stan Schofield
95
Posted 19/10/2020 at 00:12:21
Just to add, Barkley ends up apologising when he plays for us against them. But when he plays for Villa against them he runs the show and humiliates them.
Could we do that? No, we do the usual keystone kops routine, mess the job up, then apologise. It's more pathetic than an apology to Clint Eastwood's mule.
Si Cooper
96
Posted 18/10/2020 at 00:15:27
I disagree, Stan. I don't see that it adds anything in particular to the media frenzy. In fact, I think seeming unapologetic or unsympathetic could be used against us much more.
The media seem a little schizo at the moment: Jamie Carragher on Sky pretty much said the injury was unfortunate but a consequence of fiercely contested games and even criticised the righteously indignant Souness for his blatant hypocrisy.
Meanwhile on MotD2, Danny Effing Murphy crowns Van Dijk as the best centre-back ever (well, that he's seen... but he obviously thinks he is best to judge) and thinks Van Dijk should be angry about the challenge (which would make him another whopping hypocrite).
Then they go on to close out the show with a celebration of the towering header including two in derbies, starting with Big Dunc and finishing with Calvert-Lewin's equaliser from yesterday.
I'm interested to note there has been very little information regarding the extent of the cruciate ligament damage. Based only on how freely he was moving when he exited, I think it could easily be quite limited and think he may be back in action in a couple of months. Of course, people like Murphy are solemnly predicting his season is over. I don't expect we will get to hear the full details until Pickford has been suitably punished for his 'horrendous assault'.
Steve Brown
97
Posted 19/10/2020 at 02:53:02
They'll be calling for a UN resolution and a Security Council vote on Van Dijk's ACL injury this week. Making themselves look very foolish.
And I agree with Stan – we shouldn't be apologising for shit.
Tony Abrahams
98
Posted 19/10/2020 at 07:56:52
It's obvious that you hate Liverpool, Stan, but sometimes I think your absolute hatred for them makes you lose a bit of logic, mate.
Who knows if we are out of a mental inferiority complex? We fought really hard to stay in the game, but only the future will show us this.
The biggest thing is character or personality. How many times have you seen people apologise, say their sorry, and then just go and do the same thing again?
I've seen it loads. I saw Everton's strongest team absolutely shit themselves once they went behind at Anfield 10 months ago, playing against Liverpool's reserves. Why? Because it was a team without character, a team with no personality, and a team that didn't know how to roll their sleeves up and fight.
On Saturday, Everton fought, battled, showed character, rolled up their sleeves, and stayed in the game when the going got tough, so how can you just say people are wrong, Stan? Let the future decide this.
Jim Lloyd
100
Posted 19/10/2020 at 08:39:45
I'd just like to add that, in the history of derbies, that slice of luck was well deserved... considering the feast of luck the other crowd have had for the last 50 years!
Trevor Peers
101
Posted 19/10/2020 at 08:40:57
Strangely, I've never heard a RS player apologize once for some of thier horrendous challenges on Everton players down the decades and I don't see why Richarlison should had to have to apologise for his, we owe them absolutely nothing.
Kevin Prytherch
102
Posted 19/10/2020 at 08:53:29
I think Richarlison has been very clever. It's a back handed apology for injuring a player, whilst at the same time highlighting that he pulled his stoods out of the way to avoid injuring the player further.
It would now be difficult for the FA to cave in to Liverpool's moaning and extend his ban when he did all he could not to injure the player once he realised the clash was inevitable.
I think the apology is more for fans and teammates, and for the injury, than the challenge itself.
Jim Lloyd
103
Posted 19/10/2020 at 09:09:57
I don't think he did have to. That's why I think he's showing himself to be a man.
Bobby Mallon
104
Posted 19/10/2020 at 09:49:31
I've just emailed the club and asked why the club have not put a statement out backing our two lads. The vitriol and shite being attached to the two of them by pundits and media is a disgrace.
They were mistimed tackles, that's all, but because it's those others, our two lads are being crucified. The more the club allow this, the more I'm convinced Pickford will be punished. The club need to say something now.
Paul Burns
105
Posted 19/10/2020 at 10:09:47
Don't apologise for anything. Liverpool had a policy of targeting dangerous players with foul tackles going back forever. They deliberately put Pat Nevin out of the game in the FA Cup at Anfield from minute one when he was ripping them to pieces. They don't like the boot on the other foot.
As for retrospective decisions, how far do you go back? We've suffered from a million bent decisions against them going back at least 50 years.
Time for the club to finally stand up for us and issue a statement backing our players and condemning the whinging kangaroo court and biased media reaction. Where are they when shit happens to us, deafening in their silence?
Tell them all where to go, we're not putting up with the whingefest any more.
Jim Lloyd
106
Posted 19/10/2020 at 10:11:26
Totally agree, Bobby (104),
Did any of the media crucify Son and that other awful teammate, who put Gomes out of the game for months?
Was a word said against Suarez for putting two of our players out with really cowardly tackles from behind? I've not heard a peep!
Andrew Ellams
107
Posted 19/10/2020 at 10:13:33
Not only did the media not turn on Son, his red card was overturned.
Stan Schofield
108
Posted 19/10/2020 at 10:16:45
Tony @98:
I honestly don't hate Liverpool per se, and some of my best mates of over 50 years are reds. I just hate the way we seem to collapse when we face them, both on and off the pitch. Yes, the lads battled hard on Saturday, but unfortunately all the attention is on some incidents where Everton are criticised, yet again.
Liverpool are dead jammy, but we don't help, in fact we help them. A few days ago, they were sort of in the spotlight for apparent dodgy moves to change the structure of footy, and our Everton asked for an apology, which of course was refused. The whole thing was a bit embarrassing for Liverpool, without any real spotlight from the media.
But that embarrassment didn't matter, because a few days later there's a derby match. We don't play that well... they do, we end up apologising for stuff, the media goes crazy, and now there's an intense spotlight on Everton the pub team.
The spotlight should have been on Everton and the way we'd been playing, slick entertaining and effective football, with or without a victory over Liverpool.
I sometimes think that EFC acts like the PR department for LFC, because we keep making them look better than they are, The whole thing is extremely frustrating.
Jim Lloyd
109
Posted 19/10/2020 at 11:10:38
Stan@108 I think our Chief Executive rounded on the Stinky Six for their antics well enough, but I also think the whole of the Premiership Clubs should have rounded on their snidey antics.. I also think that Ritchie was showing us he let us down, and hopefully he's showing signs of being more of a man. I've no problem with him sending out his apology to the lad and to us.
I agree with you about our Club. I don't see why we haven't issued a strongly worded statement regarding the concentration of our so called "pub team" display of 2 incidents but no equal concentration on a number of bad fouls committed by the opponents throughout the match.
The worst aspect for me is the number of ex players from that nest of saTAN, WHO INFEST THE MEDIA (oops, sorry) and how they have influenced the referees for decades.
As fat as our team and our manager go, though, it seems to me that we fofught throughout the match and arte getting an attitute of Never Give In, which is great to see.
I agree with a previous poster who pointed out that the title of the column xcould have reflected on how well well we played, not how luck we were.

Jim Lloyd
110
Posted 19/10/2020 at 11:13:26
Ps, Just to point out that I was talking about the match report title.
Tony Abrahams
111
Posted 19/10/2020 at 12:06:41
I'm not bothered that Liverpool never apologised, but I'm glad that Braxendale asked for one though, because it shows me that Everton, are finally starting to get wise, and are prepared to let the other crowd know this.
No crowd, but plenty of passion from the team, and it's heartening to see all the Wattsapps flying around, because you can see that Evertonians, are definitely not backing down to them either... Early days but it's been a long time🤞
Stan Schofield
112
Posted 19/10/2020 at 12:20:51
Tony, the real test will be how we respond on the pitch to what's happening at the moment. Whether the 'good moment' (to quote Ancelotti) represents a real change, or whether it's a fleeting moment easily undermined, as so often in the past, by one game where we don't help ourselves.
Tony Abrahams
113
Posted 19/10/2020 at 12:41:21
It's not the real test Stan, it's the only test. I'm gutted we can't get in the stadium to back them, and also show them know how much we appreciate them, when they give their all in a blue shirt though.
Not a time to be carried away, but definitely a time when we should have no fear? It's been a great start.

Will Mabon
114
Posted 19/10/2020 at 12:46:07
Stan, the ridiculous frenzy following Saturday's game should be treated as the fleeting moment, and completely forgotten. I hope that's exactly how they're playing it at Finch Farm right now. Certain interests will be hoping we are knocked off kilter, and it will cause more angst to them to see we aren't.
I think we helped ourselves pretty well on Saturday - battled to a good draw, in which there were a couple of unfortunate incidents, that's all it is. Nothing to regret.

Ray Jacques
115
Posted 19/10/2020 at 13:20:56
I will not shed tears or care about Van Dijk. He gives out plenty and so has to accept when he gets it back. Unfortunate, but part of the game.
As for their virtuous and holier-than-holy fans, I remember them attacking the ambulance that was taking Alan Smith out of Anfield to hospital with a broken leg, so they can swivel.
Stan Schofield
116
Posted 19/10/2020 at 13:33:07
Tony, absolutely, we should have no fear.
Will, yes we did battle, and hopefully we'll carry that spirit on, together with the free-flowing football we'd been playing.
There's really only one way to alter the current behaviour of the media.
Andrew Ellams
117
Posted 19/10/2020 at 14:53:41
Stan @ 9, when the Man City bus incident happened ex RS nobody David Thompson actually blamed Everton supporters in a radio interview.
Everything about that club is a horrible, self centered ego fest. And they still believe any negative press is down to some sort of jealousy of a team that's won one domestic title in 30 years.
Stan Schofield
118
Posted 19/10/2020 at 15:04:06
Andrew@117: Didn't know that, but it's no surprise. These people just sap any meaning from any discussion of any issue surrounding LFC. It's a weird mental phenomenon.
Sam Barrett
119
Posted 19/10/2020 at 15:43:25
Do not succumb to the rs media/fans bitter, frenzied reaction to an injury that could've happened to any player on any team of any game this season. Give them plenty of abuse on social media or whatever platform you choose. To Me it is now irrelevant. The most relevant thing to me, at this moment in time, is that we are definitely under their skin. As someone on TW once posted, it's Everton they fear most.
Phil Gardner
121
Posted 20/10/2020 at 01:34:42
It's nice to see some snarl in the team and it's nice to get VAR breaks. It won't last. All of this RS publicity will see it is punished soon. But for now, be gutted that we didn't take 3 points and smile at their vitriol.
Remember Geoff Nulty and fuck them. Personally, I hope Harold Shipman is Van Dijk's surgeon.
Tony Sullivan
122
Posted 20/10/2020 at 11:53:22
Si Cooper (20) well said, my view too, some very bitter views on this thread. Well done Richarlison, let's move on.
Tom Bowers
123
Posted 20/10/2020 at 12:07:47
We have been at the wrong end of RS results and subsequent rhetoric for so many years that this shouldn't make any difference to our opinions about them except to say it's good that we got something from the game.
Just imagine how they would have reacted had we been leading when that goal was disallowed.
Brian Williams
124
Posted 20/10/2020 at 12:13:09
https://www.dailymail.co.uk/sport/football/article-8858763/Rival-fans-mock-tweet-online-condolence-book-collecting-messages-support-Virgil-van-Dijk.html
Chris Hockenhull
125
Posted 20/10/2020 at 12:22:05
Phil (121) Love the recommendation for surgeon. Maybe with Irma Griese as his assistant??
Craig Walker
126
Posted 20/10/2020 at 22:33:46
Fair play for apologising. It is the right thing to do. It was a bad challenge and rightly received a red card. He's apologised and Thiago didn't seem too injured as others have said, he played on afterwards.
I'm more disappointed with the fact that he'll now get a ban and we didn't get in any cover for the forward positions. I hope that doesn't prove to be short-sighted.
Southampton away isn't an easy game and Richardson will definitely be missed. Hopefully he comes back after his ban raring to make up for this mistake.
Peter Roberts
127
Posted 20/10/2020 at 23:01:08
Day 3 of the vigil for St Virgil by the red-infested media.
If it wasnt tough enough already, we have absolutely no hope of beating them in the return fixture because they are setting up the referee to send off one of our lads every time they breathe on a player.
Also the silence is deafening on the other lot over any sort of condemnation for the death threats sent to Pickford.
Any sympathy I had for them and the marginal VAR call that rightly should have been ruled in their favour, has gone straight out the window. Its bordering on embarrassing, and the latest announcement of the European Premier League smacks of them taking their ball away and going home like a spoilt child.
Dave Abrahams
128
Posted 21/10/2020 at 09:33:03
Peter (127), it's on to day four with their Dutch mdfielder, the fella they got from Newcastle, saying it was a stupid foul by Pickford and he and the rest of the Liverpool players haven't slept well since it happened.
Not to be left out, Klopp said he feels the same as his players. You really feel for them, don't you, it must be absolutely terrible to be in their shoes. There is no end to their torment, and as to their poor fans, it doesn't bear thinking about what they are going through. My prayers go out to them.
Brian Wilkinson
129
Posted 22/10/2020 at 15:00:52
Day 5 and still they ask Carlo about Virgils injury in today's pre match press conference, then he responds by saying Rodriguez will miss this Sunday's game, after picking up an injury from Virgil, suprised suprise, nothing splattered over sky sports or the various media sources.
Even now on the bbc website it is still going on about the injury, another headline saying injury hit Liverpool overcome Ajax, click into that and you get half the match report going on about Virgils injury and Pickford.
Will Mabon
130
Posted 22/10/2020 at 15:21:40
...and an apology from Ancelotti for the Van Dijk injury, Brian, on behalf of Everton. This is a regrettable precedent. Not in the sense of belittling the injury. We've now folded under the pressure .This will open the floodgates to turn further incidents in other games and for other teams into a dramatic emotional maelstrom.
Carlo did mention that we have no Rodriguez for the Soton game due to an injury sustained in a challenge by Van Dijk.
Jay Wood
[BRZ]
131
Posted 22/10/2020 at 15:38:22
Not having that Will. That's naughty of you. You are playing the same game as the media which is deservedly being challenged on how they are reporting things.
Isolating things out of context, putting a negative spin on what Carlo actually did say.
Whilst he uttered the words 'We are really sorry about Van Dijk's injury and hope he recovers quickly', that doesn't equate to submissive subservience, accepting culpability, as you are trying to portray it. It is a football man expressing sympathy to an opponent. That's all.
He clearly goes on to defend Jordan. That it was not premeditated, malicious or stupid. That the resulting feeding frenzy is too much and simply not true. That it was a football injury that can happen at any time, to any player, in the high-speed game of the PL.
Poor call, Will.
Jay Wood
[BRZ]
132
Posted 22/10/2020 at 15:38:36
Not having that Will. That's naughty of you. You are playing the same game as the media which is deservedly being challenged on how they are reporting things.
Isolating things out of context, putting a negative spin on what Carlo actually did say.
Whilst he uttered the words 'We are really sorry about Van Dijk's injury and hope he recovers quickly', that doesn't equate to submissive subservience, accepting culpability, as you are trying to portray it. It is a football man expressing sympathy to an opponent. That's all.
He clearly goes on to defend Jordan. That it was not premeditated, malicious or stupid. That the resulting feeding frenzy is too much and simply not true. That it was a football injury that can happen at any time, to any player, in the high-speed game of the PL.
Poor call, Will.
Jay Harris
133
Posted 22/10/2020 at 15:50:06
Thought Carlo handled that really well.
Trying to bring some calm and commonsense to the issue.
Justin Doone
134
Posted 23/10/2020 at 09:14:19
_ _ _ _ _ _ _
Line drawn, focus on the next game
---
Add Your Comments
In order to post a comment, you need to be logged in as a registered user of the site.
Or Sign up as a ToffeeWeb Member — it's free, takes just a few minutes and will allow you to post your comments on articles and Talking Points submissions across the site.