Newcastle United vs Everton
Friday, 30 October, 2020
Match Preview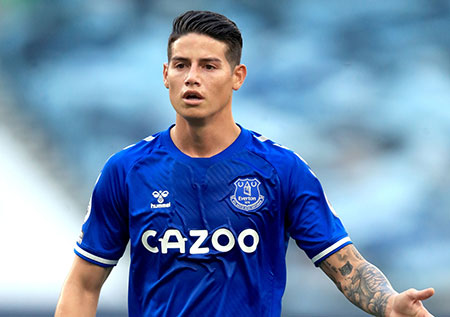 James Rodriguez will miss his first Premier League game as an Everton player after Carlo Ancelotti ruled him out of Sunday's trip to Newcastle along with Seamus Coleman
Everton are in the northeast this weekend for a game that has taken on added significance and complexity in the wake of last Sunday's loss to Southampton and the absence of three key players.
With the Toffees flying after winning their first seven matches in all competitions, a run of fixtures against Saints, Newcastle and erratic Manchester United didn't seem all that daunting but the loss to suspension of Richarlison following his card in the derby, injury to James Rodriguez, defeat at St Mary's and now a one-game ban for Lucas Digne have altered expectations.
A doubt for Southampton, Rodriguez has been ruled out of the trip to St James's Park meaning that Carlo Ancelotti will be without his three most creative outlets. To underscore the point, Everton haven't won a Premier League game when Richarlison hasn't played at least some part and the task of replacing him was muddied further by Alex Iwobi's failure to grab his chance last weekend.
Ancelotti said in his pre-match press conference today that James had a "little problem" and needs rest. "We hope he will be available for the next game."
Even though Seamus Coleman will remain sidelined with a hamstring problem, there was at least some good news at the back with Jonjoe Kenny and Jarrad Branthwaite both fit again following their respective ankle injuries. Kenny's return offers, of course, a more like-for-like replacement for the skipper but Branthwaite, as a fourth fit centre-half, does at least allow Ancelotti to consider a switch to a three-man central defence.
That would afford Niels Nkounkou, the presumed deputy for Digne, more license to get forward and better cover behind him for those marauding runs of his. Fabian Delph has played at fullback before, of course, but not for Everton and he lacks the young Frenchman's pace and dynamism, something this Blues side generally lacks without Richarlison in its ranks.
Whether it's 5-3-1-1, 4-3-3 or some other variant, finding the right balance in the middle of the park is going to be key and that is at least one area where Ancelotti has an abundance of choices. André Gomes will itching to get back into the team after not featuring against Southampton, Delph did came off the bench in that match and performed well, while the manager's comments in his pre-match press conference suggest that he still retains a lot of faith in Gylfi Sigurdsson.
Then, of course, there is Allan and Abdoulaye Doucouré, one of whom looked off-colour against Saints while the other was, for many Blues, one of the best of Everton's players on the day but was surprisingly taken off to give Delph his chance.
In the more creative and potentially wider roles, it would be a surprise if Iwobi was named in the starting line-up for a second week running even if Rodriguez's absence means there is another spot up for grabs, not just that of Richarlison, but Bernard and Anthony Gordon are in contention, with teenager desperate to get his chance to shine. Whether that is from the start this weekend remains to be seen; it's unlikely Ancelotti would start two youngsters in Nkounkou and Gordon on opposite flanks as wing-backs, but he might be tempted to reprise their League Cup partnership down the left flank in more conventional roles as left-back and left-winger.
Whoever gets the nod and whatever shape Ancelotti goes for, the keys to the game will be keeping Newcastle's main danger man, Allan Saint-Maximin, quiet at one end and providing more support for Dominic Calvert-Lewin on the other. Steve Bruce's unpredictable side will be missing their main play-maker in Jonjoe Shelvey so they will lean more heavily on Saint-Maximin's explosive talents but while the French winger caused Manchester United problems in their recent meeting, he tired and faded as a force in the second half and the Red Devils ran away with it, eventually winning 4-1.
Compensating for an otherwise rudimentary side with industry and spirit, the kind which saw them come back from the dead to stun Everton at Goodison in stoppage time earlier this year, the Magpies are hard to predict but their defence is one that can be "got at" with the right approach. The Toffees may be without their assists king in Rodriguez and their supplier of ammunition from the left in Digne but there is enough talent in the ranks to win of they can get the formula right.
"We have to be focused on the opponent," Ancelotti said. "We have to find the weakness in that team but we have to be focused in ourselves most of the time, we are preparing to avoid the mistakes we made against Southampton.
"I think that the fact we have players out, it's important to know the quality of the squad."
This will, indeed, be an examination of the squad's depth and another chance for those more fringe players to stake a claim. Most important, however, will be offering a clear response to last Sunday's disappointment on the south coast.
Kick-off: 2pm, Sunday 1 November, 2020
Referee: Stuart Atwell
VAR: Craig Pawson
Last Time: Newcastle United 1 - 2 Everton
Predicted Line-up: Pickford, Kenny, Keane, Mina, Nkounkou, Allan, Gomes, Doucouré, Sigurdsson, Bernard, Calvert-Lewin
Full coverage: ToffeeWeb Report Page
---
Reader Comments (342)
Note: the following content is not moderated or vetted by the site owners at the time of submission. Comments are the responsibility of the poster. Disclaimer
Jay Wood
[BRZ]
1
Posted 30/10/2020 at 14:05:13
It's actually an extremely funny watch. Not for Carlo's actual words, but for the instant sub-title translation that the club used for the first time.
I'm guessing the speech-recognition technology they used struggled to deal with Carlo's accent. There were some beauts...
'Newcastle' was translated as 'the Custards'.
'Anthony Gordon' came out as 'buddy God'.
And 'Sigurdsson' as...'a pair of kidneys!'
There were plenty more too.
Try and listen and read the sub-titles at the same time. Good laugh.
Peter Dodds
2
Posted 30/10/2020 at 14:34:30
Right then, 4-4-1-1 it is. I'd suggest:
Pickford
JJK / Keane / Coleman / Nkounkou
Iwobi / Allan / Doucoure / Gordon
Siggy
DCL
Marc Hints
3
Posted 30/10/2020 at 14:40:05
How come you have Coleman Peter as it says at the top he is out?
Mike Gaynes
4
Posted 30/10/2020 at 14:41:47
Marc #3, he obviously got Coleman mixed up with Mina, which is perfectly understandable given the remarkable physical resemblance between the two.
Rod Harrington
5
Posted 30/10/2020 at 14:43:04
Good man Peter. Get Coleman on, even with one leg.
Jerome Shields
6
Posted 30/10/2020 at 14:49:53
In hindsight it would have been better against Southampton to have rested Rodrigeuz, and put out a defensive formation, packing midfield. With Ancelotti it has been shown that Everton can play that way. He is now going to have to do that against Newcastle anyway.
Brian Williams
7
Posted 30/10/2020 at 14:58:51
We need to demonstrate we're not a one man team and adjust accordingly. We certainly shouldn't (IMO) play a defensive formation.
We should go out to impose ourselves on Newcastle and make it the comfortable victory it should (all things considered) be!
Darren Hind
8
Posted 30/10/2020 at 15:06:36
On paper, yes Brian, but they have plenty of previous for putting in stubborn performances when you least expect them to. They're a bookies delight.
I'd take an ugly three points right now
Brian Williams
9
Posted 30/10/2020 at 15:14:49
Me too mate. Records never say "jammy" or "undeserved" just 3 points.
Michael Lynch
10
Posted 30/10/2020 at 15:18:13
Bearing in mind we were completely outplayed at Southampton with Coleman and Richarlison missing, I'm not confident we can get three points at Newcastle now that we've also got James and Digne out. Sure, JJK coming back is a bonus considering what a nightmare Godfrey had at right back, but there's very little creativity there so I would expect DCL to be isolated again and feeding off scraps, while we're down to squaddies in both full back positions.
Having said that, the optimist in me is looking forward to seeing what Nkounkou can do bombing down the left. His crossing has been brilliant when he's played, so maybe we'll see another DCL hat-trick?
Andrew Ellams
11
Posted 30/10/2020 at 15:24:26
I'd like to see him leave Iwobi and Gomes out and go with
Pickford
Godfrey Keane Mina
Kenny Allan Doucoure NKounkou
Sigurdsson Gordon
DCL
But he won't
John Keating
12
Posted 30/10/2020 at 15:25:27
Apart from the Coleman error I think Peter at 2 won't be far off
Personally I'd play Bernard as opposed to Iwobi
Pat Kelly
13
Posted 30/10/2020 at 15:41:28
"The fact that we have players out it's important to know the quality of the squad"
No decent replacement winger, right back, or creative mid. And should DCL get injured, no striker. That's the quality of the squad. And we've only played 6 PL games.
Colin Metcalfe
14
Posted 30/10/2020 at 15:42:06
Gomes is a must for the game we badly missed him against Southampton, he knits everything together and surely Gordon must start ahead of Iwobi who yet again played poorly when getting a starting position.
Marc Hints
15
Posted 30/10/2020 at 15:44:43
Mike#4 they are like twins, I can't tell the difference
Jay Harris
16
Posted 30/10/2020 at 15:45:30
Listening to the presser I got the feeling Carlo will bring Gordon as a sub and not start him.
Personally I think it would be a mistake to play Iwobi.
I think Delph deserves a chance on the left of MF and as I felt with Southampton I would go 4-4-2 with Gordon and DCL up front.
JJK is more logical than Godfrey and I certaily would not go with 3 at the back against Newcastle because they will exploit the space behind the wingbacks due to their block defence and hit on the break style.

Andrew Merrick
17
Posted 30/10/2020 at 15:45:43
Andrew 11, I see some sense to that shape.
No Richie was a big miss last week, adding in Digne and Hames obviously more so.
DCL was starved of chances, but at least with this shape we might be creative on the break, a win by any means would be great COYB
Peter Dodds
18
Posted 30/10/2020 at 15:48:36
Marc / Mike / Rod 3-5 - er yep, more haste less speed! I did mean Mina of course. Somehow I can't see one-legged Seamus keeping up with St Maximin...
Dale Self
19
Posted 30/10/2020 at 15:50:24
I guess I'll put some money on the table and list an eleven. Don't slam me. I usually just yell from the upper deck.
Pickford
Godfrey Mina Keane Nkounkou
Delph Allan Doucoure Sigurdsson
Bernard
DCL
With the understanding that Siggy goes forward and will not track back effectively so the other three will have to cover. Late bring in Gomes for Bernard if he's fit. Gordon on the left if Siggy sags. Nkounkou stays in defensive mode.

John Hughes
20
Posted 30/10/2020 at 16:03:25
Jay : Sigurdsson a pair of kidneys? I've been saying he's offal for ages!

Robert Tressell
21
Posted 30/10/2020 at 16:10:45
Pickford
JJK
Nkounkou
Keane
Mina
Delph
Allan
Doucoure
Gordon
Iwobi / Bernard
DCL
4321 just to help us get a strangehold on the game. Lose one of the three centre mid players as the game goes on - to be replaced by Sigurdsson's potential goal threat.
However, as I write this, I realise Sigurdsson would be our set piece taker in the absence of Digne and JR so may be shoehorned into the first 11 for that reason.
John Pierce
22
Posted 30/10/2020 at 16:11:29
I want Ancelotti to be more compact, not pick the same system as last week as we don't have the players to make it work.
However he probably won't. We lost the balance in the team last week. He might go.
Pickford.
Kenny, Godfrey Keane, Nkounkou
Gomes Allan Doucoure
Iwobi DCL Gordon
That midfield should be enough to get us on top in the game. They're without Shelvey and if we play high enough (Godfrey gives us cover in behind) it will nullify the supply to St Maximan.
Gordon is the closest to Richarlison and will need to stretch the play to get Nkounkou into the game and not isolate DCL. Despite the universal slaughter of Iwobi I'd pick him on the right because well he's most likely, despite the obvious flaws, to find a killer pass. This is a big game for Gomes and his midfield mates. We win if we dominate the middle of the park and get close to DCL we should win without the drama.
John Pierce
23
Posted 30/10/2020 at 16:13:47
Ill cry if he picks Delph at left back.
Jeff Armstrong
24
Posted 30/10/2020 at 16:22:12
I think Bolasie would be a better option than both Iwobi and Bernard, and I don't particularly rate Bolasie, it's just that he's on the books and being paid a load of cash by the club to sit at home.
I believe it was a mistake to leave him out of a squad of 25 when we only named 23!
Even as an impact sub for 15-20 minutes now we're down to the bare bones he would be an option,
ridiculous decision by Ancelloti to "Niasse" him.
Christy Ring
25
Posted 30/10/2020 at 16:27:06
After last Sunday's performance, I definitely wouldn't start Sigurdsson or Iwobi, we can't afford to carry two passengers, away from home. I'd play Gomes, the couple of weeks training, should freshen him up, and his passing range was badly missed at Southampton.
Pickford
Kenny
Keane
Godfrey
Nkounkou
Allan
Gomes
Doucoure
Bernard
DCL
Gordon

Conor McCourt
26
Posted 30/10/2020 at 16:35:57
Jk@12- "personally I'd play Bernard instead of Iwobi"
Personally I'd play Iwobi's granny instead of Iwobi.
Obviously in the hope that it's that the side of the family Jay Jay got his skills from.
Ken Kneale
27
Posted 30/10/2020 at 16:40:08
I like that team Christy- and agree, surely Iwobi and Sigurdsson have done enough damage now to be considered only in dire emergency when we have absolutely no alternative option. Lots of money wasted as has been promulgated from TW contributors over recent years
Kieran Kinsella
28
Posted 30/10/2020 at 16:40:54
Newcastle have been playing poorly yet they have been managing to pick up points. They are a bit like Palace with a lot of decent players but no one amazing so if everyone does their job well they grind out results but if one or two have a bad day they can play terribly.
Andrew Clare
29
Posted 30/10/2020 at 16:43:20
I don't want to be a gloom merchant but expect to see a similar performance to last week's debacle.
A struggling midfield, an isolated DCL and a very wobbly defence is most likely.
Our squad depth is non existent and with arguably our four best players missing Sunday is going to be a tough day.
Kieran Kinsella
30
Posted 30/10/2020 at 16:45:11
Christy
I feel like Sig has done fairly well coming off the bench like he has a point to prove. When he starts he seems to think he's on easy street and jog about aimlessly. I'd bench him for Gomez.
I worry about the left side because nkounkou is lax defensively and neither Gordon nor Bernard are exactly equipped to help him out. Iwobi meanwhile is just no good. We have to go narrow and chuck Davies into the mix just to provide a bit of defensive aggression.
Mike Gaynes
31
Posted 30/10/2020 at 16:54:08
Dale #19, don't be Self-conscious, we welcome all lineup speculation.
Actually I like yours the best of the ones posted so far -- can't understand why some want to slot in Godfrey for Mina.
JP #23, me too, but I do think Delph earned a midfield start with a solid sub performance against Soton.
Jim Bennings
32
Posted 30/10/2020 at 16:57:58
Normally we do well against Newcastle but given the key players out I can honestly see us getting f#cked over here.
The right side will be a nightmare and the left not much better, with creativity at a bare minimum.
John Pierce
33
Posted 30/10/2020 at 17:00:04
Newcastle are terrible, they are however, excellent at set pieces, and have one player, who on his day can rip it up.
Their prompter in chief Shelvey is out, so Everton should be able to push high and dry up the supply for their forward line and keep corners and set plays to a minimum and far from goal. We need to play closer together as a unit, higher up as team we cannot do that with Mina & Keane.
Kieran, I get the reaction and need to play narrow but it will neuter us as much as stops Newcastle then it becomes attritional and shit and we gone from a team who should have the upper hand to a 50/50 shoot out.
We cannot retreat into our shell here, compact yes, but play in their half.
Geoff Williams
34
Posted 30/10/2020 at 17:00:18
And some include Iwobi in their team, find that so hard to believe
Christy Ring
35
Posted 30/10/2020 at 17:06:18
Kieran#30 Davies should still get a run
Mike#31 The reason I'd start Godfrey, he's naturally left sided, and his pace, would nullify Wilson.
Jeff Armstrong
36
Posted 30/10/2020 at 17:11:03
Geoff 34, agree,
I would prefer Virginia at left mid before Iwobi, his only half decent "moments"have been in cup games against the likes of Salford, Fleetwood, Exeter etc, tells us all we need to know about Alex Iwobi, League 1 level at best.
Joe McMahon
37
Posted 30/10/2020 at 17:15:20
FFS why is it only our best/key players are the ones who get injured. Unfortunately I can't see us even getting a point.
This is exactly what Kevin Campbell was say a after the transfer deadline day passed. Quality is lacking in the squad even though new additions have been top.
Jeff Armstrong
38
Posted 30/10/2020 at 17:16:11
Jay #1, is it true Iwobi came out as "fucking shite"?
Rennie Smith
39
Posted 30/10/2020 at 17:18:14
Agree Geoff@34, especially seeing as Iwobi got the hook at half-time v Saints. Unless he's got 9-lives Carlo surely will bench him as he's had plenty of chances to impress and done his usual lazy-teenager act.
Think Gordon will be on the bench at first with maybe Bernard starting. Interested to see what Nkounkou has got.
Big game this as we've had our bump in the road, but even with the 2 most gifted attacking players missing we still need to react and bounce back. I expect a tight game, maybe a DCL header to scrape a hard-fought 1-0.
Joe McMahon
40
Posted 30/10/2020 at 17:21:32
Not sure about Bernard guys, has he put in a decent performance away from home? Barely does it at Goodison.
Stephen Brown
41
Posted 30/10/2020 at 17:29:38
4231
Pickford
JJK Mina Keane Nkoukou
Allan Doucoure
Gordon Siggy Bernard
DCL
Sigurdsson in the no 10 position.
As I've tried to pick the team it's clear we don't have as much strength in depth as I thought! We need another creative player and cover for DCL. Can Simms do a job on the bench this week!
I'd love a scrappy 2-0 win
Tim Gerrard
42
Posted 30/10/2020 at 17:33:02
I would go with the following in a 4-1-3-1-1 formation.
Pickford
JJK, Mina, Keane, Delph
Allan
Doucoure, Gomes, Gordon
Siggy
DCL
Would pick Delph to fill in at left back, a role he played at City, given our current defensive record and that we our without a both a first choice centre back, Holgate, and right back, Coleman. To pick Nkounkov, a19 year old recruit from the Marseille B team to make his Premiership debut after only two, although impressive, outings against lower league opposition would be a big ask at this stage.
Don't think Gomes looks comfortable playing left hand side of a midfield three, his best performances came on loan in the centre of midfield playing with Idrissa Gueye, albeit pre-injury. Would have Gordon playing on the left of the midfield, while Allan sits deep.Would have Siggy play as an orthodox number 10. Bernard would be interesting in that role, but Siggy would carry the greater goal threat. Hopefully JJK and Gordon can get forward down either flank. Think Carlo would want to, at least, avoid two successive defeats.

David Greenwood
43
Posted 30/10/2020 at 17:33:32
If we start any two from iwobi, siggy and Bernard we won't get a thing from the game. Last seasons failures and none of them have done anything to justify a starting spot. We might get away with one of them starting but even that's pushing it.
I'd like to see Gomes, Gordon and Davies start. I know Tom isn't everyone's cup of tea but he knocks his pan in. None of the three mentioned above can say that.
Nkounkou firing in crosses for DCL will be a sight to behold and I can see DCL bagging another couple of goals.
2-0 win. COYB

Bill Gall
44
Posted 30/10/2020 at 17:37:23
Ancelotti may go 442 Pickford / Kenny Mina Keane Nkounkou /
Doucoure Gomes Allan Delph // Gorden DCL
Stephen Brown
45
Posted 30/10/2020 at 17:38:51
Joe 37
You're right if you were asked name 4 players you wouldn't want to be without then James, Richarlison, Digne and Coleman would be high on that list!
Dave Williams
46
Posted 30/10/2020 at 17:39:34
David #43 agreed- those three wont be competitive. We are missing any threat from the wings so need overlapping full backs to play so Jonjo and Nkounkou to start. Tom plays well with Jonjo and Delph would give protection to the left with Gordon attacking there with Nkounkou.
Pickford
Kenny
Keane
Mina
Nkounkou
Davies Allan Doucoure Delph
Gordon DCL
That midfield won't hide and will compete.
Kieran Kinsella
47
Posted 30/10/2020 at 17:39:55
Joe 37
"FFS why is it only our best/key players are the ones who get injured."
You mean like Alcaraz, Kone, etc
Dale Self
48
Posted 30/10/2020 at 17:40:16
Hey Mike,
Good to see you early on these threads. Joe makes a fair point about Bernard's away form but stepping in for James as the creator may spark him. I still think Siggy is too slow for the 10 unless he has James with him. Steve Bruce is still the ugliest manager in football and Lascelles is possibly out in back. Just get the three points, no style necessary.
Eddie Dunn
49
Posted 30/10/2020 at 17:45:22
My own take on the line-up that I would like to see is
Pickford
Kenny Keane Mina Nkounkou
Doucoure Allan Gomes Delph
Gordon
Calvert Lewin
This would give us some cover in front of our defence and Gordon could be given a free role behind/beside DCL and Nkounkou could bomb forward with Delph ready to cover.
If it fails to produce then Siggy/Bernard could be introduced but I wouldn't even give Iwobi a place on the bench after his impotence last week.
Derek Wadeson
50
Posted 30/10/2020 at 17:52:25
Didn't Delph play left back for City when he could get a game?
Jay Harris
51
Posted 30/10/2020 at 18:12:19
Bill that is exactly the team and formation I would go for.
Gives us more of a goal threat with Gordon alongside DCL and strength in MF with Delph and Gomes relieving the pressure on Allan with Doucoure box to box and due a goal.
As Carlo said let them worry about us.
The only trouble is I worry about us too.
Tom Bowers
52
Posted 30/10/2020 at 18:12:20
Just looks like we are going to be in a deja view season yet again.
Suspensions and injuries after just half a dozen games when we thought maybe we may have a team to get us back to the top echelon of the league.
Yes we are still top and I hope we will stay there despite these setbacks but the replacement players need to step up to the plate starting Sunday. Suddenly Moise Kean starts scoring after we loan him out and in the Champions league when he struggled so much with Everton. Why ?
That may just come back to haunt us further over the next two months as we are woefully short of strikers now.
Kieran Kinsella
53
Posted 30/10/2020 at 18:15:48
John Pierce 33
Sorry I was reverting to type and putting on my Moyes tinted glasses. We still have Doucoure I guess which is a much better state than when it was Schneid playing
Richard Mason
54
Posted 30/10/2020 at 18:26:19
I think I'd stay with 433.
Pickford
Jjk Keane Godfrey neils
Dacoure Allan delph
Bernard DCL Gordon
Paul Smith
55
Posted 30/10/2020 at 18:27:02
Bill Gail comes closest to my team, maybe Davies for Gomes who makes a career out of careering into the back of the opposition player. So many different permutations above so really interesting this pick from Carlo. Gordon must start and Iwobi must not. We lack quality in depth, that's for sure.
Darren Hind
56
Posted 30/10/2020 at 18:31:25
"Dont slam me. I usually just yell from the upper deck"
Not 100% sure what that means, but it made me laugh out loud
Paul Hewitt
57
Posted 30/10/2020 at 18:33:24
Newcastle are crap. Any team we put out should be beating them.
Tony Everan
58
Posted 30/10/2020 at 18:49:10
I think we may see a formation change because of the injuries and suspension.
Pickford
Keane Godfrey Mina
Kenny Doucoure Allan Delph Nkounkou
Bernard DCL
I want to see us on the front foot here, it was difficult to watch us being comprehensively outplayed in midfield last week.
Barry Rathbone
59
Posted 30/10/2020 at 18:56:02
Off-topic but RIP Nobby Stiles he helped make the 1966 world cup final the second-best Wembley final of that year
Mike Gaynes
60
Posted 30/10/2020 at 18:57:12
Christy #35, no, Godfrey is right-footed. And personally I believe that a top-of-the-table club like Everton (damn, I love saying that!) should shake things up as little as possible. Mina and Keane for me.
David #43, "knocks his pan in"? You always educate me, my friend. Translation?
Dale #48, Bruce is not merely the ugliest manager in football. He is the ugliest human in football... a title he assumed when Iain Dowie left the game... and for which he has been seriously challenged only by Di Maria and The Straq.
Tom #52, I'm a Kean supporter too, but his CL goals the other day came against a Turkish side most people have never heard of. Let's see how he does against top clubs before we get too upset.
Dale Self
61
Posted 30/10/2020 at 19:03:13
Thanks for that vision of Ian Dowie! Using the eyedrops now. Always thought Skirtel was worth a mention in that competition. The biggest piece of shit to wear human skin that one.
Kieran Kinsella
62
Posted 30/10/2020 at 19:04:15
Mike 60
Re. Dale 48, timely discussion as the sadly departed Nobby Stiles used to own that title
Mike Gaynes
63
Posted 30/10/2020 at 19:06:00
The toughest 66 inches of man who ever played this game. Toothless but with balls the size of boulders, and classy enough to smother Eusebio in the '66 semi without hacking him to pieces.
https://www.theguardian.com/football/2020/oct/30/nobby-stiles-obituary
And you're right, Kieran, he was definitely a looker. Fit his name perfectly.
Dale Self
64
Posted 30/10/2020 at 19:11:32
I don't know Kieran. Something about those teeth leaves him a rather attractive figure for a footballer. These glimpses to past history are very good for me, wish I'd been following it all along.
Jack Ledwidge
65
Posted 30/10/2020 at 19:12:35
I'd go with Eddie(49). Solid look about that side. Godfrey on the bench means Carlo has options where to deploy him. He can fill in a number of positions. Gordon in a 10 role could be what we're looking for. My only reservation is down the right. Kenny is not an overlapping full back. Solid and simple is his game but away from home probably what we need. Enough in this side to take 3 points.
Brian Harrison
66
Posted 30/10/2020 at 19:24:08
I think that this will be an interesting team selection as well as what formation we may play. I think he may start JJ Kenny if fully fit, and he may find a spot for Delph. I would like to see Nkounkou play at left back with Delph in front of him, the lad has pace so let him overlap and use his pace and with Delph covering for when he makes his forward runs. From his press conference its hard to know if Ancelotti will start Gordon or bring him on from the bench, he certainly carried more of a threat than either Iwobi or Bernard did against Southampton. I would think if either Bernard or Iwobi start in front of Gordon they can consider themselves very lucky, and both are drinking in the last chance saloon for me.
DCL will certainly need more help than he got in the Southampton game, his quietest to date this season, for that reason alone I would play Nkounkou from the start as he can deliver a decent ball from out wide. I wouldn't actually mind if Nkounkou played in front of Delph which may mean we carry more threat than starting him at full back.
It will be important to get back to winning ways on Sunday and prove it was just a blip and we will be around for the long haul. I think if we can win without Coleman, Richarlison, Digne and Rodriguez it will be a massive statement and a great confidence builder, knowing we can cope evem with our best players missing.
Dave Abrahams
67
Posted 30/10/2020 at 19:26:14
Mike (63), loved him, especially at Anfield one Saturday afternoon, went right in on Tommy Lawrence, Liverpool's goalkeeper in a fifty fifty ball, left Tommy sprawling on the floor, the Kop went berserk, screaming, shouting and frothing at the mouth, Nobby got and faced them, then gave them the two fingers with both hands, I couldn't have been prouder if he had been one of us!!
I'd like to see that World Cup semi final again though Mike, because if it wasn't Eusebio he mauled it was definitely someone else with a terrible tackle, red card, no bother, but he got a walkover, I can still remember that Anfield tackle though- - - - with pride. RIP Nobby.
Kunal Desai
68
Posted 30/10/2020 at 19:31:22
Two goals conceded in 4 of the first 6 games isn't good enough. We need to get back to basics defensively here. Maybe a change in formation of 3 centre backs and 5 across the middle with JJK and Nkounkou as wingbacks. Gordon playing of DCL perhaps.
Sadly the lack of options underlines the importance of bringing in atleast another 5 or 6 players over the next two transfer windows. The players stepping in for those out suspended and injured just aren't up to the mark.
Bill Gienapp
69
Posted 30/10/2020 at 19:34:09
Not surprised James is out. We probably should have just bit the bullet against Southampton and rested him. Obviously hindsight is 20/20, but that decision sure backfired on us.
I expect this match to be a relatively drab affair, regardless of the actual result.
Brian Harrison
70
Posted 30/10/2020 at 19:35:03
Mike 63 Dave 67
Nobby was a tough tackling midfielder but he wasn't in the same class as Tony Kay he could do everything Nobby did but better. he was a better tackler than Nobby, and a better passer than Nobby. I am sure if there hadnt been that scandal Kay would have been in that England team not Nobby. But both never gave an inch on the pitch and one things for sure you wanted them to be on your side and not in the oppositions team.
Craig James
71
Posted 30/10/2020 at 20:01:53
Pickford
Godfrey keane mina
Jjk delph nkounku
Allan doucoure
DCL Gordon
Doubt jjk will start and think Davies deserves a shot but whatever we do not want iwobi or siggy in the starting 11 plz.
This gives us some pace at the back, down the wings and up top.
None of this sideways stuff, if not on route 1, push the team up the pitch, pick up the 2nd balls, we need to use the high press and put pressure on the toon to make mistakes.
Also wing backs up and down and plenty of early crosses into the box that is what dcl needs and has thrived on this season.
Sorry to be pessimistic but doubt we will play like that and a draw at best for me but happily eat humble pie for desert sun afternoon.
Tony Hill
72
Posted 30/10/2020 at 20:06:16
Brian @70, too true. Stiles, may he rest in peace, wasn't anywhere near Kay.
Derek Knox
73
Posted 30/10/2020 at 20:11:37
Be interesting to see what the actual team will be on Sunday, after the enforced changes, Richie and Lucas suspended and James ' resticles for testicles '. Whoever is selected I hope they learn from the Southampton experience.
COYB
Tony Hill
74
Posted 30/10/2020 at 20:15:31
Tony Everan's side please @58.
Delph is underrated on here, by the way. Not, perhaps, a bundle of charisma but he's a very good player when he's fit, and he is prepared to stand up to the opposition and to referees.
Ray Roche
75
Posted 30/10/2020 at 20:19:43
Mike@63
To be fair Mike, if Kay had been available Stiles would be in the same category as Paine, Connolly, Flowers or even Callaghan. Good players but squad players. Kay could do everything that Stiles could do but much better.
Of course, you'd rather have Stiles with you than against you but choosing Stiles over Kay? No way.
Ray Roche
76
Posted 30/10/2020 at 20:22:00
Having said that, Stiles came in and did a job and should be appreciated and respected for what he was : a World Cup Winner. RIP Nobby.
Rob Dolby
77
Posted 30/10/2020 at 20:36:27
Pickford
Jjk Mina Keane Niels
Gordon Dacoure Allen Gomes Delph
Dcl
Hopefully Dacoure will have a bit more freedom to express himself as he won't have to do the running for Rodriguez.
I know people have mentioned Bolase as being useful but I would also include Besic in the squad as he can at least put a tackle in.
I would leave Iwobi and Sigurdsson at Finch farm in a wet paper bag to see if either of them could escape.
Tony Twist
78
Posted 30/10/2020 at 20:43:08
It's vital for our season that we get a win against Newcastle, just turn up, couple a goals and then on to the next match.
My team would be:
Pickford (only because there is no crowd),
JJK, Keane, Godfrey, Nkoukou,
Allan
Bolasie, Gomes, Doucoure, Gordon,
DCL.
No Siggy, no Iwobi.
Best of luck blues.
Mike Gaynes
79
Posted 30/10/2020 at 20:45:40
Dave/Ray/Tony/Brian, thanks for that info. To be honest I've barely heard of Kay and his scandal, and of course never saw him play. But I vaguely recall seeing video of Nobby.
Tony Hill
80
Posted 30/10/2020 at 20:49:48
You'd have loved him, Mike, a wonderful sight to see. One of the very best, and his is a very human story.
Derek Knox
81
Posted 30/10/2020 at 20:53:45
Bolasie and Besic weren't on the submitted Premiership sheet, so I don't think although they are technically still our players, that they would be eligible to play.
I may be wrong, if I am, what is the point of submitting 25 names by a deadline? Only to be able to play anyone not on the submitted list!
David Greenwood
82
Posted 30/10/2020 at 20:55:56
Mike, sorry for the confusion, knocks his pan in means gives 100%, total effort, that sort of thing.
Something that Tom deffo does.
Jeff Armstrong
83
Posted 30/10/2020 at 21:00:08
Derek, we submitted a list of 23 players, we could have added 2 more, Bolasie (brought up in the UK) could have been one of them and a youngster as another, but our shortsighted manager chose to go with 23 instead ...wtf
Don Wright
84
Posted 30/10/2020 at 21:08:11
Just in-case anyone is interested the legend that is Tony Kay is alive and kicking in Southport he owns the Marine lake and cafe bar by the marina at this end of the pier the one that has live (TIC) entertainment a place to have a pint and look at the locals enjoying themself some of them are better than the acts on stage anyway nice bloke Tony and not a bad pint
Ian Bennett
85
Posted 30/10/2020 at 21:26:03
Pickford
Godfrey
Nkoukou
Mina
Keane
Gomes
Doucoure
Allan
Gordon
Calvert Lewin
Bernard
Danny Broderick
86
Posted 30/10/2020 at 21:41:45
I can't help fearing the worst. Despite our win over Spurs, I can't help but feel we are not a team that travels well yet. And without Coleman, Digne, Rodriguez and Richarlison, it's even more unlikely we will win. Newcastle look a great price at 13/5, it pains me to say.
My team would be:
Olsen
Kenny
Keane
Mina
Nkounkou
Doucoure
Gomes
Allan
Delph
Bernard
DCL
We have to be more tough to beat away from home. I'd take a point anywhere - 3 points would be a bonus. Pickford needs taking out of the firing line for his own good. His tackle on Van Dijk was like Gazza on Gary Charles. He's a nutter who's likely to blow up again on Sunday against the Geordies.
Unfortunately I fear the worst on Sunday...

Will Mabon
87
Posted 30/10/2020 at 21:50:36
Enjoyed the line ups and discussions, I mostly read rather than participate in this area. I still think our twelfth player is the most vital thing though - team spirit.
The most noticeable thing to me last week above anything tactical was the resurgence of the Koeman-Silva Karma. Get rid of this totally and we're on the right track.
Tony Hill
88
Posted 30/10/2020 at 22:04:06
Yes, quite so, Will. That deadly reappearance was what hit most of us in the guts.
Steavey Buckley
89
Posted 30/10/2020 at 22:07:41
Everton go into the Newcastle game with the worst possible line up, because Everton only have one player who can score goals. Ideally, Everton should have begun the season with at least 4 strikers available for selection now there is just one, who will be marked by at least 3 defenders. So there is not possible to make any predictions for the game on Sunday with just one heavily marked Everton striker - just hoping for the best.
Paul Birmingham
90
Posted 30/10/2020 at 22:19:35
Interesting perms for this match in terms of formation and players.
Personally I hope DCL, is not left playing in isolation like last week, and we have a game plan, and shape to stick to.
As many have said on thread, this is test of this squads strength and character.
The players hopefully will be playing to win and to regain the tempo of the first x4 games.
I'd like the players to focus on shooting and finishing, we can't playing games without working the goalie.
Tough, game and there's no excuses, the squad has got to be up for this game.
Hopefully they will be.
Sam Hoare
91
Posted 30/10/2020 at 22:24:46
Not feeling confident.
We've been conceding goals frequently and relying on out scoring teams. Without Digne, Coleman, Richarlison and especially Rodriguez we have lost that supply line.
I have defended Iwobi frequently but he was woeful against Southampton and Bernard does not produce enough end product.
Our best bet I suspect will be to sit a bit deeper and hope for a counter attack or more likely a set piece. Giving Sant-Maximin, Fraser and Almiron space to run at Mina, Kenny and Keane will go badly I fear. Pick a hardworking team and hope for an old fashioned KITAP1!
Nicholas Ryan
92
Posted 30/10/2020 at 22:44:06
My prediction for this match, is sitting in the corner with my head in my hands, mumbling: 'But it all looked so good just 2 weeks ago'!!
Bobby Mallon
93
Posted 30/10/2020 at 22:50:08
Kieran Kinsella @30. At what point has Nkounkou been lax at his defence duties. We have won every game he has played in and against West Ham he had his best game yet keeping yarmolenko in his pocket all game. We have a squad of players and if players get injured the next in line plays and Nkounkou is next in line and I think deign may have just become a sub as this young lad is about to become a star
Jerome Shields
94
Posted 30/10/2020 at 22:50:10
Dave #46
I think yours is the best Selection. As you say its a midfield that will not hide. This game will be determined by control of midfield. Prefer Gordon. With Nkounkou will make a good combination.
Chris Williams
95
Posted 30/10/2020 at 23:04:26
Arguably Tony Kay was better than Bobby Moore too.
Heresy perhaps, but sadly that's how things work out sometimes.
Things don't even out over a life, let alone over a season!
RIP Nobby Stiles. You had your chance and you took it.

Kieran Kinsella
96
Posted 30/10/2020 at 23:15:26
Bobby,
Just passing on what Don Carlo said:
"He's showing good quality in front, he has to improve defensively, but in front, he has a lot of quality."
Howard Don
97
Posted 31/10/2020 at 00:20:55
Just happily taking in everyone's thoughts on the team for Sunday and ended up almost misty eyed over Tony Kay. 1962 was my first season ticket year and so I saw him play for the limited time he was allowed with us. Even allowing for rose tinted glasses, the guy was a class apart, one of the best I ever saw. Came out on the pitch sometime in the early 2000s and got a standing ovation.
Derek Thomas
98
Posted 31/10/2020 at 00:35:39
People have picked all sorts of formations, all dancing about the bleedin obvious...at the moment we only have 9 decent and/or not suspended or injured out fielders.
Thus we have all and sundry...including Ancelotti...trying to find a least worst formation to shoe horn in one from Iwobi, Siggi, Bernard, possible Davies too and Delph...who, tbh, wasn't that poor in his brief spell last week.
Any thing we get out of this will be a bonus.
Jack Convery
99
Posted 31/10/2020 at 00:58:15
3 5 2 for me.
Pickford
Mina, Keane, Godfrey,
JJk Nkounhou as wing backs
Doucoure Allan Delph
Siggy and DCL
A grafting 1 o or 2 nil win. We need to start getting clean sheets. Get nothing on Sunday, then January can't come quick enough. I'm sure having to pay Bolasis and Besic meant we didn't have the readies to go out and get a forward, after Kean left. Or we did as Kean was off the wage bill but couldn't get who we wanted. Either way its vital we get another forward in come January.
Jack Ledwidge
100
Posted 31/10/2020 at 01:29:51
Jack at (92). I think that formation is wrong away from home. Don't think going 5-3-2 and experimenting with Godfrey in a back three will work. Kenny in a five man midfield- meeeeahh. Not sure. I think whatever the selection we'll shine down our left side and create chances.
Defensively a 4. Kenny Keane Mina. Nkoukou. 4 in the middle Doucoure, Allan, Gomes Delph
Gordon
DCl
I'd deploy Gordon in a 10 role. Give these lads a chance. Siggy off the bench. He's not a 90 min player.
On another maybe silly note( few wines on board) Coleman has a huge role although injured. As a personality and somebody with respect and leadership qualities, does anything disallow him from coming onto pitch at the start to encourage our lads. It's a shame our club captain with a groin injury is sitting at home.
Steve Brown
101
Posted 31/10/2020 at 01:46:22
Pickford
Kenny Mina Keane Nkonkou
Allan Delph
Doucoure
Gordon DCL Bernard
Graham Lloyd
102
Posted 31/10/2020 at 02:40:01
I think Siggy and Gomes will start and hopefully Gordon in place of Iwobi. Not sure who else would take corners/free kicks with James and Digne out.
Pickford
Kenny Mina Keane Nkonkou
Allan Doucoure Gomes
Siggy DCL Gordon
I still don't think a clean sheet is on the cards but we will win a tight 2-1 win away and remain top of the table for another week. DCL will get both from set pieces.

Derek Knox
103
Posted 31/10/2020 at 03:46:44
Up to last week we have played in the main, entertaining football, and more importantly won, apart from the Derby match. A couple of injuries and suspensions have laid bare just how poor our depth of squad is.
Ironically the injuries and suspensions happen to be to our key and probably best players thus far. At times like this you would expect, those who have deputised, being generally on the bench or peripheral, to have seized that chance and grab it with both hands when given a role to play.
Like someone said before, I can't remember if it was this thread or another, not going back through to check, the majority of Carlo's inheritance (squad) has been largely comprised of Koeman and Silva's mistakes, and expensive one's at that.
Newcastle won't be easy by any means with what we have available, but I think with the right tactics and personnel, we should be able to salvage something. Even if we achieve that through an ugly win, I will accept that now, but there again that choice is not mine to sanction!
Laurie Hartley
104
Posted 31/10/2020 at 03:49:56
I think I have just about gotten over last week's disappointment and have decided we have a chance of bouncing back here.
I haven't seen Nkoukou but by all accounts he likes to get forward and is a good crosser of a ball. We have to put out a savvy midfield for this one. This would be my starting 11.
Pickford,
Kenny, Kean, Mina, Nkoukou
Doucoure, Allan, Gomes, Delph
Sigurddson
DCL
Davies, Bernard, Gordon, Godfrey
Sigurddson playing just in behind DCL. Big opportunities for Siggy and also Kenny and Nkoukou.
Up the Blues !!!
Si Cooper
105
Posted 31/10/2020 at 03:59:21
I don't usually bother trying to predict the starting XI as I think trying to second guess the manager and whatever feedback he is getting in training is a bit of a lottery, but I'll give it a go for a bit of fun.
Is anyone factoring in the weather conditions for this game? I believe it is expected to be very windy on Sunday and if true being in the North East is unlikely to mitigate that. It wouldn't be conducive to long lofted passes (although a maestro like James would probably be able to adjust) so we will need another way to get DCL running beyond their backline.
Quick, slick and accurate passes along the turf may be the way to go. Does that suit Delph? I'd say he has a tendency to slow the play, wanting to dwell on the ball and pick his pass. His reduced mobility compared to his heyday doesn't help. Bringing in Davies as well just seems to double down on players who aren't really quick enough to cover the midfield areas effectively, although I'd at least go for Tom's quick feet if both defences push up and the centre of the pitch becomes congested.
We also need to contain their main attacking threat, St Maximin, who will be all over our right back (JJK?) like a rash. Perhaps put Tom Davies on the right and look to permanently congest their left flank. Then we'd want to play mainly down our left flank. We know Nkounkou will overlap naturally so utilise that fully and pair him with Anthony Gordon. Allan and/ or Doucoure will need to be ready to regularly provide defensive cover at left back.
Who then for the pivotal number 10 role? Siggy, Bernard, Gomes? I guess with Digne and James out we'd still need Siggy for the delivery on corners and free kicks.
Pickford,
JJK, Keane, Mina, Nkounkou,
Davies, Doucoure, Allan, Gordon,
Sigurdsson, DCL.
John Hall
106
Posted 31/10/2020 at 04:27:51
Eddie (49) Think you have it spot on there.
Siggy / Bernard off the bench if required.
Iwobi a definite non starter, even off the bench.
Whoever sanctioned 35 million for him must have had blinkers on.
Darren Hind
107
Posted 31/10/2020 at 04:39:03
Dave 67
We had a glossy black n white picture of Nobby's double V sign to the kop in our house. He certainly had a twinkle in his eye.
An uncle was a free lance Photographer back then who often got into GP and Mordor. The picture disappeared when my older brother got his hands on it - He made more things disappear than David Nixon back then.
My abiding memory of "Our Nobby" was a tussle between him and Colin Harvey. He had CH hemmed in by the corner flag. Harvey using his low center of gravity turned him one way then the other. He then played a give n go. Nobby was having none of it. He chased Colin with determination.
Harvey received the ball and did it again. Turned him one way then the other, played it and set off again.
15 yards up the pitch the ball once again come back to CH. Nobby was still tracking him full of determination. CH (who could be a cheeky bastard back then) did it a third time. turned him one way, then the other. This time Nobby was having not of it. He was over him like a fucking octopus, forcing him to hit a poor ball.
Both men collapsed blowing out of their arses. They helped each other up all smiles and respect.
Two humble men off the pitch. two fantastic competitors on it
Derek Knox
108
Posted 31/10/2020 at 04:45:31
John @ 106, good point regarding Iwobi there. When I first heard we had got him late in the Summer Transfer Window, I was momentarily fairly happy. I say momentarily, until I found out what 'we' had paid for him.
He was only a peripheral player at Arsenal, but what I had seen from him, I thought maybe he'll turn out okay. Marcel Brands obviously knows what he's doing there. Having seen him play, he does have some skill but only tends to show it in Cup Matches and against weaker opposition.
Last week just about sealed it closed for me at Southampton, he hardly got involved, couldn't wait to get rid of the ball quick enough usually to a Saints player, his passing and tackling was non-existent.
I can't fathom out these players at all, deep down, they must know they are not first choice in a starting eleven, but rather than grasp that opportunity when given a start, or indeed as a substitute, you'd think they'd bust a gut to impress and make it very hard to drop them for the next game, but no, no such sign of what I expect most of us, should the roles be reversed, would do.
Paul Ward
109
Posted 31/10/2020 at 04:52:56
I would go for Bill Gall@44 and Jay Harris@51 selections using a 442 formation.
I also notice some derogatory remarks about Iwobi that could be avoided if Carlo didn't include him in the 18 names on the team sheet.
Darryl Ritchie
110
Posted 31/10/2020 at 05:16:27
I think this is a very important game. I hope the squad do too. If we play the we did vs Southampton, we will get beat. Even with our injuries and suspensions, Newcastle doesn't compare well. We should have enough to get three points. To be taken seriously, and not be considered as flash in the pan, we must win.
It will be up to Ancelotti and the coaches to focus the players, and make sure they are loose, so they can perform at an optimum level.
It's gut check time!
John Hall
111
Posted 31/10/2020 at 05:21:13
Derek, think we have a number of players who don't quite carry enough to reach the levels required in the Premier League.
Iwobi and Walcott both spring to mind being similar in that they have never shown the desire or levels of application when given the chance to cement their places in the side. 55 - 60 million for the two combined is madness and highlights the failures that Carlo has had to deal with.
If you are not prepared to put your foot in or commit to headers then it shows how much heart you have for the game. Both lack this consistently and are very adept at jockeying space instead of commanding that space with crunching tackles and letting an opposition player know that you are up his arse.
I have a nephew aged 9 who is in the academy at Liverpool (his choice) who can put it about even at his early age and closes down and presses like an angry canine but was deemed to aggressive at our academy for lumping other kids and left because he was told to tone it down on a number of occasions.
Could send a video of him to a number of Everton players to show that there is no place to hide on a football pitch. Full commitment is a pre requisite for any member in any team sport. Sadly we have 4 - 5 players who don't have the balls to stand up and be counted when the going gets tough.
Football ability is a gift especially when blessed with pace but sadly if the heart is not there, then the end product is usually not there as seems to be the case with a number of our big names.
Ajay Gopal
113
Posted 31/10/2020 at 06:53:42
Fascinating team selections on this thread, and the different combinations shows that we do have the numbers, but the quality outside the XI is questionable, so a good opportunity for those who get selected to put themselves in Carlo's long term plans. I have been advocating a 3-5-2 formation recently, but Carlo is unlikely to go for it in this game with so many of his 1st team players absent. So, a 4-4-1-1 formation for me:
Pickford
Kenny Mina Keane Nkounkou
Davies Doucoure Allan Delph
Siggy
DCL
Davies tends to play well on the right side of midfield - he has scored a few goals from there. Plus he will provide protection to Jonjoe on the right side which has been very vulnerable recently. A similar double team on the left with Delph providing experience to help out Nkounkou and also staying back when Nkounkou bombs forward. As others have mentioned, our goal scoring opportunities are likely to come from set-plays - so Siggy is a shoo-in in the absence of Digne. I would personally prefer Branthwaite to Mina, as the latter always looks likely to make a mistake, whereas Jarrad looks more composed and solid in his defending. Mina provides more aerial threat at corners, plus Carlo might consider playing 3 green-horns in the back 4 as too risky.
Subs bench: Olsen, Godfrey, Gomes, Bernard, Iwobi, Gordon, Simms
I feel strangely confident that we will get the 3 points - Allan will be fired up about being selected for the Brazilian national team, and Nkounkou will be trying to emulate his compatriot Ait-Nouri (also a French U-21 LB) who scored on his debut start for Wolves against Crystal Palace yesterday. Hopefully I will be smiling at 9:30 pm on Sunday evening here in Bangalore.

Jerome Shields
114
Posted 31/10/2020 at 06:59:21
I alway remember Nobby Stiles running back to his position with a look of 'It wasn't me ' having lumped some player, with opposition fans screaming for blood. Great player though.
I always thought that Iowbi was a last minute purchase by Brands to prevent the purchase of Zaha and get back control of the transfer window. I also think he was not interested in Rojo and Smalling, . By that stage he was having doubts about Silvas strengths as a Manager,
Derek Knox
115
Posted 31/10/2020 at 07:05:07
Ajay, I hope I'm smiling with you after the match if you know what I mean, interesting team selection you predict, but I am not sure about Tom Davies, he is too hit and miss for me. Adequate squad player, in emergencies, but that's about it.
Jerome Shields
116
Posted 31/10/2020 at 07:17:14
I would not select Sigurdsson, he was the main reason for the Southampton defeat. As a matter of fact, I would equate Sigurdsson as the main reason why Everton play in that Silva-type style. If he is selected, I would exspect a similar Everton performance.

David Price
117
Posted 31/10/2020 at 07:19:21
It's pretty clear that, come January, Carlo will need to increase the squad depth, there are to many players that lack the talent and consistency to play at Everton if we are to compete at the top level.
Let's take the game to Newcastle they are a poor team who are there for the taking:
Pickford
Kenny
Keane
Mina
Godfrey
Nkounkou
Allan
Doucouré
Gomes
Bernard
Calvert-Lewis
Give Bernard a free roll.

John Keating
118
Posted 31/10/2020 at 07:21:41
Last week for whatever reason they just didn't seem interested
At 2-0 down players were, at times, wandering about looking disinterested
We can still put a decent team out to beat Newcastle but Ancelotti needs to get them right mentally
Nothing less than 100% from everyone and we'll be ok
Sam Hoare
119
Posted 31/10/2020 at 08:11:22
Never seen so many different formations and lineups offered! Indicative of the curious challenge facing Ancelloti with so many out.
I'd be tempted to play Davies for his energy but Delph is a lower risk option. I think a midfield three of Delph, Allan and Doucore should be pretty decent and good enough to control the middle. It's out wide I'm worried about.
Big opportunity for Kenny to stake his claim and if he can keep Sant-Maximin quiet he'll go some way to deserving a run in the team.
Out wide the options aren't that appealing but Iwobi does not deserve another start so almost by default it has to be Bernard and Gordon, both of whom are quite hard working but lack end product.
I'd be tempted to try Godfrey for Mina but with so many other changes this probably isn't the match.
Pickford
Kenny Mina Keane Nkoukou
Doucore Delph Allan
Bernard DCL Gordon
Andrew Clare
120
Posted 31/10/2020 at 08:23:19
I like your line up Sam- I think quite a few people on ToffeeWeb are of the same view.
I just hope we go out there with the right mentality and go for the win, get forward and give DCL plenty of support.
We need to take full control of the midfield.Last week was dreadful but we have to remember that Southampton are a very good side and Newcastle are still some way off their level.
Mike Allison
121
Posted 31/10/2020 at 08:24:14
Iwobi is not an option in the wide positions, he's never looked comfortable there. He's a number 10, capable of quite clever little interplay around the box and thriving off quick, instinctive thinking in tight situations. He gets lost out wide, isn't sure what to do and when played on the left becomes completely hopeless as all he does is slows up the play and cuts back onto his right foot.
We'd be much better off with Bolasie on the left. Iwobi should be competing with Gomes and Sigurdsson for a central slot. Too late for that now though.
Steve Shave
122
Posted 31/10/2020 at 08:35:55
Nkounkou is an unknown in PL he could act as a secret weapon me thinks, I hope he plays. I would go 3-5-1-1 with Kenny and Nkounkou as wingbacks, Godfrey in with Keane and Mina, Gomes in midfield with Doucouré and Allan Sigurdsson behind Calvert-Lewin, that team could hurt a few. Cursing our luck that 3 of our best players are out of this one!
Conor McCourt
123
Posted 31/10/2020 at 08:42:59
Derek @73-' resticles for testicles'. Come on Derek, stop dicking around as this immaturity is driving me nuts cos your behaving like a knob. Hopefully tomorrow Dominic will bang it in back of the sac, making the net bulge and sending us all into wild ecstasy and leave scrotum faced Bruce limp with frustration cum the finale.
Alan McGuffog
124
Posted 31/10/2020 at 08:46:35
R.I.P. Nobby Stiles. A character and a much underrated half back.
Before we all get too dewy eyed may I remind the good company that he always got a dogs abuse at Goodison. In the mid to late sixties Man U and Everton were arguably the most entertaining, classy. footballing sides in the land. And, ironically, we had some right kicking matches against them...the likes of Stiles, Ure, bloody Fitzpatrick we hated 'em.
Peter Neilson
125
Posted 31/10/2020 at 08:48:47
Comment by Carlo in this mornings paper about breaking the run of not winning a league game that Richarlison has missed. He's missed 6 of 82.
Jason Li
126
Posted 31/10/2020 at 08:52:38
Pickford
JJK Keane Godfrey Nkounkou
Doucoure Allan Delph
Davies/Gomes Gordon
DCL
Godfrey as Wilson and S-M are really quick players and like to dribble.
Delph there to double up with in-experience of Nkounkou.
Doucoure to double up with developing JJK.
Davies - why not try him, he scored after that run against City on the right, and can get back and win us the ball. Just needs to play in-field or chip forward to DCL, keep it simple all game. If in doubt play towards corner flag and close down with DCL and try and win a throw-in or corner. Just get up the pitch like rugby.
Or Gomes instead of Davies in the free role like James
Grind out a boring game, but just hang in there for a 1-0 if we take the lead.
65 mins - first sub odds are it's Siggy, and odds are again Gordon or Davies off.
Let's hope the players are absolutely sure in how to take the opportunity this week and we play with football intelligence in match situations.
Definitely winnable if we can cover all the gaps and players are quick to recover.
Doucoure, Gordon, DCL, Nkoukou can all cause problems.
Hopefully some players show Carlo what he wants, good options due to end-product performances, don't have to be goals.
Come on lads, do it for Carlo.
Women's team, go for it!
Derek Taylor
127
Posted 31/10/2020 at 09:00:20
No James, no Richalason = No points. Simples eh ?
Mark Andersson
128
Posted 31/10/2020 at 09:11:17
Thats 111 post I read and almost as many different team selections..
A win is a must but sadly cant see us getting a result...
David Hayes
129
Posted 31/10/2020 at 09:31:00
Derek#127. Consise and accurate. Without Richarldson and James, last season mark 2., sadly.
Tony Hill
130
Posted 31/10/2020 at 09:59:21
I expect us to win and believe we will.
Mick Conalty
131
Posted 31/10/2020 at 10:06:14
Fail to see what Ancelotti sees
In Sigurdsson. Along with Schneiderlin and others was'nt he part of the rot at the club.

Tony Everan
132
Posted 31/10/2020 at 10:10:10
Woke up at 5:30am thinking about this line up again. (Ok, my 9 week old cocker spaniel puppy needed to pee as well). I've been chopping and changing thinking what's the best team to put out. It's a big game for our season. I think Carlo will go back to the fluid 4-4-2 he likes, to try and get a bit more compactness and stabilty into the midfield.
Derek yesterday described Iwobi as an enigma. I think it is a good description and as Mike 121 says, he is better suited to a no10 position floating between coming inside or attacking the right back.
I would, with some reluctance, give Iwobi one last chance in that floating no10 / right sided attack role that he 'should' perform in.
Steavey @89 rightly flags up that we have no striker cover . Kean should have been replaced to give us more threat and options up front.
Pickford
Kenny Keane Mina Nkounkou
Davies Doucoure Allan Delph
Iwobi DCL
It's a massive opportunity for Iwobi to put a marker down, his opportunities will rapidly diminish if he doesn't. Time for him to put it all on the table in his best position.
In midfield I thought we were lacking in competitiveness, energy and bite so Davies is in for Gomes/Sigurdsson.
Delph is in on the left to work in tandem with Nkounkou, helping defensively and covering Nkounkou's overlaps down the left.
My dream goal tomorrow would be a DCL finish from a pinpoint Nkounkou cross. It will be another test for us, but I am excited about the game and think we will do well.
Newcastle 0 Everton 2
Brian Williams
133
Posted 31/10/2020 at 10:13:27
Tony#130.
At last someone not throwing the towel in and waving the white flag before the game's even kicked off. 👏
Mike Gwyer
134
Posted 31/10/2020 at 10:20:18
Mike Allison #121.
Very true. Iwobi out wide is a nightmare waiting to happen, play him just behind DCL or not at all.
Whats gets me is that we were scoring for fun, even against the RS we had chances but against Southampton, we created fuckall. Absolutely nothing. The players, whoever Carlo picks, must support DCL in the final third, he was not only isolated against Southampton but I'm sure they had about 14 players on the pitch as he seemed to have 2 to 3 players man marking him.
Annika Herbert
135
Posted 31/10/2020 at 10:22:09
Not sure why so many want Sigurdsson in the team, he has produced nothing to show he is worth a start. He has looked better coming off the bench but, if we are going to play with a number 10, then I would put Bernard in there.
Siggi has done nothing in my eyes to deserve a starting slot. Too slow to play as a central midfielder, too slow to play on either wing and creates very, very little. Keep him on the bench
Pat Kelly
136
Posted 31/10/2020 at 10:31:02
Tosun back in training with the first team. Back to the future.
Derek Knox
137
Posted 31/10/2020 at 10:45:27
Pat K, apparently he has had a new flux capacitor fitted in the treatment room, now watch him go! Probably to Crystal Palace or Turkey in January. :-)
Fran Mitchell
138
Posted 31/10/2020 at 10:49:56
Would it not be worth giving Bolasie a shot at right wing? He'd at least provide width and pace. The other right sides options, with a lack of Coleman, will just cause the game to be too closed and everything through the middle, which will suit Steve Bruce.
Ray Roche
139
Posted 31/10/2020 at 10:59:50
I watched last weeks disappointing performance and expect us to do better this week. I expect us to at least turn up. But to do that the likes of Siggy, if he's picked, will have to do a hell of a lot more running than he did last week. It was a performance from the worst of last season. I noticed, maybe you did too, that on one occasion Iwobi had cocked up, the camera went to a close up, the poor lad looked terrified. He knew he'd bollocksed the move up and you could see from his guilty face that his confidence has gone. Either play him in his best position, number 10, or leave the lad out. Personally, I'd play Bernard before either Iwobi or Siggy tomorrow. He is quicker than either of them in close situations, a better dribbler and can see a pass in tight spaces.
Derek Thomas
140
Posted 31/10/2020 at 11:01:46
Derek & David @ 127 &129: maybe only if we try and play the same system without them.
Changing the 11, with 4(?) Missing must lead to changing the system...cutting your coat to suit your cloth, I think the saying goes.
Surly Ancelotti can cobble together an 11 And a system?
Tom Bowers
141
Posted 31/10/2020 at 11:03:40
The Soton game was a wake up call even if the RS game wasn't.
It's been a bad two weeks since the RS game and in no small part two all the whining by the media and many has-been players not to mention some RS players, Just wish they would all shut up about it.
Players get injured, end of story !!!
We have to get focused and get the win at Barcodes as we just know RS will go top today by playing 24 hr's ahead of us.
Hopefully Carlo has got them all back up after the Soton game and even without James and Richarlison they should beat the Barcodes. C.O.Y.B.
Eddie Dunn
142
Posted 31/10/2020 at 11:14:29
Ray, I saw that expression on Iwobi's face, but regardless of where he is placed, he has the unerring tendency to cough-up possession, either by not playing the pass/cross when he has the chance or taking too many touches. It could be nerves which is forgivable, but it is also clear that he is scared of a tackle, which would be forgivable for Coleman or Gomes, but not for him. He does not put his body on the line and doesn't show enough hunger and aggression. I would like to see him jostling and harrying the opposition and when he gets a sniff, have a run for the bye line or have a cut inside to get the shot off.
He has only looked confident in the League Cup.
I imagine he is the squad, unlike Bollasie purely because of his price tag, and the need to pretend he is decent until some other mugs can buy him for half the price come January.
On Tosun, I think he is the reason we didn't go all-in for Josh King. Maybe Carlo can see him supporting DCL or standing-in for him later in the season. Could we be about to witness a change in fortune for our Cenk?
Will Mabon
143
Posted 31/10/2020 at 11:20:07
Fran, Bolasie is out of the equation. He is not part of the formally submitted squad so cannot play under any circumstances.
Martin Reppion
144
Posted 31/10/2020 at 11:22:57
Good point, Tom.
If the Everton players and management actually believe that they are good enough to be contenders then the attitude should be 'We are better than these, so let's prove it.'
At Southampton we set up and played as if we were a lower league side in the cup hoping to nick something but knowing that we weren't likely to have another day in the sun.
With the back 6 we have (Pickford, back 4 plus Allan), the other 5 should be told to get their positive heads on and set the opposition the problems.
Too often we still go away and don't play until we are behind or have nicked a goal on the break. Whichever of Bernard, Gordon, iwobi etc play they should be told to attack. Doucoure has the engine to get in the mix and support at both ends. If we set up as second best, we will be. It's time to play as if we really believe in this squad.

Eddie Dunn
145
Posted 31/10/2020 at 11:28:06
Martin, I think the opposite is true. At St mary's we went to win the game with iwobi, James and Sigurdsson supposedly supplying DCL. With hindsight we should have gone there with a packed midfield and protected our makeshift rightback. The game was gone because James doesn't track back and we were stretched in midfield. Today we should go there with a back four and four across the midfield with Gordon assigned to get up to help DCL. We need to be solid and hard to beat and trust that our quality will get us through.
Ray Roche
146
Posted 31/10/2020 at 11:30:36
Eddie@142
Eddie, I could have written that post myself. It encapsulates my thoughts to a tee. I do think a lot of his problem is nerves, arriving for a big fee and feeling he has to justify it, which, of course he has to. The less pressure in the Carabao Cup probably enables him to try things he wouldn't normally in the Prem but what you state, ' taking too many touches' is classic 'trying too hard'.
Brian Harrison
147
Posted 31/10/2020 at 11:33:59
Although he is probably our most important player I think the suspension could turn out to be a positive for Everton and Richarlison. I think he has played when not 100% fit for both us and Brazil, so the 3 weeks off will allow his injuries to heal. Although not a lot has been said about Gomes, he was injured and missed a game but was back in the squad last week but despite us struggling wasn't used. He was in the team from the start of the season, so I wonder if the ankle injury is still playing up from time to time. He was never the quickest of players but since he has come back he looks a bit less mobile, which must have an impact on his game, but although not at his best in the opening games he was still first choice in midfield. Lets hope we can get him back to full fitness and displaying the form he showed before the bad injury.
With missing so many influential players I am sure Newcastle will see this as a good chance to pick up all 3 points. But lets hope the stand in players give Ancelotti a win and a good performance, and give him a selection problem for the next game.
Rich Pembo
148
Posted 31/10/2020 at 11:45:49
Back 4 pick themselves.
Midfield 3 has to be more competitive, so Allan, Doucouré, Delph.
The most likely source of a goal is probably a set-piece so that is partly why Sigurdsson has to start. He also has the third most goals in this squad.
Gordon is more effective, pacey and direct and offers more than the perennial underachievers Iwobi, Bernard and to a lesser extent, Gomes.
Jamie Evans
149
Posted 31/10/2020 at 11:48:58
Sigurddson will start as with Digne and James out he will be the preferred set piece/corner taker - unless Gomes has that in his locker.
Our creativity does look bleak for this one, I don't think it will be pretty.
Who are we relying on to create the chances?
I think he may go with a midfield diamond, Allan holding, dourcore and Gomes with Sigurdsson ahead. Possibly Gordon/Bernard free off DCL. Lacks width though
Kevin Molloy
150
Posted 31/10/2020 at 11:49:11
on paper, and given our start to the season we should be able to win this. Everyone is rightly nervous now though following the debacle last week. If Allan is still unable to function to his usual maximum I would rest him until he is, it's pointless have him in there giving anaemic performances like last week, better to start a fit Delph. If he is fit though, then it's all systems go, we should with Doucoure and DCL have enough quality to beat these. Iwobi shouldn't be anywhere near the wing positions, he may still offer something more centrally who knows, would be an amazing turn around like. I'd normally think 'let's go with Nkounkou and Gordon, but that would be such an inexperienced duo it makes you pause. Especially when you see how flanks can be exposed like last week.
Jimmy Salt
151
Posted 31/10/2020 at 12:08:40
I like the idea of 532 if the full backs are Kenny and nkounkou and they are given the freedom to attack.
John Pierce
152
Posted 31/10/2020 at 12:10:40
Tony 132.
I've included Iwobi in my side, I see you've revised yours! I agree. Our creativity has been ruined for this game, the outlets need to be Nkounkou and Iwobi. People might not think it but Iwobi is the closest profile of player we have to James, he's likely to receive the ball on the right and drift into the 10 like James execute in executing! His touches here will take him to goal, last week his touches were always inside and back.
Gordon is the more likely to penetrate on the left, get in the box and stretch the play, leaving space for the left back to run into. That potentially leaves three in the box and a midfielder to join in.
That's how we occupy the opposing team and keep it in their half. Gomes will be vital in creating the switch of play, if it's not don't quickly then we won't get anywhere, so Allan has to set the tempo. That's what was so problematic last week, either he was completely nullified by Southampton or he wasn't fit. Both are a concern.
I'm also miffed that Carlo does seem to lean on players, even when there not 100%. They might be our better players but it's a very dangerous game.
Dave Abrahams
153
Posted 31/10/2020 at 12:28:06
Iwobi is indeed an enigma, some one who is a mixture of good and bad, unfortunately for us and Everton he is 80% bad and 20% good, and that is being generous. If he is selected tomorrow he is a big risk no matter what position he plays.
Nick Page
154
Posted 31/10/2020 at 12:44:21
If we start with Iwobi and either one of Davies/Sigurdsson we've already lost. Iwobi is categorically the worst player I have seen in an Everton shirt since Nyarko, which is actually puzzling as there is talent there...he just can't put it on the pitch in a high stakes PL game.
David Hayes
155
Posted 31/10/2020 at 12:49:50
Without Richarlison, No out ball retention. 2 no stretching and pulling defenders out of position. 3. Goal threat reduced by half. 4 whole team reverts to three stage play. Back to midfield to attack, slow predictable and easy to defend against, overun our midfield and we are on the back foot continuosly. Replacements for all our key players that are missing don't give us enough to make us a threat to put them on the back foot. It will be a struggle and could go either way. COYB.
Duncan McDine
156
Posted 31/10/2020 at 12:51:34
Dave 153 perhaps a little generous to Iwobi, but Nick 154 a bit ott. We have worse players in our current squad, let alone going back to Nyarko days.
Derek Taylor
157
Posted 31/10/2020 at 12:58:08
I don't expect to see either Gordon or Nko in the starting line-up as Bernard, Delph or the very 'iffy'Godfrey get the call.
The 'stars' have to justify their ridiculous salaries, you know '.
Ciarán McGlone
158
Posted 31/10/2020 at 13:09:26
Some radical surgery needed to turn around the last two displays.
Frankly I wouldnt have Sigurdsson anywhere near the starting line up.. the problems he creates when he plays are insurmountable.
I'd let Bernard play number 10.
Kevin Molloy
159
Posted 31/10/2020 at 13:14:48
in the absence of our other creative players Ciaran I would say Siggi is nailed on to start. A hugely frustrating player to watch no question, but he is capable of assists. With the limited creativity in the rest of the side I think it will turn on his performance whether we get anything from the game.
Robert Williams
160
Posted 31/10/2020 at 13:15:27
Annika 135. -"Too slow to play as a central midfielder, too slow to play on either wing and creates very, very little. Keep him on the bench'
Better still, sell and keep him on someone else's bench!
Robert Williams
161
Posted 31/10/2020 at 13:19:36
Mick C 131 - "Fail to see what Ancelotti sees
In Sigurdsson."
I suppose the answer is that he sees nothing in him, but in the current injury situation and given that no-one has snapped him up, yet, Carlo is limit and probably feels that putting him in the shop window will get rid come January sales!!

Derek Knox
162
Posted 31/10/2020 at 13:25:05
Dave @ 153, how about Left Back?
Left back at Finch Farm! :-)
Jay Wood
[BRZ]
163
Posted 31/10/2020 at 13:37:50
Our success this season is built on a very solid and obvious starting XI.
Due to suspension and injury, four of that default starting XI will not be available tomorrow: Coleman, Digne, James and Richarlison.
Those absentees seriously undermine the default game plan in which Coleman and Digne keep the opposition midfield and defence more 'honest' and 'stay-at-home' with their supporting wing back play, in harness with James and Richarlison in front of them with Allan and Doucoure sharing the covering roles.
Replacing them and settling on an alternative tactic is disruptive enough without making further unforced changes as some propose.
Presuming JJK is match fit, he and Nkoukou seem the obvious replacements for Coleman and Digne. Godfrey is no full back and it is way too premature, based on nothing, to suggest he assumes one of the centre back positions, as inconsistent as Mina has been.
The greater dilemma is further up the pitch. There is no like for like replacement for either James or Richarlison. And without those two feeding him, DCL's supply line is completely choked off.
Personally, I would go for Anthony Gordon over Iwobi or Bernard for his pace in a wide forward role. This week is 'make do' for me and I would prefer to see us more compact in midfield, so envisage a role for Delph or Davies joining Allan and Doucoure in midfield.
For the supposed 'creative spark' for me its heads or tails on Gomes or Siggy. Bernard just isn't cutting it.
Last season at Newcastle we totally bossed them with Davies and Siggy rampant in midfield. Yes, they can be dogged and resilient, but this season alone Brighton and United have put 3 and 4 past them at home.
This is yet another mini-test for us which will tell us a lot. Can we eke out a result when a number of key players are missing? It's what good sides do.
How good (a squad) are we?
Jerome Shields
164
Posted 31/10/2020 at 13:50:22
Sam#119
I would have went with Gomes and packed midfield, but Bernard may be better as you suggest since he has a higher tackle rate.
It just a pitty that the Management team got it so wrong In their analysis of Southampton and Ancelotti followed with such a poor selection. The compact formation should have been used against Southampton. I don't think Southampton did anymore than they would have done against a Silva Everton and a obliging Sigurdsson. If he is selected tomorrow I shall fear the worsed.
Dale Rose
165
Posted 31/10/2020 at 13:54:22
Has Gordon pissed someone off, he's not featuring very much at the moment .

Derek Knox
166
Posted 31/10/2020 at 14:00:15
Just been looking at the Table, and it is glaringly evident any advantage that we had in terms of points has virtually evaporated with 2 points lost against the RS, and 3 against Saints. A win for any of the teams with a decent goal tally, from Southampton upwards could see us equalled or overtaken.
Plus Aston Villa still have a game in hand. Come on Blues grind out a win no matter if it is ugly, and get back to where we think we belong.
Tom Bowers
167
Posted 31/10/2020 at 14:13:01
Whilst I agree we have to have experience in the side it is important if we are to progress that the likes of Nkoukou and Gordon get starts in the Prem. not just the Carabao cup. They will give more effort when the highly paid stars (some of them misfits) fail to produce. One only has to look at Greenwood and Foden as examples.
Talking of Iwobi and ''nervousness'' I think Moise Kean also seemed to have a lack of confidence maybe due to the same thing.
However, it can be excused in the first few games at a new club but not when they have been here a while. Kean looks like a different player at PSG.
Tony Hill
168
Posted 31/10/2020 at 14:33:09
If we win tomorrow, we should be top of the league. Villa do indeed have a game in hand but they just got battered by Leeds and play Southampton tomorrow.
Time for a bit of optimism? After all, Man City just recorded a less than dazzling 1-0 against Sheffield United. We're not the only team with problems to solve, far from it.
Tony Marsh
169
Posted 31/10/2020 at 14:38:37
Ancelotti is making the same mistakes as Silva and Koeman – that is persisting with Sigurdsson.
Last weekend's team sheet was pathetic. Playing Iwobi and Sigurdsson in the team together just slowed everything up and dragged the rest of the team down to their level. Neither should start a match again.
Iwobi... the Teflon Don, has to be the luckiest man in the country. I'm not sure he is Sunday league level. Sigurdsson, the 2nd luckiest guy in the country, was drinking in the last chance saloon 2 years ago but still getting starts. Unbelievable really.
Jay Harris
170
Posted 31/10/2020 at 14:44:01
Derek
Its a marathon not a sprint. No need to panic just yet.
We have the january window and the top teams playing midweek games so I expect us to do better in the new year.
Having said that I fully expect a win at Newcastle and team selection and tactics are key once again.
with the absentees as I said earlier I would go 4-4-2 t o beef up the MF woith Delph and Gomes reintroduced and play Gordon up front alongside DCL.
That gives us a strong MF reasonably strong fullbacks with JJK and Nkoukou and 2 players cpabale of scoring goals in different ways.
Newcastles only threat is from breakaways so this is a KITAP1 type of game.
Tony Hill
171
Posted 31/10/2020 at 15:01:05
Isco? Make it facto.
Christy Ring
172
Posted 31/10/2020 at 15:04:02
Last Sunday, Sigurdsson gave the ball away, stood with his hands on his hips, never moved, some motivation from our Captain. In my opinion, shouldn't be anywhere near the team tomorrow, along with Iwobi.

Nick Page
173
Posted 31/10/2020 at 15:11:13
Sigurdsson is a joke, Christy. He ruins the fluidity of the team and pulls it all out of shape. Surely Gomes, Delph, Bernard and Gordon are ahead of the shirker? I'd rather have JJK and Nkounkou as full backs - can't see any harm in that. Big mistake though not brining in some backup upfront in the prev window IMO.
Stephen Vincent
174
Posted 31/10/2020 at 15:12:30
To put things into perspective, if we were to loose tomorrow we would be worse off than last season on a game for game basis.
Pickford
JJK Keane Mina Nkounkou
Delph Allan Doucoure Gordon
Bernard
DCL
I would tell Delph to play on which ever wing St Maximan plays as neither JJK or Niels will cope with him defensively and he is the barcodes only realistic threat.
Bernard was really good playing in the 10 role in the Carabao. Give him a chance in the same role.
Subs Olsen, Siggy, Gomes, Godfrey, Davies.
Derek Knox
175
Posted 31/10/2020 at 15:20:34
Tony @ 171, it's good when players of his quality want to come, such is the pulling power of Carlo and James, apparently they are mates. Only problem is, apart from Walcott, none have wanted to leave.
Apparently too, that Santiago Sosa, the young S American lad was gutted at not getting his dream move to us because of Work Permit issues. I believe that may have been overcome now so a couple in January is a distinct possibility, and dare I say a necessity if we can offload some too.
Tony Hill
176
Posted 31/10/2020 at 15:37:56
Yes, Derek, I think we're on a track here which is being laid by some very determined and very wealthy (indeed) people. I am sure they love Everton but they will reserve special consideration for Atlantic trade opportunities and the potential of our wonderful city to recover its gateway status.
I've said a couple of times on here that these people will keep going until they get what they want and that's extremely good news for us because they will propel us on regardless. Should we be concerned that we are supping with the devil? Probably, but probably not.
Mark Taylor
177
Posted 31/10/2020 at 15:50:10
I'll go with what I think will happen rather than what I want to happen. Delph will play LB, Kenny at RB if fit, Godfrey if not. CB's same as usual. Gomes to replace Sig; Bernard and probably Iwobi to flank DCL.
Managers in my experience tend to be much more conservative than we supporters
Bill Gall
178
Posted 31/10/2020 at 15:58:22
The only problem with Sigurdsson, Digne and James not playing is we will not have a dead ball specialist, for corners free kicks or penalties.
Alan J Thompson
179
Posted 31/10/2020 at 16:51:45
If we don't have another striker to play alongside Calvert-Lewi, then let's do a Moyes and go without one;
Pickford, Kenny, Keane, Mina, Nkounkou, Allan, Doucoure, Gomes, Sigurdsson, Davies, Gordon.
It'll be halftime before anyone has worked it out but at least we'll have had a head start and then complete the mystery by playing Bernard as a deep lying centre forward and some time in the second half move Mina to play alongside him.
One for the record books!
Tony Hill
180
Posted 31/10/2020 at 17:04:35
Now is as good a time as any to note how loathsome the Barcodes are. Run and supported by fat, pasty-gorging gobshites, winners of fuck all for 50 years and with bigger tits than their wives. They hate us and we must hate them back and destroy them tomorrow.
If you think this is a bit harsh and inappopriate, you're probably right. But have a look at their comic for simpletons, The Mag, about us. They're horrors.
Derek Knox
181
Posted 31/10/2020 at 17:43:08
Fournails in their coffin at Anfield! 😜😂
Robert Williams
182
Posted 31/10/2020 at 17:47:30
I see that we're being mentioned to get Isco from Real Madrid – let's see whether Brands can work his magic again and secure another freebie!!
Rob Halligan
183
Posted 31/10/2020 at 17:54:16
Nothing harsh or inappropriate about what you say at all, Tony. They are a shit run club in a shithole of a city. They have won sweet FA in fifty years, apart from a couple of promotions. Anyone who thinks it's funny to stand in the pissing down rain without a top on, showing a belly gut the size of a fucking stranded beached whale has got serious problems. Out of our last eleven visits there, we've won six, draw one and only lost four. Then again, I've just read those stats in The Mag you talk about, so the thick Geordie gobshites have probably got those wrong.
So yeah, let's go there and do them, like we usually do. A comfortable 3-0 win.
Derek Knox
184
Posted 31/10/2020 at 17:54:38
Robert @ 182, according to what I had read it will initially be a loan deal with a view to buy, which if acceptable would be around £18M, but also the Red Echo reporting that whoever loans him has to pay his full wages during the loan period.
Things could be looking rosier come January, still think a few have to got be cleared out as well for all this to go ahead.
Pat Kelly
185
Posted 31/10/2020 at 18:13:09
Penalty to Liverpool. There's a surprise.
Peter Mills
186
Posted 31/10/2020 at 18:13:21
A few people on here are interested in Marine's fortunes. Michael is less keen, I understand that, it's an Everton website.
So, please don't comment on this post and clutter up the thread.
Another home win for the Mariners today in the final qualifying round of the FA Trophy. A hard fought 3-2 lead against Stalybridge Celtic was brought to a crash in the last second as Marine's goalie dropped a high ball in the swirling wind, then brought down the Stalybridge forward - penalty. One shot to take the tie to a penalty shoot-out. Unbearable tension amongst the 400 capacity crowd, deep joy as the pen was blasted high over the bar.
Remember the first rule of Marine Club - no follow-up comments please.

Bill Gall
187
Posted 31/10/2020 at 18:37:43
well I guess K Friend has decided that Liverpool haven't had enough penalties and due to popular demand awards a penalty for breathing on a Liverpool player in the penalty area.There is a rumor going around that Liverpool have a new type of comfy grass in the penalty area so you don't hurt yourself if you d--ve, sorry fall over in the penalty area.
Martin Mason
188
Posted 31/10/2020 at 18:41:36
The telegraph called Salah's dive "theatrical". This is corruption within the game and should be eliminated. How can a club be allowed the MSM to be their PR machine?
Brian Williams
189
Posted 31/10/2020 at 18:49:02
Derek#184.
Paying Isco's full wages for the loan could be the sticking point as I believe he's on over £200k a week which I just can't see Everton paying, and rightly fucking so!
Kevin Dyer
190
Posted 31/10/2020 at 18:53:56
#182 Robert just read that at HT in the RS - WHU game. Isco would be a great addition, brilliant technician. Watched that clip of him complaining about lack of game time under Zidane last week, with Marcelo and Modric laughing, seems the manager has decided to offload him. Their loss, our gain! The speculated deal of a loan in Jan with a compulsory buy of £18m in the summer is a bargain. Good pal of James and Ancellotti likes him. Think there's genuine legs in this story.
Andy Crooks
191
Posted 31/10/2020 at 19:08:26
Ciaràn @ 158. I believe you are right. Bernard should be number ten tomorrow, the game is made for him in this role. In fact, he should have had this role some time ago. If Sigurdsson plays I believe we will lose. He has the remarkable ability to work up an almighty sweat by doing and contributing nothing.
Derek Knox
192
Posted 31/10/2020 at 19:21:20
Brian @ 189, give him £80K, a plate of Scouse and a crate of Desperadoes! That should clinch it ! :-)
Brian Williams
193
Posted 31/10/2020 at 19:26:10
Well it would for me that's for sure!
Kevin Dyer
194
Posted 31/10/2020 at 19:29:39
#189 Brian, what was Rodriguez on at Madrid? If the player wants out and they want rid then we'll end up paying maybe 50% wages for the loan and the teams will make a permanent transfer work. Possibly he'll take a pay cut to say £120-130k, if not then Real may subsidize the contract. He needs to play or he's out of Spain's Euro squad. I'm excited anyway 😄
Brian Williams
195
Posted 31/10/2020 at 19:34:21
Just going by what's been reported Kevin, which is that the club loaning the player would have to pay the full salary.
Now whether that's just an opening shot nobody knows, but it's what's been said at the onset.
Bill Gall
196
Posted 31/10/2020 at 19:36:11
Well it is a must win tomorrow. Sky Sports after today. After all the fun and games of recent weeks there is now a familiar look in the Premier League. L/pool are back on top of the table. Lets change it tomorrow.
Tony Everan
197
Posted 31/10/2020 at 19:39:37
Derek 192
Start with the case of Desperados first. Then give him a tender, beef laden, bowl of scouse, who could then refuse 80k pw ?
Jerome Shields
198
Posted 31/10/2020 at 19:57:32
Hope it is true regarding Iseo. What a player and exactly what we need.
Derek Knox
199
Posted 31/10/2020 at 19:59:23
True Tony!
Brian, if we get Marcel on the case he may be able to talk them into taking Iwobi and a wagonload of others as part of the deal as a sweetener (?) then run like the wind! :-)
Graham Coldron
200
Posted 31/10/2020 at 20:41:49
I've seen Rob's comments 183 - I'm a scouser and due to domestic reasons now live in Blyth in the North east.I have a season ticket and for the past 15 seasons have been driving to Goodison and more latterly travelling down with the n.e.branch of the Everton supporters club.The Newcastle fans are certainly deluded and still cling on to the time when they had a half decent team which imploded when Whisky Nose cranked up the pressure.The city of Newcastle is not a " shit hole" - anything but.In many ways it's like Liverpool, good pubs friendly people and a complete lack of snobbery.That said I would love a 3-0 for the mighty blues tommorrow.
John Raftery
201
Posted 31/10/2020 at 20:48:01
Peter (186) Not a follow-up concerning Marine as such but how was the social distancing in the crowd of 400?
Peter Mills
202
Posted 31/10/2020 at 21:16:10
John #201. Those clubs who are playing in front of fans are doing so on the basis of allowing into the ground 20% of capacity.
In the ground I have been attending, I have felt comfortable. In the standing areas, footprints are painted on the ground where people should stand. In the stand, every alternate row of seats is taped off, in the rows where access is allowed there is a grouping of 2 seats, a taped off section of 3 or 4, then a group of 3.
People are generally respectful of the situation. In an open stadium with a breeze blowing, it feels a lot safer than Sainsbury's.

Paul Birmingham
203
Posted 31/10/2020 at 21:26:21
Hearts and minds tomorrow, and with focus and commitment, do the basics, Everton can win.
It's a chance to put a stake in the ground.
Fekk the media. Let's do the business on the pitch, a massive 3 points at stake tomorrow.
Paul Tran
204
Posted 31/10/2020 at 21:49:52
Pete #186, thanks very much!
Regarding tomorrow, we were bound to lose at some point, so its important that we make a stand, especially after they won.
Was last Sunday a one-off, or were the previous games an aberration?
We'll find out tomorrow - hope its the former! I'd play Gomes instead of Siggy and play Gordon.
Derek Knox
205
Posted 31/10/2020 at 22:24:52
Peter @ 202, last word on the subject was there any crowd trouble ? :-)
Brian Wilkinson
206
Posted 31/10/2020 at 22:54:44
Brian@189, if we sell Bernard in the January window, free up £120k a week on his wages, would you see Isco then being an option, if we manage to lower his wages.
John Raftery
207
Posted 31/10/2020 at 22:57:46
Peter (202) Thanks for the detail. Marine looks a much better option than Sainsbury's! Surely allowing a few thousand fans into Goodison and every other Premier League stadium would pose minimal risk.
Brian Williams
208
Posted 31/10/2020 at 23:06:41
Brian#206.
I'd love it to be an option Brian. It just depends if he really wants to play regularly and be loved, and is prepared to take that drop in pay. If James is encouraging him then that would have to have a huge influence, as would playing for Ancelotti again.
The sticking point "could" be if RM stick to their guns and want us to pay the full £230k a week.
Would I like him here? Not 'alf!

Derek Thomas
209
Posted 01/11/2020 at 00:26:32
rs get typical P.L. pundit's penalty...'there was contact he's within his right to go down' Not the worlds biggest shock ever.
The question for Ancelotti and the Team is this - are we just this seasons Sheffield U. or serious contenders.
Sean McCarthy
210
Posted 01/11/2020 at 00:51:55
For those of you who have included Iwobi in your starting XI can I ask how on earth you come to this conclusion? In 50yrs watching Everton he is quite simply one of the worst players I have ever seen in a blue shirt. And trust me I've seen my fair share of duffers over the years!!!
He contributes absolutely nothing and I'd go as far as to say he's as bad as Niasse!!
The quicker he's moved on the better. Arsenal fans must've fallen over when they heard we'd paid £35m for him!! Luckily they then shelled out £70m for Pepe which took the limelight away from the Iwobi deal!!
Kieran Kinsella
211
Posted 01/11/2020 at 01:00:58
Sean
I think a lot of predictions are based on what they think Carlo will do rather than their preference. Pretty sure no one bar Carlo would pick iwobi
Nicholas Howard
212
Posted 01/11/2020 at 01:33:27
433 makes sense if we got the speed of Richie and Creativity of JR.
We have none of them(JR injured) last game at Soton.
Result DCL completely isolated.
Since we don't have the two attacking wings perhaps 442 is not a bad choice...given we were playng this formation last 10 or 15 games of last season. question is who can be slot in another striker(we don't have one). so attacking midfielder?? who? Iwobi or Bernard or Siggy?
Let's hope Newcastle continues their inept form tomorrow...COYB
Geoff Lambert
213
Posted 01/11/2020 at 01:50:07
Graham~200
I will have to agree with you on that one. I love going to Newcastle its very similar to our home town and the Geordies are always a good bunch of lads and love their football. Think a draw is on the cards tomorrow. 2-2
Kieran Kinsella
214
Posted 01/11/2020 at 02:45:38
Geoff 213
Sorry to disagree but fucking hate Geordies
Paul Ward
215
Posted 01/11/2020 at 04:51:33
Sean McCarthy #210,
Agree with every single word.
Darren Hind
216
Posted 01/11/2020 at 07:10:54
People saying we cant replace Richarlison, but we never even seem to try. We just change the system when he isn't available.
I would go with the idea Lyndon muted last week. I would like to see young Gordon get the chance to play alongside Calver-Lewin. Give their defenders more than one lone striker to worry about.
I'd also asked JJ and Davies to cover the right side. I don't think they would let each other down
Derek Taylor
217
Posted 01/11/2020 at 07:42:30
Truth is the more of last season's players Carlo has to select the less often we shall win matches. The likes of Jj, Bernard, Davies and Iowbe are mere fringe players and newly signed Godfrey looks as though he's about the same level.
We just have to be patient until the real players return.
Jay Evans
218
Posted 01/11/2020 at 08:05:31
It was so disappointing to see our fringe players not take their opportunity last week. For me that really showed the lack of quality we have in our squad and whilst we have shown solid shoots of recovery this season, we still have a long way to go.
I hope Carlo doesn't reward failure by starting the usual suspects. That means no Iwobi or Gylfi I'm afraid.
Gordon and Bernard are better options and both out- performed the two I've mentioned above. (Only just I know !)
Full support.
Onward Evertonians 💙
Derek Knox
219
Posted 01/11/2020 at 08:18:15
Derek, a bit harsh there, and dare I say, too kneejerk to condemn Godfrey after one game, where he was forced to play out of position. I watched the International U-21 where Godfrey was absolutely brilliant and commanded his defence and all around him.
Likewise with JJK, who always puts a decent shift in to the best of his ability, I'm sure he wouldn't have been injured if he had been a shrinking violet. Bernard, like most people I love his skillset, but unfortunately as has been well documented, he is a bit too lightweight for the Premiership.
Iwobi is an enigma, and again has skill but seems reluctant to produce it, except against lesser opposition, but I suspect there is a player in there somewhere, otherwise Marcel Brands wouldn't have shocked us all with the massive fee for him.
I like Tom Davies and his attitude but not as a player for Everton, okay in emergencies, but that's about it, he has had more than enough chances, but has produced very little in my eyes.
Having said all that, when we have injuries and suspensions, which are both going to unfortunately happen, throughout a season. I don't think it's unreasonable to expect those given a chance, to bust a gut to impress and make it difficult to drop them next game.
At the end of the day, these guys are not just doing us a favour by playing for Everton, they are extremely well rewarded, so again it should be expected that they perform to utmost of their ability in whatever capacity that may be.
Robert Workman
220
Posted 01/11/2020 at 08:37:33
3 weeks ago I would have expected Everton to win this game comfortably. Injuries and suspensions to 4 key players mean that I am now expecting a more defensive line-up and maybe a draw. That situation reveals the lack of depth after our First X1. It is exemplified by the many variations in team selection shown in this thread.
Robert Workman
221
Posted 01/11/2020 at 08:56:21
Nothing wrong with the city of Newcastle. However the football team is something else. I was a student there many years ago. Used to occasionally visit St. James Park with a few other students. We always wanted the opposition to win, irrespective of who it was (No, we never saw the redshite).
Conversely, a few years earlier, when my parents moved south from the Wirral, I used to watch Southampton regularly. I became a real supporter, except when they played Everton.
Eddie Dunn
222
Posted 01/11/2020 at 09:16:23
As the PL table bunches-up with the usual suspects climbing the embryonic ladder, I am filled with both hope and trepidation.
Like many weekends under Silva, I am presented with a game that could be a great fillip or a reality-check.
It's a ground that we usually do okay on and a side that doesn't really strike fear in my heart but they do have weapons and have stayed in games this season as they are prepared to battle.
Missing the magic service of James has left our striker without bullets and last week the side looked unbalanced, unfit and unintelligent.
As I watched another ordinary performance from the Champions pick up another 3 points, I wondered if we can regain the winning habit without our talisman, or will we sink back into the pack and have to wait for Richarlison(possibly a bigger loss) and james to return.
So the game takes on importance as it will tell us if St Mary's was a blip or that we really have to be more realistic and a top seven finish would constitute reasonable progress.
Now I have got used to seeing Everton on the apex, I want us to get back up there. I don't want to settle for seventh.
It is time for the coach to get the best out of that group as anyone can chuck Richie and James on and say "do your thing". We need to see a game plan, we need to see chances created and we need to see hard graft. Then we will win.
Stephen Brown
223
Posted 01/11/2020 at 09:20:46
I'm not sure if this has been said already? So apologies in advance but it's disappointing the women's FA cup final is on the same time as the Newcastle game.
I certainly don't confess to watching much women's football but I certainly would have tuned in to the FA cup final. It's now unlikely the women have thousands of fans not watching as we tune in to the Newcastle match!
On Iwobi, I watch him and I'm desperate for him to do well due to his fee but I'm afraid it's now clear we have been well and truly tucked up. Can we recoup some of the fee in the summer?
Ray Roche
224
Posted 01/11/2020 at 09:24:13
We're Missing Coleman, Holgate, Digne, Richarlison And Rodríguez. That's half a team. HALF a team. And almost the entire defence. Anyone thinking this is a nailed on victory based on previous years results at the Badgers need a reality check.
Derek Knox
225
Posted 01/11/2020 at 09:26:54
Stephen @223, good point there mate, I would have like to have watched both, but apart from half time in our game, it will be a little squint at the PC to see what's happening with the women every now and then.
Now if that had been Man U or Liverpool women I doubt whether that would have happened! Forgive my suspicious nature but history has dictated otherwise too often.

Rob Halligan
226
Posted 01/11/2020 at 09:33:33
Stephen and Derek, don't know if you have seen this. The family live three doors down from me and are all staunch blues, having season tickets in the main stand.
https://www.evertonfc.com/news/1881326/young-fan-who-launched-petition-to-change-fixture-clash-meets-everton-duo.
Derek, you're right. Our fixture today could easily have been swopped with the man Utd v Arsenal game, and put back to 4.30pm. It's not like there are any fans to consider, only ours, which the FA or premier league don't give a toss about.
Ray Roche
227
Posted 01/11/2020 at 09:38:04
Doesn't the Women's game kick off 30 minutes after ours? You can see the lad half hour live or else record it. It's live on BBC.
Stephen Brown
228
Posted 01/11/2020 at 09:44:39
Rob
Thanks for that, I hadn't seen it. Well done to the young girl for doing it and it's a shame it didn't gather greater support. It was probably against the time.
It does show a total disregard for Everton supporters particularly young girls like Anna ( who started the petition).
Ray I will record it but never quite the same!
Let's hope for two victories to provide two fingers to the powers that be!
David Greenwood
229
Posted 01/11/2020 at 10:05:31
Our game definitely could and should have been swapped with the MU and Arsenal match. It's a scandal that it hasn't.
Good luck to both Everton teams playing today. Let's win the cup and go top of the league again.
Conor McCourt
230
Posted 01/11/2020 at 10:10:46
I really don't understand all the pessimism on this thread with regards to the players we have and those we are missing.
All teams have injuries and they have to get on with it. Had Mason been fit he probably wouldn't start considering Carlo would want stability and this will be physical. Our full backs will probably be Delph and Kenny who are on a par with our opponents and would expect to push for starting berths this season.
The issues are trying to compensate for Ricky and James and the likes of Theo and Moise would have been great options for Carlo. However this is the type of game I personally think the manager excels in where he can do a tactical number on his opponent with slightly better players as we seen in this fixture last year and Palace this season. I was more worried last week coming up against a more energetic, intense team like the Saints.
Tony Abrahams
231
Posted 01/11/2020 at 10:19:02
I heard the woman's team was offered Iwobi, but they felt that although he had talent, he just wasn't brave enough!
Go and win ugly Everton, and see how much confidence it would give us for the rest of this very open season
Geoff Williams
232
Posted 01/11/2020 at 10:20:29
If Sigurdsson and/or Iwobi start this afternoon then I cannot see us getting a victory. I hope Simms is on the bench as there are few goals in the squad.
Danny Baily
233
Posted 01/11/2020 at 10:27:14
I was in the Iwobi camp ahead of the Southampton match but I'm firmly in the Gordon camp this time around. Bernard for James.
Kenny's not really good enough but should do a better job than the new lad did out of position last week.
Let's hope Pickford can keep a cool head without the fans goading him!
Steve Brown
234
Posted 01/11/2020 at 10:43:38
Gordon and Delph performed well when they came on in the Soton defeat. They should come into the line up, replacing Iwobi and Sigurdsson.
Unfortunately, like a number of posters I think Ancelotti may select Delph at left back ahead of Nkounkou. If Iwobi and Sigurdsson are in the starting line up, time to switch over to the Women's FA Cup Final.
Len Hawkins
235
Posted 01/11/2020 at 10:56:34
After the shameful performance last week Iwobi shouldn't even be there he should be at Finch Farm trying to convince somebody that he is a professional footballer. Anyone who couldn't lift their game playing in the first few games with a rejuvenated midfield is in the wrong job.
Serious questions need to be asked about who recommended signing him for the exorbitant fee that was paid. The under23's must be sick to the stomach seeing him start in games or even get on the bench ahead of them.
Darren Hind
237
Posted 01/11/2020 at 11:38:21
I think this thread sums up Evertonian mentality perfectly.
There are some already looking for reasons why we shouldnt win.
The four players signed this year all played last week and would have all had to improve dramatically in order to muster a Weston between them. I know the excuse factory will go into overdrive, but the fact is. They were all crap. So was the manager.
Most of the players people are moaning about would walk into Newcastle's team. If the players available improve on last weeks shit show (not the highest bar). We win this game.
Injury's are like shit. they happen. You can either go with what you got, or get your excuses ready before a ball is kicked. I hope the players take the first option, because taking the second will lead to an inevitable defeat.
We're better than this crew. We just have to believe it
Eddie Dunn
238
Posted 01/11/2020 at 11:38:23
Len, Iwobi has been dreadfull but because he cost so much the club have to go through the motions with him to maintain as much of his value as possible. I expect that he looks sharp in training and he gets along well with the group and just turns to a big girl's blouse on matchday.
I think he will be limited to League Cup duty from now on.
Carlo seems to be quite conservative in his team selections and I wouldn't be at all surprised to see Siggy starting again but I would be very dissappointed if Nkounkou is not picked. For me Delph can play midfield and Domenic needs crosses from wide positions.
The team selection will tell us how Don Carlo sees it.
Perhaps he will be happy to take a point and wait on his galacticos to return.
Peter Warren
239
Posted 01/11/2020 at 11:46:16
Darren's absolutely right. We had an off day last week (to say the least) it can happen but should not be accepted. We have a better team, better manager, no crowd to contend with. We've had a full week to prepare, we've known which players would be available or not.
There is no excuse to not have a good performance and win this game. Carlo is being paid megabucks so we win these games and should be held to account.
I'm confident he expects to win and we should demand it from him and our team. What's a great chance we have this year to challenge / no excuses, COYB.
David Hayes
240
Posted 01/11/2020 at 11:50:09
I see that Iwobi has replaced Pickford as the whipping boy of popular choice. Frustration at dashed expectation is one thing but default resort to individual instant ridicule is at best is lazy and predictable. The only interest this holds is to see who is next or if another one of the regulars pop up. No one wants to see an Everton player struggling and some need more support than others, some or just not up to standard, but surely constructive thought out criticism is not beyond the reach of most of us. COYB.
Derek Taylor
241
Posted 01/11/2020 at 11:53:43
Eddie @222. That's just the problem - the coach (and us ) have 'seen the best' of this rabble of reserve players and it wasn't up to much. Whilst it would have been unrealistic to expect Carlo to have identified another four or five players of real quantity in the summer window, we shall have another season of struggle if he believes the likes of Siggy, Iwobi and Bernard will ever'come good' for him !
Peter Warren
242
Posted 01/11/2020 at 11:53:45
In terms of of line up 4-5-1 for me with
Nkounkou, Keane, Mina, Kenny,
Gomez, Allan, Doucoure, Siggy, Gordon
DCL
I would have Gordon play on the left. I think it will be a tough game for Kenny as he will have to show he is good enough going forward and be a creator and not just defender - he's had a whole season in Bundesliga - up to him to show he can step up and play this level.
Tony Waring
243
Posted 01/11/2020 at 11:59:39
Well said David (240). Iwobi may not be the next Messi but he does try and if things don't come off for him don't castigate him for trying. Any Everton player deserves support from the fans.
Jonathan Tasker
244
Posted 01/11/2020 at 12:17:17
We start every match at -1 because of the Pickford factor.
I'm going for a 2-2 draw. We may need to score three to win as Pickford is that bad and that could be beyond this lot.
They owe us a performance as last week was dismal.
Derek Taylor
245
Posted 01/11/2020 at 12:23:22
I suppose you can't blame the Iwobis of this game if somebody thinks you have such qualities as a player that spewing £35M transfer fee and £100K a week wages on you is not bad judgement.
Just how does that Brands guy sleep nights ?
Raymond Fox
246
Posted 01/11/2020 at 12:28:47
It may be popular to say we will win this game, but with a handful of our most influential players out I think we will struggle to get the result we want.
Any away game is tough even with our first choice team, let alone this one.
I hope I am proved wrong and we play a blinder, here's hoping.
Bill Gall
247
Posted 01/11/2020 at 12:44:18
I still think Delph will start instead of Siggy to cover for Nkounkou if he goes upfield.
Bill Gall
248
Posted 01/11/2020 at 12:46:46
Saints 3 up
Derek Knox
249
Posted 01/11/2020 at 12:46:46
Derek T @245, " Just how does that Brands guy sleep nights ?"
Well, I believe he lies down in a prone position, puts his head on a pillow, or possibly two, shuts his eyes and possibly counts sheep. Simples! 😜
Ray Roche
250
Posted 01/11/2020 at 12:47:53
Playing well Bill, aren't they? Maybe this seasons surprise package.
George McKane
251
Posted 01/11/2020 at 12:50:20
Rumour is Olson plays.
Bill Gall
252
Posted 01/11/2020 at 12:52:10
How come that Ward Prowse hasn't been picked up by some of the supposed top 6 he is only 26yrs old.
Jim Bennings
253
Posted 01/11/2020 at 13:00:51
Southampton look mustard going forward.
Have got to give that club credit for sticking with Ralph Hassenhutl after that 9-0 dribbling last year, a prime example of managers needing a chance at clubs, in less than a year he's given that club a clear identity.
Steve Brown
254
Posted 01/11/2020 at 13:03:55
Pickford dropped
Stephen Brown
255
Posted 01/11/2020 at 13:04:04
Olsen starts
Tosun and Simms on the bench
Paul Hewitt
256
Posted 01/11/2020 at 13:04:41
Strange team No wingers
Annika Herbert
257
Posted 01/11/2020 at 13:04:43
Shame it wasn't Sigurdsson!!
Andrew Keatley
258
Posted 01/11/2020 at 13:05:12
Pace everywhere in that Newcastle line-up - while we might just be fielding the slowest 11 ever to play a Premier League game.
Andrew Clare
259
Posted 01/11/2020 at 13:05:32
Why am I worried about this game?
We have got more than enough talent to win.
COYB's!
Vijay Nair
260
Posted 01/11/2020 at 13:06:10
Bill (252) I've wondered this as well. The lad is class.
Michael Lynch
261
Posted 01/11/2020 at 13:06:11
Early fellow pace-setters Villa continue their slide. Really hope we don't go the same way. Today is massive.
Mike Corcoran
262
Posted 01/11/2020 at 13:06:24
The old saying "never mind the quality, feel the width" could not apply to that team. Not gonna end well today.
Fran Mitchell
263
Posted 01/11/2020 at 13:07:43
Pickford Dropped. That is a massive decision.
Steve Brown
264
Posted 01/11/2020 at 13:08:49
4-2-3-1?
Michael Lynch
265
Posted 01/11/2020 at 13:09:03
Godfrey not even on the bench today.
Not the most exciting looking team but the bench is interesting... one defender, the rest creative midfielders and attackers. Oh, and Pickford.
Tony Hill
266
Posted 01/11/2020 at 13:09:04
Quite right, Jim @253.
We need Allan and Doucoure to do much better. As for pure pace, DCL and Nkounkou have lots of it.
Geoff Lambert
267
Posted 01/11/2020 at 13:09:48
Back to the 5 center mid thing...
Brent Stephens
268
Posted 01/11/2020 at 13:10:12
Annika - I'm surprised, when did Siggy stop being your favourite?!
Jay Harris
269
Posted 01/11/2020 at 13:10:15
Maybe
He has dropped Pickford because his mind is not right with the death threats.
Or maybe it's just because his mind Is not right anyway.
Dan Nulty
270
Posted 01/11/2020 at 13:10:29
Yes, obviously Olsen has impressed in training. We also don't know if there is something going on in Pickford's personal life. Same as Keane last season.
What I will say about the team is there is an awful lot riding on Nkounkou's performance. He is providing all the pace. I would expect him to be almost permanently up the pitch. That midfield looks quite pedestrian. Still, we have some quality, if we can stop Wilson scoring we are in with a chance.
Graham Mockford
271
Posted 01/11/2020 at 13:10:48
I'm suspecting the reason Pickford is not playing is his mental state as opposed to being dropped on form. I'm hearing he has taken the death threats and security he's been provided quite badly.
Barry Hall
272
Posted 01/11/2020 at 13:11:04
. Just heard. I guess these decisions are the ones we trust Carlos to make. I still like picks in goal though
Clive Rogers
273
Posted 01/11/2020 at 13:11:20
No wingers or second strikers, no goals.
John Keating
274
Posted 01/11/2020 at 13:11:54
Must say the team and bench are surprising
Brent Stephens
275
Posted 01/11/2020 at 13:12:38
Is Carlo protecting Pickford (and so us) given we're at N'castle? Not a great reception for Pickford normally!
Barry Hall
276
Posted 01/11/2020 at 13:13:38
Didn't hear about the threats. That is amazingly sad
Geoff Williams
277
Posted 01/11/2020 at 13:13:46
Villa getting hammered by Southampton so maybe last week's defeat isn't look so bad now.
Geoff Lambert
278
Posted 01/11/2020 at 13:14:23
Brent there are no fans at the game to give him any stick.
Chris Williams
279
Posted 01/11/2020 at 13:14:35
4 3 2 1 on OS
Gomes And Sigurdsson behind DCL
Doucoure Allan Delph in midfield in front of back 4
Pick the bones out of that
Timothy Sebastian
280
Posted 01/11/2020 at 13:14:37
There is width in this team, It'll come from Nkounkou and Kenny bombing up the wings, as Delph and Doucoure drop to cover them when they do so.
Shane Corcoran
281
Posted 01/11/2020 at 13:14:54
Strange lineup. Not sure how they're going to set up. Tosun on the bench noticeable. Assume Godfrey is injured.
Bill Gall
282
Posted 01/11/2020 at 13:15:19
Well at least the Pickford constant critics will not have him to blame today
Geoff Lambert
283
Posted 01/11/2020 at 13:16:39
The Live Forum is currently closed.???
Pat Kelly
284
Posted 01/11/2020 at 13:17:50
Gomes and Siggy. It was good while it lasted.
Geoff Lambert
285
Posted 01/11/2020 at 13:17:57
Sky sports just concentrating on utd match!!!
Bill Gall
286
Posted 01/11/2020 at 13:18:05
Saints 4 up D.Ings
Duncan McDine
287
Posted 01/11/2020 at 13:18:46
Very defensive and lacking in pace going forward with both Gomes and Siggy behind Dom. Let's hope the fullbacks can get some decent crossing positions otherwise we'll be very toothless
Annika Herbert
288
Posted 01/11/2020 at 13:19:12
Brent @268, well you got a smile out of me with that comment! Let's hope by the end of the game you can tell me how wrong was and Siggi has been named man of the match.
To be honest, that team selection doesn't fill me with confidence at all. It's seriously lacking in pace, apart from DCL and Nkounkou
Kevin Molloy
289
Posted 01/11/2020 at 13:19:39
we're as narrow as a drain pipe. must be tactical. Obv Carlo v pissed off with Jordan for a while, but wanted to have a good look at the other fella before he dropped him. NO way back for Jordan from here.
Brent Stephens
290
Posted 01/11/2020 at 13:19:41
Geoff, I was being ironic.
If all 3 subs being used, and no keeper change, then we'll see Simms? Tosun?
Conor McCourt
291
Posted 01/11/2020 at 13:20:47
I think it will be a 442 diamond with Doucoure being released and Delph sitting either side of Gomes and Allan. Siggy joining Dominic up top. I like it if that's the case.
Ajay Gopal
292
Posted 01/11/2020 at 13:22:36
If Pickford is not playing due to his mental state following death threats to him and his family, Carlo needs to highlight that in his pre-match interview and shame the RS and their media bed-fellows for this situation. However, I am not assuming anything at this stage. Good luck to Olsen and Kenny and Nkounkou.
Why is Davies not even on the bench? Whereas the useless Iwobi gets there? He did well against Brighton playing in for Allan. I am left slightly frustrated with this selection, although the only change from my predicted XI is Gomes instead of Davies (and of course the Pickford situation).

Darren Hind
293
Posted 01/11/2020 at 13:22:57
That team should have enough to be this Geordie side.
23/10 - Marginaly better than evens for those who don't bet.
I think thats a fair price, although I will not be burdening the boys with my bet
Derek Thomas
294
Posted 01/11/2020 at 13:24:11
Olsen, Gomes and Siggi, all big calls by Ancelotti. Are we contenders or just pretenders.
He was never going to drop Pickford last week after all the rs media hoo-hah...big balls
Tony Everan
295
Posted 01/11/2020 at 13:25:15
Game plan?
Crowd out the midfield, get Nkounkou and Kenny timing runs out wide, then banging in early crosses to DCL.
Sigurdsson will be told to latch on to any loose ball around the 18 yard box and get some first time shots in.
As has been said, our fortunes will be hinged on Nkounkou and Kenny's ability to get quality crosses in.
Really looking forward to seeing Nkounkou again, he looks a cool customer to me an I think he will handle this well. But at nineteen we have to give him some time and breathing space whatever the outcome.
Come on you Blueboys !!!
Kevin Molloy
296
Posted 01/11/2020 at 13:25:25
Clearly, Carlo doesn't like ANY of our wide players, which is quite something.
Derek Taylor
297
Posted 01/11/2020 at 13:26:04
More like 2/1 ?
Brent Stephens
298
Posted 01/11/2020 at 13:26:37
Anybody got the key to the Live Forum?
Jerome Shields
299
Posted 01/11/2020 at 13:27:01
Not happy with Sigurdsson. It will be a snail slow build up, with Newcastle defence pushing into midfield. Gomes will come under pressure. Aleast it's a compact formation, which should have been the case against Southampton. There will have to be changes early in the second half, when Newcastle have their tails up and sail through midfield.
Kevin Molloy
300
Posted 01/11/2020 at 13:28:31
I don't think we've got any special plans to exploit the wings attackwise. Surely we'd have gone five at the back if that was the case. Seems to me we are preparing to serve up a stodgy stodgy game, frustrate Newcastle minus their playmaker and then nick one. if we get the three points nobody will mind. REckon Doucoure will be doubling up on St Maximin, and then hopefully they run out of ideas.
John Pierce
301
Posted 01/11/2020 at 13:29:04
I hope this is a watershed for Pickford. Pre Derby I'd have rested him for 2/3 games and reassessed. He's struggled badly and this fixture has never been his finest hour.
Big things expected from our midfield today if Delph is the sitter. Sigurdsson likely to be in his favoured position, has to deliver. Unhappy Gordon isn't in the side to stretch the play.
Is the side better balanced than last week? Yes I think so. 3-1 the Bloos
Steve Lew
302
Posted 01/11/2020 at 13:29:32
Jeez...we are playing today aren't we...fuckin sky
Darren Hind
303
Posted 01/11/2020 at 13:30:15
Never happy about Sigurdssson playing but I've got a sneaky feeling this match is set up for him today.
Come on Siggy lad
Richard Mason
304
Posted 01/11/2020 at 13:30:30
Looks like a 4321 to me. Delph Allan dacoure behind sigi and gomes
John Kavanagh
305
Posted 01/11/2020 at 13:31:03
Is the Live Forum dead?
Derek Taylor
306
Posted 01/11/2020 at 13:31:09
RS picking our team now, Carlo ?
Shane Corcoran
307
Posted 01/11/2020 at 13:31:43
23/10 is marginally better than even money?
Jonathan Tasker
308
Posted 01/11/2020 at 13:32:17
Steve 302
Sky too busy wa**ing themselves senseless over 15th v 12th
Duncan McDine
309
Posted 01/11/2020 at 13:32:30
Darren, I'm no gambler, but I think 23/10 is marginally better than 2/1. Wouldn't evens be 10/10 equivalent?
Annika Herbert
310
Posted 01/11/2020 at 13:36:56
Kevin @ 289, no way back got Pickford now? I would wait and see if Olson is any good before making a statement like that.
It could be a really smart move by Carlo, but it could also be a total disaster
Anton Walsh
311
Posted 01/11/2020 at 13:39:27
I'd of liked Gordon with Nkounkou myself.
Kevin Molloy
312
Posted 01/11/2020 at 13:39:48
Annika
I think we would have to be in a special kind of hell for Carlo to put him back in from here Annika. What with us going for our proper replacement in the summer, I just can't see how he gets back.
Jimmy Salt
313
Posted 01/11/2020 at 13:41:16
No Forum today ???//

Darren Hind
314
Posted 01/11/2020 at 13:41:17
Sorry Duncan
We are 23/20 the draw is 23/10
Jamie Crowley
315
Posted 01/11/2020 at 13:41:55
Extra hour of sleep equates to many surprises in the lineup!
Picks benched? I'm stunned.
In Carlo We Trust. Some of this shakeup is brilliant managing to let all and sundry realize they have to continually fight for a place in the team.
Where's the LF??
Will Mabon
316
Posted 01/11/2020 at 13:43:27
Well, in the pick-a-lineup lottery, I'm not sure anyone chose this one. Looks like a crowd-out to me but it all hinges on how the full backs are played/instructed. The club needs to bite the bullet and just pay Sigurdsson for the compromising film he obviously has of someone.
I fear we're going to see some dourness today, and hope I'm completely wrong.
We don't know what is happening behind the scenes. Here's hoping the dropping of Pickford doesn't open the media floodgates on him, which is about the last thing he needs.
Vijay - I mentioned Ward-Prowse the other day; do I remember rightly that we were "Linked" with him a couple of seasons back?
John Pierce
317
Posted 01/11/2020 at 13:44:16
I really don't see what choice he had. I think had there no been the noise after the derby I think he'd have gotten dropped on form alone. Carlo possibly felt the need to stand with his player, after all the smack talk, but maybe Olsen needed a week or two to get up to speed?
Either way players need to know they have to reach a higher standard, I hope this provokes a good reaction.

John Kavanagh
318
Posted 01/11/2020 at 13:45:46
Jamie, I think they've put Siggy in charge of the Live Forum. Should be up and running (after a fashion) Tuesday.
Derek Thomas
319
Posted 01/11/2020 at 13:46:27
John McFarlane Snr. has confiscated the keys off Michael to teach him a lesson
Liam Wilson
320
Posted 01/11/2020 at 13:47:02
Live Forum maybe benched by Carlo due to ubiquitous negativity affecting the team. ;-)
Jerome Shields
321
Posted 01/11/2020 at 13:47:02
Surprised Pickford is dropped. Had a good game against Southampton.
Sigurdsson on because he is the only dead ball specialist available.
Tom Bowers
322
Posted 01/11/2020 at 13:47:07
Too many changes too soon ?
Some are enforced but it looks like DCL will plough a lone furrow again.
If we struggle against the Barcodes then I guess we can say ''here we go again'' as far as the season goes
Will Mabon
323
Posted 01/11/2020 at 13:47:20
Jonathan - strange time to be washing, right before the game.
Will Mabon
324
Posted 01/11/2020 at 13:48:00
John K :)
Kevin Dyer
325
Posted 01/11/2020 at 13:48:15
I am thinking 4-1-3-2, with Sigurdsson playing as a supporting striker, Delph as the holding midfielder. Fullbacks given licence to bomb forward, with the two wide centre mids slotting wide to provide cover. Dacoure will be expected to support DCL and Gylfi.
Other option is 4-2-3-1 with Allan/Delph sitting deep. All the width on the bench so Carlo anticipating a change of formation if things go badly.
Paul Birmingham
326
Posted 01/11/2020 at 13:49:17
Heres to victory today!
Chris Williams
327
Posted 01/11/2020 at 13:49:35
4-3-2-1 on OS
John Pierce
328
Posted 01/11/2020 at 13:49:55
Fair dos to Carlo, he has changed it up from last week. More compact, and balanced. Allan must set the tempo. Big game for Doucoure and Gomes. Time for Doucouré to get a goal. Any midfielder, please get a goal!
Brent Stephens
329
Posted 01/11/2020 at 13:49:59
Michael - let us in! Please! Promise to be quite.
Brent Stephens
330
Posted 01/11/2020 at 13:50:41
Michael - the clocks changed here last week.
Jamie Crowley
331
Posted 01/11/2020 at 13:52:28
It's bad enough with no fans, but when you then take away the LF?
I mean, can 2020 get any worse? I look forward to game days and the LF ALL WEEK LONG!
Pathetic? Yes. True? Yes.
Tony McNulty
332
Posted 01/11/2020 at 13:53:22
Which will come first, a Hibbert goal or the opening of the live forum?
Geoff Lambert
333
Posted 01/11/2020 at 13:54:04
Something fishy going on I fear.
Brent Stephens
334
Posted 01/11/2020 at 13:54:38
Good one, Geoff.
Geoff Lambert
335
Posted 01/11/2020 at 13:56:11
I think the live forum is floundering today..
Brent Stephens
336
Posted 01/11/2020 at 13:57:15
Bass thoughts Geoff.
Andrew Clare
337
Posted 01/11/2020 at 13:57:25
Any links?
Michael Lynch
338
Posted 01/11/2020 at 13:57:25
Links anyone?

Bill Gall
339
Posted 01/11/2020 at 13:57:38
The live forum is being swamped
Brent Stephens
340
Posted 01/11/2020 at 13:57:42
Open the Live Forum Dorey.
Will Mabon
341
Posted 01/11/2020 at 14:00:14
Think the Live Forum is gonna have to be in the new thread, Newcastle United 0-0 Everton.
Derek Thomas
342
Posted 01/11/2020 at 14:01:02
Villa doing us a favour in the GD dept...up to us now to take advantage
Will Mabon
343
Posted 01/11/2020 at 14:02:13
Michael - Hesgoal.com
Brent Stephens
344
Posted 01/11/2020 at 14:04:48
Full backs going to push on, both sides.
---
Add Your Comments
In order to post a comment, you need to be logged in as a registered user of the site.
Or Sign up as a ToffeeWeb Member — it's free, takes just a few minutes and will allow you to post your comments on articles and Talking Points submissions across the site.