Sheffield United vs Everton
Saturday, 26 December, 2020
Match Preview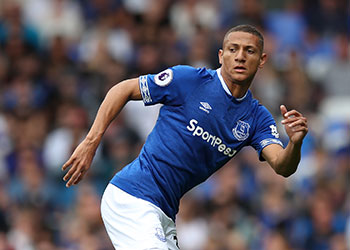 Richarlison could be sidelined by concussion protocols following his withdrawal from the cup quarter-final against Man United in midweek
Everton look to recover from the disappointment of Wednesday's cup defeat to Manchester United by advancing their claims for European qualification with victory at Sheffield United.
In stark contrast to their impressive 2019-20 campaign, one which ended with a ninth-place finish and plaudits from across the game for Chris wilder, the Blades went into this Christmas sitting at bottom of the Premier league table and without a win in 14 matches.
That makes this Boxing Day clash prime "banana skin" territory for Everton who have an annoying propensity to hand first victories to winless teams and goals to strikers struggling through barren runs. Hopefully that has changed under Carlo Ancelotti because three points for the Toffees would make it four league wins on the bounce and keep them right up amongst the leaders.
The Italian will again be without James Rodriguez whom he has ruled out of the last two games of the year and possibly into early 2021. Also missing could be Richarlison if it was decided by the club's medical team that the Brazilian suffered a concussion in his collision with Eric Bailly in Wednesday's Carabao Cup defeat to Manchester United.
Ancelotti said that Everton would abide by concussion protocols and leave Richarlison out of the trip to Bramall Lane and suggested that it would present an opportunity for "the players that did not play a lot. For this game, they can show their qualities."
The manager has hinted as such before, particularly in reference to Niels Nkounkou, only for the Frenchman to continue to be left out of the squad, but if he intends to give game time to some more fringe players, the likes of Anthony Gordon, Bernard and Cenk Tosun could benefit, particularly if Ancelotti intends to give a rest to Dominic Calvert-Lewin.
Sheffield United, who be without a key man of their own in Sander Berge, have struggled for goals this season but scored twice against Man United nine days ago and almost claimed their first win of the season at Brighton last Sunday, only for the Seagulls to deny them with a very late equaliser.
That modest improvement will give Wilder's men encouragement and it means they will be no light touch, especially on their own turf.
Kick-off: 8pm, Saturday 26 December, 2020
Referee: David Coote
VAR: Chris Kavanagh
Last Time: Sheffield United 0 - 1 Everton
Predicted Line-up: Pickford, Coleman, Keane, Holgate, Godfrey, Davies, Doucouré, Bernard, Iwobi, Gordon, Calvert-Lewin
---
Reader Comments (220)
Note: the following content is not moderated or vetted by the site owners at the time of submission. Comments are the responsibility of the poster. Disclaimer
Dan Nulty
1
Posted 26/12/2020 at 07:34:05
We desperately need a win after weds. Hoping Richie is OK and no concussion. Desperately hoping.
Peter Warren
2
Posted 26/12/2020 at 07:48:33
If we can go into January sitting in the top 4 that would be ace considering the players that we have been missing.
Neil Lawson
3
Posted 26/12/2020 at 08:09:36
I am a fan of Richarlison and what he brings to the team and I am well aware of their record when he is missing. However, he has been poor of late and perhaps a rest and a kick up the bum won't do him any harm. The issue continues to be is who do you replace him with? Certainly not Bernard out wide against a team like Utd. We desperately need pace and directness in his position if we are going to play in a style similar to recent games (Manure excepted). It has to be Gordon. What better opportunity can there be ?. And if rest is required then play Bernard in place of Sigurdsson (who has tried but does look utterly knackered) in the role that allows him to best use his talents.
All of us are armchair managers and Carlo rarely seems to follow our advice ( haha) but the groundswell on Wednesday was "not Gomes" and he was truly awful. What is it that we can see that Carlo can not ?
DCL perhaps deserves a rest but he is too important. That said, I do not buy into this mantra of players needing time off. They run around ( well, some of them ) for 95 mins and they have a bit of a kickabout at Finch Farm for an hour or two inbetween supported by a host of coaches, physios, nutritionists, psychologists etc but are too tired or stressed to play two or three times a week. Tommy Lawton turned out Boxing day morning and afternoon for us and for Tranmere and then probably had a turkey dinner and 5 pints before knocking them in at the weekend.
We need a combative and committed performance from a team of players desperate to play and to win and we need a manager to pick those players. We need 11 Colemans/Keanes/DCLs/Godfreys. Not 5 or 6 and some lightweight additions.
I can always accept defeat but only if we have played to the max and the opposition have been better on the day.
Sam Hoare
4
Posted 26/12/2020 at 08:19:07
Sheffield United have been getting ominously closer to a win. And our first team looked ominously jaded in the losing stages of the Man U match. It's not gonna be a cakewalk, that's for sure.
With City coming two days later closely followed by West Ham the question may be do you rotate against Sheffield or City? Or a bit against both?
Two wins and a loss in these three games would be much better than three draws and part of me wonders if you just put out a second string team against City who would be favourite even against our (tired) strongest XI but that's a fairly unpalatable approach.
Whatever happens I'd like to see the likes of Gordon, Branthwaite and Nkoukou get some game time over the next week or so. To my eyes all of them deserve more game time than Carlo has given them.
Frank Sheppard
5
Posted 26/12/2020 at 08:30:34
Hope I am wrong, but this looks like a banana skin.
Eddie Dunn
6
Posted 26/12/2020 at 08:37:55
If he is okay I would definitely play Richarlison, even though this team of bruisers is the last thing our Brazillian wants to see.
The way I see it is that we need three points from the next two games and this is the game we can win.
I watched Sheffield recently and they were unlucky not to win at Brighton with 10 men. It will be very tough game.
I do fancy Domenic to score against his home town club.
Mike Oates
7
Posted 26/12/2020 at 08:48:20
Just what's up with James, a little knock will be probably available 2-3 weeks ago !!!!!
Telling porkies somewhere along the lines Mr Ancelotti !
Now missing at least for another 3-4 games by sound of it. Weather too cold ! Too wet !
Just tell us what's wrong with the lad
Mal van Schaick
8
Posted 26/12/2020 at 09:01:50
If we play with the same spirit and commitment of the Chelsea game we will win this game.
Derek Thomas
9
Posted 26/12/2020 at 09:21:24
Neil @ 3;between you and Lyndon you've pretty much covered most peoples thinking...except Ancelotti's about Gordon.
If Gordon...and the Team, can't put in a decent performance Vs - all due respect etc. - a team with only 2pts out of 42 ??
Craig Walker
10
Posted 26/12/2020 at 09:28:51
If Richarlison isn't available then please start Gordon and not Bernard. The little Brazilian aggravates me. Too lightweight and continually moaning at the ref as he's brushed off the ball. Gomes looks a shadow of the player that arrived and is on the same Everton career trajectory as Schneiderlin. It's a shame as he has talent and the injury has massively impacted him. Seems a lovely bloke off the field and a great ambassador. He rarely plays well away from home. If we have aspirations of doing anything we need to beat the bottom club without Richarlison. Hope we're not saying "Everton, that!" tonight.
Dave Williams
11
Posted 26/12/2020 at 09:29:02
I agree with Sam and Neil. In my playing days we liked nothing better than a close run of games simply because we loved to play the game. It seems like not many pros in the top flight really enjoy the challenge of playing.
DCL will want to play in this one but we surely can't risk a thrashing by City by playing duds like Tosun. James is a mystery- he seemed ok in the Derby when he was supposedly injured and has not been seen since. Very strange!
I'd play Nkounkou today and leave out Siggy and André. Bernard too lightweight for Sheffield.
Ajay Gopal
12
Posted 26/12/2020 at 09:31:14
I am all for squad rotation and resting a few key players like Richarlison, DCL, Keane, Mina, Doucoure, Iwobi, Siggy (in the absence of James) to reduce their chances of injury. We need them fit long term. I would take 2 points from the next 2 games. My team for today:
Pickford
Coleman Mina Godfrey Branthwaite
Davies Doucoure Holgate Nkounkou
DCL Gordon
Subs: Olsen, Kenny, Siggy, Gomes, Bernard, Tosun, Simms
And against Man City:
Pickford
Coleman Keane Godfrey Branthwaite
Davies Holgate Siggy
Iwobi Tosun Richarlison
Subs: Olsen, Kenny, Nkounkou, Gordon, Gomes, Bernard, DCL
Bob Parrington
13
Posted 26/12/2020 at 09:46:40
Agree with others that we need speed in the team for this clash.
I'd use Gordon but not Davies as the latter has been way off his game.
Don't like the suggested mid-field mix Ajay. Why leave out Doucoure for G's sake?
NO to Tosun FFS. Calvert Lewin a MUST in this game. (or Simms??)
Back four Coleman, Keane, Holgate, Godfrey. Branthwaite definitely on the bench and Nkounkou, too.
Kev Jones
14
Posted 26/12/2020 at 09:50:08
No Mina Lyndon?
As Carlo seems to prefer picking experienced players I predict Pickford, Coleman, Mina, Keane, Godfrey, Gomes, Holgate, Doucoure, Iwobi, Sigurdsson, Calvert-Lewin.
I'd prefer Gordon in there so hope he gets to play at some point.
Robert Tressell
15
Posted 26/12/2020 at 09:50:40
I wouldn't tinker about with the team too much. I'd go with a 442 - with Nkounkou left wing - and Richarlison and DCL up top together as a pairing.
Pickford
Coleman
Godfrey
Keane
Holgate
Davies
Doucoure
Iwobi
Nkounkou
DCL
Richarlison
Peter Dodds
16
Posted 26/12/2020 at 10:00:21
We MUST look to get three points from this match, rotating the squad against City rather than today. To give up 2 or 3 points today and quite possibly all 3 on Monday whoever we put out would be crazy. And note we go 2nd if we win because Man U and Leicester play each other.
Joe McMahon
17
Posted 26/12/2020 at 10:01:37
The lack of quality and indeed quality of the squad after millions has been spent is underwhelming and shockingly disappointing.
Rob Halligan
18
Posted 26/12/2020 at 10:07:11
As the day goes on, and more and more comments are added, Sheffield United are slowly going to morph into the greatest team in Europe, and we will do very well to even get a draw from tonight's game.
Their record to date is
P 14
W 0
D 2
L 12
F 8
A 25
Yeah, I'm really shitting it about tonight!!
Tony Twist
19
Posted 26/12/2020 at 10:25:21
No messing about, this is the game we have to win.
Olsen,
Coleman, Keane, Mina, Godfrey,
Iwobi, Doucoure, Holgate, Gordon,
DCL, Sims (if Richarlison is sidelined).
Good luck blues.
Patrick McFarlane
20
Posted 26/12/2020 at 10:26:43
Many fans go on about the lack of ambition shown by the club, but it would seem that some fans are even less ambitious than the club itself.
I know Everton have an extensive injury list and that key players are missing, but surely that's the time for the remaining players to stand up and be counted?
The 'bonus' points we acquired in the last three league games will count for nothing if the team fails to garner any or many points in its next three matches.
I really don't want to see Everton's hopes of a European berth dashed by the first week in January for yet another season, so I'm hoping for at least a couple of victories out of the next three matches
Small club mentality is the art of believing that Everton are incapable of winning more than a few games on the spin and that certain clubs and even unfancied clubs are expected to prevent Everton from winning well before a ball is kicked.
If Everton fail to win because the opponents were better on the day, fair enough, we move on and try again, if Everton fail because they didn't believe that they could win before the kick-off, we need to question the reasons for that attitude being allowed to circulate within the club.
Rob Halligan
21
Posted 26/12/2020 at 10:30:11
Well said John. Totally agree with you.
Andy Walker
22
Posted 26/12/2020 at 10:34:36
I think Tosun may get a start today along with Gordon and Holgate. We have to rest some players before the Man City game.
That said, our squad hasn't enough quality in depth, so I expect we will struggle with a mainly second-eleven selection.
Laurie Hartley
23
Posted 26/12/2020 at 10:37:47
A bird in the hand is worth two in the bush. I hope Carlo picks the strongest team available so we get another 3 points. Worry about Man City when this game is out of the way.
If anyone has to be rested, it should be Coleman.
I hope Richarlison can play but, if not, I would go with Gordon.
Olsen,
Holgate, Keane, Mina, Godfrey
Iwobi, Doucouré, Gomes, Gordon
Sigurdsson
Calvert-Lewin
Up the Blues !!!!
Geoff Lambert
24
Posted 26/12/2020 at 10:39:20
Sheffield Utd... zero wins this season. If you need to break a duck at something, we all know what team to play.
I hope our front line got some new scoring boots for Christmas. In the last six games, they have managed one goal each, that is not good enough for mid-table – never mind Europe.
Clive Rogers
25
Posted 26/12/2020 at 10:40:55
Surely the natural choice to cover Richarlison must be Gordon and not Bernard who has had his chances and increasingly looks like he doesn't want to be there. Calvert-Lewin also needs a rest as he was anonymous against Man Utd. Hardly knew he was on the pitch.
David Greenwood
26
Posted 26/12/2020 at 10:52:43
I'm amazed at how good Sheffield Utd have suddenly become according to some on here.
Away win all day long.
Martin Berry
27
Posted 26/12/2020 at 10:53:43
Will Sheffield Utd break their duck?
Will the Everton Goose be cooked or look a right Turkey?
As long as we don't get stuffed.
Seasonings Greetings.
Steavey Buckley
28
Posted 26/12/2020 at 10:54:54
One of the major reasons why Everton won 3 games in a row against good opposition: the back four of Holgate, Mina, Keane and Godfrey have been superb.
The strength of the back 4 is their unity, not 3 of them + another. 2 of those players, Holgate and Mina, were also goal scorers in those 3 games, whose goals made sure Everton gained 6 of those 9 points
Ancelotti has stated that Richarilson won't play tonight because of concussion protocols. So, there is an opportunity for Gordon to play, but that still leaves Everton 'thin' up front with Calvert-Lewin as the only recognised striker. Tosun maybe given a chance on the basis there is no other striker available.
Everton team in a 4-4-2 formation v Sheffield United:
Pickford
Holgate
Mina
Keane
Godfrey
Davies
Doucouré
Iwobi
Calvert-Lewin
Tosun
Gordon
Mick Conalty
29
Posted 26/12/2020 at 10:54:59
I will not be surprised if we hand out a late Xmas present to winless Sheffield Utd. As Lyndon said, we have form for it.
I heard somewhere that Carlo said he is happy with this squad of players?? So when he said he has been brought here to take EFC to the top, he must've meant to the top of "The Best of The Rest" because, despite our current position, that will be the best we can achieve.
Paul Birmingham
30
Posted 26/12/2020 at 10:58:26
Happy Boxing Day, All, and let's hope it's a good one for Evertonians.
A massive game tonight and 3 good points to be taken.
After Wednesday's match, the squad owes us a performance and tonight will be a test of character; I expect Sheffield to be steaming into Everton.
But, with the quality of our squad to theirs, and hopefully if Richarlison plays, then great... but, if not, with Gordon coming in, then Everton should be able to win this match.
Massive game and hopefully no messing about and a professional performance by Everton tonight.
Thomas Richards
31
Posted 26/12/2020 at 10:59:33
I'm amazed how good of a player Anthony Gordon has become over the last few weeks.
He seems to be the answer to our current issues, looking at some posts.
Darren Hind
32
Posted 26/12/2020 at 11:03:30
We are even money 1/1 with the bookies. There's a good reason for that.
We are better than the crew all over the park. The only people we need worry about is ourselves. We can go into the New Year in the top four. We just need to start believing we belong there.
Geoff Lambert
33
Posted 26/12/2020 at 11:05:11
Thomas, he gets better with every game he doesn't play.
Phil Flannery
34
Posted 26/12/2020 at 11:05:24
No excuses today, Carlo... anything other than a win is mis-management, you may need to slip them into 3rd gear from the off for a change though. 3 points
Alan J Thompson
35
Posted 26/12/2020 at 11:17:57
Most surely a game in which a player would want not only to Captain his side but score against his former club.
No, I don't mean Jagielka.
Brian Harrison
36
Posted 26/12/2020 at 11:19:42
There was a piece on the net the other day from supposedly a journalist who may have been from South America. Now you have to take whatever is written on the web with great scepticism, but he was saying that James had to decide which was most important to him: football or the high life.
Normally, you would dismiss this as another crank report and that may be the case, but he had a supposedly minor injury which was expected to keep him out for possibly 2 games. Now we hear he won't be involved today or against Man City, and may not make it for the West Ham game. Which makes me think there may be more to this piece than I originally thought.
Thomas Richards
37
Posted 26/12/2020 at 11:23:05
He does, Geoff.
I think he has a good chance of developing into a top player but we need to let him develop gradually. In my opinion, he should not be starting games at this point.
Have him on the bench with 20- or 30-minute appearances. He develops gradually then.
Petur Leifsson
38
Posted 26/12/2020 at 11:29:07
Would be sensible to save energy by starting with many of the subs tonight while keeping the aces on the bench awaiting the next game soon coming up. Tonight, I would start accordingly in 4-2-3-1 with:
Pickford,
Coleman, Holgate, Godfrey, Nkounkou
Davies, Gomes
Iwobi, Bernard, Gordon
Tosun.
So, for the bigger game coming up, we would have the more important players ready, such as Keane, Mina, Doucouré, Sigurdsson, Richarlison, and Calvert-Lewin as they have been playing a lot lately and deserve a rest tonight... except they need to come on as subs depending on how things develop tonight. Getting a good outcome in a tournament does not depend on the starting XI but the whole group.
Jonathan Tasker
39
Posted 26/12/2020 at 11:37:40
Please, please, please...
No Tosun!!!

Niall McIlhone
40
Posted 26/12/2020 at 11:38:08
We're in for a physical game, it is so important that we get ahead early. Despite having some lightweight players unsuited to this type of winter fixture, Carlo should surely have enough nous to put out a team that can beat relegation certainties whose best player (Berger) is out?
Also, I am sorry but I don't share the defeatism about the Man City game. They have great quality but will be missing both Jesus and Walker, the former being a serial scorer when playing Everton. I think we are in with a shout if the right Everton turns up. COYBB
Tony Hill
41
Posted 26/12/2020 at 11:38:09
Darren @32, that's been a problem for at least 25 years. But softly, softly does it.
Kunal Desai
42
Posted 26/12/2020 at 11:38:39
Berge and McBurnie are out from them; from an aerial threat that's two of their main players out. Key is keeping our defensive shape; worst-case scenario, we could keep a clean sheet and get away with a point. Question for who would be scoring? In all likeliness, this could come from a set-piece.
Holgate alongside Doucouré in the middle to give us some mobility.
Bobby Mallon
43
Posted 26/12/2020 at 11:39:19
Peter 38. I would go the other way go out and beat Sheffield Utd with our strongest team and experiment with City as they can wallop any team we put out
Derek Cowell
44
Posted 26/12/2020 at 11:39:32
We are just not good enough to make wholesale changes to the starting 11. We always seem to underestimate the opposition too. Sheffield United are a fit professional team. Yes, they are going down... but they are not getting thrashed and have been unlucky in games, losing narrowly in most.
We all hope for a win but, deep down, we all know what could happen here and Ryan Brewster has not scored a single goal for them yet, just saying like!
Boxing Day results are often weird. Didn't we beat Burnley away 5-1 on this day 2 years ago, unsurprisingly! That is the only time in recent memory that we actually dominated a game.
Fingers crossed.
Kevin Molloy
45
Posted 26/12/2020 at 11:40:59
I'd pick our strongest team for tonight. Then rest the runners and Calvert-Lewin against Man City. Then back to the strongest eleven for West Ham. That way, we get 6 points rather than 2.
Kevin Prytherch
46
Posted 26/12/2020 at 11:44:32
Sigurdsson can't play in this one, we've seen him too many times being woeful trying to open up a defensive team.
I would play Kenny at right-back with Bernard on the right-hand side of an attacking 3. Bernard is good at creating space for full-backs to cross.
Gordon on the left of the attacking 3 with Godfrey at left-back. I feel that Godfrey will be a safer bet behind Gordon than Nkounkou.
Holgate and Keane at centre-back, I feel that Sheffield Utd will have their best chances on the break, Mina and Keane will be too slow.
Davies, Doucouré and Gomes in the middle. Davies will be the defensive option, likely filling in for Kenny when he goes forward, Doucouré the box-to-box midfielder and Gomes advanced, hopefully interchanging with Bernard and Gordon.
Probably not everyone's first choice...
Tommy Carter
47
Posted 26/12/2020 at 11:45:10
Tough game ahead. Won't be one for the neutral, I don't imagine: scrappy and physical. Our job here is to simply grind out the result as our better players are unavailable.
We have to work harder to create more for Dom and not leave him so isolated. Play to his strengths rather than him having to come deep and do the things he is not so good at.

Brian Murray
48
Posted 26/12/2020 at 11:50:32
Petur.
Tosun!! Are you serious? Might as well just throw the points away. Carlo has to learn from the three games without Richarlison where he showed no vision or inspiration not giving youth a chance. Forget about the likes of Bernard. I can't believe a man of his experience is still trying to get a tune out of the same group.
If Simms or Onyango are not ready or good enough, then fair enough, but it's suicidal not to even try. Look at Lampard at Chelsea! That may be a bad example but come on, the likes of Sheffield United will relish the chance to play a predictable Everton.
Oh and please see past this supposed renaissance of Sigurdsson. We shouldn't be clinging to him or Coleman three after they should've been replaced. But that's same old friendly Blues – scared to let go.
Rob Dolby
49
Posted 26/12/2020 at 11:56:51
Brian, when you say "Not giving youth a chance" – how old are Holdate, Godfrey, Davies, Richarlison or Calvert-Lewin.
If we had another Rooney in the youth setup, he would be playing.
Gordon and Nkounkou train with the first team. If they were flying they would be playing.
I would bring in Holdgate for Gomes and Gordon for Richarlison. This will be another defensive based game where we are pinning our scoring hopes on Calvert-Lewin or Sigurdsson.
Clive Rogers
50
Posted 26/12/2020 at 11:59:54
Can't understand the conjecture about right-back as Seamus is a certainty, especially without Digne on the other flank.
Jerome Shields
51
Posted 26/12/2020 at 12:02:40
I agree, this is going to be a difficult game. They will set up shop and be full of running in the second half.
It will be interesting to see what changes Ancelotti makes. I do think he will select Mina. Sheffield Utd will attack in front of the defence, with crosses to get in behind. This suits Mina.
Ricky Oak
52
Posted 26/12/2020 at 12:02:56
Go for the throat, always, take nothing for granted and underestimate any Premier League team at our peril. I'd just love to keep the Keane and Mina machine rolling. Strongest team possible; if we go a couple up, then rest some for next battle.
George McKane
53
Posted 26/12/2020 at 12:08:28
On the eve of great and important battles, when the enemy camp was sitting around campfires thinking of the coming dawn and the fight to come, The Spartans, knowing how good they were, would stand on the hilltop surrounding the enemy camp.
They would stand naked, wash and bathe themselves, comb their long hair, polish their shields and swords, showing disdain for their enemy – a complete lack of fear, a belief in their own ability.
Mike Gwyer
54
Posted 26/12/2020 at 12:09:27

You don't get more points for beating Man City, so for me, we have to put out the best 11 tonight then worry about Man City on Monday.
Brian Williams
55
Posted 26/12/2020 at 12:10:03
Kevin #45.
That'd be my approach too, mate.
Jerome Shields
56
Posted 26/12/2020 at 12:10:29
George #53,
Great tactics.
George McKane
57
Posted 26/12/2020 at 12:19:25
Jerome, absolutley. Beats making a "dick" of yourself.
Up The Blues.
Mark Murphy
58
Posted 26/12/2020 at 12:23:19
Something tells me Holgate is a centre-half.
I don't think he'll play centre-midfield under Carlo.
Brian Harrison
59
Posted 26/12/2020 at 12:25:40
I think team selection will be governed by who Carlo thinks which players need resting irrespective of the opposition. Calvert-Lewin has been running on empty for the last couple of games, but our squad is so poor that any rotation will weaken the team a lot. Plus with injuries to Allan, Digne and James and possibly Richarlison it massively reduces our options.
I would hope if Richarlison doesn't make it then he gives Gordon a start, he has got to be a better option than Bernard. With replacing Gomes against Man Utd it seems Carlo has little faith in him, but maybe playing weaker opposition he might have little choice but to use Gomes for some of the game. I agree that Tosun is a very poor choice to replace Calvert-Lewin, but it just highlights the folly of sending Kean out on loan.
Ian Edwards
60
Posted 26/12/2020 at 12:28:16
Really depressed about the game tonight. You just know Sheffield Utd will get their first win. Carlo Pulis will fill the team with defenders and holding mids and park the bus. When are the fans going to object to these tactics? Allardyce was run out of town for far less.
Ian Edwards
61
Posted 26/12/2020 at 12:29:39
Brian... Ancelotti has said he will only be rotating against Man City.
John Kavanagh
62
Posted 26/12/2020 at 12:32:39
This game is the ultimate banana skin, especially when the factor of shock Boxing Day results is added to the mix. Starting Bernard and Tosun is simply handing over 3 points. I wouldn't even have them on the bench based on their recent contributions.
Simms should be given a place on the bench and Calvert-Lewin has to play. I'd start Holgate ahead of Coleman because the back four with him in has delivered clean sheets.
The big problem is getting accurate crosses in to Calvert-Lewin. Iwobi can't deliver so Gordon has to be given the opportunity. Gordon simply has to play and prove that he is as good as he believes he is. Given the chance, I think he'll open his account or at least provide Calvert-Lewin with an assist.
Come on Blues and deliver what would be, for us, a shock win.
Rob Halligan
63
Posted 26/12/2020 at 12:33:04
Often when someone like Fulham, Sheff Utd or West Brom play someone like Man City or Liverpool, it's often referred too as a "Free Hit". A game where you are not expected to get anything from, and anything you get is a bonus. Whilst I would not exactly refer to our game against Man City as a free hit game, I would expect more from tonight.
So, as some say, strongest team possible tonight; win it, and then see what we can get from Monday's game. Pep is renowned for chopping and changing his team week by week, so God knows what team he will put out against us.
David Pearl
64
Posted 26/12/2020 at 12:33:05
It's probably time now for Carlo to trust his squad and let them go out and play with freedom. Let's keep possession for a change. Hope he gives Nkounkou and Gordon a go, unless it's already been decided to send them out on loan.
Ideally we win this game... then park the bus again vs City. If we do play Tosun, Bernard, Gordon... how about we play to their strengths? I have no idea what team he will pick. Get 3 points today please blues, the table will look good for the new year and we have some momentum.
David Greenwood
65
Posted 26/12/2020 at 12:37:37
What position in the league were we when Allardyce was run out of town?
And when the dust settles tonight what position could we be in?
Rob Halligan
66
Posted 26/12/2020 at 12:40:36
So we've beaten Spurs, Chelsea, Leicester and Arsenal, yet if we beat Sheffield Utd, who, by the way, haven't won a game all season, it will be seen as a shock win for us!! Unbelievable.
John # 62, would you care to elaborate why it would be a shock win for us?
Ian Edwards
67
Posted 26/12/2020 at 12:41:29
David... let's see where we finish. The style of play is worse than Allardyce. Sat on leads vs Arsenal and Chelsea. It was like the Alamo in the last 20 mins. Whole 90 against Man Utd at home in a Cup Quarterefinal was shameful.
David Greenwood
68
Posted 26/12/2020 at 12:48:10
Yeah, Ian, let's see where we finish.
In the meantime, what position were we when Allardyce was binned and what position could we be in when the dust settles tonight?
Sat on leads? Hmmm. No credit to Carlo for being in the lead in the first place?
David Pearl
69
Posted 26/12/2020 at 12:49:32
Ian, to be fair to Allardyce, that team he had was shite.
Ian Edwards
70
Posted 26/12/2020 at 12:51:53
Other teams would go on and get more goals. Rather than invite teams on and potentially lose the leads. Just like Newcastle at home last season. I can understand now how he lost in Istanbul. Although you will probably say we should give him credit for getting there.
Rob Halligan
71
Posted 26/12/2020 at 12:52:47
I remember going to Arsenal when Allardyce was in charge, and he set up an ultra defensive side. Within 5 minutes, we were a goal down, and four down by half-time. Great tactics by big Sam.
Tony Abrahams
72
Posted 26/12/2020 at 12:53:42
The style of football is worse than Allardyce's, is the first thing I've read on ToffeeWeb, after going straight to the comments and clicking on.
Thinking back to Anfield when Calvert-Lewin got us a very contentious penalty, I'd obviously have to disagree with that comment Ian, because that is one memory that hasn't faded.
David Greenwood
73
Posted 26/12/2020 at 13:05:43
Who are these other teams, Ian?
I don't give a fuck about Istanbul, Ian. Why should you?
Rob's just pointed out one example of Allardyce's negative tactics. Plenty more where that came from.
Potentially lose the leads? Yeah good one. You'd be slaughtering him for chasing the game and going for more goals and then letting some in and not winning.
Rob Dolby
74
Posted 26/12/2020 at 13:09:39
Ian. What exciting team would you pick tonight?
Dale Self
75
Posted 26/12/2020 at 13:16:41
No Lundstram either. What Patrick, Darren and George said. Let's let our luscious strands fly. Okay, I'm bald.
Jim Harrison
76
Posted 26/12/2020 at 13:20:27
Ian
He won on 3 other occasions.
Thomas Richards
77
Posted 26/12/2020 at 13:21:53
Just read a post from a really depressed poster saying that Ancelotti's football is worse than Allardyce's.

Rob Halligan
78
Posted 26/12/2020 at 13:23:08
Jim, and also the league title in four different countries. Not bad for someone so negative.
Mike Powell
79
Posted 26/12/2020 at 13:24:38
Sheffield Utd looking for their first win, so up roll Everton to help them out.
Justin Doone
80
Posted 26/12/2020 at 13:28:17
We should stick to the same team that has got us recent results.
If not possible I would start Bernard, better from the off than a sub. Gordon to come on after 60 mins when Bernard is tired.
Sigurdsson to stay forward. He's never a midfielder and I prefer him as the second forward or No 10. He does put effort in; just a little slow and lacks tackling ability to play midfield.
Godfrey and Holgate full-backs. Sheffield Utd like to put plenty of crosses and long balls in so a bigger stronger defense makes sense.
Tony Hill
81
Posted 26/12/2020 at 13:29:47
I have never seen a worse 20 minutes from an Everton side than our shit-scared opening on Wednesday. We barely improved after that.
Let's hope we can muster some confidence and intent tonight.
Michael Barrett
82
Posted 26/12/2020 at 13:31:46
Shithouses the lot of them... I won't be watching it.
Thomas Richards
83
Posted 26/12/2020 at 13:32:22
How long have you been watching Everton Tony?
Tony Hill
84
Posted 26/12/2020 at 13:36:33
Longer than you my friend.
Thomas Richards
85
Posted 26/12/2020 at 13:42:11
And you have never seen a worse 20 minutes?
Tony Hill
86
Posted 26/12/2020 at 13:46:00
No. As I said. It was a disgrace.
Jim Harrison
87
Posted 26/12/2020 at 13:48:21
Rob 78
I mean, it's almost as if he is the most successful manager ever to be appointed at the club? But sure, he loses leads.
I agree that currently the football is boring. But this isn't Fat Sam style. He didn't even try to win games. Match after match, with barely an attempt on goal, let alone on target. £50 million or more on two players who achieved the sum total of fuck all at the club, versus £50 million on 3 players who it's hard to imagine not being the first on the team sheet when fit.
Too many injuries. Team not able to get any real continuity. That's why he has resorted to functional football, to get results.
Paul Hewitt
88
Posted 26/12/2020 at 13:48:49
Everton are 4th. Sheffield bottom without a single win. If you think we won't win this game, then why do you bother?
Pat Kelly
89
Posted 26/12/2020 at 13:51:21
Richarlison has been poor so won't be missed. Likewise James, provides few assists or goals, a "luxury" signing, that you get the odd glimpse of. Goals will be in short supply with no striker other than Calvert-Lewin.
Thomas Richards
90
Posted 26/12/2020 at 13:51:41
I watched an Everton side under Allardyce play 3 and a half consecutive games without a shot on target mate.
Many, many more.
Mike Walker?
Walter Smith?
And on and on

Tony Hill
91
Posted 26/12/2020 at 13:52:16
The point, Paul, is that we should have that attitude in every single game.
John Boswell
92
Posted 26/12/2020 at 14:02:23
It would appear that our Carlo has adopted KITAP1 as the style to play until players return from injury and/ or new recruits arrive next month.
I expect ugly tonight but a win will put the smile back on many faces. COYB.
Tony Hill
93
Posted 26/12/2020 at 14:12:36
Thomas, what was uniquely awful about Wednesday was that we wet our pants from the start in a QF and were comically dreadful. Keane and Olsen were like Laurel & Hardy, most passes were misplaced and you could smell our fear.
We've wet our pants on every meaningful occasion I can recall over the last few decades but Wednesday was something else. I would be interested to hear if other Blues can recall a worse passage of play.
Anyway, let's get behind them for tonight. Hope springs eternal. I was so disappointed after the United game because I like and support Ancelotti and thought he had developed a system which we could play to. But dropping Holgate and picking Gomes for that game really pissed me off. As did the failure to bring on Gordon who is a direct, talented player (I agree with you he is raw). The disappearance of Nkounkou (also raw) is another mystery.
We have to start taking some risks, the players we have now are better than Allardyce, Walker or Smith had at their disposal though I also agree with you that we need still to acquire more quality, as I am sure do all Blues.
Let's throw off our mental chains and be courageous. I've followed the club since 1954 and, my God, we've been crap for most of the way. It's because I feel we're so close to getting it right that I am so annoyed.

Thomas Richards
94
Posted 26/12/2020 at 14:18:22
Thanks Tony.
All the best mate
David McMullen
95
Posted 26/12/2020 at 14:21:42
Are we going second or what? I'm going to say no no no 'Everton that' please
Dale Self
96
Posted 26/12/2020 at 14:23:20
We're so shite we could be 2nd with a one goal victory. Our squad is complete hammered dogshit and yet our mgr is getting results. And of course he is a coward and buffoon.
Am I getting this right? Is this how you do it?
Tony Hill
97
Posted 26/12/2020 at 14:23:45
And to you Thomas.
Geoff Williams
98
Posted 26/12/2020 at 14:24:42
Some of the suggested team selections are 'interesting' to say the least. I fear too many are underestimating Sheffield United and taking a win for granted.
David Greenwood
99
Posted 26/12/2020 at 14:26:37
Liam Heffernan
100
Posted 26/12/2020 at 14:29:15
Leicester, Man U result means we can go second tonight. I have huge fear that we will blow that chance but a glimmer of hope we will do it. I should be looking at this game with confidence but unfortunately being an Evertonian that absolute lack of confidence is the overriding factor. But still COYB.
Jonathan Tasker
101
Posted 26/12/2020 at 14:39:56
This is what will happen:
The manager will put out a weakened team tonight, mistakenly thinking that will be enough to beat Sheffield United. And we will lose as Sheffield United aren't that bad.
Then he'll put out a stronger team vs Man City and we will lose that too.
He ought to be prioritising tonight's game.
Steve Brown
102
Posted 26/12/2020 at 14:42:36
If we are not confident today then we will never be. Carry the mentality from the last three league games into the game and we will be second by the end of today.
Jamie Crowley
103
Posted 26/12/2020 at 14:43:18
No Rich, no James, no Allan, no Digne.
This is going to be an ugly game. This is the type of game where style points don't matter at all. We simply need actual points, three of them to be precise.
Rob Halligan
104
Posted 26/12/2020 at 14:45:41
Jonathan, and how do you know he's not prioritising tonight's game, and how do you know he will put out a weakened team?
Steve Brown
105
Posted 26/12/2020 at 14:47:19
Jonathan, have you seen the team selection? How do you know he isn't prioritising today?
Ancelotti has already said he will rotate for the Man City game.
Steve Brown
106
Posted 26/12/2020 at 14:48:03
Haha great minds Rob!
Jamie Crowley
107
Posted 26/12/2020 at 14:48:30
And did I just backtrack and see the words, "the style of play is worse than Alardyce."????
Come on, get real. That's the most ludicrous thing I've read on TW possibly ever.
Rob Halligan
108
Posted 26/12/2020 at 14:49:08
Exactly Steve!!
Alan J Thompson
109
Posted 26/12/2020 at 14:50:14
I'm not usually one to try and second guess team selection but how about:
A.Keeper
Coleman Keane Holgate Godfrey
Davies Sigurdsson Doucoure
Iwobi DCL and Gomes (alongside DCL as joint striker)
Rest the best and take a chance, no, nobody brave enough.
Bill Gall
110
Posted 26/12/2020 at 14:50:54
What a time to take 2nd place against a team at the bottom of the league. But hang on this is Everton F.C. the benevolent club. a forward not scored this season bang he scores, a keeper cant keep a clean sheet plays the best he has ever played, first clean sheet, a team cant win a game, first 3 pt game.
sounds familiar,so this is the time to dig in and stop these type of results, if Ancelotti is as he says is ambitious. It is a waste of time saying who Ancrlotti should or shouldn't play as he has a mind of his own, just hope who ever he picks takes pride in the shirt they are privileged to wear and put the effort in to take all 3pts.
Tom Bowers
111
Posted 26/12/2020 at 14:53:11
It's hard to get excited these days about any Everton game even when playing the bottom club.
Just when we think they are getting it together they give an awful performance like they did against Manure and in fact Manure should have been out of site in the first 20 minutes long before Richie went off and Cavani scored.
Hate the fact that the Blades haven't won yet.
Has to be a different attitude completely from the off here as the Blades will be playing with a lot of desperation.
David Greenwood
112
Posted 26/12/2020 at 14:54:14
You did Jamie.
Hard to believe isn't it!
Luke Welch
113
Posted 26/12/2020 at 14:58:36
Think I'm going to give this a game a miss, first one of the season. The last game left a real sour taste, yes Carol needs 2 more windows to sort this out, but until then with the injuries at the moment it will be same old bottle jobs.
Thomas Richards
114
Posted 26/12/2020 at 14:59:52
Jonathan,
Give us your team for tonight please mate.

Rob Halligan
115
Posted 26/12/2020 at 15:09:18
Michael # 82, and Luke # 113. Oh please, please, pretty please, please watch the match tonight, as I won't be able to sleep knowing neither of you haven't watched the match.
No, oh alright, don't watch it, I don't think anyone on here gives a shit whether you watch it or not!!
Seriously, why do people feel the need to come on and say they won't be watching the game?
Will Mabon
116
Posted 26/12/2020 at 15:18:00
Rob, they WILL watch the game. Lost count of the number of times I've heard it said, but very few actually don't watch unless an emergency crops up.
EDIT: OK, Patrick for a time, I think...
Steve Brown
117
Posted 26/12/2020 at 15:19:17
I just want to announce that I will be watching the game.
Will Mabon
118
Posted 26/12/2020 at 15:20:04
Steve, does that mean you aren't watching?
Will Mabon
119
Posted 26/12/2020 at 15:23:54
Tony H - seen as much rotten stuff as most on here across 50 years, but struggle to remember a sustained 20 minutes of abject nervousness like Wednesday... most odd.
Jonathan Tasker
120
Posted 26/12/2020 at 15:24:13
My team would be:
Olsen
Holgate
Mina
Keane
Godfrey
Davies
Doucouré
Sigurdsson
Iwobi
Richarlison (if fit; Gordon if he's not fit)
Calvert-Lewin
I'd rather have nobody on the bench than Tosun.

Jay Harris
121
Posted 26/12/2020 at 15:26:00
Ancelotti must be a really bad manager to have an injury ravaged second rate squad that could go second with a win today.
Comparisons with Allardyce must be escapees from Rainhill mental hospital.
IMO we need to go for goals today so I would play Gordon and Nkoukou to give v us some b pace on the left flank.
Steve Brown
122
Posted 26/12/2020 at 15:29:46
Yes Will, err no, maybe!
Thomas Richards
123
Posted 26/12/2020 at 15:31:18
What position does nobody play?
Tony Hill
124
Posted 26/12/2020 at 15:32:34
Thanks Will @119. Sometimes, indeed most times these days, I worry that I'm making it all up.
Luke Welch
125
Posted 26/12/2020 at 15:33:58
Only reason I said I would miss it is because I've watched most matches for 28 years, and never chosen to miss one before.
Rob Halligan
126
Posted 26/12/2020 at 15:34:27
Thomas, great player, Nobody. Is he related to A.N Other?
Jonathan Tasker
127
Posted 26/12/2020 at 15:35:15
Those criticising Allardyce have got short memories. He was brought on to stop the club from being relegated. He did the job although a lot of the football was sterile.
I never wanted Ancelotti and think he's being massively overpaid for what he's doing. Some of the performances this season have been beyond appalling. Wednesday, against a second-string Man Utd, was a disgrace. Some of his substitutions defy belief.
I'm far from convinced in his ability to win anything with Everton. And yes, I know he's won a million trophies with big teams.
Mike Gwyer
128
Posted 26/12/2020 at 15:36:13
Rob #115
you are fighting a loosing battle mate, if you were sat next to them two moaners at Goodison you'd tell them to fuckoff. please just fuckoff.
Steve Brown
129
Posted 26/12/2020 at 15:39:48
I don't have a short memory about Lardiola's time, I have PTSD.
Tom Bowers
130
Posted 26/12/2020 at 15:41:34
I don't care if it is an ugly game today if they win 1-0.
Anything less will be tragic and will reflect the fact that we still have a long way to go to be a team worthy of the top four or five.

Offensively we are still not there and we really need some new blood in that area to make the grade to a better club.
Thomas Richards
131
Posted 26/12/2020 at 15:44:58
Distant cousins I believe Rob
Thomas Richards
132
Posted 26/12/2020 at 15:47:21
Who DID you want Jonathan?
Robert Tressell
133
Posted 26/12/2020 at 15:48:17
Tosun + DCL up top together in a 442 should be ok. Tosun is pretty hopeless as a lone forward but he's a good finisher and quite intelligent in his play. Also occupies their centre halves who might otherwise step out to make overloads on the flanks.
Would like Nkounkou on the left wing ahead of Godfrey. We lose so many crossing chances because no left footer on that flank.
Simms, Gordon and Branthwaite all deserve a place on the bench but Simms, right now, is very unpolished even at U23s level. However, if we're a goal or two up and Sheff Utd are chasing the game, he'd be a good enough player to knock long balls up to. He's quick and his finishing is good.
Jim Harrison
134
Posted 26/12/2020 at 15:49:08
Jonathon 127
Irrelevant of what you think of Carlo, he has done more with this club, this season than fat Sam would of in a decade.
He gets paid well because of his CV. Just like Gordon Ramsey would if you wanted to employ him, or if you wanted Mick Jagger to play at your birthday or Nick Faldo to be your golf coach.
Having a 20 minute wobble isn't a season breaker. It's part of football. Games are decided by the full time result, not a portion of the game. Utd won because they could bring on two attacking players that would walk into our side along side cavani. They were just better.
Virtually no one is praising the football at present, but with a depleted squad he is managing to get results. In the league we have taken 13 points from 18 available in last 6 games. That's 6 points less than we had at Christmas last year, after 19 games. In just 6 games.
Silva played some nice football, so did Bobby. But when it went to shit they couldn't get the team to win ugly. Alladyce steadied the ship, but played the worst football I have ever seen this club play, to grind out draws.
Rob Halligan
135
Posted 26/12/2020 at 15:53:53
Steve # 129. I don't have a short memory either. I clearly remember the Shithouse tactics he used at arsenal, in the game to which I referred to earlier in the thread, but I can't remember which post number it is??
Jonathan Tasker
137
Posted 26/12/2020 at 16:00:37
Who would I want?
As stated repeatedly on here, nobody will succeed at Goodison whilst Kenwright continues to stink the place out.

Tony Hill
138
Posted 26/12/2020 at 16:01:20
Are we all pissed? I am, or getting there. Slight mistiming, 4 hours to go.
Paul Hewitt
139
Posted 26/12/2020 at 16:03:21
Jeez Johnathan. Where's you Xmas spirit. We will be second tonight and still you ain't happy.
Steven Sturm
140
Posted 26/12/2020 at 16:03:24
Bit early for me Tony, only 8:00 am here.
David Greenwood
141
Posted 26/12/2020 at 16:06:03
Do you think the new stadium will happen Jonathan?
Slightly mistimed there Tony yes but I'm sure you'll still see the game!
Steven Sturm
142
Posted 26/12/2020 at 16:06:39
Hmmmm. Well I happen to like Carlo, but hey Jonathan, imagine BK is gone. Who would you have rather than Carlo?
Tony Hill
143
Posted 26/12/2020 at 16:08:56
Fair technical point, Steven.
Talking of that sort of thing, there's a fine piece with the lost, hugely talented soul, Billy Kenny, in The Athletic. I'm too old and incompetent to link, I'm sorry to say.
Paul Smith
144
Posted 26/12/2020 at 16:09:11
The doom merchants are out again I see just like Chelsea were gonna batter us on their way to winning the league now the league's worst are gonna do us on their way to relegation, I doubted the former and now the latter. A good performance is the least we should expect with a win at the end of it. Coleman and Davies to start with Siggy retaining his place after Wednesday. I don't rate Tosun at all and DCL will have no one to knock it on to if Tosun starts, let's hope he can get on the end of something from Seamus; is Digne back yet ?
Stu Gore
145
Posted 26/12/2020 at 16:09:15
We had a run of games with barely a shot, never mind on target, towards the end of Fat Sams time. Those grinding their keyboards in frustration at Carlo are the same bunch of beauts who called DCL and Keane championship all year. Most his signings are injured and he's getting a tune out of the expensively assembled bunch of cloggers that have stunk the place out for years now.
Ian Edwards
146
Posted 26/12/2020 at 16:09:56
What I think the team will be. Not what I want it to be:
Pickford
Coleman Mina Keane Godfrey
Davies Gomes Doucoure Iwobi
Sigurdsson
DCL.
Jonathan Tasker
147
Posted 26/12/2020 at 16:09:56
Steven @142,
I really like the Swansea manager, Steve Cooper.
Rob Halligan
148
Posted 26/12/2020 at 16:10:16
Steven, I believe Jonathan likes Chris Wilder, the manager of, eer, Sheffield United who haven't won a game this season.
Jim Harrison
149
Posted 26/12/2020 at 16:11:50
Kenwright?
Bugger me.
Basically you have no answer to that question as to who you would prefer do you? Fair enough if you did. I would have preferred Poch at the time, but apparently we couldn't get a manager of his Calibre!! (Also, in hindsight, with our old leggy team he would have struggled to get the lads playing in his style for more than 45 mins a game)
But now the big man is in, he is doing a good job. 4 th place at start of today, 4 best paid manager in the league! With apparently the 7th most valuable squad (transfermarkt) site

Jonathan Tasker
150
Posted 26/12/2020 at 16:12:41
Rob 148
Chris Wilder is a fantastic manager. He's had a very poor season but his track record is fantastic.
Ian Edwards
151
Posted 26/12/2020 at 16:12:56
More pertinent question Rob would be how many points would Wilder get with our players and how many would Carlo Pulis get with Sheff Utd's players.
Bill Gall
152
Posted 26/12/2020 at 16:13:39
Jonathon That was some second string that Utd put out out. I believe 60/65% of that team would get into Evertons team on merit, the likes of Henderson Magiure, Pogba, Fernandez and Martial and bring on Rashford.
It sounds to me that you would have preferred we kept Fat Sam on as he stopped the club from being relegated, even though the football was sterile.
Guess what, even though some of the football is not the standard we would all like to see, this manager that you are always quick to put down ( and you have the right to express your opinion ) he has us in the top 4 with the omission through suspension and injurious of our more influential players.
Tell me who do you believe Everton's manager should be and why ? and was he available when we were looking for a new manager, and would have he come to a struggling club.
Rob Hooton
153
Posted 26/12/2020 at 16:16:08
I'll be watching the match and hope Carlo picks the strongest team possible.
I understand why many posters are concerned as we have been a gift for many a poor team/striker etc to turn their fortunes around against.
I hope to see Gordon play and Dom desperately needs some service, been feeding off scrappy scraps for a few weeks now.
Up The Toffees!
David Greenwood
154
Posted 26/12/2020 at 16:20:57
I can't believe what I'm reading here. If Chris Wilder has a fantastic track record what does that make Carlo's?
And Ian glad to see you back mate, three more pertinent questions might be what position were we in when Allardyce was binned, what position will we be if we win tonight and are you giving Carlo any credit for being ahead against Arsenal and Chelsea? Or just going to have a pop at him cos we could have potentially lost a goal ? That's four questions...sorry.
Rob Halligan
155
Posted 26/12/2020 at 16:21:46
Well Ian, # 151, in all honesty, I can't answer that question because it's never going to happen. For one, we wouldn't have the players Ancelotti has signed, more likely players like McBurnie, Basham (he'd be good), and maybe Jags would have stayed?
Stan Schofield
156
Posted 26/12/2020 at 16:23:45
Jonathan@137: My memory is clear. Allardyce was an unnecessary panic recruitment, and we were not on our way to being relegated. He was a complete waste of fucking time, a blot on the history of EFC. Get a grip mate, and be thankful we're being managed by someone of a calibre that fits EFC's constant PL status and ambition.
Ashley Roberts
157
Posted 26/12/2020 at 16:24:07
As outlined by a lot of toffewebbers, we just do not have strength in depth and so with a couple of injuries we are suddenly struggling to put square pegs in to round holes. For myself I would play Holgate, if not at right back as the defensive mid holding player. For this game we need players with plenty of attitude and Mason has plenty of that. Generally we are so passive and we want as much steel out there as possible. Because this will be a physical battle Neither Gomez or Bernard should start and please no Tosun!!! If Rich can't play it has to be Gordon. I don't see this being particularly pretty but I will keep everything crossed. COYB's second place beckons, if that is not a driver I do not know what is.
Justin Doone
158
Posted 26/12/2020 at 16:28:11
A positive mind, a positive attitude and a positive plan to win is what we need.
Before covid, positive used to be a good thing but I think to many people have been scared into talking about the positives.
Smile, its still Christmas's time, supposedly with less stress and a day to unwind and enjoy the gifts and sport on TV. Be merry, I'm going for an exciting 3-1 win!
Michael Williams
159
Posted 26/12/2020 at 16:29:03
Play the strongest team possible and try for the 3 points today. City can beat anybody we put out next game.
Carlo has done a tremendous job. Our team has way over-achieved. There is no way our talent is top four, especially with injuries to the starting 11. Our top three subs right now would get nowhere near the bench of any top team.
Jonathan Tasker
160
Posted 26/12/2020 at 16:30:53
David 154
Carlo has had success at big clubs.
Wilder has got Northampton, Oxford and Sheffield United promoted twice.
Robert Williams
161
Posted 26/12/2020 at 16:31:40
Just have a feeling we might pull this off today - 0-5 anybody. Ah well just a thought! Turkey Curry tonight!!
Paul Hewitt
162
Posted 26/12/2020 at 16:34:09
Jonathan@160. If that's your reason why you think wilder would do a better job than Carlo. Then it's not a good one.
Brian Murray
163
Posted 26/12/2020 at 16:36:29
The likes of me screaming to steer clear of Tosun and give Simms etc a chance is all frustration on my part because I'm tired weary and getting no younger like the rest on here and want us to compete and Carlo to maybe stumble on a gem or two we might already have instead of the depressing axis of Davies siggy Gomes scenario. At least we sort of keep it together and our dignity unlike the cringy loons on arsenal tv.
Andrew Clare
164
Posted 26/12/2020 at 16:37:10
No point including Tosun. I would like to see Gordon playing. The main thing is to play for the win and go for it rather than trying to soak up their pressure and get them on the break. That would be a daft approach against a struggling team. We must take control which means pushing players froward. I think we will all be peed off if we don't win this one!
Carlo is doing a great job and in time we will be able to compete properly with United's and City's etc at the top.Let's just give him a chance - he's only been here for 5 minutes!
David Greenwood
165
Posted 26/12/2020 at 16:38:31
Jonathan @160,
Wow! Fantastico record, you might say...
Mike Owen
166
Posted 26/12/2020 at 16:39:11
Given that heavy rain and 40mph winds are forecast for Sheffield tonight, I would go for a very pragmatic line-up.
And I'd be quite happy to see an industrious Tosun starting.
Ray Roche
167
Posted 26/12/2020 at 16:43:03
If Ancellotti plays Coleman, then he's got to play Holgate in midfield. No Gomes and Sigurdsson in midfield... Please. 🙏
Gavin Johnson
168
Posted 26/12/2020 at 16:46:58
Play Holgate as a holding midfielder and play Gordon instead of Richie. Don't play Bernard, Davies or Gomes.
Mike Kehoe
169
Posted 26/12/2020 at 16:51:23
The appointment of Lardiola and Sammy fucking Lee was the lowest point in the club's history, in my opinion, and to slag off Carlo for a tepid shithouse performance against a better side is stupid bordering on unhinged. This man is bringing in quality we could only dream of under Allardyce.
At last, we have a fantastic manager who has won the lot and the improvements he has made in such a short time are noteworthy. Ancelotti is an artist and will create a masterpiece given time.
Allardyce took a big shit at Goodison and didn't even wipe his arse.
Joe McMahon
170
Posted 26/12/2020 at 16:52:39
industrious Tosun??
Wow — never thought I'd see that in written format.
Derek Knox
172
Posted 26/12/2020 at 16:53:11
Good point there, Ray.
With Holgate in midfield to accommodate Coleman, I dare say that Davies too, if he plays, doesn't instil any degree of confidence in me. I know we are devoid of available players at the moment but, as a few have suggested, give a youngster a chance.
Geoff Lambert
173
Posted 26/12/2020 at 16:54:01
Ian 151, More than 2.
Jonathan Tasker
174
Posted 26/12/2020 at 16:58:57
Bit more on Steve Cooper.
Doing a great job at Swansea.
And plays very attractive football.
Plus knows all the inside track on our red friends.
All irrelevant of course as Everton seem to do no planning when it comes to managers.
Thomas Richards
175
Posted 26/12/2020 at 17:00:50
Ian #146,
What is the team you would want it to be?
Geoff Lambert
176
Posted 26/12/2020 at 17:02:21
Sounds a lot like our old manager from Swansea then, Johnathan.
Tony Everan
177
Posted 26/12/2020 at 17:03:44
Pickford
Coleman Keane Mina Godfrey
Iwobi Doucouré Davies Richarlison (Gordon)
Sigurdsson
Calvert-Lewin
That team has got to be good enough to beat Sheffield Utd. We should be under no illusions it will be a battle but if we are ready for that fight and match them physically our quality will win the day.
Sheffield Utd 1 Everton 3
Andy Crooks
178
Posted 26/12/2020 at 17:03:49
Robert @161. Great player for Sheff Utd back in the seventies. Curry would be a legend today.
Andy Meighan
179
Posted 26/12/2020 at 17:03:54
Great post from Mike @170. Compare where we were in the league this time last season to where we are now. Ancelotti is just getting on with it and doing a great job. Let's not forget the injuries we've had also.
That said, I'm going for a draw tonight. Hope he keeps the same back 4 what won the 3 league games on the spin. We looked more solid with that defence.
Ray Roche
180
Posted 26/12/2020 at 17:05:25
Jonathan,
Ancelotti has brought in Allan, James, Doucouré, Godfrey and Branthwaite.
Allardyce brought in Tosun and Walcott.
I'm interested in your observations regarding each managers transfer dealings.
Darren Hind
181
Posted 26/12/2020 at 17:06:35
We are better than them all over the park. We just need our manager to do his job.
Raymond Fox
182
Posted 26/12/2020 at 17:07:32
Good old ToffeeWeb posters: plenty over-the-top crap as usual.
We have too many injuries to be confident tonight. It isn't going to be a pretty game, so the result is difficult to predict. It will be who wants it the most, and I'm hoping it's us.
Probably not many goals, 2-1 to us with my blue glasses on.
Thomas Richards
183
Posted 26/12/2020 at 17:08:02
A couple of Evertonians would prefer Allardyce or Cooper as our manager rather than a manager whi has won 3x CL, league titles in 4 different countries and 20 trophies in total.
A couple of Evertonians would prefer Allardyce or Cooper as our manager rather than a manager whi has won 3x CL, league titles in 4 different countries and 20 trophies in total.
I had to post it twice as seeing is believing
Steve Brown
184
Posted 26/12/2020 at 17:08:17
Sheff Utd, Northampton, Oxford, Swansea.....Preston, Wigan, Palace, Watford. We've tried that shit before Jonathan and ended up with Moyes, Martinez, Fat Sam and Silva.
Now we have a multi-Champions League winning manager and you're suggesting we go back to the Championship?
Jay Harris
186
Posted 26/12/2020 at 17:09:20
West Brom supporters have got a petition up against the Board's decision to appoint the crooked and anti-football Allardyce.
What does that tell you about certain Evertonians?
Mike Oates
187
Posted 26/12/2020 at 17:10:47
Ancelotti will play his first 11 tonight as it's 3 points he's after, and then on Monday he'll ring the changes as we ain't going to get much off Man City, even with our first 11.
Doing it the other way round, ie, many changes tonight, will mean we will end up with 0 points from these two games. Be pragmatic and go for the points tonight.
So the team tonight:
Pickford
Coleman, Mina, Keane, Godfrey
Doucouré, Davies, Sigurdsson
Iwobi Calvert-Lewin Richarlison
(or Tosun if Richarlison is deemed to be concussed).
He won't give Gordon a chance tonight.
Changes for City; all following will get a game: Olsen, Holgate, Nkounkou, Gomes, Bernard, Tosun, Gordon
Geoff Lambert
188
Posted 26/12/2020 at 17:11:05
Darren 183, What is his job?
Brian Williams
190
Posted 26/12/2020 at 17:13:24
The manager could do his job perfectly but still be let down by the players.
The manager doesn't miss tackles or misplace passes, or miss sitters. No use being better than them all over the park on paper if you don't actually play better than them on the day.
Thomas Richards
191
Posted 26/12/2020 at 17:14:31
Jay,
Don't concern yourself too much.
It will all be brushed under the carpet when we get 3 points later.
Darren Hind
192
Posted 26/12/2020 at 17:17:07
Part of his job is to set up and motivate his squad full of internationals to dispatch a really, really shite team who haven't been able to buy a win all season.
I fully expect him to do it tonight.
Thomas Richards
194
Posted 26/12/2020 at 17:23:03
Jay,
You didn't tap Mike Walker for the Everton job while you were in Norwich did you?
David Pearl
195
Posted 26/12/2020 at 17:24:40
Jonathan, you made some good points but as you've kept on the pop your points became bizarro.
For the record, l liked Moyes, l had time for Martinez and Allardyce (for the job he did with an awful misshaped squad, half of them injured but some just hate).
Koeman was utter shite who didn't respect the club and Silva won the lottery getting the Everton job. Both of them had fuck-all to do with Bill Kenwright ffs. I mean why even bring him into it?
Carlo has his faults and, if not for the run of 3 games backs to the wall, we could be down in 9th. However, we are not. A chance to be 2nd? I will take any win... just keep it going any way we can till we have Allan, James and Digne back.
Ian Horan
197
Posted 26/12/2020 at 17:35:17
Abracadabra????, no it hasn't worked!!!.
Carlo Ancelotti is without 4 first 11 players –
mine and Carlo's magic just won't work. Now for the xBox and armchair managers... Carlo can only select from what we have available.
I have no idea what the team will be. I do however seem to remember that, if you don't concede, you don't get beat!! I agree with all: go for the 3 points tonight but not at the long-term injuries of exhausted players. COYBB who-ever is selected. I will support them as they wear our shirt!!!!!
Rob Halligan
198
Posted 26/12/2020 at 17:37:49
Thomas # 184. Can you just repeat that please, as I find that unbelievable.
Ian Horan
199
Posted 26/12/2020 at 17:46:49
JT @127,
That Man Utd 'second team' had 9 changes from their previous game yet still had 11 full current international players on the pitch, some second team.
For fuck's sake, let's have sensible comparisns!!!
Michael Kenrick
Editorial Team
200
Posted 26/12/2020 at 17:48:27
Jaysus... methinks it's time to open the Live Forum early, and get some of this shite someplace where I don't have to read it.
Sorry, Geoff Lambert, but there's zero tolerance for that 'reds in the henhouse' kopite witchhunt shite. Be man enough to address comments you might not like directly... or not. At the moment, it's 'not'.
'
Justin Doone
201
Posted 26/12/2020 at 17:57:17
Re Villa.
Good reliable keeper and a defence that has pace and power. Not the best individuals but its not easy to go through or around them.
Going forward lots of energy and movement from attack minded players. Grealish is a top class player and it's good to see he puts a shift in. They have 4 good options when playing forward all with pace and power and a good skill set.
This is not unusual. Look at teams in top half. Most have 3 to 5 attacking players that work for the team and have pace to frighten defenders. Simple but effective.
We have 2, DCL and Ric. It just shows the difference in squads. This has come about through poor recruitment and management. Carlo can definitely help improve our attacking options through recruiting top class players that want to play for him.
Anti-Carlo chatter is hilarious. I may disagree with his lineups and substitutions but I trust he knows more about the players than I do.
I was disappointed to hear booing vs Man U. Let's just support our players whilst playing. Slag them off in forums such as this if you need too.
Bobby Mallon
202
Posted 26/12/2020 at 17:57:29
It's beyond belief that the likes of J Tasker and others want to see the back of Carlo.
Thomas Richards
203
Posted 26/12/2020 at 17:59:24
Bobby Mallon
204
Posted 26/12/2020 at 18:00:40
Am I also mistaken, are we above Villa and, if we win tonight, go second.
Some fans need to take up yoga and chill out.
Brent Stephens
205
Posted 26/12/2020 at 18:03:10
If you need to motivate these internationals, that tells you something about both them and the job Carlo has on his hands.
Darren Hind
206
Posted 26/12/2020 at 18:06:54
Wilder whinging that he has four key players missing.
Derek Knox
207
Posted 26/12/2020 at 18:07:46
Bobby, would that be strawberry, or would it work with any flavour of yoga? :-)
Brian Williams
208
Posted 26/12/2020 at 18:10:43
We score early, we'll twat these four-nil.
"Mr Williams, Mr Williams, wake up now you're in the recovery room. All finished."

Sean O´Hanlon
209
Posted 26/12/2020 at 18:13:09
Yes, it's the season of Good Will, and The Blades haven't had a win - so we all know what's going to happen!
Going back to Wednesday's abject failure against Man United, very similar to performances against Newcastle & Southampton. I've been a critic of Sigurdsson this season, but he was one of the best of a bad bunch Wednesday night. Gomes shocking. Iwobi back to his headless chicken routine, Bernard awful when he came on, Tom Davies disappointing. It was like watching an average pub team. No possession, passing awful, no spirit, etc.
For those calling to give Ancelotti more time (we've had him over a year now) and we need at least 3 transfer windows etc. will not work - we repeat the same rubbish with every new foreign manager. Why didn't we give Duncan Ferguson more time? At least the team showed some fight and spirit.
We all thought we had a Rolls-Royce of a manager. Do you honestly think, if Ancelotti still had what it takes, that other bigger and better teams in Europe would have snapped him up??? We are kidding ourselves.
We will lose tonight and go on another dismal run.
He is not going to do it for us. As one ToffeeWebber said the other night, all our victories have had a touch of luck.
David Greenwood
210
Posted 26/12/2020 at 18:13:17
Michael, this page has been comedy gold. Some absolutely priceless comments.
Geoff's @173 should receive the best post of the year award. Subtle, brutal and very very funny.
The Live Forum tonight with posters with a full days Xmas booze in them should be a sight to behold.

Bobby Mallon
211
Posted 26/12/2020 at 18:14:24
Derek vanilla 😂😂
Brian Murray
212
Posted 26/12/2020 at 18:15:02
Andy Crooks, @178.
I remember David Smallman scoring a great overhead kick vs blades in 1974 as we where closing in on the title, top of the league in late March. You can guess the rest. Tony Currie scored the winner after us going two up courtesy of Dai the Drop. Now that was a depressing decade =!
Stephen Brown
213
Posted 26/12/2020 at 18:16:15
Is this April Fools day rather than Boxing Day ??
Tony Hill
214
Posted 26/12/2020 at 18:20:45
Bobby, @204, I confess I'm a worrier about the team but there is no leotard out there to fit.
Thomas Richards
215
Posted 26/12/2020 at 18:20:50
Duncan first choice before Carlo?
Wow!
Ray Roche
216
Posted 26/12/2020 at 18:30:20
Is that the Duncan who realised that the shower of overplayed losers masquerading as Everton would royally fuck up his fledgling managerial career, so he decided it was too big a job for him and said as much?
Yeah, great choice he'd have been...
I can't believe some of the shite I read on here.
Derek Knox
217
Posted 26/12/2020 at 18:31:43
Tony @ 214, Why not try Mr Blobby's Suit, remember a leotard can't change it's spots. :-)
Michael Kenrick
218
Posted 26/12/2020 at 18:32:26
Bobby & Thomas,
Why are denying some Evertonians the right to hold negative opinions on the manager?
Surely if posting here tells you anything, it is that we do not all think the same.
Thomas Richards
219
Posted 26/12/2020 at 18:32:48
Wilder complaining he has four out.
We have 6 out.
Will Mabon
220
Posted 26/12/2020 at 18:37:10
The mentality of changing senior personnel on a whim rarely works as more than a stepping stone or firefighting measure. When it works, it of itself lays nothing to sustain long term.
Here's a thought. Imagine destiny had any of Koeman, Silva or Allardyce winning the league for us, had we held on for a season or two. I know, I know... but do I? No-one knows for certain.
We've done enough chopping and changing for now. I have to admit to a little concern at what happened Wednesday, and the substitution policy, and the side-lining of certain (potential) players, and the team shape more than once.
There have been several performances under Ancelotti that have looked like the previous three managers; nothing from them that got us near where we've been this season and are right now.
Of course there's no way Carlo is clueless, and no way he lacks anything the previous incumbents had to offer. We won't get relegated. We likely won't win anything.
Personally I'd like us to finish high enough to qualify for Europe, while simultaneously wondering if playing in Europe next year is perhaps too early.
There's something going on. It's a little hard to read and it's throwing up disappointments, it's in fits and starts - but it's improving. See the table.
Getting in a player or two with real heart, and banishing the dreadful loser gene that seems to haunt this team too often would go some way too. We haven't really been a "Team" for far too long. This is at the very heart of where we are going. I hope that can be addressed. It must be hard to work with for any manager.
As to some of the suggestions as to alternative managers, if they're serious - yeah, OK then...
Tony Hill
221
Posted 26/12/2020 at 18:38:29
Disgraceful, Derek @217, but perfect given my current floaty state.
Thomas Richards
222
Posted 26/12/2020 at 18:40:29
Im not denying them anything Michael.
Thats beyond my remit.
How boring would it be if we did all think the same

Will Mabon
223
Posted 26/12/2020 at 18:41:28
...and now Arsenal beating Chelsea 2-0.
Turnaround time for a struggling team - ULP!!
David Greenwood
224
Posted 26/12/2020 at 18:48:40
Arsenal now 3-0 v Chelsea. Lampard out Wilder in!
Gary Carter
225
Posted 26/12/2020 at 18:54:57
I can't believe anyone would want Carlo out to replace him with Cooper from Swansea, has the world gone mad !?!?
Carlo has had one transfer window to start turning this club around, we currently sit fourth in the table, we have quality young players like Godfrey, Holgate, DCL, Richarlison to go with good quality players like, Allan, Doucoure, James and Keane. Our problem is we need a couple more windows to build on this and get a better team and deeper squad, it's not going to happen overnight !
Derek Cowell
226
Posted 26/12/2020 at 18:56:06
Brian at 212. I remember that 3rd Sheff Utd goal coming from a throw in from in front of the Enclosure near the Park End. The ball had been kicked out long by a Utd player and it was obviously our throw but then bad officials are nothing new! We were 2-0 up if I remember rightly. I was in the Street End and we could see it was our throw in from way back there! We got robbed alot in the 70s.
---
Add Your Comments
In order to post a comment, you need to be logged in as a registered user of the site.
Or Sign up as a ToffeeWeb Member — it's free, takes just a few minutes and will allow you to post your comments on articles and Talking Points submissions across the site.