Everton vs West Ham United
Wednesday, 30 December, 2020
Match Preview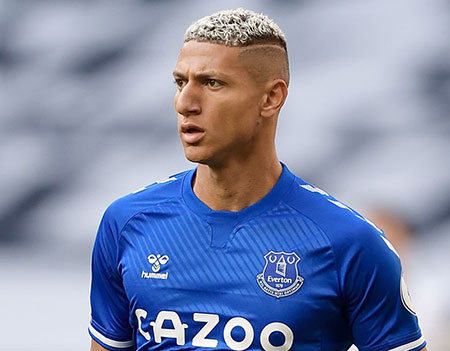 Richarlison returns after missing the trip to Sheffield United under the Premier League's concussion protocol
Everton begin 2021 with a home fixture that will now be played behind closed doors as they go in search of what would be a fifth successive win in the Premier League.
The Toffees emerged from a daunting-looking December with 13 points from a possible 15, although their clash with Manchester City on Monday was called off at late notice following further positive tests for coronavirus in the City squad.
That was set against the backdrop of the wider spread of Covid-19 across the country, one that means Everton will once again be playing in front of an empty ground with the news that the Merseyside region has been moved back to Tier 3 designation by the Government. Everton and Liverpool were the last remaining Premier League clubs able to host up to 2,000 fans but that is longer the case.
For now, while clubs have informally discussed the possibility of a two-week break in the season, the football continues without supporters in the ground and Carlo Ancelotti's Blues resume their push for a European place when former manager David Moyes and his side come to town.
The Hammers began the season bereft of any optimism and with precious little faith in Moyes. However, the Scot has brought a measure of stability to the club and they begin the new year sitting in 10th place, a good 12 points above a relegation zone that haunted them in the closing weeks of last season.
Three successive wins in November had them briefly flirting with the European places but just one win in December, a 2-1 triumph at Leeds, has seen them drop back off again and they will travel to the northwest six points behind their hosts on New Year's Day.
Moyes could be boosted significantly by the return to fitness of Michail Antonio, a player capable of adding physical strength, unpredictability and a significant goal threat alongside that posed by Sebastian Haller who is their top scorer and someone showing belated signs of adapting to the English game.
Everton, meanwhile, will have Richarlison back in the squad but James Rodriguez will be absent once more for a match that will now be played behind closed doors.
The Brazilian missed the Boxing Day win at Sheffield United because of the Premier League's concussion protocol and would have sat out the game against City had it gone ahead.
Rodriguez will miss a seventh successive game in all competitions as he continues his slow recovery from what has been described as a calf complaint that he picked up in the draw at Burnley almost a month ago.
Ancelotti has been hopeful the Colombian might be ready for a number of matches since but the club's medical staff continue to take to assess his progress and his next target is the FA Cup tie against Rotherham.
"Richarlison will be okay; James, no," Ancelotti said in his pre-match press conference earlier today. "For James, we have to look day by day. He's not ready yet and it will take a little bit longer. I hope that for the next game on the 9th of January he will be ready."
Meanwhile, the manager also provided updates on Allan and Lucas Digne, explaining that the former probably won't be ready until the end of January but that the Frenchman is on a faster timeline for recovery from ankle surgery than was originally anticipated.
"[Allan] is doing individual sessions. I think that at least the end of January he will be ready.
"We have good news that Lucas Digne will be starting individual sessions and in one week he will be able to train with the team."
The postponement of Monday's match has given the team an unexpected few more days' recuperation following a spell of six games in three weeks and it has probably eased the manager's selection dilemma, particularly in view of the fact that it's another eight days before his side faces Rotherham in the FA Cup.
It means that most of the players involved at Bramall Lane should be rested enough to start and that, perhaps Richarlison and Seamus Coleman aside, Ancelotti can name an unchanged line-up.
Everton won this match-up in the Carabao Cup in convincing fashion in September and Ancelotti will be hopeful of more of the same, albeit against what will likely be stronger Hammers line-up. Nevertheless, a win for the Blues would take them to within a point of top spot, a situation few foresaw when the season kicked off 15 games ago.
Kick-off: 5:30pm, Friday, 1 January 2021 on BT Sport 1
Referee: Kevin Friend
VAR: Simon Hooper
Last Time: Everton 2 - 0 West Ham United
Predicted Line-up: Pickford, Coleman, Keane, Mina, Godfrey, Davies, Doucouré, Sigurdsson, Iwobi, Richarlison, Calvert-Lewin
---
Reader Comments (321)
Note: the following content is not moderated or vetted by the site owners at the time of submission. Comments are the responsibility of the poster. Disclaimer
Colin Battison
1
Posted 30/12/2020 at 13:52:42
James Rodriguez out of West Ham game.
Fran Mitchell
2
Posted 30/12/2020 at 17:00:42
Liverpool will play today, then I reckon all football will then be suspended until February. Likely that the Euros will once again be delayed, and possibly done in some other format in the summer after the winter World Cup.
Tony Hill
3
Posted 30/12/2020 at 17:01:34
I rather doubt that this season will be completed, I'm afraid. Gloomy, I know, but I don't see how it can work. If this disease is as terrible as we're told, prevents fans' attendance even now and requires increasingly tight measures throughout societies, then there is no logic to playing professional football.
Frankly, I find discussion of line-ups, transfers and so on to be pointless in this context.
I know a lot of decent fans who have already lost interest and more will follow.
Keep locking down by all means but let's accept the consequences.
Joe McMahon
4
Posted 30/12/2020 at 17:12:31
We have the farce of the next World Cup, waiting for Jean-Philippe Gbamin to return from injury on his 32nd birthday, James Rodriguez to make an appearance in an Everton shirt again (after another lockdown).
I fear for the future of League One and Two teams, and non-league teams. They are part of local communities and not part of the manufactured Sky product. No-one flys in for their games and stays in hotels for these teams. The nearest to me, Accrington Stanley, need fans at games for the income.
Andy Finigan
5
Posted 30/12/2020 at 17:21:24
Very sorry to our little playmaker is still unavailable but I'm really happy to have our Brazilian beauty back.
Jay Harris
6
Posted 30/12/2020 at 17:21:43
I don't expect Allan or Digne to be ready by the end of January, by which time it may be academic anyway.
The authorities will find a way to gift the title to the RS again.
Cynical through watching years of favouritism for them and Man Utd.
Paul Smith
7
Posted 30/12/2020 at 17:26:09
Great news this and seems Digne is back soon as well. What's not to like.
Brian Murray
8
Posted 30/12/2020 at 17:27:20
Well the authorities had no respect for the ill and deceased last season, so who says they will again? Especially while them shower are top and the pressure of the TV companies and ex-player pundits willing for you know who.
Really put bias apart we should be just thankful for our health, I know I am. Everton's Carlo resurgence can wait another year.
Tony Hill
9
Posted 30/12/2020 at 17:28:52
My worry, Brian, is that football as we know it may never recover at all. The audience will be lost.
Tom Bowers
10
Posted 30/12/2020 at 17:40:28
Good news about Richarlison. We need him fit and his contribution especially if he can get some goals.
We are still a little threadbare on offence with very little in reserve.
Sigurdsson picked up a nice goal in Sheffield but we cannot expect him to score regularly these days.
The crowds are certainly missed at all the grounds but I have no doubts about them all returning in due course once these vaccines are distributed albeit in about 6-8 months.
Paul Birmingham
11
Posted 30/12/2020 at 17:56:02
This is good news for the Everton squad, and I further hope there's more on Friday, with a win over West Ham, a good New Year's Day for Evertonians, and a birthday tonic hopefully.
It remains to be seen how "in sync" the Premier League is with Public Health England in view of the continuation of the Premier League these coming days and weeks.
Let's hope 2021 is a good one for Evertonians, and in the next game, let's beat West Ham!
Mike Gaynes
12
Posted 30/12/2020 at 17:57:16
Tony, no worries. Believe me, the fans will return in droves when they can.
To me, Joe's fear of smaller clubs going extinct is of much greater concern.
Bobby Mallon
13
Posted 30/12/2020 at 17:59:00
Just what is wrong with Rodriguez? Is he in hospital, Colombia or what? It was a calf strain...
Bobby Mallon
14
Posted 30/12/2020 at 18:03:34
Oh, and fans will walk over broken glass to get back in grounds.
Tony Hill
15
Posted 30/12/2020 at 18:11:23
I very much hope you're right, Mike @11.
We are a particularly ferocious and committed brand of fans on here. I know many people who've followed for at least 40 years but who can't persuade themselves that what they're watching at the moment is real football. I understand that and I think it will be compounded if we have another suspension and consequent compression or congestion which devalues games.
There's another factor: the lifeblood of the game, at least the version in which I am interested, demands that young fans be bred through the full match day experience. Lose that for long enough and you will, soon, lose a generation – at least of match-going supporters.
I share your view of the lower leagues – that will in itself be disastrous for the culture of the game.

Teddy Draper
16
Posted 30/12/2020 at 18:20:36
Bobby Mallon, according to a report I read, the Spanish press are hailing Zidane for getting rid of Bale (although temporarily) and James to us. Claiming both have gone to lower grade clubs.
Obviously by his absence and no word from the club something has a slight pong about it. Is it me or have we signed another pig in a poke? Mmmmm...
Paul Hewitt
17
Posted 30/12/2020 at 18:26:43
Signing Rodriguez was always going to be a gamble. We are finding out now just how big a gamble it actually was.
Derek Knox
18
Posted 30/12/2020 at 18:51:04
Paul H, while I agree James had a certain risk factor to his signing and it was widely reported before he even came, I'm pretty sure that was calculated before getting him to put pen to paper. At the end of the season, whenever that will be, he may prove to be the difference between finishing 6th to 10th.
The extra money for a good placing, and a possible involvement in European Competition, probably outweighs his wages and limited appearances. Then there is the hidden revenues from gaining a few million Columbian Everton supporters.
Brian Murray
19
Posted 30/12/2020 at 19:04:41
Tony. Post 8. If all this means that the match-going fans are going to be the only ones left or interested, I can certainly live with the demise of kopite obsessed Sky Sports and BT Sport.
Dave Williams
20
Posted 30/12/2020 at 19:16:54
There's something not right about the absence of James. The peculiar "testicular problem" he sustained v RS and now this supposed calf injury where no detail has been released. I have no ITK info here – it just doesn't smell right.
Great to see Richarlison back and shame about the crowd absence but it had to be so. I don't know how lower league clubs survive in the first place and it would be nice if a percentage from all Premier League transfers could be levied and go into a rescue fund for them.
Paul A Smith
21
Posted 30/12/2020 at 19:28:27
Just read in the NewsNow site – this game might be called off now. I hope that's not true?
https://westhamfans.org/content/hammers-game-against-everton-be-postponed
It's come from a West Ham forum at 7:15 tonight and I don't know if it's all guesswork but I know the Premier League have said they wish to continue.
Dave (above), I felt the same about James. As the redshites favourite German would say, he's maybe a little bit injured?
Teddy @15, have you watched James? Of course the Spanish media would say they have joined basically worse teams. That's blatantly obvious, as bad as it sounds, they left Real Madrid.
He's shown to be class in the games I have seen and, if I don't see him again, I will be disappointed... but privileged to have seen such a gifted talent in our kit.
Kieran Kinsella
22
Posted 30/12/2020 at 20:27:38
Bobby 12/Dave 19
The Colombian paper Marca had a piece last week suggesting James isn't playing because he spends all his time on Instagram and partying. So his "lifestyle" means he is not match fit. No idea of the veracity of the allegations but his unspecified "injury" seems to have been at the "hopefully in two days he'll be okay" point for weeks.
With that being said, I remember a similar scenario with Tony Hibbert where every week he was not "match fit yet," and it went on like that for about two years until finally his contract ran out. So, it's not the first time we have seemingly minor issues drag on and on.
Jerome Shields
23
Posted 30/12/2020 at 20:41:53
Apparently West Ham game to be postponed?
Mike Oates
24
Posted 30/12/2020 at 20:55:51
If you look at James's injury record over last 3 seasons before this season, he's lost a total 90 days due to calf problems and 120 due to other injuries (admittedly two major ligament injuries), that's 70 days a season, in the Premier League that's likely to be at least this season about near 20 games including cup matches.
His calf injury record is poor, he spends significant periods of time out with calf issues: 18 days, 18 days, 21 days, 33 days in the above period – obviously a weakness in that area and we are paying for the issues at the moment, over 20 days out in December already.
After a 2-year loan deal, Bayern never took up the option to buy him even though when he played his goal and assist count was very good. It's getting him on the pitch that is the issue.
Nicholas Randall
25
Posted 30/12/2020 at 21:02:25
I think Merseyside will be in Tier 4. The Midlands, North-East, parts of the North-West and South-West will be from midnight.
Brian Williams
26
Posted 30/12/2020 at 21:04:53
Merseyside is to go into tier 3.
The postponement of the WHU game is, at the moment, heresay on a WHU fansite.
Robert Tressell
27
Posted 30/12/2020 at 21:11:19
Jean Phillipe Gbamin has just pulled a muscle pulling James' injured swollen balls around in a wheelbarrow like Buster Gonad. It could only happen to us.
Seriously though, we knew James would miss periods when we bought him. The fact he's got a dodgy injury record is basically why he plays for Everton and not Champions League royalty.
Hopefully he'll be back quickly. We can win, and win pretty, with him in the side.
Brian Williams
28
Posted 30/12/2020 at 21:15:21
Merseyside will be in tier 3 from midnight, it isn't at the moment.
Bill Gienapp
29
Posted 30/12/2020 at 21:31:26
There have been plenty of conspiracy theories re: James, such as he has a secret clause in his contract that he doesn't have to play in cold weather, etc...
I don't really buy any of that nonsense, but he does seem to be the footballing equivalent of a luxury sports car - breaks down easily and doesn't like to be taken out of the garage unless everything is 100% purring.
Sean Callaghan
30
Posted 30/12/2020 at 21:34:55
Dave (19), if James' testicular injury doesn't smell right... it's probably worse than we feared!
Bobby Mallon
31
Posted 30/12/2020 at 21:46:17
This thread needs more people posting and now ffs.
Dale Self
32
Posted 30/12/2020 at 21:52:39
Incredible how Liverpool with the mighty majestic Thiago can absolutely dominate a 0-0 draw. Looks like their luck ran out.
Danny O'Neill
33
Posted 30/12/2020 at 21:54:15
Well. 4 points off top with a game in hand!
Mike Corcoran
34
Posted 30/12/2020 at 21:55:16
Fat head has laid down the blueprint for all the other fatheaded managers to grind out a result against Liverpool. Klopp is going to be looking at that table and biting his nails.
Neil Copeland
35
Posted 30/12/2020 at 21:56:35
The stars are definitely aligning!
Paul A Smith
36
Posted 30/12/2020 at 21:57:19
Dale 31 i can't believe hes been brought back from the dead. I thought after Richarlison killed him they would have buried him by now but obviously their worst injury list in the history of football has forced them into resurrecting his soul.
I feel for them.
Neil Copeland
37
Posted 30/12/2020 at 21:58:31
And it's now back in our own hands, we just have to win every remaining game, piece of p***
Jeff Armstrong
38
Posted 30/12/2020 at 21:59:36
The commentary on the RS game by Jon Champion and McCoist was a disgrace, an absolute wankfest, all about St Virgil being injured a national tragedy, Champion creaming over Jon Henry, Thiago lucky to be alive after Richarlison's challange, and Newcastle lucky to be allowed on the same field of play as his heroes, a disgrace of an impartial commentator working as a supposed neutral.
Rob Halligan
39
Posted 30/12/2020 at 22:00:47
The rumour about the game being postponed comes from Newsnow. They are about as reliable as the weather forecasters saying tomorrow will be a heatwave!!
Brian Williams
40
Posted 30/12/2020 at 22:02:26
And that's only Newsnow plucking the story from a Hammers fansite.
Stuart Sharp
41
Posted 30/12/2020 at 22:04:44
You're not wrong Jeff. It's like these commentators have had some sort of bet to see who can refer to the derby most frequently. Embarrassing. Still, all that really matters is that the scum dropped points again. They rarely do so in consecutive games. I thought they looked pretty average, too.
Neil Copeland
42
Posted 30/12/2020 at 22:06:08
Looks like they need to break to regather themselves
Jeff Armstrong
43
Posted 30/12/2020 at 22:06:59
I worry about Rodriguez's appetite for the game, I was pleasantly surprised he played so many of the first 7 or 8 league games, but since then it looks like he's gone back into old habits seen everywhere he's been, minor injuries taking weeks to get over, it's almost like he enjoys being out for a while, hope I'm completely wrong and he's not got bored already.
Paul A Smith
44
Posted 30/12/2020 at 22:08:08
Steve McManaman has the most manufactured accent in the world.
He's from Bootle and sounds like he's after a role on Hollyoaks, the nutter.
Christy Ring
45
Posted 30/12/2020 at 22:08:47
Jeff #37,
McCoist, why am I not surprised? Do you remember back in the '60s & '70s, it was always the Everton - Celtic connection and the other shower. Two massive results for Liverpool, Klopp won't be showing his teeth, just his true colours. 😣

Dale Self
46
Posted 30/12/2020 at 22:08:54
Yeah Jeff and then you have the Guardian MBM saying he could listen to them talk about paint drying. And Paul, what I feel for them is a bowel movement.
I was fairly annoyed by the postponement thread but if we can all agree to hate the Red Shite all is forgotten.
Tony Abrahams
47
Posted 30/12/2020 at 22:09:51
Even worse than his accent, is the absolute shite he talks, Paul A.
Neil Copeland
48
Posted 30/12/2020 at 22:10:07
Jeff #42,
I hope he is simply adjusting to to the rigours of the Premier League. He makes such a difference when on his game, fingers crossed.
Paul A Smith
49
Posted 30/12/2020 at 22:13:57
Yes, Tony Abraham, he thinks he's some sort of educational speaker.
Can't get my head around his fake accent mate. I respected his career too after he went abroad like so many are afraid to do and he done very well for himself.
He is obviously too good for Bootle now though, is Mr McManaming.
Danny O'Neill
50
Posted 30/12/2020 at 22:14:26
Jeff, I need not add anymore. It was nauseating!
Tony, they got a couple of VVD shouts in and as mentioned above even called out Richarlison's "assault" on Thiago.
It will never end.
Naughty, nasty Everton.
Stephen Vincent
51
Posted 30/12/2020 at 22:15:08
Don't know about anyone else, but I am heartily sick of watching these overpaid muppets falling over like they have been shot when all that has happened is that they have just been breathed on heavily. It's really embarrassing that the England captain is the very worst offender and our own Richarlison is not totally innocent. But the consequence is that I am in danger of falling out of love with football.
The commentary we have just had to endure whilst watching Liverpool was beyond belief. Ally Mcoist: 'What a wonderful run by Mane, unfortunately he was offside'.
Seriously!!!
Chris Williams
52
Posted 30/12/2020 at 22:15:39
My son Andy, who has 3 little pubs on the Wirral, doing Takeaways, currently in Tier 2 tells me the big pubs are heaving tonight, absolutely rammed, presumably doing loads of Scotch Eggs!
Aah well. Let life unfold.
Tom Bowers
53
Posted 30/12/2020 at 22:16:12
I have always worried about signing so-called top players not playing regular or getting selected in a starting eleven. I was concerned about Walcott who was out of the Arsenal set-up after doing well initially and was also concerned about James.
Now, I know Walcott did have an injury which kept him out for a while at Arsenal but he was never the same when coming back. It appears now that James could be a similar case after starting well.
It may be unfair to be critical too soon so let's hope he comes back to prove us all wrong as he obviously has class.
Tom Harvey
54
Posted 30/12/2020 at 22:16:28
I wouldn't be surprised if it was postponed but, if it does go ahead, we should be confident.
Richarlison hasn't looked that sharp this season; now would be a good time for him to find that cutting edge. Having said what I've said, how can he be left out of the team even when he is below par, his defensive play and work rate make him hard to drop.
Paul A Smith
55
Posted 30/12/2020 at 22:17:40
Dale 45,
I was just relaying a story to see if any of you had any knowledge of the same thing mate.
It's the last thing I want and my feelings for the shite were pure sarcasm. I can't bare their alien-like division from the rest of us and the fact the media sell their souls to their remote control flicking fanbase with utter nonsense and any reason to favour them.
Barry Williams
56
Posted 30/12/2020 at 22:18:02
Kieran Kinsella - 21 - I liked Tony Hibbert, thought he was underrated actually, and his crossing did get a lot better – but I never thought I'd see him in the same article in reference to James!
The thing is. now James has been out, and Everton have been winning, it may work in Everton's favour as he will not always be considered an automatic starter, which actually could suit the team over a season, plus give the opposition more to think about instead of just cutting the supply line to James, thus, rendering the creativity null and void.
Calvert-Lewin has suffered as a consequence though, but it is a team game after all.
I'd like to see Richarlison used in a more central role from time to time, just to mix things up.
My only major gripe this season is I wish Mina and Richarlison would cut out the feigning of injury, rolling round clutching parts of their anatomy that haven't been touched – it's a real pet hate of mine and has stopped me watching any football outside of Everton by and large.
I don't care if the opposition do it, but I was brought up on Watson, Reid, Gray etc. love my boxing and just cannot stomach grown athletic men acting like that!
I remember Fellaini going on a one-man mission and really roughing up the Stoke hardmen, despite him getting banned, and somehow not sent off if I recall rightly. I would have preferred Mina acting a bit more that way against Man Utd, which would have resulted in him and Cavani getting sent off I suppose, but that's more palatable than seeing a 6'5'' colossus do his impression of Tiswas's dying fly!
Nice to get that off my chest!
Stephen Vincent – 50
Just saw your post after posting mine, edited it to include reference to your post. Glad it is not just me mate, it really has put me off the game as a whole!
Carl Manning
57
Posted 30/12/2020 at 22:20:44
Liverpool have been favoured for so long they didn't win the title for a couple of decades.
James was that much of a gamble we took him for free and he took a wage cut; huge gamble that.
And a top level footballer doesn't play because he uses his thumbs too much using Instagram. More stupidity from he clowns
Paul A Smith
58
Posted 30/12/2020 at 22:23:50
Danny and Jeff have said it all. I totally understand TV companies have to please clubs with massive fanbases (unfortunately) but some of it is pathetic.
I have a TV supporting half rednose neighbour who hates Pickford now. Actually thinks he meant to do Van Dijk. Mentions it every time I fail to avoid him.
Dale Self
59
Posted 30/12/2020 at 22:24:12
I got that Paul 54, I was clumsily playing along but couldn't keep to the script because of my unending enmity for them.
I do get a bit reactive to all things Red and I need to be on the lookout for that Scouse wit/sarcasm. If there is any confusion just consider it the fault of your retarded American football friend.
Joe McMahon
60
Posted 30/12/2020 at 22:26:05
Barry, I agree, I used to love watching Hagler and the Eubank v Benn fights were pure box office. However the days of Reid etc were 35 years ago and footie is sadly different now. But sorry I thought Hibbert was awful and was Moyes in a nut shell.
Andy Crooks
61
Posted 30/12/2020 at 22:26:15
Does anyone remember McCoist missing an open goal for Rangers and saying it had come off "the corner of his head".
Paul A Smith
62
Posted 30/12/2020 at 22:26:16
Not at all, Dale, you keep it up mate. Glad to hear the contempt stretches all the way to your country.
All the best, lad.
Danny O'Neill
63
Posted 30/12/2020 at 22:27:01
Dominic has also suffered from not having Coleman and more so Digne supplying him.
Interesting conundrum as the team has played well and been more defensively solid, but we sacrifice a supply chain and outlet.
Similarly, having Rodriguez in place of Sigurdsson in the Number 10 flanked by Richarlison and probably Iwobi right now will put the opposition more on the back foot.
We lose some of the defensive solidness we've had of late but offer more going forward and provide more support to Dominic, from which he was benefiting from earlier in the season.
Jeff Armstrong
64
Posted 30/12/2020 at 22:27:34
Macmanaman's clipped accent is totally embarrassing, "doing" (doin) "going" (goin) – there are no g's at the end of words in the scouse accent, at least Carragher has managed to keep some dignity in his co commentaries, less so with his gobbin'!
Neil Copeland
65
Posted 30/12/2020 at 22:27:50
Barry #55, agree 100%.
I only ever played football at Sunday league (Huyton & District). I was always taught by my dad and lads I played alongside that players who showed a weakness simply received lots of hard challenges as they were seen as an easy target.
My dad was convinced that the Argentina team that played England in the 1966 World Cup had a lot to answer for regarding the introduction of play-acting and feigning injury. Makes my blood boil too.
Paul A Smith
66
Posted 30/12/2020 at 22:32:05
'There are no g's on the end of words in the scouse accent' Jeff that is class, one of the funniest lines I have ever read on here.
I am all for well-spoken scousers and people who want to better themselves but, like Bellew and Carrrrrrragher, they can't keep it up and it's so fake its cringey.
McManaming takes it to another level, it's almost foreign.
Dale Self
67
Posted 30/12/2020 at 22:33:00
Andy 60, that might have been the corner that Dunc created for him.
Tony Abrahams
68
Posted 30/12/2020 at 22:36:13
I told you we hadn't heard the last of those VVD shouts Danny, but the sad thing is that it hasn't even been the usual suspects over the last couple of days mate!
Hopefully it's helped our players develop a bit more of a thick skin, because you'd have to be thick, if you didn't get on this very biased agenda!
Danny O'Neill
70
Posted 30/12/2020 at 22:46:35
Carra-lah's grates me the most.
Don't get me wrong, 28 years in the Army serving & living abroad and now living in London I have a flakey accent at best.
But he makes me cringe with his high pitched screech of a Scouse accent.
Tony. They won't let it go. Ever. Bitter reds.
Dale Self
71
Posted 30/12/2020 at 22:49:19
Ah sorry, that was McStay that Dunc gave the nod to.
Tony Abrahams
72
Posted 30/12/2020 at 22:50:56
They're more bitter than anyone Danny, we just don't ever let the bastards show it enough. Unfortunately.
Bobby Mallon
73
Posted 30/12/2020 at 22:56:30
Paul @68, do you get paid for posting that? Are you the keyboard equivalent of the bloke on the side of the road, with the pub billboard around his neck that says "The George and Dragon, next left"! 😂
Jeff Armstrong
74
Posted 30/12/2020 at 23:04:19
What got me most on tonight's commentary wankfest was that it was all preconceived fawning.
What was ACTUALLY happening on the pitch was that the RS where absolute shite all night, but no mention of that, just how great they are, how strange.
Bill Gall
75
Posted 30/12/2020 at 23:06:47
Well what will the excuse be this time? Last time it was Klippity complaining about WBA 6/4 or something like that.. why don't these pundits learn that only good teams find a way to win against the lower clubs, and managers are paid to stop them not look at them with awe. Kept my distaste for the shite by never watching them on TV unless they are playing Everton.
Got more excitement watching the Worlds Dart's championship.
Like a lot of other supporters I make New Year resolutions, usually fail to keep them, the first one I will loose will most probably be broken on new years day, as I don't want another pundit to mention Pickford's tackle on VVD, and am wondering on the anniversary day of when it happened will there be a national day of mourning, with Liverpool players wearing black armbands,
Brian Murray
76
Posted 30/12/2020 at 23:11:20
Maybe this pact with the devil has small print and is about to lapse. Let's rub their noses in it with a big win on Friday if it goes ahead!
Liam Mogan
77
Posted 30/12/2020 at 23:19:08
Tonight was the third time I have listened to 'super' Ally commentate on the RS. Each time he takes his sycophant pub-moron 'bants' to new levels of shame. TalkSport's tired old men with their cheap puns, stale so-called analysis and idolising of everything RS can do one.
The RS and The Huns, siamese twins seperated at birth. In hell.
Eddie Dunn
78
Posted 30/12/2020 at 23:19:41
Jeff- the idiot commentator John Champion, even told McCoist that one stat was in his ear from his producer. I would like to know just who the hell organised such a biased set-up.
At times the two of them stopped watching the game to enthuse about Liverpool's net spend over 5 years and john Fenway having a big a gaff with a fucking big tv set.
Jesus, I nearly puked my Glenmorange back into the glass!
Barry Williams
80
Posted 30/12/2020 at 23:27:21
Joe McMahon - 59. Yes Hibbert wasn't everyone's cup of tea. I used to play as a right back (before I had a stint as a keeper), and as a limited RB, maybe I empathised with Hibbert more than most!
I love my boxing - any era, and yes the Peter Reid era was a loonngggg time ago now, but boxing, though changed has always had intrigue and participants that are the real deals - from John L Sullivan to the modern day.
I trained for quite a while at Franny Hand's gym in Liverpool just off London Road, loved the fighters there!
I watched V Klitschko v Danny Williams last night, you see the punishment what Williams takes in order to achieve his dream, and it puts modern day football players in a very poor light for me, but I am boxing biased!
Neil Copeland- 64
Glad there are others out there that think this. I will always be an Evertonian, but wish this playacting was confined to other teams, though we are much better than most. I played for school teams, had a wee stint with Michael Ball's old team Redgate Rovers and played as a teen in the Zingari league - if players had acted like modern day pros - they'd have been ostracised by there own teammates.
I soon discovered boxing after this, plus like my weekends free for drinking, so my 11 a side career was put to one side!!!!
I live outside the country usually - has play acting crept into the amateur leagues in Britain?

Kenn Crawford
81
Posted 30/12/2020 at 23:28:16
You know what is the worst thing about the wankfest over the shite is that I can hear it all the way over here in Sydney.
I only watch our games or the lower divisions. I cannot bring myself to watch the shite or the other Sky babies.
Jeff Armstrong
82
Posted 30/12/2020 at 23:33:42
Eddie that's the bit that got me, Champion waxing lyrical about being a neighbour of Jon Henry in fuckin Miami, Nantucket or the fuckin Hamptons or wherever, (probably Neverland!) anyway he peeps over the fence and sees Henry in his garden shed watching the RS! H
e couldn't believe it, the owner of a club actually watching his investment, I mean it was only 2 in the afternoon and he probably had a fuckin Cosmo in his grasp, but fuck me this commentator was creaming in his pants as he told the tale.
Danny O'Neill
83
Posted 30/12/2020 at 23:36:04
Without turning this into them, as I've said previously, it's going to be interesting to see how Klopp deals with things not going so well and the additional intensity that brings from the British media.
So far he's had the perfect storm in English football, but his last season at Dortmund didn't go well. Relegation zone at Christmas but eventually recovered to finish 7th (ish) prior to him leaving.
I'm always suspicious of someone with a nervous smile who laughs when they are inwardly angry. Great when things are going his way but I predict a very entertaining meltdown if they don't.
Popcorn ready.
Dale Self
84
Posted 30/12/2020 at 00:11:09
Here in the States too, Kenn. Imagine getting a little Dunkin Donuts push with your RS worship. It actually gets a little NASCARy with the way some of their fans will line up for sponsors.
Derek Thomas
85
Posted 31/12/2020 at 00:28:28
I hope the game doesn't get postponed... it might just be wishful thinking from West Ham supporters.
It was a tough job after a heavy night, getting up at 05:45 to find Man City called off.
I'm getting too old for all this burning the candle at both ends lark, all you get is a little more light and loads of wax everywhere.
Jerome Shields
86
Posted 31/12/2020 at 01:50:12
Think the West Ham game will go ahead and it is looking increasing like Man City pulled a fast one. Everton need to keep the momentum going and play games.
Derek Knox
87
Posted 31/12/2020 at 03:04:54
Jerome, I agree it does seem a bit fishy that they couldn't or wouldn't field a side to play us on the Monday, yet are okay a couple of days after. They either have genuine cases, or they don't, and even if it's only suspected or a failed Covid test, the quarantine period is a lot longer than that.
I do hope it gets sorted out if there is anything that has been under-handed. One solution (and we would let the matter drop) is to give us De Bruyne and Aguerro as a goodwill gesture for any inconvenience caused. Simples!
Dan Nulty
88
Posted 31/12/2020 at 06:57:27
Don't quite understand why people are questioning James. He started strongly and shocked most of us at how strong he was and put himself about.
Muscle injuries can be a nightmare to get over, especially for athletes. People just need to chill. Remember there was no transfer fee.
Bobby Mallon
89
Posted 31/12/2020 at 07:09:43
Those two commentators are not the only ones who talk shite. Micah Richards on MotD. He was talking and fawning over the Man Utd keeper.
Especially when the ball was driven into the box and De Gea saved the cross but pushed it back into play. He should have caught it but Richards said how amazing he was to push it straight to Maguire... REALLY???
Bobby Mallon
90
Posted 31/12/2020 at 07:12:04
He was lucky there was no one in the box for Wolves.
Colin Glassar
91
Posted 31/12/2020 at 07:36:02
Neville Nixon, the world famous West Ham blogger, is predicting tomorrow's game will be postponed due to COVID.
I'm not sure how successful Neville's predictions are but he said last night's game between the toon and rs would also be cancelled. We'll wait and see.
Derek Knox
92
Posted 31/12/2020 at 07:50:24
Colin, is Neville Nixon any relation to Richard (shamed and impeached ex-president) or indeed to David Nixon (ex magician)? If the answer to either is yes or no, I still wouldn't believe it! :-)
Sam Hoare
93
Posted 31/12/2020 at 08:01:54
As much as I enjoy watching Rodriguez, we've had our best results of the season (bar opening day against Spurs) without him. Our more pragmatic lineups have done incredibly well so I'm not counting the hours till his return. Though it will be interesting to see how we play against a West Ham team we'd expect to beat and have more possession than.
The rest should have helped as Doucouré and Calvert-Lewinespecially must have been exhausted but have no comparable replacements. But West Ham (especially with Antonio back) are similar to us with a counter-attacking threat and dangerous from set-pieces. Expect a classic KITAP1 from Moyes.
No team this season has won 5 matches in a row. Would be a lovely time to become the first.
Bobby Mallon
94
Posted 31/12/2020 at 08:22:35
Sam Hoare, that would be brilliant. 5 in a row and 1 point behind.
Neil Lawson
95
Posted 31/12/2020 at 09:23:52
Stephen and Barry. Double ticks for you both.
Don't you just love the oft used phrase from our beloved so-called expert commentators and summarises: "There was contact so he is entitled to go down". Think that is properly defined as "cheating".
Laurie Hartley
96
Posted 31/12/2020 at 09:26:34
I am hoping Carlo goes with the "big back four".
Olsen
Holgate, Keane, Mina, Godfrey
Iwobi, Doucouré, Davies,
Sigurdsson
Calvert-Lewin, Richarlison.
I fancy Sigurdsson to score again in this one as well as Calvert-Lewin and Richarlison. 3-0 it is then.

Derek Taylor
97
Posted 31/12/2020 at 09:36:27
This is rapidly becoming the thread for RS obsessives with little comment on the Toffees. Always the same 'offenders' who find 'them' of greater interest with their fake criticism. I'm sure they are in love with the darkside or so jealous they've come to worship at the shrine of all things red !
Kim Vivian
98
Posted 31/12/2020 at 09:53:34
I was disappointed, but accepting - given the information we had - that the Man City game was called off, but if their match with Chelsea goes ahead there def' needs to be some serious questions asked. I would not be unhappy if we were awarded the points but would prefer us to play the game and get what we can. Man City however, if malfeasance is proven, should definitely get a 3 points deduction even if we were to be awarded a walkover. The only ponderable would be to assess a score for the purposes of Goal Difference come the season end which could have consequences for both us and Man City.
In the meantime, until we know for sure that the game is going ahead I refuse to get too psyched over tomorrow's match so no prediction, but simply can't stop the anticipation. Definitely winnable and think that Coleman for Holgate is the right shout for this one despite Mason's form.
No postponement, and win to kick the year off please, gents.
Paul A Smith
99
Posted 31/12/2020 at 10:03:14
Derek 97 I think thats more fake than any criticism of the other shower.
Nobody has pointed out anything about them that isn't felt by most Evertonians.
Tony Everan
100
Posted 31/12/2020 at 10:08:51
Laurie 96, I would start with that team too.
I wouldn't mess with the defence it has been a lean, mean defensive machine. Then there is enough going forward with those players to grab two or three goals.
It's games like this I thought we would really miss Allan, but Tom Davies has stepped up to the plate recently. I will be really hoping that he can continue his good form consistently.
Same goes for Iwobi and Sigurdsson, they've really stepped it up a level these last few weeks, our good form will be dependent upon them maintaining that high level of energy and performance.
The short break may have done Richarlison a bit of good. I think he can raise his game. He has been good but we know he can be great. If Richie starts firing on all cylinders he could be the catalyst for a top four finish.
Prediction; If Davies, Sigurdsson and Iwobi can maintain their good form I think we will win.
Everton 3 West Ham 1
Brian Murray
102
Posted 31/12/2020 at 10:17:05
Tony post 101. You clinging like the rest of us to the hope them three usual suspects can maintain a decent level after letting us down so many times.
Here's a thought, Have more than decent alternatives lined up in January that can take us to the next level. Fair play if they can bust a gut and carry on the words commitment and bottle don't go hand in hand with Gomes and Sigurdsson. No more sitting on our hands just hoping cmon Marcel be creative.

Paul A Smith
103
Posted 31/12/2020 at 10:23:59
Words coming from the Khedira stories today sound like we have a very good chance of signing him.
We definately need a midfielder and I don't doubt his class at all but his appearance record again, isn't very good.
If he does come here, hes another option and hopefully a quick fix that stays fit?
Our midfield is shaky against the top sides and someone with brains and great technical ability can free up more space for Dacoure to back up the attack with his pressing.

Brian Williams
104
Posted 31/12/2020 at 10:27:05
Dunno about you Paul but I don't want a 33 year old coming here.
I'd much rather buy a young, quick, energetic player to add pace to the midfield.

Paul A Smith
105
Posted 31/12/2020 at 10:31:55
Barry I agree mate I would rather see a Leon Bailey come here or someone with great talent on a 4 year deal but its tough at the moment.
If Khedira showed us what he is capable of for half a season we would see a great player.
Surely any opportunity to possibly improve the starting 11 can't be missed, even if it is short term.
Justin Doone
106
Posted 31/12/2020 at 10:32:46
I'm hoping we want full disclosure so as to learn what we need to do should we we want to rearrange the fixture again should we have several injuries to nearer busy Champions League fixtures for them.
I think season will finish, maybe late but the vaccines will ramp up in March and hopefully the spread will start to ease off late spring.
James, maybe we are looking to sell him for a good profit before going after Messi or Ronaldo?
On to Everton. If we win it may be seen as an advantage, if we lose it wasn't. The truth is we will not know but we should be looking to play a high tempo game from the off to test them.
Maybe Richarlison come in for Calvert-Lewin as striker and Bernard to start? We can't play Siggy as a midfielder, he's a forward or No 10. He gets caught out of position and can't tackle.
Start the 4 centre backs, hammers have some big lads that are dangerous from set-pieces.
Get the points on the board early just in case the Premier League is suspended.
Geoff Lambert
107
Posted 31/12/2020 at 11:00:45
Slightly off topic, Tom Davies was out last night. Not partying or dancing, but handing out food and hot drinks to the homeless. Showing our class again.
I hope the game goes ahead tomorrow, 3 points and we are right back in mix. COYB
Justin Doone
108
Posted 31/12/2020 at 11:13:26
Well done Tom and I know a lot of sports stars do help out with various charity work. Help and support is definitely needed and appreciated.
Normally this would be another good news story but in current times aren't elite athlete's supposed to be keeping away from the general population in their sports bubbles?
I'll confess I'm confused and don't know all the rules or circumstances but I would not want Carlo or anyone coming down ill derailing a promising season.
I can hear the cries of, "only Everton" now.
Alan Johnson
109
Posted 31/12/2020 at 11:42:30
Sami Khedra? Can anyone enlighten me. What type of midfielder is he?
Christopher Timmins
110
Posted 31/12/2020 at 11:50:41
Friday evening should be a great opportunity to close within one point of the leaders. West Ham have played twice since we played on Saturday night so that has got to be to our advantage.
I expect West Ham to play in the same manner as they did at Southampton and I would start Seamus at right back as this will be a game where we have more of the ball and he provides a better attacking option.
Will take a 1 - 0 here and now as West Ham are hard to beat.
Mike Oates
111
Posted 31/12/2020 at 11:58:45
Khedira – he's always looked slow to me, defensively strong, but no great shakes creating anything. His YouTube best clips just show a person winning some tackles, and scores 2-4 goals a year from set-pieces. Obviously was/is a good player to play for Real Madrid, Juventus but I think his time has passed.
Tom Bowers
112
Posted 31/12/2020 at 11:59:00
I think Carlo will deservedly win manager of the month for December in the Prem. after winning 4 and drawing one.
Actually I would give him an MBE seeing how easy it is to get one these days and by the way, why did it take so, so long for Jimmy Greaves to get one??
COYB. Let's hammer the Hammers.
Robert Williams
113
Posted 31/12/2020 at 12:08:34
Geoff 108 - "Tom Davies was out last night. Not partying or dancing, but handing out food and hot drinks to the homeless. Showing our class again."
I hope he was dressed appropriately, wouldn't want the homeless to think he's Pierre Cardin!!
John Boon
114
Posted 31/12/2020 at 12:13:32
Amazing that the uncertainty of whether we will have football or not tends to take posters away from football.
Staying relevant, Danny O'Neil (63) had a good point that certainly affects Everton's goal production. In Calvert-Lewin, we have one of the best headers of a ball in the league as well as proving that he has also improved in all aspects of the game. His mini drop in production is due to the fact that in the last few games he is NOT getting decent crosses from either left or right byline.
Irrelevant, Paul (44) Amusing point but it is so unimportant about McManaman's accent as to make me laugh. As a scouser now living in Canada, accents don't mean a thing. You are actually the "snob" for thinking that it does. I worry more about spelling his name right. Most commentators talk through their respective "arses", no matter how they speak.
To me the most irritating by a mile is Michael Owen who just loves hearing himself speak. Unfortunately for me, the only response is the "mute" button which I don't get to quickly enough.
Rob Halligan
115
Posted 31/12/2020 at 12:16:18
Tom #113. Jeez, I hope not. The last time he won it, we went on a losing streak. Give it to Bingo, after all he deserves to win everything!!
Brian Murray
116
Posted 31/12/2020 at 12:16:43
Mike post 112. He sounds like a slight Gomes upgrade without the flowing locks (apparently when he moves a bit). Surely Watford and or Norwich can do with the cash if we swoop now for Aarons and Sarr! Never have a better chance of glory if we just go the extra mile this window. Coyb
John Keating
117
Posted 31/12/2020 at 12:17:15
Howards Way presently on Sky Documentries
Joe McMahon
118
Posted 31/12/2020 at 12:23:08
Tom, I agree Jimmy Greaves after what he has achieved, but then again he's not in the womens Hockey Team. In fact ice no doubt it will be Sir Marcus Rashford in the next couple of years. The whole thing stinks.
Sam Hoare
119
Posted 31/12/2020 at 12:29:11
On Khedira, at his best I'd say he's a very intelligent central midfielder who'll win a few tackles, move the ball well, score the odd goal and help the team function successfully.
But it's been a while since he's been at his best. He's not looked that great since the 17-18 season for Juve and since then he's not played a great deal.
He's got some pedigree but, at 33 and his best years behind him, I'd have doubts about whether he'd hit the ground running. And even in his prime, he was a slow mover whereas we need a bit more dynamism in the middle for when Allan is out. But then pickings can be slim in January and maybe a short term loan on reduced wages makes sense with a player Carlo knows? A 'no' for me personally.
Colin Glassar
121
Posted 31/12/2020 at 12:35:32
Derek 92, Neville Nixon is probably closer to the infamous Neville Neville than to Tricky Dicky.
Derek Knox
122
Posted 31/12/2020 at 13:01:01
I know it's not a Khedira thread, but I don't know a great deal about him either. Obviously heard of him with Germany, and he seems to be a decent enough player, but does he want a last payday or what.
He could be another Gareth Barry, so if we got him on a free (like he went to Juventus) and with no silly contracts it may just tide us over. I have watched his clips via Google/Bing and he does appear to have the speed of a Racing Steamroller but could be a decent anchor man in midfield.
https://www.bing.com/videos/search?q=sami+khedira&docid=1390
Joe McMahon
123
Posted 31/12/2020 at 13:18:29
Barry @80 a superb post my friend. As we are short on right-backs, do you fancy a run-out?
Tony Everan
124
Posted 31/12/2020 at 13:22:00
Khedira is a quality player; if Gomes and Delph can be moved on, a short term deal would make some sense. On the downside, the Premier League really exposes slow players and at 33 you have to question whether he has the mobility to make a sustained impact for us.
If he comes in on a 6 month loan deal, it's not much of a gamble is it?, and he may do well enough to give him a short one-season contract. He could be a more valuable squad player than Delph or Gomes is. Carlo will know all about him so there's no-one better to judge.
I would hope though that we are scouting some younger <24 quality, mobile and athletic centre-midfielders and will sign the best one in June.
Jim Jennings
125
Posted 31/12/2020 at 13:30:05
Khedira was a fine midfielder in his day but it is no longer 2014 and this is exactly the type of deal we should avoid. It's not quite Gazza or Ginola but while we are still paying ridiculous wages to Bolasie, Cenk, Besic and various others who are of no use to us, there is no way in hell we should be throwing money at Khedira's pension plan.
Will Mabon
126
Posted 31/12/2020 at 13:31:31
Geoff @ 108:
Good on Tom for doing that. Shame on the people running the show for evolving the "Economy" to a point where this is needed in a nominally premium western country - and I exclude any effect of the current circumstance of this year.
More shame for the sly normalizing into acceptance of the growing "Need" for ongoing charity in lieu of proper support.
Don Wright
127
Posted 31/12/2020 at 13:35:08
Mikel Arteta: Arsenal manager says offloading players in January is priority...
Quick – hide behind the couch and hope he does not see us!!
Robert Tressell
128
Posted 31/12/2020 at 13:55:33
Sami Khedira would be a strange signing. As others have said, he's an intelligent footballer which probably explains a brilliant career for someone who doesn't really stand out. We're well-stocked in his position but maybe he would just sit and allow Allan and Doucouré to press and maraude.
Contract is up in June. Fee would be nominal. Not exactly building for the future though and, like Rodriguez, we might only see him fleetingly because of injury record.
Barry Williams
129
Posted 31/12/2020 at 14:11:45
Neil Lawson - 95. Yes, basically cheating is being endorsed by the match commentators nowadays. Retrospective bans all the way for me. It is not just a horrible thing to do, but also dangerous as you do not know if a player is actually injured these days. That's just pure wrong.
Joe McMahon - 124. With my dodgy left knee the winger would here me coming from outside of the stadium!

Jamie Crowley
130
Posted 31/12/2020 at 14:33:52
I was in a bar yesterday in Fernandina Beach, FL (look it up, lovely place) as the wife and I stole away for a day. Next to me in a bar, socially distanced of course, was some ja-bro in a Liverpool scarf.
I never cottoned on that I was an Everton fan. And as I got to talking to the American redshite, he started banging on about the "assault by Richardson" on Thiago. The guy announced how much he hated Rich, and thought he was a filthy player.
I honestly was there to hang with the Mrs., and didn't want to say anything, but just couldn't help myself. I told the guy I thought Richardson was the single most underrated player in world football, and if he played for Liverpool he'd be "the best winger on the planet." 'Merican speak with that "winger" bit.
Dude looked at me and said I was probably right.
At that point I decided not to strangle him with that scarf he was wearing. Lucky man.
I took a great, great deal of pleasure in that result yesterday. It was wonderful.

I hope the West Ham game goes on. I don't want to see a stoppage. 2-0 Blues.
Terry Farrell
131
Posted 31/12/2020 at 14:46:04
Khedira – no, no and NO!
We need to start fast and on top against the Hammers. They are well organised and will look to park the bus and frustrate.
Paul A Smith
132
Posted 31/12/2020 at 15:16:51
John Boon, trust me I am nowhere near a snob, I don't have the arrogance to make me feel better than any other person.
That was the point about McManaminG ironically and it was relative to the point that other fans were speaking about commentary.
Does a thread legally have to remain on its original issue? So many threads have the same comment over and over again in different words.
This thread has been healthy and nobody is arguing over what tactics Carlo Ancelotti should take note of.
Just a bit of fun while also exposing some truth about media bias and phoney posh speakers.
Plus I wasn't alone in noticing how fake the Bootle diplomat sounds.
David Pearl
133
Posted 31/12/2020 at 15:17:22
Knowing me, knowing blue, aahaa, we don't usually bring in anyone in January. However, if we remain in the top 4 over the next couple weeks, they'd be fools not to.
If Tosun was trusted, he'd have started a game. Do we all expect Calvert-Lewin to not miss a single game from now till the end of the season? Unfair on him.
Surely we need another forward? Fingers crossed we find homes for Tosun, Besic and Bolasie. And loans for Delph, Gordon, Kenny. And we keep Bernard, who l think has been short-changed this year.
We also have 3 or 4 players to come back from injury and they all can give us a jolt. However, none of them are forwards, goalscorers.
We need Brands to work some magic and go for it.
Paul Birmingham
134
Posted 31/12/2020 at 15:23:17
For me, Sami Khedira, as good as he was, is well past his best days, and in my view wouldn't be good as, since he left Bayern, he's not the same player, unless there's some special deal done, very low wages, and a squad player.
Back to West Ham, and it will be a tough game, but definitely winnable.
This season, they've surprised and achieved some good results, but I feel that they can be beaten, but Everton need to keep a good steady tempo for 90 minutes which they've managed to achieve the last few league matches.
Win ugly, a wins a win, and good incentive looking at the table which is very tight across the top 6.

Tom Bowers
135
Posted 31/12/2020 at 15:25:27
Calvert-Lewin is the most improved player in the Premier League. Sheffield Utd must wish they had him right now as their offence is awful.
However, he does need more support here and I hope Carlo has someone in mind as the present support is not up to snuff and Richarlison seems to be missing games here and there.
Eddie Dunn
136
Posted 31/12/2020 at 15:28:01
Watched the Hammers a few times of late. Antonio will make a massive difference but they usually play in a very conservative way and rely on counter-attack and set-pieces, which they are good at. Soucek is in form and good in the air.
The good news is that Moyes still leaves his subs far too late... Lanzini and Yarmalenko got on late in the last game against Brighton and made a difference, but had they been on 10 minutes earlier, they might have got the win.
Paul A Smith
137
Posted 31/12/2020 at 15:31:32
Eddie I hope that continues because Yarmalenko has been a thorn in our side.
Hopefully he is not fit enough to start. They don't have a bad side to be fair.
Like you say Antonio is dangerous but I think Soucek needs to be watched from set pieces more so.
He is very dangerous in the box and we have to give them as little as possible in our half.
Jerome Shields
138
Posted 31/12/2020 at 15:39:15
Brands said from the start that to buy in January is to panic buy. Everton have never bought anyone in January during Brands tenure.
The effort that Ancelotti is putting into giving all the squad playing time, some enforced, even playing them out of position, doesn't look like a Manager that will be looking for to bring anyone in.
As for the Italian press they have always had an obsession with Everton, which will go of the Richter scale now that Ancelotti is Manager.
Bobby Mallon
139
Posted 31/12/2020 at 15:46:56
If we are going to sign a midfielder, it has to be some like David Brook of Bournemouth.
Derek Knox
140
Posted 31/12/2020 at 16:03:33
David P @ 134, Abba Yabba Doo! Didn't know you were into the Flinstones! 😂
Tony Hill
141
Posted 31/12/2020 at 16:04:51
Tom Davies: proper scouser, proper man, getting to be a proper player. May this be his year.
Danny O'Neill
142
Posted 31/12/2020 at 16:05:00
A lot to catch up on here so be patient with me.
Eddie (137); yes Antonio on his day is dangerous. In honesty, so are West Ham. Hopefully Moyes will put his shackles on them and restrict their freedom.
Jamie; don't start me. You should have asked him his opinion on Robertson's shithouse scrape down the back of Allan's leg that went unpunished. I've just got PTSD and reminders of Aldridge claiming a red card was not enough in terms of punishment for Richarlison. Let's not go there, they are pathetic and boil my blood when I even think about them!
Interestingly it made me look at the highlights of the Derby and in relation to Calvert-Lewin and discussion of his supply chain, look at the second equaliser. James with a sublime pass into the channel for the overlapping Digne who then delivers a perfect cross for Calvert-Lewin to leap like a Salmon and bang it into the back of the net.
Tom Bowers (113); no. Just no. We don't want the cursed Manager of the Month award!!!
Khedira; I'd take him. I don't care for age and pace is something we've all discussed previously. I'm in the camp that pace of mind and thought can often trump physical pace. His pedigree speaks for itself and he would only be a temporary signing, but one that would bring World Cup winning quality to the squad. He was part of a Germany team (die Mannschaft) that in years to come will be talked about as one of the greats, just too soon right now.
Will; sadly there always has and always will be homeless people. That doesn't make it right, but through a combination of personal, social and economic reasons, it is an unfortunate aspect of society that we all wish didn't exist.
Robert Williams
143
Posted 31/12/2020 at 16:05:32
Not sure how many snobs there are on these pages but they are full of Toffs!
Here's hoping that our steady turnaround continues into the New Year and that a place in the Top 5 makes us all feel like Toff snobs looking down at the rest of the league!!
Bobby Mallon
144
Posted 31/12/2020 at 16:05:59
I would also like Cenk Tosun or Ellis Simms to be played more to give Calvert-Lewin a break now and then. Is Simms injured? I'd like to see what he can do.
Please, those that watch Under-23 games say he's not ready. Fans and coaches said the same about Bale and Rashford until they were both given a chance and the rest is history. Just give him his head.
David Woodworth
145
Posted 31/12/2020 at 16:10:05
Jeff 64.
I was listening to Mack the Man on BT Sport, and I found it odd he was emphasizing the G at the end of the word.
As for accents, I lost a lot of mine when I was in the forces, but then again I've never had what one would consider a broad scouse accent.
Born and educated in Toxteth by the way. So I am far from being a snob.
Tony Hill
146
Posted 31/12/2020 at 16:36:08
Bobby @145, Simms does look miles away but he may indeed be worth a go. Off the bench, though. I assume that if Ancelotti thinks he's worth it, we'll see him.
I'm another who thinks Tosun is better than generally allowed on here. Contrary to received wisdom, he's scored some good goals for us and he has a decent, instinctive football brain. He was shite when he came on against United. Most of them were shite from the start. I wouldn't mind giving him a go either.
One of the things I'm liking about this regime is the potential retrieval of "lost causes". Sigurdsson and Davies are promising in that regard; early days, but we might be able to save ourselves a lot of money.
Martin Berry
147
Posted 31/12/2020 at 16:43:35
This will be a tough one as you can be sure Moyes will set them up hard to beat, additionally Antonio if fully fit can be a right handful.
I think we grind out a 1-0 and that would mean five wins on the bounce, who would have thought of that a month ago.
Happy New Year fellow blues.
Robert Tressell
148
Posted 31/12/2020 at 16:56:30
Tony @147. Totally agree. Simms is a good finisher and a big unit. Games would pass him by because he's not a natural talent but he could be a real handful in the last 10 minutes of games. Tosun has limitations but also qualities. He's not crap, he's just wrong for our system and our ambitions. Alongside Calvert-Lewin in a partnership, he might well be quite effective as an option.
The consistent improvement in Keane, Mina, Coleman, Holgate, Iwobi, Calvert-Lewin, Davies, Sigurdsson etc shows me we have a management that knows how to handle players. Obviously not a big champion of youth (yet) but this is a good notch or two above anything we've seen here for years.
Mike Gaynes
150
Posted 31/12/2020 at 17:21:52
Derek #141, please, in the interest of historical accuracy, it's
Yabba Dabba Doo.
FYI the next time we're together for a pint I will perform for you my flawless Barney Rubble.
Off-topic, Marine AFC are holding a raffle to recoup some of the gate and sponsorship revenue lost when their upcoming FA Cup immortal with Spurs was forced behind closed doors. First prize in the raffle is the chance to manage the club for a game. Let's jump in, y'all!
Tony Hill
151
Posted 31/12/2020 at 17:22:05
I've just looked at our early games this season. Some of those touches and passes by James are wondrous. His contribution to points has already been significant. I expect him to contribute again significantly.
That pass to Coleman for Calvert-Lewin's goal against Palace, the lobbed pass to Richarlison against WBA, by way of example.
Whether he's injured, lazy or doesn't like the cold he's still worth it. We're winning at the moment without him, but he's what we're aiming for.
Will Mabon
152
Posted 31/12/2020 at 17:23:20
Danny @ 143:
Of course there have. That's only part of what I said. Not getting into a deep one now, but basically charity is now a much bigger part of things, and previous system resources always seem to have "No money".
Will Mabon
153
Posted 31/12/2020 at 17:25:19
Anyone else not seeing a Live Forum button yet?
Tony Hill
154
Posted 31/12/2020 at 17:27:25
Will, it's tomorrow, mate.
Rob Halligan
155
Posted 31/12/2020 at 17:28:14
Will, why should there be a Live Forum, or do you mean a New Year's Eve Live Forum? Now there's a thought!!
Will Mabon
156
Posted 31/12/2020 at 17:28:17
Tony :)
Will Mabon
157
Posted 31/12/2020 at 17:28:58
Rob - good idea!
Tony Hill
158
Posted 31/12/2020 at 17:29:35
Mike, will you fly over or manage remotely?
Rob Halligan
159
Posted 31/12/2020 at 17:30:07
Petition for a New Year's Eve Live Forum!! I vote for it.
Mike Gaynes
160
Posted 31/12/2020 at 17:32:25
Tony, I will be designating a proxy manager to act in my stead.
BTW, great comment on James, agree wholeheartedly.
Tony Hill
161
Posted 31/12/2020 at 17:34:33
Peter Mills?
Mike Gaynes
162
Posted 31/12/2020 at 17:37:20
Of course. I've been Pete's guest at both of the Marine games I've attended, so when I win, he will be my guest. And hopefully he will guide them to victory.
Mike Gaynes
163
Posted 31/12/2020 at 17:41:22
One vote here for a New Year's Eve Forum!
I'll join y'all midafternoon my time.
Eddie Dunn
164
Posted 31/12/2020 at 17:45:54
I see that BBC announced the death of Tommy Docherty.
Danny O'Neill
165
Posted 31/12/2020 at 17:46:04
Got my vote!!
Len Hawkins
166
Posted 31/12/2020 at 17:52:02
I worry about the 'Ammers they have a Manager who is a winner that's what he does.
The fact that he never won owt at Preston, Everton, Man Utd or Real Sociedad and so far at West Ham (did he have a spell at Sunderland? That's how interested I am in him...) his winning must have been in the Glasgow Boys Brigade Football League.
Paul A Smith
167
Posted 31/12/2020 at 17:54:20
All the best of health and happiness to you all. Let's hope we start the new year with 3 points.
COYB.
Tony Everan
168
Posted 31/12/2020 at 17:59:13
Eddie, it's sad news, he was a character. In the eighties I went to an 'evening with Tommy Docherty' in the Marine function room. Free drinks paid for by work and wine replaced all night on the table. I can't remember much about it apart from it being a great night and Tommy being almost like a comedian.
Will Mabon
169
Posted 31/12/2020 at 18:39:04
Eddie/Tony - saw him doing a kind of casual sports gentleman's evening in a pub in St. Helier, Jersey, back in the early 90s. It was a double act with our own Andy Gray. Just chatting and taking questions, sat at a table by the bar with a mic. It was really interesting and very funny at times.
Side fact. Someone drank too much and kept barracking Andy Gray. It went too far and turned nasty. Andy Gray can take care of himself!
Eddie Dunn
170
Posted 31/12/2020 at 18:39:37
Tony - imagine his like these days, with the Premier League charges for disrepute! They talk about characters and he was one of the biggest.
I recall the press being full of his affair with his trainer's wife, Mrs Brown. He got some stick in the dugout when he was boss of Derby after he had the boot from Man Utd. I was in the Park End and it was embarrassing to see.
He famously quipped that he was 'the only manager sacked for falling in love' and that there were no regrets because she was worth '20 Man Utds'.
Man Utd might well have gone on to better things after they beat Liverpool in the '77 FA Cup Final but that's life.
Makes you realise how sanitised things are now, every comment scrutinised. Cavani has just been banned (rightly or wrongly) but it's part of the reason the likes of us know feck-all about the inner sanctums of our clubs. The presser is our only portal into their world.

Darren Hind
171
Posted 31/12/2020 at 19:09:00
A few years ago, I saw Peter Reid kick, gouge and spit his way through 30 seconds of pure street fight. It was against an RS midfield which had bullied its way to the pinnacle of world football.
Like a boxer who chose not to hear the bell, Reidy snarled and hacked his way through them, inspiring teammates to join the fray. Deep Joy.
Evertonians were sick of seeing their players bullied by RS down the years. Those massed in the Anfield Road end did not give a flying fuck whether Reidy had read the rule book, or not (he clearly hadn't). Every one of us was in there with him.
Mordor (unsurprisingly) was in a state of utter outrage. How dare somebody give them a taste of their own? HOW FUCKING DARE THEY???
Even today, I can remember the look of utter contempt Reidy gave the hysterical kopites as he walked away, scanning all four stands in Mordor. How they hated him.
Seems daft to talk about an incident that happened over 30 years ago but, as it's New Year's Eve, I thought I would go public on something I have done privately for years... The Peter Reid Award for not giving a fuck for who he pissed off.
My vote goes to a player who has not enjoyed the best of times, either on or off the pitch. Someone who has his fair share of critics, but someone who has sparked the greatest outpouring of outrage since Mason Holgate threw the Brazilian over the Mordor main stand wall.
Jordan Pickford has had some hair raising moments, but let's be fair here. The tackle on St Virgil turned out to be the gift that may never stop giving. The side-splitting hypocrisy voiced by an agenda-driven RS media has been comedy gold, ex dirty bastard players all trying desperately hard to be more outraged than the next fella.
It's been one of the high points in a shitty year. Such is the extent of their outrage, I'm beginning to suspect it may never subside.
The Peter Reid Award for 2020 goes to Jordan Pickford.
Chris Williams
172
Posted 31/12/2020 at 19:12:01
Brilliant, Darren!
Darren Hind
173
Posted 31/12/2020 at 19:16:12
Sorry, Guys, I've vowed to have a dry January so I've gone a little bit early tonight.
If I don't see Midnight, have a great New Year.
Stan Schofield
174
Posted 31/12/2020 at 19:17:50
Darren, great post mate, you're a poet!
Absolutely spot on.
Happy New Year to you, and to all ToffeeWebbers!
Jerome Shields
175
Posted 31/12/2020 at 19:20:28
Happy New Year Everyone.
Jason Li
176
Posted 31/12/2020 at 19:23:00
Darren, that was hilarious, just perfect for New Year's Eve entertainment!
Feed Bergkamp, I mean Calvert-Lewin again. Still enjoying watching replays of the Keane ball over his shoulder, control and finish.
I don't think Moyes's tactics have changed much since he left, so I'm hoping with Coleman's Moyes insights, Ancelotti will have a good plan prepared.
Dale Self
177
Posted 31/12/2020 at 19:27:07
Nicely done, Darren!
Going to look for a clip of that but your prose has brought it to immediate life.
Kevin Molloy
178
Posted 31/12/2020 at 19:34:32
I never really appreciated Reidy at the time as much as some of the other players. It's only now when I look back that I can see what he did.
It was Reid's wanting to please Howard, more than any other factor I think, that made that team what it was. And as Darren says, he really did run into a brick wall for him.
Kicking Graeme Souness very hard at Anfield takes a certain spirit, I think we can all agree.
Derek Knox
179
Posted 31/12/2020 at 19:37:30
Can't touch this! It's Hammer Time, let's get jiggy with it! Happy New Year to all on TW when it comes to the Bells! Or whatever whisky you prefer.
Thomas Richards
180
Posted 31/12/2020 at 19:38:14
Darren #172
Post of the day. What would we give to have him snarling in midfield. One of my all time greats.
You kicked an Everton player in them days and there was a queue to retaliate. And we all know who was at the front of the queue. Every time.
Brian Murray
181
Posted 31/12/2020 at 19:44:55
Always remember early in 85 a very scary trip to West Ham with Inchy putting us ahead and second half with almost Bally-like arrogance he put his foot on the ball while we was under the cosh a bit, as if to say "We have the lead and the points."
I had a feeling then we had a real player that sometimes his skill and passing ability are not mentioned as much. Never thought when George Wood nutted him in the knee in the snow, breaking his leg, that he would become a Goodison Great eventually.
Brendan McLaughlin
182
Posted 31/12/2020 at 19:46:51
Darren #174,
"Dry January" – does that mean not posting on ToffeeWeb for a month or something much less challenging?
Happy New Year!
Phil Greenough
184
Posted 31/12/2020 at 20:01:30
Anyone heard about this rumour?
Wait for the news to come out about Kyle Walker at man city. He arranged a party for Xmas in London and 19 Premier League players went, and up to now 11 have tested positive, resulting in the Fulham match getting called off tonight, and Man City other night against Everton.
Sancho from Dortmund hired a private jet and went to the party too.
Paul Birmingham
185
Posted 31/12/2020 at 20:04:46
Inspiring idea, Darren, and how Everton could do with the pride and the passion Reidy had in all games and especially in the derbies.
Great idea and that should be a TW annual award.
Jeff Armstrong
186
Posted 31/12/2020 at 20:09:56
185, if that's true, Walker needs banning for life. He's already had two Covid misdemeanours that I can think of... If ever a footballer personified "dickhead", he is the leader, with a lot of followers.
If there's any truth in it, we should be awarded the points plus all expenses incurred for club and fans on the day.
Will Mabon
187
Posted 31/12/2020 at 20:18:57
"
Sancho from Dortmund hired a private jet and went to the party too.
"
Jeez. I'm getting in a taxi in about 10 minutes. Debated long and hard.
Will Mabon
188
Posted 31/12/2020 at 20:26:08
"
If there's any truth in it, we should be awarded the points plus all expenses incurred for club and fans on the day.
"

Jeff, if there is truth in - if... then we would also need to know why Man City used that as an excuse if they knew, whilst also having the required number of alternative players available... and how much the Premier League knew.
I rather think it will eventually be spun that Man City merely informed the Premier League of the numbers alone, then they made the decision to postpone.
But we'll see – maybe.
All the best, All – I'm away.
Tony Everan
189
Posted 31/12/2020 at 20:34:47
Truly shocking if the rumours are true that Kyle Walker has thrown a Christmas party resulting in many positive Covid-19 cases. Those players will have spread it too.
If it was a member of the backroom staff at Man City they would be sacked on the spot. This arrogant person will get a fine of no consequence and a short suspension.
Man City will be very lucky if they don't forfeit the 3 points and Everton are awarded the win for this game as this postponement was all of their own doing.
Ray Roche
190
Posted 31/12/2020 at 20:43:19
Darren (and others) Google Everton v Sheffield Wednesday on December 1st 1984 to see the shocking tackle on Heath and, more importantly, Reid exacting retribution on Marwood who attempted to assassinate Heath. Reid. My hero.
Patrick McFarlane
191
Posted 31/12/2020 at 20:49:02
What is it that the media have against Everton? Somehow, Everton FC's reaction to the postponement of Monday's game is over the top and perhaps callous given the state of the nation's health and wealth. Meanwhile, it's circa day 94 of the Pickford killed VVD media narrative...
Everton and Spurs Reality checks..
If it is true that any Manchester City player and others partied in London, we won't find out the truth via the printed media.
John Boon
192
Posted 31/12/2020 at 20:54:06
Paul (133),
Wow! You really are a little "testy". To quote yourself, "Just a bit of fun"... Exactly what I was doing (115). I didn't really think you were a snob but it obviously does bother you at least a "little bit" about how people speak. Personally, I am more concerned about what they have to say.
To be fair, and to show that I do read all posts, I will requote your words again (168): "All the best of health and happiness to you all."
Well said, I totally agree and, with a smile on my face, I think you could have said "youse all".
Happy New Year from one Evertonian to another true but very sensitive Evertonian. Keep Smilin'! (I dropped the "g" to prove I am a true scouser.)
Paul A Smith
193
Posted 31/12/2020 at 20:59:48
Fair enough, John, I thought it came across different but no harm done. Take care and keep postin', haha! :-)
Phil, (above on the Sancho rumour) would a private jet be allowed out of Germany during the flight ban or has it happened before the ban?
My mate has a daughter in Germany, he can't travel to or bring her here for the holidays and he has tried everything.
I wish he knew Sancho now.
Danny O'Neill
194
Posted 31/12/2020 at 21:03:43
Great shout, Darren.
Tony Abrahams
195
Posted 31/12/2020 at 21:04:36
It wasn't Spurs, Patrick, it was just Jose Mourinho and Everton, a club who have really kept their counsel, despite what this horrible Liverpudlian journalist insinuates.
Derek Knox
196
Posted 31/12/2020 at 21:05:16
Tony, Will and All,
I got that one earlier today, it is believable, but obviously not as yet verified. Thing is with Social Media, it can spread like wildfire, and can often as in Chinese Whispers get exaggerated out of proportion, but the version above is exactly as I got it, so possibly is true.
The repercussions on this will be massive if it turns out to be the case. Thankfully Everton are the perceived innocent party for once.
Peter Mills
197
Posted 31/12/2020 at 21:14:13
Darren #172, great post. I've mentioned these things on here before, but they are always worth repeating.
1. Reidy, having had serious blood drawn on his shin in the game against Bayern, sought retribution. He (mistakenly) found the perpetrator, nailed him, stood over him and said "Have some of that, you Nazi bastard". Came the bewildered reply, "I'm Danish".
2. In a crowded, belligerent mass of Man Utd fans at Old Trafford, 1985, when we were trying to win the league, I was caught up as our team was entering the ground (remember, we beat them 5-0 in October), Man Utd fans spitting, banging on the coach windows, very angry.
Reidy, playing poker, never looked up. Just picked a card out of his hand, with a grin on his face, and pressed it against the coach window. The 5 of Diamonds.
Kevin Molloy
198
Posted 31/12/2020 at 21:15:01
Everton reacted badly to the postponement right from the start. I wonder were they tipped off that this was all Man City's fault?
Neil Copeland
199
Posted 31/12/2020 at 21:35:55
Happy New Year to all.
He's fat, he's round, he's worth a million pound! The Peter Reid stories are brilliant and bring back loads of fond memories.
Darren, The Peter Reid Award is genius. Thoroughly deserved by JP for bringing down St VVD.
Eddie Dunn
200
Posted 31/12/2020 at 21:39:41
Darren,
I didn't see that coming! As inspiring a speech as we could wish for in the trenches. Up the Blues.
Derek Knox
201
Posted 31/12/2020 at 21:51:25
Neil, Thanks mate and to you too, in fairness to Jordan Pickford, re the VVD 'incident' he said he was following the Black Lives Matter support, and 'took the knee'! :-)
Bill Gall
202
Posted 31/12/2020 at 22:04:56
I suppose I am in the minority but, if he is fit enough, I would bring in D Costa to give Calvert-Lewin a rest. He may not be the player he was but tell him there is a Peter Reid Award, and he would be a candidate to earn it. It is about time we had another nasty player.
Chris Williams
203
Posted 31/12/2020 at 22:10:29
Bill,
One issue now is whether he would be eligible for a work permit under Brexit legislation. Same with Khedira.
Personally I hope not! But things have changed a bit now.
Neil Copeland
204
Posted 31/12/2020 at 22:20:15
Derek, right on the edge, that one, mate, but very funny. 😂
Brent Stephens
205
Posted 31/12/2020 at 22:32:28
Chris "One issue now is whether he would be eligible for a work permit under Brexit legislation. Same with Khedira."
I think that's round about page 980 – I'm just about to get to that.
Brian Wilkinson
206
Posted 31/12/2020 at 22:37:08
Patrick, spot on, what also went under the radar after the VVD incident and all the media and TV coverage week on week, we only managed to win one of our next six games.
Now we are back up there again, they are reeling the VVD crap out again.
Chris Williams
207
Posted 31/12/2020 at 22:38:16
Brent,
Please let us all know mate, once you've had a good read.
From the few fragments I've managed to read, I reckon things are going to be a bit less simple with freedom of movement going down the bog.
Certainly for transferring in superannuated players.
But you, me, and Boris haven't got to the small print yet.
Brent Stephens
208
Posted 31/12/2020 at 22:53:13
Chris, I doubt Boris has got through the large print yet – relying on the Ladybird "Book of the Brexit Agreement" – I had a copy in my Xmas stocking.
Chris Williams
209
Posted 31/12/2020 at 23:01:35
Brent,
You're the lucky one. I got the I-Spy Book of Brexit and Big Chief I Spy in the Big Wigwam in Fetter Lane London, and he said "It's um big crock for um Premier League clubs. They're um fucked."
And I reckon he should know!
Brent Stephens
210
Posted 31/12/2020 at 23:16:27
Chris, I also got Cain's Jawbone for xmas. I'm waiting for the Ladybird version of that!
Chris Williams
211
Posted 31/12/2020 at 23:34:12
I've not heard of that particular publication, Brent. Is it related to the tale of Sampson in any way?
I'm advised by my legal people I need to apologise to any Native American correspondents on TW for my clumsy phraseology.
I should make it clear that the translation came straight from Little Plum (your Redskin Chum) from The Beano c.1955.
Thomas Richards
212
Posted 31/12/2020 at 23:47:24
Out of order, Chris.
Be careful you don't get siouxed...!
Charles Brewer
213
Posted 31/12/2020 at 23:59:46
Well, fuck off, 2020. A year of disasters. Covid, US election and worst of all, the RS being awarded the Premier League title.
Looking forward to a year when Calvert-Lewin wins the Golden Boot, Everton win (that is, actually win) the Premier League and Klopp gets found on a park bench with a bottle of meths.
Brian Murray
214
Posted 01/01/2021 at 00:15:47
Happy New Year, Charles and all Blue Boys. Could've been worse... at least we was spared the trophy parade which I know still rankles them shower. Us or Manchester clubs gotta step up and deny them this time.
At the strike of midnight, Marcel Brands as we speak is stroking his white cat after fixing Bill's fax machine with bids for a striker, a pacy full-back, a winger, and a top goalie on the way to Finch Farm as we speak. Coyb, do it, Marcel!
Brian Murray
215
Posted 01/01/2021 at 00:18:41
At least we will get our country back (only making plans for Nigel).
Chris Williams
216
Posted 01/01/2021 at 00:18:55
Sorry, Thomas
I'm just back in from my first footing - Scottish granddad, my pop. Pissing down and right parky.
Happy New Year!
I've looked up Cains Jawbone, now and I might wait for the Ladybird edition too. Or maybe the I-Spy version! With the pictures.
Here we are 2021, new year, new decade. New Everton, perchance?
I Hopi so!
Charles Brewer
217
Posted 01/01/2021 at 00:27:00
Brian, I'd forgotten about the lack of celebrations (apart from some attempted arson at the Pier Head).
Maybe it wasn't all that bad after all...
Derek Thomas
218
Posted 01/01/2021 at 00:35:36
Happy New Year each, as the Beryl Reid character used to say... a cloudy and humid morning here and a coolish 24 C.
Patrick @ 191; 'twas ever thus, I remember all the southern papers being upset in 1963 and saying we were too rough, couldn't really play football like their darling Spurs, and more or less kicked (and bought) our way to the title... erm too tough?? Dave Mackay??
Paul Hewitt
219
Posted 01/01/2021 at 00:39:45
Happy New Year, all on TW.
Chris Williams
220
Posted 01/01/2021 at 00:40:02
Hey Derek
Happy New Year to you!
Beryl Reid - Marlene wasn't it?
Rob Halligan
221
Posted 01/01/2021 at 00:46:49
Darren # 171. Fucking brilliant mate. Kopites are gobshites... every single one of them!!
Andy Finigan
222
Posted 01/01/2021 at 00:50:19
Please can I say to all our brothers and sisters who had the chance to go to our recent games, got drawn out the hat, then lost out. Please I love you and you will benefit in the future.
You are the life blood. We fans are your building blocks though we can't attend we support your love and commitment.
To a happier 2021 and glasses over half-full! Up the bestest fans and team.
Derek Thomas
223
Posted 01/01/2021 at 00:58:31
Yes Chris, many refugees from workers playtime in here...* looks out of window; ay up, the sun's just come out, onwards and upwards and 3 pts.
Nothing will happen to Man City; we will not gain... not that I really wanted to.
I just hope we don't get – in a Premier League / Government... stitch-up of 'one size fits all, we have to be seen as doing something ' postponed again.
Chris Williams
224
Posted 01/01/2021 at 01:14:46
Derek
That's a bit gloomy son.
Cool your boots man.
Look on the bright side. We should snot WHU tomorrow. Fuck Man City. Yeah, it's as bent as shit. Nowt we can do about that. But things can swing quite quickly.
Don't waste positive energy on negative emotion, there's things to like or so I'm told!
Reasons To Be Cheerful.
Derek Thomas
225
Posted 01/01/2021 at 01:24:42
Chris, thats me being positive and up beat for New Year.
Edit; I've missed breakfast, so pondering on bacon butties for dinner.
Chris Williams
226
Posted 01/01/2021 at 01:31:12
Derek,
Life can be harsh for sure. And it's pretty shite currently. This time of year can be tough.
Things swing.
Go and pen a stanza or two on "cheerfull". It bloody helped me. It's great, no bugger notices!
Chris Williams
227
Posted 01/01/2021 at 01:34:04
Bacon butties are the very thing! Once I've stopped necking stimulants, I might risk my life consuming processed meat products.
Gary Carter
228
Posted 01/01/2021 at 02:33:42
The pessimism, negativity, conspiracy theory and lack of willing to fight this disease is so depressing. If we had this sort of mentality during World War 2 we'd all be speaking German now.
Man the fuck up people, yes there is a pandemic, yes times are hard and people are dying, but put it into context with lots of other illnesses, wars, time periods etc and stop being so bloody weak. Where the hell has the British spirit gone !?
Steve Brown
229
Posted 01/01/2021 at 02:51:21
Darren @ 171, that was the Henry V speech for Everton. Fantastic.
Hopefully, the winner of the 2021 Peter Reid awatd will dispatch that snidy scrote Andy Robertson into Row Z.
Derek Knox
230
Posted 01/01/2021 at 03:25:25
Chris W, you may be 'rasher' than you were before consuming the aforesaid cooked cut of swine, or you could be on a 'roll', just don't 'pig out too much' is my advice. First sign of an Oink, get thee to the Hog's Head, and tell him that you are hearing 'Crackling' when you are listening to 'Rind'stone Cowboy, Gammon now get a grip!
Ernie Baywood
231
Posted 01/01/2021 at 03:38:10
Gary 228, how does putting it into context help to fight it? They seem contradictory.
You either fight it, and endure the hard times that come with that. Or you put it into context and live with it, with all the hard times that come with that.
In Melbourne we spent the best part of 8 months fighting it. It wasn't pleasant and we'll pay the price forever.
The UK hasn't tried long term hard restrictions. I'd argue the UK has put the virus into context and decided to live with it. The result is needing an emergency approved vaccine.
Neither option is easy or more courageous than the other.
Jack Convery
232
Posted 01/01/2021 at 05:44:31
Ray 190 - was there that night and Reid sorted Marwood out for that awful tackle on Heath. Whenever we played SW after that Marwood would never be fit to play us!!! Shit scared to face Reid again, when it became obvious how bad the injury to Heath had been. Oh for a few of him now!!
Brian Murray
233
Posted 01/01/2021 at 08:44:37
We keep hearing the game has changed and you can't get away with Reidy's retribution but that clog face's remit in the derby was to stop James anyway he could from the first whistle, obviously from orders off the goose-step idiot on the touch line until it backfired when Pickford took the knee for him.
Sweet... and we need more of it, ie, a bit of nastiness.
Tony Shelby
234
Posted 01/01/2021 at 09:22:45
Let's tear these Cockney fuckers a new one.
COYFB!!!
Alan Johnson
235
Posted 01/01/2021 at 09:40:54
#234 With you all the way Tony COYFB!!!
Derek Knox
236
Posted 01/01/2021 at 09:57:50
Tony @ 234, any chance of emailing that 'team talk' to Carlo? I'm sure he will be impressed. 😂💙
Jamal Paktongko
237
Posted 01/01/2021 at 10:20:51
Is the transfer window open yet?
Derek Knox
238
Posted 01/01/2021 at 10:28:21
Jamal, yes technically, first one to go out is Matthew Pennington to Shrewsbury Town on loan.
I've not heard of any others up to now, but I'm sure there will be, Bolasie, Tosun etc.
Jerome Shields
239
Posted 01/01/2021 at 10:31:33
Bobby Mallon
240
Posted 01/01/2021 at 10:35:07
COYB. Boys, Happy New Year to you all across the globe. 🌍 I hope you are all well.
Michael Nisbet
241
Posted 01/01/2021 at 10:49:10
Jamal - Window opens tomorrow (2nd) according to Sky Sports news.
Robert Williams
242
Posted 01/01/2021 at 10:49:23
Happy New Year all.
I'm not a Scouser, but many tell me that I have a Scouse accent – so in sympathy with all Blue Scousers out there I will for once drop the 'G.'
Hope to see you all at Oodison Park soon!!
Brian Murray
243
Posted 01/01/2021 at 10:55:33
Derek post 236. Carlo is too nice to use that tactic although he's got to the top so maybe he has that side to him. Or doesn't need it. Either way, he's on a different planet in class from that buffoon over the park.
Same defence tonight is a must. Tinker with midfield options if he thinks we need to. This fella knows his stuff. Coyb.
Stan Schofield
244
Posted 01/01/2021 at 11:03:47
This business of the 'g' and Scousers. It's really nothing to do with 'g' per se, but everything to do with someone trying to talk in a 'posher' way for whatever reason. Many Scousers naturally end words in 'g', and the Scouse accent comes in many forms across an entire spectrum from 'rough' to 'smooth'.
The issue is to do with inserting the 'g' unnaturally in order to sound 'posher', more credible, more informed, more educated, etc. It's to do with the speaker being pretentious.
In Macmanamanamanamam's case, he's both pretentious and a talker of absolute bollocks. That's the issue with him.
Rob Halligan
245
Posted 01/01/2021 at 11:09:36
I always thought the best team talk on a Sunday morning was "Come on deeze are shite, let's kick shit outta dem"
Seemed to work for us anyway!!
Brian Harrison
246
Posted 01/01/2021 at 11:11:30
Sadly they don't make players like Peter Reid anymore, maybe the rules have stopped players being able to play like Peter. He is one of my modern day Everton idols, he reminded me so much of another of my Everton favourites Tony Kay. Tony like Peter was afraid of nobody and heaven help you if you went into a 50-50, but like Reidy Kay could play as well as do the other things.
I have been lucky to be in Peters company on a few occasions, and he is still as passionate a Blue as you could wish to meet. He told me he failed the medical but Kendall said sign him and I will take full responsibility. The strange thing was that having stuck his neck out to sign Peter, he struggled to get into the side. But that changed after yet another poor display from Everton, his brother rang the Ian St John phone in on Radio City after the game and St John didnt know the caller was Peters brother. His brother said Kendall needs to get Peter Reid back in the side, he went on to say Peter was 100% fit and was better than any of the current midfield which he was. St John then said to the caller you seem to know a lot about Peter Reid to which he said well I should do I am his brother. As they say the rest is history.
Charles Brewer
247
Posted 01/01/2021 at 11:16:19
Rob, how does that differ from "Come ed, deeze are shite, let's kick shit outta dem"
My feeling would be that the first indicated a 4-2-3-1 moving to a 4-4-2 when they attack through the centre, whereas the latter was more a 5-4-1 moving to a smack in the gob when the ref wasn't looking.
Anthony Jones
248
Posted 01/01/2021 at 11:24:04
Could it be that the RS are waning?
Maybe it is wishful thinking but players over 30 playing high intensity gegenpress every week sounds unsustainable.
Klopp's Dortmund fell apart in spectacular fashion.
Rob Halligan
249
Posted 01/01/2021 at 11:24:58
Of course, Charles, saying "Come on" is me puttin a posh voice on. Notice no G!!
Tony Abrahams
250
Posted 01/01/2021 at 11:29:24
Peter Reid is also my favourite all time Everton player. Heart and fight, clever and consistent, and he always played for the team.
Derek Knox
251
Posted 01/01/2021 at 11:42:59
Rob, have you ever tried Scouse Ventriloquism? Try saying Bottle of Beer in that mode with no 'G's'! :-)
Rob Halligan
252
Posted 01/01/2021 at 11:51:13
Easy Derek. Ottle of eer, Ottle of eer!!
Darren Hind
253
Posted 01/01/2021 at 11:52:12
Tony 234
You my friend are rapidly becoming one of my favourite posters.
You may not go in for the spirit lifting artistry George brings to these boards... but make no mistake. You do lift the spirits.
All we need now is for George himself to post and we are good to go against these "Cockney Fuckers"
Mike Kehoe
254
Posted 01/01/2021 at 11:52:28
McManaman doesn't drop his gs he adds them and over pronounces so many words unnecessarily, I think in an effort to be media friendly and not distress southerners.
I do hope that fuckin idiot Carragher doesn't commentate on our game, I was giving a lot of thought to endI got my sky sports subscription as his crass ignorance and undiluted bias disgusts me. He is incapable of stringing a sentence together that doesn't slag Everton off or accuse Pickford of malicious wounding on st Virgil.
If Pickford would have intended to clash with Virgil he would have twatted the goalpost.

Rob Halligan
255
Posted 01/01/2021 at 12:01:35
So no sign of the game being postponed then, unless De Ammers pull a fast one and try and get it postponed at about 15.30!!
Mike Doyle
256
Posted 01/01/2021 at 12:01:48
Stan #244] Many regional accents drop the 'g' from the end of words - and it sounds equally forced when a strong Geordie, Brummie or Cockney pronounces it.
That aside It strikes me that the Liverpool accent has changed noticeably over the last 40 years.
Most of my parents & older cousins (typically 70+) still speak with a Deeper/slower drawl - much like Paul McCartney still does.
In contrast the younger scouse accent of today seems very high pitched (both male & female) - and very different to that heared in Old Swan when I was growing up there in the 60s & 70s.
Rob #245] Was your Sunday side managed by Stan Boardman?

Paul A Smith
257
Posted 01/01/2021 at 12:04:13
Stan Schofield spot on. Its the over doing it and fakeness which makes it hard to listen to.
With Bootles finest it seems to be the INGS that are so annoyING. I can't help callING him McManamING because of it.
Fits perfect because hes also a bit of a Ming as the local kids would say.
Its bad enough seeing how dominant their numbers are as pundits nevermind how awful they sound.
Have BT ever had an ex blue on?
Rob Halligan
258
Posted 01/01/2021 at 12:04:39
Funnily enough Mike .
No!!
Rob Halligan
259
Posted 01/01/2021 at 12:07:55
We also drop our H's.
Ouse, Orse, Ere, Ome. Deffo a lazy accent!!
Derek Knox
260
Posted 01/01/2021 at 12:09:15
Paul A, I'm sure I've seen Leon Osman on there, though could be wrong.
Paul A Smith
261
Posted 01/01/2021 at 12:15:45
Derek I also had Osman in my mind but couldn't confirm it.
I can only ever remember Rio Ferdinand being there for our games but I spew BT as soon as the whistle goes.
I'll never forget when they showed the top 6 a few seasons back when we were 6th. They cut 6th out and showed Man U who were 7th.
Horrible ignorance I have tried to repay them with.
Derek Knox
262
Posted 01/01/2021 at 12:24:08
Paul, the game tonight is on BT1/BT Ultimate, so unless you have IPTV there is little choice of providers, but if you have access, Bein Sports have it in English on Bein 11HD, also some of the Canadian (DAZN) and US (various) and possibly South African (Supersports) will have the match covered.
Eddie Dunn
263
Posted 01/01/2021 at 12:29:37
Osman is a BT pundit.
Paul A Smith
264
Posted 01/01/2021 at 12:30:43
Cheers Derek I have got access to the game. I will avoid the punditry though.
Neil Copeland
265
Posted 01/01/2021 at 12:31:17
Rob, and our Ts. Ever'on, litle, da (that)
Brent Stephens
266
Posted 01/01/2021 at 12:32:48
I also wondered about Joe Royle's pronunciation - the stressed ING at the end of words - it would be interestING to get very early recordings of him speakING.
Steve Carse
267
Posted 01/01/2021 at 12:41:57
Mike (256), strange how the accent has evolved. It was, as you say, much softer and slower 40/50 years ago when I was growing up. The younger generations speak quicker, and with a harsh, clipped, 'crackling' (can't think of the best word for what I'm trying to describe) accent. Young females almost sing their way through their sentences, such is the variation in pitch and tone.
Presumably there will be some linguistic expert somewhere who could explain why the changes have occurred.
Paul A Smith
268
Posted 01/01/2021 at 12:45:16
Brent thats a good comparison.
My original point on this relates to what you are looking at.
My Grandparents on my mothers side spoke rather neater than the rest of us. It was natural from them and they had always tried to not sound too common so to speak.
My nan had more O's on the end of NO compared to most local nans.
We used to laugh at them for it (lovingly) and my nan would joke at my pronunciations.
Big Joe sounded more natural to me but he wasn't afraid to use common language either.
I know he went to grammar school and was well educated. I imagine he always sounded rather posh in the dressing room for a scouser.
He gets the natural vote for me after meeting him and reading about his upbringing.
Steve above, it could be age too. I grew up in a rough area some may say but i've tried to sound less of a local tit the older i have got.
Chris Williams
269
Posted 01/01/2021 at 12:54:47
If you listen to The Beatles in A Hard Days Night, you get an idea of how the accent sounded back then. Alun Owen actually wrote the dialogue to correspond with how each of them spoke in real life. So George had lines like 'I'm quite prepurred for that eventuality' spoken in a slow drawl.
Everybody thought they spoke funny, except in Liverpool, where they talked like us!
We had a teacher, called Peter Moloney, who made a good living outside of teaching, in show business, with an act all about talking Scouse.
Stan Schofield
270
Posted 01/01/2021 at 12:59:36
Mike@256: Yes, it does seem to have changed. Might be the effect of all the Norwegians supporting the RS. Seriously, I was with my wife on the train from Warrington to Lime St a few years ago, and there were two young Scouse couples together, sat near us chatting away. We had recently been on holiday to Norway, to Oslo, and had travelled by train there, where of course there was background chatter. I suddenly said to my wife, listen to those four over there, it reminds me of being in Oslo on the train. She listened, and agreed. The background chatter was very similar in a number of ways. It suddenly struck me that Scouse and Norwegian are quite similar. So I googled stuff about it, and found a book by Melvyn Bragg, called The Adventure of English, which confirms such a similarity and explains the common use of terms such as 'like' and 'kecks', and place names involving terms like 'kirk', in terms of Viking invasions where Vikings from Norway invaded the West coast. Similarly, Vikings from Denmark invaded the East coast, giving elements of the Geordie etc. accent.
Brent Stephens
271
Posted 01/01/2021 at 13:01:40
Chris, I remember Peter Maloney well from TV. Brilliant. Wasn't it one of the Liverpool Colleges he taught?
Brent Stephens
272
Posted 01/01/2021 at 13:04:48
And Peter Maloney used to show the origins of the scouse accent by starting with, say, a Welsh accent, adding a bit of Scottish and finally Irish.
Mike Doyle
273
Posted 01/01/2021 at 13:06:41
Steve #267] Agree. I wonder if the cohort of ToffeeWeb posters includes an expert in language development who could enlighten us?
Failing that Sam Hoare is a professional actor. He'll have practiced accents and may have view.
If neither of the above can help perhaps we can apply the usual default and blame Hibbert & Osman for the change in the Liverpool accent?
Brent Stephens
274
Posted 01/01/2021 at 13:08:03
Stan, and scouse with its possible origins in lob scouse and the scandinavian lapskaus?
Stuart Sharp
275
Posted 01/01/2021 at 13:09:17
Darren's 171 post has restored my faith in ToffeeWeb. Amen.
John Boon
276
Posted 01/01/2021 at 13:10:42
Amazing that "accents" has become a newly discussed topic. Earlier I had posted that I didn't care HOW pundits spoke, but what they had to say.
As a born and bred scouser living in Canada I watch every Blues game and while I don't really care what Macamamanam ing has to say I find EVERYTHING that one of his partners in RED has to say annoying to the point that I have to press the "mute" button to cut him off. That is Michael Owen. I just don't know what his accent is but I do know that he just loves the sound of his own voice as he dominates with his drivel ridden opinions.
Neil Copeland
277
Posted 01/01/2021 at 13:13:28
John, yes I can't stand Michael Owen either, makes me cringe when he talks. His accent is more Chester than Liverpool.
Derek Knox
278
Posted 01/01/2021 at 13:13:48
Brent, so that is why the RS have so many Scandivanians in their supporters.
Neil Copeland
279
Posted 01/01/2021 at 13:17:15
Derek, they are all Skaus from Lapland
Brent Stephens
280
Posted 01/01/2021 at 13:24:33
Here's Peter Maloney giving a lecture at JMU:
Link
Martin Nicholls
281
Posted 01/01/2021 at 13:27:51
In June of what is now last year, I had a telephone call from Big Joe on my 70th birthday - what a lovely and natural guy he is. Also had calls from both Graeme Sharp and Lily Kendal which I enjoyed enormously - Joe though (who I had previous spoken to at the Camp & Furnace do a few years back) was something else and stayed chatting for over 15 minutes - as I say, a lovely and natural man (and great Evertonian!)
Speaking of accents though, the most annoying to me is that professional scouser and celebrity red shite, John Bishop. What a contrived and forced fake accent from a bloke who so far as I'm aware grew up in Winsford and Runcorn. Where did his scouse drawl come from?
Chris Williams
282
Posted 01/01/2021 at 13:29:20
He taught at a few Brent. It was at Cardinal Allen he taught us. Brilliant teacher too.
He'd been a Paratrooper and a Trappist Monk before teaching I think.
I remember a line from one of his poems about 'goosegogs'.
They're like gear little plums only hairy.
Bloody odd, the things that pop into your mind!
Chris Williams
283
Posted 01/01/2021 at 13:35:59
Somebody said that Jamie Carragher makes John Bishop sound like Brian Sewell!
Brent Stephens
284
Posted 01/01/2021 at 13:38:20
Martin #281 "John Bishop. What a contrived and forced fake accent"
Totally agree. It strikes me at away games how forced and contrived the scouse accent of some groups of young lads seems - cringeworthy, like when some try to present themselves as "more scouse" than others.
Jay Wood
[BRZ]
285
Posted 01/01/2021 at 13:40:46
Paul A Smith
286
Posted 01/01/2021 at 13:43:00
Martin 281. John Bishop sounds like he is forcing it doesn't he? Almost sounds like he speaking through tears.
Good to see a thread on Toffeweb has a friendly brain picking theme.
The humble atmosphere around our recent run has been good on ToffeeWeb too.
Social media would be a hype machine at the moment but its been smart on here.
No real hype or chest out arrogance like another club we know. Just humble and enjoying it.
Tom Bowers
287
Posted 01/01/2021 at 13:46:09
Back to today's game I sure hope we start the year with a bang.
Everton have beaten all the London clubs this season although the win against the Hammers was in the cup so it would be nice to complete the Prem. sweep today.
West Ham are a better team this season but still have a lot of flaws although Everton are missing some men and so it should be an interesting game albeit tough.
One hopes the return of Richie makes a difference but a good start is always a boost to how the game goes unlike the Manure and Leeds games where they started poorly.
Chris Williams
288
Posted 01/01/2021 at 13:48:36
Brilliant, Jay.
Olivier to the life!
Eddie Dunn
289
Posted 01/01/2021 at 13:53:13
Martin- John Bishop was born in the city and his parents were from Huyton but he was brought up in Winsford and Runcorn. Of course accents in many of the areas outside of the city can be very strong.
Personally, I have met folk from Holyhead with incredible "scouse" accents and I my home town of Eastham, south Wirral on the river at school you gained kudos for as strong an accent as possible.
Here in Wales(were I live today) the language with its throaty sounds is clearly an influence on Scouse. At one time there were more Welsh speakers in Liverpool than any town in Wales.
I too have heard Peter Maloney, and itis both facinating and hillarious to hear the components of the accent demonstrated. I remember a bloke on Granda Reports once, who could replicate accents from all the different parts of Liverpool.
I don't suppose that would be so easy today.
Jay Wood
[BRZ]
290
Posted 01/01/2021 at 13:56:19
Brent, I've just started listening to that Peter Maloney lecture.
Just 2 minutes in and I've had 3-4 tear-inducing, laugh until my sides ache moments. Looking forward to the rest.
Now I know the inspiration of your own humour!!!
Neil Lawson
291
Posted 01/01/2021 at 13:57:19
On the topic of so called expert summarisers.
I recall a young footballer called Leon who loads of Evertonians were saying deserved a chance. He was patient, worked hard and finally got his chance which he very firmly grabbed with both hands ( and feet ).
A few years ago he popped up on Radio 5 from time to time, was patient, impressed when given a chance and then finally made his breakthrough.
He will never be in the A team of summarisers. Unfortunately, having a humble blue background with no pretensions of grandeur and self importance together with his ability to be fair minded, impartial and intelligent renders him unsuitable for higher office.
Thomas Richards
292
Posted 01/01/2021 at 13:59:48
Neil #277
Annoys me when commentators refer to Owen as Scouse.
Hes not even fuckin english
George McKane
293
Posted 01/01/2021 at 14:13:22
There was a heavy and deep mist - - a fog
Over The City up to an hour before The Chimes at Midnight
The River, The City had disappeared
Greyness as far as the eye could see
Then with The New Year nearly upon us
The Grey Fire Curtain was raised, lights glimmering and shimmering in the mists last drags came into view
Blue - - Yellow - - White
Illuminating onto a bright new stage.
I fell asleep - - dreaming of the new days ahead
Waking to The City and River in all its morning glory
Still grey even at mid afternoon
But colours fighting through giving us a glimmer of hope
Shafts of brightness
Small gifts from nature to inform us that it will get better and lighter and brighter.
On Thursday evening Gosia star gazing out from our front window
Walked in the cold down to The Waterfront at new Brighton
The clouds had been pulled aside and the stars were in touching distance of our hands and shone clearly
Above us Jupiter - - Shining Brightest - - The Bringer of Joy
I knew and felt it immediately.
I thought for a moment about Eternity - - those stars were there in the sky above Sumerian Man, above Babylon, The Pyramids - - Hector and Lysander looked up to the same stars - - Ulysses started and finished his journey beneath the same stars as I stood now - - Jason and His Argonauts - - Vincent, Leonardo, Michelangelo, Giotto all painted their Masterpieces
Lovers Loved and Kissed and held hands while gazing up at the same sight as me
Poets and writers wrote and musicians played and dancers danced.
"Yes, to dance beneath the diamond sky
With one hand waving free
Silhouetted by the sea
Circled by the circus sands
With all memory and fate
Driven deep beneath the waves. Hey, Mr. Tambourine Man, play a song for me
I'm not sleepy and there is no place I'm going to
Hey, Mr. Tambourine Man, play a song for me
In the jingle jangle morning I'll come following you".
I look for signs and make my own interpretations. I am led by me.
For a moment - - 13.25 - - I turn my head to the window
Rain drops separated like jigsaw pieces not yet clicked together
White cloud - - blown by coastal winds - - strewn out over a blue blue backdrop
All around me on my writing room wall - - postcards, posters, photographs, sunflowers.
To my left - - another desk - - Everton mugs full of pens, a glass snowflake paperweight with Goodison inside - - Littlewoods Clock clock - - two tin footballers - - one in Royal Blue and one in Amber - - Howard and Alan.
13.39 - - I must get myself some lunch and begin my preparations for the game.
Strange.
It's cold and wet outside and here I have a comfortable settee with a Royal Blue throw over to keep me warm.
Hot chocolate will be made with cream and marshmallows
Feet up - - build up - - interviews - - comments
Things I would never see before a live game normally
But Wow would I wish to be out in the cold
Wrapped and gloved up
On my way now to The Dark House
An hour to get to the bar - - hand shakes and Happy New Years' to everyone
Lemonade for me now days
But to be with my friends - -Tangled Up In Blue - - to be able to talk and debate and argue and laugh
The Joys.
Now in a New World we have to change our Joys - - New Delights
"Sky rockets in flight
Afternoon delight
Afternoon delight
Afternoon delight"
We can send out "posso" waves to each other over The Astral - - let's do it.
Everybody is entitled to their opinions and to opinionate
Go For it.
But let's start the New Year - - The New Vison - - By Bringing Joys - - criticise the play/score - - but leave each other alone - -give one another space and freedom - - let's have no slagging of individual players - - there are enough people to call me names - - I am not going to call myself and add to the bag of woes that some people want us to carry around.
"Dare to love yourself
as if you were a rainbow
with gold at both ends."
I honestly believe that things are looking better at Everton.
Just a few weeks ago things seemed to be floundering - - falling - - fresh and new starts draining away - - but it seems everyone has pulled together - - - we - - here - - us - - we are part of that everyone - - is Everton not burnt on our hearts - - in our blood - - in our soul and spirit - - it is - - look ahead - -to the future - -we cannot change the past - - but we can make our futures:
"Hope is the thing with feathers
That perches in the soul
And sings the tune without the words
And never stops at all."
- - Emily Dickinson - - A Great Evertonian.
There are enough worries and problems in today's world - - last year - - only a few months ago my wife and family were told I was going to die - - obsoletely NO CHANCE - - when I was recovering I watched all of the first weeks games on an IPad in my hospital bed - - with tubes and things shoved up almost every part of my body - - machines clicking - - keeping me alive - - but I asked to watch Everton and I had Doctors and Nurses and Support Staff all asking how were Everton doing and then watching bits with me - - Everton (like my family and friends) was part of my fight to live - - and you gang - - Come On - - Come On.
Remember who we are - - We Are Everton.
"If you can't fly then run, if you can't run then walk, if you can't walk then crawl, but whatever you do you have to keep moving forward."
Forward Blues - - Friends - - I am sending Cosmic Bluetiful Wishes to you all on The Astral - - just look out of your window and you will see me in the clouds - - high above you - - just like Everton.
Best New year wishes to you All - - Up The Blues - - We Are The People.

Brian Murray
294
Posted 01/01/2021 at 14:13:37
Annoys me when presenters spit or spray even between sentences, Prevailent on sky especially.
Raymond Fox
295
Posted 01/01/2021 at 14:15:56
What's the match result going to look like, plenty goals, few goals? I recon 4+, 2-2, 3-2, 3-1.
We are 11/10 favs which looks about right with Richarlison back up front, but things have been going ominously good for us, are we due for a kick in nether regions.
Nothing stays the same, so fingers crossed for a good start to 2021.
Tony Heron
296
Posted 01/01/2021 at 14:17:55
Re Peter Maloney. He taught at my first school, St. Malachys, in the 50's. At the time there was a Roy Orbison song called "only the lonely ", which we converted to " only Maloney". I believe this was later used as the title of a tv show he had in the '60's.
Billy Roberts
297
Posted 01/01/2021 at 14:18:44
George @293
Beautiful and brilliant again.
Brent Stephens
298
Posted 01/01/2021 at 14:21:26
George, I reckon that's maybe the best you've ever posted on here. That hit home.
And as you say "criticise the play/score - - but leave each other alone".
Dave Abrahams
299
Posted 01/01/2021 at 14:28:22
Tony (296), he also taught at Netherfield Road RC ( The Friary) in the fifties, his dad was my family doctor, had his practice in Everton Brow.
Dave Abrahams
300
Posted 01/01/2021 at 14:33:01
George (293), Happy New Year back to you George, I hope you wish us many more in the future George and get your wish to be back in the Dark House very soon, very best wishes.
Chris Williams
301
Posted 01/01/2021 at 14:33:13
Brent,
Lovely reminder of Moloneys style and wit on that recording. I remembered a couple of those jokes from his lessons. The docker and the Santa ones being just a couple.
He was a clever man who wore his learning lightly, and a good man, as well as a good teacher, who wouldn't have corporal punishment at any price, which made him a rare thing at our school. A tough cookie too. You wouldn't want to get in his way on the rugby pitch!
He lived near us near Walton Vale which came in handy when we got sent home when it snowed, which happened a fair few times, believe it or not. I got the occasional lift because the buses stopped, in his little 3 wheeler. One of those jobs that opened at the front.
He was in Walton hospital at the same time as my dad, who was getting his farmers attended to, and they knew each other. His joke to my dad was, I can show you my scar but please don't show me yours.
Christy Ring
302
Posted 01/01/2021 at 14:33:57
Hoping for 3pts this evening, can't stand Sullivan and Gold, and dislike Moyes back room staff even more, Pearce and Nolan, remember his shocking tackle on Anichebe playing for Newcastle. He was out for nearly a year, and won an out of court settlement, and Moyes was manager then.
Rob Hooton
303
Posted 01/01/2021 at 14:39:22
Looking forward to the match, hope Richy and Dom start the year with a bang.
As for Peter Reid, I was just a touch too young to remember him properly from my fist visits to Goodson but loved him as my dad was such a massive fan! His autobiography is fantastic and I am now able to appreciate him as an adult.
Tom Bowers
304
Posted 01/01/2021 at 14:42:44
I do hope Carlo has someone in mind to really kick-start this squad into 2021 preferably a player with goals in him.
Yes, Everton are in the mix at the top but we all know how that can change with 3 point games even after a good run as we saw after the derby match when things went pear shaped for a while.
From what I have seen so far this season the league is up for grabs as the usual suspects are dropping points against lower teams unexpectedly.
Everton seem to have shored things up at the back despite having Seamus and Lucas out and one hopes they can build on that but they need to be stronger in midfield and offence if they are to stay in the top four.
Danny O'Neill
305
Posted 01/01/2021 at 14:56:46
Happy New Year everyone.
Interesting decision tonight. Keep the back 4 or go with Seamus? I'm in 2 minds but edging towards stick.
Reid was fantastic as was Trevor Steven and many of that team. But for me it was Kevin Sheedy.
John McFarlane Snr
306
Posted 01/01/2021 at 14:58:04
Hi all, but particularly George [293] who by his positive take on life has convinced me that I made the wrong decision in self isolating/'hibernating' a couple of months ago. I was deliberating as recently as this morning whether or not to return to the 'ToffeeWeb' fraternity with my nephew John [aka Patrick], but George's post has made the decision a no'brainer.
I will endeavour to treat fellow blues with the respect that they deserve irrespective of their views, but one change which hopefully will never be applied, could be a ' Fighting my corner' attitude, if I'm subjected to what I consider excessive personal abuse. It's my hope to continue posting until the "Grim Reaper" or the Editor/Moderator call time on me. Happy [or' better ] New Year to all.
Mike Gaynes
307
Posted 01/01/2021 at 14:59:34
Happy New Year everybody!!!
May 2021 bring us back together again.
Jamie Crowley
308
Posted 01/01/2021 at 15:00:58
Wanted to say happy New Year to all.
My wife and I met a friend last night - the wife of my buddy Steve Ashcroft who passed away now almost a year and a half ago.
We met at the "British Pub" in St Augustine, FL, and I rang in my first ever "English New Year" at 7 pm EST here. We had a fantastic time, and it was nice to stroll down memory lane and reminisce about my mate Steve. He and his wife, Jacqui, always rang in the New Year here in America early, doing it up "British style" at the British Pub.
Why do I mention all of this? Firstly to say Happy New Year. Secondly to tell the Blue world on TW I spent my New Year's in British style, in memory of my Blue mate. It was a very Blue New Year, and it was wonderful.
Here's to a brilliant, happy, healthy, successful, and safe 2021 to everyone.
Now let's go kill the Hammers and win the league.
Dave Evans
309
Posted 01/01/2021 at 15:03:06
Happy new year George. Get well.
Always thought of Everton when I read that bit of Dickinson.
Didn't know she was a blue though.

Jamie Crowley
310
Posted 01/01/2021 at 15:03:30
John Sir it's quite good to see you back.
Happy New Year, and I look forward to getting you banned.
That last bit was 100% a joke. Cheers sir!
Neil Copeland
311
Posted 01/01/2021 at 15:09:55
Thomas #292, me too. He was born in Flint I think?
Brian Williams
312
Posted 01/01/2021 at 15:15:25
Owen was born in Chester and IS English. 😁
Thomas Richards
313
Posted 01/01/2021 at 15:16:06
Hawarden Neil, in Flintshire.
Another celebrity red at it yesterday, Brian Reade:
"The worse thing I saw in football in 2020 was Pickford's tackle on Van Dijk.
Second worse thing was Millwall fans booing taking the knee.
100% phoney Brian Reade. Full of his own self importance. Never liked him since he hosted the benefit concert for The Casa at the Philharmonic. The comments he made to certain people in attendance were a disgrace.
Brent Stephens
314
Posted 01/01/2021 at 15:16:19
John #306!!! Great to see you back!!!
Danny O'Neill
315
Posted 01/01/2021 at 15:21:05
Pubs open in Florida Jamie? I need to get across and visit my house!!
Michael Kenrick
316
Posted 01/01/2021 at 15:22:50
Okay, lads un lasses, I declare the Live Forum open for bizness.
Bill Gall
317
Posted 01/01/2021 at 15:23:16
John Boon #276
Like you a born and bred scouser living in Canada been here since 1976, watch every game, shudder when I think of the money I have spent going back to watch Everton. Scouse accent is unique and still, if I talk to people who lived in England they say your a Liverpudlian and my answer is no I am an Evertonian.
I am like you with these pundits but the difference is I don't listen to any ex Liverpool player at all, and unless we are playing them don't watch their games.
Please Ancelotti keep this form up and shut up the mouths of the likes of Owen and Souness so we can get some Ex Blues players as pundits like Osman.
Paul Birmingham
318
Posted 01/01/2021 at 15:29:30
H N Y John, at 306, and welcome back, and good on you.
Tony Hill
319
Posted 01/01/2021 at 15:32:51
Thomas @313, absolutely. A posturing, sentimental fraud. Like so many of them.
Derek Knox
320
Posted 01/01/2021 at 15:33:36
John @ 306, great to see you 'back' John from your self-imposed exile, believe me, you have been missed.
Jamie, is it a year and a half since Steve
sadly passed? Wow, where has that gone? I remember you posting on here about it, but that seems lime a few months ago.
Happy New Year and hope to all TW'ers out there let's just hope things both on and off the field go better from now on in.
Kevin Molloy
321
Posted 01/01/2021 at 15:36:25
that's really cheered me up about Brian Reade. I've come full circle on this, hopefully they will still be talking about how our goalie detonated their world twenty years from now. Maybe Jordan can keep the flame alive in his autobiography years from now
'the ball was there ( Ithink). I let him have it. That ll teach you to grab goden balls by the golden balls' I said, standing over him as he lay there crying
David Midgley
322
Posted 01/01/2021 at 15:39:00
They still make them like Peter Reid but they
are all in the S.A.S.
Man on the floor . ' But I'm Danish ! ' Reidy . " Yes but probably a collaborator " .
I wonder how our upwardly mobile presenters
would say 'Jawbone of an ass ' ?
I would like us to be employing more scouts. I
think there are probably lots of good, young
players in the championship and other leagues
here and abroad. S.Ked. has been a good player but over 30 and going over the hill. We need younger players with energy and zip Who've got Duracell batteries. Need another forward and a winger, not a whinger.
Neil Copeland
323
Posted 01/01/2021 at 15:44:30
Brian #312, hence the accent 😁 Thanks for the clarification must be his surname that had me fooled
Neil Copeland
324
Posted 01/01/2021 at 15:45:56
Good to hear from you John McF
Tony Hill
325
Posted 01/01/2021 at 15:57:36
Tony Crowley, a linguistics Professor (and a scouser, though regrettably a Kopite) has written a couple of excellent books on the development of language and dialect in Liverpool and the cultural context. One of them is a Liverpool English Dictionary.
Eddie Dunn
326
Posted 01/01/2021 at 16:13:58
Great to see George on form and John snr back in the ToffeeWeb stand..Happy new Year everybody!
Rob Hooton
327
Posted 01/01/2021 at 16:24:48
George that was beautiful and I am feeling the cosmic grooves down here in London. Happy new year to you all, I wasn't going to drink today but now fancy a few cans with the match as the usual pre match excitement nears.

---
Add Your Comments
In order to post a comment, you need to be logged in as a registered user of the site.
Or Sign up as a ToffeeWeb Member — it's free, takes just a few minutes and will allow you to post your comments on articles and Talking Points submissions across the site.