Bolasie joins Middlesbrough
Thursday, 28 January, 2021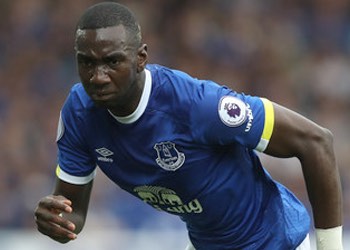 Yannick Bolasie has finally secured his long-mooted loan move to Middlesbrough, joining the Championship club until the end of the season.
The winger came close to signing for Boro last summer but the temporary switch collapsed at the last minute but he has now secured a new club as he winds down the last six months of his contract at Everton.
---
Reader Comments (30)
Note: the following content is not moderated or vetted by the site owners at the time of submission. Comments are the responsibility of the poster. Disclaimer
Geoff Williams
1
Posted 28/01/2021 at 17:05:29
I never understood why Everton bought him but I wish him well for the future
Simon Jones
2
Posted 28/01/2021 at 17:11:07
I hope he gets to play and enjoy football, his Twitter is a good laugh, he joins in with the fans (despite some appalling stick) and seems like a nice guy.
Jack Convery
3
Posted 28/01/2021 at 17:13:17
I wish him all the best. Didn't work out for him at Goodison. The knee injury did him no good at all. The price we paid was totally ridiculous but money was like confetti back then under Walsh and Koeman. He's never had a bad word to say about the blues a real professional.
Barry Rathbone
4
Posted 28/01/2021 at 17:35:04
Mystified me how top professional football people took him seriously with that daft affectation of rolling the ball underneath his foot when approaching the opposition.
I was staggered when we spent a shed load on a wide man who didn't know being on your toes gives you the balance to go either way and explode past a man.
No wonder injuries plagued him; his bizarre approach was an invitation to be cleaned out.
Ajay Gopal
5
Posted 28/01/2021 at 17:39:01
He played some good football until he had that unfortunate injury and seems like a decent bloke. A footballer's career is short, hopefully he can shine during his loan and maybe secure a longer term deal with Boro.
Mark Rankin
6
Posted 28/01/2021 at 17:47:15
He was inconsistent before he joined Everton, hit and miss before the injury and ultimately, if you factor in cost, possibly the worst ever Everton signing. Nice guy though
Andrew Lightfoot
7
Posted 28/01/2021 at 18:26:56
Geoff, we signed him because every time he played us he turned into Messi!
Tony Everan
8
Posted 28/01/2021 at 18:34:43
Good luck to him, unfortunately his wages will not entirely be off he books just yet. I suspect we are picking up the lions share of his wage until June.
Drew O'Neall
9
Posted 28/01/2021 at 20:43:35
Good luck Yannick.
Well done ToffeeWebbers for showing a bit of true blue class too.
Jason Leung
10
Posted 28/01/2021 at 21:15:53
By far not the worst signing based on his attitude alone. Before his injury, he did show signs on promise.
Based on his professionalism and work ethic he should stay on at the club (just not on his inflated wages) just to show others hows its done.
Pat Kelly
11
Posted 28/01/2021 at 21:43:58
Season over
Lee Courtliff
12
Posted 28/01/2021 at 21:51:10
Never, ever rated this lad. Why we thought he was an upgrade on Geri I have no idea?!?!
He does seem a nice guy, though, so good luck to him for the future.
John Raftery
13
Posted 28/01/2021 at 22:49:48
Not the worst ever signing especially bearing in mind our general standard when he arrived. His best moment was arguably pushing Lukaku aside to score an equaliser at Burnley. He actually linked quite well with Lukaku in the three months they played together. After his knee injury in early December 2016 and thirteen months on the sidelines it was always going to be difficult for him to build a career at Goodison.
Paul Birmingham
14
Posted 28/01/2021 at 22:57:38
I wish him well, I didn't want us to buy him, and I always considered him a 1:10, good game ratio, and inconsistent.
His finest hour for me, was helping Palace turn over the RS, probably 7-8, years ago, but he scored a cracker in the Kop, Palace won, 3-0.
Good luck Yannick.
Rob Halligan
15
Posted 28/01/2021 at 23:03:24
Well that's the end of his Everton career seeing as his contract is up in June this year. I remember well the goal John refers too at Burnley.

One other game which sticks in my mind was at West Brom (was it his debut for us, or maybe his debut was at Sunderland?) when he made a few marauding runs down the wing and delivered over some tantalising crosses for Lukaku. Can't actually remember the score that day though.
John Raftery
16
Posted 28/01/2021 at 23:10:16
Rob, his debut was at West Brom when he came on as a substitute. We won that game 2-1 and then on a Monday night in September we won 3-0 at Sunderland with Bolasie supplying a couple of crosses for Lukaku.
Mike Gaynes
17
Posted 28/01/2021 at 23:47:21
Wish him the best. Always played with a top attitude and a smile. Was never going to be a great signing, but might have been a solid contributor if not for the injury. At 31 still has a couple of years left to play, and Boro is the right level for him.
Andrew #7, you ain't kidding. I'll never forget the way he roasted Heitinga for that goal in 2014. I think Johnny kicked in part of his salary to buy Bolasie so he'd never have to face him again.
Barry McNally
18
Posted 28/01/2021 at 23:55:19
Bolasie, don't come home again.
Mark Dunford
19
Posted 29/01/2021 at 08:44:28
Really unfortunate with such a serious injury at Everton. It came at a critical moment when he was in form and starting to have a real impact. Sad to say he was never the same player after that. He has always conducted himself admirably under really trying circumstances. Excellent role model, with an entertaining, moving Twitter account. Worth checking out his farewell tweet if you haven't seen it.
Christopher Timmins
20
Posted 29/01/2021 at 08:55:36
Best of luck to the guy, things never worked out for him after his injury.

Alan J Thompson
21
Posted 29/01/2021 at 09:09:41
I won't criticize the man but I'm not sure I'd say the same for the way Everton treat some of their signings. Business or not, they are employees who were asked to join and by so doing uproot their family and all that goes with it albeit, they do it with their eyes open.
Brian Murray
22
Posted 29/01/2021 at 10:20:34
No wonder these players are blues for life they must adore us. The gift that keeps on
Robert Leigh
23
Posted 29/01/2021 at 10:34:15
Played across two vastly different front lines, the first of which he only got to enjoy for a few months before getting injured:
Lukaku
Bolasie - Barkley - Mirallas/Del Boy
Pace, power... no wonder he looked like a 7.5/10 player then.
When he came back from injury (the 'Moshiri Fab Four'!!)
Tosun
Bolasie - Rooney - Walcott
Apart from the injury making it tough to come back, the quality of the players around him weren't near the quality required.
Anthony Jones
24
Posted 30/01/2021 at 09:29:27
He is paid 75k a week.
He won't ever get that kind of money again.
Cannot really blame him for staying.
Phil (Kelsall) Roberts
25
Posted 30/01/2021 at 10:44:11
Story that Lössl is also on his way back to.
He still has 18 months left on his contract so seems to be a free plus a pay-off.
What was that Queen song? Another one off the books
Adam Scott
26
Posted 30/01/2021 at 10:48:15
Also fabrizio Romano tweeted that Bernard close to Al-Nasr move. Great news
Brian Murray
27
Posted 30/01/2021 at 11:06:56
Adam. Did he forget to me mention the title deciding striker and winger coming through the other door ? 😂🙄bit slow that Romano
Fran Mitchell
28
Posted 30/01/2021 at 11:06:57
Brands has clearly focussed on clearing the dead wood - a lot of wages spent on players not up to the standard. With our financial situation, trimming them is required if we are to put up more wages.
Lossl was supposed to do what Olsen is doing - provide real competiton for Pickford.
Bolasie was supposed to offer a new dimension to the attack - pace adn power - injury did for that, and he wasn't good enough anyway.
Bernard was supposed to offer industry and creativity that had lacked since Arteta. He was poor. Rodriguez has set the standard for players on that wage.
Tosun - was supposed to be the goalscorer we had lacked since Lukaku - but slow, not particulary big or strong, no leap, no nothing really. At best a poacher in a time where strikers must offer more.
All of these players are on first team wages, and we won't be able to sign others of the required standard until these are off the books.
Justin Doone
29
Posted 30/01/2021 at 14:40:36
He can be a game changer.
He's not top quality by I'd rather have him as an option off the bench than Tuson or Lossl.
Against Leicester and Newcastle he's what we don't have but need. A big strong pacey winger.
I except that we need better than him. But he's better than deciding between Gomes, Siggy or Bernard to come on and try to win a game for us.
I don't understand how he hasn't been involved in the squad given our lack of quality or attacking options.
Phil Lewis
30
Posted 31/01/2021 at 08:59:31
Have the financial details of the deal been revealed? I doubt very much that Boro are paying all of his salary. How much of this charlatan's bill are we still having to foot until his contract with us terminates?
---
Add Your Comments
In order to post a comment, you need to be logged in as a registered user of the site.
Or Sign up as a ToffeeWeb Member — it's free, takes just a few minutes and will allow you to post your comments on articles and Talking Points submissions across the site.